<
Tracy's Diary
Tracy's old blog - pre Eastern Europe trip 2007
Monday, 30 July 2007
"Bling"
For most of us the mere mention of the word 'bling' conjures up images of bright sparkly necklaces , huge watches and large hooped earrings, but for me it means something else.

Having dropped Paul off on Friday for his first day of off roading with the BMW school, I made my way over to Neath Abbey to visit the Touratech shop . I'd had a brief chat with a guy called Nick on the phone about some couplings, but couldn't decide if it was the right part so decided to go have a visit instead.

The Touratech building/shop is tucked away in a business park close to the Neath Abbey Ruins, so was relatively easy to find. It was pouring with rain again and I could imagine Paul sliding around in the mud, locking his back break and screeching across the gravel and of course loving every minute of it..

Inside the shop the walls were decorated with pictures of the Dakar Rally, books lined the shelves with smiling faces of Ewan Mcgregor and Charley Boorman and on the left hand side stood three bikes. Sandwiched between a 1200gs and a Dakar stood a brand new F650gs.... a beautiful machine that was intoxicating to look at I couldn't help but run my fingers over the tank the seat and take in all of its detail. Can you fall in love with a bike? course you can..:)

For me, this was beauty and this is where the word bling is significant, forget jewels forget gold my bling is Xenon Auxiliary Headlights, Engine Guards, Crash bars, the list is endless, all new, all shiny and all perfect. In just a few months I am going to own a bike just like this, and with all the bling you could imagine...

I spent a good few hours in the Touratech shop chatting with Nick, who I eventually realised was in fact Nick Plumb, who in 2003 was the youngest person ever to complete the grueling Dakar course and is now also Touratech UK's Managing Director. Sorry for not realising it was you straight away Nick, mind was on the bikes..

The rest of the weekend was spent lazing about trying to rest the foot. Its no longer black, yellow and green is a better description, the lump on the top persists and the pain is still there but, I am doing everything apart from magic..to get myself 100% better for our shakedown trip to Europe in just over a week..... I'm so excited, I can't wait..........

Wednesday, 11 July 2007
Still Buzzing
Some people breeze through life with boundless confidence but, sad to say, I'm not one of them. Despite my outward show of self-belief I have to work hard at my confidence and even at my age of 40 new situations can still reduce me to agonies of self doubt. This was exactly how I felt on Monday the 9Th of July.
With less than a year to go before our dream trip, I knew I needed to gain more experience and confidence on my bike. Paul bought me a two day off road skills course for a Christmas present, and what a fab present it was to be, not only would I learn important skills of riding but I'd also get to ride a BMW F650gs..... woo hoo!!!!
We booked into the Abercrave Inn on the Sunday and spent the evening relaxing and meeting with another fellow biker who was booked on the course with me.... I woke Monday morning very nervous, I don't think it was anything to do with riding, but the fear that this was to be a moment that could change my future in a dramatic way. I'd never ridden a BMW F650gs before and my biggest concern was that it would be too tall or too heavy and my plans of owning and riding one around the world would come to harsh emergency stop! Paul dropped me off and I was very quick to ferry him on his way, after he got his first photo.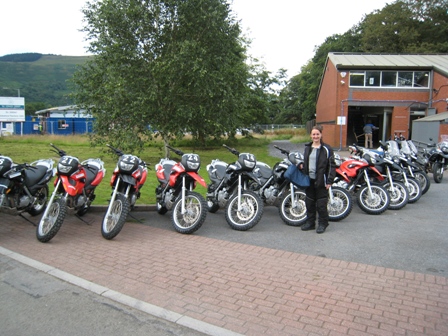 After showing driving licences, suiting up with off road gear and being given the key to a bike, myself and 15 other women nervously walked outside to find our companions for the next two days.... Bright Red (£20 I owed Paul but another story)and number 13, which was very quickly changed to 12a by all the other girls even Simon Pavey agreed it sounded good...
The very first second I sat on the bike, my whole life was back on track. Do you recall those times when you go out to buy a pair of jeans, one is too big, the other too long and another too tight, then... you find the pair that fits perfectly all over, well that was me on the BMW. Having held my breath I could now let it out with relief.
I was going to ride this bike and what a fanatsic machine it turned out to be. A few minor glitches when trying to change gear with off road boots on soon subsided and we all rode in convoy to the park we would be "playing in".
Patsy Quick, (the first British woman to finish the Dakar Rally on two wheels) and Simon Pavey, (Instructor to Ewan McGregor and Charley Boorman) were outstanding instructors, their enthusiasm and encouragement were just fantastic. Having learnt to lift the bikes once you dropped them, walk around them having found a balancing point, mounting and dismounting both sides with no side stand and riding while standing up one handed in a circle I was already on a fantastic high.
The day continued to improve my confidence, clutch control and slow speed riding helped to achieve control over the bike and to push myself much further than I thought possible....
We rode through mud, fell off, rode over rocks and up hills, fell off, through forests hidden by giant pine trees and brooks that wound themselves through truly beautiful country. It was the most amazing experience riding through such alien territory and occasionally managing to stay on for over half an hour!!! We even practised locking the back wheel and coming to a graceful stop, well we tried to!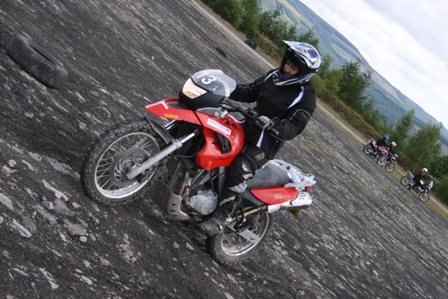 The day wound down with a bimble through the forest once more, lots of mud, sliding around, what a giggle and manoeuvring the bikes and myself through huge boulders. Had a bit of fall here when there wasn't quite enough room for me and the bike and I promptly fell off. After the stars and the cursing subsided I remounted to ride back to the meeting place and to hopefully greet Paul with a massive grin....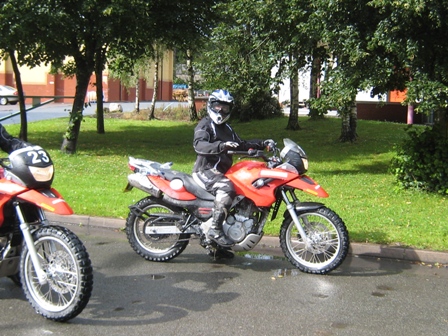 Today has been one of the most amazing days of my life, I have learnt so much in such a short amount of time. I can't wait to order my brand new bike, kit it with the best parts and protection I can find and take her on a dream trip with me.
My biggest disappointment was discovering the following morning that my bashed foot was now 3 times its normal size and I was not going to get any boot on.... Many tears later I had to resign myself to the fact that I wouldn't be able to participate on day two but I'm already recovering from a "fractured foot" and will be booking on the course again as soon as I can. Its Paul's turn next in 3 weeks.... lucky devil.... :)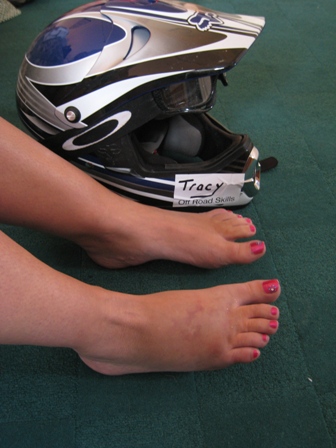 Friday, 6 July 2007
A Married Woman!!
Friday the 29th of June will always be a day that will be remembered forever, not only because this is the day we start our dream trip of riding around the world on two wheels, but also the day I officially became Mrs Beattie.... yes I know TB for initials, but that is a small price to pay...
For the days events and the following two days, have a read of Paul's blog, no point being repetitive. After three days of mayhem, we set off on Monday to Haverhill, where all of my family now live. The journey wasn't exactly relaxing, having battled monsoon like weather, winds and having the car aqua plane across the road on several occasions it was somewhat interesting.
I have to admit, that whilst driving down I still hadn't decided how to tell my parents, my daughters were with them, so had to decide whether to tell them together or tell the girls second... We had put a bottle of champagne in the car, so I decided to present them with the bottle and tell them...
Mum and Dad, didn't even know that Paul was coming with me, so that was the first surprise as soon as we entered their house...... Nervous... me??? damn right!!
Quick hello, and then I calmly presented them with the bottle and I quote... " Thought we'd bring this cool bottle of champagne with us so we could celebrate the fact that we got married on Friday" I don't know what Paul was thinking or who he was looking at, but my Mum's face was a picture, glazed eyes, dropped bottom lip,you know the startled rabbit look... I think there were a few whats? and then a few congratulations. I know without a doubt Katie and Carlie were shocked, pleased I hope, but it was the quietest I had seen them in years...
I think in all this, it was my Dad's approval I wanted the most, don't think I am a particular daddy's girl, but if you find the right person for you and your parents agree it all makes it so much more wonderful..... He approves.....
We opened the champagne and after a quick slurp, decided to head off and tell my brother and sister, both of whom, I knew would be silenced..... We took the laptop with us so that we could show them some pics, this was a great way to tell my brother Craig and his wife Caz.
"Hi, thought we'd pop round and show you some of our wedding photos was my opening line"... I had to physically close Caz's mouth, very funny, but both were pleased and we spent a while with them, while my beautiful niece and nephew decided to try and place tennis indoors!!
We repeated almost the same words to my sister Kerry and her husband Mark, like most others they wanted to know why we kept it a secret, but sometimes that's whats needed to make it special..
We spent the rest of the evening with my parents, Paul cooked a great curry, think he's probably had enough cooking now and we had a great evening just chatting.....
As you get older, you seem to have the ability to know how people feel even without them actually telling you, I believe that everyone felt a little sadness at not being with us on the day but at the same time pleased that we decided to make a solid commitment... It does feel strange, being a Mrs again, but when I look at my ring, I get a wonderful feeling and it makes me smile everytime.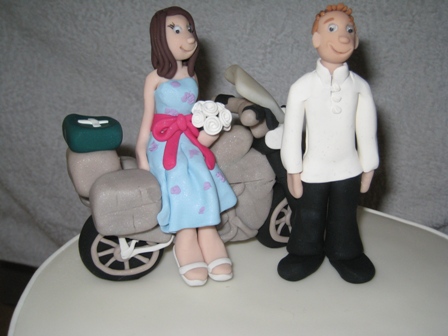 Tuesday, 3 July 2007
Donnington
The last few weeks have been a buzz of
excitement
for me, but shared with no one.... I spent the weekend of 22/23/24 of June at
Donnington
with Paul.
After a calm ride down, we pitched our brand new tent, the one that is to be our home from June 2008 to sometime in 2010. Much larger than our other one, we can actually both get in and move about so a real bonus.
We had a
leisurely
walk to the pub for a quick pint as it was now almost 9o'clock and
then we
walked to our favourite Indian
restaurant
, the food is gorgeous and we spoilt ourselves with a great bottle of red.... what a great way to start a weekend. Having filled our tummies but not emptied the plates we asked for it to be packed up ready for our breakfast the following day, then strolled back to the tent for some much needed sleep.
Dawn broke, the sky was clear and the sun came out...... yes, we were in England!
We spent Saturday strolling around the circuit and of course eating our I
ndian
, which I have to say was gorgeous. The evening was spent at a local restaurant, good food good wine and the best company, then off to our abode as we needed to be up before 6 to get to the circuit.
Sunday and the day of the races... well, it rained and rained and rained, thankfully we were sheltered by our little fishing tent, but it was cold and a real contrast from Saturday.... Water proof riding gear has its advantages, most
definitely
......
After seeing
Rossi
defeated, we made our way back to the tent and was packed and ready to ride home within 25 minutes..... a record.
Tuesday, 8 May 2007
A long exhausting month, ended with Carlie, (my youngest daughter)
and
myself spending a week in Egypt.
I'd kept our destination from her a secret right up until check-in at the airport, and I hope she was pleased!!! you never can tell with teenagers!
I had already visited the area of
Sharm
El
Sheik
, in 2003, so knew a little of what to expect, Carlie, was, I am certain somewhat
surprised
by how different the country is from ours.
Having arrived Late Sunday, a quick beer (non alcoholic) and it was bed, it was already past 11 O'clock and it was still 27degrees, thank god for air con. Monday was spent lazing around the pool and arranging a few excursions. Our evening meal at a local restaurant, was accompanied by the locals asking to buy Carlie for Camels..... made me laugh!!!!
Tuesday was a planned trip into the desert, riding on a camel and climbing a small hill to watch the sunset, supper with the
Bedouin (desert)
people, quite amazing.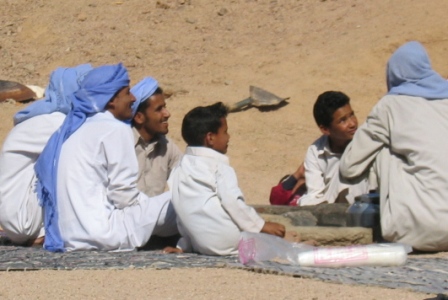 We travelled onto another camp and with the help from some amazing telescopes and a star gazer saw the most amazing shots of Saturn, complete with the ring surrounding it. Most of us thought it was a picture placed on the lens, it was unbelievably clear.
On Wednesday we ventured on a jeep safari across the desert, taking in some fantastic views and what turned out to be a very bumpy ride for most of the day, but a huge giggle all the same. We had a wonderful lunch overlooking the Red Sea, where I ate some very tasty Barracuda and the mass of flies, finished it off for me. I think we all acquired a special way to eat food, swat flies and keep cool, most entertaining.
Thursday, we relaxed as we had an extra early start the following day, 1am start on a 6 hour coach ride to Cairo....
Cairo...... you have to see it to understand just how bizarre a place it is, High up on a bright sandy mountain stand 3 magnificent Pyramids, one of the seven wonders of the world. Breath taking and by far one of the most amazing pieces of man made architecture I have ever seen. Turn around and there is Cairo, thousands of houses, no doors or windows, children playing in the piles of rubbish, millions of satellite dishes, for a second it's easy to forget where you are. The Sphinx stands proud, protecting,
empowering
, maybe just watching the pyramids and the hundreds of visitors who pass by.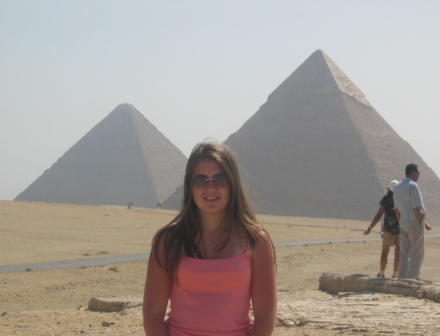 We arrived back at the hotel just after 11pm, exhausted but still smiling from the sights we had seen.
The rest of the week was spent, chilling, reading a book or two and topping up the tan.
Our arrival back into England early Monday was greeted with wind, rain and the usual
British
temperature, so good to be home, apart from the fact the Paul is now away with his mate Colin touring Ireland, going to be along week!!!!
Labels: A Hot week in Egypt
Tuesday, 10 April 2007
Easter Weekend and "Girlie Stuff"
Having spent a hectic week at work, it was wonderful to wake up on Friday morning knowing that Paul and I would be heading off on the bikes towards the Yorkshire Dales for four days.

We spent the four fantastic days, riding the bikes, taking in the scenery, soaking up the early spring sun and having a fantastic time.

I think I have at last got use to the idea that there is no room for a hairdryer, make-up, 6 pairs of shoes and what most would call "girlie stuff " and to be honest I don't miss it. The more riding and camping trips we make the better we are at adapting things, or doing without them.

This weekend was wonderful, waking up inside a tent, on a crisp spring morning, birds singing and the newly born lambs bleating in the fields made the start of each day, without a shadow of a doubt just perfect.

Tuesday, 3 April 2007
This is my first real post, Paul seems to have the flair for writing something that's enjoyable to read, so you may just have to bare with me, until I get to grip with it all.
Since September I have been studying, god.. I hear many of you say, but it's actually been really
interesting
, although very intense and the academic side without a shadow of a doubt is hard, there has been immense satisfaction from a lot of it and I have managed to grab a few really good friends along the way.
You will probably already have read how the trip came about. There has been many an
occasion
when Paul and I have thought the same thing at the same time, but on watching The Long Way Round
TV
programme (together at different houses) I knew within seconds it would be something we would plan and complete together. Even now, I can remember watching the programme and waiting for the Call from Paul to ask what I thought. I'd already decided about five minutes into the programme that it was something that I felt compelled to do and would regret for the rest of my life if I didn't at least try to
fulfill
it.
It's been a difficult few years since 2004 when plans were difficult to lay down and keep, but it appears that June 2008 is at last visible on the horizon, and everyday I chase it.
I have only just returned to riding, Lydia, (My
Ducati
M620i) has sat alone in the garage , a bit of company from
Gixer
!! and now the BMW, she has been neglected somewhat. Having had a run in with a
roundabout
.... ouch! and a little ill health, I returned to the saddle, and rode as though it was second nature.
Over the next few weeks
I'll
be venturing out on different trips and places and trying to challenge myself, so keep popping back for my newest adventure...
Sunday, 1 April 2007
First post...
Well, now we have got the Blogger thing working at last, it's time to create a blog for Tracy to use to record her own thoughts... so hang on, there'll be more posts along soon!!

Archives
Subscribe to Posts [Atom]