Paul's Highland Fling
Bank Holiday weekend is always a good excuse to get away, and this one (end May 2008) has been no exception. With Tracy's blessing, I took off for a little adventure – a Highland Fling...
After finishing work on Friday, we took Carlie to the pictures to see the latest Indiana Jones film, so I was still pretty tired when I woke the following morning, but with 3 days of riding my bike ahead of me, I woke as excited as a little boy about to head off on a big summer holiday…
I packed the bike quickly, with hindsight a little too quickly - as I later discovered I'd not packed a towel, a can-opener, a bottle-opener, water bottle, etc, and bade farewell to Tracy, leaving home just after 8.30am. The bike felt really heavy with the panniers on and laden with my camping gear. After waving goodbye to Tracy who was stood in our bay window looking forlorn, I headed North, taking the familiar route up via Rochdale and into the open countryside towards towns with proper Lancashire names like Bacup, Burnley and Barnoldswick – towns where the majority of faces bear more resemblance to parts of the British Empire further East… With the sun starting to break through the scattered clouds, I joined the A65 and headed past Tracy's roundabout outside Settle and then on to Kirkby Lonsdale and Devil's Bridge. With a new gypsy encampment just before the turning to this famous biker's meeting point, it was with a little trepidation I left the bike parked and went in search of the loo before a much needed coffee from the bacon butty van. Normally I'd have had a bacon & egg butty too, but as it was only an hour and a half since I left home, filled with muesli and cornflakes, I decided to pass on this occasion (Tracy would be proud of me, as she's trying to help me lose some weight!).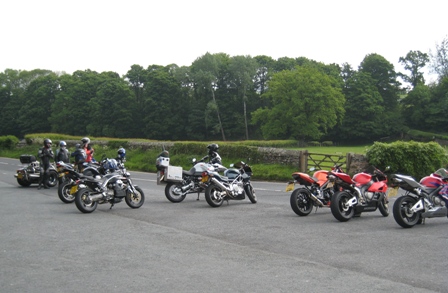 Fortunately my fears about the gypsys was misplaced, and the bike and its precious cargo were untouched and I headed off again. The next leg of the journey was not as picturesque or as pleasant riding as the first, as I joined the M6 and headed North. At least this way I could make up the ground more quickly, and the scenery from this part of the motorway is pretty good, especially as it winds its way past the Lake District and the Howgill fells come into view, looking like a thick green blanket that's been folded across a sleeping giant. The sight of these fells always makes me smile, and this time was no exception. Just being sat on my bike, with the hills for company – and the Stereophonics playing in my ears – at the start of another mini-adventure – fantastic. I'd say "perfect", but with no Tracy in my mirrors or sat behind me, it was a little lacking.
A quick stop at Carlisle for another coffee and to refuel and then "on the road again" as the saying goes. Onto the A74 past Lockerbie, a place which it is impossible to pass without the images of the stricken cockpit of Pan Am Flight 103, which was blown out of the skies to fall to earth at this beautiful spot on 21st December 1988 – nearly 20 years ago. How one devastating event can forever taint a town in the public psyche is quite staggering – think Hungerford and Soham and you'll see what I mean… But enough of this doom and gloom, the weather's dry, if a little breezy, and I'm sat on my bike heading further North… and into Glasgow.
Now this wasn't how I remember it from previous trips to Scotland. I recall the Little Chef at Dumbarton – a ritualistic place that holds far greater memories than an all-day Olympic Breakfast deserves, mostly because it's a traditional stop on the way into the Highlands. It transpires that following the signs for the A82 Dumbarton – the road I want – is not the way to get there… the best way is over the Erskine Bridge, but it's too late and I find myself negotiating heavy traffic into Glasgow (and past Ducati Glasgow where they sold the first Desmosedici RR in the UK – a genuine MotoGP bike for the road). After what seemed like an eternity of filtering, stopping and starting and trying not to get taken out by the buses, coaches and caravans heading the same way, I finally found myself back on the road I wanted and there was little utopia – the infamous Little Chef. It would have been unforgiveable not to stop, so naturally I stopped.
A couple of cups of tea and a mushroom, red onion and cheese toastie (still avoiding the fattening food!) later it was time to return to the bike and recommence the journey. It was now 3pm, I'd arrived here at 2pm, and I was a little surprised to see a biker family – dad and teenage daughter on a big sportsbike, mum on a smaller one – checking in to the Travelodge behind the Little Chef. With so many hours of daylight left, and the Highlands just a few more miles away, staying in a Travelodge by the side of such a busy road seemed such a waste… perhaps they're addicted to the Olympic breakfast…
Another great reason for stopping at this haven of bland fast food is that it allows you to gather back your thoughts from the endless monotony of the A74 motorway and to start back on the road with a fresh mind. That's important, as the next leg of the journey takes you into Scotland proper… here the A82 winds its way round the shores of Loch Lomond. A name that deservedly conjures up images of a great expanse of water surrounded by beautiful hills and, I'm sure, the smell of malt whisky… A road that is at times very busy with holiday traffic, but which rarely presents a problem for a swiftly ridden motorbike… This great stretch of road gets better and better as it winds its way to Tarbet and on to Crianlarich. With the sun now out and my bum getting numb, it was time to stop by the roadside and take a couple of pictures…
From here the road heads across Rannoch Moor and on to Glencoe. I defy anyone to take this road and not feel the history of the Scottish clans seeping into their bones, as the surrounding mountains send a chill down their spine. Glencoe has to be one of the most spectacular places on earth, and even after over 7 hours of travelling, the goosebumps that so often accompany a trip into the valley returned sufficiently for me to pull over and break out the camera again.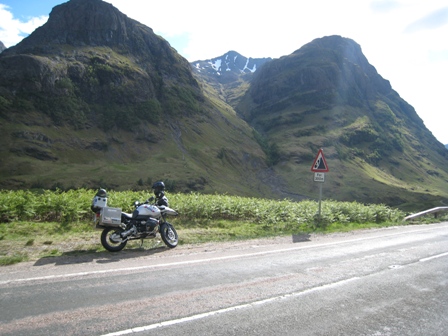 But this is no time to dither, as I've still a fair way to go if I'm going to get anywhere near the Isle of Skye today. Back on the bike and onwards towards Fort William. In order to ensure I have something to eat tonight, I needed to stop at Morrisons in Fort William to stock up with a few things. A few bottles of beer (Jenning's Cumberland Ale), some milk and sugar, and some eggs, bacon and barmcakes, and then the queue. It seems that 5pm on a Bank Holiday Saturday is everyone in Scotland's idea of a good time to do the month's shopping. After over half an hour in one of the twenty or so queues filled with the most overloaded trolleys I've ever seen, I finally got to pay and head back out to the bike, only to realise that I'd got very little space to pack anything else as the panniers were already full. But there's no such thing as impossible when it comes to finding home for bottles of alcohol on a laden bike, as years of travelling to France with Colin has taught me…
By now it was getting late, so I decided to give up on the idea of finding the campsite on the Isle of Skye and to find one closer. The first campsite sign was just after leaving Morrisons so naturally I ignored it and carried on. With the fuel light coming back on again shortly after (why hadn't I had the common sense to fill up with cheap fuel at Morrisons?), I stopped at Invergarry and filled up, then found a campsite just a mile further up the road. With space for a tent, I was grateful and paid the £6 fee, before pitching up at the allotted space in the sunshine. Unusually for a campsite, each pitch also had a picnic table, which proved a great place to prepare the evening's feast. And what a feast. Using the wok bought in Slovakia the day before our accident, I rustled up that campsite favourite – chicken fried rice – whilst helping myself to a few bottles of beer, and ignoring the puzzled expressions on the faces of my fellow campers (most of whom were staying in campervans with their satellite tellies). And when the sun finally set over the distant mountains, it was time to turn in for the night.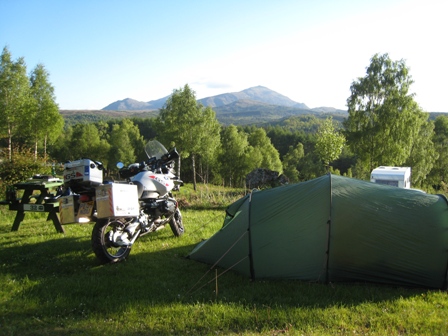 Only in Scotland, it doesn't really go dark. But the absence of darkness did not prevent me from falling quickly into a contented and well-earned sleep.
Day 2 – The Dawn Chorus starts early in these parts…
About 4am to be precise. But I'm not going to complain about the birdsong. After all, it's a great way to wake up, and being a lazy sod, I'm quite content to lie in my sleeping bag and listen to their singing for a few hours before emerging to face the day ahead. But by 7am my bladder joins in a different sort of dawn chorus, and so I'm forced to crawl out of the cosy sleeping bag and face the day. Now you've probably heard that Scotland is famous for a few things – malt whisky, beautiful scenery, strange accents, haggis, men in skirts and midges. It seems this campsite has a bit of the beautiful scenery and all of the midges. And they're all just outside my tent. And then in my hair. And on my face. Now, like all good boy scouts, I've come prepared. With expedition strength deet, nonetheless. And the midges simply love it. It's supposed to be a repellent, but seems to be quite the opposite. After a frustrating few minutes of Magnus Pike impressions (those too young to remember him, see google) I decided that breakfast would have to wait. A cup of tea is one of life's necessities, though, so despite the constant nibbles from my insect fan club, I brewed up and packed the tent away.
Back on the road again, I rode away from the massed hordes of the winged flesh eaters and into the sunshine and spectacular scenery along the side of Loch Duich and on to one of my favourite places – Ailean Donan Castle. It was here they filmed the start of my favourite film – Highlander – starring a Frenchman as a Scostman and a Scotsman as a Spaniard (Christopher Lambert in the title role, and Sean Connery as Juan Sanchez Villa-Lobos Ramirez since you ask). But the castle is much more than that, it's a piece of classic Scottish scenery and one of the two pictures that grace my dining room at home (the other is the white house at Glencoe). Places with special meaning, because each time you see them is special.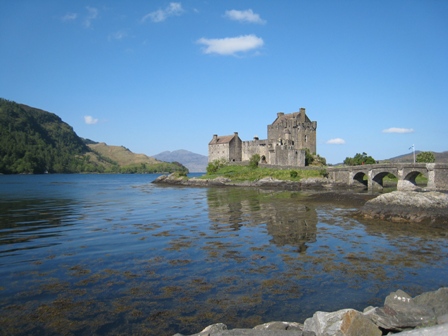 After a coffee and scone in lieu of the breakfast I'd skipped back at the midge's campsite, I rejoined the long and winding road to the Kyle of Lochalsh and on to the Isle of Skye. I may have been here before, as a child, but if so, I have no recollection of it. Crossing the Skye bridge, which would more aptly be named Sky bridge as it rises so high, provides a great opportunity for some spectacular views down Loch Alsh to the hills I've left behind. But with no time to stop to take photographs, I headed off the bridge and onto the island proper. Being my first visit to Skye, I wanted to ride round the island completely, and to see the hills my friends, Helen and Ian, rave about so much, the Cullins. But as a novice to navigating my way round the island, and without having put any destinations into my sat-nav, I was quickly lost and found myself heading south to Armadale, not north past the mountains. Still, what's life without a few wrong turns to throw up some new experiences?
Some experiences are more fun than others, though, and on turning right at Kilbeg I discovered one of the less fun ones. The road back across the island was narrow – single track with passing places – but that wasn't the problem. What was the problem was that it was freshly gravelled, steep and very winding. So up and down I went, all the time trying to calm my nerves and relax, the fear of the bike sliding and me ending up underneath it trying its best to prevent me from doing so. Despite years of riding a bike, roads like this sometimes make me feel like a complete novice, as I find myself gripped by irrational fear and tense up, making it far more likely I'll crash anyway. But I needn't have worried. Despite the bike being very heavy it was a doddle to ride and it wasn't too long before I emerged once again onto the main road and picked up speed, retracing my steps back to Harrapool where I had incorrectly turned off the main road (I know this now, because I can study the map that was locked in my panniers at the time…).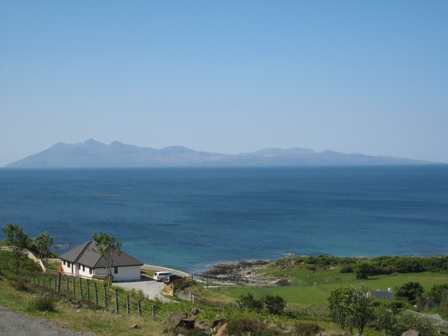 From here I followed the right road, and into the heart of the Isle of Skye proper. And the scenery was even more impressive. So much so, that I simply had to stop by the side of Loch Ainot to take another picture of my bike by the side of the road…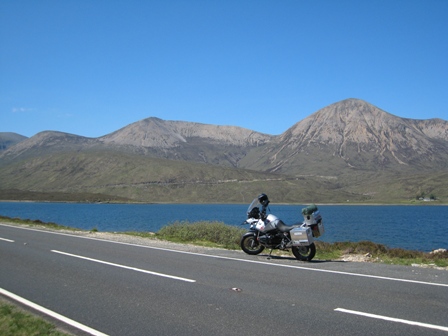 The ride from here up to Dunvegan was nothing short of spectacular, the road twisting and turning whilst all around were views that I could have stopped and stared at all day. Well, if there wasn't a bike to ride, anyway. Just outside Edinbane I stopped again, simply because my eyes were full from feasting on scenery too beautiful for words. Oh, and there was a sheep grazing in the field and a boat passing that looked like it might make a good photo…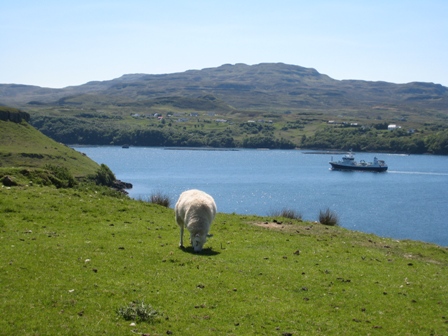 From here I continued on and rejoined the A87 towards Uig (and no, I don't know how it's pronounced). By now it was getting on a bit, and I was starting to feel the absence of bacon and eggs in the pit of my stomach. Climbing out of Uig (now doesn't that conjure up an image?) I stopped at a hairpin bend overlooking the bay and broke out the stove. Now there must be something odd about a lone biker rustling up bacon and eggs by the side of the road, judging by the expressions on the faces of the passing motorists (a few of whom nearly crashed into other vehicles whilst watching me instead of where they were going). But the food was as good as the view…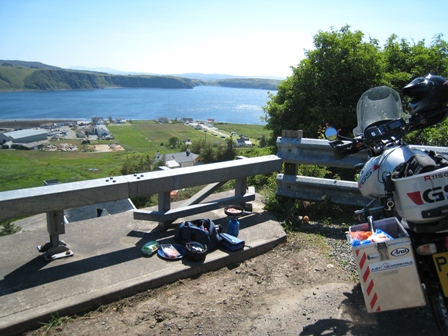 The real problem arose when I was full of bacon and eggs. On spotting a great place for lunch, I'd ridden straight on at the hairpin bend, and parked up on some gravel facing away from the road. It was clear I wouldn't be able to ride away from my parking space, so I pushed the bike backward and got on to ride it in a circle so it was facing the right way. Only when I came to rest and went to put the side stand down, my foot slipped on some loose gravel and the bike leant the opposite way. Did I mention it was heavy earlier? Good. Because it was, and I'm a weakling. I had no choice but to lay it on its side and then pick it back up again. But, and this is despite having attended the BMW Off-Road Skills course, where they teach you how, there was no way I was able to get it upright again. I put it down to dehydration, as I'd had nothing to drink since my brew back at camp this morning, but it's quite possible it's because the bike weighed too much (and I've not been to the gym lately). To cut a long story short (ok, just this bit), I flagged down another motorist who gave some much needed assistance and the bike was upright again, without so much as a scratch on it. Relieved, I sat down and panted for an hour or so until my breath returned and I was able to move again.
Repressing the fear that I might drop the bike again and never be able to pick it up, finally being found years later as a skeleton sat next to a pristine antique GS, I rode onward and onto another single track road freshly gravelled by the island's sadists. But the views more than made up for it, as I followed the coast road through Staffin and on to Portree, where I found a shop open and bought some bottles of drink to quench my raging thirst.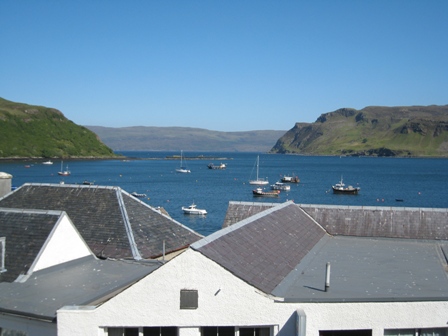 From here I retraced my wheeltracks from earlier in the day and headed back down the island and re-crossed the bridge to the mainland. Determined to make tomorrow's ride shorter than Saturday's, and enjoying the now empty roads, I made 'good progress' past Ailean Donan castle and all the way to Fort William, before stopping at the Glen Nevis campsite. Having learnt my lesson from last night, I was determined to pitch in the middle, leaving plenty of other victims in case of a plague of midges, and soon was pitched up well away from trees and water…
Unlike the campsite the previous night, which only had one shower for the entire camping population, this one had some good facilities, and so I took a much needed shower. On returning to my tent, I discovered a couple of guys from South Shields admiring my bike. They were part of a group of four bikers, two on 1200GS's and the others on a smaller Suzuki and Yamaha. Before long we were all stood around discussing the advantages of BMW's finest and enjoying the evening sunshine. However, I was getting hungry and was in need of an end-of-day beer, so I made my excuses and went in search of the camp shop. Only to discover it was shut. Unperturbed, I got on my bike and rode into Fort William in search of a chippy or Indian and an off-licence. Whilst riding round I saw a sign for Pukka Pies and made my mind up in an instant. I adore their chicken and mushroom pies and so didn't waste a moment grabbing a few beers from the nearby off-licence and placing my order. Two Chicken and Mushroom pies and a portion of chips. Well, I'd been good so far, hadn't I? Now this chippy has a rather unique approach to "customer service". On placing your order, you are presented with a ticket with a number on, much like in the local deli. Then you wait for about 10 minutes before they start processing your order. And it's at this point things started to take a turn for the worst. I watched agast as one after another of the gormless servers went to the freezer and exclaimed "no chicken and mushroom pies" before I was called back to the counter. "Sorry, we've no chicken and mushroom pies left" I was told. When I pointed out that it was a bit stupid to take my order, and my money, for something they don't have, I was met with a shrug and an expression in some Eastern European language I couldn't fathom – seems it's not just Scottish that you need to learn before visiting Fort William these days. So with heavy heart I changed my order to fish and chips and they proceeded to prepare it there and then – why they couldn't have done this in the first place is beyond me…
And so back to the campsite, where I enjoyed a beer and endured the fish and chips before deciding that was enough excitement for one day and turned in to read some of my book before putting in my ear plugs (there was a noisy family in the neighbouring tent) and falling asleep.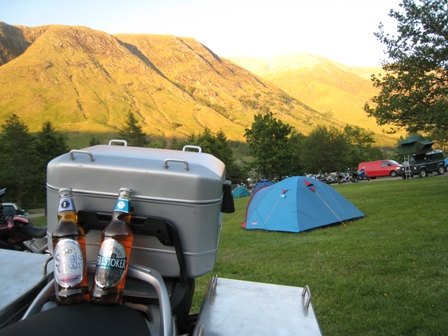 Day 3 – Time to go home…
Woke early to the sound of the campsite children waking up and pestering their parents, so got up and grabbed a shower before the facilities got busy. Like most campsites frequented by walkers, this one has the smell of sizzling bacon wafting across it as early as 6.15am, so I join in the fun and rustle up the remaining bacon and an egg for breakfast, washed down with a cup of tea. But the best bit? Midge free!
I broke camp quickly, putting away the tent whilst still soaking wet from the overnight dew, but determined to hit the road home before it gets clogged with post-Bank Holiday traffic. Leaving the campsite at quarter to eight the roads were pretty much deserted and with the sun already shining in a clear blue sky, it was hard to contain my excitement at another long day in the saddle. Glencoe was simply staggeringly beautiful this morning, and despite my intention to keep going I just had to stop and take it all in for a few minutes, before setting off again.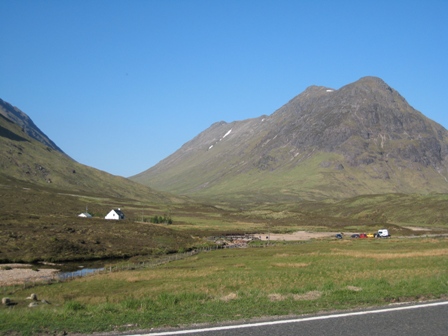 Leaving Glencoe it was time to make good progress, and with the roads empty it was riding heaven, rolling through the turns at speed as the road wound its way back to Invergarry and on to Crianlarich. As someone who has always ridden sportsbikes, it comes as a bit of a surprise to find out just how competent a bike the 1150GSA is. Such a large, heavy, agricultural bike should not be as easy to hustle along as this, and I don't honestly think I would have been as smooth and progressive as this on any of my previous bikes. Heading down past Loch Lomond in the sunshine, with the road almost devoid of traffic was a real joy, and I found myself singing along to the music on my MP3 player – Blondie, AC/DC, Aimee Mann and others providing an eclectic soundtrack to the ride.
The joyous ride changed once I was clear of Dumbarton, passing the Little Chef just over 2 hours after I'd left Fort William, where I joined the motorways home. After I'd stopped at the services on the M74 the wind started to pick up and the clouds appeared to cover the sun, but my spirits were high following a great couple of days riding. Riding with a significant angle of lean just to cope with the side wind I made steady and quick progress back into England, stopping for the last time at Killington services and letting Tracy know I'd be home in a couple of hours. The remainder of the journey was spent straining my neck muscles against the wind and trying to alleviate the soreness in my backside, and I finally pulled up outside our home just after 2pm – just 6¼ hours after setting off from the campsite, some 350 miles or so away… and with a total of 1041 miles covered in 3 days, it had been a great weekend…