The day of departure started early, very early, as I woke at 2.37am just a few short minutes before the alarm was due to go off. Getting up whilst trying not to disturb Tracy – she'll appreciate those few short minutes later – and into the shower to wake myself properly. Seconds later, Tracy appears. Seems the few short minutes were just that – few and short...
Tracy made me a cup of tea whilst I got showered and dressed, and then we loaded up the heavy bag into the boot of her Mini and I drove to the airport, with a growing sense of anxiety as to whether I'd be able to get checked-in (as the Air France website had been refusing to acknowledge my booking yesterday) and whether my big bag would be too heavy (we'd weighed it with me holding it on the bathroom scales and it was >25Kgs). Once at the airport my anxiety was for another reason... having to say "Goodbye" to Tracy, knowing I won't see her or hold her again for 5 months (148 days to be exact)... so we said our farewells and had a cuddle I hope will sustain us both, and I dragged the bag into the airport building.
On the big screens it stated that the Air France check-in desk for my flight to Paris would not be open until 4.40am... and it was now just 3.30am... Still, that would at least give me some more time to get more anxious...
I went and tried the auto-checkin kiosk, but it didn't show the Air France logo, so I dropped the bags on the floor and stood around prepared for a long wait. I noticed a weighing machine, so weighed the big bag... 31.6kg... oh, dear! And with an absolute max of 32Kg per bag I was now even more anxious... After a few minutes someone official appeared and asked those on the KLM flight to Amsterdam to check-in, so I tried the kiosk once more, and this time the Air France logo appeared. I quickly retrieved my booking (first sigh of relief), but also had to fill in my destination address in the US, which is when I realised I didn't have Steve's address with me... so I just entered "Half Moon Bay, CA" and went to the desk to check the bag in. And that went very smoothly, although I was told I should have split it as the check-in allowance is 2 bags of 23Kg each! (Now if the Air France website had been working, I'd have known that...). I also didn't have any issues with carrying on my helmet bag and my rucksack. Second sigh of relief. Just Steve's address to sort out now. So I contacted Tracy and she logged onto my home laptop and retrieved it for me... Third and Final Sigh of Relief...
Once through security (again without problem), I grabbed some breakfast from Burger King (the lesser of the two available evils) and started to people-watch. The airport seemed full of groups of young women (I'd guess 19-25) and group had their own "identity" - mostly bright vest tops emblazoned with the individual girl's names - "Charlotte", "Shaz", "Charmaine", etc. You get the picture. Once my hunger had been addressed, I wandered off and found somewhere to sit and read the paper until the flight was called. That's when I found the card and letter Tracy had put in my book. Suffice to say reading them had me filling up with tears, not a good look for a hardened Adventure Biker! (but it was very uplifting, knowing that I have Tracy's love and support).
The flight to Paris was quick and uneventful, and I passed the time reading the paper and in-flight magazine (too early for the book!). The turnaround at Paris CDG was very quick, and I only had enough time to grab a bottle of water before boarding. Once on board and with my luggage safely in the overhead bins (another worry resolved) I sat down and broke out the book. I've recently started reading "Ghost Rider – Travels on the Healing Road" by Neil Peart, the drummer from Rush who lost his 19-year old daughter (in a car crash on her way to University) and wife in the space of 10 months, then set out on a solo bike trip to try and deal with his grief. It's a bit heavy going at times, especially as David was the same age when he was taken from us, but I can relate totally to the stages of grief he's going through. The book kept me occupied for almost the entire flight, with a snatched hour of dozing and 2 poor meals to break my rhythm.
We arrived slightly delayed (anxious about the time Steve will be waiting), but were soon off the plane and in the massive queue to get through immigration control. I was hoping for a "Visa holder" fast lane (to make up for the special trip I had to make to London to get the Visa) but no joy, so I had to join the queue with all the other non-US citizens. Eventually I got to see the immigration officer who asked me what I was doing and when I told him I was here to ride a motorcycle from Alaska to Argentina, he produced a copy of "The Long Way Round" from his rucksack and started talking about a trip he was planning from coast-to-coast... seems everyone is a biker these days!
Through immigration control and on to baggage collection where my bag was going round-and-round on the carousel (another worry dealt with), so I grabbed a trolley, loaded up my bags and headed out through customs and into the arrivals hall. Which is where Steve was waiting, looking exactly the same as he had done the last time I'd seen him, 11 years ago at my house when he visited the UK whilst working for the same company as me (I'd first met him on the "New Employee Orientation" programme run by the company, which was 2 weeks in Boston MA, and was more of a 2-week drink-a-thon than anything else). I must still at least resemble my former self as he recognised me straight away too (although that could be because he's seen my pictures on here and on Facebook!).
We loaded up his car and he drove us back to his house, a traditional US-style bungalow with a nice garden in Half Moon Bay, just south of San Francisco. He then poured us both a pint of his own brew (calling it "home-brew" would be doing it a disservice, as it's more like a micro-brewery brew). He'd been brewing this specially for my visit, as he wanted to try an "English Ale", and had gone to lots of trouble to get hold of Kentish malt and hops. And it was worth the effort, too, as it was lovely – like a stronger flavoured Marston's Pedigree. Steve was a bit disappointed with it as he'd skipped the ingredient necessary to prevent it from being cloudy (which is was), but he shouldn't have been... and so we sat in his back garden, chatting (about all sorts of things), admiring the hops he's growing (yes, he's THAT serious about his beer), and drinking beer. In the sunshine. Finally, I could feel the anxiety of the day ebbing away...
After a few more beers and a shared Pizza, we thought it would be a good idea to stop drinking for a while (the beer was strong, about 6%!), and so went for a walk across Highway 1 and onto the beach. Where I had to go and paddle in the Pacific Ocean, of course.
Having wandered up and down the beach, whilst Steve pointed out the landmarks, we headed back to the house and drove up to "The Brewery", a micro-brewery up the bay. Here we sat outside under a now cloudy sky (still warm, though) next to a gas "fire-pit" and drank a couple more beers before I started to feel myself flagging and we headed back to Steve's, turning in around 9pm, at the end of a very long, but very enjoyable day...
Woke at 6am after a restless night, despite having a comfy inflatable double bed in the middle of Steve's living room. Guess that's the price to pay for a long flight followed by good beer...
Updated the blog whilst Steve slept, then had a cup of coffee and some toast to help us prepare for the day. The weather was once again foggy – being so close to the ocean, Half Moon Bay (and most of San Francisco as we'd discover later) has a period from late evening (around 6-7pm) where the fog descends and the temperature drops dramatically until around mid-day when the sun has burnt away the fog and the temperature rises significantly. This morning was no exception, with visibility down to around 300m, and the sky obliterated by a thick white blanket. After breakfast we sorted out some riding gear for me, as I could hardly ride the rented Harley whilst wearing my BMW Rallye jacket and full-face crash helmet...
So wearing Steve's leather jacket and an over-sized "half-helmet" (more like a badly fitting hat!), my motocross boots and BMW trousers and my GS gloves, we got Steve's bike out of the garage. A Honda Shadow cruiser, it's a Japanese "Harley look-a-like" with a very small pillion pad on the rear "fender" onto which I climbed behind Steve. His first remark was "that's us overloaded" and I guess he was right, but only because he's 6' 4" and hardly small himself... My first thought was how comfy this was compared to Richard's ZX12 I rode pillion on when we dropped my bike off at the freight company all those weeks ago...
Pulling out onto Highway 1 and joining the morning traffic I was instantly struck by how different riding pillion is to riding "up front". First, all I could initially see was the back of Steve's head (until I realised I could peer round the side). Second, I was sat there like a sack of spuds, completely at the control of Steve and at the mercy of the elements. But I trusted his riding (otherwise I'd not have been sat there) and despite my oversized helmet needing an occasional push back on my head, felt completely safe. The weather was cool but not cold, and once my eyes had stopped streaming I could enjoy the view – or at least the bit of the ocean visible before the fog engulfed it. Highway 1 is "one of those roads", as it twists along the coast into San Francisco, a journey of about 30 miles from Half Moon Bay. They're in the process of building a tunnel to by-pass some of the curves, which will be a real shame, but is necessary as the road keeps falling into the ocean. Not today, though, so we rolled along, leaning into the curves and occasionally crashing over the bumps with the extra weight of me compressing the rear suspension almost to the bump-stops...
Once in the city, we rode around for a while trying to find the hire-shop. Even with the benefit of Steve's i-Phone and Google maps, and his excellent knowledge of the city, this took a while, especially as the shop lacked the "Thunder Road" sign we were looking for, and had recently moved... But find it we did, and we were met by a nice guy with a "California beard" (one of those weird little goatie things but with no moustache) who took my driver's licence and credit card and proceeded to give me a collection of forms on which to sign my life away. With the formalities done, but his computer not able to print the rental agreement, he introduced me to his mechanic "Bob" who had ridden from Alaska to San Fran before settling down, but harboured lingering desires to complete the rest of the Pan-American Highway (the trip I'm shortly to start). After chatting with Bob for a while and selecting a helmet that fitted from the collection available, the guy showed me round the bike and finally the computer behaved long enough for the rental agreement to be printed and signed. Now we were ready for the off...
Well, nearly. With a huge Harley-Davidson Road King Classic at my disposal, looking spectacular in black and chrome, I have to admit to being a little intimidated. Sitting on the bike and hauling it up off the side-stand I realised how heavy it was. Probably weighs as much as my fully laden GS, but with the weight much lower, and harder to hold up when leaning slightly. And then there's the foot controls. On a normal motorcycle, these consist of a small round "peg" on which you put your feet, and delicate-looking "levers" for the brake (right side) and the gear-change (left side, click down to go down the gears, up to go up, except for 1st which is always down... sounds confusing but isn't once you get used to it). On the Road King, the "pegs" are foot-boards, long enough for giant-sized feet, and the "levers" are huge. The rear brake is like the foot-brake in a car, positioned at the front of the right-hand foot-board, and impossible to control delicately when wearing motocross boots. The gear-change is a lever with both a front (used for changing up) and a rear (used for changing down) either side of the pivot-point. Fortunately, it's possible to just use the front part of the lever in the conventional way, but the controls still felt alien, and coupled with the weight, caused a few butterflies in my stomach. But starting the engine killed all the butterflies, or at least deafened them, and everything within as 100-yard radius. It also had me giggling like a schoolgirl. Just what I'd wanted, a LOUD Harley. With the engine on idle, the sound was like the rumble of the gods, even if it also sounded a little like Brian Blessed bellowing the word "POTATO" as fast as he could (next time you hear a Harley, listen closely and you'll hear it's actually asking for that particular vegetable). With my nerves quietened by laughter, Steve and I set off into the San Francisco traffic, with me leaving the 1st - 2nd gear-change for a little longer that I would normally do, not because of the wonderful noise the bike was making, but because I couldn't find the gear lever with my left boot...
By the time we'd ridden past the new baseball ground, and past a tall ship in the dock, down the side of the bay and on towards Golden Gate Bridge, I was a fully-fledged Harley rider, and my worries had gone. I could concentrate on the traffic (very well behaved) and the scenery (gorgeous), all the while with a fantastic sound-track of thumping Harley engine. When we came round the corner of the bay and could see out to Golden Gate bridge, it looked like someone had cut the top off, as the fog still hung over it. No photo opportunity today, then. But I still got to ride across, as we headed for Saualito, a really beautiful little town on the bay, with views over Angel Island, the bridge and Alcatraz, and with a huge yacht complete with helicopter anchored up. We pulled up and grabbed a delicious coffee mocha and sat in the sunshine discussing the ride and where we'd head next to try and avoid the fog.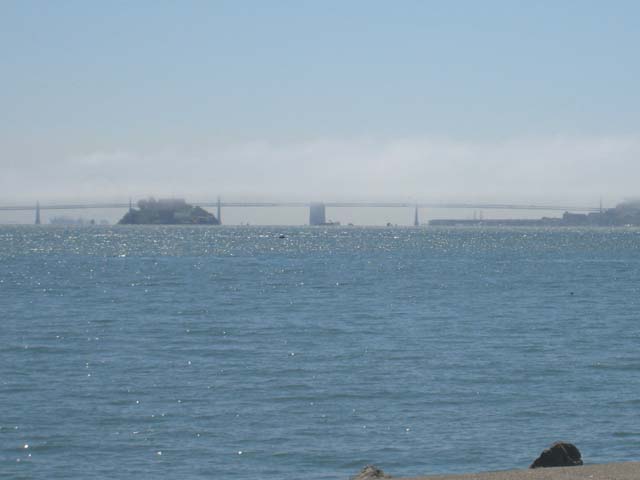 Suitably refreshed, we disturbed the peace and quiet by firing up the bikes and rode back over the bridge again (still covered in fog), through Golden Gate park and then picked up the "Skyline Highway", a road which meanders across the top of the mountains above the bay, with spectacular views on either side, made all the better as the fog lifted. With a short stop for Steve to ditch his jacket (it was already getting very hot – but I kept mine on, still thinking "safety first"), we rode for what seemed like hours along the twisty road, leaning the Harley over far enough to have the footboards touching down (not that far, really!), and laughing like a drain. Then remembering I'm supposed to look cool not a fool, and adopting a Harley-stare instead. That lasted until the next bend and the sound of the engine roaring as I wound it back on again, and the broad grin was back again. Guess I'm just not made to be cool...
After a fantastic ride we pulled up at a lunch-stop, Alice's Restaurant, where there were many bikes parked up. This is the San Francisco equivalent of the burger-van at Devil's Bridge in Kirkby Lonsdale... sunshine, great bikes of all styles (cruisers, sports-bikes, fully-laden tourers, supermotos, etc) and the food... the burgers from the van don't taste like this! I had a "Le Mans Burger", a 1/3 pound sirloin burger with sauteed mushrooms, onions and Monteray Jack cheese (my mouth is watering at the memory) and we shared a portion of the best beer-battered onion rings I've every tasted. Boy, is this the life... As we sat and watched the bikes come and go, we were joined by a procession of supercars – 2 Ferraris (599 and 555), an Aston Martin Vantage convertible, Porsche GT4 and an Audi R8 – which were driven by a large group of well-healed, suntanned Americans (thin, too, but then this is Californ-IA)... but the odd thing was, they all had their names written on sticky labels attached to their shirts! This must count as a "coach party" for rich Americans in California...
Just before we set off, Steve took a picture of me sat astride my Harley outside this wonderful place... do you think I look a little like Marlon Brando (in the Wild Ones)? Or more like the geek in Wild Hogs?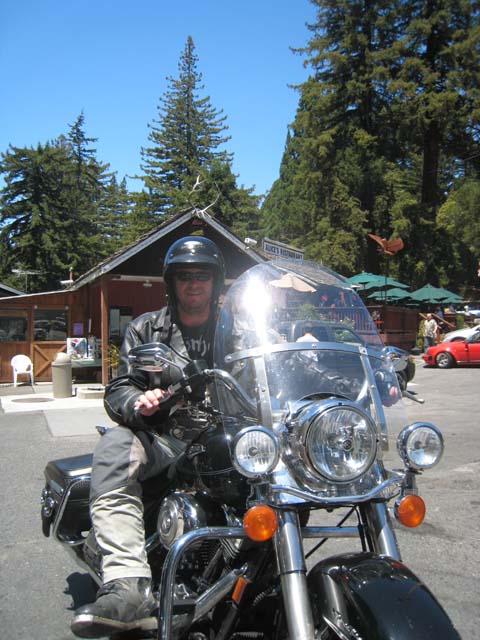 From Alice's we continued the ride, over to San Gregorio and down to Santa Cruz along the coastal Highway 1 and with the incredibly intense smell of the ocean in our nostrils and watching pelicans soaring in formation on the wind. We stopped briefly in Santa Cruz, another beautiful little town that reminded me of the centre of Chester but with sunshine, where we checked Google maps once more whilst drinking iced coffee (or ice with a hint of coffee), before setting off again up Highways 17 and then 35 before taking a very interesting little road up into the mountains. And interesting is the word, as it became a single-lane road twisting steeply up into the woods, before emerging on the the top and re-joining the Skyline Highway. This stretch had us both laughing out loud, as the bends came relentlessly, some turning back on themselves so much we were getting dizzy. It reminded me of a pass I found once in the Alps, and it had the same effect on my arms, tiring them out through the sheer effort of turning the bike one way, then the next. When we finally rejoined the Skyline we found a rest stop to pull over and get off the bikes for a while...
The final run back into Half Moon Bay was back along the main road we'd come in on from the airport (was that only yesterday?), and once filled up with "gas" (where a nice middle-aged American woman engaged us in conversation before commenting on my "wonderful axe-ent") we put the bikes back in Steve's garage and poured ourselves a well earned beer – another pint of Steve's now-named "Sloppy Hog Brown Ale" - and reflected on the fact we had only done 177 miles. Seemed a lot more!
After a couple of beers, we decided against Steve's original plan of a BBQ (way too tired!) and went out for dinner. The restaurant he chose was "The Miramar" perched right on the beach with fantastic views out over the ocean. With a table sat in the window we were entertained by watching pelicans diving into the ocean for fish, a dolphin playing in the shallows, a seal bobbing up and down watching the fishermen stood in the breakers casting their lines as far as they could, and a fishing boat seemingly lost going this way and that in the descending fog... and that would have been perfect enough, but the food, well, I've run out of superlatives already... starting with a shared plate of breaded fresh calamari served with a spicy dipping sauce, I then had a "pasta pescadores" - a plate of linguine with 2 lobster tails, mussels, salmon, clams and calamari in a rich tomato sauce (I only managed to eat half of it before almost bursting) whilst Steve had a creamy seafood linguine with a similarly exotic mix of fresh seafood. All washed down with a couple of locally-brewed beers. Just fan-tastic...
Back at base we watched a bit of telly before crashing around 9pm again. Exhausted, at the end of a great day...
Saturday, 18 July 2009
Harley and his Shadow...
After a much better night's sleep, I woke again at 6am, showered and updated the blog with yesterday's adventures... Here's hoping this is the start of a repeatable routine, as it would be nice to think I can keep the blog up-to-date almost daily... But I suspect that as I get more into the trip, I'm going to wake up later and later...
Whilst I wrote the blog, Steve put on some coffee and then made us some pancakes (served with maple syrup, naturally) and some little savoury sausages. They were delicious. Who knows, I might even turn American on this trip...
Breakfasted and with the blog up-to-date we changed into our biker attire and got the bikes out of the garage, before I shattered the early-morning peace and quiet by starting the Harley. It's not got any quieter overnight... And of we rode, out onto Highway 1 again, with the air cooled by the early-morning fog and with the salty aroma of the ocean filling our nostrils. Into San Francisco city so Steve could drop off some checks (sic) at the bank, riding up and down hilly streets, and watching out for all the STOP signs, avoiding the trams (which were all very modern, more like Manchester's Metrolink than the quaint old ones in the movies). With the bank job done (!) we rode back out of the city, via Golden Gate Park with powerful smells of fresh basil (it must have been something else that smelt like basil, as wild basil doesn't grow in the park), and once again over the famous bridge, which was again shrouded in dense fog, the tall support stanchions disappearing just 20 or so feet above our heads, as though they led up into the heavens (or perhaps a land of giants tending to their golden geese – I'm sure I heard "fee fi fo fum" at one point whilst crossing). Once over the bridge we continued along the freeway for a few miles before heading off on a winding road up towards Mt Tamilpais. This road was treat (the first of many today) and despite some occasional slow-moving traffic we managed to get into a rhythm leaning this way and that as the road wound its way up the hillside, with spectacular views over the bay to our left.
Eventually we descended into a small town by a wide sandy beach called "Stinson Beach" where we pulled up for a coffee. From here we rode out of town a few miles and then took a right turn onto a narrow road leading up into the mountains proper (the Bolinas-Fairfax road). Avoiding the brightly dressed mass ranks of the Lance Armstrong wannabee club, huffing and a puffing their way up the mountain, or hurtling downhill using all the road (get out of the way!), we made our way upwards. Whoever said that American roads are predominantly straight has obviously never been on this one, which twisted one way and then the other, with some of the right hand turns in particular being well over 270 degrees, badly cambered and with cyclists hurtling down right where I wanted to be. Challenging is the right word to describe this road, especially when riding a very heavy, very long, Hardly-Turning. But fun, oh, yes....
After an eternity of turning this way and that we emerged onto the ridge above the tree-line, and with the fog still covering most of the bay way below us, it looked for all the world as though we'd ridden into heaven itself...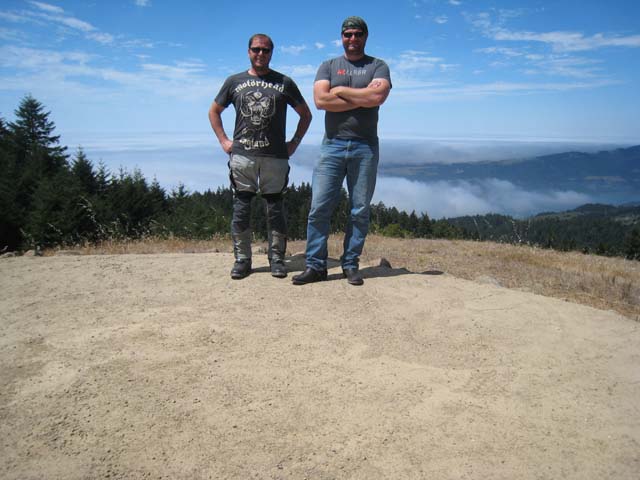 But we weren't at the top yet, so we continued on our merry way, stopping to take several photos of the incredible vistas (I'll create a separate gallery for them or the blog will get too big!), before rounding a left hand bend and being completely stunned by the view over to San Francisco city, still shrouded in a dense fog...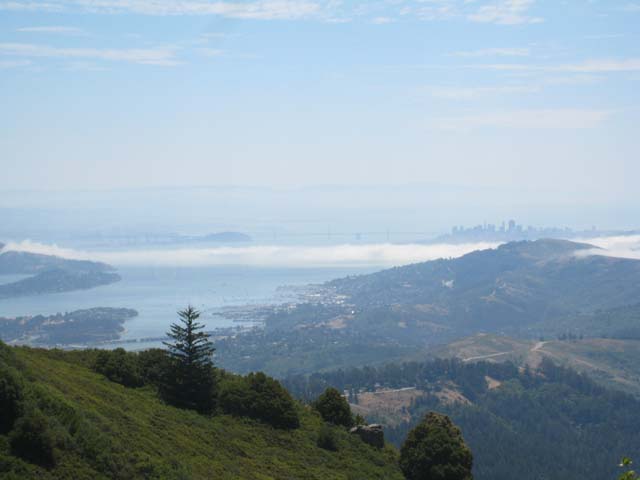 If you look closely, you can see the Golden Gate Bridge leading from the Marin Highlands to the city in the top centre. Leaving the summit behind, we rode back down and then took the turn towards Fairfax and repeated the left-right-left-right-left-oh-my-god-RIGHT of the way up but going down. Stopping at the oh-so-photogenic reservoir at the Tamilpais Watershed in the now searing heat, we stretched and tried to get life back into muscles that were beginning to ache from the effort of hauling the bikes round the turns. But it felt good, a feeling enhanced by the spectacular scenery...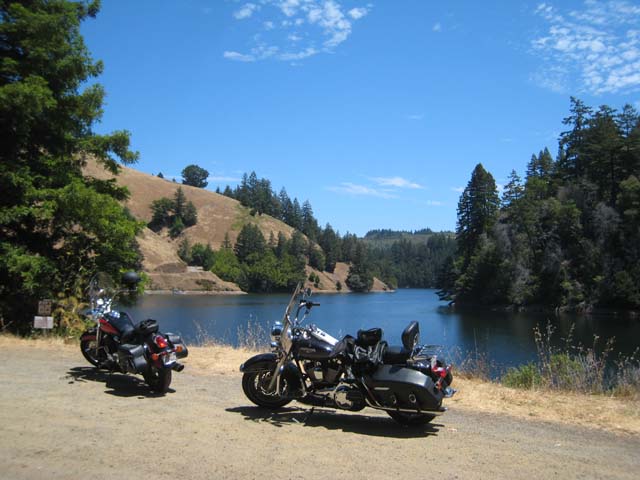 Finally we descended into Fairfax itself, where we parked the bikes and found a likely-looking Italian restaurant for lunch. It was now 1.30pm, and we'd set off at 9am, but had only covered some 80 miles, an indication of how winding the terrain had been. Glad of the chance to relax and drink something (a glass of Peroni, of course, and several gallons of ice-cold water) and eat (a delicious Fettuccine Carbonara) , we took full advantage of the restaurant and watched the world go by for a good half hour...
We did have to drag ourselves back outside into the sunshine again, though, as the day's riding was far from over. Refreshed we headed out onto the highway (wasn't that a line in a song?) up Highway 101 and onto Highway 37 (the Napa-Sonoma highway) and into wine country. I even had time on these long straight roads to try the Harley's "cruise control", which enabled me to cruise past Steve and wave to him with both hands... cool! Taking Highway 12 (are you with me still?) into Sonoma, we stopped on the main street and went into a frozen yogurt (sic) shop. I've never had one of these before, but it was great. Like ice-cream but not as unhealthy, although by the time I'd added a few chocolate-based toppings it probably had more calories than a large pizza...
Back on the bikes again, we ditched the jackets in the panniers (it was very, very hot and the traffic very light) and rode along the "wine road" out of Sonoma and passed endless vineyards and "wineries", stopping for the inevitable photograph...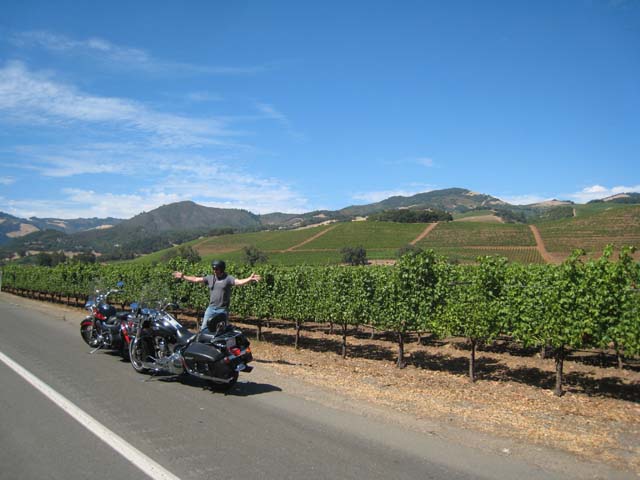 By now it was getting on a bit and we were still some miles from home, so we filled up with gas and water and put our jackets back on before heading back on Highway 101, from Santa Rosa back to San Francisco, this time heading up onto the Marin Highlands for a view over the Golden Gate Bridge. Despite 40-mile-an-hour winds, the view from the gun emplacements (now without guns) was stunning. The bridge is simply HUGE, and the stanchions are 746 feet tall, rising almost level with the Marin Highlands themselves...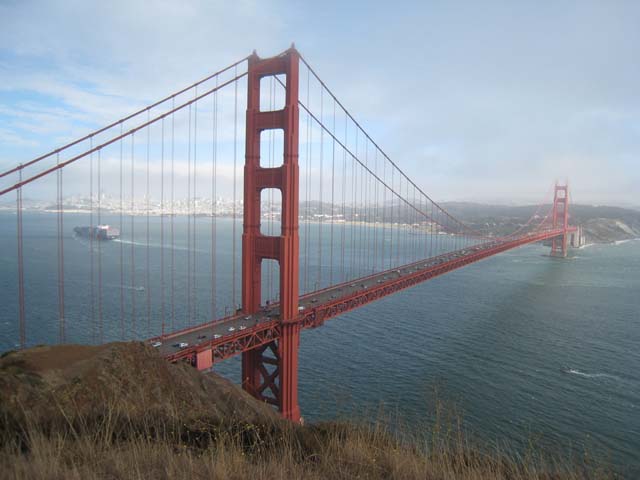 Crossing the bridge again and heading back via the Golden Gate park (more smell of basil, and this time accompanied by an aniseed smell) we took Highway 1 back into Half Moon Bay, put the biks back in Steve's garage and poured ourselves a well-deserved beer. At the end of a 10-hour riding day, we'd covered just 220 miles, but ridden some of the best roads I've ever been on...
But the day still had one more treat in store. Steve rustled up some New York Strip steaks, served with fresh steamed asparagus (cooked to perfection) and a side-order of curried chick peas...
Now that put the seal on it...
Sunday, 19 July 2009
Good ridin' buddy...
Riding motorcycles all day is a great way to ensure a good night's sleep, and last night was no exception. Exhausted after the day's ride, I fell into a deep sleep, troubled only by weird dreams brought on by the late-night conversation with Steve about events in our lives in the 11 years since we last saw each other...
I also had a lie-in, waking at 6.30am, and showered and packed my belongings away before once again updating the blog. We wanted to get an early start so we could squeeze another day's ride in before my flight in the evening, so we left at 8.30am and once again rode into the early morning fog, and took the by-now familiar route to San Francisco and over the Golden Gate bridge, which was again suspended from the heavens under a thick blanket of fog. We then took a completely different route along a fantastic biking road with great sweeping bends and rolling hills, past man-made lakes and through small wooded copses and wide open sun-bleached fields. With the sun now having burnt off the fog the temperature rose to a pleasant level, and the riding was great, swinging the heavy Harley into the turns and scraping the footboards several times (more so the left one, as I seem to be more comfortable on left-hand bends than right-hand ones for some reason). We continued to amble along, enjoying the scenery and catching glimpses of turkey vultures circling on the thermals before finally arriving at Point Reyes, our nominated brunch stop.
Another quaint little town this one is a mecca for bikers, as any small town surrounded by great roads usually is, and the main street was lined with bikes of all types, from Ducati Hypermotards and 1098s, Japanese sportsbikes, Triumph speed triples and Harleys, both standard and full-on choppers. We ate in the Point Reyes Station House, a beautiful old wooden building with a garden patio (the area we were shown to was secluded and under a wooden "summer house", which the waitress referred to as "romantic" - hardly appropriate!), and we both had an excellent "Corned Beef Hash" which bore no resemblance at all to the English version, and some "Home Fries" (sautéed potato chunks in their skins) and another great coffee mocha (for the sugar rush...).
Relaxing in the sunshine once more it was difficult to get moving again, but with bikes to ride we managed to drag ourselves away, and headed out of town and up the coastal road (Highway 1). Any road that follows the coast is going to be winding, and this was no exception, hugging the coastline in a series of lefts and rights that had me grinding the footboard some more (hoping that the rental company expects this sort of thing, it's only natural after all!). We rode all the way up to Bodega Bay before stopping again for a bottle of fizzy drink and a rest in the sunshine, before it was time to start heading back the way we'd come.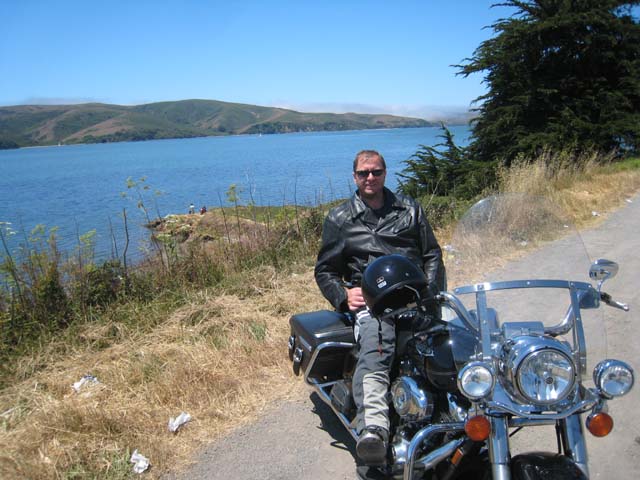 By now the sun was at its hottest and it was like riding in a fan-assisted oven, so we stopped at the side of the road, by an old school (1871 – positively ancient in American history terms) to cool off and take another photo of the Harley.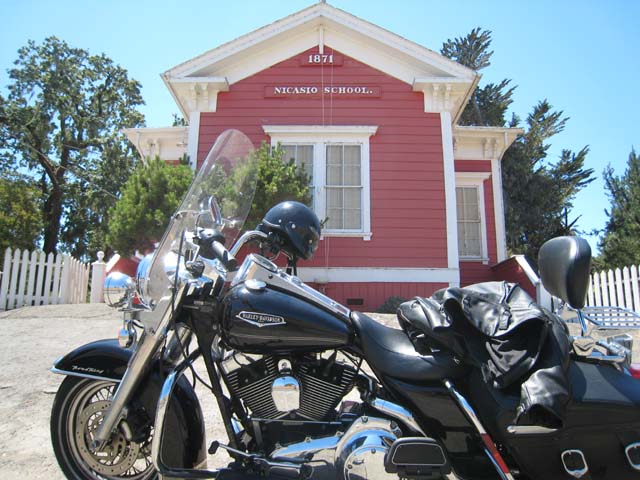 We stopped again in Fairfax for a final drink before rejoining the freeway and back into San Francisco, crossing the Golden Gate bridge for the last time, in a very strong side wind. We then had to cross the city to get back to Thunder Road and drop the bike off, but the riding was easy and the traffic light and predictable. With so little time to explore the city (and the fact that I'm saving that treat for when I can come again with Tracy), I only caught glimpses of City Hall, some weird-looking church on a hill and a grassy square...
Dropping the bike off was also trouble-free, and then it was back to "riding bitch" on Steve's Shadow back into the descending fog all the way back to Half Moon Bay, with my backside getting sore and my knees complaining. Back at Steve's I changed out of my bike gear and completed my packing and checked in online, before we loaded the bags into the car and joined a long traffic jam out of Half Moon Bay and on to the airport.
It was odd saying goodbye to Steve. We've only seen each other on 3 occasions – the 2 weeks of "NEO" in Boston, when he came to the UK and stayed with me for a day or so, and these last 3 days. I've always believed that there are some people you meet in life that will instantly become friends, people who are genuine, open and just good company. Steve is one of those people, and the last 3 days riding, chatting, drinking and eating with him have proven my theory. They've been what I like to call "best days", days that you wish could last longer, and that you know you'll look back on with great fondness in years to come. Thanks, Steve. Hope it's not 11 more years before we get together again...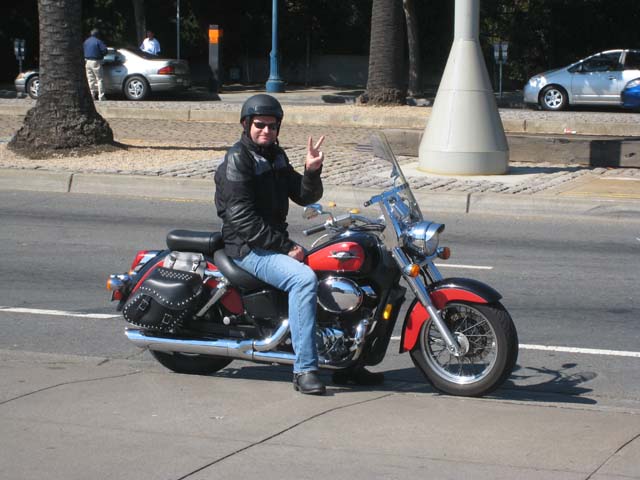 Once at the airport I dropped the big bag off at the drop-off, rip-off point (paying an additional $15 for checking a bag in, and a further $50 because it weighs more than 50lbs [66lbs actually]), then passed through security and went in search of something to eat. The spicy won-tons and noodles were not a match for the food Steve had found or prepared, but were not too bad. Then it was time to board the plane.
The flight itself was not one of the best, as sat in the entire row in front of me was a mother with her 4 incredibly badly-behaved children. Screaming, hitting each other and generally making a complete nuisance of themselves – including the mother, who seemed to slap one or other of the kids every 5 minutes. Sleep was not going to be possible, so I finished reading my book, then the in-flight magazine, write the blog (the in-flight magazine states that Alaskan Airways are conducting trials of in-flight wi-fi, but not on this flight, unfortunately, as I quite liked the idea of updating the website at 36,000 ft) and try to avoid slapping the irritating mother myself.
Finally we descended into Anchorage amongst dark grey skies, and the crew announced that it was 11.20pm, an hour behind San Francisco, and now 9 hours behind the UK. Despite the time, and the grey rainy skies, it was still light outside... after all, this is the "Land of the Midnight Sun" as they say...
Before I'd even made it to the baggage collection point I was met by Jeff (the Van Man) and we chatted and idled the time until my bag arrived, which we then dragged to the waiting van and threw in the back (not literally, it does weigh 32Kgs!). With Jim Jones (an American also on the Trans Am) due in at "0.01am" we went to check on his flight, only to discover that there were no flights arriving at that time (the closest being one in at 1.01am). As the hotel is only a short drive from the airport, Jeff suggested he took me there and came back for Jim (who I was sharing a room with) later. I agreed, and off we set, only to discover the main route to the hotel was closed and so Jeff navigated us across town, disorientating me completely in the process. But he must have known what he was doing because we arrived outside the hotel in short order. A very old looking building in downtown Anchorage (dating from 1936 on this site, the hotel first being established in 1916) and listed in the "National Register of Historic Places", it looked comfortable enough.
With Jeff having confirmed that Jim hadn't somehow managed to beat us back, he set off into the night to get him, whilst I checked in. I was given room 209, but when I tried to open the door a voice shouted from inside that "You got the wrong room, buddy!"... Double-checking the number on the door (209), the number on the key (209) and the number in my head (209), I concluded there must be a mistake (my powers of deduction, even having been up for 19 hours straight are amazing!) and went back to reception. Will, the desk clerk, was most apologetic and quickly sorted me out with a replacement room – a suite – and said he'd put Jim in a single when he arrived (as he had no other twins available). Result! A large bed all to myself, with coffee facilities for the morning. Grateful, I collapsed into bed and quickly fell into a deep sleep...