Epilogue
So here I am, 2 months after returning from this epic journey and finally sorting out the website.
So, what's happened since I wrote the "Last Post" and has the trip changed me?
Well, the first thing I did once I'd got over the jet-lag and the shock of being back in the cold of England, was buy a new bike. With El Monstro still on a slow boat from Buenos Aires and needing rebuilding when it finally arrived home, it seemed the sensible thing to do. So I bought a brand new BMW F800GS from Chester Motorrad and set about blinging it up with adventure parts (crash bars, heavy duty sump guard, panniers, etc) just in case I got to escape on another trip at some point. Then it snowed, just when I went to pick it up. But having ridden in the snow when crossing from Chile to Argentina over the Andes, I wasn't too bothered, and even took the bike out for a ride so I could take a photo of it whilst it was still all shiny and new.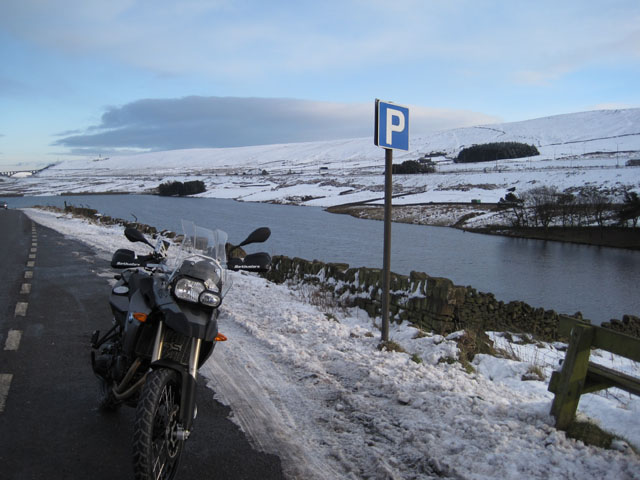 Isn't it lovely?
As expected just 4 days after returning from my journey I went back to work and to my "new" job. Whilst I'd been away the integration of HBOS (who I work for) and Lloyds TSB (who had bought us in the early days of the Credit Crunch) had continued and I'd had to re-apply for a job. I had ticked the "voluntary redundancy" box in the vain hope that they may simply pay me off, leaving me free to chase my dreams with a sack of cash, but they didn't. They gave me a new role in the new "Lloyds Banking Group". Returning to the day-to-day grind of working in a large corporation was the hardest part of returning home. With so many of my friends and colleagues leaving, especially those in senior positions, it was all the harder. Images from the trip keep popping into my head when sat in meetings. And I really missed riding my bike every day, and the happy smiling faces of my travelling buddies.
Before long it became obvious that I needed to start putting my energies into developing plans for a new adventure. Which is exactly what Tracy and I are now doing. You can read all about our new adventure on the new Blog, but don't expect it to be updated daily - I don't have as much to write about as I did during the Trans AM!
Who knows, perhaps these new adventures will turn out to be just as life-enhancing as the Trans Am itself...