Today has been another day of doing very little here in Anchorage, as the rest of the Group start arriving from the far corners of the US, where they've been trying to get over the initial shock of jet-lag and the realisation that the trip is finally underway after all this time.
I must be acclimatising now, as this last night I slept like a baby (awake every 3 hours screaming and having pooped my pants... OK, maybe not quite like a baby!) until 8am. Jim had already got up and gone out without even waking me, so I must have been in a fairly deep sleep. Showered and breakfasted (more waffles with maple syrup) and then back to the room to get online update the blog. Unfortunately there was no Tracy online as there had been yesterday, and I found my heart sinking as I realised that catching her was the reason I was rushing to get my laptop out. Disappointed, I updated the blog for yesterday, then Gerald popped by with a problem with his email which I was fortunately able to resolve (imagine the embarrassment of being the IT guy who couldn't fix a simple IT problem...). No sooner had Gerald left than Tracy came online and we were able to have a good chat. After she'd gone, I was able to use the orignal website files to restore the beer pics gallery (it's proven to be quite popular, so I was devastated when I broke it yesterday). I then did my washing, leaving socks and underwear all over the bathroom (hope Jim doesn't mind!) before going out for another wander round the shops.
I'd had cold feet since arriving, as I only brought some canvass trainers and sandals, so I bought a pair of trekking shoes, and a long-sleeved tee-shirt to make up for not getting one before I left the UK. I also bought a couple more stickers for my bike... we need to get on the road soon, or I won't have any money left!
I took lunch (an Alpine Burger with garlic, mushrooms and swiss cheese) in a local restaurant before heading back to the hotel. Mid afternoon Richard and Karen arrived, and shortly after Max and Christine also appeared, so we headed off to the Snow Goose for some beer. Oh, and we also booked a cruise to see 26 glaciers for tomorrow, departing from Whittier which is a short ride from here.
And that was that, really. A restful day of doing very little. Tomorrow looks like being more interesting, and we also have things planned for Friday and Saturday, so it's going to be a good run-in to the departure on Sunday morning...
After another good night's sleep I woke at 6am, showered, breakfasted (yet more waffles, my maple syrup addiction showing no sign of abating... thanks Steve!), and online in search of Tracy. No such luck, so updated the blog and then had to get on with fixing my handlebars (which had come loose in transit) and prepare for the day's outing.
Leaving the hotel just before 10am, with Richard & Karen, Chris, Danielle and Gerald, stopping for a group photo as Kevin wanted something to show interested parties back home, we headed out of town, following my sat nav with Richard at the back using his to ensure the group stayed together. After a short while Richard pulled alongside as his sat nav was showing a completely different route... odd, as they're exactly the same and loaded with exactly the same maps. Seems I'd left my preferences set to avoid toll roads, and with the tunnel being a toll road, it was taking me on a "slight" detour... that would have had us arriving in Whittier at 8pm... oops!
With that corrected, we followed Richard and then the group got fragmented at a set of traffic lights, so the lead riders pulled to the side of the road to wait. And a large recovery truck pulling a dead car got "stuck" behind (actually, as it was an empty 3-lane highway, "stuck" isn't technically correct), so the driver, a real redneck, leaned out of his cab and started shouting abuse at them. This continued even after the group was back together, as at the next set of red lights he was hanging out of his cab, going red in the face and yelling at the top of his voice, expletive after expletive... This being the US, and knowing their taste in weapons, we simply "high-tailed" it out of there... disturbing...
Now we were on the right road, we followed the Seward Highway along the coast with spectacular views over Turnagain Arm. As we came round a headland it started to rain, so we pulled over and did the "Dance of the Waterproofs" as we squeezed into our rain gear, forcing heavy boots into tight trousers... Now riding in the pouring rain, we turned off onto Portage Glacier road which led to the entrance to the Anton Anderson Memorial Tunnel. This is the longest tunnel in America, a single-lane, traffic-controlled tunnel that also doubles up as a railway tunnel. The traffic is held in a waiting area, then once an hour flows in the direction to Whittier, for 15 minutes, before it is used by the train, and then vehicles leaving Whittier. Motorcycles are sent through after all the cars, in single file, and given a special safety leaflet to explain how to avoid hitting the rails and coming a cropper in the tunnel (and what to do if you do). With wet rails, a wet road, and a narrow 4' wide strip to ride the length of the tunnel on, none of us was looking forward to it... first-day nerves, perhaps. As it was, there was no drama, and before long we emerged from the 2.5 miles (yes, it's really only that long, so much for everything being bigger in the US...) into more rain and the small town of Whittier. Where we dithered over finding a parking space, before settling in right next to the boat terminal.
Once on board we were shown to our seats, the best on the boat, on the upper deck right at the front. We had 2 tables more-or-less to ourselves (Chris and I sharing our table with a couple of retired American women who had been on a cruise up to Alaska and were now travelling round in a hired car). Then we were off, and immediately served lunch. Which was battered fish, served wrapped in a foil wrapper (think naan bread from the Indian take-away!), with a portion for each of the 300 or so people on board.... but it was really good, the fish here is so fresh that even fast food is very tasty...
Soon after we'd pulled away from the berth and eaten lunch, Marie, the on-board Forest Ranger (yes, the whole are around Prince William Sound is a protected forest, the Chugach National Forest) started waffling over the tannoy, explaining all about the history of the sound, the forest, the glaciers, the wildlife, the weather, etc... She was very informative, but also slightly irritating, in the "patronising American" way... But the glaciers were very impressive, in a way that the photos probably don't convey...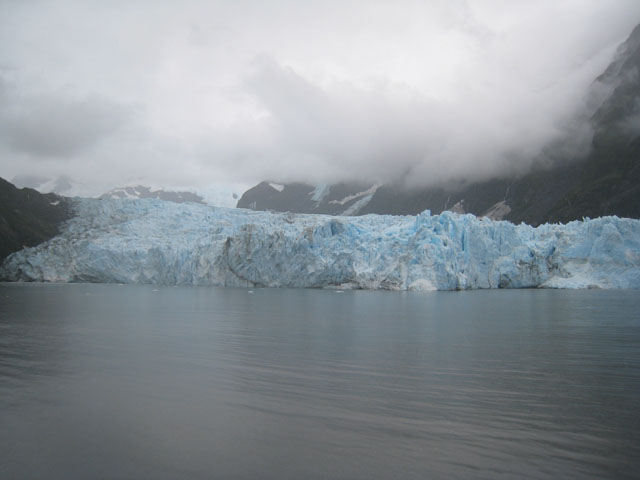 and we got to see some huge chunks "calving", including this one, which must have been the size of a 4-storey building...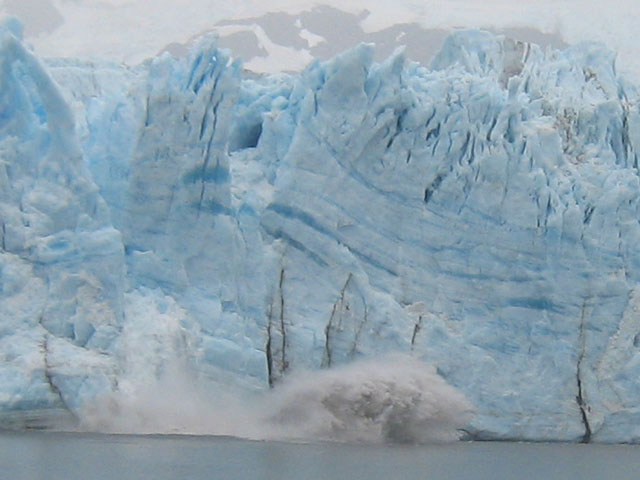 and then we got to see some sea-otters, lounging about on the ice (which according to the ever-informative Marie was a rare sight, as they prefer the cold water, and this represents sun-bathing, otter-style...)...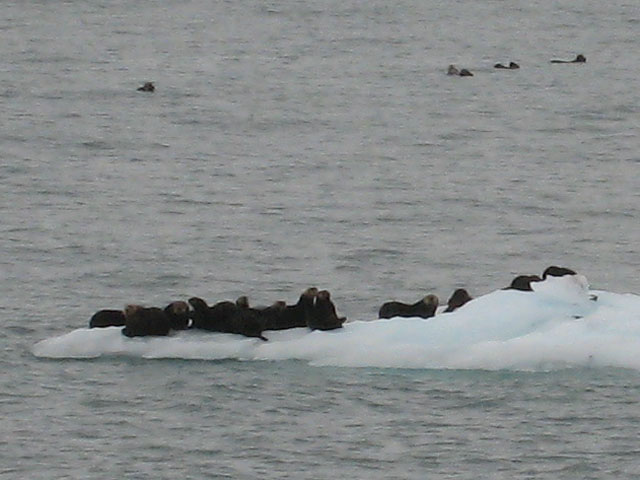 Eventually, though, we had to leave this beautiful scene and head back to port, with one final glance back to the glaciers...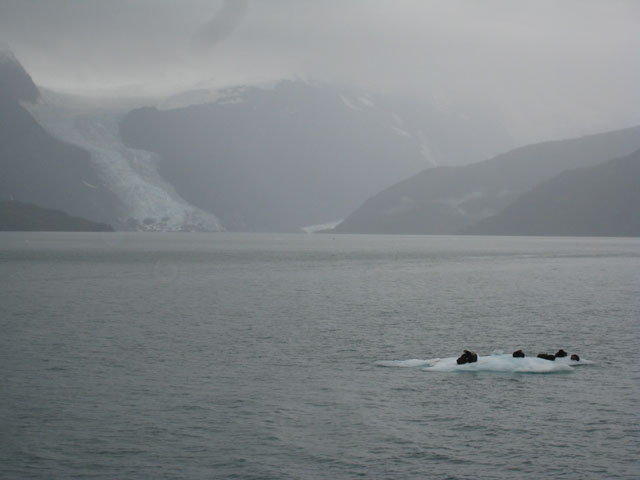 The ride back through the tunnel was as uneventful as the trip in, despite the continual pouring rain, and once again as we crossed the headland the weather improved and the rain stopped. Then we encountered a long traffic jam, with what looked like a real commotion going on at a slight rise in the road... the cause wasn't an accident, it was a BEAR!! The tide had gone out, and there on the sand-flats was a small black bear... no wonder the traffic had stopped... but it was too far out to get a photo (I'm now looking for a small camera with a good optical zoom!), so you'll have to take my word for it...
Back at the hotel we parked up the bikes, showered and went out for dinner (back to the Snow Goose for a good pizza and some more Red IPA). Here we met up with Nick, Al and Nigel, the team now almost complete – although word has it that Andrew had missed his flight!!
Friday, 24 July 2009
ConeMan the Barbarian and the Trans AM 2009 Army...
Once more woke relatively early after a decent night's kip, showered, dressed and breakfasted – this time with toast and marmalade, going cold-turkey and giving up the maple syrup – and then updated the blog before the expedition meeting at 10am...
The meeting was to ensure everyone was reminded of all the "rules of the road" such as group riding, parking, hotel arrangements, riding conditions, etc. The section covering what we need to expect on the Dalton Highway (Monday and Tuesday on the way up to Prudhoe from Fairbanks) had everyone feeling a little more anxious, as the road is mostly gravel with sections of very difficult riding. What I think made it worse was when Kevin said he was determined to get everyone through it without incident this year, for the first time!
With the meeting over, and out final payments made we had the afternoon to ourselves, so I went out in search of a new camera... Whilst on the boat yesterday, it became obvious that the lack of a decent zoom on my camera would prevent me from getting good photos of wildlife, and Richard had an excellent little compact with a 12x optical zoom (the Panasonic ZS3). So I did some Internet research and went shopping. Unable to find the Panasonic, I settled on a Canon SX200 IS, which also has a 12x zoom and is little bigger than my IXUS. Being a Canon the controls are familiar, and an added bonus is it takes the same battery as my IXUS, so now I have 4 batteries and no excuse for rubbish pictures (all the following images were taken on the new camera, but not all by me!).
Armed with my new camera, I met the rest of the group and we rode out in convoy to the gun range... I say "convoy", but given we'd just had a talk about group riding the first few miles as we rode out of town were anything but, with bikes changing position as people tried to settle into the groove... there's a nack to group riding and it takes a few minutes to settle into it, and line up in the staggered formation that's necessary to increase safety. But soon we had it pretty well sorted, and the sight of so many GS bikes burbling along the freeway was quite something...
At the range we met up with our hosts for the evening's entertainment, and their collection of machine guns...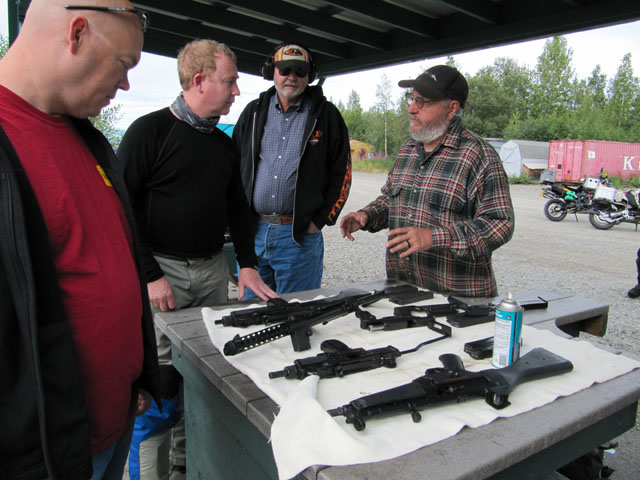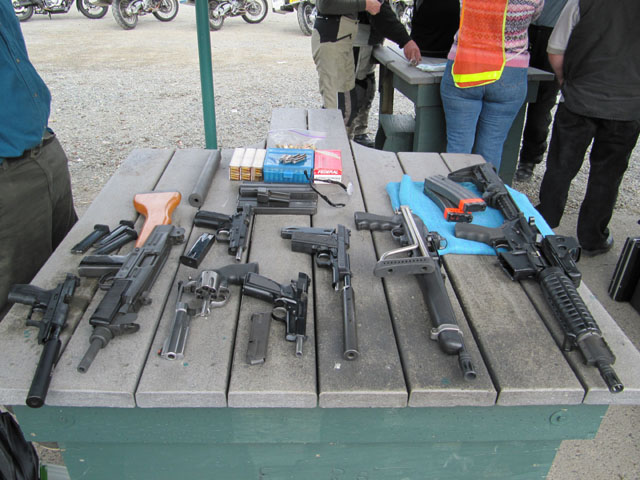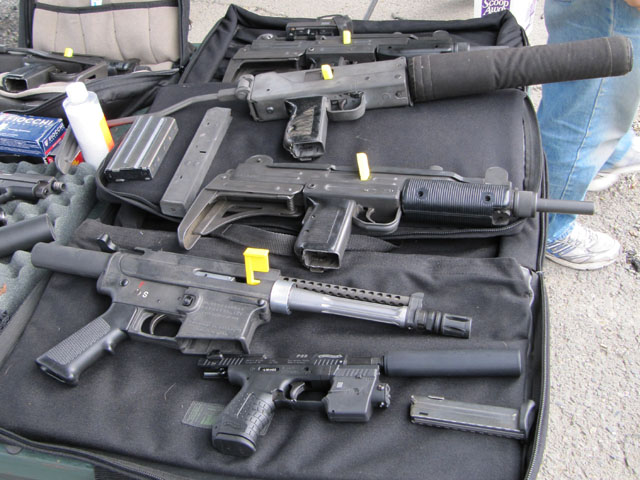 At our disposal we had enough weapons to invade a small country – Uzi's (mini and maxi), Glock, M16 Armalite, Vickers machine gun (1919), Thomson, Sten gun, 9mm pistol, 44 Magnum, AK-47, 50 Calibre Browning, and many more the names of which I can't remember... and 50 rounds of 2 types of ammo, plus ammo for the AK-47 and a single round for the 50 cal...
Now before I explain what happened next, I need to recount "Andrew's Story"...
Andrew, who's doing the full Trans Am, when he was younger, 'borrowed' a traffic cone and was arrested as a result. So when it came to completing his Visa forms, he naturally, being a rehabilitated and now completely honest and decent chap, declared this. So the US Embassy refused him a full Visa, and the ensuing negotiations meant he had to revise his travel plans several times, and it was touch-and-go as to whether he'd be able to make the start of the trip. Eventually he was granted a special "visa waiver" which allowed him entry to the US, but under certain restrictions... So naturally when he arrived at the hotel he was presented with a souvenir to carry on the trip...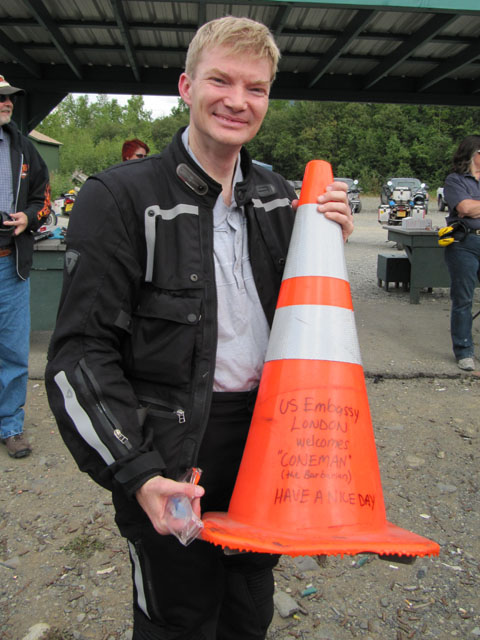 The writing on it says "US Embassy, London, Welcomes 'Cone-Man' (the Barbarian) – Have a Nice Day"...
So naturally the Cone was placed in the middle of the firing range prior to all hell breaking loose as the Trans AM 2009 expedition riders let loose...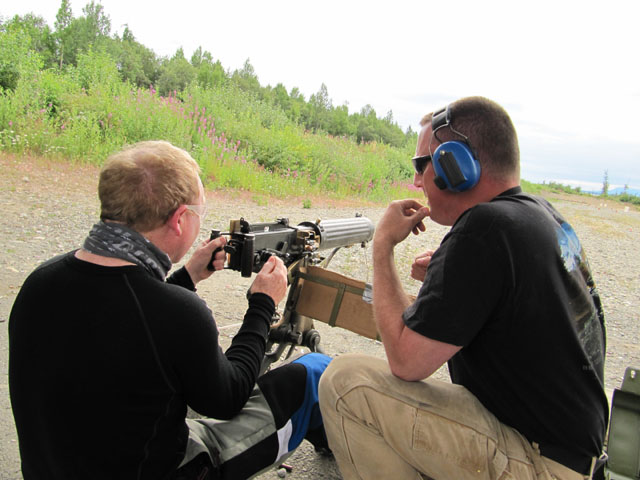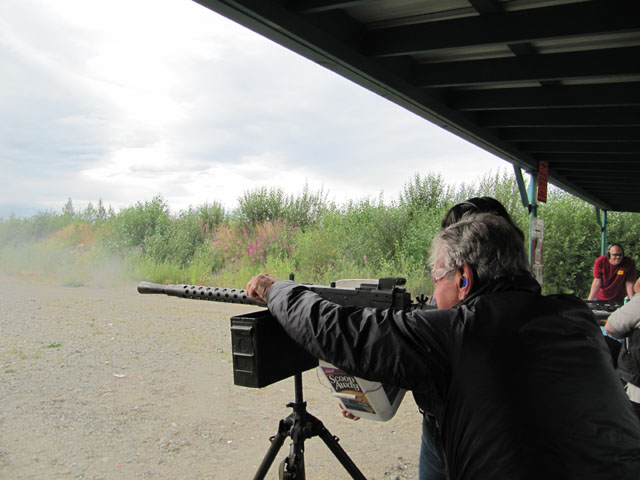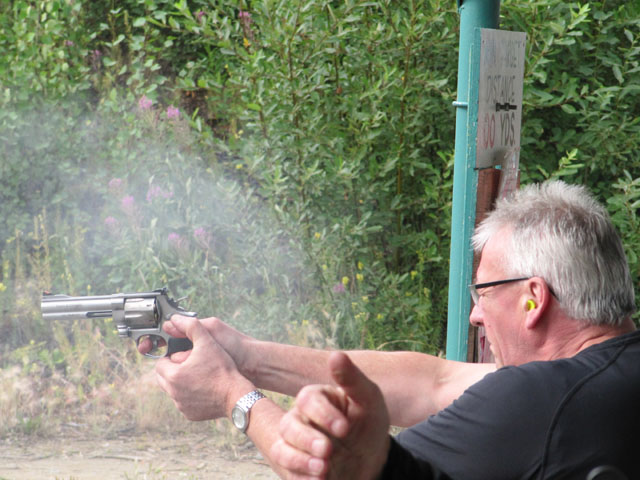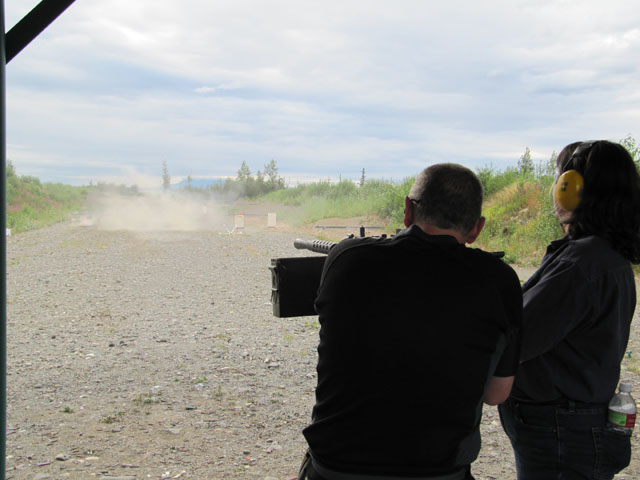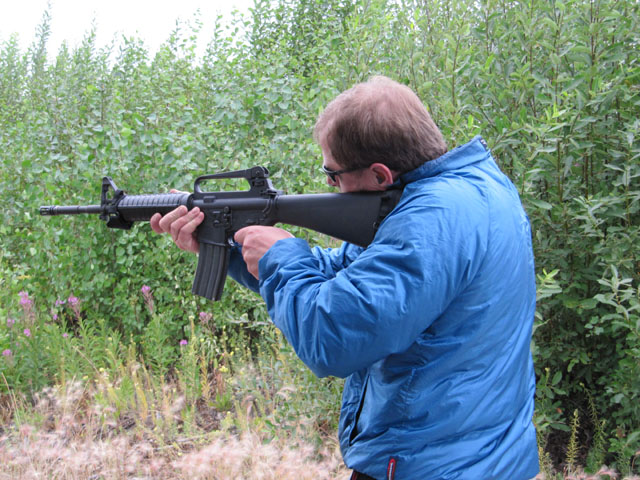 Needless to say, it was mayhem. The 50 Cal in particular was completely crazy, a weapon that deafens even when wearing ear protection, and kicks back so hard it almost had us thrown off our seats...it was described by our host as a gun "of some authority"... no kidding! How the forces actually use any of these weapons in anger is beyond comprehension, they are so damn difficult to hold onto when on semi-automatic, and when on full auto they kick around making hitting passing seagulls more likely than hitting a chose target... Oh, and they empty a clip, that contains anything from 15-50 rounds and takes a good couple of minutes to load, in about 10 seconds... But hey, what a blast!
And the traffic cone?
Well, here's what it looked like after it had been subjected to the combined efforts of the Trans Am 2009 Army...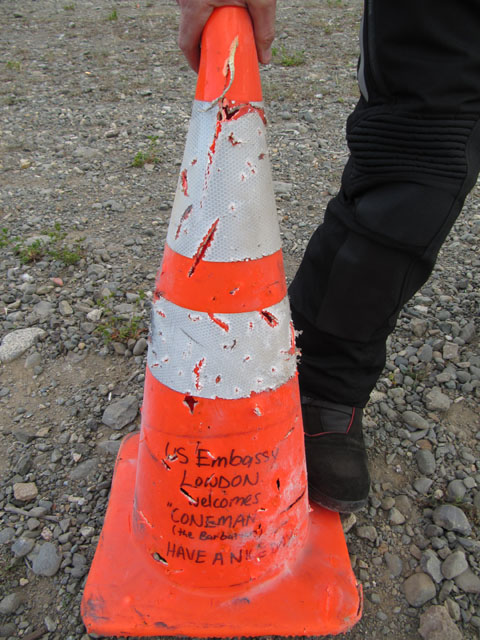 It doesn't actually look that bad, does it? Yet it's completely peppered with holes, the bullets simply passing straight through the plastic... I wouldn't want to swap places with it, put it that way!
When all the dust had settled, it was time to head back to the hotel, but not before I'd armed myself in case we came across the tow-truck driver from yesterday...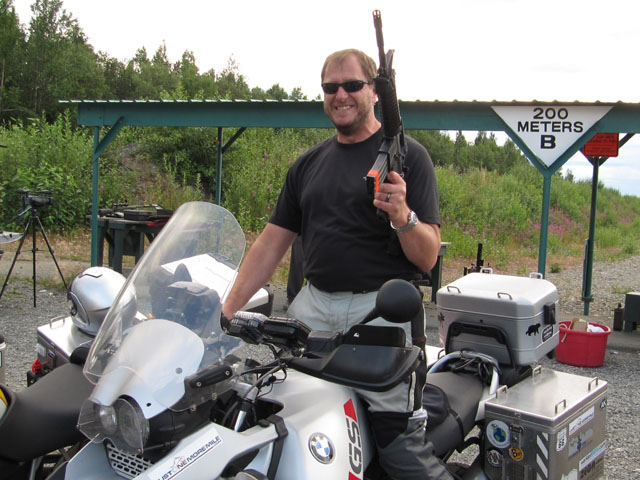 Saturday, 25 July 2009
A great send-off...
The penultimate day... tomorrow the trip starts for real as we roll out of Anchorage and head North into the "Last Frontier"...
The day started like any other, with me waking around 7.30am and showering, dressing, breakfasting and updating the blog. Seems the routine is working, although this blog entry has been written in the evening, as tomorrow is an early departure... but more of that tomorrow...
With the morning free, I lounged around sorting out my packing and trying to work out how I ended up with so much stuff. I'm sure when I packed at home it all comfortably fitted in my 2 pannier bags, but now I've filled my top-box as well. And that's with me throwing away my canvass trainers and ditching the box my service kit was in to conserve space. Still, I think I got it sorted eventually, and so I'm ready to go...
By the time I'd sorted out my packing it was time to head off the BBQ being hosted by the local bike "gang" Team Pterodactyl. Rolling out from the hotel in formation again, we rode out of town to Larry's house, a beautiful large house with a massive garage (got some ideas for when we buy the smallholding!), where we were met by several members of the "gang" (they're not really a "gang" as such, but Gina loves to tell the kids at her school that she's part of a gang...) and the food started a-coming. And a-coming... Huge steaks expertly cooked on the BBQ, reindeer sausage (which are delicious), Fresh Alaskan Salmon (the best salmon I've ever tasted, with about 20 times more flavour than the stuff back home), wonderful chewy chocolate brownies, and assorted nibbles (including some real cheese, a rare sight in the US!). We watched a video of Kevin and Julia's fact-finding trip from London-Bejing via Tibet that forms their latest organised expedition (a 10-week trip through some very serious terrain....), which looked fantastic (but first I need to get to Ushuaia!), and then some footage of the gun shoot from yesterday... boy, did we look mean... (ok, no, we didn't, we looked like excited schoolkids!).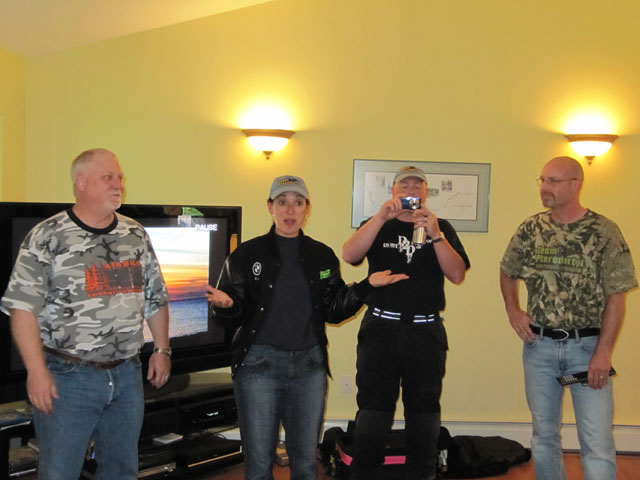 The hospitality we've received whilst here in Anchorage has been just fantastic, and I can't really thank Team Pterodactyl enough for all they've done for us, but hope that I'll see them on the road at some point in the future...
Too soon it was time to say our goodbyes, posing first for a team photo in Larry's enormous garage...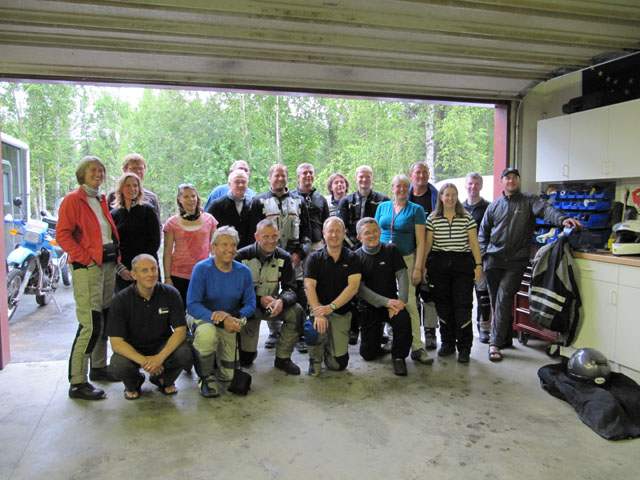 So let me introduce them. From left-right, back row (standing): Danielle, Christine, Max, Karen, Ken (hidden being Nick), Nick, Me, Aaron, Jim, Andrew, Julia, Al, Lorraine, Edwin, Jeff (the Van Man); front row (kneeling): Kevin, Gerald, Chris, Nigel, Andy. Missing from the photo are Richard and Mac, not sure why! So that's it, the 22 people who tomorrow morning at 8am will roll out of Anchorage on 18 motorcycles (with Karen, Christine and Lorraine all riding "wingman" [think "Top Gun"]) and 1 Ford Transit van...
It's going to be on hell of an adventure...