Departure Day followed Saturday night in downtown Anchorage, which meant pumping music from the bar across the street, which was still going at 3am... hardly ideal preparation for a long day's ride... Whilst I was getting up I also missed the drama unfolding right outside our hotel, as there was a real life cop-car chase that ended when they rammed the villain's vehicle at the intersection just down the road, then chased the villain into the alley where the bikes were stored before arresting him... some of the Trans Am team were outside at the time, and saw the whole thing, Nick even getting some of it on video (coming to an episode of "Cops with Guns" sometime soon!).
That wasn't the only pre-departure drama either, as Edwin took the opportunity to throw his fully-laden bike at Kevin, who was innocently sitting on his bike stretching before the off... think of those occasions when you've been skiing and tried to get the instructor to fall and you'll get the picture (although I don't think this was deliberate!)... Like all good reporters, whilst everyone else rushed to help, I got my camera out. Well, I was already on my bike wired up to my music, and there were more than enough people helping already!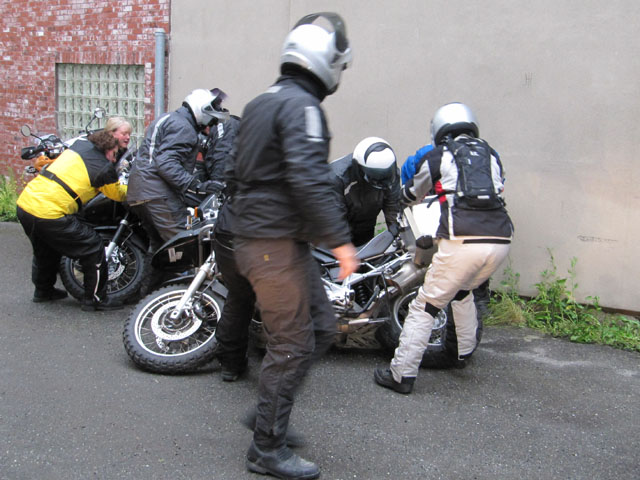 With the group finally assembled and ready we rolled out of the alley behind the Anchorage Historic Hotel (highly recommended) and into the damp streets of Anchorage, heading North at last. Riding as one big group we must have made quite a sight, 17 BMWs and one Suzuki (Jim's) riding in formation up the freeway towards Fairbanks and on (closely followed by a grey Ford Transit). Soon the surrounding buildings thinned out and we entered the countryside, with dense woodland on either side of the road, and the weather took a turn for the worse, starting to drizzle heavily (I wouldn't call it "rain" as such). Nothing could dampen my spirits, though, as the blues of the last couple of days ("homesick blues" brought on by missing Tracy too much) faded away as the miles ticked by. After 90 miles or so the group stopped at a roadside cafe for a pre-arranged drink stop, before we would split up into smaller groups and "do our own thing". Initially the cafe was closed, so we stood around in the drizzle chatting like excited school kids on a field trip, let loose on the big wide world for the first time...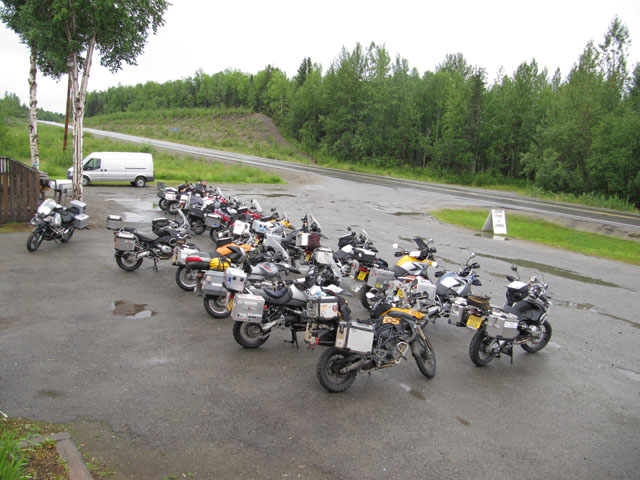 At 10am, about 10 minutes after we arrived, the cafe opened and we were able to get a warm drink inside us. And then it was off again. I wanted some "me time" so pulled out alone and rode that way for some distance, just me and the open road, riding my bike in Alaska and singing in my helmet. Happy? Oh yes...
At one point I noticed a lot of pretty pink flowers lining the road between the roadside and the forest, and it reminded me of Tracy's Lavender Fields (from out trip to Europe in 2005), so naturally I had to stop and take a photo...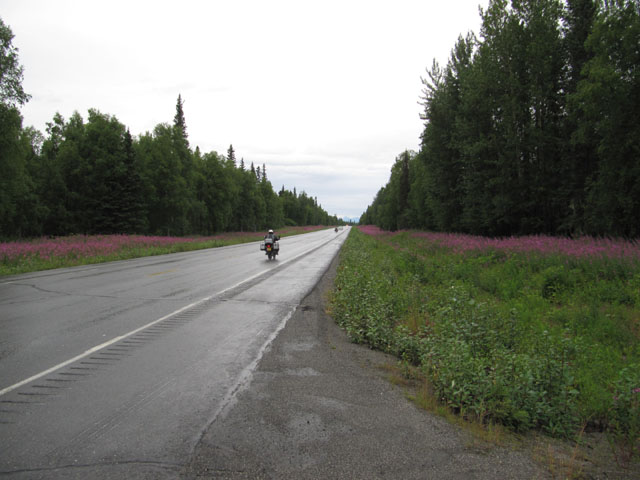 The flower is called "Fireweed" and in mid to late summer it begins blooming in the middle of the stalk, with each successive flower blooming just above the one before it. As the last flowers are blooming at the top of the stalk, the earliest blooms seed and turn to cotton, as seen below. When the fireweed turns to cotton, Alaskans say there are about six weeks until winter begins. With no sign of the cotton, perhaps we'll have good weather further North...
As we rode further North to the left were some very large mountains, including the range containing Mt McKinley, North America's largest mountain at 20,320 ft (6194m) but it was obscured from view by the blanket of grey clouds overhead. A little further on we entered Denali National Park, and the weather started to improve, just as U2's "Beautiful Day" sounded in my ears... one of those moments...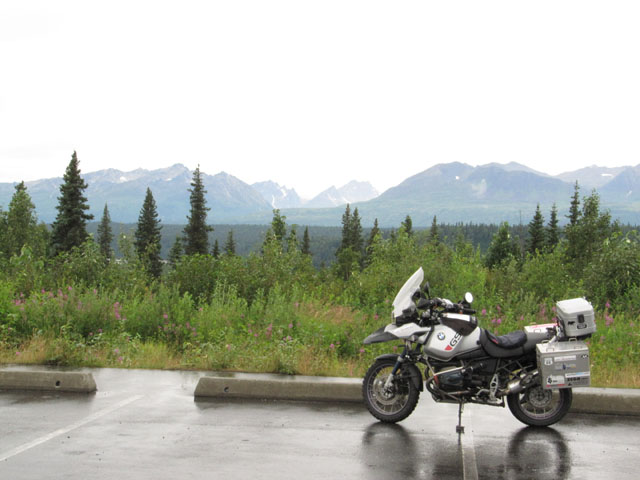 At the next petrol station I stopped to top-up, because I'd seen another group there, including Kevin, Julia, Richard and Karen and Nigel, and joined up with them for the next stretch. When we reached the entrance to Denali National Park the group fragmented again, Richard and Karen following me into the park entrance whilst the others carried on. Rather than pay the $15 entrance fee just to ride up the road 13 miles further into the park and back again, we just grabbed a cappuccino and a packet of "Volcano Chips" (crisps with Jalapeño chilli flavouring), a really bad combination, before heading back out onto the main road.
A little further up the road we stopped again, this time to look over to a huge forest fire that was burning across most of the horizon, and to watch a helicopter carry a bucket of water over to it in a vain attempt to put it out. The smell of burning wood would be with us for most of the rest of the day, and when riding into Fairbanks later the bikes would get a light dusting with ash falling from the sky, despite being several miles from the fire.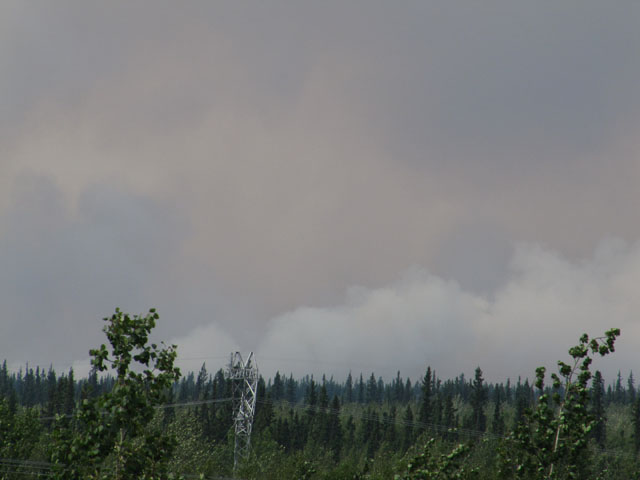 Having by now shed my waterproofs as the rain had stopped, the temperature rose a few more degrees and it was time to stop again and lose another layer. Whilst stopped, Kevin and Julia rode past, so we quickly got going again and tagged along, enjoying the wide open road and sweeping bends. Soon after Nigel also joined our little group and the 5 of us rode together, swinging through the bends, in a fluid display with the grace of a ballet... with the sun shining, and roads like these, I didn't want the day's ride to end, but it did, as we pulled into Fairbanks, filled up with fuel and then arrived at the motel... 355 miles of truly enjoyable riding... perfect!
The room at the Super 8 Motel is large, with 2 double beds, and with Jim some way down the road, I took the opportunity to shower and wash my clothes, then decided I needed a way to let him know which bed I'd chosen (first in, best bed!). So I pulled back the covers and laid the pillows and my helmet inside, then put the covers back over, so it looked like I was in bed asleep... when Jim arrived some time later (after I'd gone to the restaurant), he thought I was in bed, so tip-toed around for a while before realising I wasn't snoring!
Whilst all this was going on, the rest of the group caught a taxi to a restaurant where Kevin had arranged to meet John Binkley, a local politician who ran against Sarah Palin for Governer of Alaska in 2006 (he polled 30% of the vote against Palin's 51%). But that wasn't the reason we wanted to meet him. Oh, no, he has a story that's way more interesting than that...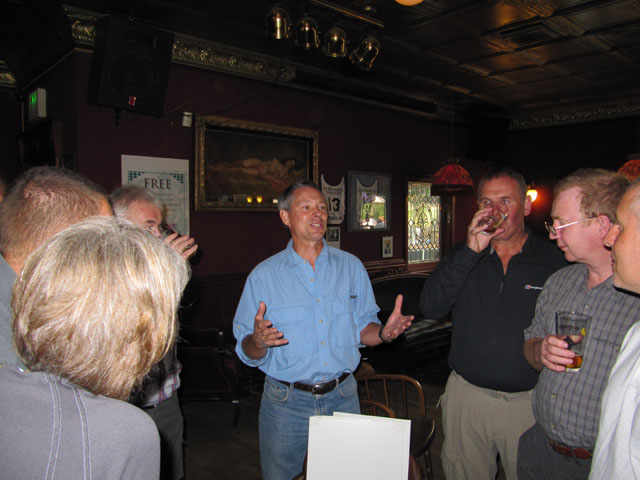 After hearing a story about a German couple who drove a VW camper van from Ushuaia to the then-northern most point in Alaska, and knowing that the oil companies were building a road right to Prudhoe Bay, he decided he wanted to be the first to complete the journey from the northern-most point to the southern-most point. On a motorcycle. In 1975. So he lobbied the oil company for permission to use the road (which wasn't opened to the public until 1994 and had been built specifically for the oil company to use as they laid the oil pipeline from Prudhoe to Valdez). Finally getting permission in December, he set off on 2nd December, in temperatures of -53 degrees Fahrenheit (-47 degrees C)... using a BMW R75/5 and wearing a helmet he'd adapted himself (with foam sealed to his face, and a curtain to keep the wind out, using a snorkel to breath to prevent his breath from misting up his visor).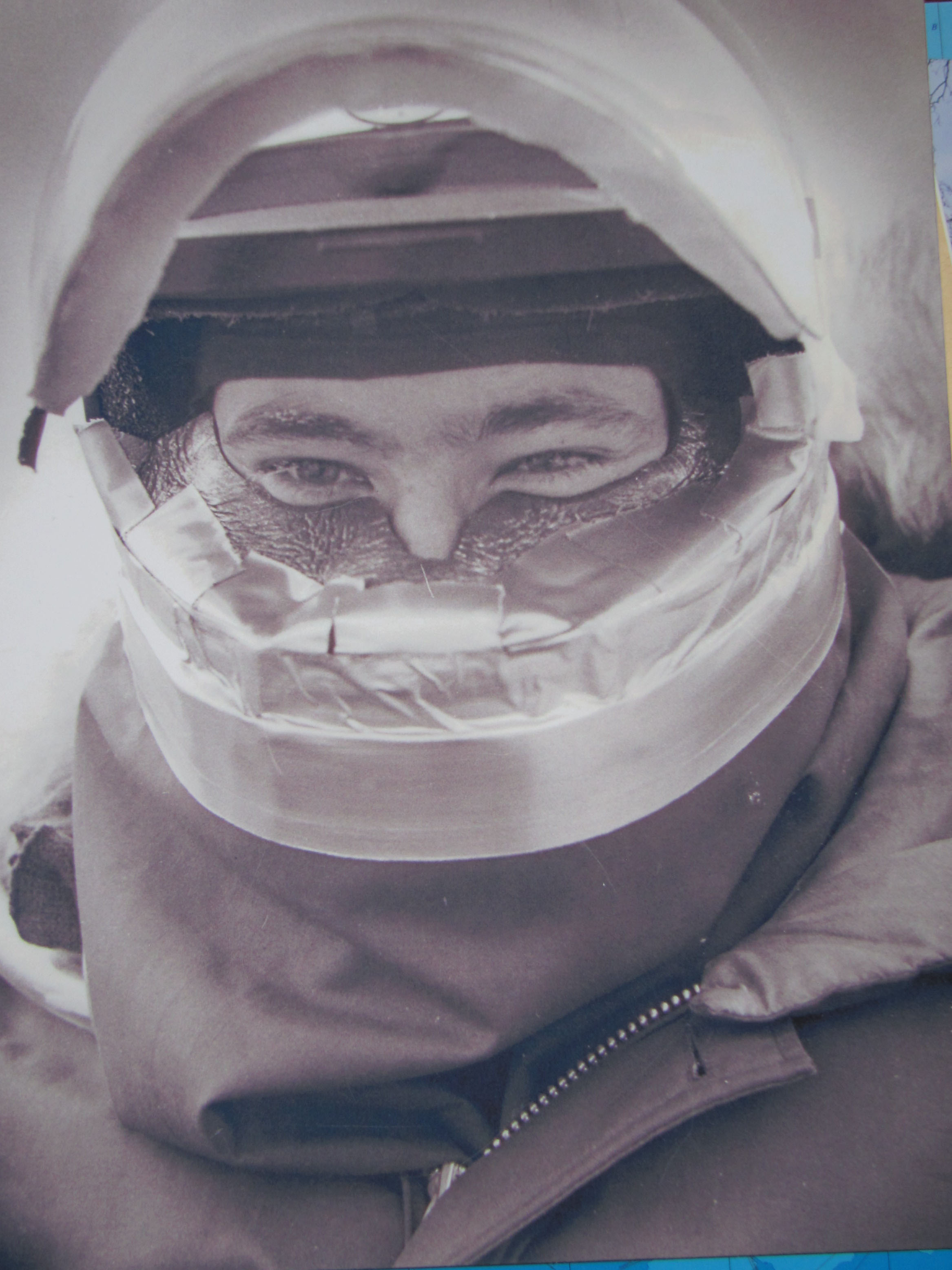 As this was the depths of an Alaskan (and Arctic as Prudhoe is inside the Arctic Circle) winter, he also had to make some modifications to the bike, including hand-studding the tyres (125 studs in the front, 75 in the rear). With help from passing truckers, who radioed each other about his progress and helped him get warm by stopping and insisting he thaw out in their heated cabs when they saw him looking hypothermic by the roadside, he made it all the way to Portland before rebuilding the bike and then continuing the journey South.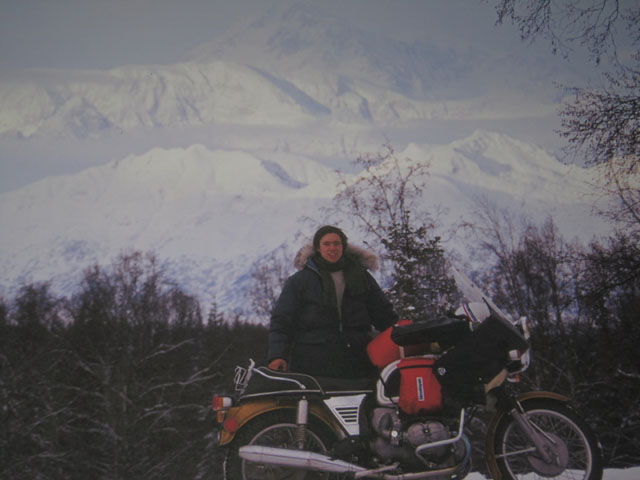 With no visas and no support, he blagged his way across the borders, flew the bike from Panama City around the Darien Gap to Medellin, Columbia, then down to Santiago before heading across the Andes and on to Buenos Aires (the Carretera Austral, the road we're taking, wasn't started until 1976) and then down to Ushuaia, arriving on April 21st 1976.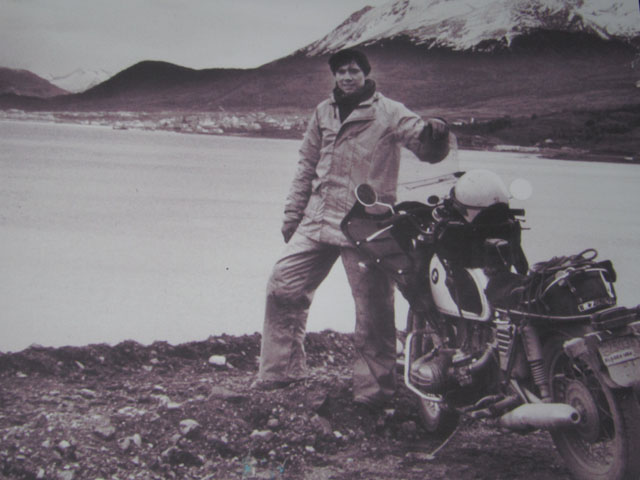 To say he had us enthralled with his story would be an understatement. I've only included a brief summary of it here, as we were all pushing him to write a book about his adventure – after all, it was around the same period that Ted Simon was undertaking Jupiter's Travels (1973-1977), the book which inspired Ewan and Charley to do the Long Way Round, which in turn inspired me to be here... and what a book it would be!
The rest of the evening was naturally spent with us discussing John's trip and comparing what he went through with how things are today. All over a delicious seafood pasta dish washed down with rather too much Alaska IPA... What a 1st day, roll on tomorrow!!
Monday, 27 July 2009
Riding the Dalton Highway to the Arctic Circle...
Woke early at 5.30am with severe indigestion, the result of too much rich food late at night, but at least that meant I could update the blog with the long story of yesterday's excitement. With that done, and again no sign of Tracy online (though I did chat briefly to Danielle), it was time to load up the bike and head off out. Pulling out of the Super 8 at 8.15 and heading out of Fairbanks, we stopped at the Alaska Pipeline visiting point, where we saw the pipeline up close.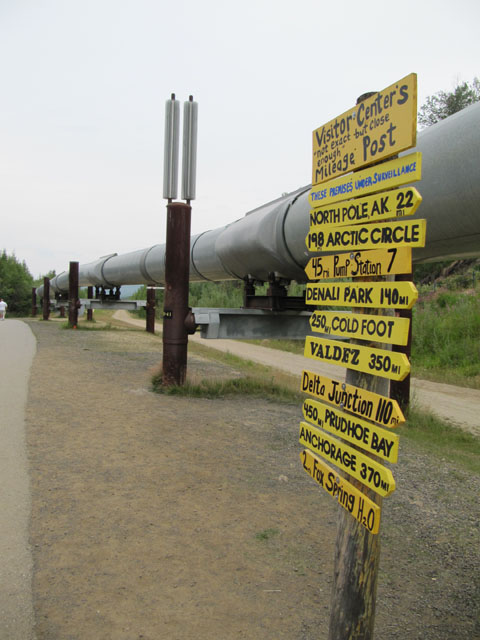 Leaving the pipeline temporarily (the Dalton Highway follows it all the way to Prudhoe), we past a goldmine (belonging to none other than John Binkley of yesterday's story), and then continued on the same type of road as yesterday, fast sweeping turns and good tarmac, surrounded by dense forest, with a strong smell of burnt wood. With the sun out and the air warm it made for extremely pleasant riding, punctuated by the occasional stop to take a photo, or just to enjoy the peace and quiet...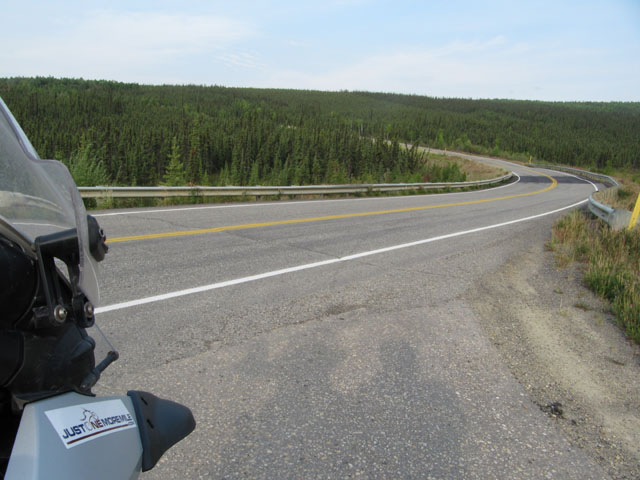 Then we arrived at the start of the Dalton Highway, the dirt road that leads all the way to Prudhoe, and about which we've heard so much (and all of it scary!). But before we started we had to stop for the photocall in front of the sign...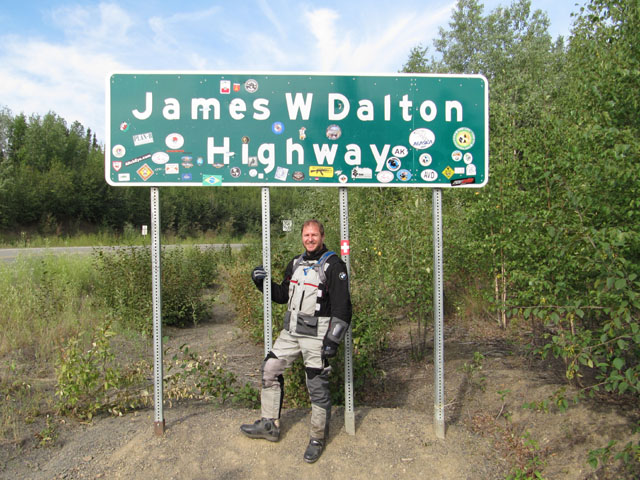 Even "Spunky" and "Heffy" had to have their photo taken...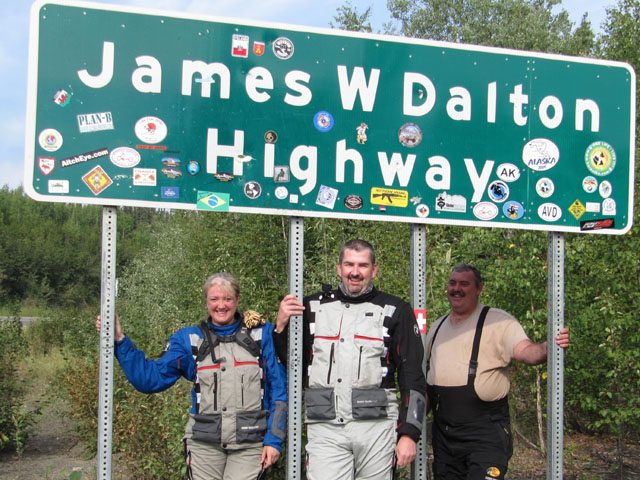 Then it was time to stop delaying and get on with the riding. The Dalton was in great condition, hard packed mud with sections of very thin loose gravel and really easy to ride on, despite our fears. Stood up to improve visibility and allow the bike to move around underneath me, I started feeling really good. With confidence improving with every mile, my speed also picked up, from the initial 35-40mph to 50-60 mph. With the occasional truck coming the opposite direction kicking up clouds of thick dust the only real hazard.
We stopped for lunch near a bridge over the Yukon, and once we'd all eaten we rode back over the bridge so that Kevin could get a photo of the group riding across bridge, a photo opportunity that could so easily have turned into a disaster as the bikes were ridden 4 abreast across the bridge, some with less than an inch between panniers... Will have to try and get a copy of the photo later!
After the photo shoot we continued along the dirt road, and I hooked up with Nigel (leading) and Richard & Karen (following). We came across a water truck going slowly in the same direction as us, so Nigel overtook it, and then I lined up ready for my turn, just hanging back left of the rear whilst the truck approached a hump in the road. Just at that moment, the truck driver turned on the water sprinkler, dumping water all over the road under my wheels turning it into a slippery, muddy mess within seconds... Nice... Still, it's all good practice, and I soon got a clear overtaking opportunity and once again was riding on compacted hard mud.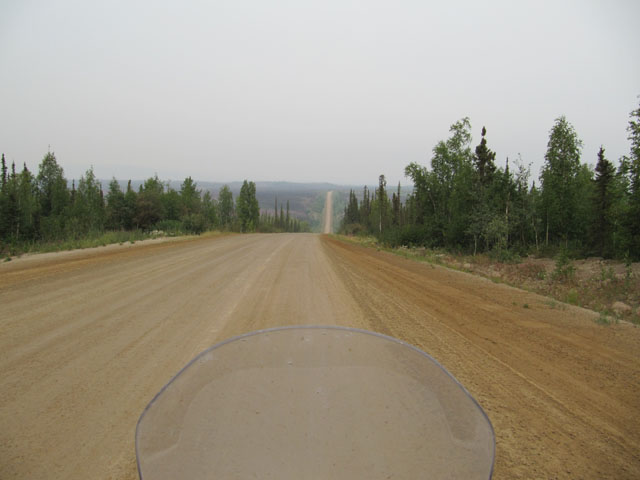 Then the trees on either side thinned out and were replaced by fields of Alaskan Fireweed, bright pinky-purple as far as the eye can see... with memories of Lavender Fields and Tracy once again flooding my consciousness, causing me to smile widely...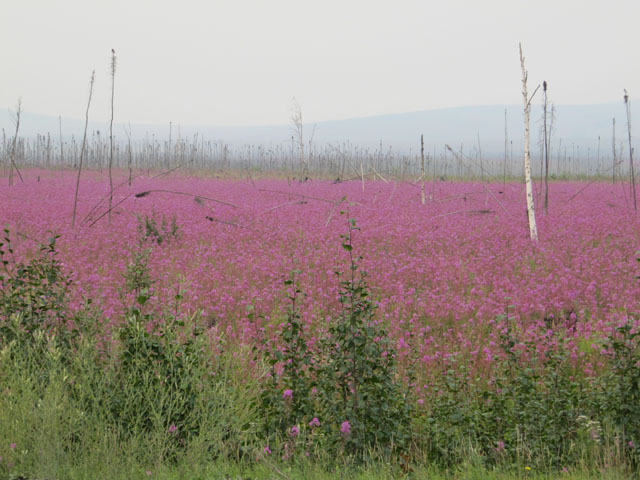 Then I arrived at the Arctic Circle...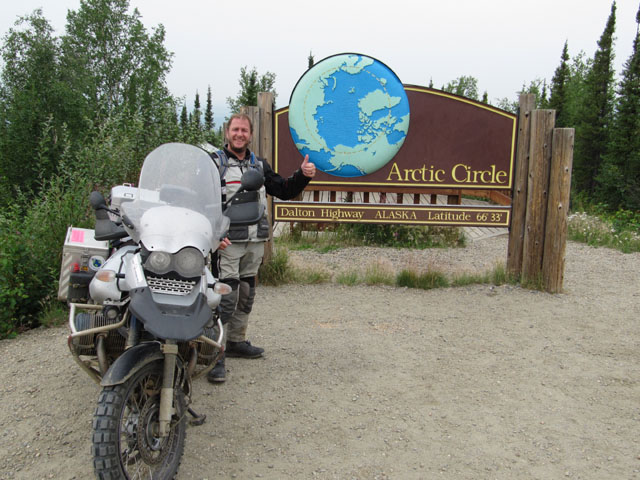 Surprisingly it wasn't cold, in fact it was very warm. And full of mosquitos, attracted by the heat from our engines and keen to bite any exposed flesh. Fortunately, both Danielle and I had brought our highly fashionable net hats...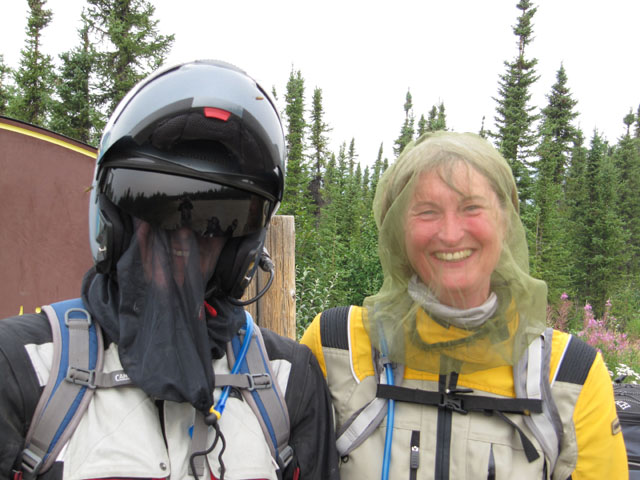 Shortly after crossing into the Arctic Circle, we came across another famous placename...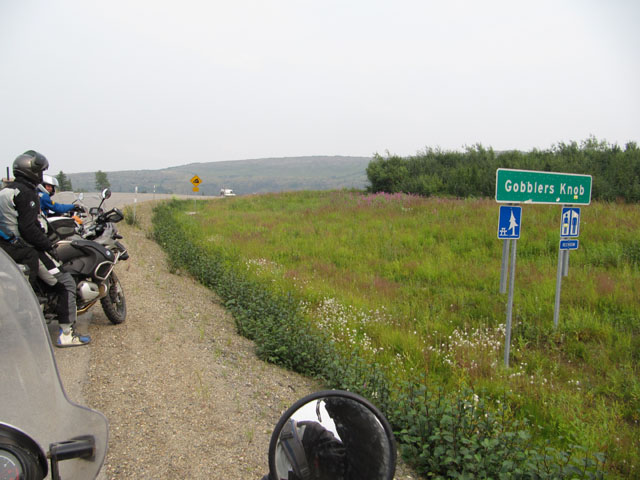 And then it was the home stretch, mostly tarmac into Coldfoot Camp, where we're staying for the night before talking the harder section of the Dalton to Prudhoe Bay. This place is a bit spartan, existing solely to cater for oil workers and tourists heading up to Prudhoe, with basic rooms in a large wooden cabin, with plywood walls and a simple shower/toilet cubicle in each room. They do have beer, though, unlike Prudhoe, so I managed to squeeze one down despite having a dry throat and not really being in the mood for beer, but as it is America's most northern bar, selling bottle of America's most northern brewery's beer, it seemed the right thing to do...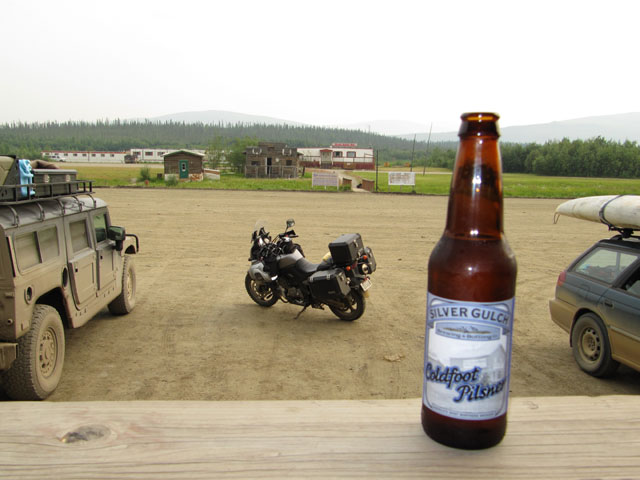 With the beer downed, I checked into my room and showered, then got something to eat from the "all you can eat buffet", before getting the tent from Jeff... yes, I'd decided to camp in the Arctic Circle... this isn't as crazy as it sounds, because the rooms are very basic, and it is still fairly warm... So with the tent erected, I read a bit of my book before falling asleep around 9.30, to be woken by rain pitter-patting on the tent about half an hour later, and remembering how much Tracy and I love lying in the tent listening to the rain, fell into a deep sleep. Even the noise of the trucks coming and going could not ruin my night's sleep...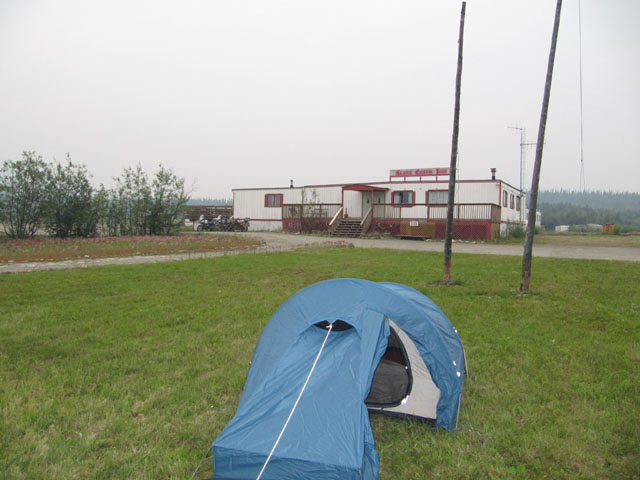 Tuesday, 28 July 2009
At the Top of the World...
Having slept really well in the tent, more so I think that others who were sharing the little plywood rooms here, I was up at 6am and back to the room for a shower, trying not to disturb Jim in the process (usually an early riser, I think having a room all to himself enabled him to engage in some sleeping practice). Then I packed the bike (surprised at how easily my luggage now goes together with practice) and went and grabbed a couple of bowls of cereal for breakfast (my attempts at reducing my food intake still failing miserably, but at least I avoided the full cooked breakfast). Around 8.15am we were on the road again, following the brilliantly descriptive directions provided by Globebusters - "turn right back onto the Dalton Highway, then continue to Prudhoe Bay" - no chance of getting lost there, then..
Actually, it wasn't quite like that, as we first turned off the Dalton to visit the old mining village of Wiseman. This was a collection of old buildings surrounded by rusting bits of machinery and a million or so mosquitoes. Still, it gave me a chance to practice my arty-farty photography...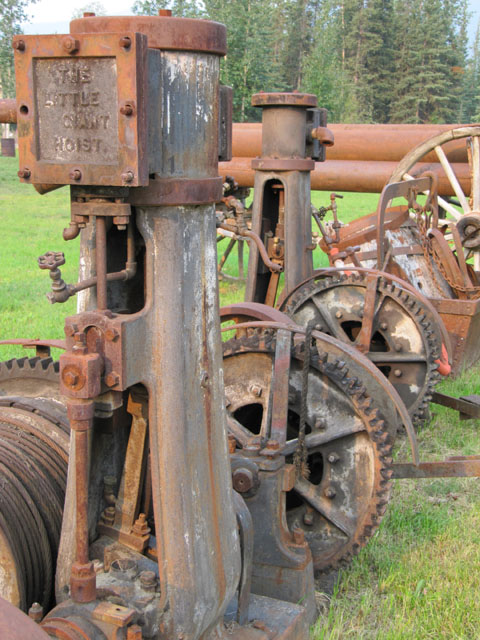 Just as we were about to leave Wiseman, I noticed that the ice-hockey puck I'd fitted to the bottom of my sidestand, to stop the bike from leaning over too much when parked, had come loose, so I needed to remove it completely, and borrowed a hacksaw from Jeff (the Van Man) to cut the screws back,. That meant I was last leaving, some distance behind the others. Despite my earlier assertion that I would be taking it really easy today, I upped my pace a little on the hard compacted mud road, travelling at a brisk but comfortable 65mph. Despite the road being mud, it's just as smooth as tarmac, and as long as you avoid the gravel at the edges, and keep extremely vigilant for changes in surface (which can appear very abruptly) then it's relatively safe. The riding was good, passing once more through the forest on either side, with the oil pipeline making frequent appearances to the left or right, and sometimes passing underneath bridges carrying the road. Eventually we made it to the Atigun Pass, where the Dalton crosses the Brooks mountain range.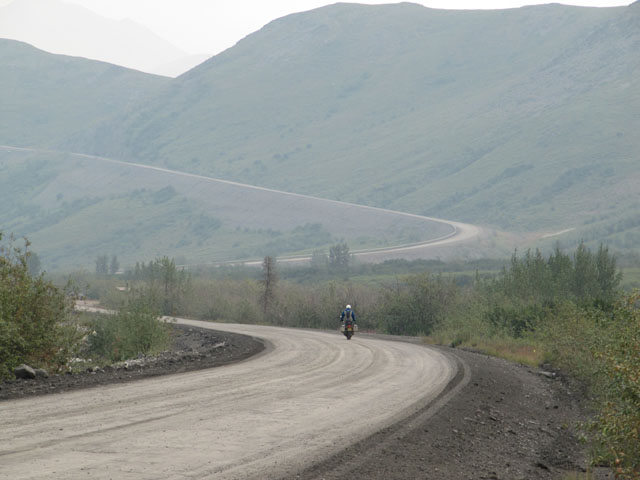 This is where the road changed for the first time, becoming wet and slippy mud as we rode up the pass, and down the other side. However, it was relatively straight-forward with no dramas to speak of. Once on the other side of the pass, the scenery also changed dramatically, from the forest of the South to the Arctic tundra of the North. With no trees, the wide-open expanse of fields leading to distant mountains was very reminiscent of parts of England, with the exception that there was a ruddy great big oil pipeline zig-zagging its way across the landscape... But it did give rise to the photo that matched an image in my imagination, of a lone bike riding across a desolate landscape... in this case the rider is Al, but moments after he'd gone from view, I rode this section all alone with my thoughts...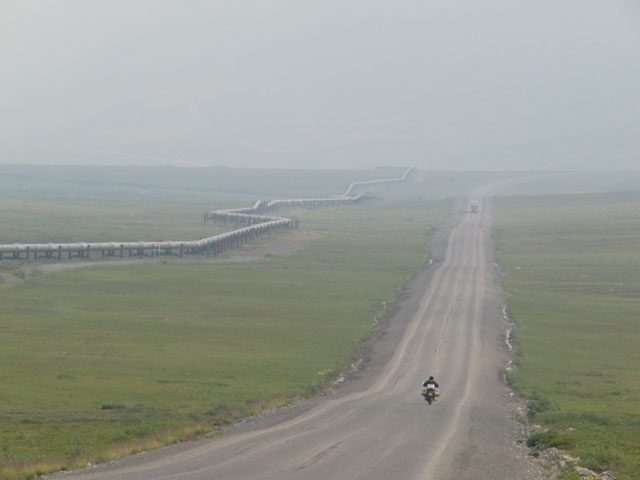 The road continued for mile after mile of wilderness, and as we'd all got separated I got to ride alone for a considerable period of time, with no music to distract me, only stopping occasionally to rest my legs (riding standing-up to better deal with the rough road sections was tiring) and to take the inevitable photograph of my bike surrounded my mamba coutry (miles and miles of b*gger all)...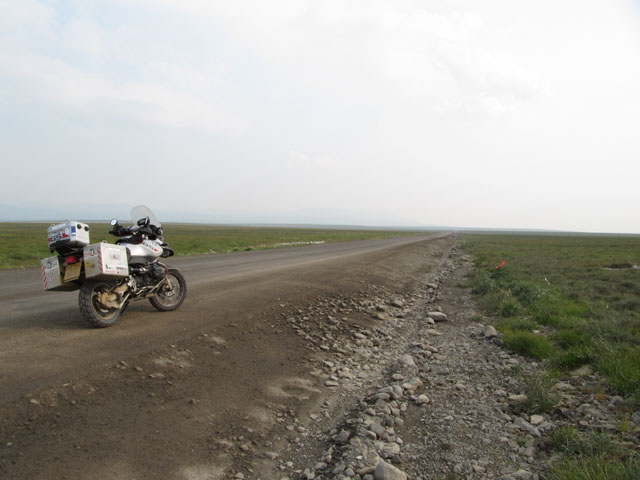 Eventually (I've noticed I use that word a lot, but it does convey the passing of time between paragraphs, in this case, about an hour...) I stopped for a longer rest, to eat an apple and enjoy the absolute solitude and quiet. When I got going again, I caught up with a bunch of riders stuck at some roadworks. The road was being "graded" which we had been warned about because it is very hazardous. Basically, the road is watered, then a new layer of mud and gravel is spread over it, and then compacted down. Which is fine when done (although it remains very slippy and rough for some time afterwards as we found out later), but when it is being done, it means that there are great big ruts and mounds of dirt to catch out unwary bikers. This section had been made one-lane only, with a STOP-SLOW lollypop at either end, and a pick-up truck leading the traffic through the roadworks. The road was slippy and rough in places, but otherwise OK, and our little bunch got through without trouble (a later group wasn't so lucky, with one of the guys going down at slow speed, both bike and rider undamaged).
Shortly after the roadworks I was leading when a couple of caribou made a dash across the road in front of me. I stopped pretty quickly and grabbed my camera, but they were away into the field before I could get a decent shot. Kevin had passed me whilst I was stopped and noticed the caribou were heading out towards a river – and then he noticed a huge herd of them... so we all took the gravel road leading to the river and stood in amazement, as 2 very large herds, each with about a thousand or so caribou, came down the river...
See the dark line across the centre of this picture? That's a herd of caribou, that is...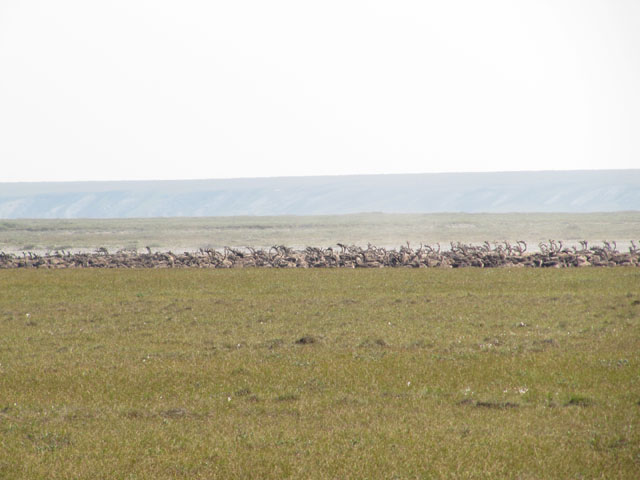 And if you want a closer look...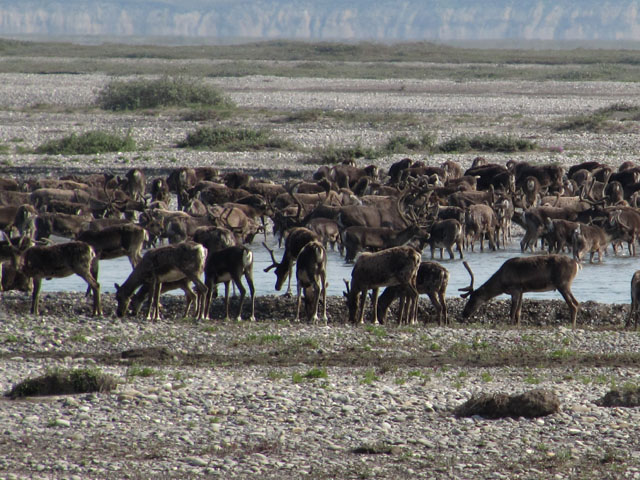 Where we'd stopped there was a camper van also parked up by the river, which we initially thought was some other tourists who had seen the herd and come for a better look. Only it wasn't, it was a couple of hunters who were looking to use their bows and arrows (because only bows are permitted, no guns, and only certain caribou can be killed) to get themselves a kill. They were non-too-pleased when a large group of bikes all turned up for a better look at their prey, but even less impressed when a big 4x4 arrived with a thundering V8 that scared some of the herd, from which emerged a couple more hunters armed with more bows and arrows... It was time for us to leave, so we bid a hasty retreat and rejoined the main road...
Which was not compacted mud for much longer, instead being a section of freshly graded wet, rutted and very, very slippery gloop. I was following Kevin when we both saw it approaching and dropped our speed, then slithered along until we got back on firmer ground. Looking back, we could see that one of the bikes had gone down. Nick had been following us and had hit a rut which sent him into a tank-slapper (where the handlebars go lock-to-lock quickly) and he'd gone down, the bike ending up pointing back the way he'd come. He seemed OK, so the only thing to do was take a photo, which Richard duly did... Kevin standing proudly by the downed bike, whilst Nick looks dejected (and I'm struggling to get off my bike in the background...)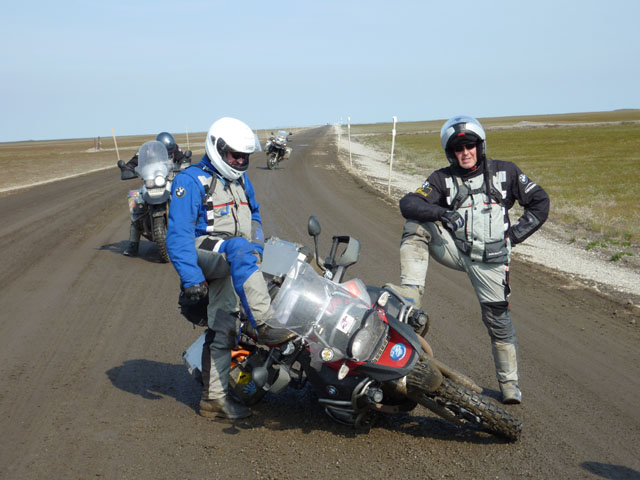 With the bike back upright and a bungee holding the damaged pannier lid on, we slithered back along the road once more. Just before arriving in Deadhorse, the village that services Prudhoe Bay's oil works, we encountered a grader in full flow, the road awash with water and mud and huge great ridges of mud and gravel everywhere... But we were not to be denied, and slithered our way through it, arriving safely at the motel (the Arctic Caribou Inn) around 3pm.
So here we are, at the top of the world (at least, as far North in the American continent as it's possible to get to).
The celebrations had to be a bit clandestine, though, as because Prudhoe Bay is a working Oil plant (basically, it's a huge oil production area, with lots of wells and big machinery, plus a few mad tourists like ourselves who come here because of where it is), it's "dry". No alcohol. So we gathered in room A-2 (next to ours at the furthest point from reception) for a little toast of sneakily smuggled in booze (beer, red wine or Welsh whiskey, whichever took your fancy).
To the Top of the World!
Now we head South...
But not tomorrow, because we're going skinny-dipping in the Arctic Ocean (unless there's Polar Bears about, of course...)!
Wednesday, 29 July 2009
Swimming in the Arctic Ocean
Today has been a good day, a restful day...
Our first day off so far (we've only been travelling for 3 days, but the Dalton was tiring), it was a day to take it easy... after all, there's not much to do in Deadhorse...
I had intended to start the day at midnight, looking out over the ocean at the midnight sun – due to the way the earth is tilted, in summer the poles angle towards the sun, and parts of the arctic circle, including Deadhorse, get 24 hours of daylight as the sun never sets – but I must have been tired as I slept soundly from 8.30pm right through until 6.20am... Getting up and showered quickly so I could get onto my laptop and see if Tracy was online, I had yet another coughing fit (I'd woken myself up in the night coughing loudly, but fortunately, not loudly enough to disturb Jim who was snoring gently at the other side of the room). When I managed to stop convulsing, I noticed Tracy had just come online, and so my day started just perfectly, being able to see her smiling face and chat a while about this and that (and to see the kittens snuggled up in their bed, and be properly introduced to them via the webcam). She mentioned that she was going out again tomorrow, and with me heading back to Coldfoot Camp (no Internet access) and her going away to Centre Parcs with the boys on Friday (not sure of the Internet access there) this might be the last chance we get to speak to one another for a while... but it was lovely, and reminded me that even after 7 years together and 2 years of being married, I'm still a lovestruck teenager inside an old man's body...
But enough of this softy stuff, and back to the hardcore adventure biker and his travels...
When Tracy had gone and I'd eaten the cereals Jim had thoughtfully brought from the restaurant knowing I would miss breakfast whilst being all lovey-dovey, I put on my bike gear and went out with Nick and Al in search of fuel and some bits-and-bobs from the general store. We found the fuel eventually, largely because Al had been there before, and filled up the bikes following the complex instructions inside the un-manned hut next to the pumps. We then rode around the dirt roads of Deadhorse for what seemed like a week looking for the general store cum post-office. With all the buildings looking the same – prefabricated flat-roofed shacks – and no roadsigns to help, we eventually gave in and asked someone for directions. Inside the store I managed to find what I was looking for – a couple of postcards (one for Mum, one for Nikki, but it'll be a while before they arrive!), some stickers for the bike (of course!), a fridge magnet (naturally), some cough sweets and some American paracetamol (which is known here as acetaminophen) and some liquorice flavoured altoid mints (because I saw them, and I like mints and liquorice).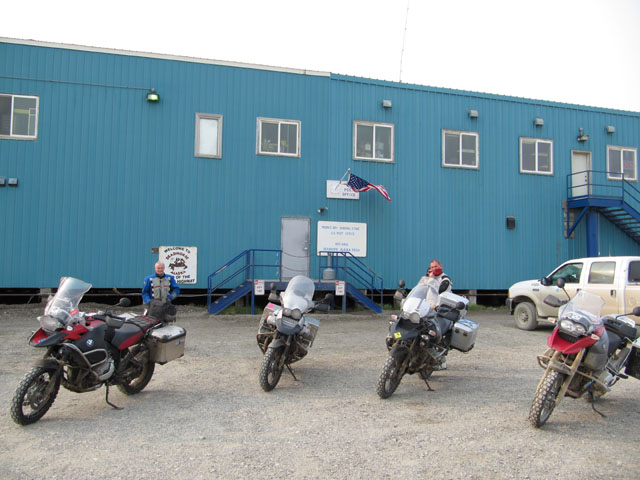 With our shopping done, it was time to head back to the Inn to get ready for our tour of the oil field. Only on the way out, I'd spotted what looked like the perfect photo opportunity, so naturally we had to stop and take the picture. It's for all those who say that BMW GS motorcycles are agricultural...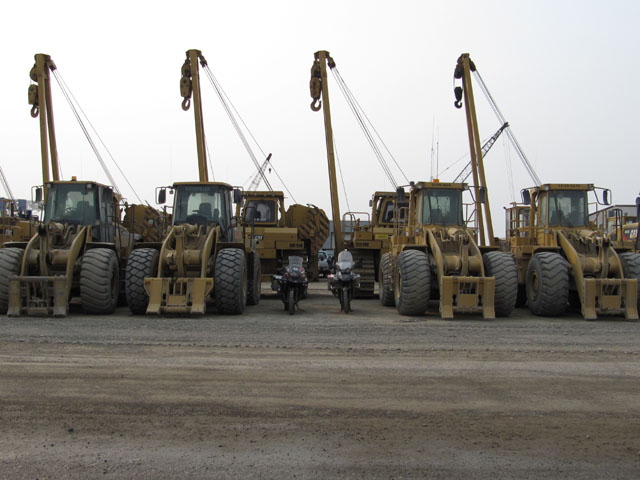 Back at the hotel we got changed into our civvies and met up with the rest of the group in the "Tour Room" to watch an informative 20 minute video on oil production in Alaska, all about how the oil was extracted with the minimum of environmental damage, how it was piped to Valdez with the minimum of environmental damage, how it was then transported further afield with the minimum of damage in a fleet of new oil tankers fitted with double-skinned hulls, etc... and no mention at all of the Exxon Valdez which ran aground on a reef in Prince William Sound in 1989, spilling over 40 million litres of crude oil, causing a huge amount of "environmental damage"...
Suitably brainwashed, we then mounted the tour bus for our trip round the area. We had to pass through security as the ocean-front is "owned" by BP, and then learnt about the special trucks they have that can cross the tundra surveying for new oil deposits without causing any environmental damage as they run on huge balloon tyres inflated to just 4-6psi... I took a picture because my brother likes stuff like this...(this one's for you, Mike!):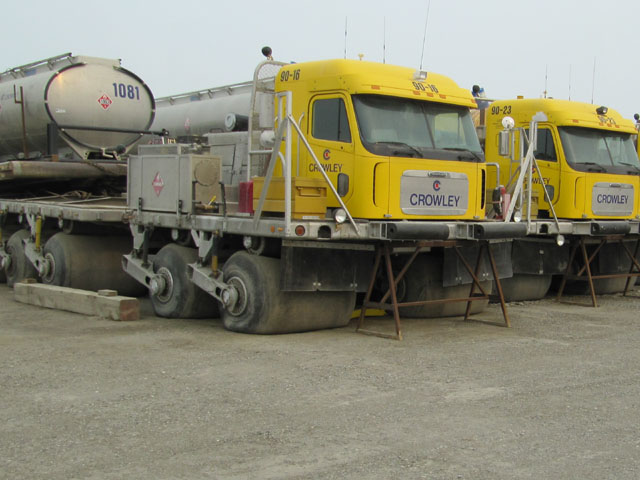 Then we passed some buildings which house the oil heads, pumping oil and natural gas out of the ground (around a mile deep and from a radius of 2-3miles using a combination of horizontal and vertical drills), and then pipes them to other buildings where they eventually find their way into the Alaskan pipeline that runs for 800 miles to the ice-free port of Valdez (all this education, isn't it wonderful!)... here's a picture to show you what they look like...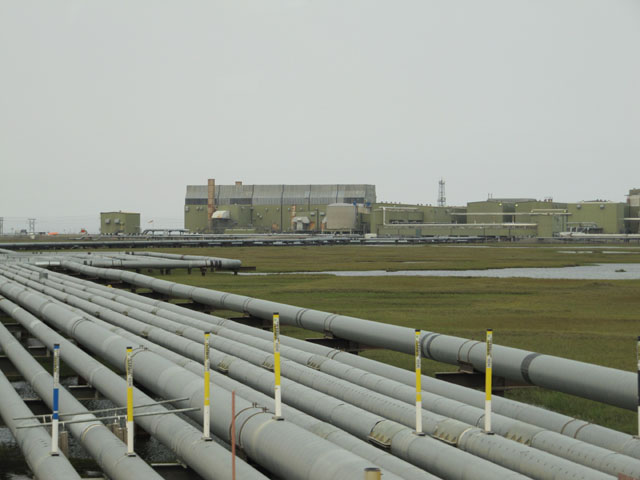 This excitement was topped by the sight of a Snow Owl, watching our tour bus go past...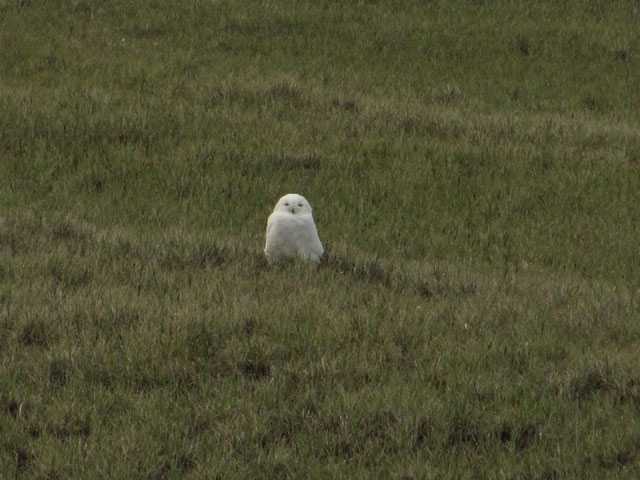 Quite what he'd have made of what happened next is anyone's guess. As I mentioned yesterday, it is something of a Globebuster's tradition to swim naked in the oceans at the start and end of the Trans Am. Not sure why, but I think it has a lot to do with Kevin's desire to get naked at every conceivable opportunity, coupled with the impact it has on the oil workers and the tour bus guide, who are horrified at the very thought. So we drove to the side of the Arctic Ocean, and the bus disgorged its contents of giggling middle-aged (and older) passengers onto the shale shorefront and we wobbled up the "beach" for about 50 yards until close to the water's edge. And then stripped off, ran in, lost both my shoes in the gloopy, dirty mud that formed the ocean bed and went for a "swim" (which was actually more like a splash around for 5 seconds, before trying to find my shoes and get back out again). The following pictures are not pretty, and are included here purely for journalistic reasons. I won't point out who is who to avoid embarrassment, but most of the group participated in some way or another...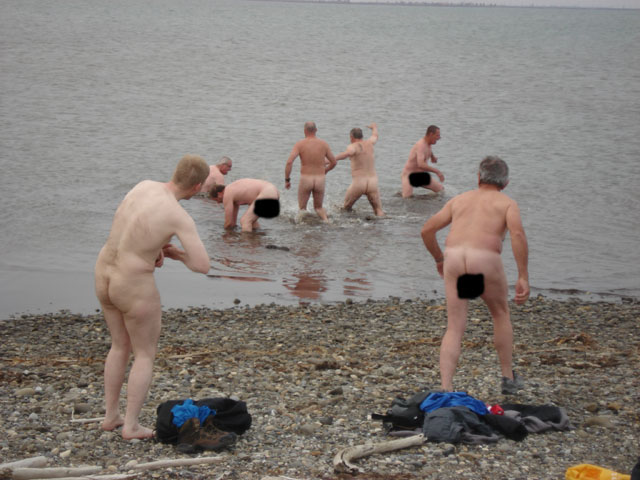 Quickly dried and dressed and back on the bus, it was a quieter, less excitable group who arrived back at the Inn and ready for a warm shower...
With the rest of the day and evening to kill, I took advantage of the time to write the postcards, fix my tail-light (one of the screw posts had broken, so I glued it back together) and update the blog, unsure of when I'll next get chance. Soon it'll be time to eat again, and I've a book to read, so it'll be a relaxing evening before we head South tomorrow... who knows, I might even be awake at midnight to see the midnight sun...