Another riding day, with some 385 miles to cover to Vernal, Utah...
Jim's alarm clock dragged me from a deep sleep at 5.45am, beeping away while he merrily slept on. I tried to wake him by gently calling his name, but to no avail. Almost shouting, and flashing the main room light seemed to have the desired effect, and as he stirred I quietly mentioned that his alarm was going off, and then went back to sleep. When my alarm went off an hour later, I groggily got up, showered and packed, then as I was leaving the room for breakfast, in came Jim, looking decidedly groggy and muttering about how he'd got up early to get an early start, only to have to wait for breakfast which didn't start until 7am...
By 8.15am I was pulling out of the car park and riding out of town, taking highway 120 towards Meeteetse with my music on and dropping straight into the groove, enjoying the feeling of being on the road again. The first section was all sweeping bends and up-and-down undulations, and I rode along with my line naturally flowing, smoothly riding the curves whilst at the same time scanning this way and that, admiring the scenery as much as looking for hazards. I stopped for fuel at Shoshoni, and bought another phone card so I could ring Olivia and wish her a happy 5th birthday. But the card didn't work, and the phone volume was so bad I couldn't hear what the customer service people were saying, so I had to continue without having spoken to her.
Soon the rolling hills gave way to the entrance to the Wind River Gorge, running into the Indian Reservation of the same name following the line of the river, more great bends. I was tracking alongside a train on the railway on the opposite side of the gorge, catching glances across to see whether I was getting ahead or not. When the gorge opened out I pulled into a rest area for a short break, and naughtily ignored the signs proclaiming that using the facilities required the payment of a park fee (there was no-one around to pay anyway).
Once out of the gorge the rocks began to change colour, with bands of deep red cutting across the landscape, and sections of rock mounds not dissimilar to the moonscape we saw at the Petrified Forest. Climbing one big hill, the view behind was so spectacular that I had to pull over and take a photo, using the impromptu stop as an excuse to eat some of the "van snacks" I'd remembered to get from Jeff before setting off...
Before long the landscape changed again, from gently undulating to completely flat as we rode along the high plateau – by which time I'd caught up to Nigel, Chris and Danielle, the 4 of us riding in formation across this desolate place. Despite the sun shining it was getting chilly, with a side wind and an altitude of over 8,000 ft, and I was glad that I'd started the day with my inner jacket on and the vents on my jacket closed. We stopped after around 240 miles for a quick coffee, and I tried again with the phone card and this time managed to get the customer service people to activate the card (seems the garage that sold it to me forgot). But as I was using a pay-phone it didn't want to connect my international call, so I once again had to carry on without getting through.
The next stop was at Cruel Jack's in Rock Springs, where the others ate lunch (by now we'd been joined by Max & Christine, Richard & Karen and Al), and I tried again on the phone, this time successfully getting through to Tracy but it was well past Olivia's bedtime, so I had to relay a message to Danielle via Tracy to pass on my apologies...
Back on the US-191 the road got more interesting again, with wide sweeping bends leading alongside Flaming Gorge, and I once again dropped into the groove, riding the curves and chasing the vanishing point, all the time eyes wide open and absorbing the stunning views. Shortly after we crossed the state border and entered Utah there was a viewpoint overlooking Flaming Gorge Reservoir, so I pulled in hoping for a rest-room as well as a good picture. I got the picture, but not the much-needed restroom...
The dam was constructed between 1958 and 1964 and holds back around 4.6 Km2 of water, used both for recreation and for generating power. Having taken advantage of another viewpoint with some good trees, I followed the road down and across the dam, rising up and over the surrounding hills and then over some more undulating countryside before signs started to appear warning of a steep descent and "10 switchbacks". Whilst these are warning signs for other road users, for the motorcyclist they are manna from heaven. They provide some great opportunities to practice getting lines spot-on, as the technique required to negotiate a switchback (hairpin) is similar to any other bend, but perhaps a little more extreme, the key being to turn in as late as possible, turning the bike quickly and getting just the right amount of lean angle set for a smooth curve, holding a positive throttle round the turn to keep the bike stable and on line, then accelerating as soon as the road opens up, chasing the vanishing point. Getting entry speed and turn-in point just right is the key to a smooth corner, if either of these are wrong you end up "thruppeny bitting" the corner, having to re-apply steering input and lean angle midway through the turn, effectively making the turn look like an old three-penny bit (think 20p piece) rather than a smooth arc. Great fun...
Part way down through this brilliant road was a viewpoint, looking out towards Vernal across the lands where dinosaur remains have been found... even with such great riding to be done, I stopped, the view breathtaking...
Eventually I arrived in Vernal, filled up with fuel and then rode to the hotel, the Best Western Dinosaur Inn. With my bag in the room, I stripped and put on my swimming shorts and jumped in the pool (which is in a fenced area in the car park...) to cool off. Once cooled, and with the sun disappearing behind the clouds I went back to my room, showered and updated the blog. Then it was time for dinner and beer... This being Utah, we can only get beer when in a club or eating, so we went to a bar/restaurant down the road, where we tried 3 different local beers (1st Amendment Lager, Provo Girl Pilsner and Full Suspension Pale Ale) all of which were only OK (nothing special) and ate fish and chips (also only OK). With my stomach grumbling, I returned to the hotel and went to bed...
Today is a relatively short day, with just over 200 miles or so to Moab, Utah, so Kevin instructed us not to leave before 9am, so that we wouldn't arrive too early and have to hang around outside the hotel in all our bike gear until the rooms were ready. Then he proceeded to set off early himself, saying something about wanting to get a good spot to take some pictures...
As instructed, Nick and I waited to the departure time, and rode out of Vernal together. Across the plains towards the town of Dinosaur (yes, really... it's the home of the Dinosaur National Monument, which is a 60-mile round-trip detour, so we skipped that), where we took highway 64 towards Rangely. This section was fairly straight, passing across scorched fields and rolling hills, before we then took highway 139 towards Grand Junction and over the Douglas Pass. That's when things got a little more interesting, as the road started to wind it's way across more hills in a series of wide-open and fast sweeping bends. Nick was clearly in the groove, and our speed increased as we started to really enjoy the roads. At the start of the Douglas Pass, as the road started the long climb up to the 8,300 ft summit, we caught up a group of the others, including Max & Christine, Gerald and Andy, who were just behind a camper-van, sandwiched between it and a pick-up. As we lined up an overtake, 4 deer broke from the woods atop a steep sandy bank to the left, and ran down and across the road, right in front of the camper-van and bikes. Good job everyone was alert, as brake lights went on and the deer were allowed to cross safely. With everyone slowed down, Nick and I managed to get passed and then saw Kevin further up the road, kneeling down with camera in hand – clearly some exciting bends were coming up... By now were were fully warmed up from the ride to the start of the pass, and the mixture of switchbacks, open and tight bends were challenging but great fun, as Nick and I both rode hard over the pass, fast but in control. Once down the other side, we pulled to the side of the road to chill and chatted like schoolboys after an exciting game of football, recounting the bends in a flurry of excitement. I'd had my MP3 player on, but only noticed when we stopped as I was concentrating so hard on the ride, I could have sworn the only thing I heard was the noise of my engine. Great fun, and we have to take advantage of these roads whilst we can, because once we cross into Mexico the riding will take on an entirely different flavour, from sheer enjoyment to sheer survival, I suspect...
After we cleared the valley and came down off the final section of the Douglas Pass, the landscape did another of those amazing switch-like changes, with the rolling hillside giving way to flat plain. So dramatic was the change, that I pulled over at the side of the road to take a couple of photos, first looking back at the hills hiding the jewel of the Douglas Pass, and then forward to the road disappearing into the distance...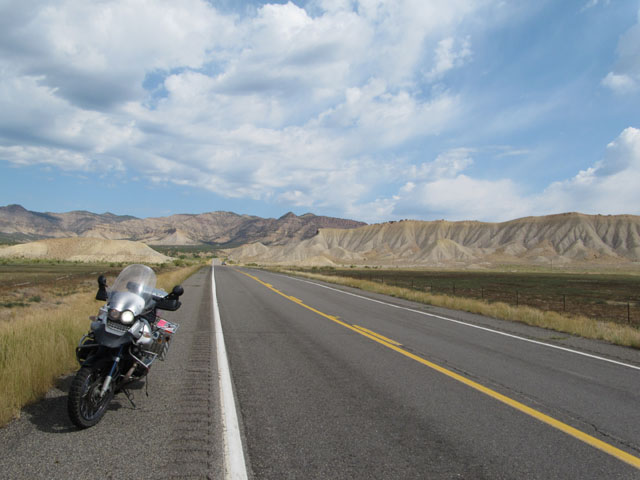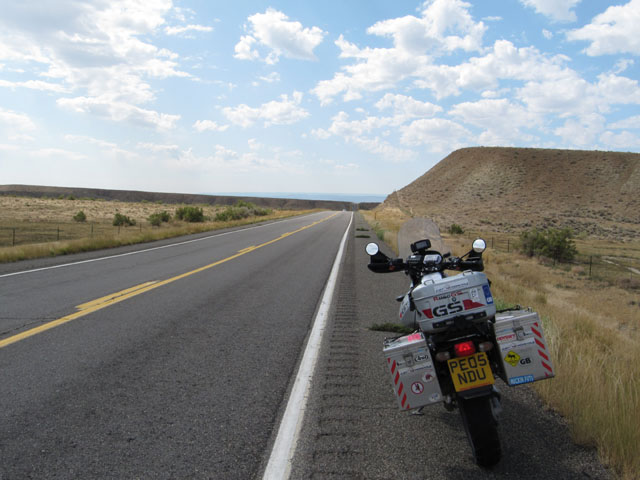 The remainder of the ride was more sedate, the straight roads lending themselves to riding chilled out, listening to the tunes on my MP3 player and enjoying the warmth of the sun, the temperature rising with every mile. Nick pulled over to take some video shots, so we got separated for a while and I rode on alone, through Loma and onto Interstate 70 (think "motorway"), where there was no choice but to relax into the ride, feet up on the engine bars to relieve my tired knees and feet. The route notes mentioned a view point and toilet, which I determined would be my next stop, and just after crossing the state line back into Utah (having crossed into Colorado around Dinosaur) there it was. The scenery was expansive, the distant mountains we'd crossed visible in the haze, but not making a great picture. I took the opportunity to eat some of the snacks I'd brought, and before long Nick, Chris and Danielle all joined me in the rest area. With appetite abated for a while, and plenty of fluids on board, we rejoined the interstate, riding in formation until we reached exit 214 for Cisco, and the jem of a road into Moab (which was signposted as being many miles further along the interstate, but Kevin had found a much better riding road for us to take). This little road was barely 2 lanes wide, and completely devoid of traffic. So much so, that I decided it was a good time to stop again for another photo, to show just how remote we were, so with the bike parked in the centre of the road on its centre stand, I did just that...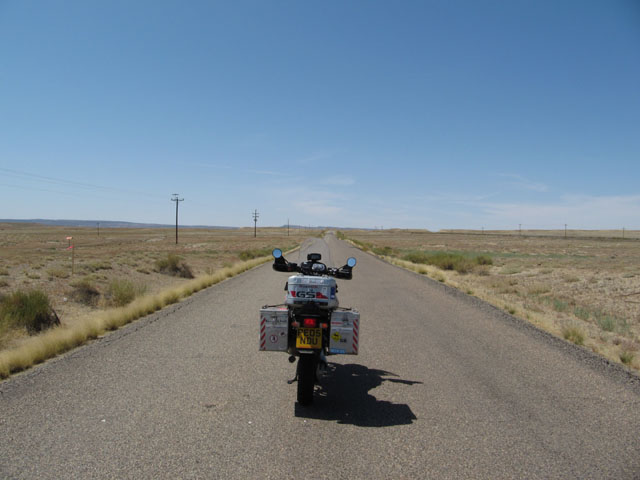 You might be thinking that doesn't look like a particularly good road for riding bikes on, and you'd be right, except that we turned off onto highway 128 a little bit further on, and that road dropped us down off the plateau, through an area used for many of the John Wayne westerns, and then through over the Colorado river, at the site of an old bridge, and then alongside the river, the rocks around us changing from the burnt sand colour of further north to the deep red of southern Utah...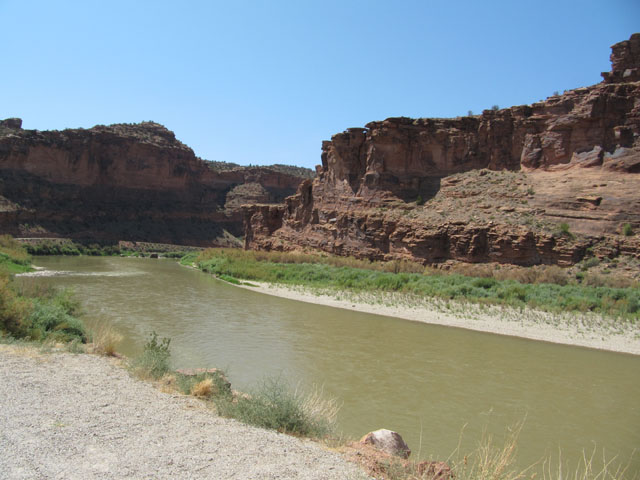 Our riding now was much slower, with frequent stops to take photos of the changing scenery with great big red rock buttresses and canyons all around, the river winding its way alongside the road. Quite beautiful...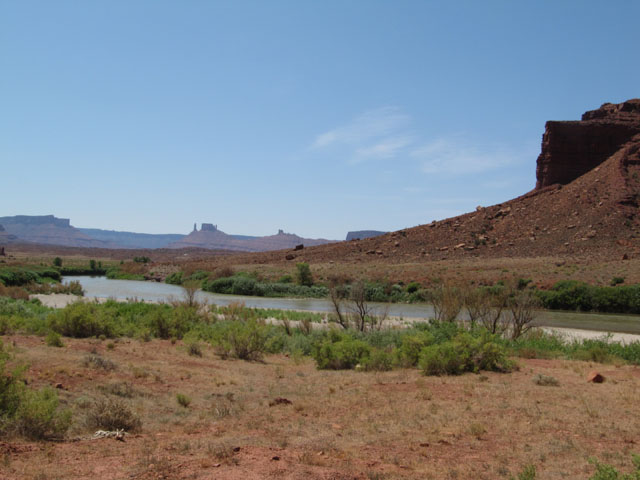 At one point, Chris and I rode a short way down a dirt track, so he could take some pictures of me riding (I've not got copies of them yet), and then I got one of him as he rode out, looking like he should be on a horse and not a BMW GS motorcycle...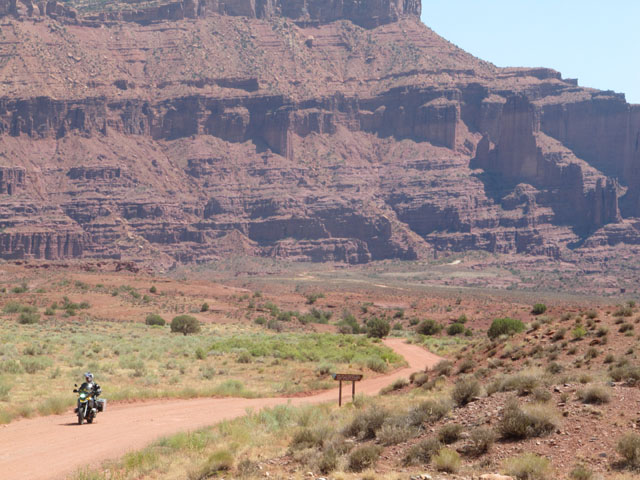 With the others then dropping back taking ever more photos and detours, I rode on into Moab and to the hotel, arriving around 1.15pm, far too early to check in. However, I was lucky as one of the rooms was ready and so I unloaded the bike and took a shower, changing into shorts and then dealing with emails and updating the blog for yesterday. When the rest of the group arrived, we were joined by another BMW GS, this time complete with side-car...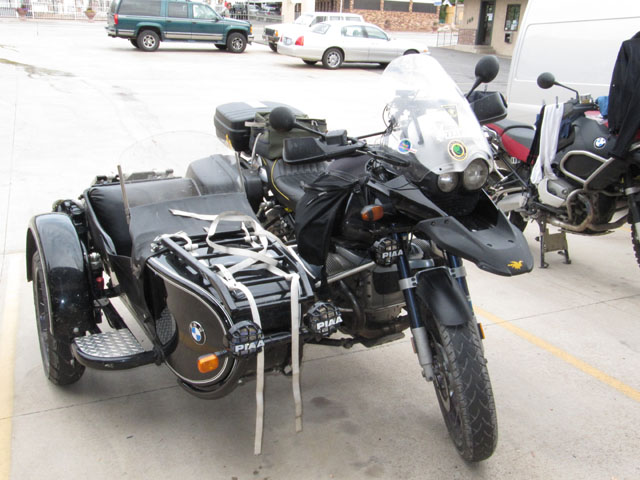 It was a father-and-son combination, the father taking his son to college on the west coast from their home on the east coast, going "the longer way round". Wonder if it's a viable option for Tracy and me?
The next excitement came when Richard and Karen arrived, their rear tyre looking decidedly worn. After 5,400 miles or so, riding 2-up and with Richard's instinct for quick riding, they'd worn out the rear tyre. With Karen unpacking, he rode off in search of a replacement. Now, Moab is a tiny little town, popular with tourists visiting nearby Arches, Canyonlands and Deadhorse National Parks, and not a buzzing metropolis full of motorcycle dealerships and tyre fitters. We were therefore very surprised when about half an hour later, he returned with a new Metzeler Tourance under his arm. Ok, he'd not found anyone to fit it, but he had found a brand new tyre, exactly the same type and size as the worn-out one. With the new tyre procured, it was time to enrol Jeff the Van Man, expert overlander and tyre-fitter. If you've never seen a tyre fitted in a hotel car park, as opposed to Kwik-Fit, the following instructional photos should help explain the process. Hover your mouse over them for a description of what they show. Hope you find this as riveting as I did (I stayed to watch and take the pictures, despite Kevin offering a cool beer in a bar he knew just down the road)...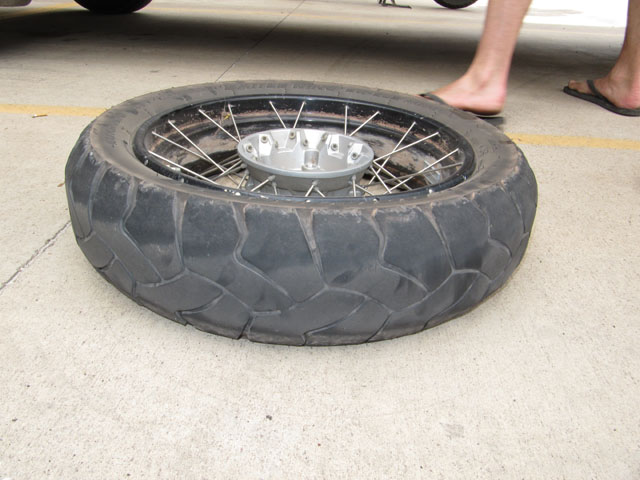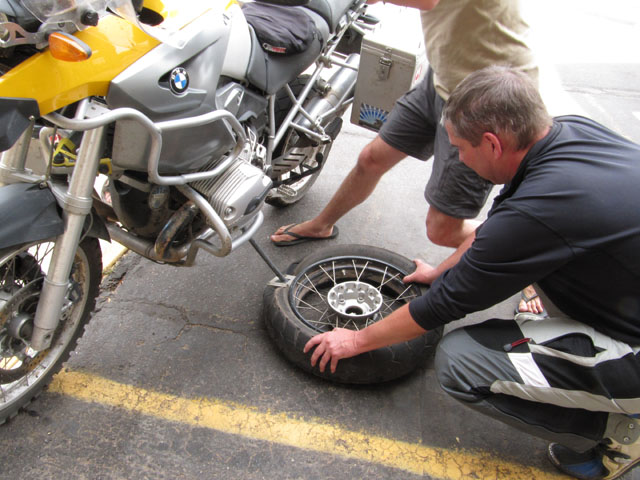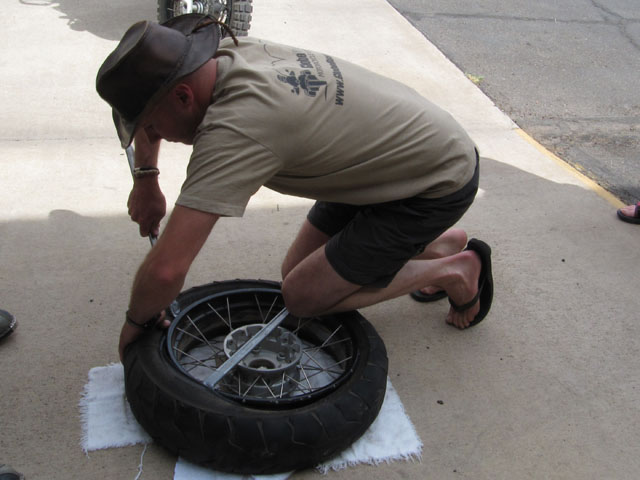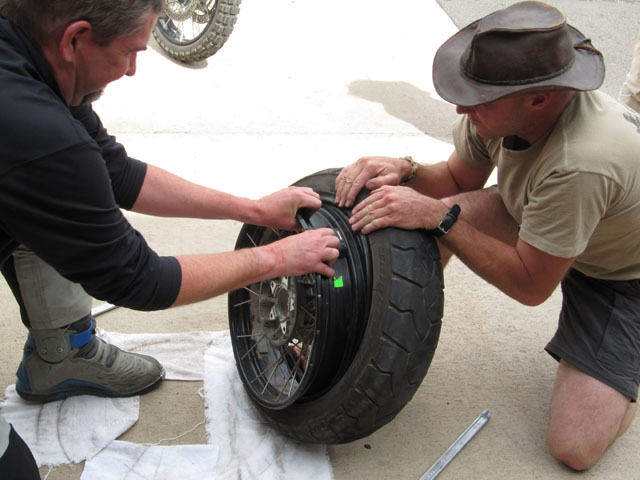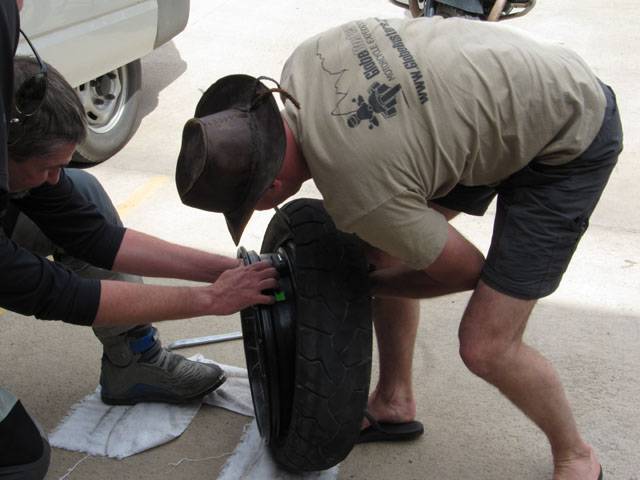 At this point, the rim is now completely devoid of a tyre, and should be cleaned, and examined for damage, the spokes checked, etc... Then, after applying a little washing up liquid to the bead of the new tyre, it's time to fit it...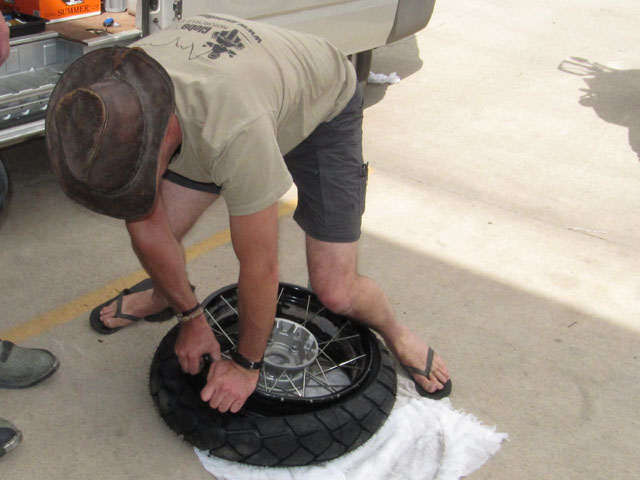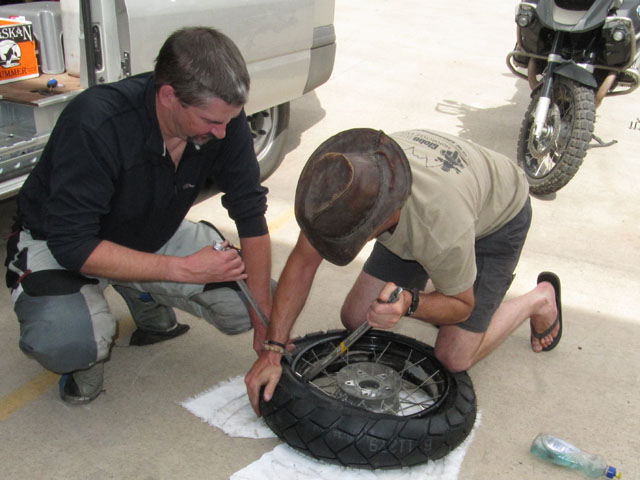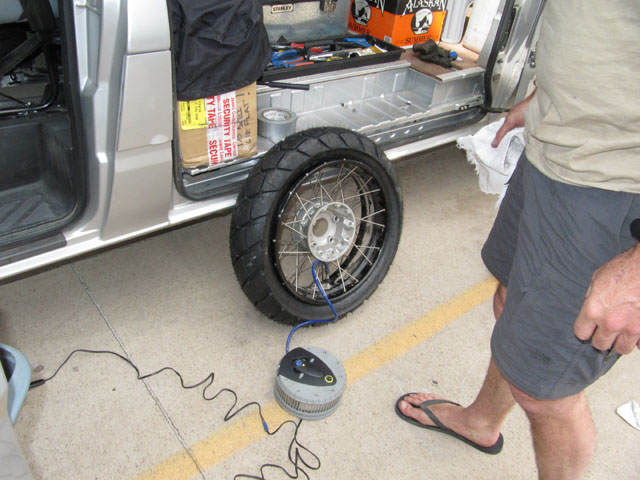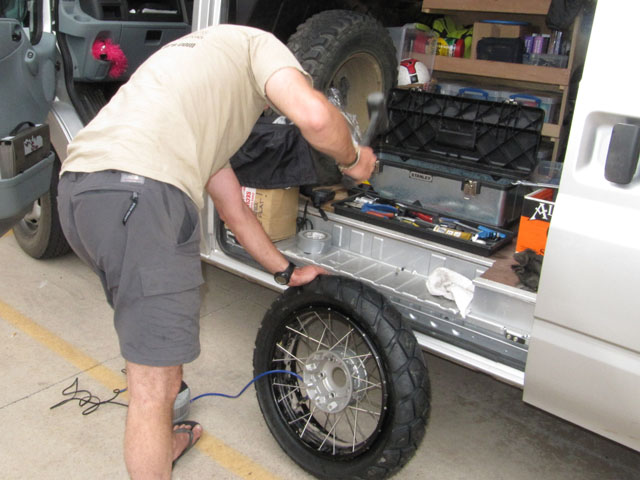 Step 10 (no photo): Take it to a garage and use their air-hose to inflate the tyre, the extra pressure available should be enough to force the bead onto the rim.
Now, imagine trying to do that in the pouring rain, in a remote village in Central America... let's hope we don't have to...
With the tyre replacement almost complete, I headed to the bar to join Kevin, Julia and Nick. On arriving at the bar I was met by a big guy who introduced himself as Frankie D, the owner of the bar, and he promised me cold beer. And then delivered it, a cool pint of "Uinta Cutthroat", brewed in Salt Lake City by a wind-powered brewery (no sniggering, please...). It was delicious. He then went on to try and convince us to stay and eat, proclaiming his ribs and chicken to be "superb". Nick went to investigate the kitchens with Frankie, and some time later sample plates of chicken and ribs were produced, and they were fantastic, the meat just dropping off the bones at the slightest touch. But tonight is a Globebuster's group meal, and a table had already been booked. So after a few beers (rather too many for a pre-dinner session) and a few games of pool, we wandered back to the hotel and met up with the rest of the group, then walked up town to Eddie McStiffs, chosen more for the comedy-value of the name than the food, although the food was pretty good. But the highlight of the evening was Jim's poem. Jim, my roomie and the most laid-back American I've ever met (and that's saying something), is the only rider not riding a BMW GS motorcycle of one flavour or another (we have 2 x 800 GS, 3 x 1150 GS and the rest are 1200 GS, there being a mixture of standard and Adventure models). He's riding a Suzuki 650 V-Strom and getting an awful lot of stick about it (I increased its value once by using it to hold up my washing line, proving it's not all bad). This is his poem, an "Ode to the GS"...
Ode to the GS
"The Beemer GS is an adventure for sure,
No young punks please, you must be mature.
Built in Bavaria by an Arian team
It's a long distance rider's very wet dream.
With an eye for detail and a mind for invention
The designers created a grand penile extension.
Big and industrial, and great for off-road
It carries two people and all of their load.
Its legend is real, its history extensive
Although it's not pretty, at least it's expensive."
Quite...
After the meal, a few of us returned to Frankie D's for more beer and pool, desperately trying to improve our game ready for the inevitable tournament in latin America...
Wednesday, 19 August 2009
Arches, Lizards and Scorpions, Fog Lights and Jeff's new girlfriend...
Awoke early to try and get to Arches National Park before the madding crowds and before it gets too hot to be hanging around, as yesterday it reached over 34degrees... It's a nice, dry, heat, but still not ideal for riding motorcycles in, especially clad in heavy adventure gear and motorcross boots... As breakfast starts at 7am, I was there on the dot, grabbing a bowl of cereal and coffee and munching them down before hitting the road and the short drive to the park entrance. Arriving just after 7.30am, I once again exploited my all-parks pass from last year, and rode into the park, first stopping at the aptly-named "Balanced Rock"...
From here it was a short ride up to Windows, an unusual pair of arches, and Turret Arch, a huge lump of rock with an arch over the "entrance". These unusual rock arches are formed by erosion of the rock layers deposited on top of the Entrada Sandstone, which itself was deposited as sand some 150 million years ago, and compressed into rock by subsequent layers. A series of uplifts and collapses as the Earth's plates move causes severe cracks in the 300ft layer of Entrada sandstone, then when the overlying rock layers are eroded away, the Entrada layer is exposed and weathered, the cracks widening in places and forming fins of parallel rock. Water then enters the sandstone, dissolving the natural cement that holds it in place, causing it to flake and crumble, forming the arches. Eventually, the same processes that form the arch will destroy it, causing it to collapse.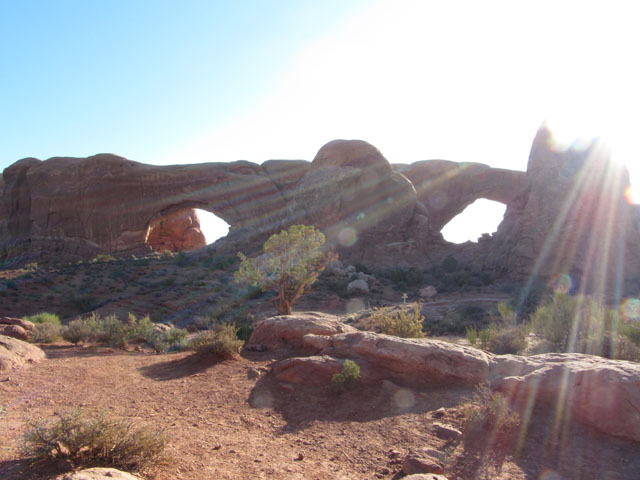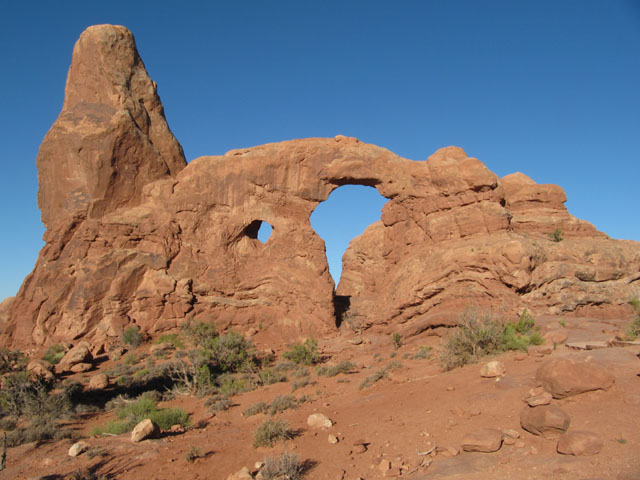 From Windows I rode deeper into the park, stopping at Fiery Furnace to look over at the weird landscape of rock slots, the different rock types clearly visible amongst the heavily eroded spires and flutes...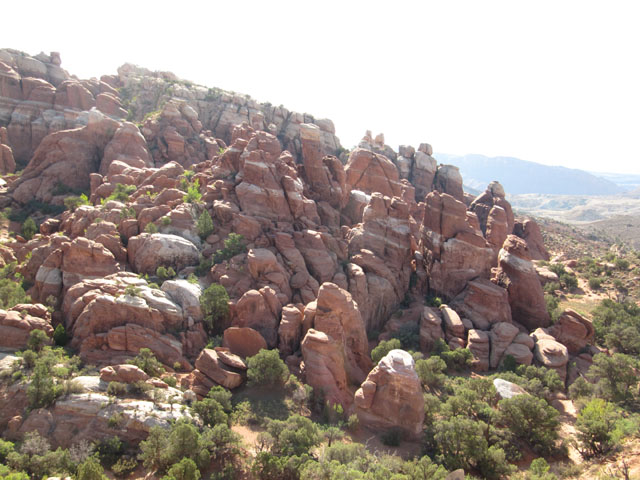 I then rode to the far end of the park, an area called Devil's Garden, where I met up with Nigel and Andy, and changed out of my bike gear and into shorts and trekking shoes, dumping my bike clothes and boots in my panniers, so that I could walk the 1.6miles to Landscape Arch. The first part of Devil's Garden is aptly-named, comprising huge and sinister-looking rock buttresses, through which the path meanders, before opening out to provide some great views over the plain (but into the sun, so no decent pictures). The ground becomes more sandy as you approach the fence that closes off the path under Landscape Arch, the original path having to be closed to tourists following a three large slabs falling from the thinnest section since 1991. It's considered to be the longest natural arch in the world, the span having been measured at 290 ft. And it's very impressive...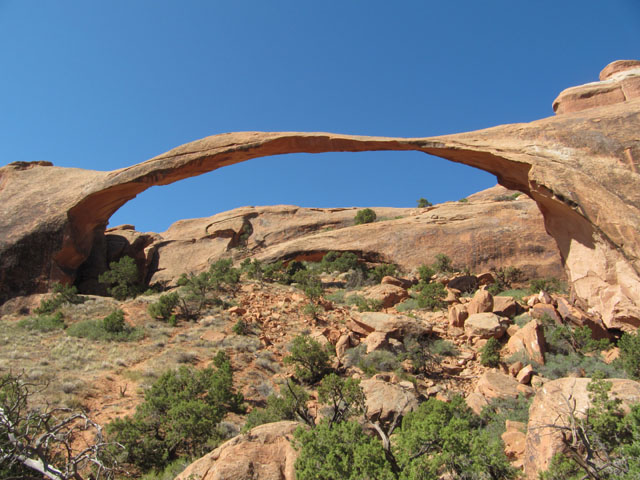 With Nigel and Andy deciding to turn back, I joined Edwin and Lorraine to climb a bit deeper into the park, clambering up the rocks and following the path over to two more arches, Navajo and Partition. The scrambling was well worth the effort, as we found some really odd looking rocks, where the erosion had worn away the rock from within, leaving a trellis-like layer of rock in front of the main rock-face... very bizarre...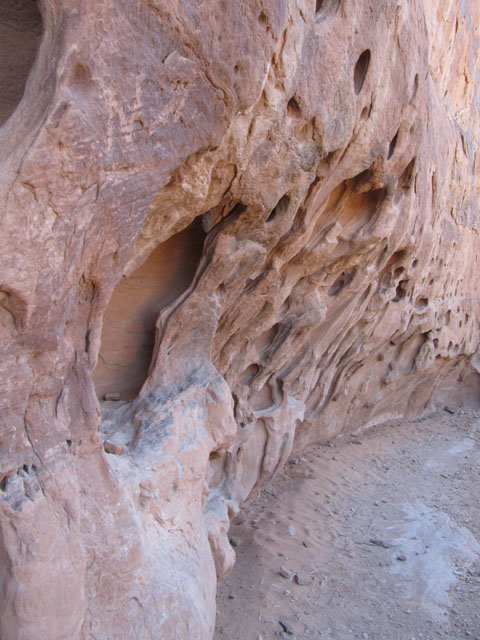 Navajo arch also had a little surprise for us, in the form of a pine tree growing at the entrance, looking for all the world like a Christmas tree at the entrance to a cave-dwelling...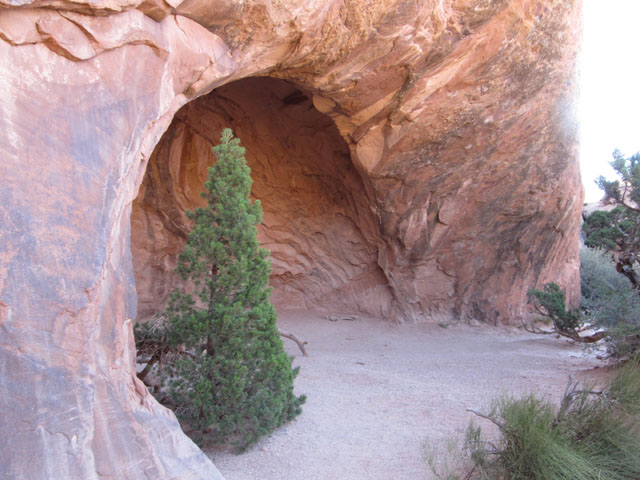 After Navajo, the trail took us up to Partition Arch, so called because there are two arches side by side, which when viewed from below look like being part of the same arch with a dividing wall between them. Viewed from up here, the main arch provided a great frame for the magnificent scenery below, the red of the rock clear despite the by now baking sun...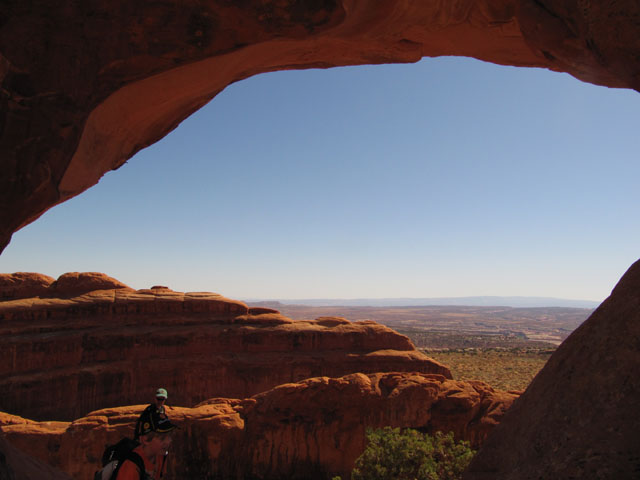 With the temperature verging on the unbearable, we walked back the way we'd come to the bikes, our progress being halted at one point by the sight of a lizard playing with, and then eating, a scorpion. Not something you see every day...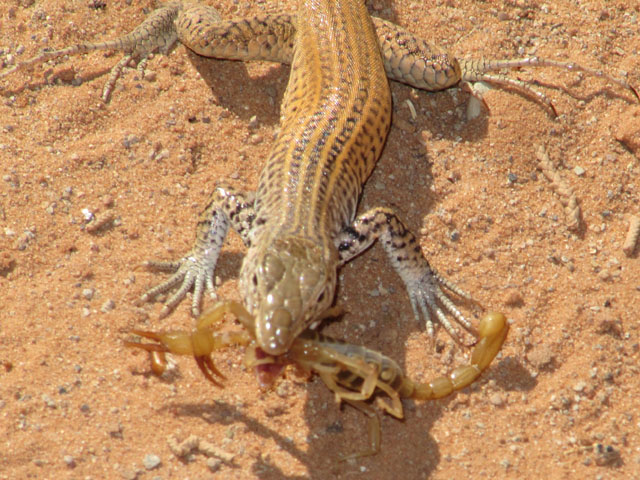 Whilst Edwin & Lorraine sat and ate their lunch, I put on my heavy bike clothes and boots and rode out of the park, stopping at the Visitor's Center where I was disappointed not to find any decent stickers (or fridge magnets). It was time to get back to the hotel and get into my shorts, so I rode back and did just that, before walking into town in search of the Post Office (to get some stamps) and lunch (a pizza, and a nice one too). Then back to the hotel to complete my other task for the day, fixing my fog lights. This turned out to be a real trial, as not only was the relay faulty, the earth wasn't making a good connection, there was a short in one of the lights, and to cut a long story short, 3 hours later, having re-wired the lights directly to my fuse-box, they were working again...
Just in time for the day's briefing with Kevin running through the plans for the next couple of days, something that doesn't really affect me, as the main group is heading to Mesa Verde, where Tracy and I went in September. I've therefore decided to stay an extra night in Moab, to allow me time to re-visit Arches at sunrise and also to see Canyonlands and Needles, perhaps even catching Deadhorse at sunset, and also allowing me time to catch up with the blog, which is a couple of days behind. I'm then going to ride with the group the day after, before camping at Valley of the Gods whilst they slum it in a motel in Mexican Hat... sounds like a much better plan, if you ask me... At the start of the briefing, though, Kevin reprimanded Jeff for carrying passengers in the van. Jeff looked confused, so went to the van to investigate, where he was formally introduced to his new "girlfriend", a present from the group...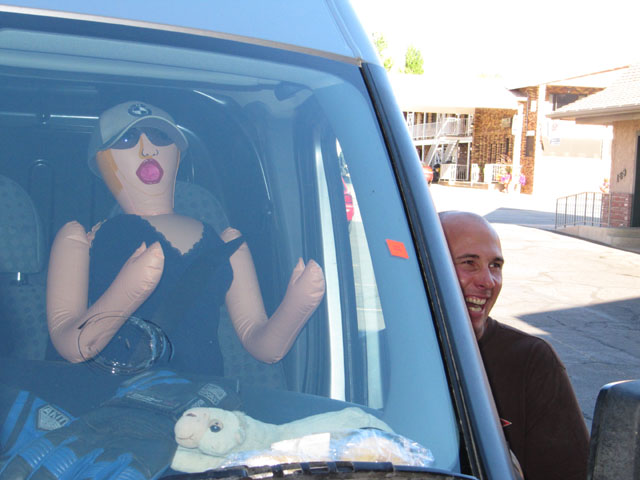 Should keep him company on those long days in the van...
After all that excitement we wandered off to Frankie D's, where we had a couple more Cutthroats and played pool, and enjoyed an excellent plate of chicken and ribs, although the ribs weren't as good as those we'd sampled the day before (but the chicken was). When the Cutthroat ran out, I decided it was an omen, and headed back to my room for an early night, ready to get up early to catch the sunrise...
Thursday, 20 August 2009
A day away from the group...
Happy Birthday, Katie...
Woke at 5am, as in a light sleep and Jim was already up and getting ready to go out in search of his early morning coffee... no problem, as I want to catch the sunrise anyway...
Showered and into my bike gear, and on the road by 5.25am, I filled up with fuel before heading up to Arches in the dark. Once in the park, I could see the lightening sky as the sun struggled to break over the horizon, the rock formations taking on a sinister and eerie quality, only just darker than the night sky. As I rode deeper into the park, keen to get to Devil's Garden before dawn broke, the subtle change in the colour of the sky, from jet black to deep blue, brought out the rock buttresses and fingers, even more, them now standing light waiting giants at the roadside... hope they don't feed on early-morning motorcyclists...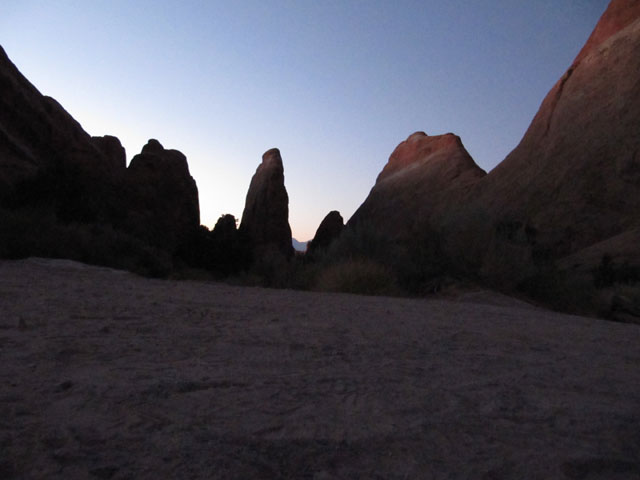 Riding through the dark rocks revealed another interesting character of this remarkable landscape. When the rocks were far from the road, the cool breeze and lack of sun meant it was quite cool, but when the road went close to the rocks, or between them, it warmed up significantly, as the rocks continued to release the heat they'd absorbed during the day, even 9 or so hours after sunset...
It had been my intention to walk to Landscape Arch to watch the sunrise, but my knee is giving me some pain after the walk yesterday, so I opted to walk into Devil's Garden and watch the sunrise from a suitable vantage point. On the walk in, I heard a rustling in the bushes and caught the slightest glimpse of a small animal, about the size of a domestic cat, but before I could adjust my eyes or get out my camera it was gone... I'll never know for sure what it was, but the glimpse I got matched the pictures I've seen of mountain lions, which are known to frequent the park... Once in Devil's Garden proper, I found a rock to sit on and watched the sun rise, in total silence and all alone. It was a very peaceful and calming experience, my mind empty, save for the inevitable thoughts of how much I'd rather be sat here with Tracy next to me...
Sadly, the photos of the sunrise don't do it any justice, the bright red band of sky filling the horizon before being washed away as the intense yellow ball of the sun appears, rising quickly up into the bright blue sky.
Feeling all melancholy, I made my way back to the bike, and rode back towards the park entrance, stopping once or twice to take pictures of the rocks, now lit bright orange in the dawn-light.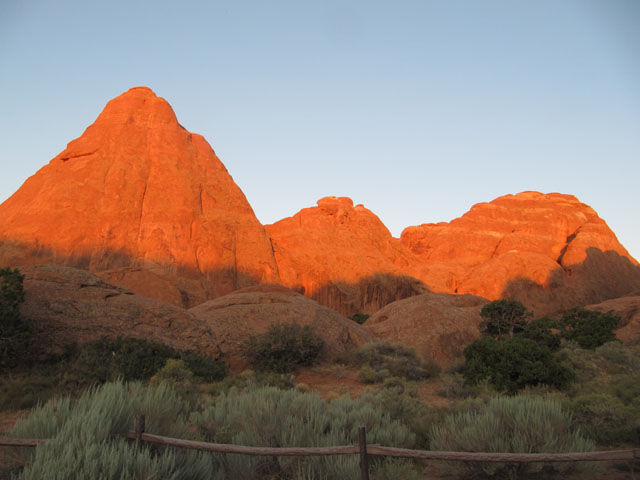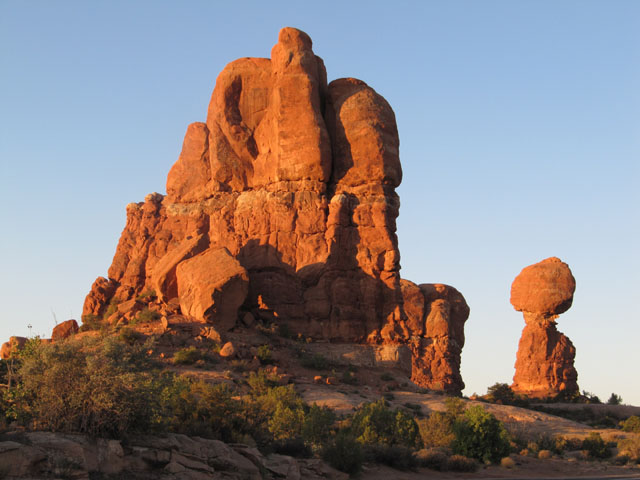 Once out of the park I headed North and then West, entering Canyonlands National Park, where I was still too early for the rangers, so didn't have to show my pass. Riding the empty twisting road through the park I caught glimpses of the canyons off to either side, the road following a flat ridge that is known as "Island in the Sky", finally arriving at the dead-end that is Grand View Point. From here the full splendour of this magnificent landscape is visible, as the entire vista, from foreground to horizon and from far left to far right is taken up by a huge, wide, and multi-layered canyon. The plateau on which I was standing is at 6,000ft, and the first layer below is a white sandstone plateau, some 1,000 ft below the point on which I was standing. Carved into this are the canyon complexes formed by the Colorado and Green rivers, deep cuts in the sandstone layer, winding their way, in a complex maze tracking the route of the rivers past and present. Here and there are huge towers of rock, left standing as the rivers eroded the surrounding rocks, and weathered by the wind, their white sandstone tops making them look like inverted matches... Quite stunning...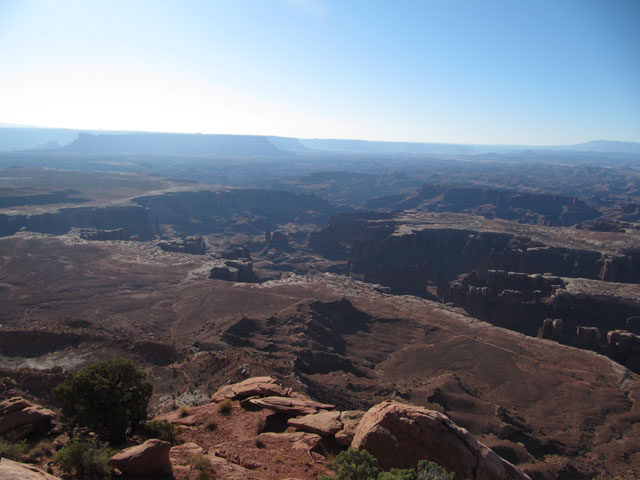 From Grand View Point, I rode back through the park, stopping off at the viewpoints on the way to look out across the canyons, marvelling at the immense forces that must have been involved in creating this landscape over the millennia, and pondering the expedition that John Wesley Powell led in 1869, down the Colorado and Green Rivers, charting this landscape – at a time before the Glen Canyon Dam created Lake Powell and tamed the rivers, changing them from the ranging torrents that created this amazing landscape, into the playground they now are. Still, the views are fantastic...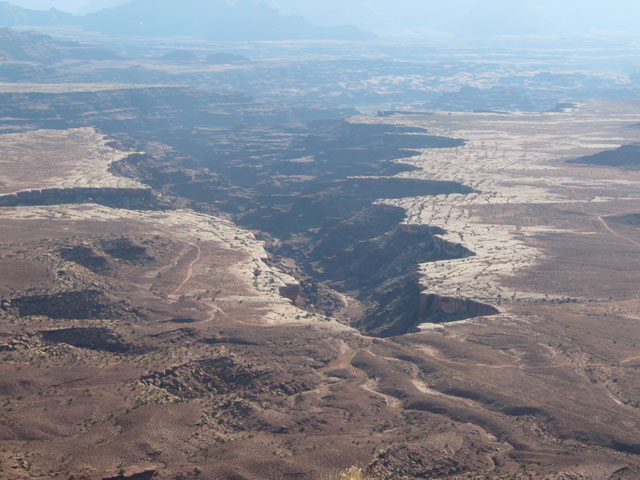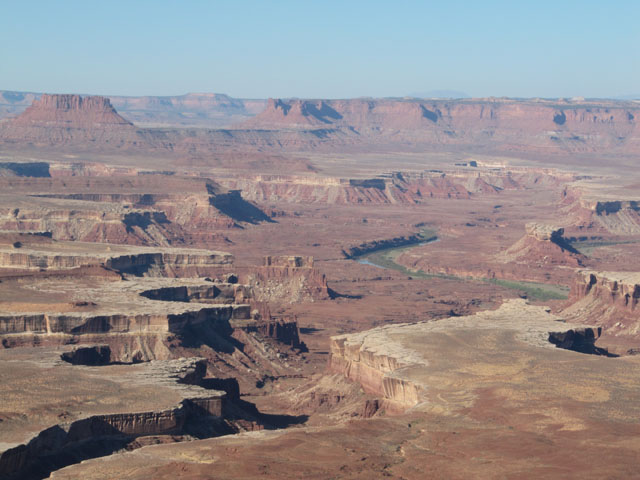 By now it was gone 9am, and I was starting to get hungry, so I headed back to Moab and had breakfast at Denny's – cereal followed by 2 eggs (over easy), 2 links (sausages), 2 bacon (strips, they don't seem to do back bacon here), 2 toast and 2 cups of coffee... Then back to the hotel to call Tracy before going back to bed for an hour to recapture the lost sleep, and then sitting down and catching up with the blog, having lost so much time yesterday fixing the spot lights that I'd let it get 2 days behind...
Which reminds me.
I've heard rumour that this diatribe is being read by people "all over the world". Now, I've no idea whether that's true or not, so I'd like your help, dear reader, to find out. It's really simple. All you have to do is click on the "Comment" hyperlink at the end of this entry and enter a comment stating where you are (you can add any other comments you think are useful, but bear in mind I have the power to delete any that I don't like...). You'll need a Google account to comment, but they're really easy to set up and once created you can comment on any other posts as you see fit. Correct my spelling, point out my mistakes, complain about my views, that sort of thing. Go-on, let's get all interactive... Oh, and finally, please, no comments on my naked body. It's not perfect by a long way, but it's the only one I got...
Right, back to the story...
When I woke around 12.30pm, I felt refreshed, and immediately set to work updating the blog, which took me all afternoon until it was time to put the bike gear on again and head out, this time in the direction of Dead Horse Point State Park, having decided to leave Needles until tomorrow, when I should be passing by it anyway. Dead Horse is a State Park, not a National Park, so this time my get-in-free pass was no use, but it only cost $5 and was well worth it. The point is called "Dead Horse" because it marks the spot where cowboys used to run wild horses, trapping them on a narrow ledge where they would fence them in until they could be dealt with. Trouble is, they forgot the horses need water and that this area is almost desert, and all the horses died. It's the 2nd Dead Horse I've been to on the trip, the other being at Prudhoe Bay, and that seems like an eternity ago...
The point looks down on a curve in the Colorado river, and provides an excellent vantage point from which to view the amazing geological masterpiece that nature has created in this area. Taking a look at the photo below, it's possible to see all the layers, which for the rock-fiends amongst you are, from Top to Bottom:
Navajo Sandstone, deposited by the wind some 175 million years ago, 300-400ft thick
Kayenta Sandstone, deposited by a stream some 180 million years ago, 150-300ft thick
Wingate Sandstone, deposited by the wind some 200 million years ago, 200-350ft thick
Chinle Formation, deposited by a stream some 210 million years ago, 200-500ft thick
Moenkopi Formation, deposited by shallow tidal flats some 230 million years ago, 200-500ft thick
Cutler Formation, deposited by coastal-marine beach and off-shore sands some 250 million years ago, the rim is white crossbedded sandstone, 0-250ft thick
Rico Formation, depostied as coastal-marine and floodplain, and wind-blown shore dunes, the deep red lower layer, dating back some 275 million years and 300-400ft thick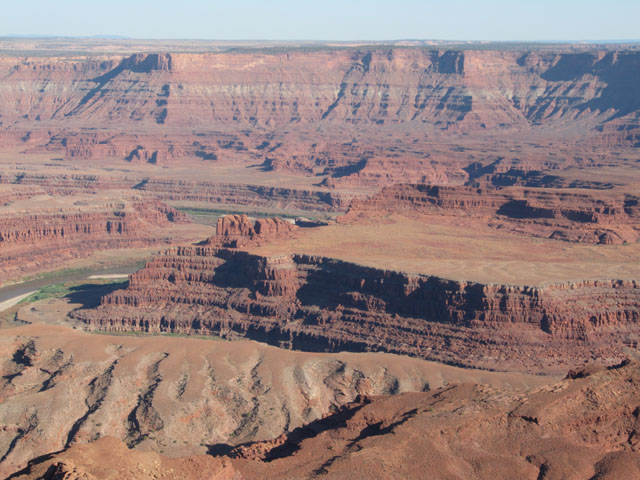 Having watched the changing light for almost an hour, it was time to start heading back into town and seeking somewhere to eat. I rode back in the searing early evening heat, and quickly changed before heading back out again on foot. I wandered up the main street and then found something I wanted that I'd not had for 5 weeks. Thai food!! Naturally I had to go in and order, selecting the Laab Kai (that's how it was spelt on the menu) and the mixed seafood red curry, which came with squid, shrimp (prawns), mussels, crispy fish and bizarrely peas and diced carrots... it was very good...
Then back to the hotel to update the blog as tomorrow I'll be camping and have no Internet access, and get an early night.
Friday, 21 August 2009
Yeah, though I camp in the Valley of the Gods...
Even without Jim I managed to wake early, getting up around 6.15am and loading the bike with the usual gear plus the tent and sleeping mat I've borrowed from the van. Filled my Camelbak with ice from the machine in the office, grabbed some cereal and coffee and checked out, hitting the road just after 7.25am Heading south from Moab, my first detour was to Needles Overlook, which looks over (surprisingly!) another portion of canyonlands south from both Grand View Point and Dead Horse Point, where the canyon floor is littered with spires of all sizes, hence the name, Needles. The photos don't do it justice, so I'll save them for the Gallery (when I finally get time to sort through them all, probably whilst the bikes are being serviced in Tuscon). It was all very peaceful this early in the morning, as I was there all alone, and simply stood in the early morning sunshine for a long while, taking in the view, the canyons covering the entire horizon, with nothing to interrupt the view... a great start to the day...
From Needles, I rode on to rejoin the route the others would be following from Mesa Verde, joining it just south of Blanding having stopped at a supermarket and bought a cold coffee drink and some more snacks. Once I'd found the "Trail of the Ancients", highway 95 to Bridges National Monument. This is another national park, and contains 3 rock bridges (Sipapu, Kachina and Owachomo) formed by the meandering streams eroding the rocks, leaving the natural bridges in place. They might look like arches, but these are bridges, the difference being arches are formed by rain and wind eroding the rock, bridges being formed by flowing water... Some pictures, one of each bridge...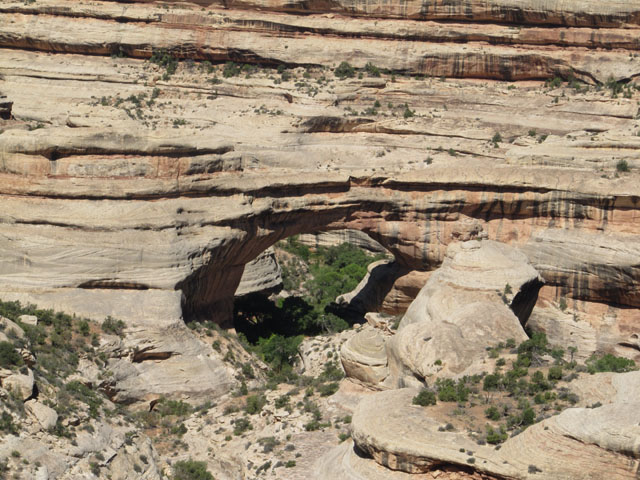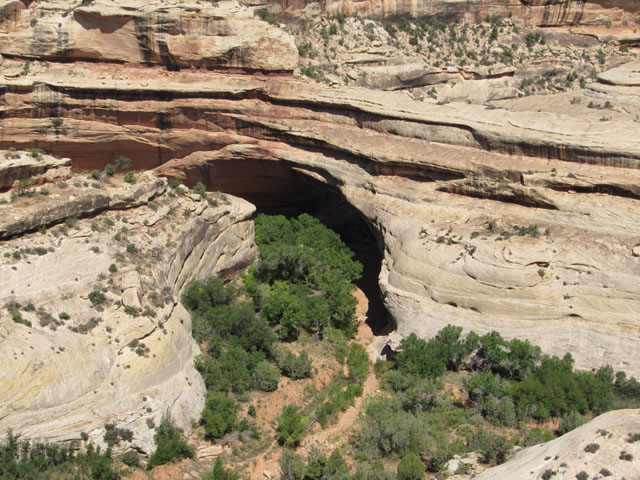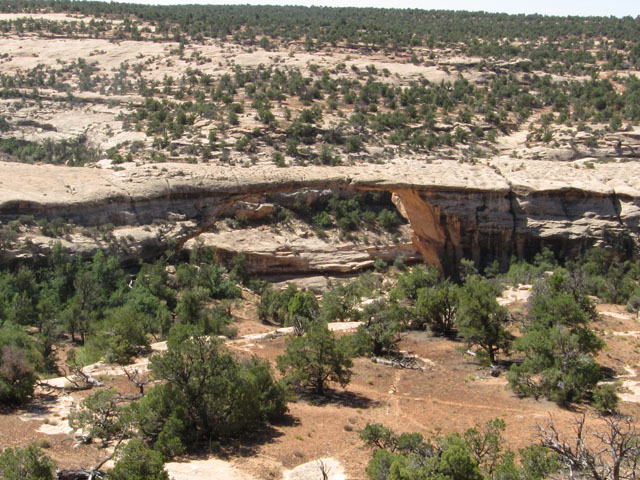 Now, I bet you're wondering what the names mean... well, Sipapu means "Place of Emergence", Kachina was named after the Hopi Kachina spirits that display lightening snakes on their skin as there are similar ancient snake images etched into the rock of the bridge and Owachomo is a Hopi Indian word for rock mound... so now you know...
From Bridges I rode back to the junction with highway 261 and then on to the start of the Moki Dugway. This stretch of road was one that Kevin had selected especially, due to it being a very steep, gravelled road descending from the Cedar mesa down 1100ft in just 3 miles, with plenty of switchbacks and great views... the warning signs leading up to it gave an indication of the seriousness of its nature...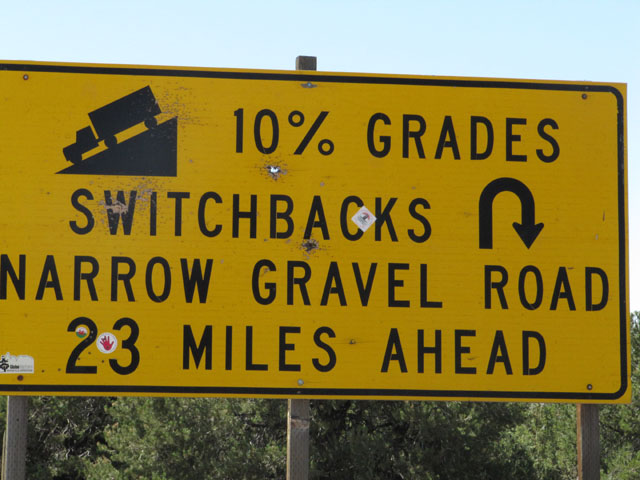 The road itself was built in 1958 specifically for Texas Zinc, a mining company, to transport uranium ore from the "Happy Jack" mine in Fry Canyon, UT. to the processing mill in Mexican Hat. Now it's used to sort the men from the boys by the sadistic Mr Sanders...
I was first to arrive, and waited at the start for the group to catch me up, which they did about half an hour later. By then I'd enjoyed a relaxing time trying to find some shade, eating a couple of oranges and gulping down lots of cold water. It was hot, damn hot...
Once we were assembled, we parked up and walked to the edge to get a view over the valley floor below. A long way below...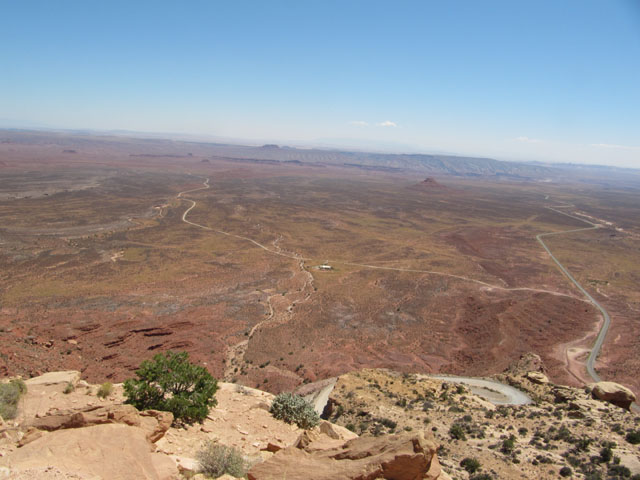 As it turned out, the road was pretty simple, with just a little bit of gravel at the edges ready to catch out the unwary (none of our group, then). At the bottom we turned left and onto the start of the Valley of the Gods road. This is the road that Tracy and I drove part way to watch the sunset last September whilst touring the area in an open-topped Ford Mustang (we entered at the opposite end, and only managed about half-way as we were stopped by a steep-sided dried river bed). It was as beautiful as I remembered it, gravelly but otherwise OK, the dried river bed not posing any problem for my trusty GS, although I think we got some better pictures last time, as this time I was concentrating more on riding it...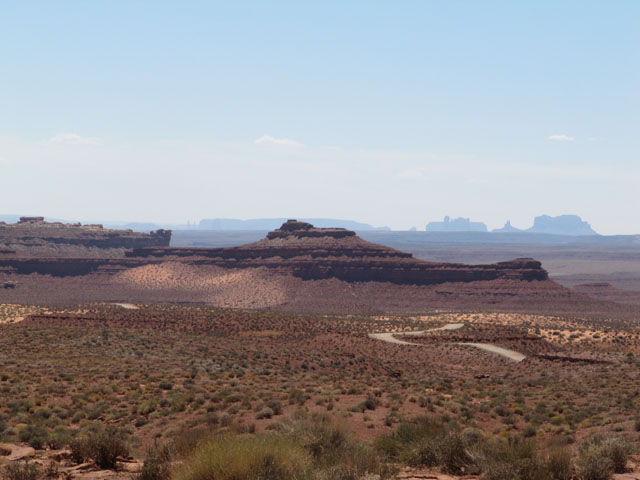 Now, I have to confess at this point, that Kevin had floated the idea of a naked ride in Valley of the Gods (naked, except for boots, gloves and helmet). And I'd been keen to join in. But, I'd got ahead of the group and stopped well before the end to wait for them to catch up so we could choose a suitable spot. Only when they hadn't turned up after about half an hour, I went back to look for them, only to find Kevin and Edwin, naked, arriving at a small plateau, obviously having performed the feat in my absence. Still, saves me having to upset Laura with more pictures of my naked backside... (oh, and they managed to get away with only been seen by one car-load of tourists, who simply waved at them...).
When they were dressed again, I rode with them out of the valley and on to Mexican Hat, and the motel. Now, I'm sure you remember me saying I wanted to camp in Valley of the Gods. Well, I did, but as it was still only around 3pm, it was simply way too early and way too hot to pitch the tent, so I went to the motel, got changed into my swimming shorts and went for a soak in the river. Which was very welcome, even if the strong current kept sweeping me downstream, meaning I had to stand up (it was only up to my knees) and wade back upstream again. Once properly cooled off, I went back to the room and showered, then went and ate dinner, a Navajo stew served with Navajo bread (which is like a sweet, deep-fried Naan bread, if you can imagine such a thing). Very filling it was, too. Then I hung around until just before 7pm, before putting my bike gear back on and riding back out to Valley of the Gods. I rode deep into the valley, to the plateau where the guys had redressed (which is also where Tracy and I saw someone camping last year), and thankfully there was no-one else around, so I pitched the tent quickly, just as the sun was beginning to set. I think you'll agree, a perfect camping spot...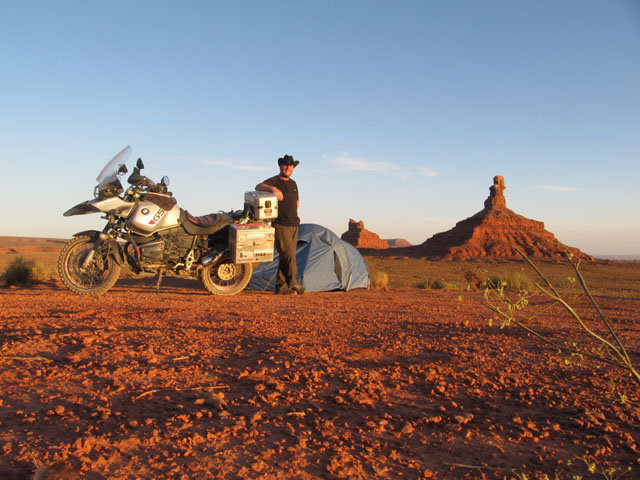 With absolutely no-one around, and in complete silence (oddly, not even the sound of crickets), I sat on a rock and watched the sunset, marvelling at a great wedge of bright red emanating from the sun's position over the horizon, and the beautiful shades of red and orange bands rising from the distant rocks. To say it was breathtaking would be an understatement. It was simply one of the most moving experiences of my life. And all the time, I was thinking about how Tracy and I had seen the camper last year, and how we'd talked about camping on this spot together. I felt her presence with me, and smiled as I watched the last of the sunlight disappear, gradually turning the tops of the rocks orange before fading completely...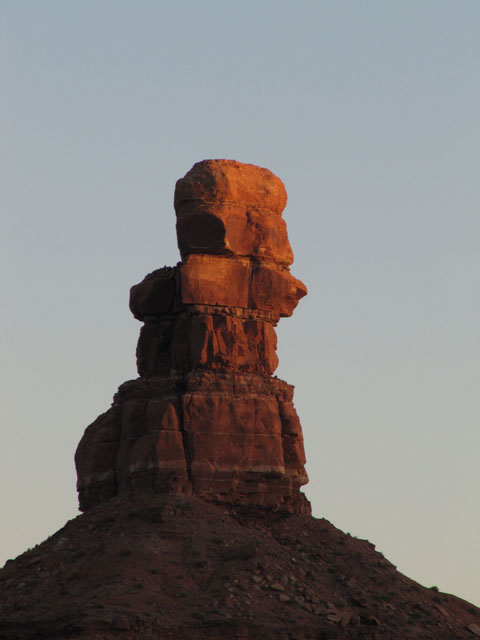 Finally it was time to crawl into the tent and fall asleep to the sound of absolute silence, knowing that there was not another soul for miles around, and that of all the billions of people on the Earth, I had the perfect spot all to myself...
Saturday, 22 August 2009
Heat and Sand in Monument Valley...
I woke around 3.20am, and managed to force myself from my pleasant slumber inside the tent into the fresh night air to look at the stars... and what stars there were... from horizon to horizon the dark night sky was full of tiny pin-pricks of light, with the occasional shooting star flashing briefly across my vision before disappearing as quickly as they'd appeared. I tried to recognise the constellations but have to confess that I've forgotten everything I've ever read about them, and apart from the plough and Cassiopeia couldn't name any of the others, although there were clearly shapes present... Contented, I crawled back into the tent and my sleeping bag and fell back into a deep sleep...
I woke again around 6am, and in the pre-dawn light packed away my sleeping bag, the thermarest and tent, and watched the sun rise over the horizon, bringing with it a dull red glow which faded to bright blue as I watched. Then it was onto the bike and the ride back out of Valley of the Gods, still without another soul anywhere to be seen. Back at the motel, Jim was already up and dressed, so I grabbed a quick shower and change of underwear and went and ordered breakfast. As the others came in, I was asked how my night's camping had been, and I think my smile may have given the game away... wilderness camping it wasn't (not with a shower before and after and a cooked breakfast), but it was certainly isolated and that had the desired effect, I felt completely recharged and ready for anything...
After breakfast we rode away from Mexican Hat and into the Navajo Indian reservation and Monument Valley...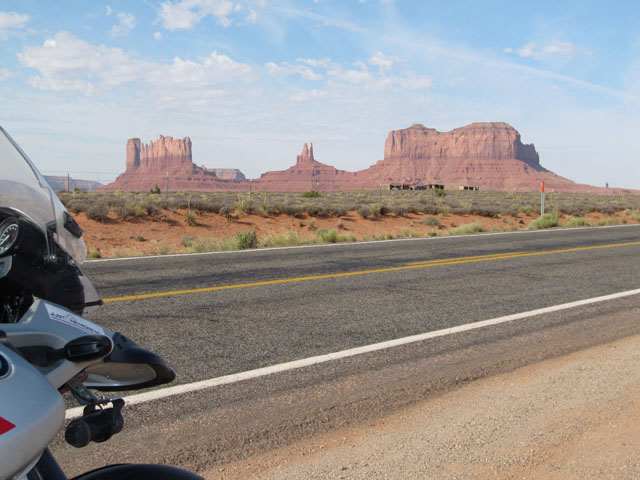 Ignoring the dead horse carcass by the roadside where I stopped to take the above picture (strangely the head was missing, just the skeletal carcass of the body and legs) I rode to the Visitor's Centre, which was different to last year as the building work has moved on a little, and the car-park was nicely tarmac'd. Much deliberation then followed as to whether to ride our bikes into the park itself, the road looking decidedly rough and with obvious sandy stretches, even when viewed from the visitor's centre balcony. But we came to ride bikes, and ride bikes we must, so a few of us set off into the park – Nick had already gone in, and Andy, Richard (with Karen as pillion), Andrew, Nigel, Kenny and I went on in. Within a half mile it became obvious this was going to be very tricky, as we had to ride through a long downhill sandy stretch, with some deep potholes full of sand. Kenny was first to go down, losing his front wheel in deep sand and ending up unceremoniously on his side – uninjured, thankfully.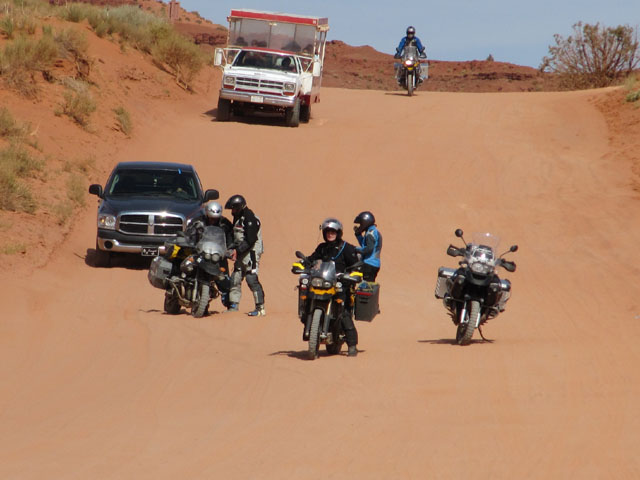 That was enough for Richard, who turned round and somehow managed to get back up the hill, albeit after getting Karen to walk. By now, Andy had disappeared, haring off at a fair old pace round the loop, and not taking the turn off to John Ford's viewpoint. I decided that would be my destination, having done the full loop in the Mustang, and besides, this point provides the best vantage point on the whole road...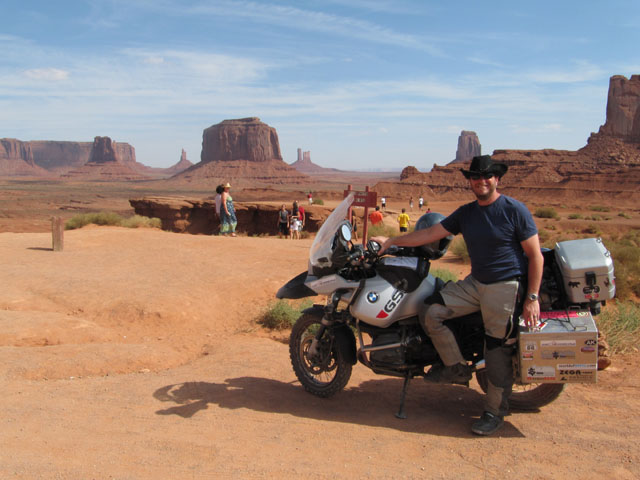 By now it was already hot, damned hot, and with us riding in full bike gear we were sweltering in the heat, guzzling water from our camelbaks like it was going out of fashion. Having made it to our chosen destination, Nigel, Kenny, Andrew and I headed back the way we'd come. I held back before the big sand hill to give myself a run-up, and watched Nigel and Kenny get to the top OK, then Andrew drop his bike in deep sand right in the middle of the road just below the top, just as I set off having chosen the centre line as the least deep... so I had to switch to the left, and immediately hit a big hole full of soft sand, the bars getting wrenched from side to side, throwing me off balance and forcing me to sit down and put my feet down. I managed to keep the bike upright, and paddled onto firmer sand before being able to get back to standing on the pegs and gassing it up the rest of the hill. At the top there was quite a crowd, Nigel, Andrew and Kenny being joined by Nick, and soon Jeff appeared in the van and we all watched and cheered as Andy arrived at the bottom of the hill and made his way, successfully to the top. From there it was a short ride, with one or two other patches of sand, back to the car park and safety. Of those that entered the park there were quite a few fallers – Kenny, Andrew, Nick, Max (with Christine jumping off the back as the bike went down), but no injuries and only minor pannier damage to Max's bike.... Well, it's supposed to be an adventure, isn't it?
Once clear of Monument Valley we followed the route to Page, stopping for a cool drink and cinnamon bun before taking a right turn on to Glen Canyon dam. Built between 1958 and 1964, this massive structure holds back some 33.3 Billion cubic metres of water, which is used for recreation (the water above the dam being Lake Powell...), generating electricity and of course, as drinking water. The most interesting fact that I uncovered when looking round the visitor's centre, was that it took 17 years for the lake to fill once the dam was completed on 13th March 1963 (until 27th June 1980), which sounded like a long time, until I was told it took so long because they had to keep the river flowing, so couldn't effectively just stop the flow downstream of the dam whilst it filled up.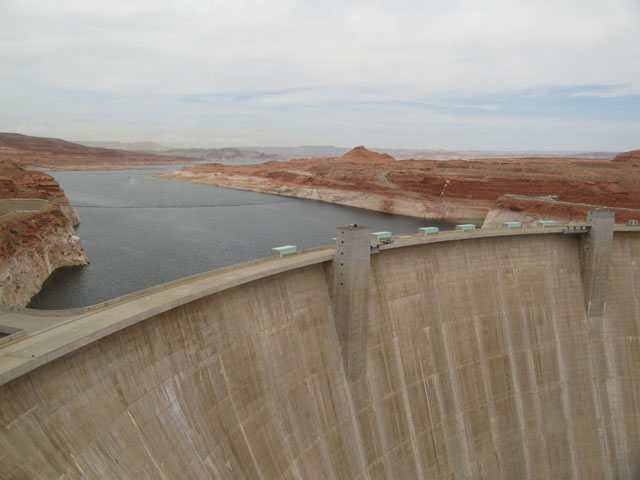 From the dam we retraced our steps to where we'd turned right, then carried straight on, following highway 89 to Bitter Springs before turning off onto highway 89 A (the "A" standing for "alternate") through Lees Ferry, Vermilion Cliffs and Marble Canyon, once again in blistering heat as we rode across the flat land before crossing the river at Marble Canyon, having to drink on the move to ensure I stayed hydrated, and trying desperately to get sufficient air-flow through the vents in my jacket to cool me down. Finally it started to cool as we regained lost height (we'd been at 6,000ft when leaving the dam, only to drop below 4,000ft on the flatlands) and we entered the forested area leading towards Jacob's Lake and the lodge we'll be staying at. Fuelled up I checked in, being given the key to lodge 14 and a map showing where it was. It turned out to be a proper wooden lodge, with little porch, but looking through the window I could only see one double bed... and I'm supposed to be sharing with Jim... with minor concern, I entered, to discover a door leading to the toilet and shower, then another door from there leading into another room with double bed, and an outside door... numbered 12... The mystery was solved when I looked at the booking-in slip I'd been given to see it had "Paul and Jim" at the top and "12 and 14" at the bottom... phew... thought I'd be getting the tent out again for a minute!
Unfortunately, though, whilst the room is nice, there's no Internet, no phone (and no TV, not that that matters). I went back to reception and was told I might get a signal at the "motel" which is a 2-storey building some of the others are in just a short walk from my lodge. So I went and sat outside it to update the blog from yesterday and check my email... and that's when the rain started... heavy rain, too, with thunder and lightning thrown in for good measure...
With my Internet chores attended to, and no sign of the rain stopping, I ran back to my lodge and dropped off the laptop, before heading in search of the bar... only to discover there isn't one. The lodge is licensed only for off-sales (drink elsewhere, in the rain...) or as a restaurant (drink only when eating). Soon Richard cracked, and we ended up outside underneath a porch, drinking a six-pack of Grand Canyon Brewery's finest pale ale, shared with the others as they arrived.
After a short meeting to discuss the next couple of days, dinner, which was the usual rushed affair (why do American waiters insist on bringing the entrée (main course) before you've finished the appetizer?) but otherwise was OK. As a result of the rush, I ended up back in my lodge by 8pm (a situation made possible because we're in Arizona and the time zone has changed again, so we're back to being 8 hours behind the UK), so wrote up this entry ready for uploading when I can next get connected, and got an early night... not quite the same surroundings as last night, nor as quiet, as I can hear the couple next door chatting and laughing...
Sunday, 23 August 2009
Happy Birthday from the Grand Canyon...
Happy Birthday, Tracy...
I woke early, at 6.15am, by body-clock not used to having lost an hour and also I think because I wanted to call Tracy early and wish her a Happy Birthday... So I showered and dressed and went to the payphone and called home... but no answer... so I went to where there is a weak Internet signal and powered up the laptop, then tried Skype-calling her mobile... no answer... oh, joy... So I left her a voicemail and sent her an email and updated the blog and tried the pay-phone again and tried Skype again and then went to get some breakfast...
Kevin had arranged to take a group of us on a dirt-road that goes to a very narrow part of the canyon infrequently visited, the ride there being some 60 miles of moderately challenging dirt riding, and last night I'd been keen to go. This morning, having failed to get hold of Tracy, I wasn't in the right frame of mind and so ducked out, determined to get hold of Tracy. The group left at 8am after breakfast, and I returned to the payphone, then Skype and finally spotted Tracy had posted a facebook note just 3 minutes ago, so must be online... desperately sending her messages I finally managed to get to exchange messages with her and then tried Skype, only to realise that the Internet connection here is so bad that it wasn't working. Back to the pay-phone and finally I was able to wish her a Happy Birthday and check she'd got the email I'd sent with a rather special picture attached, wishing her a happy birthday... Unfortunately, the cards I'd sent from Cody haven't arrived yet, but she didn't seem too bothered and was in good spirits, looking forward to the meal with the girls (Katy, Laura, Katie and Carlie, Danielle unable to make it) that she was going to have later that evening. We had a good chat and my head returned to where it should be...
I then got into my bike gear and rode the 45 miles to the start of the Grand Canyon National Park (North Rim), then the further 12 miles to the visitor's center. Normally, distances like that would be off-putting, and were the reason we stayed in Tusayan last year, so we only had 12 miles to go to get to the canyon. But now I'm here on my bike, the distances don't seem to matter so much, and the ride through the forest to the entrance to the park, and then through more forest and meadows to the visitor's center was very enjoyable, even with the reduced speed limit. I had a good look round the visitor's center, gift shop and deli, which didn't take too long (and got a sticker for the bike), then went to the viewpoint for my first proper look at the Grand Canyon from the north. Now, when Tracy and I came here last year, we were not particularly impressed, thinking "yes, it's big, but so?". Well, I can now reveal that the best views of the Grand Canyon are from the North Rim... where it not only seems big, but the lack of millions of tourists chattering away also allows it to reveal its spiritual side, providing the same sense of calm usually reserved for great cathedrals.
The hazy sunshine means that the photos once again can't do it justice, but hopefully you can get some impression of the nature of the view from the visitor's center from the picture below...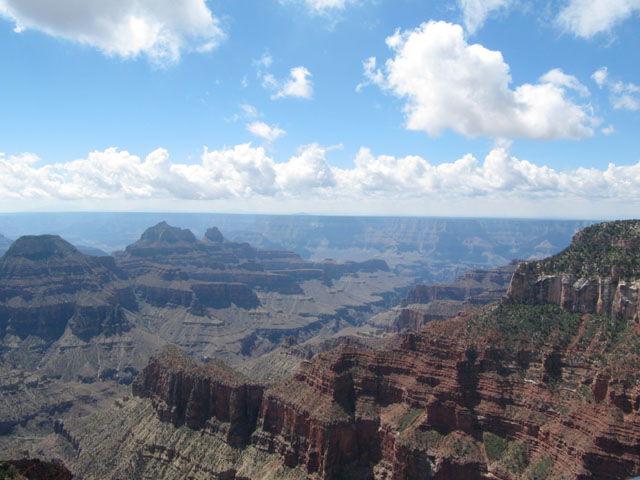 Having exhausted the visitor's center, I rode back the way I'd come and then took the side road (marked with a warning - "winding road" - though it's hardly a warning for a motorcyclist, we love winding roads!) to Cape Royal, where the view of, and from, Angels Window were quite spectacular: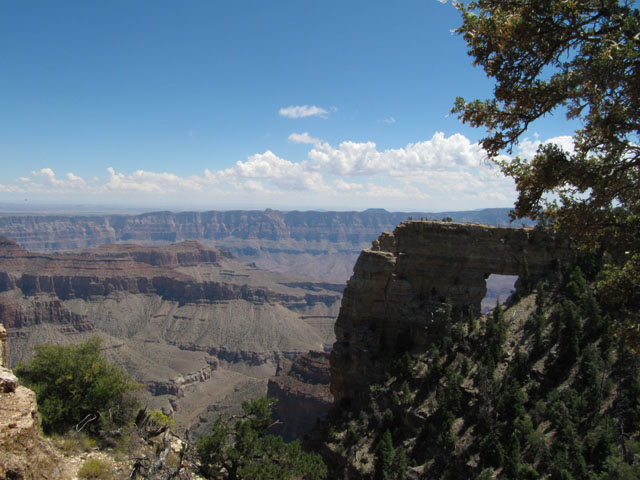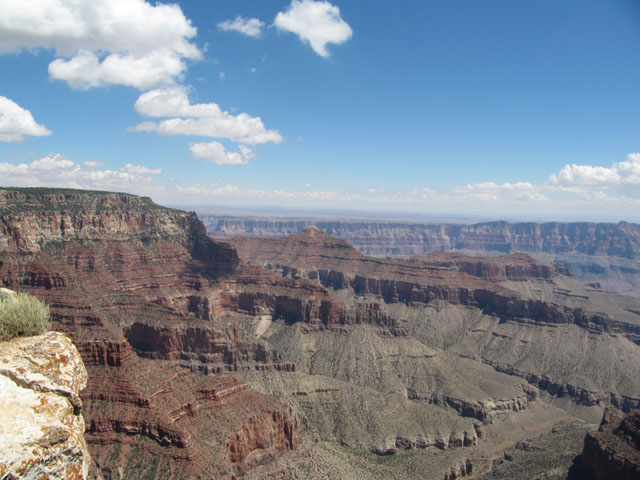 I stayed here a while, simply taking in the view and once again enjoying the peace and quiet, a complete contrast to our experiences on the South Rim. Then it was a short ride back and over to the highest point on the North Rim, Point Imperial, which is at 8,803ft. Again, the viewpoint was practically deserted, and the views spectacular... The North-East view in particular caught my eye, as over the ridge you could clearly see Marble Platform, the plateau I rode across yesterday in the sweltering heat, and which we'll be riding back across tomorrow on our way south to Tuscon.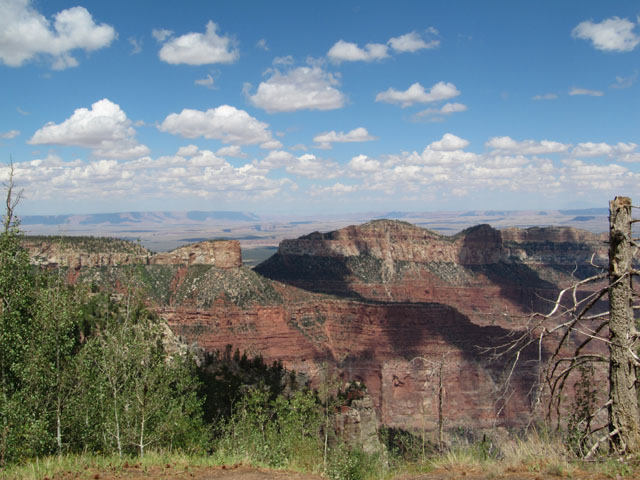 It's really hard to illustrate the scale of the views in these photos, so here's a little test... in the picture below is a helicopter, like the one Tracy and I took last year when we came to the Grand Canyon...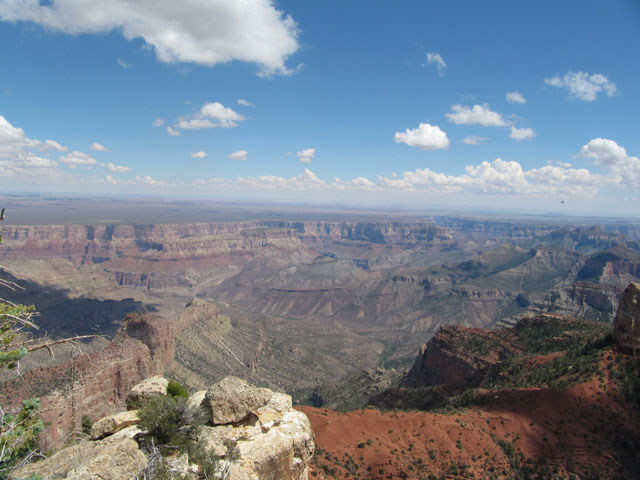 I doubt you'll find it, so here's a closer view... now try and match the rocks behind the copter to those in the first photo...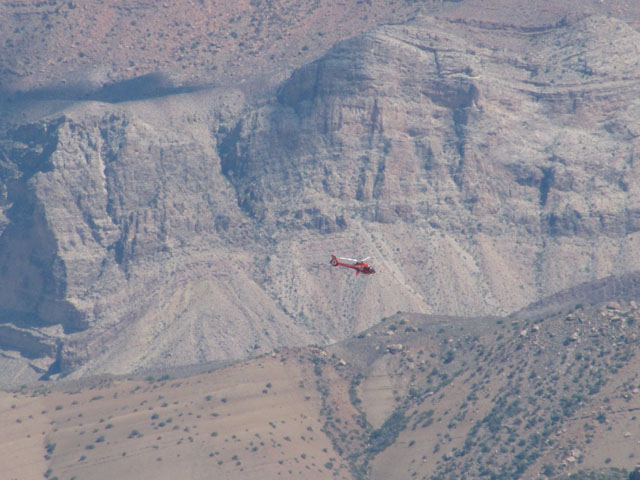 Hopefully, now you can appreciate why the views are so breathtaking...
After filling my mind with images of the canyon, it was time to ride back, once again enjoying the "winding road" back to the lodge, to get changed and make some notes for the blog, before the others returned from the trail ride... then we grabbed some beer from the shop and went and sat in a little open-sided wooden hut and chatted, and raised a toast to Tracy for her birthday. When we saw Mac on his balcony without a beer, we sent him one over, and just as we were finishing the case we'd bought, he fetched over another case for us... which set the tone for the evening, as we smuggled the case into the restaurant and drank the rest over dinner... then it was early to bed (around 9pm) in order to get a good night's sleep ahead of the long ride to Tuscon tomorrow...
Monday, 24 August 2009
Long, hot, riding day... then 5 days off...
Today's blog entry will be short, as it really only needs to reflect the long ride (500 miles according to my odometer, which is actually over-reading and was more like 480 miles) from Jacob's Lake to Tuscon....
First, I was woken around 4am, as Jim got up in the room next door, once again wanting to get an early start rather than wait for the group to depart around 6am. I managed to snooze on until around 5am, when I got up, and then went to help Jim pick his bike up (it had fallen over when he got on it, probably because it's still very heavily loaded) and then fix a minor electrical fault caused when it fell. Once Jim had gone, I loaded my own bike and rode round to the front of the hotel to join the main group. When all assembled, we rode off in convoy for the first time since leaving Anchorage, a total of 14 bikes all riding in formation back across the Mable Platform and on towards Fairbanks. We stopped for breakfast after around 110 miles (2 hours) in an old trading post, and were served an excellent breakfast of eggs (2 x over-easy) and links (you should know what they are by now...) with hash-browns and toast very quickly, then filled up with fuel and on our way again, riding in a slightly smaller group of 7 or 8 across flat plains over desert-like scrubland in increasing heat, gulping cold water from my camelbak every few miles (cold because I'd filled it with ice before setting off). We crossed a mountain range, the road twisting up one side and down the other, the group once again demonstrating the perfect "biker's ballet", breaking the staggered formation on entry to the turns, each rider following the "wide out, late in" sweep, then reforming the stagger on the straights, before repeating the change at the next turn. A stop in Strawberry for lunch (small salad and 2 very large glasses of sprite filled with ice), and onward, the heat now getting more intense as we crossed the Roosevelt dam and rode down onto the plain, with a final stop for fuel, to use the loo (2 hours in the saddle following 2 large glasses of Sprite and several gulps of cold water make for a very uncomfortable last few miles, as I got increasingly desperate to stop...) and an ice-cream (to try and cool off a little). The we rode through the desert plain, passed the prison (what crimes must a man have committed to warrant being incarcerated in a hell-hole in the middle of the desert?) and the "cactus forest", the heat now reaching 39.5degrees C and with a wind making it like riding through a fan-assisted oven...
Just before Tuscon we could see the sky was very dark, and occasional bursts of fork lightning flashed across the sky. We stopped at a little mexican restaurant to use their car-park and re-group for the ride to the dealership where we'd be dropping the bikes off, and to remove any valuables from our pockets ready for the inevitable downpour (the idea of putting waterproofs on was quickly ignored, the prospect of a cooling shower more inviting). Within minutes of setting off again we were in a tropical storm, with water drops the size of ping-pong balls hammering at our arms, as we got soaked within seconds. Then riding through a river on the road, with water inches deep, on worn tyres, and with zero visibility, into a strange town with traffic and traffic lights (neither of which we'd seen for some time). Soon we were the other side of the storm, and drying out again in the heat, winding our way around the outskirts of Tuscon and to Iron Horse BMW. Scheduled to arrive at 6pm, we duly pulled into the car park on the dot, only to find the place deserted. After a quick discussion, we rode on to the Sheraton and checked in, a quick shower and then unloaded the bikes, removing the panniers to make the servicing easier (we'll drop the bikes off in the morning), then discover the Internet is not working, so head to the bar for a cold beer or two and something to eat...
It's been a long day, with some 12 hours riding (including breakfast and lunch stops) and brings the total trip mileage to date so far to 6,777 miles. Time to get the bikes serviced and ourselves prepared for the trip to start proper as we enter Mexico on Saturday, and then the fun will really begin..
Tuesday, 25 August 2009
Resting in Tuscon, and thinking of Mexico...
First, an apology. I've been having problems transferring images to the website, another problem with the Internet in the hotel, solved by going to Buck 'n' Lil's Grill next door, where they have free wi-fi that doesn't cause the same problem...
When I arrived at the Sheraton last night and checked in, Jim was already here as his Suzuki wasn't going to be dropped off at the BMW dealer for servicing (he's made his own arrangements), and had accepted the upgrade of our room to a suite for a small payment.. so when I woke this morning, he was in the ante-room working on his laptop and I had the whole bedroom to myself, which was very nice. We have this little desk in the ante-room where we can plug our laptops in and work, and before breakfast I set to trying to resolve the Internet problems. A quick diagnosis and it was obvious the problem was with the ISP, so I called their technical support people and after a lot of to-ing and fro-ing, with me having to use technical language to convince them it wasn't user-error, I managed to get them to accept it was their problem and they needed to fix it...
With that being dealt with, I went and ate breakfast, and then we rode our bikes over to Iron Horse BMW (which is on the same street as the hotel, just 2 blocks down, but Tucson is a really spread-out city, so those 2 blocks means 2.5 miles!). With my bike checked in, we wandered round the shop (I didn't see anything I wanted to buy), and then Jeff brought us back to the hotel in the back of the van... seems odd, not having my bike with me...
Back in my room I tried the Internet again, and lo and behold, it was now working. And not just for me, but for everyone. That meant I could chat to Tracy on Skype, which is always a great way to make my day. We then enquired about the nearest shopping mall, and were directed to La Encantada, so Nick and I jumped in a cab whilst Andy (whose wife Sandra has come to visit) took Max & Christine in the hire car they've got and followed us. $25 later, we were dropped off at the mall, which only had about 30 shops, all designer affairs (Louis Vitton, Victoria's Secrets that sort of thing). I managed to find a rather posh supermarket to get some deodorant and toothpaste, and then we were done. With an agreed meeting time an hour away still, and Andy & Sandra nowhere to be seen, Max, Christine, Nick and I did the only thing we could, and had a cold beer. When we finally found Andy & Sandra again, we all squeezed into their car and went back to the hotel, in time to surf the web for a bit (trying to sort out a curry-house for tomorrow night) before the big meeting...
At 4pm we assembled in the conference room and listened to Kevin give us the run-down on the border procedures and things to watch out for when we enter Mexico. Richard had already entered the Mexican spirit, by shaving his goatee...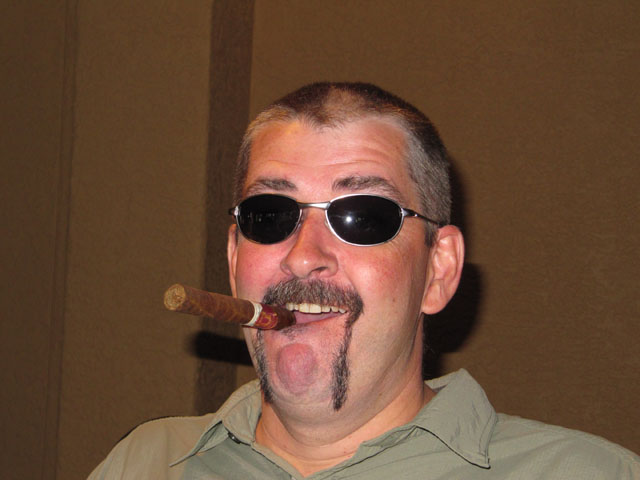 Kevin's main point was that the "holiday is over, the adventure begins now", and that Mexico has a lot of hazards and we had better be concentrating. No more "racers and chasers", bigger gaps between riders, dogs (a big hazard), trucks, people, etc. In other words, it's all about to change, and we'd better be ready... We're all very excited at the prospect, and raring to get going...
At the end of the meeting, Nigel announced he'd had an idea. We have the "Prat Hat" award, which is done roughly once a week for the person who's done something daft, but he thought it would be a good idea to also have a "Gold Star" award for the person who has done the most for the group, awarded on an "as needs" basis, with the person who gets the award the most throughout the trip getting a momento at the end. This got a warm reception, and the first recipient, selected by Nigel (in future it will be by a committee of Kevin, Julia and the current gold-star holder) was Christine, for maintaining the group's morale and generally always being cheerful and smiley. We'll see how the award works going forwards, but it adds another dimension to the group dynamic...
Then it was time for the weekly "Prat Hat" award, delayed from last Friday so that we could ensure the new recipient gets to wear it during the border crossing on Saturday... The nominations this week were a little thin on the ground, the shortlist being: Nick (for missing a junction on the Interstate then claiming he did it deliberately, and for complaining that his steak was too small compared to mine at the Jacob's Lake Inn), Gerald (for getting stopped for speeding in the Mesa Verde National Park, the incident being recorded by Richard for all to see) and Kenny (for leaving the group to head home and for his spectacular crash in the sand at Monument Valley). After pretty poor defence cases all round, the votes were cast and Gerald got the award... I give you Gerald, in the Prat Hat: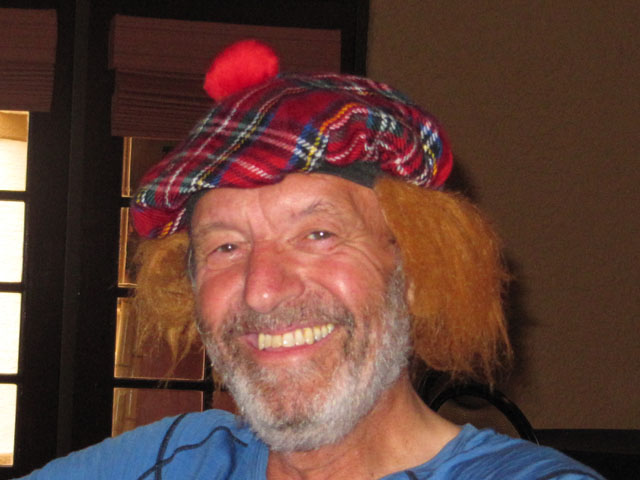 With the award ceremony over, it was time to eat, and we had a large table laid out for us next to the pool, where we could see the live Jazz band that was playing to a small but appreciative audience. Live music is always welcome, and these guys were very good, especially the youngsters (one was only 14). They even had an old black lady sing with them on some songs, including one they dedicated to us, "Get your kicks on Route 66"...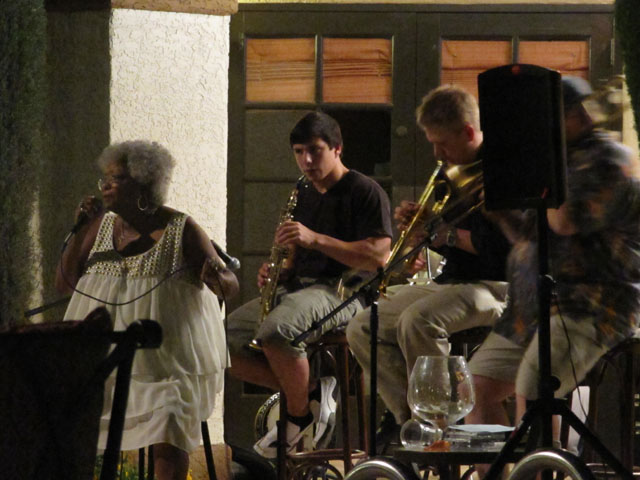 The final entertainment of the evening came when Jeff remembered that he'd left Candy (his "girlfriend", see earlier post...) in the conference room. She'd been deflated and strategically placed half out of a pannier in Andy's room when Andy went to pick his wife up from the airport, and had been returned just prior to the meeting. Re-inflated at the dining table, Jeff was dancing with her by the pool when Rich pushed them both in. Jeff then proceeded to "rescue" Candy (although I'm not too sure about his rescue technique)...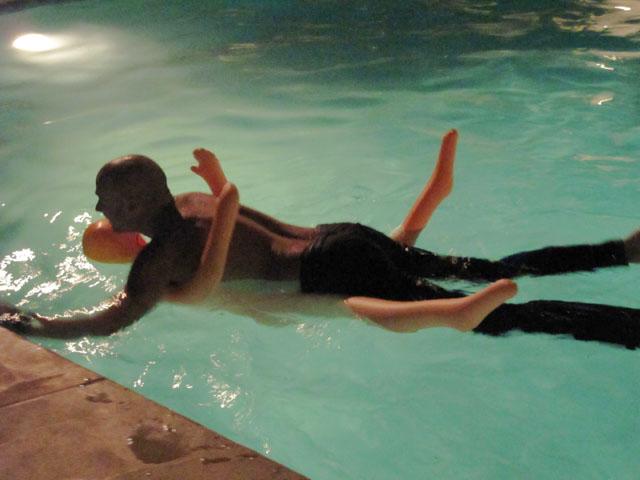 Wednesday, 26 August 2009
No bike, so not much to report...
A full day off, without my bike as it's at the dealer's being serviced and fitted with new tires.
Despite which, I still woke early and managed a quick chat with Tracy before heading down for breakfast. The rest of the day was spent seeing to a few chores (haircut, getting a box to send stuff I don't need back home, trying to sort my online bank out and getting locked out of the account), and then relaxing by the pool, chatting to a few of the others and generally chilling out. I also arranged a curry night for any that were interested, researching the best Indian restaurants in Tucson on the Internet before selecting the New Delhi Palace, then arranging taxis to take us there. The food was good, considering Tucson does not benefit from a large Asian community in the way Royton does... but it was a proper curry at least...
Then it was back to the hotel for a nightcap before hitting the sack. So, nothing much to report, perhaps tomorrow will be a little more exciting from a blog perspective, as it's our last "free" night in Tucson (Friday doesn't count as we need to be ready to roll at 6am on Saturday morning...).
Thursday, 27 August 2009
Buena suerte y hasta luego Kenny...
Today was an emotional day for 3 main reasons.
First, I got my bike back. It was ready to collect first thing in the morning, so I went in the van with Jim and Al and was re-united with it in the car park, resplendent with new tires (yes, I know how we're supposed to spell it, but we're in America) and having had a full service. Cost the best part of $900 so it should be good... Al was less fortunate, his bike (an R1150 GS Adventure like mine but immaculate and black) has suffered severe scoring of the rear brake disc and the pads were down to the metal. He's going to have to keep an eye on the rear pads from now on, as they were unable to replace the disc (no spare available). But at least he's also back on the road again...
Second, and more emotionally, we had to say "goodbye" to Uncle Kenny. He'd ridden from Florida to Anchorage with Aaron (his nephew, hence the "uncle") before the start of the trip, and been with us all the way to Tucson, but needed to get back home for business reasons. All through the trip he's been a font of great knowledge, especially about the wildlife (and how to hunt it) and the flora and forna. We're all going to miss his happy smiling face, his dry humour and most of all his sheer presence (I think secretly the women are also going to miss his "builder's bum" too...)... Thanks for the happy memories, Kenny, hope to catch you on the road again someday...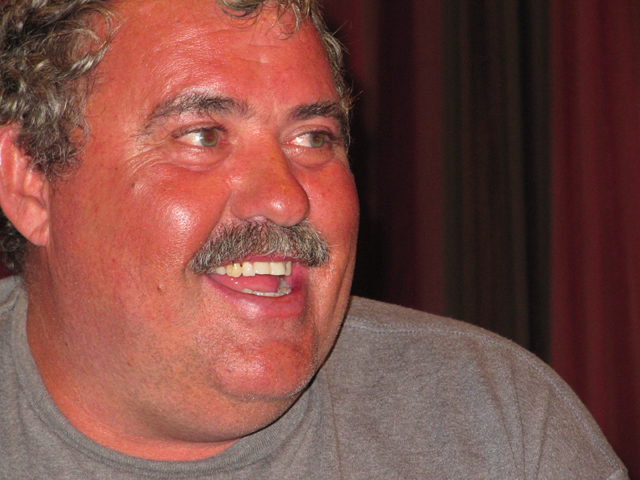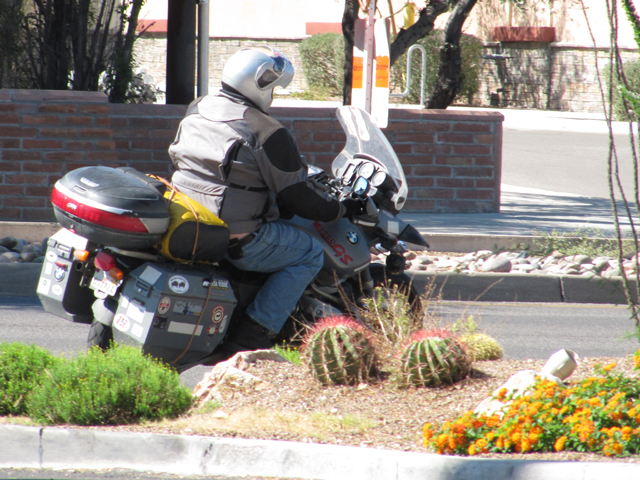 Thirdly, Andy ("Ozzy Andy" to distinguish him from Andrew) has managed to sort things out so now he can do the complete Trans-Am as opposed to his original plan to leave us in Panama. This is great news, as it means the full team that started so long ago in Anchorage (with the exception of Kenny, who we knew would have to leave in Tucson) will now be heading all the way down. Andy's wife, Sandra, is here in Tucson having flown in to see him, and she'll be taking care of their business whilst he's enjoying himself with us, so big "thanks" to her from the rest of us...
And so to the rest of the day. Well, it wasn't quite as hectic as expected. I had intended to go to the Air & Space Museum (more of that tomorrow, perhaps), but still had a lot to organise, so decided to spend the day getting myself sorted and then chilling out by the pool. First job (having got my bike back) was to sort out my finances, as I'd been locked out of my Internet banking service and needed to get that resolved quickly. Luckily, my access had been restored, so I was able to check my credit card balance (been using it for fuel all the way through the US as the pumps are "pay at pump before filling up" types), and setup the payment. Then I wanted to ensure Tracy has sufficient money to treat herself, so sorted that, then it was off to the bank to get some more cash out (dollars, in good-quality notes) and to change the $50 notes I have for smaller denominations...
The bank, Wells Fargo, was "interesting". On entering, I was greeted by someone saying "Welcome to Wells Fargo and how may I help you". I though it terribly polite, and was quite chuffed, until I realised they said it automatically whenever anyone walked through the door, or drove up to the drive-in window (I kid you not, this bank branch had a "drive-in" counter for those too lazy or fat to get out of their SUVs and waddle inside). The next bit that I found odd was the staff uniform. In the UK, all bank staff tend to wear a sedate, professional uniform. The young girl serving me had a top on that emphasized her infeasibly large cleavage. After 6 weeks on the road, this was quite a problem, especially when she came to count out my currency and had to lean over the counter a bit more whilst doing the "That's 20-40-60-80-1, 20-40-60-80-2..." thing. But this was my money, so I wrenched my gaze away from her chest and watched the cash being counted with the intensity of stare Medusa would have been proud of. Then it was back to the hotel for a cold shower and to stash the cash in my secret hiding place...
With the great financial challenges resolved, the next task was to update the blog (didn't take long as naff-all happened yesterday), and then get changed and go sit by the pool for the rest of the day. I did try to sort through my photos and start the process of creating the Trans-Am galleries, but it was hot and sunny and there was a cool pool to mess about in, so that's what I did instead.
I did manage another chore, washing my bike jacket & trousers in the hotel's guest laundry machine, but it came out looking as dirty as it went in, so I don't think that was a great success. Oh, and I also finished my book ("Uneasy Rider" by Mike Carter that Tracy bought me as a going-away present – it's very good).
Before long the day had gone and it was time to have the first beer and eat something, so we congregated in the hotel's bar/restaurant and ordered an appetizer and entree, only for them to arrive all at once (again!) and so the food was rushed (though it was very good). Aaron's bar-hopping trip coincided with the meals arriving, so only Jeff and Aaron went out, the rest of us sitting and chatting for a while, until it was just Nick, Andrew and me left at the bar, chatting to the barmaid as she closed up (her mother is from Gloucester) before heading off to bed, the promised last-night-in-the-US debauchery having completely failed to materialize...
Friday, 28 August 2009
Last night in the US of A...
Another relaxing day in Tucson, which started as usual with a relatively early wake-up (6am), then breakfast, a phone call with Tracy and on to do my chores for the day, this time sorting out paperwork and generally ensuring I was happy with my state of preparedness for the trip to Mexico tomorrow. I even put the panniers and top-box back on the bike, so that I'd have somewhere to stash my jacket later in the day when we went out.
With my chores done, it was time to head out to the Air & Space Museum, with Richard & Karen and Max (Christine wasn't well, having succumbed to her 2nd bout of the Trans-Am cold, which seems to be continually circulating within the group). Now, the Air & Space Museum is no ordinary museum, as it also offers coach tours round the "Boneyard"... officially known as AMARC - Aerospace Maintenance And Regeneration Center. This is the place you might have seen where thousands of aircraft come to die (or get salvaged for parts, or refurbished and returned to service, or get their wings and tails painted red and converted into unmanned target drones...). It's seriously impressive... currently housing 4,300 aircraft and only at 60% of capacity, some 21% of which each year are either returned to flight. The guide on the coach is ex-air force and certainly knew his stuff, explaining the full history of all the aircraft down the "celebrity road" as well as explaining the way the aircraft designations work... so prepare to be educated...
First, the designations. They begin with one or more letters, which relate to the purpose and mission of the aircraft – so "A" is "attack", "B" is "bomber", "C" is "Cargo" and "F" is "fighter"... next is a model designation number (such as A10, or C-130)... then finally a further letter the designates the model generation number (so B52H is the 8th generation of the B52 bomber). Cool, eh?
Then the aircraft themselves. The best way to do this is with a photo and then an explanation, but as I've over 60 photos of them, I'll just include my favourites... first, the F14D (that'll be a fighter, type 14, generation 4) as flown by Maverick and Goose in Top Gun...
The A10 Thunderbolt (also known as "warthog") - which I liked because it carries one mother of a gun, that is practically the size of the plane, fires rounds that are 12" long and weigh 2lbs, the warhead part of which is made from depleted uranium and weighs 1lb... and it fires 70 of them every second... think "road to Basra" and you can see how effective this ugly plane is...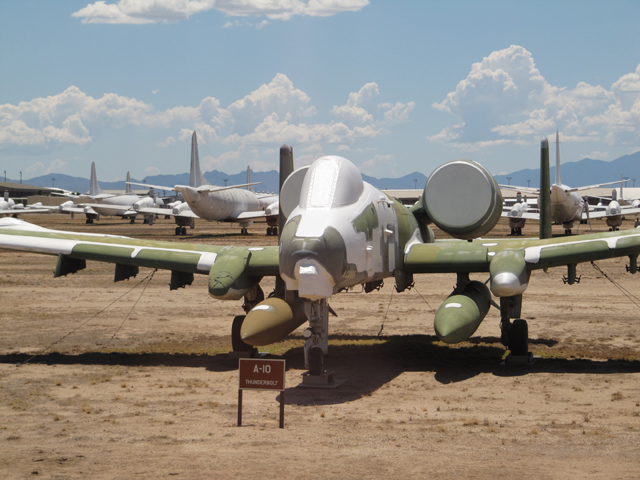 I'm not going to include many more pictures, but suffice to say, the large number of C-130 Hercules planes in storage would have been impressive enough, were it not for this lot... a small section of the 700 or so F4 Phantom jets, which are being put back into service as either unmanned drones or for the 6 air-forces around the world that still use it (and remember, this was a plane used in anger in Vietnam...).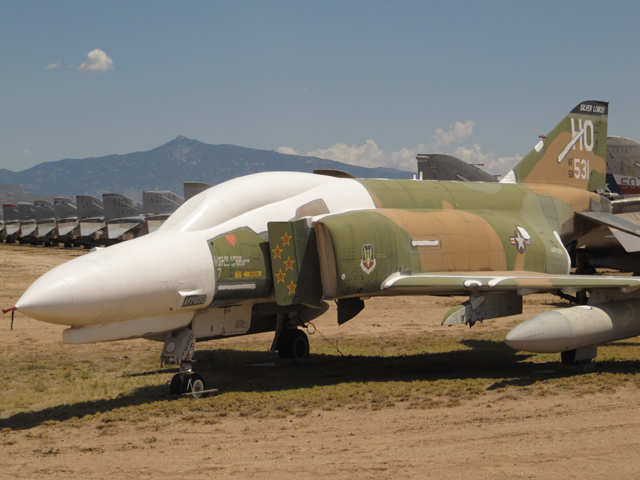 But the most impressive part of this impressive facility was the "boneyard" itself, where the aircraft go to die. When they cross the bridge they enter their final stages of life, are stripped of all useful parts and then cut into pieces and the bits sent for scrap. Here were row upon row of aircraft of all shapes and sizes in various stages of dismantling, including these helicopters...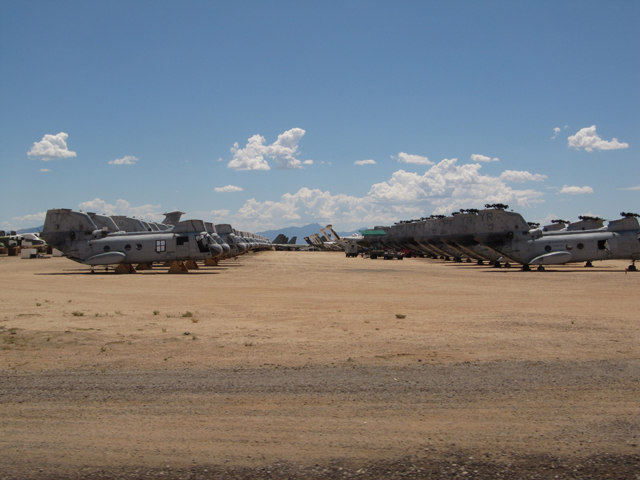 When the tour finished we went and had a quick look round the museum. There was enough here to take up a full day, but we only had an hour or so, and so focused our attention on the WWII hangers, marvelling at the nose-art from the big bombers, which were displayed as a series of photos round one of the big hangers. Alongside each was when the aircraft was brought into service, how many missions it flew, and what happened to it. Very sobering, as most were lost in battle, many crashed somewhere, and only 1 made it back to the US at the end of the war... Also in the hanger was this fine example of a B-29 from the 330th Bomb group, which flew 26 missions between April and August 1945...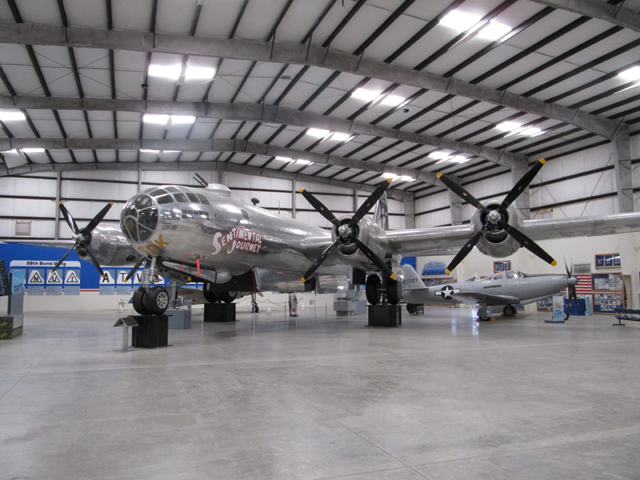 There was one final thing in the museum to help create an appropriately reflective mood... this flag, the first US flag to land on Utah beach on D-Day...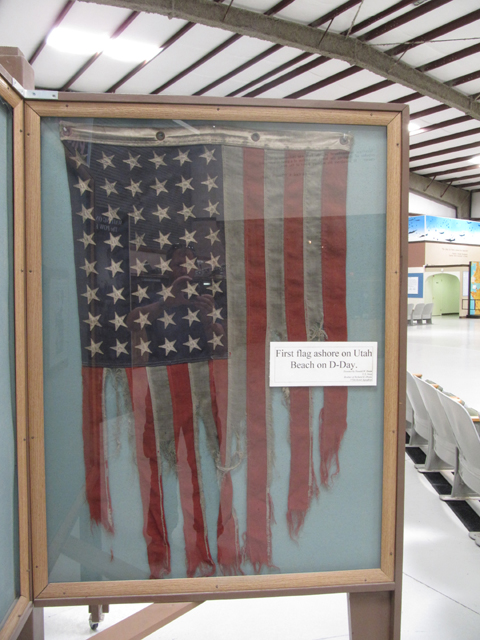 Suitably reflective, we headed back to the hotel. In the blistering heat of the day I completed the last of my chores, sending a box of stuff I don't need back home in order to lighten my load, and then headed into the pool to cool off for an hour or so before dinner. For our last meal in the US (breakfast at 5am tomorrow doesn't count), we went to the "Outback Steakhouse" just a block away and enjoyed a strange deep-fried onion (that looked like a Terry's Chocolate Orange when unwrapped and tapped), and a plate of BBQ ribs and chicken...
Then back for an early night ready for the early start tomorrow...