A very early start (wake at 5am, load bike, breakfast and in the saddle, ready to go by 6am) and we're finally on the road again. Leaving the Sheraton with its lovely pool and heading out, all of us in convoy (now just the 17 bikes and one Transit with Kenny gone), all waving to Sandra stood looking lonesome in the hotel car park, we leave town and head out onto the Interstate as the sun starts to rise. A short ride takes us onto the long, straight, road to the border at Douglas. With a quick stop for a "fluid adjustment" and to re-fuel, and we're there at the US departure point, parking up under cover of the sun. Here we hand over the white exit-slips from our passport to confused US border guards who can't seem to grasp that we don't need them because we're not returning to the US (at least, for some considerable time). Then we're off, heading to where the signs read "Mexico" and are in Spanish first, then English...
And as with many other borders, crossing this one is stepping through a door into another universe... the road condition deteriorates immediately, with broken tarmac and potholes everywhere, the cars are old and battered with bald tyres, the people dark-skinned and poorer-looking. We're directed round the back of the immigration and customs building, which itself looks like it's about to fall down, into a rough dirt parking area round the back. Dismounted, we dump our jackets and helmets in the van and seek shade, whilst Kevin heads off into the building to suss out the process we all need to follow. Whilst we wait, we look like prisoners about to be executed by firing squad, lined up against the wall in the only shade around...
Kevin returns and outlines the process, and we all troop into the building, documents in hand and trying to adopt the latin-American attitude, that all things take time, there's no rush, and relax. It turns out to run pretty smoothly, as we first get a tourist entry slip from one guy, then go and get photocopies of our passports, driving licence, the form we've just been given and our V5 (licence for the bike) – which costs $1 – then to another window to get a permit for entry for us which we have to pay for with a credit card in our name (both costing around $20). With that done, we return to the first guy to get the tourist entry form and our passports stamped, and then we're done. Final job being to peel off the very attractive permit sticker and attach it to the window of the bike – this will be checked regularly as we pass through various military and police checkpoints to prove the bike is in the country officially. We then stash the rest of the documents on the bike and return to the shade to wait until the rest of the group has been processed.
Around 2 hours after we arrived, we're back on the road, heading out of town slowly – getting used to the traffic and the road layout and seeking out the almost hidden "Alto" (Stop) signs. Once clear of town we're back on open highway, riding through scrubland, over a couple of hills and then along some very long straights, attention wandering and trying desperately to keep focused as the heat and boring road make falling asleep at the handlebars a real possibility. Then we're forced awake again as the lead bikes' brake-lights shine brightly and we all cruise to a stop – a checkpoint, and this time we have to stop. The soldier then proceeds to walk down the line of bikes, holding a black plastic device with what looks like a car aerial horizontally mounted on the front. Once at the back of the group, he turns round and walks to the front, then waves us on our way. I've no idea what the device was, or what he was looking for, but relieved he didn't find it. At another checkpoint we're asked for the blue form that the bike's permit was attached to, so all dismount and start rummaging through our panniers, only for him to be told by another guard that he didn't need to see them, and we're waved on our way again... Entering some hills we encounter a convoy of trucks, which start overtaking one another, on blind bends and where solid double-yellow lines in the centre of the road are meant to discourage such behaviour. They all make it, though, and as the road opens up, we start to overtake them ourselves. That's when I first encounter another strange Mexican driving practice... one that scares me shitless... they indicate left to let other traffic know it's safe to pass... so whilst they'd indicating to turn into your path, you pull out and go past... I made doubly, then trebly, sure there was no where for them to turn, except directly into a field through a fence, before making my move, and breathed a huge sigh of relief once clear of them...
Finally, we stopped at a small town called Janos for lunch, glad to be able to get off the bikes and eat something to get our metabolisms working again, the early start and straight roads resulting in drooping eyes and poor concentration. The rest stop at the side of the road was rough and ready, but hungry I ordered a couple of tacos with some green chili and a Sprite. It was delicious, hot and spicy, with the meat very tender... so I had 2 more... and the whole lot cost me 50 pesos, or about £2.50... cool...
From here it was a short 45-mile ride to Neuvo Casa Grandes and the Hotel Hacienda, and very soon were were parked, unpacked and in the swimming pool. A couple of cold beers to celebrate our arrival in Mexico and then back to the room to work on the blog for yesterday before heading out into town for dinner. We found a small bar and had a beer, enjoying the rough nature of the place and the strange looks we got from the locals (including the 2 large gals behind the bar, who looked as though they might be looking for 'work'), then went to the restaurant next door for what turned out to be a very disappointing meal (I should have followed my instincts and insisted we seek our something more rustic-looking, but there were others from the group already eating there).
And so back to the hotel and bed, our first day in Mexico over... tomorrow we head deeper into the country, and hopefully stop riding as one big group...
Woke from a good night's sleep around 6.30am, so showered and updated the blog before breakfast. With an official start-time of around 8.30am, I figured I'd have lots of time before the likely actual departure time of 8.15am, but when I emerged from the room around 7.45am, several of the riders were kitted up and ready to get moving... keen or what!
So I grabbed my breakfast of cereal and coffee, and a glass of really delicious fresh orange juice, and went out to see who was left. Nick was getting set to join Nigel, Andy, Gerald and Al, but after a quick conversation agreed to ride with me instead, breaking the groups into smaller, more manageable units. With most of the rest now gone, Nick and I pulled out around 8.15am, and promptly got lost trying to get out of town. The route notes said to ride to the junction sign-posted "Chihuahua" but we thought this would be in town, when it was actually about a mile outside. We found it eventually, and then made our way to Bueneventura, our first real Mexican village without the comfort of the whole group and Kevin leading to point out the hazards. And there were a few, though as we dropped our speed to about 20mph, nothing we couldn't deal with. First was the "topes", which are like sleeping policemen (lumps across the whole width of the road), usually concrete rounded ramps, which vary in height from a few inches to around a foot, and some of which are simply two rows of rounded metal balls half buried in the ground and offset, so as to make riding a motorcycle over them as difficult as possible (especially when wet). These topes are strategically positioned at the entrance and exit of every town, usually 2 close together, and sometimes whole rows running through town. They slow the local traffic to a crawl, which is just as well considering the condition of most of the vehicles. So when there's traffic, we ride slowly in the exhaust fumes (one pickup was burning oil so badly it was followed by a huge blue cloud that obscured all view of the village through which we were travelling), coughing and spluttering. But when there's no traffic, which was more often the case, we ride open-mouthed trying to take in all the sights, waving to the kids playing in the streets, getting raced by smiling boys wheely-ing their bicycles (there are times I wish I could wheely, so I could play along), or chased by dogs.
The villages themselves varied from the run-down 3rd world type, with rubbish and broken, rusting cars scattered amongst the dilapidated wooden houses, to the very pretty cleaner ones with trees planted in the street and locals tending to the crops in the fields surrounding the village. Between the villages we also saw a lot of pick-up trucks carrying armed soldiers or policemen, there having been a spate of assassinations, particularly of police chiefs, in the area, although we didn't feel threatened in any way, the people seeming very happy to see us.
We passed through areas of bright green fields, with signs of recent heavy rain, the temperature much cooler than the last few days and making for a really enjoyable ride. We rode up into the mountains on a great twisting road, resisting the temptation to up the pace, simply adopting a classic advanced riding pace and picking our lines to maintain the rhythm, giving us plenty of time to soak in the magnificent views out over the tree-lined hills to the valley below. We stopped at the side of the road to admire the view, and within minutes there was a group of us, Kevin, Julia, Richard & Karen, Max & Christine and Aaron all choosing the same spot to stop for a break and to admire the view...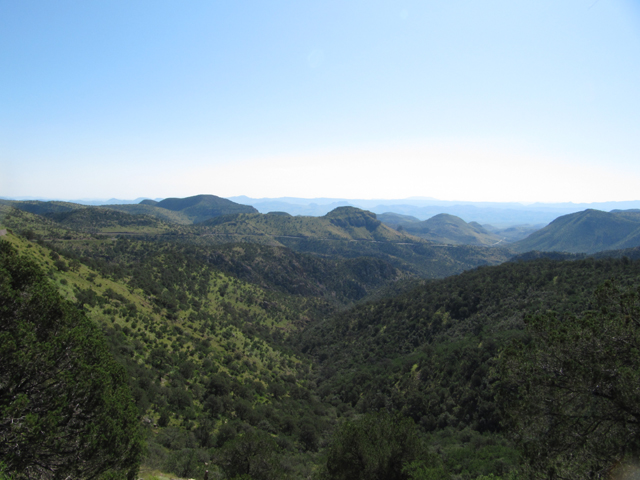 Leaving the group, Nick and I headed off up and over the mountain and down into the valley below, through green fields and past sleeping locals, reclining with their cowboy hats over their eyes in the grass at the roadside. Past farms being worked by hand, small groups of people bending over to tend to the crops, or grouped together chatting, taking time out to watch us go by and return our waves. Just before arriving at Guerrero we caught up with Chris and Danielle, then tucked in behind them and rode as a group of 4 into town, past the scene of an accident on the bridge, where a pick-up had run into something and was being loaded onto a tow-truck under the watchful gaze of the local police and a crowd of spectators. Riding through endless "Alto" junctions, we reach the edge of town, confused as we thought we'd reach the square where the route-notes mentioned some restaurants that were good for lunch. Turning the page on the notes revealed the instructions that we'd missed, to turn right at the first Alto sign, so we back-tracked and found the square, which was buzzing with life, the locals hanging around watching the world go by, the guys in their finest shirts, tight jeans, cowboy boots, big shiny belt buckles and cowboy hats, the girls seemingly not in any standard clothing. Kevin had already arrived and was inside one of the restaurants, having got past us whilst we took our detour. So we joined him, and ordered lunch – I opted for the special chicken soup, which was a little "picante" (spicy) and very nice. After lunch, the owner, who spoke very good English, explained how difficult trade has been with the American tourists staying at home, afraid to come to Mexico because of the shootings at the border and swine flu... such a shame, as it really is beautiful. She then recited a poem especially for us, which went like this...
Count your garden by the flowers, never by the leaves that fall.
Count your days by the golden hours, don't remember clouds at all.
Count your life by smiles, not tears, and with joy on every birthday.
Count your age by friends, not years.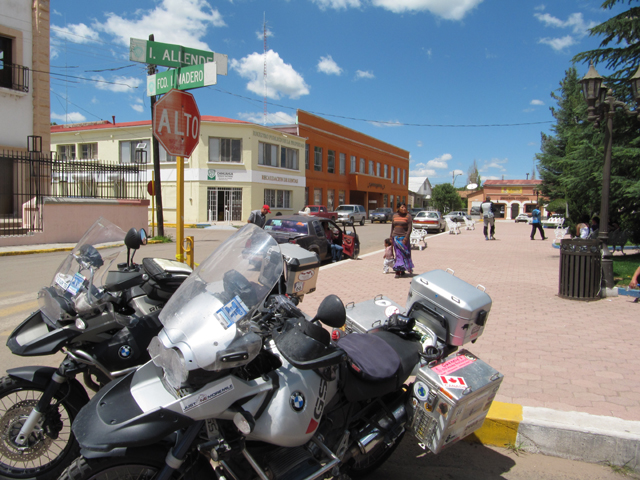 After lunch, Nick and I continued our ride together, through more splendid scenery, which took on a more Alpine look as we headed once more upwards, past fields of gold (I'm not an expert on plants, so have no idea what it is, but it "sure was purty")...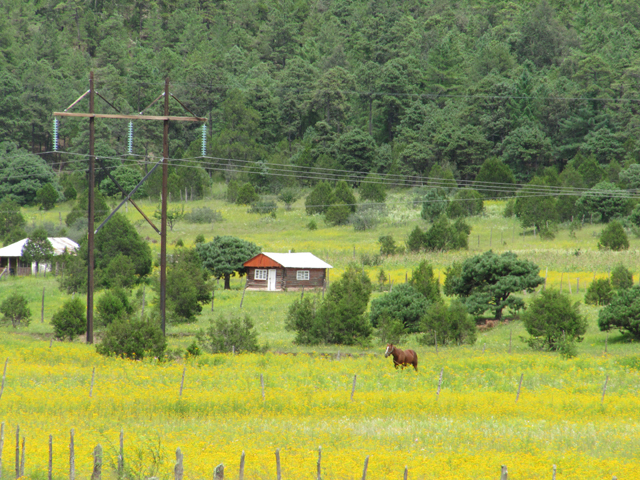 Finally we arrived in Creel, winding our way through the dusty streets, across the railway to the hotel. When the group had arrived, a few of us went for a wander round town, which, this being Sunday, was seemingly populated with youths cruising round in their hopped-up pick-up trucks with ridiculously wide wheels...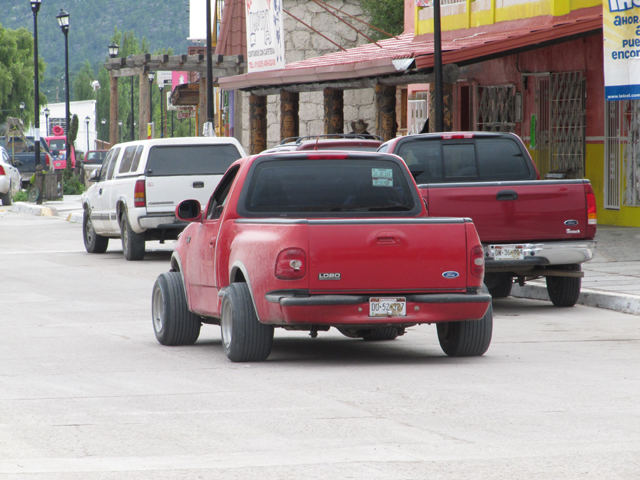 The town itself is an odd mix of traditional Mexican town (like those we'd ridden through earlier) and tourist town, as the train that leaves here goes to Copper Canyon (where we're heading tomorrow). Under darkening skies it certainly made for a dramatic photo...(and no, the truck was not abandoned, just parked...)
Back at the hotel we had a couple of pre-dinner drinks in the rain to celebrate our first full day in Mexico, then moved the bikes through muddy roads to a secure parking area, before settling down for a complimentary meal in the hotel, supplemented by a posh bottle of Tequila provided by Kevin and Julia. Now normally Tequila tastes like petrol (and probably has the same effect), but this was quite nice, sweet and certainly drinkable. So we did a few shots whilst eating, mostly to drown away the sound of the guitarist/singer who serenaded us with traditional Mexican songs (think "cat being strangled to sound of guitar"). Gerald managed to swap hats with him, though, which caused some amusement, even if it didn't stop him singing...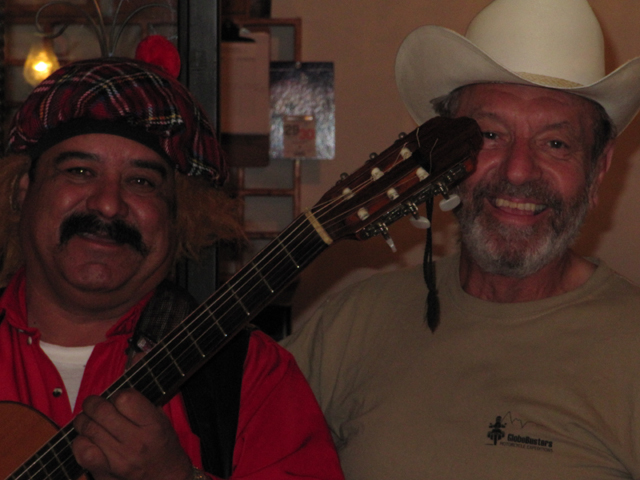 When the restaurant closed at 8pm, bought a few bottles of beer and sat outside in the courtyard chatting about this and that, before turning in when the booze ran out a couple of hours later...
Monday, 31 August 2009
Into Copper Canyon...
Despite this being a Bank Holiday in the UK, there's no respite for the hardened Adventure Motorcyclist, who wakes again at 6.30am, has breakfast of runny porridge and excellent scrambled eggs, then wanders round town looking, unsuccessfully, for a wireless hot-spot he can hack into in order to update the blog...
When I went to move the bike from the secure compound back to the hotel, it was very reluctant to start, probably a symptom of the altitude (2,500m) but quite worrying as we're going much higher later in the trip. It un-nerved me a fair bit, as last time it played up I dropped it doing a u-turn in the car park of the BMW Road Skills course prior to my advanced training session with Kevin...once loaded, it behaved itself again and so Nick and I rode out of town, then back in again to find fuel, before riding out once more. Up into the mountains on twisty and winding roads, with gravel nicely laid in the centre to unsettle the bike and me some more, and it's immediately obvious my head's in the wrong place again, my riding a poor imitation of its normal fluid self. Several stops for water and to eat biscuits seems to settle the nerves, made worse by the knowledge that we'd shortly be riding the Copper-Canyon road, 45-miles of steep, downhill gravel and dirt to the hotel...
One thing struck me during these numerous stops in the middle of nowhere, and that was that there was always someone else there. Usually stood staring into space, or perhaps sitting on their haunches, but in the absolute middle of nowhere. How they got there, why they were there, and how they would get home again is a complete mystery, but it seemed like every time I stopped, someone would be there, staring into thin air...
As the road climbed into the mountains, the surface improved, as did my riding and my mood, and soon I was marvelling at the spectacular views, especially when looking back the way we'd come, with the road winding its way back down the mountainside...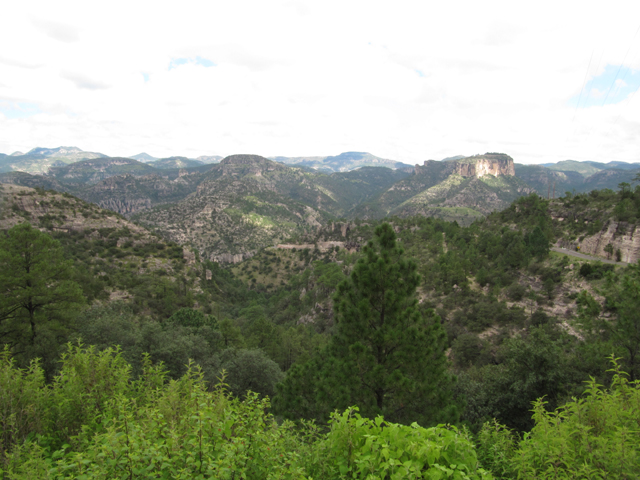 We stopped at a fuel station to re-group, then it was time to hit the dirt... Initially the road was fine, just a wide, dirt road with a thin layer of gravel leading past some quarries and various road-working machinery, then it started to wind its way downhill in a series of easy hairpin bends. But that wasn't to last, as first we encountered a section where recent roadworks had been undertaken, leaving deep sandy-gravel with large ruts for several hundred metres, starting just round a bend. Luckily, I'd been following my mantra of riding so I can stop in the distance I can see, so saw it early and once in a rut, stayed in it, trying to keep the wheels in line and the power on. Then I saw Kevin coming the other way near the end of the sandy-gravel section and looking like he was going to enter the same rut I was in... fortunately, he didn't, stopping and getting off his bike, then running back the way I'd come shouting something about warning the others...
But that was only the start of the "fun" as the road suddenly started to fall off the mountainside in a series of rock and gravel hairpins, some very tight and most badly rutted. The sections between them were either heavily corrugated or deeply rutted, and sometimes both, with loose rocks, thin layers of loose sandy-gravel and pot-holes everywhere. The pace dropped and I spent most of the time in 1st gear, trying to pick the best line both round the corners and on the straights, forcing myself to relax and let the bike move underneath me whichever way it needed to, whilst at the same time trying to maintain my chosen course, using pressure on the footpegs to steer, whilst standing up and using me legs to absorb the shocks as the bike bounced this way and that... The road wasn't the only hazard, either, as there were numerous cows, donkeys and dogs scattered about the road, usually sitting in the middle just round a blind, rough bend, and in no hurry to get out of the way... And then there was the other vehicles, mostly pickup trucks, that we'd encounter coming uphill, usually where there was no room for them to pass, and where they still passed us, forcing us right to the very edge, over which would have been a long drop before we stopped suddenly...This continued, with a few stops to drink and eat energy bars, for the best part of 4 hours... and 45 miles...
The scenery when we did stop was breathtaking (although I was already breathless from the exertion of trying to get down in one piece), with the road clearly visible winding its way down one mountain, across a bridge, up the next and over into the valley below...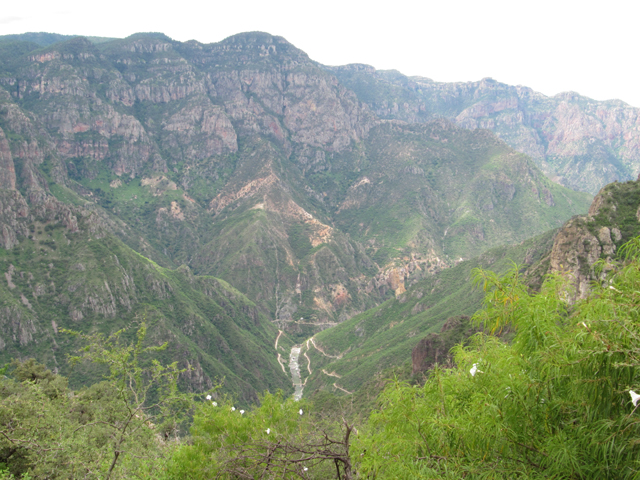 I was riding most of the time with Nick, either following or leading, but he wasn't having the best time. He'd dropped the bike near the sand section where I saw Kevin, and then again when he hit a rut and it pushed him up against the rock wall, his confidence on the dirt still shattered after the Dalton. Then near the bottom of one steep section I was ahead, and as I rounded the bend I heard the sound of pushing gravel and wondered if he'd gone down again. Watching my mirrors for signs of his headlights, when they didn't come, I pulled over, took off my helmet and gloves and shouted to see if he was OK. No answer, I guess because he couldn't hear me, so I ran back up the hill, for as far as I could before my lack of fitness forced me to walk, and rounding the corner I could see he was stood up, his bike on its side facing uphill...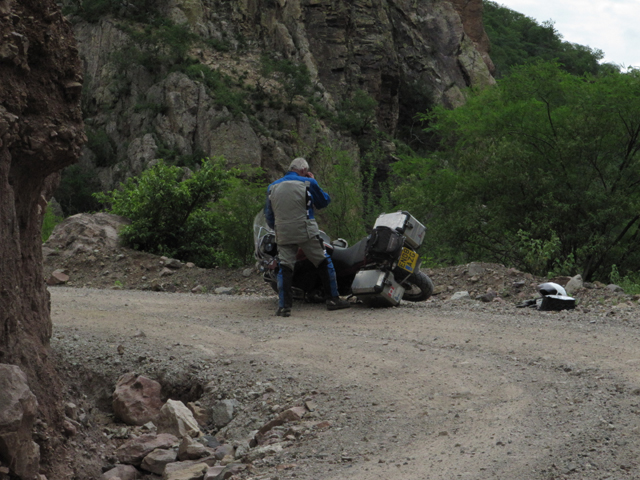 Fortunately, he was unscathed, though clearly winded and more than a little fed up. His bike was also undamaged, apart from a bent screen, and so we hauled it upright and I did my best to cheer him up, and restore his tattered confidence. At this point, we still had the best part of 15 miles to go, the road conditions showing no signs of improving. The last section, though flatter, was equally challenging, with deep sand on some corners, right on the line we needed to take to set ourselves up for the next section, the lines being critical if we were to avoid careering off the road down into the river some considerable distance below...
Finally the most beautiful sight appeared, a massive residence built into the hillside, which was clearly our hotel. And there, on the terrace high above the road, were the early birds, Andy, Nigel and Richard & Karen, shouting about how there was a cold beer waiting for us... heaven... without even taking our boots off we drank 2 bottles of cold Dos Equis each, Nick starting to look better as soon as the 1st one was down, me just relieved to have made it without going down myself...
When the rest of the group arrived the casualty list was much shorter than expected, with no injuries to any riders, but Jim's panniers needing banging back into shape, Danielle's bike in the van (she'd made it almost all the way down before her sickness robbed her of any remaining energy to do the last 10 or so miles). With Andy also having had a tip-off after being surprised by a truck, the total number of "offs" was just 6, surprisingly low considering the condition of the road...
… and the good news? Well, we get to ride back up it the day after tomorrow, as there's only one way in and one way out of Copper Canyon...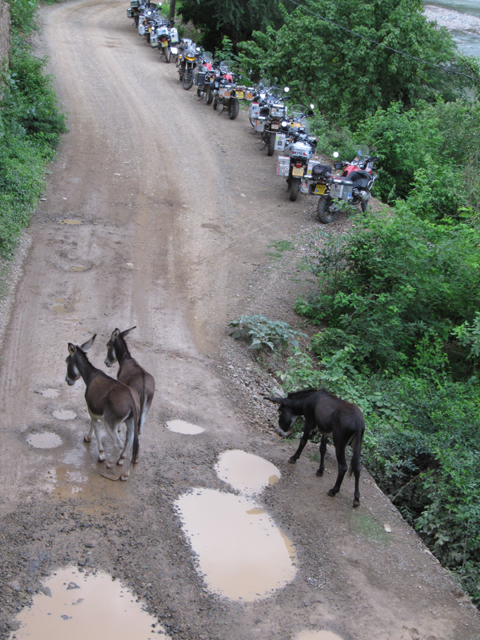 When I finally managed to drag my backside up to the room to shower and changed, the humidity levels had reached a peak, and I was soaking again seconds after I'd dried myself. Only one thing for it, another beer, and even that didn't help, so I stopped drinking before dinner, which was served in the hotel. Considering they'd only opened the hotel for us (they have 11 rooms, we needed 12 but fortunately there's a triple, so Jeff didn't have to sleep in the van), the food was excellent, with a delicious soup followed by some kind of meat in a rich sauce. Not spicy, but nonetheless very tasty... The highlight of the evening, though, was after dinner, when Gerald sat back in his chair and surveyed the rest of us... and when asked what he was doing responded thus (best said with a thick Devon accent):
Got eyes like an hawk,
Ears like taxi doors,
See all,
Say nowt,
So shut-up
We still don't know what it means...and so to bed, having managed to stay awake until 9.30pm, although some of the group did sneak an early evening siesta before dinner...
Tuesday, 1 September 2009
Tales of silver and God...
Gosh, September already...
Today is a rest day, which for us means seeking out adventures of a different kind, and today we have a treat in store, as we've arranged with a local guide and local translator to ride us round in a pick-up and van, to see the Cathedral and the Silver mining town.
So after breakfast we gathered on the terrace and our guides arrive, one in a white Toyota Suburban 9-seater SUV with air-con, the other in a battered Dodge Ram pickup with a couch in the back. There was a rush as everyone tried to get the best seats, but Andrew, Andy, Gerald, Karen, Lorraine, Mac and I won and got the pick-up, with Edwin in the cab, whilst the rest slummed it in the SUV... then we were off, along the bouncy dirt road and across the bridge into Batopilas town, which has clearly seen better days, and seems to be preparing for their return, with building and road works going on everywhere. Out of town on a mountain road as bad as the one we'd ridden on yesterday (and which we're trying to forget we have to ride up again tomorrow), we wound our way further up the canyon, before getting our first glimpse of the cathedral in the distance...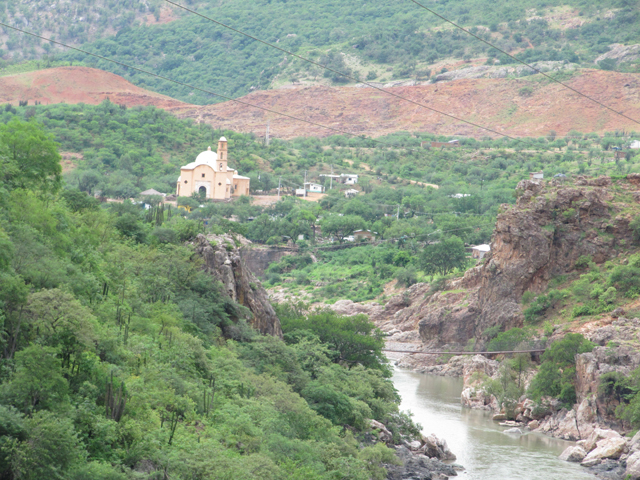 When we arrived at Satevo, we dismounted from the vehicles and wandered into the cathedral, which, like Batopilas, is still in the process of being renovated (inside was completely bare). Then we sat in the pews whilst our guide and translator explained the history of the area, which goes something like this... In the 1600s, the Franciscans came to bring Christianity to the area, hoping to convert the indigenous Indian population, and built a church at Satevo. They soon realised there was silver in the area, which the Indians had no use for, and as well as converting them to Christianity, also put them to work bringing silver from the hills. After a few years, the Franciscans moved further north, abandoning the church and Satevo. Around 1706 the Jesuits arrived and continued the "good work" of converting the locals, and built the cathedral. Eventually they were recalled to Spain and the area abandoned again. The cathedral is now being restored with help from the Mexican government, and is remarkable for its remoteness, being referred to as the "last cathedral"...
In the late 19th Century, Alexander Shepherd, an American governor from Washington state came to the area, and exploited his friendship with the president of Mexico to establish a sliver mining operation. At the height of operations, there were 52 mines in and around Batopilas, 23 of which were owned by Shepherd, who also had the only smelting operation in the area, and charged the other miners 10% in order to turn their raw silver into ingots for transportation to Chihuahua. The transportation was all done my mules (hence the number still in the area), and trains of 50-80 mules would transport 80kgs (2 x 40Kg bars) through the hills to Chihuahua, a journey which took 15 days.
We returned to Batopilas for lunch, heads full of interesting facts (like Batopilas, because of the silver, was the 2nd city in Mexico to get electricity, after the capital, Mexico City, and that the electricity was only restored to the area in 1988, following a long period without it after the mines closed in the early 1900s). We found a couple of little restaurants and the group split into 2 to make ordering easier, with me opting for the smaller establishment, a choice which turned out to be excellent, as the owner brought out some fresh nachos with freshly-made hot salsa and guacamole. I ordered Carne Mexican (Mexican meat) which was diced beef stir-fried with onion, chilli and peppers, served with rice and the inevitable refried beans. Delicious...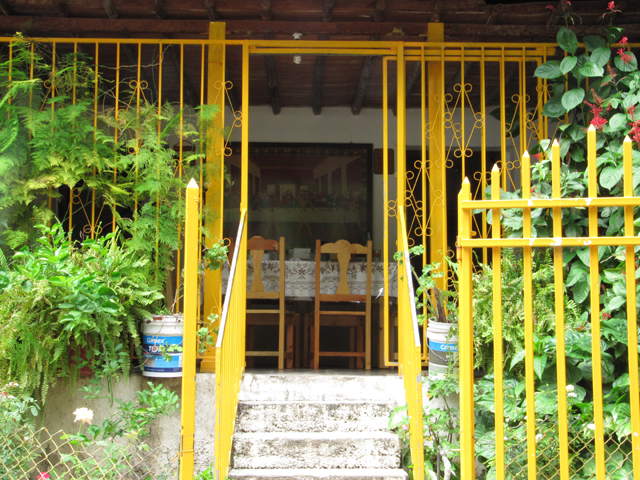 After lunch and raiding the supermarket for bottles of water, we headed on to the original offices of the silver mines, and the house Alexander Shepherd lived and died in. Now in total ruins, they are overgrown with weeds, but still occupy a large area, giving a real sense of the scale of the mining operations, and the wealth that this now run-down little town, only accessible via the road from hell, must once have had...
On the way back to the hotel, we stopped opposite one of the silver mines, this one marked as "1898" but sadly it was too water-logged for us to explore (not to mention, full of bats...)...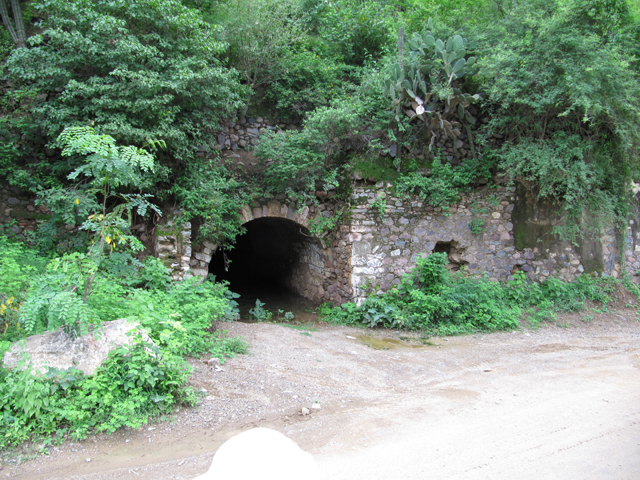 That evening, over a subdued and quiet dinner as we all contemplated the ride back out of the canyon in the morning, the thought made more scary by the persistent heavy rain outside (Kevin's only comment was "at least it will keep the dust down"), we had a local band come and play traditional Mexican music for us... and the singer/guitarist was our guide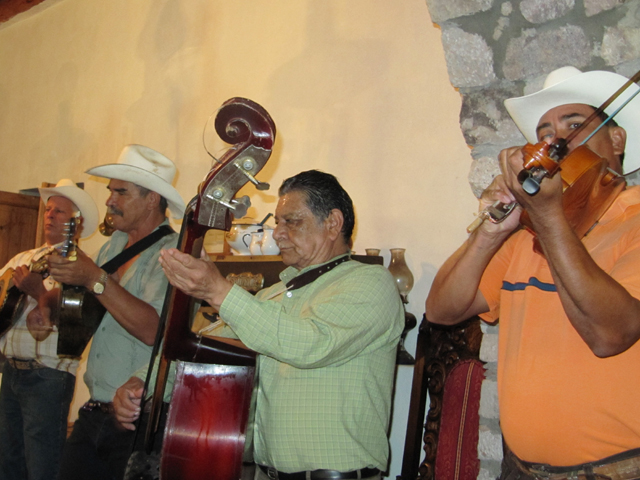 Wednesday, 2 September 2009
Escape from Copper Canyon (just...)
I woke up from a deep sleep to the sound of rushing water, the overnight rain having swelled the river that runs by the hotel into a raging torrent, sufficient to remind us all that it rained and therefore the gravel, dirt and mud road that we need to ride to get out of the canyon will be suitably slippy... So, after a quick breakfast I loaded my bike and set off alone – Kevin wanted to escort Nick out in order to help restore his confidence, which left me without a riding buddy. But I didn't mind, as it allowed me to set my own pace, and so I set off dodging the puddles on the muddy road from the hotel to the start of the climb. With the sun coming out, shining brightly on the tops of the surrounding hills, and with the mist slowly rising from the forest, the view was so good I had to stop and take a photo...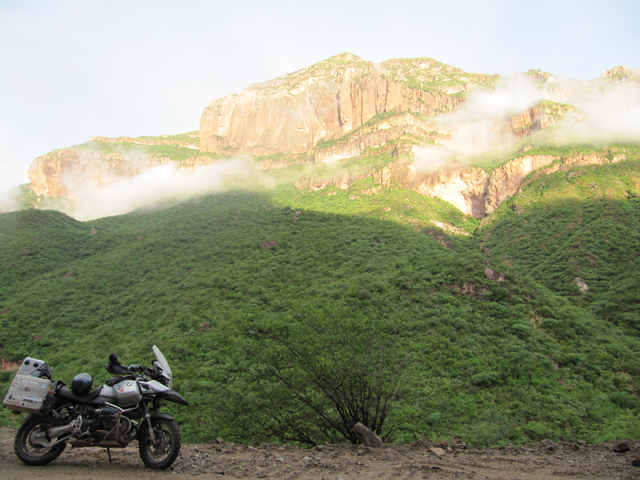 This put me back in the middle of the group, which turned out the be useful, as Gerald became the first casualty of the day, his bike sliding from under him when he hit a rut in the wet mud. I was first on the scene, and his big beaming smile told me he wasn't hurt, so I took the obligatory photograph and helped him get his bike upright...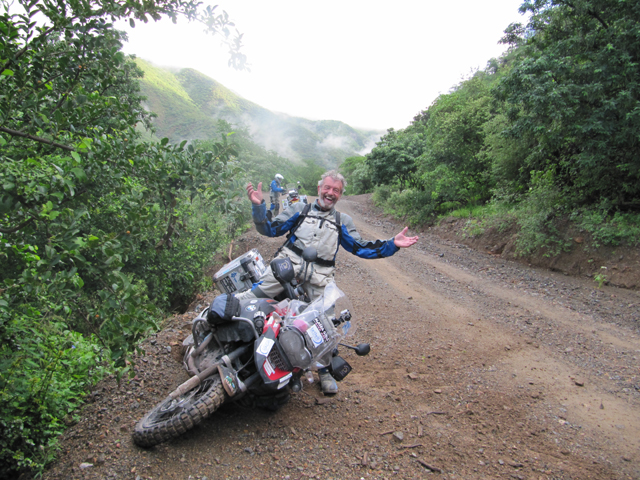 I then continued on my merry way, confidence building with every mile, clearing the mud road and getting onto the more solid gravel sections, then climbing up a steep rocky incline with hairpin bends – the site of Nick's off yesterday – then stopped at the top to sit and admire the view for a while, hoping that by stopping I could get my tee-shirt dry from all the sweat of exertion, but the humidity meant I simply stayed wet. Having regained some strength I continued on, following the road round the hillside, up and down and round and round endless bends, the surface changing all the time from wet mud, to hard packed gravel, to loose gravel, to loose rocks. I crossed one of the two bridges, which are open-sided and just wooden sleepers, slick following the rain, and then stopped to snap Andrew crossing the bridge...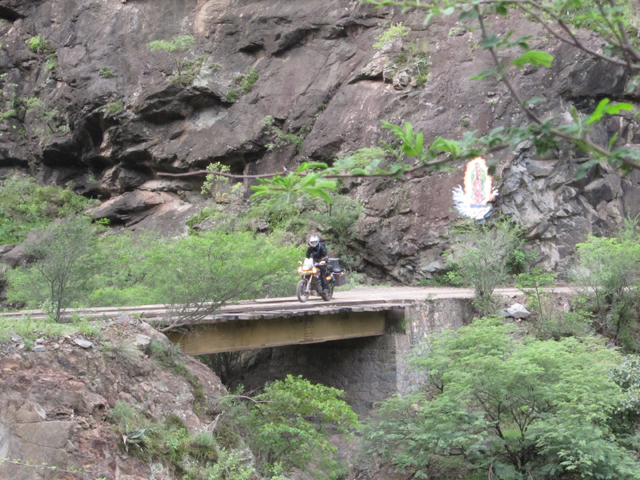 Before long I'd caught up with Max & Christine, and they pulled to one side to let me past, and I continued up the steep gravel section, round a hairpin and then suffered brain fade and a bout of "target fixation". This is a condition that affects many motorcyclists, and follows the principle of "you go where you look", but the "where you look" is where you don't want to go... in my case, it was a deep ditch at the side of the road. I'd just started to shout at myself to stop looking at the bloody ditch, when in went my front wheel, then the back. I stayed on the bike, and tried to ride out of the ditch, making it about 20 feet before I disturbed some big rocks that then got wedged under the bike, lifting the rear wheel from the ground and losing me all traction. Max & Christine sailed by, with Christine frantically banging on Max's helmet to get him to stop (he just thought I'd taken a strange line and would be fine, as I wasn't down). There was nothing for it, but to lay the bike over on its side, then haul the back wheel clear of the ditch so we could move the rocks, then I rode the bike out of the ditch and onto the road... but not before the photo, of course, so here it is, me and my bike in a ditch...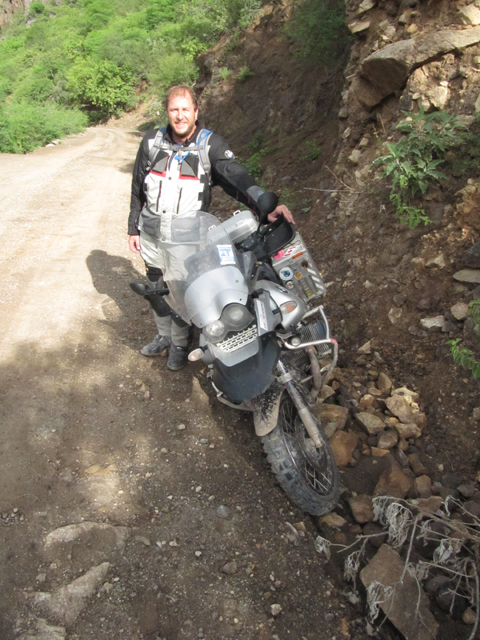 You can get an impression of how steep the road is, because Max (who took the picture) isn't stood on a step-ladder and isn't 18' tall... With my bike out again, I remounted and continued on my way, this time avoiding looking anywhere other than where I wanted to go. Soon We arrived at the really steep section that had been so challenging on the way down. Thick sandy mud on the tight hairpin bends made for challenging riding, but despite my earlier lapse of concentration, I was feeling good, and riding well. With regular breaks to keep my energy levels up, I worked my way up the hill, past the guys laying fresh muck on the corners (not sure if they do it to make life difficult for mad motorcyclists, or because of the erosion). Once at the top of that section, there was only another 10 miles or so to go, mostly on hard-packed gravel, which is much easier to ride, but with sections of very wet, deep mud and one or two patches of thick loose gravel where earlier roadworks had been. But I made it out, as did everyone else, although the tally of fallers exceeded those on the way in, the best being Edwin & Lorraine, who toppled over in one of the muddy sections, and were greeted with howls of laughter by the rest of the group when they emerged from the road... Nick had a much better experience on the way out (despite dropping his bike 500 yds from the hotel on the wet mud), with Kevin's tutelage ensuring he made it out without further incident. That copy-book was blotted when he went to re-attach his panniers when we were all parked up, the bike being too upright and toppling over once more... still, at least this time he was smiling about it...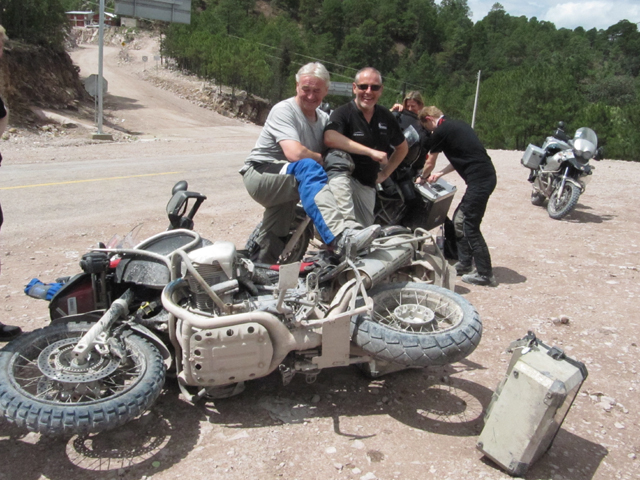 Having re-adjusted my handlebars to the road position (I raised them yesterday so I could ride stood up more comfortably, especially going uphill) it was time to reacquaint myself with road riding, as we still had another 200 miles or so to go. The road was excellent, with swooping bends as it climbed over several hills, and following Kevin and Nick was a real joy, their pace quick but relaxed, their lines excellent. We stopped just once for fuel and made it to the hotel in Parral in good time, checking in and showering before finally getting to use the Internet again after 3 days without (in case you were wondering why I hadn't updated the blog!). It was good to get emails from home too, but I still couldn't send any. With the guys wanting to meet at 6.30pm, it was a very quick update before joining them in the bar where Kevin raised a toast to our success, the first group to ride into, and more importantly, out of, Copper Canyon. A real challenge...
We then went to the restaurant next door for dinner, where I had some excellent spicy prawns. Then Kevin suggest we have some tequila. Which is where it all went messy. Because there were a few of us, it was cheaper to buy a bottle, so we did. Only to discover it was a litre bottle... still, a couple of shots later and we didn't mind when the 2nd bottle also turned out to be a litre... and a few shots later, and we didn't mind that we'd got over 400 miles to ride tomorrow...
… bet we will in the morning, though...
Thursday, 3 September 2009
400 miles across Mexico...
Funnily enough, the Tequila did not give me a hangover in the traditional sense, although it did leave me feeling slightly tired... eating late at night once again means I'm not hungry in the morning and with a small dose of "Montezuma's Revenge" breakfast is just a bowl of cereal and an Immodium tablet... great, with 400+ miles to ride...
Once the bikes were loaded, Nick and I set off together again, with me leading, out of the hotel and immediately into the hills on relatively smooth tarmac, only to have the rhythm broken by a set of roadworks, the diversion taking us once more onto a wet dirt road. But after Copper Canyon, this was nothing, and we were soon back on the tarmac. Then we met most of the rest of the group that had set out before us (they weren't delayed trying to get going with veins full of last night's Tequila). They flagged us down, so we stopped to discover that Danielle had had an encounter with the local wildlife, a cow running out in front of her. Unable to avoid hitting it she had, but fortunately not too hard, suffering a sprained wrist and the bike cosmetic damage. She'd ridden on a mile or so afterwards before the wrist had become painful and she'd not been able to operate throttle and brake properly. As a result, she was sat by the roadside being comforted by the group whilst waiting for Jeff and the van... When Kevin and Julia arrived they looked ashen-faced until they realised no real harm was done, and then they took over and off we went again, our eyes now scanning the bushes at the side of the road for suicidal cows...
The rest of the ride was pretty uneventful, the road changing from mountainside twisties to long, dull straights as we got further into central Mexico, heading almost south-east towards Zacatecas. We stopped after 2 hours to stretch and drink some water, pulling into what once must have been a welcome coffee stop but was now just derelict buildings, like so many we saw by the roadside...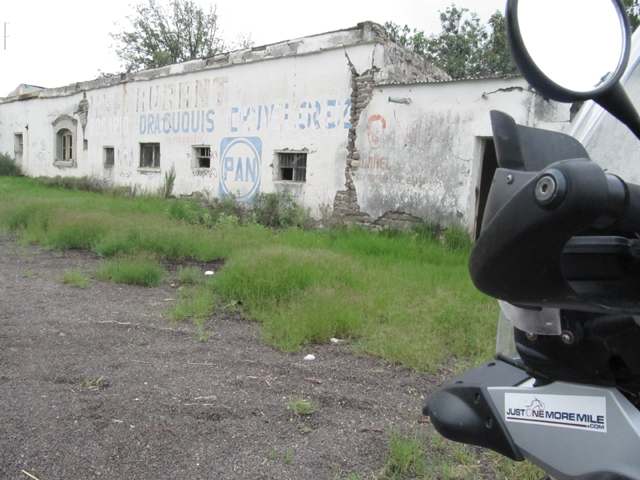 Then it was back on the bikes and along the road, by now almost arrow straight with a few undulations, running through fields of green scrublike plants – it's amazing just how green Mexico is... With little to occupy our attention, we were glad when we passed through the little small villages en-route, pace dropping to a crawl as we bounced over the topes on entering, then scanning for hazards and running dogs (sadly, didn't get any runners today, they're quite good fun as you ride trying to keep them chasing you for as long as possible). After 150 miles we arrived at Rodeo, and the first fuel stop, brimming our tanks and taking the opportunity for another stretch, a cold drink and some van-snacks before once again heading off. A couple of hours later we stopped again, this time for more drinks, having finally broken the back of the journey with just less than 200 miles still to go. Time was ticking by, our average speed reduced to below 50mph despite the long straights, probably the result of crawling through the villages. We stopped again a little while later for lunch, a great big steak for just 160 pesos, including a bottle of water. The next section was less populated and busier, with trucks heading both ways, but the road was plenty wide enough for the overtakes (ours and the trucks and pick-ups overtaking each other using both sides of the road). I picked up the pace, determined to get close to Zacatcas before the next stop, so we hammered along at a steady 80-ish, my ride made slightly less boring by having my MP3 player on now I felt my concentration levels were high enough to cope.
About 50 miles from our destination we stopped again, pulling into a lay-by at the side of the road for a final stretch and to get the circulation going. No sooner had we stopped than a green pick-up pulled into the lay-by in front of us, belching blue smoke, and a large Mexican guy got out. At first I thought we had perhaps upset him by our speed, but he was smiling and showing the thumbs-up sign, checking we were ok before engaging us in conversation. Well, I say conversation, but it was him prattling on in Spanish and us replying in English, none of us sure what we were talking about. He asked us where we were from (got that bit) and where we were going, then told us there was a festival of some sort (didn't get that) on in Zacatecas. He seemed impressed when Nick pointed to the Alaska sticker on my bike, and even more so when told we were going to Argentina... wishing us luck (in English), he carried on his way, and then so did we. Seems our "minor celebrity status" isn't quite over just yet...
Approaching Zacatecas the sky turned a nasty shade of black, and fearing the worst we pulled over to don waterproof jackets, and whilst doing so the main group came hurtling by. Setting off after them we followed the complex route notes in the rain, trying to see where we were going, read road-signs and check the notes, whilst at the same time trying to keep a watchful eye on the driving standards around us. Into town we reached a steep down-hill section of cobbled street, the cobbles large and wet and very slippery. Then we joined the long queue of traffic working its way into the historic part of the city, inch by inch getting closer to the cathedral and the hotel opposite, thankful that at least the rain had stopped for a while. As we pulled into the road leading past the cathedral, there were police everywhere, a huge stage and grandstand next to the cathedral and opposite the hotel... pulling into the underground car-park (really slippery floor!) we finally arrived, parking the bikes up in one corner with all the others, some 10 hours after setting off...
Still feeling very tired from the night before, and full from the steak dinner earlier, I opted for a walk round and skipped dinner. The town was full of people, the band playing somewhere in the midst of the stage and crowds packed into the grandstand, but tired, I didn't stop too long to see what was going on, preferring to return to the hotel and get an early night...
Friday, 4 September 2009
Montezuma's Revenge, Navigational Challenges and more Tequila...
Jim was up early as usual, and when I asked what time it was, he replied 6.20am, so I got up and showered, then when I went to put my watch on I noticed it was only 6am... it took a little while before we worked out why the room clock said 7am... we'd crossed another time zone and were now on central Mexican time, some 6 hours behind the UK.. good job I'd had an early night, as I couldn't have lost another hour's sleep!
After breakfast I wandered round town for a while, as we had a late departure planned with just 240-odd miles to do, and then managed to get hold of Tracy on the phone, the first time we'd spoken in several days. As usual, speaking to her significantly lifted my spirits (which were pretty good already). I then went to have a look at a minor problem on my bike, the "rider information display" which shows the oil temperature, fuel level and gear position had crashed when leaving one of the toll booths yesterday, stuck showing I was in first gear and with half a tank of fuel. Switching the ignition on/off made no difference, so I removed the fuse and put it back and that seemed to cure it. I then packed and loaded my stuff on the bike, and whilst doing so noticed Gerald was not looking at all well. He was quite weak, Montezuma's Revenge having struck him last night and he'd been unable to get away from the toilet since 3am, completely draining him of energy. There was no way he was fit to ride, so his bike had to go in the van along with Danielle's which will be there for at least a week until her wrist is strong enough for her to ride again. Fitting 2 large motorcycles in the Transit, along with panniers and all the usual luggage was a challenge, and Gerald's bike would not go in forwards, so I helped Jeff & Kevin load it in backwards... the result was a very full van...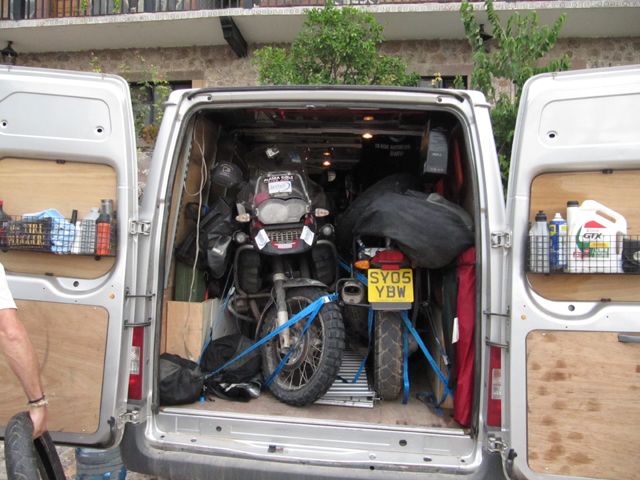 With the bikes loaded, I got on mine and headed out of Zacatecas, following the one-way system through the narrow cobbled streets and into the rush-hour traffic. Riding alone I managed to find my way out of town and found a petrol station so I could fill up before joining the main road towards Aquascalientes. The route notes made it clear that the next turn was difficult to spot, as we needed to get on the ring road round Aquascalientes, but they also said it was at 87 miles... when I got to 72 miles out, I noticed what looked like the ring road, so turned left onto it, and was right... the notes were right about it being poorly signed, though! From there it was a pretty simple run to the town of Ojuelos, where I thought I'd grab some lunch. On arriving at the outskirts of the town, the road was blocked and a diversion in place – the lead group of Richard & Karen, Nigel, Aaron and Chris & Danielle (Danielle now riding pillion with Chris due to her wrist) were there under a tree taking a break and contemplating their next move, and soon we were joined by Max & Christine. I ate a van-snack bar and then we all set off again, following the diversion signs across a dirt road and through town before rejoining the main road again. After a quick pee-break, I left the group, riding on ahead at my own pace, pushing on to make the distance.
The rest of the route was pretty straight-forward, and before long I was only 25 miles or so from our destination, the town of San Miguel de Allende. I slowed my pace right down, dropping into the flow of traffic and soon Chris & Danielle appeared in my mirrors, and we rode together through some roadworks on the outskirts of town, once again on a dirt road. Then we hit another deviation, this time taking us away from the route-notes which described how to get to the hotel. The deviation took us onto a rutted cobbled street, and eventually back onto the main road, but then we ended up obviously off-route right in the centre of downtown San Miguel, a complex of small one-way cobbled streets past beautiful red, orange and yellow buildings, through a market by the canal, and into a residential area. Now we knew we were not where we wanted to be, so I put the coordinates for the hotel in my sat-nav (which, despite having maps loaded doesn't know about any of the roads and shows us as constantly about 300m from any road...) and set it to compass mode so I could see the general direction of the hotel. Then we asked a local for directions, and followed them, only to get further away from where we wanted to be. Another u-turn later, and I started to follow the compass, with Chris happy to follow me despite the obvious lack of knowledge as to where we were going. I then saw a policeman standing by the road, so we asked him, and following his rough directions (lots of arm waving) and the compass, we negotiated our way round a few more one-way cobbled streets and emerged onto the road we wanted... which was another steep cobbled one-way street with no sign of the hotel. A little further down the road, I spotted a sign painted on a wall, which was the name of the hotel, so we stopped and a little man appeared and ushered us to and through a big wooden gate into a large pretty cobbled courtyard... we'd found the hotel and were first to arrive...
Some time later the rest of the lead group arrived, with similar tales of riding round town unexpectedly (there's no such thing as getting lost, you just go places you didn't expect to). After showering and changing, we waited a short while for others to arrive, then gave up and went in search of a beer. We found a lovely little roof-top bar just up the street and had a couple of beers and some excellent nachos and fresh guacamole, then after about an hour returned to the hotel, the van having just arrived and most riders there safely (having followed Kevin, they didn't do the scenic route round town on the way in...). Finally Jim, Mac and Edwin & Lorraine arrived, all riders now present and accounted for, most with tales of navigational challenges at some stage...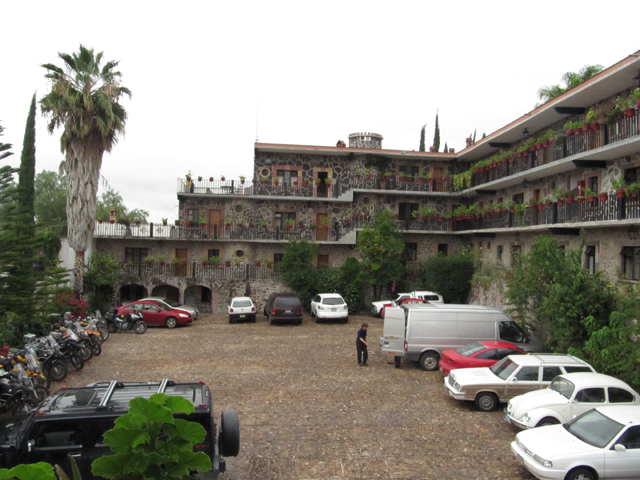 With the group now present and correct, we headed off into town to a restaurant/bar recommended by Kevin, Momma Mia... yes, it was Italian of sorts. The beer was good, though, and on draught for a change (I'd got sick of bottled beer), and the food (spicy curried beef with pasta) equally good. The guitarist who played on stage behind us was brilliant, playing classical style, his fingers a blur of movement as he contorted his hands to make the right notes. Then the tequila shots started and things got a little merry. When Kevin, Julia, Ed and Lorraine arrived having been to the bar we went to earlier to sample the very strong margaritas (two for the price of one) things went from merry to very merry quite quickly... I left them in the bar just after midnight, walking back to the hotel in the pouring rain...
Saturday, 5 September 2009
Beautiful San Miguel de Allende...
After the excesses of last night it wasn't surprising that I slept until late, waking around 8am as Jim went in the bathroom. With Montezuma still wreaking his revenge on my poor guts, I lay there hoping he would be quick... when he'd not emerged 15 minutes later, I had to let him in on the secret and ask him to vacate the bathroom whilst the contents of my guts vacated my body rather quickly. I'm not the only one with slightly looser bowels than normal, and fortunately I know it won't affect me too badly, so I'm not overly concerned...
We then went to get some breakfast, ordering soft-boiled eggs which should help bind things together (sorry about all this bowel talk, but it's uppermost in my mind at present...). When they came in a bowl with the whites all runny we had to send them back to get cooked again, before we could even face eating them. After breakfast I did my usual chores of updating the blog and also filled a laundry bag with washing for the hotel to sort out – even though I've been washing everything by hand, a proper machine wash once in a while is needed to get them properly clean. Then I wandered into town with Richard & Karen and Chris & Danielle, and what a town it is. The streets are narrow and cobbled and the houses on either side a beautiful collection of shades of red and yellow, with Mexican flags and red, white and green bunting everywhere, ready for the celebrations for Independence Day (although the celebrations continue throughout the month of September). The main square, a short walk uphill from the hotel is particularly beautiful, with trees lining the central park, and two large churches at one end... it's a photographers dream, so naturally I took some pictures, and have selected a couple to try and give a flavour of the place – when I finally get round to sorting out the galleries (which will be when I get a day off in a place with much less to see...) then the one on Mexico is likely to feature San Miguel de Allende quite a lot...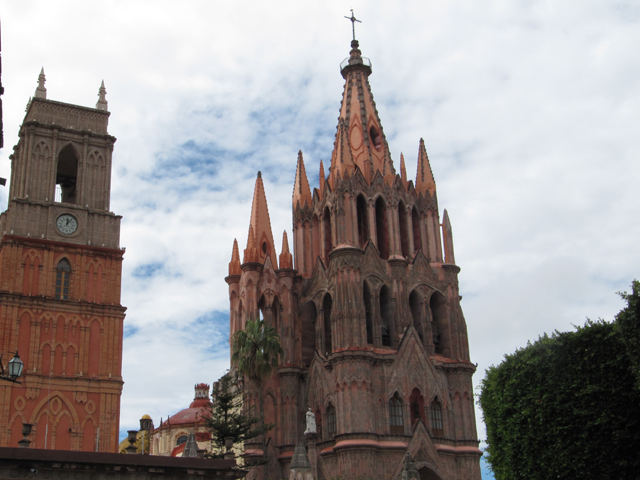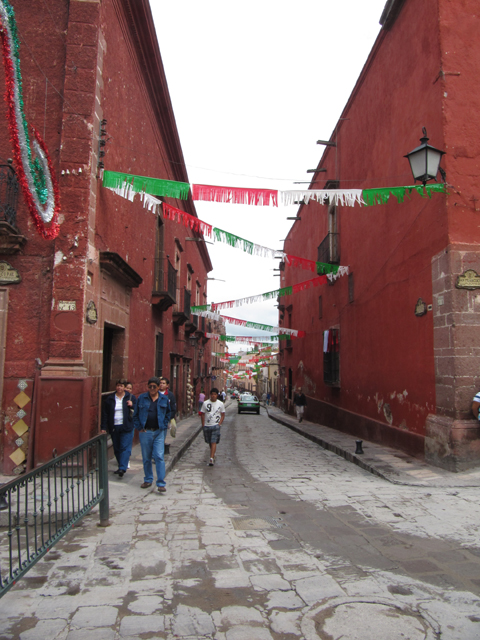 As we continued our wander round town, we popped into several little gift and craft shops, that turned into Aladdin's caves, opening out into bright courtyards, with endless shelves stacked high with beautiful coloured ornaments, the intense colours almost hurting our eyes. In addition to the ornaments were lots and lots of silver shops, a sign of the original significance of this area of Mexico, with row upon row of silver bracelets, earrings, necklaces and rings... Pity I don't know Tracy's ring size, or I'd be able to buy her something nice (email it, Tracy!).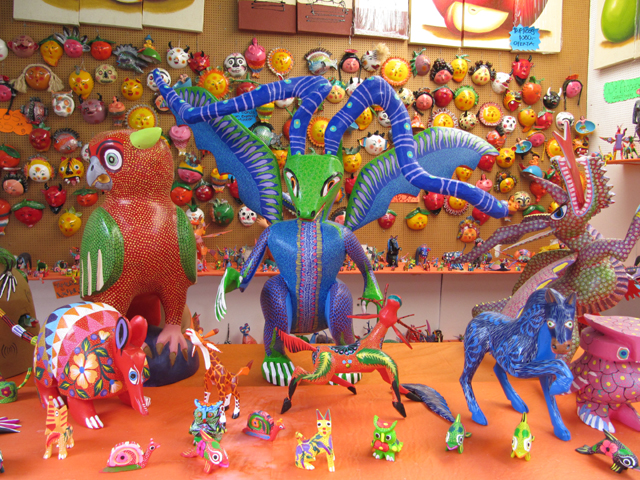 Our exploration took us deep into the back streets, where we found a traditional food market, with stalls of brightly coloured fruits, beans, herbs and various meat stalls (not the sort of place I'd want to buy my meat from, though). The sheer variety of beans on sale was incredible, no wonder they seem to serve them with every meal...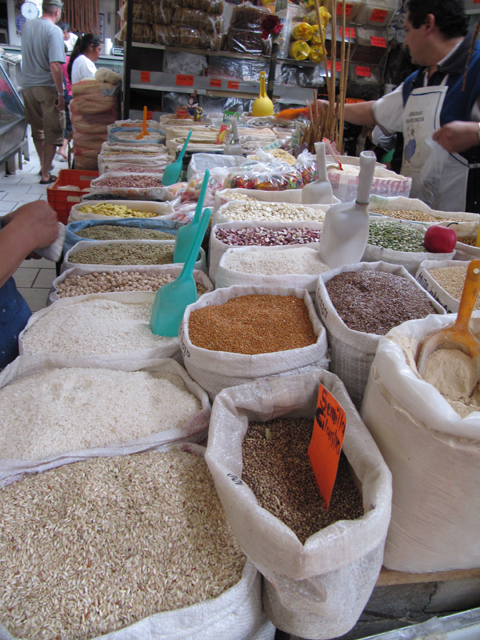 The market then changed from food stalls to clothing stalls to gift stalls interspersed with jewelers and this went on and on for street after street. Just as we thought we were coming to the end of the market, we'd enter another section, with more brightly painted statues and silverware stalls. One of the odd things we saw a lot of were statues of skeletons in various costumes and poses, apparently because they celebrate the "Day of the Dead" with great passion in this part of Mexico, a celebration that involves taking picnics to the graveyards and eating feasts in the company of dead ancestors... but the statues are pretty cool, just a pity I can't transport one or two home on the bike...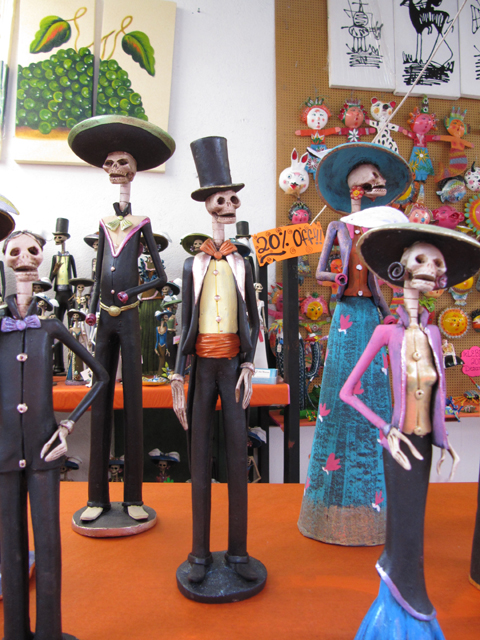 By now we were getting hungry (at least, my stomach had stopped complaining), so we found a little cafe down a side-street and went inside, to discover a beautiful little courtyard out back where we could sit, surrounded by plants and Mexican flags and various ornaments. I ordered the lunch special, which consisted of a soup (chicken and sweetcorn) followed by a choice of main course (I opted for the tuna burger thinking it would be easiest on my stomach). The soup was excellent, but also very filling, so by the time the burger came I was unable to eat any of it and had to apologise and send it back. That's not like me, and I still feel bad about wasting food, but there was simply no way I could face it. After dinner we walked back to the square and wandered inside the churches. The first (the one on the right in the picture above) was incredibly ornate, with beautiful statues lining all the alcoves, and a massive scene behind the altar, topped with a gold statue of a roman soldier wielding a sword (no idea why...). The 2nd one was a complete contrast, with just a few statues, all of which were more grotesque, including one depicting the crucifixion scene in quite graphic detail, the 2 poor souls either side of Jesus Christ looking decidedly unhappy with their fate...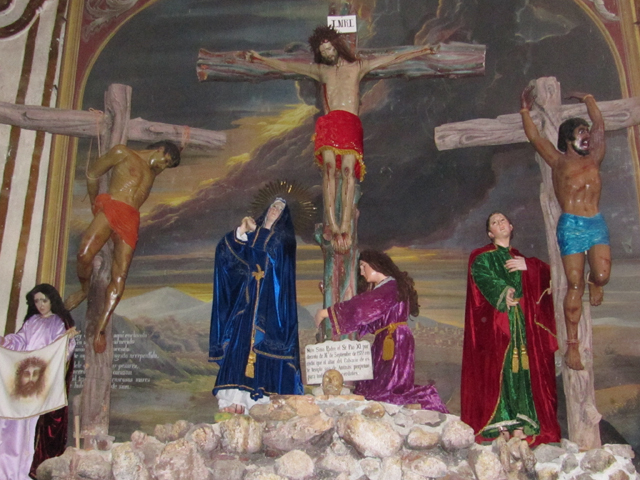 All this wandering had tired me out, so I wandered back to the hotel and tried, successfully, to get hold of Tracy again. After a quick chat I decided I'd clean my bike, which took me until the group meeting at 5.30pm, where Kevin gave us the new route out of town to avoid the roadworks, and then it was time for the Prat Hat ceremony. This time there is a new dimension to the hat as there is now the option for the recipient, having worn the hat on the day they were awarded it, can negotiate a fee with Gerald for him to wear the hat instead for the week, the fee going to Gerald's charity. (now, if you don't already know, Gerald is raising money for the Devon Air Ambulance, so please donate via his website at
www.geraldstransamericas.com
). So on to the nominations... this week we had: Nigel – for coming to the group meeting on the last night in Tuscon and accusing the group of stealing his washing, only to discover (in front of everyone) that he'd left it on the wrong floor, when he went to the wrong room, then when his key wouldn't work went to reception and had new keys made, returning to the correct floor to discover his washing wasn't there... Chris – somewhat unfairly I thought, for looking on the dark side of everything (glass half-empty), me (shock, horror!) for posting home my shot glass that I got for my birthday just before we entered Tequila country and Christine – for getting the wrong room in Parral and walking in to Ozzy Andy's room to find him sprawled out on the bed in just his undies...
The short-list was just 2... Nigel and me. Nigel put up a brave, but frankly ridiculous defence, whereas I explained quite simply that I'd sent the glass home as I was worried it would get broken and because it was too small and I like large shots of Tequila. Naturally, my defence won the day,
and Nigel got the hat...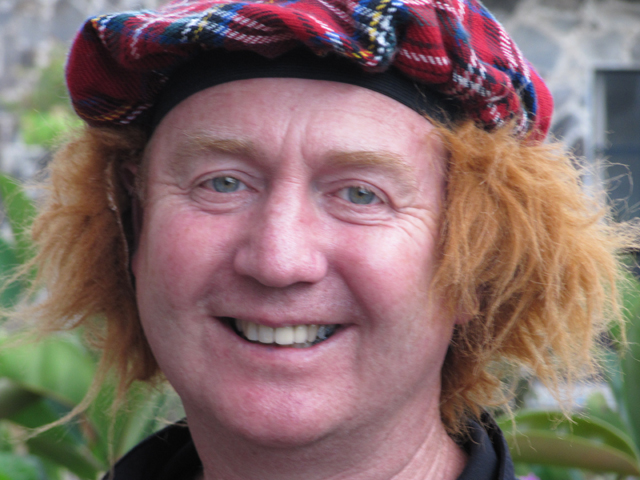 I think it rather suits him...
With the meeting over it was time to get tidied up ready for dinner, so I trimmed my now scruffy beard and got changed into my nice clean trousers and shirt (my other trousers, clean on this morning, were filthy from washing the bike...), then headed into town with Nick and Al in search of a nice quiet restaurant. We found one just before the square and ordered, the food excellent once more (shared plate of cheeses to start, chicken in white wine and mushrooms for main course, which I had to send back to get cooked properly, but was very good when it came back). With the football about to start (Mexico vs Costa Rica in the world cup qualifiers) we watched the first few minutes before giving up as we're simply too tired. But we didn't skip the opportunity to walk up to the square to see the churches all lit up, looking beautiful against a pitch black sky, before grabbing a couple of bottles of water and heading back to the hotel and bed...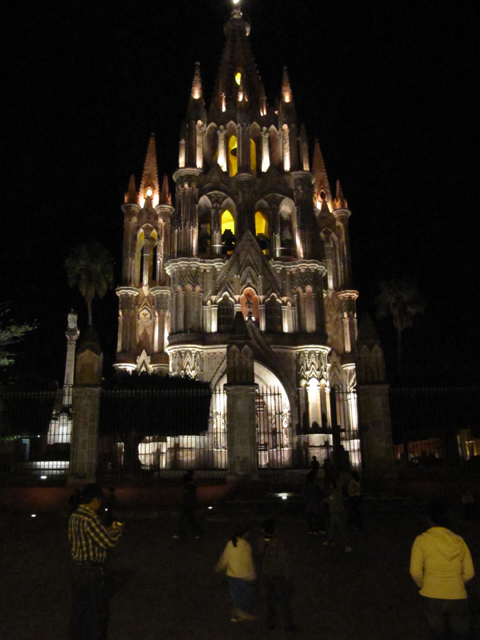 Tomorrow we ride away from the beautiful little town, rested and recuperated after the hard days into and out of the Canyon and the 400 mile day that followed, this time into the mountains to a village called Huejutla, where we've been warned there is no Internet access... so the next blog entry will be a day late... hope the suspense isn't too much!
In the meantime, why not check out Gerald's site and donate some money to a worthy cause...
Sunday, 6 September 2009
Curvas Peligroso...
Woke early and with breakfast not available until 8am, packed my bike and phoned Tracy before heading up to the restaurant on the 1st floor, this time for the poached eggs, which came highly recommended, but took and eternity to come... but they were very good, so mustn't grumble... With my stomach attended to it was time to head out, but my riding buddy Nick's bike was parked up near the van, Jeff busying himself with preparing to load it inside.. Seems the rather excellent looking garlic shrimp Nick ate last night have disagreed with him badly, and he was up being sick and "loose" all night, and was now too weak to ride. Ed was also suffering, but was able to ride, albeit only with Lorraine not sitting on the back (she went on the van until clear of town, then Aaron took her with him).
Then my bike wouldn't start. It took many attempts before it finally fired into life, and even then a warning light was on, one that usually means the brake light isn't working, but it was... I had no idea what else it could mean, so had no choice but to ignore it and set off anyway... the bike seemed fine once on the move, and just out of town I stopped at a large supermarket to see if I could get a faster SD card for my camera (it takes ages to write each image, meaning it can't take 2 shots in quick succession, and I've missed several good pictures as a result). The shop didn't have faster cards, though, but at least when I returned to my bike it started OK and the warning light had gone off... so, not a completely wasted trip...
The route away from San Miguel followed a major road towards Queretaro, and then on the ring road, the first 120 miles intended to get to the start of the better roads up into the mountains. The fast dual carriageway turned into the usual mass of roadworks, part of the road torn up resulting in all the traffic trying to squeeze onto a narrower section of remaining tarmac and trying to avoid the severe drop-off onto the dirt section where the road had been stripped back. Remembering my ditch incident, I kept my eyes firmly on the stretch of tarmac in front of me, avoiding the temptation to even glance at the 6' drop at the side of the road, inches from my wheels...
The route notes called for a left turn onto highway 85 signed "Neuvo Laredo" which was supposed to be around mile 134, but I didn't see it, although I was riding along highway 85. After about 160 miles I pulled over to the side, confused as I'd not seen any of the others, either passing them or at a stop by the roadside, which is unusual. Looking at my map, I realised I'd completely missed the turn and was heading the wrong direction. There was an alternative route to the destination that would avoid retracing my steps, but that would mean I'd miss the recommended road (and knowing how good they are, didn't want to miss it) and also mean I was without the van in case of trouble. So I turned back and retraced my steps, and after much searching found the turn, in the middle of the roadworks and signed "NVO Laredo" on a single sign some distance from the road on the left side... no wonder I'd missed it...
Now on the right road, I upped my pace a little to claw back some of the time lost as a result of my 50-odd mile diversion and soon started climbing round the side of a mountain, on perfect tarmac and with left and right bends of varying degrees of severity leading one after another... great road indeed... I saw the van parked up and waved to Jeff, glad that now he'd be behind me and continued on my merry way, swaying from side to side and paying particular attention to the bends marked "CURVA PELIGROSO" or Dangerous Bend, largely because they offered great opportunity to get "reet over"... If these roads were in Europe, there would be thousands of motorcycles riding up and down them all day, every day... here, they are largely empty...
Soon the road climbed up and out of the desert landscape that has been the predominant feature of Mexico to date, albeit green desert with lots of desert shrubs brightening up the sandy fields. Now the road climbed up into dense forest, with heavy mist hanging in the trees, making visibility difficult and the roads slick from the humidity, which left me feeling soaking despite it not raining (yet). Slowing my pace accordingly, I climbed up and up into the mist, the dense rainforest obscured from view, passing little villages of wooden shacks clinging to the roadside, the constant humidity turning the ground to mud and making everything look dirty. The roads were full of the usual hazards too, from knackered pick-up trucks, donkeys standing in the road on blind bends, dogs chasing the bike in villages, cows wandering aimlessly across the road as I approached, turkeys and chickens attempting to commit suicide, and of course, pedestrians. These were joined by a new hazard, and one which I often wondered about as a child when we toured Europe and saw the signs on the mountains warning of falling rocks. I'd always imagined this meant there was a danger of being hit on the head by a rock breaking loose, but here in Mexico, it's clear that's not the real danger... the real danger is that around the next bend, half the mountain has fallen onto the road, blocking at least half of it. Most of these were easy to avoid, but some of the rocks were at least the size of a small sofa, so concentration levels had to remain high...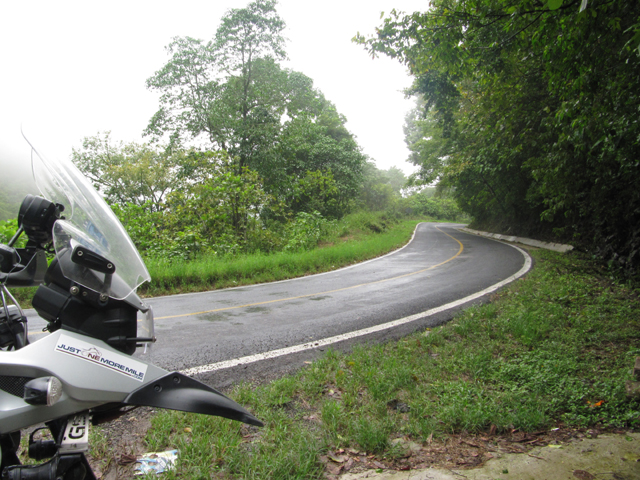 Exiting on village, I spotted a group and stopped, then tagged along at the back when the group left. No sooner had we left the village than we were once again in dense mist, this time so thick I could barely see Andrew's rear wheel in front of me. Then the rain started, covering my visor with large droplets and further reducing visibility. Overtaking the very slow moving pickups and buses and lorries was challenging, the straights between the bends no longer than a couple of hundred yards, and the group kept concatena-ing apart and together as it made its way past these mobile roadblocks. The riding was challenging, and very tiring, and we were all a bit relieved when we arrived in Tamazunchale and Julia led the group into a petrol station to fill up, with just 20 miles left according to the notes. Taking the opportunity to break away from the group, as I prefer to have open road in front of me, I followed Richard & Karen and Max & Christine out of town while the rest of the group were still parked up. Soon Julia's group had caught us up and then we saw a sign for Huejutla centro (the town we're staying in) and Richard headed on, and as I was 2nd with Julia behind me, I waved her past so she could lead us direct to the hotel... but she didn't go straight on, following the road round to the left... confused, I followed, as did the rest of the group, with Richard performing a u-turn and joining at the back. We then rode for what seemed like miles, in pouring rain, through countless little villages with the collection of topes (sleeping policemen) causing us to slow down, stand up, go over, speed up and repeat (the constant standing/sitting was causing me a little grief with my knee). Finally we turned left into a side-street and then the route seemed to make sense, at last matching the route-notes and we rolled up outside the hotel, where Kevin's bike was parked up (he'd left at 7am this morning to get here and arrange the rooms). We were then directed round to a parking area through some gates, riding the bikes onto a surface resembling an ice-rink, soaked wet and with mould at the edges, causing my front wheel to slide, but fortunately I managed to stay upright...
Once checked in to our room, I put the air-con and room fan on to full, which circulated the humid air but failed to prevent me from feeling like I needed a shower just seconds after I'd dried myself from one... With the rain stopped, I joined Nigel, Gerald, Andy and Aaron for a wander round town in search of food, all of us complaining we were very hungry, now we seem to have got the better of Montezuma after a long battle...the town is not a tourist town, being just a small provincial town well of the tourist trail, so restaurants were few and far between, but we managed to find a pizza place (more of a take-away with some tables & chairs) and ordered medium pizzas all round.. greed being what it is, we still had a pizza and a half from the 5 we'd ordered when we'd all filled our bellies, but it felt good to be able to eat something without fear of being more than a few feet from the banos...
We then wandered round town a few times before heading back to the hotel for a nightcap (beer) and chat before turning in...
Monday, 7 September 2009
On to de Carry-bee-ann...
With a short riding day today, just 160 miles, we had a bit of a lie-in, and woke just before 7am to the sound of rain. Only this is the tropics, so rain means RAIN. Outside our room in the courtyard of the hotel it was like someone had installed a huge shower, the rain forming big puddles on the red tiled floor, which was already slippery from the humidity. Once showered and dressed we headed to the restaurant next door to the hotel for breakfast, the pizza from last night having left me still feeling fairly full. The route out went up the road opposite the restaurant, so after breakfast we stood and watched the rain pouring down, creating big waterfalls from the roofs of the buildings, and forming a small brown river at the crossroads...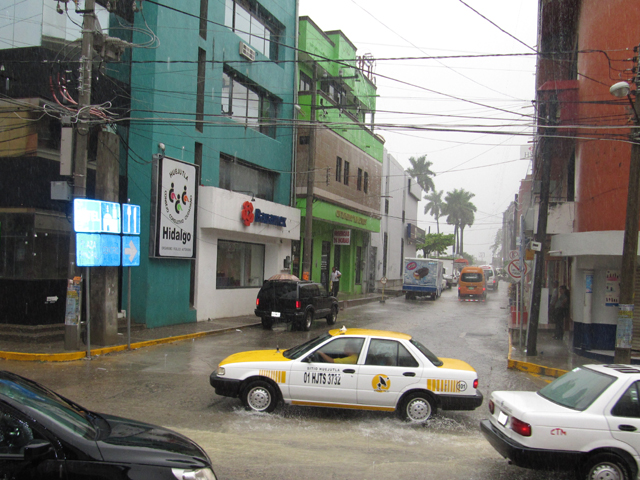 With no argument that this was officially a "wet day" (one of the maximum of 10 Kevin has promised us), we donned our bike gear and our waterproofs and then sat on our bikes waiting for the guy to come and open the gates. My bike was again reluctant to start, but did, and finally we were off on our way, with me tagging on to the back of a group led by Nigel with Andy, Gerald, Richard & Karen and Aaron. Threading our way out of the ice-rink like car park and turning right across the river where the crossroads used to be, then dodging the waterfalls from buildings on both sides of the river, sorry, road, I couldn't help but howl with laughter... looking at Aaron's shoulders, I think he was doing the same...
Once out of town we missed the right turn, which added 30 miles to the day, but with the weather gradually improving (the rain easing to a more normal downpour, and then to drizzle), I wasn't complaining. When the group stopped after 60 miles, I took the opportunity to escape, riding at the back of the group had been a frustrating experience as the group's speed was inconsistent for some reason. Once free I was able to make my own pace, speeding up a little and enjoying the open road once more. After a couple of hours I came round a bend and encountered a long traffic queue – with no oncoming traffic I rode down the outside right to the front, where the main group led by Kevin & Julia were waiting. The cause of the queue was a bad accident, a truck carrying metal poles having gone off the road, the cab completely crushed in the vegetation, and a number of recovery vehicles trying to get the wreckage out. We didn't have to wait long to be free of the queue, and I tucked in behind Kevin and Julia as we got going again, only to spot some roadside stalls selling bunches of bananas and other fruits, just begging to be photographed...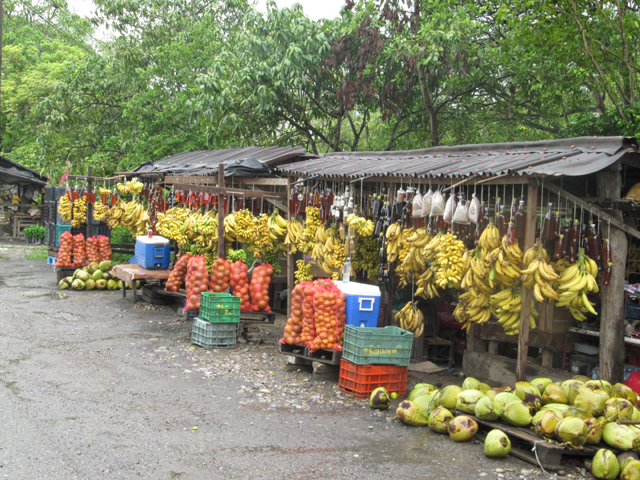 Once again I found myself riding alone, which didn't bother me at all, although I did wonder how far ahead the group was, and whether I could tag on the back again to make the navigation easier... Approaching Poza Rica I caught a glimpse of them up ahead, separated from me by a stream of traffic. When I got on the ring road round town, I managed to get past a lot of the traffic, but saw no further sight of the group (Kevin later admitted to missing the junction...). The scenery had been changing constantly all day, from tropical rainforest outside Huejutla to lowland fields of green, and then finally to coastal sands of the Gulf of Mexico and the Caribbean sea... Here were picture-postcard beaches with palm trees and the smell of the sea again, for the first time since we were up in the Arctic. I found the hotel and couldn't see sign of the others, so turned back to go and fill up with fuel ready for tomorrow. When I returned to the hotel, there was still no sign of the others, so I practised my now perfect Spanish and asked for a room, under the reservation made by Kevin Sanders and Globebusters. Ok, so my Spanish is rubbish, which is why the receptionist looked at me blankly before telling me about their rooms and how much they cost, and then showing me round 2 of them (one twin, one double) so I could choose. Back in reception I tried again, describing the reservation that had been made for a group of 17 motorcycles. More blank stares. So I said "El Jefe, un momento" and pointed at my watch. More blank stares... then I saw Kevin and the group arriving, and excitedly pointed out the window shouting El Jefe, El Jefe...
The hotel is beautiful though, and soon I had a room, right by the pool, with a view out to the Caribbean from the lounge.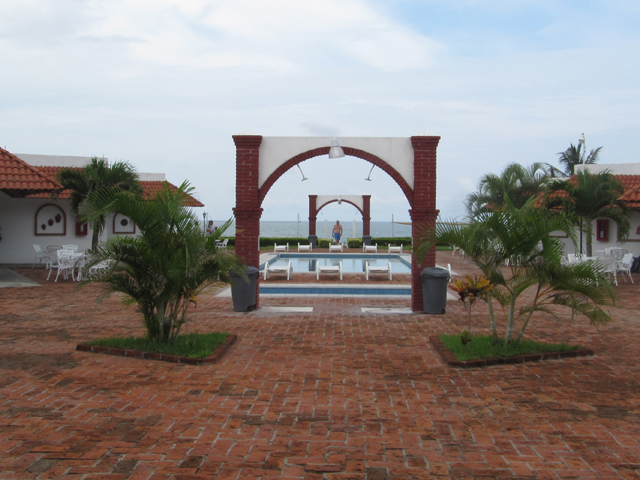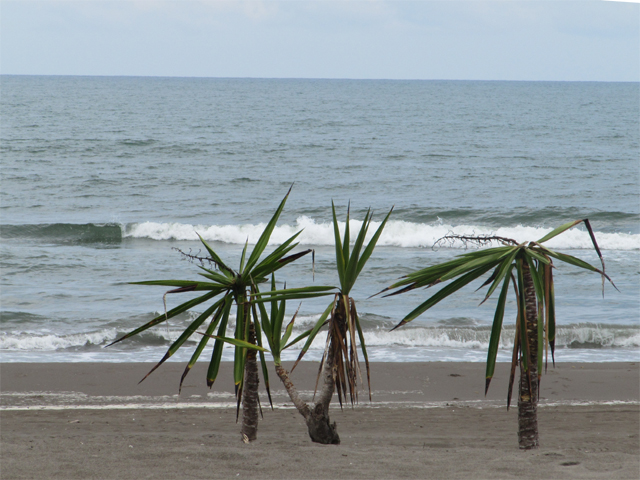 After I'd had a much-needed shower, a waiter appeared with some fresh coconuts for us, so we happily stabbed the straws through the top and drank the sweet milk, before asking him to use his machete to open a couple of them, so we could eat the flesh... delicious!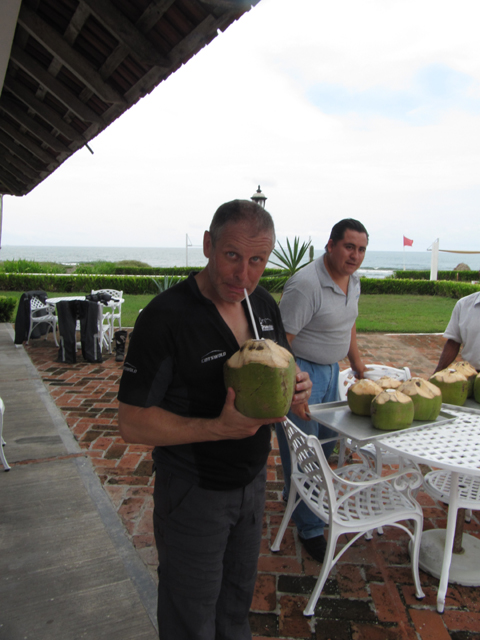 When we'd consumed enough coconut, I went in search of the Internet to write up yesterday's blog, and then went for a swim in the sea (no photos, at the request of my daughter...), before sitting with the group and chatting and enjoying the cold beers Richard and Jeff had bought. Kevin had arranged for the restaurant next door to open and prepare a meal for us, so at 7pm we wandered over and were greeted by several English speaking waiters keen to know more about our trip. I sat with Edwin, Lorraine and Andrew, and we ordered a nice bottle of Chilean wine to go with our food. Then the food came. For appetizer we had Queso tortillas with home-made salsa and hot sauce (queso is cheese...), which were lovely, then we had a bowl of spaghetti with spices and herbs, which was fantastic, and then the main course, fish is spicy sauce, which was outstanding...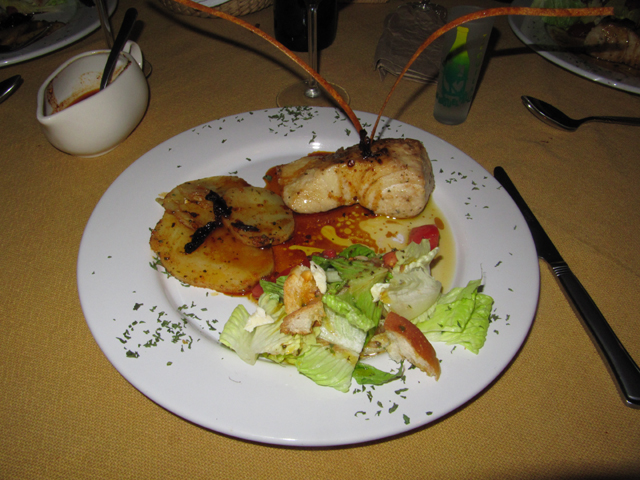 When we'd finished the meal, and a second bottle of excellent Chilean wine, we called for the chef and shower our appreciation, telling him how excellent the meal had been. Then we had a tequila shot (or two) before Kevin, Andrew and I took the bottle down to the beach and sat and watched the stars, and the moon rise from the horizon up into the sky whilst sipping tequila and enjoying time to just sit and think...
Tuesday, 8 September 2009
Boil in the bag bikers...
I woke surprisingly early, mainly because Jim was up and about, and despite his best efforts, his gentle murmurings woke me from my slumber. I was grateful, though, as I wanted to see the sunrise, what with being on the East coast and all... only when I got to the beach, resuming my sitting position from just a few hours earlier, I discovered a large amount of clouds obscuring the horizon, making sunrise something of a non-event. Still, I was up early enough to attend to some other chores, and so before breakfast (which wasn't available until 8.30am), I went to change the plugs on my bike in an attempt to help alleviate the starting problem. When I got the old plugs out they were in a poor state, the gap much bigger than the recommended 0.8mm, and looked for all the world like they'd been in the bike for a long time... much longer than the 8,000 miles since the last big service before I set off, and which I recall included a change of all 4 plugs... But with them changed, the bike started first time and purred like a kitten (ok, perhaps that's an exaggeration, it being a boxer engine after all). Happy as Larry I went to breakfast...
Despite a return of Montezuma's finest revenge (I put it down to too much beer, red wine and tequila, but it's a lesson I doubt I've learnt yet...), breakfast was good, a plate of scrambled eggs and toast and jam. Full, Nick and I headed off, glad to be riding together again, and with Nick very happy to be leading one more. The early morning ride down the coast was much cooler and less humid than the ride in yesterday afternoon, but soon the day warmed up and the humidity levels increased. Interesting fact time, as I feel I've been neglecting the educational element of the blog recently... humidity is often expressed as a percentage (called the relative humidity), and this is in relation to absolute humidity which is the point at which the air is completely saturated with water vapour, unable to absorb any more, which in turn varies according to the temperature (as the hotter the air, the more water vapour it can absorb). So, 100% humidity means the air cannot absorb any more moisture, and thus if you sweat (because it's also highly likely to be hot) then the sweat can't evaporate and you can't cool down, so it feels even hotter than it is... Which is a roundabout way of trying to describe what it's like here, riding in around 80-85% humidity meaning that even with the wind-blast flowing through the few vents, we're riding along like a boil-in-the-bag meal...
The route was pretty straightforward, an ideal way for Nick to get back into the swing of things, with straight roads and very little navigation required... or so we thought, until we caught up with Ed & Lorraine at some roadworks and a deviation, that took us off the road we were on and onto another one. Ed turned left into the petrol station, Nick went straight on, and I also turned into the petrol station, working on the premise that the road we'd been on had been heading one way, and now Nick was heading another... a quick chat with Ed whilst watching the other traffic and we realised the deviation actually went through the petrol station and out the other side, rejoining the road just past the intersection where the diversion started... as we'd realised this, Nick re-appeared wondering where I'd gone, so we put him straight and off we went again...
We stopped only once, briefly, when we spied Chris and Danielle having lunch in a roadside cafe, but with me still feeling the after effects of this morning, I opted just for a bottle of Fresca (lemon pop) and so did Nick, before we set off again, with Chris & Danielle tagging along as well. About 20 miles from our destination we saw some interesting looking stalls by the roadside and so stopped... can you guess what they're selling?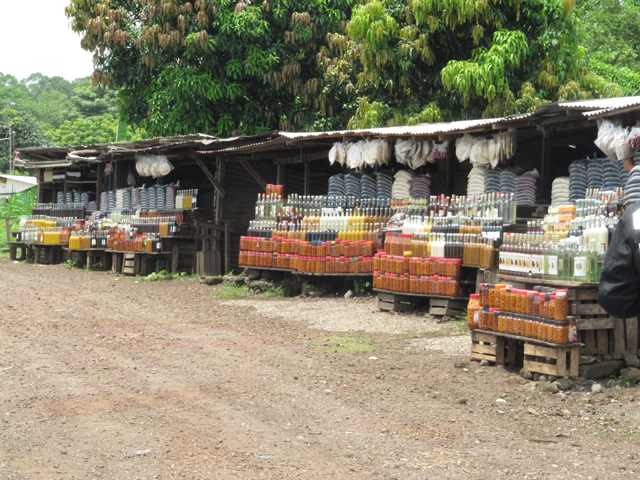 Perhaps a closer look...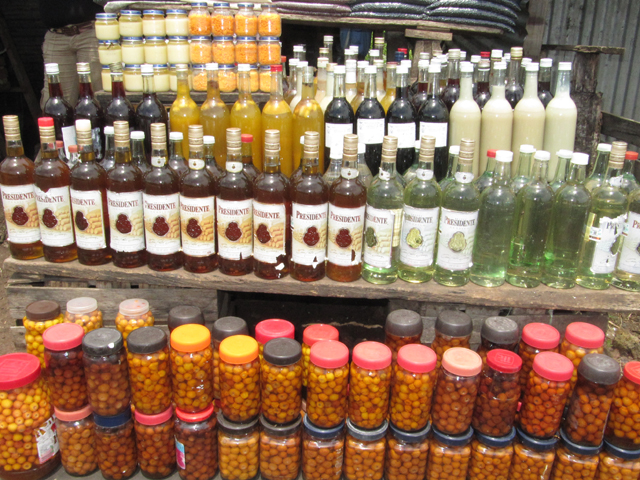 No, it's not tequila... it's honey. And very fresh too, although I'm not a fan... Nick bought some for his toast in the morning, a sure sign his stomach has recovered completely... Whilst we were preparing to leave, a large queue of traffic appeared behind a smog-producing truck, and Chris & Danielle managed to get off before they reached us, but Nick and I were too slow, so joined the queue near the end, and sat breathing in diesel fumes for a short while, before I'd had enough and overtook Nick, and then worked my way past the queue, knowing Nick would follow in his own time. Before long I was free, and once again able to breathe the humid but fresh air. On arriving at the outskirts of town, I pulled over to wait for Nick, and when he arrived we set off again, only to stop immediately at a set of traffic lights, where an enterprising young chap on a scooter asked if we were heading to the Hotel Los Arcos (we were) and volunteered to show us the way. I politely declined, but off he set anyway, pointing for us to follow. Which we did, bit only because he also seemed to be following our route notes, and soon we were pulling into the hotel car park... seemed he was a tout for the monkey island trip and assigned to the hotel. Monkey Island? Let me explain... here in Catemaco there are 2 islands in a lake where monkeys that used to be used for research were released around 20 years ago, and now the islands are a tourist attraction, with lots of boats running tourists out the island to see the monkeys... bet you'd like t see some pictures of them, eh?
Well, tough, because like all Globebusters trips that have come to Catemaco before us, no-one, not even me, could be bothered to go to see the monkeys... how sad... but we did check into the hotel, get showered and changed and go for a wander round town, which proved interesting enough... First, a view of the lake and monkey island(s)...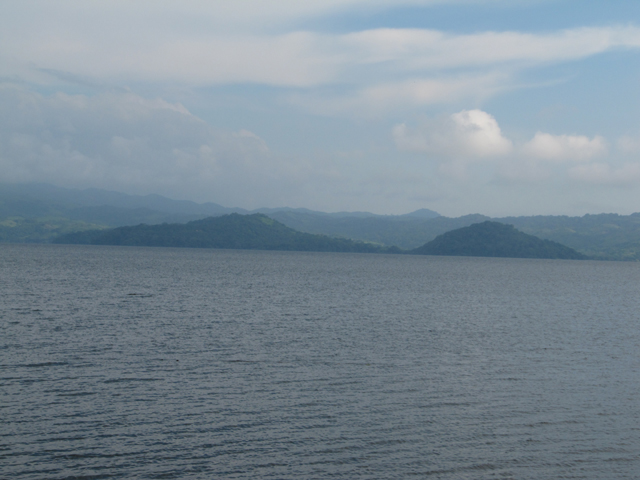 Perhaps now you can see why we didn't bother going...
The square was much more interesting, with a strange church that looked almost Moor-ish, resplendent in blue and white with a big domed roof, with 2 main turrets at the front the only real sign it was a church not a mosque (well, that and the beautiful stained glass windows...).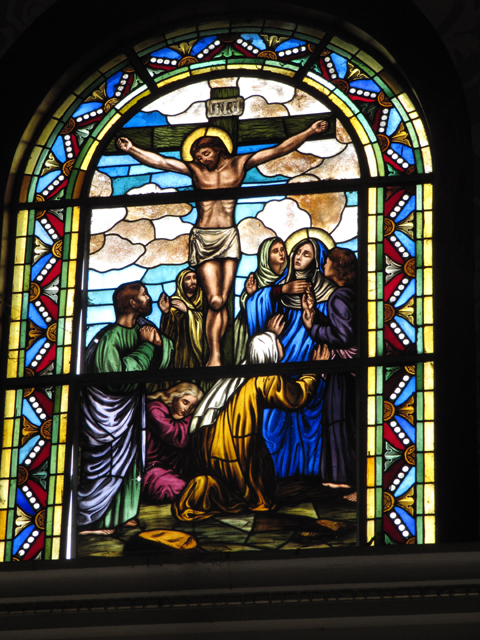 Outside the church the topiatrist (assuming that's the name given to someone who practices topiary) had created a beautiful tree-house...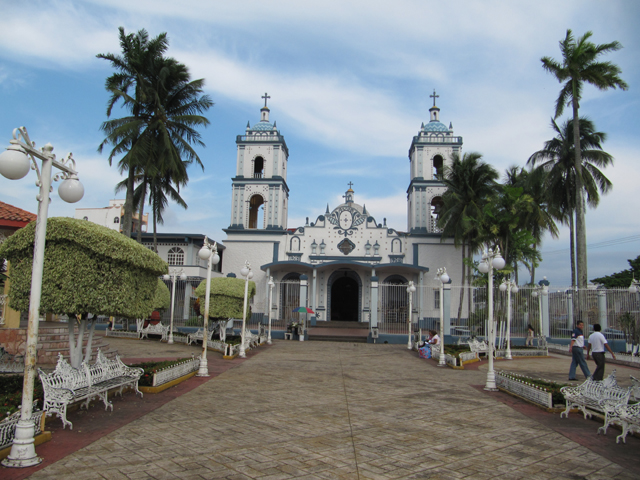 Another interesting fact about the church, is that my Internet research shows it used to be brown, not the blue and white it now is! After a good wander we grabbed a fresh doughnut from the bakery (the smell was irresistible and I figured it might help with my problems...) and then went and put shoes and socks on, heeding the warning about the night-time insects that love to bite your feet if you're wearing sandals, before heading out for a beer in a nice bar on a jetty out into the lake...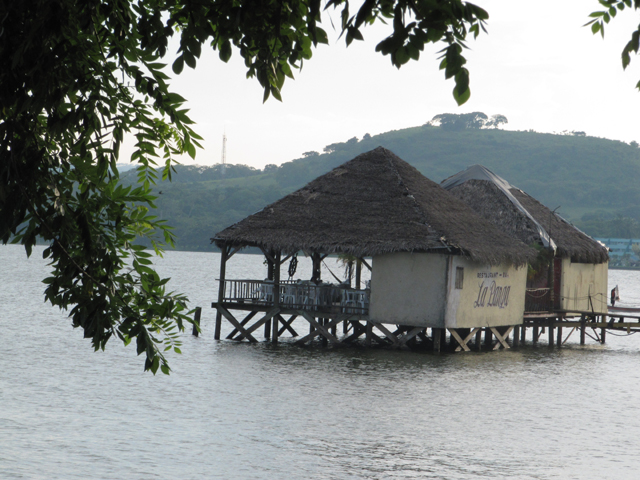 I only had the one, in deference to my condition, and then having read the menu headed to another restaurant to eat, which was a good choice as the food was very good (spicy shrimps cooked in their shells). Whilst finishing our meal we watched a lightning storm covering the entire horizon, bringing the hope of another wet day tomorrow (!) but at least lowering the temperature and therefore the humidity a little...
Wednesday, 9 September 2009
The ride to Palenque... and another paradise hotel...
Today dawned cooler and slightly misty, perfect for the riding day ahead, as we face 285miles, most of which are on dual carriageways as we head for Palenque. After a small breakfast I lead a small group consisting of Nick and Al, and we head off out of the hotel before the main pack is ready to depart. The first 50 miles or so follow the coast road, with spectacular views over idyllic inlets full of little fishing boats or herds of cattle standing in waterlogged fields... but there's nowhere to stop and take a picture, so the images will remain in our minds only... After 50 miles we're about to join the dual carriageway, so we stop for fuel and to prepare ourselves, inserting earplugs and setting the MP3 player on shuffle... the roads are toll roads, so I pay and wave the others through, then resume the lead just as the road goes from 2 lanes down to one and a military checkpoint. These are fairly common in Mexico, especially on the main routes and normally we just get waved through, but this time we're directed to a holding area, where we stop and get off the bikes, remove our helmets and smile a lot. The soldiers want to inspect our panniers, so we open them and let them fumble about inside, not offering any help at all as we don't want to prolong things. After a cursory rummage inside, they're satisfied and we put things back in place and replace the lids, before I cheekily ask if we can take a photo of them by the bikes, which they politely refuse... still, worth a try...
Whilst we were being searched the main group passed by, tooting their horns and waving frantically. When we were released, we rejoined the traffic, which was fairly light allowing a suitably fast cruising speed to help get air flowing across our now sweaty bodies, the temperature and humidity rising fast with every passing minute. We stopped at a roadside cafe for a refresco (pop) and whilst there Andrew appeared and joined our little group, the 4 of us riding in formation at speed down the carriageway for hour after hour towards the big city of Villahermosa, through several tolls, until the road skirted the edge of the city and the traffic intensity grew with the heat, slowing our speed and therefore the air-flow, getting us even hotter and with such high humidity, wetter... There's a saying we use a lot on this trip (attributable to Emmett from the 1st Trans AM in 2005 and up until recently chief instructor at the BMW Road Skills school) which is "Remember where you are"... it certainly helps when the frustration rises due to humidity, temperature and traffic, and slows our pace to a relaxed crawl, as we slow to take in our surroundings and prevent "destination fever" from grabbing us...
Shortly after Villahermosa we stopped again at a roadside cafe, and went to look in the pots of bubbling food to determine what to eat for lunch, a process that involves us speaking English, them Spanish, a lot of pointing and gesturing and then a bowl of chicken noodle soup appearing, followed by some deep-fried curried chicken parcels, both of which were very good. With our lunch stop over we resumed our charge down the dual carriageway, stopping again for fuel at the turn-off for Palenque, before completing the remaining 20 miles or so whilst the vegetation at the roadside changed from fields to jungle.
The hotel we're staying at, Hotel Villa Kin-Ha consists of a main hotel and a collection of thatched-roofed bungalows, which are what we're staying in. They're complete with air conditioning (essential given the humidity, or it would be like sleeping in a sauna) and showers (a waste of time within seconds of standing outside). There's also a large pool, which is where I was about 5 minutes after arriving...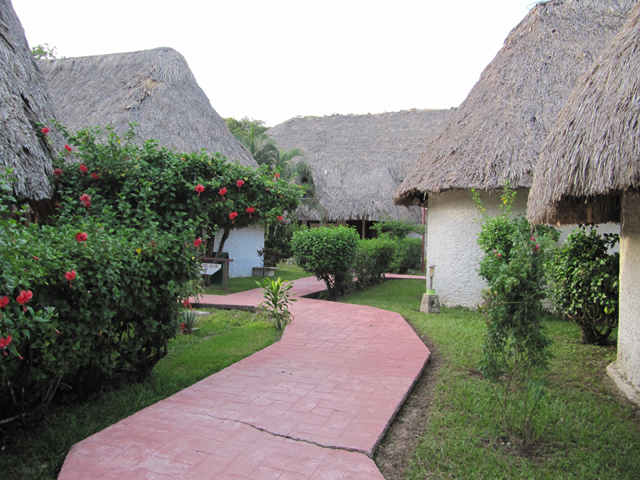 After a couple of beers and a mess about in the pool, followed by a shower and a change of shirt, we had our usual meeting by the pool to run through the next couple of days, then I went and had another shower and changed my shirt (which I immediately put in the washing and handed in at reception), before heading for dinner in the on-site restaurant. Cream of mushroom soup (which was almost certainly Heinz as mushrooms won't grow anywhere near here) was followed by beef fajitas (reasonable, but nothing special) and washed down with a nice bottle of red, shared with Nick. With stomach still growling every time I eat, perhaps the wine was a bad idea, especially as Jim, had gone into town and left the key at reception (I walked all the way to our bungalow only to discover this and have to walk all the way back to reception to get the key – thoughts of the "Reggie Perrin" experience on Koh Chang came to mind...).
Not long after I was in bed and fast asleep... this Adventure Motorcycling lark is, after all, very hard work ;-)
Thursday, 10 September 2009
The ruins at Palenque...
Today is a rest-day, which will actually involve a fair amount of walking in very humid conditions round a bunch of old ruins just a couple of miles down the road from the hotel. But first, the usual early morning tasks, such as showering, getting dressed and eating breakfast at the excellent hotel buffet... it was when returning to my room that I noticed a rather large lump on my left elbow, about the size of a golf-ball and quite sensitive to the touch. I recall thinking I had a small lump there before we left, probably the result of some grit from a desk getting embedded in my skin. Well, now it seems to have become a full-blown infection, with accompanying swelling. Without going in to detail, I managed to drain some fluid from it, which was clear, so it should be OK, and put on some anti-septic cream and covered it with a plaster.
Then it was time to ride to the ruins, where we parked up and were immediately accosted by young boys (adolescents really) offering to look after and wash the bikes for 50 pesos each (about £2.50). This was a bargain, especially when considering the alternative had we not paid... We also met an official guide, also a young male, who spoke excellent English and would show us the main parts of the ruins in a 2-hour tour for $85 (the standard price, as marked on an official sign by the gate). Between the 4 of us (Nick, Al, Andrew and me) that also seemed like a bargain, so off we set, first paying the 50 pesos entry fee and then through the gate and passed through a small area of jungle, where there was a sign marking the appointment of the site as a World Heritage Site in 1987 (the plaque says 1988 – a good example of "Mexican Time"), emerging into a clearing with an enormous group of 4 Mayan temple structures in front of us – from right to left, the Temple of the Skull, dating from around 400AD, Temple XII-A, the Temple of the Red Queen and on the left Pakal's tomb (Temple of the Inscriptions)...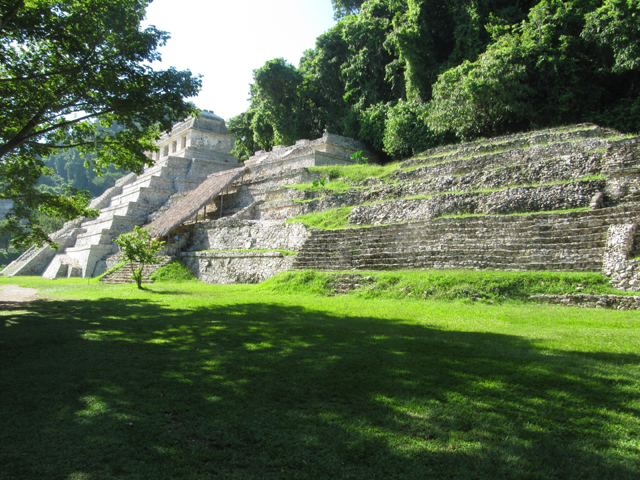 We then learnt a little more about the ruins, which comprise some 1,400 buildings of which 98% are still under forest, the 2% that have been excavated giving a real impression of a sophisticated culture, capable of shifting heavy limestone from quarries miles away to construct these buildings, which despite appearances are actually on level ground (although one or two are built on the top of hills). The buildings themselves are not all temples, and follow a similar architectural style, with a block structure on the roof designed to stabilise the structure (something that must have worked, as they're still here, despite having been swallowed by the jungle before being re-discovered). The temples are built in 9 layers, representing the 9 levels of the underworld, the Mayans believing that once a person dies, they need to progress through the underworld to emerge again, as with the corn they cultivated, whereby the seed is put into the ground (the underworld) and 9 days later emerges are green shoots...
Inside the Temple of the Skull was found the red queen, so called because her bones were coloured red like the walls of the temple would have been. Originally, like the pyramids at Giza, the temples were covered with stucco (plaster) and coloured, in this case red with mercury oxide from as far away as Mexico City. The Red Queen's tomb was discovered as recently as 1973 and was covered with a very large stone slab, engraved with carvings and coloured red. The slab weighed 7 tonnes and had to be lifted using truck jacks in order to get to the body of the queen.
Pakal's tomb is perhaps the most famous of the temples at Palenque, it being the final resting place of the great ruler, who brought prosperity to the Mayans in this city, and whose dynasty continued to flourish until the building stopped abruptly around 845AD and the city was abandoned.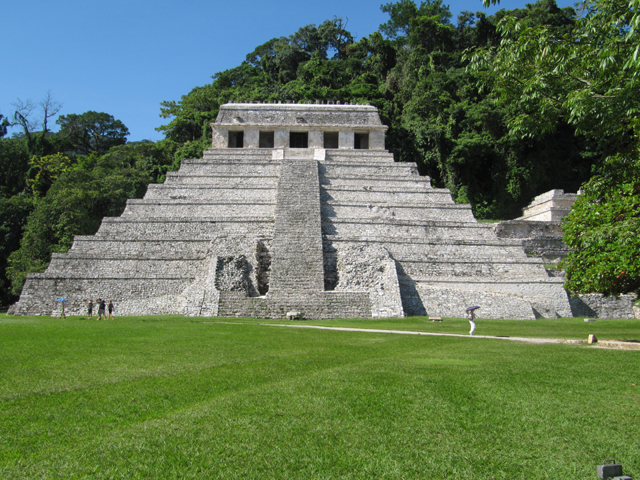 The temple has some fascinating features, such as two small windows on the right side that directly align with the position of the sun on the longest day (21st June), projecting a shaft of light right across the top of the temple, to where Pakal stood holding his baby son, the light only falling on the child and demonstrating to the populace below that his son was indeed blessed by the sun god...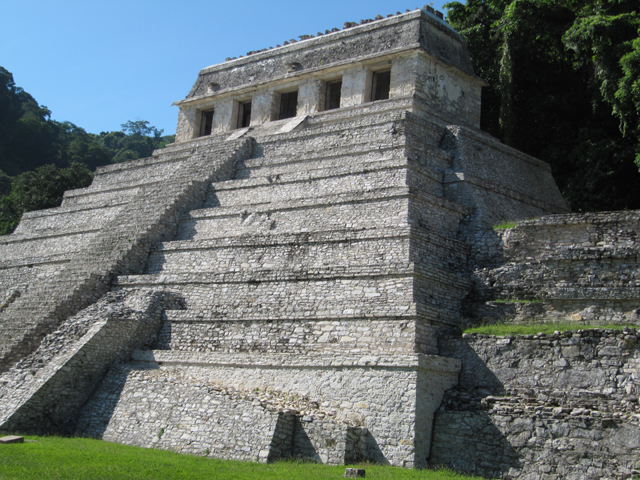 The rest of the complex includes Pakal's Palace, complete with sauna rooms and frescos, with more alignment to the stars, and a complex of 3 temples built by Pakal's son and heir, which share their alignment with the stars (and therefore their layout) with the great pyramids at Giza (both cultures clearly believing the alignment of stars in the heavens to have great significance).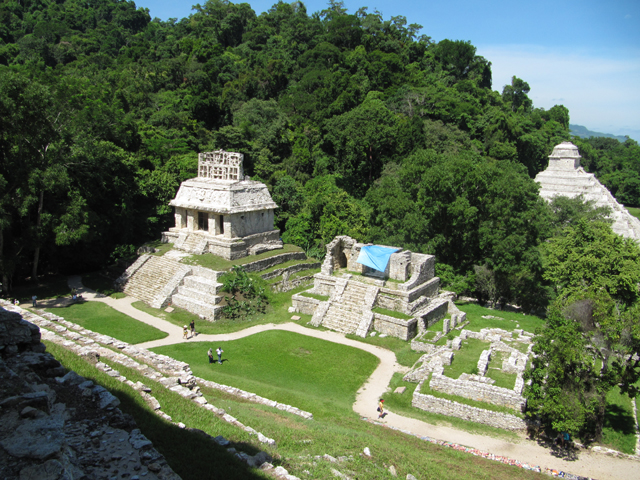 I could probably write the world's longest blog entry on the information we were given by our excellent guide as he showed us round, but I won't, because I couldn't write it all down in my notebook, and besides, if you're that interested, why not by a book... But I will leave you with a couple of the more interesting facts, that illustrate once again how lucky we are not to have been living during Mayan times... first, the King used to pierce his genitals twice a year before the corn seeds were planted, spreading his blood on the land to guarantee a good crop... second, there is a ballpark where they used to play a ball game, trying to score between vertical hoops planted on the mounds on either side of the park. The losers in this game had their hands and feet cut off. The winners... well, they were sacrificed. Needless to say, it's one game where being not picked to play had its advantages...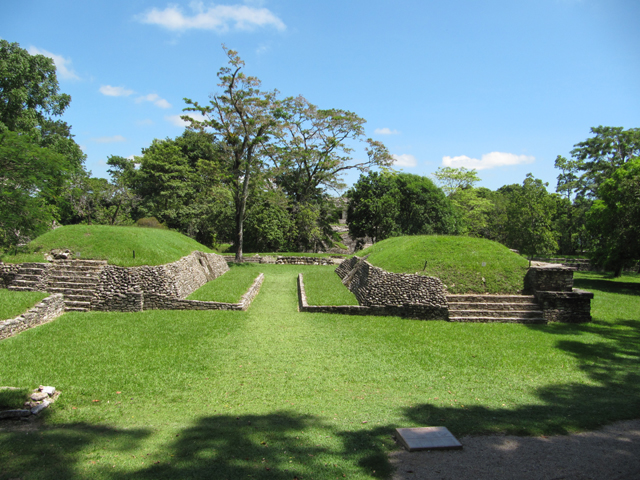 With the tour done, we headed back to the bikes, which were very clean, paid our minders and made our way via the museum (where a replica of the Red Queen's tomb lid was) back to the hotel and the pool. Only the group insisted I stay out of it, due to my elbow... So I sat in the sun for a while, before getting out my map of Honduras and discussing routes with Kevin, working out if it possible for me to revisit the school I helped build back in 2006 (the good news is it is...).
Later I rode into town with Nick, Al and Andrew to get some dinner, preferring not to eat for 2 nights in the hotel. Palenque town is a mix of the very clean and modern high street, a big square where a band were playing (4 blokes knocking the hell out of a glockenspiel and a drummer), and typically run-down buildings the further from the square you get. We parked up in the square and went for a wander, before selecting a terrace restaurant overlooking the square, where we could hear the band playing (although that was possible anywhere in Palenque, such was the volume of their speakers), and ate a good meal of Mexican Beef, washed down in my case by a Fanta (sticking to my dry day promise). After dinner we went and bought Andrew some new sunglasses, because he'd bought a pair before dinner and then sat on them... before wandering round some more and then heading back to the hotel and off to bed...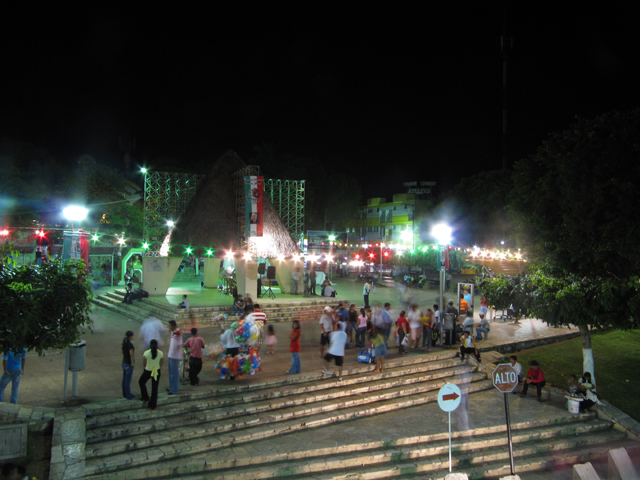 Friday, 11 September 2009
A crash, a birthday and our last night in Mexico...
The day dawned bright and sunny, and with a relatively short ride of just 140-odd miles ahead, the day promised to be quite relaxed, as we head to San Cristobal to get within striking distance of the Guatamala border. After attending to the usual early morning requirements (I'm getting bored of writing about showering and blogging!), we started getting ready to head off, Nick, Al, Andrew and I, but Andrew forgot something and sat in the heat was too much so the 3 of us left anyway.
The road out of Palenque was tight and twisty as it meandered up and round the mountainside, with some spectacular views over a beautiful looking Mexican town, typical of the towns hidden in the mountains...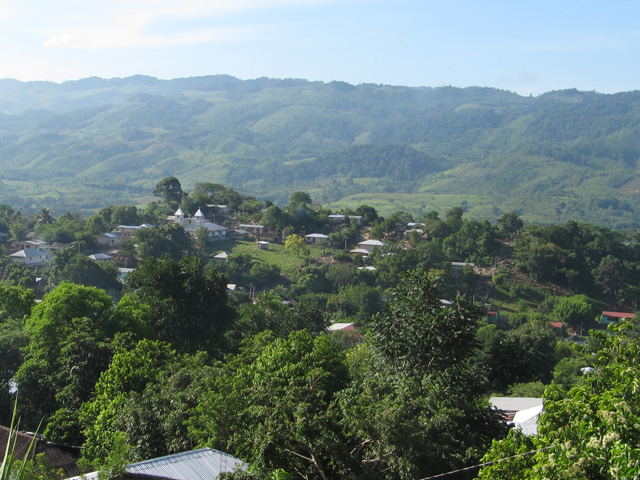 As we continued to make our way to the waterfalls at Aqua Azul, the road twisted this way and that, with many of the bends hard to read and a few tightening up unexpectedly. The road surface was good, though, and our pace slow enough for us to cope, but not everyone was so fortunate. When we were at the waterfalls, we discovered that Gerald had had a spill, running out of road coming out of a left hand turn and deciding to let the bike go in order to save himself. He ended up with a pulled muscle in his groin and minor skin rash from where his trousers dragged on the ground, but his bike fared worse, the rocker cover splitting and spewing out engine oil, as well as extensive damage to his panniers. The full extent of damage to the bike will have to be assessed when time permits, and so for the time being, he'll be riding in the van, which is once again full with 2 bikes and associated luggage inside (although Danielle's wrist is healing well and she's contemplating riding again soon). Hopefully Jeff will be able to work his magic and get Gerald back on the road again soon, the poor soul being rather fed up at having his first ever road accident (and he's been riding for many, many years). At least he's a tough old fella...
The waterfalls themselves were billed in the route notes (and Jeff's descriptions) as being a great place to swim, but with an elbow infection and the side-stream feeding crap from the nearby shops and cafes, I decided against it. They were pretty, though, and quite photogenic, extending high into the surrounding tropical forest (too high for us to walk in motorcycle boots and 98% humidity)...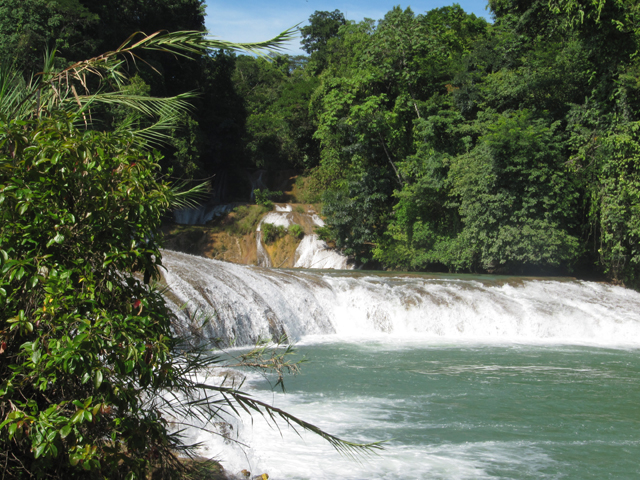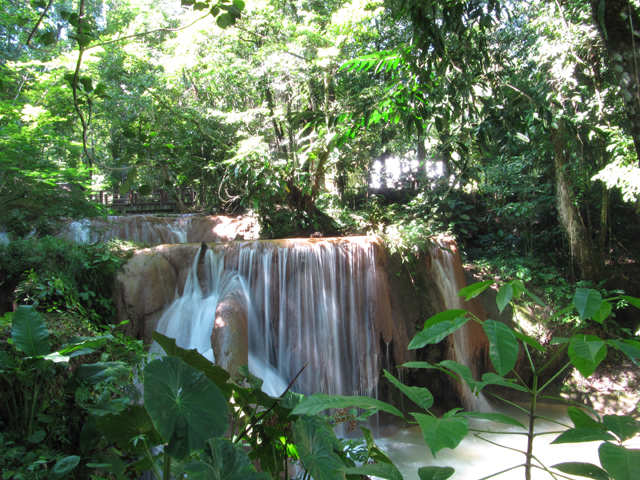 When I was ready to leave the waterfalls, Nick and Al were still wandering around, so I set off alone, riding through the rainforest and along the winding mountain road as the scenery changed once again as we gained height, and the forest changed from damp and humid to drier pine forest. We reached a height of 2,100m on the way to San Cristobal, the weather still hot but with the reduced humidity much more pleasant. It was during this ride that I encountered a new phenomenon, a sound much like a helicopter, but there was none in sight. Then rounding yet another steep downhill hairpin, I encountered a massive truck doing close to 0 mph, crawling downhill and making the most incredible racket. Engine brakes... you may see signs in the UK stating that these must not be used, and now I know why – the sound is deafening. Basically what they do is simply stop injecting fuel into the diesel engine, letting the raw compression act as a brake, slowing the vehicle down and saving the brakes. With hills as steep as these, it's not an uncommon sound, and a good early warning that there's likely to be a traffic jam just around the corner as cars, pickups and other trucks queue to get past the crawler... still, makes passing them on a bike relatively easy...
Arriving in San Cristobal I caught up with Max & Christine, which was just as well, as the Max's London-riding expertise came into its own as we hit town and complete chaos, a large traffic jam of cars, pick-ups, buses and people crammed into the plaza. Filtering round the outside, with inches to spare between panniers and barriers, people, walls and other vehicles was great fun, and once again I was howling with laughter as Christine covered her eyes, not believing Max could negotiate his GS with it's huge Metal Mule panniers through the tiny gaps (he did, so I followed...). Soon we were clear of the chaos and riding down the narrow cobbled one-way street to the hotel, parking up next to Kevin and Julia's bikes (they'd set off early and gone straight to the hotel in order to prepare the route-notes for later). Once checked in I called Tracy on Skype before sitting in the courtyard updating the blog, and then joined the others for the evening's entertainment...
First up was the "Gold Star" awards, which this time went to Al, for his part in the heroic rescue of a drowning Andy at the Caribbean, and for his thoughtfulness on a couple of other occasions. Well deserved, too... Then it was time for Danielle's humiliation, it being her birthday... her presents included no less than 3 different hats – a Sombrero (naturally), a natty little "Harley Girl" bandana affair (similar to the ones given to Edwina and Al) and a lovely viva-Mexico hat with pigtails, but her best present was without doubt the tee-shirt with the surprised cow on the front, in recognition of her "GS up a cow's backside" incident...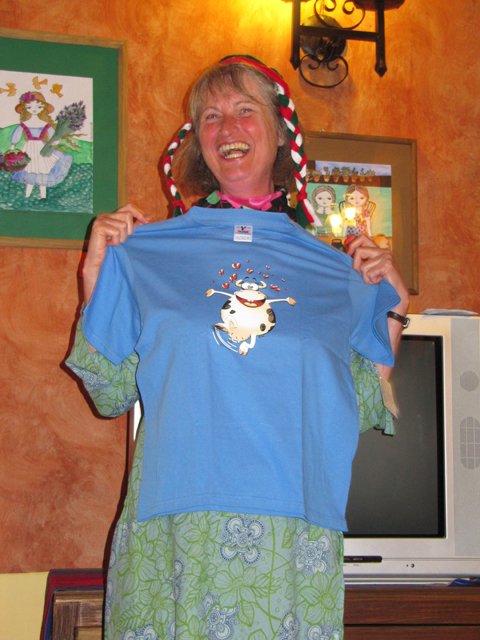 Following the giving and receiving of presents, we got on to the serious business of discussing the border crossing tomorrow, and running through what we needed to do, whilst once again Kevin re-enforced the message that Guatamala is a degree more chaotic and potentially dangerous (from a riding perspective) than Mexico... should be fun... One thing that got a huge cheer was when Kevin mentioned that Guatamala doesn't have the dreaded topes (sleeping policeman)... this was followed by a groan when he told us that in Guatamala they're called tumulos.... (but they don't have as many, thankfully!)...
Once done, Nick, Al and I went in search of a money-changer to get some Quetzals (Guatamalan currency) without success (though I did find a faster $Gb SD card for my camera for the princely sum of £11.50), and then grabbed a pizza and an early night... with a 6.30am departure in the morning, and a long border crossing and 250-mile ride, we're going to need all the sleep we can get...