We had always planned to be in Antigua Guatemala today, but with the extra day on Monday as a result of the loss of the mountain road, it already feels like we've been here ages... but the town itself has another surprise for us, now that the Independence Day festivities are over, and the influx of people from all over has gone. It's now a very different town through which I wander after breakfast, all sleepy and with a distinctly relaxed atmosphere.
Even though I'm now familiar with the town's layout, I find new shops hidden away that before were lost behind the thronging masses. I bump into Ozzy Andy and he tells me of a market at the other end of town that I didn't know existed, so I saunter over, idly looking for a new pair of sandals (Teva-like) that I could walk in, to replace the crocs I have which, whilst really comfy, are not really suitable for lots of walking. I don't find any, but I do find a little artisan place with hand-crafted gifts that tempt me, but with space limited I restrict my shopping to a hand-painted fridge magnet and a better quality Guatemala sticker (I like this country so much that 2 stickers doesn't seem too many).
Eventually I feel I've exhausted the town (and myself) and wander back to the previous hotel to sit in the courtyard and use their wi-fi. Whilst sat updating the blog, a hummingbird appears and starts feeding from the plant opposite, and unlike the one in Copper Canyon, this one doesn't fly away at the first sight of a camera (although rather annoyingly, he did fly to the wrong side of the flower as I pressed the shutter)...
I then had a lovely chat to Tracy, glad she's got her skype working again so I can see her smile (whilst being away, I think that's what I miss most, more even than a good cup of tea...). Then it's out again for another wander round town, as I try to find a loose shirt that will keep me cool in the evenings, as I'm getting a bit tired of wearing the same sweaty tee-shirts and want something nice to wear. I find one in a big market hidden away in town, but plan on saving it until in La Esperanza, whilst sipping beer in the bar we drank in when I was last there in 2006 (more of that tomorrow). For dinner tonight, Al, Nick and I went to a place offering Thai food, and spent the last of our quetzals on fish-cakes, spring rolls, stir-fried beef in ginger and black been sauce and sweet and sour chicken. Not a patch on the food at home but palatable... then an early night as tomorrow is another border day...
Unusually, I've decided to combine 2 days blog entries into a single post, for reasons that will become obvious later... and this is going to be a long one, so grab a cup of tea and a few biscuits and take the phone off the hook...
Thursday saw us wake early (5am) in order to get packed and breakfasted before the off at 6.28am (Kevin realising that every time he says "six firty" in his east-end accent, he gets the mickey taken). Breakfast includes a boiled egg, which makes a change and was delicious, but at that time in the morning I can't stomach a lot of food, so go lightly on the bread and jam. Then it's convoy time again, as we roll once more down the cobbled streets of Antigua Guatemala, causing a stir amongst the locals that are busy going about preparing for their day, and out onto the open road. The first major challenge is to negotiate our way onto the ring-road round Guatemala City, and with the traffic already heavy, Gerald's bike starts to overheat, so we all cram ourselves onto the pavement at a junction, 16 big bikes with panniers jostling for space so we can investigate the problem. With some more oil added things improve, and we weave our way back into the rush-hour traffic, choking on bus fumes (emissions regulations don't seem to have reached Guatemala yet), trying to keep an eye on where Kevin is leading us. We make our way slowly towards the centre, before veering off towards the "periferico" and into what looks like a part-industrial suburb, with the road narrowing and a complex one-way system taking us onto a road that looks like it goes right into the centre of the city... but then it twists and turns and pops out on an elevated section that looks like a ring road, but is very busy, then Kevin stops mid-flow next to a police car and has a quick chat before diverting us off on the slip-road to his right. Now we start to clear the city, the traffic thinning a little, and we pass a lot of men working on a derelict house – only it's not derelict, it's been demolished by a truck that's still inside, and the men are trying to make the electricity feed safe, but we can't tell if anyone is still inside the rubble, as we've to concentrate on the road ourselves. Shortly we pull up into a petrol station to re-group and take a break.
The next section is much quicker, but we still have to cover 150 miles before the border, so it takes us until noon to get there. When we arrive, it's swelteringly hot, but not too humid so it's bearable... I'm going to be leaving the group for a couple of days as I want to head over to La Esperanza to meet someone who can guide me up to the school I helped build in 2006, when I was here with some colleagues from work. That means I've a further 4 hours riding to do once cleared, whilst the group is heading just 7 miles down the road, so I'm first in the queue with Kevin and Julia as we suss out the process... first, clearing ourselves out of Guatemala, getting our passports stamped, then booking ourselves into Honduras at the window next door, with no passport stamp (seems the Guatemala entry stamp is sufficient) but with a receipt for the $3 charge. Then off to the vehicle importation office to get the bikes stamped out of Guatemala, with a minor panic as I couldn't locate the entry receipt, which I knew I'd put safely in my document folder, but had folded and was looking for it as a full-size document. Finally, we walked over to the office to book the bikes into Honduras and the official started the bidding at $35 per bike permit, before renegotiating on $30, then asked for 2 copies of our passport page and the V5. Luckily I had these, and so was able to be part of the first 6 he wanted to process. We brought the bikes up to the office ready for inspection as he slowly processed the paperwork, then finally he emerged and started checking the VIN numbers, before giving us the official importation document, which I double-checked and was then ready to go...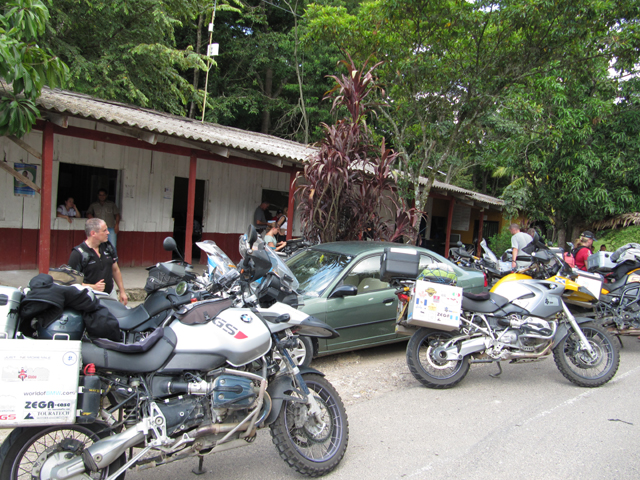 As the rest of the group still needed to be processed, I said my farewells and rode off under the barrier and into Honduras. The scenery doesn't drastically change on crossing the border, the land still sculpted into sharp hills causing the road to rise and fall constantly as it twists its way round and up and over the hills, the tarmac generally good but with patches of gravel and huge pot-holes to catch the unwary or speeding biker. I keep my pace steady, determined to enjoy the ride as well as get to my destination before dark. The people have changed, though. No more bright colours of traditional clothing, them being dressed in more western attire, lots of red tee-shirts and jeans. But they are smiling and happy and waving, the sight of a lone hombre on a big motorcycle obviously not part of their daily lives.
I follow the route-notes the group will be using when they leave Copan the day after tomorrow, but keep stopping to check my map as I can't afford to get lost. Soon I pick up the road to Santa Rosa de Copan and know I'm heading the right way, then get stopped at a police checkpoint. The guy wanders over and chats to me in Spanish, which I can't hear because I have my earplugs in, and couldn't understand even if I hadn't... So I remove my helmet and plugs and give him a smile, shake his hand and look dumb. He asks for my documents, so I get off the bike and pull out my passport, which he studies intently, before handing it back, and then asks how much my bike costs. I understood that alright, so I smile and say $5,000 because it is very old (it's worth about $10,000 and isn't that old, but out here that's a small fortune). He smiles again, and points at my Mexican flag rolled up behind my seat and my Guatemala flag still attached to my windshield, and I reply that I want a Honduran one next... he laughs and that's it, I'm free to go.
I find the next turn towards Gracias just as my bike reaches 2 significant milestones – the odometer passes the 35,000 mile mark and the sat-nav (which is more accurate) records the trip mileage since leaving Anchorage pass the 10,000 mile marker... still 15,000 miles or so to go, though! Then through the village of San Juan before starting the final section of dirt road over the mountains to La Esperanza. I've been making good time, having not stopped for lunch, and start to look forward to getting there before dark and heading out in search of my old watering hole.
Then, as I continue up a steep hill, the bike cuts out without warning. I'm confused, the sudden loss of power a big shock, but I quickly put on the brakes and get both feet down, then pull in the clutch and thumb the starter. The bike turns over but doesn't fire up. I try again. Same thing. Ok, it's still hot and now I'm sweating, so I put the bike on the stand and remove my helmet and try again. No joy. I check the position of the kill-switch, turn the ignition off and on, check the side-stand cut-out switch and try again. Nothing. Damn. Now I have a real problem. I'm in the middle of nowhere, on a dirt road through a mountainous forest, and I've very little water, haven't eaten all day, and have a bike that won't start. But I'm here, and I'm ok, so it's just a problem that needs fixing, that's all. Jacket off, tools out, and I start working through possible causes. Fuses – all ok. Fuel – tank still over half full (I filled up just after crossing the border, about 120 miles back). Spark plugs – I remove one and check it – it looks dry and brown, so I check for a spark and there is one. Now, if the bike is not firing and the plugs are sparking but dry, that suggests a fuel supply problem. But I'm not in a position to investigate it here, and my thoughts are of an electronic or computer malfunction (I can here the fuel pump prime itself when I switch the ignition on). I stop a bus and pick-up going down the hill and enquire about getting the bike to La Esperanza, but they're heading the wrong way and short on gas (and it's "20 Km" to La Esperanza from where I am). They help me move the bike to the opposite side of the road, where there is some flatter ground and it's safer, and then leave. I start to consider my options, it's already 5pm and will be getting dark soon. I try the bike again, no joy. I check the side-stand switch again, then correct myself as this is irrelevant if the bike is in nuetral, but I'm running out of options. A family in a 4x4 stop going up the hill and we talk, me in English, them in Spanish. I think I make myself understood, asking them if they can ask someone to come and help me recover the bike to La Esperanza. They leave and I'm alone again.
Then it starts to go dark – the sky starting to fill with stars and a large lightning storm filling the northern horizon with flashes of white and yellow, illuminating the trees for a split second before darkness falls again. There are howls in the distance from wild dogs and the forest is coming alive with the sounds of crickets, and all the time it's getting darker. I run through my options again. I've no tent, but it's not raining (although there is a storm nearby and this is the rainy season). I've no food, save for a few toffees, and little water. It's too far to La Esperanza to walk, and the last town I passed was San Juan, and that's also too far to walk. Besides, I don't want to abandon my bike with all my belongings in the panniers... So I settle in for the night, lying on the ground with my head on my rucksack, looking up at the stars and watching the lightning storm...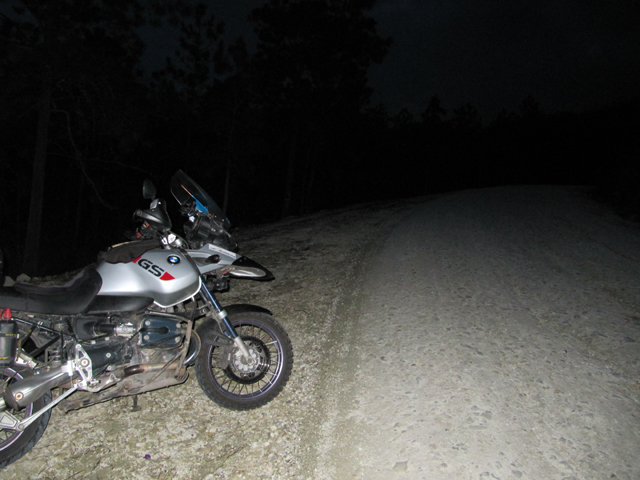 A short while later I hear a strange noise, and stand up to get a better look. I can't see a damn thing, but hear what sounds like a horse's hooves walking up the hill. Then I see it, there in the shadows, a white horse walking up the hill and past me... riderless and all alone, then he's gone and the sounds of the forest return... am I hallucinating? No, I saw a white horse by the roadside a few miles before the bike stopped. I contemplate chasing after him and riding him to La Esperanza but as I can't ride a horse and it's dark, I decide that's not a good idea...
I settle down again, reasoning that as the couple I asked to get help left at 6pm, and it's now 8.30pm, that no-one is coming. I start to snooze and may even have fallen asleep for a while, when I hear a vehicle approach (2 others have passed, both going downhill and neither stopping). It's the family returning. They stop and get out, and we have another unintelligible conversation. I ask if they'll take me to La Esperanza and they reply San Juan, then they phone a friend who speaks a little English and I explain the predicament, and he explains they will take me to a hotel in San Juan. They want me to follow the car on my bike (it's downhill for part of the way) but I explain that with no engine, there's no brakes (and besides, riding on rough ground with no engine would be suicidal). So I decide to abandon the bike, grab my overnight bag and documents from the bike and jump in their 4x4, squashed between mom and dad whilst the son (who looks about 15) and dad's mate sit up front... the son driving... he does a good job, too, avoiding the bigger potholes and negotiating carefully over the little wooden bridges that didn't look strong enough to support my bike, never mind the 4x4. When we arrive at the outskirts of San Juan about half an hour later, he stops and dad and son exchange places... there'd been some chat in the car which sounded like "we'd better swap or the police will see" and something about drink driving, but I didn't care. Then they pulled up outside a building and told me it was a hotel, so off I went to investigate, dad coming with me, and they had a room... so I got my stuff, gave the family some money for their trouble, thanked them as much as I could, and went to my room... a flea-pit of a hotel with a small bed and a dirty shower, but at least I was out of the forest and could plan my next move... oh, and it had started to rain as I checked in, too....
I showered and tried to sleep, my mind in overdrive running over the possible causes of the bike's problem, and working out a plan. I came up with one, to get a taxi in the morning to La Esperanza to make my meeting with Telma, and to ask her to help me get the bike there, then I could try and fix it, and arrange with Kevin & Jeff for the van to pick it up if not. A plan formulated, I slept a little, waking at 1.30am and then falling asleep proper until 5am, when I was wide awake again. I showered (think I may have got more dirty rather than any cleaner, but I needed to feel awake) and went outside. San Juan had nothing but a corner shop and the hotel I was in. So I asked the woman running the place if I could get a taxi (a phrase that for once was in my phrase book!) and she told me there was a bus that would be here shortly, and would I like a coffee whilst I waited (in Spanish, of course). I said yes, and brought my stuff from the room, and drank a sweet black coffee and waited. Ten minutes later an old American school bus, still resplendent in yellow (although having seen many better days) pulled up, honking its horn and I offered to pay for my coffee (she refused) and went and got on the bus. For the princely sum of 25 limpera (fortunately I'd changed some money at the border), or £1.50, it would take me to La Esperanza. The bus was mostly empty, just a few local Hondurans, the men's faces wrinkled and mahogany coloured under their cowboy hats, the women with faces that looked like they'd lived a thousand lifetimes, all of them hard, the young girl opposite with the wide-eyes of youth and a beautiful smile. I stared out of the window as we climbed the dirt road I'd ridden the day before, the early morning light making the hills seem greener, the dotted hamlets of houses painted bright colours shining in the sun. Eventually we passed the spot where my bike was abandoned, the sight of it causing a stir on the bus, the locals murmuring "moto" and gabbling excitedly in Spanish... but at least it was there, and I was on my way to try and get it recovered...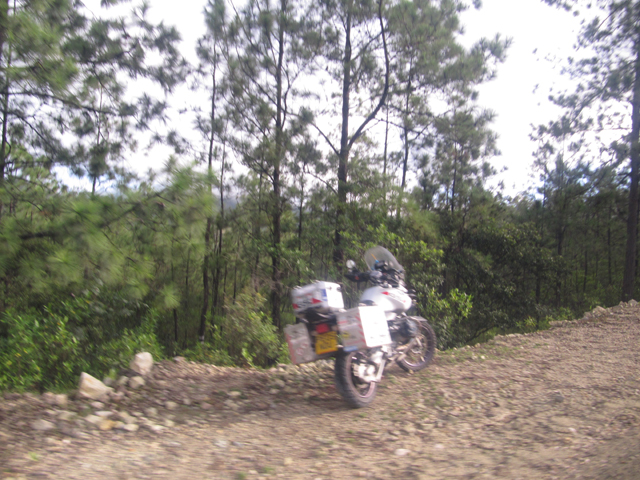 I checked my watch, keen to know just how far from La Esperanza the bike was, and how long it might take to get it out of the forest. When the bus finally pulled off the dirt road and into the muddy pot-holed streets of La Esperanza, it had been 50 minutes. About 20 miles...
I got off the bus and wandered around trying to get my bearings and realising that I didn't recognise La Esperanza at all. A policeman stopped me and asked me where I was going, again in Spanish, and I said Hotel Mina and he said taxi, so I jumped in one (that already had a passenger, but she didn't seem to care) and he took me to the hotel, right in the centre of town and on a road of wet mud. But it looked OK, much better than the one in San Juan, and I tried to explain about my booking for 2 nights, gave up, and asked for a room for the night. Despite it still only being 7.40am, they let me into a room and I was able to shower and change, and head out to try and get my bearings. I didn't, but I did find an Internet cafe where I could use the phone and called Kevin to alert him to my problem, saying I would try to get the bike to La Esperanza, but might need the van to pick me up. Then back to the hotel to wait for Telma...
Just before 9am, she arrived with her husband in an old Nissan pick-up, and I explained the problem as best I could, asking if she could help me get my bike to the hotel. She phoned Elisa (my English-speaking contact that arranged everything when we came to build the school) and I chatted to her and explained the problem, and she said that Telma and her husband would go with me to pick the bike up in their pick-up. I explained the bike is heavy (approaching 350Kg) and she said they'd get some local help. So off we set, picking up 3 young lads en-route out of town, then onto the dirt road, slowly bouncing around in the potholes for an eternity before we got to the bike. We pushed the bike onto a raised bit of ground and then backed up the pick-up, tailgate down until it was close to the hillock and then pushed the bike into the back. Sometime during this I pulled a muscle in my leg (think it was as we pushed the bike onto the hill, with me downhill and the bike almost falling on top of me as it sank into a soft patch), but I wasn't concerned, we were on our way out of the forest with the bike strapped in the back, and 4 of us in there with it to ensure it didn't fall over.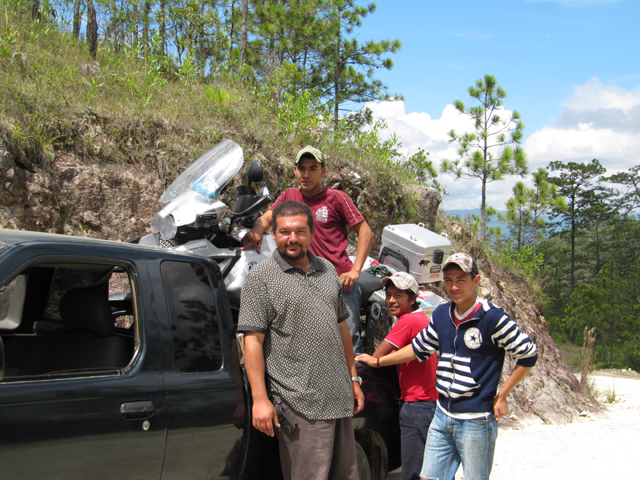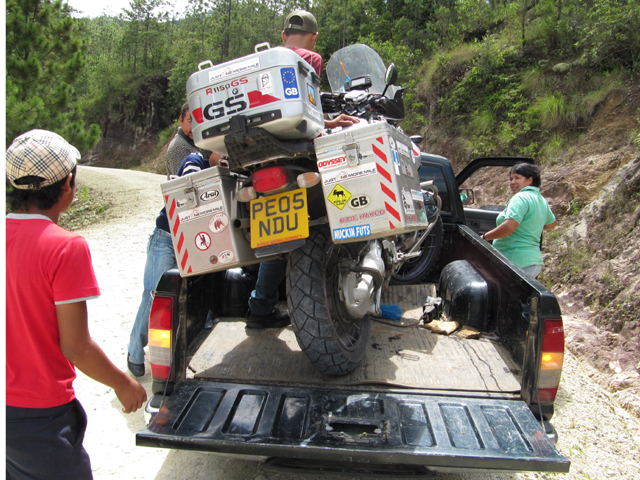 Stood in the back holding the bike hard against the side-stand on left-handers and holding it back to stop it tipping over on right-handers, we slowly made our way up the hill and past villages, the kids smiling and waving as we passed, the adults looking puzzled at the sight of a big motorcycle in the back of the truck. At least I got to see Honduras as I remembered it, the hills full of trees with little houses dotted here and there, although the school I came to see is the opposite side of town. Finally, after an hour, we emerged from the dirt and into La Esperanza, Telma's husband taking us first to a motorcycle mechanic who came out and had a listen, and then when I said I needed to get the bike to the hotel in case we couldn't get it going, volunteered to come by the hotel later and take a look. So we drove on to the hotel and unloaded the bike, first backing the pick-up against a raised footway outside some rooms, then pushing the bike down the footway to where the curb was low enough for it to be manoeuvred into the car park and placed on centre stand outside my room... part one of the plan successfully executed... I paid the lads for their help (too much, said Telma, but 20 limpera is about a pound!) and then went to the back to get some money for Telma and her husband, the cost of recovery 800 limpera or about £40 – as they've both recently been made redundant, I hope it helps...
I then spoke to Elisa again on Telma's phone, to ask about what to do with the money I'd been generously given by the trans-am group. When I mentioned what I was doing at the pre-border briefing yesterday, they dipped their hands in their pockets and between the 22 of us we raised $880. I won't embarrass anyone by mentioning who gave what, but one very generous soul donated $500. This will all go to good causes in the area (and in particular the school I'd come to see but sadly won't be able to this time), and so I arranged with Elisa for the money to get to her via Telma, and for her to email me with details of what it gets used for.
When Telma and her hubby had gone, I went back to the hotel and set to work stripping the bike in the car park. Tank off, I could find no loose connections or other obvious signs of the cause, so started to look for the fuel filter, which my over-night mental investigations had concluded was the cause. But could I find it? No. I had a spare, part of the service kit I'd brought from the UK, so I knew what I was looking for, but it was nowhere to be seen, even after I'd removed everything I could. Damn. So I re-assembled the bike and tried the starter once more, out of pure optimism rather than any sense I might have corrected the problem.... and it didn't start.
Just then the mechanic turned up, and we ran through my investigations, showing him the spark plugs and he checked for a spark just as I'd done in the forest. He then said it was a fuel supply problem, 99% likely to be the fuel filter. With my diagnosis confirmed, the hunt was on for the elusive filter, and I decided to go to the Internet cafe and try to find out. The mechanic said he'd call back later to see how I was getting on, and so we parted and I went back to the Internet cafe. I called Kevin again but couldn't get his number, so left a message with Jeff's voicemail, then rang Tracy to explain what was going on whilst surfing the web to find where BMW have hidden the fuel filter. Tracy didn't sound concerned (she knows I'm ok, and solving problems is what I do), but was obviously worried that this problem may curtail my adventure (something I was deliberately trying to avoid thinking about). When I'd done with my calls and surfing, I'd discovered that the fuel filter lives in the fuel tank...
So, I bought a bucket to catch the petrol in and went back to the hotel, removed the tank and realised I didn't have an 8mm spanner to undo the plate where all the fittings attach, so had to go back out to find a shop, which I did, and bought both an 8mm and 9mm spanners just in case, then back to the hotel. I stripped the tank down, taking the float, pump and filter assembly out, and spilling petrol everywhere (I did manage to get some in the bucket). When I went to remove the filter, I noticed one of the hoses didn't seem to be properly attached (which may well have been the cause of the problem), so made doubly sure that things were on properly when fitting the new one. Then I reassembled the tank fittings, a fiddly job involving a couple of awkward breather hoses and a reluctant to-seal rubber seal... but I soon had it back together again, and refitted to the bike, connecting up the fuel pipes and double-checking everything, before taking a very deep breath and thumbing the starter...
And...
Nothing...
Same as before, but with a slightly different sound...
Try again...
And it...
FIRED UP!!
I resisted the temptation to pull my shirt over my head and run around the car park whooping with joy (allowing myself a simple "yes!") as the bike settled into a smooth burble and my legs went all weak (was it the pulled muscle or the tension flowing away?). My bike lives again!!
I put my tools away calmly, then showered and put on my bike gear, then headed out into town for a test-ride, the bike feeling just great and people stopping and staring at this smiling hombre stood up riding his big bike through the muddy streets of this little town. I found my way to the mechanic's garage and sat outside, the bike idling quietly until he appeared at the gates, his grin as wide as mine...
We shook hands, and I told him about the filter, and thanked him for his help and words of encouragement (in good English, too). He smiled again, happy that our shared diagnosis had been correct, then made a note of my website before waving me off...
Back at the hotel and a couple of American women shouted "oh, I see you got it running, then!" to which I replied "and a good job, too, it's got to get me to Argentina". We had a brief chat about where I had been and what I was doing, one of the women revealing her husband works in Prudhoe Bay... small world...
Dinner that evening was a steak in mushroom sauce, served on a sizzling platter and accompanied by chips and a couple of bottles of Port Royal (the local beer) and average food has rarely tasted as sweet, or beer as refreshing...
Whoever it was that said that it's life's downs that make the ups seem special was absolutely spot-on...
Saturday, 19 September 2009
From Hero to Zero...
Not surprisingly, I slept like a baby (see earlier post for an explanation...), finally waking at 6am having fallen asleep around 9pm, after a late-night chat with some local men who were hanging round my bike when I returned to the hotel (the usual questions, including "quanto costa" - "how much?"). Showered and wrote up the blog, which unsurprisingly took a while, then loaded the bike and rode round town to the plaza, where I knew the others would appear later in the morning, then found a little cafe to eat breakfast (refried beans and scrambled eggs). After speaking to Elisa on the phone to let her know my bike was fixed and to try and sort out a last-chance trip to the school (which unfortunately wasn't possible as the trip would take 2hrs and I needed to be in the plaza from 11am), I went and attended to some chores, photocopying my passport and driving licence to replace the copies used at the border, and using an Internet cafe to upload the blog. Then it was time to simply sit in the plaza and watch the world go by until the group arrived...
Only it seemed the world wanted to watch me, instead... First a policeman (Gonzales) appeared, and stood by me for a few minutes before speaking. My first reaction was one of guilt (why is it that, even though we're innocent, a policeman just standing by us makes us feel guilty?), thinking he didn't like the way I'd parked (underneath a no-parking sign...). But no, he wanted to chat about my bike, and so we did, in my pidgeon Spanish, me explaining about the trip, and the group arriving later that morning (he was incredulous at the ride from Copan taking only 4 hours!), and the size of the engine, the maximum speed, and of course, the cost (I'd settled on $7,000 for now). Soon we were joined by 2 other guys, who chatted and asked the same questions, then one who spoke some English and was with his daughter asked how many countries and how long I'd be travelling for. The other laughed, pointed at my motorcycle and proclaimed it "El Monstro" (a monster) – so now my bike has finally been christened after 35,000 miles...
When the other guys had gone, Gonzales remained and we sat on the wall, speaking occasionally and watching the world go by. And stop, to take photos of my bike. First a young couple appeared and took each other's photos standing by the bike, so I put it on the centre stand and invited them to sit on the saddle, the guy jumping at the chance and grinning like mad, the girl more reluctant but then jumping on and smiling sweetly at her beau. Then a guy appeared on a small motorcycle with his small child sat on the front and stopped to take a picture on his phone...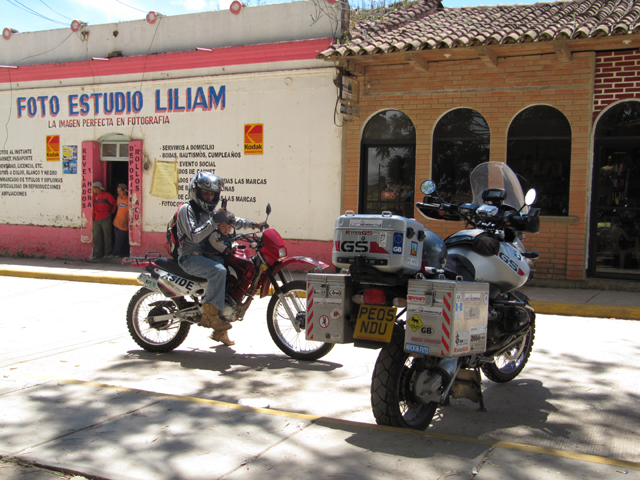 Finally Gonzales wandered off to do whatever policeman in La Esperanza do (mostly people-watch from what I could see) and I sat alone for a while, then the English-speaking chap returned carrying a bottle and gave it to me – a bottle of the local Miel (honey) for my trip. I gratefully accepted, despite not really liking honey, his smile and warm handshake irresistible. Then Telma's husband drove by in his taxi, a big grin and another handshake, another new friend happy to see me happy and my bike working again.
Around 11.15am, the group started to arrive, the commotion in the plaza quite a sight, as more big motorcycles rolled in and lined up next to mine, the guys happy to see me and learn that my bike was working again...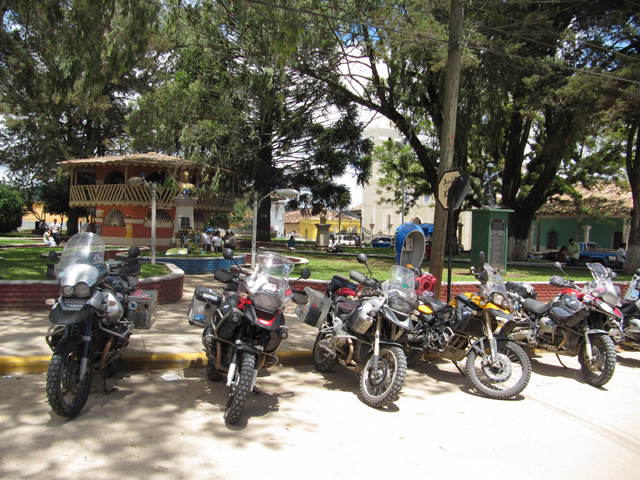 While some of the group went to eat lunch at the restaurant I ate in last night, I headed off behind a few others that were keen to keep moving, with the long ride to Danli still ahead. We weaved our way out of La Esperanza towards La Paz, the road looking vaguely familiar, until, there on the left was the place we'd stayed at 3 years ago – Las Pinos Mountain Resort (the rocks), so I stopped for a quick photo...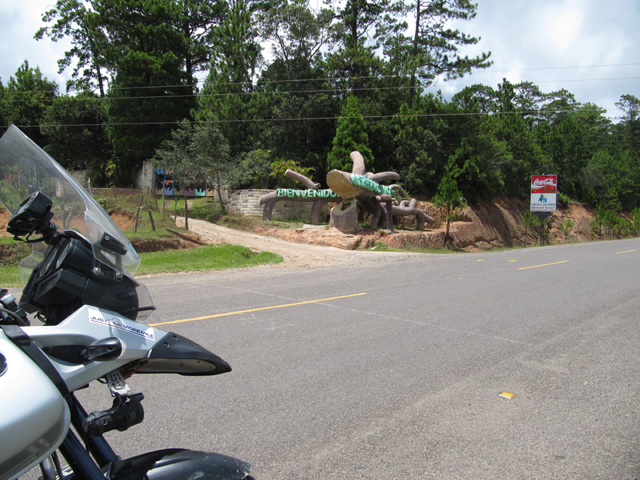 Then it was back on the road, a winding, twisting stretch of perfect tarmac enabling me to get quickly into the groove and catch up the lead group, tucking in behind in the staggered formation and rejoining the ballet of group riding. We rode towards Tegucigalpa and as we approached, an aeroplane came into land, skimming just a hundred feet or so over our heads, reminding me of the impressive landing required at the airport in the centre of the city. On the way out of town I needed fuel, so dropped out of the group into a petrol station and asked the attendant to fill it up, then had to stop him at 300 limperas as that's all I had. Then he pointed to my bike and said "gasolina"... it was leaking from the tank and dripping on the hot engine and exhaust...
I think I may have said one or two bad words...
Then I quickly pushed the bike away from the pumps and to the side of the apron, and set about the fastest GS tank removal in history, finally getting the dripping tank off and onto the grass in record time. I'd parked where I thought there was a chance of Jeff seeing me, as the thought that I might not be able to correct the leak, having already had 2 attempts at re-fitting the tank internals as a result of the first attempt being unsuccessful. As I started to strip the tank again, the wonderful sight of the grey Transit pulling into the petrol station caught my eye, and I quickly explained to Jeff what had happened, that as the fuel level in the tank had reached the top of the tank internals, it had started to leak. Together we drained the tank into the bucket kept in the van, and stripped the tank and checked the o-ring seal which was showed some signs of damage from my cack-handed attempt to refit it in the hotel car park. Luckily I had a spare (never take Internet advice that says it's not necessary to replace the o-ring....), so we carefully fitted that and using Jeff's socket set refitted the tank internals, then gingerly filled the tank again to check for leaks. This time it was clear the seal was doing its job, and so I re-fitted the tank and bade Jeff farewell, once again rejoining the traffic and then pushing on towards Danli, the road opening up again and once again becoming a series of linked, swooping bends.
I finally arrived at the hotel just before dark, Kevin coming out to greet me, having phoned Jeff to enquire where I was, and being told the whole saga. Later that evening I gave Jeff the bottle of honey to thank him, but his earlier remark about how I'd hurt his feelings when I said that I'd not needed him on this occasion still ringing in my ears...
That night I treated myself to a couple of beers, despite still taking anti-biotics (a decision I'd regret the following morning when I woke feeling crap), and ate a great breaded chicken, before turning in to try and get some sleep before the border crossing the next day (a task made more difficult by the worst bed and pillows on the official part of the trip – still, better than my night in San Juan at least!)...
Sunday, 20 September 2009
Into Nicaragua... and the trip is taking its toll on some...
Border day, as we cross from Honduras into Nicaragua... so as usual it's an early-ish start, packed and ready to go by 6.30am, riding in convoy out of the hotel car park and on the main road for the 20 miles or so to the border at Los Manos, where we once again went through the formalities... with a slight difference... first, there was no-one there when we arrived, the official offices not opening until 8am (it was now 8.15, but this is Latin America after all). When she did arrive, we started checking the bikes out of Honduras which involved collecting all the passports and temporary importation permits together and then giving them to the official who took quite a while to manually write the information in a log, then came out to double-check all the VIN numbers of the bikes before finally returning the passports (with a handwritten note and stamp cancelling the import permit stamp). Then we checked ourselves out of Honduras through the migration window, and into Nicaragua via the adjacent Nicaraguan equivalent, which cost $5 and $7 respectively. This took a while also, with 21 passports to process, so whilst waiting we bought the mandatory Nicaraguan insurance for the princely sum of 300-cordobas (about $15), a process which involved giving a guy who was wandering round with an official-looking pad the money, our driving licence and our V5 (vehicle title), he then wrote out the details on the form, signed and stamped it, checked the VIN and gave us the form (there were 2 guys doing this, each using a different form...). When we finally got our passports back we moved the bikes again, to outside the vehicle importation office where we queued to hand in our passports and V5s, and then sign the official form, which was put on a pile until they were all ready. Then the official came out and inspected each bike individually, checking the VIN and registration number. The bike in the van (Danielle's) caused some consternation, as they didn't want to give a permit to a bike that wasn't being ridden across the border, but Kevin persuaded them to anyway.
Whilst we waited, watching the comings and goings at the border, Al noticed some oil on my bike's shaft drive – it looks like the seal that Allan Jeffries' has replaced twice in the last year, has gone again. A quick chat with Kevin and Jeff and we concluded we'd get a seal brought out and replace it in Bogotá, and in the meantime keep an eye on the oil level...
After 4 hours we were ready to go, and mounted the bikes and rode them to the rope barrier marking the official entry to Nicaragua. Where we were stopped as the guy in charge of the barrier wanted to see all the permits and check them again (despite him watching us get them and have them checked). So we sat and waited whilst this was done, underneath the blue sign proclaiming "The Nicaraguan Immigration wishes you a pleasant trip" (which I'm sure it does, when it finally lets us get on with it!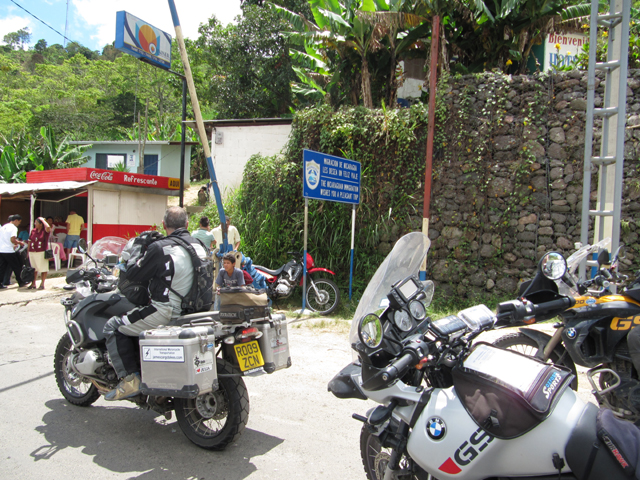 When we were finally unleashed and allowed into Nicaragua, it was a great feeling – I've now ridden my bike all the way here from Anchorage, and every new country is the start of a new adventure... The road from the border was another exceptional stretch of tarmac, the sort of road UK riders would be swarming all over, fast sweeping bends rising and falling through beautiful tropical forest and across plains of bright green crops. Once again riding in convoy-style, having left the border together, we hurtled along, enjoying the feeling of moving across a new country again. How I love doing this...
Eventually, though, I had to stop for fuel, my tank lower than normal as a result of all the shenanigans yesterday, so I peeled off into a petrol station and watched like a hawk as the attendant filled it up, this time thankfully without any seepage, and was then on my way, riding alone through stunning scenery, enjoying the flow of hot air through my jacket and the quick overtakes of the sparse traffic. I found the junction marked on the route notes and took the turn, expecting to see Kevin's group in the Pollo Frita (fried chicken) eatery that they'd talked about at the border, but they were nowhere to be seen. Pressing on, I continued on my merry way, then on a very long straight stretch of road noticed some people and a car in the distance under a tree, partially hidden in the shade. As I approached I realised they were police, so I slowed down sharply (from around 120kph), and was then waved to the side. Pulling up, I removed my helmet, gloves and earplugs and was then showed what looked like a hairdryer with a number on the back reading 85kph (a Nicaraguan speed-trap, and I'd fallen victim...). I was told the speed limit was 50kph (about 30mph, ridiculous given the road), but my protests and look of innocence were no good, the cop taking my driving licence and walking away, saying that I would need to go to Managua... I protested some more, saying I was on my way to Granada to meet friends, and could I pay the fine there and then... to which I was told the fine was $80.... not thinking clearly, I got out my wallet and handed over the money, getting my licence back and heading on my way, feeling mightily displeased...
When I finally arrived in Granada I went looking for the hotel having ridden into the square, been unable to find it, done a u-turn and was about to ride round again when I noticed the hotel sign – I had stopped right outside it... First to arrive again, I checked in, enquired about laundry (having not been able to get it done in La Esperanza as intended) but the service closed at 3pm (it was now 4pm), so washed my smalls in the bedroom sink and showered before heading out to find an ATM. The rest of the group soon started arriving, and just like me as soon as they parked they were approached by the local beggars asking for money, and the cashew sellers trying to entice us to buy huge bags of nuts, and the cigar seller who didn't believe us when we told him we didn't smoke...
When we were all present and correct, Jeff arrived and checked my final drive oil, and I put some more engine oil in (the bike seems to be burning a fair bit of oil still, despite it now being thoroughly run-in). Then it was time for the group meeting to award the week's prat-hat. Nominations were plentiful this week, with Mac getting nominated for dropping his bike twice in 3 days (including into the van at the border) – despite being the only person on the 2005 trans-am not to drop his bike at all; Max – for leading Christine into the wrong room again; Christine – for leaving something personal in the room (which was really Aaron and Nigel's); Nigel – for disobeying the sticker-rule and pre-buying stickers; Jeff – for posing in town on the pretext of checking out interesting places to go; Julia – for the crappy hotel the night previously; Jim – for sitting on a 3-legged table and falling off (the table should have had 4 legs); and me – for 2 offenses, one for telling Jeff "I don't need you" (my actual words were "On this occasion, I didn't need you") and for getting stung for $80 (the others almost all got stopped, the "fines" ranging from $20 for 4 [after Kevin negotiated it down from $100] to $40, my $80 being the steepest). Voting wasn't even close, Jeff's heart-rending tale of how I'd hurt his feelings only to then beg for his help (both extremely exaggerated) sealing my fate...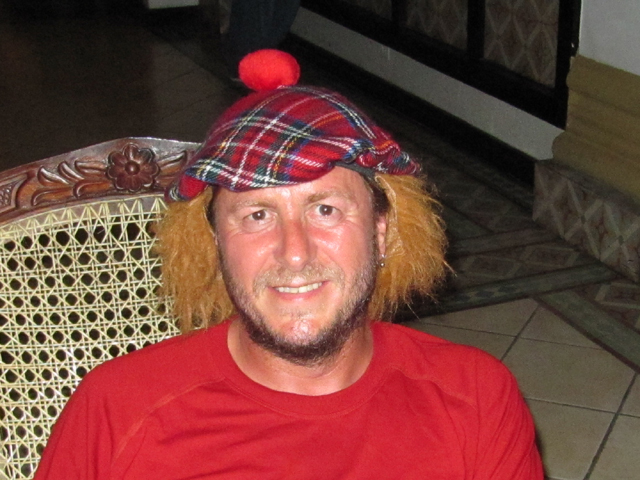 With my humiliation complete, Nick, Andrew, Al and I headed into town to find somewhere to eat, ignoring the very pretty, very young and very cheap prostitutes hanging out across the road from the hotel, or hoisting themselves on any guy that looked at them twice. We soon found a nice place to eat, on the pavement of the main strip, and I ordered a local dish – chicken in a chocolate chilli sauce – which was every bit as odd as it sounds, washed down with an orange juice (still off the beer). When we'd eaten, a pretty girl approached and started chatting to us in Spanish, and immediately Nick grabbed Al's hand and started stroking his arm, fluttering his eye lashes and saying "mes amigos... mes gay amigos" which made the girl laugh, before she finally gave up on us and wandered off. On the walk back to the hotel, Nick and Al walked hand-in-hand, which only made the cat-calls from the working girls louder... Then at the hotel, Aaron and Nigel were sat chatting, when 2 of the working girls came over just as we arrived, so Nick put his arm round Aaron and started his gay-act all over again... I think 9 weeks on the road has affected him more than we thought...
Monday, 21 September 2009
To the Pacific coast...
With a relaxed start to the day and a late departure, I finally get chance to update the blog and deal with my email, and work with Kevin to order the seals needed to fix the leak in my final drive, which will be brought out to Panama by Roddy from the freight company, James Cargo.
As I was getting ready to leave Granada, I discovered I'd lost one of my custom-made earplugs, another minor set-back, as getting a set made and sent out here will take a while... but it's only a short ride today so earplugs are not essential...
Leaving Granada we weave our way through a crowded market, the usual chaos of people everywhere, stepping out in front of the bikes without looking, whilst others stand and stare, the bikes so much bigger than anything they ride out here... then out into the open countryside, riding past endless tropical trees, with the volcanoes that dot the landscape towering above the huge lake. The ride takes us south, skirting the edge of the lake before we turn right and head across country to the Pacific coast and the town of San Juan del Sur and our hotel just a block away from the beach. Within a few minutes of parking the bike in the parking area I was swimming in the ocean, the huge waves crashing around me, the water very salty, making body-surfing great fun, but the strong undercurrent meant I couldn't swim too far from shore...
After a good cooling swim, we sat in one of the beach-front bars and had a cool beer, and ate a delicious lunch of Jalapeño Chicken, a huge flat chicken breast with a rich sauce with sweet chillies in. When we got too hot again, a short walk saw us again playing in the waves, diving through the bigger waves before they broke on the sand. Finally it was time to head back to the hotel to prepare for the evening's group meal... Then I hit a problem, as I came out of the shower to discover that Jim had locked the door and taken the key with him... only he hadn't just locked the door, he'd dead-locked it... and from the inside there was no-way to unlock it... So I banged on the door for a while, whilst also attempting to unscrew the lock from the door... after a while of banging and shouting Ozzy Andy came out of his room and got the spare key from reception and freed me from my unexpected incarceration...
When free, we headed to a bar on the beach to watch the sunset, and boy, what a sunset it was, the sky turning a fantastic shade of orange, the clouds looking like those from a renaissance painting...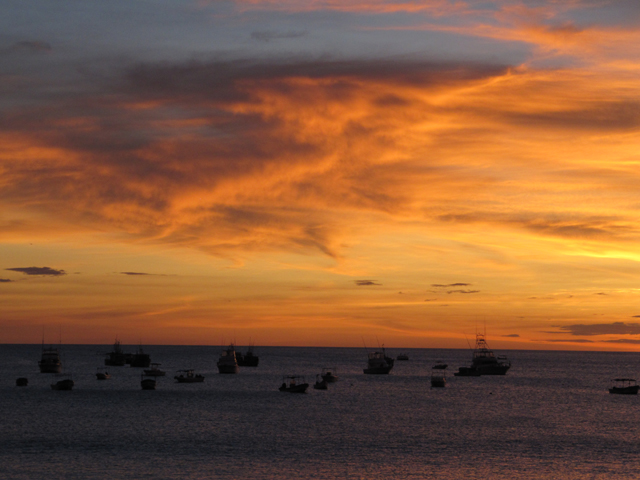 Whether it was the location or the heat I'm not sure, but large quantities of cold beer were consumed, before we headed next door to the restaurant for the group meal, an official occasion and therefore I had to wear the hat, which I did despite the heat, relying on cold beer and cold white wine to keep myself from overheating... Dinner was superb, with a starter of small muscles in garlic (sweet and not at all chewy), and then I had deep-fried Red Snapper in Garlic, the fish as fresh as could be, the flesh falling off the bones at the slightest touch... I may have also drank a little too much, if this picture is anything to go by...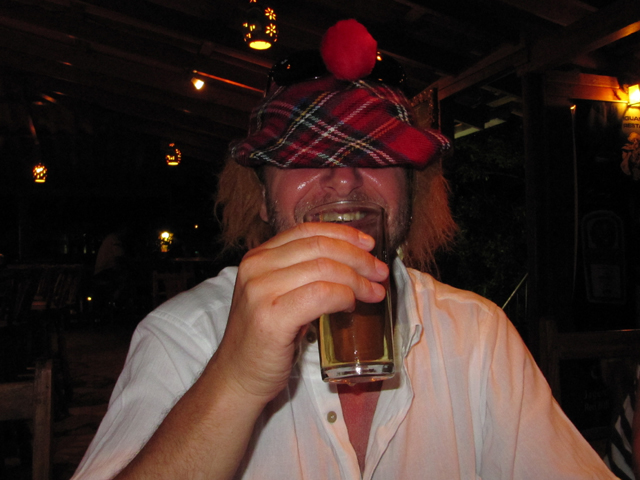 Tuesday, 22 September 2009
Bienvenidos a Costa Rica... and the border from hell...
I really should have learnt by now that alcohol and anti-biotics are a bad combination, but like the dumb teenager I once was, I haven't, and so woke feeling pretty crap, the early start (7.15am departure) compounding my mistake... But it was only a short ride from the hotel to the border, once again in convoy, and therefore not too unbearable. With Kevin's warnings that this border is the worst on the trip, I at least expected some time just hanging around during which I could recover...
And so it was, the first stage of the process being to find a "gopher" on the Nicaraguan side to help with the unusually complex process of getting us and our bikes out of Nicaragua and into the compound ready to start the formalities of getting into Costa Rica. This involved handing in the temporary importation forms and then sitting around for a while before moving the bikes round the Nicaraguan customs buildings, then sitting around some more while our driving licences disappeared. Then we went in 2 groups to queue up at the immigration salida (exit) window where we handed over our passports, and a completed tourist card, together with $2 and got stamped out of Nicaragua. Then more waiting before we were given back our driving licences, the bikes also now recorded as having left Nicaragua. All this time I was wearing the Prat-Hat, another of the rules being the hat must be worn across borders, and I was getting a few very odd looks...
Next step, getting into Costa Rica. First, ride the bikes round to the Costa Rican customs area and have them fumigated, before parking up again, then take our passports into the immigration office to get us stamped in.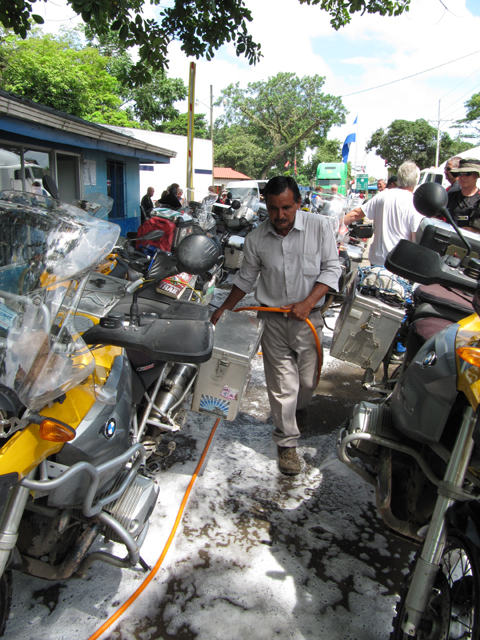 That was very straightforward, and didn't take long at all, then into the insurance office to buy the mandatory vehicle insurance and pay the $10. Here we had to hand-in our passports, V5 (vehicle title) and driving licence, then get copies of the little slip we were given together with our passport page, attach that copy to copies of our V5, driving licence and passport (again) before heading across the road to queue at another window to be given a blank form, which we then filled in with details such as our passport number, vehicle VIN, destination, etc before queueing again at the window to get the form stamped and be given another little slip of paper, which we need to hang on to in order to get out of the compound. Once that was done we had our insurance, and now needed to get the permit to temporarily import the bike.
Things were going smoothly despite the obvious bureaucracy, and Kevin, Ozzy Andy and I were ready first, so we followed our Costa Rican gopher round and through a lorry park to the temporary office where we could get our permits, the original office having burnt down 2 months ago... this office was a bus, with 2 large air-con units underneath going like the clappers to keep the inside, which was full of computers and printers and a handful of staff, cool. Just as we joined the queue (which was just one other person) we heard a series of loud popping sounds, then a big crash and turned round to see the power and phone cables, which were strung between 2 poles running across the lorry park come crashing down... we dived for cover, before realising what had happened – one of the larger trucks had caught the cables on its roof and pulled the lot down, snapping the cables in the process.... and all the computers in the bus went dead, and the 2 air-con units stopped spinning... and I laughed out loud and said to Kevin that we might as well sit on the wall, as we're not going to be going anywhere soon...
Which turned out to be quite right... Ozzy Andy and I stayed in line by the bus whilst Kevin went to tell the others not to rush, and we waited patiently whilst local officials gathered and scratched their heads and talked urgently into mobile phones and waved their arms about. After about an hour, they brought round a generator, which they then realised had a standard 2-pin output and the bus had what looked like a 3-phase input connector... more head-scratching and gabbled Spanish, and a further period of time elapsed before someone arrived with a big cable with a 2-pin connector on one end and a 3-phase connector on the other... Ozzy Andy and I both said that wouldn't work, before they started the generator (but only after Andy had pointed to the on/off switch to stop the guy having a heart-attack pulling the starter cable in vain), and then looked puzzled when the bus still didn't have any power... a further session of head scratching and peering inside the bus' underbelly where the power distribution units were, then they connected the generator to another 3-phase plug, still no joy. Another generator appeared, then more scratching of heads and finally something must have been reset in the bus because the computers started working. Hurrah! Only the printers weren't, so more head scratching was required... As all this was going on, Andy and I waited patiently in the heat and humidity, sweating profusely but finding the whole episode highly amusing. Kevin re-appeared with a stack of documents from the others just as things started to look promising, and I was asked to pass my documents into the bus...
While my details were keyed in to endless difference screens on the computer (they really could benefit from a usability study!), the rest of the group brought their bikes round, ready in case they could get their permits. When the guy inside the bus (who by now looked very hot indeed, there being no air-con inside) had finally keyed my details in (a process that took around 15 minutes), I could see my permit on the screen, but they still hadn't got the printer working... then another printer was brought into the bus and cabled up, and after a further 20 minutes or so my permit was ready and handed out of the bus for me to check and sign... all correct, I left the madness and noise of the generator as Andy started getting his documents processed and Kevin and Julia joined him at the head of a growing queue ready to start processing the other bikes and the van... with each one taking around 10 minutes, it was going to be a long and very hot job...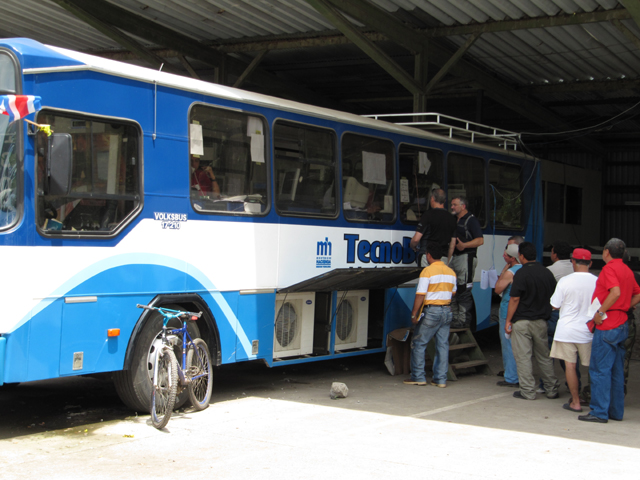 But it turned out to be longer and hotter than we expected, as one in three of the permits had some form of mistake on them, either VIN numbers wrong, registration numbers wrong or people's names wrong... and they have to be correct or we'll have trouble later...
When about half a dozen bikes were cleared, we headed off into Costa Rica, leaving the main group to follow on, the heat and humidity intense. The ride was only short, around 60 miles or so, but we'd been warned about the Costa Rican police, who are really hot on traffic offences (like speeding or overtaking on solid lines, both things that are routine over here where the lines are arbitrary and the traffic flows quickly). Leading the group at a very steady pace keeping a watchful eye our for police, we trundled along through more tropical forests, passing through a couple of police checkpoints with a smile and a wave, with only one short stop so the policeman could tell me my bike was "muy bien" (very good). We soon reached the crossroads which the route notes mentioned was by a Burger King and as Ozzy Andy and I hadn't eaten (all the others had been scoffing chicken and chips whilst we stood outside the bus), we stopped and ate inside, our first meal in Costa Rica being a double cheeseburger and chips with a large orange pop... hmmm...
Meanwhile, back at the border things were going from bad to worse. The main group finally got cleared and all the bikes granted permits, when Jeff's details were entered and a warning flag appeared saying that he'd not cleared his bike out of Costa Rica the last time he was here. He had, of course, done all the necessary paperwork, but the details must not have been keyed into the computer, and so they were not going to let him in for fear he was a motorcycle smuggler (and with Danielle's bike in the van, a plausible accusation, if incorrect!). A lot of arguing, a lawer's letter (cost - $24) and a discussion with the customs chief (cost - $50), and he was finally allowed in, marking the end of a very long, very hot, very humid and very tense session at the border, the by now large queue of people trying to get their own permits happy to see Kevin move away from the bus...
Back at the hotel, which is right on the beach in Playa Hermosa (Spanish for beautiful beach and it is), the rest of us were sat with a cool beer, or enjoying a swim in the ocean. When Kevin finally arrived he looked knackered, a couple of cool beers and some frozen margaritas restoring his usual perky self, and getting him completely plastered... I had a quick swim in the ocean before dinner, which was some excellent calamari followed by a local fish served in a very rich sauce, washed down with a bottle or two of very nice white wine (between 5 of us). Kevin was by now rather tipsy, but all the bar staff had gone and the bar was closed, so the evening ended with him giving us a song or two, before Julia managed to convince him it was time for bed... it had been a long hard day for him, of that there could be no doubt...
Wednesday, 23 September 2009
Rainforests, volcanoes and great coffee...
Overnight heavy rain had left the early morning sky grey and overcast, but had at least reduced the humidity to a more acceptable level, at least long enough for me to take a stroll down to the beach before breakfast and take a couple of pictures to show what a beautiful beach this is...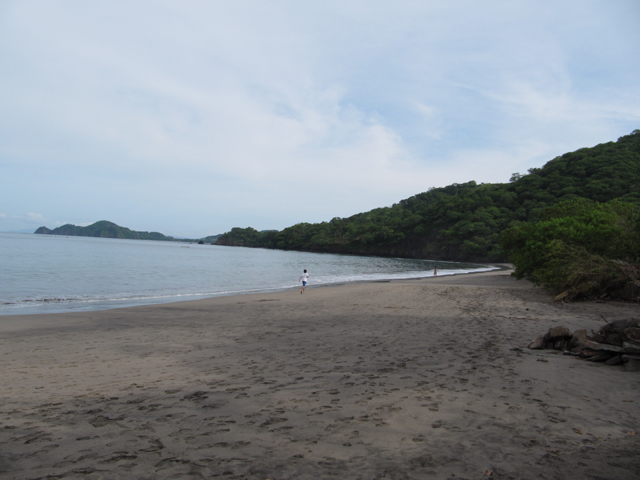 Breakfast was equally good, fried eggs and streaky bacon with fried potatoes, with a half decent cup of coffee and fresh orange juice, just the way to start the day. Back in my room, I updated the blog for yesterday, the border story still very fresh in my mind, then noticed Tracy was online so we had a chat, which might be the last for a few days due to her forthcoming operation. She's a very brave person, but I still can't help wishing I could be in two places at once, so I could be with her as she goes through yet another stay in hospital. Hopefully this one will be short and she'll soon be home and on the mend...
After our chat I packed my stuff and loaded up the bike, the sun now having burnt away the morning's cloud cover and the humidity levels once again meaning that a simple job such as putting the bag in my panniers made me sweat like a sumo wrestler in a sauna... With the bike loaded and back in my heavy and now quite sweaty jacket, I put on my helmet (also now quite smelly), and Nick and I headed out of the hotel's gravel car park and back the way we'd come, then headed down towards Nicoya and on to the Amistad de Taiwan bridge, otherwise known as the Taiwan-Costa Rica Friendship Bridge, which ought to have been more impressive than it was, as it's a mix of cable-stayed and pillar-supported, and was only completed in 2003.
Shortly after crossing the bridge, I was riding along a straight section of road, when I saw a couple of big buzzards feeding off some road-kill in the middle of the road. As I approached, one took off and flew away, the other struggling to gain height and seemingly content to fly alongside me for a while, before it suddenly turned right into my path and I had to duck to avoid hitting it full-on with my face. As it was, I caught it's talons with my head, leaving a couple of slight scratches on the top of my helmet... close call! A mile or so later, we reached the Pan-American Highway once more, stopping at an air-conditioned petrol station for an ice-cream and cold drink (this adventure motorcycling lark is really tough sometimes...), then riding up the Pan-Am to Canas, before heading across country to Tilaran, where Nick and I got lost trying to find the road out, but using our common sense and natural sense of direction, soon found our way along a road that wasn't the one we wanted and became a dirt-road, necessitating a tricky u-turn and another trip through town until we finally found the right road. Now the road climbed up and opened out to afford us a great view over the lake, Lago Arenal, a man-made lake formed in 1979 and which is used to produce most of the electricity for Costa Rica...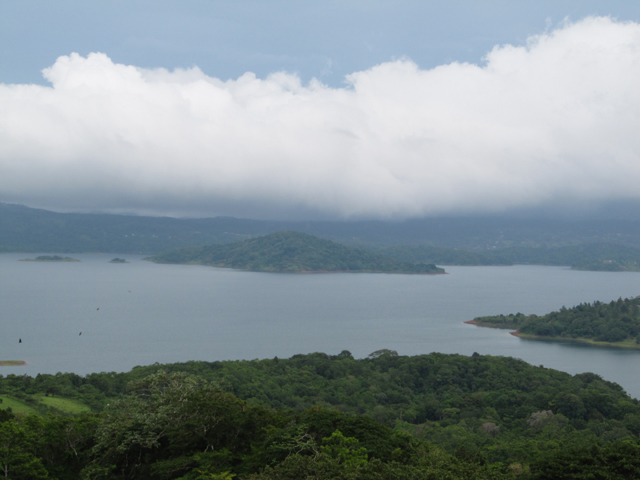 Unfortunately the volcano (Volcan Arenal) was hidden from view by the clouds, so we continued on our merry way, the road twisting along the lake-side, dotted with pot-holes of varying sizes and depths, many on the lines we wanted to take through the bends and requiring increased vigilance and careful avoidance. But the riding was pleasant, our pace relaxed as we headed deeper into the rainforest, past some beautiful looking houses and lakeside plots of land for sale, before eventually stopping for a coffee in an Austrian bakery (next door to a German bakery where some of the other guys were eating bratwurst sandwiches). The coffee was truly excellent, made with local beans grown in the area, and Nick and I spent a happy half hour or so just relaxing and chatting, admiring the lovely scenery...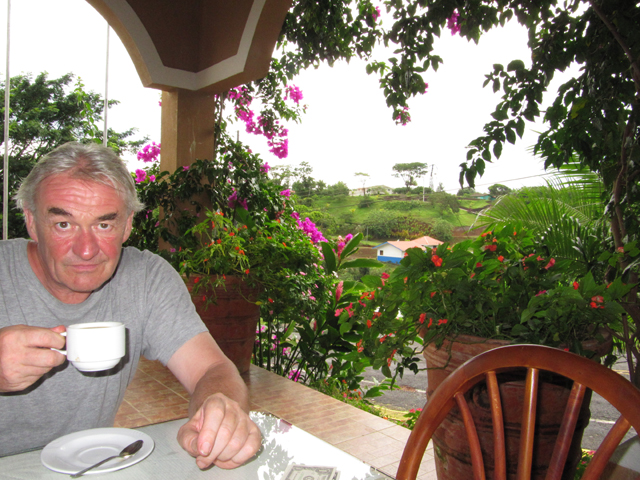 While we were sat, most of the rest of the group rode past, seemingly in no more of a hurry than we were. The road from the coffee shop improved dramatically, the tarmac now smooth and with hardly any potholes, but twisting tightly this way and that as it followed the contours of the lake shore, the riding very enjoyable indeed. But there was no dropping of concentration, as every now and then the road would throw a big surprise, on one occasion a short stretch of gravel and dirt on the exit of a blind bend, on several others pot-holes big enough to cover most of the width of the road, and deep enough to dent a wheel if they weren't avoided....
Then, rounding one bend we encountered what at first looked like an accident, some of the bikes parked by the roadside with their hazard-warning lights on, and Julia knelt in the grass by the roadside. It wasn't an accident, but the group had spotted a coatis (often mis-named a coatimundi) at the roadside and had stopped to take photos. The animal wasn't at all fazed by the attention, and when Al got out a nut bar, was keen to demonstrate how cute it could be, taking the food from our hands and posing for the cameras...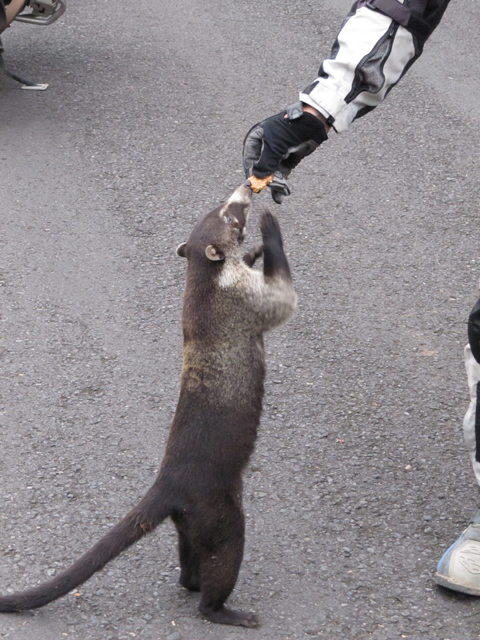 The last stretch of road to La Fortuna took us out of the rainforest, as the road skirted the bottom of Volcan Arenal, still largely obscured by clouds...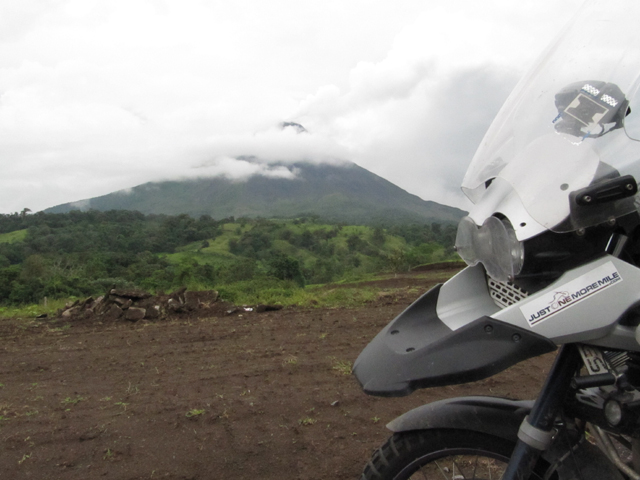 Soon we were at the hotel, the hot and humid conditions of this morning replaced by a slightly cooler, less humid and definitely more fresh feeling air of the rainforest. Rather than have a shower I got changed and went in the pool, the water refreshing and warm, then I remembered I needed to fix my horn (which had stopped working again, and I had gone to use it on several occasions to warn any oncoming traffic to my presence as some of the bends were tight and narrow, and the Costa Ricans, like the Hondurans, seem to want to use all the road, all the time). So I had to go and shower and get dressed, then quickly found the cause to be a connector that was no longer connected as the nut holding the horn on and rattled loose... with that quickly solved, I tackled my fog-lights again, fixing a short and replacing the earth wire, a job made more tricky as darkness fell quickly whilst I had one of the lights in bits. But with those 2 jobs done, I felt like I'd achieved something, then headed out for dinner with Nick and Al. We chose a restaurant on the corner of town, where Chris & Danielle were finishing their meals, and where Kevin & Julia were dining with some old friends, and Jeff joined us (the rest of the group also arrived later to eat at the same place). Seems we all chose well, as the food was truly excellent, from the Vietnamese soup I had as a starter, the stuffed chicken rolls on mashed potato for my main course right through to the home-made brownie and ice-cream and the fantastic coffee, made from beans grown on a farm and used exclusively by the restaurant... all for the princely sum of $30 including 2 beers...
Whilst we were eating, it started to rain, a proper monsoon rain bouncing high off the road as it landed, then stopping just as sharply as it started, before starting again a few minutes later. That pattern remained throughout our meal, and when we were finished and the bill paid, I took the opportunity of a lull in the storm to head back to the hotel, whilst Nick & Al went on for more beer (Jeff had left us earlier, having some chores to attend to...). It was still early when I got back to the room, so I sat on my bed and wrote the blog whilst letting the great meal settle. It had been a very relaxing day, despite my thoughts wandering homeward even more than usual...
Thursday, 24 September 2009
Rainforests, earthquakes, getting lost and more rain...
Happy Birthday, Laura!
Today is always a bit of a sad day, as it would also have been David's birthday and he'd have been 25 just as Laura is. Whilst reflecting on that and getting ready for the day, I found myself in a more melancholy mood than usual, as I headed up the road to the cafe on the corner for breakfast. Even this early in the morning (around 8am) it is starting to get humid, my t-shirt sticking to me as I walked, but simply being here lifts my mood and soon I'm chatting with the others as normal, whilst enjoying some scrambled eggs and rice & beans (I say "enjoying" but perhaps should simply say "eating")...
We then wandered round town in search of a Costa Rica sticker, having plenty of time as departure with a relatively short day ahead of just 130 or so miles... at least, that was the plan...
With stickers sorted and the bike packed, and the humidity rising it was time to head out again, Nick leading me and Al out of town and on to Quesada before heading to Naranjo, the road good and our pace slow and steady, still wary of the police. Before approaching Naranjo, Nick took a wrong turn, so I ended up leading and the route notes missed a right turn, so we ended up in the centre of town trying to find our way out towards Sarchi and Grecia (or Greta Scaatchi as we called them). Nick went one way, and Al and I another, and before long we'd found the road, so pulled over to wait for Nick. After 10 minutes or so he appeared, complete with police escort... a young cop on a tiny motorcycle who had found him up in the hills miles from anywhere... he said his goodbyes and we had a chat about the next section of route, but before we had chance to get going again, the cop re-appeared with the "A-team" in tow (the "A-team" is a nickname for the group comprising ex-Major Nigel, Ozzy Andy, Gerald and Aaron who always ride together)... they'd also got lost...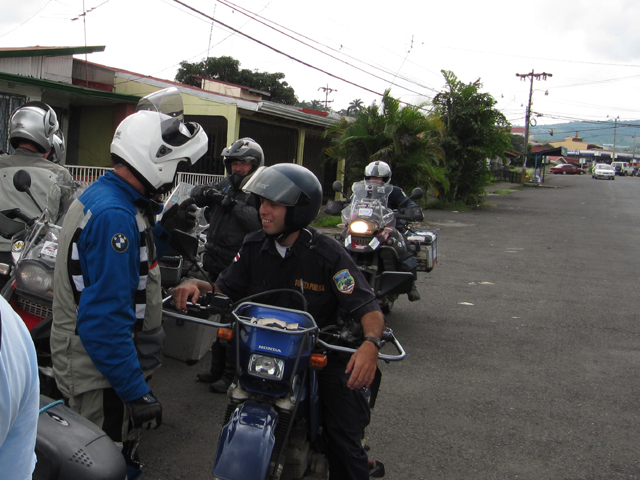 Once on the right road, we continued our journey, heading up into the hills again, Nick leading once more. Just before we started the road to the Volcan Pass (which leads up to the volcano but doesn't go any further), I tooted my horn to signal it was time for a coffee and pulled over outside a place selling hand-painted artefacts that I'd seen a coffee sign outside. The owner, an English-speaking Costa Rican, offered us "free coffee for the road" and was as good as his word, the coffee excellent and accompanied by chocolate biscuits – and he refused money, saying we were to just leave something in the box marked "tips for the hummingbirds". These were everywhere, as he had feeders dispensing sugared water and flowers grown especially to attract them scattered all around his rather eclectic shop, resplendent with brightly painted signs proclaiming "Be Happy, Be Hippy" (amongst other slogans) and hammocks... unfortunately, I'd put my camera in my top-box when it started to rain earlier, and now it was hammering down again, so I don't have any pictures to share...
While we were chatting, I got out the map to look at the next section of route, and our host mentioned that the road passed the La Paz waterfalls (where we were heading next) had been destroyed following an earthquake, and was impassable to cars. We might be ok on the bikes, but would need to be careful. Whilst we contemplated our options over another cup of coffee, Kevin's group appeared coming up the road so we stopped him and told him the news. He said that the couple they'd had dinner with last night had mentioned the earthquake, but that they thought the road was open again. And so off they went, whilst we dawdled to give them plenty of time to find out.
When we got going again in the pouring rain, Nick missed the turn to Vara Blanca and continued up the Volcan Pass (which we'd agreed was pointless as we wouldn't be able to see anything), so Al and I stopped by the roadside again and waited for him to re-appear, which he did 15 minutes later and this time without a police escort... When we finally set off again we were met by Kevin coming the other way, warning us that the La Paz waterfall road had indeed been destroyed, and that the whole group (minus the Kippers who were no-where to be seen) was waiting to discuss the alternate route. With maps out, we decided on a new route towards Heredia and then across to pick up the motorway towards Flores and then the road round via Las Horquetas and on to the lodge at Chilamate. A rather tortuous route, but our best option, given the intended road no longer existed...
However, no sooner had we set off on the new route, the whole group line-astern, than we were stopped by some roadworks as this road had also been badly damaged and was in the process of being repaired, using what looked like runny chocolate blancmange...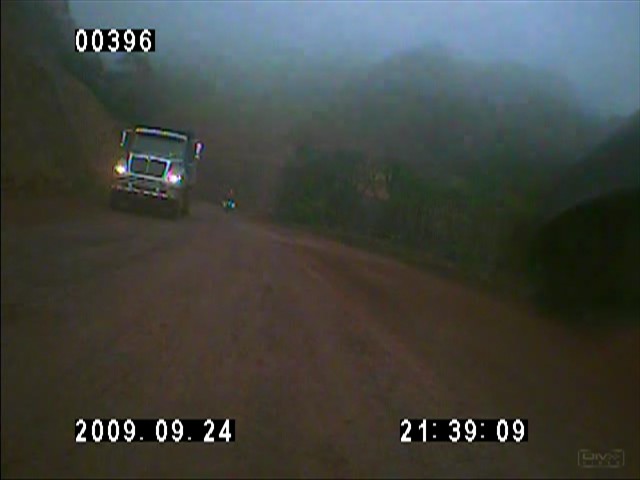 Slipping and sliding our way across the mud, round tight bends and avoiding the large dumper-trucks full of more mud hurtling the opposite direction, we slowly made our way round the hill, before descending again on improving tarmac, through little villages and into the town of Heredia, where we rode round for ages trying to find the road out to San Rafael and on to the motorway. After Kevin had stopped to ask for directions a few times (seemingly getting contradictory advice), we finally emerged at a junction with the motorway and shortly after were passing through the toll booth and into traffic, slowly passing the slow-moving trucks as the opportunity arose...
Eventually we found the turn to Horquestas and on towards the lodge, arriving around 5.30pm, still in the pouring rain. Parking the bikes in the entrance lobby of the reception area, we checked in and I was allocated lodge 38, which is at the far end of the forest, a good 5 minute walk from reception along a covered walkway through the rainforest. The lodges are raised on wooden stilts, and remind me of the merry-men's den in Sherwood Forest in the Robin Hood film, some with hammocks strung outside. The room is clean and spacious, with ceiling fans and a decent shower, and Jim had arrived before us (he and the other "kipper" Mac taking a direct route and missing out both the volcano, which we couldn't see, and the waterfall, which we couldn't get to...). But he wasn't in the room, and wasn't in the restaurant/bar either, but that wasn't unusual, as he often does his own thing in the evening. I joined Nick and Al for dinner, a plate of mushrooms cooked with parmesan followed by a decent pizza... When I got back to the room, there was still no sign of Jim, just his stuff on his bed, so I left a small light on for him and went to sleep...
Friday, 25 September 2009
Welcome to the jungle...
I hardly slept at all last night, waking at least once every hour, my mind over-active. The fact that Jim didn't come back to the room also played on my mind, as I was concerned for his safety, as I was unsure where he had gone, especially without his camera or bike gear which were still lying on his bed. Over breakfast I asked Mac (who had arrived with Jim the day before) whether he knew where he had gone, but all he knew was that he'd last seen him around 3pm, and that he'd said he'd be back. I told Kevin and Julia about is disappearance, and after breakfast we went to ask if reception had perhaps organised a taxi for him, which they hadn't. So we asked them to call the police to see if they knew about any American's that might have been picked up or found in distress. Whilst we were waiting for the police to call back, Jim strolled through the gates into reception as though nothing had happened, explaining that he'd caught a bus to San Jose and stayed the night there... and hadn't told anyone in the group... I think Kevin was a little put-out, but nowhere near as much as me, I'd been worrying about him all night...
With Jim's whereabouts resolved, I was able to spend a little while wandering around this remarkable lodge, taking photos of the room, the turtles and the poisonous frogs...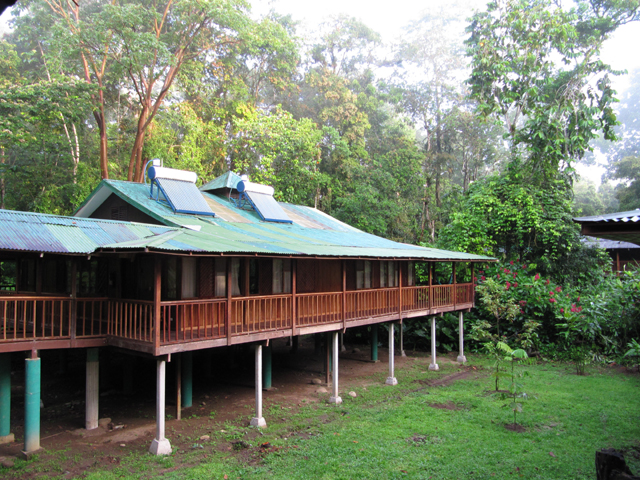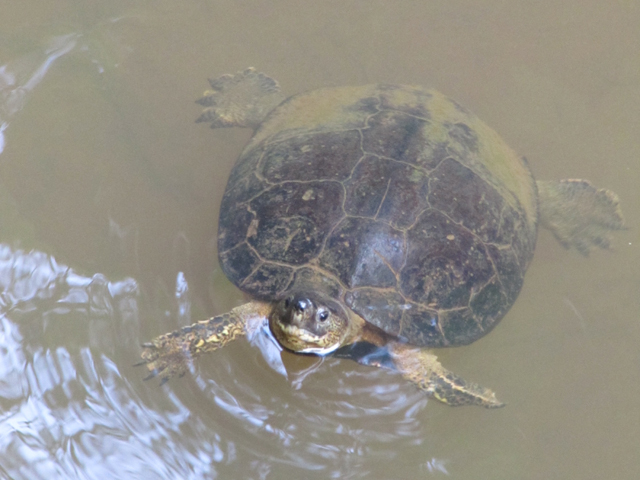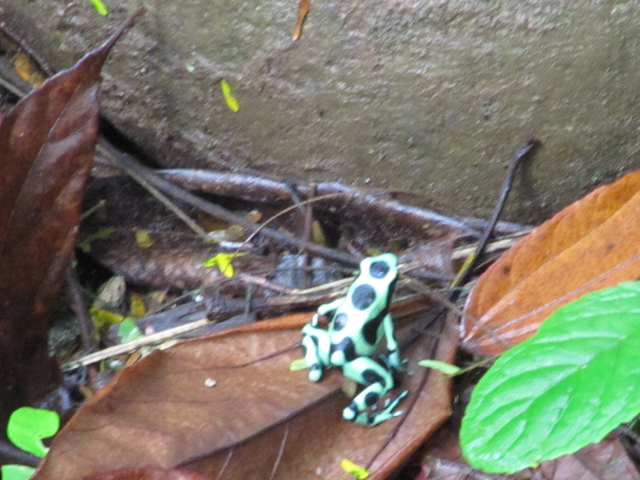 Whilst I was wandering we heard howler monkeys calling from the trees, and caught fleeting glimpses of them scampering high in the branches... But all this nature-watching wasn't the main thing for today, as I had booked to go white-water rafting (I had also booked a canopy tour for the afternoon, but cancelled that as I was tired and wanted some time to sit and relax). So I changed into my swimming shorts and t-shirt and met up with the rest of the rafters – in my boat was Chris, Nick and Al, whilst the 2nd boat had Richard, Karen, Jim and Andrew on-board. We had a guide each, and another guy in a canoe in case it all went bad, and off we set. A short drive up-river, then after a short safety briefing we were off down the river, the flow faster and with more white water than the Colorado back on my birthday (and that really does seem a long time ago!). At one stage we hit some deep-ish rapids and tipped our boat up, Nick and Al both falling in the water and me off the side, still with my foot under the rope. I was hauled back in the boat before we rescued the others, both soaked but laughing once safely back on-board. Naturally there was much rivalry between the boats, and a fair amount of splashing each other – all good fun...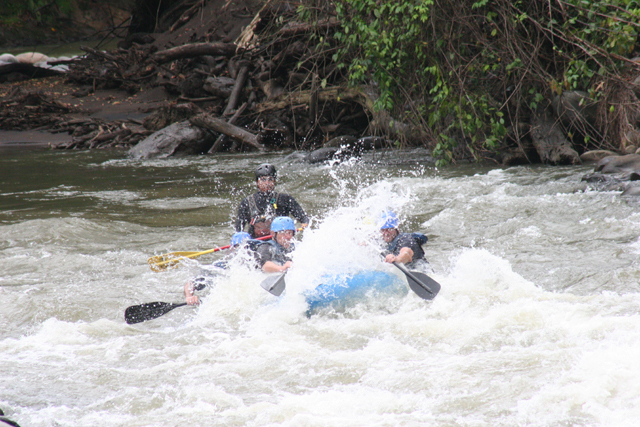 After the fun was over, we squelched our way down the road the 300m from the rafter's office back to the lodge, and our rooms to get showered and changed, and then headed over to the restaurant for a buffet lunch. With the others heading out to do the canopy tour, I went back to my room and sewed up my airhawk (I broke the strap yesterday), then checked emails and rang Tracy in hospital (she still sounded woozy from the cocktail of drugs she's on), before going back and falling asleep in the hammock strung outside my room... after a good snooze, I then got my laundry and re-arranged my bags before just sitting in the hammock chillin'...
At 5pm we had a meeting, to discuss the next few days as we head into Panama, but first was the Prat Hat ceremony, and the last official occasion for me to wear the hat (unless I get awarded it again, of course...). Nominations this week were fairly scarce, but we did manage to get a short-list of 3 to go into the vote... they were: Julia – for taking the key from the Hotel Alhambra in Granada with her, which caused Jeff to get held hostage for a while until he talked his way out of it (a self-confessed crime); Edwin for failing to stop for a policeman, who then pulled over Al and Andrew and was furious, wanting to fine them $30 per bike (including Ed's) before being talked down to $10 as a "donation"; and Nick, for his gay-act to ward off the working girls in Granada (Gay Dad being his new nickname) and for slowing to a crawl to smile at a pretty girl driving a car (who we'd seen in the Burger King we stopped at for lunch), just as Ozzy Andy was following him into the overtake, and nearly running in to the back of him...
And the winner of this week's Prat Hat is (drum roll, please)...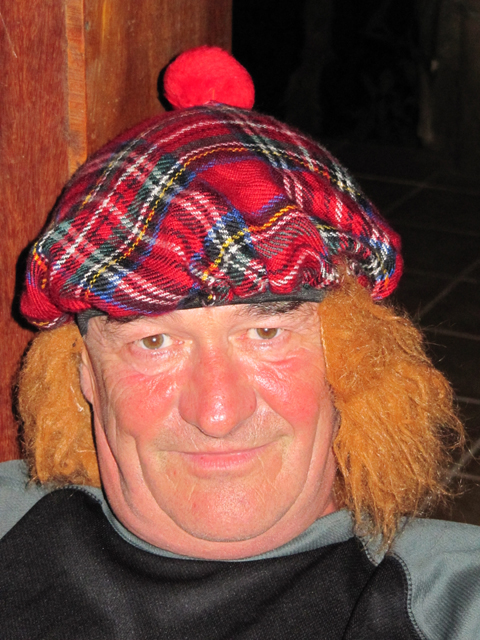 Nick... and the real beauty of this is that he gets to wear it at the border with Panama, the group meal in Panama City, and on the flight to Bogotá!
We then got on to the serious business of the next few days, which will see the group split into 2, as Kevin takes a small group of us across the border tomorrow, to suss out the banana bridge and spend a night in a small town just inside Panama, before then helping the main group across the following day. This first group consists of Nick, Al, Aaron, Nigel and me, and will be heading off early tomorrow morning, aiming to get to the border by mid-day. Once we're all over the border on Sunday we spend a night in David before heading as a group into Panama City ready to start the process of flying the bikes to Columbia... should be a good week!
Saturday, 26 September 2009
Across the Banana Bridge...
With all the excitement of our reconnaissance mission, I woke early, around 5.45am, just as Jim was leaving the room, so showered and finished packing then went and called Tracy in hospital via Skype. She sounded much better than yesterday, but was obviously still tired, and with me having 3 fairly heavy days ahead until we get to Panama, it was the only chance I'd get to speak to her. After a quick breakfast we were all ready to leave, the advance party comprising just 6 of us: Kevin, Nigel, Aaron, Nick, Al, and me.... only Aaron's bike wouldn't start so we were down to 5 straight away.
We left the hotel and made swift progress, riding as a group, passing through more rainforest, which then started to live up to its name by raining... a quick stop to don waterproofs and off again, cruising at a steady 60-ish despite the downpour. The rain didn't last long and soon we were getting wet from the inside, the humidity still a problem, especially without the cooling breeze flowing through our jackets. A stop for fuel gave us chance to get out of the waterproofs and buy some more cold water for our camelbaks, and whilst we were stood around, Aaron arrived, having jump-started his bike. So we were 6 again...
On the way to the border we entered banana plantation country, huge great fields full of banana trees all with blue bags hanging on the bunches of precious fruit. Interspersed amongst the fields were the homes of the farm workers, little wooden shacks with washing strung outside, the kids playing in the mud, and stopping to wave as we rode past. But we were on a mission, so had little time to stop and admire the scenery, instead watching it fly past as we hurtled along, the Caribbean to our left just beyond the banana plantations, coming into view every now and then, the smell of the ocean mingling with the smells of the plants. And then we were there, at the border, and right in front of us, the dreaded banana bridge...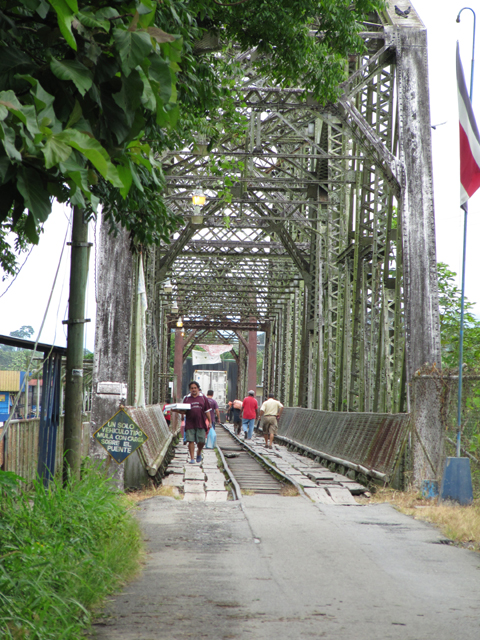 For those that don't know, the banana bridge is as scary as it looks, the wooden planks either side of the train tracks the only way to ride across... and there a large gaps in places between the planks, and at some stages the planks were missing altogether, reducing the number on which we could ride from 3 to 2... But before we could attempt to ride across, we had to clear ourselves and the bikes out of Costa Rica. The passport office had a small queue outside, so we took our place and waited patiently, filling in the exit-forms we'd been given before handing them and our passports over and getting the requisite stamp. Then into the air-conditioned office where we filled in some more forms and handed over the temporary importation permit, which were then stamped and entered into the computer before a copy of our exit documentation printed and handed over... in all it took just over 5 minutes per bike, but we were in no rush... the next step was to attempt to ride over the bridge...
Kevin walked across first to check which side was in better condition, concluding that the left side was our best option, the right having several sections where there was only one badly damaged plank, which would have made for a very hazardous crossing... And so it was time... we girded our loins and rode over two at a time, with ample space between us should we fall. Kevin and Nick went first, and had no problems, then Aaron and Al and finally me and Nigel – and we all got across without incident, the ride actually fairly easy, the problems all psychological...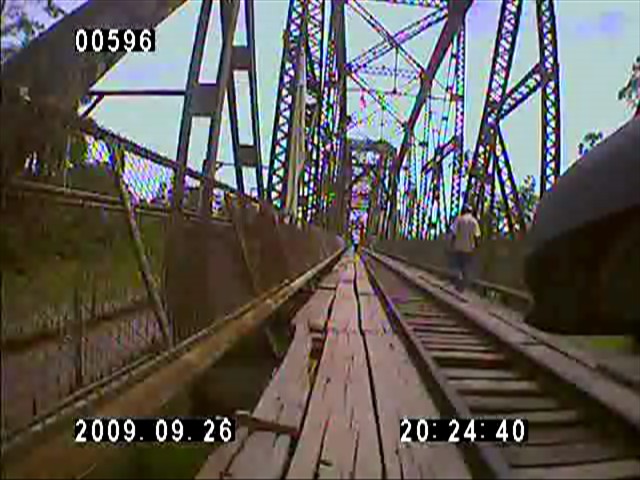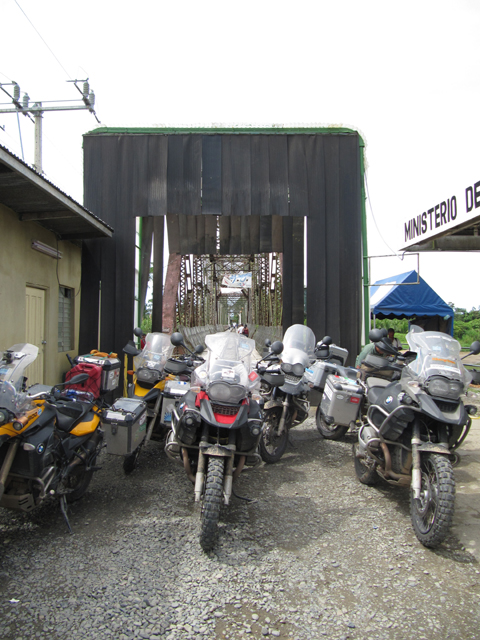 With the bikes parked up ready to be fumigated (they weren't, but we still had to pay!), we took off our jackets and loaded them on a table, then the heat and humidity hit us and we started literally pouring with sweat. How simply crossing a bridge from one country to another can result in such a huge difference in temperature and humidity is beyond me... And then we had to commence entry procedures to get us and the bikes into Panama. First task was to get our passports stamped, which didn't really take very long (and for once didn't cost anything!), then we needed to get some copies of our insurance in order to get the bike permits (we also needed copies of our passports, driving licence and V5s, but we already had those). So off we went in search of a copier, in the heat... the first one we found ran out of toner so we had to walk a good couple of hundred yards to another copier machine, which also ran out as we were getting our last copy done... but with some judicious banging of the toner cartridge we managed to get them done, then walked all the way back to the office where we dripped all over the counter before we talked our way into the air-conditioned office... the 2 customs guys then processed our documents, entering details in the computer and printing off the permits, whilst we stood and dripped all over the floor, until we'd cooled down... then it was time to head back outside...
When we'd arrived at customs, we'd had to move the bikes and park them up on some waste ground, where we were immediately accosted by a big group of kids shouting "amigo, moto" and offering to look after the bikes. With all the paperwork now done, Kevin and I went into the supermarket and bought 11 ice-creams for the kids (and one each for us), before handing them out... Then we rode the 10 miles from the border to Changuinola and our hotel for the evening. Once checked in and showered, we headed straight to the air-conditioned bar for a beer, a nice bottle of the local beer – you can tell it's local by the name...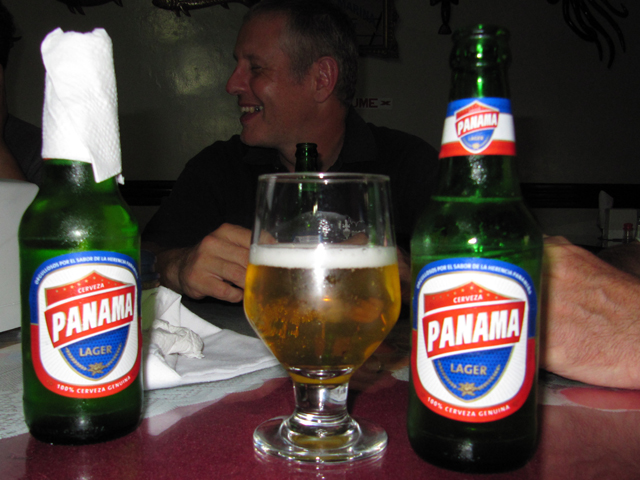 After a few beers, we went in search of food, and found some excellent shrimp fried rice in a roadside restaurant, then a bar with pool tables where we played some terrible pool (Kevin and I being unbeaten, but more by good fortune than skill) and drank cubra libre (rum and coke) out of plastic cups... then back to the hotel where we got chatting to the owner's brother, who was Syrian but had lived in Kent for 26 years and recently moved his family over to this tin-pot town in the middle of the banana plantations... he managed to convince the hotel to make us some fries and plantain, which helped soak up the other cuba libres we drank, before finally calling it a night when we'd had "elegant sufficiency" (or too many...). With the time zone in Panama being another hour ahead, we'd lost an hour as well, so it would be a short night and an early start to get back to the border for 8am (Panama time) to help the others across the bridge...
Sunday, 27 September 2009
Riding to David...
Despite all the cubra libres, I slept soundly and woke early, around 6am local time. Up and showered and the bike packed, we walked down the road for a coffee and to stock up on cold water, expecting another long hot wait at the border. The ride there was brisk, the road empty in the early morning, and we arrived in plenty of time to park up (and be surrounded by the kids again), then Kevin walked across the bridge to check on everyone and ensure that Jeff and the van were first across, to give us somewhere to put our jackets and helmets so we would be more comfortable when helping the others on the bridge.
And so it began, the riders coming across the bridge. First across (and before I'd managed to get in position to take pictures) was Richard, riding with Karen on the back, the first pillion team on a trans-am to cross the bridge together. Then Julia, quickly followed by the others, all riding confidently and well across the bridge...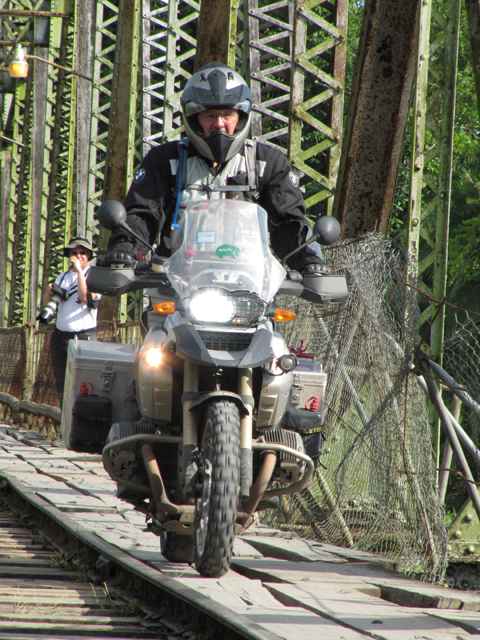 Only Jim had any issues, coming a cropper and dropping his bike, but he was unhurt and we soon had him on his feet again and paddling forwards he made it across the bridge. With them all safely across, we hung around eating breakfast and chatting while they dealt with their paperwork, and then we all rode away from the border as a group. The road wound its way back through Changuinola and out towards the 2nd banana bridge. Only whilst the bridge was still there, it didn't have any wooden planks on it, and right next to it was a shiny new bridge, all concrete and smooth tarmac...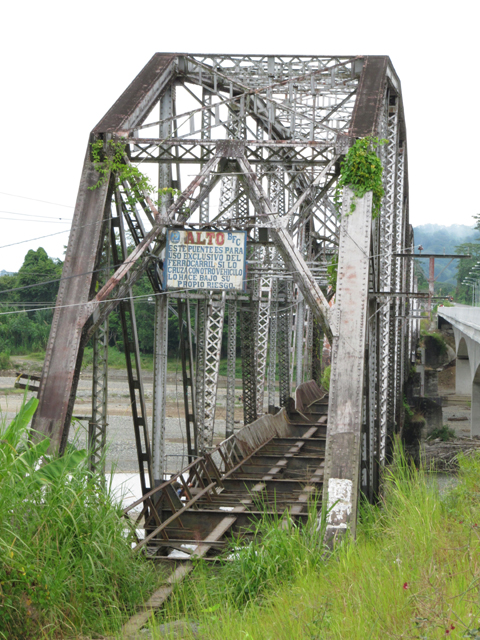 To say we were disappointed would be an understatement... So on we rode, the road excellent and twisting and winding across Panama, with Kevin and Julia leading, then Richard & Karen with me behind. Karen was taking photos, including some pointing back, all the time Richard leaning their bike hard over in the corners, almost scraping his panniers in the process...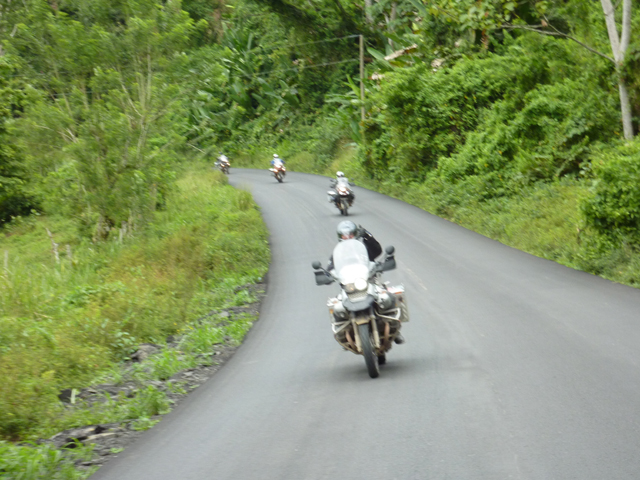 We stopped for lunch at a roadside cafe, the noodles very tasty, then filled up with fuel before heading out again. Now the road deteriorated a bit, some corners having big pot-holes on them, others very bumpy, the bike grounding out on more than one occasion, but the riding was great fun... Then it started to rain, so we pulled over and put on our waterproof jackets, leaving the trousers off as it looked like being a small storm... which it turned out to be, clearing up after a mile or two. Eventually we made it to the junction with the Pan American highway, and no sooner had we turned onto it heading towards David than the heavens opened... and when I say opened, I mean in the biblical "better get the ark finished quickly" way... Arriving in David it was almost impossible to see, the rain falling so heavily, forming small rivers across the road. Entering town trying to find the hotel, we were drenched by vehicles coming the other way, creating bow-waves as they passed... and if you think I'm exaggerating, take a look at this still from my on-bike video...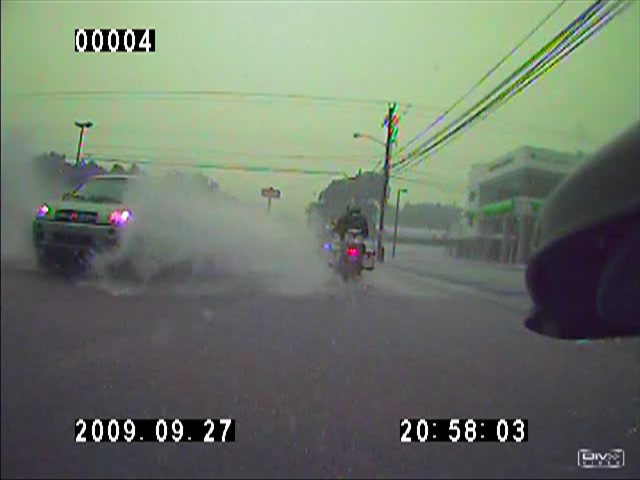 Some of the puddles in the road were a good 4" deep, and we had to do a u-turn on a flooded road when we missed the entrance to the hotel, which was interesting! But we all made it, rather sodden, and dripped water all over the posh marble entrance as we made our way to the rooms. After a quick shower I went and updated the blog for yesterday, then hung around chatting before eating dinner in the hotel restaurant. I was going to wander round town, the rain having eased but I was feeling a bit tired and couldn't be bothered...
Monday, 28 September 2009
To Panama City and our last stop in Central America...
Despite all the rain yesterday and overnight, this morning dawned clear with only a smattering of clouds to break up an otherwise blue sky. Another early start was called for, with around 300 miles to go to get to Panama City, all the way down the Pan American Highway. Not the most interesting of rides, and for once I was looking forward to a little music as I rode, but then discovered my MP3 player (which I'd not used for a while) had a flat battery, so silence would be the order of the day...
Setting off in convoy, we headed out of town and onto the Pan-Am, a long line of bikes causing some consternation from the locals, who waved at us as we rode past. The Pan Am was long and mostly straight, with light traffic and a heavy police presence keeping our speed down to a steady 65mph. The landscape was bright green, the recent rains and high humidity causing the plants to explode with growth. The distant hills, through which we rode yesterday, were topped with fluffy white clouds, and occasional dark grey patches showing there were still storms in the area.
After a couple of hours we stopped for fuel and to replenish water supplies, before heading back out again. Another couple of hours and we were within striking distance of Panama City, so we stopped at a traditional roadside rest area, with the usual array of fast-food joints (McDonald's, Subway, etc), one of the few places where we could guarantee a reasonably quick turn-round for 21 hungry bikers. Fed and back on the road we arrived at the outskirts of the city, and then missed the turn-off to the Bridge of the Americas, so Kevin led us on a merry dance round and back to pick up the turn, which took us over a flyover and across the bridge. We must have made quite a sight, 16 bikes all riding together across this large bridge, with the skyline of Panama City with its skyscrapers laid out before us. Such was the pace of development here before the credit crunch that the route notes failed us completely, as there's now a new road which the bridge leads onto, which is where the ocean used to be...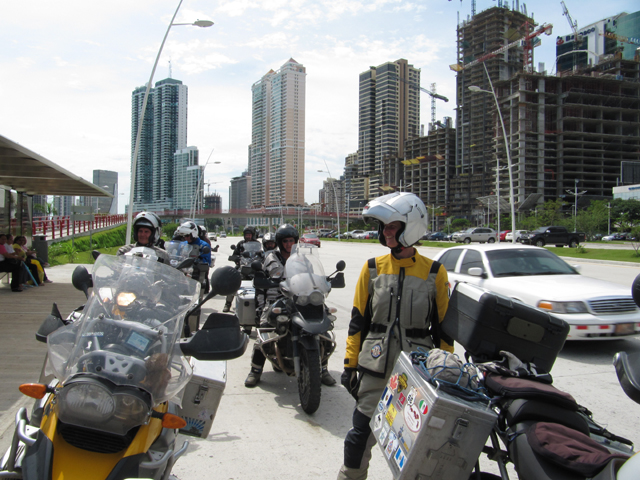 But eventually we made our way round the streets of Panama to our hotel, the rather impressive 5-star El Panama, right in the centre of town. It was boiling hot and still very humid when we arrived, dripping with sweat and heaved the bikes onto their centre stands right outside the hotel entrance, the bell-boys excitedly chattering about who we were and why we were here on these big motorcycles.
Unlike previous hotels, though, at this one we need to unload the bikes fully, as tomorrow we'll be taking them to the airport and putting them on a plane to Bogotá. So we lugged our bags up to the room, ours being on the 3rd floor, a nice large room with 2 big beds, a nice shower-room and a desk where I can work on the blog...
With the usual chores attended to (showering, changing, washing my soaked tee-shirt), I headed downstairs to the pool bar... only it wasn't open, as it only opens at 5pm, an hour before the pool closes... madness... so we had a beer in the cafe before sneaking out to the shops to get a replacement UK-US adaptor (I'd lost mine) and suss out the dry cleaners so I can get my bike gear cleaned (it's starting to whiff...). I say sneaking out, because we were under strict instructions to stay in the hotel so that Kevin could tell us what was happening viz-a-vis the bikes, as soon as he and Roddy (from James Cargo) has sorted it. So we hurried back and by now the pool bar was open, so we had another beer or two, before Kevin came and ran through the process for the following day. Then we were off to a "Traditional London Pub" that Christine had found in a magazine that promised "hand-pulled ale and English grub – fish and chips, shepherd's pie and bangers and mash". Sounded too good to be true, and after a long walk so it proved to be, as it was dire, there was no hand-pulled ale and we didn't like the idea of eating there (but we did get a couple of games of pool in). Back outside we then saw a sign for Hooters and that was it settled, the Mohito's that Aaron had drunk already making it essential we went to a place with girls. Hooters is just such a place, the waitresses having to pass some form of entrance exam that involves a tape-measure and a cup-size indicator (or perhaps a set of weighing scales). Our waitress was stunning, but the food was crap and very expensive, so next time we'll be going somewhere else... After dinner we strolled (staggered) back to the hotel for a night-cap before hitting the sack... another day's hard motorcycle adventuring over... and not much riding for the next few days as we first fly the bikes, then ourselves, to Columbia...
Tuesday, 29 September 2009
Sending the bikes to Bogota...
With a 10 o'clock departure for the airport, there was time this morning to have a lie in, although for some reason I couldn't sleep, the air-conditioning giving me a sore throat and I woke all bunged up. Breakfast in the hotel was followed by loading some stuff back in the bike, taking Kevin's lead and putting my rather smelly boots in the panniers to fly out with the bike and cut down on my personal luggage. Then it was time to depart for the airport, in the intense heat of the day, riding through heavy traffic in the city and out along the coast road. Andrew's bike suffered a problem with his brakes binding, so Kevin dropped off the group whilst the rest of us rode up to the airport's cargo area and parked up near the buses to wait for them to arrive. Here we met up with Brian and Sandra, who are riding an old BMW R1100 GS from Alaska to Argentina and who's bike will be shipped to Columbia in the plane we've chartered to get our there... you can read all about their journey
here
.
When Kevin and Andrew arrived we rode into the airport complex, and eventually found the local freight agent's depot, where we crammed the bikes into a space amongst the pallets and tried to avoid getting run over by the fork-lift trucks that were buzzing about the place, spewing toxic diesel fumes everywhere. Roddy, Kevin and Julia then disappeared into the office to sort out the airway bills (one per bike), including the declarations of dangerous goods (apparently our motorcycles are not just dangerous on the roads, but dangerous to transport via the air, something to do with them having petrol in them). So the rest of us hung around outside, trying to stay in the shade, drinking plenty of water and dripping with sweat (not a pleasant sight). Kevin collected in our passports and import permits and headed off to see the customs man to see if he could get our passports stamped to say the bikes were leaving the country without us having to go see him individually, and then the waiting began...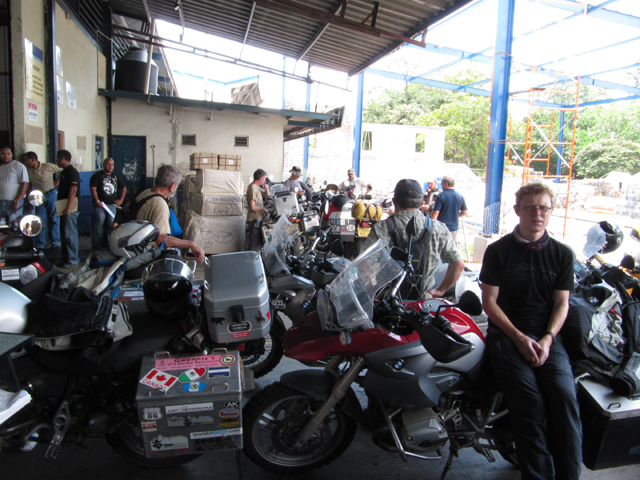 And so we waited, and waited, and waited... until eventually Roddy appeared with some forms for us to sign, to say we know our motorcycles are dangerous, then to sign them over to the freight agents. Then we were given a sticker to attach to our bikes to identify them as part of the consignment and we were all done. Roddy had arranged for a couple of people-carriers to take us back to the hotel, so we jumped aboard and enjoyed the air-conditioning on the journey back, before being let loose once more.
That evening was a group meal, so we met up in the hotel bar for a couple of pre-dinner drinks, then walked round to the restaurant, a traditional panamanian place that puts on a show whilst you eat. I had some excellent calamari (mostly small squid, rather than the normal rings) followed by a delicious fish (a Corvina) served with clams and ginger. The show was in Spanish, but basically involved some girls and guys dancing to a small band, all in traditional costumes. It was actually quite good...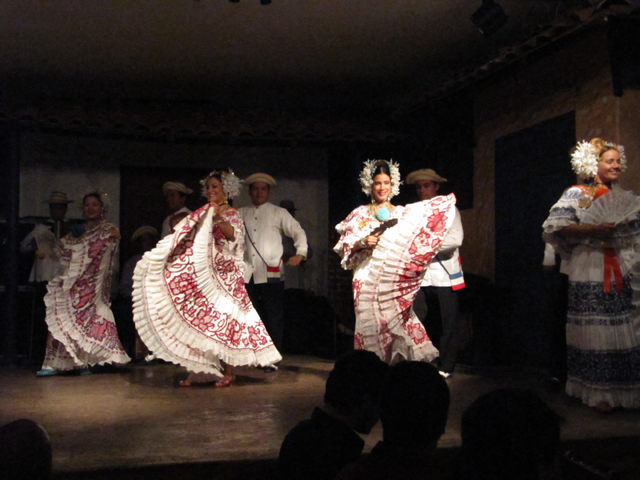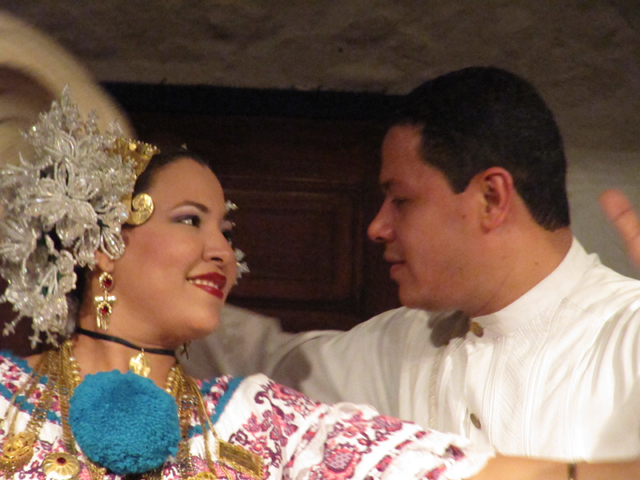 When the show was over, they invited the audience up on stage to have their photos taken with the dancers, so naturally Kevin dragged the prat-hat wearer (Nick) on stage before the rest of us went up for a group photo...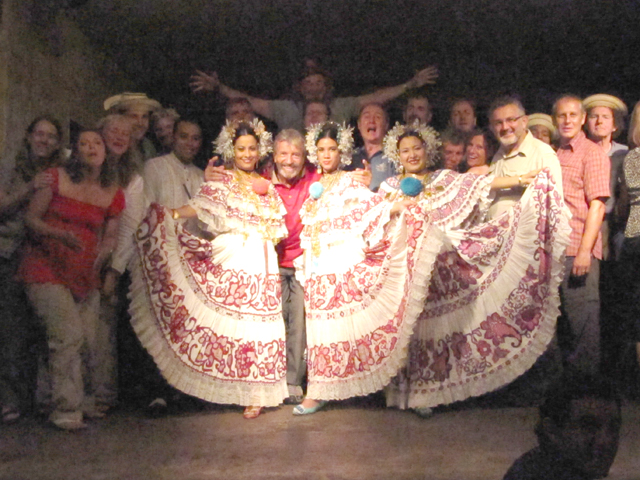 All done and it was back to the hotel for the traditional night-cap before turning in. Tomorrow is a proper rest day, with nothing much for us to do. Kevin and Roddy are flying out to Bogotá a day ahead of us, in order to start clearing the bikes, so all we have to do is sort out our plane tickets (which Julia is busy arranging anyway). We've also found out that it's another public holiday here in Panama, something to do with the ex-President, Guillermo Endara, dying. He was the guy responsible for leading the country to democracy after the US invasion in 1989, so all the shops and businesses will be closed (the flight agent is opening especially to sort out our flights). But a day of doing very little wouldn't go completely amiss right now...
Wednesday, 30 September 2009
Busy doing nothing...
Woke after another dreadful night's sleep... despite having turned the air-conditioning off, I was still awake coughing for most of the night, and this morning feel as though I've been beaten with a baseball bat all over my body... Yesterday, Ozzy Andy was full of a cold, so I gave him the last of my cold medicine and the rotten sod gave me his cold in return... gee, thanks!

So after a small breakfast, I wandered round slowly in search of a pharmacy and some more drugs, eventually finding some tylenol cold capsules which I duly took and went back to bed. Some 3 hours later I woke, bathed in sweat, and felt well enough to update the blog for yesterday, before returning to bed where I stayed for most of the rest of the day. Crap, huh!

We had a short meeting with Julia to run through things for tomorrow, and got confirmation our bikes have arrived in Columbia. All being well we fly at 9.49am tomorrow to Bogotá and then start the process to get our bikes free from customs, which looks like it might be straightforward, as Kevin has already managed to clear his bike (but can't clear the others as they need a copy of our passport showing the Columbia entrance stamp). So we paid Julia the money for the flights (and the trip to Machu Picchu which needed paying to secure our places) and then Nick and I went in search of food, choosing an Italian restaurant not far from the hotel, where we shared a plate of cheese and a rather good bottle of Chilean Merlot, and he ate a pizza whilst I managed half a plate of delicious linguine with garlic and chillies... then back to my bed to try and get rid of this damn cold before the excitement of going to Columbia...