With another enforced rest-day ahead, as our bikes were in the garage being attended to, I took the opportunity to spend the morning resting before heading back to the dealership early in the afternoon to prepare for our fifteen seconds of fame...
When we got there, Nick's bike had replaced the brand-new R1200GS that stood proudly on display outside, and the showroom was in the process of being transformed. Several of the posh cars had been moved outside, and our dirty tatty-looking bikes had been given pride of place, lined up along the window and in front of the offices. There were people putting row upon row of chairs in lines in front of a big projector and screen, and a guy testing the microphone and sound system... they weren't going to do this by halves...
Whilst we were waiting for the show to begin, I went and collected the new gloves they'd found for me, then paid my bill. It was then I discovered that they'd not managed to change the drive shaft oil seal, as they needed a special tool that had been at another dealers. But they were shipping the tool to the dealer in Medellin where we were to have our tyres changed, and would do it there. With the bill settled we hung around, whilst the showroom went about the business of trying to sell cars to some very sophisticated looking Columbians, some of whom seemed more interested in looking at these muck-splattered motorcycles... then it was show-time...
Bernardo, the head-honcho of the dealership started proceedings by introducing Kevin and Julia, who then went on in part-Spanish, part-English, to explain their history and how they came to be running GlobeBusters. The presentation then moved on to the Trans-Am 2009 trip, and Kevin invited Max to talk a little about his experiences, which he did, in Spanish, the sod. Then it was Aaron's turn, our only American riding a BMW talking about how he chose the F800GS and how Columbia was special to him as he lives in Florida where he knows many Columbians who have been raving about their country. After a bit more chat from Kevin, during which he introduced Gerald explaining that he's the oldest guy on the trip (he's 65) and he was raising money for charity. He also warned the audience that they wouldn't understand him because none of us could, his Devon accent being quite thick... Then I got up to say a few words about how we'd got time to do this sort of trip, as most Columbians can't grasp how we can take time away from family and work to just swan about on bikes for 6 months. Finally, Kevin got Richard to say a few words before he showed a preview video for the forthcoming London-Bejing trip, which is adventure motorcycling at its most extreme, going all the way to Everest base camp in Tibet... The audience seemed to enjoy the talk, and afterwards a few of them came and asked us some questions, chatting quite happily to us in perfect English, so perhaps they had understood a little of what we were waffling on about...
With the show over, we rode our bikes out of the dealership and back to the hotel, finding our way in the dark night, the traffic thankfully much lighter than it had been when we rode there. With them safely parked in the underground car-park of the hotel, we headed off out to a local Brazilian restaurant for some food. This being a Brazilian barbecue place, the food consisted of 16 different cuts of meat – beef, pork, lamb, chicken, buffalo, chorizo sausage – all cooked over hot coals and brought to the table on big skewers, one lump after another until we were completely stuffed. We did have some healthy salad from the salad bar too, so it wasn't all a meat-fest... it was rather good, though...
At last, we're getting back on the road again... an early-ish start with the bikes rolling out of the hotel garage at 7.30am, then heading over to the dealership to meet up with Bernie and have a big group photo, before riding over to Medellin as one (very) big group... At the dealers, we lined the bikes up outside, at least, those that were there, and took the pictures...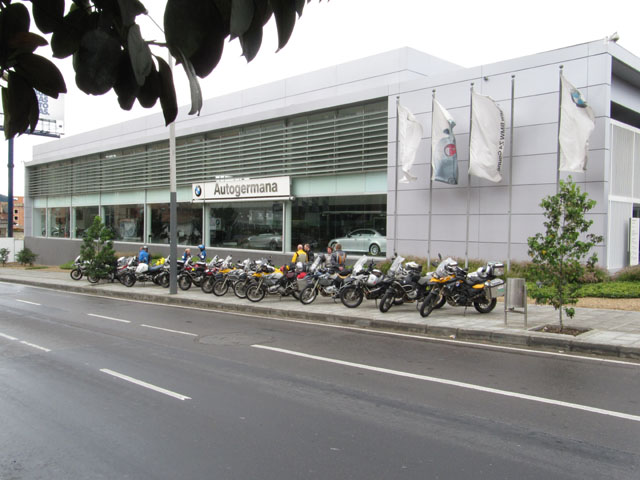 I say those that were there because Kevin, Andrew and Simon were all missing... it seems that despite us all checking out last night (as we've been advised to do before, in order to get away early), we also need to formally check out in the morning, or the hotel has a tizzy fit... oh, and Simon wasn't ready. He'd been to the gym early, then for some inexplicable reason was still in his room at the allotted departure time... When they finally arrived we set off, riding in convoy out of Bogotá, using a "buddy system" to ensure we stayed together. This works as follows... each rider keeps an eye on the guy behind, and should he drop back for any reason (traffic lights, other traffic, etc) then he also drops back, to allow the lost rider to see where he's going. This will then ripple through to the guys at the front, and so we'll all stay together. Only Nick forgot this, and so when we got clear of town we'd lost half the group... and had to wait a while for them to find us... fortunately, we're riding with a number of local riders, including Moriceau (not sure how to spell his name, but he runs Ruta 40, the dealer in Medellin), Carlos (Moriseau's friend who speaks excellent English) and Bernie, so they found us reasonably easily... then we had our 3rd delay before getting clear of Bogotá, when passing through the toll booth... now here in Columbia they have this sussed, realising that motorcycles should be free and not wanting to hold up the other traffic, they have a special "bike lane" at the side of the booths, with a small channel with low walls down which the bikes can ride (but not wide enough for cars). Only the first one had a slightly higher wall on one side than the other, which caused Jim's panniers to drag on the top (his Suzuki having the lowest clearance of all the bikes). So he moved to the left and promptly smashed into a pole, breaking it clean off. The guard at the toll was not happy about this and came storming out, whilst the rest of us were waved through the barrier. Then the police came. Then Bernie sprung into action, not-so-gently pointing out that they were now threatening to extort money from the 1st group of western bikers ever to visit Columbia... at which point things seemed to calm down and we were all on our way again...
Getting 20 bikes, plus our 3 or 4 local riders, to ride together is quite some feat, and it's not surprising that we had to stop to regroup fairly frequently. The 15 miles out of Bogotá had already taken us nearly 2 hours, so it was a big relief when we stopped in a small town for a drink and pee-break. Parking up at the side of the road, on a large camber, Al lost his footing and dropped his bike... big cheer and the inevitable posing for photos... they do crash quite well, these big BMWs...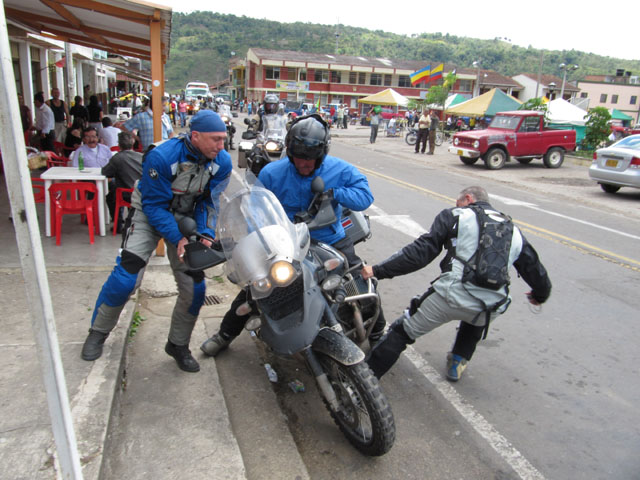 The town was just like many we've seen in Latin America, with a small plaza with church and lots of cafés, and people milling about. The main difference here, though, was the small group of heavily-armed soldiers in the square, something we'd see all over the countryside, as the army seems to be everywhere, guarding every bridge or settlement in an attempt to make the country safe... certainly felt safe to me...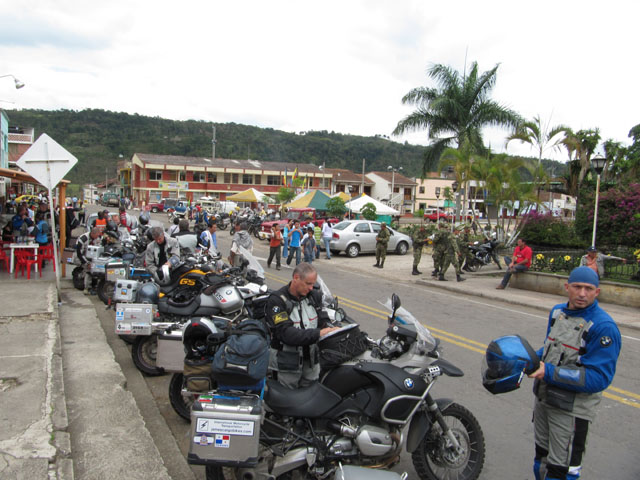 After a drink and wee, we headed back off again, up into the mountains, on a gloriously twisty road. Riding near the front the pace was brisk, the road excellent and the views stunning. The mountains are bright green, covered with trees and grass, but unlike any other we've seen so far. Here, they resemble the sort of mountains we made as kids from papier-mache, all weird angles and sharp edges. They looked vaguely like green napkins folded badly by trainee waitresses in a cheap 70's restaurant...
Before long we pulled over again to re-group, and to say goodbye to Bernie who was heading back to Bogotá before catching a flight to Medellin later, business demanding his attention once more. A nicer host it's hard to imagine, he promised to sort out my missing seals for me (they were supposed to be in my panniers so I could take them to Medellin and get them fitted) and bade us farewell, before heading off in the opposite direction. Lined up at the side of the mountain road, our bikes made a fair old sight, Moriceau's immaculate 2005 R1150GS Adventure Special Edition making mine look decidedly second hand...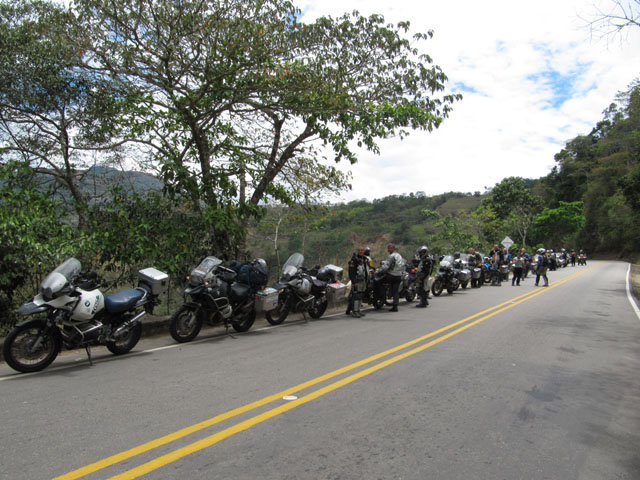 On we went, down through the mountains and along the river-valley, stopping at another town for lunch, which took quite a while there being so many of us to feed all at once. Riding in such a big group has many disadvantages, and this is one, lunch taking about 4 times as long as it would had we been in smaller groups, but with no route-notes to go by, we had to stick together. After lunch we got ready to depart, only for Ozzy Andy to drop his bike in the car park when trying to get on it – with 20 bikes it seems we're going to have more than our fair share of car-park incidents... Once on the move, we upped the pace a little, the locals now getting worried it would be dark before we got to Medellin. The ride took us back up into the mountains, on yet another brilliant piece of tarmac, twisting so much that at one stage Kevin, who I was following, scraped his panniers on the deck...
We passed many more military checkpoints, the guards simply waving at us as we rode by, the others, camouflaged and almost invisible stood at the edge of the forest by the roadside smiling and waving too. Riding quickly on twisting roads means holding onto a low gear (2nd) and the short blast between corners and then the closed throttle on entry means the bike sometimes back-fires, a loud bang emerging from the exhaust... I just prayed that the soldiers could differentiate a fast-ridden motorcycle from gunfire...
With just one more quick stop for a drink, and several to re-group, it wasn't too surprising when it started to go dark... we were still high in the mountains when the sun went down, not only making seeing the soldiers impossible, but also reducing our pace (a little...) and making spotting potholes and other road imperfections more challenging. When we eventually rounded the last corner and caught sight of Medellin in the valley below, it nearly took my breath away. Spread out below us was a carpet of lights, as far as the eye could see, the city a massive sprawl of little yellow dots, way down in the valley below. The road took ages to get us there, down a steep drop with lots of bends, and very little traffic. Finally we arrived outside the hotel, and pulled up onto the marble entrance apron, cramming bikes everywhere so we could unload our luggage directly into the lobby. With the bikes unloaded, we rode them the 2 blocks to the dealer, where we dropped them off and then sank a cold beer from their fridge... it was now nearly 8pm and the end of a long riding day..
Hungry and tired, we decided to eat in the hotel restaurant, which turned out to be a huge mistake... First, the French Onion soup Christine and Richard ordered tasted like dishwater with a damp stale bread slice and rubber cheese, then they gave Max (a vegetarian) a spaghetti dish with ham in it, not the napolitana he ordered. When Christine's tuna sandwich turned up looking like it had been thrown together by a 2-year old mid tantrum, she through a wobbly and sent it all back, saying she'd not pay for any of it... and then my Spaghetti Bolognese arrived, with the spaghetti still raw... so it was my turn to see red, and I grabbed my plate and stormed into he kitchen, confronting the young pasty-faced chef and telling him exactly what I thought of his cooking... not exactly shouting, but still slightly angry...
By now it was gone 10pm (the food had taken an age to arrive), so I went back to my room in a huff and ate a packet of nuts from the mini-bar before turning in, glad that for once I'd eaten a decent lunch..
Monday, 5 October 2009
A day in Medellin...
I slept very well for the first time in ages, the ride yesterday seemingly having cleared my head of the cold that has been bunging me up. It was with slight trepidation that I went upstairs to breakfast, wondering if the complaints from last night had left them wanting blood, but I needn't have been concerned, as breakfast was good, and the service fine. After breakfast I tried to get my bike suit washed, phoning the hotel laundry service and then handing it over stressing that it as "muy important" that it got back today. Whilst I was busy updating the blog I got a phone call, a woman gabbling on in Spanish at 100 mph, but I managed to catch a couple of words and worked out it was the laundry and that they couldn't get my suit back today, it being impossible... As we're leaving first thing in the morning, I protested but got nowhere, so asked them to return the suit, which they did, 2 more women coming to the door and gabbling on in Spanish about how they could only do it for tomorrow. They insisted on calling someone to explain, as they didn't speak English (but found it hilarious that I didn't speak Spanish). The woman on the phone then went on to explain that they couldn't do my suit today and it would be tomorrow afternoon before it was ready. At which point I just said ok, no problem and grabbed my suit before they could take it away again. Looks like I'll have a few more days of riding in a dirty, sweaty jacket and trousers...
After that saga was over, I called Tracy and we had a lovely chat, catching up on things since we last spoke a few days ago. It was nice to hear that my daughter, Laura, had been round to see her, and that she's now enormous. Not in a bad way, as she's expecting twins... When we'd finished chatting I wandered back to Ruta 40 to see how they were getting on changing the tyres on the bikes and hopefully fitting my final-drive seal. That turned into another saga, as the seals I'd had shipped from the UK were still in Bogotá and not due to arrive until tomorrow (see a theme developing?) but they had some in stock and I was repeatedly told not to worry. Whilst I was there I decided to have a look at some of the minor niggles I've been having with the bike, starting with the fog lights. When I first had problems with them it was due to one of the earth contacts breaking and the lights shorting out, and our running repair had been a little rushed, so I took the offending light off the bike and made sure things were done properly, the lights now working again. Then I turned my attention to my brake light, which had also been playing up, the bulb seemingly moving in the holder slightly and breaking contact. Closer and more thorough investigations revealed that the bulb had in fact blown, and the only reason the brake light worked at all was because the tail light filament was performing both duties when the bulb was in a certain position. With a new bulb installed everything worked as it should. With the mechanics working on other bikes to try and clear them out of the workshop, Nick, Al, Gerald and I left them to it and headed into town to get some money and lunch.
Having robbed the ATM of several thousand pesos (about $100 each) we asked a young girl sitting outside if she knew where there was a barbers, as by now I'm starting to resemble a shaggy dog, and she pointed up the road. So off we wandered, and quickly found a likely looking place underneath some shops, and in we went. With Al abstaining the 3 of us took our seats and were attended to well, my Spanish phrase-book helping out with the Spanish for "just a trim please". Gerald went the whole hog and had his bead trimmed, which also seemed to trim about 20 years off him. Feeling fresh and tidy again we wandered round downtown Medellin for a little while, the city absolutely buzzing with people, like Manchester at Christmas, and this was a Monday lunchtime... We ate a light lunch, knowing that later we'd be eating in one of the best meat restaurants in the area, then bundled Gerald in a taxi so he wouldn't have to walk with the rest of us. Then we made our way via a small park with some statues by the Columbian artist Botero, famous for his paintings and statues of people looking as thought they've been inflated... the "reclining nude" a good example of his work...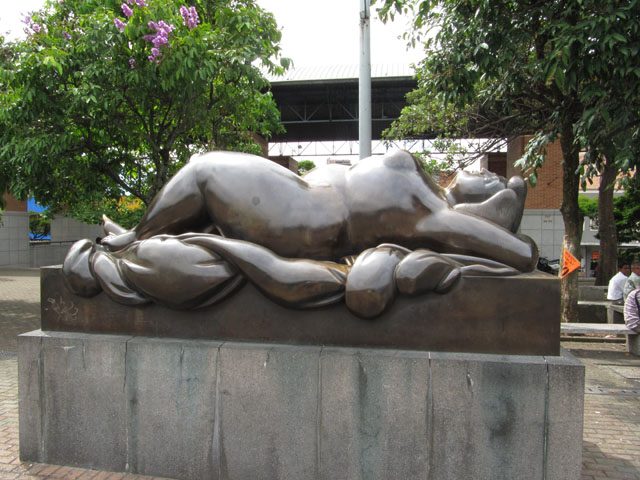 Our wanderings took us all the way across town back towards Ruta 40, through the craftman's area where there were countless workshops turning out wooden cabinets and chairs, and the metalworker's area, where there were the same workshops with guys hammering bits of metal into various complex shapes, and the mechanic's area, where the same workshops were full of guys working on cars and small motorcycles, and finally to Ruta 40, where the mechanics were still busy changing tyres. Soon they were almost done and started working on my drive-shaft, initially having real problems getting the bolt that holds it all together undone, it having seized in the housing. The judicious application of heat from a heat-gun and with the help of 3 guys including me, they finally got it undone and split the drive-shaft to reveal the offending seal (still behind it's retaining collar), the oil clearly visible where it shouldn't be, on the outside of the housing...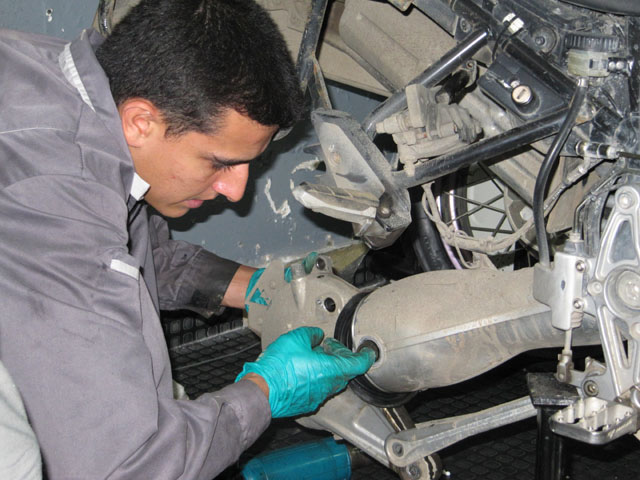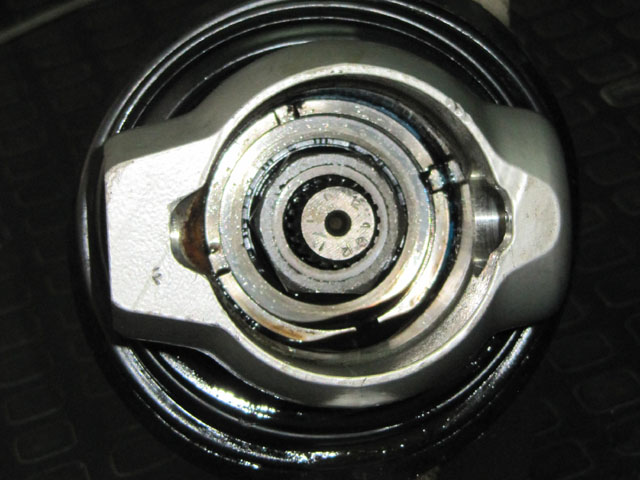 With the seal replaced and my bike back together, I paid the bill (which they very kindly took the labour costs for replacing the seal off as a discount) and rode back to the hotel via the petrol station. With my bike now fully fixed and loaded with fuel, I was a very happy bunny indeed...
Before dinner we had a quick meeting to run through the route for the next couple of days, Kevin and Moriceau working out a plan for us, so now we can ride in smaller groups which should be much better. Then it was time for the Prat Hat ceremony, the first involving the Bogotá Boys... Nominations were few but very good, first, Chris being nominated by almost everyone for missing the 2nd Banana Bridge and taking the new one as a result of his haste at the border; then Simon for his tardy start, still being in his underwear and not packed when he should have been on his bike riding out of the hotel. There were a couple of others, but these 2 were the shortlist and voting concluded quickly with Chris winning the hat...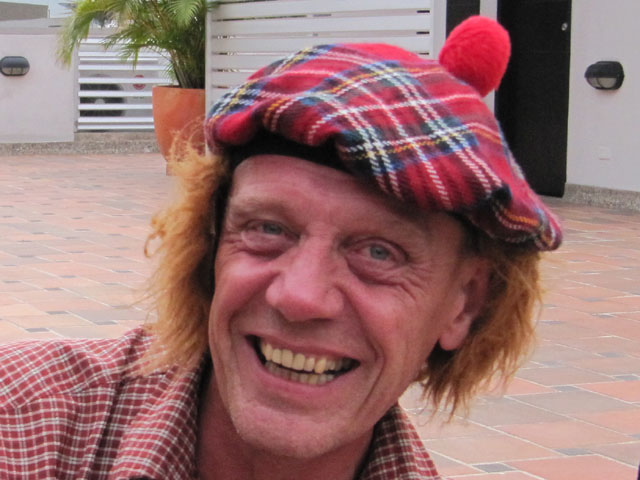 Only after he had been photographed did we come clean and reveal that there was no 2nd banana bridge... and so, this week's Prat Hat recipient is... Simon...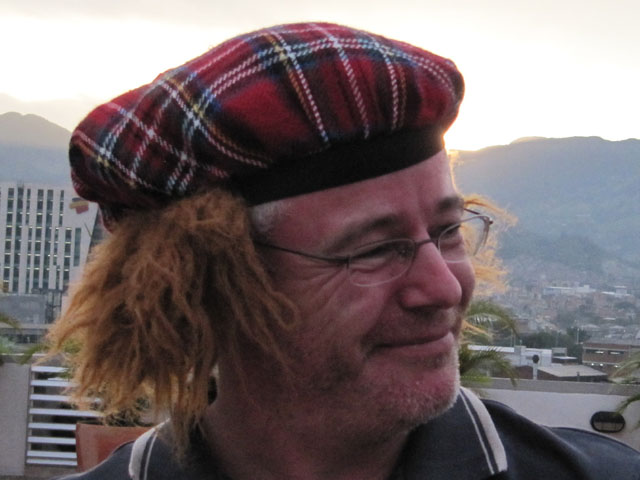 After that, we jumped in a couple of minibuses and drove up the hill out of Medellin to the restaurant where Kevin and Julia were due to give their presentation to some bikers that the guys here had managed to get together at just 24 hours notice. On the way up the very steep hill, one of the minibuses burnt out its clutch, so we all climbed into the remaining one for the rest of the journey. The restaurant was fairly empty when we arrived, and we discovered we had almost the whole of the 2nd floor to ourselves, so we grabbed a table and ordered some steak. The restaurant had been chosen by Moriceau as it is the best meat restaurant around, serving meat from its own farms in the area, and it was damned good too. While we were eating the place filled up, over 100 bikers arriving and filling the place with an excited buzz. Kevin then gave his presentation, one of the young girls that had been with us in the minibus acting as translator as he rattled off stories of their Guinness World Records before talking about the Trans-Am and showing pictures of us riding and standing beside downed bikes. It seemed to go down well and no sooner was it over than we were accosted for photos, the local bikers all wanting their pictures taken with these travelling gringos...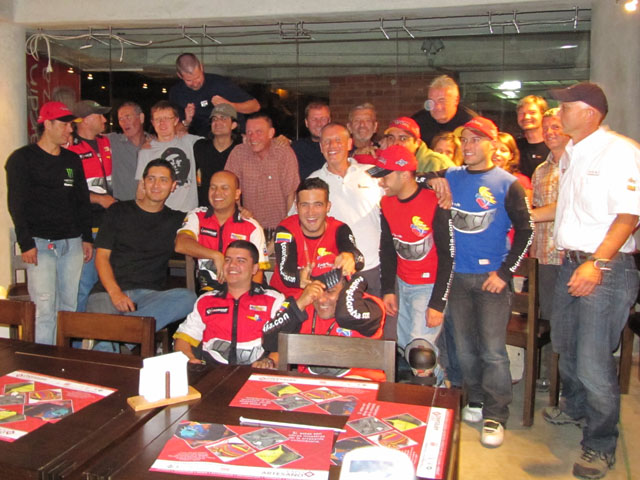 To say they were friendly would be an understatement, they were simply brilliant, chatting in broken English or 50mph Spanish, shaking our hands and smiling for the cameras. We were even dragged outside for photos by their bikes, as eclectic a mix as you'd see in the UK, with an R1, several GS's, some v-stroms (like Jim's only looking much newer and less laden), a TDM and other smaller bikes. Great people, and a great evening... and one of the guys looked like Richard's long-lost twin brother too!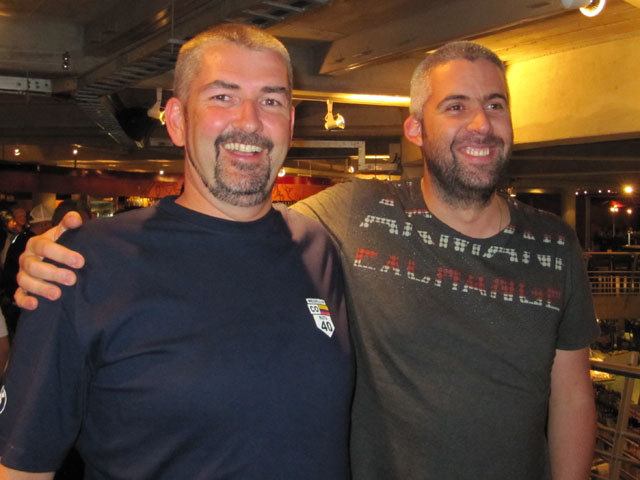 Tuesday, 6 October 2009
Falling in love with Columbia...
As with our stay in Bogotá, here in Medellin we're due to start the day with a short ride round to the dealer, Ruta 40, where we will meet up with Mauricio (now I know how to spell his name) and Carlos for a photo-call and then we'll all head out together on the ride South. For some reason, despite being up at 6am, by the time I'd written the blog and got my packing done, and put the armour back in my jacket and trousers once again, I was running late, being the last to leave the hotel garage, all in a fluster. But I soon calmed down once on the bike and moving, even if it was only a short ride round the corner. We caused an even bigger stir than in Bogotá, with even the local TV crew turning up to film our little gathering (they were there at the presentation last night, but I forgot to mention it). I wandered off to get some bottled water, so missed most of the pictures, but the bikes certainly looked good, lined up outside what has to be my favourite BMW dealer...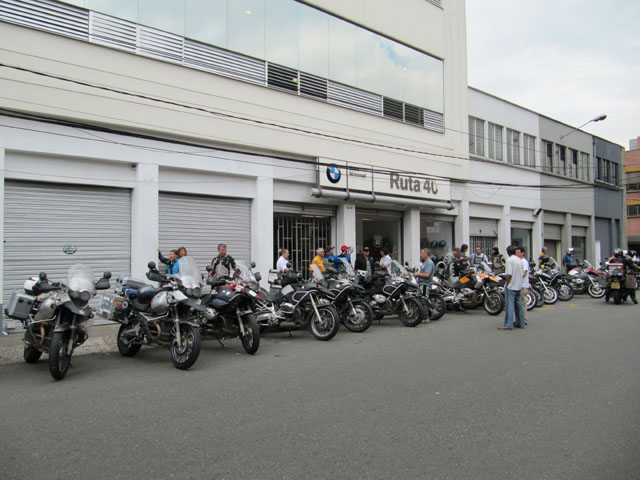 Once we'd had our photos taken and posed for the TV cameras, it was time to head out of Medellin, riding in a huge group headed by Mauricio and with Carlos sweeping up the rear, and with a number of other local riders that we met last night interspersed amongst our group of 20 bikes... we made quite a spectacle, as we weaved in amongst the rush-hour traffic on the two-lane dual carriageway out of the city, then trying to get past endless lines of trucks labouring up the hills on the outskirts of town. It seemed to take an eternity to get clear of the traffic and out onto the open road, but eventually we did, the group spreading out a little as the roads cleared, the twisting road winding its way high into the mountains.
Columbia is full of surprises, not least the absolutely stunning scenery. I don't think I've ever been to a country that has more beautiful countryside, all hills and valleys, everywhere coated with bright green vegetation (and no, it's not cocaine plants!). There are banana plantations, coffee plantations, bamboo fields, sugar cane fields, fields of various food crops (ok, so I'm not a botanist!), and interspersed amongst them are the homes – not the ramshackle wooden homes of Central America (although there are still a few of them), but beautiful houses with neatly trimmed gardens. The walls are not rotten wood, but pastel-shaded concrete or orange brick; in the gardens are swimming pools and children's play things, and the children themselves are better dressed. Whether this is simply a factor of the route we're taking and not representative of Columbia at large I don't know, but it doesn't feel as poor as some of the countries we've been through recently.
Whilst the scenery was fantastic, the roads were even better, at least for those on motorcycles, that is. They were a never-ending stream of bends, winding up and down one hill and then the next, left, then right, then left again, all requiring maximum attention and a significant degree of lean. So much so, that Richard was grinding bits of his bike away on every corner, and then decked his panniers in front of me, a little puff of plastic smoke coming from the corners. That's a long way over... Me, well, my bike rides higher and my panniers are narrower, so I didn't scrape anything except my pegs and my boots...
We stopped for a small lunch at a beautiful roadside cafe, set in fantastic tropical gardens with a swimming pool and views all down the valley. Lunch consisted of the highly recommended fruit sundae topped with ice-cream, the fruit unbelievably fresh, most likely because it had been picked right out of the garden.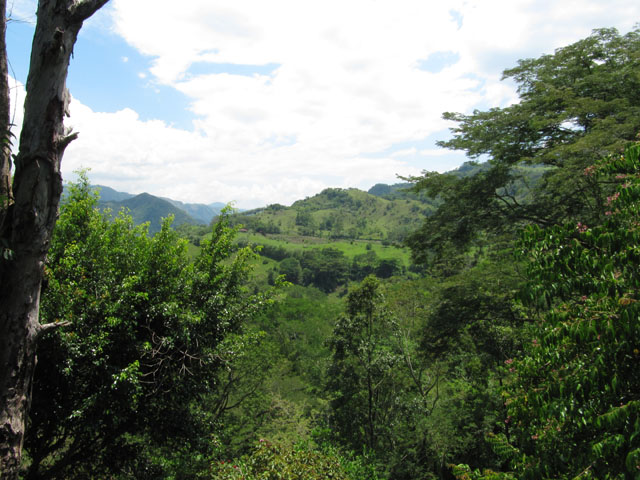 In the afternoon we climbed higher into the mountains, the sharp-edges and pyramid shapes of the peaks around us quite stunning. If you like hills and countryside, you simply must come to Columbia...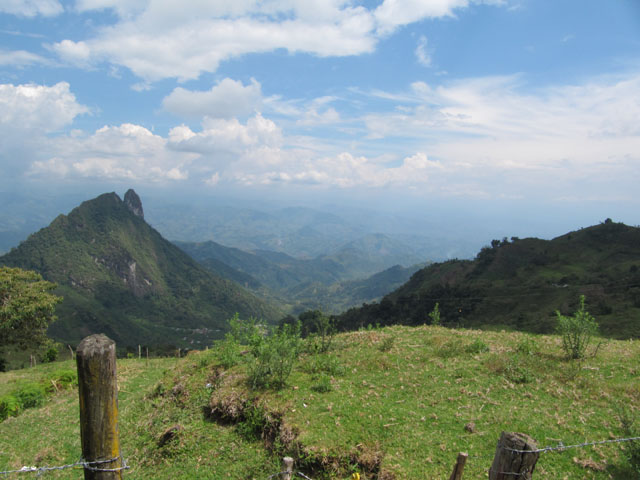 With a final stop just short of the hotel for a glass of the freshest mandarin juice I've ever tasted, the day simply couldn't have got much better. If you've ever ridden a motorcycle, then imagine the best ride you've ever had, then extend it so it lasts a full day, then add in the most beautiful scenery and glorious weather and you still won't have come close to how good today's ride was. If you've never ridden a motorcycle, then I pity you...
But the day wasn't yet done with things that exercise my poor vocabulary when it comes to superlatives... The hotel we're staying at is not a hotel, it's a villa. The sort that Columbian drug dealers would build to entertain their friends. Only this one is owned by Mauricio's cousin and has 12 rooms, just enough for our group. And a swimming pool and outdoor jacquzzi. So we take over the place, parking our bikes on the tiled floor that leads to the reception area.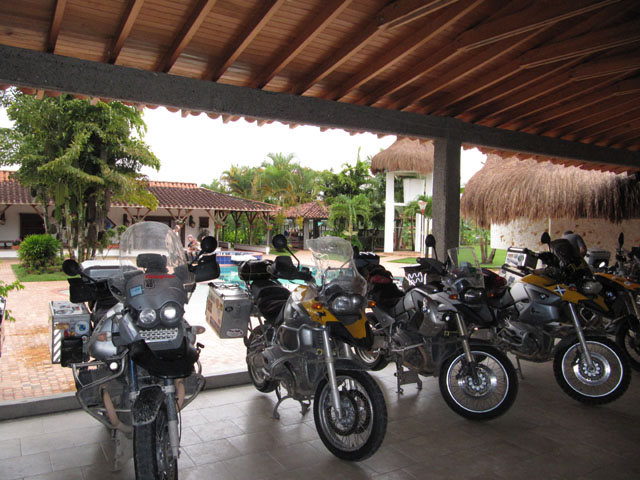 Having tagged on to Mauricio and Kevin, simply because I like to ride at the same pace they do (quite briskly), I arrived with the lead group. Mauricio went to the end of the road to ensure that the others found the hotel, as it was down a long narrow country lane that was easy to miss. Soon the 2nd group arrived, and Mauricio said he'd asked the local police to look out for the others and help them find us. Which they did, escorting most of the others to the hotel just a couple of hours after we'd arrived. I say "most" because the Bogotá Boys were missing. Last seen earlier in the day at a restaurant, they were nowhere to be seen over 2 hours after we'd arrived. When it went dark, Julia called their mobile phones and eventually got hold of them and they said they were 20 minutes away. After another hour, they were still missing, so further calls were made, and they were given the GPS coordinates for the hotel. We were supposed to be having our first big group meal, but as they were still not here and it was getting late, we ate anyway. We had some nice steak and chicken served on a hot plate, and they also heated up the special treat that had been brought out with the Bogotá Boys' bikes. Earlier in the trip we'd been discussing national dishes, including the English Fish, Chips and Mushy Peas, and Aaron (one of our Americans) said he'd never heard of Mushy :Peas... so, we had 4 tins brought out. They go much better with Fish and Chips than steak and chicken, and I don't think Aaron will be rushing to import them to the US...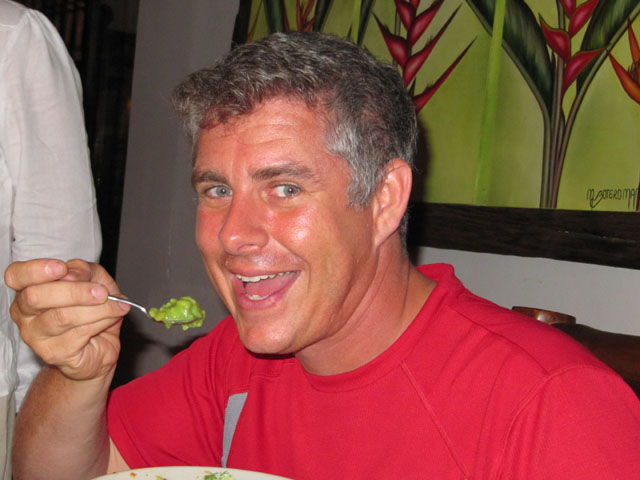 The photo was taken before he'd tried them, as he wasn't smiling after...
Finally the Bogotá Boys arrived, to big cheers and lots of piss-taking from the rest of us. They were in surprisingly good humour, considering they'd done 70 miles more than the rest of us, and had been riding round Columbia for several hours in the dark (and we all know how dangerous that is, don't we?). When they were fed and watered, it was time for one last nightcap before turning in. Carlos says the roads today are better... we don't believe they could be...
Wednesday, 7 October 2009
Grooving across Columbia...
Yesterday I washed my bike trousers in the shower in an attempt to stop them sticking to me, and this morning they're just about dry. It was a good job I brought them into the room as there was an almighty thunderstorm and torrential rain in the night. But the day dawned only slightly overcast and cooler than we're used to, but that's no bad thing as it's nice to be away from the humidity and not soaking with sweat all the time. After breakfast we were instructed to ride our motorcycles onto the football pitch, a patch of perfect green lawn, for another photo shoot, so a few of us duly did that, taking extra care on the slippery wet grass...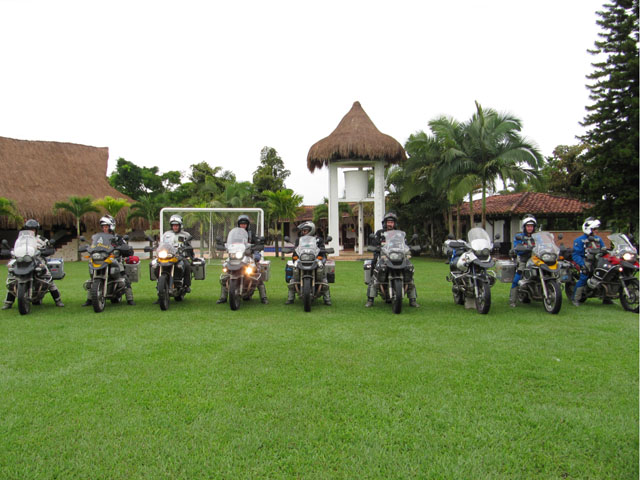 When we finally got going we split into 2 groups, one led by Mauricio the other by Kevin, with Carlos as ever playing sweeper and staying at the back. The kippers had gone off to do their own thing, preferring the straight road into Cali so they could claim to have visited all three of the cocaine triangle cities (Bogotá, Medellin and Cali). The rest of us much prefer riding in the mountains, which is exactly what we did. But first we stopped for fuel and to top up on water, and pulling into the petrol station Julia realised she had a puncture (her 2nd of the trip). Her brand new rear tyre had been victim to a very tough thorn, which caused a slow leak. Kevin leapt into action, first removing the offending thorn before making the hole rougher with a file-like tool, then inserting a rubber plug tightly into the hole and then re-inflating the tyre. In all it must have taken little more than 5 minutes...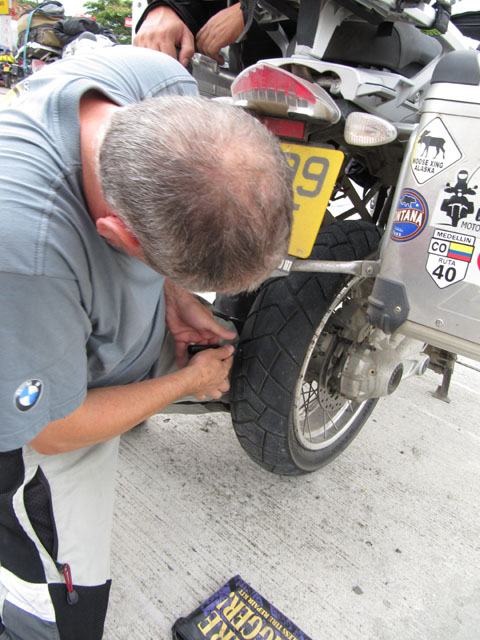 When done, we set off again in the same groups as before, the faster guys riding with Mauricio as the road wound its way up into the mountains, another set of twisty bends to get us grooving... and grooving we were, for hour after hour, once again riding on fantastic roads surrounded by stunning scenery. All good things must come to an end, though, and this was no exception, as the road dropped down from the mountain and onto a flat plain, arrow straight for around 90 miles. After the excitement of the mountains it was a bit of a disappointment, but the road surface was good and there was little traffic, so we made good progress and I just sat back and enjoyed the ride, my mind wandering occasionally as my concentration wavered.
A couple of rest stops broke the day up, before we finally arrived on the outskirts of Popayan, and made our way into town and to the hotel. Another old monastery, the hotel was just a block away from the main plaza and had a large car park where we could line up the bikes, a swimming pool, an excellent restaurant and large rooms with balconies. They also had cold beer, which was most welcome.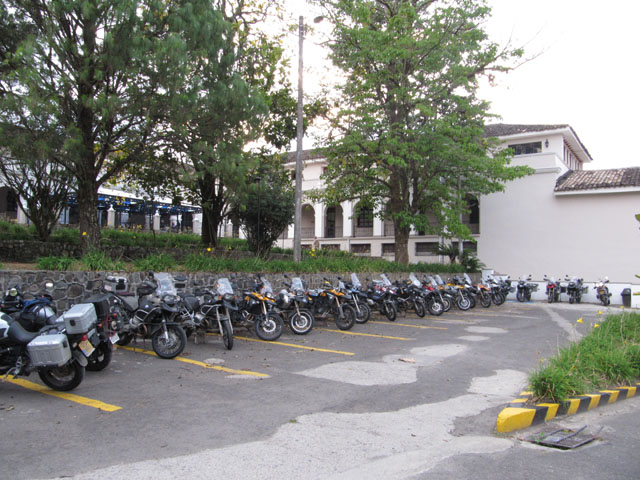 By the time we'd got checked in and showered and had the first beer it was almost 6pm, and getting dark, so we strolled into town to look around. Popayan is known as the white city, a name it justly deserves as all the buildings in and around the main square are white, mostly old colonial buildings from when the Spanish were here.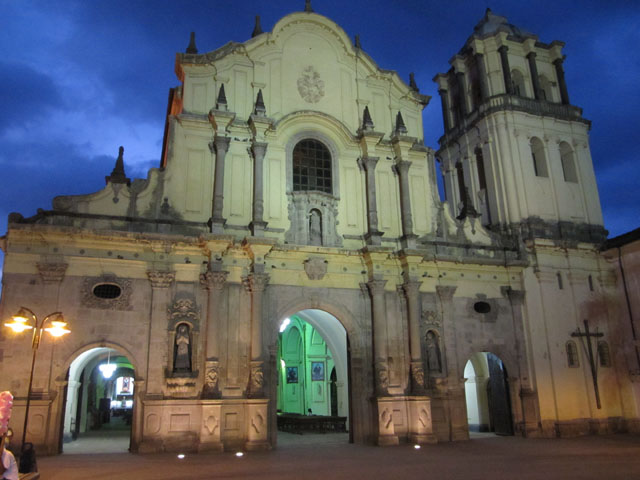 After our stroll we went back to the hotel to eat in the restaurant, Carlos recommending it by saying that there were no other good restaurants in the town. The food was good, I had a weird corn soup that was a local recipe, followed by another local recipe for Franciscan Haddock which was delicious. We also had a couple of bottles of a rather good Argentinian Merlot to wash it down with.
On reflection, Carlos had been wrong, the roads today were not better than yesterday, but they were still pretty damn good. The sticker on my windscreen summing it up perfectly...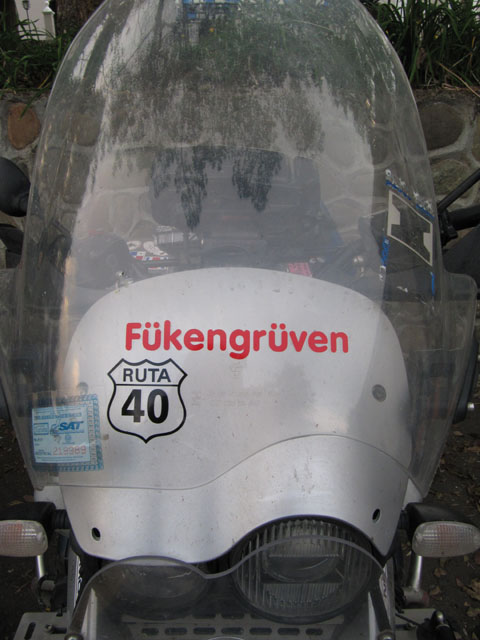 Thursday, 8 October 2009
Adios, Columbia...
Another early-ish start as we've a long day ahead, including the border crossing into Ecuador, so I was up at 6 and packed ready to have breakfast at the allocated time of "six-firty" and ready, sat on the bike with the engine running by "seven-firty" (Kevin's accent the subject of much piss-taking by the group!). Riding again in 2 groups we headed out from the hotel and through town, joining the main road back up into the mountains and heading south. Yet more twisties to get us groovin'. I could hear Aaron laughing behind me over my engine noise, and when we stopped I asked him what was so funny... his reply was that he was laughing because I was scraping my panniers on the bends, I was leaning over that far... I recall hearing them scrape on one turn, so I must have been pretty far over...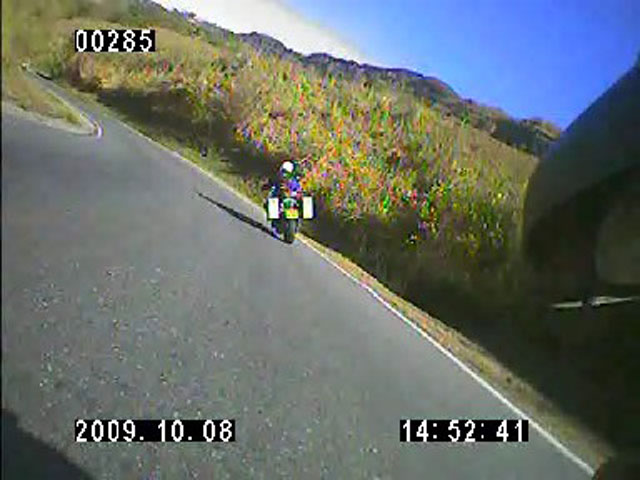 The morning ride was just as fantastic as the ride 2 days ago, the scenery the only difference as the mountains changed from the lush green of the north to drier more barren browns of the south. Columbia seems to consist of endless mountains through which the roads must pass, winding up one side and down the other before climbing up and over the next mountain. The Alpine passes have nothing on this place, which must rank as the greatest undiscovered motorcycling country in the world... if you ride a bike, Columbia should definitely be on your "to-do" list...
But all good things have to end, and after a solid 6 hour ride we rolled up at the border just before 1.30pm. We bade our farewells to our hosts, Mauricio and Carlos, who have been absolutely fantastic with us, their constant attention, smiles and great riding making our journey through their country even more special. If you do come here, visit Ruta 40 in Medellin and say "Hi" from me... I'll certainly miss Mauricio's beautiful and immaculate R1150GS Adventure Special Edition (which puts my bike to shame and has almost double the mileage).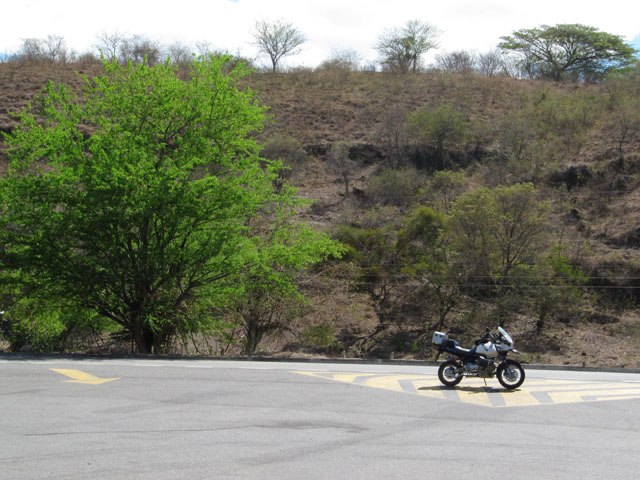 After they'd departed we got on with the serious business of trying to clear the border. Getting checked out of Columbia was relatively straightforward, a simple stamp in our passports to get us out, but the customs woman wasn't too happy with our bike import permits we'd been given at the airport in Bogotá, as it didn't match the ones issued at the land borders, but after a quick conversation she relented and we had the bikes checked out. We rode the bikes to the Ecuadorian side of the border where we then went to get ourselves stamped in to the country, a process that took quite a while as there was a long queue, then to the vehicle customs to get permits for the bikes. And that's where it all started to go badly, as the customs guy's computer was dreadfully slow, the process of issuing permits taking well over 20 minutes per bike. With 20 bikes to clear, and the time already 3pm, and with an estimated 50 miles still to go, it was going to be a very long day for some... Fortunately, I was near the front of the queue and so was cleared by 4.30pm, when Kevin decided we needed to get a group to the hotel to secure the rooms. So Kevin, Richard & Karen, Tony, Pertti and I left the others queuing and headed into Ecuador.
As we were now at altitude (reaching 3,300m at one stage) it was colder and with rain threatening we'd donned waterproofs before leaving. Riding once again into the mountains the scenery changed as it so often does as soon as you cross a border, the hills more rounded and the houses more ramshackle once more. The vehicles on the road has also degenerated, from the nearly-new cars and SUVs of Columbia and back to ancient Opel Cadets and battered Chevrolet-branded Corsas. Many had been jacked up at the rear and festooned with spoilers and go-faster stickers and were driven enthusiastically by boy-racers. But as it went dark they didn't seem to want to turn on their lights in order to save power, making overtaking a risky business. And dark it got, as the estimated 50 miles to Otavalo turning out to be closer to 100 miles, a journey that took us almost 3 hours. When we found the hotel (having flagged down a taxi in the centre of town) we were met by an enthusiastic English-speaking host (half Irish, half Italian) from Pennsylvania, who has lived in Ecuador for the past 30 years. Within minutes we were checked in, hard the bikes parked in the secure car park and were enjoying a large cold beer in front of a real fire...
The others rolled in just as we were eating dinner (an excellent liver pate followed by a lamb curry), turning up in 3 groups, with Julia, Andrew and the kippers last to arrive just after 10.30pm, tired after a very long day on the road. But with an abiding memory of Columbia, without doubt our favourite country so far...
Friday, 9 October 2009
Crossing the Equator...
As we covered so much distance yesterday, today we have a short ride to Quito so have the benefit of a slightly later start time of 10am. That gives me chance to update the blog and call Tracy before I have breakfast and load up the bike. In the early morning light the hotel we've been staying in looks much better than in the dark when we arrived, yet another example of the great accommodation we've had for most of the trip...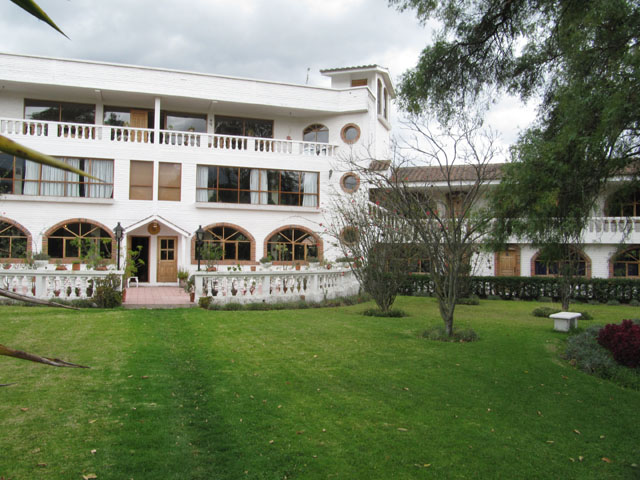 Riding out of town as one large group (minus the kippers, who once again have set off to do their own thing) we headed for the equator, which was just 30 miles up the road. I chose to ride at the back, which gave me a great view of the group, stretched far out ahead of me as we rode up and down the hills in formation. Once again we caused quite a stir amongst the locals, many of them standing open-mouthed at the roadside, counting the bikes as we went past. I guess it's not every day they see 18 large motorcycles ride by... Then we arrived at the small town of Cayambe and the centre of the Earth... my GPS doesn't lie, and there was no doubt we were there, as there was also a large monument and a big line drawn on the ground. We arranged to park our bikes on the cobbled circle surrounding the monument, which meant riding through a small opening (vehicles are not usually allowed onto the monument), and they made quite a sight lined up straddling the equator, front wheels in the Southern Hemisphere, back wheels in the Northern Hemisphere...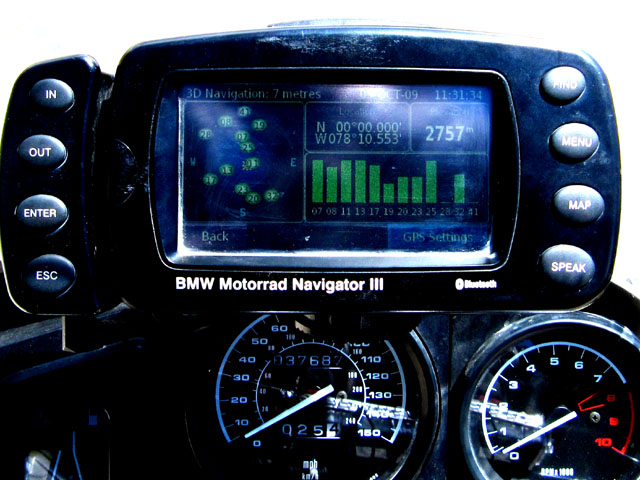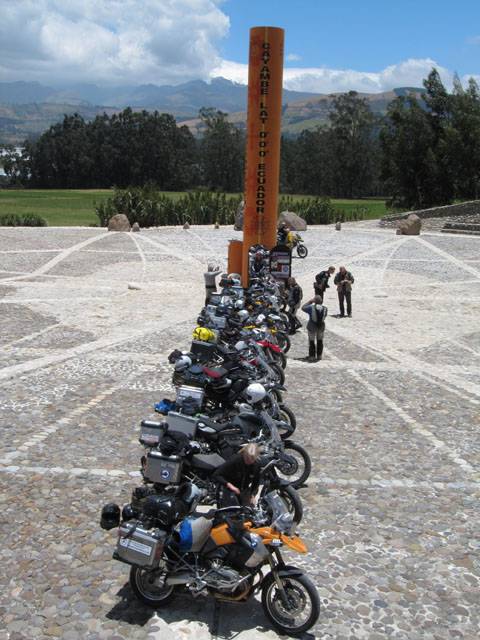 As we were there at mid-day, the sun was almost directly overhead (it would have been at the equinox), and it was really odd, having our shadows completely underneath us. But we couldn't spend all day hanging around, half in the north and half in the south, so we rode the bikes out of the monument and back on the open road to Quito, again riding mostly as one large group, only getting separated for short periods as a result of overtakes. When we arrived in Quito we discovered that the town had reversed a number of the one-way systems (the old markings still visible on the roads) and removed some roundabouts that were landmarks on the notes. But as we were still riding in a group, we simply followed Kevin and Julia's lead and soon arrived at the hostel. This was split into 2 buildings across the street from each other, each with a small parking area, which we filled completely with bikes. Checked in and changed, I went for a wander round the town with Nick and Chris & Danielle, stopping for a salad lunch in the Magic Bean (a popular tourist hangout). We then went on a sticker-hunt, whilst Chris & Danielle were shopping for a tee-shirt. By now I was starting to feel tired, the after effects of the last few days hard riding catching up on me. But with a meeting at 5.30, I didn't get much chance to snooze. The meeting was to run through the next few days, as Kevin and Julia were struggling to find a printers open to print the route notes – a lot of businesses closed due to Independence Day. It was also another birthday... Chris turning the ripe old age of... well, just a year older than he was yesterday...
The usual present-giving celebration was held, the first present he opened being particularly amusing... (and no, Tracy, I haven't bought one for myself)...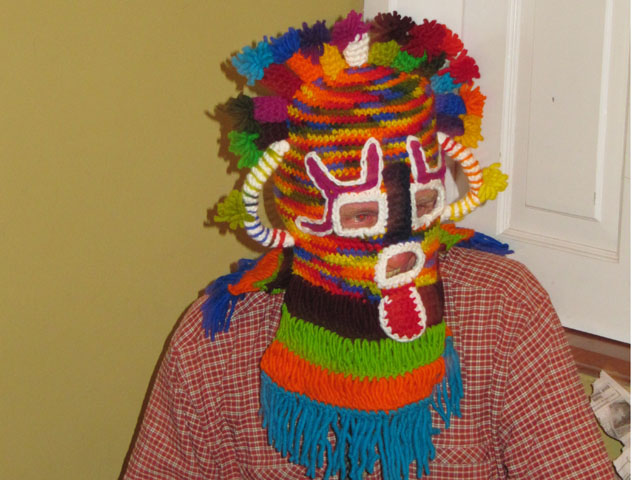 We also got him a number of presents appropriate to the local area, including a rather nice embroidered shirt, a bright green woollen hat, a shot glass and some pan-pipes... but the presents that got the largest laugh were the last two. But first, I need to tell you the story behind them. Back in Panama, when Danielle's bike was due to be shipped home, Chris swapped the wheels and tyres over with his own bike as the tyres were virtually new. In doing so, something must have been disturbed, as his speedo (and ABS) stopped working. Chris then proceeded to tell everyone about his speedo problem, and I think he must have forgotten who he told, because he told a few of us several times. Then he started to get really concerned that without his speedo he wouldn't be able to follow the route-notes, which are marked out based on mileage counters. Which he also told us about. It became something of a standing-joke amongst the group that whenever we saw Chris, he'd mention his broken speedo... and so, his last 2 presents... which were, a pair of Speedos and a rather appropriate tee-shirt!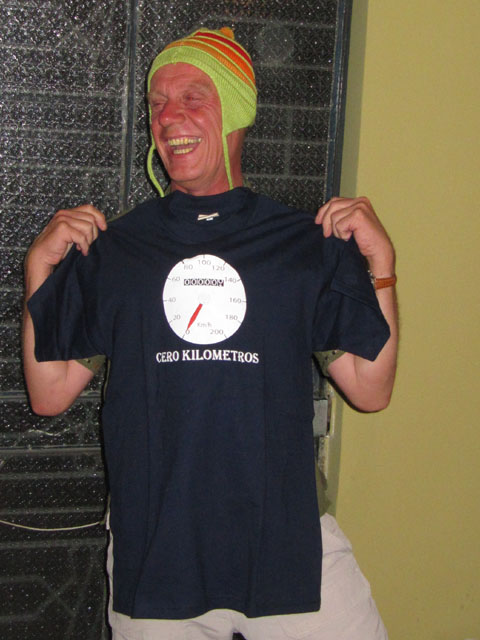 Chris is a good sport, and took it all in his stride, laughing along with the rest of us, before volunteering to buy us dinner at the local tapas and wine bar. This place certainly wouldn't survive in the UK, as the way it works is there are several set menus, each with different prices. They don't relate to the food, which is an "as much as you can eat" arrangement of lots of different tapas which are constantly brought to the table. They relate to the different ranges of wines that you can select from, again which are served on an "as much as you can drink" basis. Almost the whole group turned up and we had a long table facing the square, and selected the $23 option from the menu, which gave us an excellent Argentinian Merlot (the same one we'd had in Popayan). And so we sat and chatted and ate and drank. In the square in front of us a crowd gathered to watch 3 local lads break-dancing on a wooden board they laid down. One of them was really, really good, spinning on his back, shoulders and head, then stopping dead in a head-stand before spinning and jumping about some more. Whilst the entertainment continued, we continued to eat and drink. And even when it was over, we continued to eat and drink. Some of the group left whilst a few of us remained, to continue drinking. I think that an "as much as you can drink" bar that serves a great red wine is a dangerous place. When the last 5 finally left (Pertti, Nick, Simon, Andrew and me) around midnight, we'd certainly got Chris' money's worth... which should please him, as he's Scottish after all...
Saturday, 10 October 2009
Hangovers, Guinea Pigs and long riding days don't mix...
Unsurprisingly, I woke with a slightly thick head, the consumption of vast quantities of red wine combined with just 5 hours sleep not a good idea. Especially considering today is a long riding day, with over 350 miles to cover to the town of Cuenca. Tagging on to the main bulk of the group led by Kevin, at least I would only have to concentrate on my riding and not on route-planning and direction finding...
The ride took us out of Quito and onto the Pan American highway, through countryside poorer and drier than in Columbia, and up into the Andes proper. The mountains are unusual in that almost every one seems to have been turned into a patchwork quilt of cultivated fields, all different shades of greens and brown. The houses scattered about vary from simple wooden shacks to nice-looking, almost Alpine-style houses with neatly tended gardens. The towns and villages differ in that the houses, like those on the outskirts of Quito, are simple and austere concrete blocks, flat-roofed, some left in drab grey whilst others are painted in pastel shades of pink and yellow. As we ride up into the mountains, we notice several roadside stalls with "Cuy" being grilled on large spits. Cuy is guinea pig... but these are much larger than the small furry animals that we see in petshops in the UK. Naturally, we had to stop and try them, so we pulled into a restaurant that looked a little cleaner than the more basic roadside shacks, and ordered a couple between the group. They came chopped into 5 pieces – one of which was the head, complete with little teeth...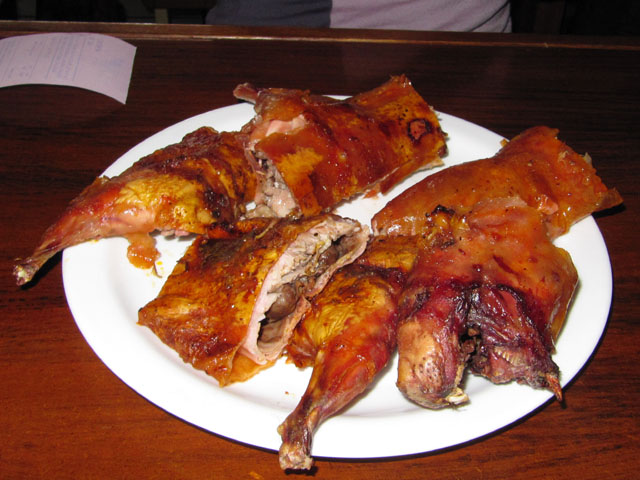 It tasted far worse than it looked, a rich, sickly flavour with a lot of salt and an almost fishy after-taste. I couldn't eat it, but Nick and Christine seemed to like it, polishing it off and enthusing about how lovely the skin was... I don't think my delicate state helped, but at least I tried it. I won't be eating it again, that's for sure...
Back on the road we headed further up into the mountains, climbing over 3,500m up, the air noticeably thinner but the bike still running perfectly. At one stage we encountered some roadworks, where they had stripped the top layer of tarmac and replaced it with mud some 4 inches thick, onto which they were putting cement dust and then applying water. We had to ride through the mud, which as we're now on road tyres front and back was "interesting". Even Kevin had a moment when his tyres slipped sideways as we tried to negotiate our way round an oncoming truck that wasn't prepared to give us any room. Only Phil actually dropped his bike, though, the rest of us having built up our experience over the past 12 weeks. A while later we encountered a new hazard, this time dense fog which reduced visibility to a few feet, and whilst in the fog the road again deteriorated, with several large potholes and complete sections where it was nothing but gravel and dirt. Challenging, but the increased level of concentration required meant I couldn't think about how bad my head felt...
We stopped for a drink at a roadside cafe overlooking the small town of Alausi, with its huge statue high on the hillside overlooking the town. The town is typical of those we've seen scattered about the Andes in Ecuador, with some very large statues dotted about on the roundabouts and on major junctions.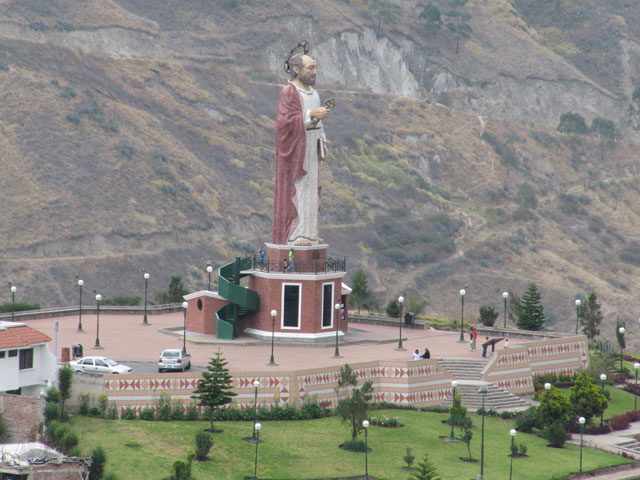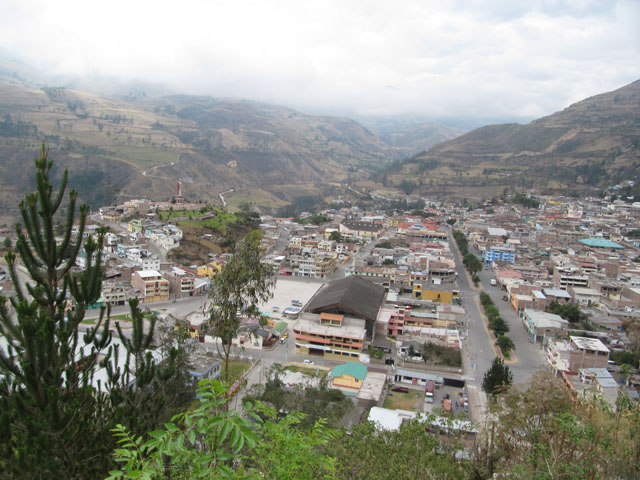 From here the road deteriorated yet again, in a seemingly endless set of roadworks, the fog returning to further slow our pace. It was quite a relief when we finally emerged onto good tarmac again, and were able to start making progress. We had a short stop for fuel and snacks some 30 miles from Cuenca before completing the last leg of the journey on the dual carriageway around town, then picked up a sign for "Al Centro" which dropped us firmly in the middle of suburbia, and we completely lost all sense of direction. Kevin asked a taxi to show us the way to the hotel, so we tucked in behind and wound our way through various streets before reaching the cobbled streets of the town centre and our hotel. Once checked, showered (the best shower of the trip by far, with lots of hot water and good pressure) we wandered into town in search of an Indian restaurant the woman on reception had told Aaron about. Only we walked and walked and walked and couldn't find it (eventually realising she was referring to a fast-food joint that didn't serve Indian food as we know it). So we settled for a nice looking restaurant overlooking the main square and church, where there was a night-time wedding gathering. The food was excellent, a delicious prawn and cheese dish to start, then a medley of steak, prawn and shrimp in 3 different sauces for main course and a chocolate dessert. Needless to say I didn't have any alcohol to drink, still feeling pretty crap from yesterday's excess...
When we were just about finished, the wedding party emerged from the church to a firework display, set up in the square. This turned out to be hilarious, as the fireworks shot skywards but failed to reach their target height before exploding in a mass of sparks and falling, still burning, right into the crowd, who then ran away trying to put their hair out...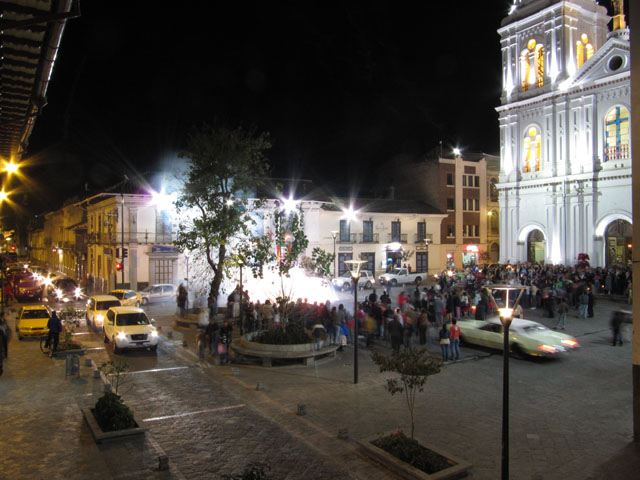 I think we all laughed all the way back to the hotel, where I gratefully went to bed early...
Sunday, 11 October 2009
Last day in Ecuador and an eventul day for some...
As we're spending the night in the border town of Macara, which is a bit of a one-horse town, we get to lie in this morning, so we don't arrive too early. So I updated the blog and sorted my things out, then checked the oil on the bike... it had been replaced in Bogotá but had already burnt a fair bit, so when we stopped at the garage for fuel I bought some more to top it up. It's not unusual for R1150GS' to burn oil, but they usually stop as the mileage rises, and now mine has 38,000 miles I'd have expected it to stop burning as much... will just have to keep an eye on it going forwards...
Riding as a small group with Kevin and Julia and a couple of others we headed out of town and back into the mountains. The road was as it was yesterday, mostly great tarmac and sweeping bends, but with the occasional stretch of dirt and potholes, typically just round a bend, requiring maximum concentration even when riding behind others. After almost two and a half hours of constant riding we stopped at a little roadside café for some lunch and a drink – no guinea pig today, just chicken and chips for $2...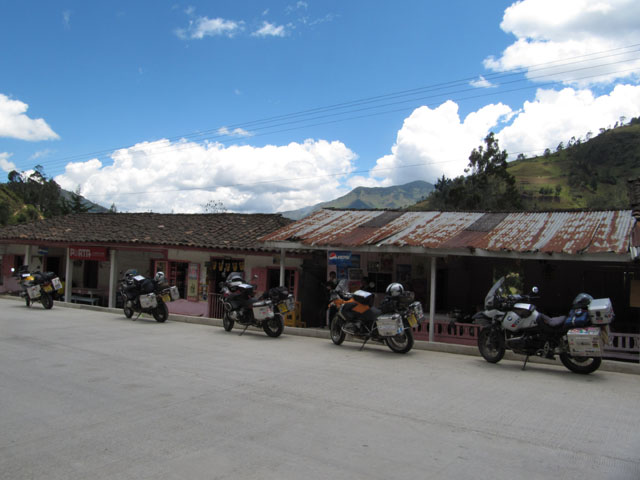 Whilst we were eating, several families walked down the hill past where we were sat, all dressed int their Sunday best. The traditional clothing of the indigenous people of Ecuador on full display, complete with hats. They were also tiny people, and looked even smaller as they walked past the huge motorcycles we are riding...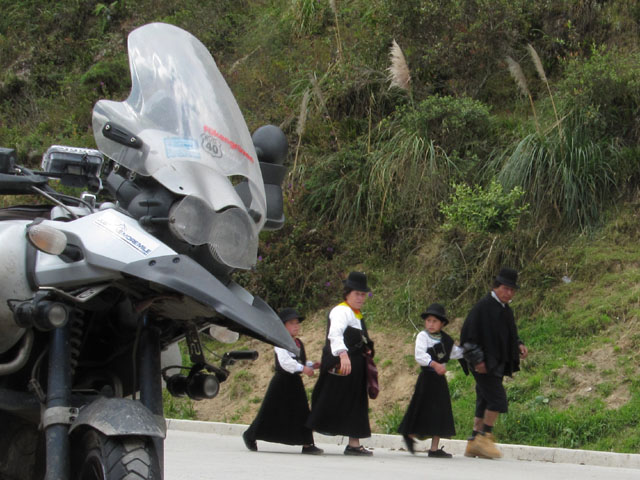 After lunch we continued on our way, the road still challenging for its varied surfaces, sometimes good, sometimes dreadful. After a while, Kevin pulled to the side of the road and we stopped behind him. He'd heard his mobile phone buzzing in his pocket and stopped to check the messages. It was bad news, Simon had had a crash before La Paz, which was back up the mountain about 2 hours behind us. A few hurried exchanges of messages and we got the news he was alright, completely unhurt, but the bike had suffered a puncture and they (Aaron was with him) didn't have a repair kit. As the F800GS he's riding has tubed tyres (unlike our tubeless ones) we also didn't have a repair kit so there was no point in heading back to meet them. They were getting the bike in the back of a truck and taken to Saragua, a slightly larger town where they eventually managed to get the puncture fixed and the clutch lever housing repaired. Relieved they were all OK and able to sort the problem out, we continued on our way and arrived at the hotels we were staying in (2 next door to each other) around 5.30pm. Gradually the others arrived and we lined the bikes up on the road outside the hotels, trying to ensure we'd got enough room for all 20. Then a small group arrived including Nigel, who had also had a crash. Only his was worse, as he'd gone down hard as a result of (in his own words) entering a corner too fast and finding a car on the wrong side of the road, the natural reaction of grabbing the brake enough to have him fall. He was visibly shaken and had a sore shoulder, but no broken bones, which was very lucky. His bike was worse for the crash, but once again the crash bars had done their job and saved the engine. The front subframe, on which mounts the screen and instruments, had bent and broken and the screen was badly scratched. His nearside pannier was also badly bent out of shape, but nothing Jeff won't be able to knock back into shape when we finally meet up with him again. The bike was rideable, which is also lucky as we currently have no support van, it being still in customs in Ecuador, waiting for Jeff to clear it, hopefully tomorrow, and then catch us up again. So whilst Nigel took some painkillers we did our best to make his bike a little more solid, removing the screen, swapping his right mirror for his broken left one (so he can see what's behind him as we're riding on the right), and generally cable-tying up the loose bits. It's a warning to us all to ensure we're taking it steady and riding with maximum concentration, especially late in the day (his crash was just 30 miles or so from the hotel).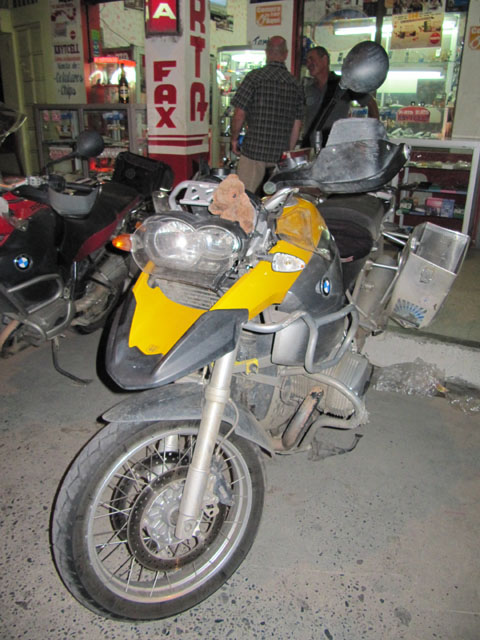 After we'd sorted his bike and Simon had arrived, his bike showing no real signs of the crash (but his new trousers, that he'd bought at a premium in Bogotá, were trashed), we went to the little café round the corner for dinner (Macara doesn't have any real restaurants). The chicken soup and carne with mushrooms were excellent, as was the beer, which helped quench what was now a raging thirst...
Tomorrow is another border day... and then we're into Peru!