I woke for the 5th time that night and decided that I'd get up, even though it was still early and we're not due to be picked up for our trip onto Lake Titicaca until 9am. The effects of the altitude, combined with a severe storm, robbing me of much-needed sleep. Opposite the hotel is the national bank and this morning is the local equivalent of "giro day" where the local women come to the bank to get state aid for their small businesses. There a no men, because the government believes that if they gave the money to the men, they'd simply go down the pub and drink it away. So lined up all along the street are small Peruvian women in bright red (or sometimes green) skirts, traditional blouses and their strange little hats, carrying their belongings or offspring on their backs in brightly coloured shawls... quite a sight...
Without the benefit of a decent zoom lens to hide behind, I was forced to emerge from the shadows and into the full glare of their stares. This left me feeling decidedly voyeuristic trying to get a photograph without them noticing, as though I was intruding into their world, which was so different from my own I could but stand and stare. Taking photos of people going about their normal daily lives often leaves me with that feeling, and seeing them lining up outside a bank for a handout, hundreds of them all up the road, just made it feel worse. But that's they way they live, and witnessing it (and writing about it) is part of the reason I travel, so I can't allow myself to feel too downbeat...
After breakfast it was time for us to play tourists again, as we boarded a coach outside the hotel, which took us the short journey down to the lake shore (about 15 minutes walk away). Here we boarded a boat that would take us out onto the lake to visit the floating islands of Uros. Lake Titicaca is the highest navigable lake in the world, at an altitude of 3,810m, and is 118 miles long and 51 miles wide. It also borders Bolivia, a country I'd love to have visited on this trip, but it's not on the itinerary... maybe some other time... The boat took just half an hour to reach the floating islands, which are made entirely of reeds, as are the houses that the residents of the islands live in. As we were arriving at the checkpoint where the captain had to hand in a ticket for the boat, several young lads on the bank started lobbing chunks of mud at us... hardly a warm welcome!
Approaching the islands it became obvious that this was a honey-trap for tourists, as each island had a tourist boat moored up alongside, or a group of brightly clad islanders waving to us to come and visit their island...
Once on our chosen island we were invited to sit in a semi-circle and listen as Sylvia, our guide, explained how the islands are constructed. They start with a large block of reed-roots in mud, carefully selected so it's light and will float, then they drive large stakes into them and tie them together to create the base of the island. On top they place layers of reeds in a hatched pattern, building up the 1m base by a further 2m. Then they build their houses, also out of reeds, and these sit on the top. The whole island is anchored using a large stake driven into the reed beds and rope with rocks suspended from it, which are then attached to the island to stop it being blown around.
We also heard how not only are the islands, houses and boats made of reeds, but they also eat them. Whether this is true or just another ploy to get the tourists to do something silly, like trying to eat reeds, is anyone's guess.. and tasty they're not...
The islanders were very friendly and through our guide explained how they lived. Originally they moved to the lake to escape the Spanish conquistadors, making a living from fishing. Nowadays they make most of their money from tourism, as there is a fairly steady stream of visitors to the islands year round. They buy material in town and make things to sell the tourists, from miniature reed boats through to large beautiful decorated blankets. Needless to say that as I'm travelling by bike I have no room for any souvenirs, so will spare Tracy the llama-patterned rug... They also went on to explain how they still visit local markets where they barter their goods and fish for things they don't have on the islands, like potatoes and corn. This explanation took the form of a little play, with the 4 women each representing a different community, as evidenced by their hats. It was highly entertaining, as they gabbled to each other and exchanged goods...
Suitably educated, we wandered round the island looking in the houses and were then serenaded off as we took a raft boat trip to another island, where there were more women selling their goods to another group of tourists. There was also a small flock of flamingos, a fish farm and a small group of ducks on the island, and a small child placed strategically on a reed rug so he could have his photo taken... cynical I may be, but I recognise a photo op when I see one...
The whole trip had a feel of visiting a circus, rather than seeing how people live in a traditional way, but I guess that was inevitable when tourist dollars start to enter a community whose unique selling point is how they live. In contrast to squalor people are living in on the land, especially in the town of Juliaca just up the road, the islanders have something special. So what if it needs to be polished and presented to foreign tourists in order for them to be able to continue to live this way. When we'd all gone home, they could continue with their quiet existence, relaxing in their reed houses on their reed islands, eating reeds and watching their solar-powered TVs...
Back on dry land I returned to the hotel and had snooze, trying to catch up on my lost sleep, but soon woke again and wandered downstairs to see if anyone else was about. Just then another storm arrived, with thunder and lightning and then heavy hail sending people running for shelter. Within minutes the road outside the hotel was white with hailstones, and a small river was running downhill. Quite spectacular...
We then held the week's Prat Hat ceremony, which had been delayed due to all the other activities we'd had on. The nominations this week were particularly poor I thought, especially mine, which was for my pannier falling off again (and for remarking that I'd rather be on another boat which had some pretty girls on), Nick (again) for his Dad-dancing episode in Chiclaya which resulted in Julia being hurled to the floor and bruising her backside, Richard for some innocuous remark which I won't repeat here, and Julia for 2 things... first was the 6.15 – 6.50 cock-up that robbed us all of sleep before the visit to Machu Picchu, the second was for demonstrating how stable the rocks were in Canyon del Pato by almost pulling the mountain down.... and of course, Julia's nominations won the day... and the hat does suit her don't you think?
After the ceremony was over we went back to the Rock and Reggae bar, but were bitterly disappointed to find the music wasn't as good and sat at the bar were 4 chain-smoking backpackers, making the bar not a nice place to be... it's funny how offensive a smoky bar is these days... so we left after just one beer and went in search of food. We found an excellent restaurant where I had some lovely ravioli with bolognese sauce and shared a couple of glasses of decent Argentinian red wine... lovely...
Despite last night's hail and rain storm, this morning dawned bright and sunny, but was still cold out of the sun. But the bright sky contrasted sharply with my mood, as I'd had another night of interrupted sleep, waking every hour or so, the thin air clearly affecting me. I've never had a problem sleeping and managed to get off quite quickly despite turning in at 9pm, but woke around 12.30am and then continually through the night. I also woke with a headache, the first real one of the trip, the bright sky causing me to squint badly and making matters worse. There was only one possible cure, and that was to get on the bike and ride...
Which is exactly what I did. First I had to bring it round from the car park to the hotel so I could load it up, and it almost fell over on the steep camber outside as I went to put things in the top-box, which would have been really embarrassing. Once loaded, I followed Aaron out of town, confident that his GPS would help us find the right road, and happy not to have to think too much for myself. We filled up with fuel on the outskirts of town, in the middle of some roadworks which meant the entrance and exit of the petrol station was a mass of deep wet mud, not ideal when on worn road tyres, but we didn't have any drama. We even managed to negotiate the chaos of Juliaca without too much difficulty, emerging at the far end of town before heading back round town to pick up the road towards Arequipa. At this point my headache and the cold were getting to me, so I pulled over to take some paracetamol and to put on my over-jacket. Nick stopped too, so we let Aaron disappear and then rode on alone with me leading and Nick content to follow. The rode rose up into the high mountains once more, the scenery as barren yet stunning as ever. Crossing over one set of mountains and down a valley we crossed a bridge dividing two parts of a lake and had to stop as there were flamingos... I just wish my new camera hadn't broken as the pictures would have been so much better...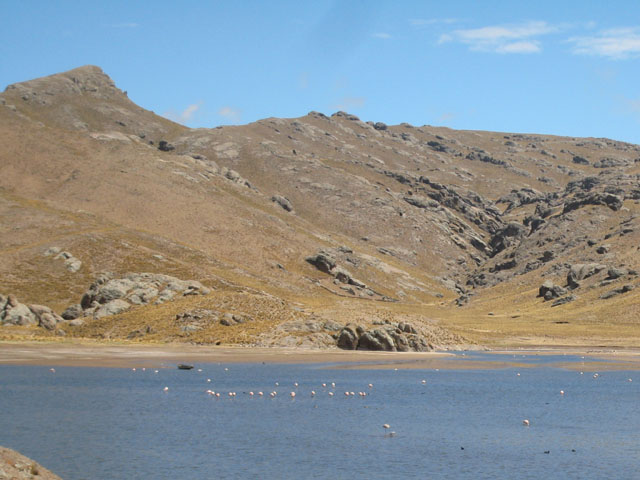 Riding up the mountains on the other side of the valley brought us high above the lake and the views became even more stunning, reminiscent of the best of the Lake District but on a much, much grander scale... by now my headache had long been forgotten, my mood once again as bright as the sky... it's hard to be anything but positive when the world looks like this...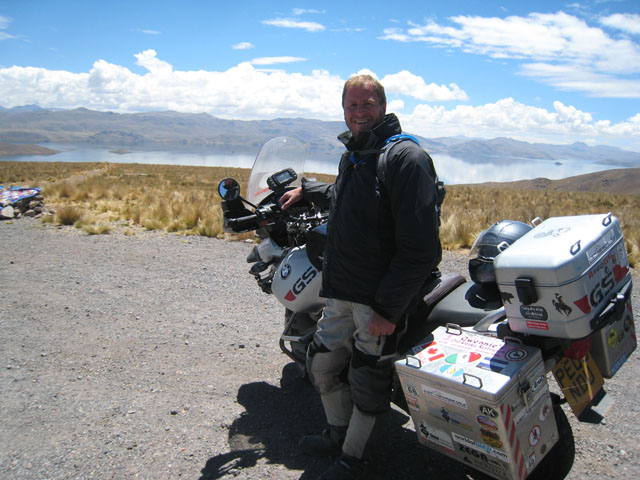 It wasn't just the scenery that took my breath away, though, as that photo was taken at 4,426m (over 14,500 ft). And we still had further up to climb, the top of our route being over 4,800m as we rode over to the night's stop at Chivay. Continuing on our way we stopped for a coffee in a little roadside shack, Nick and I arriving before everyone else and so once again experiencing the sensation of being like aliens landing on earth. The local café was little more than a shack with a window through which they sold bottles and other consumables, whilst inside was a single table and bench seat. We sat down and ordered a coffee (for me) and a coca tea (for Nick, it's supposed to help with altitude but I'm not keen). Despite the place smelling of urine, the drinks were good and before long several other bikes pulled up and their riders and pillions entered, filling the café but replacing the feeling of being adventurous with that of just being in a strange place with lots of other english people. So we paid up and left, riding into the wilderness alone. The road immediately changed from tarmac to dirt, rutted and stony with occasional patches of deeper loose dirt. A couple of miles in we came across another café with outside facilities, and as my insides had been shaken about by the rough terrain, I went inside whilst Nick stayed outside and admired the view...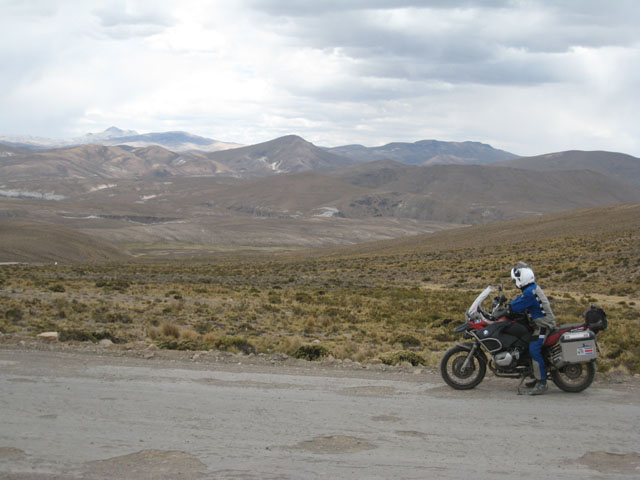 It was quite a view, but we couldn't admire it too much when on the move as the road required a lot of attention. It went from dirt, which was fairly easy, to severely pot-holed and rutted tarmac, which
proved more challenging, it being impossible to navigate a line through the pot-holes as there were simply too many of them. The pounding was intense, and it wasn't too long before my bike packed in, just stopping dead exactly as it had done in Honduras. I tried to restart it, but no joy, it being obvious that there was once again no fuel getting to the engine. Nick stopped and we pushed the bike to the side of the road, then waved the other riders past, explaining to each one that we though we knew what the problem was, and that when Jeff caught us up we'd get it sorted. I removed all the tank fixings ready for Jeff and then sat and waited... there being many worse places to break down than here, and at least it wasn't raining... Pretty soon Jeff arrived and I told him what was wrong, so we removed the tank and drained the fuel and then he set to work removing the tank fittings again...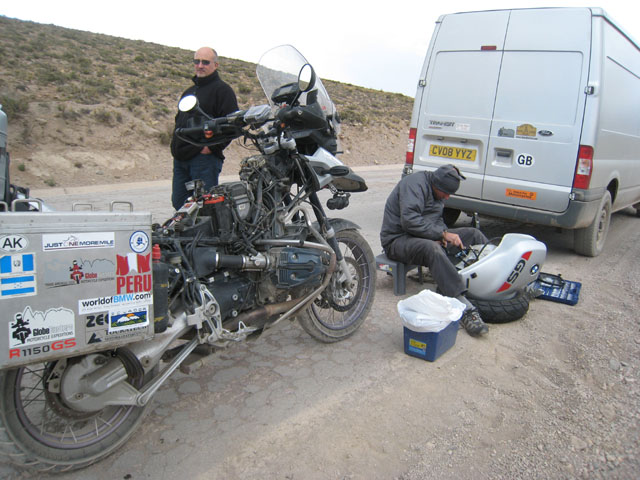 No sooner had he got the fittings out than it was obvious what the problem was, one of the fuel hoses between the filter and the pump was disconnected, meaning no fuel would get through to the engine. It must have been shaken loose by the terrain, just as it had in Honduras. Jeff reattached it and crimped the hose clamp to try and stop it recurring, then re-assembled the tank. We then filled it with fuel and checked for leaks before putting it back on the bike and reconnecting it up again. Hitting the starter the bike fired first time, and less than half an hour after Jeff had arrived I was back on my way across the pot-holed road up the mountain, with Nick closely behind.
Eventually the road became good tarmac again, and I was able to sit back in the saddle and up the pace a little. It was only a little, mind, as at this altitude the bike feels decidedly asthmatic, unable to get the usual quantity of air in to make good power. Rising higher towards the summit it got noticeably colder, and then started snowing. Yes, snowing. It wasn't too heavy, but heavy enough for us to slow down and have to keep wiping our visors every few seconds. With one eye on my sat nav's altitude reading, we finally crossed the high point at 4,870 meters (nearly 16,000ft) and began the descent towards Chivay. As we dropped the snow turned to light rain and then cleared, the road much better for being dry as it twisted and turned down the mountainside. Entering Chivay we stopped and paid the tourist tax (17.50 soles each, about £3.50) and made our way through town, via the petrol station to the hotel. Despite all the hold-ups we still arrived around 3pm, and gratefully accepted a cold beer from Pertti who was celebrating feeling better after a few days with a dicky tummy. With the beer sunk I showered and changed and went in search of an ATM to get some cash. Chivay is a small town with a nice little square, a stopping-off point for tourists entering Colca Canyon in hope of seeing wild condors. In the square is a nice white church, whilst on the hillside behind someone has created a large cross...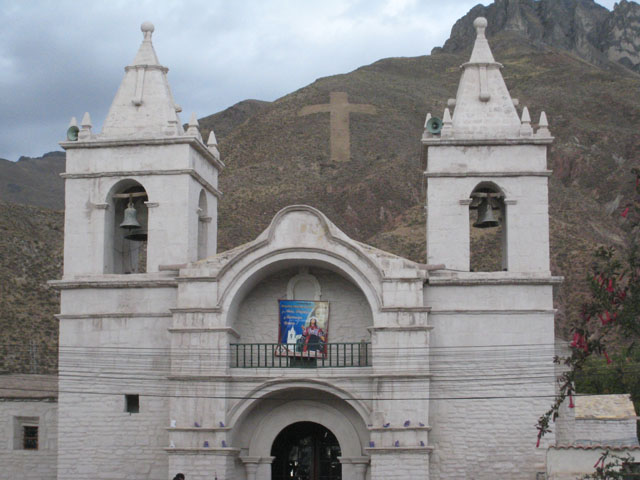 Wandering round the streets also meant I could play voyeur again, peering into other people's daily lives and snatching photos when they weren't looking. Down one of the better streets (this one had pavement and the road was concrete, not dirt) an old lady was busy sorting through a large number of what looked like beans, completely oblivious to my passing and staring...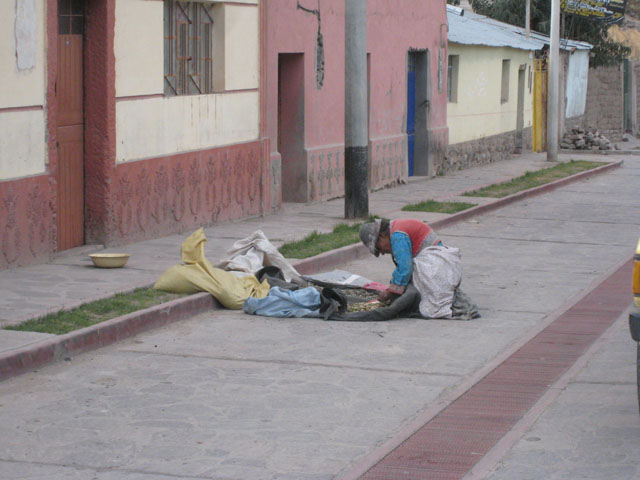 Back at the hotel I updated the blog whilst chatting to Tracy, surprised to find her online as by now it was 4pm (11pm in the UK). When done it was time to go back out in search of food, but first a beer in one of the 2 Irish bars in town. We tried the first one, where Tony, Phil, Richard and Max were finishing a game of pool, but it smelt of wee, so we went to the second. This was empty and when we asked about the pool table we were shown into a dark back room, where a young girl was busy watching "Finding Nemo" on the TV (in Spanish, of course). The barmaid then switched on the lights and served us a couple of bottles of Cusquena whilst we racked up the pool balls. Now there's something a little odd about the pool tables in Peru, and that is that the pockets appear to be smaller than the balls. Seriously, I've never played pool on a table with such small pockets before, and it made for a long game. The little girl seemed to be unconcerned by the gringos drinking and playing rubbish pool, as she flicked the channels between Nemo, the Mummy and some kids' cartoon. Where else in the world would you drink beer and play pool whilst watching cartoons with a kid in a pub?
When we'd drained our beers we left to go find some food, only to walk out of the pool room back into the main bar to find a table of fellow riders, so we sat down and ordered a couple of pizzas and a bottle of water (for me) and a glass of wine (for Nick). The pizzas were good, but fatigue had set in by the time we finished them, so we strolled back to the hotel and I went to my room to update the blog and try and get a good night's sleep, knowing I have to be up very early tomorrow to go and see the condors (and ride the 40 miles of dirt road to the canyon and back!).
Sunday, 25 October 2009
Colca Canyon, Condors and more dirt-riding...
At last had a reasonable night's sleep, despite the noise from the wedding in town going on until sometime around 4am. Woke just before 5am and showered, packed and dressed ready for the early ride out to the canyon then went and ate some breakfast. It then transpired that we would not be leaving for the canyon until 6.30am, so I had some time to kill. Several others had ditched their luggage and panniers to lighten their bikes for the canyon, but I decided to ride it as I had been doing all along, fully laden, so I wouldn't have to return to the hotel once back out of the canyon. When the main group was ready to leave, Nick turned up still in his civvies and confused as to why everyone was all togged up and sat on their bikes... he'd missed the whole "ride into the canyon early to see the condors" thing. He said he'd be 5 minutes, so I waited whilst the rest set off. Five minutes later he re-appeared, still in his civvies and said to get off as he'd be another 15 minutes...
So I left alone and found the right road out of town and towards Colca Canyon. The road was initially good tarmac twisting up the valley but this didn't last as it then became a dirt road, solid, well-packed dirt with some sections of light gravel and ideal for brisk off-road riding. I was soon enjoying myself, stood up and tramping along at around 35mph when I came across Richard & Karen stopped with Simon. I stopped to discover Simon had suffered his 2nd puncture of the trip and Richard & Karen had stopped with him to try and contact Jeff. With the situation fully under control, I left them to it and continued on my merry way. All the way up the valley I had to catch and overtake a seemingly endless stream of minibuses and coaches ferrying tourists up to the viewpoint at the head of the canyon. The dust clouds they created made this an exciting prospect, as the closer I got to them the less I could see, but they were well disciplined and moved over to let me fly past. Some of them were stopped at viewpoints overlooking the canyon and had disgorged their contents so they could stand near the edge and take pictures, but as soon as I roared into sight trailing a cloud of dust, their cameras turned on me! Who'd have thought that the sight of me riding off-road would warrant complete strangers to take my photo...
About half-way up the canyon road was a long tunnel, which was particularly hazardous as the surface inside was soft and sandy, and the dust from the last vehicle to pass through it hung in the still air, reducing visibility to a few feet. With lights on full and horn constantly blaring I crawled through the tunnel in a state of heightened awareness (read: "fear"). Relieved to emerge the other side without being squashed, I continued to make my way to the end of the road and pulled into the parking area with just Kevin, Ozzy Andy and Nigel already there... and so we made our way to the overlooks, and sat on the wall admiring the view and waiting for the condors...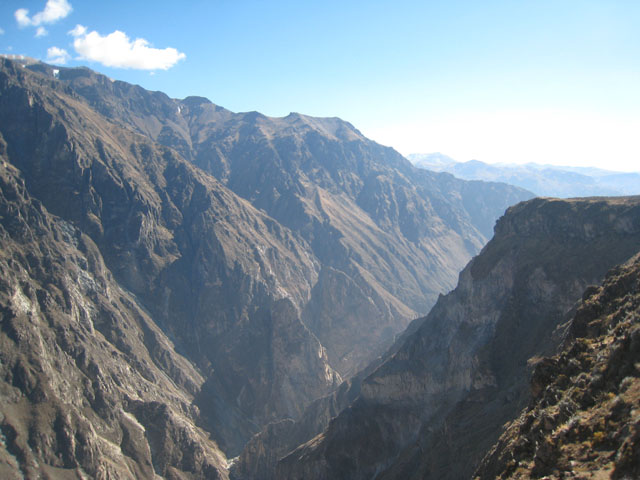 When the rest of the group had arrived and we'd sat chatting for around 45 minutes, Max & Christine decided that the condor-watching was like the bears in Stewart (remember them? Seems like a lifetime ago...) in that the more we waited the less likely they were to appear, and left. Within 5 minutes of them leaving, we spotted a condor, deep in the valley below, circling and gaining height on the thermals. Even from the distance we were from it, perhaps just over half a mile, it looked impressively large. Gradually it worked its way upwards, circling between the ridges of the canyon and rising on the hot thermals, using the rising hot air to provide lift, never flapping its wings. The subtle movements of its wings allowed it to twist and turn, gaining valuable height without putting in any effort. Sometimes it was only possible to see the bird by its shadow, as it blended perfectly into the brown hillside. After about 15 minutes it had risen from the depths of the canyon to right above the ridge on which the various viewpoints were situated, hundreds of tourist's eyes raised to sky watching this majestic bird soar above out heads. Boy, do I wish I'd still got my new camera as I'm sure I'd have got a half-decent photograph, but all I got was this – cut and pasted and enlarged as much as possible, but still as blurry as hell...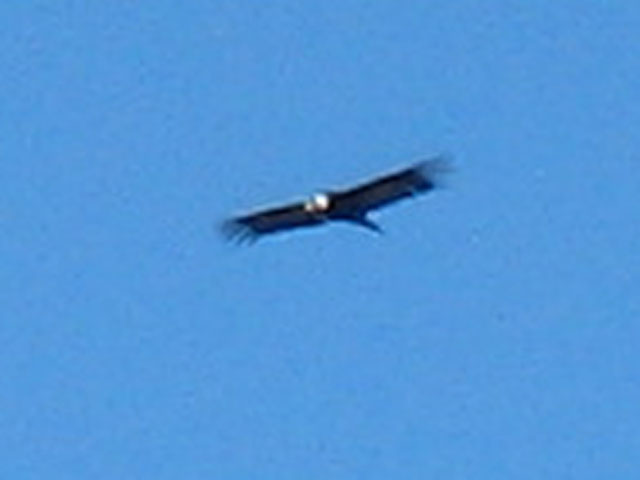 Good job the human eye is better than my camera, as the images in my memory are much clearer... We didn't just see one condor, either, as we saw 4, all starting at the bottom of the canyon and riding the thermals up to the ridge and then high into the sky above before disappearing off into the distance. What a wonderful way to start the day, a great dirt ride and then sat in the relative peace and quiet (it was a lot quieter when the coach party of noisy kids had gone) looking over a fantastic deep canyon and watching the condors fly... days just don't start much better than this...
I also had the joy of riding back out of the canyon, when I'd got my breath back from the short walk back up to the car park, the altitude (about 3,700m) still affecting me. Riding with much greater confidence having successfully ridden in, and upping my pace so the bike floated over the horrible corrugations (small ridges in the dirt making it like riding over a corrugated roof), I was soon racing down the canyon. The bike was much harder to turn on the worn road tyres than previously when we had a knobbly front tyre, necessitating a slight change of technique, pushing the bike over into the turns and pushing hard on the inside footpeg. It was great fun, if a little exhausting, and I was glad when I turned one corner and had my breath taken away by the view, so pulled over to admire it more closely (and to get my breath back).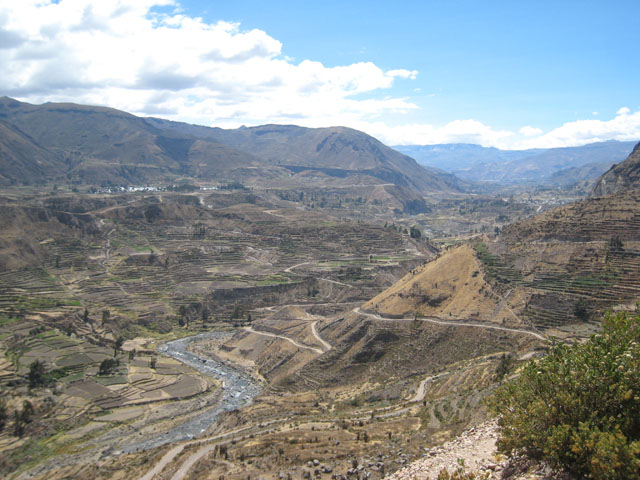 I made it out of the canyon in one piece, though my handlebars had worked their way loose and dropped, which meant that when I sat back down again once on the tarmac, they were way too low. Halfway up the mountain working my way back the way we'd ridden in the day before I stopped to adjust them and met up with Kevin, Aaron and Nick. Kevin quickly departed, blasting off in a cloud of dust, and when I'd finished my adjustments, Aaron, Nick and I set off together. On the way in we'd encountered snow on the high mountain pass (over 4,800m) but today was sunny, but cold and windy. We managed once more to avoid the herds of alpaca and llama that decided to cross the road in front of us, and soon were on the long descent back to the main road, the tarmac giving way to the pot-holed mess that had resulted in my fuel pipe becoming dislodged on the way up yesterday. Today we attacked it with more vigour, using the increased speed to allow the bike to float over the worst of the potholes, letting the suspension do its job. These bikes are just incredible at this, for all their weight they just soak up this punishment without complaint. Well, almost without complaint, as my handlebars again dropped with the punishment of me leaning on them to turn the bike, so at one stage they were resting on the tank and I was unable to steer... forced to stop and adjust them once more, I lost sight of Aaron and Nick, but when moving again at least I wasn't in their dust and could up the pace a little more...
At the end of the dirt road was a café, and with Kevin, Aaron and Nick parked up, I stopped and joined them for a coffee and fried-egg sandwich (proper biker breakfast!). Then we rode together as a group across the rest of the altiplano and down the mountain towards Arequipa. The last stretch of mountain road was well surfaced and twisty, with a lot of slow-moving trucks providing some overtaking entertainment, and we made quick progress to the city. Following Kevin meant we didn't have to worry about making sense of the route notes, and with a quick stop to refuel we arrived at the hotel around 2pm. After a quick shower and change, and a nice chat with Tracy on Skype, I wandered round town with Nick and Al, admiring the beautiful white cathedral in the main square, with its backdrop of snow-capped mountains...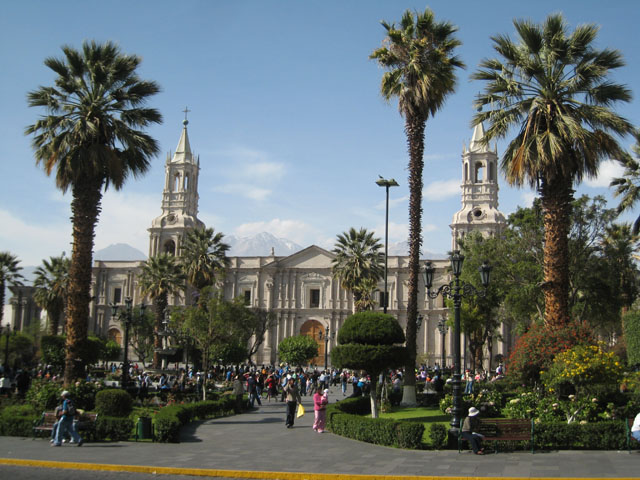 As we walked round the square, we were approached by a women in traditional dress promoting a roof-top bar/restaurant and as the beer was only 5-soles (a pound) we went and sat high in the sky overlooking the square and enjoyed a couple of cold ones, which will at least give me another picture for the beer gallery...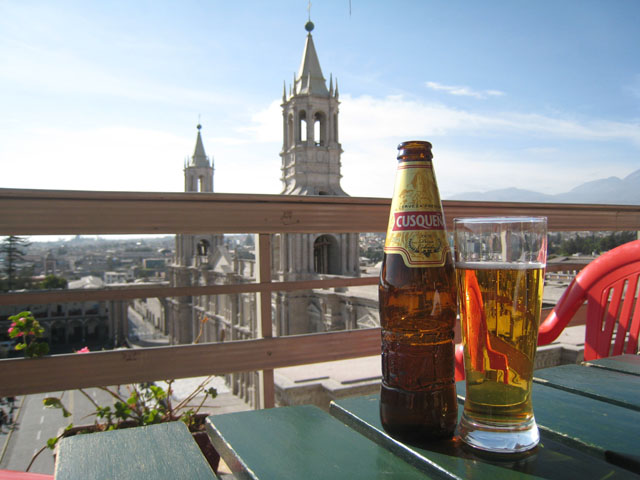 After a further meandering round town, and checking out the restaurants for that evening, we returned to the hotel. I chatted some more to Tracy before falling asleep, waking at 6.30pm with a start wondering why I was fully dressed. Jim was also asleep, and just as I went into the bathroom the phone rang, Nick wondering why I wasn't in reception as arranged. I asked for 5 minutes and tried to wake myself up before joining the group to head out into town. With Aaron, Simon, Nick, Van Al and Jeff in our little group we walked round to the Zingaro, which had good reviews on the Internet. And it proved an inspired choice, as the food was truly excellent, from the shrimp-stuffed chilli pepper starter through the chicken wrapped in cheese and bacon main course through to the crepe suzette (how 70's!) dessert and the excellent bottle(s) of Argentinian Malbec. Van-Al (50-something, single, looking for someone) has been pestering me to post a picture of him on the website in case it improves his love-life, so here's an appropriate one of him about to stuff his geordie face with crepe suzette...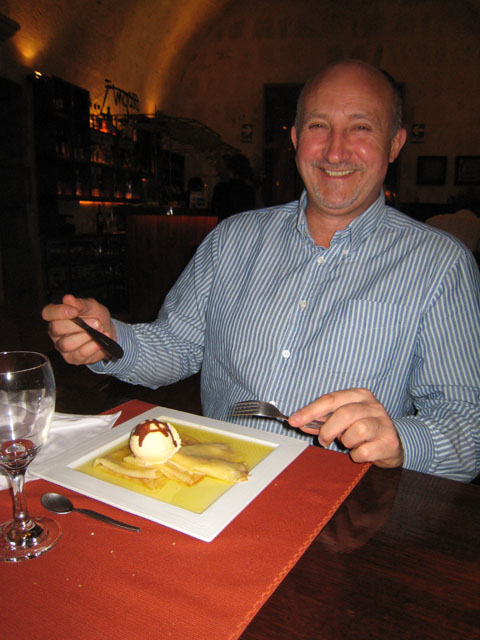 If you'd like to meet him, please post a comment to this post, and I'll arrange for the men in white coats to bring you one of those fashionable "fasten round the back" jackets and move you to secure accommodation...
After dinner, whilst the bulk of the group went off in search of nightlife, Van Al and I returned to the hotel, and our respective rooms. For once I was in bed before Jim had even got back to the room, and was fast asleep within seconds, so didn't even hear him come in later that evening. With a rest-day tomorrow, and our last day in Peru, I think a good night's sleep is in order...