After a really good night's sleep, I woke as usual shortly after 6am, and showered and went to get some breakfast before updating the blog. Then before heading off on a cultural tour of Arequipa, I had some minor bike maintenance to attend to. The garage was a hive of activity, with Jeff fixing a puncture on Nigel's bike and several of the riders performing checks and fixes to their own bikes. Mac had just changed the rear brake pads on his R1150GS Adventure, and I noticed mine were a bit worn so he changed mine too, whilst I topped up the oil, replaced a bolt that had dropped out from my screen and then started checking all the other bolts for tightness and checked my tyre pressures. When done, I noticed that my right hand pannier had split around the top mounting point and was bent out of shape...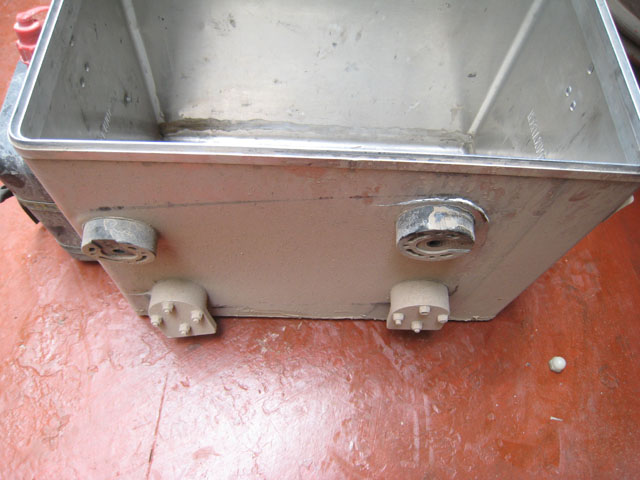 Jeff worked his usual magic on it, bending it back into shape, then with Jim's help (he speaks very good Spanish) we engaged the hotel's maintenance man to make a plywood washer to fit between the mounting wheel and the split aluminium, spreading the load and making the pannier more stable. Doesn't look pretty but should hopefully stop the split getting any worse, which would render the fitting useless. With the bike back in tip-top shape again, I joined up with Nick and Van Al for a visit to the Monasterio d Santa Catalina, just a block or so from the hotel. The monastery, which is really a nunnery, dates back to 1579, just 40 years after the Spanish colonised Peru, and is quite a remarkable place. Covering some 5 acres, it is a city within a city, with its own streets, church, library, art gallery and lodgings. It's still a working monastery as well, currently home to some 20 nuns, but they are now housed in a new monastery built within the grounds. We paid our entrance fee and hired a guide to show us round, which turned out to be a great idea as she imparted a wealth of knowledge, a little of which I remember, as regretfully I'd left my little notebook back at the hotel.
The entire monastery is built from local volcanic sillar rock, which is naturally a brilliant white (as is most of Arequipa). Some portions are painted in vibrant oranges or ocean blue or deep ochre, the colours creating the sense of being in a Mediterranean resort rather than in a monastery in Peru. The architecture is pure colonial Spanish, with heavy arches to withstand the earthquakes, which still managed to destroy much of the old servant's quarters on the upper levels. The nuns for this monastery came from rich Peruvian families but followed the same tradition as for nuns in other monasteries across the region. As they had very large families (with up to 10 children), the tradition was for the eldest daughter to get married and have children, the 2nd daughter to go into the monastery at 12, whilst the 3rd daughter would be tasked with looking after the parents in old age. That means that Katy should be getting married (as opposed to just having 3 kids!), Laura should have become a nun (now THAT's funny!), whilst Danielle should be preparing to look after me as I approach old age... somehow I think they'll all be glad they weren't born in Peru 430 years ago... The novice nuns entered the monastery at 12 and were mostly illiterate, learning their prayer from paintings in the novice's cloister where they would live for 4 years. In theory they could choose to leave the convent, but none did as this would bring great shame on them and their families. Once "qualified" they would remain in the monastery for the rest of their lives. Their families would have to pay for the girls to be admitted to the monastery, some 2,500 special silver coins, the more they paid, the better the accommodation the nun was given. They lived in small "cells" with a bedroom, living area and kitchen, and were looked after by servants. At any one time the monastery would be home to 500 women, but only 175 of them would be nuns, the rest servants. They would be completely isolated from the outside world, with no visitors being permitted into the grounds, and only a priest and doctor allowed to meet the nuns. They would be allowed visitors with whom they could talk, but only through a "talking room" which looked like those in prisons where there is glass separating the visitor from the inmates, but in this case the glass was a wooden lattice with a separation distance of a couple of feet to prevent any physical contact. However, rather than feeling sorry for the nuns, the monastery gave the impression of being a very peaceful and well-ordered way of life, with the nuns being self-sufficient and living in a sort of female-only commune. And it was absolutely beautiful, as these pictures show (as always, hover over them for a caption)...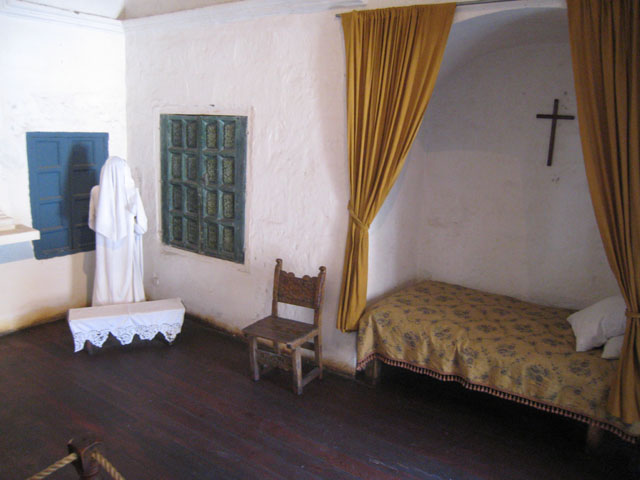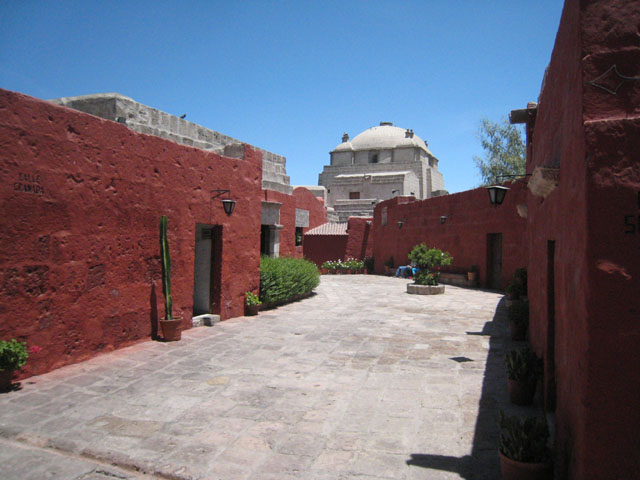 Another remarkable thing about this monastery is that it was home to Sister Ana de Los Angeles Monteagudo who was a nun in the convent from the age of 3 until her death, aged 80, in 1686. She was taken from the monastery when she was 10 or 11 with her parents intending her to marry, but she had a vision of Santa Catalina of Siena showing her the habit of the Dominican nuns, and so returned to the monastery, her brother, a priest, paying the dowry. She went blind in 1676 and was beautified (the first real step to becoming a Saint, by which the Pope recognises that the person was responsible for a miracle during their life) by Pope John Paul II on 2nd February 1985. So far she has not been canonised, the final stage in becoming a Saint. Her "miracles" extended to visions and predicting the future, right up to her death. Her rooms and personal effects, including the cilice (a sort of barbed-wire blanket) on which she slept to feel the pain and suffering of others, are on display in the monastery, in the room she lived in until her death. She now has a cult following, who visit these rooms and pray in the presence of her spirit.
There were also some surprises in store, as to how the nun's lived. In the kitchen was a "water purification unit" comprising a conical bowl made of volcanic rock, with is slightly porous into which impure water would be put, which then dripped out into a bowl below as pure, drinking water...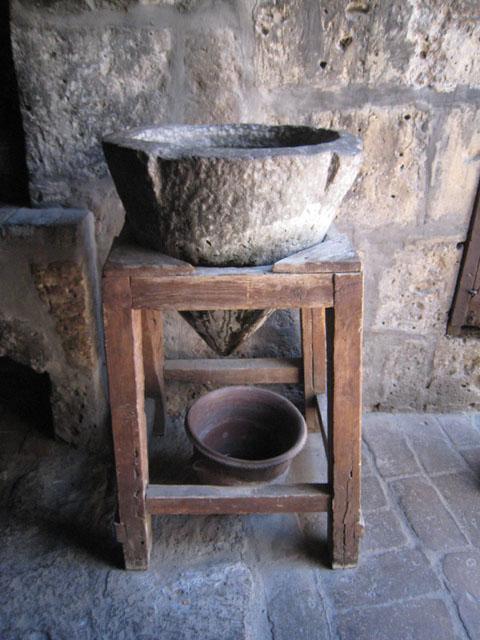 At the far corner of the monastery was the "launderette", a novel channel and bowl system that the servants and nuns would use to do their washing, filling the hole in the bottom of the pots with a carrot and diverting the water from the drainage channel using small rocks...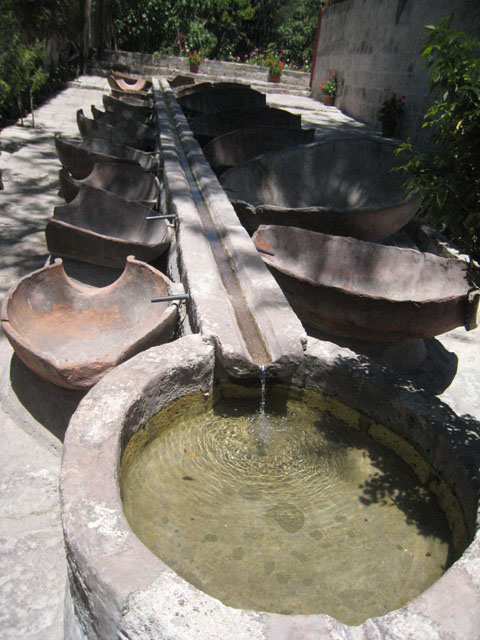 But if you think this was an entirely cultural experience, you'd be mistaken. Remember, I was here with Nick and Van Al, two of life's great comedians. Nick was busy chatting to our pregnant Peruvian guide, and then asked her if she could have been a nun (completely missing the fact that clearly she couldn't as she was visibly pregnant). Val Al and I tried unsuccessfully to stop laughing, but fortunately the guide understood what we were laughing about.
After the guided tour of the monastery (well worth the £6 each entrance fee and the £4 for the guide between us), we went towards our next stop at the museum, but were side-tracked by a nice quiet street with an outside café. We stopped and Van Al and I ordered a jar of lemonade each, whilst Nick had a beer, and a toasted sandwich. The lemonade was delicious and we both drank our entire jug's worth, probably around 1.5 litres, as it was already very hot and we were getting dehydrated. Just as we were enjoying the peace and quiet, and settled in to the usual bout of people-watching, 5 guys turned up carrying instrument cases, which was ok, until they donned ponchos and broke out the pan-pipes...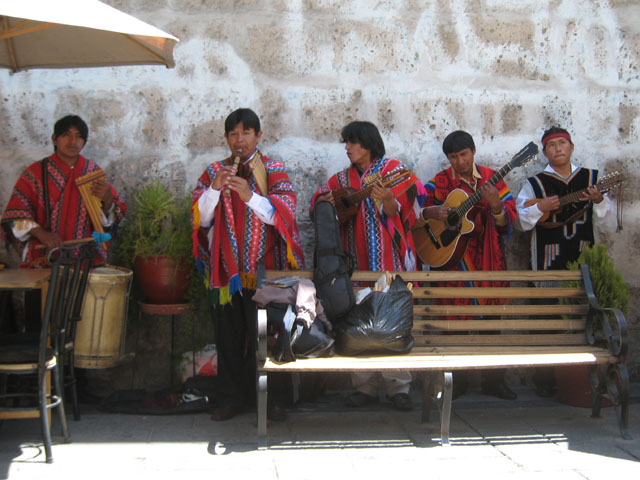 Now I'm all in favour of traditional music and dancing, but here we were on a quiet back street in the very picturesque city of Arequipa, trying to enjoy a peaceful glass of lemonade, when these guys started making a racket. Ok, it wasn't bad music (if pan-pipe music can be anything other than bad), but it destroyed the peace and made any conversation impossible. When we'd finished our drinks and toasties, and paid the bill we started to get up to leave, just as the band put away their instruments. Clearly they'd only turned up to piss us off, and it had worked... well, almost, as we were in too good a mood to be bothered by such trivia...
Van Al had to return to the hotel for a meeting, so Nick and I wandered off to the museum on our own. Just behind the main square is the Museo Santuarios Andinos, which is the only museum in the world displaying Inca offerings recovered from the high mountains of the Andes. It is also home to the frozen mummified remains of "Juanita", a 12-14 year old girl who was sacrificed by the Incas on the summit of Mount Ampato and discovered as recently as 1995. Unfortunately we were not permitted to take cameras into the museum, but if you google search her name you will see images of her on the web. The tour started with a half-hour National Geographic video explaining her story, and then we were shown round by an English-speaking guide. He explained that the girls that were sacrificed by the Inca (and there were more than just Juanita discovered in the mountains) were probably specially selected when very young due to their unblemished good looks and schooled in Cusco specifically so that they were ready to be sacrificed when the gods needed appeasing or the king was sick. She would have been taken from Cusco and walked the 120 miles or so to the mountains, and then with the attendant priests would have climbed to the summit of Mt Ampato, which is 20,700ft above sea level (an incredible feat in itself). Here she would have been part of a ceremony which would have seen her sedated before being struck on the temple and killed. She was then buried with various artefacts including silver statues and pottery. The archaeologists also discovered 2 other sacrificed children below the summit of the mountain, in similar positions and with similar artefacts. Many of the artefacts were on display in the museum, their intricate workmanship testament to the effort put into these sacrifices by the Inca. But the most important exhibit is the frozen body of Juanita herself. Still wrapped in her dress and cloak, she lies in a refrigerated glass case, kept at a constant -20degrees, her knees bent as though she was kneeling when killed and had simply fallen backwards onto her back. Her eyeless sockets stare upwards, whilst her hair and teeth are almost as they would have been in life. Standing staring into this glass coffin, looking at the remains of a butchered 12 year old girl was quite the most disturbing feeling. Just 500 years ago this poor child was indoctrinated to believe that her destiny was to be with the high gods of the mountains, and so walked willingly all the way from Cusco, climbing a mountain that is higher than I climbed when I went to see Everest, only to be struck on the head and left in a shallow grave on the mountain...
Her remains are of great scientific importance, as the high snows that buried her for centuries until the nearby volcano erupted, sending clouds of ash which caused the snow to melt, have preserved her internal organs. So even in death she is the subject to interference by other people. Sure, she'll reveal a great deal about a long-dead culture, but here in this glass case lies what was once a poor child, prevented from living a normal life and killed before she reached her prime... quite, quite, sad... This time, there were no silly quips from either Nick or me, the experience moving us both to silence for once...
After the museum, we made our way back to the hotel to rest up (and for me to write this part of the blog whilst it was still very fresh) before the meeting at 5pm and the evening's group meal...
The group meal was in the same restaurant that we ate at last night, and the food was just as delicious. I stuck to the same starter and dessert, but tried the Shrimp in Tender Garlic for main course, and I've never had more tender prawns, they were simply delicious. When the meal was done, around 10.30pm, I retired to my bed, surprised to find Jim once again absent from the room...
Tuesday, 27 October 2009
Entering country number 12...
With today being a relatively long riding day of some 290 miles and also the border crossing into Chile, it was another early start... Kevin set off at 6am in order to stop in Tacna for the forms needed for the temporary importation of vehicles – apparently these are not available in bulk at the border and have to be obtained from the taxi office in the bus station (taxis frequently crossing the border, hence they have a stash of forms). The rest of us ate breakfast and started to roll out of the hotel's underground garage just after 7am. I rode out with Aaron, Nick and Al, once again making use of the maps Aaron had bought in Columbia for his GPS (they'd not been able to load them into mine in time). Once clear of the town and back on the Pan-American, the pace was too slow for me, so I passed the others and set off at a slightly higher pace (75mph as opposed to 65mph), determined to make good time in getting to the border, some 250 miles away. Riding up into desert-like mountains rising through the early morning mist and into the sunshine above, then dropping back into the mist again was great fun, the scenery more like the surface of some long-abandoned planet than mother earth. Once we'd dropped from the mountains onto the plateau, the desert extended as far as the eye could see either side of the narrow strip of black tarmac, the sand bright beige in the sunshine, but the temperature quite cool. I stopped to put on my outer jacket and Nick did the same, Aaron and Al continuing ahead. Once on the move the desert started showing signs of some bizarre human practices... in the absolute middle of nowhere, with no signs of habitation or life for miles, the desert had been marked out with straight lines of stones creating huge squares of earth, each of which was dotted with lots of piles of stones, sometimes just clumped together, other times neatly piled up to make what looked like little statues... very odd indeed... but it did break up the monotony of the ride...
Just before the border we caught up with Aaron, who had stopped to fill up with fuel, and Al had caught us back up as we'd passed him when he stopped for photos. So the 4 of us arrived at the border more-or-less together, and met up with Kevin who gave us the run-down on the process we needed to follow... As always, the first step was to get ourselves and our bikes stamped out of Peru. In this instance this also gave us the 4-part form that needed to be stamped 4 times before we'd be allowed to leave the customs complex on the Chilean side. With that done we left Kevin to wait for the others and rode through no-man's land into the Chilean customs area, and I managed to sneak a quick picture whilst riding...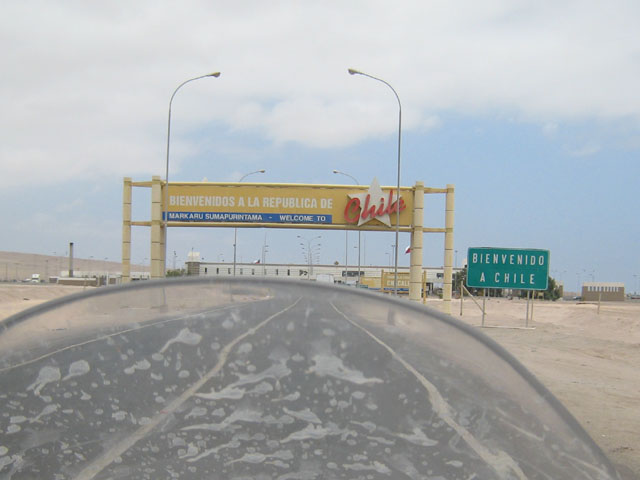 Once there we parked up and went and got our passports stamped (our entry to Chile) which got us the 1st stamp on the 4-part form, then had the bikes inspected by the agricultural inspection team (who were looking for smuggled fruit, veg or other foodstuffs), then to the vehicle importation office to get the bike permit form. Before riding to the exit checkpoint we checked our stamps and I realised the agricultural inspection people hadn't stamped the 4-part form, so went and got it stamped, then to the exit. Where I was told I only had 3 stamps, not the requisite 4. Seems the vehicle importation chap had stamped the permit, but not the 4-part form, so I rode back and got that stamped too, and was then allowed into Chile proper...
Wow... I've now ridden my bike all the way from Alaska to Chile... some 16,000+ miles... how cool is that?
Sadly we only have 1 more country to enter – Argentina, and we'll be doing that in a couple of days – but at least we hop between Chile and Argentina about 7 times, so plenty more border crossings to negotiate before the trip is done!
Once into Chile it was only about 20 miles or so to Arica, and our hotel on the beach. On arriving we discovered we'd passed through yet another time-zone and had lost 2 hours... instead of being 12.30pm it was now 2.30pm... We're staying at a great little resort hotel, although my room was at the back and had twin beds that were only inches apart. Not wanting to feel Jim's hot breath on my neck, I managed to get them separated by a couple of feet before he arrived, and then went to claim my "welcome drink". I declined the picso sour (memories of Chiclayo still strong) and had a beer...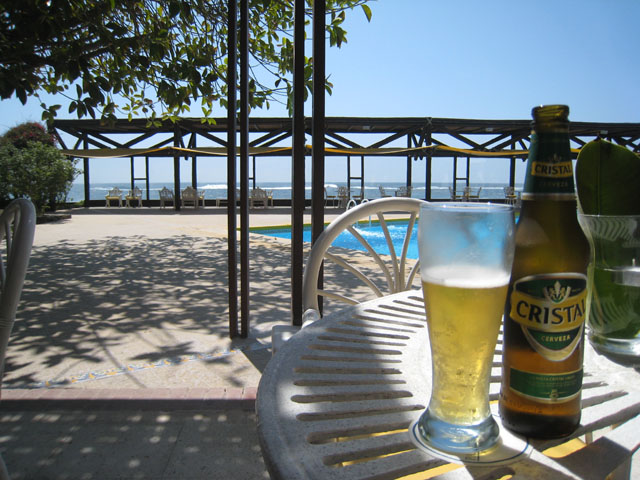 After a bite to eat I went back to the room and managed to catch Tracy online, so had a lovely chat, then returned to the bar to try the other local beer, just as the sun was starting to set...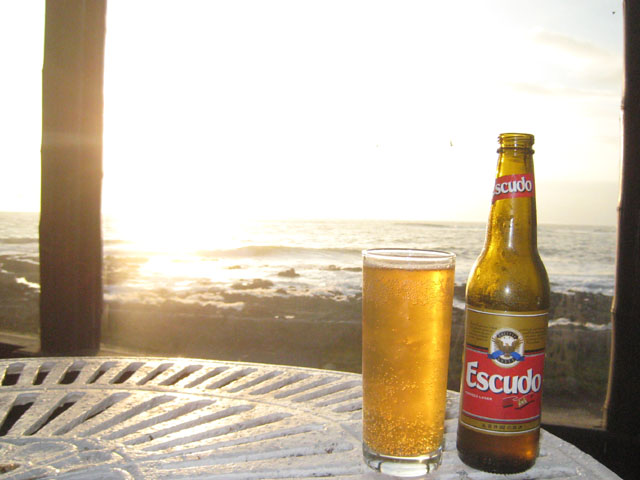 Beer... hmmm...
Whilst enjoying the 2nd beer, Jeff handed me a copy of the route-notes for the next section. It was very depressing to discover these actually covered the entire rest of the trip, the last page including the line "today is our last riding day". I nearly cried... but there's still 6 weeks left, so it's not like it's over yet...
When it was close to 8pm, Nick, Van Al, Aaron and I set off to the restaurant we'd spotted just along the beach from the hotel. It opened at 8.30pm, so we had a little time to kill, but just next door were some interesting old guns, lined up pointing towards our resort hotel, the photo opportunities too good to resist...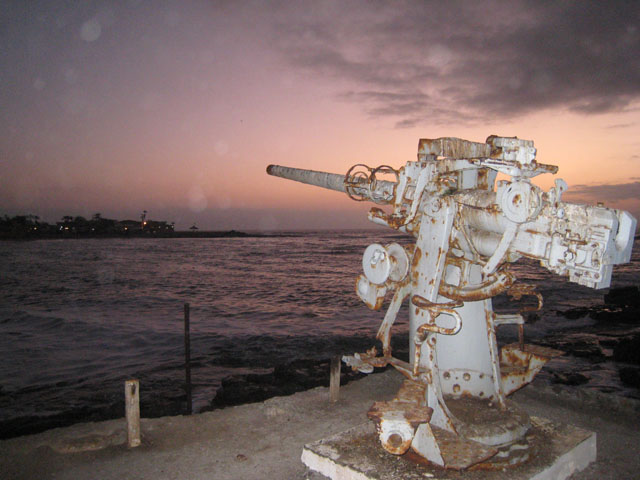 When the restaurant finally opened (they had trouble finding the keys!) we went inside and ordered some seafood – in my case corvina with edam cheese and shrimps (it's a kind of sea bass) – and a decent bottle of Chilean Chardonnay. The food was excellent, once again justifying not eating in the hotel. By the time we'd finished gorging ourselves (the ice cream and chocolate sauce to finish was equally good!) and walked back to the hotel it was 10.30pm and so I declined the offer of a nightcap and went to bed (despite it still only being 8.30pm in Peru...). After all, we've a long, 490-mile day tomorrow...
Wednesday, 28 October 2009
Deserts, Ghost Towns and the Coast...
As a result of the clocks going forward 2 hours, I overslept, waking up with a start at 6.30am, when I was turning over in my sleep. It was still a little dark outside, the dawn still breaking, and it was unusual to be up before the sun for a change. After a hurried shower and a quick packing session, I loaded the bike and went to grab some breakfast, just cereal and toast and jam. By the time I was ready to leave, most of the group including my usual riding buddies had gone, so I tagged on the back of Richard & Karen and headed back towards town to try and find the road leading back to the Pan Am. This proved a bit challenging, as we missed the turn, then when Richard stopped to refuel I carried on, riding round the one-way streets of Arica trying to find the elusive Ave 18th September, wondering if it was only there on that particular date. I found it eventually and was soon on the Pan-Am heading south once more, with my MP3 player cranked up loud as it's a long day's riding today...
The road went up into barren desert-like hills before dropping into a wide, flat desert. Riding along alone through this deserted landscape, singing to myself with not a care in the world was wonderfully relaxing. There was not much to break up the monotony of the ride and whole day I only stopped three times, once for fuel and twice to wee...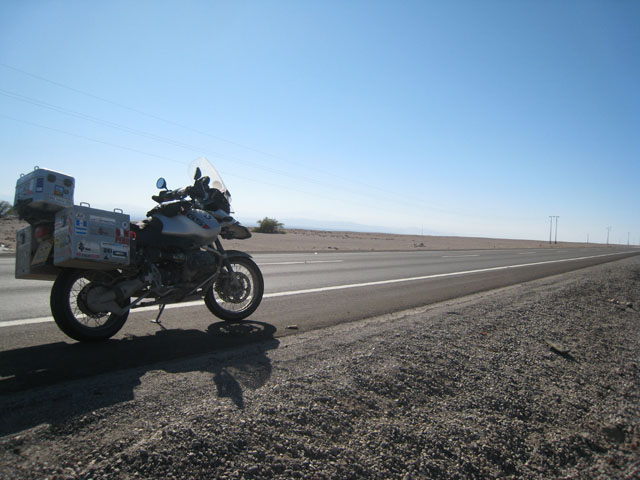 At one stage I was a little bored so took my camera out of my pocket whilst riding along, so that you can see what my days look like... welcome to my office...
The only point of real interest on the journey was the deserted mining town of Humberstone, now a ghost-town museum. I stopped to have a look round, and was soon joined by others from the group, as the town had been marked on the route notes as worthy of a stop. It was a bit odd, the buildings no worse than many we'd seen in Peru, but obviously having had much better days. It was an ideal spot for some photography, though, as ruins and relics were everywhere...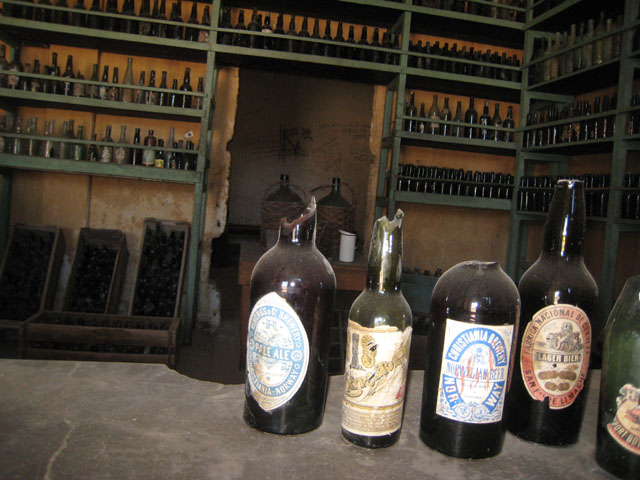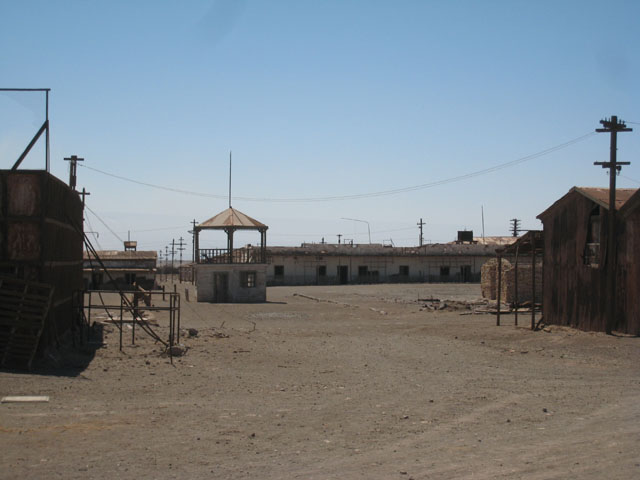 From Humberstone the road headed towards the coast once more, dropping down to the coastal town of Iquique. Above the cliffs there were around 50 paracenters, circling high in the air picking up the thermals and uplift from the cliffs and the huge sand-dune that was just behind the town. I found my way through the town to the coast road, riding out of town with the ocean smells filling my nostrils and the bright blue and green of the ocean drawing my eyes from the road. Once clear of the town there was still over 200 miles to go, along the road that hugged the coast. It was a pretty desolate landscape, with the hills to the left little more than rocky sand dunes and to the right the ocean crashing against the rocks...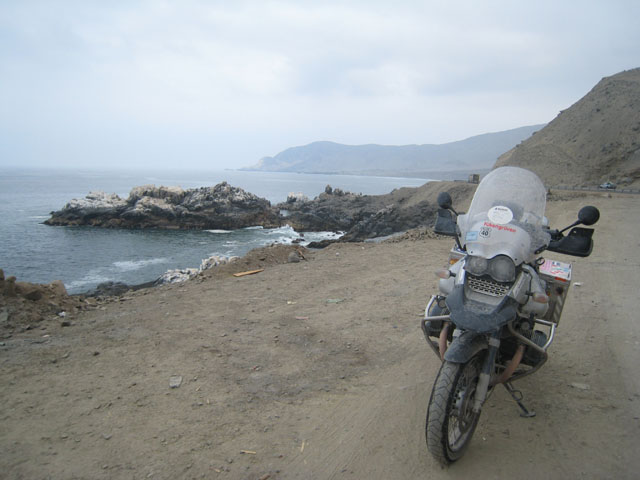 I finally arrived at the town of Arica late afternoon and rode by the coast, watching people enjoying the beach whilst at the same time keeping a watchful eye on the traffic and trying to spot the hotel. It was at the south side of town, a fair distance from the centre, but it looked great. A Radisson, non-the-less, and very nice too. With the bike parked in the underground car park I went up to the room they'd given me, only to discover it only had a single king-size bed. So I went back to reception to change rooms, as Jim and I are not that close, and was told he was also in a "single" room. So I went back and quickly made the room my own, showering and washing some clothes and spreading my stuff around to make it hard for anyone to move me out should they realise their mistake. After chatting to Tracy I went to the bar to claim my welcome drink and was told by Julia that there hadn't been a mistake, the hotel had run out of twin rooms, so I had a room to myself for the night... bliss!
As a result of having some real peace (not that Jim's noisy, but just being alone was so pleasant), I broke my cardinal rule and ate in the hotel. The food I had was OK, although I swapped my crab pie for Aaron's vegetable lasagne as mine had crab shell in and he didn't like his (I thought it was delicious, just some veg layered with cheese). At least the bottle of Chilean Cabernet Sauvignon kept up my reputation for choosing a good wine...
With dinner over, I went back to my peaceful room and tried to find something to watch on TV (failed, all in Spanish) before deciding to just get a good night's sleep...
Thursday, 29 October 2009
Hands and shrines in the Atacama desert...
What a difference having a room to yourself makes. It's not that Jim's noisy or a bad room-mate, but the quality of sleep that comes from being alone cannot be equalled.... I slept like a bear in winter, waking to the sound of my alarm dragging me from yet another blissful dream...
With a couple of hundred miles to cover across the Atacama desert to a remote mining town used as part of this year's Dakar rally (which came to South America due to political troubles in Africa), I hooked up with Nick and Al and we left together heading away from the hotel and back towards the Pan Am. We stopped for fuel before riding back into the desert, with nothing but sand either side of the road leading to rocky brown mountains. After around 40 miles or so we arrived at one of the iconic images of the trip – the strange hand statue in the middle of the Chilean desert – and a great photo opportunity...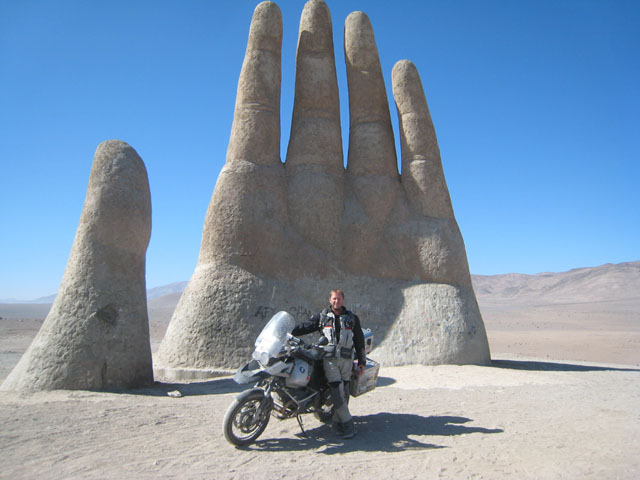 After the usual round of photos we rejoined the road and continued on our way through the desert. It's not the most exciting riding, rolling back the miles with the scenery changing only slightly, but there are always things that grab your attention. This time it was the shrines. On this endless, perfectly straight road, with no perceivable hazard except intense boredom, were a large number of roadside shrines. They varied from simple dog-kennel like wooden structures with a cross on top to more elaborate miniature cathedrals, some with flags flying, most with flowers carefully placed outside, some marked with rows of half-buried truck tyres to create a sort of aisle leading to the shrine. And there were lots and lots of them, spread along the length of the road. Puzzled, at a rest stop I asked Kevin about them, and apparently they mark someone's final resting place, as a result of them being killed on the road. Now this seems very odd, as the road is really simple, just a straight line in the desert. No loose gravel, sharp bends, potholes, complex junctions, towns or villages, or even errant animals wandering across the road (the desert being almost completely uninhabited). Seems even when there are no external hazards, some drivers are intent on having accidents...
Sadly, looking back at my photos I didn't stop to take a picture of one of the shrines, the intense concentration needed to negotiate the road preventing me from thinking...
Finally, though, we did leave the desert road and head up towards the mountains again, passing through a little village where we stopped for fuel for bikes and van-snacks for the rider (and the local dogs, who appeared with their begging eyes at the slightest rattle of snack-wrapper). From there it was a short trip up a large hillside to the town of El Salvador and our hotel for the night. A complete contrast to the luxury of the Raddison, this place was essentially a maze of metal portacabins in the desert heat (no air-con) with basic rooms and basic facilities. I loved it immediately, and set about doing some washing, which I hung out on the "patio" outside our room, confident it would dry quickly in the heat. After a short meeting to discuss the following day's long dirt ride to the Chile/Argentina border and the formalities, Nick, Simon and I went in search of an ATM and to suss out the local restaurant situation for dinner. Only we found the ATM in a supermarket, which led to us wandering round and me suggesting that as they had all the necessary ingredients we should have a picnic instead. This seemed to be well accepted, so we loaded up with bread, cheese, ham, pickles and wine and went back to the portacabin hotel where we took the furniture onto Simon's patio and laid out our feast...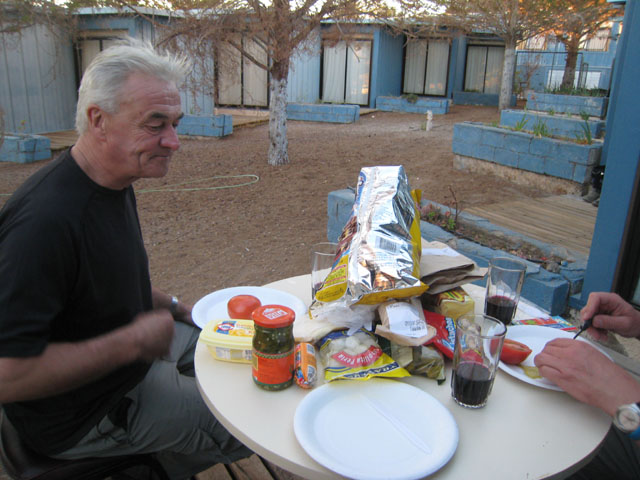 After such a long time on the road, and endless meals in restaurants, it was a really welcome change to be able to eat something so simple. It was also dead cheap, costing around $17 for the 3 of us, including 2 litres of rather good merlot... and a sensible way to prepare for the following day, as we were all done and off to bed at a very reasonable hour...
Friday, 30 October 2009
Following the Dakar route from Chile to Argentina... and the perils of deep sand...
Border-crossing day, as we continue to follow the Dakar Rally's liaison route up and over the high mountain Paso de San Francisco and cross into Argentina for the first time (we'll be heading back into Chile in 3 days or so). As usual with long days like these, we're up early, packed and breakfasted and then out on the road in the early morning light. The road initially takes us out of El Salvador and up and over the mountains, dropping back down into the valley we rode up yesterday, then heading up a dirt road up and onto the Paso proper. The dirt road is in really excellent condition, being solid mud with little loose gravel and no muddy sections, making it more like smooth tarmac than the bone-shaking bowel-loosening dirt we're used to. As a result the group gets spread out, those that like a bit of speed and don't feel intimidated by the dirt blasting along stood up full of the joys of riding in such remote places... like Ozzy Andy, pictured below catching me up after I'd stopped to get some pictures...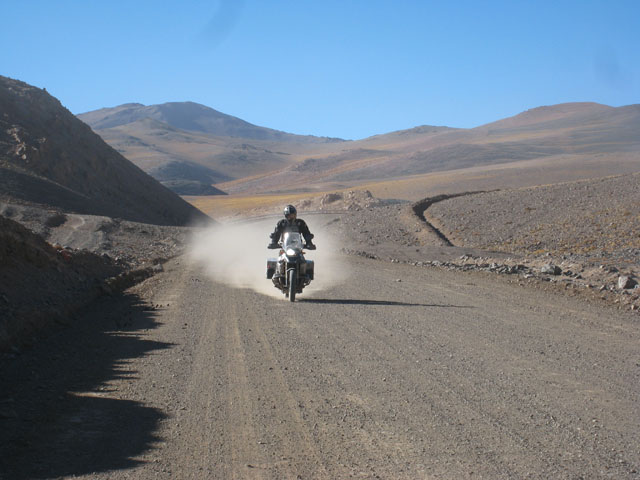 The road twisted up the mountain and then went across the plateau, the surface just perfect for high-speed standing up riding, the cool early morning air refreshing as it flowed through my jacket, all my senses heightened by the sense of freedom and isolation. Riding alone for a while I realised there was nothing in front of me, and nothing behind, so I stopped for one of those perfect "lone rider" photo-pairs...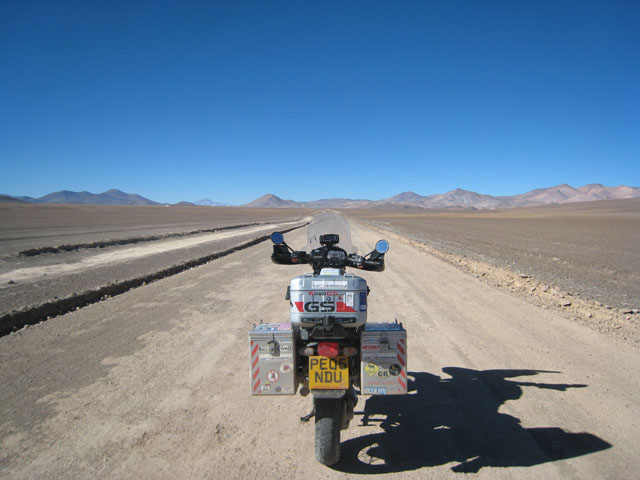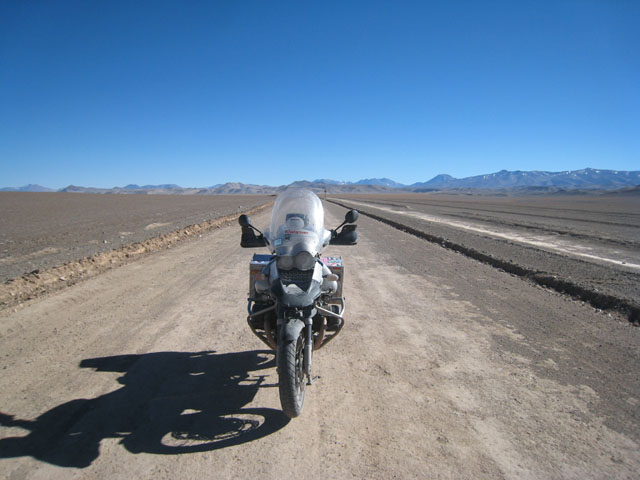 And so it continued all the way to the Chilean border post, where there were 3 large trucks being processed. No sooner had I arrived than I was joined by others (who must also have been motoring on the high-quality dirt), and we began the process of clearing ourselves and our bikes out of Chile. What's odd about this particular border post, though, is that it's not near the border. That's still some 70 miles away, marked by an inconspicuous police checkpoint where they check that you've got the necessary form from this post. One mistake and you'll be riding back 70 miles to correct it. With that in mind, we were double-checking everything before heading off once again. Once clear of the border post the road changed slightly, becoming more gravelly and therefore slower, and rising up and around more mountains as it gained height – reaching almost 4,800 metres at the highest point. Once again the scenery was stunning, with distant snow-capped mountains under a clear blue sky.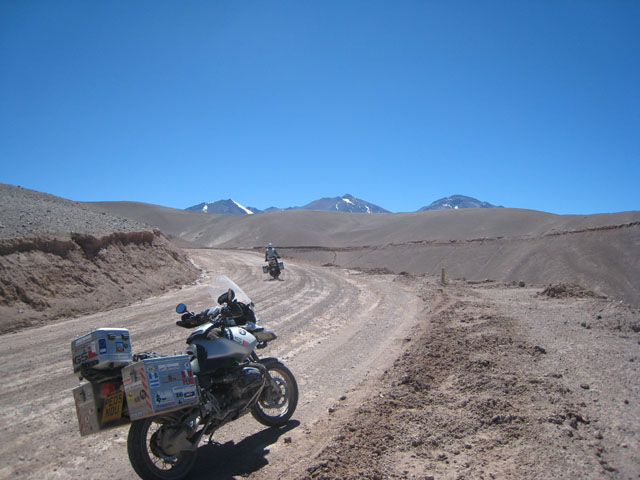 But the road had a couple of nasty surprises in store. First to encounter them was Nick, who caught a deep sandy patch on a small uphill section and lost control, going down hard on his ribs and wrenching his left wrist. When I came on the scene there were plenty of others stopped, all waving and telling me to keep left up the hill, where the sand wasn't so deep (but still deep enough to have the bike weaving this way and that). I stopped and walked back to see how things were, and Nick looked ok, just a little winded. I helped put up a marker to warn others of the deep sand, and then as there were so many people with Nick, carried on my way. A couple of the big trucks had passed whilst we were dealing with Nick, and so I had to negotiate my way round them to get clear air, the dust cloud they kicked up making reading the road impossible. Once in front, I carried on, my pace slowed a fair bit as a result of the unexpected sand patch that Nick had fallen victim to. Cresting one rise I saw the road in front looked good, but just as I started my descent I went into a deep sand-pit, my front wheel bucking one way and then the other, the bars going from lock to lock. Remembering my training, the only way to deal with sand is to keep the power on to lighten the front wheel and hopefully stop it tucking completely, so I accelerated, increasing my speed from the 35mph-ish I'd been doing. But the bars went lock-to-lock twice more and I knew I was in deep trouble as the sand was too deep and too long for me to ride through it. I went down hard, banging my head and knocking myself out. I don't remember anything else about the crash, until I was sat at the roadside asking what had happened, the actual crash seeming like a dream. I was pretty dazed for a little while until I pieced together what had happened, whilst Pertti and Nigel (who had been first on the scene and described seeing my bike cartwheel down the road in a cloud of dust) went looking for bits of my bike way back up the road where my troubles had started...
Looking at the photo it's hard to see the deep sand patch I rode into, on the left just below the brow of the hill and extending all the way down to where my panniers were placed. It must have been a good 6-8 inches deep and there's simply no way I could have ridden through it without coming off. My mistake was keeping to the right coming over the hill in case of oncoming traffic, putting me in the position most likely to be where the sand was, untouched by the wheels of other traffic. As well as knocking me senseless for a while, I'd also hurt my shoulder and ribs down my left side and my right thumb in the crash, but remarkably didn't have anything broken. That's more than can be said for the bike, though, as the screen and instrument panel was all damaged, the rear light cluster smashed, the pannier rails deformed and the top-box mount shattered. The panniers themselves had taken a beating too. Fortunately whilst I was still coming round, Nigel, Simon and Pertti had appeared and cleared all the debris, collecting together the bits from my bike and making sure I was safe and well.
When the van appeared, I was fully expecting to be loaded on board, bearing in mind the long day we still had to do, but Nick was inside looking decidedly unwell. He'd succumbed to shock and was pale and shaking, sat in the front with Karen and was being rushed to hospital the other side of the border. Jeff took one look at me and asked how I was "battered but ok" I replied, and he checked my bike over, to discover that the crash had loosened the brake banjo and I'd lost all my brake fluid and therefore my brakes. "Right", said Jeff, "You're riding Nick's bike, this is going in the van" and with that he unloaded Nick's bike, loaded mine and sped off to get Nick the attention he needed.
For the next hour or so I crawled along the rest of the dirt road, with Richard (who'd stayed behind looking after Nick following his accident having been first on scene) and Pertti following me ready to pick me up if I fell again. Every unintentional movement of the bars caused by the rocks and ruts on the road were agony, sending sharp pain down my ribs and robbing me of breath. At 4,400m it was hard enough to breathe, without the added complication of painful ribs. At one stage I nearly lost it in a sandy pothole when following Gerald, who also went completely sideways, but we both stayed upright, the difference being he carried on whilst I had to stop for 5 minutes to regain my breathing. Finally I arrived at the Argentine border, where there was a pile of van-stuff and my bike stacked up by a pylon. Jeff, Karen and Nick had gone on to the hospital with one of the customs guys, but clearly couldn't take the goods into the country uncleared, so had been forced to unload them at the border. The rest of the group cleared their bikes and set off, whilst I cleared my bike despite it not being in a fit state to go anywhere unaided. The stories of carnage on the road kept coming – Al had been down and banged his foot, Jim had been down 4 times and badly sprained his ankle, and at least half a dozen others had been down at some stage, though thankfully without injury. Julia was questioning the wisdom of using the road, but Kevin said that when they'd come the same way in January there had been no sand, a sure sign of just how quickly these dirt roads can change their character. I sat whincing in the customs office wondering just how the hell I could have avoided the sand in the first place...
When everyone else had gone, Kevin and I waited for Jeff to return. Richard had kindly offered to take me pillion, so they could load Nick's and my bike in the van, but I felt able to ride and didn't want to miss any miles – getting all the way from Alaska to Argentina on a bike still the goal and I wasn't done with it yet. Whilst we sat outside in the cold, one of the customs guys came out and invited us into their common room. They get posted here for 30-day stretches, living in a little wooden house with a dorm-room and a common room attached to the customs post. It's a really desolate, isolated spot, but when they threw a large log into the fireplace and got the fire going, and handed us hot coffee it didn't seem so bad. Two of them were playing football on the Playstation, initially Argentina vs Brazil but when they realised we were English they switched to Argentina vs England whilst the captain asked Kevin (in Spanish) about where to visit with his family if he was to come to London. England won 2-0, so that was good.
Finally, Jeff appeared and we cleared Nick's bikes with his passport and they re-loaded mine into the van, together with the rest of the stuff, and we handed out DVDs and stickers and shook hands before leaving the customs guys to their lonely isolated existence.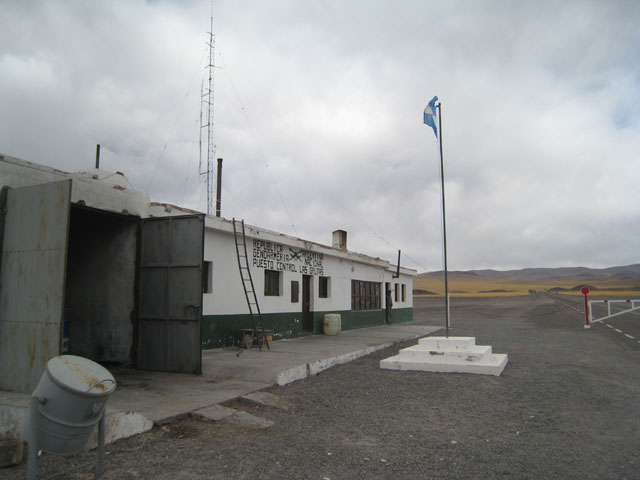 Thankfully the road from the border was smooth tarmac, as it wound its way down the mountains back to where the air had some oxygen in it and I could breathe a little more easily. My aching body seemed to be more comfortable when on the bike, and it wasn't affecting my riding too much, except when I moved too quickly and whinced with pain, but I soon learnt to whince without it affecting my steering. It had been cold and going dark when we left the border, and as we dropped down from the mountains it went properly dark, but the temperature rose quickly and we had to stop to remove our warmer layers. The ride to Tinogasta seemed to take ages (it was 150 miles from the border), and I was very relieved when we finally pulled into the hotel car park and I could peel myself from Nick's bike. I was greeted by several others enquiring about my health, and I returned their questions asking about Nick. The news was good – he had recovered significantly on the way down the mountain, had been x-rayed in hospital and had nothing broken, but was still badly winded and suffering from bruised ribs. Once someone had helped me carry my bag to the room, once again devoid of Jim who'd been given a room to himself by a kindly woman running the hotel on account of his ankle, I changed as quickly as I could (not very quickly at all) and joined Kevin, Julia and Jeff for dinner. We walked (I hobbled) to a restaurant in the square a couple of blocks from the hotel and ordered steak (this being Argentina after all) and a beer. The beer came and went, but the steak took over an hour, by which time I was going downhill and feeling crap, a combination of the hard day's ride, the pain and the heat sapping me of energy. Finally the steak came and I managed to eat some of it, then we paid up and left, getting back to the hotel and my much-needed bed at 12.30am... I'd got a couple of strong painkillers from Kevin to help me sleep, so took one and laid flat on my back, the only position I could bear, and fell asleep...
Saturday, 31 October 2009
Halloween and a really frightening sight!
Halloween... how appropriate, given I felt like the living dead when I came to around 5am, the codeine I'd taken before lying down having worn off. I took the remaining tablet and tried to sleep some more, finally giving up around 6am, but lying unable to move for a good 10 minutes before I finally worked out how to get out of bed without the pain in my ribs causing me to give up. I hobbled to the shower and stood under the hot water for a good few minutes, hoping it would soothe the pain away and allow my shoulder to move. It did help, but it still took me a full hour to get dressed, the hardest part working out how to put my socks on as I couldn't reach my feet even when sitting on the bed. Finally I was ready to face the world again, dressed in my bike gear and ready to ride Nick's bike once more. In the dining-room for breakfast I fielded the endless questions about my condition "fine, just a little sore" and "good, considering", my attempts to conceal the reality feeble and unconvincing, especially as I whinced every time I tried to move...
Aaron kindly offered to bring my bags and stuff down from the room, and I loaded some into Nick's battered panniers (another job for Jeff!) and put the rest in the van, then asked if there was anyone I could ride with as I'd not got any route notes (mine were in my magnetic map pocket, which won't attach to Nick's bike). Pertti and Simon quickly volunteered, and so we left the hotel to get some water and cash from town before hitting the road. The town road was made of large square concrete sections, each around 12ft square and the joins between them were the work of Satan himself, each one jarring my back and having me cursing like grandpa from the Simpsons (try cursing whilst you've no breath and you'll sound the same). In town we got some cash and water and then set off again, using Pertti's GPS to help find the way. Thankfully once clear of town the sadistic road turned to smoother tarmac but about 12 miles down the road we encountered Ed & Lorraine and several others coming the other way. A short roadside conference determined that we were on the wrong road, as this one turned to dirt just a couple of miles further on (though it would still get us to where we were going). Not wanting any dirt roads as they were way too painful, I gladly turned round with Pertti and Simon and headed back to town, where we filled up with petrol before finding the right road.
The riding was uninspiring and pretty dull, once again on fairly straight roads through desert with little to keep my attention. Cruising at a steady 75mph at first seemed ok, but then I started to ache badly, the wind-blast not helping my condition. I was following Pertti, with Simon behind, and slowed to 65mph to reduce the pain. Immediately Pertti slowed too, ensuring he maintained a constant distance in front and demonstrating the great care he and Simon were taking over me. We stopped at one point when I needed to get off and stretch, no complaints from either of them, Simon rushing to me as soon as I'd pulled over with water.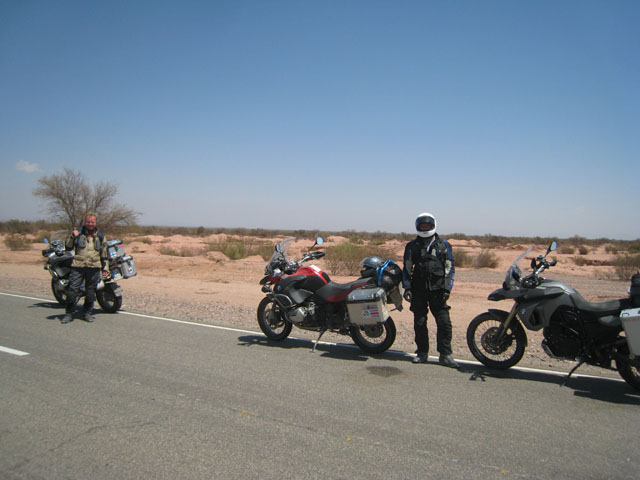 With such great people looking after me the day's riding was going just great until about 20 miles from our destination when the road started to climb a mountain and turned to dirt. It was good dirt, solid mud with a light coating of loose gravel, but the odd rock embedded in the road caught my front wheel and pushed the bars back sending waves of pain up my arms and across my chest. I tried to relax as much as possible (the secret to riding on the dirt is to be very loose on the bike), but it was still painful and I was very short of breath. I had to stop several times to regain my composure, gratefully drinking the by-now hot water from the back of Simon's bike, but with the encouragement of my carers I carried on. Finally we reached tarmac once again, the beeping horns from Simon and Pertti signalling they too were glad I'd made it. As I was now in front (Pertti having turned back to come find me after my last stop to get my breath), and the road was smooth and twisty, I wound the throttle on, glad that I could at last ride the bike without too much pain. I let Pertti past just as we arrived at the outskirts of town, and he guided us to the hotel where I crawled off the bike, exhausted but ecstatic at having ridden every mile. Pertti parked the bike and I went into reception where the group was hanging around drinking, Aaron first to offer me a drink (2 bottles of Aqua sin Gas). I drank one bottle and hobbled off to my room to get changed, Nigel grabbing my bag from the van for me.
Before dinner we discovered that today was Pertti's birthday, it being missed by the Globebusters people as he was originally booked on the Patagonia trip. We arranged the formal ceremony for a couple of days time in Santiago, but sang him Happy Birthday anyway. It being Halloween, Jeff decided to dress up in a frightening costume, borrowing Candy's clothes (she's the inflatable doll that we gave him in Moab and that's caused great amusement at every border crossing since)... Scary or what!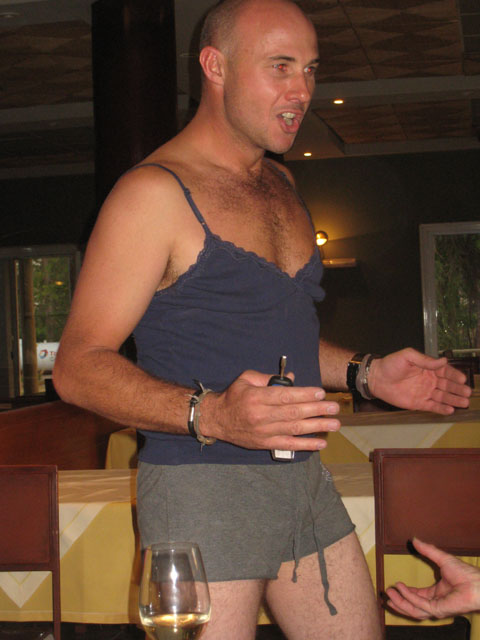 Then we had a Prat Hat ceremony, which this week had all the markings of a stitch-up. First to get nominated was Jeff, for his antics in a bar that resulted in a young lady who'd joined those of the group present and playing Jenga to leave suddenly (I can't reveal the details for fear of a lawsuit). Then Andrew, for repeatedly dropping his bike (like in the hotel grounds on arriving today) and for convincing Max that he was going the wrong way when he wasn't. And that was it. The vote was almost unanimous, Jeff being the lucky recipient of the hat ready for the border crossing back into Chile...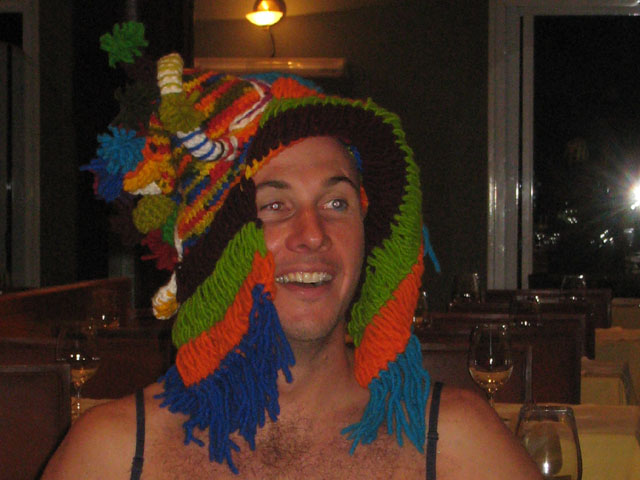 I ate dinner with Nick and Chris & Danielle, Nick and I both looking like cripples as we struggled to cut our meat and tried desperately not to laugh or cough, both of which caused us to whince in pain. Comparing our relative states, Nick initially thought I was worse off, but then his own pain relief wore off and he hobbled back to his room for some more painkillers. He handed me his bike keys again saying that he wouldn't be riding – I think part of which is knowing how much riding all the way means to me, and with my bike still in the van, this is the only way I can. I gladly accepted, Julia's words that "if anyone rides on dirt tomorrow, you've gone the wrong way" reassuring me greatly, especially as it's a 350-mile day...
Sunday, 1 November 2009
The longest, hardest, day of the trip so far...
I woke feeling very stiff but not in as much pain as the previous morning, desperately trying to convince myself that I was well on the mend and would soon be fighting fit again. I got up and showered, then dressed, delighted that I managed to get dressed in just 25 minutes and not the hour it took yesterday. Little steps all count...
After a quick breakfast I loaded Nick's bike with my bag (with help from someone who kindly took it from me when I was struggling with it down the hall), his panniers now straight again after some of Jeff's attention before he resorted to dressing in women's clothing last night. I'd been told that today I was to ride with the van, as there may be some police checkpoints en-route and I would need to present the documents for my bike (still in the van) and get Nick to present his for the bike I was riding, so I watched as everyone else left and hung around waiting for late-guy to go. Pertti was actually last as he'd had rather a lot of wine to celebrate his birthday, and he rode over to me to check if I was OK, then mentioned he was going for fuel. As Nick's bike was also low, I went with him, turning right out of the hotel instead of left as per the route-notes, but waving to Jeff & Nick so they knew what we were doing. When we rode back past the hotel there was no sign of the van, Jeff obviously missing my waves and thinking I'd gone, set off after me. So Pertti and I rode at a brisk 80mph to try and catch up with the van, and about 45 minutes later saw it parked up, with Jeff anxiously massaging Nick's back. Seems he was still suffering a fair bit and had gone numb sitting in the van, whilst the constant moving on the bike had prevented me from doing the same. Once on the move again Pertti and I got some way ahead of the van, arriving at the junction to take us onto Ruta 40 well ahead. Following the notes we took Ruta 40 through a small village and then hit some roadworks. The "desvio" (deviation) took us onto a rough gravel road at the side of the main tarmac road and instantly I was in having some problems. The bucking and weaving caused by the bike bouncing over the stones had me once again in pain and short of breath. I stopped several times over the course of the next 15 minutes to regain my breath and composure and to take on some fluid, but there seemed no end to the gravel road and the torture. I told Pertti to go on ahead to check we were on the right road, and tried my best to continue.
Soon the van was filling my mirrors, having caught me up as I crawled along at a snail's pace, stopping every half mile or so. For the next hour we crawled along with me getting a little bit ahead whilst I could and then having to stop to recover, all the while cursing the damn roadworks, Julia for telling me there would be no dirt, the sand that brought me off, my own stupidity for falling and everything else I could think of. At one stage I'd had enough, and was ready to lie down by the side of the road and cry. Jeff wound his window down and suggested I drive the van and he ride the bike until back on tarmac, but that just brought out my stubborn side and I said "just one more mile"...
And thankfully that's all it was, for the road first became tarmac with sand patches and potholes and then a t-junction leading back onto smooth tarmac once more. I pulled over, collapsed on the tank and breathed as deeply as I could for several minutes before gulping down some more water and setting off again. I got some distance down the road, gradually pulling away from the van as I could make quicker overtakes, and then passed Al who was cruising along at a steady 60mph, his leg dangling as he tried to relieve his own discomfort. Taking the ring-road past San Juan I realised I was once again some distance ahead of the van and so pulled over to the roadside to wait for it to catch me up. When it did I got some ibuprofen tablets as my back muscles were now causing me some grief, then we set off yet again. We did pass one police checkpoint further up the road, but they seemed content just to check my driver's licence and didn't bother with any other documentation. Finally we started the last leg of the journey to the ski resort of Upsallata where we were staying, taking the road into Las Heras and then out towards the mountains. Initially the road was more concrete sections through scrubland, where every tree at the side of the road had a car and family underneath it preparing a picnic. Quite bizarre, as it wasn't the most beautiful place for a picnic, but apparently it's an Argentine custom to have one on a Sunday. As we got closer to the mountains the numbers of people increased with the vegetation, and by the river there were hundreds of them all vying for space under the trees. When the road started climbing up the hillside it suddenly stopped being concrete and became pure dirt. Rocky, rough, dirt. I'd stopped at the beginning of it to check I was going the right way, and the van caught me up, Jeff hanging out of the window to re-iterate that if I wanted to drive the van he'd be happy to ride the bike. Through gritted teeth I declined and started upward, the bike skipping over the rough rocks and bouncing all over the place. I stopped a little way up to take off the tank-bag as it was preventing me from getting far enough over the tank to control it properly and Jeff looked like he thought he'd get to ride at last. But I wasn't about to quit just yet, and set off again in a cloud of dust, the back wheel struggling for grip as I hammered up the hill. I found that the rough going was much easier on my battered body than the smooth loose gravel of the roadworks earlier, and was soon really enjoying myself. The road wound its way up the mountain with spectacular views all around, but I wasn't about to stop to take pictures, I'd only have a small amount of time before my energy was gone, so continued upwards, overtaking slow-moving cars and passing the more adventurous picnic-ers who had ventured this far up the road. At the top the road levelled out, so I stopped to wait for the van so I could get some water (having left it in the tank-bag), and snapped a quick picture to remind myself of where I'd got to...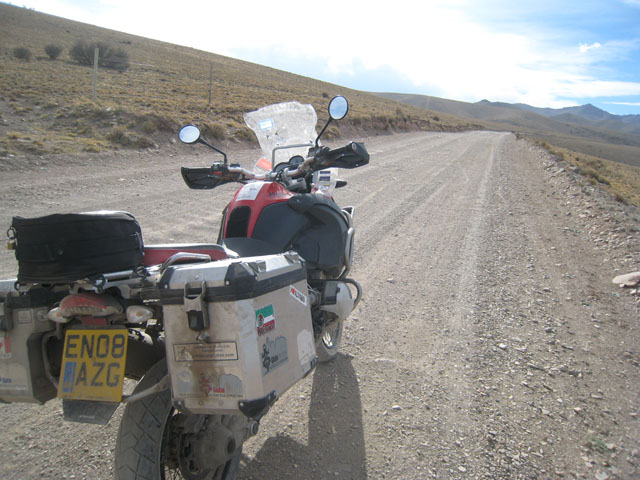 Dropping down the other side of the mountain the road became smoother and more gravelly, but by now I was pretty loose and enjoying myself too much to be bothered by it. I caught and passed Al and Max & Christine, and soon hit tarmac again on the way into town. Only that didn't last too long and it was a good job I was still very focused as ti suddenly went from smooth tarmac to loose gravel. Once in town I quickly found the hotel and immediately dropped my bags in reception and went to the bar to get a beer – and to order one for those still on the road. I felt I'd deserved it after such a long and hard day... the hardest of the trip for me by some distance...
It then emerged that Kevin leading a large group had not followed his own route notes and come a different route into town, avoiding the dirt road over the mountain and sticking to the tarmac. Had it not been for the road being so enjoyable, despite my injuries, I'd have been a tad pissed off!!
Dinner that evening was in a local meat restaurant, where the mixed grill consisted of lots of different cuts of meat burnt to a cinder on an open fire, washed down with a glass of red...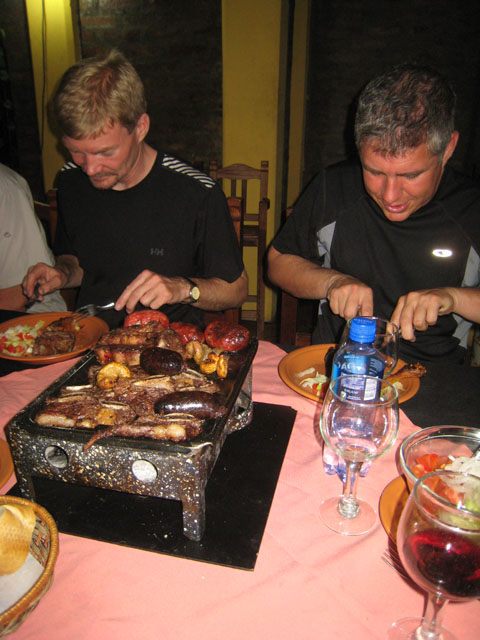 Then off to bed to try and get some sleep before the final day's ride to Santiago... looks like I might make it after all...
Monday, 2 November 2009
To Santiago... at last!
Another border crossing day, as we head back into Chile and on to Santiago to get the bike's serviced and have some much-needed rest & relaxation.
Once again I woke feeling better than the day before, still a little sore and stiff, but nonetheless on the mend. After breakfast we were ready to roll at the allotted time of 8am, riding in convoy the 70 miles or so to the border, high in the Andes mountains. For some reason, Jim, who's normally up and off ahead of the main group had a major dither on today, so whilst the main group left, he and Mac (the other "kipper") were late to depart, holding the van up behind them. As we climbed into the mountains it looked like raining, so I stopped to wait for the van (my waterproofs foolishly left inside my top-box in the van), Julia pulling over to wait with me and to check on the whereabouts of the van. It finally arrived, chasing the kippers up the mountain, and pulled up alongside us. Once togged up in out waterproofs – surprised to find my jacket almost intact despite me wearing it during my off – we set off again, climbing every higher into the mountains, with the rain starting to drizzle and then turning to light snow. The border post is very close to Acongagua, at 6962m (22841 ft) the highest mountain in the whole of the American continent, but sadly the low cloud prevented us from seeing it. The temperature dropped down to 2.5degrees as we reached the highest point, passing through a long tunnel in which was marked the official transition point from Argentina to Chile.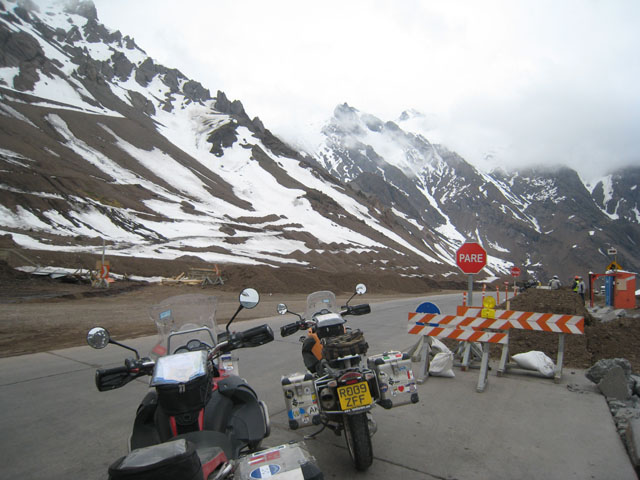 Once at the Chilean border post the chaos started, as 20 riders tried to work out the magic sequence of windows and forms to get them through. I asked several who had arrived before me and seemed to be some way through the process and was given several different answers. In the end, I decided to just work it out for myself, and it went something like this: get form from window 5, fill it in and take it with passport and Agentinian entry form to window 1, get passport and form stamped, take to window 2, get another stamp, window 3 and another stamp, window 4 and another stamp and new form, fill in the form, take outside and get the SAG (agricultural inspection) people to inspect the bike (still in the van), then they stamp the new form and the main one, back inside to window 5, pay 600 pesos, get another stamp, then finally one more stamp and all done...
As I was clearing my bike, Nick was clearing his, and when all done we swapped the forms that we'd need to hand in at the exit, and I rode there with the van tucked in behind. Having handed the forms in, we were given one last bit of paper and on our way. The road down from the border was a joy, smooth tarmac and a lot of hairpins all crammed together as it dropped down the steep mountainside and then along the valley to the plain below. Riding in convoy we cleared endless roadworks before hitting the outskirts of Santiago and the peages. Kevin had arranged for a police escort into the city and to the hotel, so at one peage we pulled over to wait, having arrived much earlier than expected. A couple of hours of relaxing in the sunshine, drinking tea made by Jeff on his little stove and eating van snacks was most welcome... Then the camera crew from the local news and the 2 police motorcyclists arrived, shaking hands and taking pictures.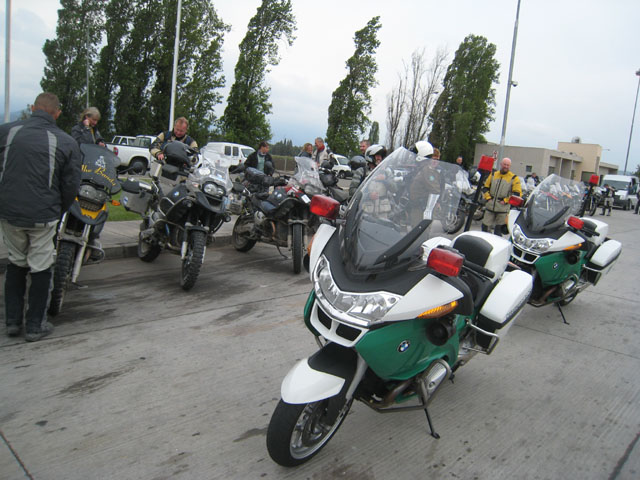 When the formalities were done we set off, hoping for a high-speed ride but being disappointed as we rode steadily along the autoroute, stopping at the peage whilst we all cleared through. Riding near the back the group looked really impressive, covering a fair distance and riding in perfect staggered formation. As we neared the city, the police rider at the back suddenly raced past us all, holding up the traffic at a red light so we could pass. I was following Max & Christine and could hear them laughing as she sat on the back and gave the Queen's wave to the motorists who had been prevented from continuing their journey to let this group of dusty, travel weary bikers go by...
At the hotel we dropped off our luggage and panniers, then got back on the bikes for another escorted ride, this time to the BMW dealer where they'll be serviced. My bike was unloaded from the van and caused a bit of consternation among the police riders, especially when I explained what had happened and how I'd since been riding Nick's almost undamaged motorcycle whilst he had been incapacitated. We booked the bikes in for a service, explaining that mine also needed the brake fluid replacing and was to be done in the first batch as we've still some other issues to resolve once its serviced, ate some canapés and then finally caught a taxi back to the hotel. Which proved to be a very bad idea, as I crammed myself in the back and nearly crippled myself trying to get back out, the pain really bad again. I had to ask Aaron to move my luggage to my room, so bad was it. A hot bath helped, and enabled me to hobble out to dinner later that evening. No sooner had we finished eating than I bid my fellow diners goodnight (they were heading out for some nightlife) and made my way back to the hotel and my bed...
But I'd made it to Santiago, having ridden all the way. Now I've got 4 full days to get fit again and sort out my bike before the final leg of the journey...
Postscript:
Tracy sent me an email to let me know that the article I'd written for Kevin and Julia has been published in the latest edition of "Motorcycle Sport & Leisure" magazine, including some of my pictures. Another of life's ambitions ticked-off!
Tuesday, 3 November 2009
Another international hospital visit...
A rest day at last, and I intend to do just that... rest...
But first I wanted to get the blog more up to date, so spent a relaxing morning writing up some of the recent events, and then when sufficiently tired, went to lay back on the bed. Just as Jim discovered his room key no longer worked and he needed letting in. Then the phone rang. The doctor was here and had examined Nick and sent him off to have his head examined (actually to have a full scan, but it sounds less serious when put like that). As the doctor was already in the hotel, Nick had suggested that he comes and sees me too, so I agreed and 5 minutes later there was another knock on the door. The doctor asked me what happened and seemed most concerned when I mentioned that I'd been knocked out for a little while. He did a decent examination, getting me to pull faces like his to check that things worked normally, then moved on to check my ribs, asking me to inhale deeply and repeatedly say "trente tres" (thirty three) whilst he played my ribs like a xylophone. Finally he concluded I had 2 problems. The first was my ribs, which were sore (no shit, Sherlock!) but would probably only be treatable with pain killers. The second was my head, which whilst it seemed fine might be hiding something, so he wanted me to go to the same clinic as Nick and have a brain scan. Great. So no just resting, then...
After I'd paid the doctor and he'd left, Jim kindly offered to come with me to the clinic, so the 2 of us jumped in a cab and off we went. On arrival they took my passport and then I was shown to a nice room with a bed where they sat me and a pretty nurse (aren't they always?) took my blood pressure (normal) whilst a doctor that spoke excellent English asked me about the crash and then proceeded to repeat the same examination as the doctor in the hotel. I was then brought a wheelchair and wheeled (they wouldn't let me walk, I asked) to the CT scan room. Here another pretty nurse asked me to remove my earring (which I couldn't as the balls are locktited in place and can't be removed without special tools) then gave up and laid me down on the CT scan bed and strapped my head down. Then I was inserted into the machine for no more than 3 minutes whilst an image of my brain was taken and I was wheeled back to my room to wait. Whilst waiting, we met Nick, who was about to go for an MRI scan and obviously concerned about what they might find. Our words of encouragement (that they might actually find his lost brain) clearly helped. Some time later another doctor appeared, this time a very attractive woman, and played with my chest. She seemed to like walking her fingers up and down my rib cage, and to be honest, after this long from home, despite the pain, I enjoyed it immensely too. She proclaimed that she thought it worth me getting it x-rayed and disappeared. I wondered if I'd dreamt the whole thing, but Jim was there and confirmed it all. Some time later another doctor, this time an old gentleman, appeared and proclaimed that my head, and my brain, were perfectly normal. He repeated this several times so there was no mistake, I'm officially normal in the brain department. So there...
After he'd gone we waited some more, and then I started feeling unwell. I got really hot and started sweating, thinking I was about to pass out. Jim got the doctor and within seconds I was laid on the bed with my feet up and a needle in my arm as they extracted 5 vials of blood whilst testing my blood pressure (dropped to 100/71 way below what it normally is) and then put me on a drip. I did tell them I'd had nothing to drink since breakfast and was feeling dehydrated...
They then came and wheeled me in my bed round to the x-ray room, where I was made to stand up (no longer a problem now I had some fluids inside me) and raise my arms so they could x-ray my side (bloody painful given my sore shoulder). Then back to the room to wait some more. Nick reappeared at this point and the 3 of us waited in the one room, until Nick was taken away by a doctor to tell him his results. The news was good, there was nothing wrong with his brain either and his episode in the van looked like it was little more than a trapped nerve. He was obviously relieved as when he reappeared again he was back to his usual self, taking the piss out of the cripple laid on the bed with the drip in his arm...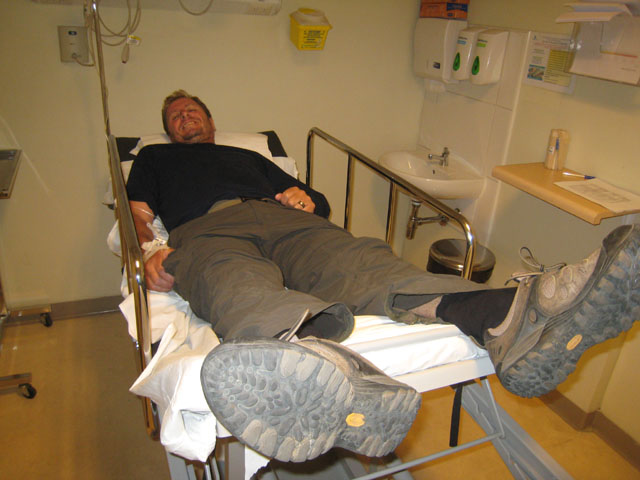 Some considerable time later, just as the bag of saline was about to run out, the attractive woman doctor returned with news of my x-ray and a seemingly insatiable desire to walk her fingers up and down my chest. The news was that I'd fractured my 8th rib, the crack running along the rib. That was the reason for the pain, she explained. I could have guessed that, but as her fingers were still walking, I wasn't about to complain. She said that treatment was best with just painkillers, and asked if I had any strong ones, to which I replied that I had some cocodomol (paracetamol and codeine) which my nurse wife had given me (didn't want her getting any ideas). When she'd finally dragged herself away from my chest a male nurse came and removed the drip and we were free to go … and pay... the whole thing was 186,000 pesos, or around £150 so I can't complain, at least I now officially know what I knew anyway.
We had a drink in the hospital café before grabbing a taxi back to the hotel, this time with me sat in the front so I could get back out again without crippling myself. Once back Nick and I reported to Kevin & Julia's room to tell them the good and bad news (good news, there's nothing wrong with us, bad news, we're continuing the trip). Then I retired to my room and a long hot bath, deciding to skip the group evening meal to have a very early night, crawling into bed around 7.30pm and falling soundly asleep...
Wednesday, 4 November 2009
Reunited with my bike... but it's not all good news...
What a good idea going to bed so early was. I slept in fits and starts right through until 7am, waking only to get up to stretch and relieve the pain, although I did wake at midnight with a huge cough that had me scream so loud I must have woken the whole hotel. This morning I'm stiff but more mobile than yesterday, so the recovery process continues...
After a big breakfast to make up for not eating last night (2 bowls of cereal, a bowl of strawberries and a yoghurt) I went back to the room and brought the blog up to date. Kevin phoned to tell me my bike would be ready for collecting this afternoon, so I arranged to meet up with the others at 12.30 and get a taxi to the dealer. And that's exactly what we did, settling the bill (about $300) for the service and brake fluid change. The service guy said everything was fine, then just as we were about to leave mentioned that my handlebars didn't point in the same direction as the bike. And he was right, too, as riding it the short distance to the petrol station revealed. The bars are angled so that I'm steering right when going straight, but it's not the bars that are bent, it looks like it's the whole front end of the bike, as the forks and yokes are at the same angle as the bars, whilst the wheel is pointing straight. I rode it gingerly back to the hotel and parked it in the underground carpark, where it will have to wait until tomorrow when Jeff and Kevin are back before we can start trying to fix it. It's so bad to ride I'm not sure that in its present condition it can continue, which is naturally a major cause for concern...
The rest of the day was spent relaxing and doing very little, before meeting up with Julia and some others to go out to dinner with an Irish journalist that has joined us for the last leg of the journey. I don't feel much like socialising, but go along anyway. The meal was very good and despite the group consuming the usual vast quantities of mojitos I managed to stick to just a couple of glasses of wine, determined to give my body the best chance to recover. The journalist (Finn, but I don't know how to spell it) seems ok, but I can't help but wonder what story he's after here – surely if he wants to write about a long motorcycle trip he should do the whole thing, as one of the most challenging aspects of this trip is the sheer time away? Then again, if he wants to experience a 5-week journey to the southern most road, why not join the Patagonia group who are doing just that? Whatever reason, let's hope he gets a real sense of what this trip has been about...
Back at the hotel I turn in straight away and try to sleep. My mind is constantly running through the scenarios regarding my bent bike, and none of them look good. Let's hope Jeff can work some special van-man magic on it so I can finish the trip... it would be a crying shame after all I've put myself through these last few days if it was to end now...
Thursday, 5 November 2009
Jeff the miracle worker...
I'm going to break my usual rules and post a mid-day entry simply because I realise that my last post would have everyone who reads this desperate for news of my bike...
Well, the good news is Jeff has once again stepped in to save the day. The issue with the front wheel has been resolved, the forks twisting in the yokes but they're still straight. Now the bike runs true and after a lot of Jeff's attention, my panniers and top-box are back on, the rear lights and indicators working and the instrument panel and screen stable again. It doesn't look as lovely as it once did, but a quick ride round the block shows it's running just great. He even put in my new starter motor that Santa Phil fetched out for me, so the starting issue should finally be a thing of the past...
I've also bought myself a new helmet as I don't like the idea of riding in my damaged one (after all, it did its job in protecting my head in the fall!). Prices here are way more expensive than at home, though, so now I'm skint again!
I'll post a full entry tomorrow, but in the meantime, join me in a glass of your favourite tipple and toast the world's best van-man, Jeff...
Bike fixed, new helmet and a great Thai restaurant...
As I've already posted a mid-day report you'll already know that Jeff has fixed my bike and that it's now straight again, and with care should hopefully see me to the end of the world and back up to Buenos Aires...
He started his marathon work around 9.30am, when I fetched the bike up from the underground car park and put it next to the Transit out the front of the hotel. As he doesn't really like an audience when he's working, I went back to my room and left him to it... Some 2 hours later I woke up and went back down to see how he was getting on. The bike was still pretty much stripped down and he was working on the pannier rail, trying to get it straight again so he could refit the panniers. His conclusion about the front end was that there was nothing bent, and he showed me the suspension moving freely now he'd loosened everything up and removed the front shock. He then spent a further 2-3 hours finishing things off and putting it all back together. When he was happy with it, I went to the bike shop across the road and bought a new helmet, then took it for a quick test ride round the block. It ran beautifully and despite the cosmetics being a bit crap – the instrument panel is held together with some straps and cable ties – it handled just as well as it always did, at least as far as I can tell. With the bike back in the garage, I celebrated by buying a beer for those that were around before retiring to my room once more to let Tracy know the good news.
For dinner I'd promised to organise a trip to a Thai restaurant and had been busy researching them on the Internet, deciding that a place called "Ky" sounded the best. Warning the others that on arrival it wouldn't look like a restaurant, we jumped in 3 taxis and joined the heavy traffic, Santiago's rush hour seemingly extending to 8pm. We finally arrived outside a suburban house around 8.45pm, and pressed the buzzer and were shown in to a reception area and then into what would have been the front lawn had it not been covered and decorated by pissed-up, spaced-out art students. Odd it most certainly was, with large plastic panels of red, blue and yellow, and with black sheets suspended from the "ceiling". The tables were all different, and there were other rooms that had different décor, giving the whole place the feeling of being in some college den or old-fashioned bourgeois whore-house. I loved it straight away, and fortunately the rest of the group also thought it was cool. We ordered some appetizers to share, chicken satay, prawns in filo pastry, caramelized Camembert and some sushi – all of which were excellent. For starter I had the "very spicy" Tom Yam Kung soup, which wasn't too hot (except for the piece of red chilli I ate that had me hiccuping and whincing in pain) and for main the prawn penang curry, which was more like a red curry than a penang and lacked any real heat, but was nice all the same. We washed these culinary delights down with a very nice bottle of single-vineyard Chardonnay, then several of us opted for the "miguel yacson" (pronounced "Michael Jackson") dessert. This was a medley of chocolate brownie, caramel, white chocolate ice-cream and dark chocolate sauce and was quite possibly the world's best dessert... It's always worrying when you volunteer to pick a restaurant to take your fellow riders out to, especially as if it's a disaster then the Prat Hat will be yours, but by good fortune on this occasion I think I may just have pulled off something of a result...
Back at the hotel it was time for bed – as it was gone midnight by the time we got back. At some point I'm going to have to resume my "in bed by 10 o'clock" regime or I won't be up early enough to go out and ride... and after all, that's what I'm really doing here!
Friday, 6 November 2009
Smile for the cameras...
After another night where I woke every 45 minutes coughing as a result of sleeping on my back, and then having to get up and walk around clutching a pillow to my chest to ease the pain in my ribs, I finally emerged from my pit around 9am and went in search of breakfast. With a free day ahead and nothing much to do, I hooked up with Nick and Finn and we headed to the mall to try and get some power adaptors to convert to the Chilean and Argentinian power sockets which are 3-pin round in a row and like nothing we've seen before. We were eventually successful and then Nick and I went to collect our x-rays from the hospital before returning to the hotel. I'm not sure why we did this, as they are huge and we've no way to carry them. Perhaps Jeff would like to start a collection of them in the van...
Later that afternoon the local TV turned up at the hotel to interview us, so we fetched the bikes up from the carpark and parked them in pride of place outside the hotel, whilst Ricky, the short biker-presenter interviewed Kevin. Apparently he fronts a regular motorcycle program on one of the cable channels, and was keen to get a reasonable amount of footage of us, and interviews with the riders. As someone who has trashed his bike and himself, naturally I was a target for one interview, Ricky being incredulous at my tales of the bike going end-over-end in the sand whilst I was out cold with a cracked rib, then riding the next 3 days to Santiago. The rest of the group took the piss constantly, so there's no danger of me getting ideas above my station...
Just before the interview started, I tried to get some pictures and discovered my camera had decided to quit. Even with a newly charged battery installed it wouldn't switch on, and no amount of verbal or physical encouragement would bring it back to life. Damn. So Aaron and I hopped in a cab and went back to the mall, where I purchased my second new camera of the trip – a Canon PowerShot SD1200 IS, which is currently awaiting the battery to charge. You'll get to compare it with the other 2 cameras I've used on this trip tomorrow, hopefully. Let's hope this one at least gets me to Buenos Aires, as I don't want to be accused of importing broken cameras at UK customs...
Once back from the mall everyone else had gone for dinner, so Aaron and I wandered round the corner where we ate a good meal of (for me) garlic prawns followed by slices of ostrich steak on a bed of aubergine and banana (yes, really, and it was a weird as it sounds). Then back to the hotel to try and get some sleep before a relatively early start – we're being escorted out of the city by the carabineros... should be fun, especially as this time I'll be on my own bike...
Saturday, 7 November 2009
El Monstro Rides Again!
Had another poor night's sleep, the cycle of sleeping, coughing, getting up to alleviate the pain and then finally trying to go back to sleep repeating itself all night. But I did wake in a good mood all the same, and loaded up my bike before heading to breakfast – where I had to ask Jeff if he could take if off the centre stand for me as my back is too weak to do it and the car park too slippery for me to ride it off as I would normally do... Once breakfast was over we assembled outside with our bikes parked on the hotel forecourt to await our police escort. Jeff's amazing work putting my bike back together making it look at least presentable amongst all the others...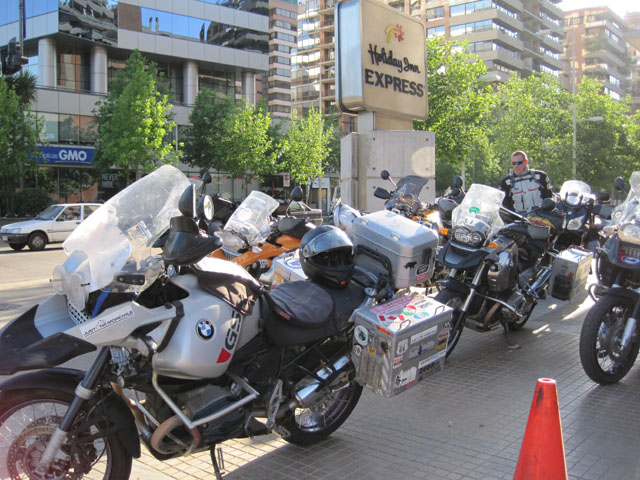 Finally the 2 motorcycle cops turned up a little late, as they'd had some real work to do and we were off. Just pulling away from the hotel back astride "El Monstro" was a great feeling, even if the bars are slightly bent and the instruments held together with straps and cable ties... at least it rides again... The cops were only with us for a short distance, as getting onto Routa 5 south is pretty straightforward, so after some high-speed video-game of catch the cops in a long tunnel they peeled off with a wave and we were off on our own again, strung out in one long convoy with Kevin up front. I'd dropped into around 6th from the front and soon the lead group was dropping those behind as we cruised along the dual carriageway at around 75mph. The air was noticeably colder than we'd been used to, but the sky was bright blue and even without any music in my helmet (I've not yet fitted my speakers) I was singing along, full of the joys of spring (which it is in these parts). At least the road was smooth so my whincing from the shock of riding over bumps was reduced...
And so it was for most of the day, as we cruised along, stopping every 100 miles or so for a coffee in a petrol station shop, just enjoying getting moving again. There's no doubt that the rest in Santiago has done us all some good, me more than most, but it's travelling that really lights the fire in my soul, and he I was, back on the open road, back on my own bike, and still with some distance to cover. Judging by Simon slumped at the roadside after less than an hour in the saddle, you'd think that we'd not even had a rest break!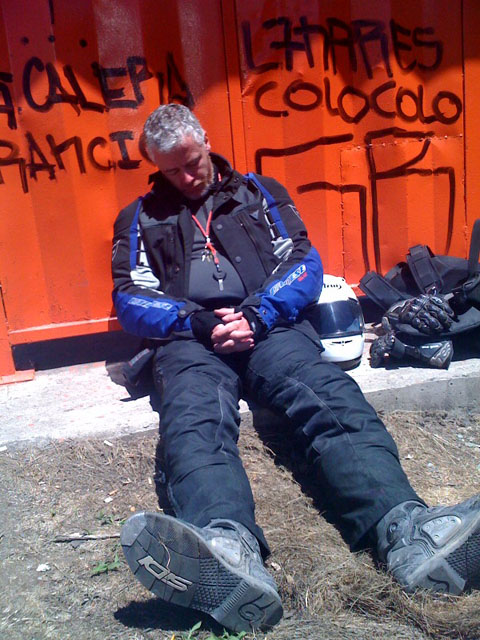 The ride took us due south on Ruta 5 all the way to Salta de Laja, a distance of over 300 miles, but we still arrived in plenty of time to make the most of the fantastic waterfalls that were literally a hundred yards from my bedroom window. Despite being in some minor discomfort I decided to walk round to the second waterfall to get some pictures with my new camera, and was rewarded with a spectacular rainbow (sadly I couldn't climb down to get the pot of gold)...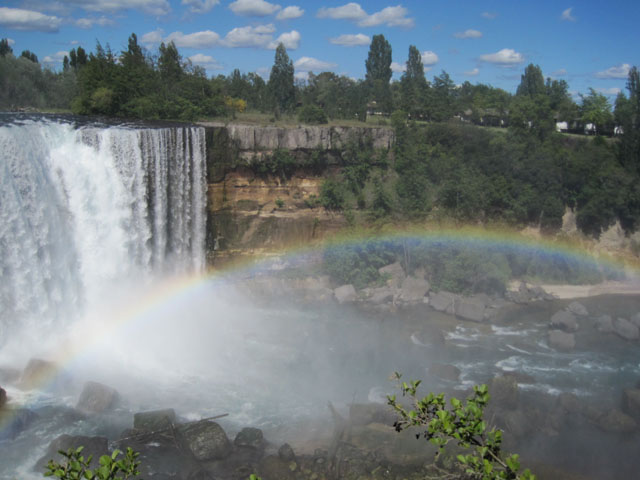 The little white dots on the hillside to the right of the falls were our cabins... quite a spot!
When I'd done taking pictures I hobbled back towards the hotel, but only made is as far as the terrace bar where a few of the guys were enjoying a late afternoon beer. Naturally I had to stop and have one too, which led to a second and then a third and then, well, it was a nice afternoon and I was celebrating getting back on my own bike again... We eventually moved from the terrace into the restaurant where we ate (quite a nice steak) and shared a bottle or two of decent wine, before we headed back up the hill and off to bed. Once again, for some inexplicable reason Jim had been given a single room to himself, so I had the entire room to myself. The single beds were massively uncomfortable, though, so I wasn't expecting a great night's sleep...
Sunday, 8 November 2009
Down the A1 to get some new rubber...
I was right about the poor night's sleep, the single bed conspiring to give me severe back-ache during the night, coupled with the usual bout of coughing and whinging about sore ribs, it was probably as well that Jim was elsewhere and didn't have to listen to me complaining. I had intended to try and get up early to join Kevin's party leaving before breakfast to ensure they got to the tyre fitters in plenty of time, but when my alarm went off at 6am I was still very tired so went back to sleep for half an hour. At least I got a warm shower in the morning to compensate me for the luke-warm one I had when I arrived, and as I'd missed the early birds I also got to eat some breakfast (a piece of warm bread and a nescafe coffee...). When finally packed I left, expecting some of the others to catch me fairly quickly, but I rode alone for a good hour, picking up the Pan Am south and cruising along at a steady 75mph. Nick came flying past after about an hour, doing a steady 90-ish and clearly on a mission. I let him go, content to cruise along and keeping my aching body from being subjected to too much wind-blast. The road was dull, though, very dull. A 2-lane dual carriageway with very little traffic it passed through countryside that made it reminiscent of sections of the A1, flat green fields with cattle and sheep, small woods and rolling hills, all under a typical British Winter sky, dull dark grey clouds threatening rain and an air temperature cold enough to warrant several layers of clothing. The major difference between this section of the Pan Am and the A1 (apart from riding on the right) is the tolls. They seem to be placed every few miles and cost 600 pesos per bike (about 75p). At one such toll I was joined by Richard & Karen, so we hooked up for a while, stopping for a coffee about the mid-point after just over 120 miles. It was nice to chat in the warmth of the coffee-shop whilst enjoying a hot drink and a weird pastry thing (it was supposed to be an empalada but was filled with vanilla custard instead of meat!). Back on the road we continued our cruising and musing and soon we were turning off into the town of Osorno and working our way to the hotel...
We were expecting to meet up with Julia and the others for the ride to get tyres, but there was just a note behind reception asking us to wait, so that's what we did, at least until Aaron turned up in a taxi with news that we would be at least a couple of hours as the first batch were only just having their tyres fitted. So I wandered round the block with Aaron, Nigel and Ozzy Andy to get some lunch, chicken and chips, and to while away some time. Just as we'd finished eating the first group returned and we dashed back to the hotel, picked up our bikes and rode across town to MotoAventura's warehouse where the tyres would be fitted. With so many bikes to do it took a considerable time, and with my back playing up I had to get one of the chairs from the van and sit down, looking for all the world like the crippled old man I seem to have become. They even did my bike ahead of some of the others so I could get back to the hotel to rest, which just made me feel worse...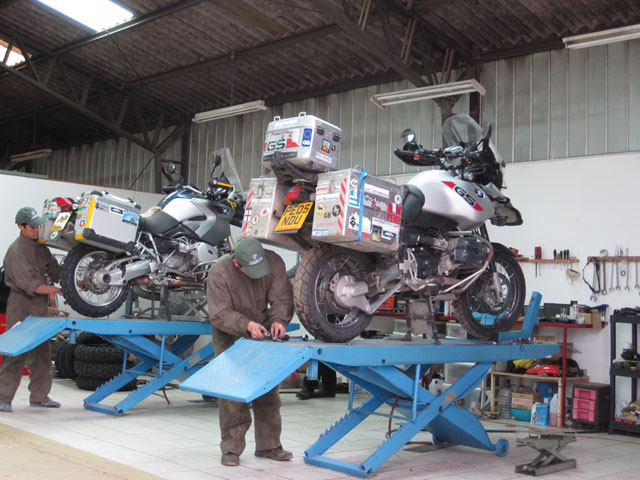 The ride back to the hotel was interesting, the shiny new knobbly tyres front and back hardly gripping the dry tarmac, and feeling decidedly odd with even very modest angles of lean. Back at the hotel I was looking forward to a nice hot shower, but alas it wasn't to be, the water barely luke warm. Still shivering with cold I just put on some more layers and then spoke to Tracy, before heading down for the meeting at 7pm. This was the usual briefing covering the next few days as we head back into Argentina, across another high pass, where there have been reports of heavy snow falls. And it then started to rain. So now we have shiny new rubber, designed for mud, and wet tarmac and snow to content with... perfect!
After the meeting we went to try and find a bar to eat in before dinner, but they were all closed. The restaurant we were eating in had opened especially for us, the owner being a friend of Sonia and Roberto of Motoventura. Being a steak restaurant, they laid on some fantastic steaks cooked by Pepe (the owner) on a large barbecue grill.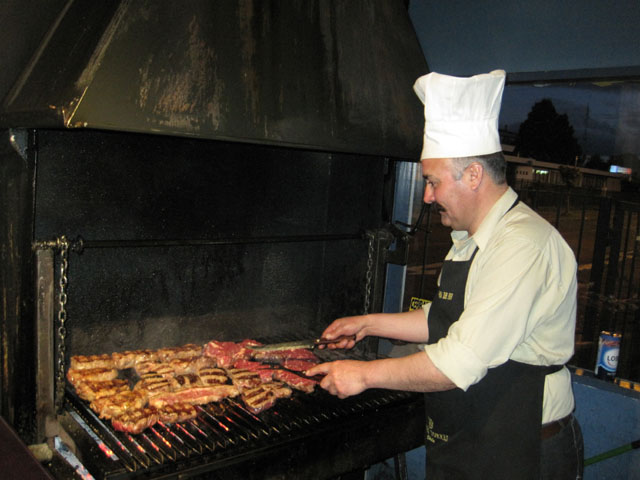 The choice of red wine was also good, although I restricted myself to just a couple of glasses. With almost the whole group, plus Sonia and Roberto and a couple of Spanish riders who were working their way North from Ushuaia, it was a noisy, but enjoyable meal... I just didn't get the early night I had been hoping for...
Monday, 9 November 2009
Crossing from Chile to Argentina again... and a new challenge...
Despite the close proximity of Jim's bed to mine in the cramped little room I managed to get a reasonable night's sleep, and made it all the way through showering, loading the bike and eating breakfast before I gave in and took some paracetamol to ease the pain which has now moved to my back. At least my rib no longer hurts and I can breathe in with a reasonable degree of confidence that I won't end up doubled-up and moaning like grandpa from the Simpsons...
I decided to latch on to Richard and Karen for today's ride, as I always enjoy riding with them and they would take good care of me, bearing in mind Karen's promise to Tracy (to treat me as well as Tracy treated her cats, both of which sadly are no longer with us...). We rode out of the hotel car park and no sooner had we got on the road than a large bunch of other riders tagged on, hoping to be led out of town. Richard pulled into a petrol station as we'd agreed to fill up, and the rest (apart from Nick who had decided to join us) rode on, oblivious to the fact that they were on the wrong road... When we left the petrol station we realised that the road was incorrect and headed back into town, finding the right road without too much difficulty.
With just 65 miles to the border, but the border being in the mountains, we'd been warned to wrap up warm. It was a warning well heeded, as the temperature dropped the more we climbed until we were very cold indeed. Arriving at the Chilean border buildings we quickly went into the relative warmth to clear ourselves and the bikes out of Chile, only to discover the customs guys were on strike. Now this didn't perturb us too much, as we simply joined the queue and waited patiently (Richard ferrying cups of coffee and chocolate biscuits in from the shop next door). Despite being on strike, the guy was still processing the forms, albeit slowly. Well, it may have been slowly, but given some of the border crossings we've had, this was still relatively quick. Once cleared out of Chile we set off towards the Argentine border, some 13 miles further up the road. Now the last time I was between these 2 borders was when I had my big off, so I was a little nervous about this stretch. The road was beautiful though, heading higher into the trees and all smooth tarmac, so I began to relax – after all, what could possibly go wrong? Well, the snow-plough coming the other way covered in snow should have been ample warning...
As we climbed higher, the light drizzle in the air turned into a small snow flurry. Then a full-on blizzard. The road went from being slightly wet tarmac to white snow an inch or so deep and slippery as hell. I was glad for the knobbly tyres, as they at least cut through the snow a little, which the road tyres we'd previously been on most certainly wouldn't. Following Richard & Karen we crawled along in ever decreasing visibility at a steady 20mph, trying desperately to keep the bike vertical and not to make any sudden steering or braking moves. All the while the road climbed higher and the snow fall got heavier. Then we came upon a stranded artic, which had passed us a little time before, spinning its wheels and getting nowhere fast. Kevin was parked up beside the road, in theory to warn us it was a little slippy, but we'd guessed that already. Having stopped to assess the situation, getting going again was a real trial, the front and back tyres sliding this way and that as I wrestled to maintain some form of footing and keep the heavy machine from toppling over. When I finally got moving I was heading for the bank, so had to turn carefully and gingerly, finally getting the bike pointing in the right direction and hooking 2nd gear to give me a little more traction (1st was simply spinning the rear all the time). And so we continued, crawling up the hill through the blizzard until eventually we reached a patch where the snow-plough had cleared the road and the snow stopped falling. Only now did I feel confident enough to pull over and get off the bike to take a photo, but take my word for it, the section prior to this was one of the most challenging of the entire trip...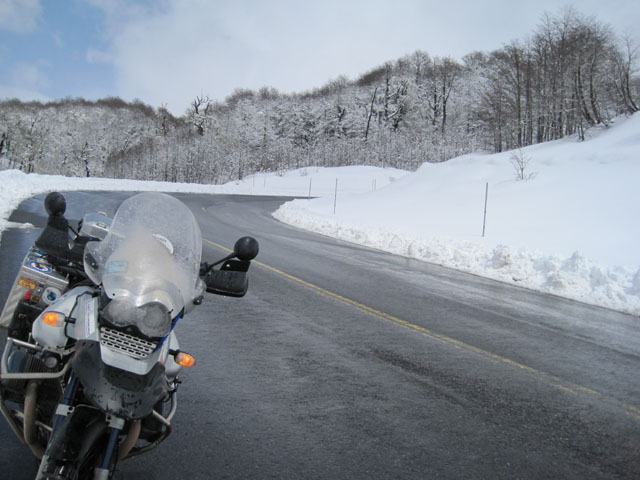 But as is so often the case with these most challenging sections, the reward once they've been successfully negotiated more than makes up for the "holding your breath and trying not to sit yourself" moments earlier. The beauty of the mountains and the forests with their sprinkling of pristine white snow cannot adequately be described in words, the only real problem being the images will remain in my memory as stopping to capture them on camera was not really an option... suffice to say, snow on this pass during the Trans-Am is unusual, but I felt we'd been blessed by it as the scenery was simply stunning.
Once we had arrived at the Argenine border the procedure was simply and efficient and very soon we had another stamp in our passports and another temporary import permit for the bike. A short distance from the border we took the turn towards our destination of San Martin de los Andes, a mountain resort town at the head of a lake. The only problem, and more for me than the others, was that half the road there (about 35 miles) was dirt. Initially it was hard-packed and therefore not too demanding, but one section was deeper loose gravel and I discovered that with my weakened back muscles I could not control the bike as I'd like, it skitting over the gravel and going in any direction other than the one I had intended. In the end I ended up sat down and with my feet out, almost paddling, like a complete novice, but it was the only way I felt I could keep the bike under control. So much for the confident off-road rider I'd become before my fall. At least as soon as my muscles have healed I should be able to ride properly again... But as with the snow earlier, the challenge of the dirt simply took us to somewhere beautiful, with lakes in front of snow-capped mountains, forests with bubbling bright green streams running along the roadside and endless excuses to stop to get my breath back and take some pictures...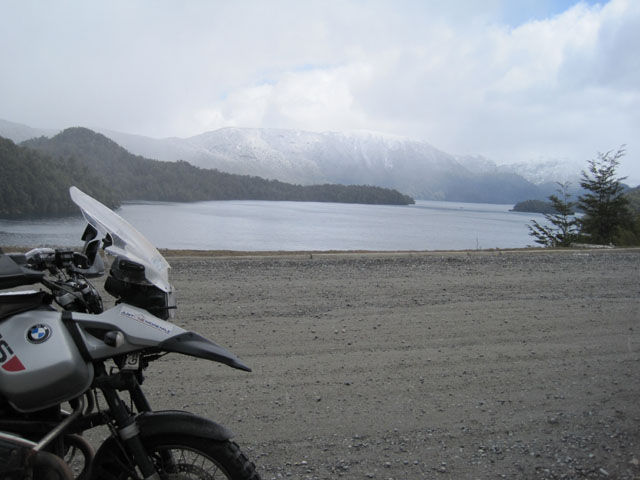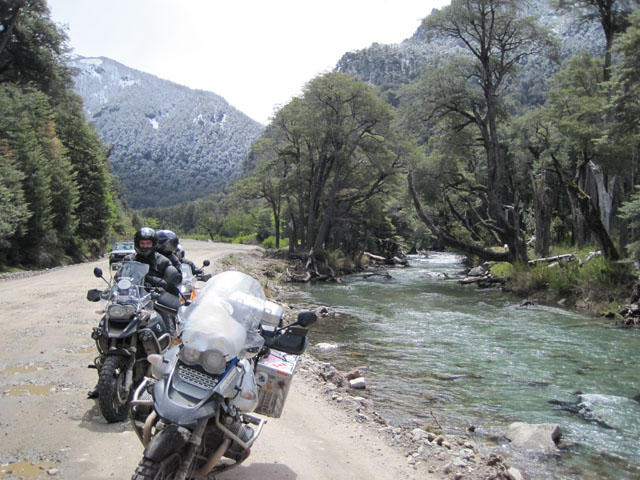 It was almost an anti-climax when the pot-holed mud and gravel gave way to smooth tarmac, but as the road wound its way down the valley and along the lakeside in a series of swooping bends, it wasn't. Now we got the chance to see how knobbly tyres handle on the road, and the answer is surprisingly well, although they do feel odd and I won't be getting the sort of lean angles I had in Columbia on them, that's for sure. San Martin de los Andes is a beautiful little town, reminiscent of an Austrian ski-resort, all full of wooden buildings and outdoor shops (I resisted the temptation to buy anything other than a woolly hat, but the reason was everything was so damned expensive!). I wandered round with Richard & Karen, and after finding an ATM to top up my local currency, we went to the Dublin bar and had a Guinness. Seriously. It was from a bottle, but brewed in Dublin and had travelled pretty well. After a while we wandered round some more, before realising it was already quite late, so we selected one of the many restaurants offering Patagonian Lamb and went inside. Now these places (and yes, I should have taken a photo) all have a large window in which is a fire pit with wood burning and one or two whole lambs (minus the heads and innards) spread-eagles on skewers lying over the fire and gently rotating. And the lamb is delicious, served on a hot plate as chunks seemingly cut at random from the lamb in the window...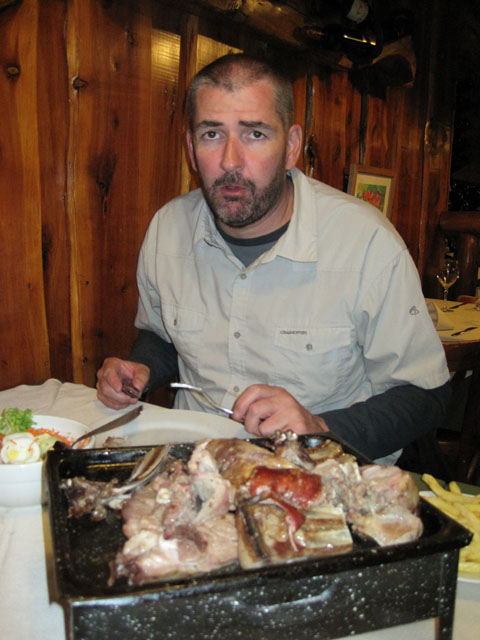 I think Richard's rather shocked expression is more to do with me taking the picture than the lamb, but it had been a long day...
And so, fed and watered and tired after another long and challenging day (even though it was only 160 miles) we returned to our hotel ready for a good night's sleep. Tomorrow is another short day for me (I'm skipping the optional dirt-road ride that will add 100 miles to the 160 or so the basic route takes), and then we have a rest day, so that should give me ample time to get fit again...
Tuesday, 10 November 2009
A short ride through stunning scenery...
After a good night's rest, I packed the bike and joined the crowded breakfast room to enjoy a bowl of cereal and a cup of coffee, before riding the bike out of the hotel car park and making my way across town. I stopped briefly to fill up with fuel, then out on the open road I caught up with Richard & Karen and with Nick tucked in behind we rode along the valley and up into the hills. Under a bright blue sky the landscape was reminiscent of the UK, bright green fields and rolling hills, the temperature low enough to complete the illusion. Soon we started climbing and the landscape opened out, a bright blue river meandering across the plain the colours beautifully intense.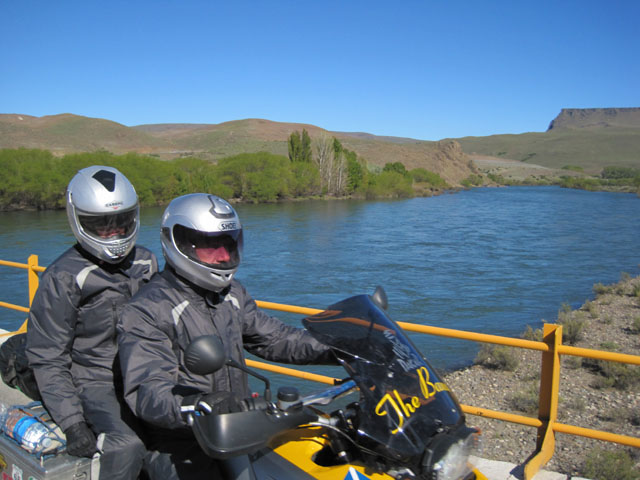 Once again, the ride was working its magic on my soul, lifting my spirits and soothing away the aches and pains of the last week or so. As the road crossed the hill and then ran alongside the bluest lake I've ever seen, the temptation to stop just to absorb the view was too great, so I pulled over and Nick and I stood in silence just staring out across the lake to the distant snow-capped mountains. This was going to be a very good day's ride...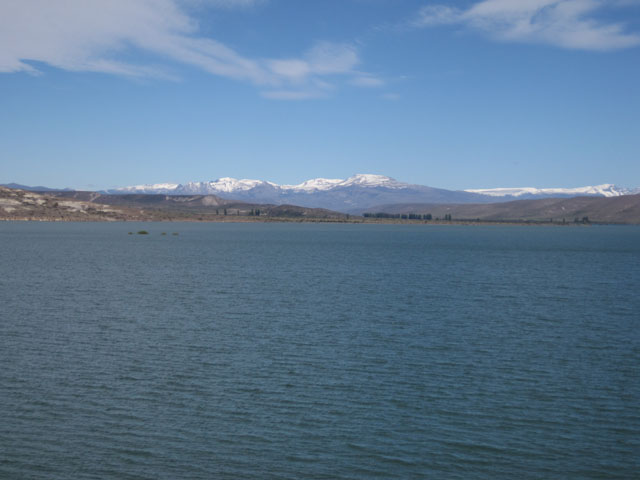 And so it continued, as we crossed over more hills and rode along a couple more lakes, the water so bright and clear it mirrored the sky perfectly. It was still cold, and the wind was picking up as we reached the petrol station and café that marked the turn-off point for those taking the dirt road extension. We stopped and had a coffee and a small cake, then Nick went off to take a longer road route whilst I continued directly to San Carlos de Bariloche, determined to keep the day short and to rest as much as possible. Riding alone again was highly enjoyable, just me, my bike and this beautiful landscape. Soon I was riding along the shore of Lago Nahuelhuapi, with the town of Bariloche spread across the shoreline on the far side of the lake, against a backdrop of snowy mountains. Naturally I had to stop and take a photo, my battered bike still looking like it belongs here...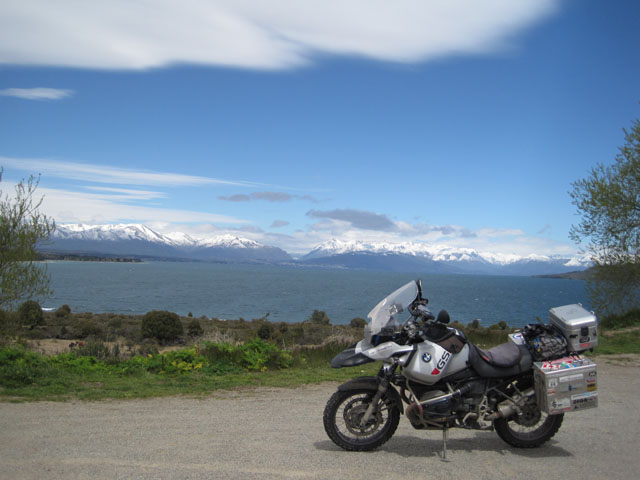 Sometimes I have to remind myself just how lucky I am to have been able to ride all the way to Argentina...
When I got to the hotel there was another 1200GS Adventure in the car park, with UK number plates. Chris was about, unpacking his own bike, so I gestured to the bike and asked if he knew who it belonged to. It is Hamish's bike – he was originally due to do the whole Trans-Am but switched to the Patagonia trip, and on arrival had his rucksack with all his documents in stolen from the hotel. He had therefore been trying to get copies and a new credit card, and was running a day behind his group, hence he was still in the hotel when we arrived. We had a brief chat, and then he was gone, giving up waiting for his credit card and setting off to try and catch up with his group.
After a long hot shower and a snooze, I went out for a wander round the town. It's very much like a Swiss ski resort, all outdoor shops and chocolatiers plying their wares. The main square is very pretty, with old buildings and large St Bernard dogs complete with brandy barrels round their necks... oh, and a group of tourists performing some weird dance...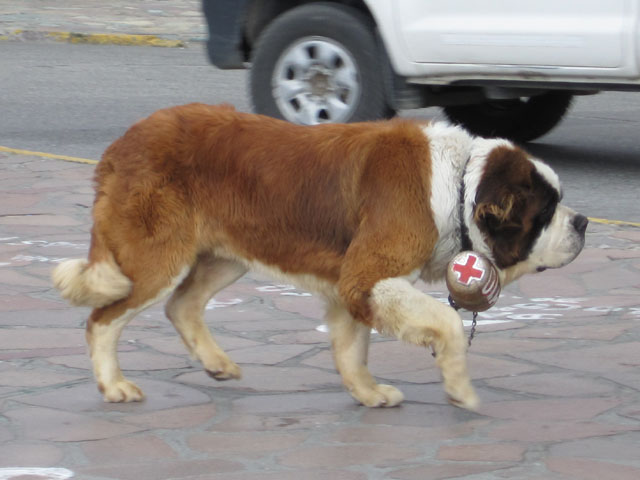 After my wanderings I made my way back to the hotel and had a snooze, still sticking to my plan of taking it easy and getting as much rest as possible. I stirred around 7pm, heading down to the lobby and joining a small group going out in search of a bar, where we discovered draught beer for the first time in months. Several pints later we made our way to a restaurant where I had an excellent steak and a good bottle of Merlot, before heading back to the hotel and my bed...

Postscript
: On the dirt road that I avoided taking, Ozzy Andy hit a big rock and has severely damaged his bike. The front wheel is bent, but much more seriously, the drive-shaft/swinging arm has been shattered, rendering the bike unusable. He is OK, thankfully, managing to bring the bike to a halt without falling off, but now the challenge is for Kevin to source a replacement part (a real problem given how remote we are) or for him to arrange a hire-bike from Sonia in Osorno so Andy can continue to ride. With just 2 weeks until we're due to reach the southern most point (Ushuaia) it's not going to be easy to get him riding again in time...
Wednesday, 11 November 2009
Rest and recuperation...
A full day off and with nothing planned except resting and relaxing in my room. I was kinda hoping that I'd wake up free of pain and with energy in abundance so I could explore some of this beautiful town and the lake, or perhaps even head up to the ski resort to get some panoramic views, but instead I woke up feeling tired and with the muscles in my back complaining about being laid upon. I tried lying on both sides, but that was worse, even with extra pillows shoved underneath me, so I got up and stood under a warm shower until I could move more freely, then went downstairs for breakfast. It was still only 7.30am, so no-one else was about. At least I got first dibs on the cereal and cold milk...
After breakfast I returned to the room and began the usual round of blogging before sitting back on the bed. Just as I was getting comfortable, there was a knock on the door, the cleaners wanting to sort the room, so I went back downstairs and into the yard to see what was going on. Jeff had started working on Ozzy Andy's bike, stripping down the rear end to remove the broken swinging-arm so that it can be replaced should the new part arrive in time. Current plan is for a part to be shipped from the US as there are none in either Chile or Argentina, and hope it doesn't get stuck in customs on the way. It'll then get fitted in El Calafat where we'll be in around a week. With the offending parts strewn across a wooden board, it's easy to see the extent of the damage caused by the stone – the 3 bits of swinging arm should all be one complete casting...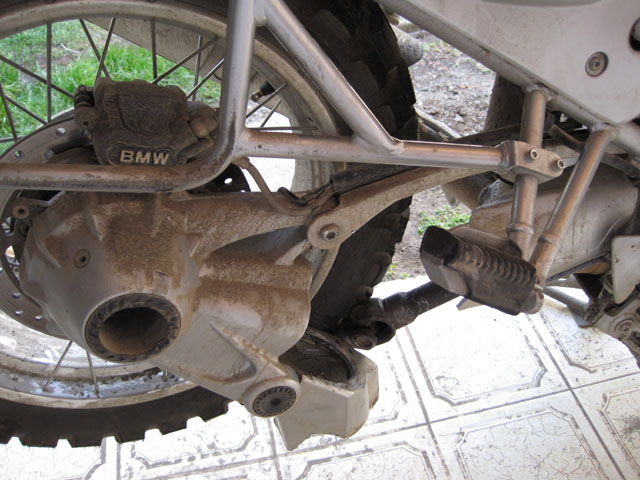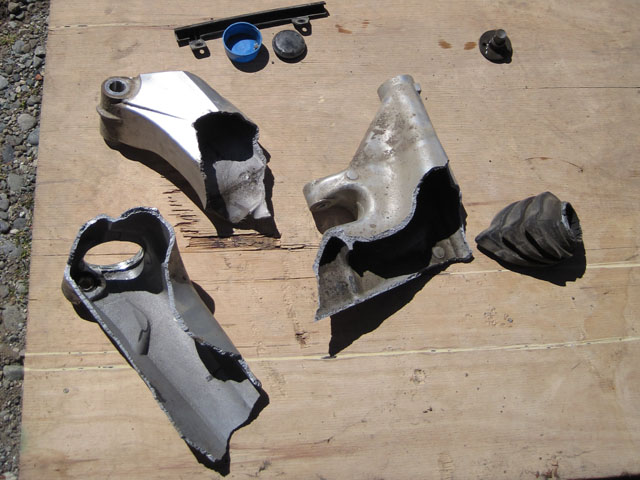 Leaving Jeff to his work, I headed back to the now clean room and turned on the TV, finding the film Gladiator just starting in English with Spansih subtitles, and so settled down on the bed to watch it. And that's pretty much how my day went, sitting or lying down watching TV for the first time in months, interspersed with brief chats with Laura and Tracy online. At one stage I ventured out into town for a wander round and to buy some chocolate (Bariloche is famous for its chocolate, which is very nice in small amounts). But apart from that, I did next to nothing. Kevin dropped by late afternoon to chat with Jim about alternative routes, as Jim's sciatica has returned and the dirt roads make it too painful. Looks like Mac and Jim will be staying in Argentina and heading down the coast road to El Calafat whilst we head for the Carretera Austral, the dirt-road built by General Pinochet's regime to link North and South Chile. I did consider going with them, but as we ride back up the same route they'll be taking down, and the Carretera Austral and Routa 40 are the classic overland motorcycle routes, I've decided to go the official route and take my time.
After a short meeting at 6pm to discuss the next few days we headed to a bar for pre-dinner beer (the restaurant not opening until 8pm) and then went to the place where Richard & Karen, Kevin and a few others had eaten the night before, after finding it highly recommended on TripAdvisor. They were very vocal about how good the steaks had been, and they had every right to be. At last I got the Argentinian steak that I'd been looking for, a huge hunk of delicious meat cooked to perfection... that's my finger in the picture to help provide some semblance of scale...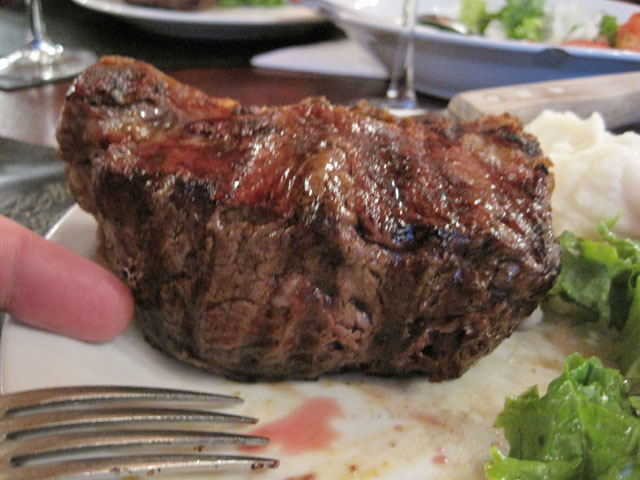 I did have a small starter (empenada – like a cornish pasty) and some mashed potato and salad with the steak, so it wasn't just meat. Oh, and a very good bottle of Merlot too, from just up the road near Mendoza. And ice-cream for dessert. Very, very, good, all of it...
And so back to the room and bed, tomorrow we're back on the road again heading back into Chile ready for the start of the Carretera Austral, the next 7 days seeing us riding every day, including Ruta 40 in Argentina, concluding with 3 nights in El Calafate. Then the final push onto Tiera del Fuego and the end of the road... Internet access may get a little intermittent, so I'll apologise in advance if the blog gets a little behind...
Thursday, 12 November 2009
Beautiful Patagonia...
After another uncomfortable night's sleep I was breakfasted and on the road fairly early, riding alone by the side of the lake. It was so beautiful that I hadn't gone more than 5 miles when I had to pull over to take yet another "bike by the lake" photo...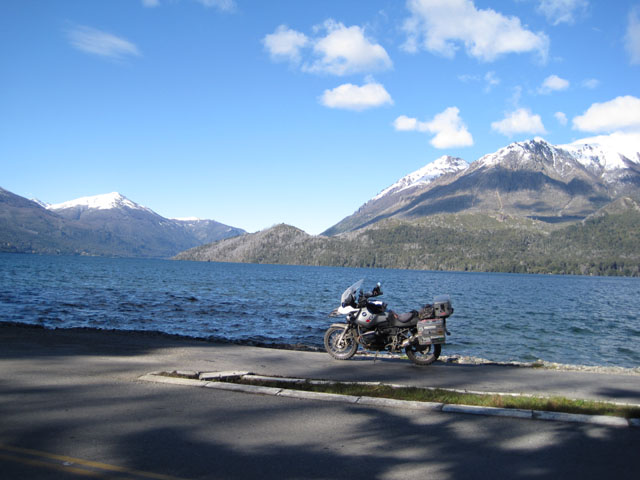 Sadly, shortly after I resumed the ride, the tarmac gave way to dirt, rough and rocky the bike bouncing about and causing me to whine like a girl. Having previously loved riding on the dirt, I found myself positively hating it. And we have about 1,000 miles of dirt to ride before Ushuaia. Just hope that my dislike of the dirt is temporary and caused by my poor physical condition. Fortunately this section of dirt only lasted for 3 miles and then I was back on lovely smooth tarmac again, and could stop complaining. Once again I found myself riding through picture-postcard scenery under a bright blue sky and the effect on my aching bones was immediate and very positive. The fact that it was slightly cold and I had put my electric jacket on may have contributed to my general inner warmth. I also decided that I would stop more frequently to get off the bike and stretch, which afforded me some ideal opportunities to take yet more photographs of mountains...
The lush green mountains gave way to more barren brown fields then an almost desert-like moonscape, whilst the road straightened out, heading all the way to the horizon in one uninterrupted line. With very little traffic, and no music in my ears, the ride was at times a little tedious, only a strong side-wind to keep my attention from wandering. The regular stops helped, and gave me some time to just enjoy being here, in the middle of nowhere...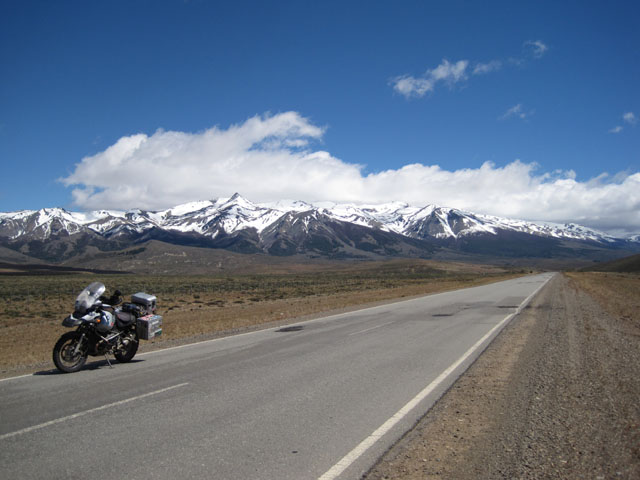 Eventually I reached the junction leading to the road to the border, a stretch of some 35 miles of dirt. By now I was a little more relaxed, but still rode very slowly, crawling along to try and avoid the worst of the rocks and shocks. On arriving at the border post, I went into the portakabin-style building where the customs guy checked my passport and bike import permit, then stamped me out and directed me to the other customs guy who took the bike permit and entered details in his computer. A short ride later and I entered the Chilean border control...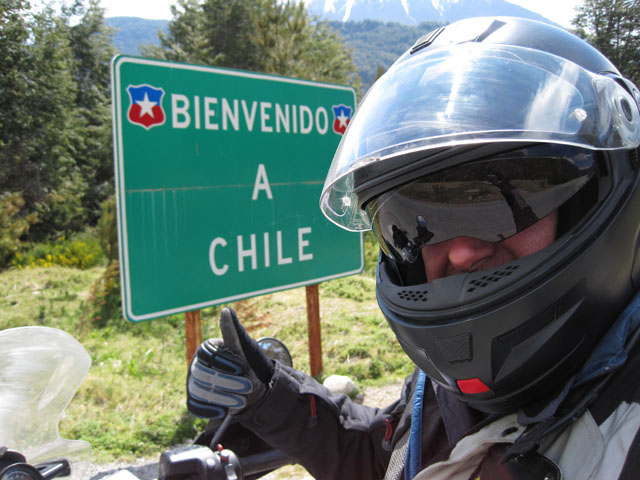 The borders are definitely getting easier, the process of re-entering Chile involving little more than filling in a small form and handing over my passport, then handing the vehicle document (V5) to the aduana guy who found the details already on the computer and printed off a new import permit for me to sign. Finally, the agricultural inspection guy to complete another form, then outside to open the panniers and have a quick chat as he did a cursory inspection job. Thankfully Chile had found some tarmac, and the road from the border to the town of Futaleufu was smooth and twisty, the 7 miles taking very little time to cover. Once in the town I found the hotel (it was easy to spot as there was a row of BMW motorcycles parked outside) and checked in. As Jim has gone off with Mac on a different route to avoid the dirt, I got to share with Chris (Danielle also opting to skip the worst of the dirt and fly to El Calafate). Before I'd even got my bags in the room there was a beer poured for me, which set the tone for the rest of the afternoon and evening. Sat by a real fire with cold beer and magazines to skim through, I was quite content. Before dinner Kevin announced that we needed to hand in our driving licences and vehicle permits as the customs guy wanted to inspect them before we rode onto the Carretera Austral in the morning. This turned out to be a ruse, as Gerald had found Nick's driving licence on the floor of the customs building. With Nick running up and down the stairs and re-checking his bike in a desperate search for his missing licence, it was no surprise that he was immediately presented with the Prat-Hat...
We were also presented with a free Pisco Sour to celebrate our return to Chile, and with Late Guy on a mission to break the record I'd set in Chiclayo (8 pisco sours) it became quite a drunken evening. I tried to hold on to the record, drinking several of the disgusting things before I realised I was incapable of speech, so retired to bed, leaving a large portion of the group getting more and more rowdy whilst playing Jenga... perhaps drinking so much the day before we start riding the Carretera Austral was not such a great idea... then again, maybe the alcohol will help me sleep...
Friday, 13 November 2009
Friday 13th... riding the Carretera Austral...
Friday the 13th, a hangover and a full day riding one of the world's most notorious dirt roads whilst recovering from a cracked rib... Just perfect!
Actually the day didn't start with a hangover, that only started to make its presence felt in the afternoon, but the pain in my back was all too real. Within minutes of leaving the hostel I found myself riding on the dirt, the road switching from tarmac before it had even reached the town's limits. At first it was hard, well compacted dirt with little gravel and therefore relatively easy riding, but my lack of strength and determination not to fall again meant that I was riding very conservatively, at a steady 25-30mph in 2nd gear, stood up for better balance and to avoid the worst of the shocks being transmitted straight into my back. At this pace, I reasoned that I'd be riding for over 5 hours, but it seemed much more sensible than going any quicker and risking both the bike and myself should I slip or mis-judge the road surface. With the road winding its way through some dense vegetation and then out by the shore of a large lake, the scenery was once again beautiful, the ride taking us right back into the wilderness where very few other vehicles bother to go. It was hard for me to relax enough to really enjoy it, and I muttered dark noises into my helmet every time the road bounced be unexpectedly one way or another. At one stage I came across a scene that I've seen far too many times on this trip already, bikes parked up at the roadside whilst someone hauls one of them upright. Between me and the others was a large patch of deep sand, and on the other side, Nigel's bike being manhandled back to its normal position. As he'd gone through the sand he'd picked up a rear puncture, causing him to lose control and go down. Fortunately he was unhurt, and his bike undamaged, but he'd be waiting for Jeff before getting going again. Whilst we stood around discussing events, Finn, the Irish journalist turned up and toppled over in the sand. Like a true pro, he laid back down again for the photo...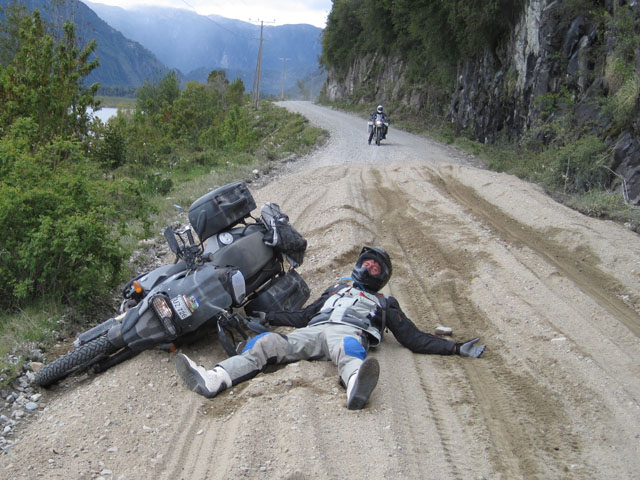 He too was unhurt and his bike undamaged, so we all continued on our merry way, taking extra caution every time the road surface changed colour in case it was hiding a nasty surprise. Another very long patch of deep sand had me paddling like a toddler, but I managed to keep upright, glad when back on slightly firmer ground the other side of the sand-trap. These sand-traps are one stage of the roadworks that seemed to be everywhere on this road, great bike patches of sand or mud or gravel just spread over the surface to fill in some of the endless potholes. I think I prefer the potholes, personally, as the bike seems to skim over most of them without so much as a wiggle, whereas the attempts to fill them in cause the bike to shimmy alarmingly. After several hours of this slow-moving torture I came across a large bridge, and using my experience anticipated the inevitable pair of potholes that would be where the truck's tyres resumed the dirt at the end of the bridge, so kept to the middle. This was a mistake, as right in the middle was a large mud rut, which sent the bars into a painful "tank-slapper" just as they had in my sand-trap incident. This time I managed to keep the bike going in the right direction, but only by slamming my foot hard down on the ground whilst at the same time wrenching the muscles in my back getting the bars pointing the right way. I had to stop once I'd got things back under control and hobble about for a good 5 minutes until the wave of pain subsided enough for me to continue. Cursing under my breath once more, I rode perhaps half a mile before finding a petrol station and café where I could fill up with gas and a pork chop (the bike got the gas, which in hindsight was probably nicer than the chop). Outside the café was a sign to the instigator of this marvel of construction torture, none other than General Augustus Pinochet, the dictator who built the road in the 70's to unite North and South Chile (though why bother, when the South has nothing but the road and some nice scenery, is beyond me at the moment)...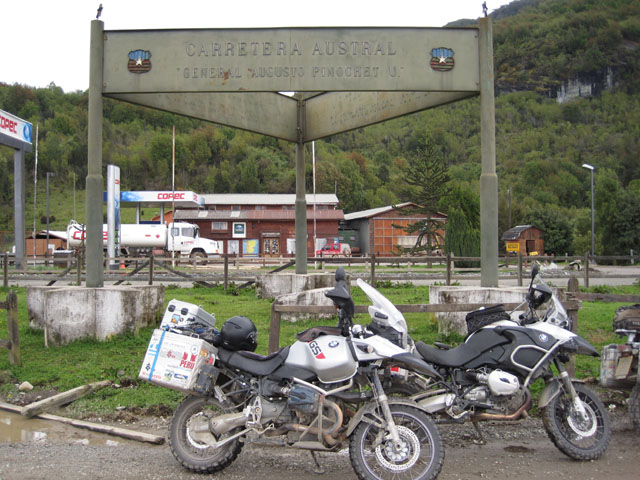 After lunch and whilst still belching foul-smelling pork breath as the chop tried to escape my stomach, I rode straight into some fresh roadworks. Here the nice sadists of the Chilean road construction department had laid down some lovely wet mud so that those with 4 wheels or more can play at creating nice patterns of ruts, whilst those on 2 wheels can try and see if they can get them both into the same rut so they can go forwards and not sideways (and then horizontal). Normally this stuff would be fun, but when every movement of the bike sideways requires a sharp correction through the feet instigated by a twist of the torso, and that torso isn't in good condition, it's not. I'm sure I'll look back on days like today with great affection once they are confined to my over-imaginative memory, but right now they are a real pain in the arse. The game has become all about survival and getting to Ushuaia, and less about simply having fun on a motorbike. That's what pain does to you, it robs you of your fun. And I'm just about fed up of feeling sorry for myself (which will please you, dear reader, as it means at some point I'll stop complaining about it in the blog!).
After the big, slippery, muddy section, there was a long stretch of loose gravel, before the road became more solid again, this time winding its way along the side of the ocean inlet, where the Pacific carves deep into the Chile in a patchwork of fjord-like waterways. Running through dense forest on this dark wet road I could imagine the fun I'd have if I was in a rally car not on a bike, then found myself smiling and enjoying myself again. I was still only doing 30 mph, in 2nd gear, but the rode had stopped punishing me and I was able to relax and let it flow. Not quite grooving, but certainly closer to it than I had been lately.
All too soon the fun ended (actually, it wasn't too soon, I was getting very tired) and I pulled into the little town of Puyuhuapi, where we'd be staying. The town was originally founded by 4 German families in the 1930's and we were going to be staying in the house that was still owned by descendants of the first immigrants to settle in this desolate place. Right on the coast, the town consists of a few wooden houses all built in a very Germanic-Bavarian style, some brightly painted and others rotting away. Under a dull grey sky and cold drizzle, it had the feel of the Northern Highlands, up in the far North-West corner of Scotland. Bleak would be an apt word to describe it...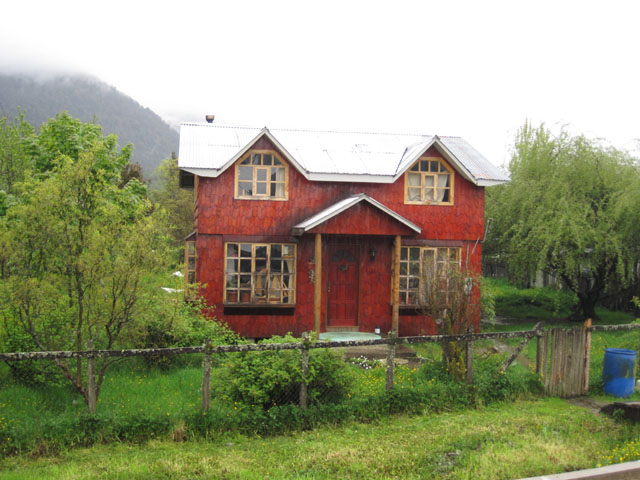 With a coach trip (actually "overland adventures with Kondor travel" - in an adapted Merc truck) of Germans hogging the town's only restaurant at 8pm we had to eat early, which suited me as I was tired from the ride and wanted an early night. The food was ok, nothing special, and I avoided any alcohol in order to give my body a break, and turned in around 9.15pm. I was quickly off to sleep, once again lying on my back, but this time in a dorm-style room I was sharing with Chris, Nick and Al... did I warn them about my snoring?
Saturday, 14 November 2009
The Carretera Austral claims its first victim...
Seems I hadn't warned them sufficiently that I snore, and that since my little incident I've also been forced to sleep on my back, which only makes matters worse... Nick, who claims to be a light sleeper anyway, found the noise so offensive that he went and slept with the dog in the dining room downstairs. Over breakfast, I was the subject of much piss-taking, but all I could say in response was that I'd slept very well... (and apologise to the more sensitive souls).
After breakfast I clambered aboard the bike again and rode out of the hotel's gravel car park and back onto the wet dirt road that lead out of town along the side of the fjord. The weather was trying its best to brighten up, but failing miserably, with a cold wet drizzle constantly falling and temperatures well down on what has become normal for us. The initial few miles were relaxing, the road being kind to me, not too slippery and gently curving as it hugged the shore-line. I quickly settled into my new dirt-road riding routine, stood up and trying to stretch my back whilst maintaining a constant 30mph and using the engine braking to slow me down should I need to scrub off speed as the surface changed. I tried to avoid the many potholes that littered portions of the road, but it was impossible as they conspired together to prevent any form of line between them appearing. But the bike took them in its stride, and with me stood up and bracing myself against the impact with my legs, the going was relatively pain-free, at least at first. When the road started to enter a very lush and green forest, with dense vegetation very close to the roadside I suspected conditions would change and they did. First it started to rain more persistently necessitating me stopping and hopping into my waterproof trousers – which resulted in more whincing as I twisted my back trying to balance whilst inserting my booted foot into the leg. Then the road started to climb up the hillside in a series of tight hairpins which were a mix of rocks and loose sand/gravel, which required forcing the bike into the turn and feathering the clutch to maintain momentum. Forcing the bike to turn required me to twist my back and push on the bars which was excruciatingly painful, but I kept going, convinced the pain would subside as soon as I was clear of the switchbacks. Thankfully they didn't last too long, and soon I was back on firm dirt and able to relax a little, and the pain subsided again.
And so the ride continued for quite some time, the rain persistent and therefore not conducive to photography. So much so that I didn't take a single photo during the ride at all. But my misery with the rain and dirt ended earlier than expected, as we hit some roadworks and then some new tarmac ahead of when the notes promised it. I was so happy I laughed hard enough for it to hurt. But as is so often the case in these remote regions, the tarmac was incomplete, and we were soon back on gravelly dirt once more, before returning to tarmac, then dirt.. and so on... At one stage we were on tarmac for a long period, and stopped in a small village to get a drink, convinced we were finally off the dirt for the day. I stopped again a while later for another drink, and was then riding alone along pristine tarmac for some distance, the road sweeping one way then the other. It rounded a bend and then a fairly long straight but in the distance I could see a line across the road and some people and bikes at the roadside. I slowed and came to a stop behind the group, the road once again becoming dirt, but the news wasn't good. Chris had seen the dirt too late and braked hard to scrub speed off, hitting the dirt with the front brake still on and going down. He was completely unhurt (except his pride, it being the first time he'd drop a bike, on this trip or any other), but his bike was a mess. The entire upper front end from the oil cooler back had been ripped off, headlamp, screen, instruments, both brake and clutch master cylinders, etc. There were a lot of people around him, and Kevin was also on the scene, so I bid him farewell and continued on my way – the last thing he needed was yet more spectators...
Riding the section after Chris' off was tricky, the road wide but covered in a thin layer of loose gravel, and whilst there were usually truck tracks to follow (where the gravel has been swept by the truck wheels), frequently there wasn't and it was like riding on marbles. Sticking to a steady and very slow pace, I crawled along and finally returned to tarmac, at the point referred to on the route notes. That meant it was tarmac for the rest of the way, so I celebrated with a big grin and increased my pace. I soon caught up Julia and then dropped in behind for the final run to the hotel, passing by great big waterfalls cascading from the huge rock-faces that lined the valley along which we rode. It was still raining, and I've now got a collection of waterfall photos, so I just kept going. The closer we get to the end of this journey the more keen I am to get to the end of each day's ride, a sort of destination-fever creeping in. Soon we reached the turn-off onto the narrow dirt road that led to the suspension bridge to the hotel, the bridge posing no problems after the banana bridges of Panama, and then I was parked up outside my room, unpacking and taking a hot shower, and sat outside listening to the river whilst writing up the previous day's blog (no Internet access to upload it, though). Oh, and today marks another milestone on this epic trip – I've now done over 20,000 miles since leaving Anchorage (19,000 on my bike and 1,000 on Nick's) – and we're still not done yet...
When done, I took a short walk over the bridge to see how Jeff was getting on with Chris's bike, discovering what a mess it really was. The electronic control switch that checks the code in the ignition key was missing, so they fitted a replacement but it still wouldn't go. It did start briefly after Chris had taken the key for a walk and returned (something to do with resetting the unit after the key had been removed from its proximity), but then refused to go again. I left Jeff and Kevin scratching their heads trying to work out how to bring it back to life...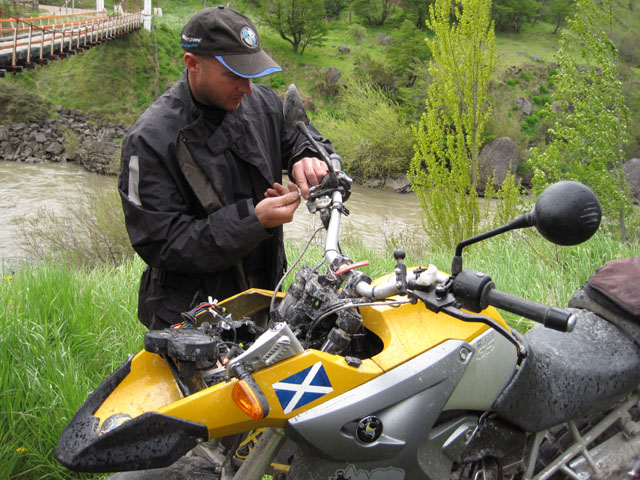 I wandered back to reception where I joined a few of the group sat around a roaring log fire, drinking very nice cold (and cloudy) Patagonian lager and eating nibbles – sweet cheese on bits of toasted bread, empanadas and fries – before we were called to dinner. I stopped drinking before dinner, conscious that I need to reduce my alcohol intake if I'm to finally recover from the effects of the off, and also because things were already getting rowdy and I wanted no part of it. Dinner was delicious, though, a nice broccoli soup followed by beef and mashed potato, with ice-cream for dessert. Soon after finishing I bade the group good-night and returned to my room, which I was sharing with Chris once more. He was already in bed, some of Kevin's drunken comments understandably having irked him somewhat. With both his bike and Ozzy Andy's now out of action and in the van, we can't afford any more mis-haps, as the support vehicle is now full...
Sunday, 15 November 2009
Starting to enjoy the dirt once more...
Whether the fact that I slept really badly was because of concern over my snoring keeping the rest of the wooden house awake, or more to do with being uncomfortable even with a double bed all to myself I don't know, but the bottom-line is I hardly slept at all. Chris even remarked that he'd not heard me snoring... But I was still in a relatively good mood, the early morning sunshine making feeble efforts to help keep my spirits up, and the excellent continental breakfast finishing the job. With cereal, fresh orange juice, a muffin, coffee and a strawberry yoghurt inside me I was well set for the day ahead, a day which promised a whole 60 miles of tarmac followed by over 110 miles of dirt. Setting off early with Al to go and get some cash from the ATM in town and fill up with fuel, we then rode out of town together heading South on routa 7. Only we weren't as we soon ended up in the car park of the aerodrome, having taken the wrong turn at a roundabout. We retraced our steps and found the right road, which also headed South but higher up the valley. Soon I was really enjoying the ride, being on smooth tarmac being much more pleasurable than bouncing around on the dirt, and I caught and passed Aaron who was riding slowly to enjoy the view, then Max & Christine, the latter looking decidedly ill and then proceeding to throw-up at the roadside, the effects of last night's salmon and wine clearly disagreeing with her. By now I was alone, riding along and enjoying the scenery, great big snow-topped mountains and lush green fields. Unlike yesterday, when the scenery was partially obscured by the constant drizzle, now it was brightly lit by a clear blue sky, and so I stopped to take some pictures...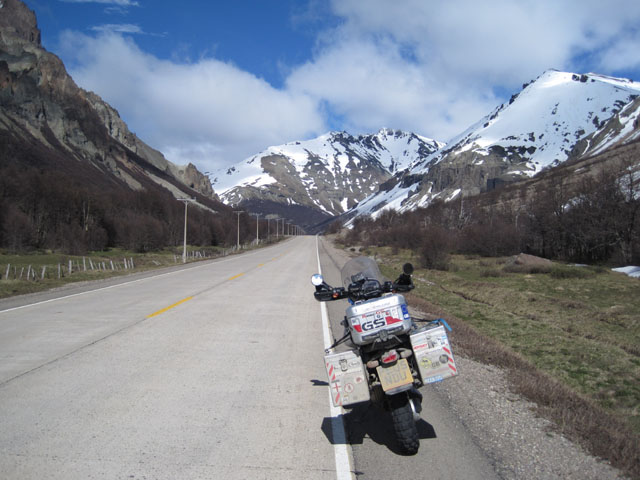 Eventually, though, the tarmac had to end. But first it descended in a beautiful series of switchbacks down to the small town of Cerro Castillo, giving me ample chance to relax even more. On entering the town I could see the road stop and the dirt start, so pulled over to take a breather, drink some water and re-attach the video camera as the gaffa-tape that was now holding it in place had come loose. I was fully expecting the others to catch me at this point, but there was no sign of them. Reasoning that they must also have stopped to take photos, I continued on my way, standing up as soon as I crossed the threshold from tarmac to gravel. But the road was in truly excellent condition, hard packed dirt with a light coating of gravel and clearly marked tracks that offered easy riding and plenty of grip for the front and rear wheels. I started to enjoy myself once more, probably for the first time on the dirt since my fall. Still taking it really steady, no more than 35mph initially, I made steady progress as the road climbed up the hillside, with spectacular views across the valley to the mountains in the distance... beautiful...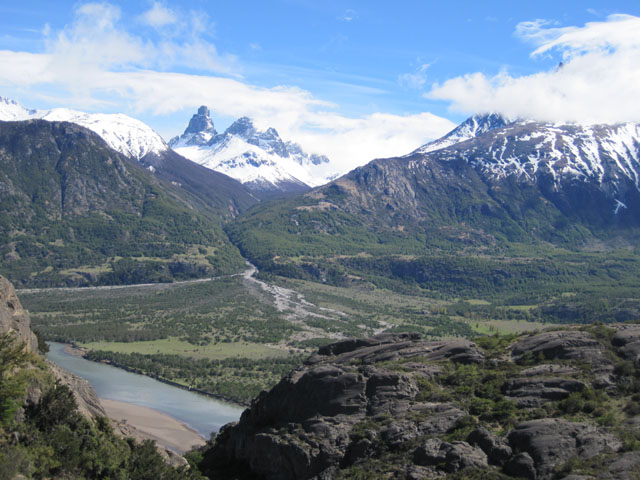 Despite stopping and riding slowly, I was still alone, and started to wonder if I'd made another wrong turn somewhere. Retracing the route in my mind I was convinced I was on the right road, so continued on my merry way, happy thoughts popping into my head whilst I concentrated on following the narrow track between the loose gravel that provided the safest route. Rounding one corner I was presented with a weird sight – lots of dead trees in a large lake. I'd seen something similar a couple of days ago, but hadn't been able to stop to take pictures, so once again I pulled over and got my camera out.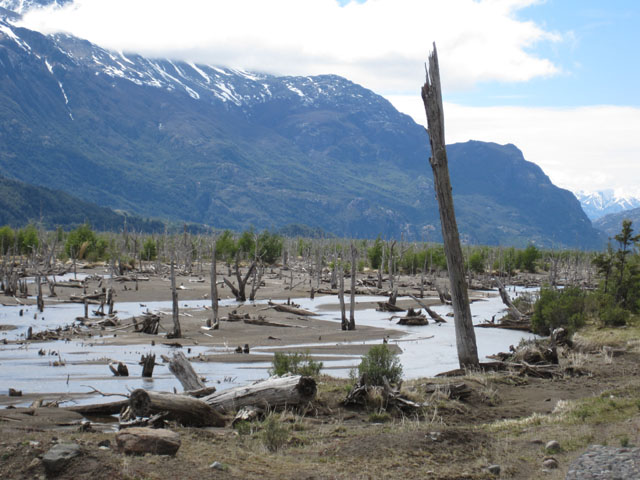 Whilst I was snapping away, Pertti arrived in a hail of stones, sliding his bike 1200GS Adventure around like it was a motocross bike. He skidded to a stop next to my bike and got off, a big grin across his face. He was clearly grooving... I left him taking pictures and continued on my way, slow and steady and determined not to aggravate my back by allowing the bike to get out of shape. A further 20 miles or so down the road Pertti caught and passed me, sat down at roughly 60 mph whilst I was stood up and cruising at 40-ish. I guess that's the benefit of living in Finland, where there are ample roads just like this to hoon about on, learning how to control a bike properly. But I wasn't complaining, as my pace was relaxed and the stunning surroundings provided plenty to admire. After 135 miles (75 of the dirt) I entered the small town of Puerto Tranquilo, marked on the route notes as a suitable place to stop, so pulled over outside a café where Pertti had also stopped. We were soon joined by Aaron and Nigel, and tucked in to some lovely coffee and chocolate biscuits (Nigel and Aaron both enjoying a chicken sandwich). Some more of the group arrived and went in the café next door, so we said hello and then off we went again. By now I was completely relaxed and enjoying the ride, the dirt no longer freaking me out as it had done, and I found my pace picking up a little... but only a little as I kept my enthusiasm in check for once, the painful memory of what can go wrong all too vivid still. After one final stop to take a photo, the road ran along the side of the lake to the town of Puerto Guadal and our destination for the day...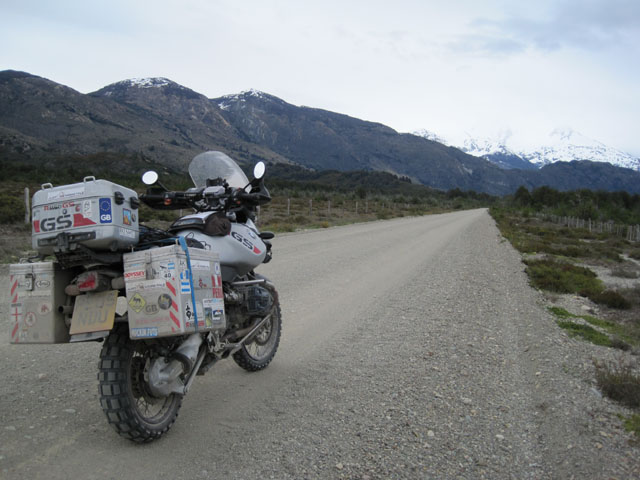 The road down to the hotel was a steep, muddy and narrow track ,but I got down safely as did the rest of the group, although Late Guy was so excited at getting down without dropping his bike that he proceeded to drop it at the bottom, wrenching off a pannier and banging his ankle in the process. The hotel is simply beautiful, by the side of a large lake surrounded by mountains, the accommodation chalet-style apartments. I'm in one shared with 4 others, who are each in twin rooms – Tony and Phil, Simon and Chris – and I have the single attic room all to myself. Seems they've put all the snorers in attic rooms to try and help the others sleep!
No sooner had I arrived than the receptionist had lit a real fire in the wood-burning stove, and I was underneath a hot shower, warming away any remaining aches and pains. Without the Internet I was reduced to writing up the blog and selecting the photos before saving my work and heading out to chat to the others and take the odd photo or two.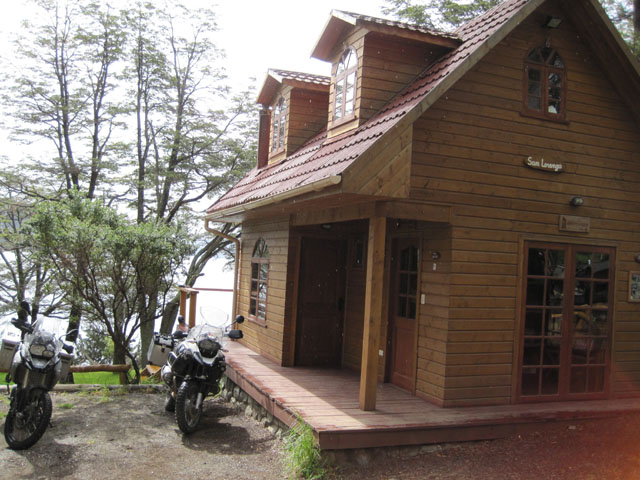 Whilst I was relaxing and chatting, decisions were being made as to what to do with the broken bikes in the van. With the parts for Ozzy Andy's bike still in Miami and now not likely to arrive in time (seems there was a cock-up with the wheel, a rear being sent to the dealer instead of the front that was needed), and Chris' bike refusing to start, it was decided to turn Chris' bike into a doner. Jeff started work stripping off the front wheel and swinging arm, then fixing them to Andy's bike. In around 3 hours he had the job done and there was now one working bike between the 2 riders. How they would split the available bike between them was the subject of much speculation, but in the end Julia stepped in and volunteered her bike for Chris to use to get to the end. It was an act of pure generosity that drew a lot of admiration from the group, as this is likely to be the last TransAm that Kevin and Julia both guide, their business demands such that them both spending 5 months on the road is becoming impossible. So she will now complete the journey as they did their record-breaking one, riding pillion behind Kevin. Let's hope we don't have any more mishaps and the rest of the group can all ride into Ushuaia behind them...
That evening was a group meal, served in the hotel's dining room, and was very good. Once again I restricted my drinking to a couple of beers and a glass of wine, despite tomorrow being a very short day of just 85 miles as we cross the border back into Argentina. More dirt roads, but if they're anything like those today, I won't be complaining...
Monday, 16 November 2009
A short ride back into Argentina...
It rained all night, a fact I can state with some authority as due to the very hard bed in the attic I was awake at 11, 12, 2 and 4 before finally giving in and getting up at 6.30am. Whilst waiting for the rest of the house to stir, I wrote up the blog for yesterday sat in the apartment's common area, with a magnificent view of the lake from the French windows. I watched as the mist from the lake rose to form low cloud which completely obscured the mountains on the far shoreline, even their bright white snowcaps hidden. When the others were awake we went to breakfast, where the topic of conversation was centred around the rain and what it would have done to the steep muddy track we rode down to get to the hotel, and that we now had to negotiate in reverse. Breakfast itself was good, with cereal and cold milk to accompany the yoghurt and bread and jam. Once done, I put on the rest of my bike gear, including full waterproofs as it was still drizzling and headed up to my bike ready to join the queue facing the muddy hill. Gerald was first to go, riding with great confidence and disappearing from view, then a couple more braved it before my turn came. In the end it was pretty straightforward, just a matter of keeping the revs up and using the clutch to control the speed as I'd been taught at the off-road school in Wales. Just goes to show what good training can do, turning average road riders like me into riders capable of tackling whatever this trip throws at us (apart from deep sand, hidden in holes, of course!). We all got out safely, although Late Guy repeated his antics from the way in by dropping his bike on the road at the top, having got all the way out without trouble. He really does need to work on removing some of the weight from his bike and his slow-speed control!
Once back on the dirt road the conditions were good to start with, the road slick from the rain but not too slick that my knobbly tyres couldn't find grip. Initially the road was narrow and hugged the lakeside, with bushes and trees at the side forming a hedge and once again giving the illusion of riding down a country road in the UK on a wet Autumn day. When the road started to climb up into the hills I rode into dense cloud/fog, with visibility reduced to around 50 feet, constantly wiping my visor and straining to see into the murk. With the road being little more than a single lane and very narrow when it turned sharply to follow the contours of the hill, I was keen to get as early warning as possible about any oncoming traffic, as changing lines to get out of the way on such a slippery surface would not be easy. Some of the bends had surfaces that made just getting round them a challenge, being covered in either a layer of 2-3 inches of sand or in some cases rugged and occasionally loose rocks. The latter were particularly difficult for me, as the rocky surface jarred the handlebars sending shock-waves up my arms and across my back. I had no problem with the riding, though, my training and the experience gained on the trip giving me the confidence to place the bike where I wanted to, picking the easiest and least painful line through the various hazards. Through the fog I caught occasional glimpses of the lake and mountains below, and what must have, on a clear day, been some of the most beautiful vistas of the trip, the bright blue lake surrounded by broody black mountains with a frosted topping of fluorescent white snow. Yet more "sight-bites" to add to the memory bank, as stopping to take pictures was impossible due to the state of the road.
Eventually the road descended into the valley at the head of the lake, before crossing a bridge and working its way South. I stopped on the bridge for a rest, and was soon joined by a few others, including Tony, Phil and Gerald, who I'd passed earlier on when they stopped to re-group. Riding together in matching BMW helmets, rain gear and smiles they epitomised the camaraderie that has developed among the group...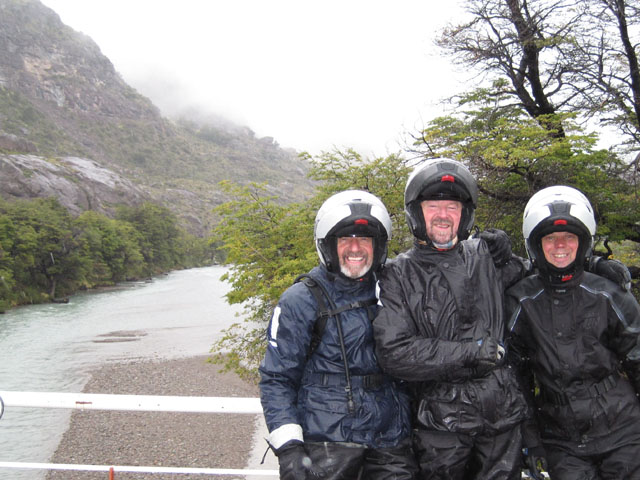 The next stretch was easier and faster, the hard packed mud clearly marked with good tracks to follow and the fog easing. What little I can see of the landscape looks like the Lake District, the hills green and rocky, and it reminds me of walking there in the rain in the Autumn, another happy memory coming flooding back as I ride along... only to remember that this isn't the Lakes, this is Chilean Patagonia in the Spring, and I've ridden here on my bike... how cool!
Soon I start the descent from the hills towards the town of Chile Chico and round a bend to be confronted by the greenest lake I think I've ever seen. Quite, quite, remarkable. Unfortunately the camera fails to capture the brightness of the lake, the poor light confusing it, but take it from me it was the colour of jade...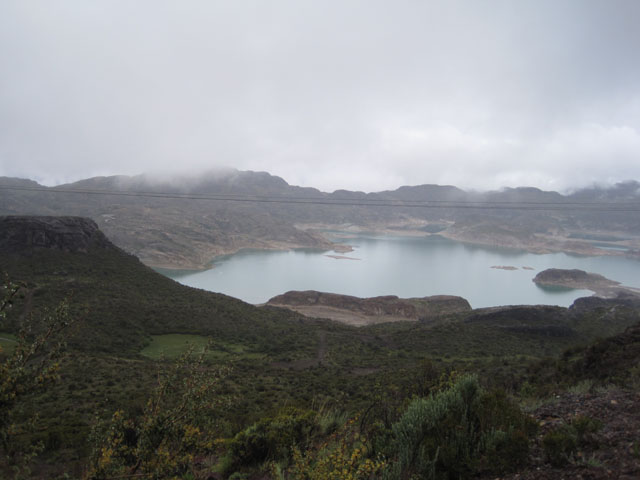 By the time we get to Chile Chico my fuel light has been on for some time and as I ride through town I'm scanning for a petrol station, keen to use up some more of the Chilean Pesos I got from the ATM. No joy, and I arrive at the border exit with the light still on. Inside the portakabin I get my passport stamped with the exit stamp ( I have quite a few of those now!) and hand in the bike permit, then start the ride the 3-4 miles to the Argentine border. Whilst in no-man's land a dog appears barking and running along by the side as I negotiate a diversion over some rough ground, then disappears only to reappear on my left and trying to get under the front wheel. I shout loudly and honk the horn, and finally he gets the message and gives up (only to try the same trick with others as they cross the border). The Argentine border post is the most immaculate of the whole trip, a new building with heating (lovely!) and a low counter with computer terminals and hidden wiring. The customs people are also very efficient, keying in my details and stamping the passport quickly then directing me to the aduana point for my bike permit which is equally quickly filled in and printed off for me to sign. In total it probably took no more than 10 minutes to enter Argentina, a stark contrast to the border crossings in Central America...
It's only a short distance from the border to the town of Los Antiguous where we're staying, and I soon find a petrol station and fill up before finding the hotel. The group is split into 2 hotels for the first time, and ours is pretty basic with no Internet, but I have a room to myself for once, which at least allows me to spread my stuff out on the spare bed to dry. I take a hot shower and then set off to wander round town, joining Pertti and Aaron in a fast-food joint for some empenadas for lunch, before finding a bank with an ATM to replenish my stock of Argentine pesos. A short walk further through town and we find a café with wi-fi, so I eagerly enter and start trying to upload the blog and check my email. The connection is so poor that all I manage to do is upload the text, my email and attempts to upload pictures both failing repeatedly. At least with the blog posted folk back home will know I'm still ok, even if I'm unable to contact them directly. When we finally give up on the Internet we wander round the rest of this small town, walking up to a vantage point on the hill where there is a weird statue of an Indian-looking chap in a Jesus pose... odd...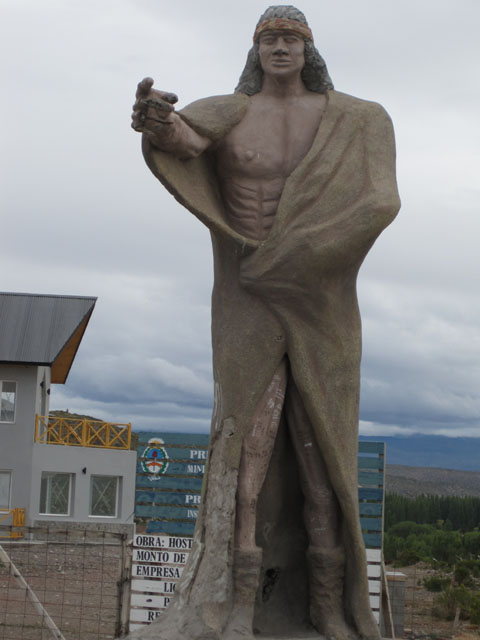 With the sights of the town exhausted, I strolled back to the hotel and snoozed for an hour or so, before heading back out for some pre-dinner drinks in the café we'd been in earlier. Nothing hectic, just a couple of glasses of beer and then we ate, a fantastic steak with Roquefort cheese sauce and sautéed potatoes with rosemary and garlic. The steak was huge, but I managed to finish it off without a problem. Aaron was driniking mojitos again and insisting on buying rounds, so I had a couple, purely for medicinal purposes as by now my back was playing up again. Then we staggered back to the hotel around 11pm to try and get a good night's sleep. Tomorrow is a long day – around 240 miles of which around 200 are dirt on the infamous Ruta 40. News from the Patagonia tour that's a day ahead of us is not good – one guy has badly sprained his ankle and is in the van, another has trashed his F800GS in a hole on Ruta 40 and so is also in the van... looks like tomorrow could be a real challenge...
Tuesday, 17 November 2009
Riding Ruta 40... part I
At last I had a pretty good night's sleep, the couple arguing and slamming doors that had Nick shouting in the corridor not disturbing me, as once asleep I slept soundly. I was still awake early, and showered and packed well before breakfast was ready at 8am. Now the mornings are lighter again as we head further south, my body-clock has returned to normal and 6am seems to be my natural waking-up point. And today was lighter and brighter than normal, the grey clouds of yesterday no longer with us, leaving a bright blue sky and a few fluffy white clouds... perfect! Breakfast was as basic as the hotel had been, just a milky coffee and toast with cherry jam (a local delicacy as there are cherry trees everywhere), but it was all I wanted, the thought of the day's ride dulling my appetite. Once done I set off around 8.30am, riding out of town and getting stopped at the police checkpoint at the edge of town. The policeman was polite and smiling, as they always are, and just wanted to check my passport and note down the registration number of my bike. The last bit required a bit of cleaning, as the back of the bike was caked in thick mud from yesterday, the plate and my rear lights completely obscured. Once clear of the checkpoint I was on smooth tarmac riding briskly along the lakeside, watching the white horses dance to chore on the deep blue water, and breathing deeply the fresh clean air. Moments like these are savoured and placed deep in my memory banks for when the going gets tough (as I knew it would later), so here's one I captured on my camera for you to share...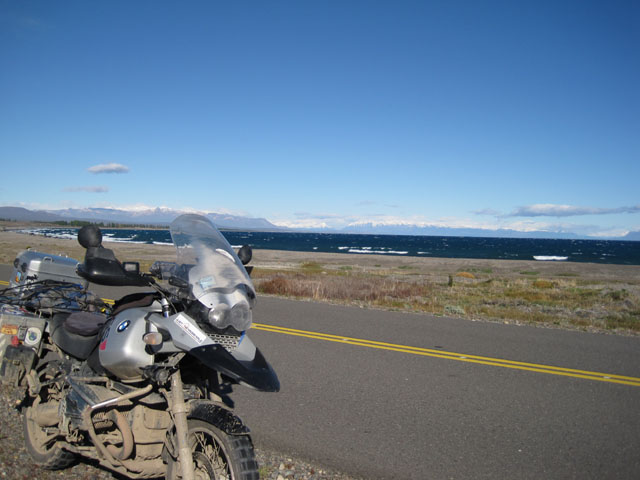 The tarmac rode continued for a good 80 miles, fast and flowing and enabling me to relax and settle into the rhythm of riding once more. The prospect of 200 miles of dirt road did not appeal, more out of concern for my back than my riding, as I kept reminding myself that it hadn't been the dirt that had seen me fall, having ridden all the way up the Dalton Highway in Alaska, into and out of Copper Canyon, Canyon del Pato and numerous other dirt roads without incident. It was the hidden deep sand of the Paso de San Francisco that had been my downfall, and now I was aware of the hazard I would be better placed to avoid it next time. Even so, once the dirt started I tensed up a little, the surface my least favourite with loose gravel covering the entire width of the road and making staying on a chosen line both difficult and painful. With a strong side-wind to content with as well, pushing the bike to the left as it gusted, it was going to be a long and hard day's ride. Fortunately the gravel soon started to show signs of other traffic, narrow tracks appearing and providing some respite from the "riding on marbles" feeling of the gravel. In these tracks the gravel is pushed aside leaving a harder but rough surface on which at least it is possible to steer a little. Trying to keep the bike in a chosen track became the order of the day, battling the side-wind and focusing hard on the distance in case an oncoming vehicle was also using the same track. When I did encounter an oncoming vehicle they were all very good and took to the looser stuff, leaving me in my rut and therefore upright. And so the day went on, with hour after hour of staring along a single track into the distance, trying to maintain a steady course and steady speed (around 40 mph), just ticking away the miles...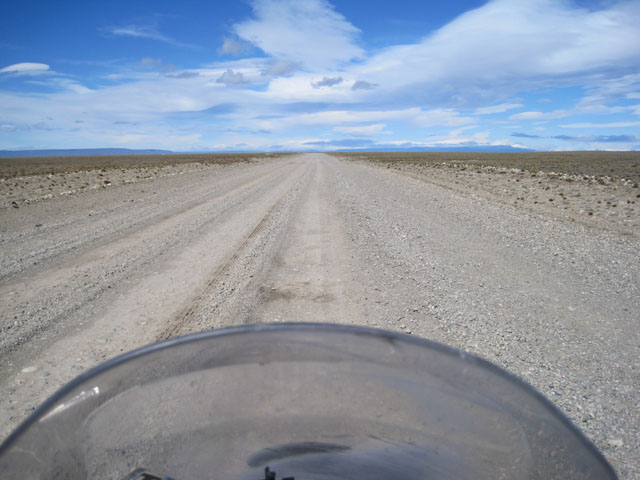 There was one stop en-route, for a coffee and some biscuits and to top-up with fuel. The café was tiny and manned by just one chap who was serving coffee and his daughter making sandwiches. As he was also the only person to man the fuel pumps, and a large group of bikes had just shown up with riders all thirsty and hungry (that's us, not another group), it took some considerable time before I was fuelled and back on the road again...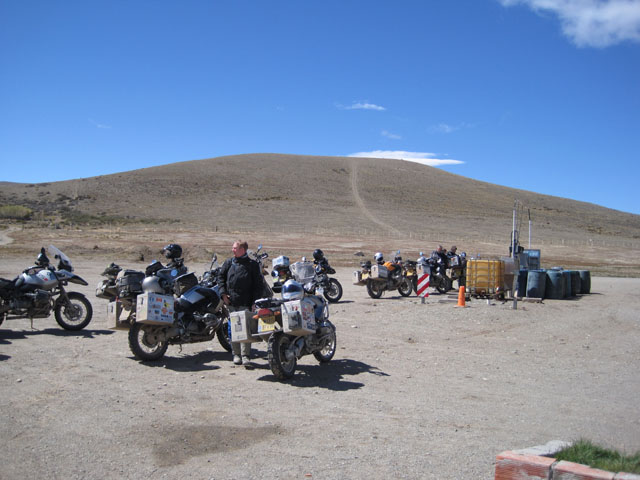 Back on the road the torture, sorry, enjoyable ride, continued. Along the side of the track was a pristine new road, shiny tarmac tempting me to ignore the signs and ride along it. If it wasn't for the fact that every few hundred yards there was a huge pile of dirt placed across the road I might have done so. Then that ended and there was just the dirt again, crossing the plain in a long straight line, with the occasional patches of sand or loose gravel ensuring I stayed alert. When it finally ended and I emerged onto smooth flat tarmac again, which I wasn't expecting, I was delighted. This new stretch of road had been completed since the last Trans Am in 2007, and lasted for almost 50 miles, affording me the luxury of sitting down and relaxing for nearly an hour. Bliss...
It ended, though, some 20 miles before the estancia where we're staying, the road returning to loose gravel again and this time without too many tracks to follow. With the going slow once more, I relaxed and just kept plodding along, and was eventually rewarded with the sign pointing down the narrow farm track leading to the estancia. And then I had arrived, parked up outside the farm buildings in the middle of nowhere, a traditional Argentinian guacho place with sheep, horses, pink flamingoes, ducks, geese and dogs... what a great place to spend the night... I had the option to camp, which I would have loved to have done, but need a soft bed in order to get any sleep, so had to decline...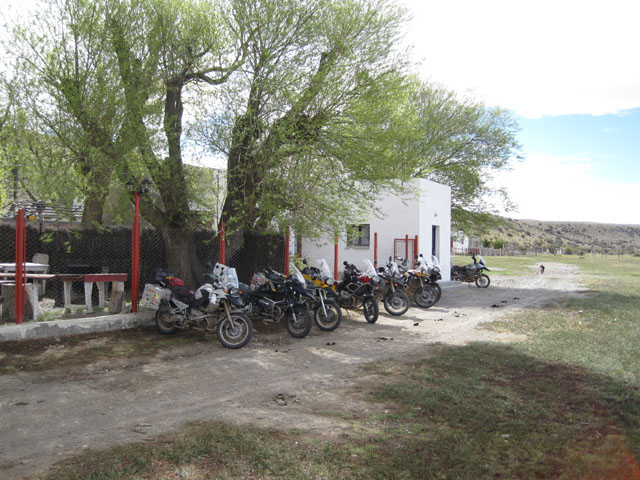 For dinner this evening we're having a group meal of traditional Argentine parilla or barbecue, and so whilst we were standing around chatting and Richard was fixing the screen on his bike (the bracket had broken with all the vibration), the gaucho and his good lady carried the lamb carcass to the parilla...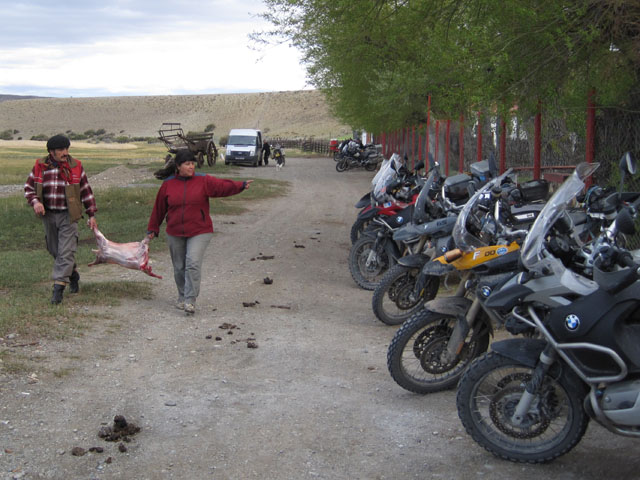 The lamb is then hung on a traditional metal cross and placed in a large fireplace in front of burning logs for a couple of hours before it is ready. Whilst it was cooking the gaucho (who had the blackest moustache I've ever seen) also prepared a couple of chickens and around 4 Lbs of chorizo and other sausage... looks like another meat fest for us tonight!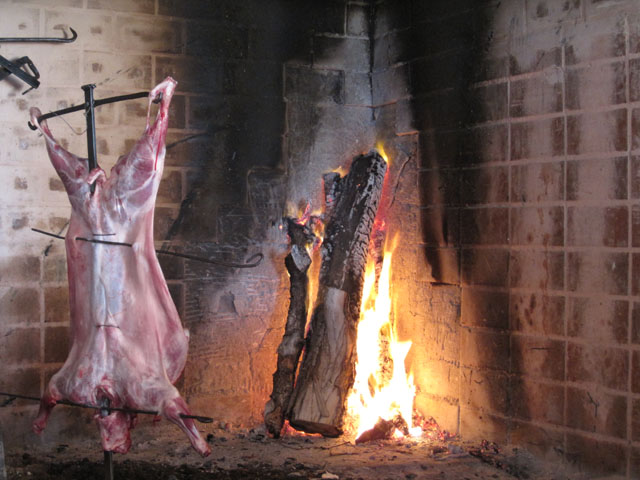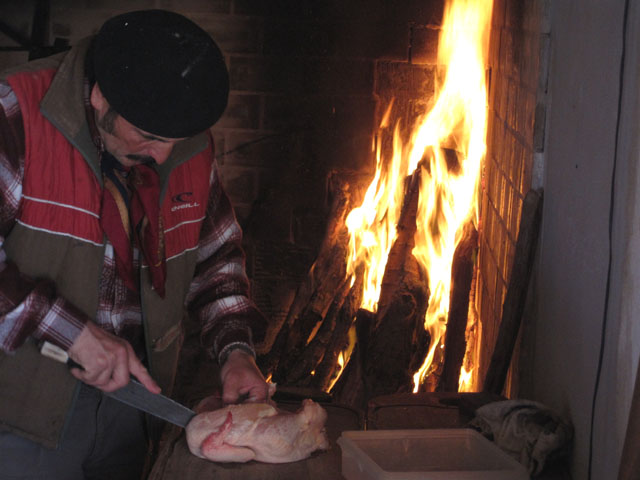 Leaving the gaucho to cook, I went and found the rest of the group in the sitting room of the main building, and joined in a couple of games of cards over a beer or two. Then the whole group assembled around a big table to enjoy the food, which was truly delicious, the lamb especially tender and flavoursome. With a nice glass of Argentinian Malbec to accompany the meat – and the veg and salad, as I was trying to be healthy – it was probably the best group meal since the barbecue in Alaska, and that was a very long time ago...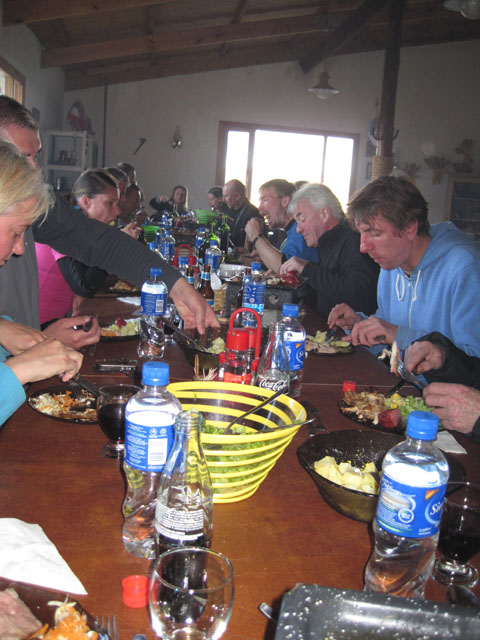 Once suitably stuffed we all retired back to the sitting room for a couple more games of cards before I bid them goodnight and headed for my bed early, with another long day on Ruta40 tomorrow, I need all the rest I can get...
Wednesday, 18 November 2009
Riding Ruta 40... part II
Despite sharing a bunk room with the group's snorers (they seemed to think that putting us all together was a good idea), I slept reasonably well. I still woke early, though, getting up at 6am and showering before quietly making my way to the sitting room to write up the blog whilst the rest of the group slept. With breakfast not starting until 8am and a designated departure time of 9.30am, I had plenty of time to reflect on the previous day's ride and to prepare myself for more of the same...
The day dawned bright and sunny, with clear blue skies and high clouds (which Chris, master of "we're doomed" proclaimed was a sign of very high winds) but spirits were slightly subdued over breakfast, the prospect of more gravel roads and high winds playing on the rider's minds. Breakfast was excellent, with fresh scrambled eggs the colour of the sun made with the freshest eggs imaginable (when we get out smallholding, I'll eat like this every day!). When done and all packed up, the riders started making their getaways, everyone keen to get the day's riding underway. I left mid-pack as usual, riding along the track out of the estancia and onto the dirt road around 8.30am. Initially conditions were good, with clear tracks of hard-packed mud in the middle of the sea of gravel, and as long as I stayed in the track I could make steady progress, keeping my speed up to around 40-45mph to enable me to combat the worst effects of the wind. This wasn't as strong as Chris' gloomy prediction, being no worse than the day before and for the most part at a constant strength, necessitating riding at an angle but not blowing me into the gravel as I'd feared. And so it went on for mile after mile, just me alone with an empty track in front and behind me (the riders ahead were travelling slightly quicker, those behind slightly slower, so over time we got widely dispersed).
I would have been happy for it to remain like that for the entire 200 miles, but it wasn't to be, as I encountered a stretch of the conditions I heated the most – loose gravel the entire width of the road with no discernible tracks. This was really like riding on marbles on a polished floor, the bike skittering one way then the other, both front and back wheels independently sliding around as they struggled to find grip. With the wind blowing it was impossible to steer a straight course, and in my weakened state all I could do was maintain a constant throttle and try and correct the worst of the slides. Every jolt as the bike skittered sideways caused me pain in my lower back, very much like having a dwarf riding pillion playing xylophone on my back with a 3lb ball-pein hammer. Very, very, painful...
Whilst riding in this mess I was forced to stop regularly to try and get my breath back and to paddle the bike away from the deeper gravel (in places it was about 6 inches deep). Doing so slowed my progress significantly, and I was soon passed by Kevin with Julia riding pillion – he stopped briefly to exchange words (like "it's a bit loose, isn't it!") before ploughing on. Then Richard & Karen came by, then Chris and finally Al, all bucking and weaving and struggling to find a decent line. I continued, trying to use the lines set by Chris & Al (Kevin and Richard were travelling quicker so they disappeared). After about 20 miles of this torture the road eased again and tracks became clearer, so our speeds increased and I caught back up to Chris & Al just as we reached the T-junction marked on the route notes at 135 miles that signified a fuel and coffee stop. And miracle of miracles, the start of a stretch of tarmac! But before we could delight in the smooth running we had to fill up, taking a rocky road to the petrol station where I gladly crawled off my bike and stood trying to stretch my back and ease the aches and pains away. A coffee helped, but not as much as leaving and getting onto the tarmac... this was all new, billiard-table smooth and wound it's way for mile after glorious mile through countryside I could now see (as opposed to before, when all I could see was out of the corner of my eye as I stared at the narrow track straight ahead). It was barren countryside, devoid of animals except for the occasional guanaco (a small Llama-type animal). Wilderness indeed... but with such a great surface I was happy to sit and ride briskly, feeling the wind push me upright and help to stretch me back into shape. Hacking along I forgot to stop for photos, except for once when I rounded a corner and was confronted by a massive green lake and a sign that pointed to a place to pull over and take a photo (seems I needed the hint!)...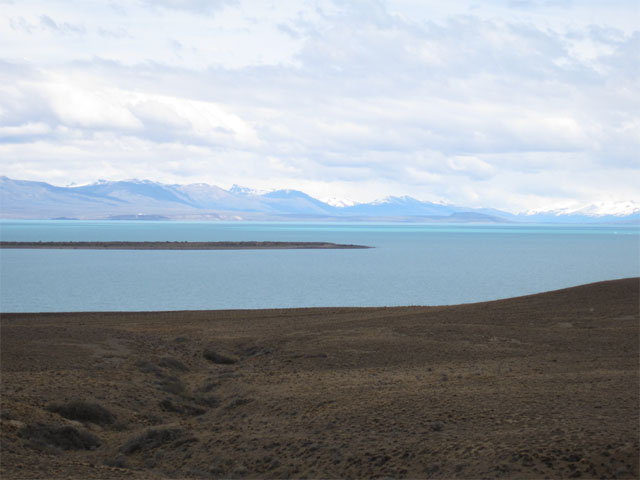 As I continued on my merry way I caught sight of a couple of bikes in the distance and determined to catch them up, revelling in being able to ride quickly once again. I soon caught and passed them – Finn following Pertti who was nursing a failing rear shock – and then arrived at the destination town of El Calafate. Just before finding the hostel I saw Mac, Jim and Danielle outside a café, their own journeys to this rendezvous point seemingly successful. Once checked in and unpacked, and the bike moved to the car park I went online to update the blog, at last having a decent enough Internet connection to upload the pictures and check my email, and then had a lovely chat with Tracy. Having not spoken to her for 4 long and hard days it was lovely to hear her voice and see her smiling face on Skype (though the connection was rubbish) and we discussed plans for Christmas... which still seems an age away – unlike at home the shops here are not festooned with Christmas decorations yet...
When finished, I dropped my laundry off at reception and went for a walk round town. It's another strange place, being in the middle of nowhere yet packed with tourists on coach trips. Close by are a large number of glaciers and they flock here in their thousands, mostly old folk crowding in the hotel lobby and chatting loudly (something that would be a source of great annoyance later, as our room is the closest to reception). The town is full of outdoor shops, but the quality is poor, so I may yet resist the temptation to spend lots of money on new clothes I've no room for. I did succumb to a new t-shirt though, as I wanted one with a Ruta 40 roadsign on... after all the road has done to me over the past couple of days, I think I deserve it...
Later I went out for dinner with Finn, Simon, Aaron and Nick, making the mistake of choosing a busy restaurant on the main street. Fancying a change from meat I ordered the calamari followed by spaghetti bolognese and neither was particularly good. I'd fancied a few beers to celebrate getting here, but as we'd not gone out until 8pm I was too tired to bother, so made do with a couple before heading back to the hotel and my bed...
Thursday, 19 November 2009
Glaciers and Grandkids... part I
A rest day, and boy, do I think I need it. First job of the day was to find out what's going on back home, as Laura has posted a comment on Facebook that her waters have broken and she's been taken to the hospital... could today be the day I get to find out what the beans (her nickname for the twins she's carrying) are? Well, perhaps, but she's not really progressing with the labour, so we'll just have to wait and see...
The main activity we have planned for the day is a short ride to see the Porito Moreno Glacier, which is at the head of Lago Argentina some 50 miles from El Calafate. After riding into town to book our boat tickets for tomorrow's glacier trip, Aaron, Nick, Al and I set off out of town to the viewpoint. Fortunately the road has been paved in the last couple of years, so the ride is simple if a little windy. Having paid the national park entrance fee we continue to ride along the lakeshore on a winding concrete road for several miles before we get our first glimpse of the glacier. And it's huge. Roughly 3 miles wide and 19 miles in length it covers some 97 square miles as it cascades down from the Andes into the lake. The icefield is the 3rd largest reserve of fresh water in the world. Like I said, huge... and at this stage, we were still a few miles away...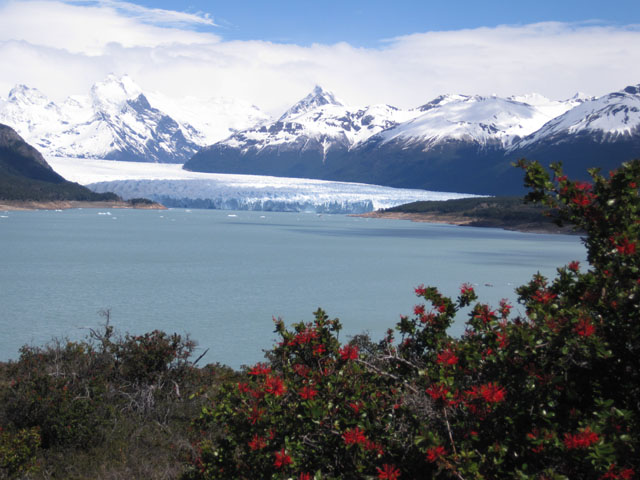 The road eventually terminated at a car park, from where we caught a minibus the remaining few kilometers up the hillside to the viewing area. This is a huge are that has been laid with metal walkways and overlooks, so we joined the throng of people steadily climbing down the steps to the terraces, and then joined in the mad shutter-pressing as everyone tried for that one perfect shot. From here it was possible to see the icefield extending all the way up into the mountains, and the North and South faces of the glacier where it meets the lake, the great walls of ice an average of over 70 metres high. The colours were beautiful, the bright white of the icefield contrasting with the shocking blues of the ice near the edge, where the ice is so compact that it reflects only the blue end of the spectrum.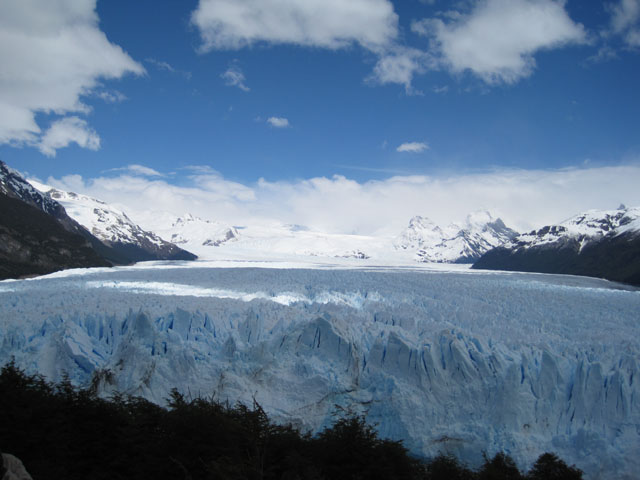 We stood and stared for ages, looking at the different shapes formed as the ice breaks away, marvelling at how some of the structures were still vertical and hadn't collapsed under their weight. We listened intently as the ice cracked and groaned, the distant sounds of ice falling just out of view teasing us as we willed some of the larger pieces to fall so we could get a great action photo. Needless to say we did see some large pieces carve themselves off, but only after I'd put the camera away... It's hard to convey the sheer size of this huge mass of ice, but if you look at this next picture you can hopefully see a boat just above the trees in the bottom right-hand corner... that's one of the large catamarans that take tourists on the glacier tour we're doing tomorrow. They carry over 150 people... and it's dwarfed by the ice...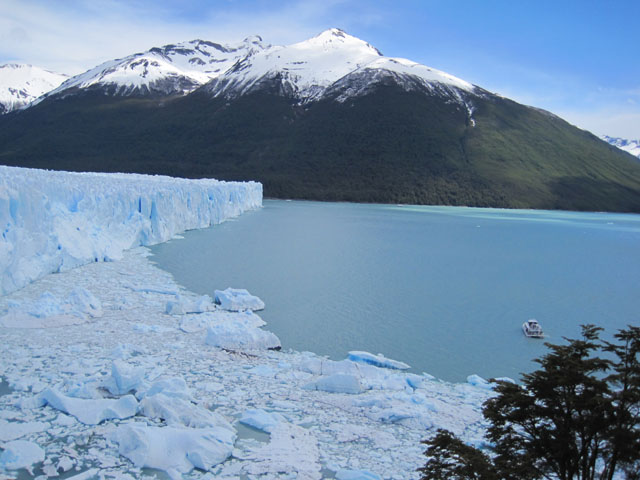 When we had finally had enough of glacier-watching, we climbed back up the multitude of steps (funny how there always seem more on the way up than on the way down) and caught the bus back to the bikes before retracing our ride back to town. We filled up on the edge of town ready for when we leave on Saturday, then grabbed some lunch from a pizza-café before going back to the hotel to change. As we had a couple of hours to kill before the meeting at 6pm, I checked in with home (no further news) and then fell asleep. Well, it is a rest-day after all...
After the meeting, which basically covered the next few days as we head back into Chile and on to Tierra del Fuego, the island at the southern tip of the americas, I briefly checked in with home again. No news, and unlikely to be any until morning. Without the excuse of babies' heads to wet, I wandered to the bar with Finn, Nick and Al, and discovered they served draught beer. Finn, being Irish, also noted they had the special Jameson whiskey so he bought us a taste. Several others joined us in the bar, but I didn't move from my bar stool for several hours, enjoying the delightful draught beer and chatting to Finn. When the others left for dinner, we reasoned we were still in the mood for a drink, so stayed put and continued. Finn went in search of an ATM to replenish his diminishing stocks only to discover he'd lost his card, and as mine was in the hotel, and we no longer had sufficient funds for food, we did the only sensible thing and had another beer (we still had enough for that). And so when skint, we staggered back to the hotel... only then remembering we have an early start and I need to be up even earlier to find out how Laura is getting along... when will I learn?
Friday, 20 November 2009
Glaciers and Grandkids... part II
Despite the large volume of beer consumed, I still woke at 6am, desperate for news from home. After a very quick (and quiet, I didn't want to wake Jim, who for once was sleeping in) shower, I grabbed my laptop and headed for the quiet area by the hotel reception where I could call home. I was surprised to find it quiet this morning, the hordes of French grannies that perpetually congregate in this area chattering loudly and disturbing the whole hotel absent. Settled in I called Tracy on skype and was told there was no news... Laura was still in the hospital on the labour ward but so far not a lot had happened and it was going to be several hours yet before the beans would make an appearance. So I went about the days activities with Laura at the forefront of my mind... Breakfast was first on the agenda and without the hordes of wrestling grannies attacking the buffet in a feeding frenzy last seen when the pyranhas discovered flesh for the first time, there was actually something to eat. A bowl of cereal to be precise, flushed down with fresh orange juice. I was surprised I wasn't more hungry, having skipped dinner last night, but my appetite remains dulled. Whilst I was finishing off my second bowl (ok, maybe my appetite hasn't really been dulled!), the coach appeared and we were off on our excursion. Out little party comprised Jeff, Aaron, Nick, Pertti, Simon, Ed, Late Guy (who had disappeared just before the coach arrived and so lived up to his name...) and me, the 8 of us joining a full coach on the trip to the port. The trip took us via several other hotels and then out of town the way we'd ridden the day before, and I'd love to describe the journey in great detail but I missed it as I fell asleep, waking only when the coach stopped at the other end. Here we disembarked and then paid yet another fee to enter the national park (another 60 pesos, around £12) and then went to find our boat. Moored up and already nearly full, the Neuvo Leon is a large catamaran, with seating for 70 or so on the lower deck and a similar number on the upper deck. As it was already packed, we found a couple of rows of seats in the middle and settled in.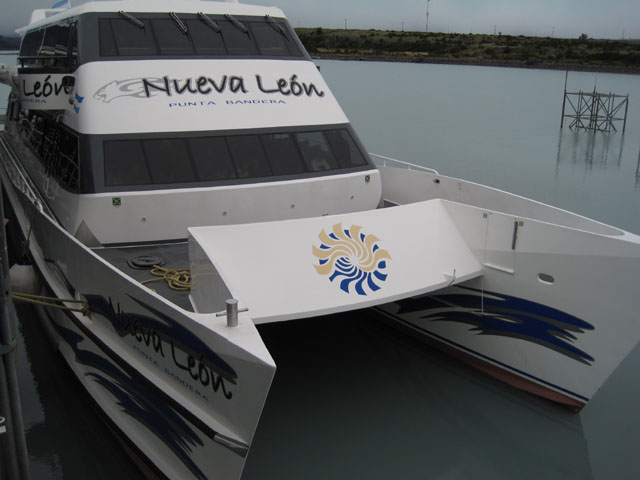 It didn't take long before I was asleep again as we pulled out of the port and the annoying tour guide spoke gibberish in 3 different languages over the loud PA system. As she prattled on and I snoozed, we made our way along Lago Argentina to where there was a collection of icebergs that had become grounded at the head of one of the valleys. I don't think I've ever seen ice so blue in my life, the pictures for once capturing the colours accurately. And before you start thinking that this is one of those ice sculptures you see on posh hotels, it's not. It's shaped entirely by natural forces, mostly the wind, and there was a group of weird-shaped icebergs lined up along the shore, this one being my favourite as it reminded me of Stingray...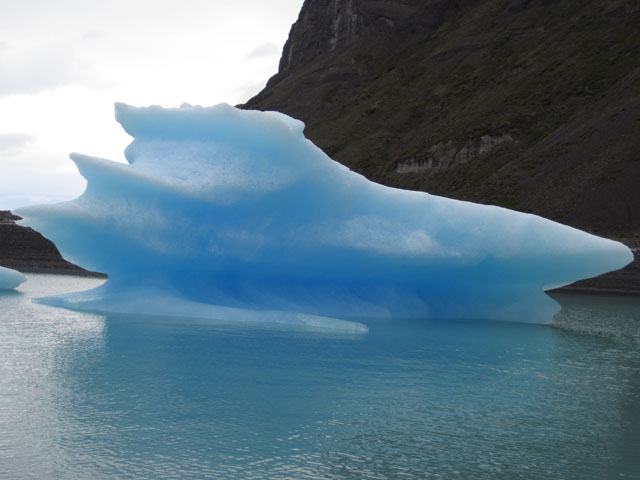 Nick, Ed and I had managed to get right to the prow of the boat, into the narrow bit stuck out front from where we got an excellent view of the icebergs up close. But this was a boat full of French geriatrics, and one old bat in particular took exception to us having the best view and sharpened her elbows before trying to push us overboard. I've never seen anyone quite so rude as she shoved and pushed in her attempt to squeeze into a space barely big enough for the 3 of us already occupying it. It was akin to the Christmas sales at woolies when I was little, only this time I'm bigger and with sore ribs. I think I may even have pushed back this time. Bloody tourists!
We stayed here for some time, whilst all the tourists on the boat filled their memory cards with photos of ice, before setting sail (if that's the correct term for a diesel-powered catamaran moving across a lake) once more. I went back inside and fell asleep. Our next stop was supposed to be the Upsalla glacier, but we couldn't get close to it as the icebergs created as it collapsed blocked the entire channel, another collection of weird shapes floating across the entire width of the channel. At least this time the ignorant French cow was nowhere to be seen (I think Ed may have thrown her overboard!), and I got a nice picture of me to prove I had been here...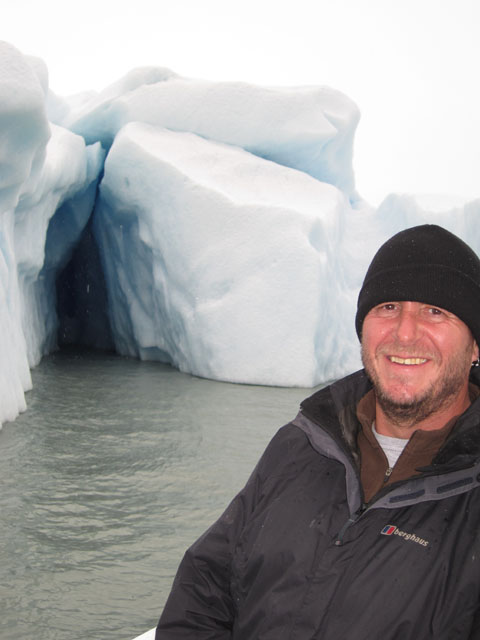 If I look a little cold, that's because it was freezing. Unlike yesterday which had been clear and sunny, today it was overcast and snowing. As in a blizzard. So I didn't stay outside for too long, and went back into the warmth of the cabin and fell asleep. Whilst the boat stayed close to the icebergs until the captain felt the passengers had had enough and we chuggged back up the lake to the final view-point, at the head of the Porito Moreno glacier, the one we'd seen in the sunshine yesterday. From the water it's just as impressive, towering above the boat like a badly artexed wall, all rough pinnacles and sharp edges. The bright blue of the ice contrasted with the jade coloured lake and the dull grey sky, and I stood and stared at it for a long time, waiting in vain for it to collapse into the lake...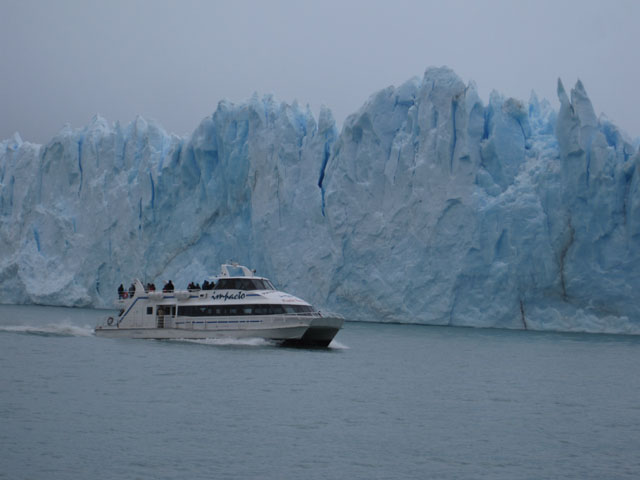 When the boat finally pulled away from the glacier, I went back inside and fell asleep, waking just as we pulled into port. Then we boarded the coach back to town, and I fell asleep on the way back. Well, it is a rest-day...
Back at the hotel I quickly switched on the laptop and checked in with Tracy. And the news was excellent, as Laura had given birth to... well, twins. I had been keen not to know their sex (they're identical twins so obviously the same sex) and so far had managed to avoid finding out, and Tracy wasn't going to tell me now. She gave me a number to call Laura on and so I did, speaking to her in her hospital bed... and... she told me I had 2 new grand-daughters! Which is just perfect as Isobel Nicole and Rebecca Louise bring my grandkid count to a nice round 4 girls and 4 boys...
And so with such good news to celebrate I went out with Finn and Nick, back to the bar we'd got stuck in yesterday, where we had a few celebratory beers and one very special whisky (the 370-peso Macallan 18-year old oak aged special edition) bought for me by these generous gentlemen. I think my camera may also have been drinking judging by how blurred this photo is...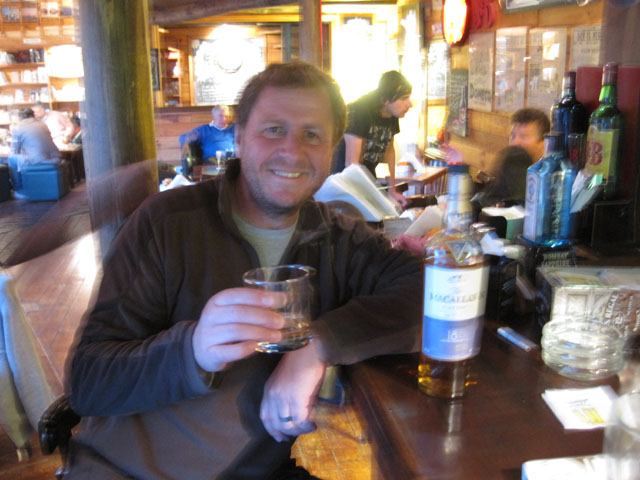 This time we managed to leave the bar to eat, a delicious steak washed down with a very good bottle of Merlot, but then we made a wrong turning when leaving the restaurant and ended up back in the bar again for a last beer (and a mojito chaser). Oh dear, another night with way too much to drink... better book myself into the Priory for when I get home...
Saturday, 21 November 2009
End of Ruta 40 and back into Chile...
I think my body must be getting acclimatised to all this alcohol because once again I slept reasonably well, and woke without a hangover. Over breakfast I was congratulated my the rest of the group who had not been around when the news of my new granddaughters arrived, my fellow riders genuinely pleased for me. I then ran through my usual morning ritual, packing the bike and collecting together my things from the room, then putting on my bike gear. As the sun was shining I didn't put my electric jacket on, sticking to just a long-sleeved tee-shirt and my warm jacket underneath my bike jacket. At first this was fine, as I rode out of town alone, but as the road started to climb the hills and run across a flat plateau, the wind started blowing strongly and the temperature began to drop. I stopped and put on my outer windproof jacket to keep the worst of the wind off, and continued on my way, leaning into the wind as I went, riding the bike at an angle despite being on a perfectly straight road. After 60 miles of tarmac the route notes called for a right turn onto a dirt road (the last stretch of Ruta 40) but as my speedo is optimistic I was expecting the turn to be around 65-70 miles. At 61 miles there was as right turn, which looked like it ran into a farm, so I pressed on looking for the turn I was expecting. At 70 miles I realised the turn I'd seen must have been the right one, so did a quick u-turn and headed back. Going back the wind was stronger than ever and I struggled to keep the bike pointing down the road, getting blown from one side of the road to the other. Just before the turn was a sign that could only be seen when travelling in this direction, showing the dirt road I'd thought was a farm track was in fact Ruta 40...
The road was in excellent condition, hard packed mud with little gravel and as I was now heading into the wind, the going was easier than it had been on the tarmac. I made good progress keeping to my steady dirt-riding mantra of cruising at around 45mph keeping a very close eye out for changing road conditions. At one point I saw a large bird at the roadside, that looked like an emu. It was a rea, a native Patagonian bird guarding her brood of chicks, and she ran aggressively along the roadside as I slowed for a better look... with discretion the better part of valour, I didn't stop to take a picture and continued on my way leaving her to return back to her chicks without having had to peck at a voyeuristic motorcyclist. Further down the road a herd of guanacos ran from the scrub to my right and followed along the roadside before turning back, causing me to back off and prepare to take evasive action. But these distractions were nothing in comparison to watching the road surface as I strained to see whether it was changing, the bright flat light preventing shadows from forming and causing me to squint badly. My efforts paid off, though, as on one straight stretch I noticed what looked like a change and slowed rapidly, dropping down to 2nd gear before reaching what turned out to be a very long stretch of my least-favourite surface, loose gravel with no discernible tracks. Once again I found myself riding on marbles, the bike sliding from both front and rear the wind contributing to the impossibility of keeping it going in a direction of my choice. Several times I held my breath as the bike hit a deeper patch, digging in a little despite my delicate increase in throttle lightening the load on the front wheel. And as before, the handlebars were waggled this way and that by the gravel, sending waves of pain up to my left shoulder and then down my back. I rode on slowly, cursing the surface and using every expletive I know (and that's far too many for a nice guy like me!) for what seemed like an hour but was probably much less. I was caught and passed by Richard & Karen and Simon, both cruising along as if the surface was billiard-table smooth, but their weaving bucking bikes giving the game away. No sooner had they come past than the surface improved, with noticeable tracks of hard-packed mud easily wide enough for my bike's wheels and I could start to relax again and increase my speed. Now I was catching Richard & Karen, Simon, Nick and Al, the 5 bikes spread over 3 tracks and all kicking up small rooster-tails of dust which was immediately blown horizontal by the wind. Shortly after we formed a tight group we reached the end of the dirt, a t-junction where we met the tarmac again and a petrol station/café. We stopped and had a coffee and chocolate biscuit, whilst watching more bikes come down the dirt and pull up outside. When the van appeared it was time for me to leave, wanting to ensure I stayed sufficiently in front of Jeff so he wouldn't be pushing me along the dirt again. The tarmac lasted just 27 more miles before I took the right turn down another dirt road to the border. Again in excellent condition, the road led to the Argentinian customs post where 2 large coaches were already parked up. Inside the little office were 3 tour guides with huge stacks of passports that needed processing whilst their lazy owners sat in the air-conditioned splendour of their coach oblivious to the biting cold wind outside. I queued up patiently and was joined by several others of the group as we waited to get out exit stamps in our passports and hand in the bike permits. Eventually one of the coaches had been processed and I managed to get the all important stamp then I was on my bike and racing across the dirt to the Chilean customs a mile or two away, keen to get there before the coach caught me up and disgorged its contents into the customs hall. On arrival I was given the usual forms to fill in, then got myself stamped in and queued up for my bike permit, just as the coach arrived. This time the tourists could not avoid the inevitable and had to lug their huge suitcases into the hall for inspection and queue up like the rest of us for their passports to be checked and stamped. This part of the world is a haven for walkers and back-packers and most of the tourists from the coaches were dressed ready to spend some time in the mountains, but they were still carrying huge plastic cases that could easily fit the contents of several of our bikes' panniers and then some. And they all seemed miserable, lacking the energy and enthusiasm of my fellow riders, faces glowing from the cold wind, eyes bright from constantly trying to take in the beauty of the scenery were were part of, riding exposed as opposed to cosseted inside a metal tube sat in an armchair sleeping the world by...
Once clear of customs there was a short ride down a concrete road to the hotel, a lovely building set in fields and opposite a large hill over which huge condors flew. As I parked up outside, Kevin came out to tell me there was a puma in the area that had recently killed a couple of sheep. As I unpacked and changed the hosts began the process of preparing dinner, a group meal of parilla'd lamb, and no less than 3 lambs were being cooked for us. Whilst we whiled away the time before dinner sat in front of a log fire, or playing rubbish table-tennis in the games room (something I would regret later as I think it made my back worse), or reading books from the "van-library" (a collection of books brought out by the group and placed in the van for others to read, and which was being left at the hotel as we clear out things from the van before the end of the trip), we waited for news from the kippers. Once again Jim and Mac had taken a different route, sticking to the tarmac rather than riding the last section of dirt on Ruta 40, a round-trip which would have added about 30 miles to their journey. They had passed us at the petrol station/café, but had not been seen at the border. The most likely explanation was that they had followed their GPS and gone further south to the next border, one that Kevin knew existed but had no experience of. With no mobile phone signal we didn't know if they'd tried to contact us or not, but they didn't appear all evening, meaning that I had a room to myself once more (and more importantly could pinch Jim's pillow so I could try and get more comfortable).
When dinner was ready we headed out to the wooden cooking area, where we sat on big bench tables and drank a complimentary pisco sour (I had a sip for the toast – to my granddaughters – and then passed it to Julia, the taste reminding me too much of bad experiences). With a plate full of salad and a glass of red wine all was set for a good evening, then they brought round the first plate of lamb. Here they don't bother with carving it into small and neat bits of meat, preferring simply to hack great chunks off and let the diners select a piece they fancy. My first selection was a hunk of ribs loaded with succulent meat, simply delicious...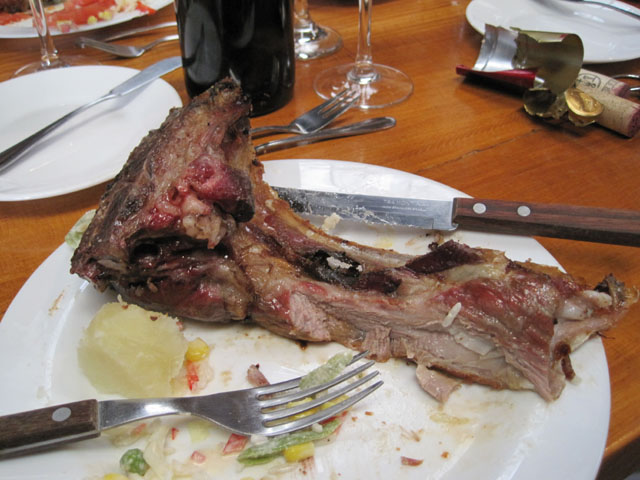 My second piece was half a leg, all meat and equally delicious. I couldn't manage a 3rd... after dessert we headed back to the warmth of the log fire, where the group sat chatting, reading or playing jenga... a lovely end to another great day...
Sunday, 22 November 2009
Taking it easy...
Despite having pinched Jim's pillow (as he was somewhere else) I woke at 3am in some discomfort, a sharp pain between my shoulder blades and all down the left side of my back. In the pitch black I searched for the light switch, only to discover that there was no electricity, the generators being switched off at midnight and back on again in the morning. I resorted to using my laptop as a torch as I fumbled about trying to find some painkillers which thankfully I did. After half an hour of sitting on the edge of the bed clutching a pillow to my chest and forcing myself to take deep breaths the pain eased a little and I could lay back down again. Seems beds that are too hard or too soft aggravate the problem. How Tracy copes with constant back pain is beyond me, at least mine only hurts for a short time and is (hopefully!) temporary, the result of my cracked rib.
I woke again around 6am, and despite this being a very relaxed day, got up and showered, joining the other early riser (Ozzy Andy) by the log fire whilst the rest of the house (and tents, Jeff, Finn and Late Guy all camping) slept. I used the opportunity to do my usual early morning blog-writing, but with a very poor Internet connection couldn't post it. The plan for the day was to ride into Torres del Paine National Park, an area of outstanding beauty, with lakes and mountains and wildlife in abundance. My problem was that the ride consisted of around 150 miles of dirt – most likely high quality dirt but dirt nonetheless. Having had such pain in the night I decided that I'd forgo the park and use the day to rest up and try and fix the video camera on my bike which had recently stopped working. So after a good breakfast I settled into one of the chairs by the fire and started reading a book – the first I've picked up since Alaska – one called "Harley to Mali" by Ian Mutch of the Motorcycle Action Group (a protest organisation in the UK) about his experiences on the Globebusters Africa trip in April 2009. It's not a great book, but it does feature Hamish, who is currently on the Patagonia trip just a couple of days ahead of us and who should have been doing the full Trans Am. He's quite a character and knowing him a little makes the book more interesting. So whilst I settled down to a morning's reading, the rest of the group got themselves all wrapped up and rode out into the crisp clear morning to go to the park. Well, most of them did. Al was one of the first to leave but had only been gone half an hour or so when he returned, face ashen complaining that he'd been sick at the roadside. He came back in and went straight to his room, and that was the last I saw of him all day. Late Guy lived up to his name by appearing when everyone else had gone, complaining that he was concerned about dropping his bike and not being able to pick it up again if he was on his own – the result of his last fall on Ruta 40 when he hurt his shoulder and ribs (a trip to the hospital confirming nothing was broken). Jeff and I encouraged him to strip the excess weight off his bike and finally he did so, removing his panniers and 5ltr fuel can and assorted chains and other crap and turning his bike back into something more like a motorcycle and less like Steptoe's cart. When he'd gone I set about trying to fix the camera, removing the fuel tank to check for a wiring problem. Everything seemed in order so the problem must be with the camera itself, which means that I have footage of the ride from the top of the world down to the point of my accident, then some slanted footage in Argentina (the camera being gaffa-taped back on but not horizontally) and then nothing any further. I did manage to re-mount my sat nav though, using several cable ties to fix it to the broken bracket, so the day wasn't a complete waste. When I was finished it was getting on for lunch-time, so I put my bike gear on and headed back to the café by the border, where I'd heard they also had stickers. Desperate for a Chilean flag to complete the set, I was disappointed to discover they only had some with pictures of the national park I wasn't going to see... Inside the café were Tony and Late Guy, Tony having got to the start of the dirt road and seen the graders at work and with a sore shoulder opting to do the same as me and rest, and Late Guy who'd stopped for a coffee whilst still trying to decide what to do. We had a coffee together and I grabbed an empenada (like a cornish pasty and very tasty) for lunch, then I bid them farewell and rode past the hotel to the Peurto Natales, the next town. Just before I arrived I past Jim and Mac coming the other way, heading towards the hotel. Sat by the side of a blue lake that was a mass of white horses in the strong wind, Peurto Natales reminded me of Fleetwood out of season, only smaller and with more run-down housing (those of you who know Fleetwood may find that picture hard to come by!). I rode along the lakeside and when the road entered the port proper headed inland towards the centre looking for a sticker-shop. Just a couple of blocks up was a touristy tack-shop, so I parked outside and went in, where I found just what I was looking for. With my quest complete, I rode back out of town, filling up with fuel ready for the morning and back to the hotel. Back at the hotel I discovered the reason for Jim's non-appearance yesterday, as he and Mac had continued on Ruta 40 past the turn-off for the border, riding a further 100 miles on dirt before stopping in the town of Bella Vista for the night. Seems even with GPS and route notes they prefer to go their own way, and just accept whatever adventure they find... This morning they'd ridden back the 100 miles of dirt before crossing the border near Peurto Natalaes and heading north to meet us.
I spent the rest of the afternoon reclining in the chair beside the fire reading and chatting to the group as they returned in small groups. All of them seemed to have enjoyed the park and raved about its beauty. Max & Christine and Richard & Karen had been travelling together and witnessed the birth of a guanaco, and had pictures to prove it. Quite the David Attenboroughs! Finn and Pertti had naturally gone looking for more challenging trails to ride and had found a couple of narrow bridges to cross, their photos showing they did so several times... But despite all these tales of great days in the park I know I made the right choice, the ache in my back feeling better and I was feeling rested. With just a few days to go now until we reach Ushuaia, I'm determined to stay as fit as I can so I enjoy it. Besides, the hotel in it's mountain setting was not a bad place to spend the day...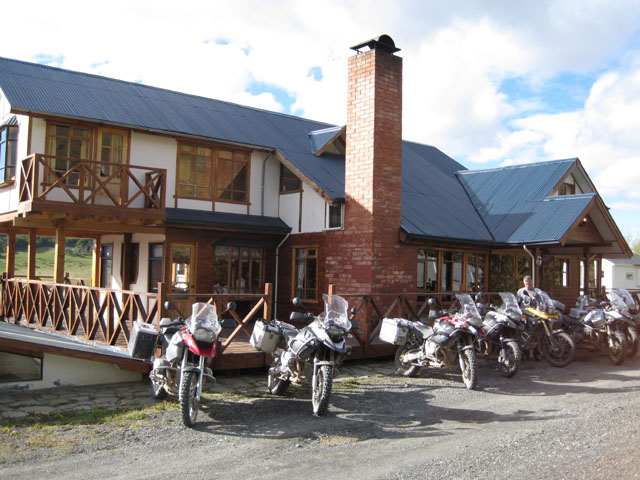 That evening we all ate in the hotel, a lighter meal than yesterday with chicken in white wine sauce and rice, washed down with a nice bottle of Chardonnay. After dinner the group spilt into smaller groups, some playing cards by the fire, whilst others like me preferred to sit and chat before turning in. It seems that the closer we get to our goal the quieter the group is in the evenings, everyone conserving their energies, the conversations focused on reflection, the tones subdued... or perhaps they're just saving themselves for a really big party in Ushuaia...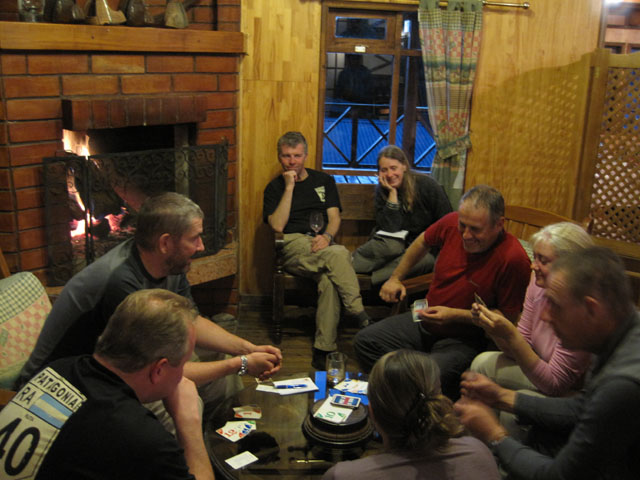 Monday, 23 November 2009
Onto the Island of Fire... and the last leg of the journey to the end of the world...
After a good night's sleep I woke early as usual, showered and dressed and grabbed the laptop and headed for the crackling log fire I could hear in the sitting room. There I found Nick, once again having left the comfort of his room to sleep somewhere in the house where he could find silence, this time Simon's snoring the reason. He quickly packed away his makeshift bed, returning the cushions to their rightful places on the chairs and I gratefully took one closest to the fire and settled down to write, the upright position of the chair much more comfortable for my back than the flat horizontal bed I'd left just minutes before. When the blogging was done (still a poor Internet connection, hence it was uploaded minus photos to start with) I resumed my reading whilst the rest of the group woke up and sauntered into the sitting room, getting as close to the heat of the fire as possible. Those camping came in looking decidedly cold, their being a sprinkling of frost outside under a very clear pale blue sky. Oh how I wish I'd been able to join them under canvas... (ok, that bit's not true).
Breakfast was soon polished off and then the bike loaded, and I took the opportunity of a slightly later start (10am being the official get-go) to fix my intercom speakers to my new crash helmet, using some sticky velcro supplied by Richard & Karen (who seem to have room on their bike for all manner of useful things). That meant that I could at least have some music on the ride to the ferry, which promised to be all tarmac and relatively easy going. And so it was that I pulled out of the car park of the hotel around 9.40am to the strains of the Stereophonics. They always remind me of "The Long Way Round" (for which they sang the theme tune), which was the start of all this motorcycle travel nonsense for me way back in Winter 2004, and that seemed appropriate for a day when we'd cross the Magellen Straitss onto Tierra Del Fuego, having reached the southernmost point on the Americas land-mass...
The ride was as easy as billed, the road largely straight and well surfaced, passing first across sparse plain-land dotted with bedraggled-looking sheep and the odd rhea. I mentioned these emu-like birds in a previous post but hadn't managed to get a photo of one, so when I saw one between the fence and the roadside I thought it too good an opportunity to miss. He had other ideas, though, and as I stopped he wandered off in the direction I'd come. No problem, I thought, whipping a quick u-turn to follow him. Which then turned into a race, the rhea running along the side of the fence with a look of abject terror on his beak (if that's at all possible). I accelerated to get past, then slowed ready to stop and get out the camera, and he turned round and ran off in the opposite direction. Another quick u-turn from me and the race was on again, only for the whole sequence to be repeated once more. Feeling like a character in a silent movie farce, I gave up and continued on my way, the smug-looking rhea laughing at my failure in my mirror. Further up the road I saw another rhea, peering through the fence and he didn't seem spooked as I approached, so I quickly stopped and reached for my camera, only for him to turn round and leg it off into the field. So I don't have any photos of them. I'm sure you can find them on the Interweb if you're that inclined...
Whilst this last failure was unfolding, a gaggle of bikes came past, Aaron leading Nigel, Andy and Richard & Karen, and so I tagged on the back as the group sped across the plain. With a very stong sidewind it was amusing to watch the nicely staggered group get blown out of shape as first one bike then the others got caught in a sudden strong gust. I was no exception, getting blown across the lane frequently and having to lean over to the right and force my head into the wind in order to keep going relatively straight. Thankfully respite was at hand around 115 miles in as we pulled into a café for a warming hot chocolate and to rest aching neck muscles. With a "Bike Parking Only" sign outside we were made most welcome, the hot chocolate was very nice (and warm) but with the promise of a café at the ferry port I decided to wait for lunch until we got there, as we'd be hanging around whilst the rest of the group caught up so we could all cross together. A few others arrived just as I was finishing my drink, and with the café now crowded with weebles (remember those round fat kid's toys that wobbled but didn't fall down? That's what we looked like in all our bike gear!), I made my escape and rode back onto the empty road. I like riding alone on stretches like this, where the riding isn't too taxing and there's plenty of time for reflection. With so much of the journey done, there's plenty to reflect on, though I'm not sure I've reached any conclusions yet.
As the road reached the south coast it turned East, the South Pacific stretching off to my right, and it really did feel like I'd reached the end of the world. There was nothing for miles around, the land wind-blown and a dull shade of beige, devoid of trees or signs of life of any sort. Then I came across a group of derelict buildings – an estancia which the sign proclaimed was founded in 1876 – complete with the rusting hulls of 2 ships grounded and being battered by the surf. Nick was parked up and filming the scene, but I sensed he wanted to ride alone too, so I parked up a bit further along and explored the site without disturbing him.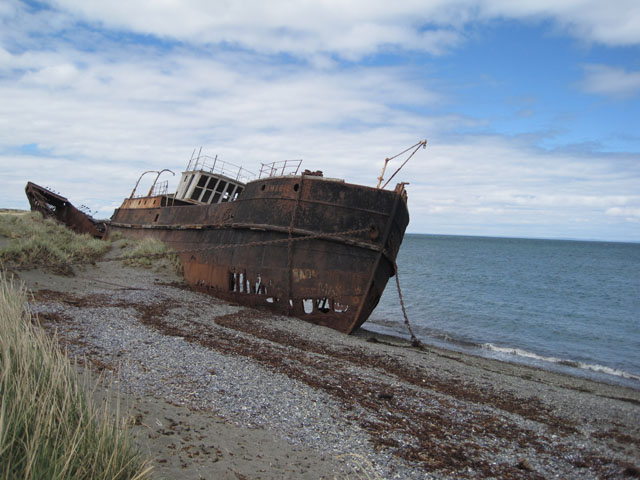 When I was done, Nick had just left, so I rode on, riding a little distance behind and maintaining a similar pace. It was only a short ride to the ferry port and as the first two on the road, we arrived first and pulled up outside the cafeteria. With the promise of a hot coffee and something to eat we eagerly went inside, only to discover it was no longer a café... but it still had the usual mass of stickers in the window, the travellers' calling card... see if you can spot the Globebusters one...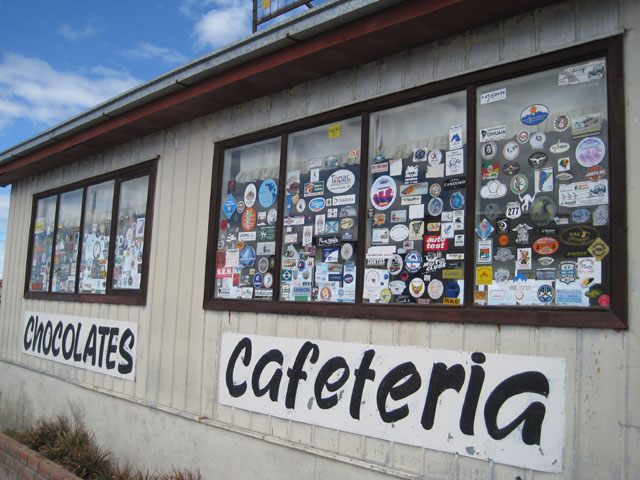 and so we waited for the rest of the group to arrive without a warming drink, watching the ferries come and go. There were 2 boats which constantly sailed from here to Tierra del Fuego, taking all sorts of vehicles (mostly trucks and buses) across to the island the other side of the Magellan Straits. What it must have been like before the Panama Canal, when all round-the-world boat traffic passed through this narrow stretch of water joining the Pacific and Atlantic is hard to imagine, given how quiet and deserted it now is. Eventually most of the group arrived, and then Jeff turned up in the van, so he and Finn (the Irish reporter) went ahead on one ferry to get photos of us disembarking whilst we waited for the next one. As it takes just 20 minutes to cross we didn't have to wait too long, and soon our ferry was dropping its bow door onto the concrete runway and unloading its cargo of vehicles. Unlike ferries that cross the channel, these do not dock as such, merely coming close to shore and then using their engines to try and remain in position with the door resting on the sloping concrete apron of the dock. With such strong currents in the straits this means that the boat is constantly moving sideways, first down-stream and then back up-stream, the ramp over which the vehicles go to get on-board moving with it. Riding on required a technique of ensuring sufficient gap in front, then riding slowly down the concrete before accelerating onto the ferry's metal ramp then slowing again as we manoeuvred the bikes into position. No problem in reality, but another example of how the thought of doing something that looks tricky on a bike can have a rider worrying about nothing. When parked up, I managed to get a quick photo of the bikes before they were surrounded by trucks and obscured from view, and then we "cast off" (only we didn't, of course, because we'd never "cast on").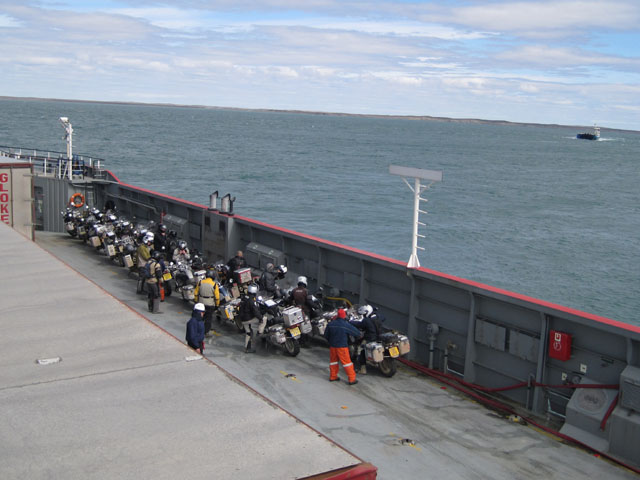 No sooner had we set sail than the ferry was surrounded by dolphins frolicking in the wake. They were quite beautiful and kept us all entranced for the short crossing, as cameras clicked constantly. Most of the pictures turned out to be of empty expanses of water, but unlike the rheas, they seemed quite happy to be snapped...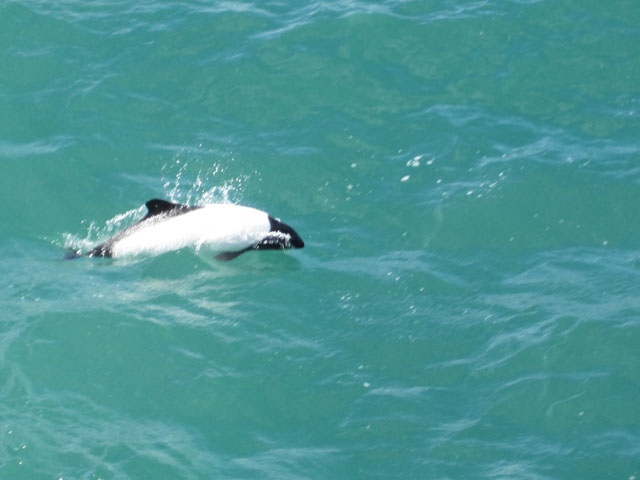 Once on the other side we disembarked, riding onto the "land of fire" and the final stretch of our journey to the end of the world...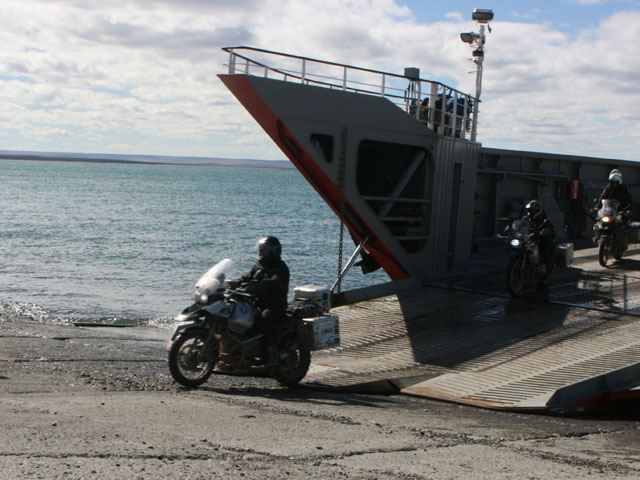 Punching the air with excitement we rode as a group the 20 or so miles to Cerro Sombrero, battling a vicious side-wind all the way. Overtaking slow-moving lorries was a particular challenge, the still air at their side sucking us closer and then the strong wind as we passed by the front blowing us further towards the ditch on the far side. When we finally arrived at the little two-horse oil town we filled up with fuel and rode to the hotel, a place which clearly doesn't rank with the best we've stayed at. With basic rooms (thankfully with a hot shower), no Internet or bar, and no bars in town it was always going to be a quiet night. Dinner was a choice of "the set menu" or going hungry, so I opted for the former and headed to the dining room with the others. Not expecting much I was very pleasantly surprised at the starter of salmon pate in avocado, which was followed by a really good steak and veg and finally a chocolate ice-cream dessert. Naturally washed down with a good glass or two of vino-tinto. But then what? It was still only 8pm when we'd finished eating, but an early night beckoned, a final night-cap beer finishing the day off perfectly...
Tuesday, 24 November 2009
Almost there...
Another night where my sleep was interrupted by pain in my back as a result of the overly soft bed and single pillow, meaning I was lying too flat. Having got up to take a painkiller I was wide awake and with lying down too painful took a shower and went into the common area of the hotel so as not to disturb Jim – it was only 5.30am and with breakfast not until 8am I reasoned he could usefully use the sleep he seemed to be enjoying. With no Internet access again I couldn't upload the blog, but I could at least write it and so that's how I whiled away most of the time until the rest of the group were up and making a racket in their usual fashion, clunking about the hotel in their bike boots. I changed into my bike gear and loaded the bike, then went and joined the early birds in the hotel's eating area ready for breakfast. This consisted of some very nice scrambled eggs and fresh buns with butter and jam, accompanied by the inevitable Chilean coffee – Nescafé sachets made up with hot water and warm milk. As a tea drinker it's perfectly acceptable, but those who habitually drink coffee tend to start the morning complaining...
This morning the group formed up for the official 9am start with only Ed & Lorraine and Pertti setting off before Kevin & Julia – unusual in that it meant that when they set off they were immediately followed by a large gaggle of bikes including me. As the road turned quickly from tarmac to dirt it meant that the convoy was riding in each other's dust, but we quickly spread out to increase visibility, the line riding in single file in the clear track between the sprinkling of loose gravel. Sticking to a reasonable speed of around 45mph, we rode along, with ample time to think about the day's ride – some 200 miles to a hotel just shy of Ushuaia and our last night before reaching the southernmost point of the trip. With a featureless and largely uninhabited landscape either side of the road, the ride was pretty dull, with only the odd truck to overtake to break up the monotony. Just before the Chilean border the road changed where it had been recently re-graded, becoming hard-packed mud. Fortunately the graders had almost finished, but some earlier in the group had been directed to the side as the surface was being compacted, including Nigel, who was standing by his bike some way from the road. Assuming he had a puncture and was waiting for the van, the group in front of me waved at him and rode past. I gave him the "thumbs-up" sign to check all was ok, but got a strange gesture back in return as he pointed back the way we'd come. Confused, I stopped to check what was going on, as did Simon behind me. It seems that he'd been directed down a softer path by the workmen and when the path ran out didn't have the strength in his injured shoulder (the result of his crash some time ago) to get the bike up and onto the road. Simon pushed as I walked the bike using its engine and clutch up the small mound of soft earth at the roadside and back onto the road proper, and then we all set off again.
The border crossing was as simple as they get, the Chilean exit formalities completed quickly before a short ride to the Argentine border where we got ourselves stamped in and then a new bike permit printed. Leaving the border most of the group stopped for coffee but I kept going, keen to get the day's riding done whilst I was still feeling fresh. Now back on tarmac I could relax more, although the dirt road had been in really good condition so hadn't posed any problems. The next point of interest was the town of Rio Grande, famous for being where the Argentine air force launched its support for the invasion of the Falklands in February 1982. Here there were statues and signs proclaiming that the Malvinas belong to Argentina, and a large memorial to the 649 Argentine soldiers who were killed during the conflict. A large white wall on the ocean-front with plaques listing the names of the dead, and their regimental coats of arms, it made a sombre spot to reflect on the follies of man, fighting over a patch of land in the middle of an ocean of no strategic or mineral wealth. There was no mention of the 255 British personnel killed during the conflict, or the 3 civilians that also lost their lives...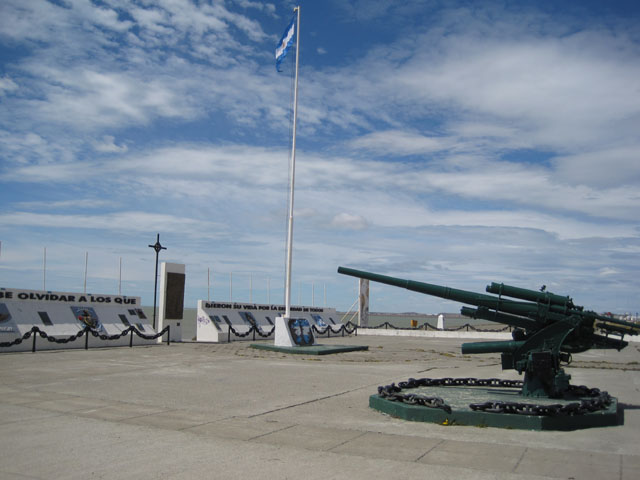 Leaving Rio Grande and heading back out into the open countryside I was once again alone, enjoying the ride as it headed across the flat pampas towards the distant hills. I stopped only once, briefly, to take a picture of the road some 20 miles from the hotel, once again totally absorbed in the joy of riding. I was trying to capture Ed & Lorraine who I'd seen on the road ahead of me, but at this scale it's impossible to see them, their bike becoming just a speck on the road, such is the grand scale of things...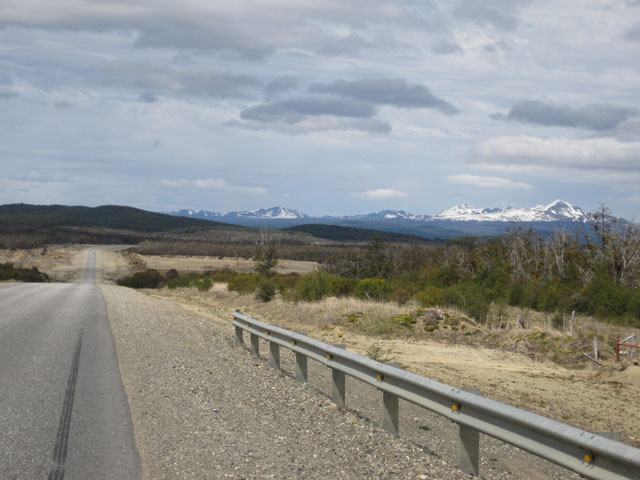 I arrived at the hotel early, around 1.30pm, and with my room not yet ready went to the restaurant for some lunch, where I joined Pertti, Aaron and Finn, the 3 having arrived some time before me. I had an excellent plate of tagliatelle and a beer, and was then shown to my room in a cabin by the lakeside. Yet another perfect spot in which to unwind and look forward to the days ahead. After a quick hot bath I grabbed the laptop and headed back to the main building, where I joined the others in establishing an "Internet café" with great views out over the lake and mountains...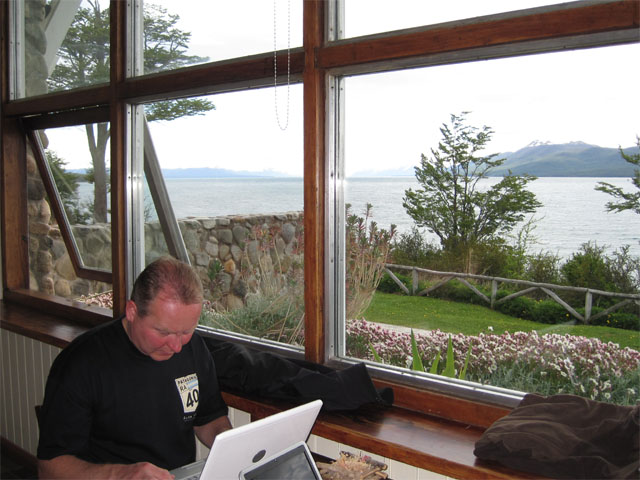 With the blog up to date, the photos finally loaded, Tracy online, great music playing in the background and a cold beer at hand it was a great way to while away the afternoon and early evening... At 7pm we had our last meeting before Ushuaia, Kevin briefing us on plans for tomorrow when we will ride as a group the remaining 70 miles to the end of the world... It's all getting quite emotional...
Dinner that evening was a collective affair, the hotel full and the restaurant unable to accommodate us individually. Just before the start of the meal, Richard, the current "Gold Star" holder announced that he'd had one nomination, which he then read out. It was from Chris nominating Julia for giving up what could be her last chance to ride the entire Trans AM so he could ride her bike. She missed 6 weeks back in 2005 when she broke her wrist in Costa Rica, and the business means both she and Kevin are unlikely to guide the trip together again. The entire group thought this was an excellent use of the award, quite rightly so.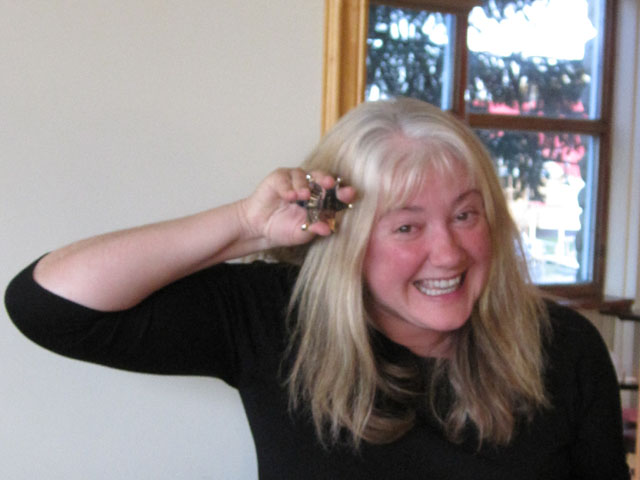 Dinner then came and the food was excellent, the wine initially less so (we chose a better bottle for our 2nd). Naturally conversations over dinner and in the bar afterwards were reflective, looking back on the trip and what it has meant to us... I suspect that's likely to be the case for a good while, as there's been quite a lot to reflect on... but first we need to complete the journey from the top of the world to the bottom... and that's a job for tomorrow...
Wednesday, 25 November 2009
At the Bottom of the World...
Like a child on Christmas morning I woke early excited about the day ahead and finally reaching the "end of the road". With the group riding together and departing at 9am I had plenty of time to get my things in order, update the blog, pack the bike and chat to my fellow riders. The mood was one of calm excitement, of a sense of a job almost done with just the final easy task to complete. That easy task was a short 70-mile ride from the hotel to the town of Ushuaia and then into the Tierra del Fuego national park and a short dirt-road ride to the very end of the road at Bahia Lapataia – the most southerly road in the world.
As usual the group was ready to go well before the 9am kick-off, even Late Guy, who Kevin had asked to ride in 2nd position in the group so he wouldn't be last for once. Pulling out of the hotel and up the short gravel drive to the main road the group dropped into its usual formation and I assumed a position pretty close to the back so I could get a great view of the group ahead. The road from the hotel to Ushuaia was a gem – smooth tarmac heading first along the valley and then up into the mountains, skirting round them along the Garibaldi Pass before descending into town. On the run up into the mountains we crossed paths with the Patagonia group who were leaving Ushuaia and heading back North. First to pass was Hamish, going like the clappers and hardly acknowledging the 20 bikes heading in the opposite direction. Next up was Matt, the Globebusters tour leader with a couple of riders on Africa Twins in tow. We pulled over to the roadside where they joined us and we chatted for a while before it was time for us to get on – the rest of the Patagonia group were some distance behind, and we waved as we passed them on the mountain road. I saw Santa Phil, and even through the visor on his Arai helmet I could see his huge grin. It would have been nice to stop and thank him personally for fetching out my new starter motor, but there simply wasn't the time. Finn (our Irish journalist and deputy editor of the Sunday World) rode ahead to get some photos of the group, for which I'm very grateful...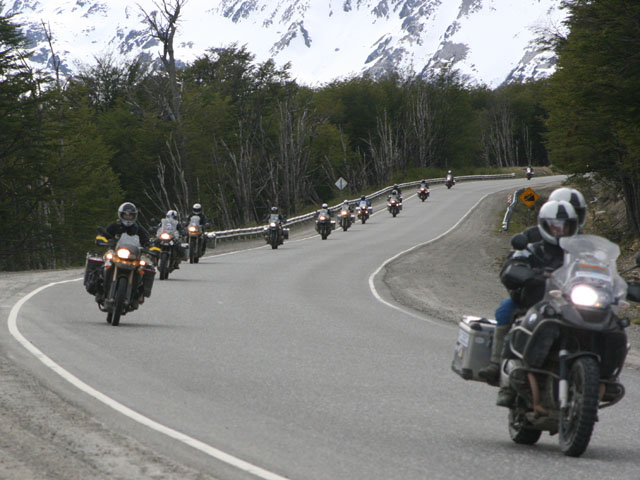 With a backdrop of black mountains with their bright white snow-caps and a large blue lake the gentle ride gave me plenty of time to reflect on just how far we've come. Over 21,000 miles and 13 countries in just 18 weeks... Images from the trip kept popping into my mind as I rode – from the dust of the Dalton Highway in Alaska, the bears in Canada, the glacier in Stewart, the dry heat of the US and camping in Valley of the Gods, the poverty of Mexico, the challenging riding in Copper Canyon, the colours and vibrancy of Guatamala and central America, the breakdown in Honduras, the tropical rainforests in Nicaragua and Costa Rica, the border chaos in Costa Rica, the banana bridge crossing into Panama, the crazy fast-as-you-like riding in Columbia, crossing the equator in Ecuador, the abject poverty in the desert of northern Peru, the beauty of Machu Picchu, the long straight roads in northern Chile, the rocky madness of Canyon del Pato, the fall on Paso de San Francisco and having to ride Nick's bike, the pain of Ruta 40 and the gravelled roadworks that almost broke me, the joy of finding tarmac, the wilderness of Carretera Austral, the endless dirt riding on Ruta 40 and finally this...
Arriving in Ushuaia we came through the industrial part of town, past the port where the huge cruise liners bring their cargo of tourists on their way to and from Antarctica, passed the main part of town and out the other side, still heading South... and onto the dirt road that leads into the National Park. Once through the park entrance we were once again in a different world, riding along a narrow single-lane mud road through a forest. Riding in single file and trying to pick a line through the pot-holes that reduced the amount of punishment my long-suffering bike received we made our way slowly to our destination. We had to overtake the occasional coach, ferrying the tourist sheep to the end of the world for a picture they'll savour not half as much as us, for we've got here under our own steam, having started a long, long, way away. Then we entered a clearing, a place for the coaches to turn round, and there it was... the end of the road...
We parked up in formation, parting the sheep, sorry, tourists, and dismounted, helmets off and tears flowing, bear-hugs all round. I ignored the pain from my cracked rib and threw myself into the open arms of my fellow riders, no sense in coming over all British at a time like this. The sense of achievement and of relief was mixed with a sense of sadness that the journey was nearly over and that from here we'd be heading home, albeit with a 2,500mile ride to Buenos Aires first. But to see the smiles on the faces of the people I've spent the last 5 months with, to share their moment of joy, and to share mine with them, was very, very special.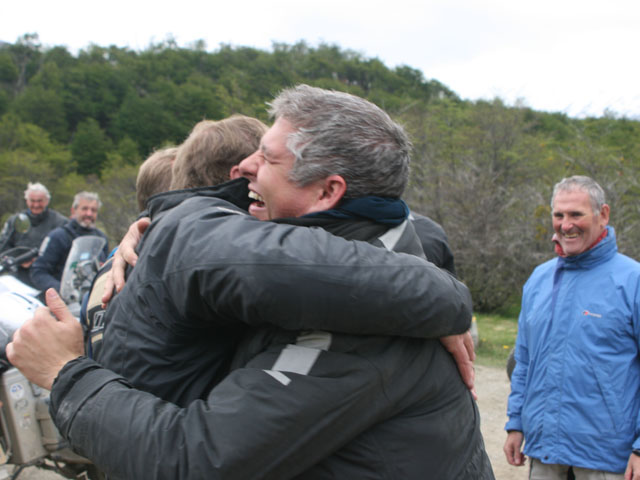 We parted the tourists so we could get our photos, then Jeff produced a box of bottles of champagne and some plastic cups and we toasted our success in fine style, as the rain started to fall. More hugs, more tears, more smiles... Some of us had the little stones we'd picked up on the beach at Prudhoe Bay, and we had a little stone-throwing ceremony as we launched them into the ocean, a little gesture to mark the journey and confuse generations of future geologists ("How did this Arctic rock get all the way down here to the Antarctic?"). We were constantly asked by the tourists where we'd come from and once again found ourselves basking in the glory of our "minor celebrity status" as they stared open-mouthed when told we'd just finished riding from the top of the world to the bottom...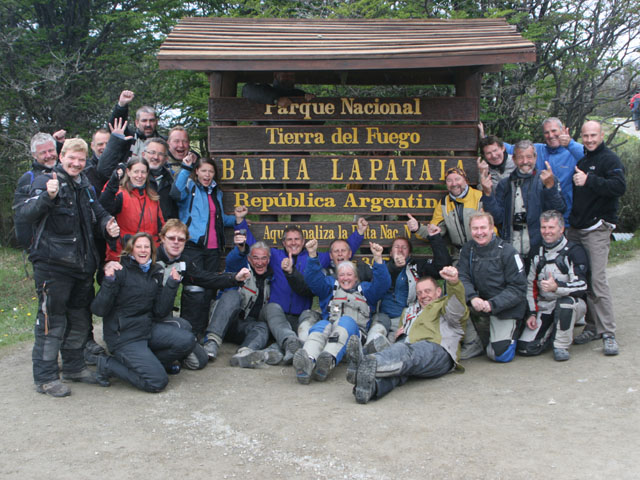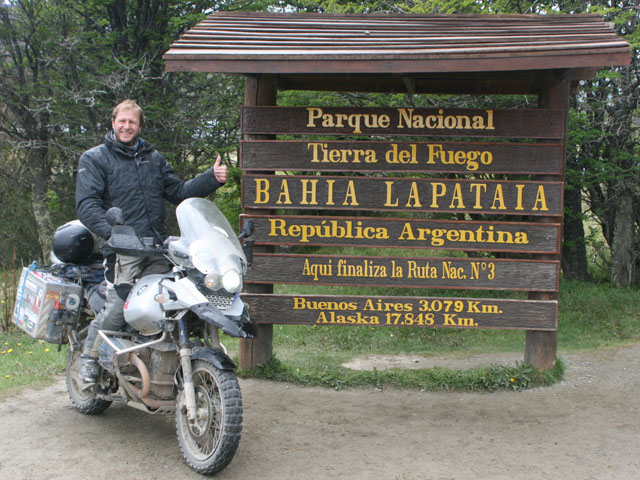 Finally it was time to tear ourselves away from this spot that we'd spent so long and so much effort trying to reach. With a café just outside the national park our destination, I set off first, happy to be riding on my own again after the slow group ride in. Revelling in the joy of riding without pressure I blasted along the dirt road, confidence in my riding slowly returning after the fall, splashing through the puddles in the potholes and scattering loose gravel on the corners. Once in the café I had a nice salad and Sprite and sat and chatted some more whilst the rain poured down outside.
Finally we left and rode back in the rain to town, Al and I riding with Aaron who's GPS has the right maps and so could find the hotel. On the outskirts of town I ran out of petrol. I'd ridden all the way to the end of the world, and then ran out of gas. How appropriate! Luckily I still had my 2ltr petrol can on my pannier, so used that to get going again, whilst Aaron and Al re-appeared wondering where I'd gone. We stopped to fill up properly and then found the hotel, parking up and then heading off to our rooms to get changed and catch up with loved ones back home and share our news.
With a group meal planned for the evening we met up in the hotel bar and had a celebratory beer, followed by a congratulatory beer, followed by... well, you get the idea. The restaurant was a short walk away and served up a great steak and some half decent red wine. Over dinner we had a number of toasts, the whole restaurant joining our celebrations whether they wanted to or not... and then we retired to the obligatory Irish bar for some more beer and perhaps a whisky or two... until the bar closed and we couldn't find another one open, not even the hotel bar... which is perhaps a good thing...