Trans-Am Trail - Days 10 and 11 - Liberty, Kansas to Trinidad, Colorado
Before I get into the blog proper, I've had an email asking about the loss of the "comment" feature of the old blog. Sadly, due to the way my hosting company charges for bandwidth, I've had to stop using a real "blog" and post up the story as a series of web pages, so I can't include the sort of comment feature normally found on blogs. However, if you send me an email here - I'll include a response in the next blog.

The first of these concerns the question of how I ordered a breakfast in the US without getting asked a question, and what I ordered. For those not familiar with US-style "customer service", I should explain that over here, giving the customer a baffling array of choices for everything is seen as providing excellent service. So even the simple task of ordering a coffee is filled with so many choices it's probably best to just as for water. And then be prepared to be asked whether you want still or sparkling, tap or bottle, ice or no ice, beaker or glass, distilled or rain, etc...
Which is why I play a little game of trying to order my breakfast without being asked anything other than "what can I get you?". Here's how I did it. First, I studied the menu, and looked at the options available, then made my choice - in this case, a couple of fried eggs with bacon and toast, and black coffee (the sugar was on the table). My order was therefore "2 eggs, sunny side up, bacon, hash browns (I had to choose either hash browns or home fries even if I wasn't going to eat them, as it would be too confusing for the waitress if I said I didn't want either, and she'd then offer me another choice of something to replace them!), white toast and coffee, black. That worked on this occasion, but only because the condiments (ketchup etc) were on the table. Otherwise I'd have had to include my selection in my order as well, or risk being asked. It's fun, so next time you're in the US, give it a try. Just try not to do as I did, and shout "YES!" and punch the air when the waitress writes down the order and walks away without asking anything, or you'll get a funny look too...

Ok, on with the story.

Day 10 of the trail happened to be my birthday. My 50th birthday. After getting up and showered I opened the birthday cards I'd been carrying in my laptop case since I left home, and despite some of them being slightly worse for wear, it was really nice to have them to open. Even if the majority were of the mickey-taking variety. I guess that when you reach such advanced years as I now have, that a certain amount of that sort of thing is inevitable. I put them up for the half hour it took to pack my things, then had to pack them away. It's not quite the same as having them on display at home for a week, but it still made me feel good.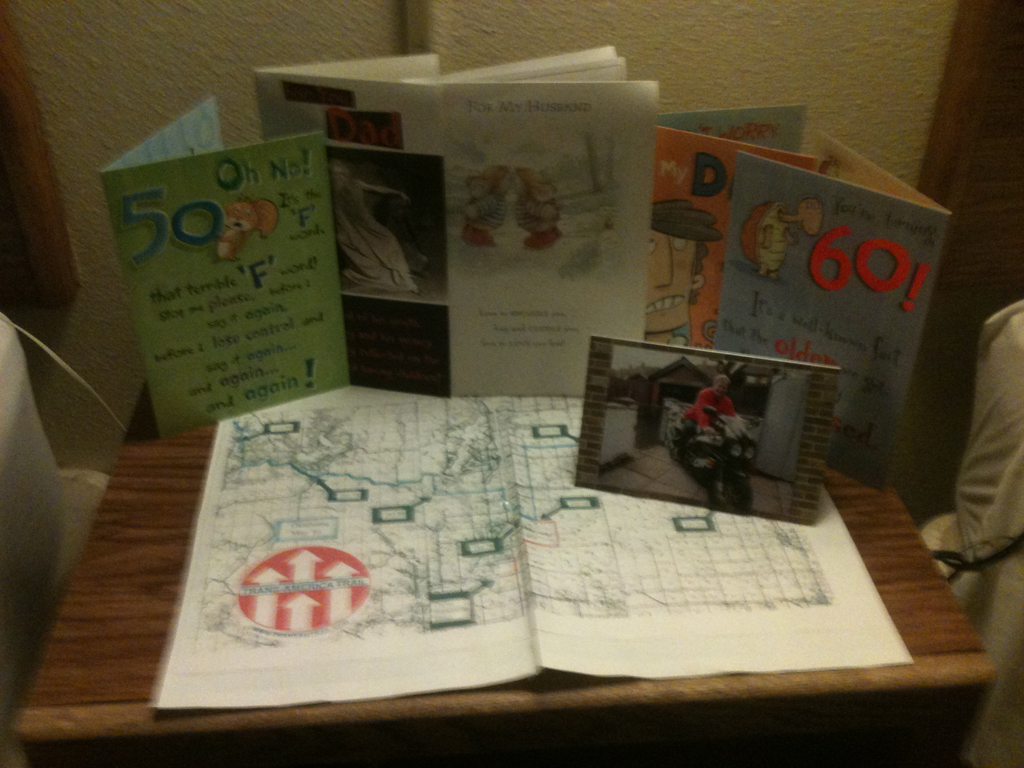 Once packed we rode to a cafe for a hearty breakfast (I failed to order without being questons, neglecting to spot that they had an additional choice of type of bacon - doh!) and set off on the trail. We could see Mike and Rick ahead (not Mark and Nick as I incorrectly called them yesterday!), but they took a wrong turn so we were on the trail first and making excellent progress along the straight hard-packed dirt roads until we encountered the first of the day's challenges. A section of deep sandy hills reminiscent of the sand dunes at St. Annes back home. By this time Mike and Rick had caught us up and as they're bikes are lighter we waved them through so they wouldn't get held up as we tried to get our heavier bikes through.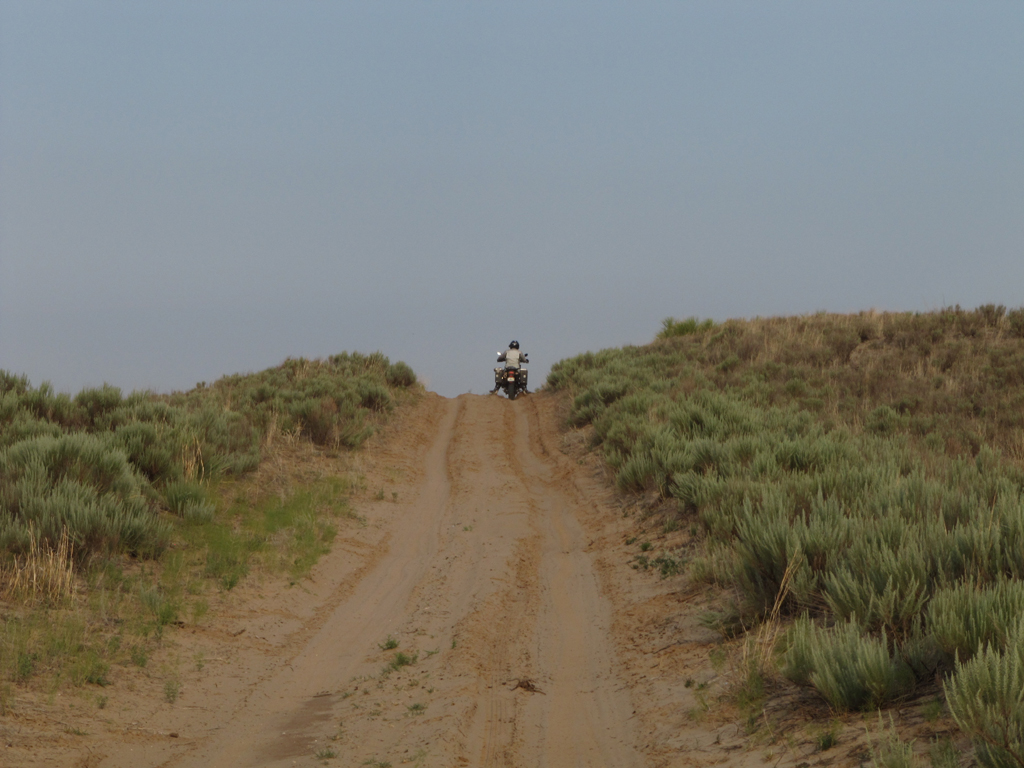 We got through without any real problems, but didn't see Mike and Rick again as they were long gone. Once clear of the sand we were then faced with a different challenge - riding very long straight sections of roads with a strong crosswind. But as the roads were in excellent condition, with just a light dusting of gravel, we could hammer along at 55-60mph. The route would take the occasional turn to relieve the boredom of simply heading due West, taking advantage of the fact that even here, in the remote high plains of Oklahoma, there is a grid-pattern to the roads. A 90-degree left would see us head South for a while, then a 90-degree right and we'd be heading due West again, on a road parallel to the one we'd just left. Some of these Southern-heading roads were very sandy due to the direction of the wind, so as always when riding on dirt, concentrating on the road surface and looking for changes in its condition was key to staying safe.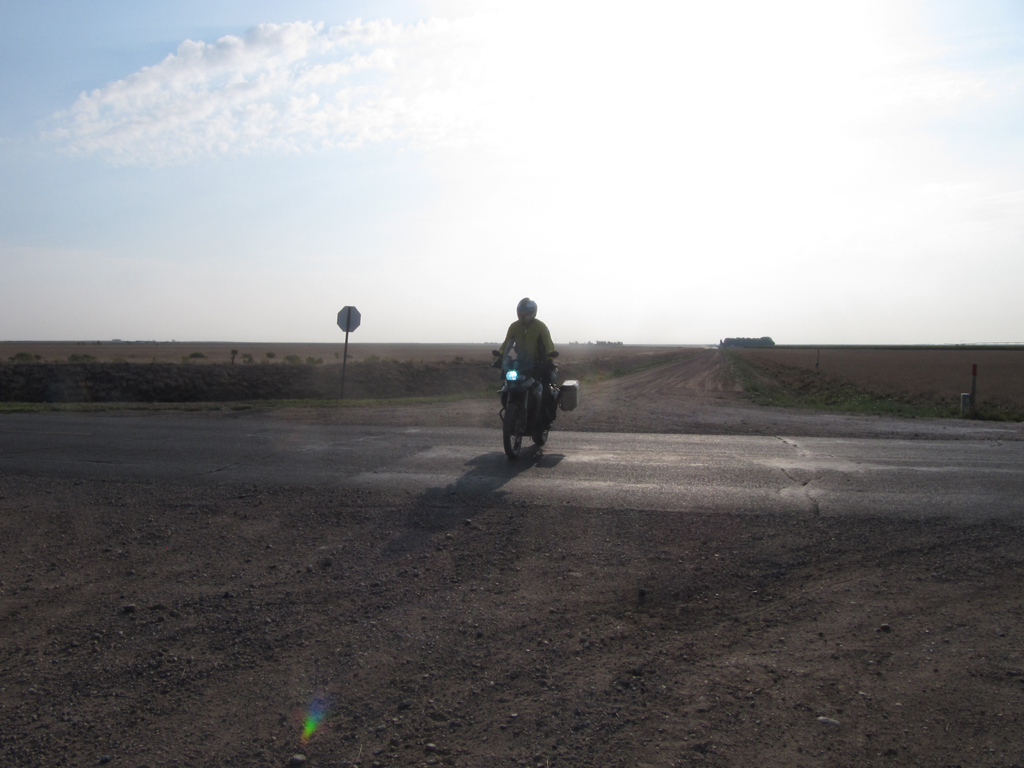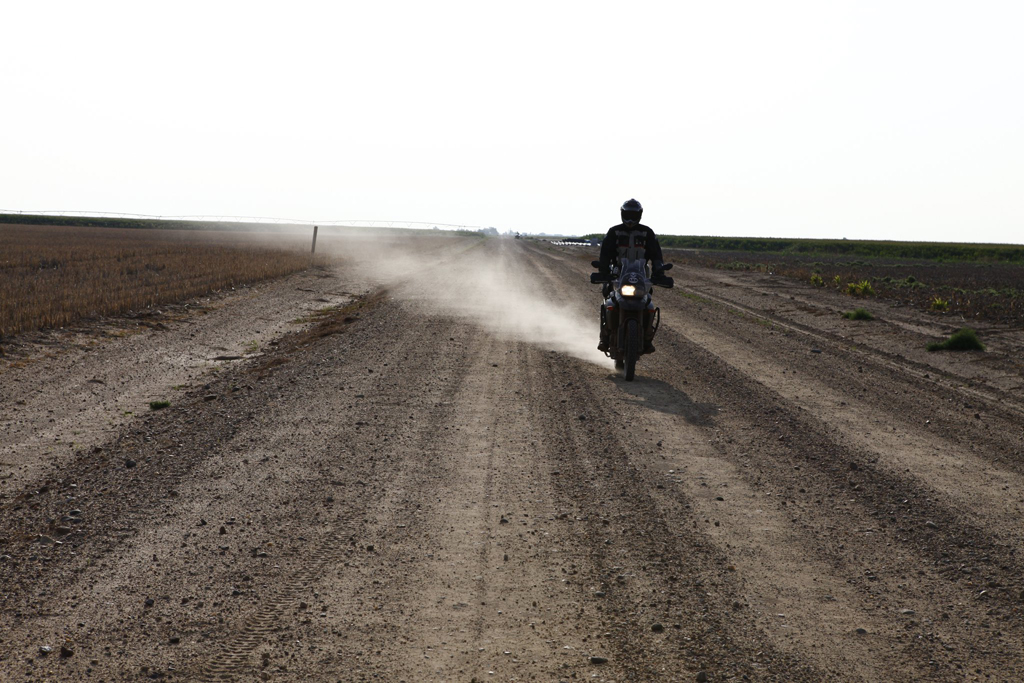 The high plains of Oklahoma have a certain remote beauty to them. In the main they are barren, almost waste-land like, with the occasional patch of crops growing in heavily irrugated areas. The irrugation system is interesting, as there are great big metal watering contraptions that rotate in a big arc, creating circular fields of irrguated land. Look at Google Earth and you'll see what look like giant crop circles... because that's what they are. The water for these contraptions is pulled from deep underground by big diesel engines that are dotted around the landscape, thundering away through open exhausts. What is wierd is that the sound of these engines doesn't carry at all, so I'd be riding along with just the wind roar in my helmet when all of a sudden I'd hear the sound of a massive diesel engine going full chat close by. My first thought was it was a big truck bearing down on me "Duel" style (as in the film), but no, it was one of these irrugation pumps at the trail-side.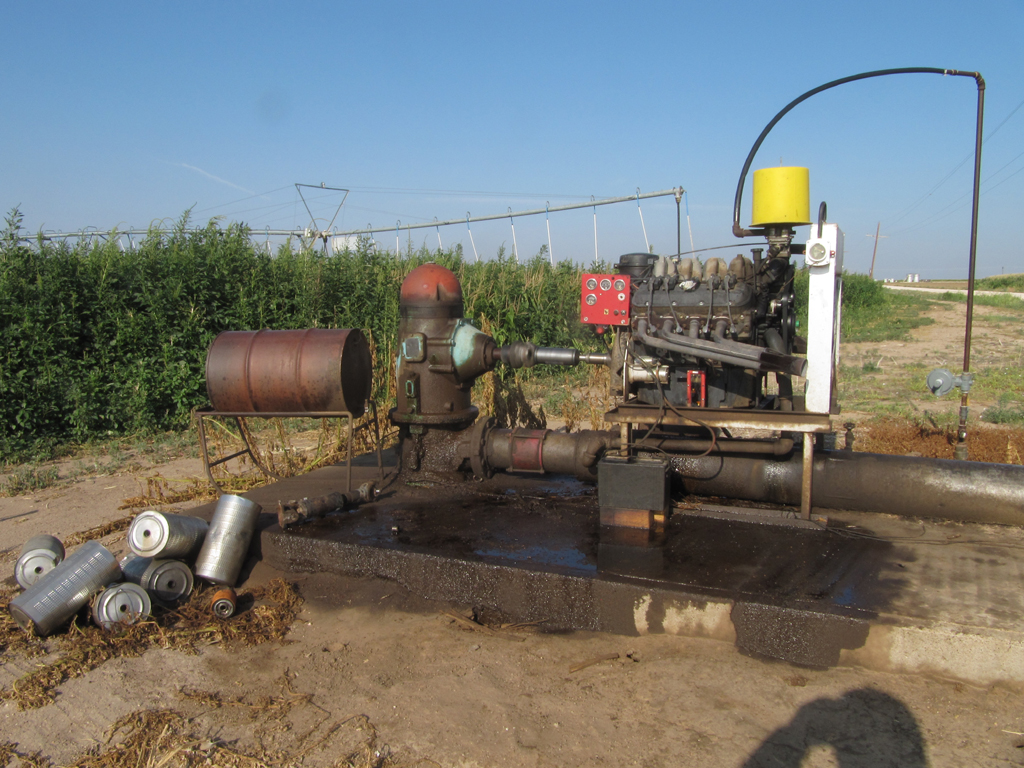 Stood by the pump to take the picture I could barely hear myself think, but within 100yards of riding away, I couldn't hear it any more. Strange...
The other main feature of these high plains is the number of abandoned farmsteads. I've mentioned these before but we came across one that really peaked our interest, so we rode off the trail to investigate. This old house would at some time have been a family's home. It was really sad, walking through the rooms looking at the everyday objects that had been just left lying around. I'll let the pictures tell the story as I'm sure they'll do a better job than my words can - each has a caption that will appear when your cursor is over them.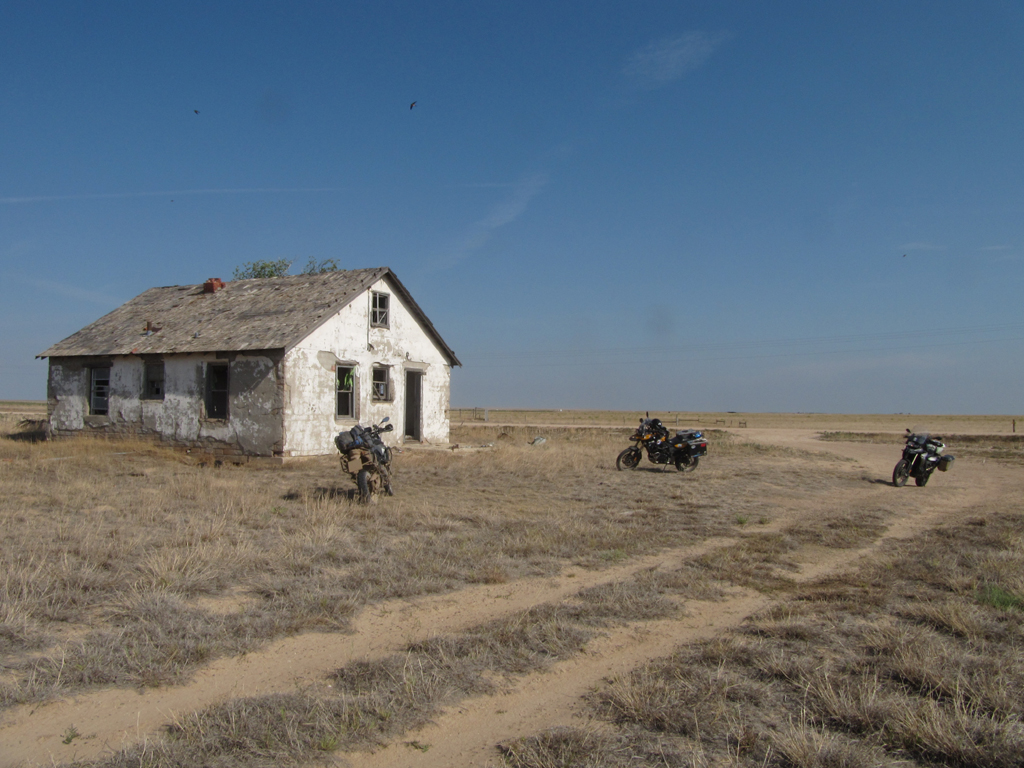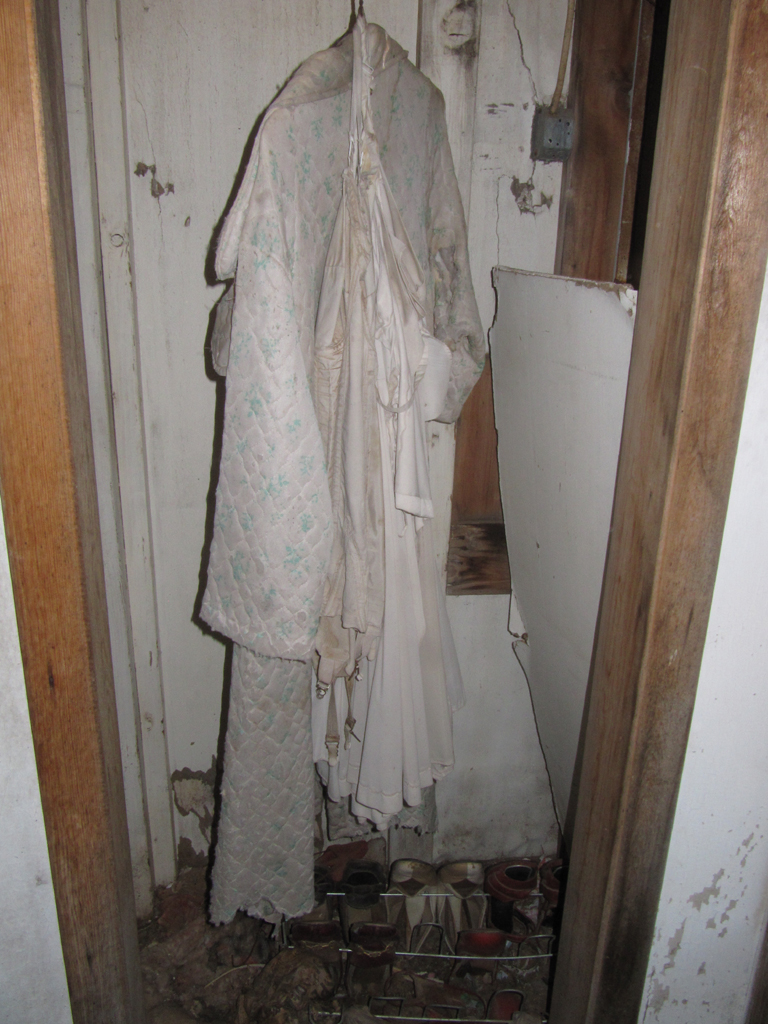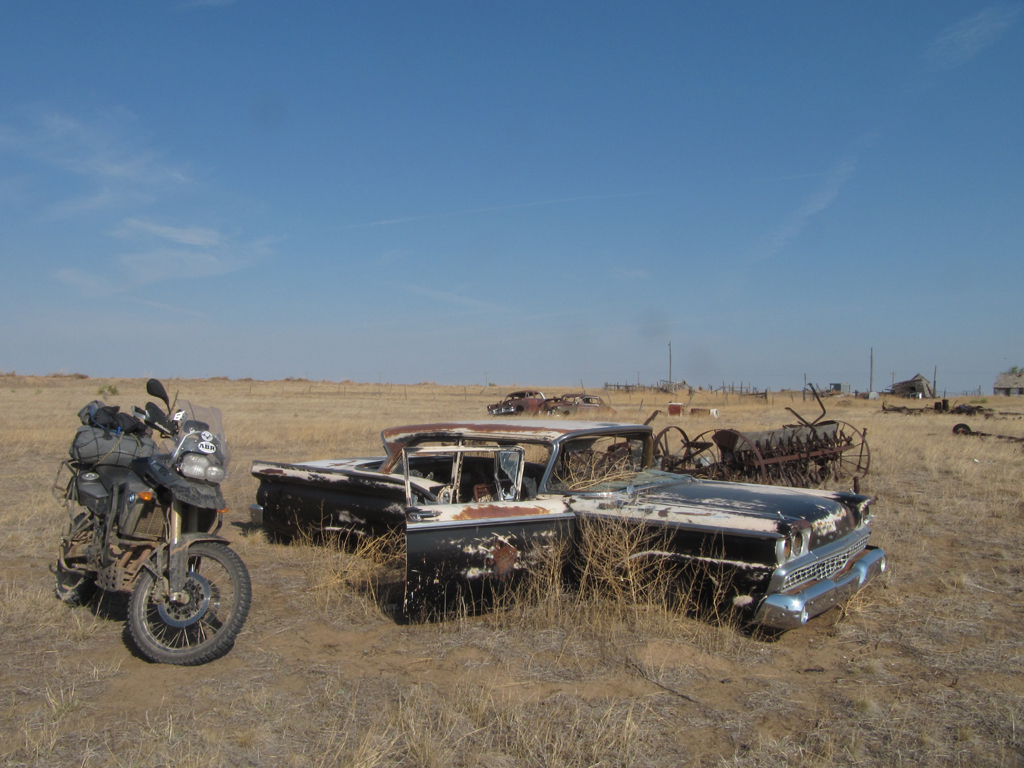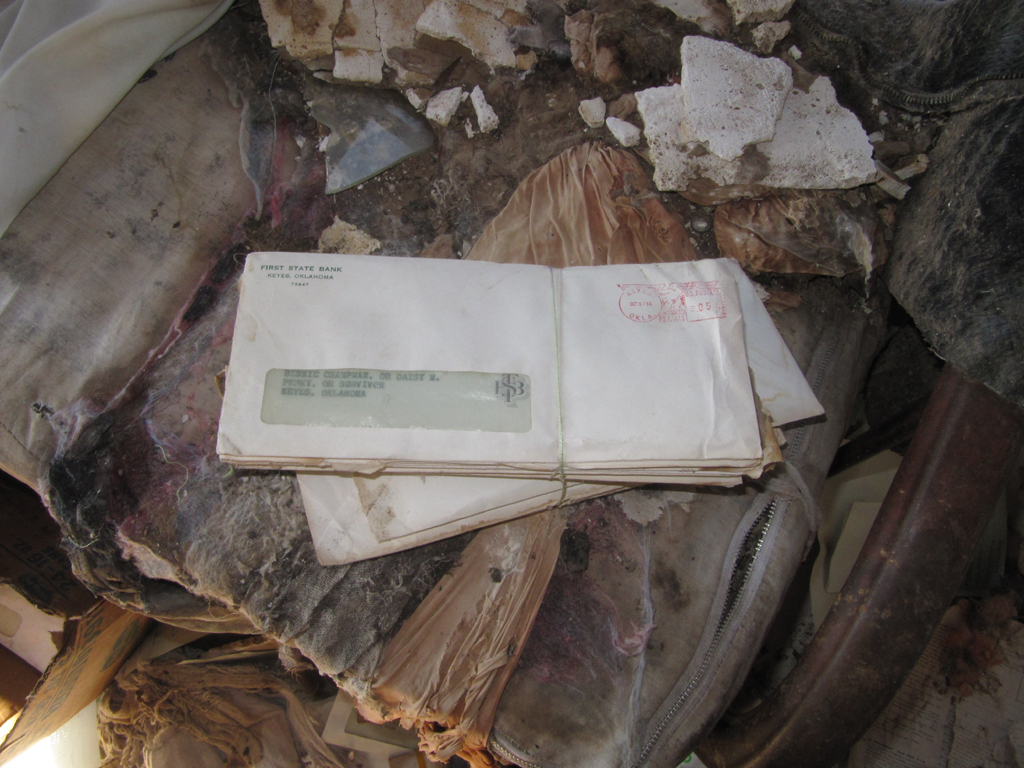 After spending some considerable time wandering around the abandoned farm we hit the trail once more, riding ever further West across the high plains. Until our path was once again blocked by a "road closed" sign. As ever, we chose to ignore it and despite there being some heavy machinery blocking the road at a collapsed bridge we found a way round without too much delay...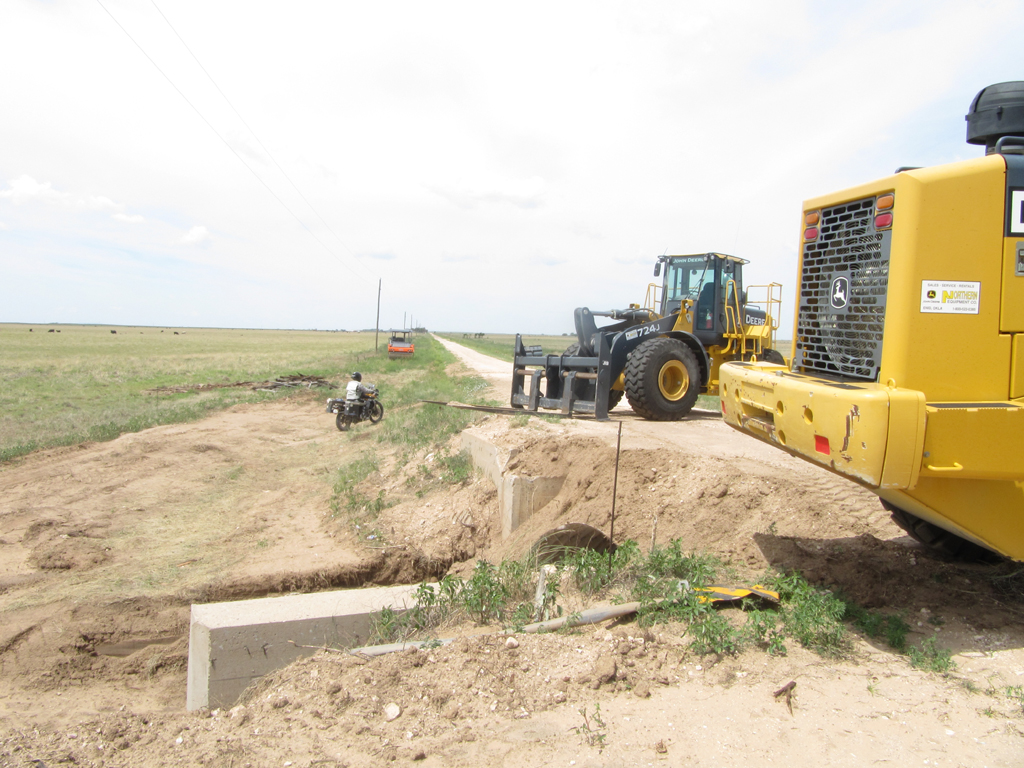 The next challenge we faced was a stretch of what looked like a dried-up riverbed. Here the trail deteriorated into a sort of creme-caramel surface - a thin layer of crust over the top of pure mush. The bikes broke the surface and struggled to find grip on the mush underneath. But once again we got through without problem. Finally we left the barren expanse of Oklahoma and entered New Mexico...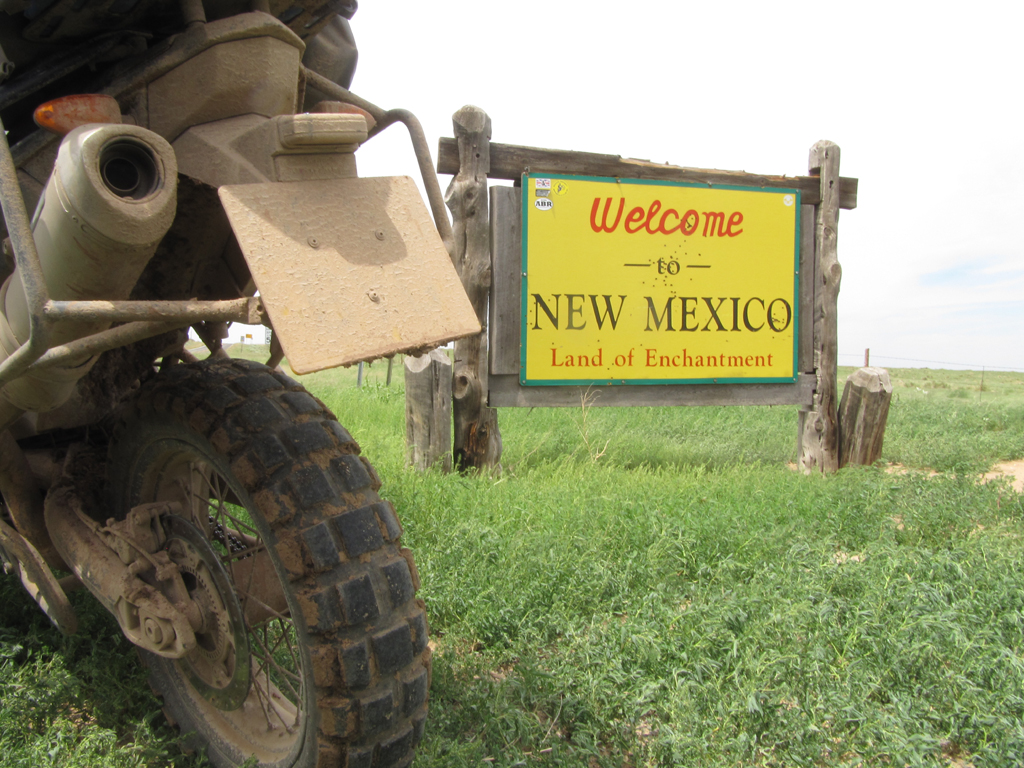 At the border the landscape changed immediately. It now became more lush, with bright green grass everywhere. There were still cattle in the fields but at least these looked like they had something to eat. Also dotted about the fields were small mounds of mud - homes to prairie dogs and I managed to catch a glimpse of a few of them as the popped up to see what the noise was as we passed. The road became more interesting too, beginning to wind up and down the hills and winding through stunning scenery.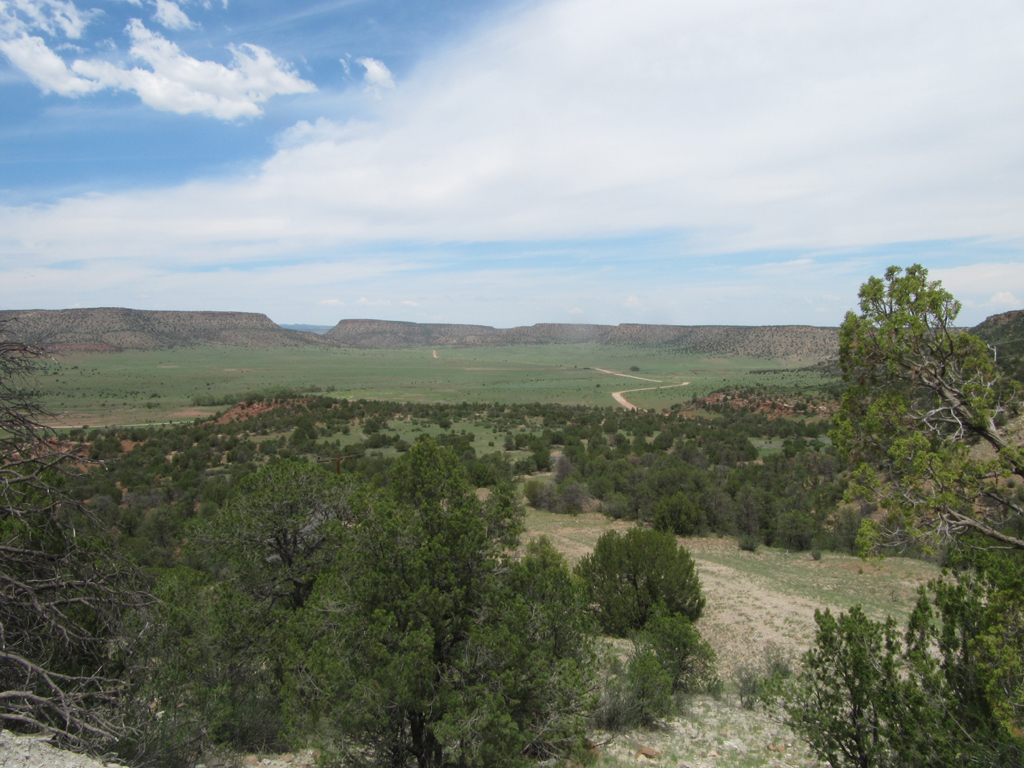 We even had a proper technical section of hill-climb as the trail went up a steep rocky hillside, with switchbacks and narrow sections to negotiate. This was more like it! I stood up and bounced my way up, passing Aaron who had stopped to take pictures, so for once there's a picture of me doing what I love best of all - riding my bike on challenging terrain in a stunning location...




By the time we got to the motel we had covered over 260 miles, through a real variety of terrain with the afternoon's riding some of the best of the trip. Now I know I keep saying that, but it's true, every day seems to be better than the last. And what a day's riding for my 50th birthday. Life is good!

As we pulled into the Super8 car park in Trinidad, Harold noticed something wrong with his bike. The back tyre was completely flat. So he spent the next hour or so removing the wheel and changing the inner tube, the problem apparently being that the valve had been ripped off the tube, perhaps as a result of the sustained high-speed running we'd been doing. There were several foreign objects in his tyre but none appeared to have gone through, so he removed them and replaced the tube.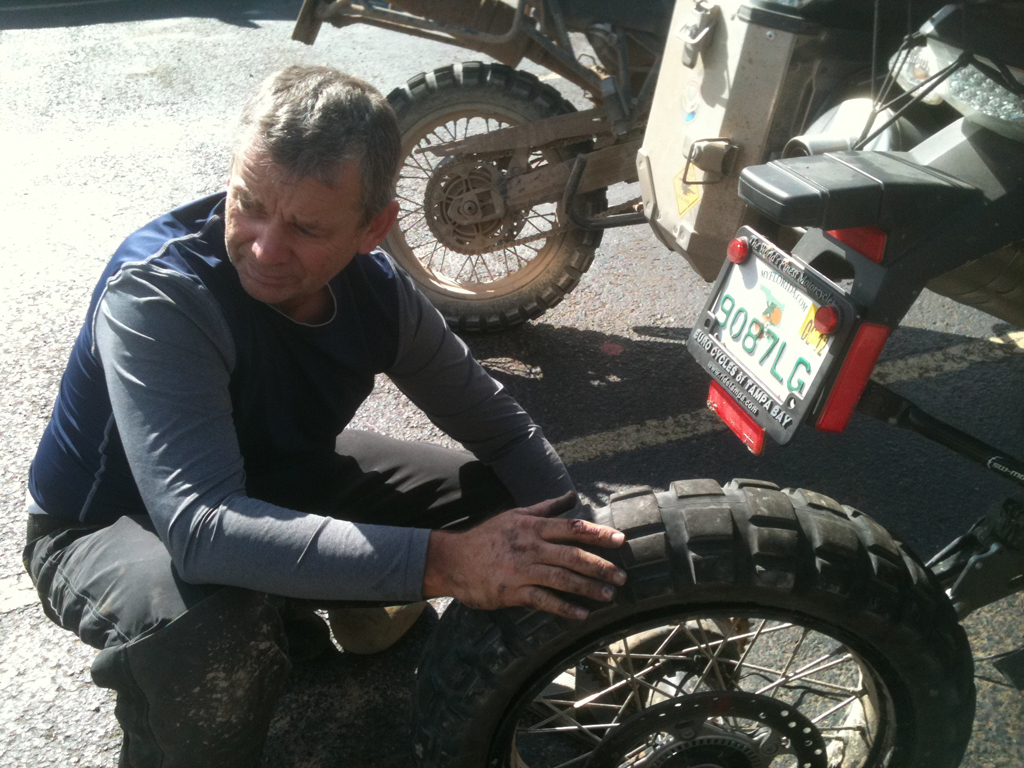 When inflated, there was a hissing sound from the new valve stem signifying the new tube had a puncture. At which point we abandoned the idea of fixing it today as we knew there was a garage that could repair it in the morning as Mike and Rick had arranged to have their tyres changed. Which also meant we'd take our first rest day of the trip, and as it was my birthday, which we might end up celebrating, that also seemed like a good idea. It was then that we discovered that as it was Sunday there were no taxis to take us into town, and most of the bars would be shut. Harold was "pooped" so Aaron and I went out for dinner with a promise to fetch him something back as well as collecting beer for when we returned.
Now at this point, I should explain what we discovered when we researched what to do in Trinidad, CO, knowing that this is where we'd end up on my birthday. If you look it up on Wikipedia, you will discover it used to be the "Sex change capital of the world". So when the only restaurant Aaron and I could find that was open was Rino 's Italian Restaurant, which is famous for its singing waiters and waitresses I knew it was going to be an experience. We had a lovely candle-lit dinner for 2, as the serving staff serenaded us (and the rest of the clientele). It couldn't have been more gay if we'd both been wearing pink shirts. But the food was excellent and I had a small bottle of Peroni too.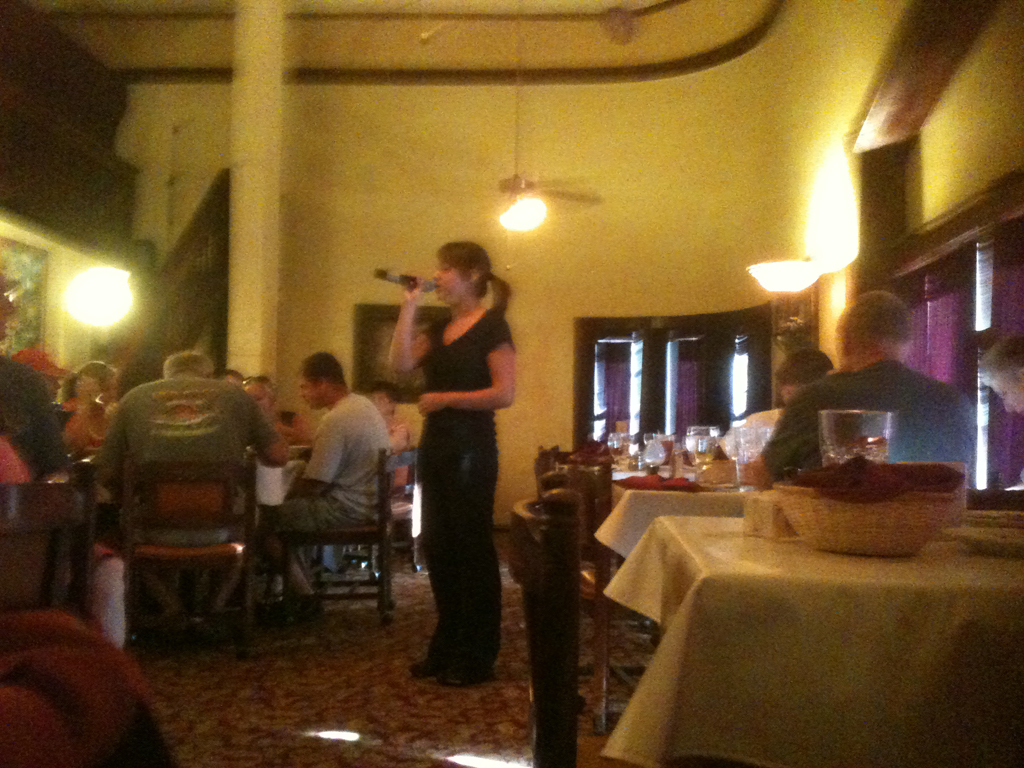 A quick stop at the liquor store for beer and back to the motel, where we were joined by Mike (Rick was feeling a little beat up after a fall on the crusty creek stretch). This morning I woke to find that someone had filled our room with empty beer bottles and someone had filled my head with cotton wool. But at least I still have the parts I should and don't have any I shouldn't! Good job today is a rest day...