Trans-Am Trail - Days 1 to 3 - Jellico, Tennessee to Selmer, Tennessee
Days 1 to 3 - The start of the trail in Jellico, Tennessee to Selmer, Tennessee

The eager beavers amongst you will have noticed the distinct lack of daily posts on this trip. There's a pretty good reason for that, as the riding days are quite long (the shortest so far over 8 hours in the saddle) and whilst the scenery is beautiful I think I'd struggle to write more than a few words each day. It's simply that the days consist of riding, which is what I love doing more than anything else (well, almost anything), but it is a somewhat solitary pursuit.

I think it best to try and show the ride in pictures and write up the story every 3 or 4 days. So please don't worry if you don't find a post every day. I'm just having too much of a good time to sit down and write about it!

I'm writing this in Selmer, Tennessee having ridden over 600 miles of the trail over the past 3 days. Our days start pretty much the same as they did on the Trans-Americas ride (Alaska to Argentina), with an early start, usually around 8am. I won't bore you with details of breakfast, but will state on record that I have finally managed to order a breakfast in America without being asked a single question. If you think that sounds easy, try it next time you're over here...

Our first day on the trail was Friday (I had to check, today is Sunday!), and took us on a meandering route round the back roads from the start at Jellico to Sparta. Just outside of town the route leaves the highway an enters a gravel road. Now the last time I rode on gravel was in Argentina shortly after I had my big off and I had a cracked rib, the shimmying on the gravel causing me a fair amount of discomfort. I was therefore less than confident that I wouldn't end up on my arse within the first mile or so. But I didn't and soon my confidence returned.





The route for the rest of the day was mostly on tarmac (sealed) roads passing through beautiful open green countryside dotted with the sort of smallholding Tracy and I can only dream of in the UK. Especially as it was already rather hot, the temperature up around 27degrees C. Whilst this wasn't the sort of riding we expected - most of this section has been paved since Sam did the original route when the roads were still gravel - it was easy going and I was once again reminded of why I love riding my bike. There were some more interesting sections too, including some gentle mud roads through hot humid woods, where we would pull over in the shade to guzzle water and chat a while...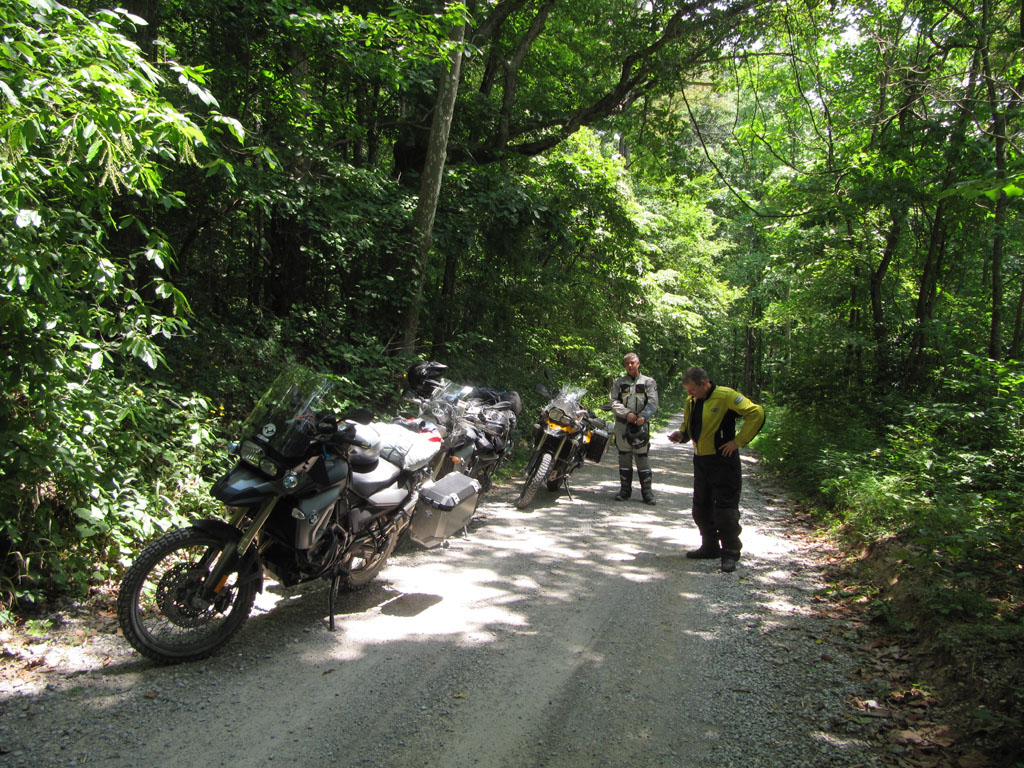 We arrived at Sparta in the late afternoon and quickly found a motel for the night, before heading out to eat at a Chinese all-you-can-eat buffet (no beer still), then we grabbed a couple of bottles of beer and took them back to the motel.

Yesterday (Saturday) we once again started early on the ride to Columbia (TN, not South America, unfortunately, especially as Harold is married to a Columbian!). Before long we noticed that part of the route was closed - a big sign proclaiming that the road across the dam was closed. Not that we were going to let that stop us...



We rode round the barrier and through the forest until...





we had to turn round and head back out, not only did this barrier go all the way across the trail, but there was a padlocked gate on the far side of the dam... Damn!

The rest of the days riding was probably 90% tarmac, once again taking us through some stunning scenery. That was, until we couldn't see it any more as it got dark and started to rain very heavily. And thunder and lightning too. Needless to say that at first we thought it was a shower, until we were quite damp and realised it wasn't, so put our waterproofs on a little late. It did clear up just before we arrived in Columbia so we dried out a little before finding our motel. At least it had freshened the air for a little while, until the heat came back and the humidity increased again!

Dinner was in a Mexican restaurant a few blocks from the hotel, but thankfully it served beer, although as we'd had to ride there I restricted my intake to just the one before getting some more from the garage next to the motel.

At this point I should point out that all this reference to beer isn't because we've been drinking heavily every night. In fact, Harold and I have shared a 6-pack of bottled Yuengling each night, which is just 3 small bottles for me. Almost a dry day. No, the constant reference to beer is because I'm typing this in the motel having arrived an hour ago, and still haven't had my thirst quenched. And won't have until after we've eaten as there's nowhere to eat nearby so I have to ride to dinner. Life is tough sometimes!

Today, though, has been one of the best riding days I've ever had. The weather has been glorious, gradually getting hotter the nearer we got to Selmer, where we're staying. The first part of the morning was a repeat of yesterday, riding on single-track tarmac roads through the countryside. At one point we even passed through an Amish settlement and when we pulled over when we saw a traditional horse and carriage coming towards us. The horse seemed freaked by the motorbikes, and I'm not too sure what the Amish folk in the carriage made of us either (and as they shun all things modern, they are unlikely to read this and leave a comment explaining their thoughts either!).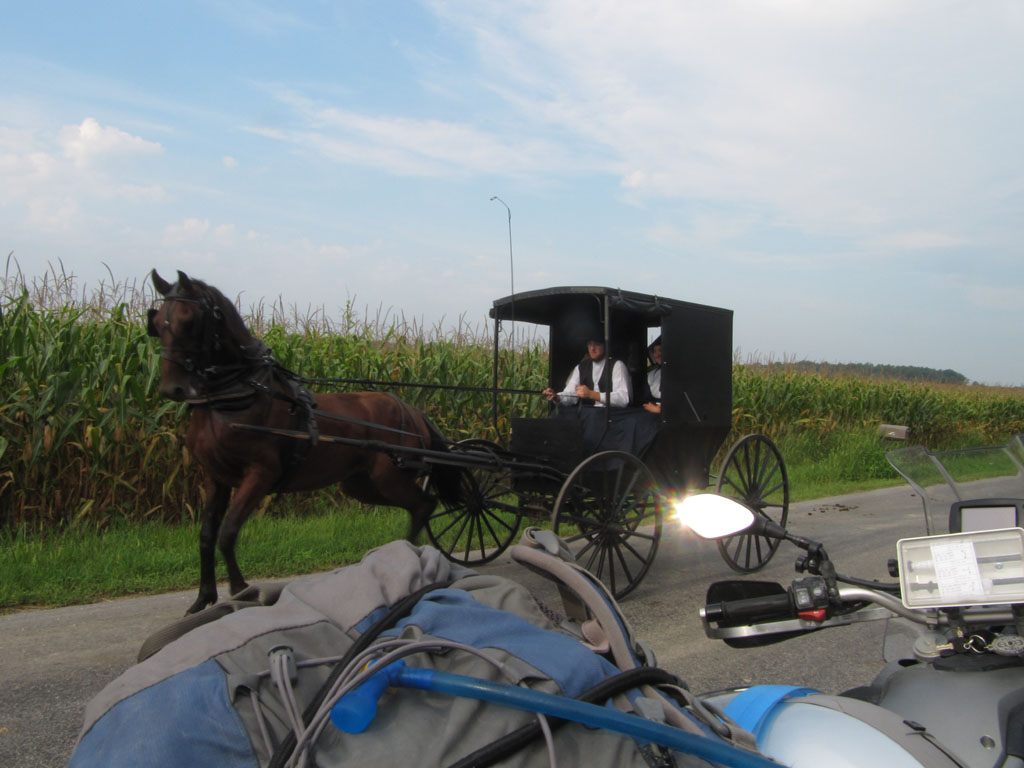 The ride then changed completely, as we turned off the tarmac and onto some excellent trails at long last. Here the trail was once again in excellent condition, hard packed mud with a light coating of gravel, and my confidence came back fully as I began enjoying myself once more. I rather liked this sign that someone had turned into the Joker's face...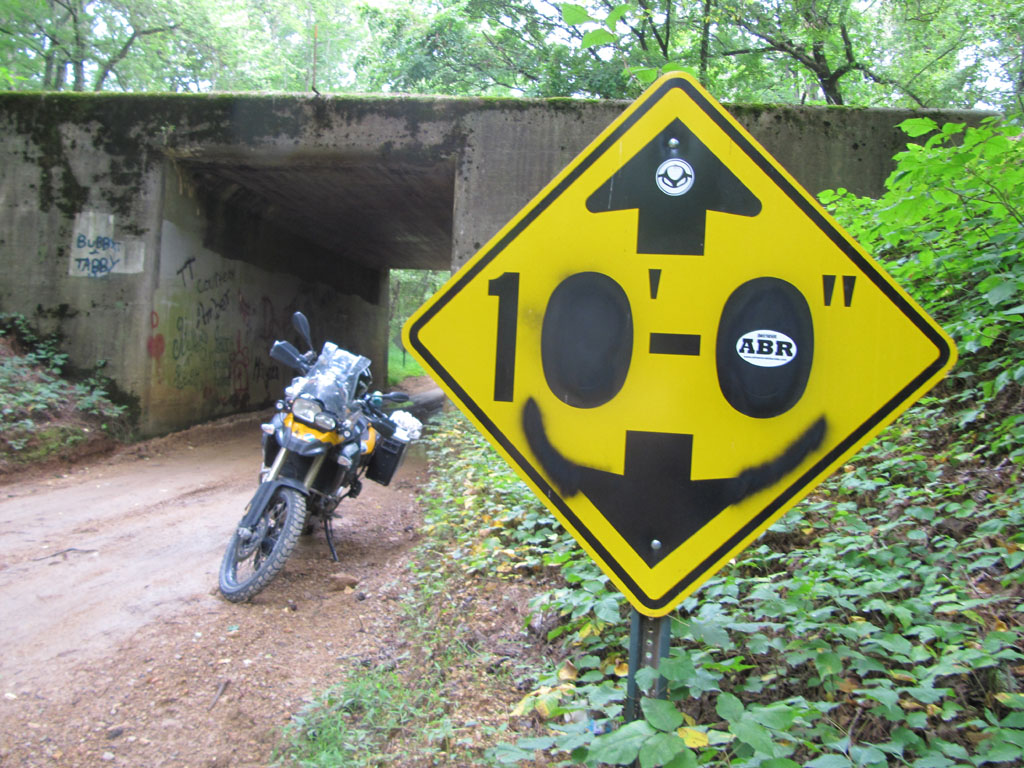 The trail wasn't without its challenges, though. We had been warned about the creek crossings as they have a reputation for being slippery. So when I encountered the first one whilst leading I pulled over to the side and bravely let Aaron go first. After all, he's been riding since he was a kid (I didn't start until I was 29) and has ridden not only the Trans-Americas with me, but also London-Bejing. If anyone could ride across, he could...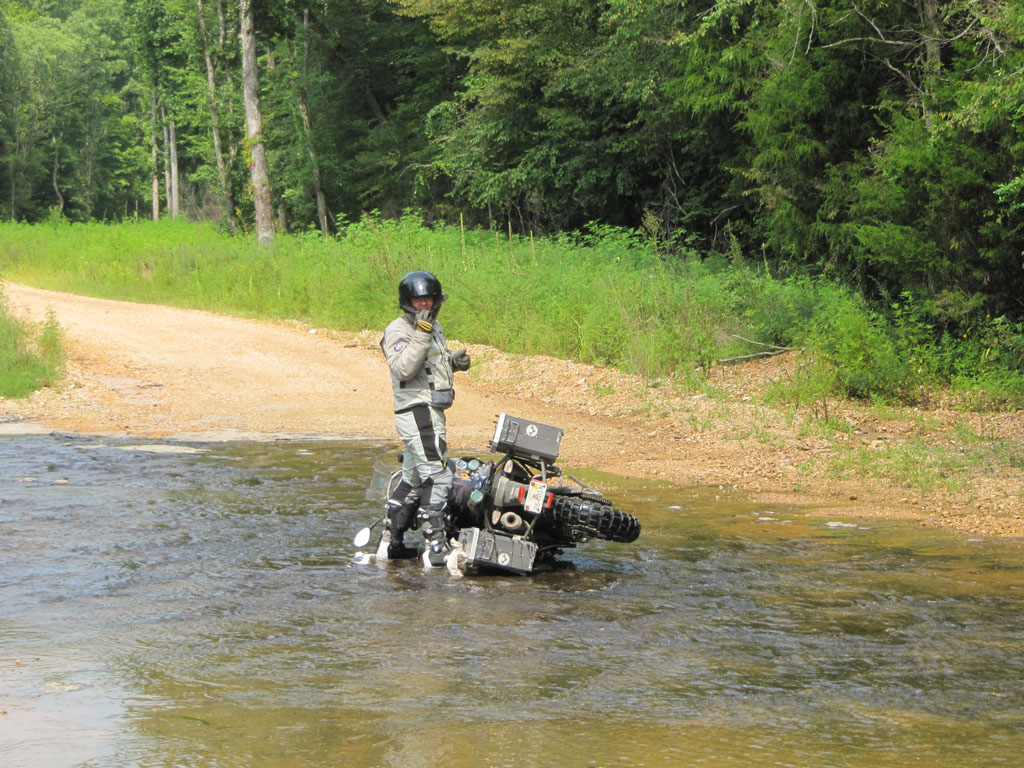 At first I thought he'd just been a bit ham-fisted with the throttle until I tried to walk into the creek to help him pick his bike up and nearly went for a swim. The bottom was coated with a thick layer of algae, and was like an ice rink, only slippier. And I'm not exaggerating! Eventually we got his bike upright and walked it across to the other side, then we walked the other 2 bikes across, with one person steering and pushing and the other 2 holding the sides. It was that bad...
Here's a link to a short bit of video of us getting Harold's bike across - having found the least slippery path across!
A little while later we came across another one, and once again I pulled to the side and this time we walked across first. It was slippery, but not as bad as the first crossing, so we took it in turns to ride across, Aaron naturally going first and paddling through. We all got across without incident, so now we knew what to do when we found another one. As it was, the remaining crossings were not rock-bottomed, so didn't have the algae growth and we rode through them without any trouble.

With the day getting ever hotter we rode off the trail into the small town of Clinton, where we found a great café for lunch. The chicken I had was delicious, almost a whole roast chicken just for me. And I was hoping to lose weight on this trip...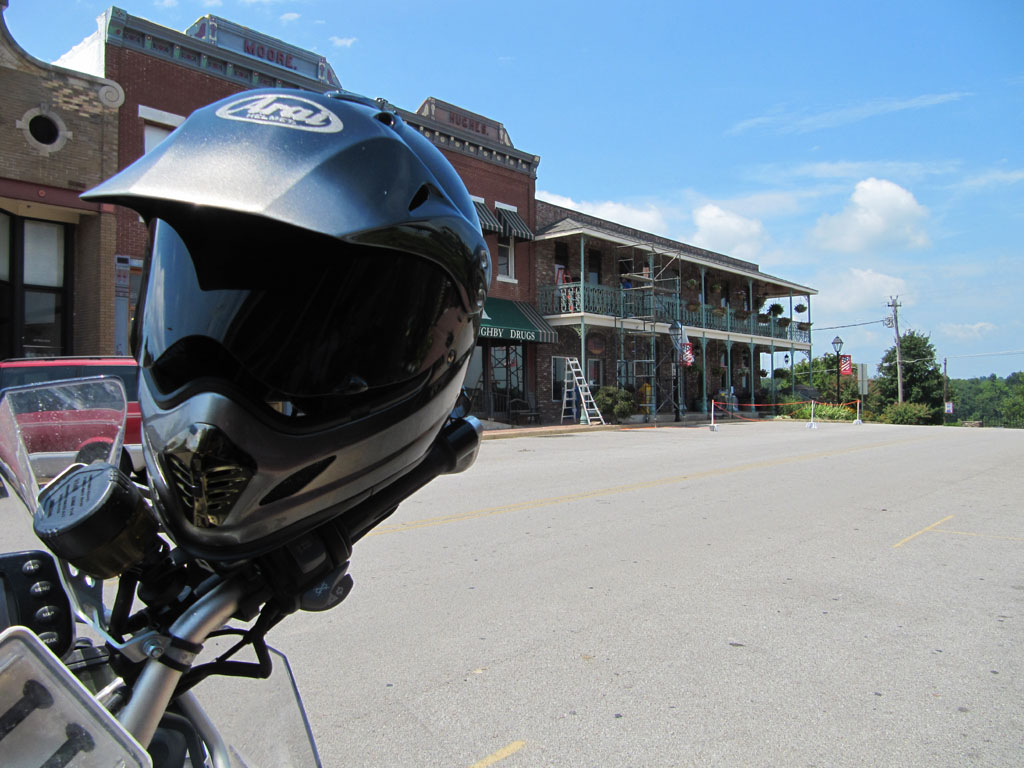 The rest of the ride to Selmer was a mix of tarmac and dirt. At one point we saw a diversion sign and a "Road Closed" sign on the trail. Naturally we chose to ignore this. And the one that said "Road Closed 2000ft" and "Road Closed 1500ft" and "Road Closed 1000ft" and "Road Closed 500ft".... and "Road Closed".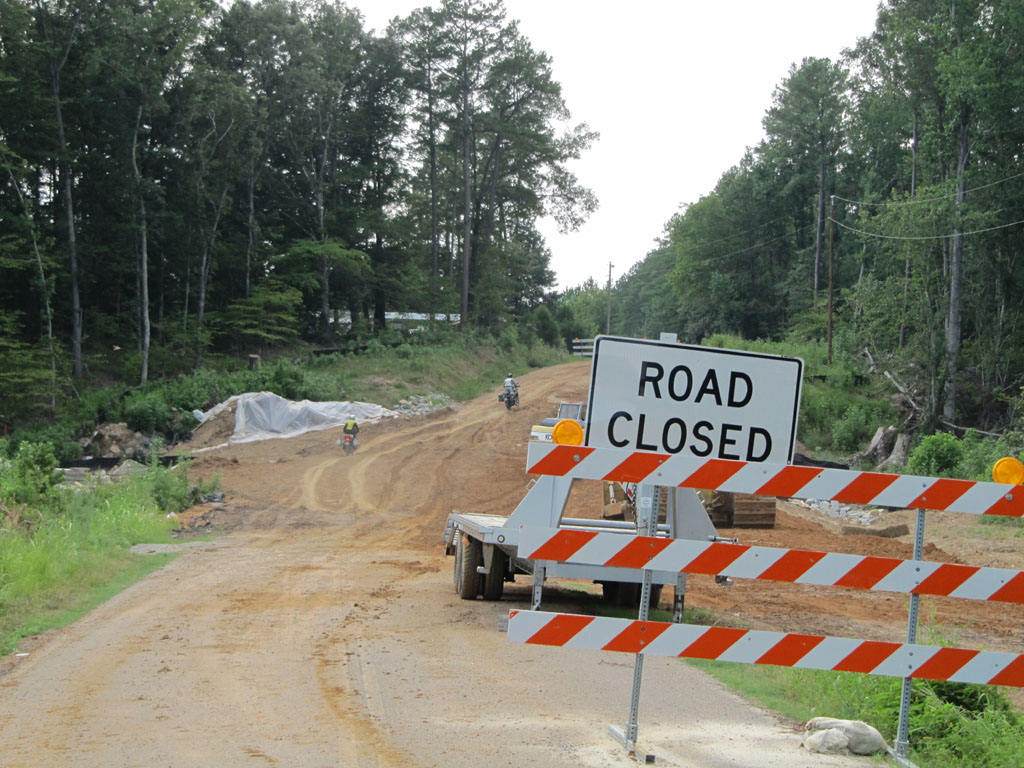 Nothing stopped us this time!

So now you're up to date with what's been happening on the trail. And I'm still thirsty!