Trans-Am Trail - Days 18 through 20 - Richfield, Utah to McDermitt, Nevada
Well, what fun we've been having since I last posted. Only I won't be posting today (24th August) either as the Internet here in McDermitt is, erm, cr@p. But it's been 3 days so I'd better write up what we've been doing before I forget completely. If I haven't already, that is!


Day 18 - Richfield, Utah to The Border Inn on the border between Utah and Nevada
Some mornings start easy, others less so. Today was one of the latter days. Breakfast was easy - there was precious little choice available to guests in the "Days Inn", hospitality seemingly having passed our waitress by, but at least the omlette was edible (and with cheese, of course!). The ride out of town was paved for about half a mile before it headed steeply uphill, with the usual scattering of rocks to jar the handlebars and make me work hard to keep the bike pointing roughly in the direction I wanted it to. I think I'd worked off the measly breakfast by half-way up, and barely had the energy to stop and take a photo of the gorgeous early morning colours surrounding me...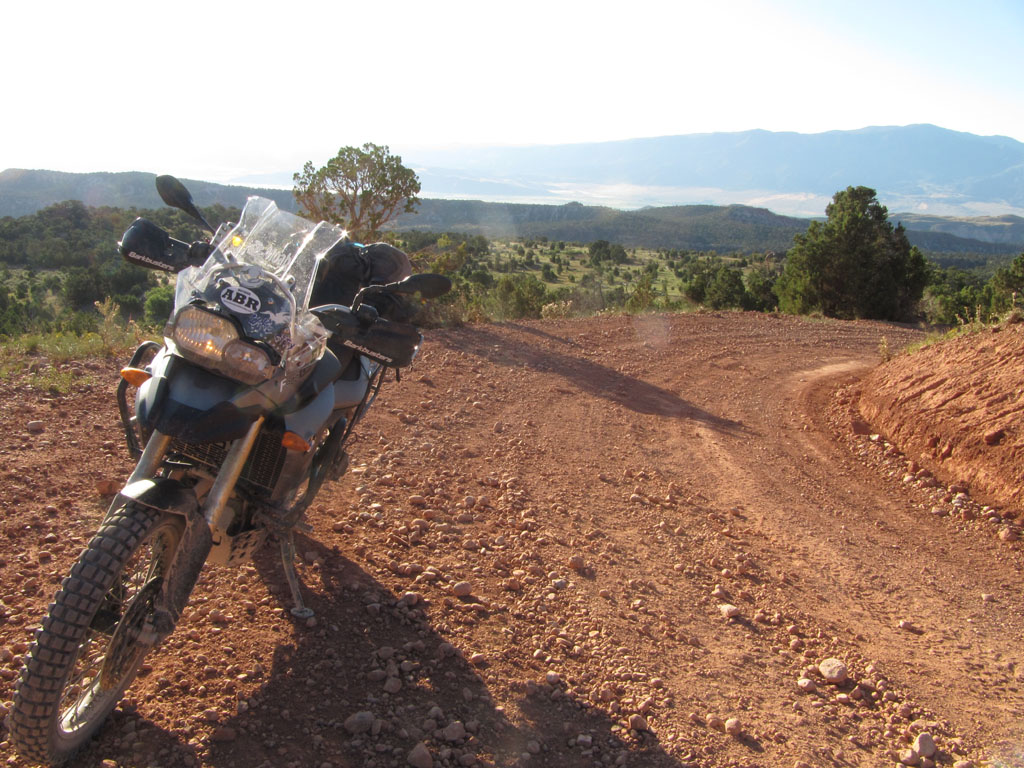 The route then took us into a forested mountain with the trail barely wide enough for a 4x4 pickup as it meandered its way in a confusing manner through the trees and past groups of RVs and ATVs arranged neatly round a big BBQ. This early in the morning there was no sign of life, so perhaps the party the night before had been a good one. Another rider on an old BMW F650GS Dakar passed me, only to reappear shortly heading the opposite direction. Looks like we weren't the only ones struggling to find the route in amongst all the trails. Before long the route took us down a narrow pathway in the trees and in to a small clearing. Here we were joined by yet another trail rider (Doug, his pal Brookes was the guy on the F650GS). The main route out of the clearing was barred by a fence with a narrow open gate in it and a big sign proclaiming "No Motor Vehicles" to be contradicted by a smaller sign stating "only vehicles < 50 inches", which of course, our bikes are. So we continued on the route and entered deep into the forest, the track no no wider than the ATVs we'd seen earlier...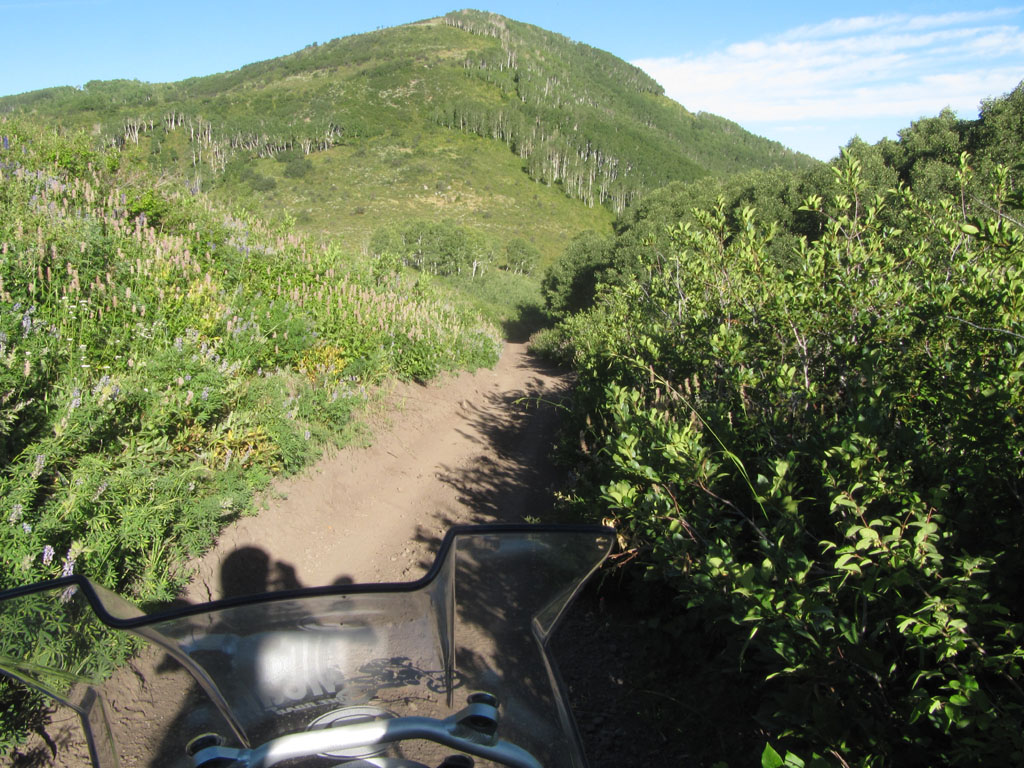 The riding now got seriously technical as we made our way over tree stumps and round sharp corners deep in the forest. I was enjoying myself despite already being exhausted from the effort of riding. I let Doug past, which meant I was now last on the trail, a position I'm normally happy with as it means I get to ride at my own pace. Which under these circumstances was quite slow. Then I came to a complete stop...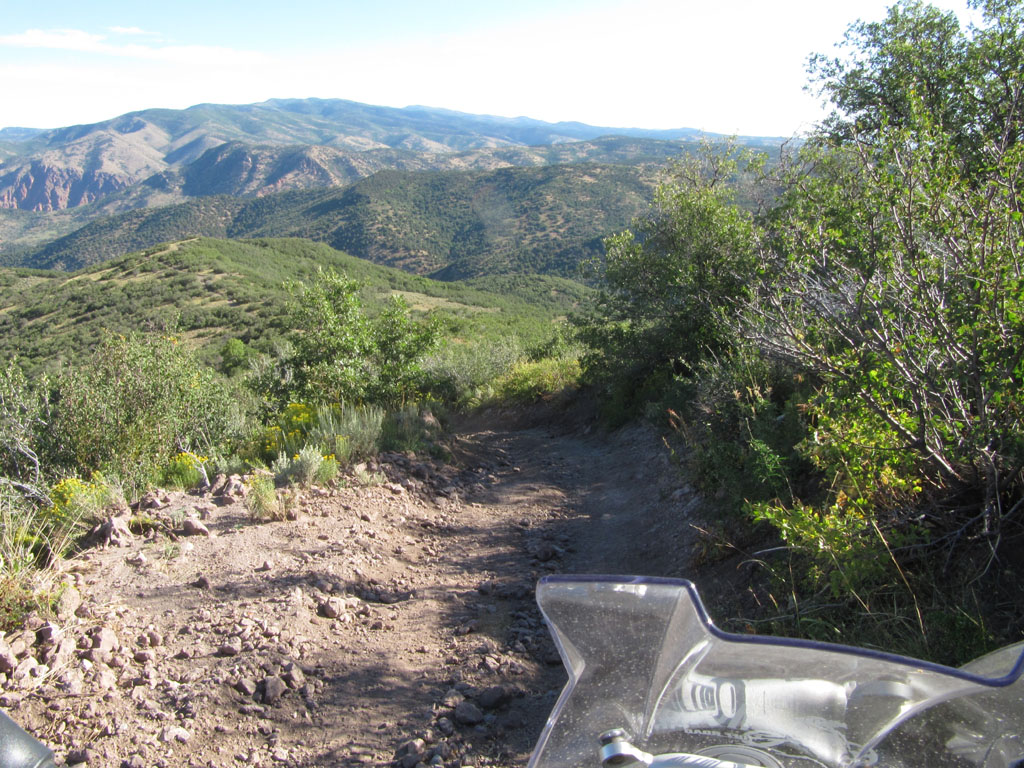 If you study the picture above you will notice a couple of things. First, the trail is now very rough and very loose. Second, it heads steeply downhill. Round a bend. The hillside in the middle ground is a few hundred feet below where I'm stopped, and the path heads there by a direct route. I decided that rather than plough into this section and have the mother and father of all bad experiences, I'd stop and take a look first. With the path rutted and higher in the middle than at the sides, I couldn't put the bike on the sidestand so leaned it against the near-vertical banking on the right of the trail and set off on foot. Then backside, as I slipped and fell over. This wasn't going well. In the process I further tweaked my knee, which I'd twisted a few days ago during my first "drop". I could see Harold at the next bit of flat ground, and Aaron still making his way down, his bike skipping all over and his feet paddling trying to keep up. If he was struggling, then I would find it very difficult indeed...
But I had to try. So I went to stand my bike up and realised my first mistake. By leaning it on the banking, I had to pull it over to me and couldn't. If I got the other side so I could push it away from the bank, I wouldn't be able to stop it toppling over. So before I could even try to get it down this ridiculous slope, I was thwarted. I shouted that I needed help and saw Harold ride on to the next obstacle. Fortunately Aaron was still there, and he took off his jacket preparing to walk back up the hill to render assistance, when the cavalry arrived in the shape of a very large forest ranger on his ATV. He drove up the hill as though it was a speed-bump (albeit on that made his ATV wallow about like a paper boat in an ocean storm) and stopped just past where my stranded bike was. Together we got it upright, then started walking it down the hill, in gear and using the clutch as a brake. This was fine, until I slipped and twisted my knee for a 3rd time, almost dropping the bike in the process. I asked if the ranger had any suggestions and he asked if I was prepared to let him try and get it down. Of course I was, as I could barely stand on the loose slope and had no idea how I was going to get the bike down. He hopped on and with the engine off used the clutch and a little bit of front brake to, as he put it, "give a semblance of control as the bike slides down the slope". It worked, and soon my bike was parked on a small patch of flat ground. Phew!
As I was thanking my hero for showing me how it should be done, he told me that there were 2 more descents, the 2nd one worse than the one I'd failed to get down "but not as long". Armed with the knowledge of how it should be done, I smiled and said "well, how hard can it be?". His expression gave nothing away as he roared off up the hill. A little further on I caught up with Aaron and we rode to the start of the next descent. Which was just as bad, the first bit doable before it then went even steeper. Aaron decided to check it out on foot first, which was probably a bad idea as he now knew how steep it really was...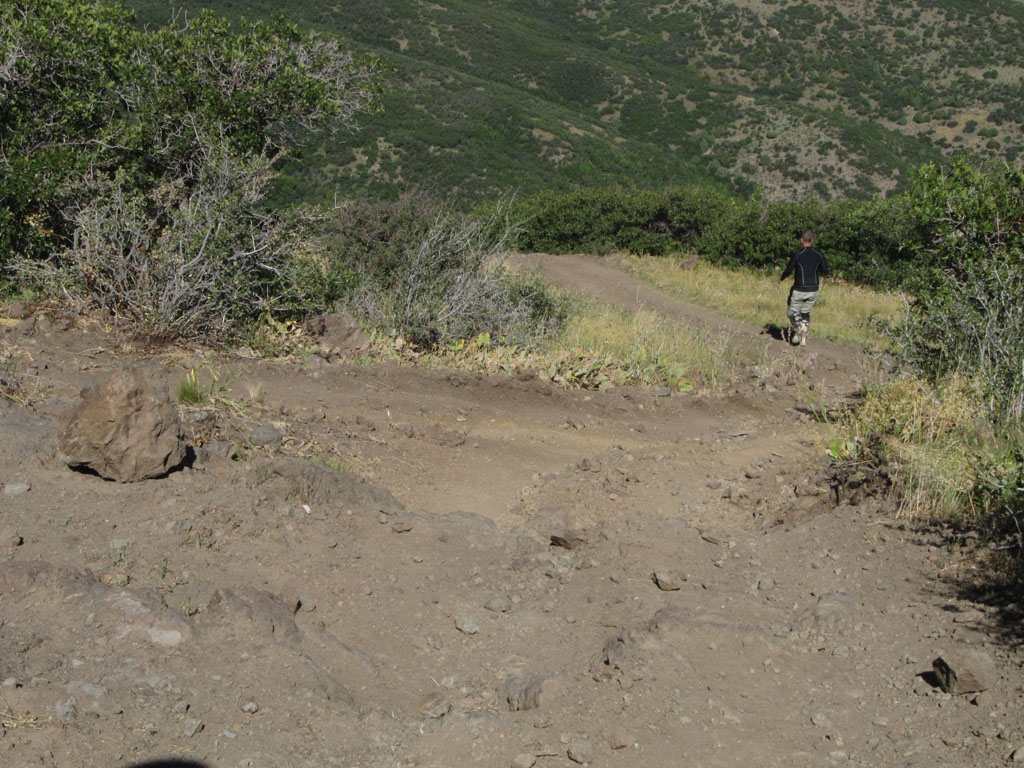 Using the same technique he set off, only he had to cross the big lump first and then try to loose the speed he'd picked up before starting the steep descent. It was as he tried this that his back wheel caught a large rock and down he went - unhurt but his bike took a far bang and twisted the pannier frames. Not so much as to worry about, though, and soon he was on his way down. After seeing him go down I was very cautious, but found the new technique worked well. And with me almost out of petrol, switching the engine off but leaving it in gear and riding down using the clutch as a brake worked pretty well. It was exhausting, though. But at least when I stopped to regain my breath I could look up and see this...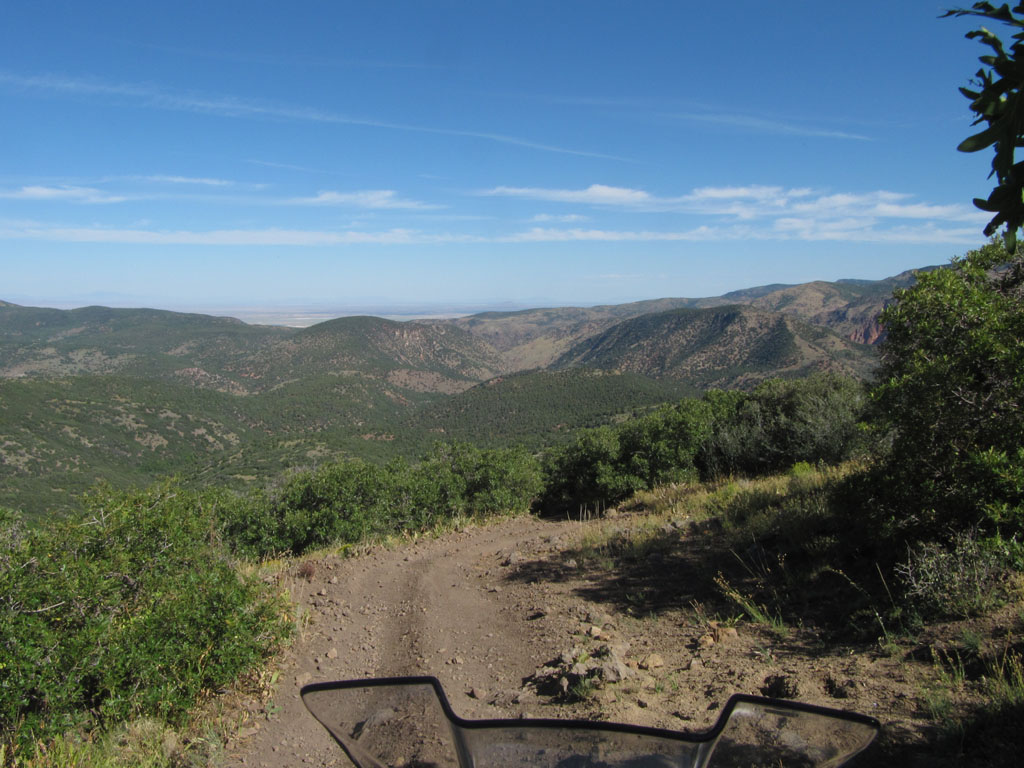 Eventually we made it to a better trail and rode that off mountain. There were a fair few creek crossings with steep climbs out over loose rocks, but nothing that caused me any trouble, although stopping to take photos was the last thing on my mind. Finally we emerged and headed into a small town for fuel for the bikes and riders. With no cafe in town it had to be snacks for lunch. We'd managed a grand total of 38.5 miles in 5 hours. Hard riding...
The rest of the day was much better, the trail heading out onto a wide open plain, the sun scorching hot and the sky a bright blue. The trail was much faster here, giving me chance to finally relax on the bike and let the wind passing through my jacket cool me down (although that's relative when the air is over 30degrees!).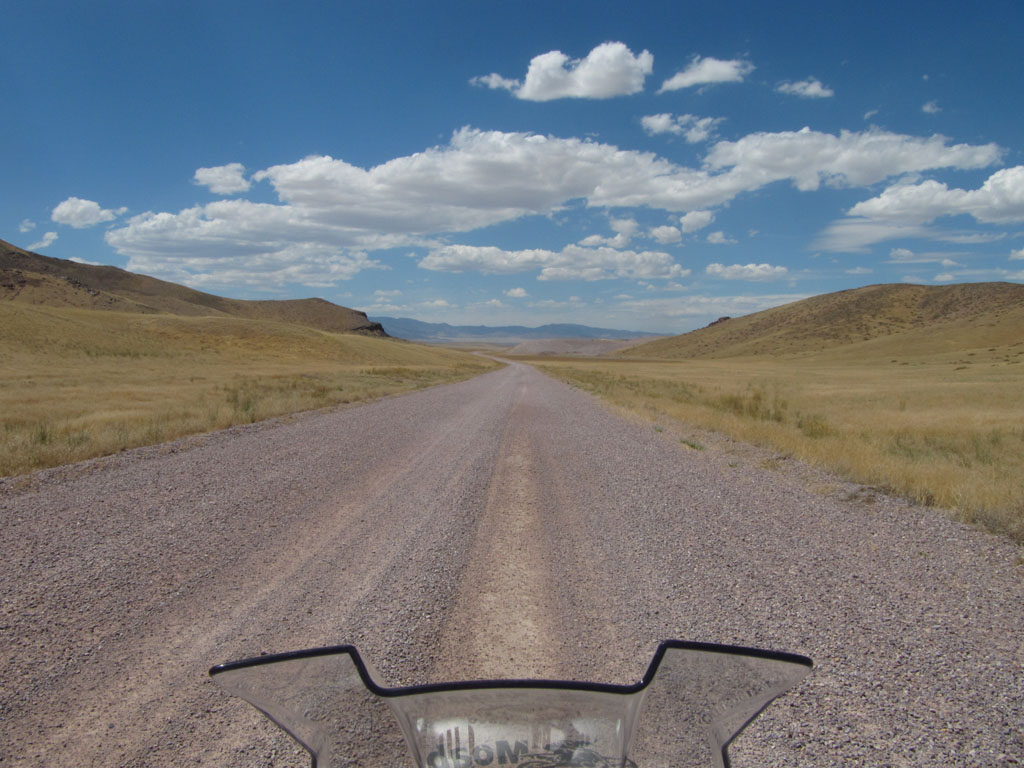 Cresting one rise I could see the salt flats over to my right, the vastness of the landscape once again hard to take in, especially the knowledge that we would be riding right out of this entire picture before stopping...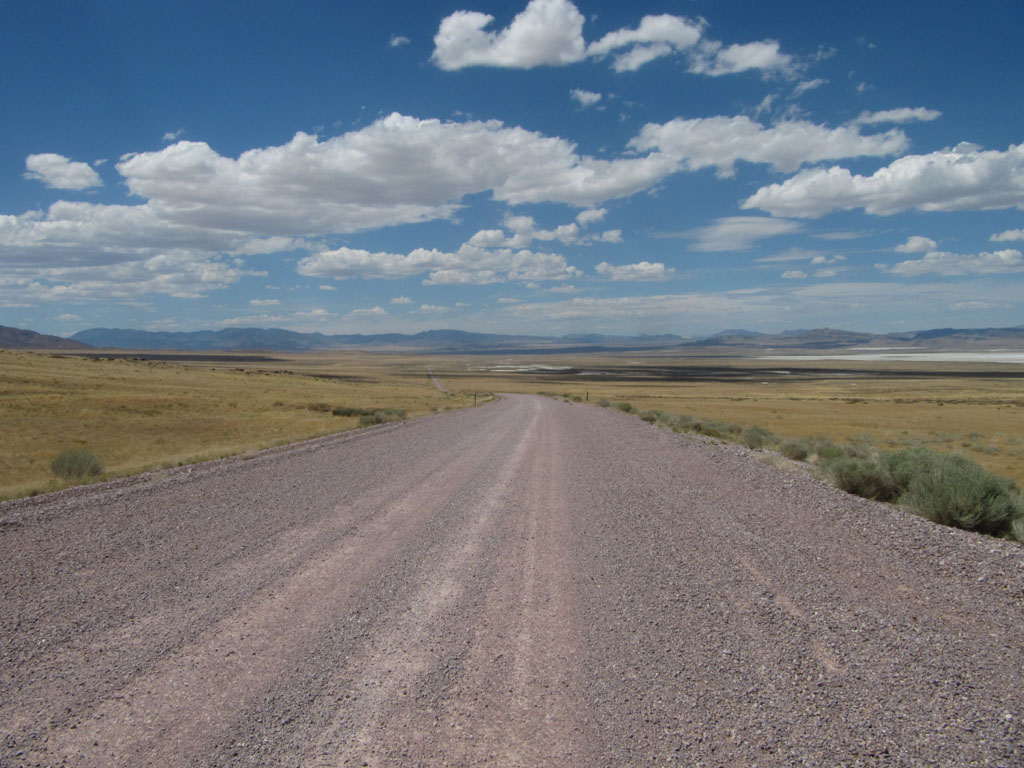 We intended to ride on to Baker, Nevada for our overnight stop, but pulled in to the Border Inn, right on the border for fuel. Parked up outside the motel were Rick and Mike's bikes, and those of Doug and Brookes, and as the Inn had a bar and the food was recommended, we decided to stay. I was totally exhausted and glad we didn't try to ride further. Then we discovered we'd passed into another time zone and gained an hour. After a couple of beers and something to eat (it was good) we watched an episode of Top Gear (the UK version) on the bar's TV and I acted as translator for Clarkson and co. And off to bed early...

Day 19 - Border Inn UT/NV to Elka, NV
Whereas yesterday started not so well, today started brilliantly. The ride very quickly left the highway and started across the scrubland. It weaved its way in a constant string of bends, every few hundred yards dropping 6 ft before rising again. Riding along at the back of our trio, I caught glimpses of Harold and Aaron's helmets as they popped up a rise only to disappear again, like prairie dogs on the lookout. It was like riding through the wilderness with hardly a soul anywhere to be seen and just the wonderful smell of the sage bushes for company...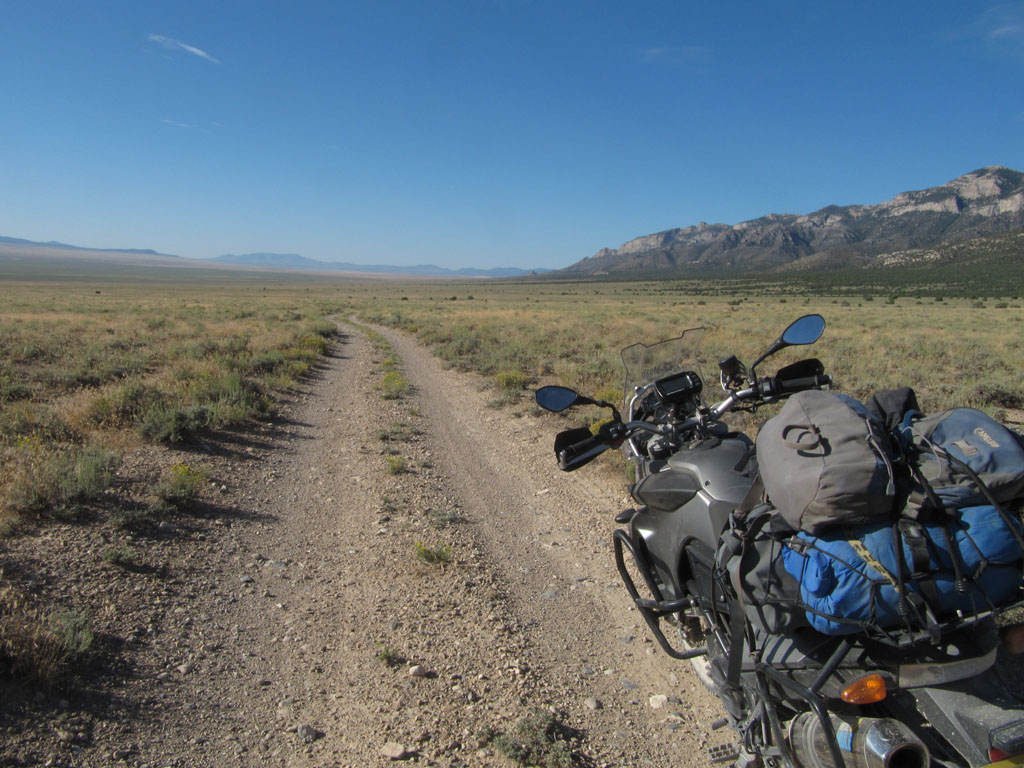 After and hour or so the landscape did one of its dramatic changing acts, suddenly becoming much more spartan as the road became more sandy. Once again we were faced with riding to the horizon and beyond, across a landscape so vast it seemed endless...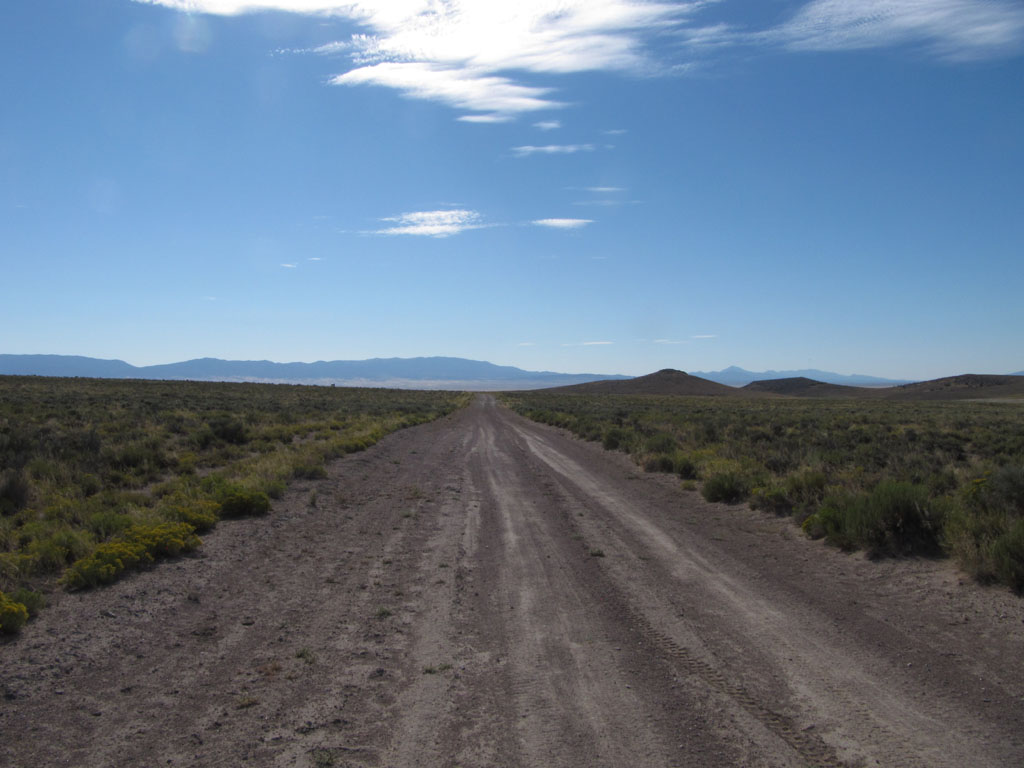 When we reached the mountains in the distance the road would its way upwards, once again the route taking us down a narrow pathway, the surface changing from solid dirt to loose rocks. I find these hard work, as the constant effort of correcting the bike as it bounces around like a bucking bronco wears me out, especially in this heat and after a good half day's ride. I caught up the others for once, where they had stopped to chat to a guy who had been sitting in the shade under a tree surrounded by water bottles. I seems he had come up to the remote trails to seek out good spots for some musket hunting (looking for mule deer) and had taken a trail off the side of the one we were on. And got well and truly stuck. Yesterday. He'd been there overnight and didn't seem that concerned as he had enough water and thought that someone would come by. They had, Brookes, who was out front. Only he'd gone by without spotting him! Fortunately, Doug and Harold were next along and were more observant. With details of his name and location taken so they could send help from the next town, we bid him farewell and on we went.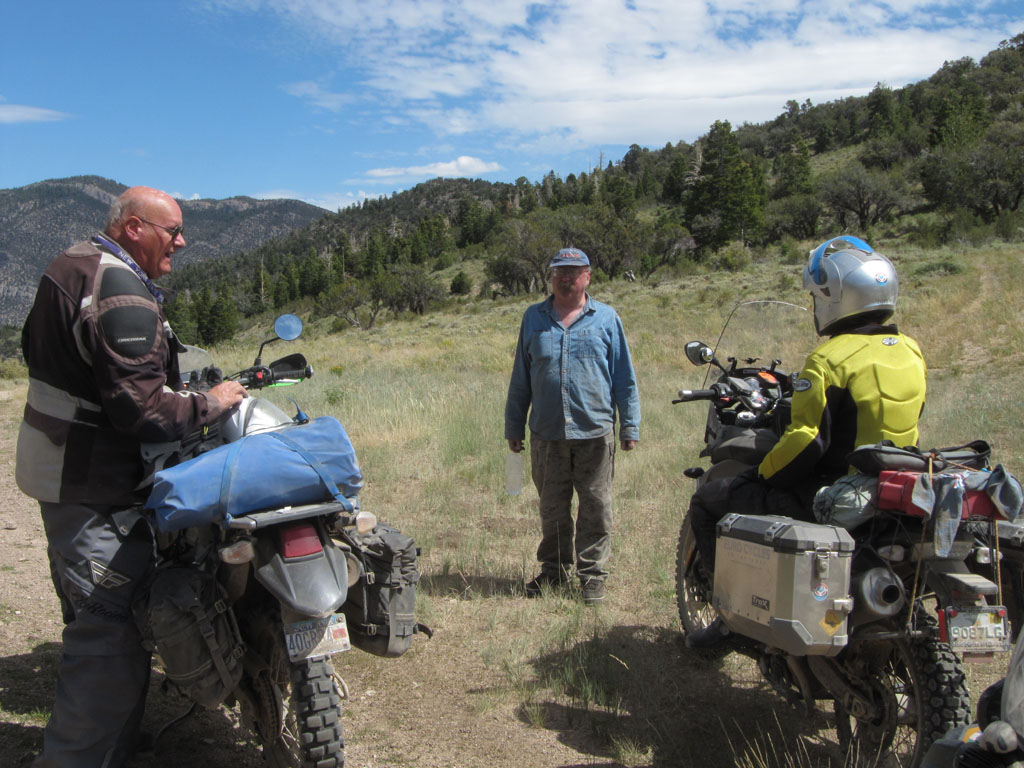 The next town was over 20 miles away and was our fuel and lunch stop, a very small one-horse town called Preston. Which amused me as I went to college there. Not this Preston, of course, but the one near home. Refuelling of bikes and riders was at the gas station / grocery store / cafe where the waitress / cashier / cook was the only inhabitant once the 2 young girls and their brood of children (I counted 9 between them) had left. With help on its way to the hunter, we once again hit the trail, heading out across open plains before entering yet another more technical section as the trail wound its way along what must have once been a creek bed before drying out. I was following Aaron as he rounded one particularly sandy bend and went down, laughing hard enough for me to hear over the noise of my engine. Naturally I had him assume the position and took the photo...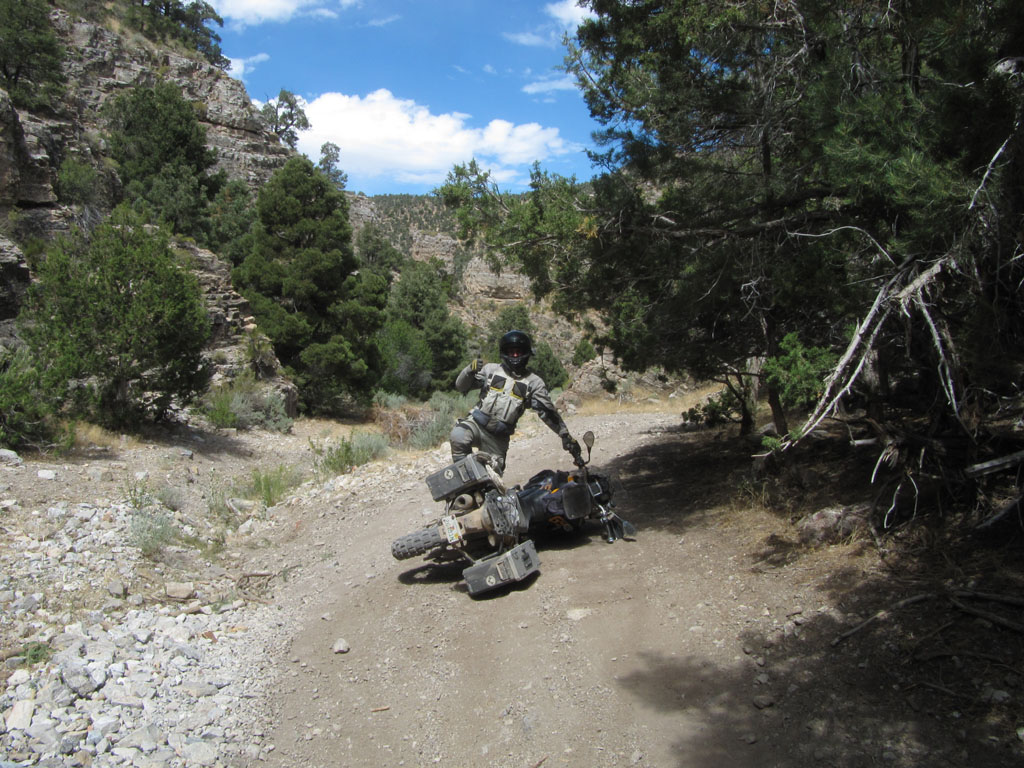 Could there be a more beautiful place to crash a motorcycle?
Further up the trail we were once again in the mountains, riding through stunning scenery. When the guys stopped I thought it was another photo op, until I noticed Harold's back tyre, which was decidedly flat. He'd picked up a nail and his 4th flat of the trip. With our support crew of mechanics and doctors taking a leave of absence, there was nothing left to do but fix it by the tralside.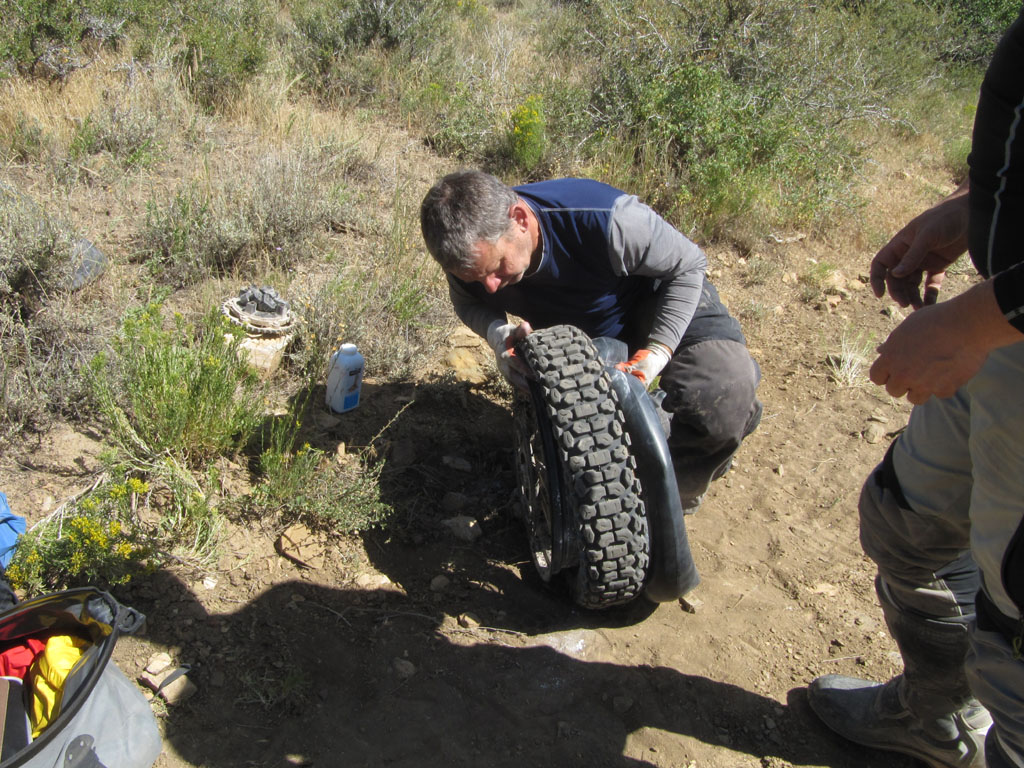 Note the bottle of baby powder, an essential item for roadside repairs!
We were a bit surprised not to see any of the other guys pass us whilst we fixed the tyre, as we'd not seen Rick and Mike since we saw their dust-trails well before Preston, and had not seen Doug & Brookes since lunch. On arriving at Eureka, our intended stop for the night, we thought we'd found the reason. All the motels in town (all 3 of them) were full. There was an army of construction workers in town, working on the roads, schools and drilling projects in the dessert. As the others like to phone ahead, they must have found out and gone elsewhere. We asked around and were told the place closest to our intended route was Elka, some 111 miles away. So that's where we went, taking the highways and then the Interstate, the mileage covered easily at a steady 65mph. We found a Super8 with a decent steak restaurant across the road and checked in. That's when Harold noticed a text from Mike saying that his dad, Rick, had fallen badly. We rang to find out more, and it appears that Rick was following Mike at around 60mph on a wide gravel road when he ran wide on a bed onto the loose stuff and ended up flying off the road into the ditch, with the bike on top of him. Mike didn't notice (he wouldn't have been able to see behind him with the dust cloud) and thought his dad had stopped to take pictures, not an uncommon thing. It was therefore some time before he back-tracked and found his dad under his bike. Fortunately he's not too badly hurt, with a broken shoulder and rib, and a trashed bike. That's the end of their trail for now, which is a real shame as they've been great company both on the trail and in the evenings, and I was really looking forward to spending more time with them on the road. Let's hope Rick heals quickly and they get chance to complete the ride together - I'm sure that the experience of being on the road together has been a great one despite how it ended...

Day 20 - Elka, NV to McDermitt, NV
Day 20 started exceptionally well, when I managed to get a call in to Tracy and heard her sounding really upbeat. The hard thing about these trips isn't really the riding, although that can be rather challenging at times, it's the separation from Tracy that's difficult. Hearing her makes my day and sets me off in a great mood. It was definately the case today!
Shortly after leaving the town the route took us over a railway line and then into a very narrow 2-track road through fairly deep sand. This went on for around 6 miles and took us an hour to get through...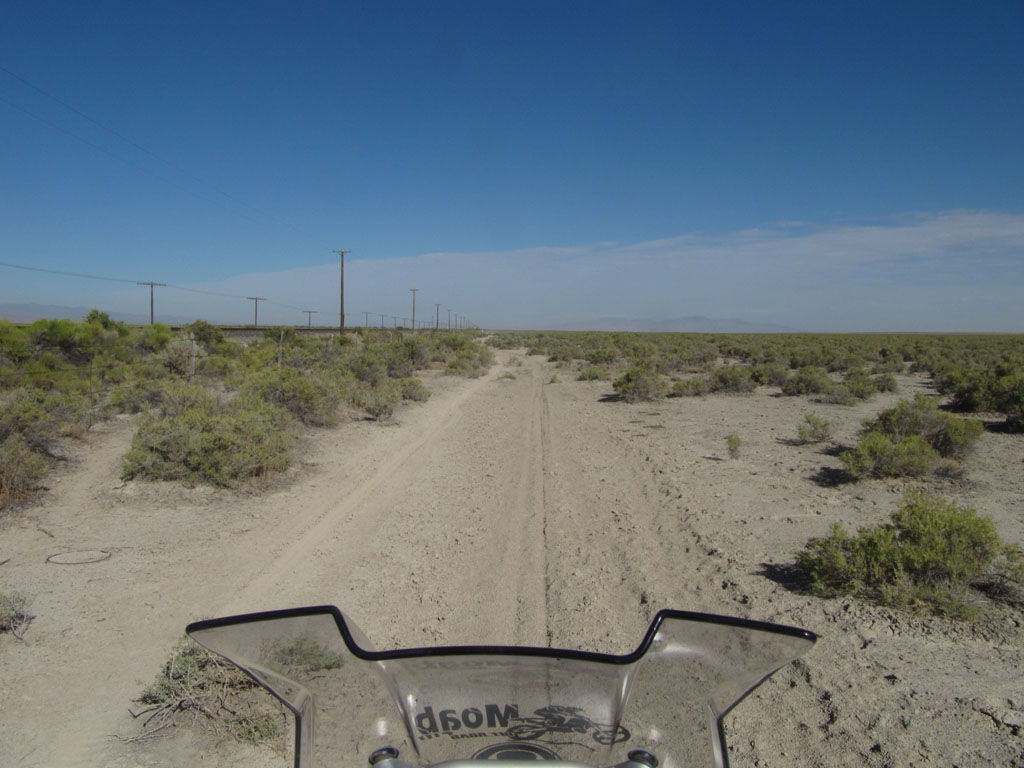 Once we'd cleared the sand road we were once again riding through a landscape reminiscent of the many cowboy films I watched as a kid. Perhaps that's why I found the theme tune from "The High Chapporal" resounding in my head for mile after mile. We stopped once or twice to take in the view and drink some water. Talk about being in the middle of nowhere...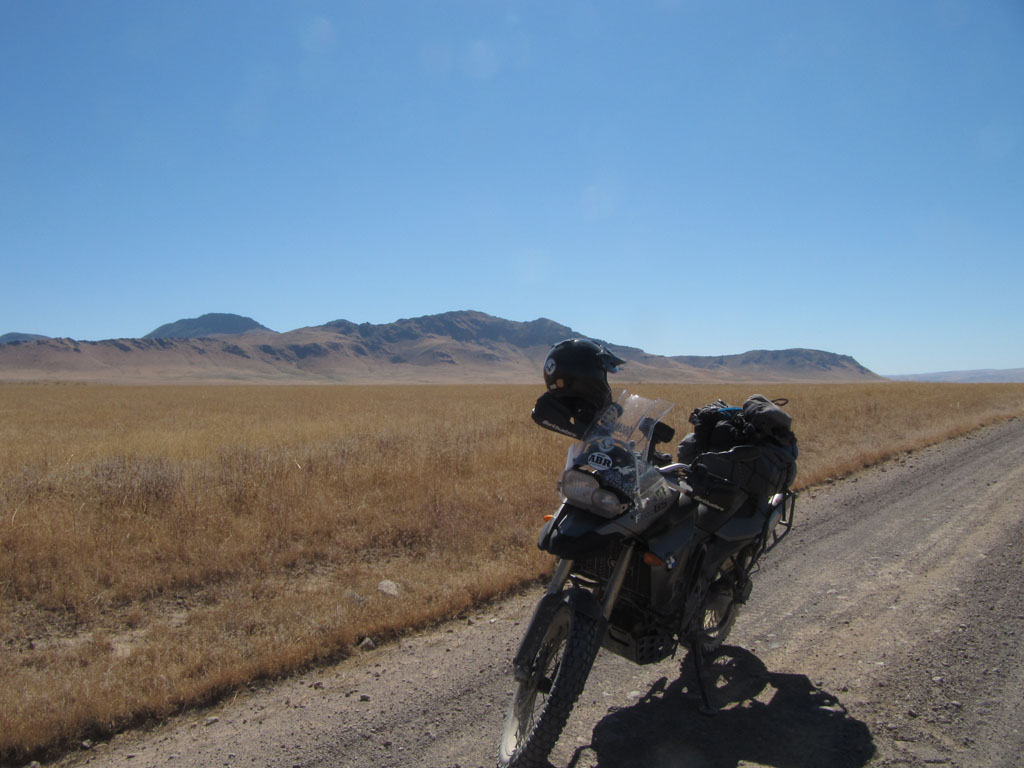 After several hours of singing cowboy tunes I had to change tunes as we turned onto yet another sand road. This one also went on for miles, but had several patches of deeper sand. And I got caught out on one, where a solid lump bounced my front wheel into the opposite rut and down the bike went. The obligatory photo taken, I picked the bike up, sweating profusely in the heat and panting like a mad dog for a good few minutes until I remounted and carried on.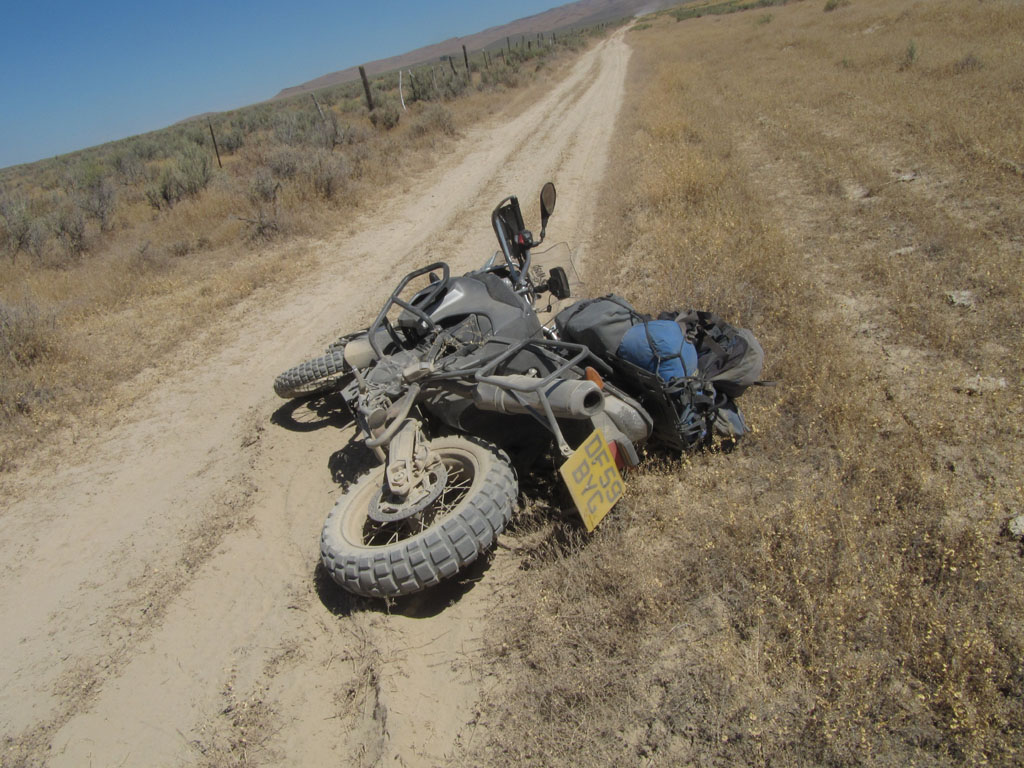 By now Aaron and Harold were some distance in front as I made my slow progress along the exhausting sand road. Finally it entered an area of increased vegetation, with more sage bushes at the trail's edge that grabbed at my boots and provided a beautifully fragrant feel to the ride. I rounded a corner and saw a small stream in front of me, the road dropping gently into it and out the other side. As I rode through I caught glimpse of Aaron and Harold relaxing on the grass by the stream under the shade of a tree... a true oasis and I gratefully parked the bike and joined them, muching on trail mix and rehydrating to restore my flagging energy levels.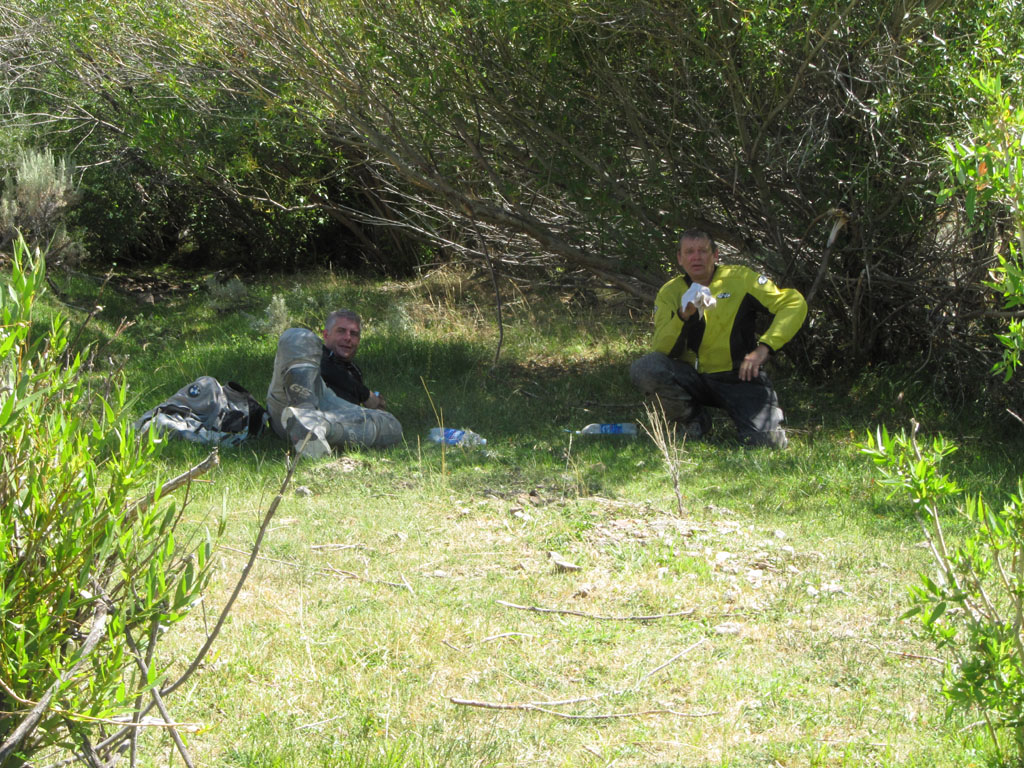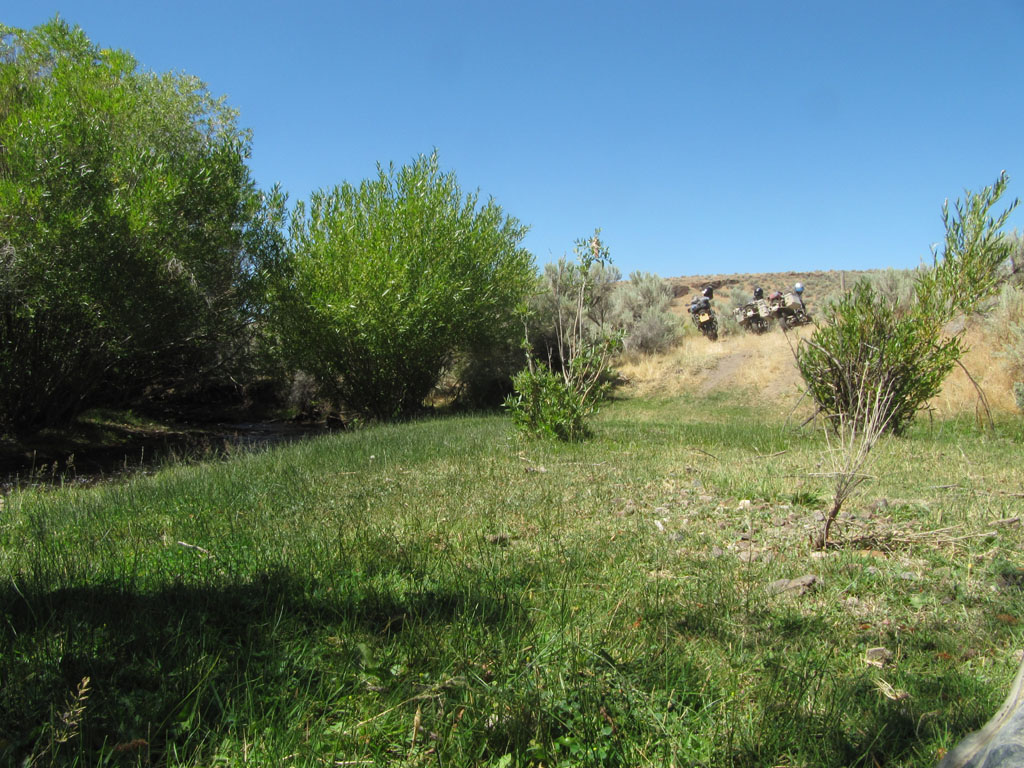 From our oasis the road climbed back up into the mountains and across Coyote Pass. Harold was now leading and way out in front, with me as usual bring up the rear. As I started the climb up Coyote Pass I could see Aaron stood at the top, video camera in hand, a sure sign that the terrain was challenging as he wanted some "action footage". Which I gave him by almost crashing in to him as I topped the hill. Those of you who can see my facebook can find the video there...

The view from the top was worth the climb, though...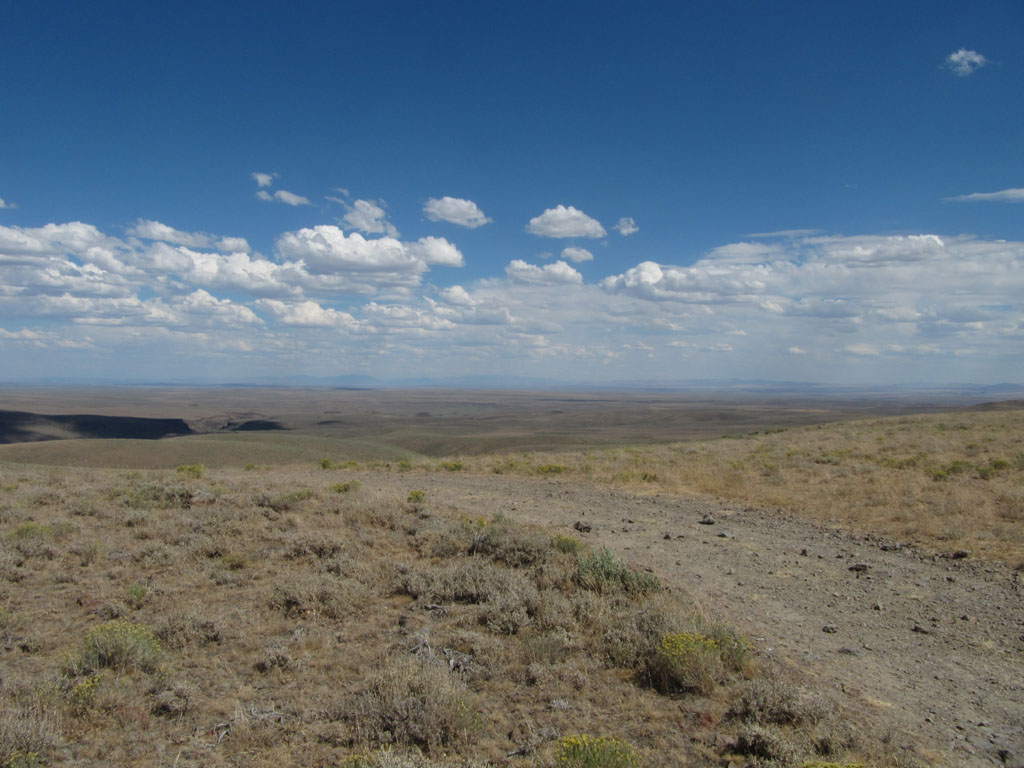 By the time we got going again there was no sign of Harold. The trail split, with the route I had heading off into a very technical rocky downhill area, with the alternative looking better. We decided it was too late in the day for heroics and took the easier route, which was still fairly challenging, sandy and winding as it headed down off the pass before following the route of the river before finally rounding a corner and revealing just how high we still were, the view stunning...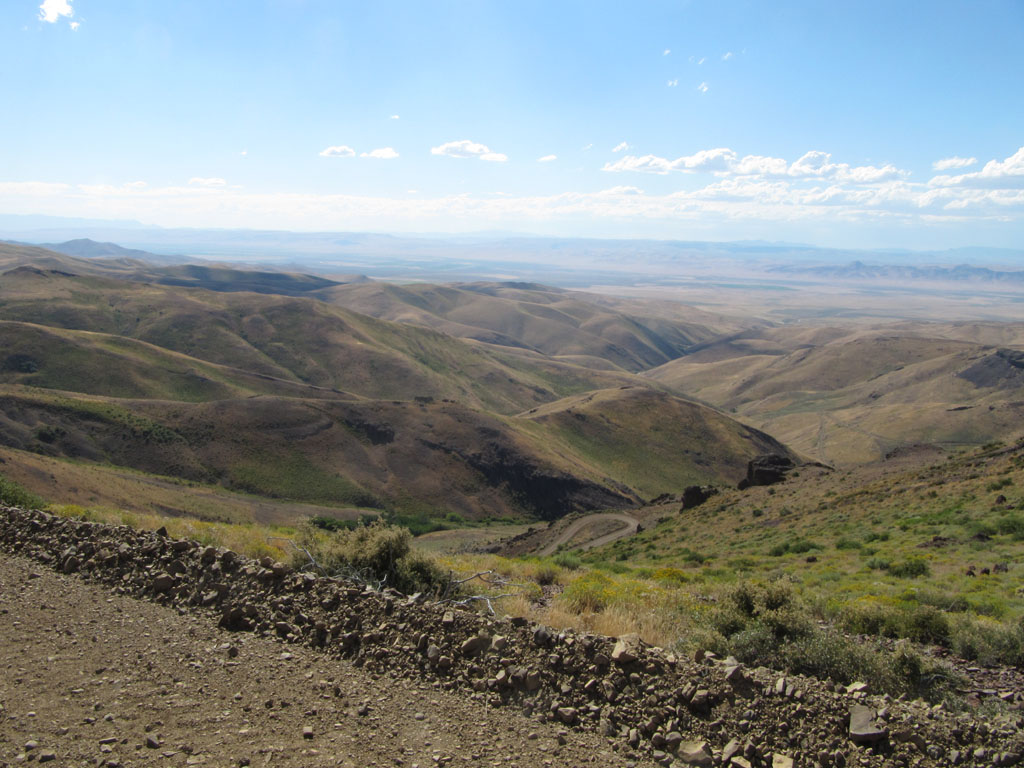 When we finally got off the mountain to the highway there was still no sign of Harold. We'd not seen him since shortly after the oasis stop, when he headed out in front. Our unspoken rule of stopping at each intersection where we made a turn should perhaps have been spoken so we would have a chance to know which way he had gone. As we arrived in McDermitt our concerns were high. How the hell would we find him if we needed to? Luckily he carries a "Spot" on his bike which tracks his route via satellite (and in an emergency alerts a rescue team to get him at a cost), so all we needed was an internet connection and we could at least find out where he was. But there wasn't one, so Aaron sent texts to all and sundry asking them to look and text him back as we grabbed some much needed fluids and food in case we had to turn back and head back into the mountains. As we munched our way through our burgers (it was all there was, McDermitt being a half-horse town!), deep in our own thoughts and concerns, Harold rode up beaming and regaling us with tales of the "real Coyote Pass" which was very technical riding and must have been where Aaron and I refused to go. I must have appeared somewhat p*ss*d off with him, though (I was), as shortly after we'd checked in the motel he handed me a large bottle of ice-cold Blue Moon beer by way of a peace offering. That put things right...