Trans-Am Trail - Day 21 - McDermitt, Nevada to Lake View, Oregon
Day 21 - McDermitt, Nevada to Lake View, Oregon
Yet another bright morning as we head further west through the hot and pretty much uninhabited Nevada landscape. With very little breeze the dust kicked up by our bikes as we travel on good quality gravel roads means we end up riding several miles apart, but it doesn't stop us getting ourselves and our bikes covered in fine dust. Regular stops to sip water are essential as the heat saps our energy and the dehydration makes concentrating on riding harder. But the scenery is still beautiful, in a remote, desolate, kind of way.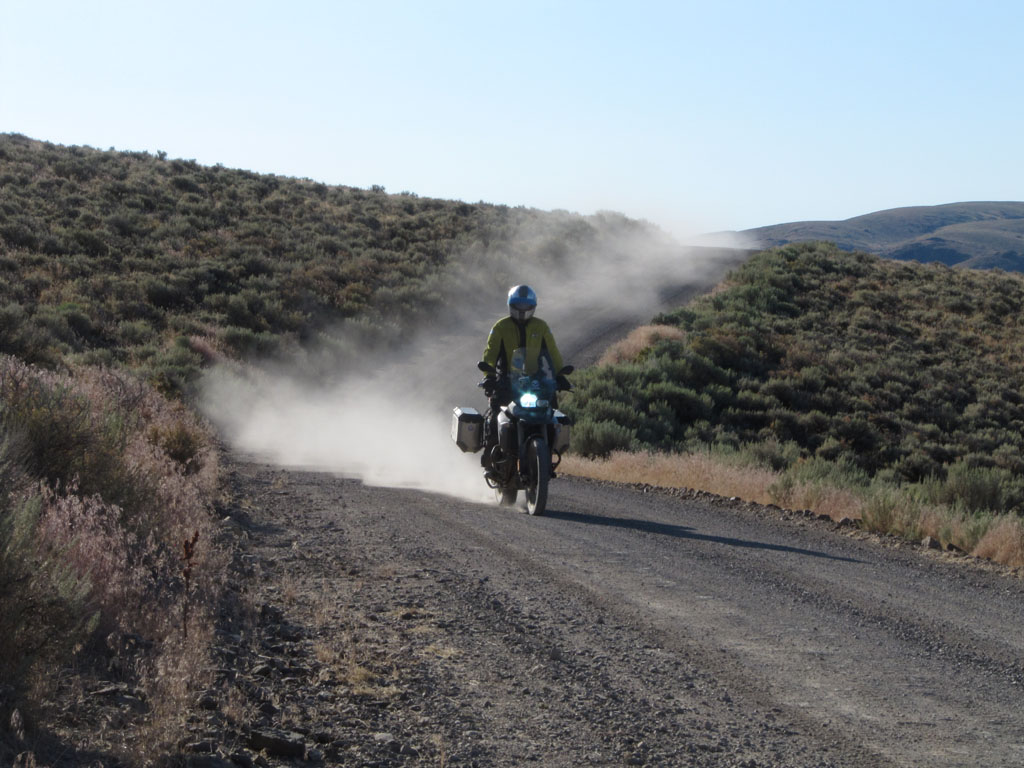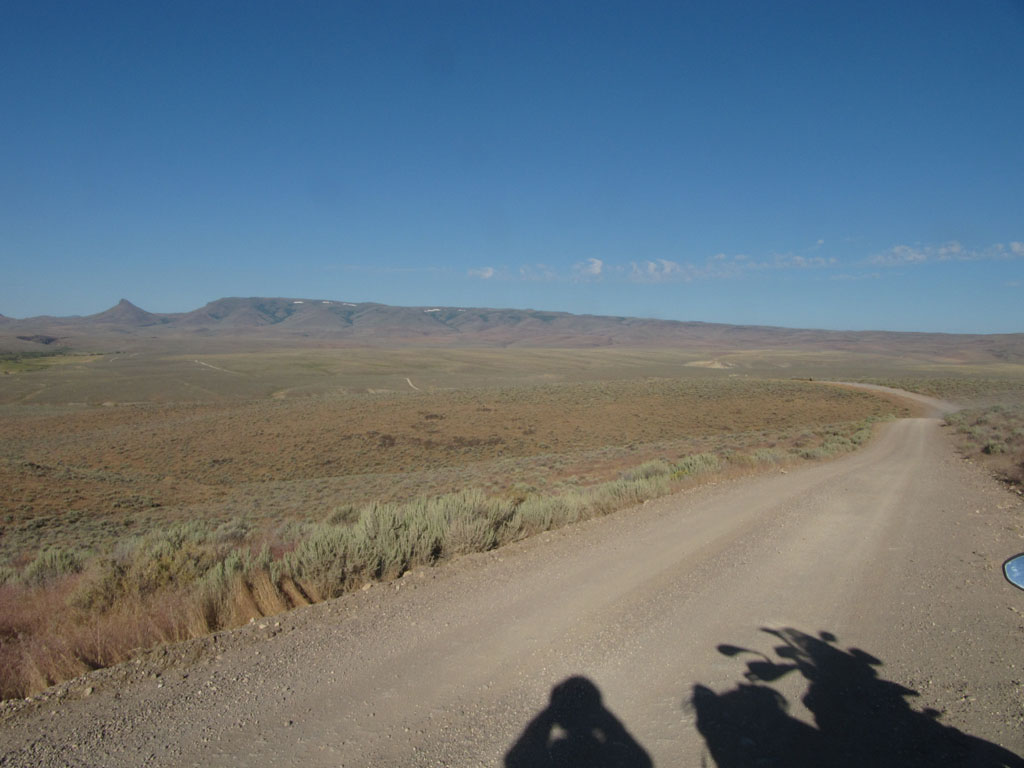 After an hour or so we ride up into the hills again and back into the sage bushes. The trail now winds its way through these fields with the occasional barbed-wire gates to keep the cattle that are dotted about from roaming too far. These are probably the least sophisticated gates I've ever seen, just a couple of wooden stakes joined by barbed wire, with a barbed wire loop on the gatepost to hold them closed. They do give us chance to stop and take on more water while we open and close them, though.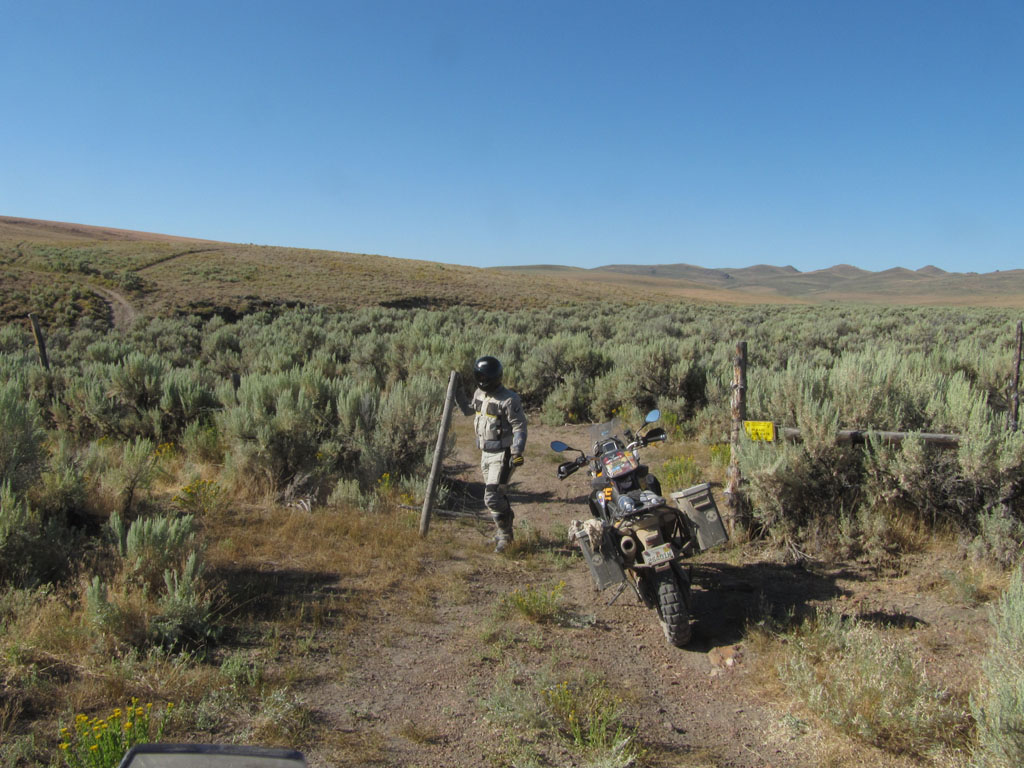 By now we should have learnt that whenever the route takes us down such narrow paths that it will get tricky at some stage, but we're foolish optimists and forget past difficult experiences quickly. So when we arrived at yet another steep, loose descent, we were almost shocked. At least our riding experience now means we know how to cope, even if in the intense heat it saps our energy quickly. I'm sure the cumulative effect of riding to the point of exhaustion day after day is also becoming a factor in how quickly I fatigue, but it's hard not to enjoy the effort all the same.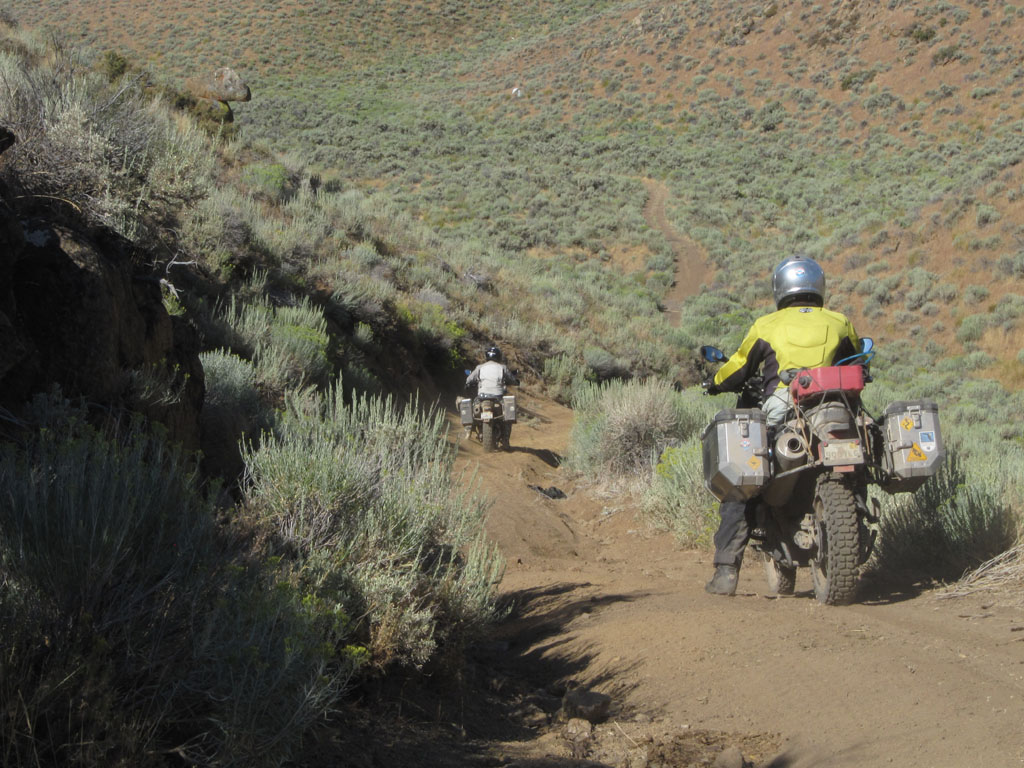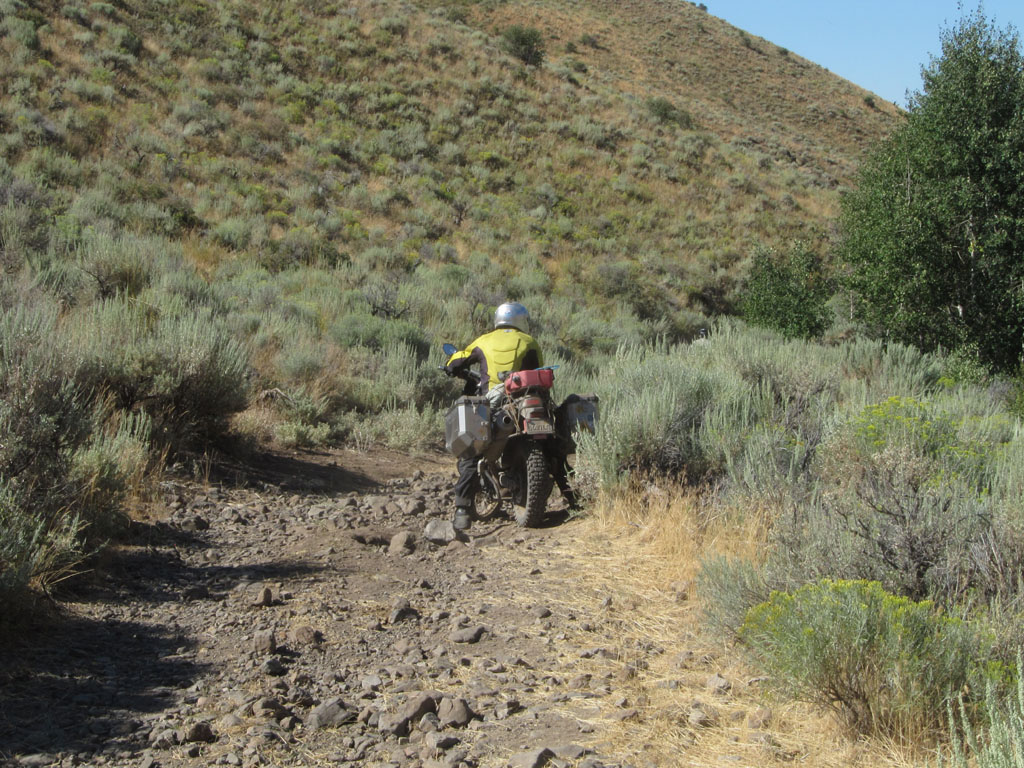 Riding through these scented sage bushes creates its own problems, too. First, there's trying to find where the trail goes, then there's the problem of trying to see where the other guys are. To let you join the fun, here's a little game. It works like the "where's Wally" game, only it's called "where's Harold". Here's out there somewhere - and no, that's not his dust cloud, it's Aarons...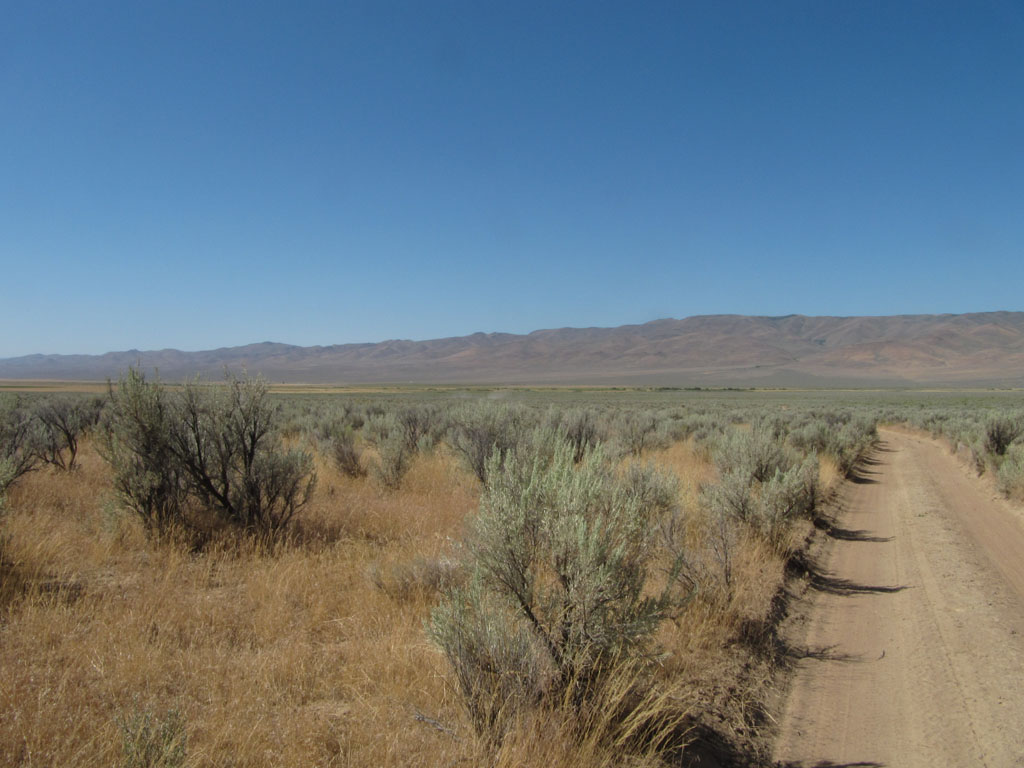 As we emerged into farmland, with more circular irrugated fields and little farmhouses dotted around we lost the route completely. We've converted the TAT roll-charts and maps into GPS files, which has served us well until here where there are a lot more small roads that do not appear on the GPS files. The net result is we can't tell where the trail goes. Confused, I ride ahead whilst Aaron and Harold wait and when I think I've found the route, they follow. Only the route I've found heads once more along a deep sandy trail and with time passing and energy levels low, we decide to turn round and head on to the next stop a different way. Aaron pulls a u-turn and heads back past me, towards Harold who was waiting at the start of the sandy section. I go to do the same, but like a complete prat I don't spot that the part of the trail I'm trying to turn round in is rather narrow. I soon find myself with my front wheel in one rut and my back in the other, at 90degrees to the trail and unable to go forwards or backwards. I can't even put the sidestand down as the hump in the middle of the trail is too deep, but not deep enough for my bike to stand upright on its own. So I have to sit on the bike, kicking furiously at the sand in the middle of the trail to create a divot into which the sidestand will fit. By the time I get to the point where I can stand the bike up and get off it, I'm pouring with sweat and breathing heavily...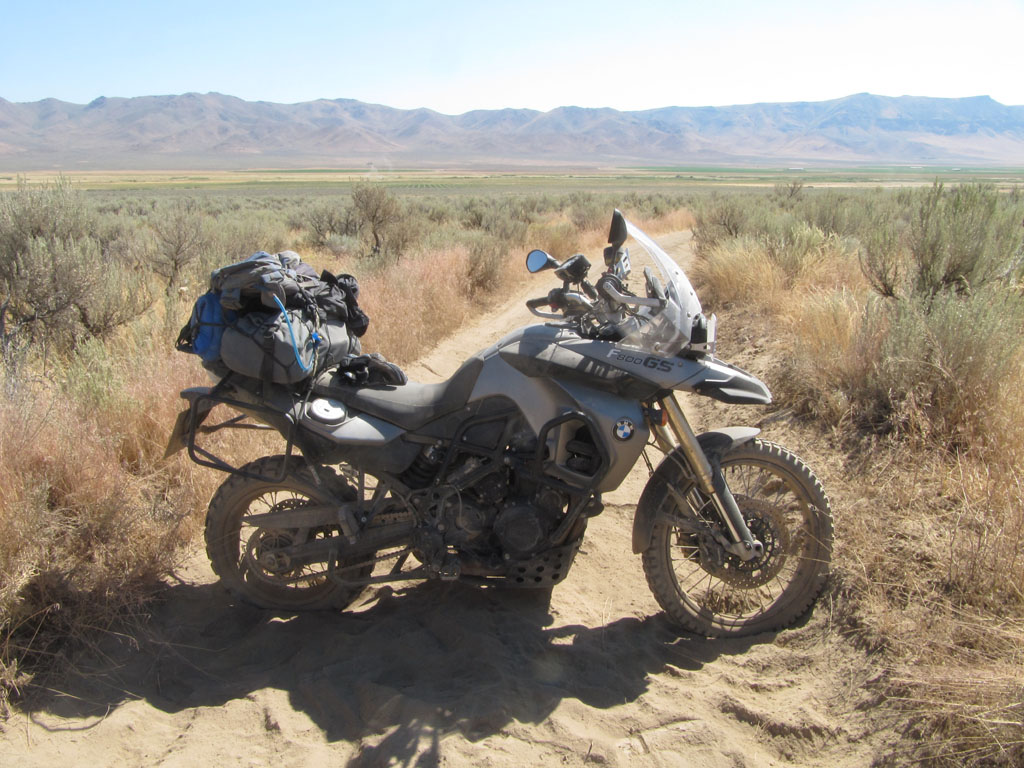 Fortunately, Harold had realised something was amiss and came to help, and we manhandled the bike round enough for me to ride it out. At least I didn't drop it, though!
Exhausted, hot and hungry we took the gravel roads through the farmland to the highway and then on to Denio Junction, which was going to be our overnight stop. When we got there it was only lunchtime, and with the motel rooms not available as they were being fumigated, we just ate lunch and decided to head on to Lake View via the highways, to get out of the oppressive heat of Nevada and away from the sand. We met up with Doug and Brookes at Denio, they too having had enough of Nevada and heading on the highways to Lake View.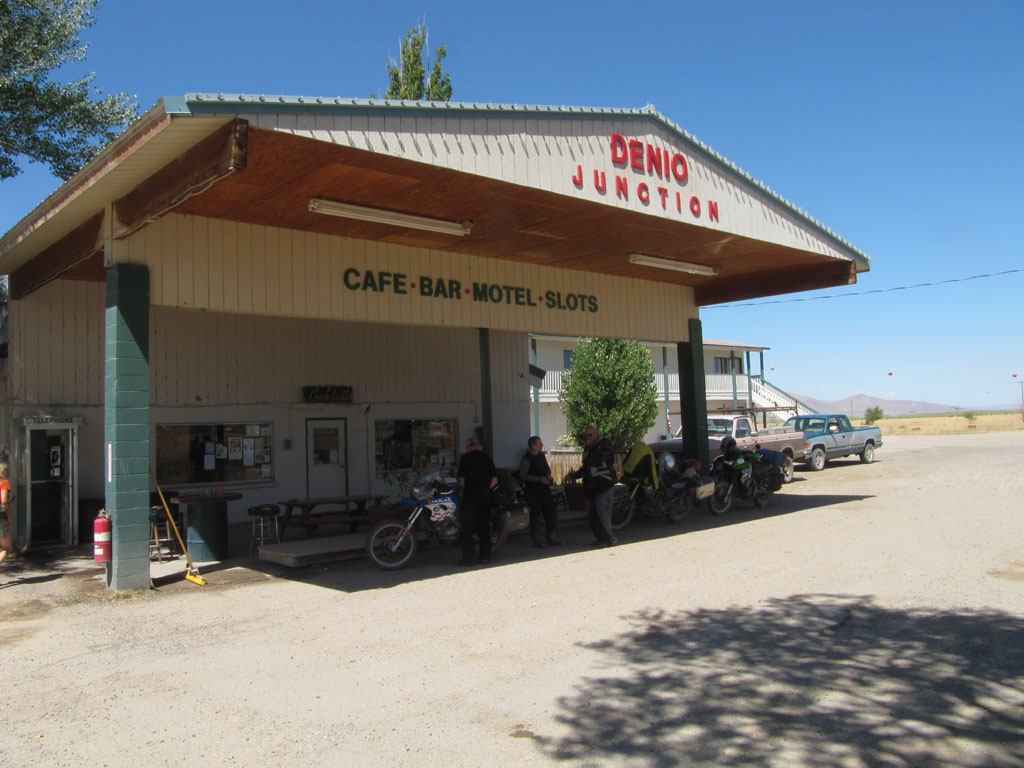 Riding along the straight highway west out of Denio soon lost its appeal, and to relieve the boredom we started playing the odd game. First, Harold rode alongside, taking photos of me riding along. Then, with my feet resting comfortably on my crash bars, I rode alongside him in the left lane. With a car approaching in the distance I pulled back into line, and then as the car got closer it suddenly lit up with blue and red lights. It was a State Trooper and he was pulling us over. At first I though I was in for a rollocking for riding with my feet up, but when he stopped us he told us he was stopping me for riding on the wrong side of the road. He checked my paperwork for the bike, and I explained I was simply overtaking Harold to get into the middle of the group. Naturally there followed a fair amount of mickey-taking about me being English and therefore confused about which side of the road to ride on. Fortunately the trooper was a good sport and had a sense of humour. But I don't think I'll live this down anytime soon...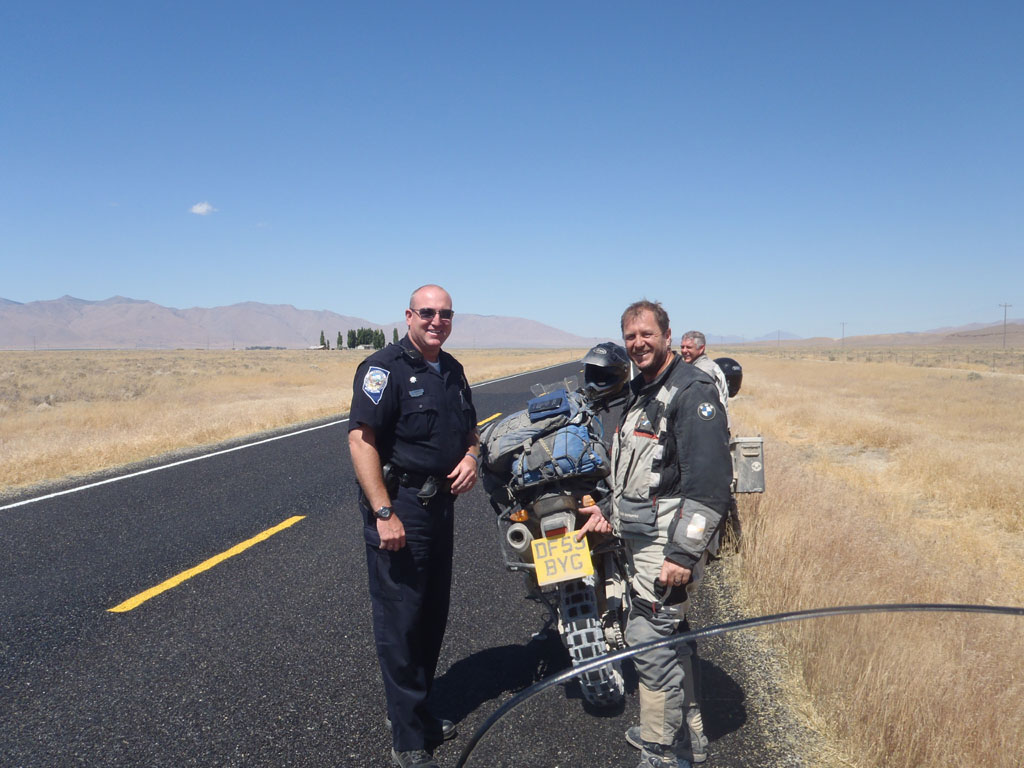 After that excitement there wasn't much else to keep us entertained all the way to Lake View, but as we pulled into the motel we saw a group of 6 brand-new KTM 640R Enduros. It was a group of guys from New Zealand who bought them from a dealer in Trinidad and were riding the TAT, one of the guys wives acting as support and carrying all their luggage in a minivan to their rest stop each day. We would see a lot of them on the trail over the next few days...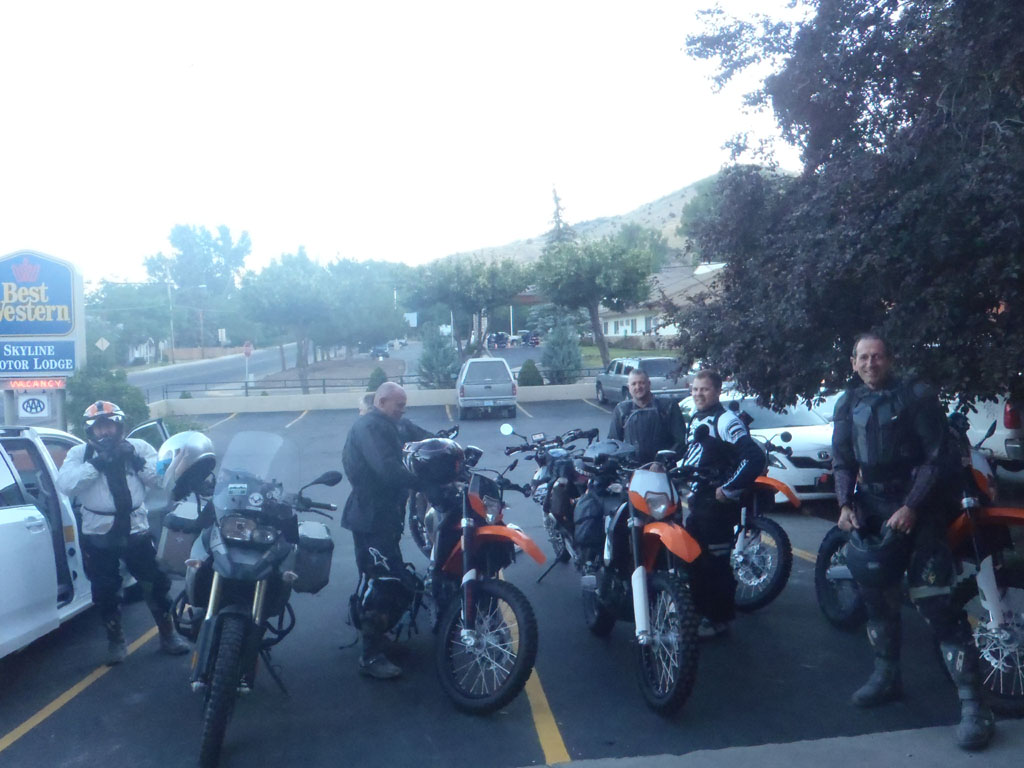 We washed the bikes and then went out for a bite to eat, catching up with Doug once more. We even managed to find a restaurant that served decent food for once...