Trans-Am Trail - Day 23 - Crescent, Oregon to Canyonville, Oregon
Day 23 - Crescent, Oregon to Canyonville, Oregon
Day 23, the penultimate day on the trail dawned misty and cool for a change. Outside our motel room the mist hung heavily over the forests around us, and whilst we ate breakfast in the bar across the road the sun tried desperately, but unsuccessfully to burn it off and give us clear blue skies again.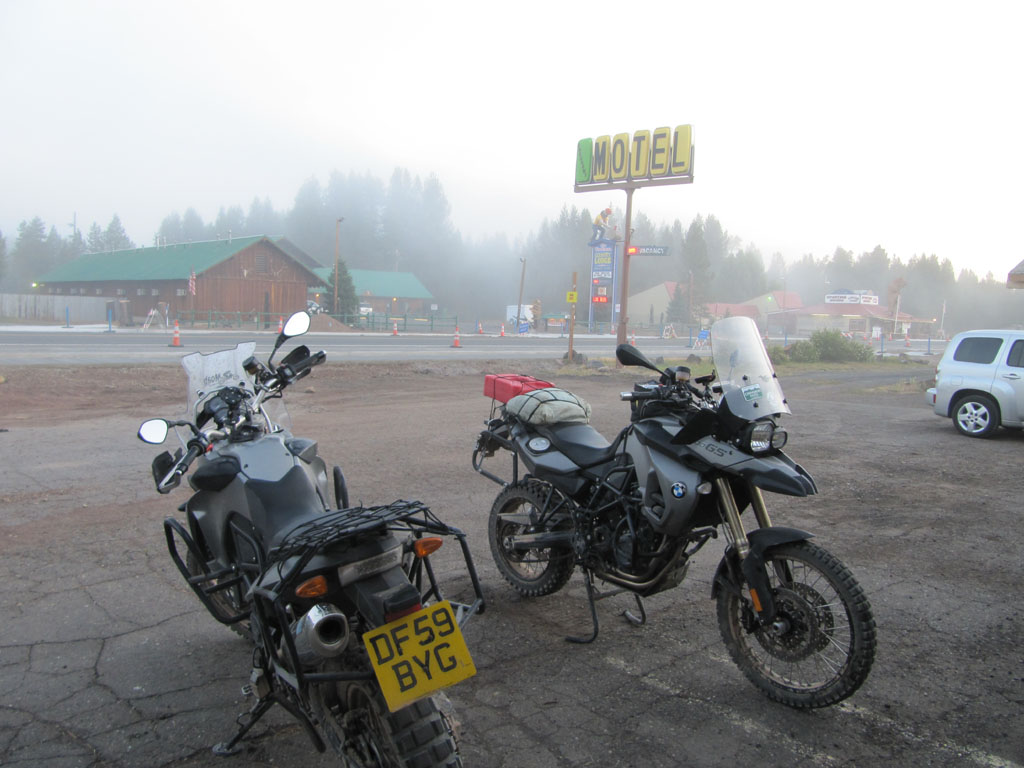 We all set off wrapped in our rain jackets to keep the worst of the chill at bay, and the temperature on my dash showed a lowly 16 degrees C as we headed once more into the beautiful forests of Oregon. It didn't take too long for the sun to win its battle, though and after an hour or so we were once again being bathed in warm sunshine as we emerged from the denser forest onto wide, well-packed forest roads. The riding was simply perfect as we made our way on a mixture of wide and narrow trails, some taking us down corridors of dense pine trees, others more like highways through the forest.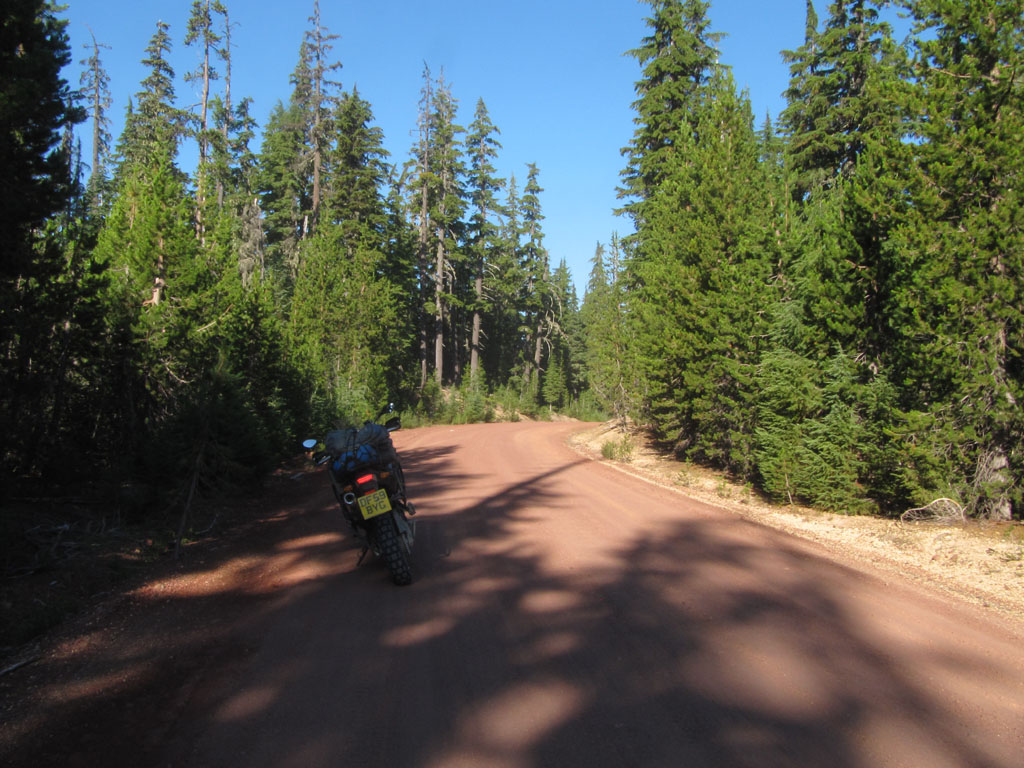 The only problem we had was the dust, which hung in the still air, trapped by the trees and blocking all sight of the trail ahead. I say "we had", but actually I mean Harold and Aaron had, as I was leading for a change, my GPS showing a better view of the trail route than either of theirs. The trail climbed up into the forest and as it did so the trees thinned a little, giving tempting glimpses of a mountainous forested landscape blanketed in mist. Eventually the trail reached a high point where it turned a gentle corner and gave a fantastic view. I stopped to take a picture, of course...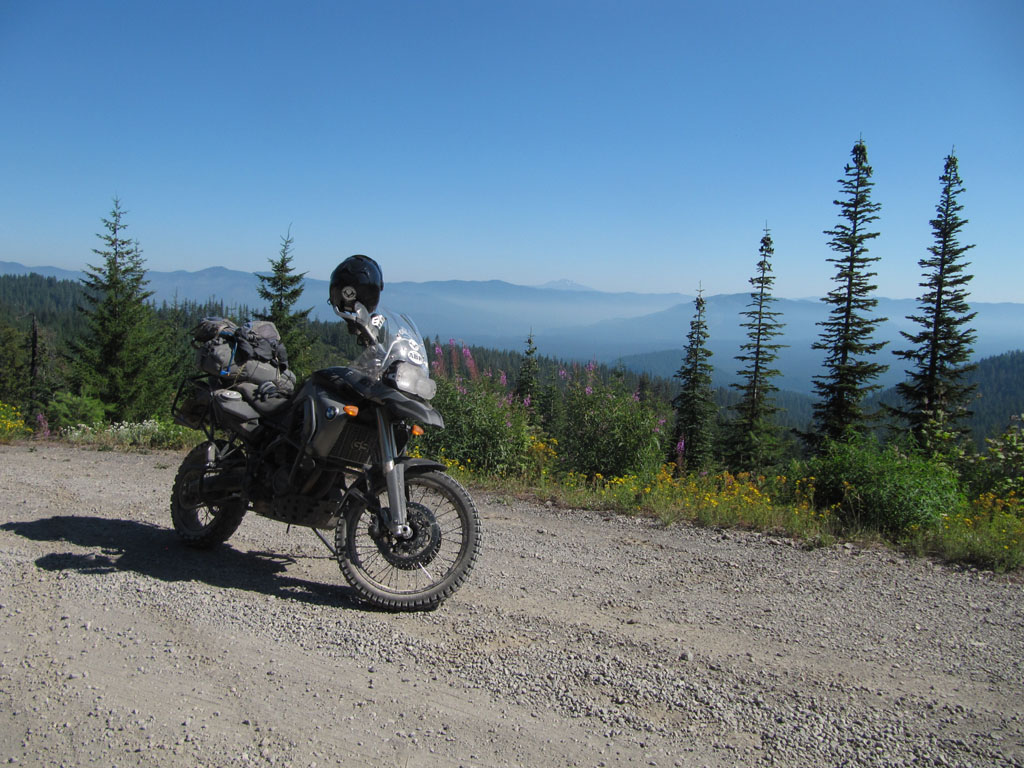 No sooner had I stopped than I could hear the roar of a KTM fast approaching, as the first of the Kiwis (who we had last seen repairing one of their bikes that had been down about 10 miles back) came round the corner, back wheel spinning way faster than the front and kicking up a huge cloud of dust. Within minutes the rest of the group had arrived, some panting heavily as they explained they'd been trying to catch us and having way too much fun. I said they should head off first as I didn't want to hold them up (or have them come blasting past me as I was admiring the view) and off they roared. Lighter bikes make a huge difference on the dirt, and they looked like they were having a lot of fun - but then again, so were we!
Once they'd cleared off I set off again, enjoying the experience of riding on loose surfaces and feeling pretty confident that I now knew what I was doing. They say pride comes before a fall, and they're right. Rounding one uphill corner I noticed it was tightening up, so grabbed a little front brake to slow myself down, then noticed I was heading for the deeper, looser, gravel and potentially over the edge. A little more brake and BAM! down I went. I landed well and wasn't hurt, but was annoyed with myself for making such a basic error - a simple lapse of concentration was all it took. Aaron and Harold were quickly on the scene, not being too far behind and had me pose once more beside my downed bike...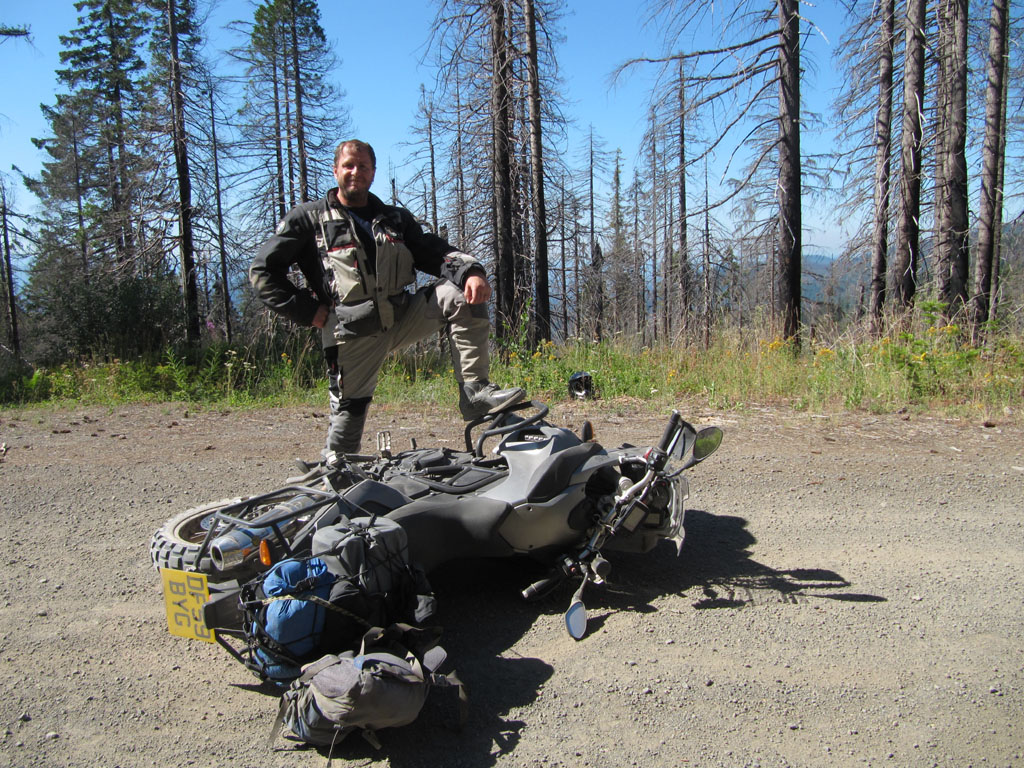 There was no harm done, except for a bent brake lever which we straightened, my crash bars doing their job at the expense of now being lop-sided. They crash well, these bikes! Once again riding cautiously we made our merry way through the forest. My drop hadn't dampened my mood in the slightest, and I was thoroughly enjoying one of the most enjoyable days of my life.
When I was a child I distinctly remember one family holiday when we were driving in the car with the caravan behind and came across a roadsign that said "Caution: Falling Rocks". I imagined that round the bend we would be confronted with a torrent of rocks bouncing down from above and doing serious damage to us and our vehicles. I was bitterly disappointed when nothing happened. Rounding one bend in the forest, though, I finally found the reason why such signs exist (although my grammar teacher would probably prefer them to say "Caution: Fallen Rocks")...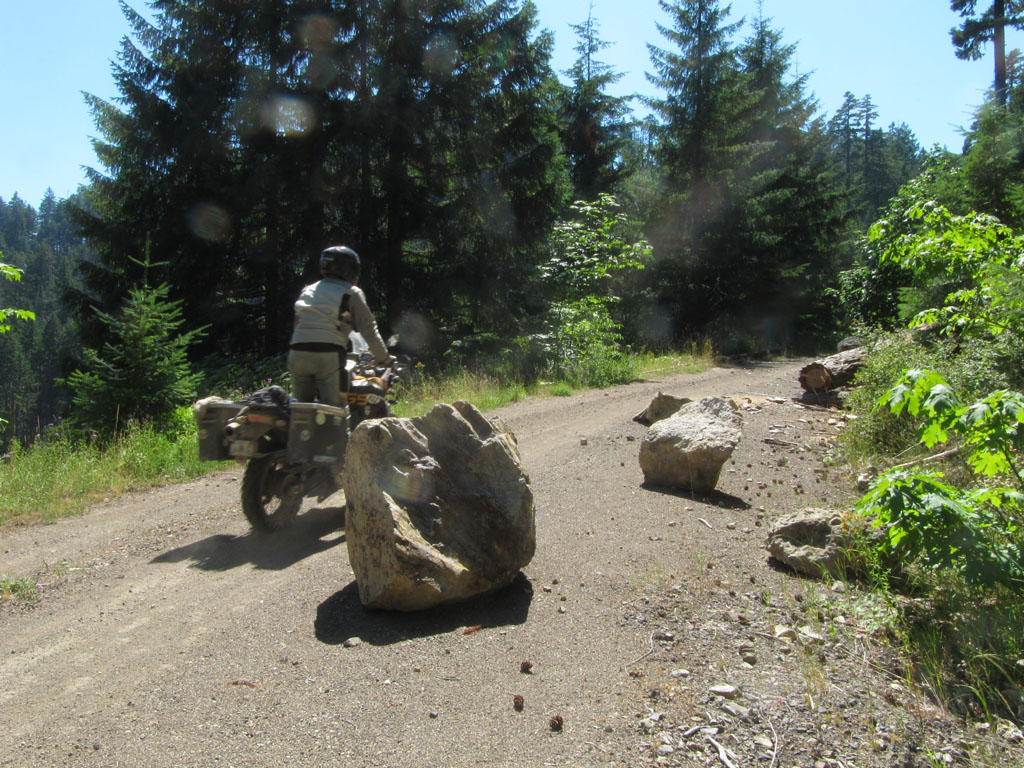 There is another challenge to riding through the forest, though, and that is to try and spot the wildlife that's all around. It's easy to spot the chipmonks and other little critters, as they like to run right across the trail in front of you. But the real trick is to spot a mother and baby deer grazing in the shadows up ahead, and to stop before they get spooked. Harold did whilst leading and all 3 of us were treated to the sight of them trying to work out what we were as we lurked a small distance away, engines off and cameras out...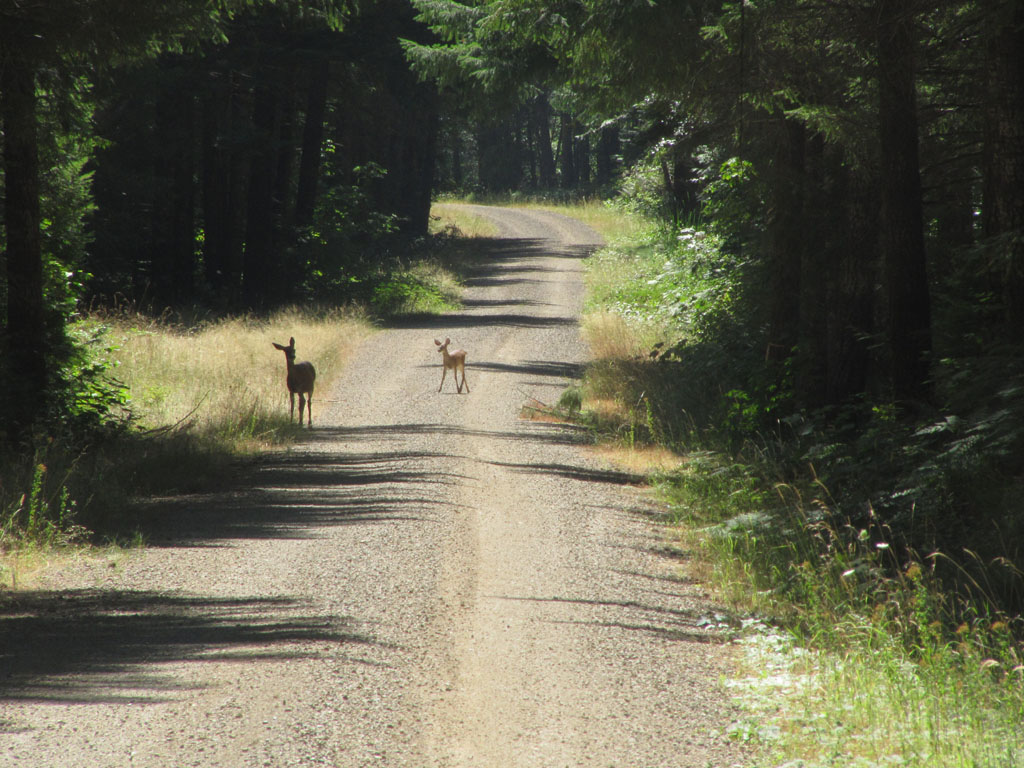 They stayed rooted to the spot enjoying their food as we restarted our engines and crawled towards them. Suddenly mother took flight and danced into the woods to the right, whilst baby bounded along the trail ahead of Harold for about 100 yards before darting into the undergrowth. Moments like these last forever...

Unfortunately today's ride didn't, as it had been one of the best so far, and we arrived at the Interstate where we headed north to Canyonville and our motel for the night. We checked in and showered, and were catching up with our emails when there was a knock at the door. It was Tony, leader of the Kiwi riders, who asked us to join them for dinner later that night at the restaurant nearby. At 7.30pm (it was now a little after 6pm). We were hungry and thirsty already but agreed. Shortly after there was another knock at the door and Tony appeared with a cold beer for Harold and me, which more than made up for the wait for dinner. Now you might expect dinner with 6 KTM-riding Kiwis to be a debaucerous affair, but it wasn't. I only had 3 beers, but the food was very good and the banter excellent. With the last day tomorrow, I think we were all looking forward to completing the trail...