Trans-Am Trail - Days 25 to breakfast on day 30 - Recovering and saying goodbye
Following the exertion of riding the TAT, we had a few more days to enjoy each other's company before saying "Goodbye" and heading off in different directions. Whilst you might expect tales of wild celebration parties, or perhaps days of quiet reflection, neither extreme would be accurate. What we actually did was roughly as follows:

Day 25 (the day numbers are a blur now, but it was Monday 29th August). Basically we rode the 190 miles from Port Orford, down the coast and picked up Highways 197 and 199, known as the Redwood Highway, through forested hillsides with some very large trees (more of the Redwoods in a few days!), to Grant's Pass and on to Medford. Here we have an appointment with Hansons BMW, where Aaron and Harold are getting their street tyres fitted (they've been shipped from Knoxville) and where I was hoping to be reunited with my big yellow bag and my camping gear. I was also due to collect my new seat, which I'd bought from the dealer in Knoxville and had shipped with my bag and the tyres. But all that was for the day after tomorrow. First, we had an afternoon off in Medford, so I went shopping to Wal*Mart. $80 (about £50) got me a pair of jeans, a belt, some shoes, washing powder, a paintbrush (for Harold, who wanted it to clean his bike), some bike cleaner and a few other bits and bobs. By the time I got back it was already early evening, and with Harold deciding to stay in, Aaron and I caught a cab to a Thai restaurant for a very nice meal.

Day 26 was then spent sorting out washing, cleaning the bikes, changing oil and generally catching up with all the chores that we didn't have time to do when on the road.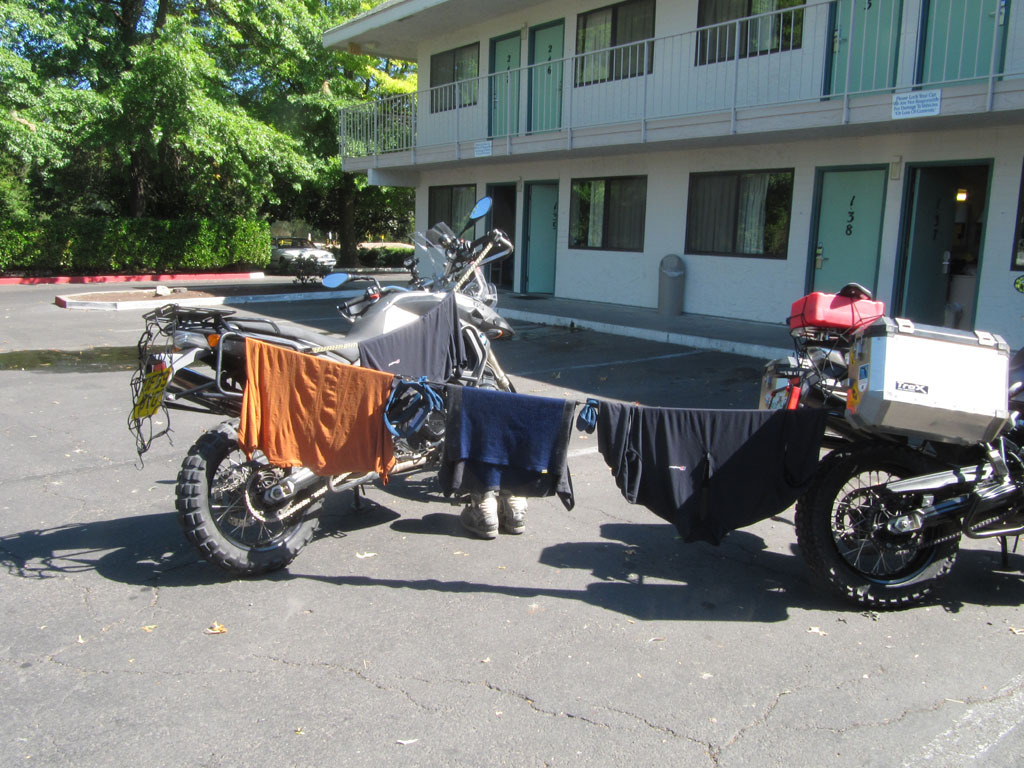 In the evening Aaron and I went to the pictures - initially to see Rise of Planet of the Apes, but due to a last minute suggestion from Aaron we opted for the comedy "30 Minutes or Less". Unfortunately it ran for over an hour. 30 minutes or less would have been preferrable...
Day 27 was the day Hansons got their hands on the bikes and I picked up my new seat. It looks good, so let's hope it solves the severe "numb arse" syndrome the standard seat gives me after an hour or so in the saddle (even with the gel pad, 130 miles is all I can stand before the pain becomes severe). Riding the TAT meant I was stood up for most of the time, but with nearly 3 weeks of travelling the US to go, I really hope this works, or I won't be able to sit down at Laura's wedding!

Whilst the dealer was changing Aaron's tyres they noticed his front wheel bearing was shot. So was Harold's. Anxiously I checked mine, but for some reason it was OK, which was a relief as money is already getting tight. They also didn't have the parts to fix them so Aaron and Harold would have to see the dealer in Portland to get them sorted. With Aaron's bike sorted and Harold's still being worked on - they were replacing his fork seals again and fitting stronger front fork springs so would be a couple of hours yet - Aaron and I set off to Portland leaving Harold to follow on later. The ride up Interstate 5 (I-5) was brisk as Aaron set a pace more suited to his road tyres than my now heavily-laden bike on worn knobblies. But the new seat was proving a revelation, my backside hardly aching after we dispatched the 250-odd miles with only a couple of short breaks. Money well spent, it would seem!

On arrival in Portland we found the Red Lion Hotel and checked in, leaving a key for Harold behind reception as we caught the free tram into the city centre and went walkabout. Portland is a lovely city with a great, relaxed, feel to it. There's a real mix of people wandering round too, from city business men all the way down to a tatty-looking bloke in a kilt with his face painted bright blue. The city is also fairly compact, and we had no trouble finding the East India Company Indian restaurant where we'd decided to eat. Getting good Indian food in the US has proven slightly problematic in the past, but this place was a revelation. We spoke to the owner, who reassured us everything was prepared fresh and that the vindaloo was "Indian hot, not British hot", so I plumped for that. It was delicious, hot but not the massively hot and flavourless rubbish so often served in the UK. Aaron's dish and the starters were equally spectacular, and we both ranked it one of the best Indian meals we've ever had, anywhere. If you're ever in Portland, check it out.

The following day, day 28, was a full day off in Portland, before the WAGs arrive tomorrow. Whilst Aaron and Harold went to get their wheel bearings sorted, I caught the tram into town to visit the Portland Art Museum, where there was an exhibition called "The Allure of the Automobile". Inside was a small collection of very special, and very beautiful, cars. I'll let the photos do the talking...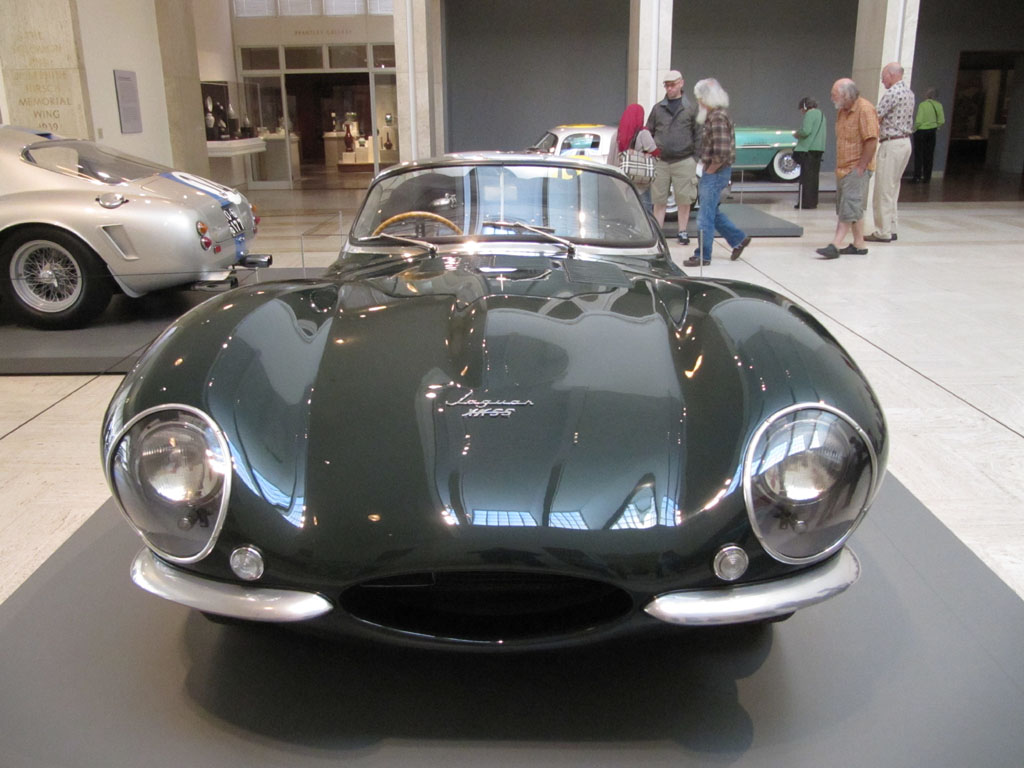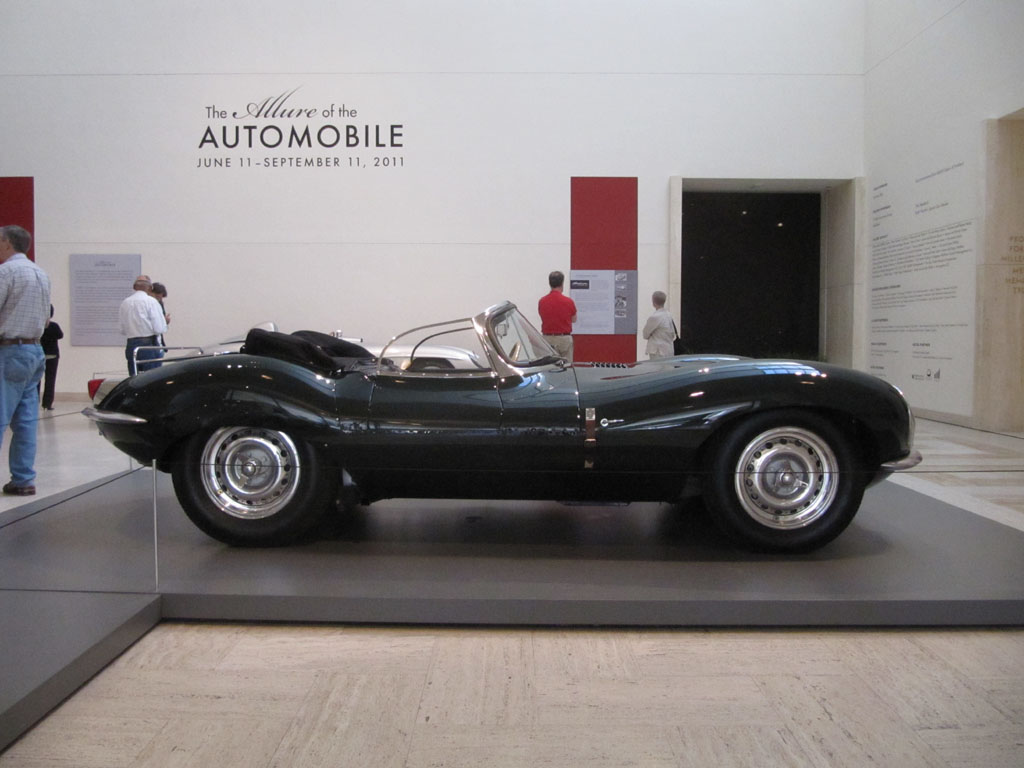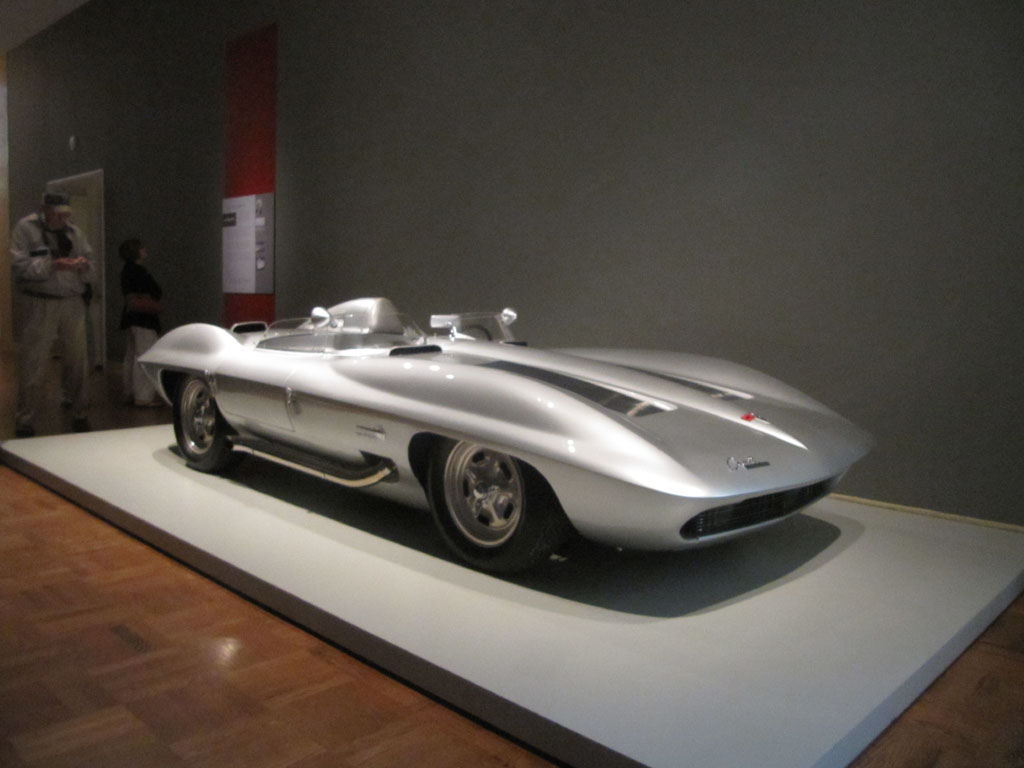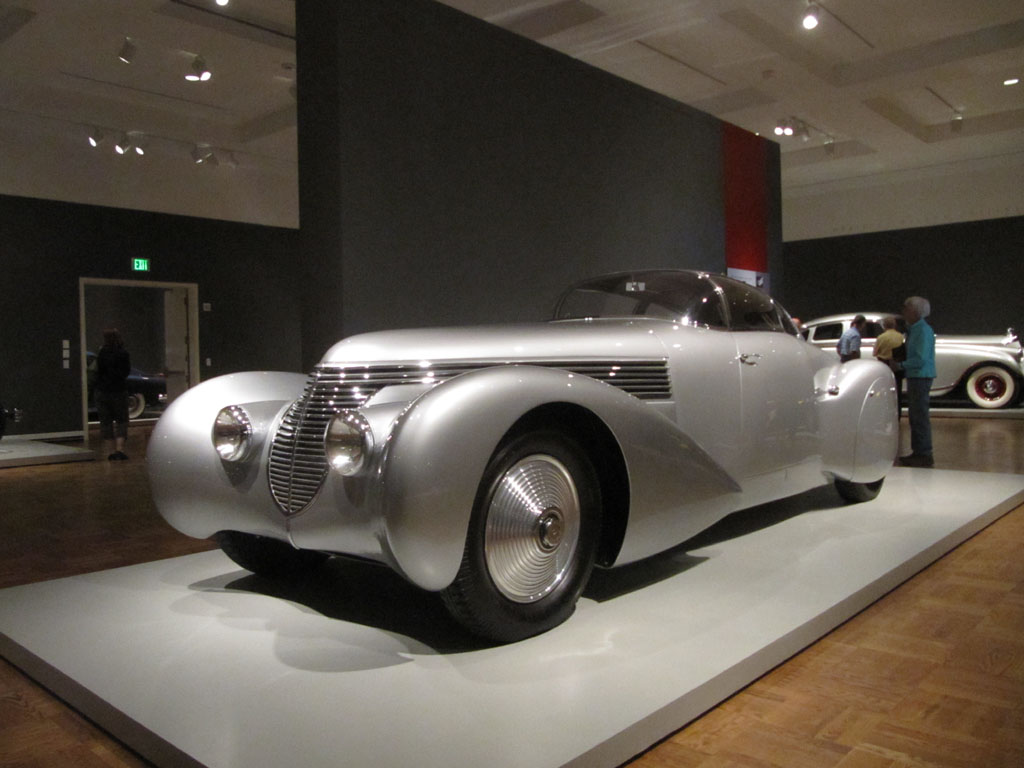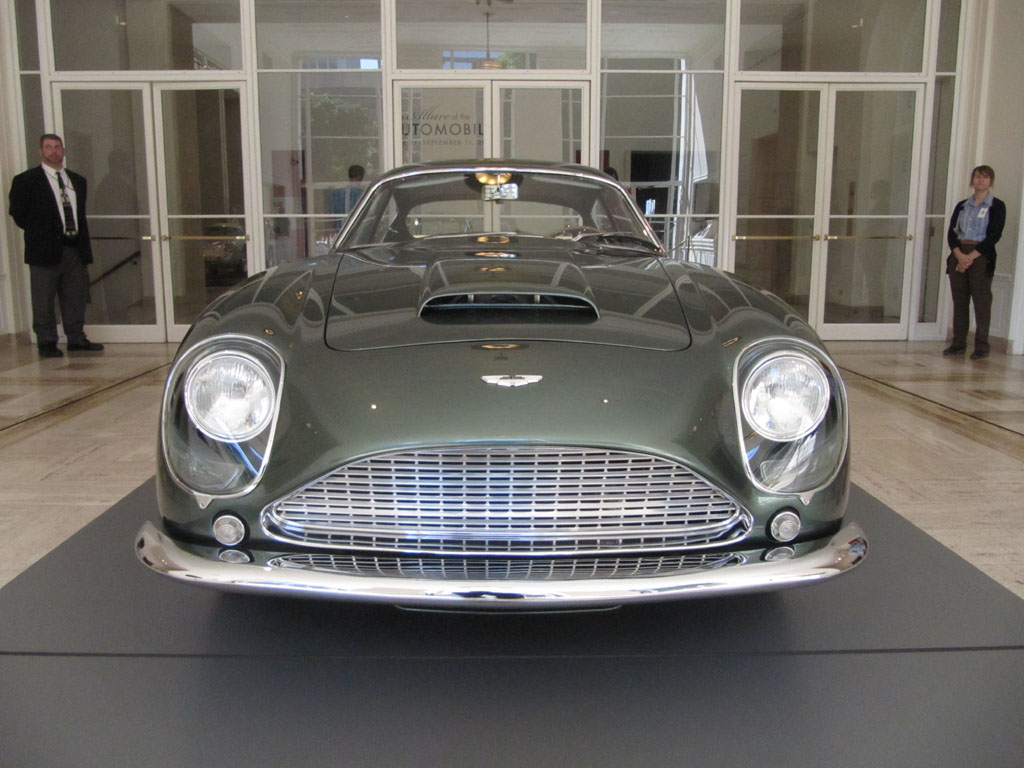 Quite beautiful, aren't they?

I wandered round town some more before heading back to the hotel and meeting up with Aaron who had just got back from getting his bike fixed. With Harold taking an alternative route back, we headed off into town leaving him a message to catch us up later. We walked round town, stopping at the Deschutes Brewery company's brewpub for a beer or two before walking down to the river. In the distance we could clearly see Mt Hood, complete with snow-cap, which gave me an idea for my first day's ride alone when we part company in a couple of days time. Unfortunately the photograph doesn't quite do it justice...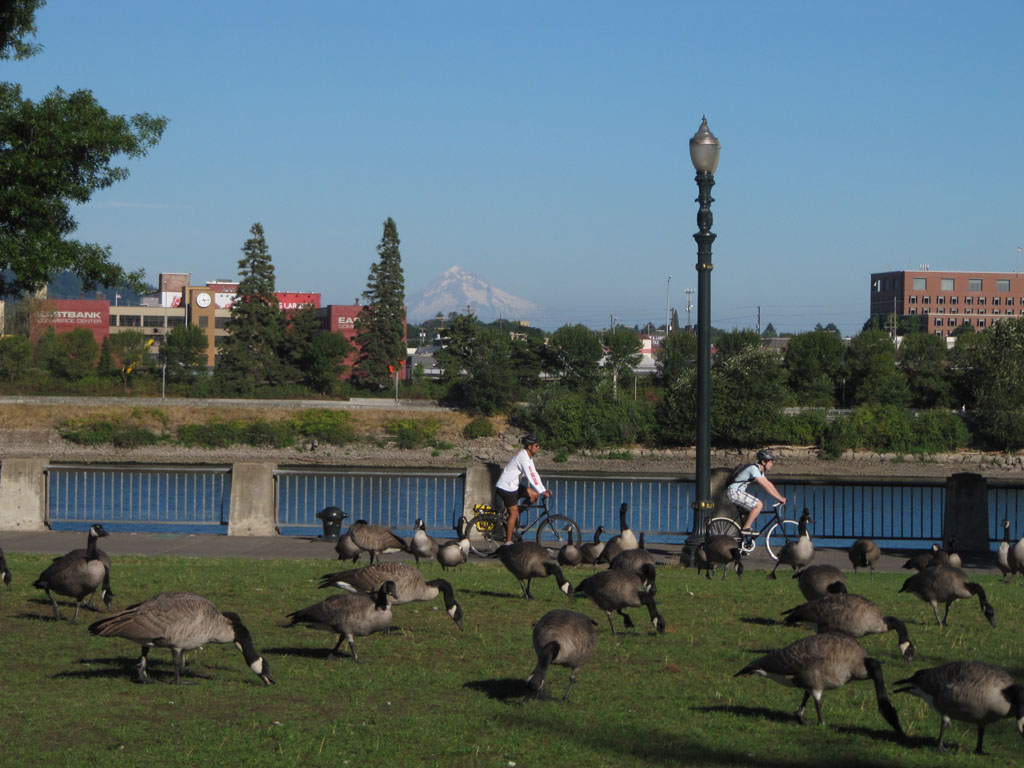 After wandering round some more we turned a corner and were faced with a queue of people waiting to get into what we presumed was a club of some sort. Only it wasn't, it was a doughnut shop. Called "Voodoo Doughnuts". They're slogans had us both laughing, so after a beer in the bar next door while the queue went down, we had a doughnut each. They were delicious too, which might explain the queue...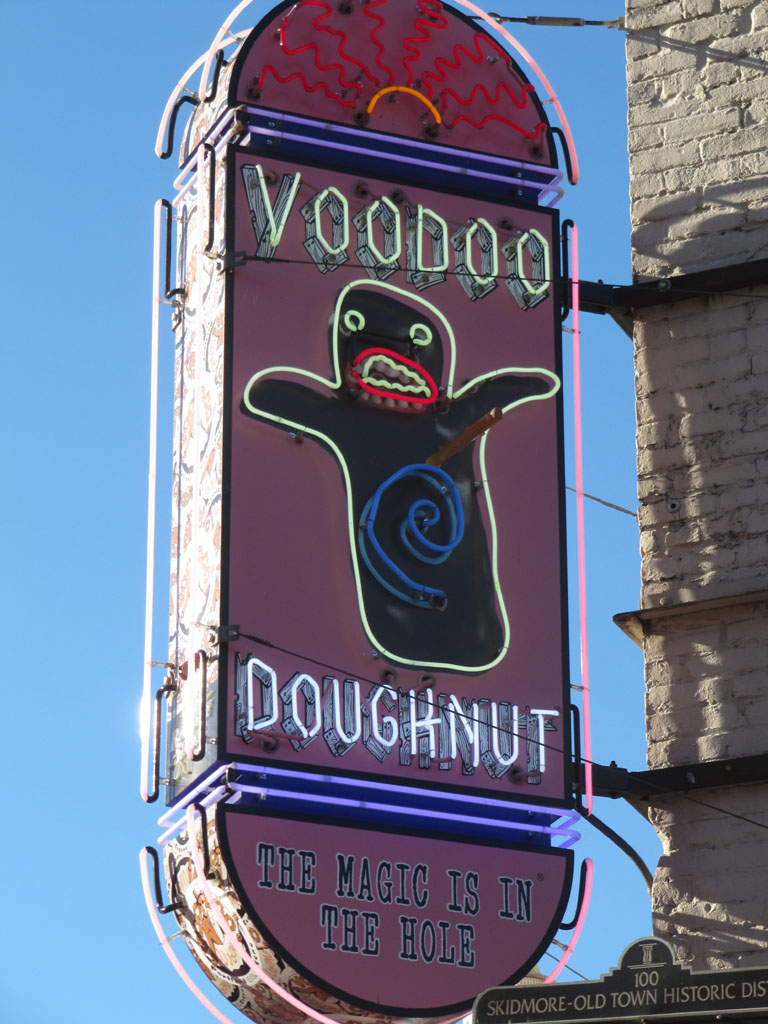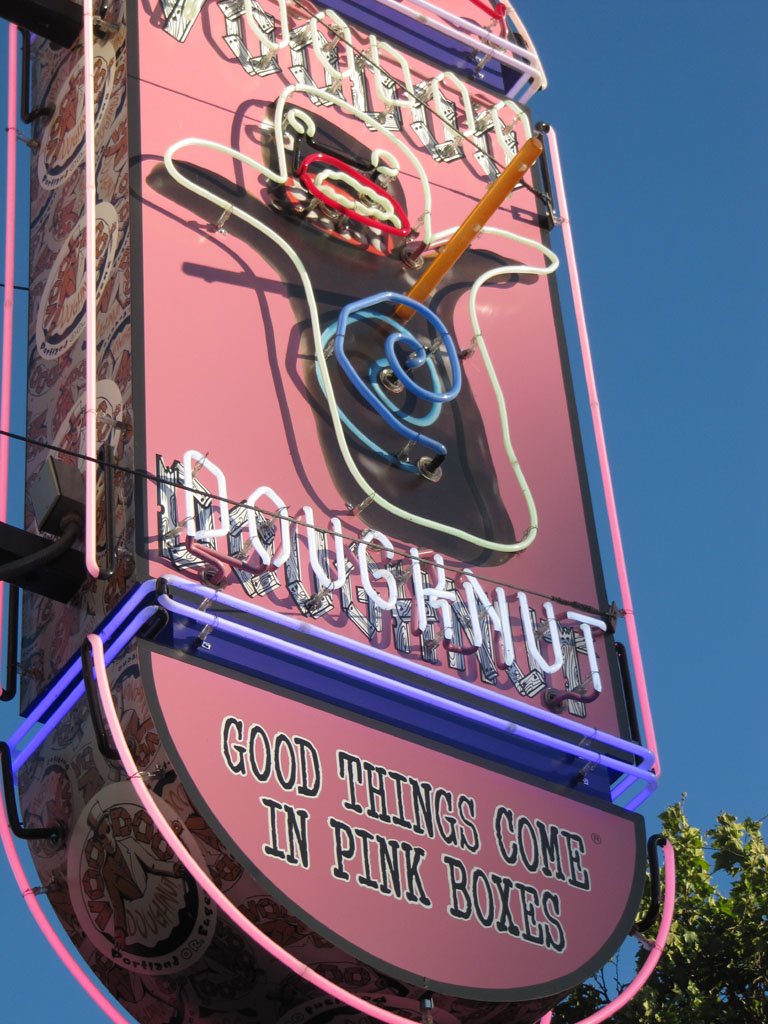 The rest of the evening was spent drinking more beer at the "Rock Bottom Brewery". Harold showed up too, so we had a fair few drinks by way of our last evening together before the WAGs arrive

Day 29 (Friday 2nd September) and I got to change rooms into a single room, as Harold was moving to a motel nearby ready for his wife to arrive (the reservation I'd made when we checked in had been lost and the hotel was now full). Aaron and I went into town early to seek our the camping store REI, where I bought a stove to supplement my camping gear and enable me to eat something fresh whilst in the middle of nowhere (or at least, that was the plan!). At lunchtime his girlfriend Jenn arrived, complete with a stack of 5 tee-shirts from his dealership for me! That'll reduce my washing needs as well as making me look a little more respectable for the rest of the trip. I then grabbed some much needed sleep while they went into town, meeting up with them later at the brewery where we started yesterday's drinking. We had something to eat and met up with Derek, one of Aaron's buddies who lives in town. Later we were joined by Alex, who was supposed to have joined us on the TAT but couldn't make it due to last minute business committments. The evening was a little more subdued following yesterday's excess, though.

And so over breakfast the following morning we said our goodbyes. Harold's wife Carmen had been delayed and arrived late the night before, but they both joined us at Denny's for one last round of "breakfast without questions", before we parted company, Aaron and Jenn riding 2-up on his bike with Alex following, as they head South to San Francisco - a journey of around 600 miles they need to do in just 2 days (Alex rode up from San Francisco yesterday in one hit!). Harold and Carmen are heading north to Seattle before a more leisurely ride cross-country home to Florida over the next month. And me? Well, my next adventure starts here, as I head up to my hotel room to re-pack all my luggage and then set off on my own to explore Oregon before heading south myself...