Trans-Am Trail - Days 30 - 32 - Start of a new adventure...
Day 30 - Portland to Mt Hood National Forest
After the almost tearful goodbyes and promises to return to the US as soon as possible to ride with Aaron & Harold some more, I returned to my hotel room to sort out my packing. Now that I had all my camping gear as well as the clothes and tools I'd carried on the TAT I had to rearrange everything so it would fit on my bike. When loaded the bike was significantly heavier than it had been, with the weight high at the rear, making the front fell lighter and less planted on the road. I was very, very, glad that I'd had the sense to send my camping gear on ahead from Knoxville and not tried to ride the TAT with all this extra weight. A little extra preload on the rear shock and the bike was manageable on the road, but would have been a real handful on the loose surfaces of the trail.

All loaded up I rode out of Portland, initially getting confused in the mass of one-way systems before eventually finding myself out on the scenic byway parallel to highway 26. I had an advantage when planning my route through Oregon, in the form of 2 free maps I'd picked up at Hansons in Medford. These are supplied by the Oregon Department of Transportation and show how enlightened this state is. The first is the official state map and shows a number of byways marked as "scenic drives" as well as being a good general purpose map. The second, and this is where the UK could really learn something, is called the Oregon Motorcycle Map and specifically identifies the best riding roads throughout the state. My ride up to Mt Hood was on roads marked as such on this map, and they lived up to the billing, all twisting and turning through beautiful forests, bypassing the major highways and almost devoid of traffic.

As I got closer to Mt Hood I could see a large forest fire in the distance, and before long the acrid smell of burning wood was filling my nostrils. Getting closer was like riding towards the end of the world, as the road climbed high into the mountains, Mt Hood itself obscured by thick orange and black clouds. Quite spectacular!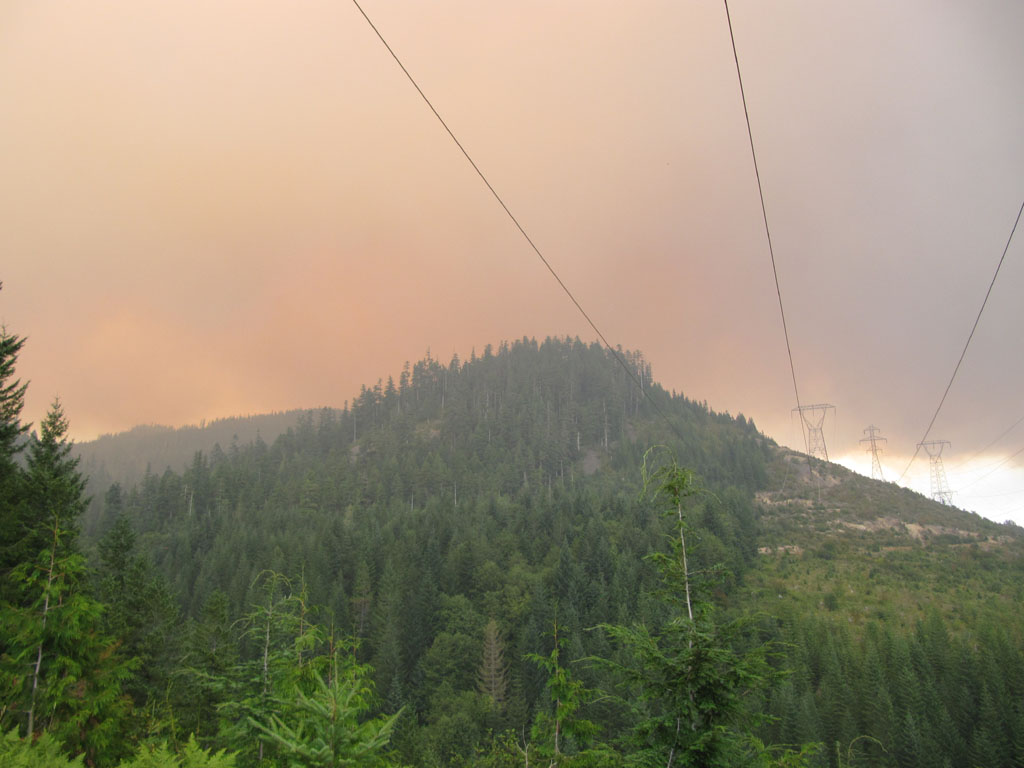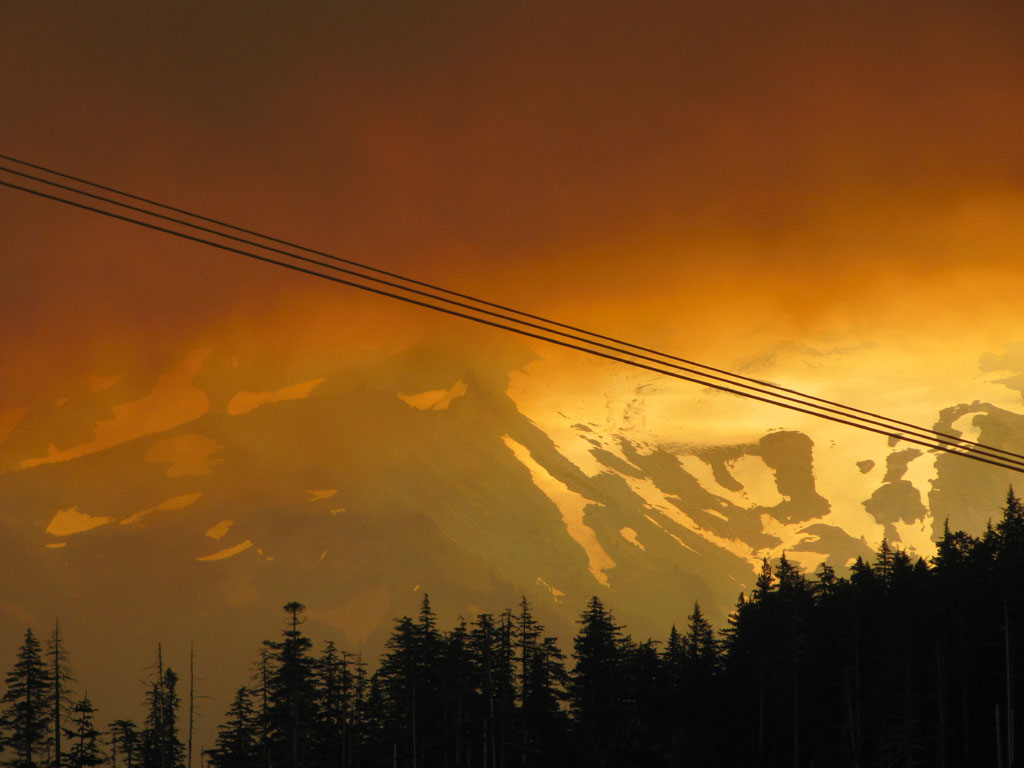 I had to turn round and head back the way I'd come when the road turned to gravel - I wasn't ready for trying to ride dirt with the bike so laden - and my alternate route took me round the other side of the mountain range and onto a high pass where I could at least get a decent view of the mountain. Up near the top is a ski resort, with some snow still lying on the ground and the wind howling as it tried to blow me off the road. On the way down I stopped to take a couple of pictures of the amazing scenery. Oregon is certainly a beautiful place.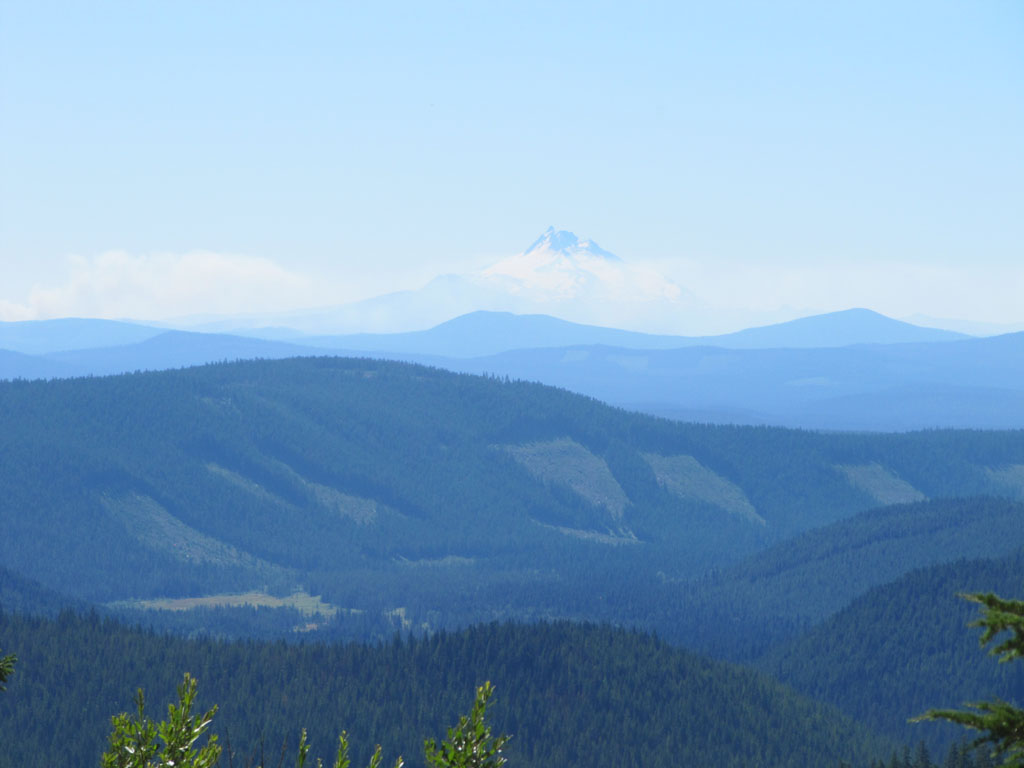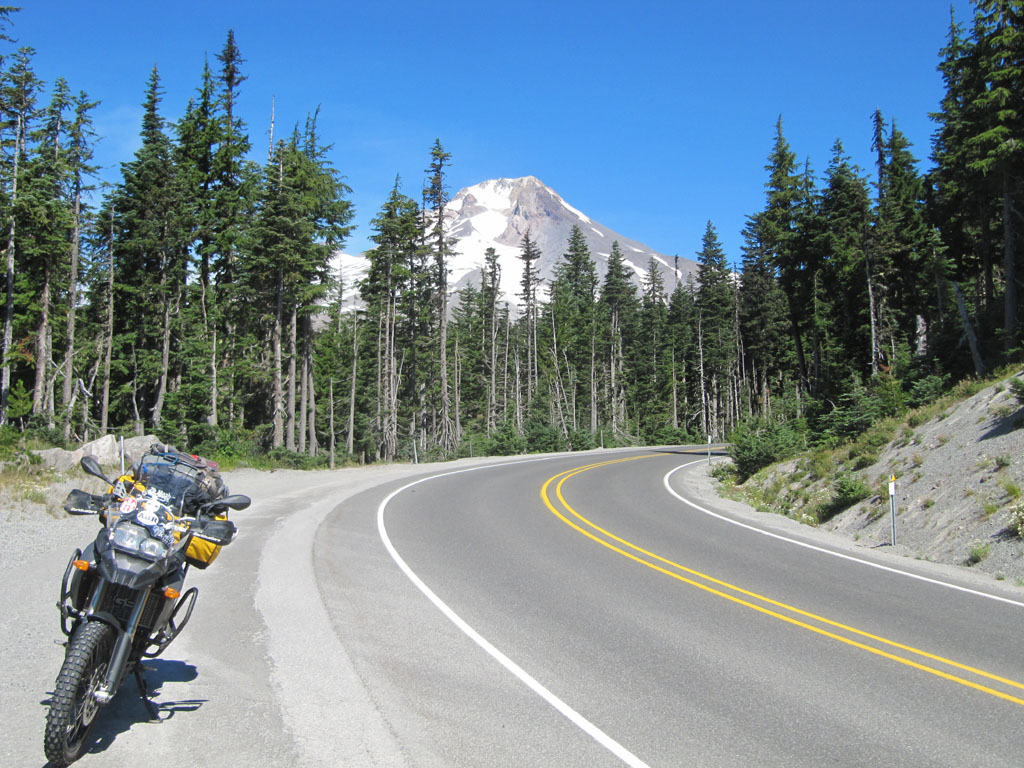 Once down from the windy mountains I rode through beautiful forest, spotting "US Forest Service Campground" signs at the roadside. I rode into one to investigate as it was already getting late and discovered each of the pitches had its own wooden table/bench and there was a "restroom" comprising a basic toilet. It would do, but first I needed something for tea. I rode back to the nearest store, where I found that the American's preference for eating out meant that their supplies of fresh produce to rustle up something tasty was somewhat lacking. I plumped for a tin of beans (with "pork") and a packet of hot-dog sausages. Back at the campground I paid the fee ($12 which seems a bit steep considering there is no shower block!) and pitched my tent, before setting up my new stove and cooking up a traditional cowboy's campfire meal...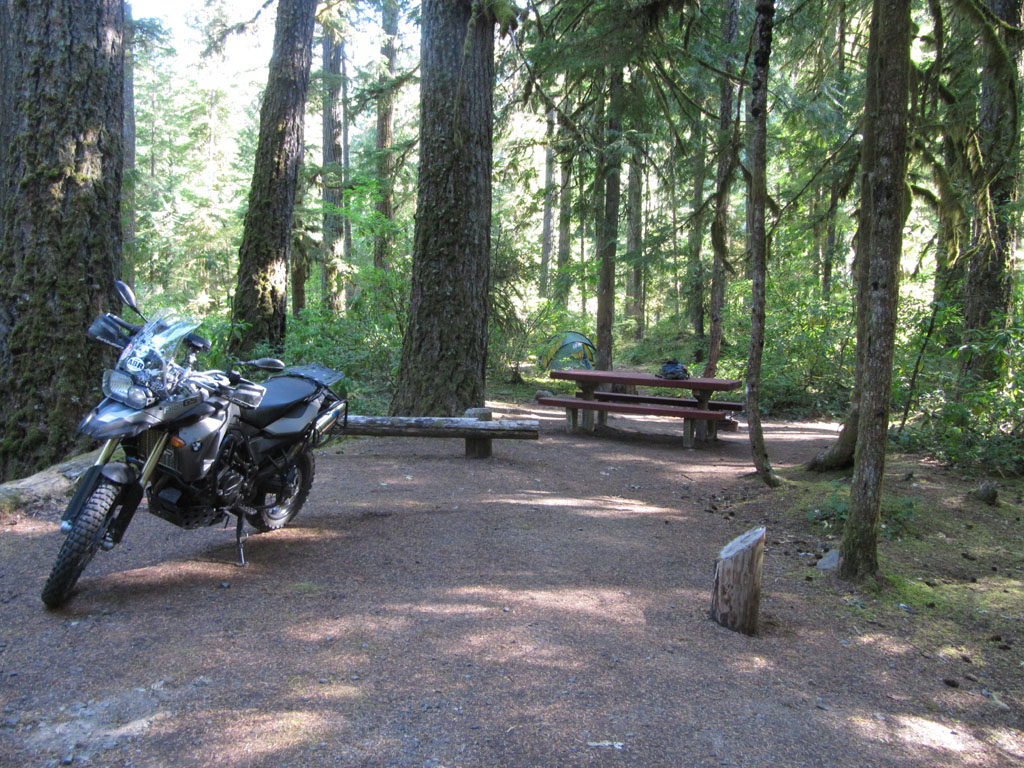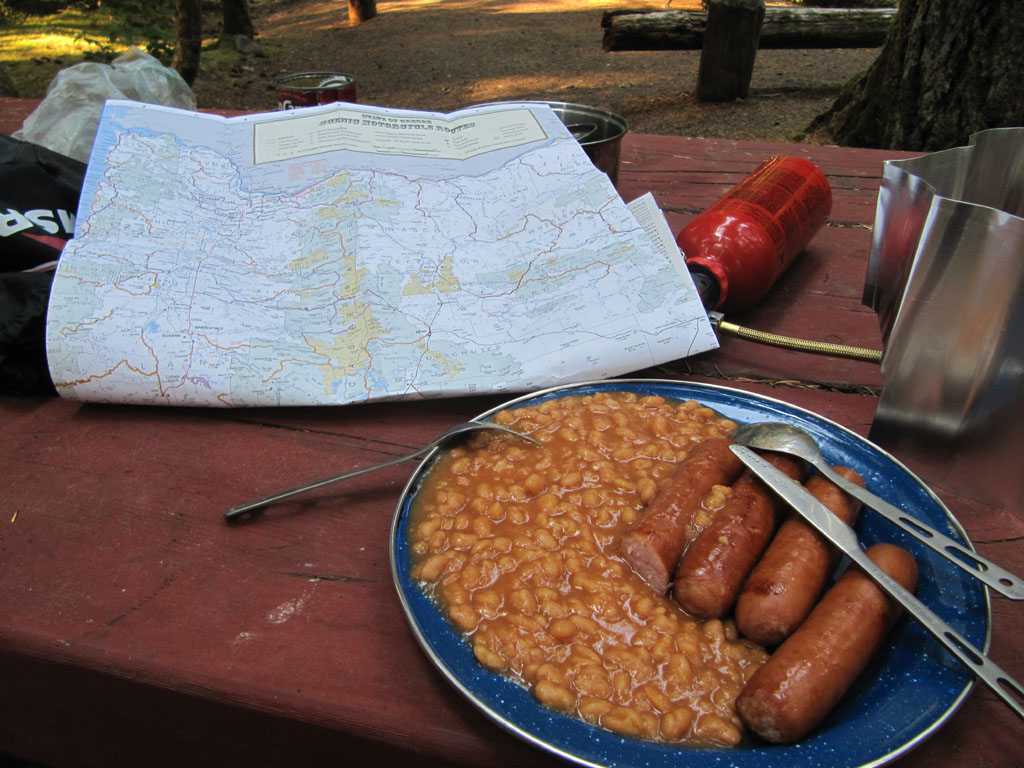 Day 31 - Mt Hood National Forest to Lincoln City and the Pacific Ocean (again!)
After a restful night's sleep - despite my Thermarest going down during the night leaving me sleeping on a hard floor - I woke early and broke camp in the cool misty morning. With the bike reloaded with it's very heavy load, I wrapped up and prepared for the off. I'd sorted a route out the night before, that would take me along some more of Oregon's recommended motorcycle routes cross-country to McMinnville, where I wanted to go to the rather special museum...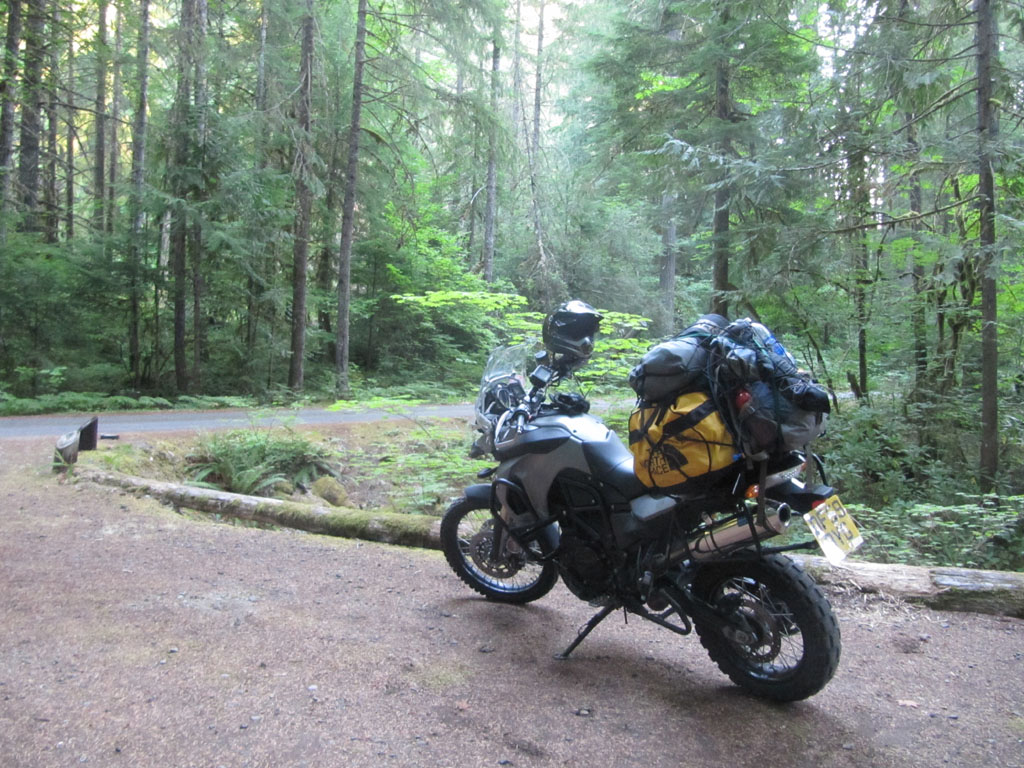 Riding through the forest in the early morning I saw the temperature on my dash reading just 5.5degrees C. It was bloody cold! it gradually warmed up as I rode alongside the creek through the forest, the sun streaming through the trees and gradually thawing me out. All along the side of the road were campers of all sorts, taking up every flat area whether an official campground or not. There were RVs (Recreational Vehicles or motorhomes as we call them) everywhere - huge coach-sized ones with expanding sides, massive trailers pulled by equally massive pickup trucks, smaller more caravan-sized ones - and tents everywhere. The smell of burning wood from early morning campfires filled the air and I caught glimpses of weary-looking campers huddled up near the fires, and fishermen up to their waists in the river. It was Labour Day weekend, and it seemed as though the entire state's population had decided to go camping. Labour Day is effectively a "bank holiday", to celebrate the achievement of workers and falls on the first Monday of September, making for a long weekend. Seeing all the people out camping I was a little concerned about finding a site for myself later in the day. But the riding and the scenery were beautiful, so that worry could wait until later.





After a couple of hours riding I was getting hungry, so stopped at a Safeway to get some fruit for breakfast, determined for once not to go the "eggs over easy" option. My choice of breakfast stop was the town of "Sweet Home".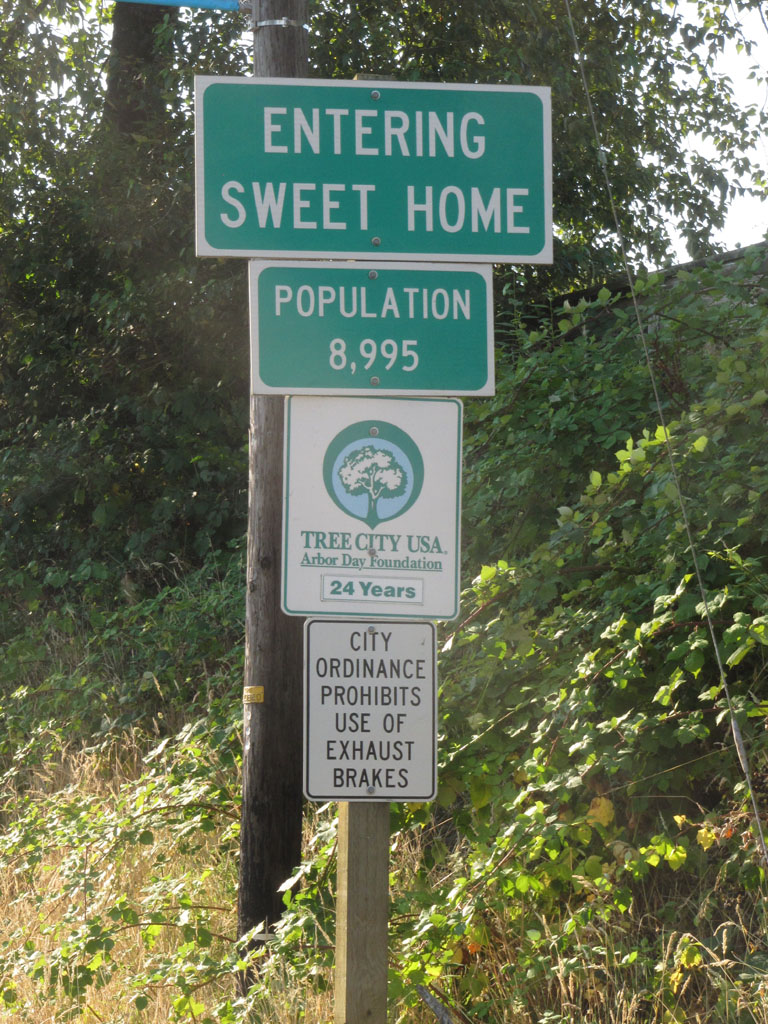 That's "Sweet Home, Oregon", not "Sweet Home, Alabama...".

After that bad joke, I rode to McMinnville, a small town with an interesting museum. Before visiting it I satisfied my grumbling stomach with a pizza, so much for sticking to healthy food... McMinnvile is home to the Evergreen Aviation and Space Museum, which is probably the only museum in the world with its own water psrk! It's also known as "Wings and Waves". Weird. But that isn't what brought me all the way back to within an hour of Portland. No, the reason for this particular museum visit is that here is the "Spruce Goose", the ridiculously extravagant and massive seaplane built by the billionaire Howard Hughes in 1947. It is simply HUGE. Constructed almost entirely of wood (hence the name) due to post-war restrictions on metal use, it flew only once, before being mothballed. And it's here, in an enormous hanger surrounded by, and dwarfing, other aircraft. Including a B-17 bomber that can be seen under the tail section of the Spruce Goose in the picture below. That might give you an indication of just how big the Spruce Goose is...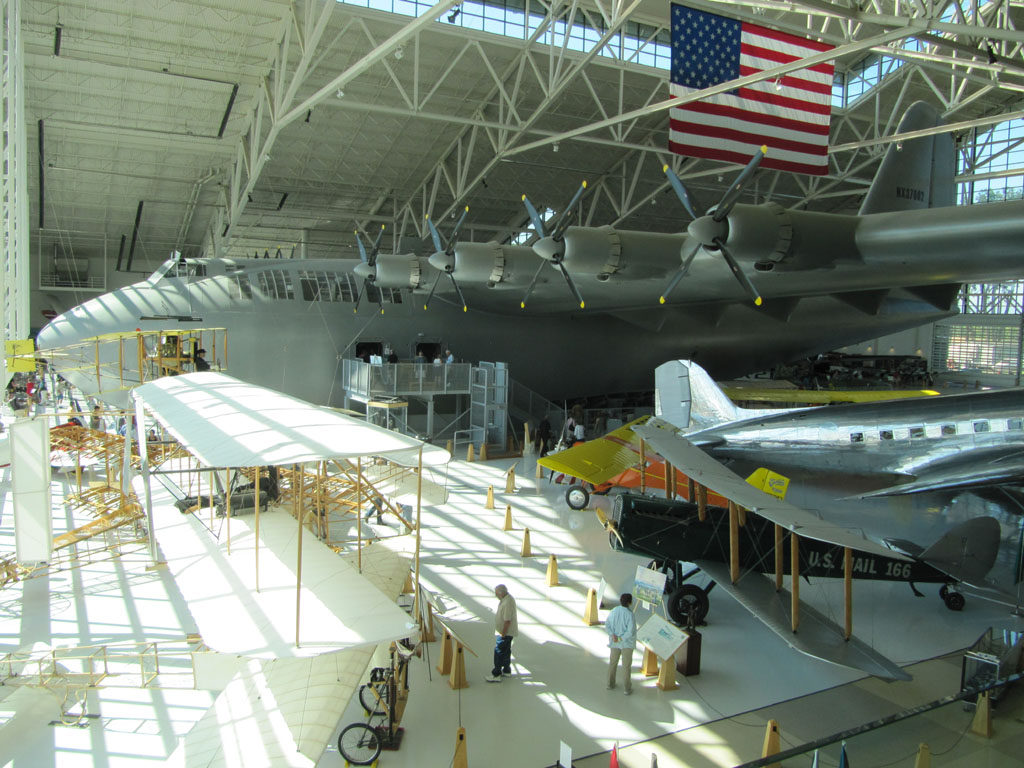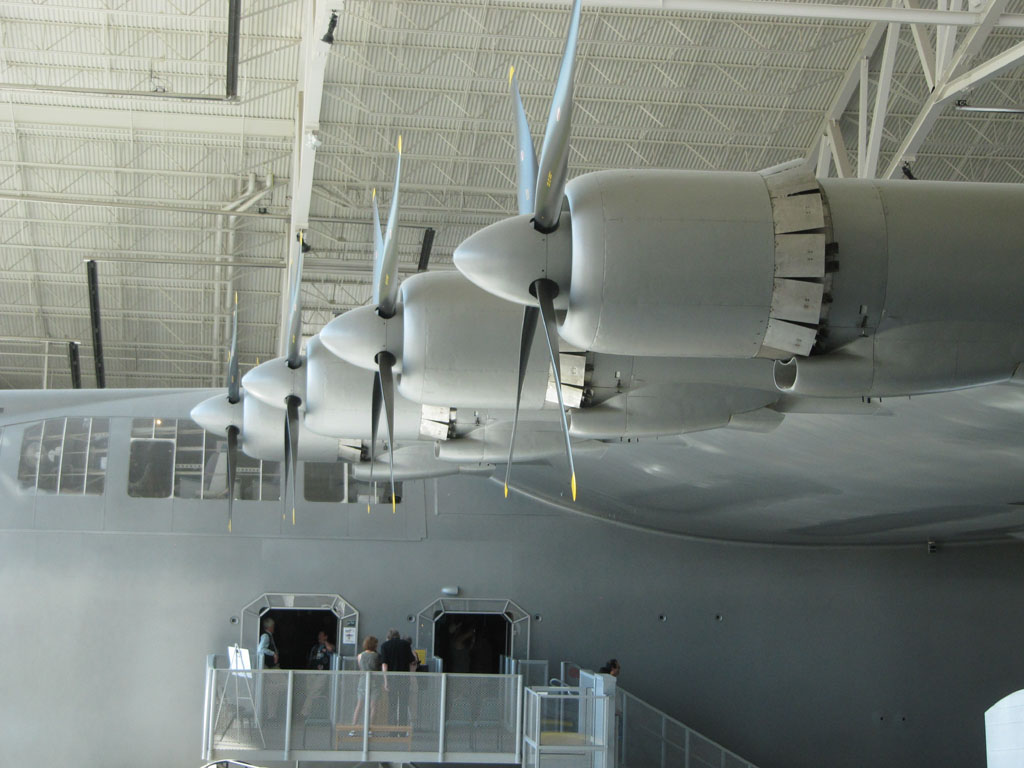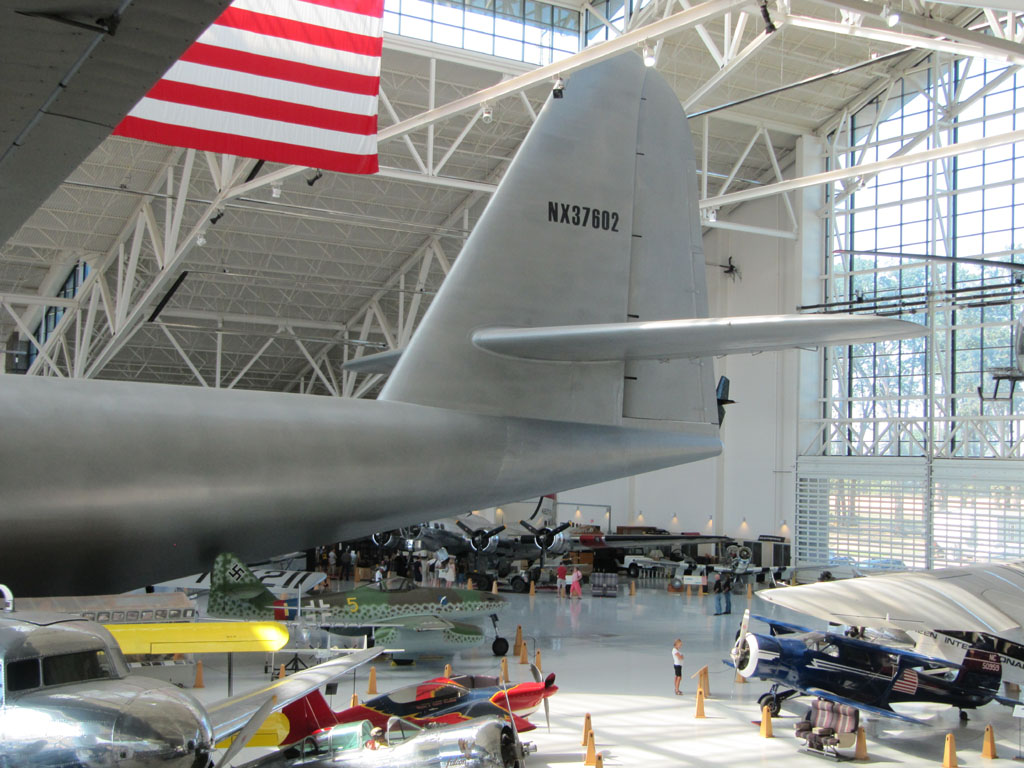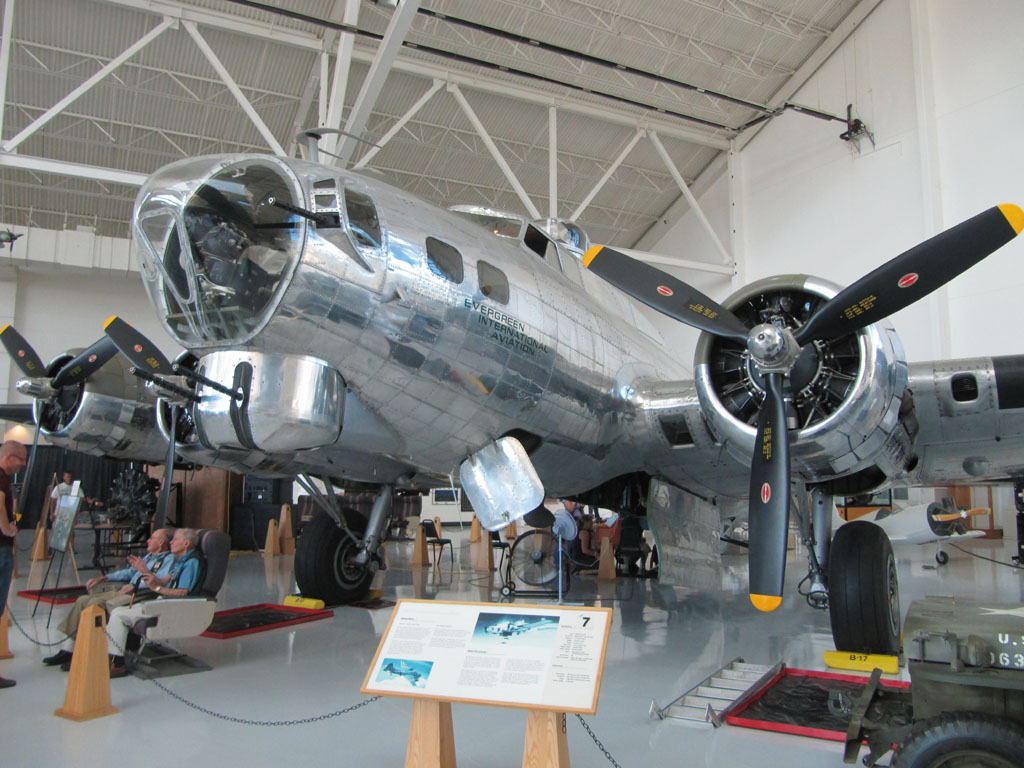 There were other planes of interest in the museum, including a Messerschmidt BF-109 (complete with story explaining why they're often incorrectly called ME-109s as I thought they were), a Spitfire, Sopwith Camel and others. But I'll save you from endless plane photos. Or space ones, as most of the Space museum comprised replicas rather than original items - probably because they're either still on the moon or NASA has them in its museum...

After the excitement of the museum I rode on to Lincoln City on the Pacific Ocean coast and found a campsite with space and showers. For $31 a night, ouch! It was nothing special, either, with all the piches very close together and was packed full of families enjoying the Labour Day Weekend. Including the screaming baby in the chalet right next to my tent. The store was also somewhat lacking too, all I could find that I would even consider eating was a tin of Campbell's Cream of Mushroom soup, but after the large lunchtime pizza perhaps that wasn't a bad thing.


Day 32 - Lincoln City to Diamond Lake
Now you would think that riding down 101 alongside the Pacific Ocean early in September would be a glorious experience, wouldn't you? Well, it was, but it was also very cold and I couldn't see either the Ocean or the road due to the fog. Perhaps I should have stayed at the noisy campsite until the sun had burned the fog away, but then again, if I'd done that I might still be there. I did stop during a minor spell of clear air to take a picture of the coast, and just looking at it makes me shiver with cold...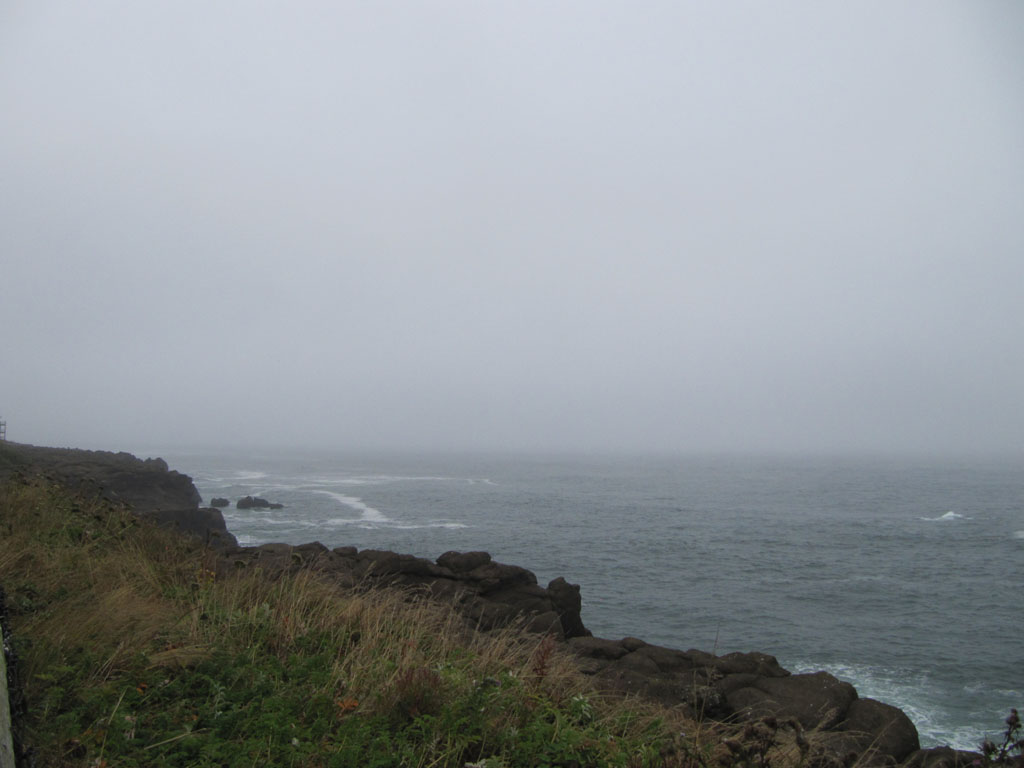 Once I started riding inland from Reesport the weather started to clear and the sun began to once again warm my now frozen bones. I caught sight of Elk at a creek near the roadside, but was so glad to be riding through the warm countryside, I forgot to stop to take photos. If you Google "Elk", you'll find some pictures and that's what they looked like. In fact, I enjoyed the ride so much, I didn't stop to take a single picture. Not one of the sun-bleached brown fields, nor the deep green forests. Not even when I stopped to drink some water or pop to a roadside restroom. I was on a mission to ride to near Crater Lake, a landmark I'd been advised to visit by the guys at Hansons in Medford. Only this mission consisted of me riding at around 55-60mph and admiring the scenery. It was a great ride. When I got to Diamond Lake, I decided to stop at one of the Forest Service campgrounds, as they had showers. First was a stop at the local store to get ingredients for my evening feast. Having only had a large breakfast late morning I was looking forward to rustling up some decent campsite grub, only to be thwarted again by the lack of choice. My selection was prepared by boiling water on a real campfire, though...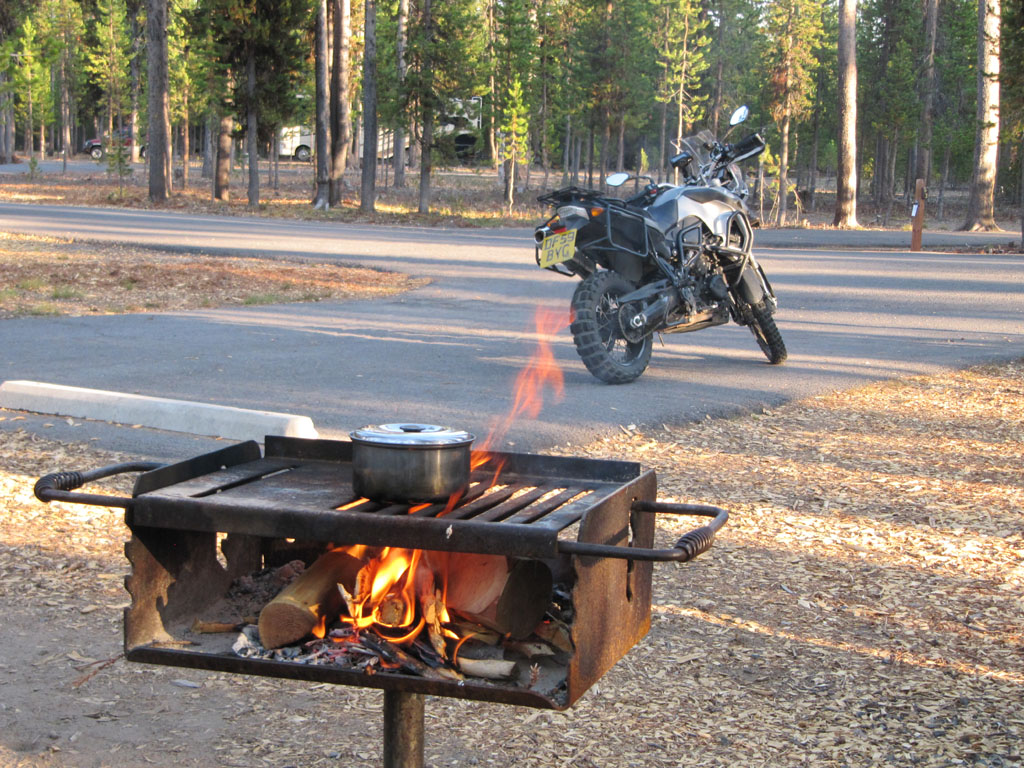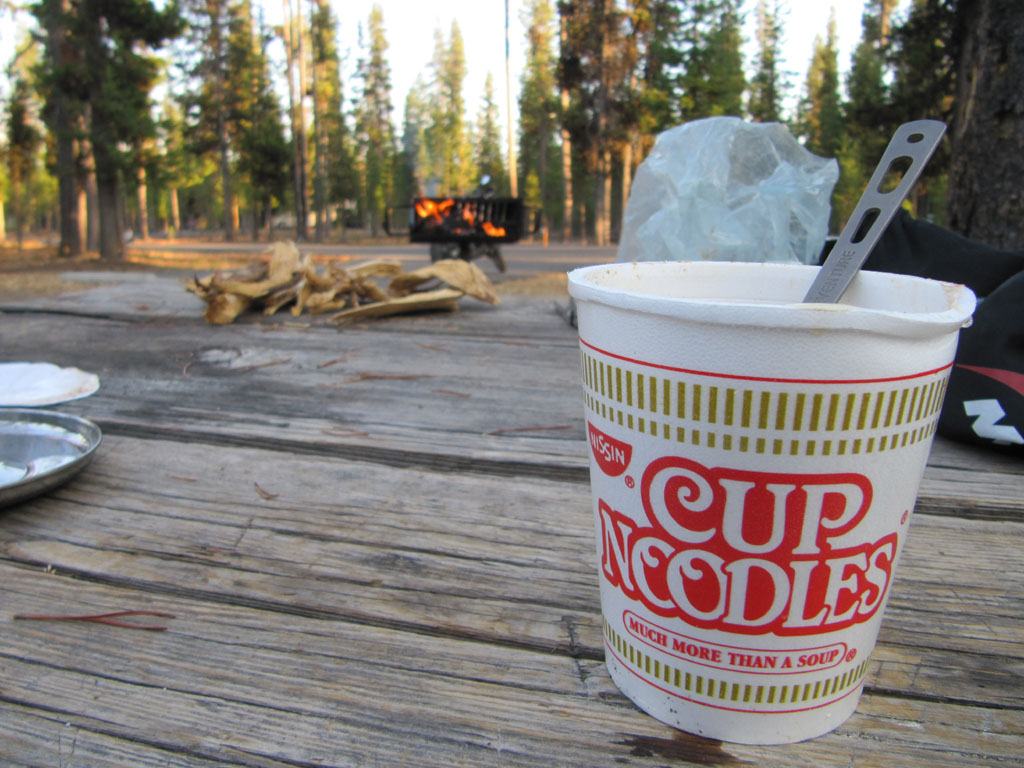 After "enjoying" my supper, I wandered down to the lake to watch the sunset. Only I'd missed it. Still, nice view, though...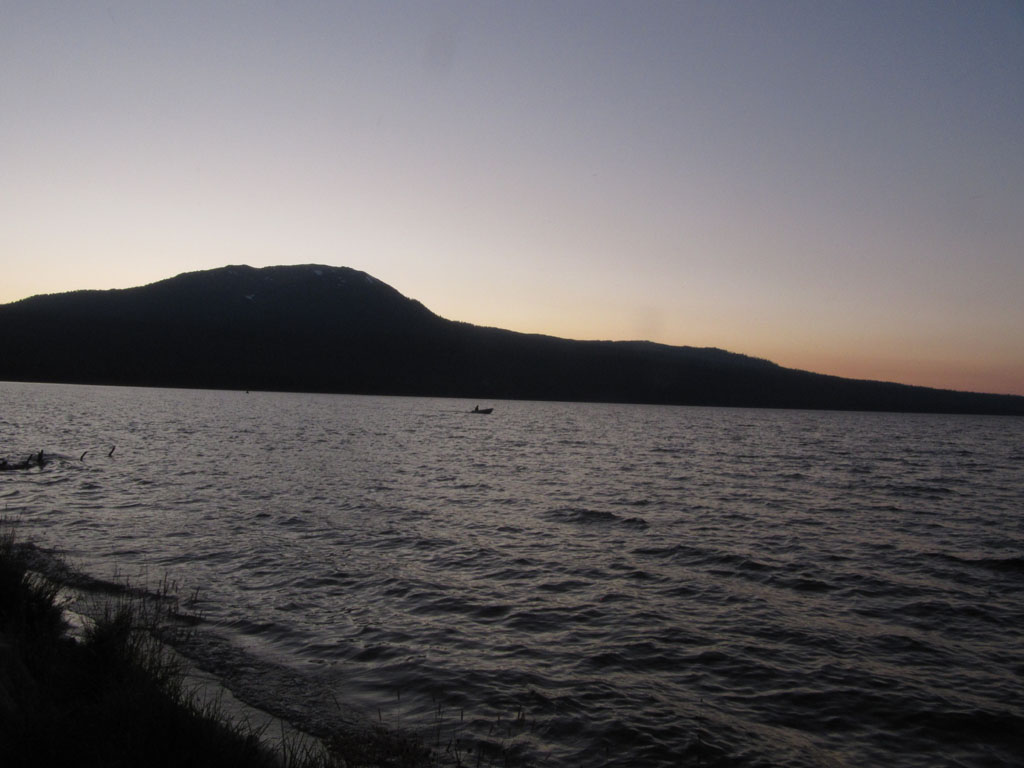 Then I watched the stars come out whilst staring into my campfire and thinking how lucky I am to be here.