Trans-Am Trail and beyond! - Day 36, Waterfalls and Lakes...
Day 36 - Redding, CA to Chester, CA
Staying in a motel has the distinct advantage that I get a full night's sleep, tucked up in a large bed all warm and cozy. That would have been the case last night too, had it not been for the knock on my door at half past midnight. I peered through the crack between the door and frame, with the security latch in place, to find a very sweaty black lady asking if I had a car. I explained I only had a motorcycle and she went away, muttering something about running out of gas and walking for miles. Weird. But I slept the rest of the night undisturbed by anything other than my dreams, which were of the sort one might expect after I've been away from home for a long time and am missing my wife.

Once I woke and had a cold shower, I packed up my stuff and waited until it was gone 9am so I could ring the freight company. They confirmed arrangements for me to drop my bike off on Monday 19th, requesting I was there as early as possible in case there are issues with my paperwork. I ran through the paperwork I have and they said all should be in order, but I'll still get there for when they open to be sure. Once that was done I set off on my bank job. First line of attack was another attempt at the ATM withdrawal tactic, using a lower currency amount, but that failed. So it was full-on bank robbery time. I pulled up outside Bank of America (I once met their CIO when I ran a fact-finding tour for the bank I worked for, so figured they owed me) and took off my helmet, fixed myself with a ready, easy-go-looking smile, and went inside. God, it was HUGE. It took me about 5 minutes to walk from the door to the cashier's counter, spookily devoid of bullet-proof glass and without gun-toting guards. The assistant, Melissa (her name displayed on a badge affixed to one of her rather prominent boobs), smiled and asked if she could help me. I pushed last nights dream to the back of my mind and explained my predicament. Or at least the bit about not being able to get any cash from the ATM. Without breaking a sweat or pressing the panic button, she asked for my passport and driving licence, filled in a form, photocopied my ID, pressed a few buttons on the computer and then asked if $100 bills would be OK. I declined, asking for 20s, as the idea of trying to cash the equivalent of a £60 note in some remote gas station didn't appeal, then watched carefully as she counted out the dough. With the money safely tucked away in my pocket, and the smalltalk about how long I'd been in the US as whether I was enjoying it over, I swaggered out of the bank $1,000 richer and $1,000 poorer all at the same time. And there still weren't any police sirens as I started the bike and rode off. Result.

I rode out of Redding on Highway 44 as the temperature rose to 33c. It was still only 10am and I was already in need of another cold shower, though this one was due to the heat. Passing through Shingletown and starting to climb into the mountains the temperature dropped slightly to a more comfortable 28c, and I once again found myself in that zen-like state I get into sometimes when I ride. Just sat there, smiling at the world and marvelling at how wonderful life is when reduced to its bare essentials. Just me, a bike with a full tank of fuel, and a rode to ride. Perfect.

On the way I stopped for gas at "Old Station", an appropriately-named gas stop as there was, erm, an old station, and nothing else. Except a couple of guys on modern bikes chatting to an old guy in a "Christian Motorcyclists Association - Riding for the Son" denim cut-off stood next to his ancient BMW. Once I'd realised I had to pay for the fuel with my credit card as there was noone manning the store, and filled up, I went over to join in the conversation. Asking about the bike was a mistake, as I got a lecture on the early history of the BMW boxer engine from its incarnation in this 1959 R65/2 (the /2 signifying something important that I've already forgotten) to the "modern" era when they changed the crank design to raise the cylinders so riders stopped decking them out. Which was about 40 years before my own boxer-engine BMW was born (El Monstro, my 2005 R1150GSA). Still, it was nice to chat bikes for a while, and I would have like to chat more, if only to discover if the CMA has similar induction rites as that other well-known motorcycle club that also wears patches on denim cutoffs.

I had read some of the pamphlet I picked up on California's State Parks and had decided that before heading to my proposed overnight stop at Chester (for no reason other than I bought my bike from the BMW dealer in Chester, UK), I would ride up to see McArthur-Burney Falls. All I knew was that it was a waterfall and on a scenic road, the latter being the deciding factor, naturally. When I arrived at the entrance there was the usual kiosk with 2 female state rangers sat extorting money from unsuspecting tourists. For the princely sum of $8 (about £6!) I was given a pamphlet and newspaper containing information about the falls and a receipt stuck to my windshield. Now I know I've griped about the cost of things in the US before, but charging folk 8 bucks to see a waterfall is a tad excessive. That said, it was a very pretty waterfall, and I enjoyed the walk down the well-maintained path to the base of the falls (but not the walk back up, bike gear is not ideal for hiking!). Perhaps it wasn't such a bad deal after all, and had I taken full advantage of all the trails I'm sure I'd have got my money's worth as well as sunstroke and exhaustion. What I did get, was some nice pictures.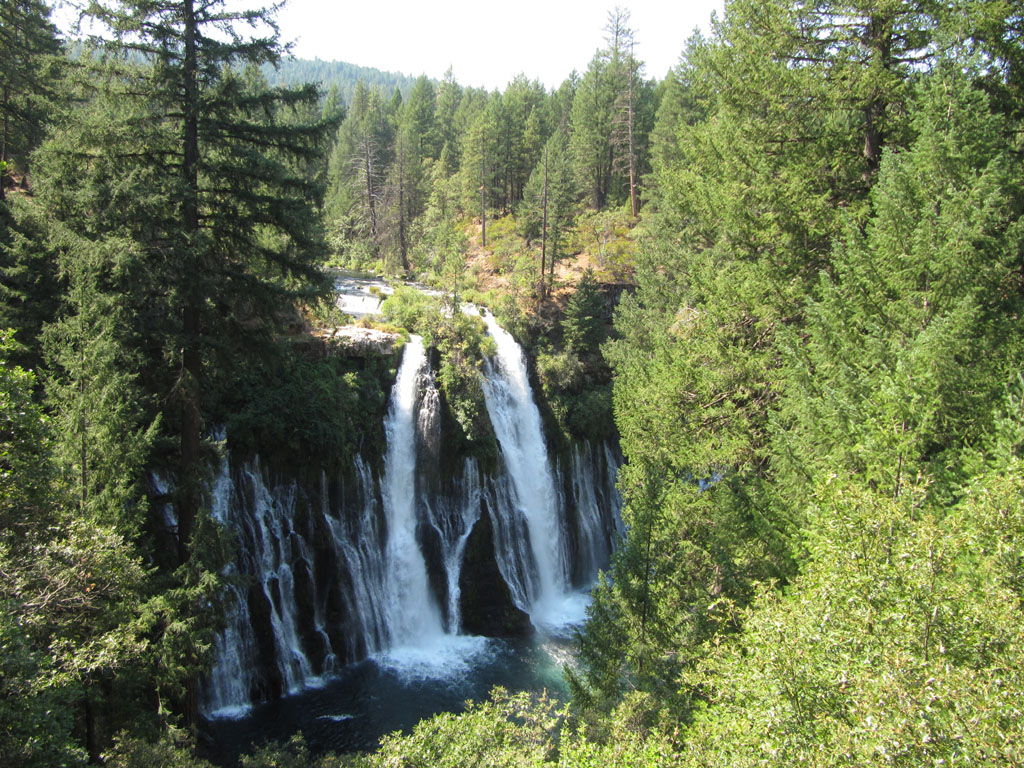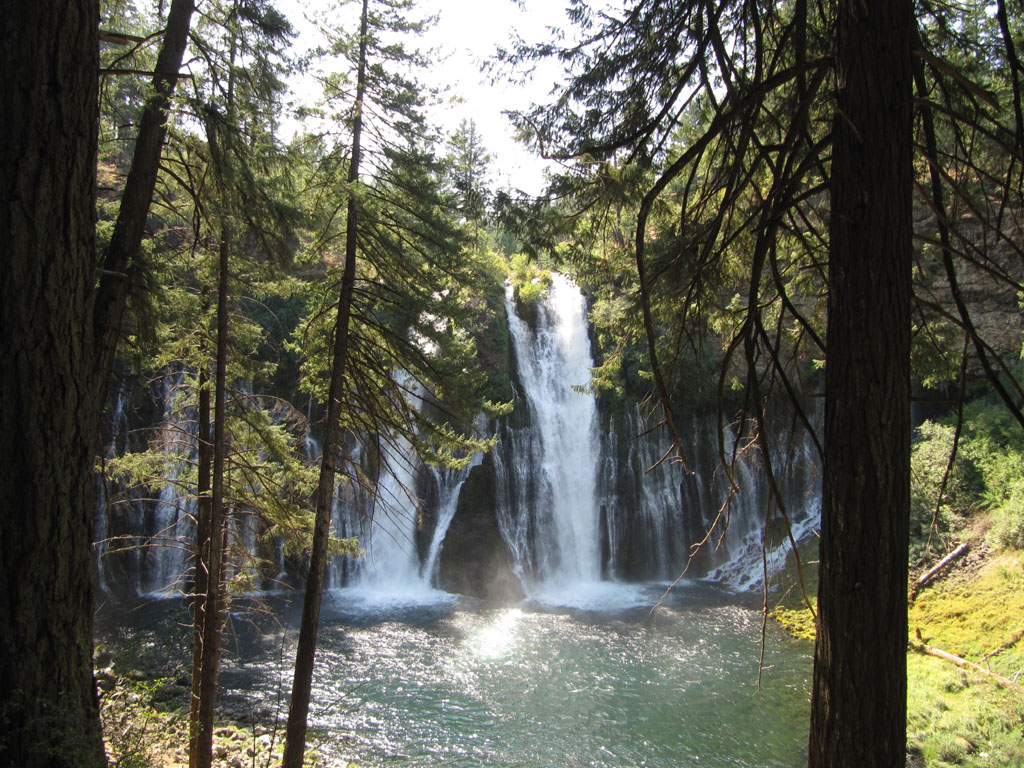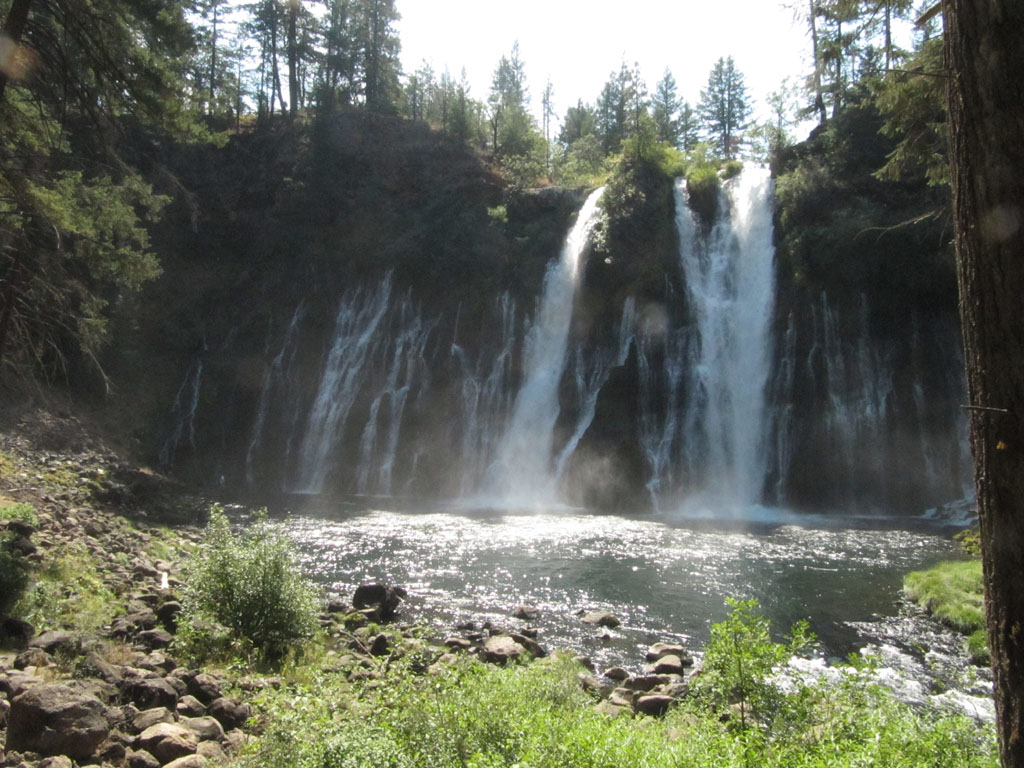 After regaining my breath following the climb back out from the bottom of the falls I went to investigate the store. They had lots of good stuff in there, from embroidered tee-shirts and cardigans to beautiful fridge magnets. Only even the fridge magnets were double the normal asking price and I'm on a strict budget from now on. So I didn't buy anything, feeling smug at saving myself enough for a tank of fuel later in the trip. I gave the rangers a cheery wave as I rode out of the park and back onto the highway, $8 lighter but enriched by the experience.

The road then took me back along Hat Creek, following closely to the original route pioneered during the conquest of the West when the gold rush kicked in. At one point it rose high up to a point called Hat Creek Rim, a high point that looks down over a landscape changed by volcanic activity some 100 years ago. Here it is possible to look down at the valley bottom, which has fallen away from the mountains, and see the volcanic cone of Sugarloaf Peak in front of you, and the high Lassen Peak from which the county gets its name, still tinged with snow, in the distance. It's a pity it was so hazy, as the photos once again fail to convey the vastness of this vista...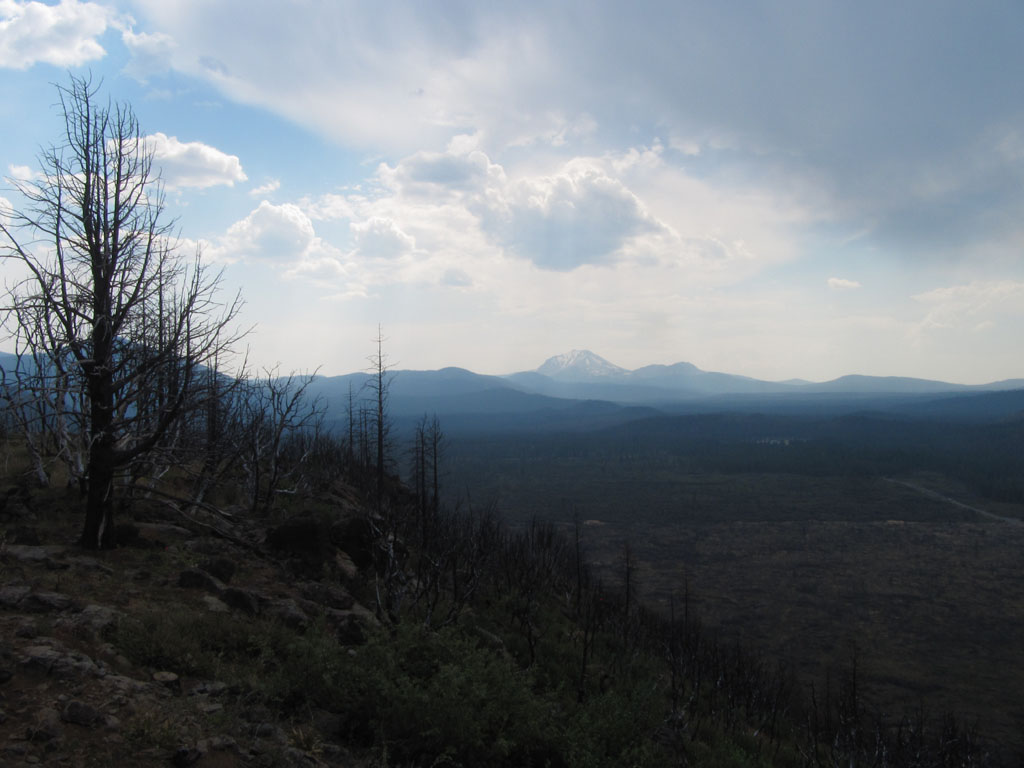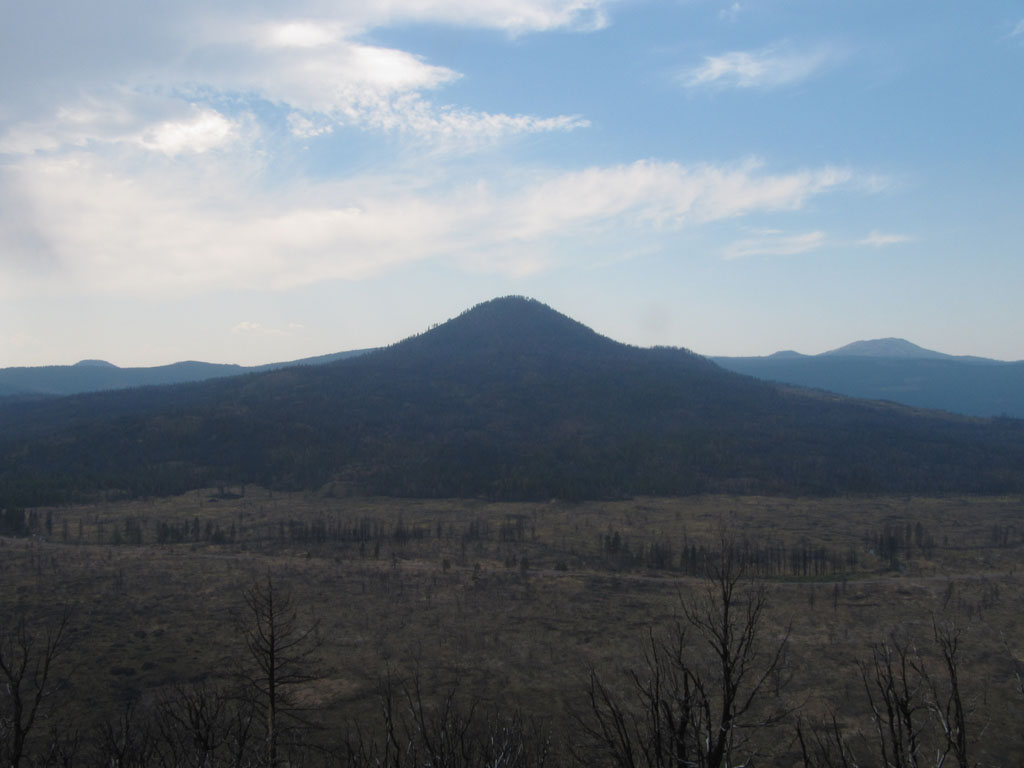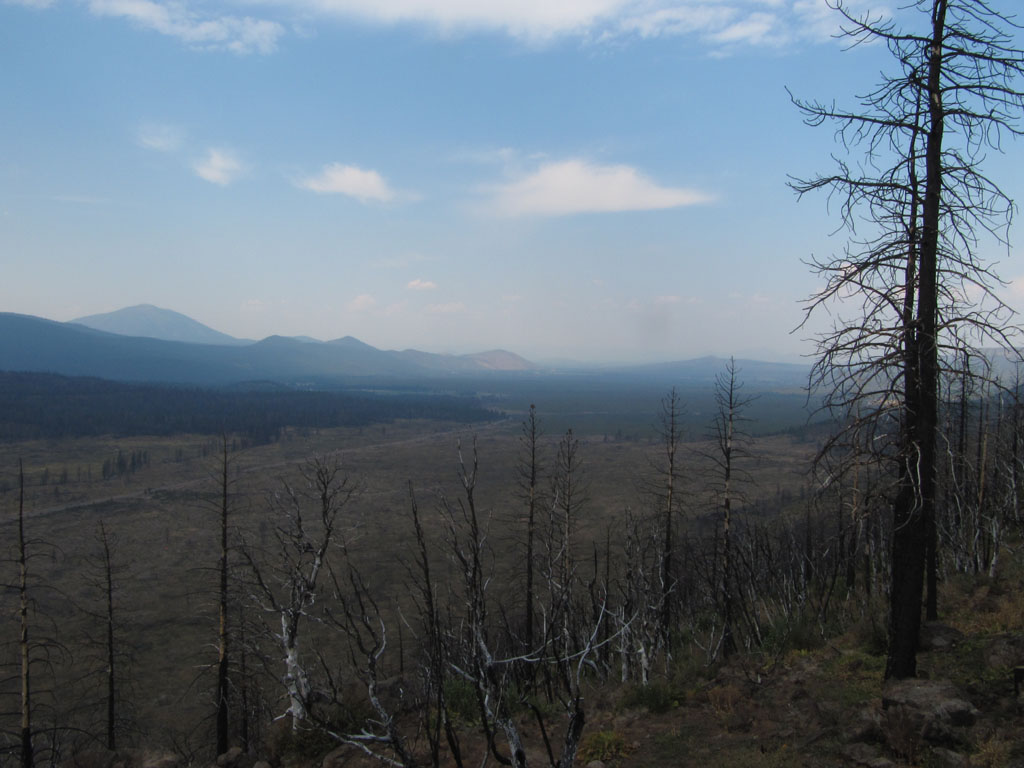 From here the road continues to follow the old emigrant trail (known as Nobles' trail after the pioneer who discovered a route suitable for wagon trains across the mountains), all the way to Chester. Now this Chester does not really bear any resemblance to the one on the border of England and Wales. There is no wall round the town, nor does there appear to be a large and varied selection of real ale pubs serving good pub food. What there is, is a population of 2,316 (I hope no-one has been born or died since they put the sign up!), and an excellent campsite.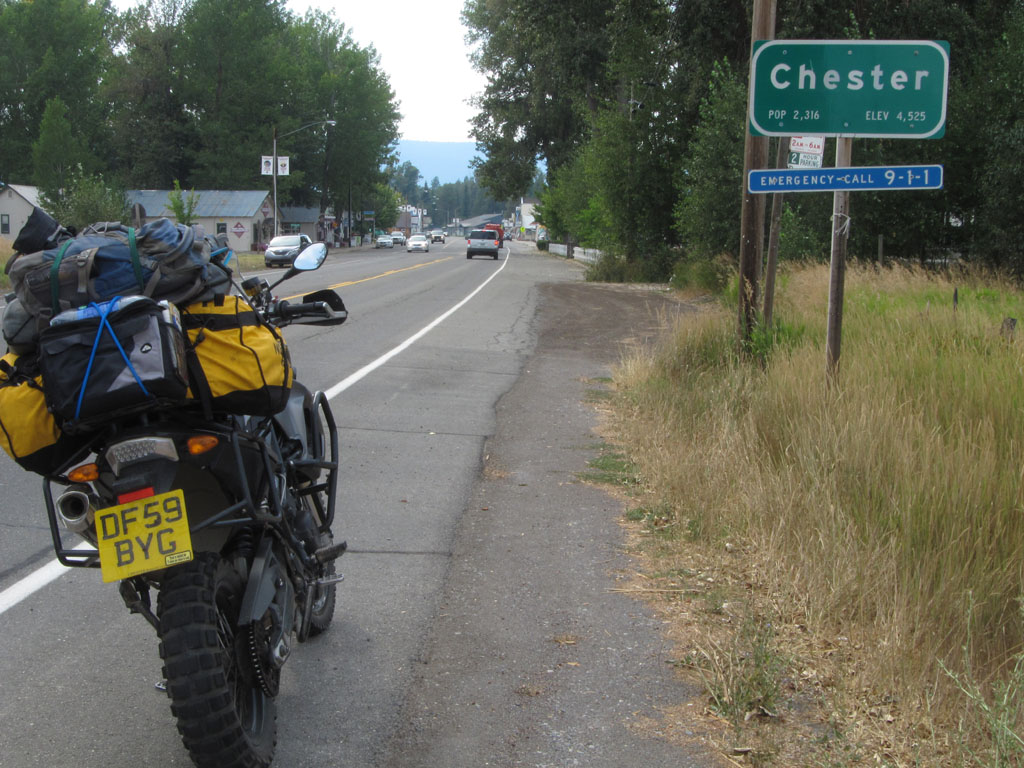 To discover the campsite, I first went into the town's information centre, where I was told it was back up the road the way I'd come in to town (I'd seen the sign but hadn't realised it was there, thinking the sign was an advertisement). Sat right on the shore of the lake it is very peaceful, with excellent hot showers and a wooden box for me to put any foodstuffs or smellies in that might attract bears, so they attack that and leave my tent alone. I hope. It's the brown box about 5ft (or a bear's stride) from my tent. I'll be sleeping lightly tonight, I think!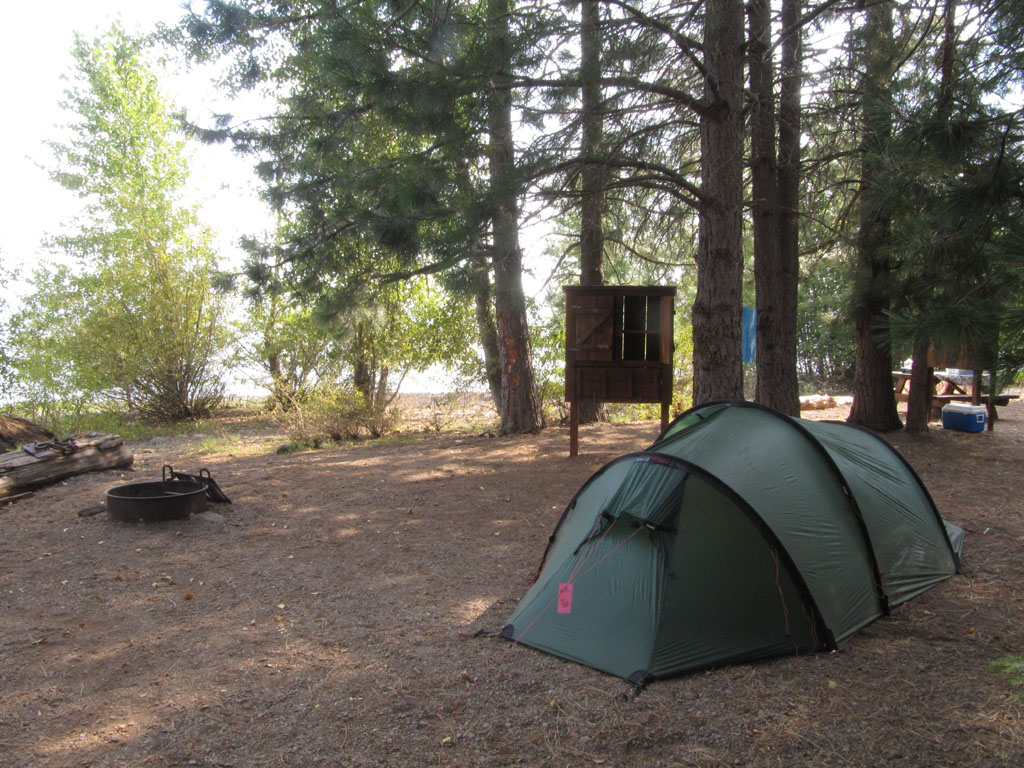 With my final few strands of beef jerky and my oranges safely stashed in the box, I rode back into town in search of something to eat. All I'd eaten so far was a choc-chip bun for breakfast when I filled up with fuel and an apple at Hat Creek Rim, so I was hungry. A pizza at the pizza factory was the order of the day, only a 12" as I'm still trying to diet. And failing, obviously. Back at the campsite I discovered they have wi-fi, but only by the office, so I returned to my tent to write this whilst looking out over the lake, and will wander back to upload it when I'm done. Meanwhile I can hear the birds singing, the faint sound of voices as my fellow campers settle down to eat (it's 7pm), and the sun is gradually fading on another perfect day...