Trans-Am Trail and beyond! - Day 37, The Best Riding Road in California?
Day 37 - Chester, CA to Lake Tahoe, CA
The day started much as the last one ended, only with the sun rising rather than setting, and from the East not the West...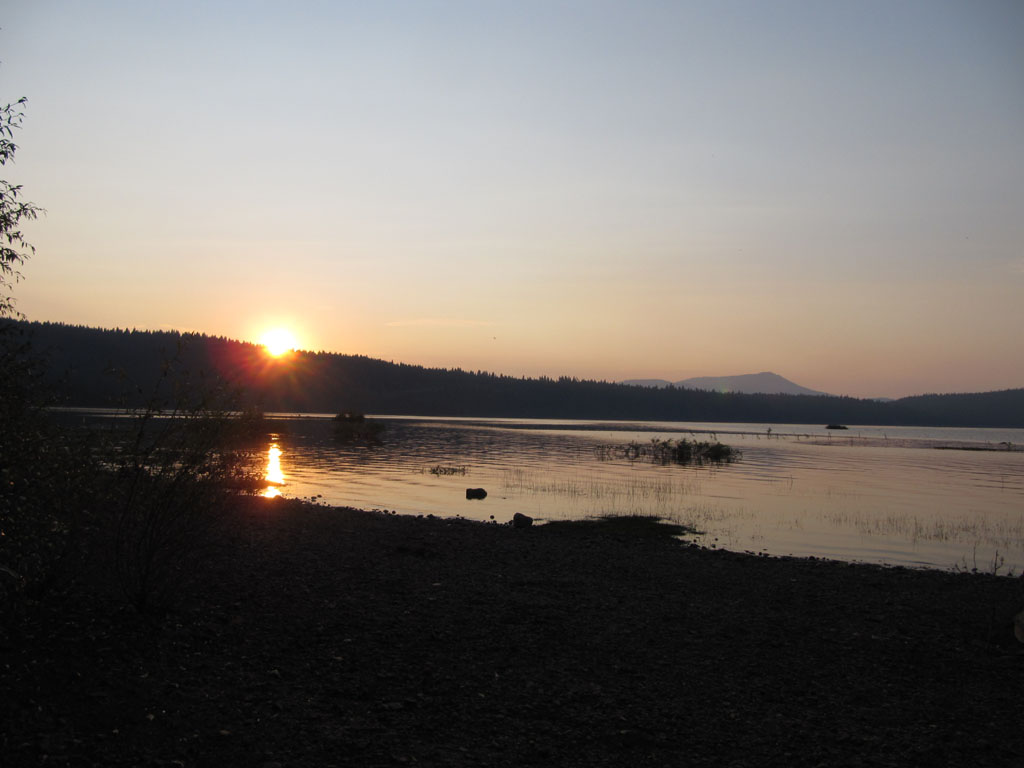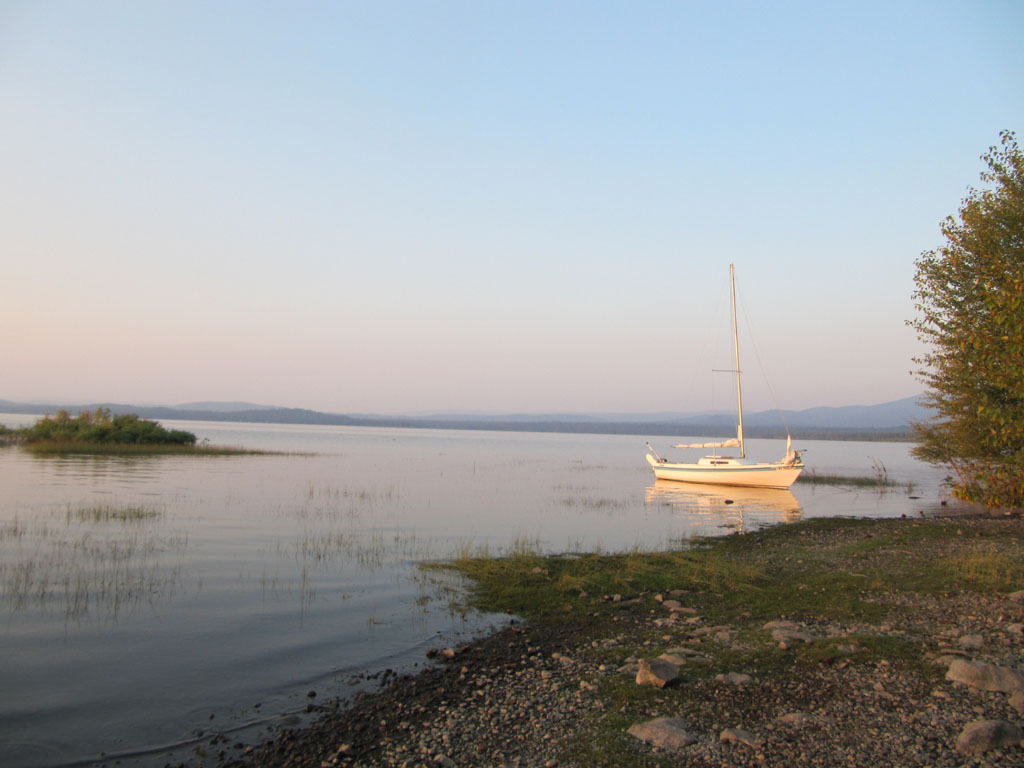 I'd slept surprisingly well, although the noise from a small group of Americans who turned up at dusk on their KTM off-road bikes from a day on the trails went on until well past midnight. Once up and showered in the lovely clean shower block, I started packing the bike, taking my time as I wanted to give Tracy a call and it was still a bit too early. I got to take my time, too, as first one of the KTM riders came over for a chat - noticing the Trans-America Trail sticker on the bike and enquiring incredulously if I'd done it on the F8. After he'd gone an old guy from, the RV across the way stopped by for a chat, and we discussed my plans (such as they are) for the rest of my trip. He proclaimed Yosemite to be well worth the visit, which is just as well, as I'm heading there in a couple of days.

Finally I managed to complete my packing and rode the loaded bike up to reception so I could pop on the Internet and call Tracy and update the blog. News from home always seems a little distant when I've been travelling for more than a couple of weeks, so when Tracy told me about the leaking roof and repairs I struggled to bring a picture of it to mind. Am I forgetting what my own house looks like? One of the major advantages of a trip like this is that life is boiled down to just the bear essentials - where shall I eat? where shall I sleep? have I enough fuel? Life back at home has more pressing and challenging problems, but there's nothing I can do about them from here, so they'll have to wait.

I also managed to get hold of Steve, my mate from San Francisco, and put together a tentative plan for meeting up in a couple of days time. He's got most of the week off work, so is riding out to Yosemite to join me for some camping, riding and perhaps even a beer or two.

But for now, I ride alone. I rode out of Chester and down to Greenville where I spotted a lovely little cafe that looked ideal for breakfast. I wasn't wrong, the "Hungry Man" option of 3 eggs, bacon, ham, and white toast was just what I needed to set me up for a full days ride. I skipped the potatoes (hash brown or country-fried) as I figured they would be surplus to requirements. It was also nice not to have my food covered in cheese!

I then headed down Feather River Canyon on Highway 70. I'd read about this road the day before, and the description intrigued me. It follows the canyon (no, really!) and there is an old, but still used, railway line that also follows the canyon but on the opposite side of the river. The river is also dammed at various points and there are several hydro-electric power stations at the riverside. What the pamphlet failed to mention is that it also happens to be probably the nicest road for riding a motorcycle on anywhere. It's on-par with the Route Napoleon in France, and that's a personal favourite. It's certainly better than "HOG heaven" or route-36 that the earlier pamphlet claimed was the best motorcycle ride in California.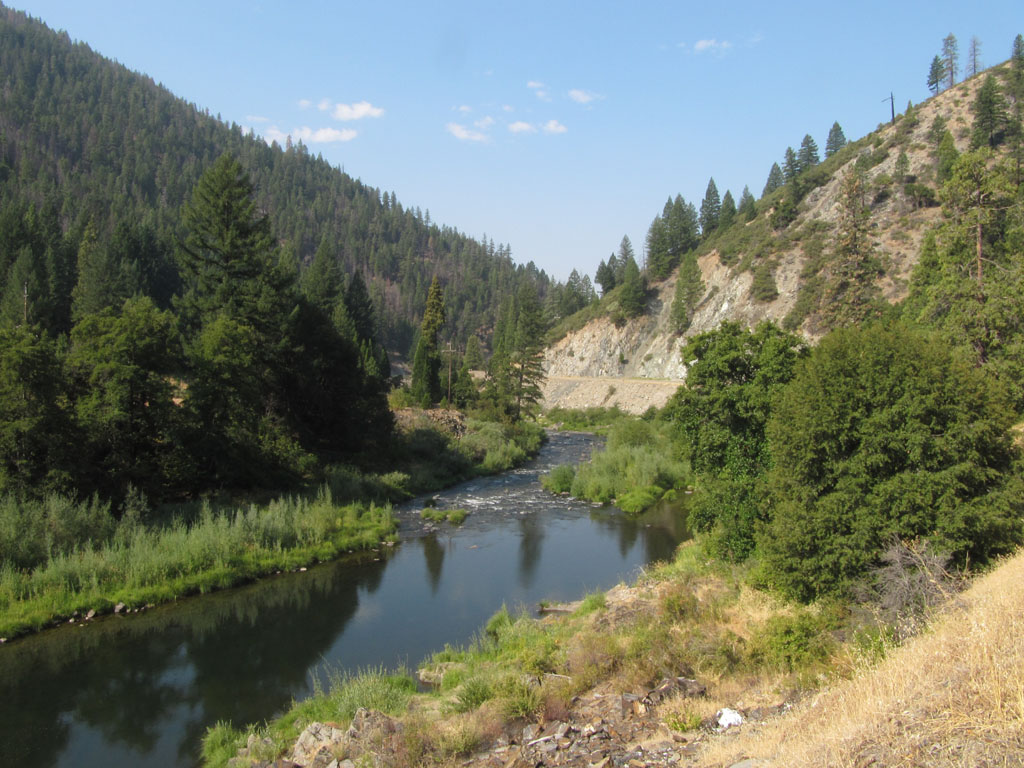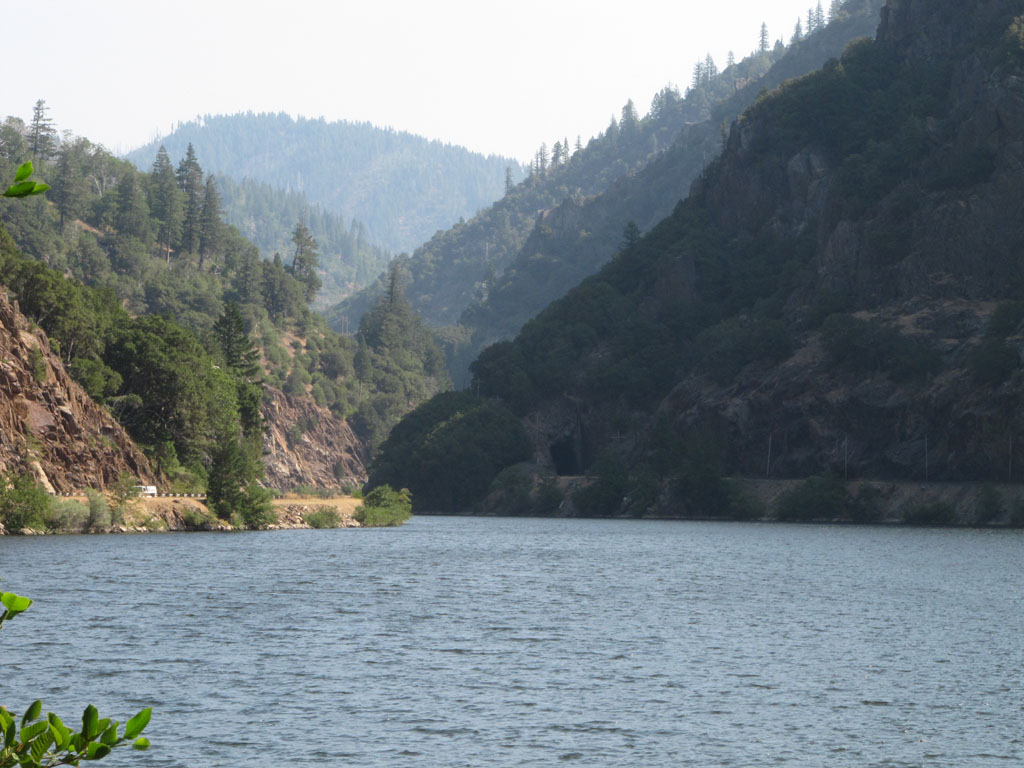 In addition to the road being superb to ride on, it also has a couple of places where the railway and road swap sides of the river. They do this by crossing bridges, one under the other. The first was the road under the railway, the second the other way round. If only I'd seen a train on the railway, I'd have waited at one of these spots to get the photo!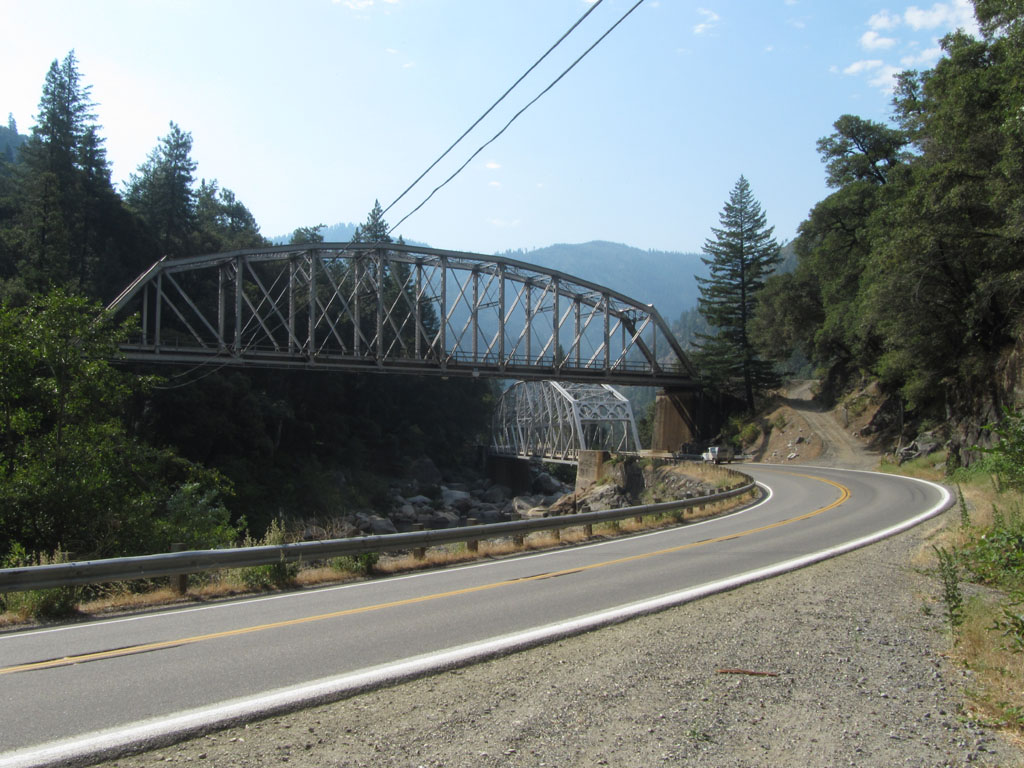 Finally the fun came to an end as I reached the end of the road in Thermalito and headed onto the highway to Oroville, before turning back East and into the mountains again. This may seem a little convoluted, and it is. The direct route from Chester to Quincy, my intermediate stop, is perhaps 50 miles. This route is closer to 140. But taking the direct route would have missed highway 70 and one of the best morning's riding of my entire life. Sometimes the Long Way Round is the best way!

Having topped up with fuel in Oroville I starte what looked like another excellent ride on higwhay 162 towards Quincy, only to hit a "Road Closed - Diversion" sign. Now this was a major road, not a dirt track, so there was no alternative but to follow the diversion, which took me on a narrow paved road deep into a forest before eventually rejoining 162 some miles later. Back on 162 the going was good and the road superb, until I hit a long section of roadworks. These were fine for the main, the new tarmac smooth and grippy, but every now and then there would be a "Loose Gravel" sign at the roadside and a few hundred yards where the top surface of the road was missing and there was loose gravel instead. But with all my recent dirt-riding experience it wasn't a problem, just slowed things down a little. Finally I emerged at Quincy, where I stopped for a coffee, much to the surprise of the 2 waitresses in the cafe who both tried to take my order for food. It was 2pm and lunchtime after all, but the Hungry Man breakfast was still preventing me from being hungry in the slightest. From Quincy I took another couple of scenic byways (70 and 89) down to Tahoe City and Lake Tahoe. As I got further south the skies darkened, then I could hear thunder in the distance, and stopped to put on my waterproofs just in time. The threatened deluge didn't happen, though, so I only got slightly damp, which was a relief as trying to dry wet motorcycle gear when camping isn't easy. By the time I got to Tahoe City I was ready to stop, having covered 260 miles of "scenic byways", most of which involved swinging round corners. I used the Information Centre to locate a campground with showers - at Sugar Pine Point - and rode there to check it out. Another Forestry service run site it looked OK, and even had metal lockers to put food and smellies in to keep the bears busy. So I checked in, for one night initially although it's likely to be 2, at the eye-watering price of $35. Per night. Ouch.

Once pitched up, I rode to the general store and stood looking at the shelves of unappetising food for ages before giving up and buying a tin of chilli con turkey and a couple of very large bottles of beer. Back at the campground I made my tea, whilst studying a pamphlet on "101 things to do in Lake Tahoe", all of which sound like great fun if you have someone to share them with, so I think I'll settle for a ride round and a look at the scenery tomorrow.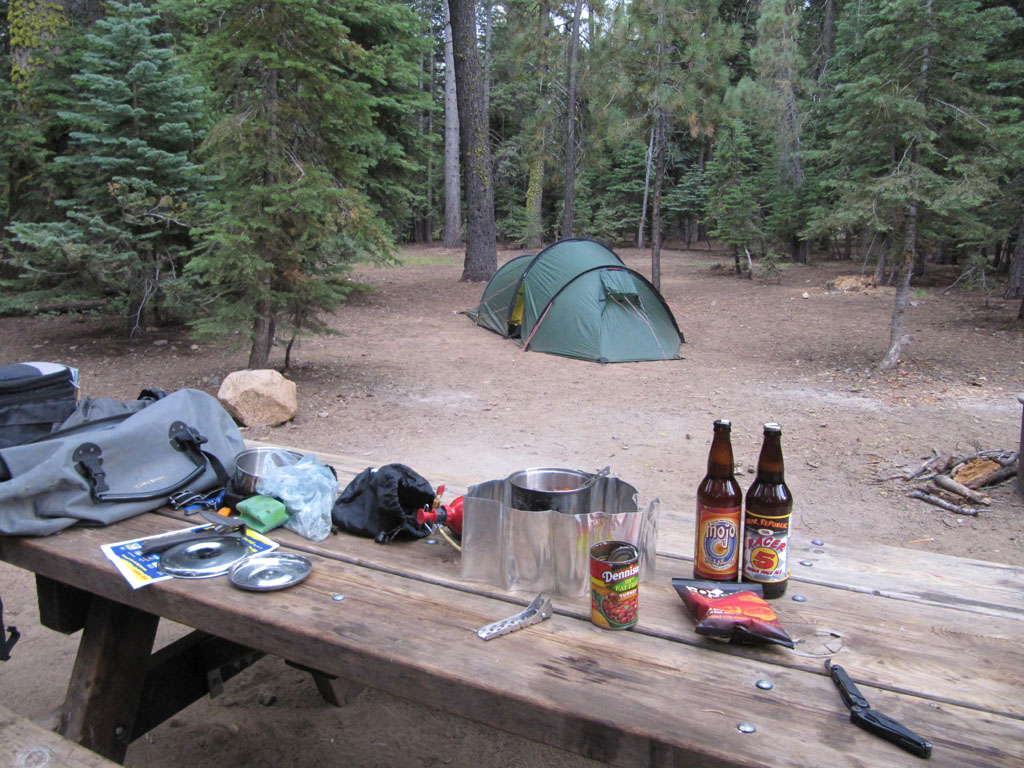 My next task was to gather some firewood before it went dark, so I put everything in the bear locket (including my big yellow bag) and went foraging. No sooner had I gathered a small stash of dead wood from the forest floor than 2 big forest ranger pickups stopped by and out popped a couple of rangers. I thought they just wanted a chat, but no, I was told off for collecting wood! It seems that this particular park prefers the wood to sit on the forest floor, providing shelter for the animals and gradually returning nutrients to the forest. Unlike all the other places I've stayed, where as long as the wood is dead, it's fine to collect it. Firewood here is brought in especially and costs $8 a bundle (that would last one evening if you sat out beyond 9pm). So I reluctantly bought some, to keep the chill off, and to give me something to look at until it was late enough for me to turn in. And I thought camping would be cheap!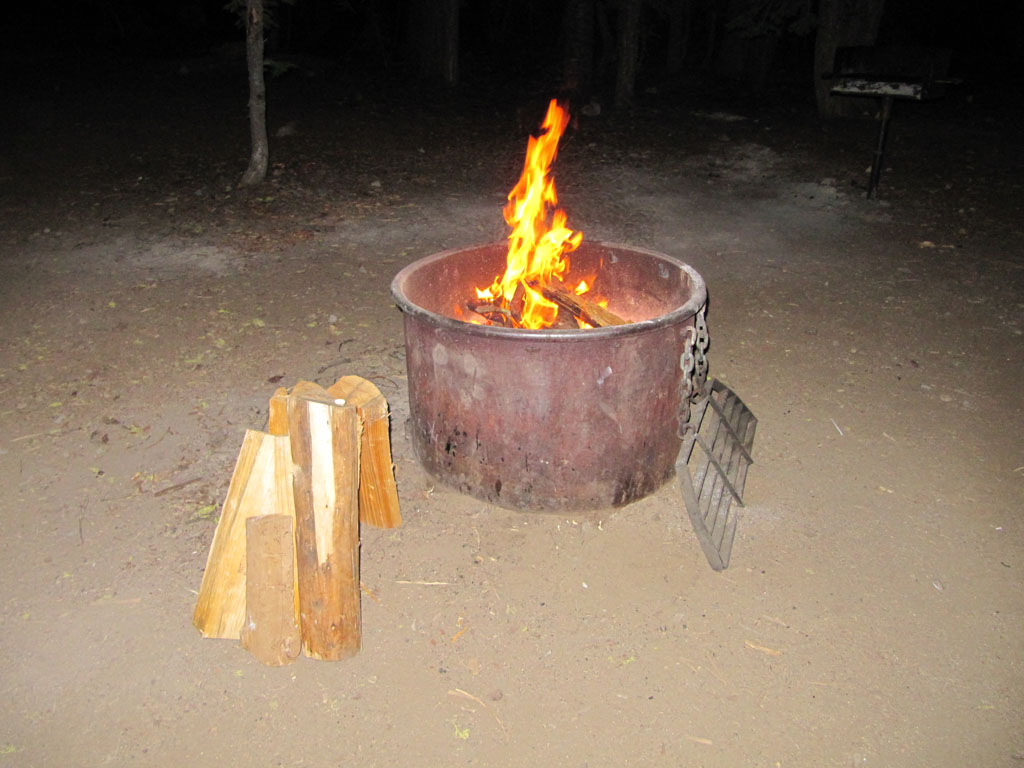 The fire did at least keep the insects away, as they seemed more interesting in eating me than the bears. Of which I saw absolutely no sign whatsoever. I did see chipmonks and squirrels, though. Perhaps the bears will come visit me in the night, although I doubt it, as the only thing in the tent is me, my riding gear, my sleeping bag and mat and my smelly boots...