Trans-Am Trail and beyond! - Day 38, Tour de Tahoe
Day 38 - Lake Tahoe, CA
Having decided to spend an extra night at the campground in order to give myself time to explore Lake Tahoe, I was in no hurry to get up and get moving. Despite trying desperately to lie in and sleep some more I was still up and on the road by 8am. Pulling out of the campsite and turning right to ride ant-clockwise round the lake, I was confronted by a steady stream of lycra-clad cyclists coming the opposite way. At first I just thought they were out for a normal Sunday morning ride, but as I rode on there were more and more of them. There was clearly something going on. Now you might think that riding round a lake, even one with a 72-mile circumference, would be fairly easy, as the lake surface is, well, flat. But the road that follows the lake shore doesn't quite follow the shoreline as there are ruddy great big hills and it needs to go up and over them. Some of the climbs are very steep, so it wasn't surprising to see some of the cyclists looking like they were having to put a lot of effort in. It did seem to be the blokes that were a-huffing and a-puffing, though, as the women, and there were lots of them, all seemed to be smiling. Either way, it was a very impresive sight, even if it meant that I couldn't easily pull over to the lakeside roadside to take pictures of the lake itself. I did stop to grab a shot of a small group of cyclists though, as they climbed one of the smaller hills they faced.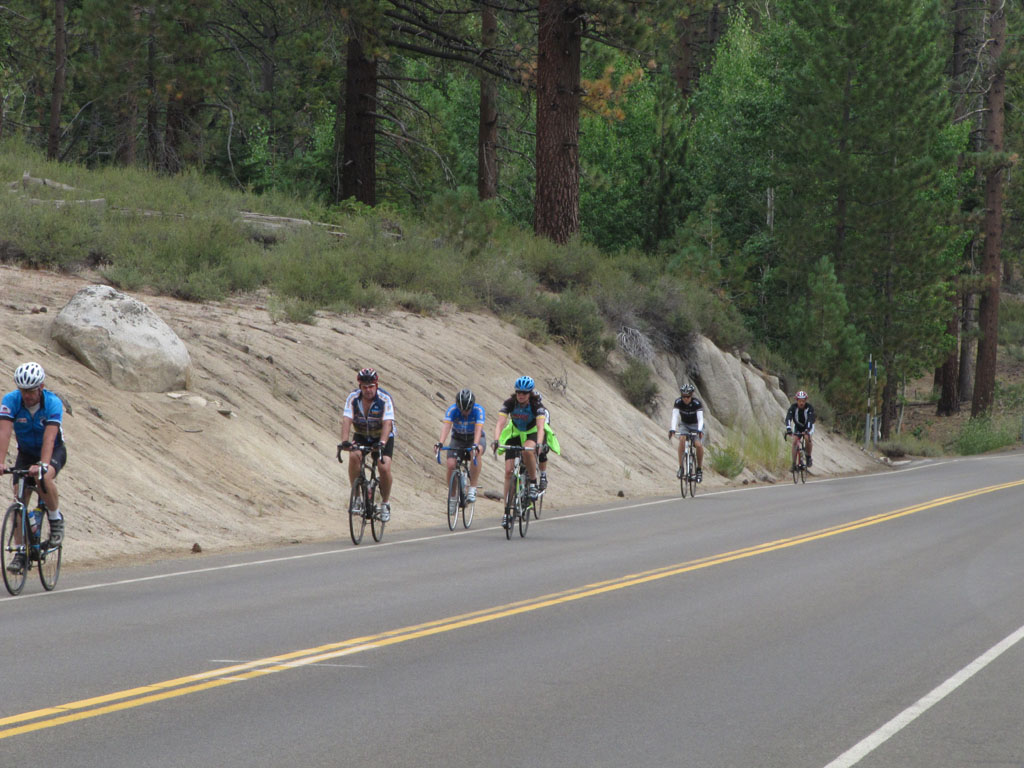 When I stopped for a coffee at a nice looking cafe in Camp Richardson (and it was, camp, that is), I asked the guy in the cycle hire shop what was going on. He told me that they were doing it as a way of marking the 10th anniversary of 9-11. I'd seen various signs out and about, but the anniversary of that terrible event had slipped my mind. I thought the Tour de Tahoe was an excellent way of commemorating the tragedy, by doing something positive and that obviously was challenging for those entered. Good on them, I thought, as I continued my way round the lake, trying not to get too distracted at the sight of an endless stream of healthy looking folk in lycra. Did I mention there were a lot of women? Quite distracting, it was.
But I had come to see the lake, and so finally managed to cross the stream of cyclists into the lookout at Inspiration Point, which looks out over Emerald Lake at the southern end of the main lake. At last I managed to get some pictures of the lake, and take my mind off lycra. The house in the 2nd photo is Vikingsholm, built in 1928-29 for Mrs Knight as a summerhouse, in the style of her native Scandanavia. Her tea-house can be seen on top of Fannette Island in the 3rd picture.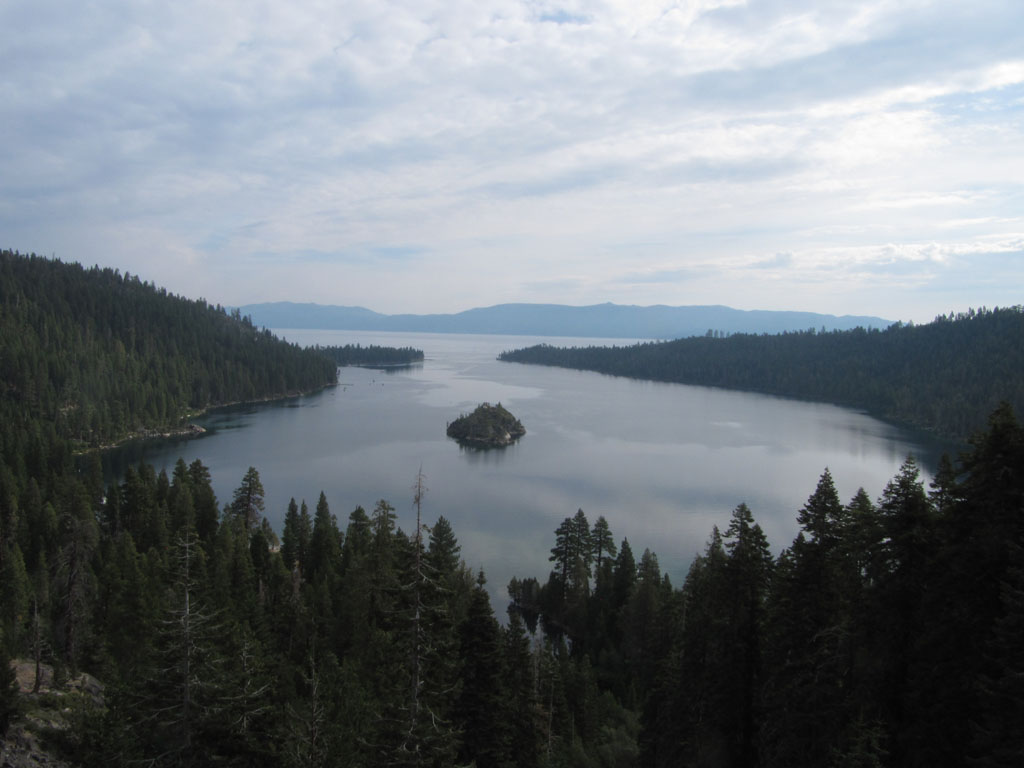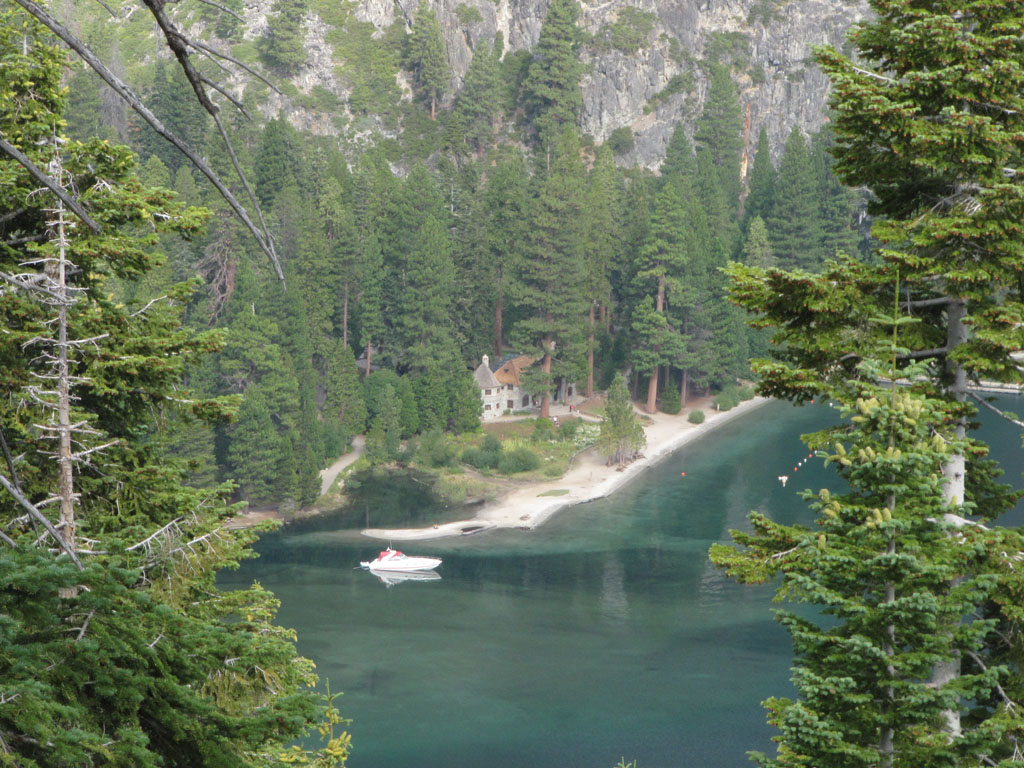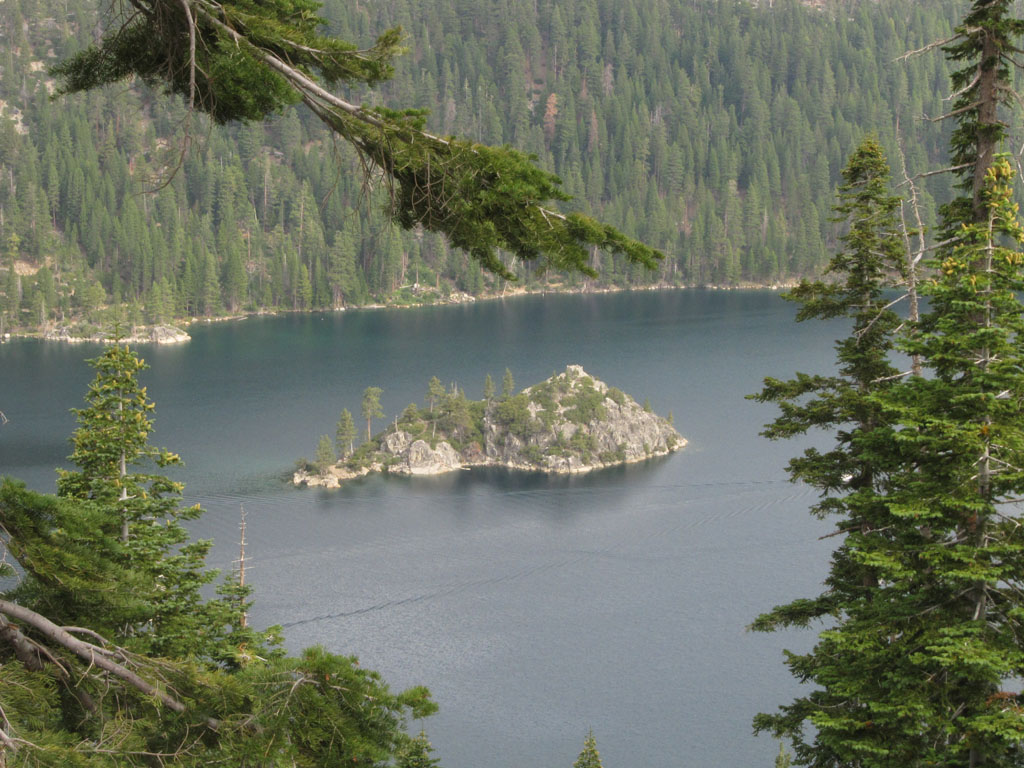 As I continued my anti-clockwise circumnavigation of the Lake, I passed out of Califonia and back into Nevada, at the appropriately named Stateline city. Here once again was the contrast that must exist at every border town into Nevada, with casinos lining the town from the stateline onwards. It reminded me of the Border Inn, on the border between Utah and Nevada, where the shop was in Utah and the casino in Nevada. As someone who doesn't gamble (I don't like the idea of giving my money away!), I can't see the attraction, but there must be serious money involved judging by the quality of the buildings on the Nevada side of the border compared to those just a few hundred yards away on the California side. That said, the private houses all round the lake are stunning - it really is a popular place!

I rode all the way round the lake to Tahoe City, where I'd come in from the north yesterday, and then decided to ride back round the clockwise way. Now I was riding with the flow of cyclists, which was worse, at least for my concentration. Fortunately when I got to Stateline again I passed the finish line for the Tour de Tahoe, and the road from there was deviod of lyrca. Phew!
I took a diversion up to Rose Mountain to get a decent view of the lake from up high, but the storm clouds were gathering playing havoc with my attempts to get a decent photo.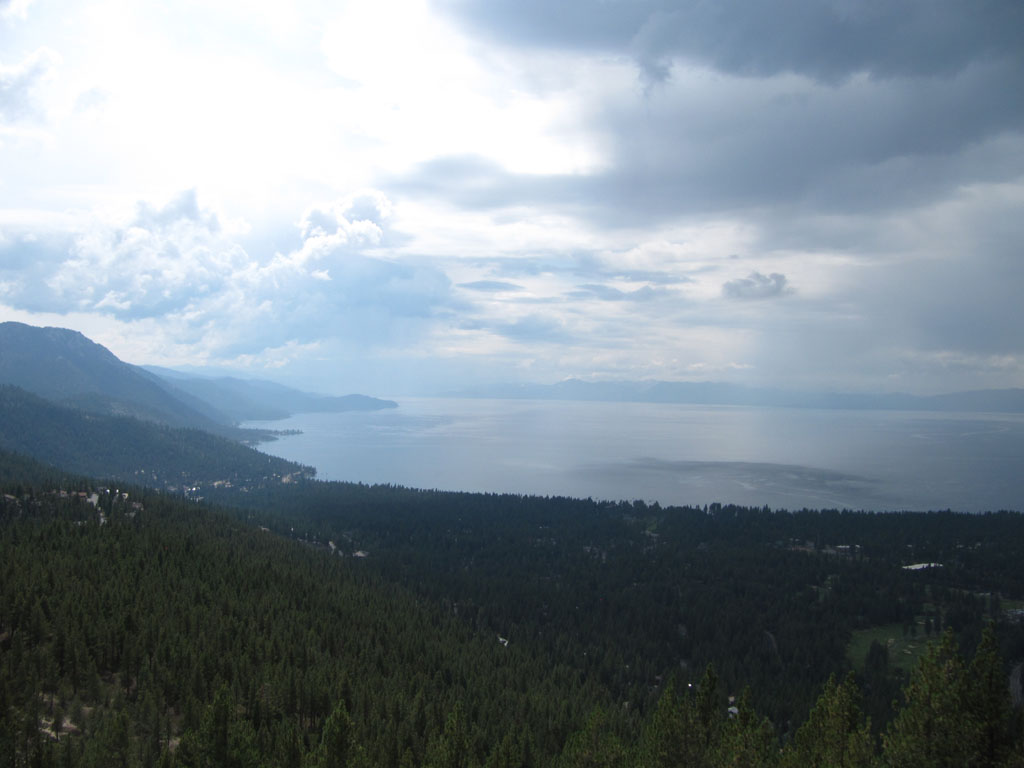 As I passed the campground I popped in to pay for my second night, only to be told by the warden that I would have to move my tent as they were closing that part of the campground that night. I told him that was a pain, as I'd been told I could stay for 2 nights and that they were closing the site on the Monday after I'd be gone, so he advised me to speak to the maintenance crew. I found them near the toilet block, a young woman and a spotty-looking youth, and explained that I didn't want to have to pack up everything and move for just one night. They were happy to leave the site open, so problem solved I went and paid another $35 for the privelege of sleeping in their forest.
I then continued on my clockwise ride round the lake, stopping again in Tahoe City for a drink and a frozen yoghurt (the healthy alternative to ice-cream and very tasty too), before calling in at the supermarket to get something for tea. As usual I found choosing something difficult, to the extent that I picked up, then put back, some nice-looking Italian sausages as I couldn't find anything I wanted to eat to go with them. Filled pasta and a nice sauce selected again, I paid and went outside to find it raining. Damn. It then proceeded to rain heavily as I rode back to camp. With my bike trousers now soaked I climbed into the tent to wait out the rain. Normally I don't have a problem with camping in the rain, as the tent has a porch I can cook in, but this is bear country. I didn't fancy sharing my pasta with Goldilock's friends, so I had to see what happened. Whilst waiting I whittled down the 3 large logs I'd saved from the firewood I was forced to buy yesterday so I could light a fire - glad that I'd had the commonsense to put them in the tent before setting off on my ride. At around 7pm the rain eased off and I was able to setup my stove, get the fire going and dry out a little whilst eating my feast.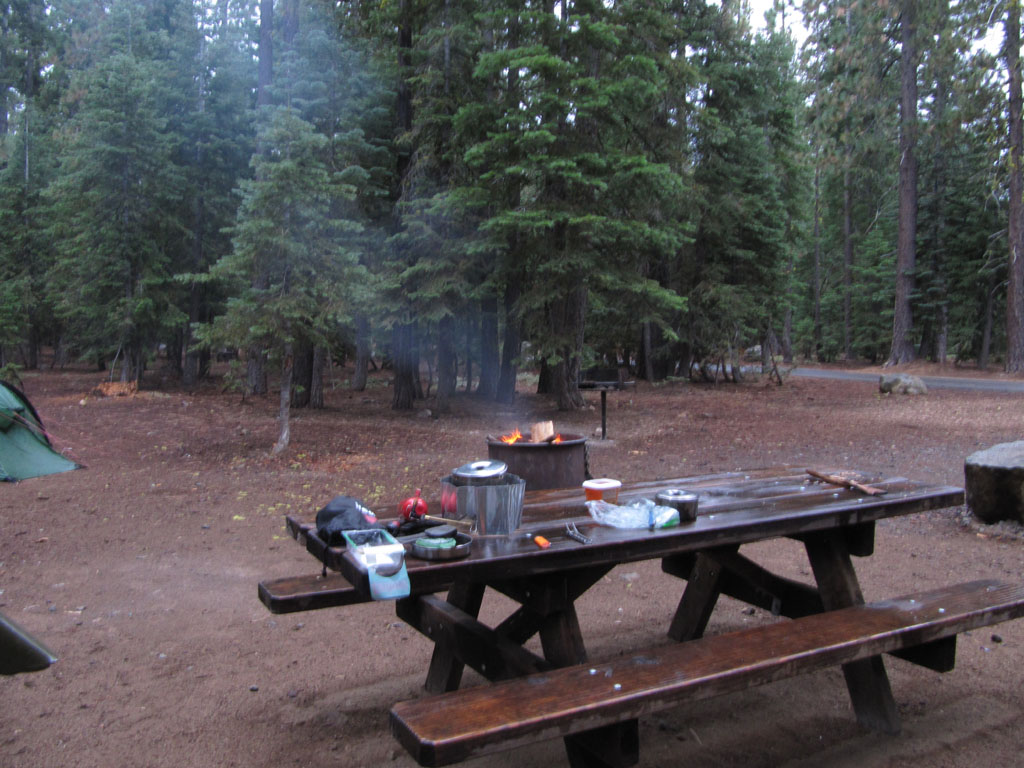 With no-one else in that part of the campground it was like being in the wilderness, and I was quite content as I sat in my soggy trousers, eating my pasta and reading my kindle by torchlight. Just hope the rain has put the bears off looking for stray campers to munch on...