Trans-Am Trail and beyond! - Days 39 and 40, Yosemite
Day 39 - Lake Tahoe, CA to Yosemite National Park, CA
After the rain it was unsurprising that the morning was overcast and chilly, and the tent was still sopping wet as I packed up camp and prepared to head south on to Yosemite. As usual I had taken a look at the map and chosen the roads marked with the green dots that signifies a scenic road. That meant that rather than heading the most direct route, I would be heading south on highway 50, then highway 89 before heading south west on 88 to Jackson and then south east on the 49 before picking up the 120 into Yosemite. I only tell you this because some people like to know which roads I took, so now you know.

Despite the early morning chill the ride started well as I made my way round the southern part of Lake Tahoe once more, before leaving it behind and heading out into the countryside. As usual when I have a fairly long days ride I didn't plan on stopping for breakfast until I'd already covered a fair few miles, and as I wasn't actually hungry for once I just kept my head down and enjoyed the ride. That also meant I didn't stop and take lots of pictures either, so there's very little I can say about the ride, as my memory of the early part of the journey has faded. That doesn't mean it wasn't enjoyable, just that it wasn't spectacular. It did get interesting as I climbed up and over a number of passes, including Carson Pass, which topped out at around 8,650ft. This was part of the main route west during the gold rush, but my main thought was that I was glad it was paved, the memory of the high passes in Colorado on the TAT still fresh. I was also glad that the sign warning of a 2-hour delay due to the roadworks proved to be false, the delay no more than a few minutes. The scenery from high up on the passes looked just as I would imagine it did during the gold rush days.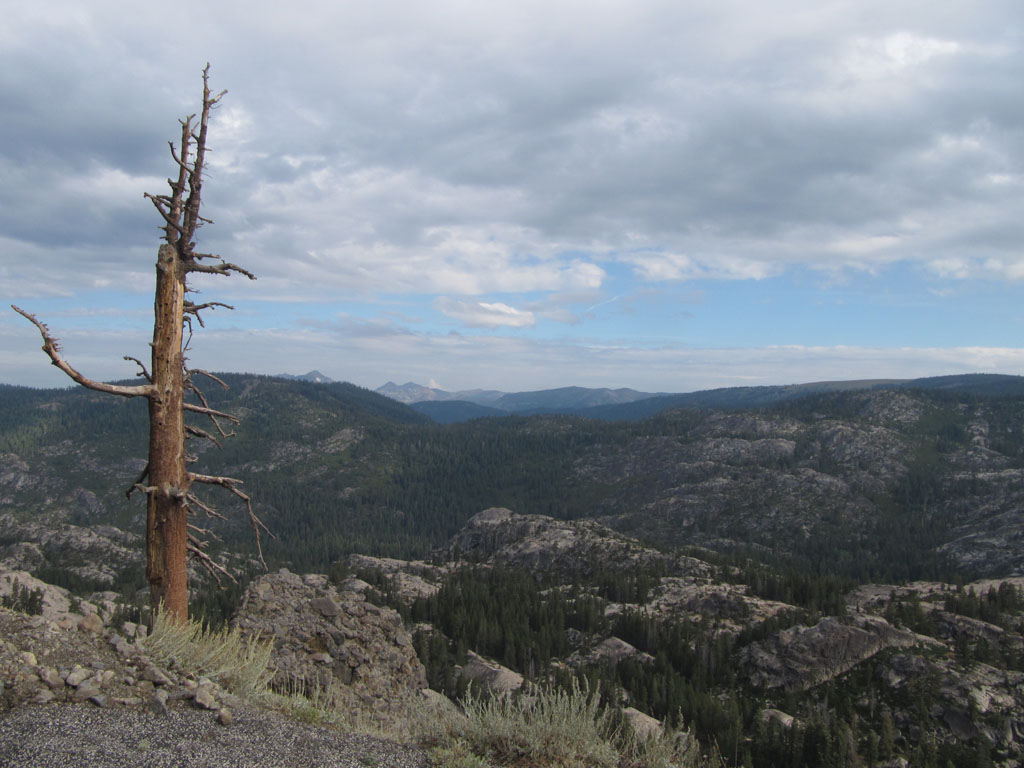 The ride took me through some really quaint old towns that still had buildings dating back to their heyday of the Wild West. Towns like Angel Camp (where I finally stopped for something to eat in a diner full of racing car memorabilia), Chinese Camp and Jamestown. I even passed through San Andreas, which isn't connected to the fault that shares its name in any way. Finally, after a good day's ride, I arrived at the entrance to Yosemite National Park. At the entrance was a sign proclaiming that all the valley campsites were full, which was a pity as that's where I'd told Steve I would be, so we could meet up the following day. No problem, though, as I went to the camping reception and found a plot at the Hodgdon campground just inside the entrance to the park, reasoning that Steve would check first to find out where I was registered. I also thought I'd be able to get an Internet connection in the village and let him know about the change of plan. Once pitched up I rode down into Yosemite Valley proper in order to get some supplies and have a bit of a look round.

Now at this point I should declare a particular personal connection with Yosemite, that's the main reason why I really wanted to come here. It's a place I know my mum and dad loved, and my dad, who was a professional photographer, took some spectacular photographs of Half Dome that were on the wall at mum's until recently. I had always wanted to come here to get a sense of why they loved it so much. As I rode down into the valley and caught my first glimpse of El Capitan, a massive granite rock face that extends over 3,000ft up from the valley floor, I couldn't help but be somewhat unimpressed. Yes, it's a lot of rock, and certainly has some beauty, but it didn't really wow me the way I expected. Perhaps I've been on the road too long and am becoming jaded with all the wonderful sights I've seen. Ot perhaps I'm just tired. Bridalveil waterfall, still running hard despite the long dry spell, was quite a sight, though.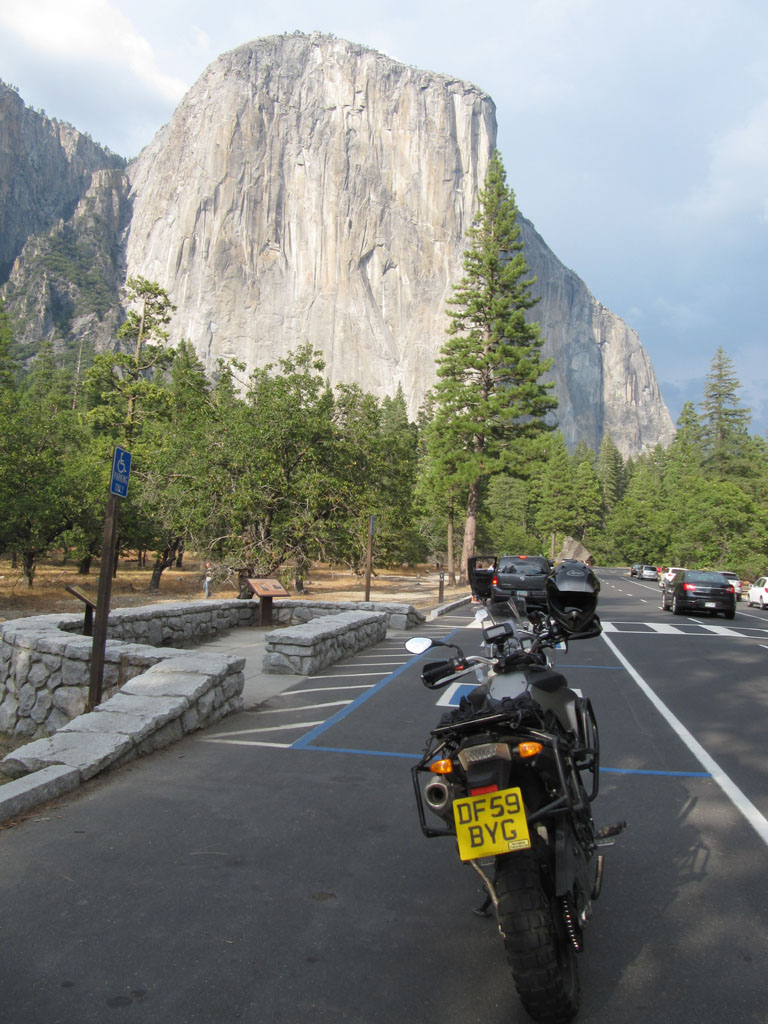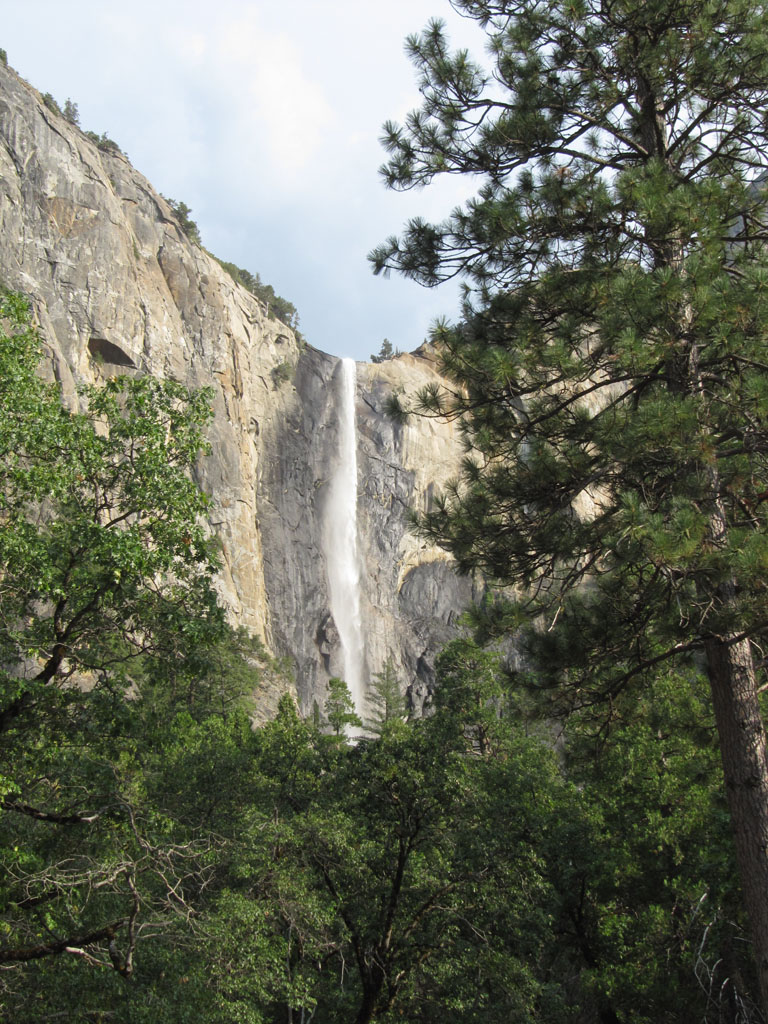 At the end of the valley is the main store, where I was able to get something for my tea, and a couple of bottles of Yosemite IPA to wash it down with. Back at the campground that's exactly what I did, whilst reading through the pamphlet and planning my day tomorrow, when I'd ride round the park in the morning before trying to find Steve in the afternoon. All attempts to find an Internet connection had failed, so I had no real clue how we were going to find each other...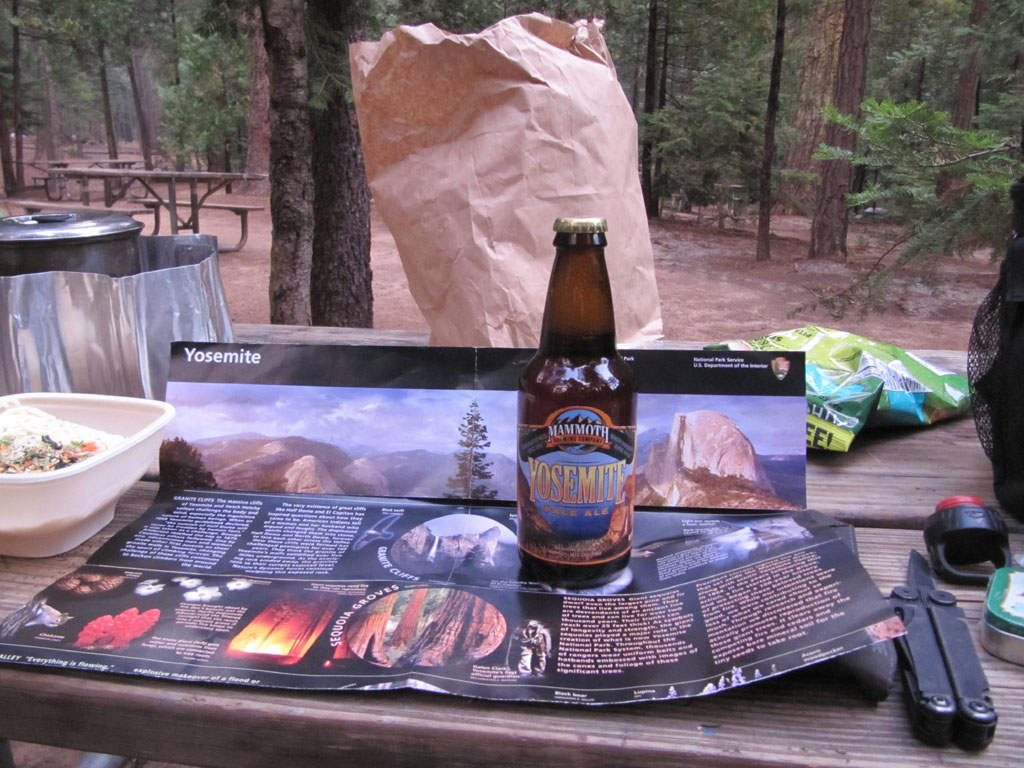 Day 40 - Yosemite National Park, CA
The day dawned bright and sunny and it was a joy to ride the bike without the heavy bags affecting the handling. Not that I'd be going anywhere quickly as the speed limit in most of the park is 35mph and the steady flow of traffic means that even that speed is quick enough. My plan for the day was to ride up to Glacier Point, where I hoped to get a decent view down into the valley, before heading back into the valley to pick up some lunch and to try and find an Internet connection again, before heading to the park entrance to catch Steve as he arrived. I figured he'd set off around 9am and the ride from Half Moon Bay near San Francisco would take him at least 4 hours, so I'd got plenty of time to explore the park before he got here.

The ride up to Glacier point was great, heading steeply up the mountains on the south side of the valley, affording lovely views over the tree-lined hillsides and meadows. Then, as the road turned back towards the valley and topped out, I was hit with the most spectacular view I've ever seen. More than making up for the lost "wow factor" yesterday. It was all I could do to pull over into a parking spot and switch off the bike, not even getting off for a minute or two as I feasted my eyes on the most amazing panorama. Here was the view that had so captivated my dad, and I felt his presence very clearly as I walked to the edge of the viewing circle and stood open-mouthed at the massive rock formations spread out as far as I could see. There, right in front of me was the huge distinct shape of half-dome, looking like a hooded nun gazing out across the valley. The native indians believed that half dome and the full dome across the valley on the other side are the spirits of a couple of lovers who argued so badly it angered the gods, who turned them to stone and placed them here to face each other for all eternity. Regardless, it is still a beautiful sight.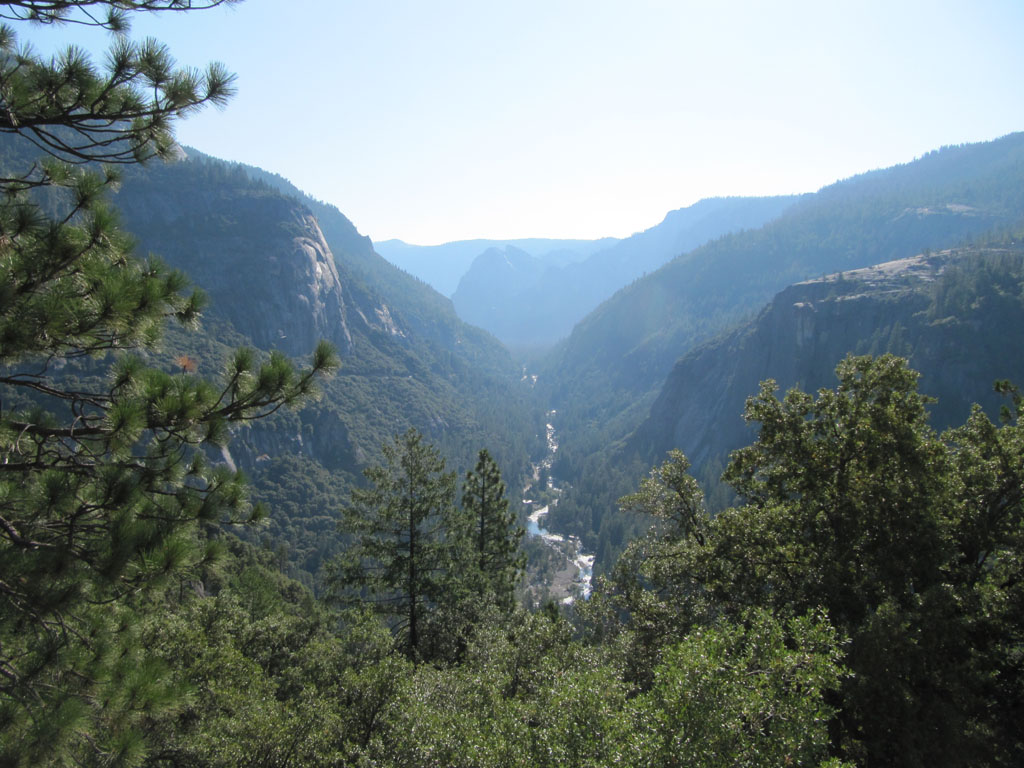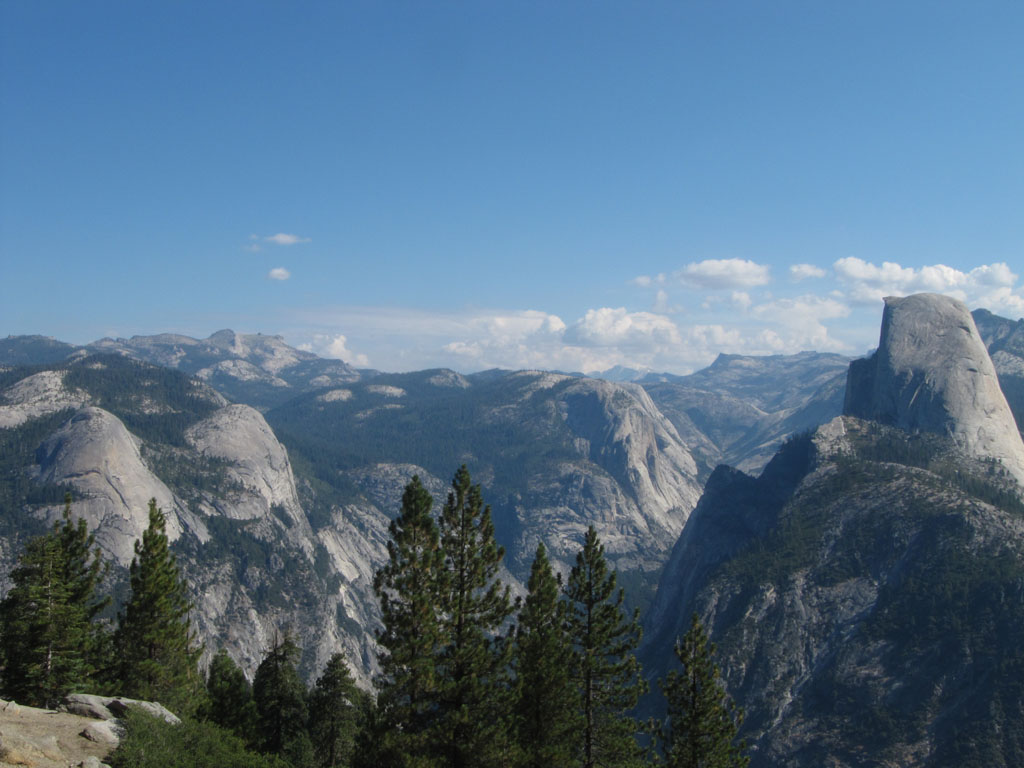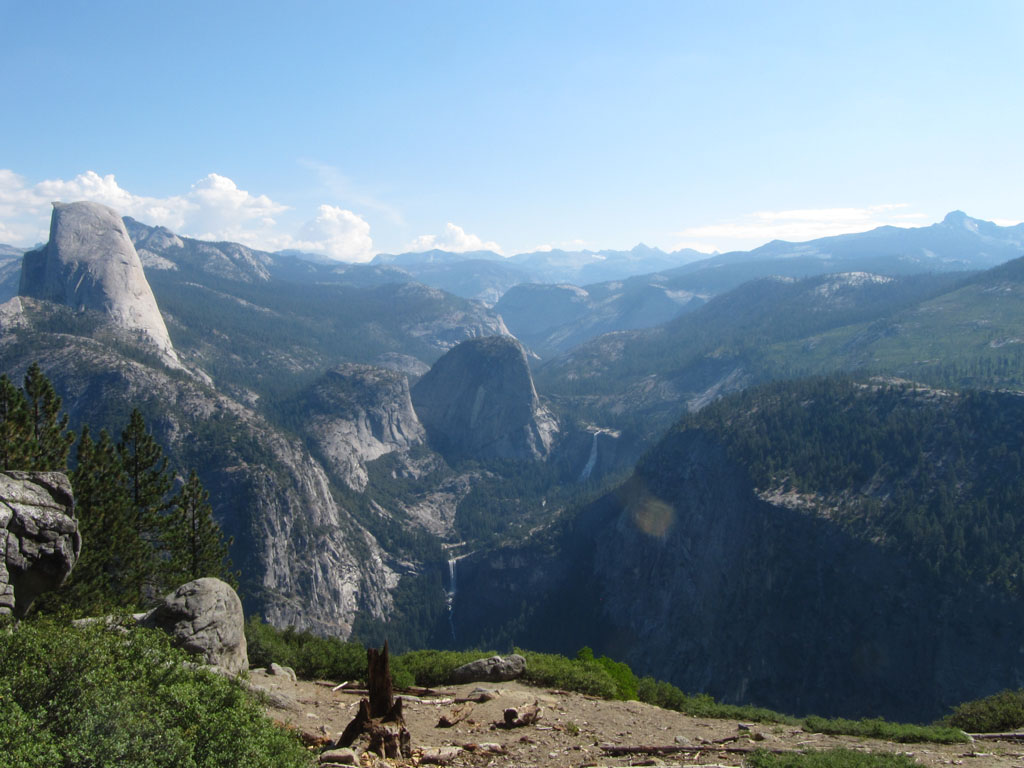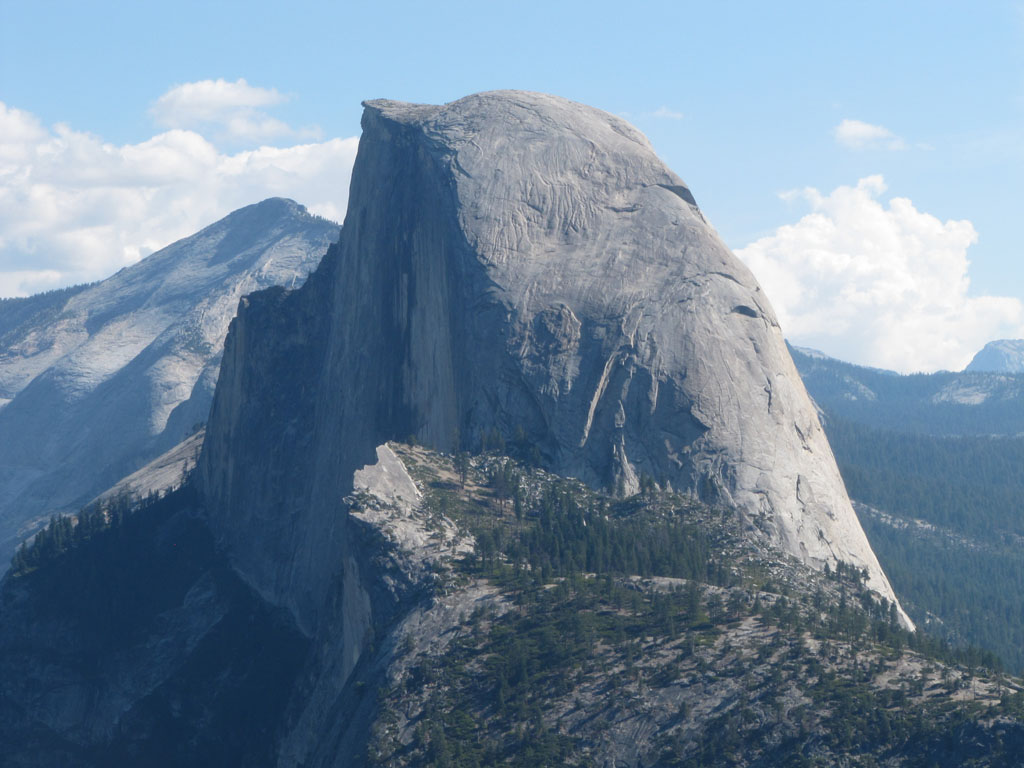 My pictures are not a patch on those my dad took, though.

I managed to drag myself away from this wonderful view eventually, and rode back down into the valley once more. I tried everywhere to find an Internet connection, even trying to use one of the ancient terminals in the "Internet lounge", but it wouldn't let me load Facebook so I was still none the wiser as to Steve's intended arrival. I grabbed a sandwich for lunch and got my Kindle and went to the main entrance to wait for him to arrive. I had been expecting him anytime after 1pm, and waited until 3.30pm with no sign of him. By now I was desperate for an Internet connection so I could see if he'd sent me a message, so I left the park and rode down to Yosemite Lakes where I eventually found a wi-fi signal and was able to load Facebook on my phone. There were several messages from Steve over the past couple of days - he was setting off at 7am, he was waiting at Curry Village (where I'd originally said I'd be camping) and that he was getting concerned and would abandon attempts to find me before it got dark... his last message was at 2.19pm, and it was now gone 3.30pm... I realised that if he had left the village shortly after posting then he would soon be leaving the park, so I jumped back on my bike after sending him a message telling him where I was camped, and raced back to the park. On the way, I passed a red bike with a big bloke on it going the other way, who gave me the classic biker's wave, just like all the other bikers I see. But there was something familiar about the rider and bike, so I threw a quick u-turn and chased after him, just as he pulled to the side of the road ready to do his own u-turn. It was Steve. Phew, problem solved!

After exchanging pleasantries (like "where the hell have you been?"), we rode into town to get some supplies (2 6-packs and some sausages) and then returned to the campsite, where we sat drinking and catching up on old times, relieved that we didn't have to abandon our plans of riding together as it had looked like we were going to!