Trans-Am Trail and beyond! - Days 41, 42 and 43, Yosemite to Half Moon Bay
Day 41 - Yosemite National Park, CA to Paso Robles, CA
Our last evening in Yosemite was a damp one, as it started to dribble with rain as we prepared our dinner and chatted about the twists and turns our lives have taken over the 2 years since we last saw each other. The morning, however, dawned overcast and chilly but dry. Packing away our wet camping gear we hatched a plan to ride some of the scenic roads south-west of Yosemite, heading for the coast before turning north all the way up the coast to Steve's home in Half Moon Bay, just outside San Francisco.

Our first stop, though, was on the way out of Yosemite National Park, where I wanted to take a look at a grove of Giant Sequoia trees. So we rode back down towards Yosemite valley before starting up the road towards Glacier Point, then staying on the 41 to Wawona. Here we took a small deviation to Mariposa Grove, where we parked up and took a small trail into the grove itself. There was a lot of construction work going on to restore the trail, but we only wanted to get a glimpse of these giant trees, so we didn't have too far to walk. The grove didn't have the surreal, other-worldly quality of the giant redwoods, as the sequoia were scattered around a forest with other trees, sometimes in clumps of 2 or 3 but nowhere near as dense as the redwoods. They were an impressive sight, though, with huge trunks of bright red, almost fir-like, deeply rutted bark. The early morning sunlight shone off these huge trees, casting a deep glow on the surrounding pine trees. While the sequoia lacked the immense height of the redwoods, they still gave off a magic aura compared to the lesser trees paying homage at their roots.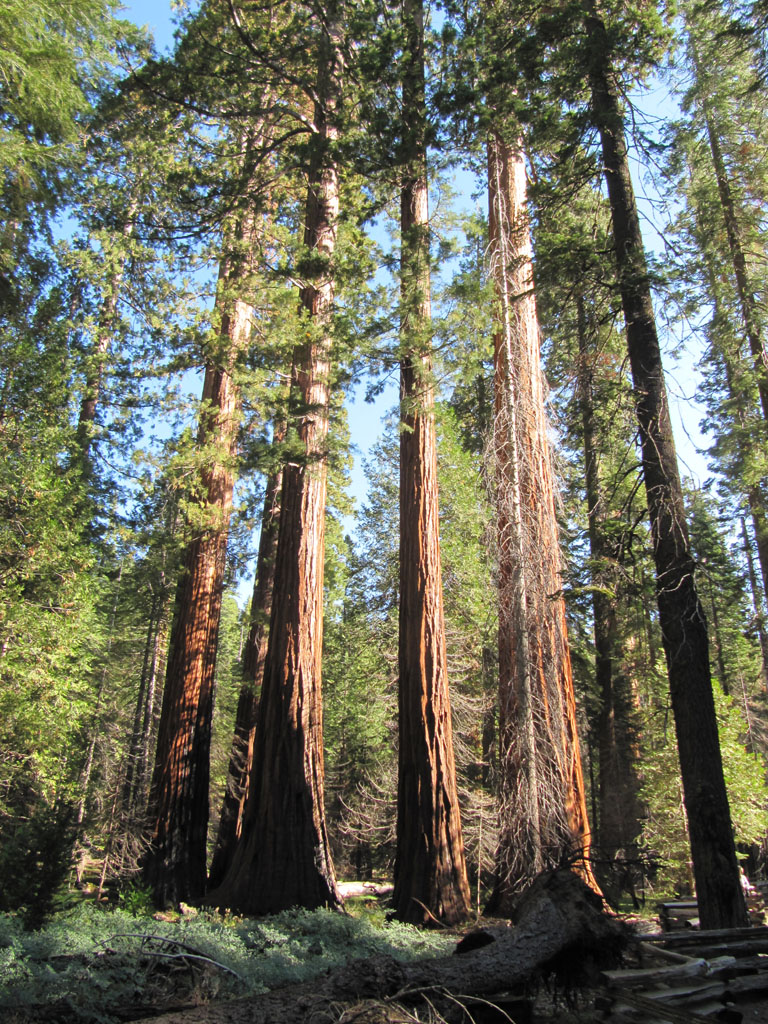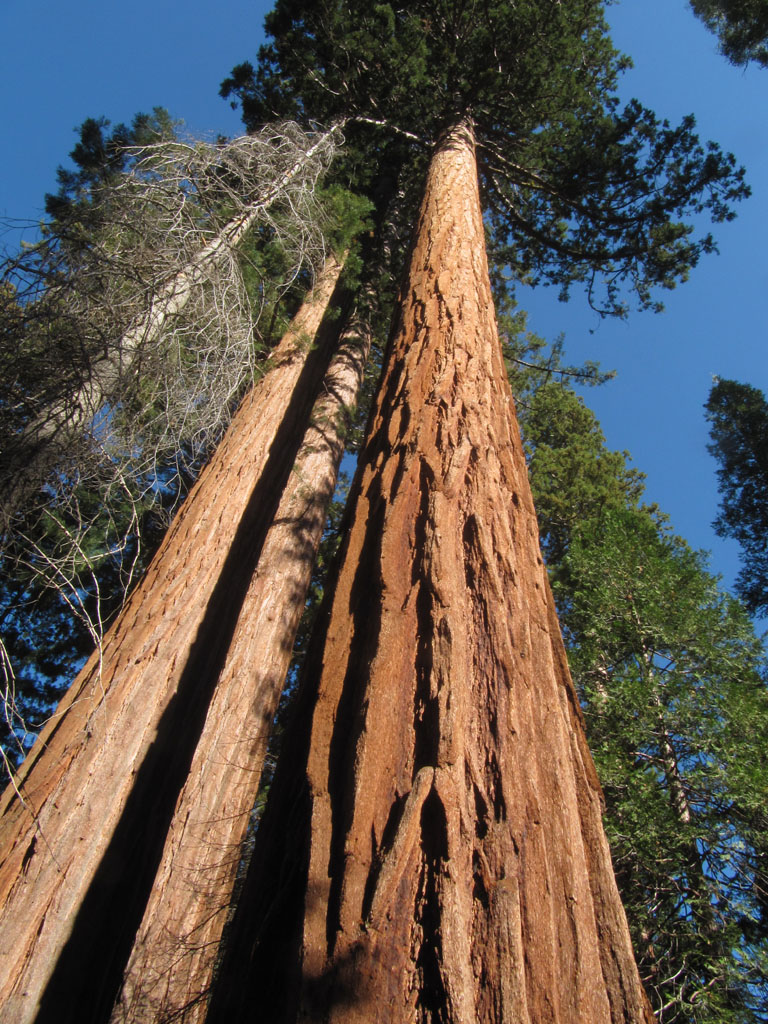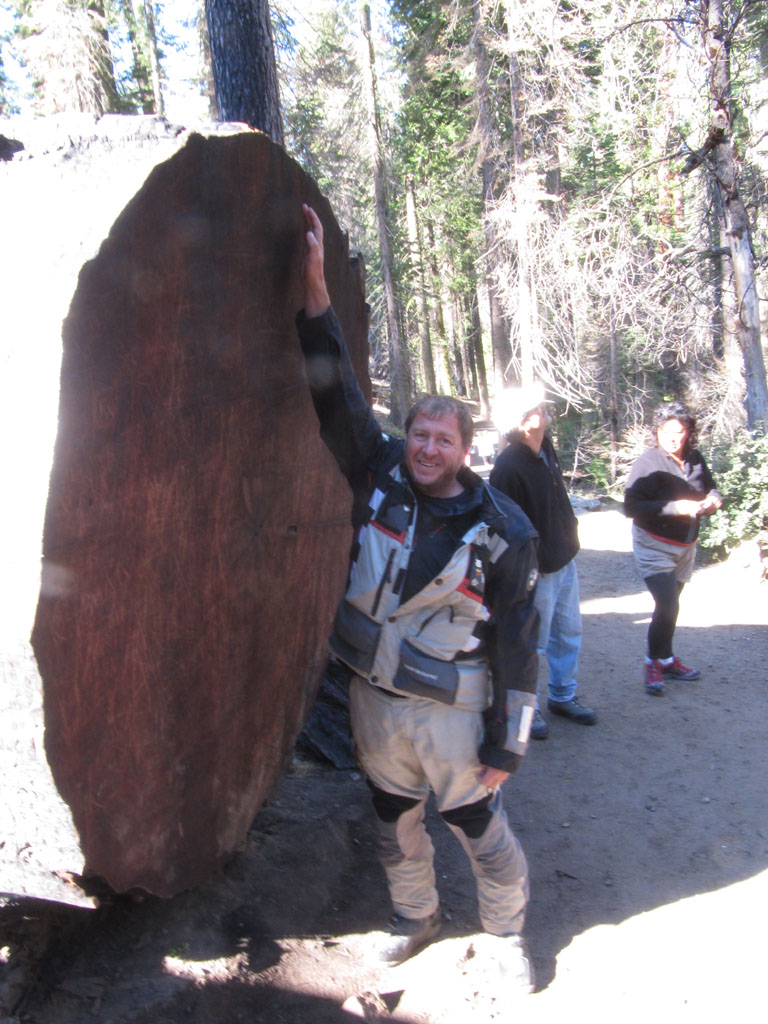 From the grove we continued on highway 41 south west. At first the road was an interesting one, winding its way through the forest towards the flatlands of the California valley. Here the terrain changed from pine trees to a more desert-like landscape, supported by a corresponding increase in temperature and a straightening of the road. As we passed through Fresno the road became ever-more dull, stretching for miles in a continuos straight path across the scorched landscape. This wasn't a great ride, but I was kept interested by looking at the various businesses that had sprung up by the highway, which included a huge tractor graveyard. When we got to Kettleman City we just had to stop and take a break from the increasing boredom of the ride. Stopping at roadside diner for a drink, we discussed our plans further and agreed to abandon thoughts of camping, instead getting a motel in Paso Robles, heart of California wine country, so we could spend an evening drinking and catching up properly, without having then to crawl into a tent and try to sleep.

The remainder of the ride passed quickly and we chose to checkin at the Best Western, mostly because it was next door to a BBQ bar with a good reputation. With the bikes unloaded and it still comparatively early, we took a short ride to the Grey Wolf winery, where Steve holds a membership, for some wine tasting and to pick up a few bottles. Now I've been a a number of wine tastings at vineyards in France, but was intrigued by the winery approach, which differs considerably from the French system. In France all the wine bottled by a vineyard is grown on the premises, and therefore only blended with other grapes of a similar type that are exposed to the same climatic and soil conditions. Here in California, the approach is to blend grapes from a variety of sources to achieve the style of wine desired. Grey Wolf has an excellent wine blender, who selects the grapes and mixes the juice to produce some stunningly good wines. After sampling a few of them, we settled on 5 bottles which we bought, some to drink during the ride, others to take home to Steve's wife.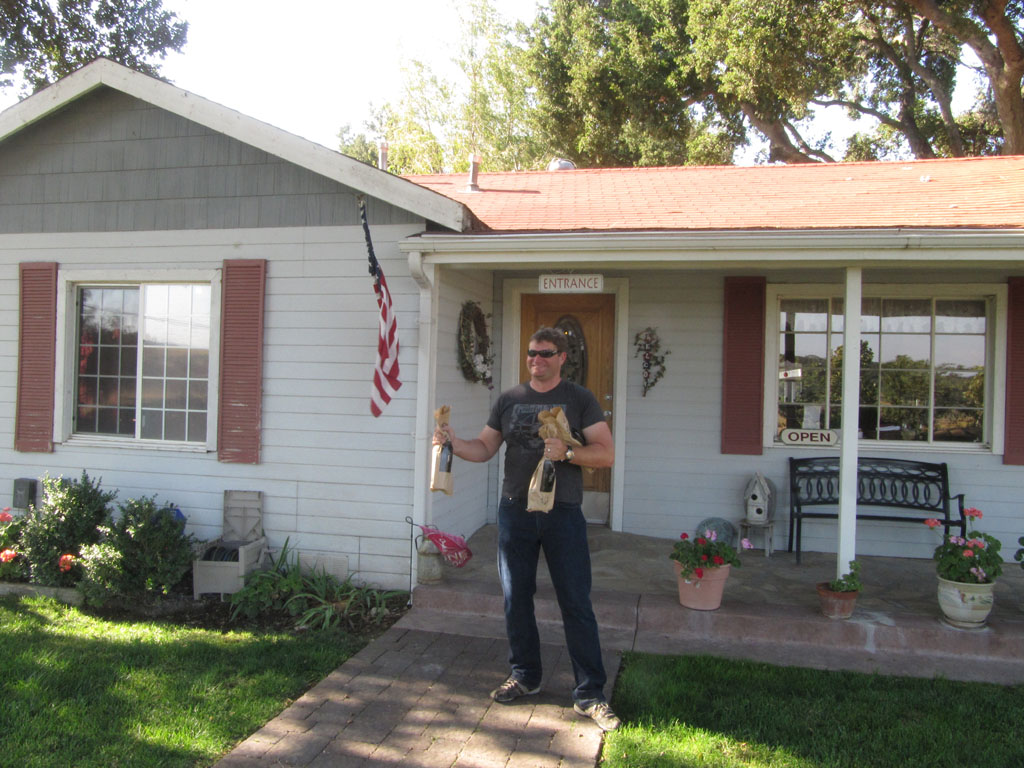 Back at the hotel it was still relatively early, but we were thirsty so we headed next door to Big Bubba's Bad BBQ "Bad to the Bone", where we consumed a plate of hot-wings and a stack of onion rings whilst supping big 24-oz (Pint + 20%) ales. Our waitress was exceptional, bringing us fresh beer as soon as we neared the end of our huge glasses, and before long we thought we were hungry enough to attack the special ribs on offer. Steve opted for a full rack of BBQ ribs, I went for a full rack of the smaller baby ribs. Boy, were they good! Finally we were the only 2 people left in the restaurant, and with our waitress dropping not-so-subtle hints about going home to her little boy, we emptied our glasses for the last time. Back at the hotel room, I got some ice to chill a bottle of white, then had a rare moment of clarity and suggested we simply call it a night. Steve, reclining on his bed with his eyes half closed grunted agreement and I thankfully left the bottle unopened.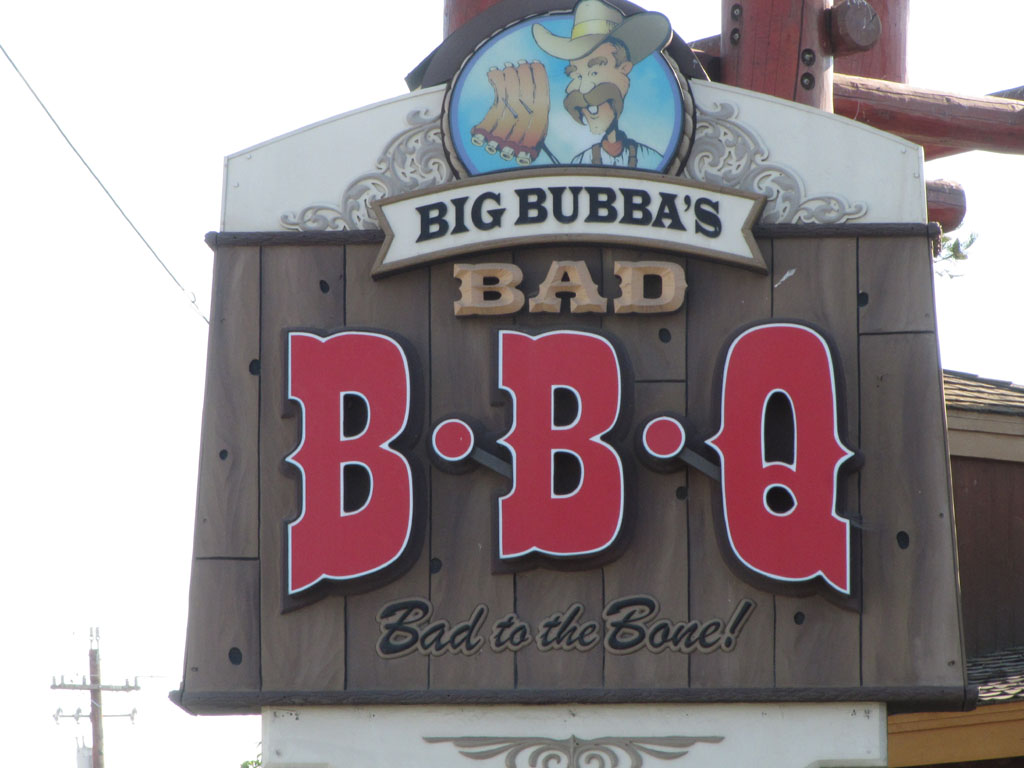 Day 42 - Paso Robles, CA to Big Sur, CA
I'd love to report that I woke feeling refreshed and glad of my decision to leave the wine alone. But I can't, as the sheer quantity of meat I'd consumed prevented me from getting a good night's rest, and I woke feeling bloated. I looked at myself in the mirror and found that somehow I'd become 9 month's pregnant overnight, my stomach distended and feeling very heavy indeed. Steve was in a similar predicament, and I noticed that he left the doggy-bag containing the remaining 2 ribs he'd not managed to eat on the bedside table as we left the hotel room.

We rode from Paso Robles to Steve's old college town of San Luis Obispo, a really beautiful looking town with a large number of hip-looking bars and cafes. We stopped at one, Fat Cat Cafe, but all I could manage was a coffee. Which was a pity as the cinnamon rolls looked particularly good, and I've been craving one since I arrived in the US.

We left SLO (as it's known locally) and picked up the infamous highway 1, which runs along the Pacific coast. Heading North we were initially met by the coastal fog that is such a feature of my roads along this coast, obscuring my view of the oceanside, only fleetingly giving me glimpses of what would be absolutely stunning scenery under a clearer sky.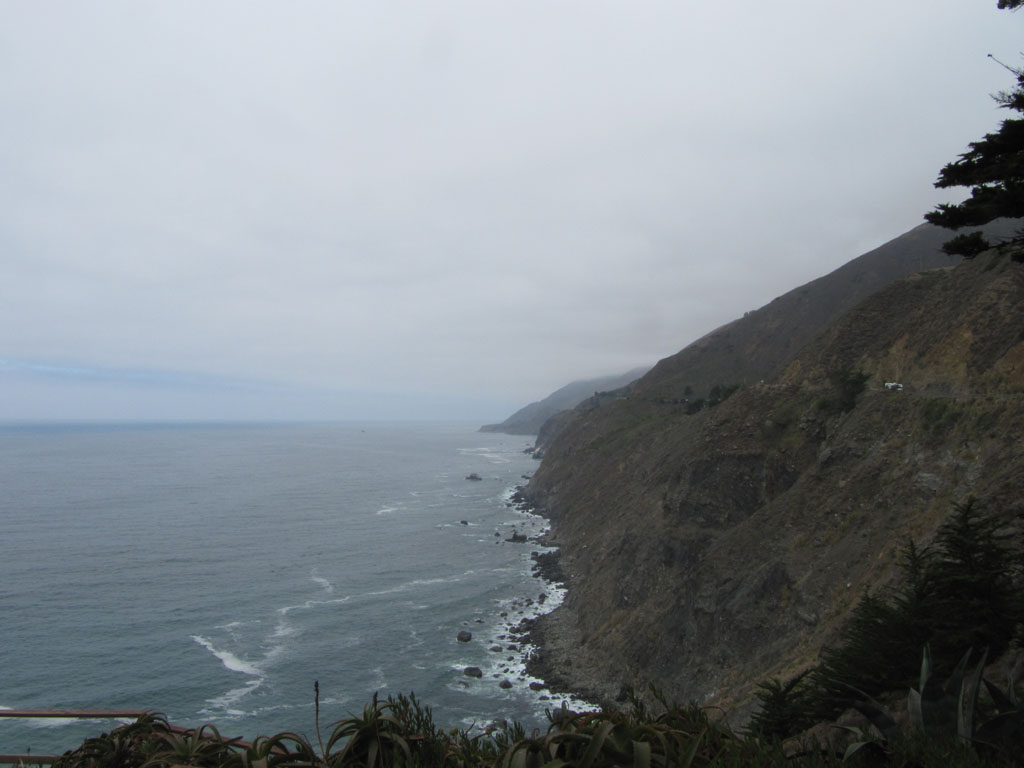 We stopped at a roadside cafe for a break and to get some more coffee and sugar in my system, and once again my quest for a cinnamon bun was thwarted, as they'd run out. I made do with some rather excellent chocolate chip cookies though, which made me feel human again almost instantly. Eventually our ride brought us to Big Sur, and the Pfeiffer State Park, where we found a truly excellent campsite. It even had a well-stocked lodge from which we bought some pot noodles and sausages, as well as a couple of 6-packs of beer and some firewood. We were well set for a great last night under canvas before the final ride to Steve's house the following day.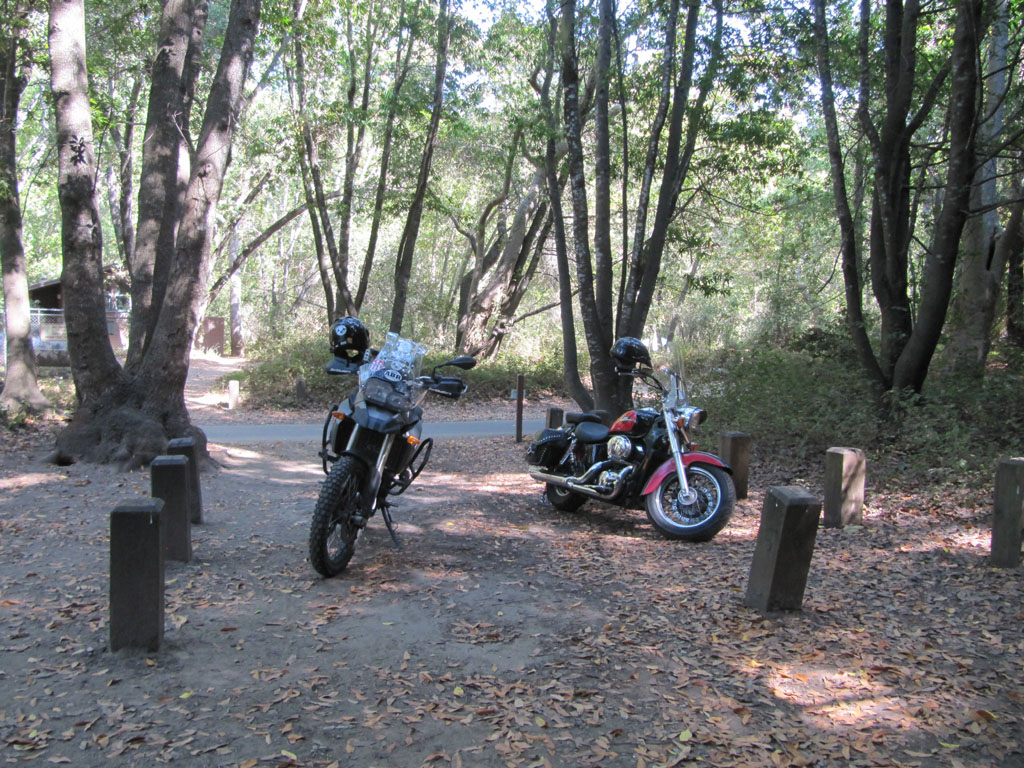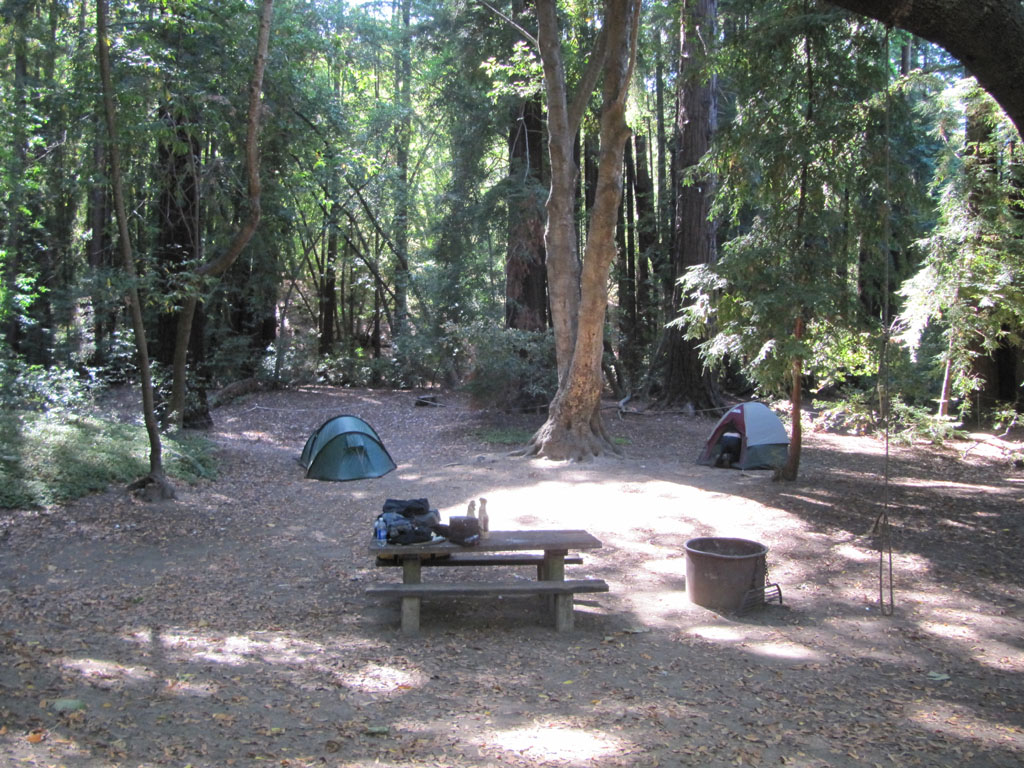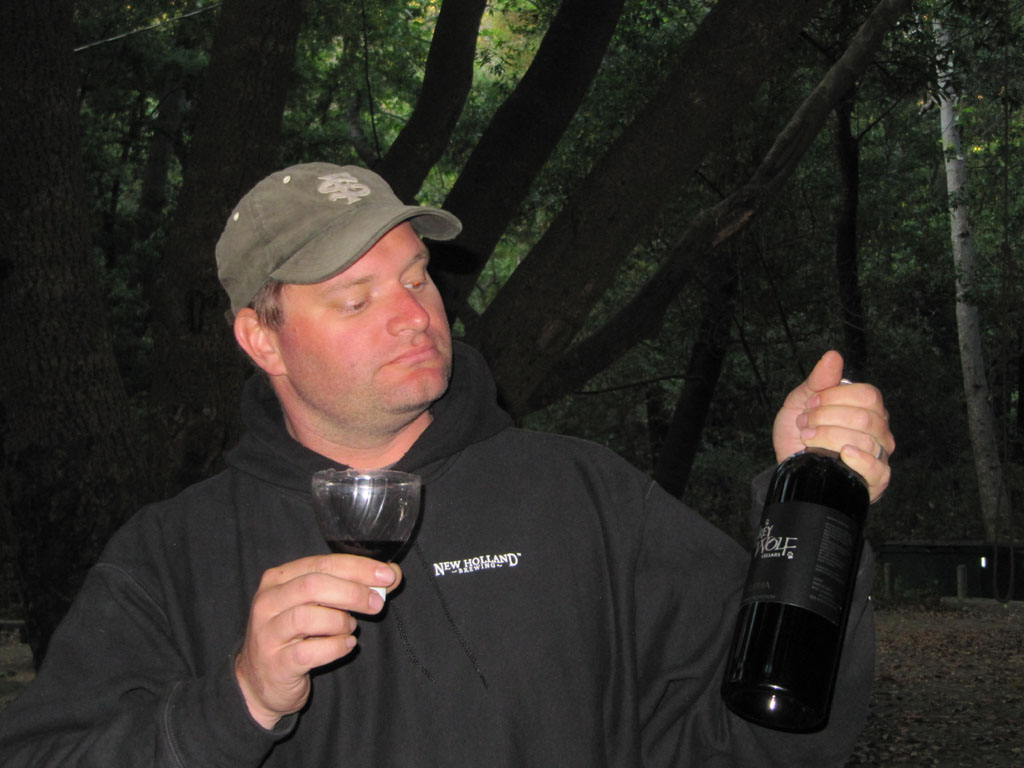 Day 43 - Big Sur, CA to Half Moon Bay, CA
Whilst it might look like Steve and I were settled in for a night of heavy drinking, we only consumed a sensible amount over a long-ish time period, so woke fairly fresh the following morning. As the campsite had a shower, I even managed to make myself presentable before finally meeting Shell (Steve's wife) later that evening. The ride north up highway 1 was uneventful, and we hardly stopped as we made our way along this wonderful coastline. I'd been to Steve's house a couple of years ago prior to the Trans-Americas trip, and no sooner had we got within 30 miles or so of it, than it started to look familiar. We arrived early afternoon and I was soon introduced to Shell, James (5) and Colin (4). I unpacked my things into the spare room, and then got chatting about our plans for the next couple of days. This being Friday the boys had been invited to a sleepover at a friend's house, which meant we adults could par-tay. Before that, though, the boys, who are very heavily into Star Wars (I suspect Steve has been force-feeding them since before they could talk), discovered my motorcycle helmet. Which looks a little like a Star Wars trooper's helmet, and I couldn't help laughing when James emerged from the spare room wearing it and brandshing his light sabre...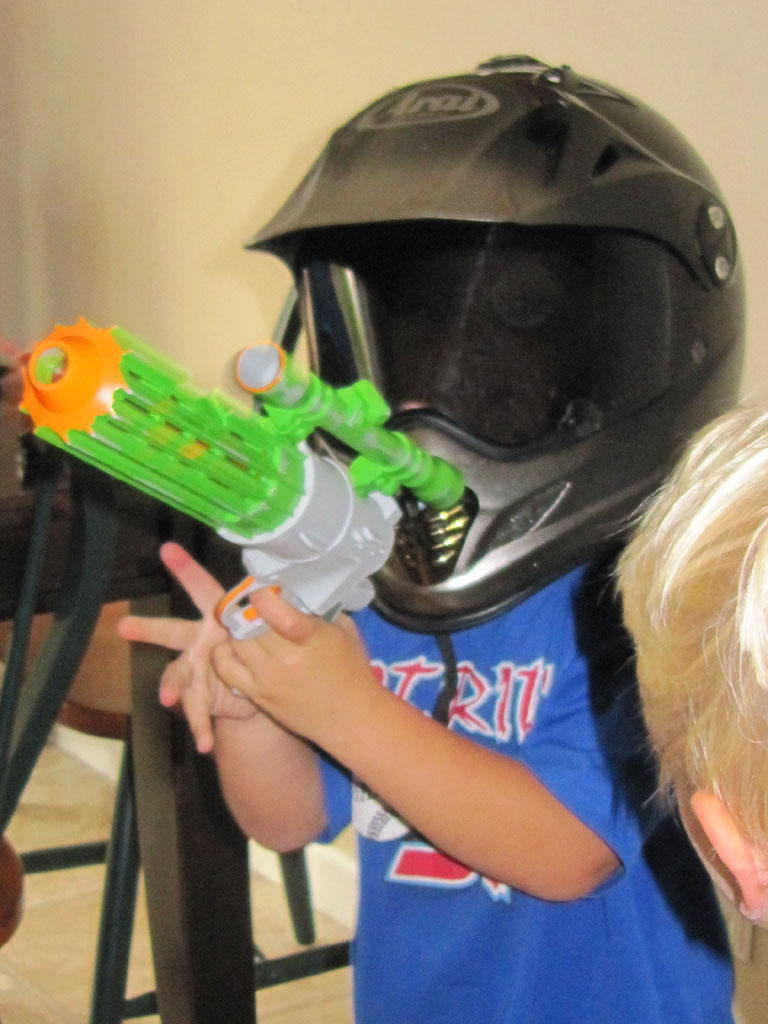 After dropping the boys off at their sleepover, we dropped Shell off at a friend's house then went to the Half Moon Brewery for a beer and some tea. It was there that I realised I'd still not fully recovered from the "ribs episode", as I struggled to drink the lovely beer. I managed to each the fish and chips though, whilst learning the rules of baseball and watching the SF Giants game on a big screen TV. Back at Steve's I managed a pathetic one more beer before calling it a night around 10pm and heading into the spare room to get some much-needed sleep. It had been a long journey and I think that arriving here, at the symbolic end of it, had finally released my tiredness.