Trans-Am Trail - Days 4 to 6 - Selmer, Tennessee to Fayetteville, Arkansas
Day 4 - Selmer, Tennessee to Helena, Mississipi

Day 4 saw us leave Tennessee and the roads becoming almost all dirt. With the sun beating down the roads were in excellent condition and we were having an absolute ball when we encountered another "Road Closed" sign. This one also warned us that the bridge was out 10 miles further along the trail, but we ignored that too. Now they say that a picture is worth a thousand words, so I'm going to recount this story using more pictures than normal. Those of you who are impatient will have already scrolled down and seen what happened, but for those who like a good story, read slowly and avoid looking at the pictures until you've read the words...

After about 10 miles further on the trail passed the "Road Closed - Bridge Out 10 Miles Ahead" sign, we encountered this...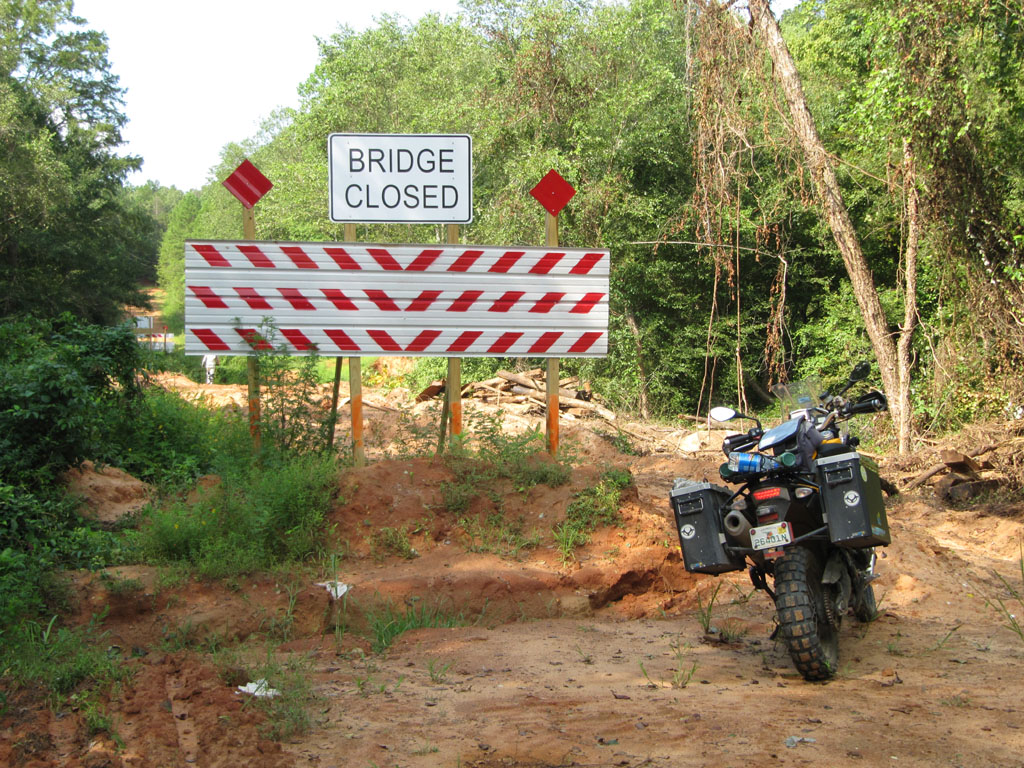 But just because it says the bridge is out doesn't mean there isn't a way across, so we parked the bikes and went for a look around, and this is what we found...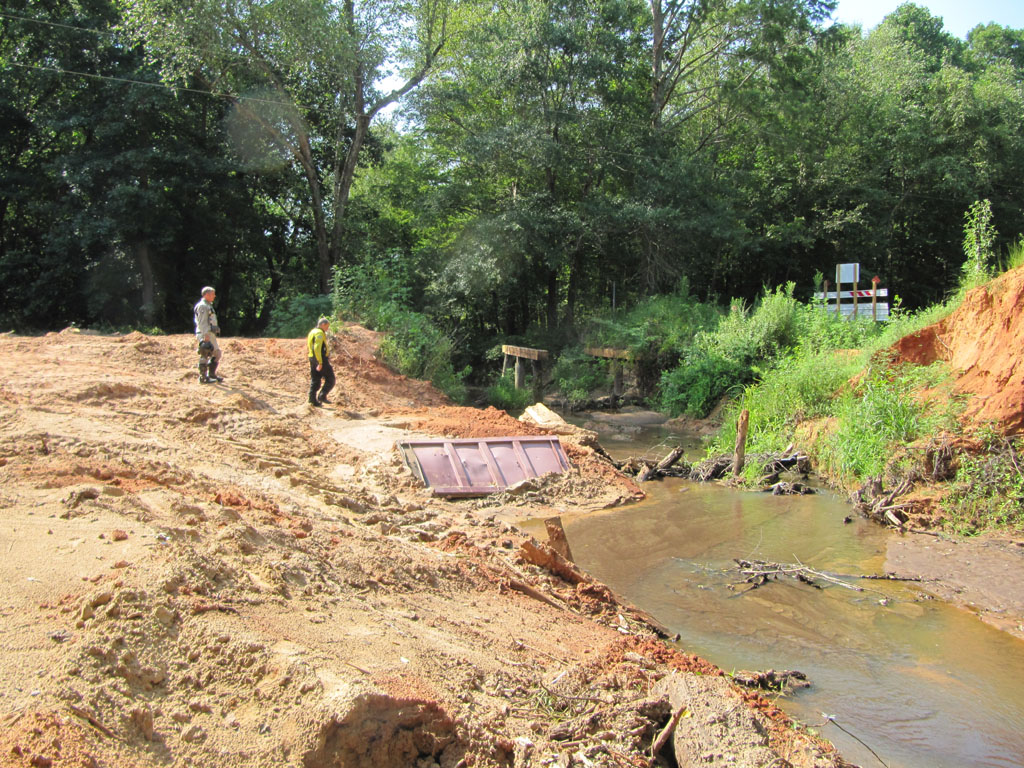 Harold ventured into the creek and thought he could spot a way out..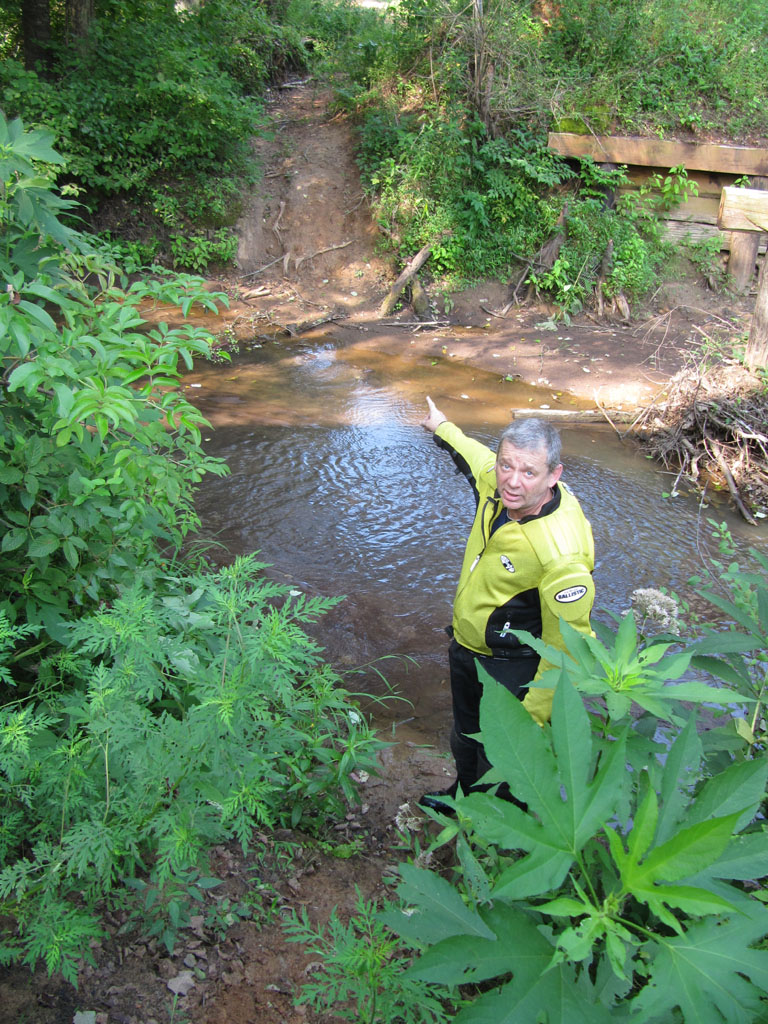 Then his wife called (I kid you not!)...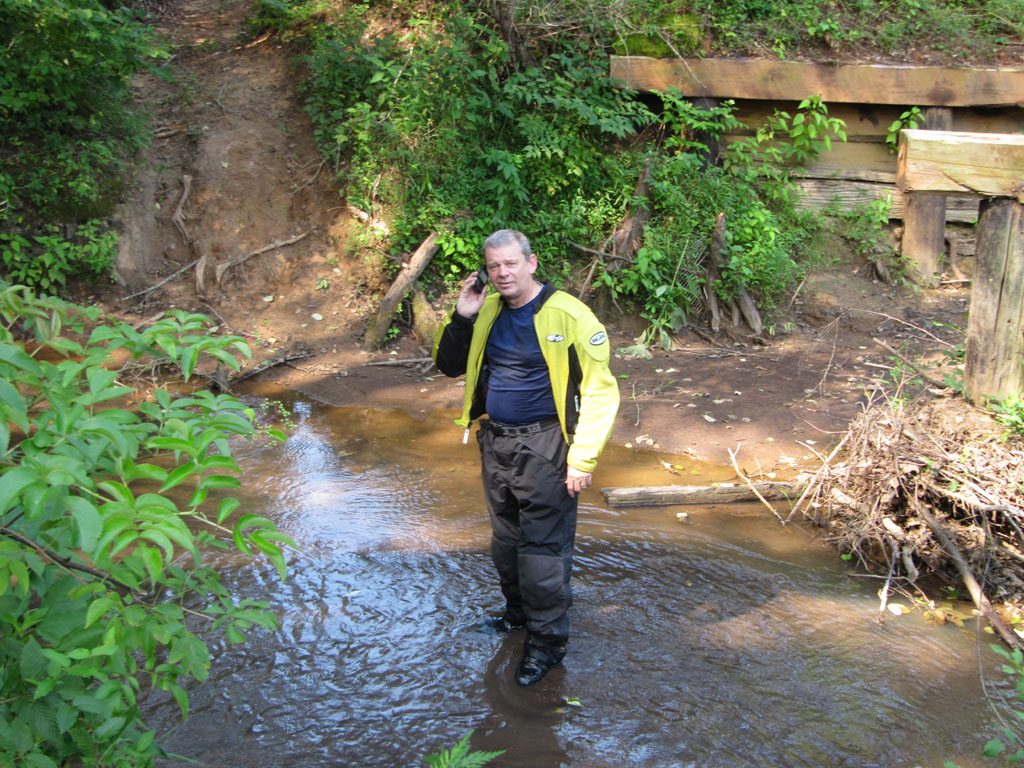 Aaron, ever the fearless one when it comes to tackling the obstacles we face, rode the first part without any problems...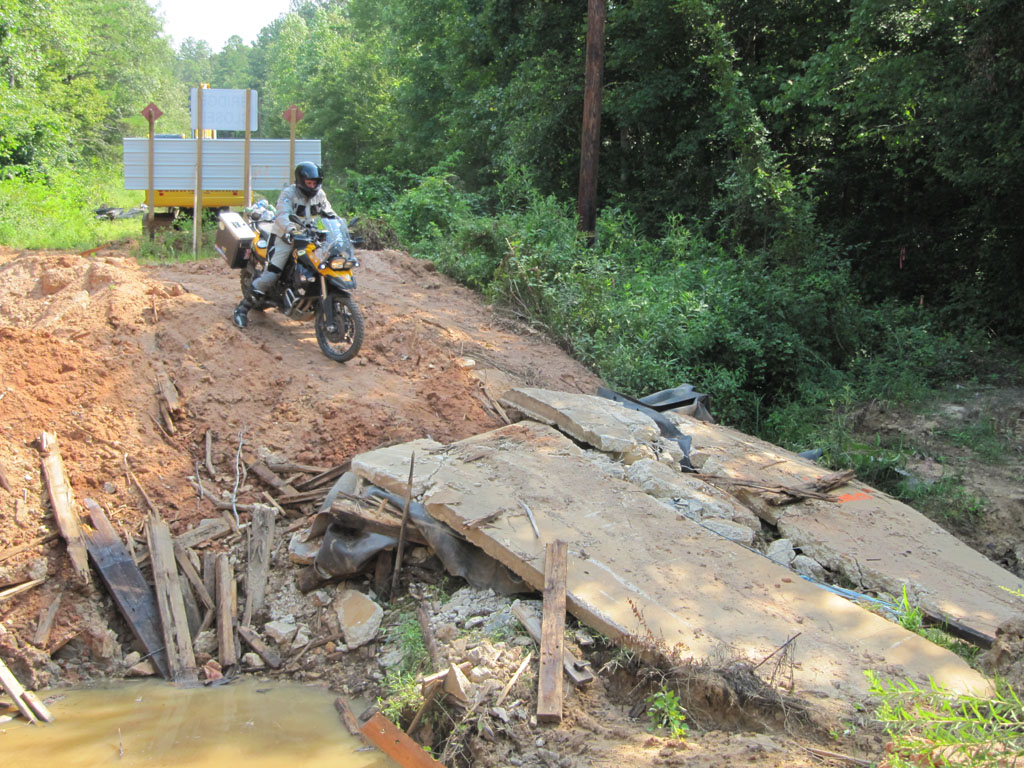 He then rode down the steep embankment through the bushes, across the creek and up the other side. Only he didn't quite make it...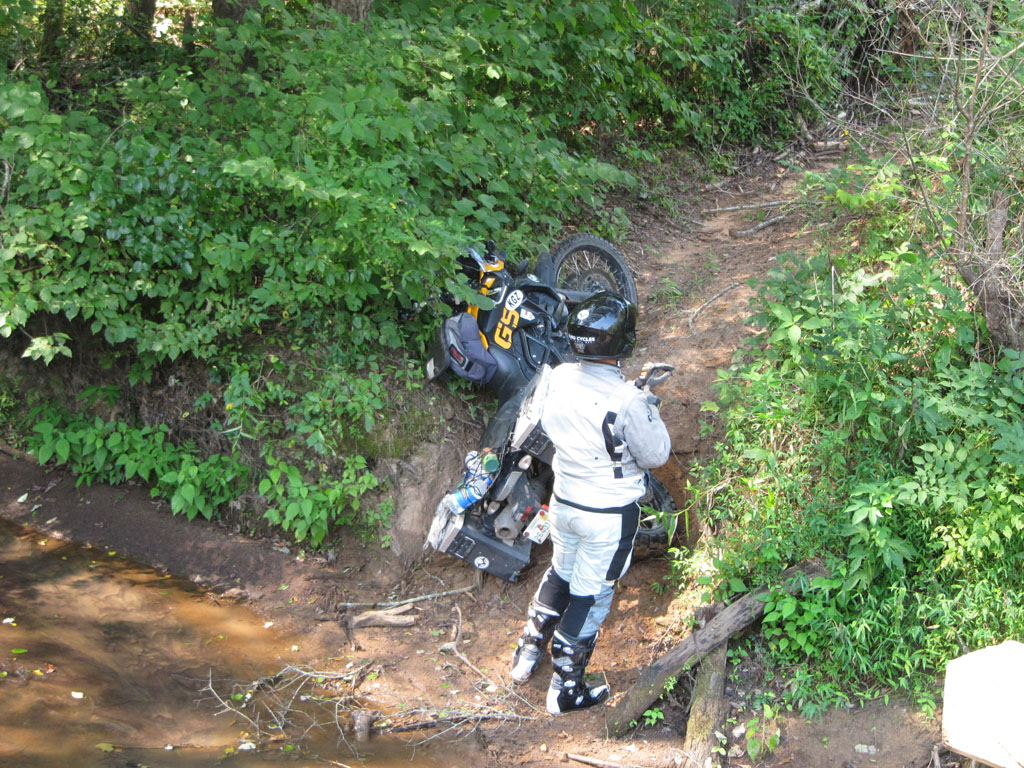 Unperturbed, we righted his bike, removed the panniers so they wouldn't catch on the banking and pushed the bike back into the creek so he could get a run-up and try again. Only when he tried, this was the result...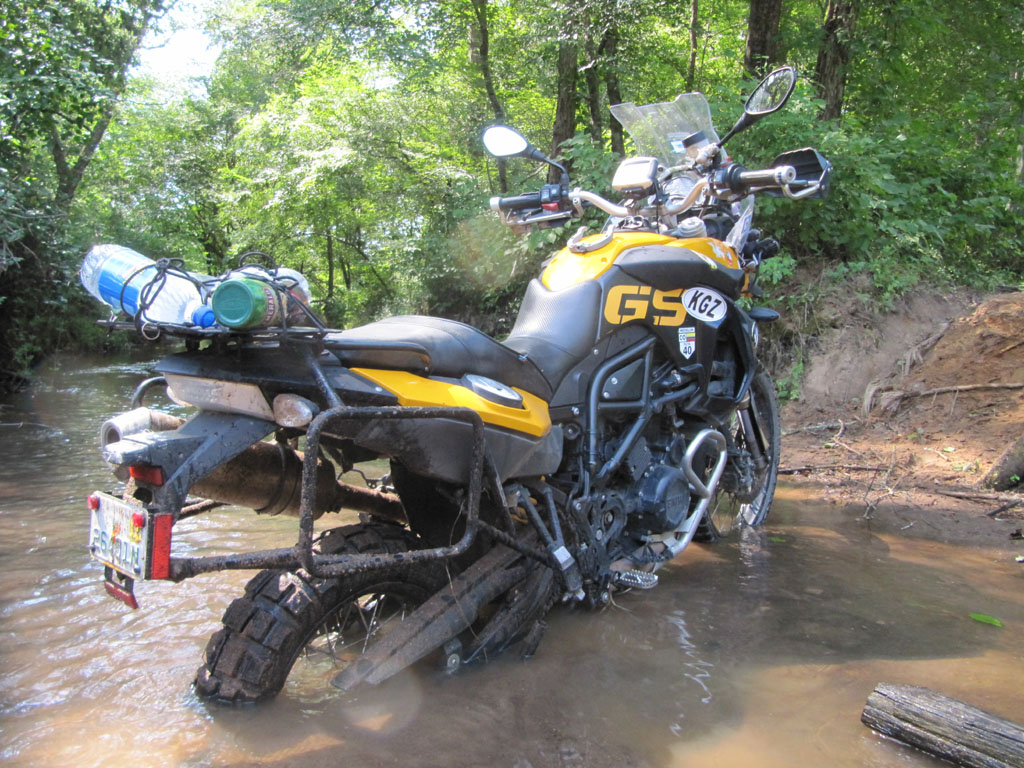 The creek bottom was soft sand and the bike just sank whenever we tried to move it. With the temperature at 34 degrees C it was hot work, but eventually we used our initiative and a plank of wood and got the bike unstuck...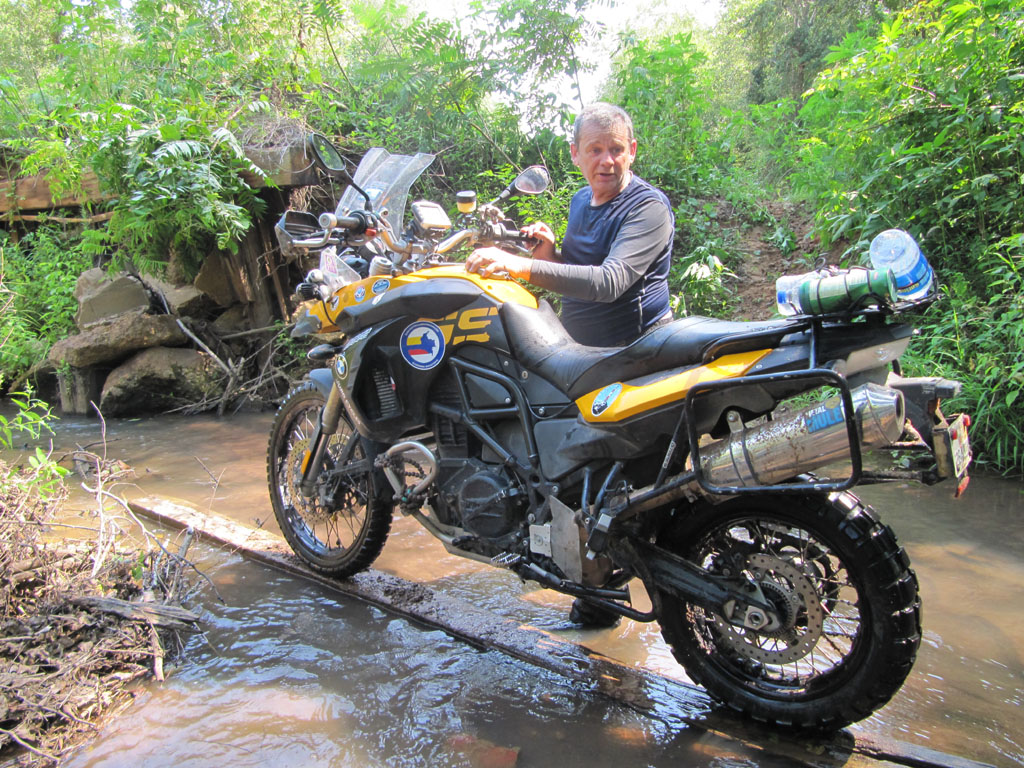 By using the plank and a few lumps of the broken bridge we eventually got it back to where it had been when Aaron rode it through the first of the roadworks. We had abandoned all hope of getting the bikes to the other side of the missing bridge. All that was left was for Aaron to ride back out the way he'd come in, only he didn't quite appreciate just how dusty and slippery the concrete slab was...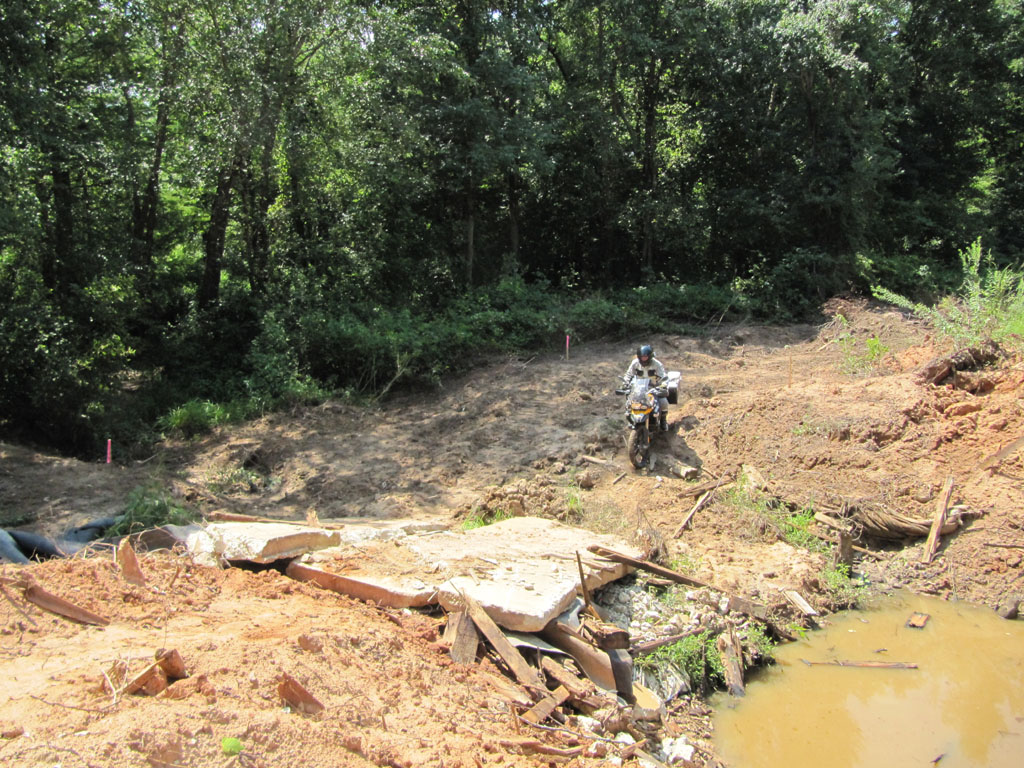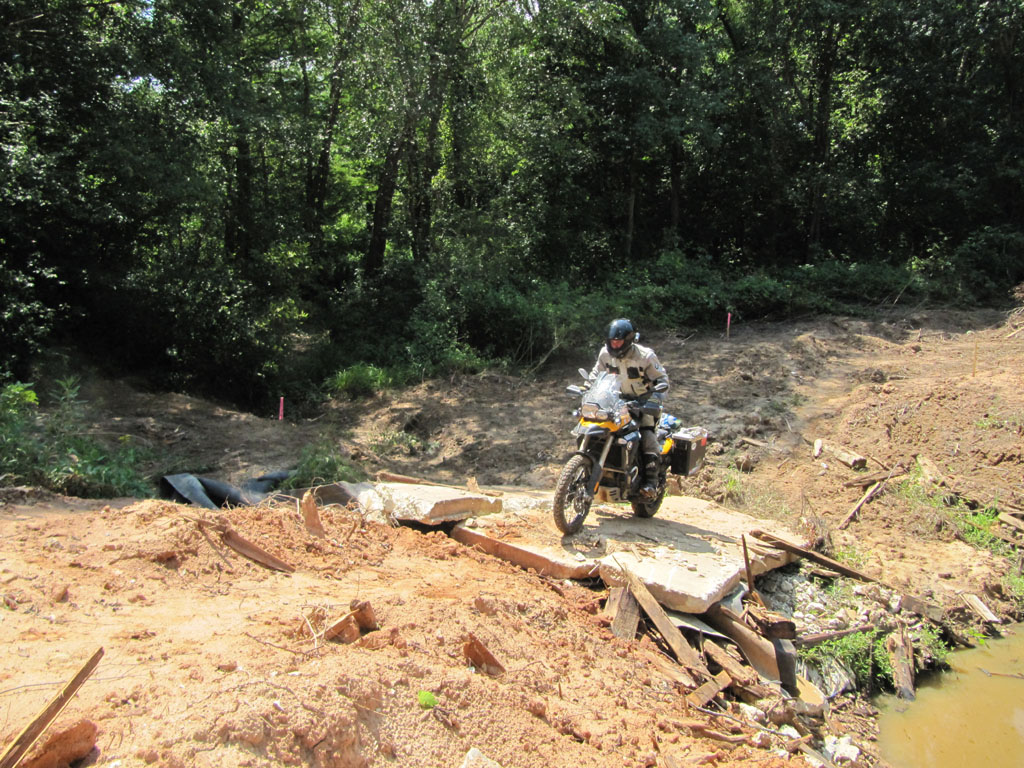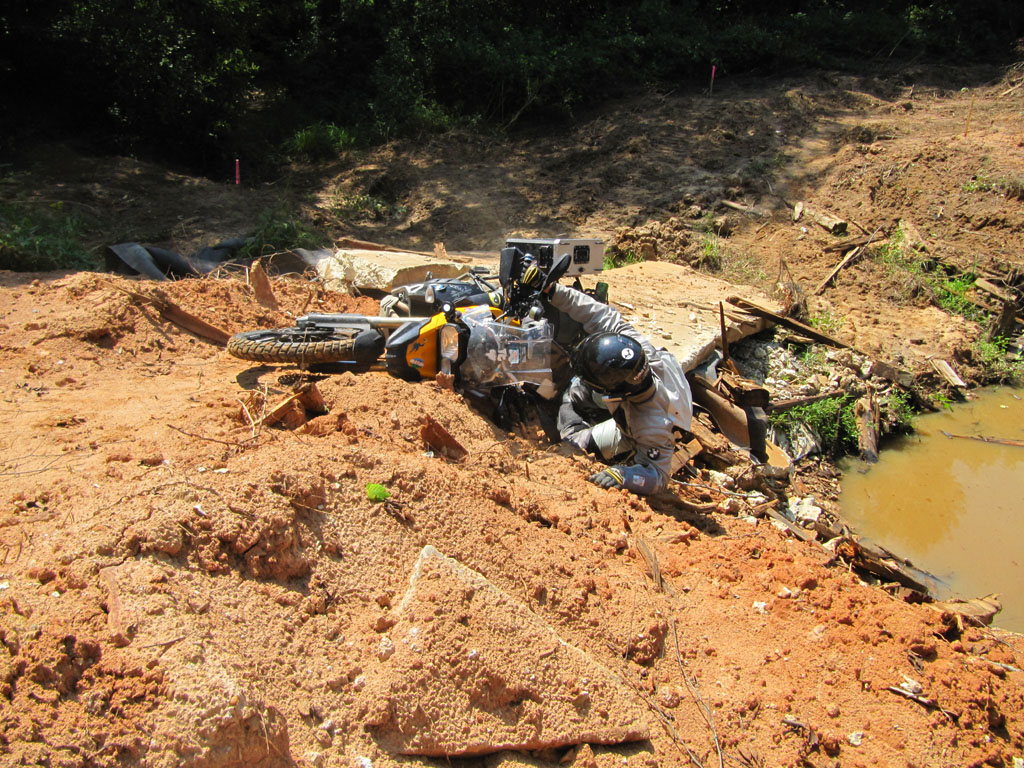 Luckily he was unhurt and we were on our way again, riding a detour round the missing bridge. Later in the day we encountered another "Road Closed" sign, but as with the one yesterday, we found our way round it without any problem. But we'll be more circumspect when we see a "Bridge Out" sign...

During the day we rode across Mississippi and then across the Mississippi river into Arkansas (which I've discovered is actually Arkensaw but they can't spell over here). We had dinner (another Mexican, we seem to be alternating Chinese and Mexican) and then met up with Aaron's Uncle Kenny who was to join us for the rest of the ride. Kenny was with us on the Trans-Americas ride in 2009 and the last time I'd seen him was as he rode home from Tucson (he was only able to join us for the US and Canada sections). It was great to see him again, straddling his huge 1150GS and making it look like a toy - he's a big fella, is Kenny!


Day 5 - Helena, Mississippi to Clinton, Arkansas

That night we had a lot of rain. It was thundering and lightning all night, but by morning the rain had stopped, although it had left the trails very wet and muddy. Just 17 miles into the day's ride, with Aaron leading Harold, me then Kenny, I noticed that I couldn't see Kenny's distinctive lights behind me. I wasn't worried, because Kenny's a great rider - he taught Aaron to ride - but after a minute or so with still no sign I thought he must have had a problem or stopped for some reason, so I turned round and went to see. What I found was shocking. Kenny was lying on his back across the trail with his bike on its side and his luggage scattered about. He had taken his helmet off and gave me the "thumbs-up" as I got off my bike but it was clear he was hurting. I checked him over and we both agreed that it was likely he'd cracked a rib or two, having landed heavily on his side with his arm underneath him. He was short of breath and in some pain. Aaron and Harold arrived and we sorted out Kenny's bike whilst he got his breath back and slowly got to his feet. He was clearly suffering...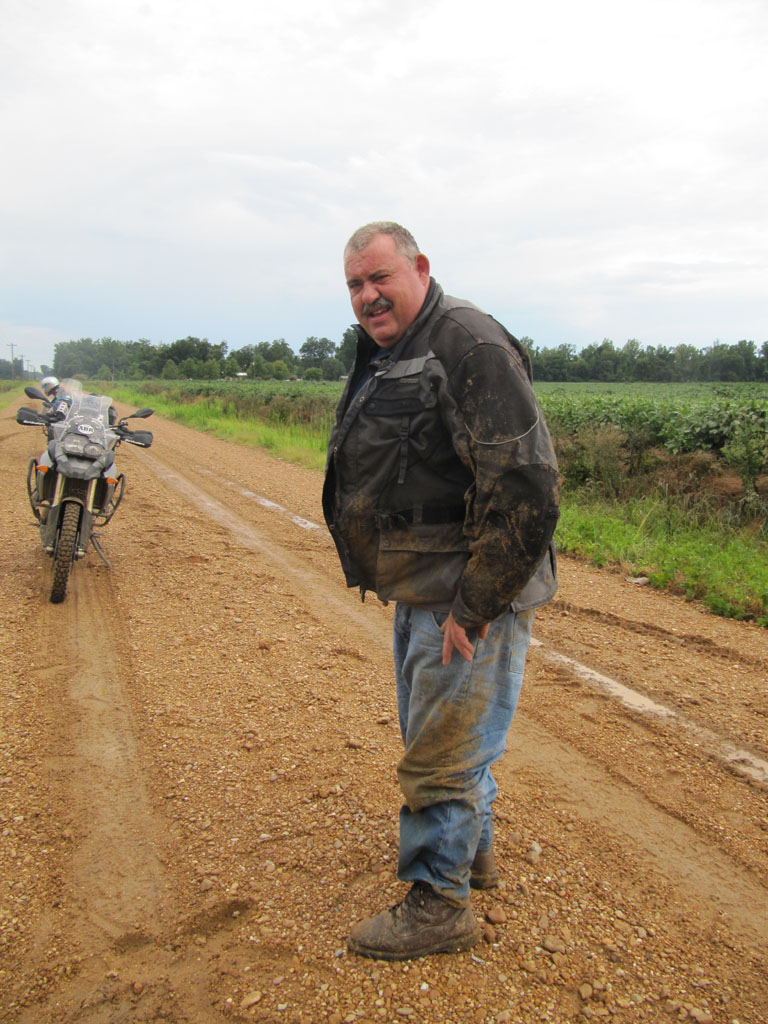 Aaron rode Kenny's bike to the next junction and onto a tarmac rode whilst Kenny walked slowly off the trail. The decision was made for Aaron to ride with Kenny across the state to his home and then to ride up to Clinton, where he will meet up with Harold and me. We'll continue on the trail, riding even more cautiously now...

But the conditions were bad, and caught Harold out, although he was travelling very slowly and wasn't hurt at all... well, except his pride, perhaps!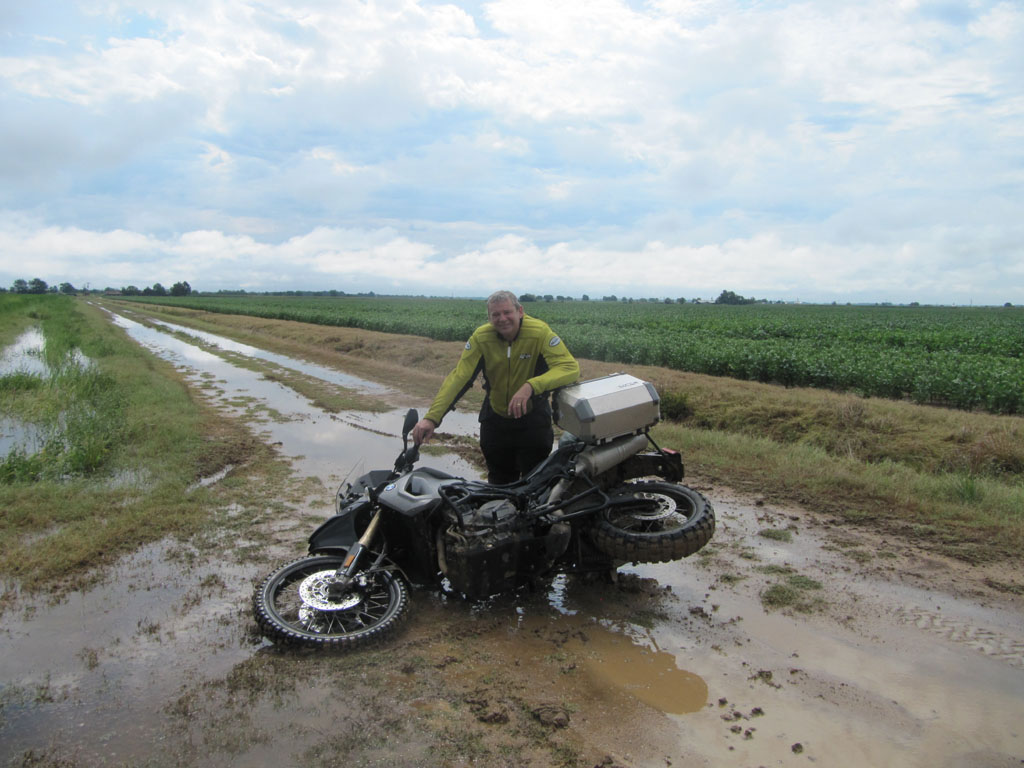 Later that morning we were treated to another of those warning signs that perhaps we need to pay attention to...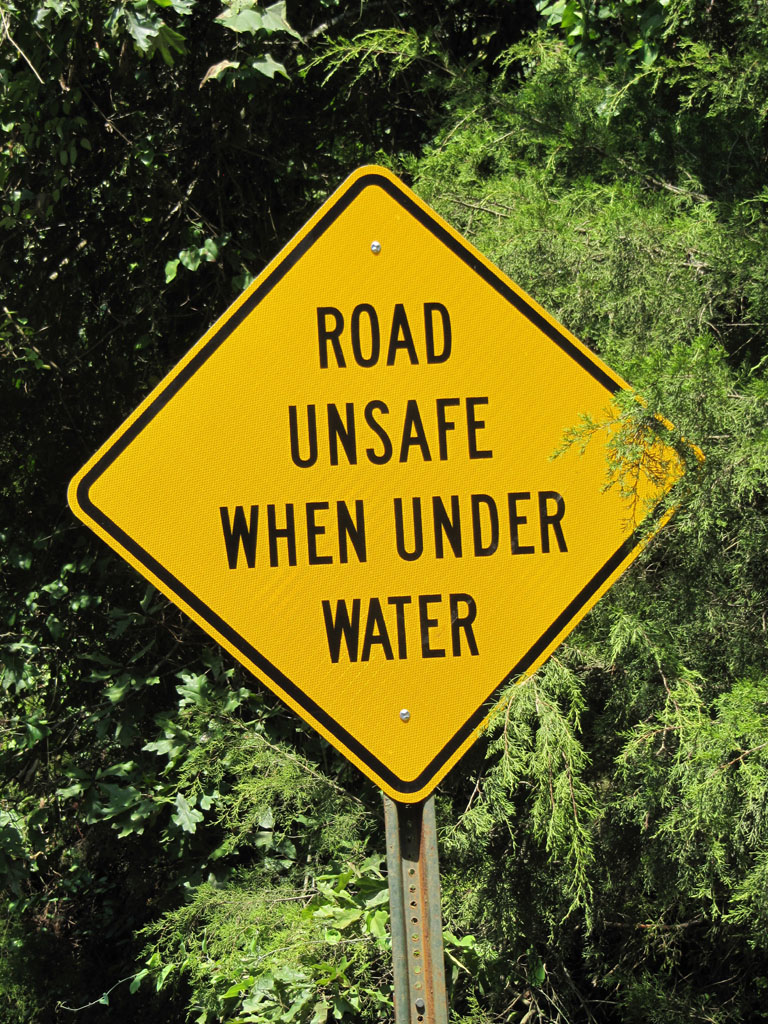 But despite the warnings we ploughed on, and actually enjoyed playing in the puddles (and yes, that is me)!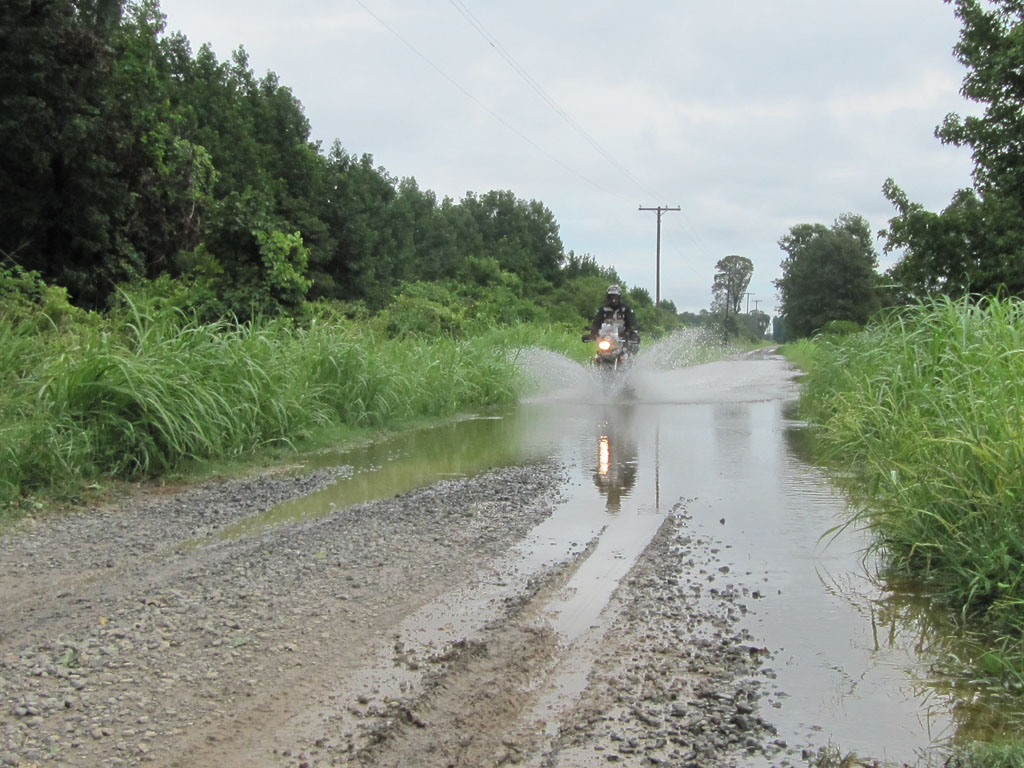 We were also engulfed in another torrential downpour, had to contend with some very tricky thick sand (the "Road Closed" sign on this occasion was at the end of the road, after we had come through the sand!), and generally had a blast. There were no more drops and we were glad when we finally arrived in Clinton and checked into the motel. Only then did we discover that Clinton is a dry county, and therefore there was no beer to be had. Now Harold and I had ridden the hardest day of the trip so far and weren't going to be put off so easily. We dropped the bags off in the room and rode the 36-mile round trip to a liqour store in the next county, where we got a 6-pack each, knowing that we could order a steak dinner to be delivered to our rooms when we got back.

Whilst we waited for Aaron to arrive we checked over the bikes and I ditched the roadbook holder from my handlebars as we've not used it and it's getting in the way. Harold then noticed that he had a leaking fork seal, a problem he will need to get fixed before we go much further. Aaron arrived at 9pm, having seen Kenny safely home and caught up with his folks. The news was as we thought, Kenny is going to be pretty sore for a while with a cracked rib or two...

Day 6 - Clinton, Arkansas to Fayetteville, Arkansas

Today's ride across Arkansas started with the mother and father of all thunderstorms this morning, that saw us stay in our rooms laughing at the absurdity of trying to ride in such conditions. Until we packed up and set off, that is. Despite the heavy rain it has been a beautiful day. Fantastic riding along forest tracks winding their way up into the mountains. We have seen numerous deer, as we have on previous days, standing by the roadside up ahead trying to work out what we are, then running away as soon as we get close.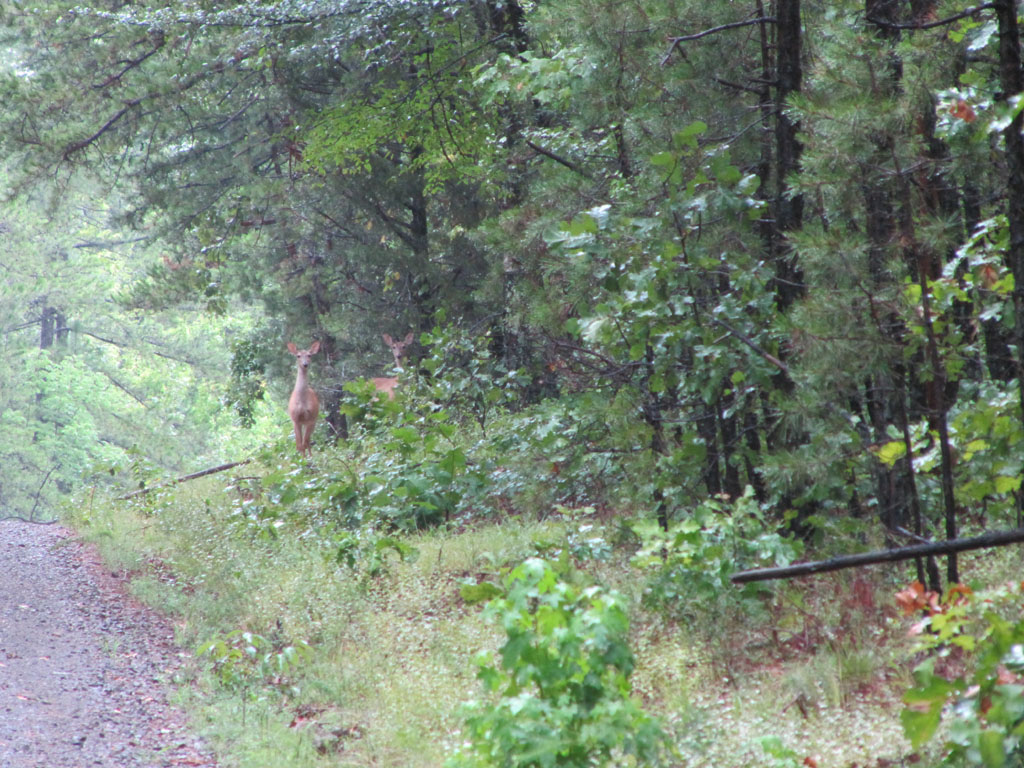 High up in the hills the views were stunning, miles and miles and miles of forest as far as the eye can see, covering the hillsides in a deep green blanket, the mist from the storm which had, for now, moved away.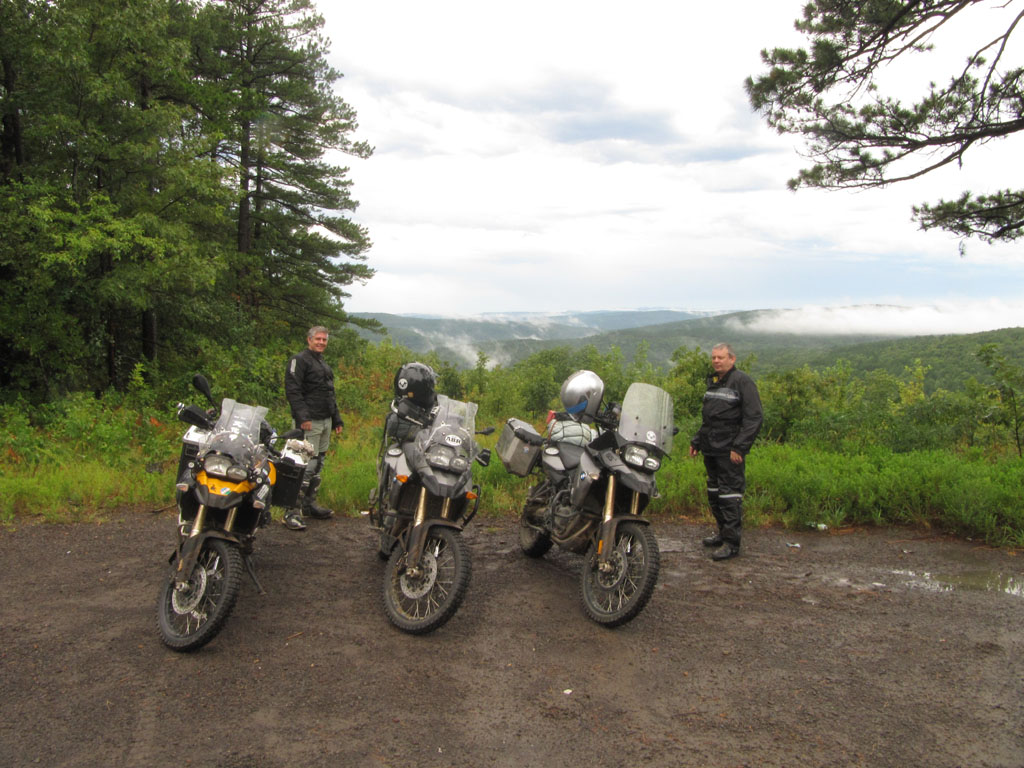 We had to leave the trail and ride nearly 20 miles to the nearest town for lunch, where Harold managed to get hold of the BMW dealer and arrange to get his seal fixed that afternoon. That left Aaron and me to continue on the trail, in improving conditions as the sun came out. The riding was some of the best I've ever done, twisty trails running deep into the forest and up into the mountains. At one point we came across a tree that had been knocked down by the storm and lay across the road, but it was only small and we were able to move it to the side. Then we encountered a "Road Closed" sign on the route with a lot of trees piled up barricading the road. We started on a detour to avoid retracing our steps and encountered this...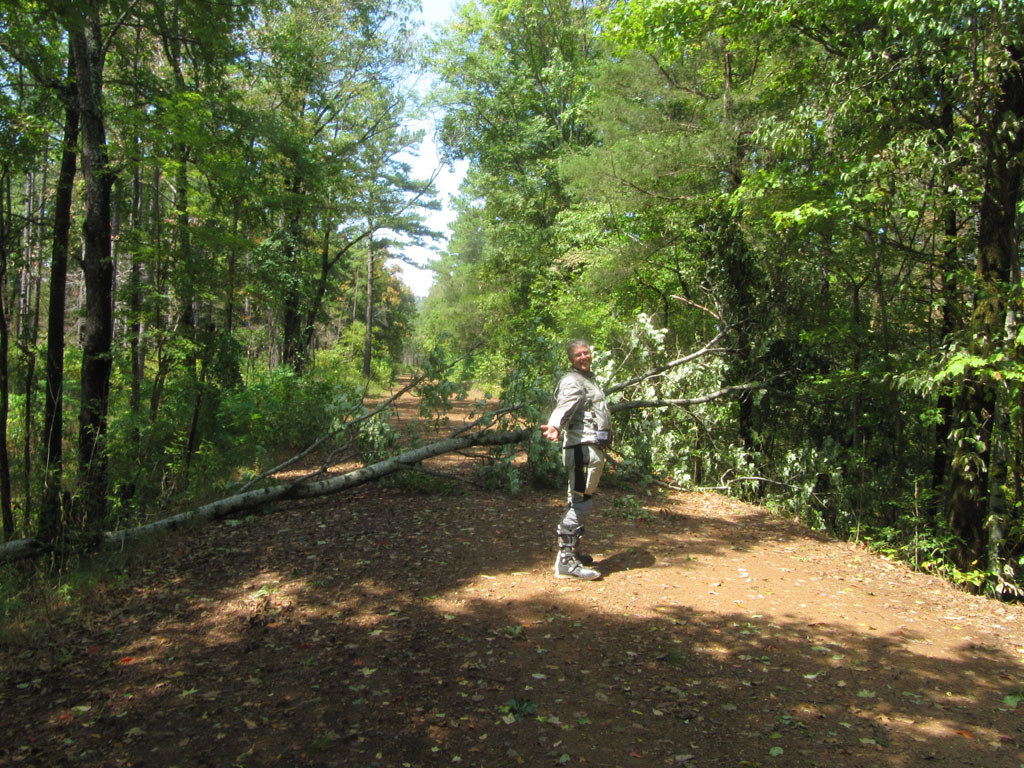 It was wedged into the trees on the far side of the road and was too big to move, but we weren't to be denied the joy of riding this forest. We moved a couple of branches and then managed to get our bikes up and over the tree trunk. Aaron left his video running so you can see how we got the bikes across it...

The final stretch of the journey into the town of Fayetteville was all tarmac, but with the sun shining we dried out from the morning's soaking just as we arrived on the outskirts of town. And into yet another thunderstorm which soaked us in seconds. So now I'm in my motel room trying to get everything dry before Harold arrives!