Trans-Am Trail - Days 7, 8 and 9 - Fayetteville, Arkansas to Liberty, Kansas
If you've found this page, then you will be aware that the blog has become a series of separate web pages due to my web hosting companies ridiculous bandwidth restrictions for their hosted blogs... If not, then the "old" blog can be found here. The old blog ended with the tale of how we got the bikes over the fallen tree, so I'll pick that up with a couple of pictures and a video link, which is something I couldn't easily do on the old blog... First, my bike halfway through the exercise of getting it over the log...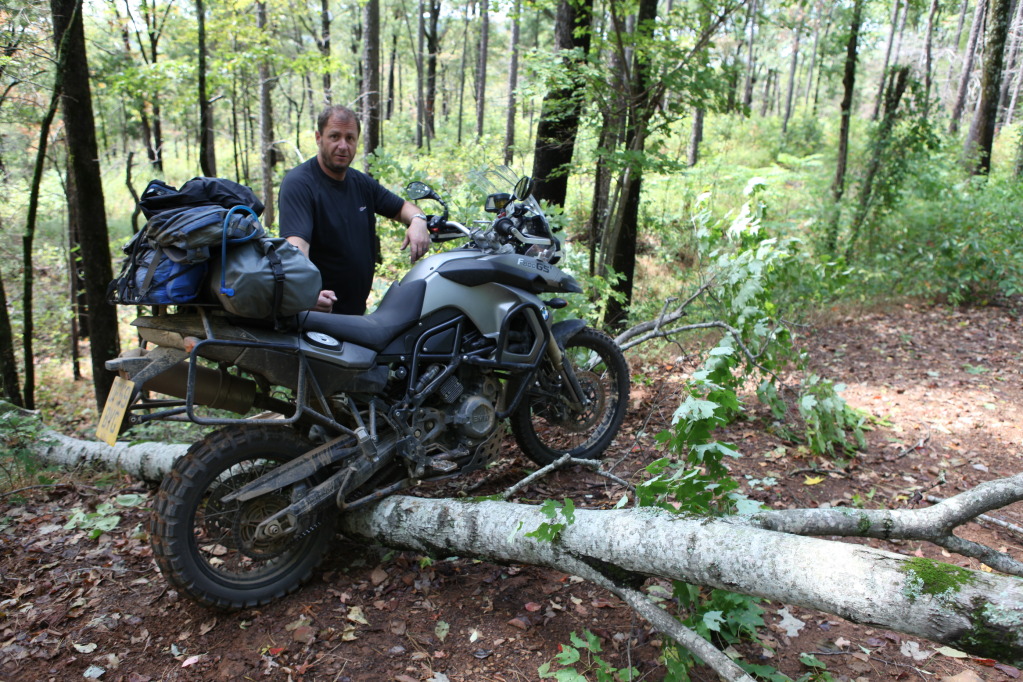 Now the video of us getting Aaron's bike over the tree - it's a bit "Laurel and Hardy", but be patient, we get there eventually!

and here's a very short video of Harold and me riding in the rain in the Ozark forest...

Ok, so back to the story. When we last left it, we were staying in Fayetteville, where we met up with another of Aaron's many brothers, Dylan, and his girlfriend who drove us into town in their ancient VW bus so we could grab a bite to eat and a couple of beers in a local brew-house. Now I must be getting old, as I only managed 3 small beers all night. At this rate alcoholics anonymous will be removing me from their register...

The next morning started as so many seem to, with pouring rain. We rejoined the trail which was still in excellent condition and not as slippery as it had been when Kenny joined us, so we slithered our way along quite happily. There's not much else to say about the day's ride, except that it was just fantastic and that the sun eventually made an appearance and dried us out a little. There weren't even any "drops" to report.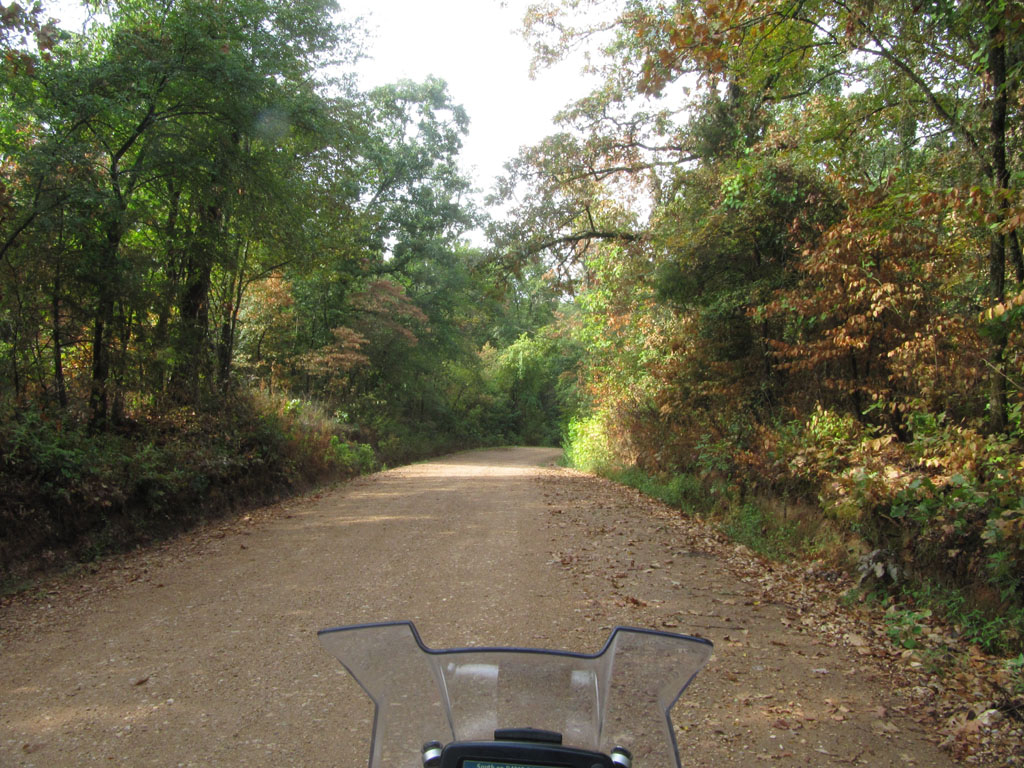 What is worth noting is that a lot of the trees have turned their leaves brown and are starting to shed them, despite this still being summer and not autumn (fall). The reason is that the past few weeks have seen record high temperatures and a severe drought, and many of the trees and crops have been starved of water. Not that we would think so, given how much has fallen on us in the past few days!
So you can get a feel for how wonderful riding on these forest trails is, here's another short video from Aaron's helmet camera (he makes the riding look easy, no?)...

Eventually we made our way to our overnight stop and Bartesville, AR, where once we'd checked in at the Super8, I made a quick trip to Wal*Mart for some supplies. Yes, beer, of course, but more importantly bananas for breakfast and some new footbeds (inner soles) for my bike boots. The ones that are in there are not only severly toxic but also completely flat and being stood up on the footpegs for most of the day my feet have been taking a real hammering. Now I have some fancy gel insoles with some anti-bacterial coating that's supposed to keep the smell down. Judging by the Hazmat team's arrival when I took them off earlier, I think they'll have their work cut out...
We also did some more washing and hung it out between the bikes to dry...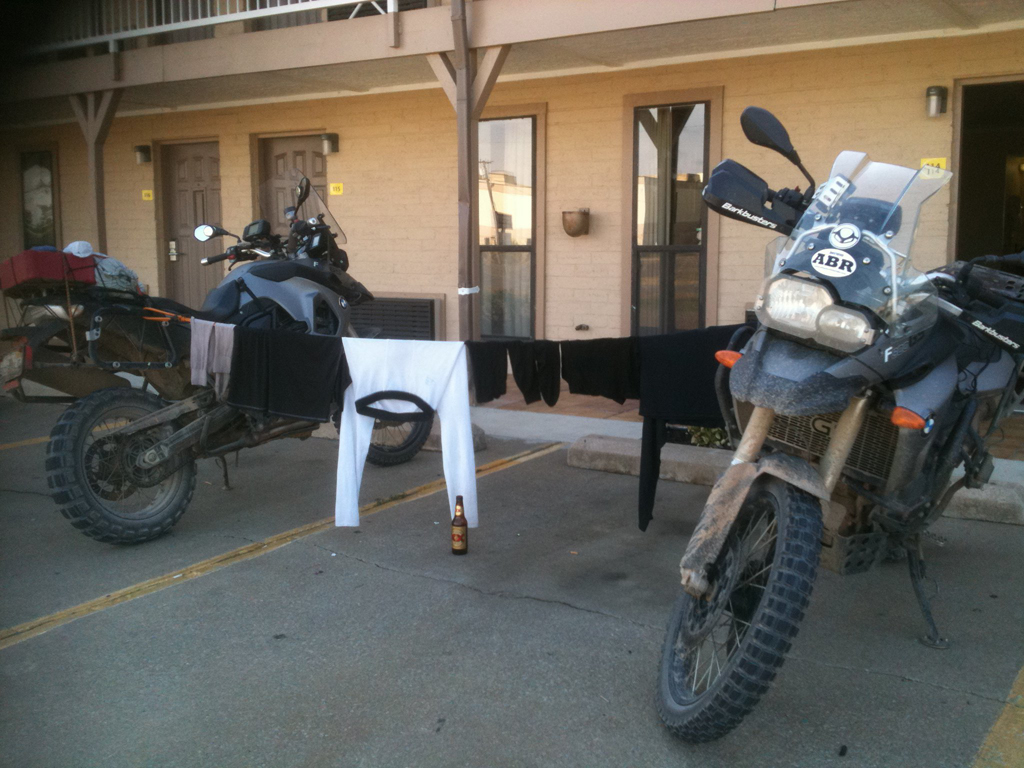 Which brings us to yesterday morning, and finally a day that started without rain! With clear blue skies overhead I replaced my clear visor with a dark one, put my waterproofs away and went to get breakfast at the diner next door. (I managed to order everything I wanted without being asked a question, result!). As we walked back it started spitting with rain but was still warm, so we set off without our waterproofs on. And rode about 2 miles before stopping to put them on, as the skies ahead were ominously dark. Before long we were heading into another major storm...
And boy, what a storm. As we headed up onto the prairie land on the border between Oklahoma and Kansas the sky in front of us turned a deep dark grey, occassionally lit up by sheet lightning that illuminated the whole sky and with dramatic brilliant white bolts of lightning. Tnen there were the thunderclaps, which were so loud I though that the sky was falling down. On one occasion, a particularly loud thunderclap made me jump so much I nearly fell off my bike. The road had turned to slippery muddy slush but we continued to splash our merry way west, into the eye of the storm...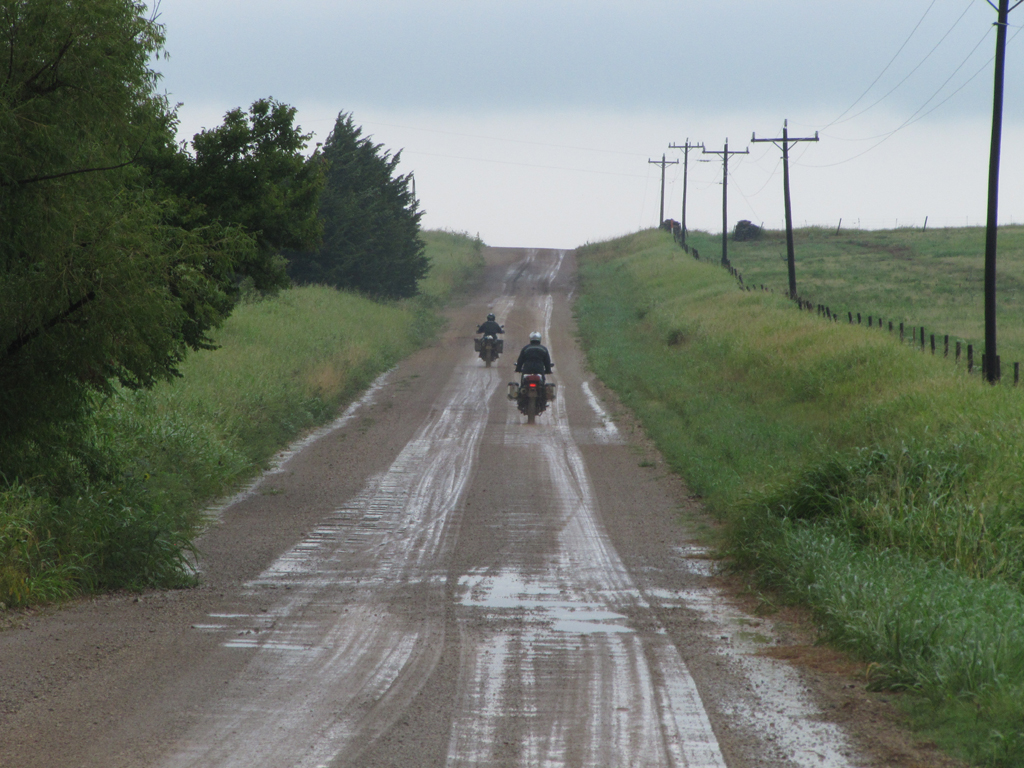 Fortunately as the heaviest of the rain hit we reached a paved section of the trail so we could increase our speed through to the other side of the storm. We still got soaked, though!
It was during this downpour that I noticed a couple of headlights behind me, followed by a big 18-wheeler. I pulled over to the side of the trail and so did Nick and Mark, a father and son from Pennsilvania who are also riding the trail. They are on Yamaha WR250 dirt bikes fitted with large tanks, bikes that are ideal for the trail being much lighter than our BMWs, but would be very unconfortable on the highways I'll be riding when we're done with the trail.
Once clear of the storm we continued on our way, with the sun starting to emerge and the temperature beginning to rise. The landscape changed too, becoming more sunbleached and losing the wild wilderness feel of the prairie land.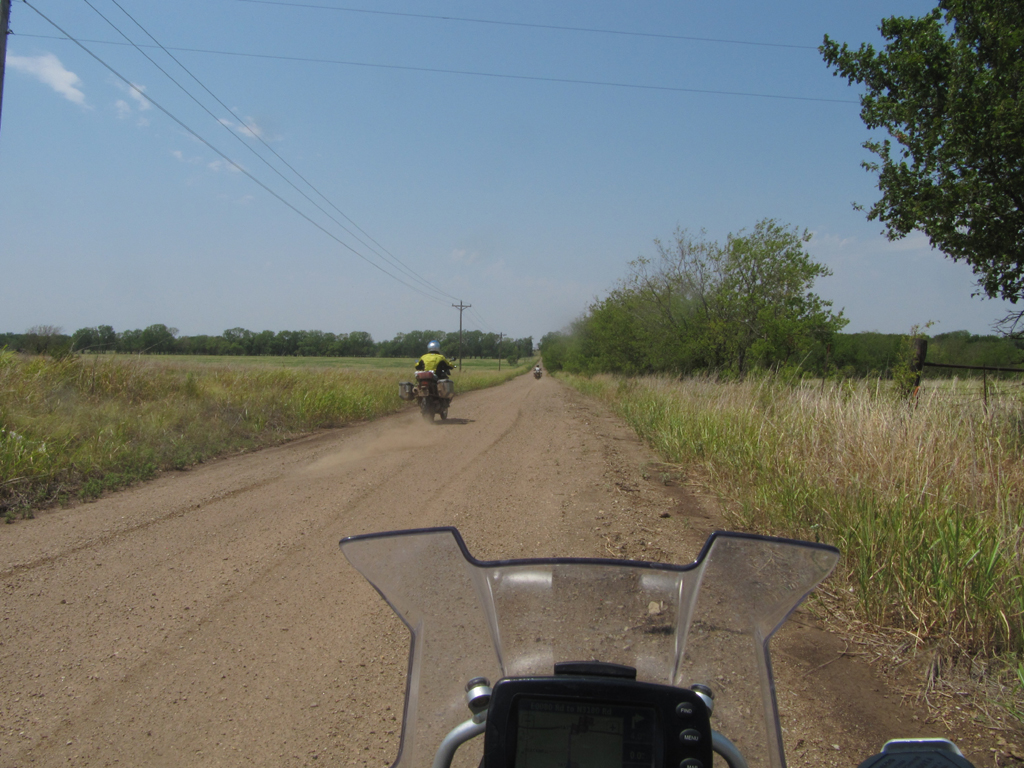 Before long we encountered another sign warning that the road was closed and the bridge out, so naturaly we ignored it and carried on. This time, though, our path was completely blocked and we were forced to admit defeat and find a way round...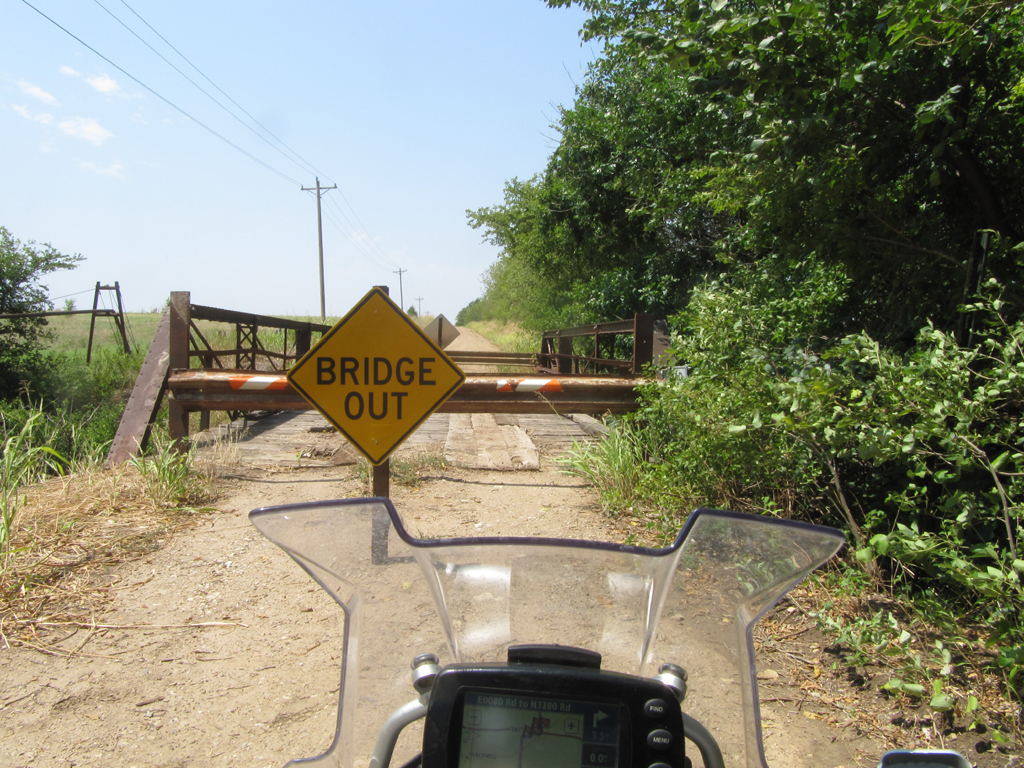 With the trail now hard sun-baked dirt with a light coating of gravel our pace increased and the flow of air through our vented clothing helped keep us cool (although riding in >35 degree temperature is like sitting in front of an open convection oven on full heat, whilst wearing a heavy suit of armour!). Then the inevitable happened. I hit a patch of loose sand, which sent the handlebars into the familiar death-weave and me into the deeper sand near the roadside. I was carrying too much speed, and gently relaxed the tension in the throttle to help bring my speed down, then I made a rookie error and pulled in the clutch. The loss of drive caused the weave the get much, much worse, and I dabbed my left foot down just as the back came round on me and spat me off. The wrench twisted my knee, but otherwise I was unhurt. The Oklahoma air turned bright blue for a while, until I had hobbled some feeling back into my knee and then, of course, I took a photo...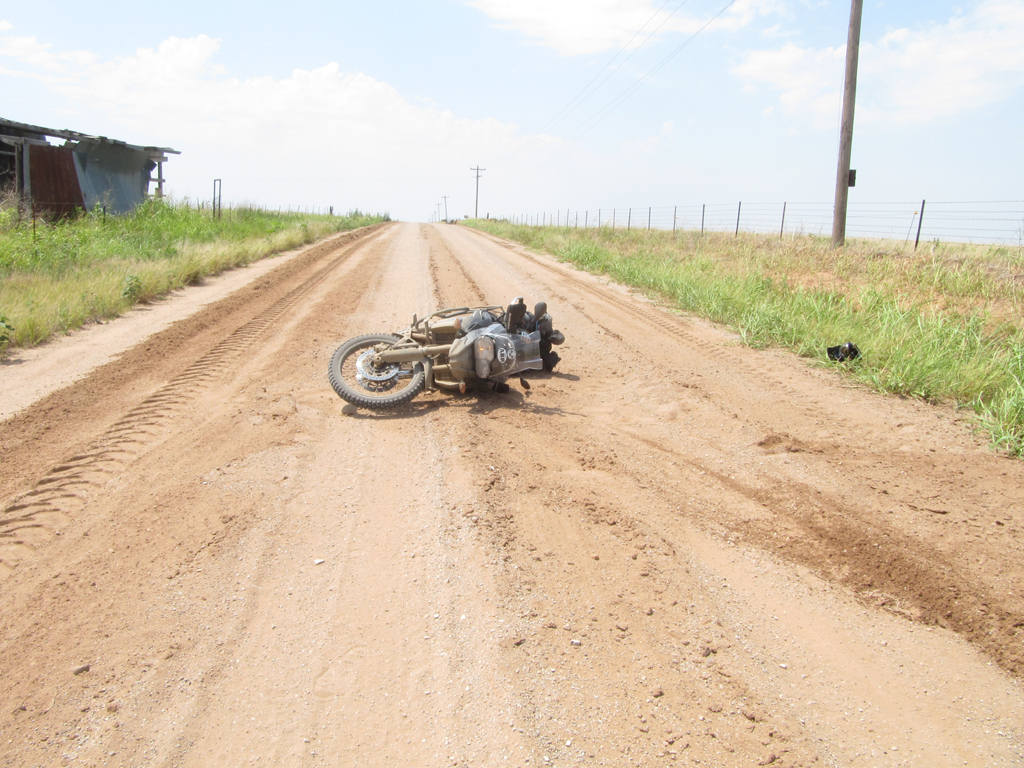 By the time Aaron and Harold had returned I'd picked the bike back up, but the fact it was facing the wrong way up the trail, and there was a skidmark 100 metres long, gave the game away. Score now, Aaron 4, Harold 1, me 1.
We mounted up and continued to ride, the occasional patches of sand now dealt with properly. That is, until we turned left into a road that wasn't so much a road as a sandpit. Oh, goody, I thought. This time the sand was really deep, but by keeping a steady throttle and staying in the rut I was happy pottering through it, following Harold and with Aaron behind. Then this happened...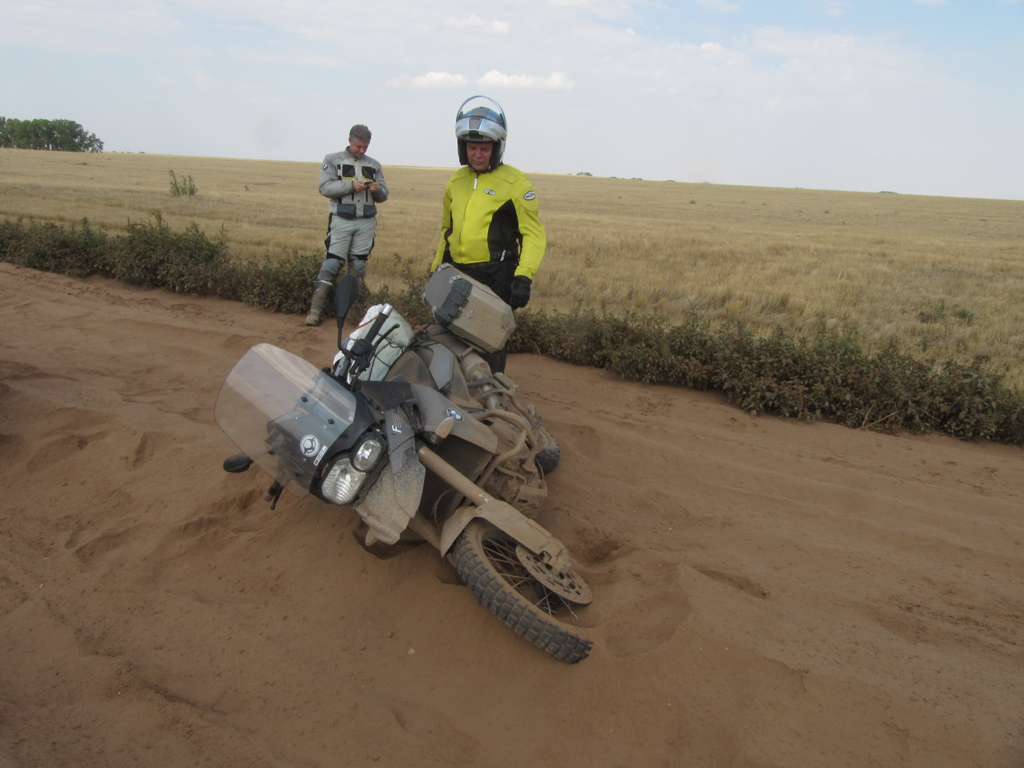 No, that's not me. That's Harold.
It took us a while to get through the sand but we eventually made it without any more mishaps and rode in to Alva and found a motel for the night. Dinner was Mexican (again) but I wasn't hungry so didn't eat much. We were all very tired after a long day, the final run in temperatures of 39degrees C being a taster for what we can expect when we get the other side of the Continental Divide.

Today, day 9, started without rain, and it has stayed that way all day. It did rain heavily overnight, though, so the first part of the ride was once again on soft ground, the bikes either digging in and shooting great clods of mud from the back tyre (best not to ride too close to the guy in front!) or slipping and sliding along.



As we rode into a thick mist, I once again noticed a couple of headlights behind me, and with Aaron and Harold up ahead, I knew they must be Nick and Mark, so I stopped to grab a picture as they rode by.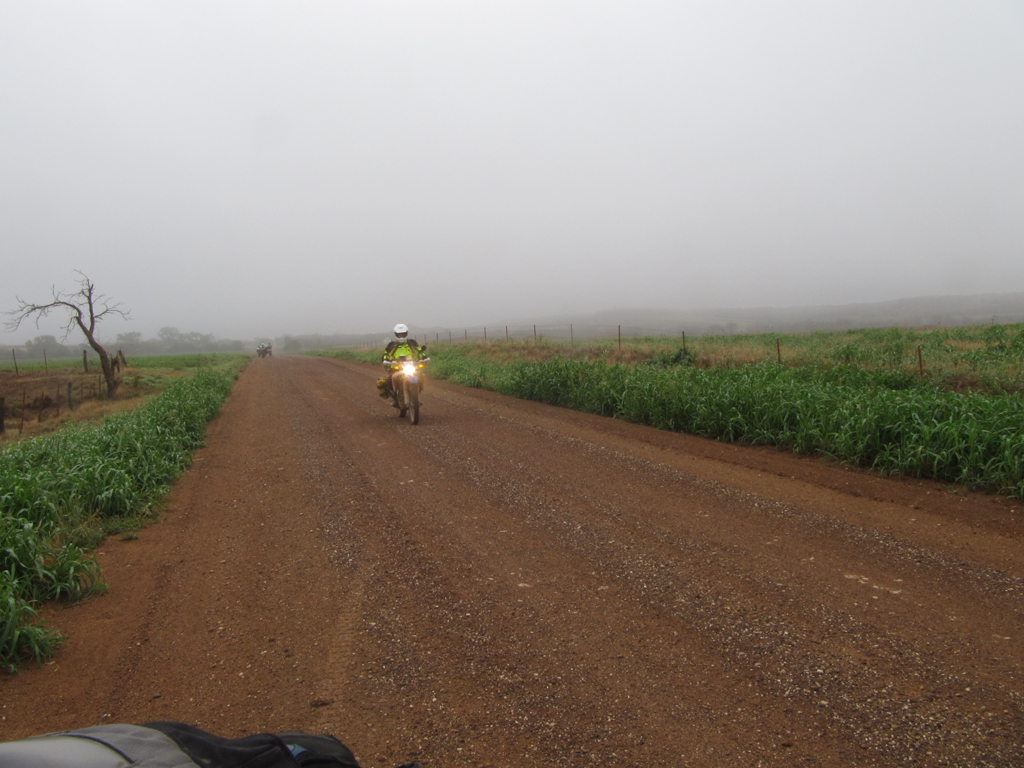 The rest of the mornings ride was just fantastic, the low cloud cover keeping the temperature down and the trail a nice grippy mix of hard mud and gravel, with the occasional soft patch to prevent us from getting bored. If ever they pave this road it will be a travesty, as in parts it is arrow-straight for miles, but as with all dirt roads the potential for the surface to change in an instant requires concentration and so they never become boring. If it was paved, you'd just set your cruise control to 60 and fall asleep...
We stopped for lunch in Buffalo (not in A buffalo, in the town of Buffalo), but with the cafe closed it was once again a Subway sandwich, although this time I managed to get them to hold off adding cheese (to my chicken salad sandwich) and filling it full of 5 different types of fat-filled dressing. Trying to eat healthily in this part of America is like trying to find a teetotal Irishman.
On the way back to the trail after lunch we spotted a TAT sign - the mileage being that within the state, rather than the total distance (which is closer to 2,000 so far). A good photo-op not to be missed...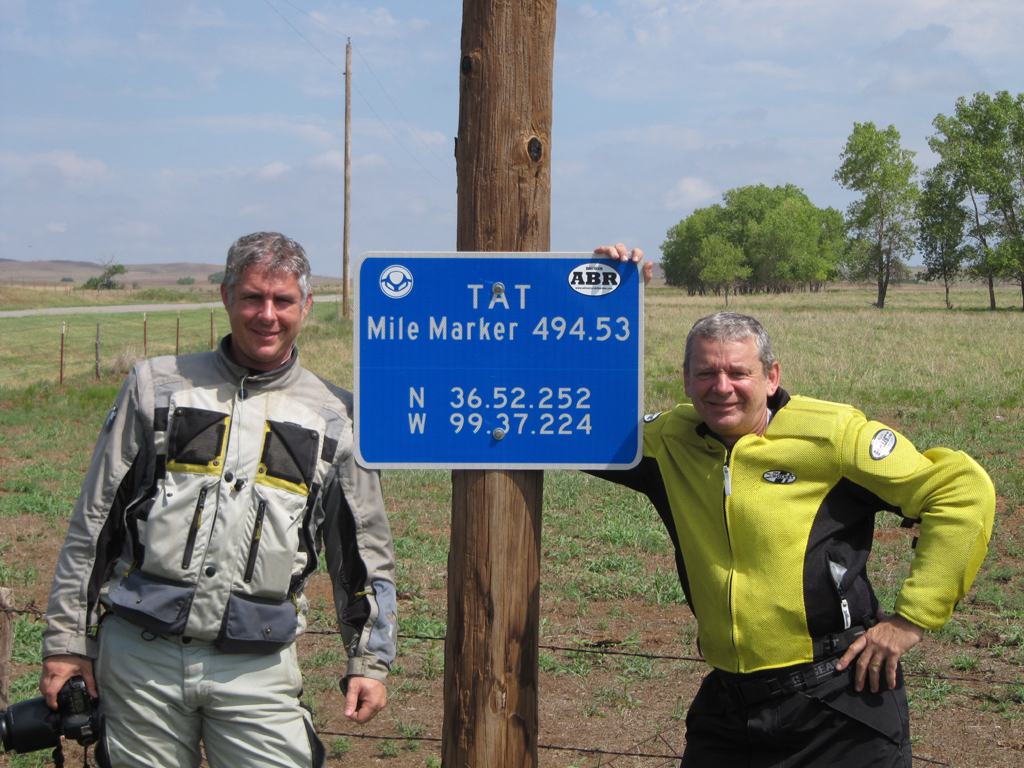 The afternoon ride was just as enjoyable as the morning, the road winding up onto the prairie once more, with cattle grazing in the fields, a couple of buffalo off to the right, a herd of wild horses and several abandoned and derelict farmhouses. I wonder how much they want for this one?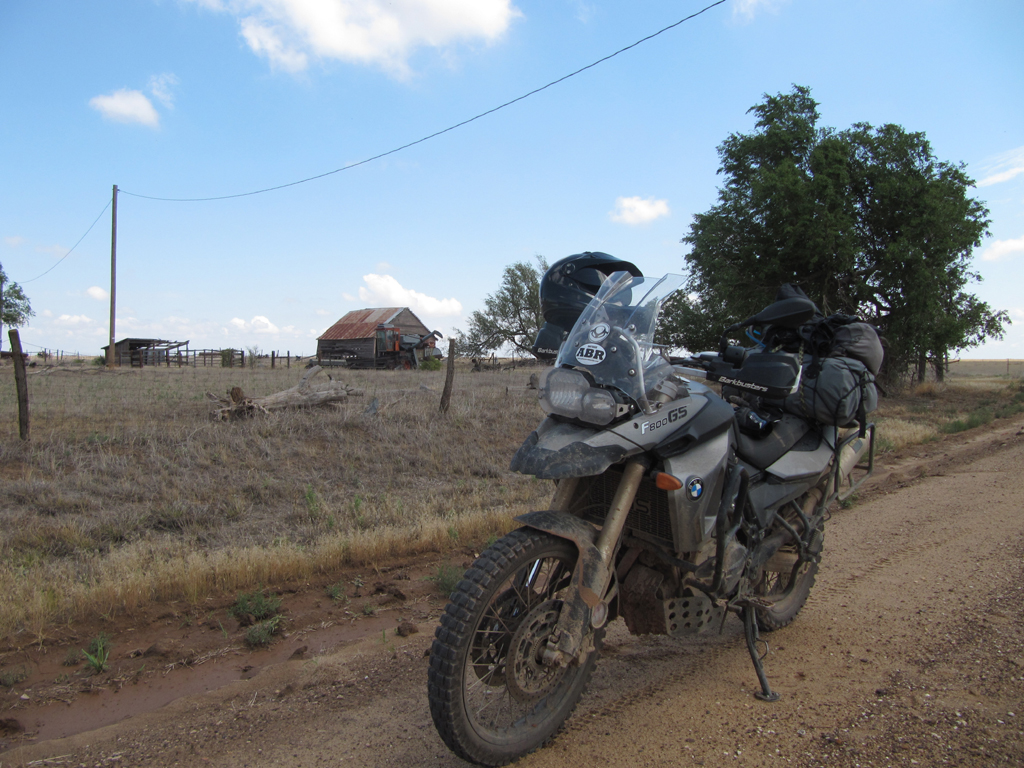 So now I'm in the motel in Liberty, Kansas. I got here not by clicking my red shoes together, but by riding one of the best riding days I've ever had. Just fan-bloody-tastic.