<
Trans Americas 2009 - The Blog
The Just One More Mile story of Paul's Trans Americas 2009 motorcycle expedition.
Monday, 31 August 2009
Into Copper Canyon...
Despite this being a Bank Holiday in the UK, there's no respite for the hardened Adventure Motorcyclist, who wakes again at 6.30am, has breakfast of runny porridge and excellent scrambled eggs, then wanders round town looking, unsuccessfully, for a wireless hot-spot he can hack into in order to update the blog...
When I went to move the bike from the secure compound back to the hotel, it was very reluctant to start, probably a symptom of the altitude (2,500m) but quite worrying as we're going much higher later in the trip. It un-nerved me a fair bit, as last time it played up I dropped it doing a u-turn in the car park of the BMW Road Skills course prior to my advanced training session with Kevin...once loaded, it behaved itself again and so Nick and I rode out of town, then back in again to find fuel, before riding out once more. Up into the mountains on twisty and winding roads, with gravel nicely laid in the centre to unsettle the bike and me some more, and it's immediately obvious my head's in the wrong place again, my riding a poor imitation of its normal fluid self. Several stops for water and to eat biscuits seems to settle the nerves, made worse by the knowledge that we'd shortly be riding the Copper-Canyon road, 45-miles of steep, downhill gravel and dirt to the hotel...
One thing struck me during these numerous stops in the middle of nowhere, and that was that there was always someone else there. Usually stood staring into space, or perhaps sitting on their haunches, but in the absolute middle of nowhere. How they got there, why they were there, and how they would get home again is a complete mystery, but it seemed like every time I stopped, someone would be there, staring into thin air...
As the road climbed into the mountains, the surface improved, as did my riding and my mood, and soon I was marvelling at the spectacular views, especially when looking back the way we'd come, with the road winding its way back down the mountainside...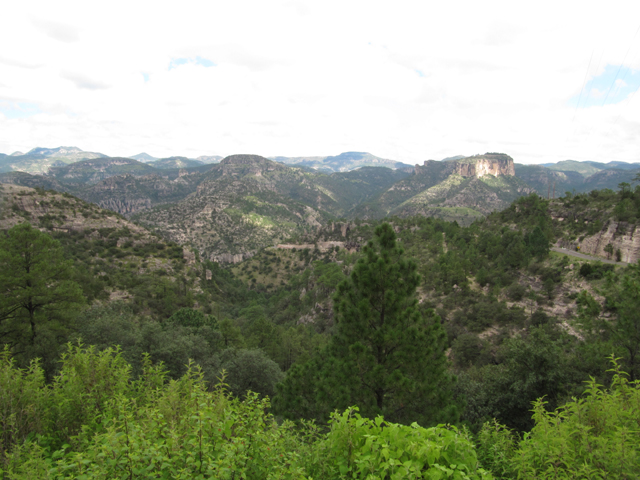 We stopped at a fuel station to re-group, then it was time to hit the dirt... Initially the road was fine, just a wide, dirt road with a thin layer of gravel leading past some quarries and various road-working machinery, then it started to wind its way downhill in a series of easy hairpin bends. But that wasn't to last, as first we encountered a section where recent roadworks had been undertaken, leaving deep sandy-gravel with large ruts for several hundred metres, starting just round a bend. Luckily, I'd been following my mantra of riding so I can stop in the distance I can see, so saw it early and once in a rut, stayed in it, trying to keep the wheels in line and the power on. Then I saw Kevin coming the other way near the end of the sandy-gravel section and looking like he was going to enter the same rut I was in... fortunately, he didn't, stopping and getting off his bike, then running back the way I'd come shouting something about warning the others...
But that was only the start of the "fun" as the road suddenly started to fall off the mountainside in a series of rock and gravel hairpins, some very tight and most badly rutted. The sections between them were either heavily corrugated or deeply rutted, and sometimes both, with loose rocks, thin layers of loose sandy-gravel and pot-holes everywhere. The pace dropped and I spent most of the time in 1st gear, trying to pick the best line both round the corners and on the straights, forcing myself to relax and let the bike move underneath me whichever way it needed to, whilst at the same time trying to maintain my chosen course, using pressure on the footpegs to steer, whilst standing up and using me legs to absorb the shocks as the bike bounced this way and that... The road wasn't the only hazard, either, as there were numerous cows, donkeys and dogs scattered about the road, usually sitting in the middle just round a blind, rough bend, and in no hurry to get out of the way... And then there was the other vehicles, mostly pickup trucks, that we'd encounter coming uphill, usually where there was no room for them to pass, and where they still passed us, forcing us right to the very edge, over which would have been a long drop before we stopped suddenly...This continued, with a few stops to drink and eat energy bars, for the best part of 4 hours... and 45 miles...
The scenery when we did stop was breathtaking (although I was already breathless from the exertion of trying to get down in one piece), with the road clearly visible winding its way down one mountain, across a bridge, up the next and over into the valley below...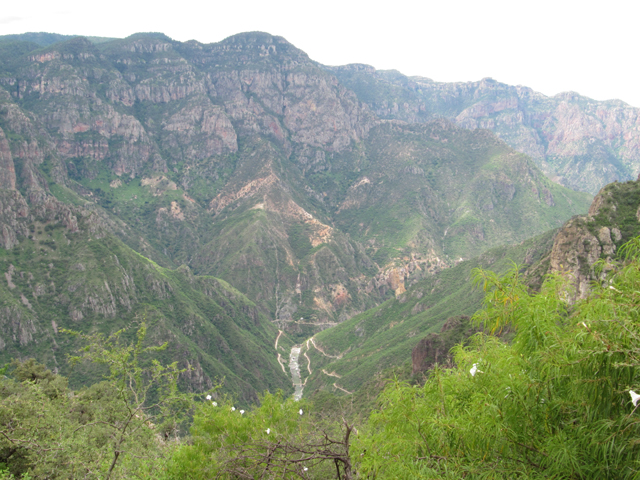 I was riding most of the time with Nick, either following or leading, but he wasn't having the best time. He'd dropped the bike near the sand section where I saw Kevin, and then again when he hit a rut and it pushed him up against the rock wall, his confidence on the dirt still shattered after the Dalton. Then near the bottom of one steep section I was ahead, and as I rounded the bend I heard the sound of pushing gravel and wondered if he'd gone down again. Watching my mirrors for signs of his headlights, when they didn't come, I pulled over, took off my helmet and gloves and shouted to see if he was OK. No answer, I guess because he couldn't hear me, so I ran back up the hill, for as far as I could before my lack of fitness forced me to walk, and rounding the corner I could see he was stood up, his bike on its side facing uphill...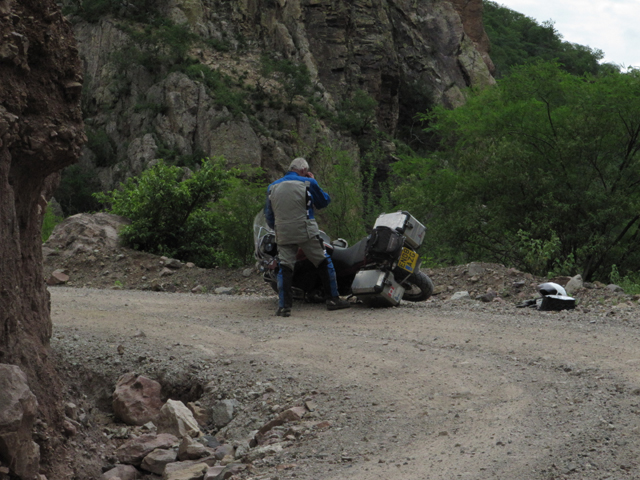 Fortunately, he was unscathed, though clearly winded and more than a little fed up. His bike was also undamaged, apart from a bent screen, and so we hauled it upright and I did my best to cheer him up, and restore his tattered confidence. At this point, we still had the best part of 15 miles to go, the road conditions showing no signs of improving. The last section, though flatter, was equally challenging, with deep sand on some corners, right on the line we needed to take to set ourselves up for the next section, the lines being critical if we were to avoid careering off the road down into the river some considerable distance below...
Finally the most beautiful sight appeared, a massive residence built into the hillside, which was clearly our hotel. And there, on the terrace high above the road, were the early birds, Andy, Nigel and Richard & Karen, shouting about how there was a cold beer waiting for us... heaven... without even taking our boots off we drank 2 bottles of cold Dos Equis each, Nick starting to look better as soon as the 1st one was down, me just relieved to have made it without going down myself...
When the rest of the group arrived the casualty list was much shorter than expected, with no injuries to any riders, but Jim's panniers needing banging back into shape, Danielle's bike in the van (she'd made it almost all the way down before her sickness robbed her of any remaining energy to do the last 10 or so miles). With Andy also having had a tip-off after being surprised by a truck, the total number of "offs" was just 6, surprisingly low considering the condition of the road...
… and the good news? Well, we get to ride back up it the day after tomorrow, as there's only one way in and one way out of Copper Canyon...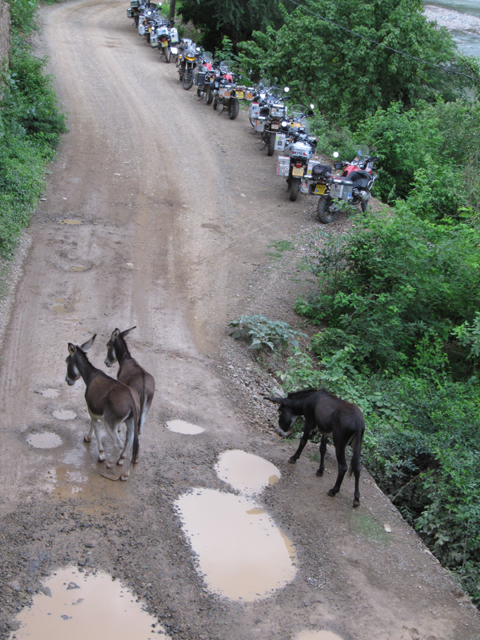 When I finally managed to drag my backside up to the room to shower and changed, the humidity levels had reached a peak, and I was soaking again seconds after I'd dried myself. Only one thing for it, another beer, and even that didn't help, so I stopped drinking before dinner, which was served in the hotel. Considering they'd only opened the hotel for us (they have 11 rooms, we needed 12 but fortunately there's a triple, so Jeff didn't have to sleep in the van), the food was excellent, with a delicious soup followed by some kind of meat in a rich sauce. Not spicy, but nonetheless very tasty... The highlight of the evening, though, was after dinner, when Gerald sat back in his chair and surveyed the rest of us... and when asked what he was doing responded thus (best said with a thick Devon accent):
Got eyes like an hawk,
Ears like taxi doors,
See all,
Say nowt,
So shut-up
We still don't know what it means...and so to bed, having managed to stay awake until 9.30pm, although some of the group did sneak an early evening siesta before dinner...
Sunday, 30 August 2009
Riding in Rural Mexico...
Woke from a good night's sleep around 6.30am, so showered and updated the blog before breakfast. With an official start-time of around 8.30am, I figured I'd have lots of time before the likely actual departure time of 8.15am, but when I emerged from the room around 7.45am, several of the riders were kitted up and ready to get moving... keen or what!
So I grabbed my breakfast of cereal and coffee, and a glass of really delicious fresh orange juice, and went out to see who was left. Nick was getting set to join Nigel, Andy, Gerald and Al, but after a quick conversation agreed to ride with me instead, breaking the groups into smaller, more manageable units. With most of the rest now gone, Nick and I pulled out around 8.15am, and promptly got lost trying to get out of town. The route notes said to ride to the junction sign-posted "Chihuahua" but we thought this would be in town, when it was actually about a mile outside. We found it eventually, and then made our way to Bueneventura, our first real Mexican village without the comfort of the whole group and Kevin leading to point out the hazards. And there were a few, though as we dropped our speed to about 20mph, nothing we couldn't deal with. First was the "topes", which are like sleeping policemen (lumps across the whole width of the road), usually concrete rounded ramps, which vary in height from a few inches to around a foot, and some of which are simply two rows of rounded metal balls half buried in the ground and offset, so as to make riding a motorcycle over them as difficult as possible (especially when wet). These topes are strategically positioned at the entrance and exit of every town, usually 2 close together, and sometimes whole rows running through town. They slow the local traffic to a crawl, which is just as well considering the condition of most of the vehicles. So when there's traffic, we ride slowly in the exhaust fumes (one pickup was burning oil so badly it was followed by a huge blue cloud that obscured all view of the village through which we were travelling), coughing and spluttering. But when there's no traffic, which was more often the case, we ride open-mouthed trying to take in all the sights, waving to the kids playing in the streets, getting raced by smiling boys wheely-ing their bicycles (there are times I wish I could wheely, so I could play along), or chased by dogs.
The villages themselves varied from the run-down 3rd world type, with rubbish and broken, rusting cars scattered amongst the dilapidated wooden houses, to the very pretty cleaner ones with trees planted in the street and locals tending to the crops in the fields surrounding the village. Between the villages we also saw a lot of pick-up trucks carrying armed soldiers or policemen, there having been a spate of assassinations, particularly of police chiefs, in the area, although we didn't feel threatened in any way, the people seeming very happy to see us.
We passed through areas of bright green fields, with signs of recent heavy rain, the temperature much cooler than the last few days and making for a really enjoyable ride. We rode up into the mountains on a great twisting road, resisting the temptation to up the pace, simply adopting a classic advanced riding pace and picking our lines to maintain the rhythm, giving us plenty of time to soak in the magnificent views out over the tree-lined hills to the valley below. We stopped at the side of the road to admire the view, and within minutes there was a group of us, Kevin, Julia, Richard & Karen, Max & Christine and Aaron all choosing the same spot to stop for a break and to admire the view...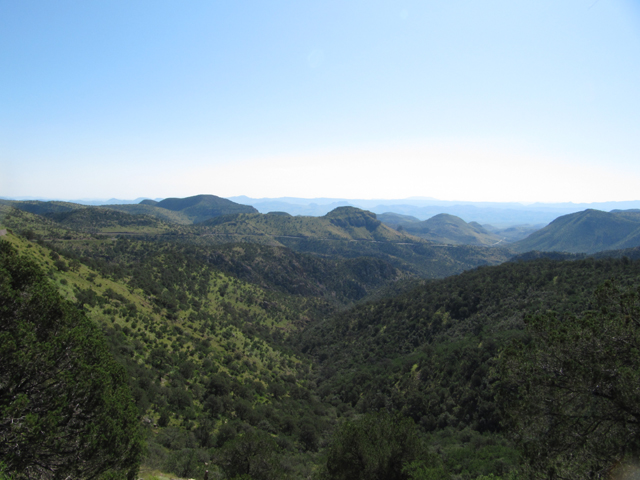 Leaving the group, Nick and I headed off up and over the mountain and down into the valley below, through green fields and past sleeping locals, reclining with their cowboy hats over their eyes in the grass at the roadside. Past farms being worked by hand, small groups of people bending over to tend to the crops, or grouped together chatting, taking time out to watch us go by and return our waves. Just before arriving at Guerrero we caught up with Chris and Danielle, then tucked in behind them and rode as a group of 4 into town, past the scene of an accident on the bridge, where a pick-up had run into something and was being loaded onto a tow-truck under the watchful gaze of the local police and a crowd of spectators. Riding through endless "Alto" junctions, we reach the edge of town, confused as we thought we'd reach the square where the route-notes mentioned some restaurants that were good for lunch. Turning the page on the notes revealed the instructions that we'd missed, to turn right at the first Alto sign, so we back-tracked and found the square, which was buzzing with life, the locals hanging around watching the world go by, the guys in their finest shirts, tight jeans, cowboy boots, big shiny belt buckles and cowboy hats, the girls seemingly not in any standard clothing. Kevin had already arrived and was inside one of the restaurants, having got past us whilst we took our detour. So we joined him, and ordered lunch – I opted for the special chicken soup, which was a little "picante" (spicy) and very nice. After lunch, the owner, who spoke very good English, explained how difficult trade has been with the American tourists staying at home, afraid to come to Mexico because of the shootings at the border and swine flu... such a shame, as it really is beautiful. She then recited a poem especially for us, which went like this...
Count your garden by the flowers, never by the leaves that fall.
Count your days by the golden hours, don't remember clouds at all.
Count your life by smiles, not tears, and with joy on every birthday.
Count your age by friends, not years.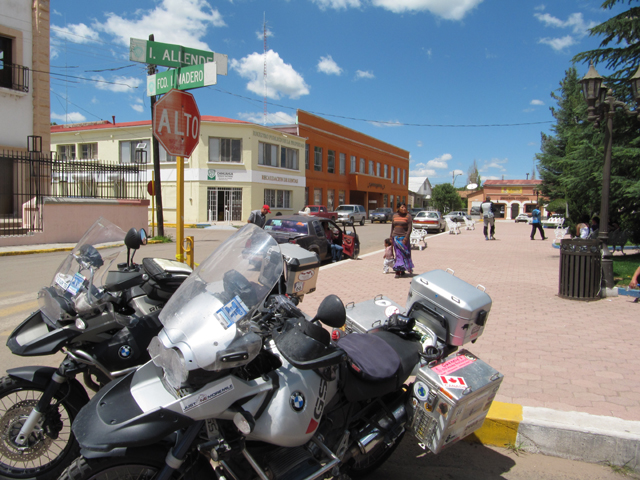 After lunch, Nick and I continued our ride together, through more splendid scenery, which took on a more Alpine look as we headed once more upwards, past fields of gold (I'm not an expert on plants, so have no idea what it is, but it "sure was purty")...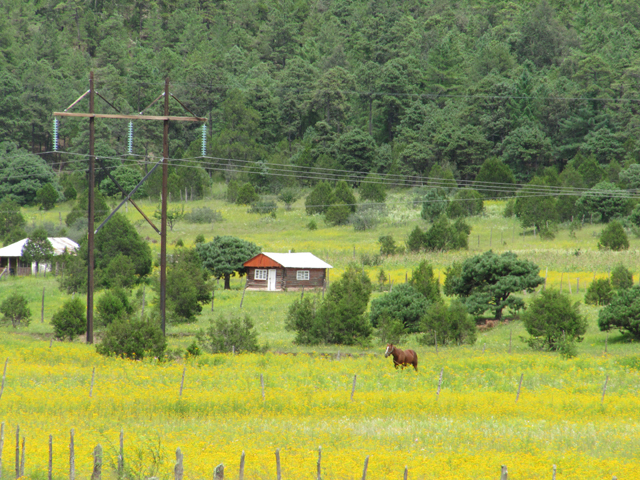 Finally we arrived in Creel, winding our way through the dusty streets, across the railway to the hotel. When the group had arrived, a few of us went for a wander round town, which, this being Sunday, was seemingly populated with youths cruising round in their hopped-up pick-up trucks with ridiculously wide wheels...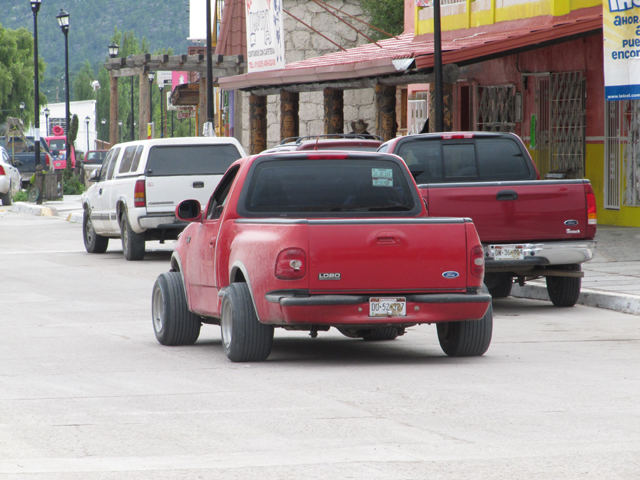 The town itself is an odd mix of traditional Mexican town (like those we'd ridden through earlier) and tourist town, as the train that leaves here goes to Copper Canyon (where we're heading tomorrow). Under darkening skies it certainly made for a dramatic photo...(and no, the truck was not abandoned, just parked...)
Back at the hotel we had a couple of pre-dinner drinks in the rain to celebrate our first full day in Mexico, then moved the bikes through muddy roads to a secure parking area, before settling down for a complimentary meal in the hotel, supplemented by a posh bottle of Tequila provided by Kevin and Julia. Now normally Tequila tastes like petrol (and probably has the same effect), but this was quite nice, sweet and certainly drinkable. So we did a few shots whilst eating, mostly to drown away the sound of the guitarist/singer who serenaded us with traditional Mexican songs (think "cat being strangled to sound of guitar"). Gerald managed to swap hats with him, though, which caused some amusement, even if it didn't stop him singing...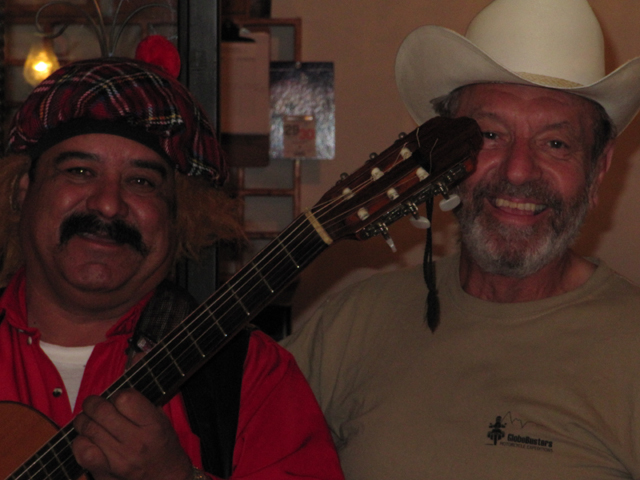 When the restaurant closed at 8pm, bought a few bottles of beer and sat outside in the courtyard chatting about this and that, before turning in when the booze ran out a couple of hours later...
Saturday, 29 August 2009
Bienvenido a Mexico!
A very early start (wake at 5am, load bike, breakfast and in the saddle, ready to go by 6am) and we're finally on the road again. Leaving the Sheraton with its lovely pool and heading out, all of us in convoy (now just the 17 bikes and one Transit with Kenny gone), all waving to Sandra stood looking lonesome in the hotel car park, we leave town and head out onto the Interstate as the sun starts to rise. A short ride takes us onto the long, straight, road to the border at Douglas. With a quick stop for a "fluid adjustment" and to re-fuel, and we're there at the US departure point, parking up under cover of the sun. Here we hand over the white exit-slips from our passport to confused US border guards who can't seem to grasp that we don't need them because we're not returning to the US (at least, for some considerable time). Then we're off, heading to where the signs read "Mexico" and are in Spanish first, then English...
And as with many other borders, crossing this one is stepping through a door into another universe... the road condition deteriorates immediately, with broken tarmac and potholes everywhere, the cars are old and battered with bald tyres, the people dark-skinned and poorer-looking. We're directed round the back of the immigration and customs building, which itself looks like it's about to fall down, into a rough dirt parking area round the back. Dismounted, we dump our jackets and helmets in the van and seek shade, whilst Kevin heads off into the building to suss out the process we all need to follow. Whilst we wait, we look like prisoners about to be executed by firing squad, lined up against the wall in the only shade around...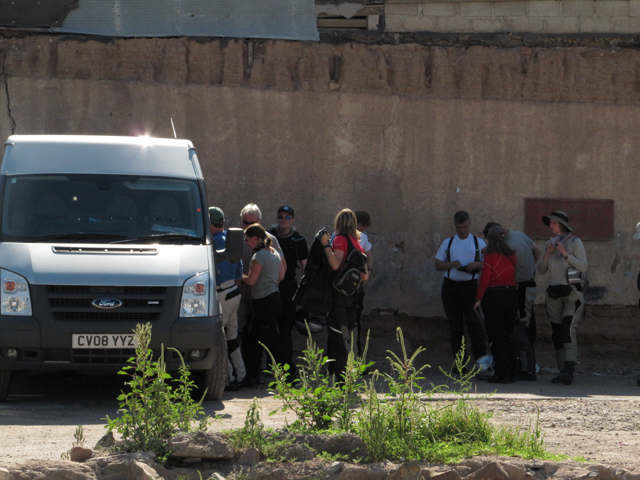 Kevin returns and outlines the process, and we all troop into the building, documents in hand and trying to adopt the latin-American attitude, that all things take time, there's no rush, and relax. It turns out to run pretty smoothly, as we first get a tourist entry slip from one guy, then go and get photocopies of our passports, driving licence, the form we've just been given and our V5 (licence for the bike) – which costs $1 – then to another window to get a permit for entry for us which we have to pay for with a credit card in our name (both costing around $20). With that done, we return to the first guy to get the tourist entry form and our passports stamped, and then we're done. Final job being to peel off the very attractive permit sticker and attach it to the window of the bike – this will be checked regularly as we pass through various military and police checkpoints to prove the bike is in the country officially. We then stash the rest of the documents on the bike and return to the shade to wait until the rest of the group has been processed.
Around 2 hours after we arrived, we're back on the road, heading out of town slowly – getting used to the traffic and the road layout and seeking out the almost hidden "Alto" (Stop) signs. Once clear of town we're back on open highway, riding through scrubland, over a couple of hills and then along some very long straights, attention wandering and trying desperately to keep focused as the heat and boring road make falling asleep at the handlebars a real possibility. Then we're forced awake again as the lead bikes' brake-lights shine brightly and we all cruise to a stop – a checkpoint, and this time we have to stop. The soldier then proceeds to walk down the line of bikes, holding a black plastic device with what looks like a car aerial horizontally mounted on the front. Once at the back of the group, he turns round and walks to the front, then waves us on our way. I've no idea what the device was, or what he was looking for, but relieved he didn't find it. At another checkpoint we're asked for the blue form that the bike's permit was attached to, so all dismount and start rummaging through our panniers, only for him to be told by another guard that he didn't need to see them, and we're waved on our way again... Entering some hills we encounter a convoy of trucks, which start overtaking one another, on blind bends and where solid double-yellow lines in the centre of the road are meant to discourage such behaviour. They all make it, though, and as the road opens up, we start to overtake them ourselves. That's when I first encounter another strange Mexican driving practice... one that scares me shitless... they indicate left to let other traffic know it's safe to pass... so whilst they'd indicating to turn into your path, you pull out and go past... I made doubly, then trebly, sure there was no where for them to turn, except directly into a field through a fence, before making my move, and breathed a huge sigh of relief once clear of them...
Finally, we stopped at a small town called Janos for lunch, glad to be able to get off the bikes and eat something to get our metabolisms working again, the early start and straight roads resulting in drooping eyes and poor concentration. The rest stop at the side of the road was rough and ready, but hungry I ordered a couple of tacos with some green chili and a Sprite. It was delicious, hot and spicy, with the meat very tender... so I had 2 more... and the whole lot cost me 50 pesos, or about £2.50... cool...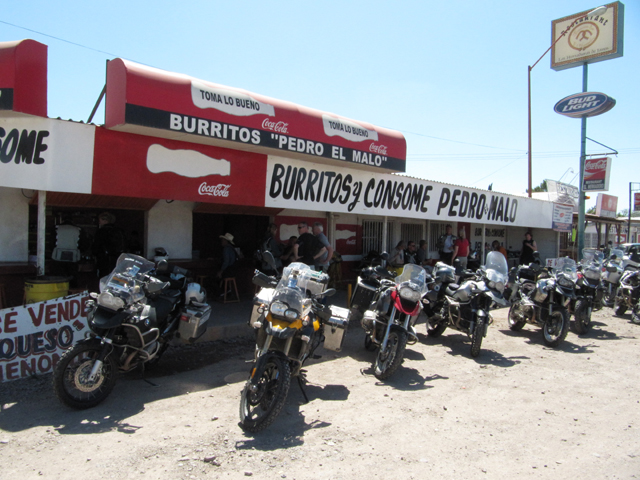 From here it was a short 45-mile ride to Neuvo Casa Grandes and the Hotel Hacienda, and very soon were were parked, unpacked and in the swimming pool. A couple of cold beers to celebrate our arrival in Mexico and then back to the room to work on the blog for yesterday before heading out into town for dinner. We found a small bar and had a beer, enjoying the rough nature of the place and the strange looks we got from the locals (including the 2 large gals behind the bar, who looked as though they might be looking for 'work'), then went to the restaurant next door for what turned out to be a very disappointing meal (I should have followed my instincts and insisted we seek our something more rustic-looking, but there were others from the group already eating there).
And so back to the hotel and bed, our first day in Mexico over... tomorrow we head deeper into the country, and hopefully stop riding as one big group...
Friday, 28 August 2009
Last night in the US of A...
Another relaxing day in Tucson, which started as usual with a relatively early wake-up (6am), then breakfast, a phone call with Tracy and on to do my chores for the day, this time sorting out paperwork and generally ensuring I was happy with my state of preparedness for the trip to Mexico tomorrow. I even put the panniers and top-box back on the bike, so that I'd have somewhere to stash my jacket later in the day when we went out.
With my chores done, it was time to head out to the Air & Space Museum, with Richard & Karen and Max (Christine wasn't well, having succumbed to her 2nd bout of the Trans-Am cold, which seems to be continually circulating within the group). Now, the Air & Space Museum is no ordinary museum, as it also offers coach tours round the "Boneyard"... officially known as AMARC - Aerospace Maintenance And Regeneration Center. This is the place you might have seen where thousands of aircraft come to die (or get salvaged for parts, or refurbished and returned to service, or get their wings and tails painted red and converted into unmanned target drones...). It's seriously impressive... currently housing 4,300 aircraft and only at 60% of capacity, some 21% of which each year are either returned to flight. The guide on the coach is ex-air force and certainly knew his stuff, explaining the full history of all the aircraft down the "celebrity road" as well as explaining the way the aircraft designations work... so prepare to be educated...
First, the designations. They begin with one or more letters, which relate to the purpose and mission of the aircraft – so "A" is "attack", "B" is "bomber", "C" is "Cargo" and "F" is "fighter"... next is a model designation number (such as A10, or C-130)... then finally a further letter the designates the model generation number (so B52H is the 8th generation of the B52 bomber). Cool, eh?
Then the aircraft themselves. The best way to do this is with a photo and then an explanation, but as I've over 60 photos of them, I'll just include my favourites... first, the F14D (that'll be a fighter, type 14, generation 4) as flown by Maverick and Goose in Top Gun...
The A10 Thunderbolt (also known as "warthog") - which I liked because it carries one mother of a gun, that is practically the size of the plane, fires rounds that are 12" long and weigh 2lbs, the warhead part of which is made from depleted uranium and weighs 1lb... and it fires 70 of them every second... think "road to Basra" and you can see how effective this ugly plane is...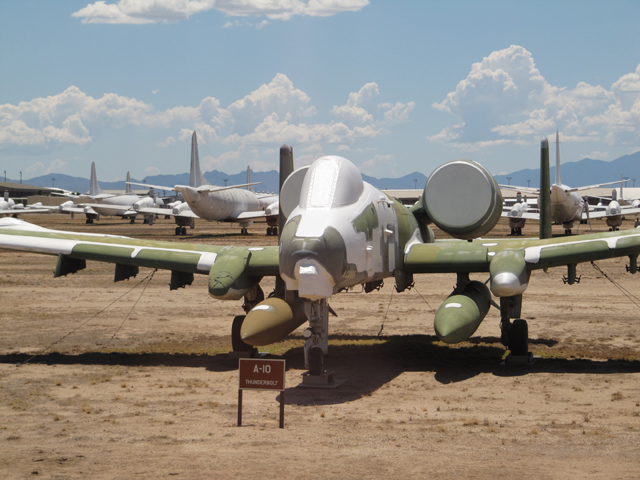 I'm not going to include many more pictures, but suffice to say, the large number of C-130 Hercules planes in storage would have been impressive enough, were it not for this lot... a small section of the 700 or so F4 Phantom jets, which are being put back into service as either unmanned drones or for the 6 air-forces around the world that still use it (and remember, this was a plane used in anger in Vietnam...).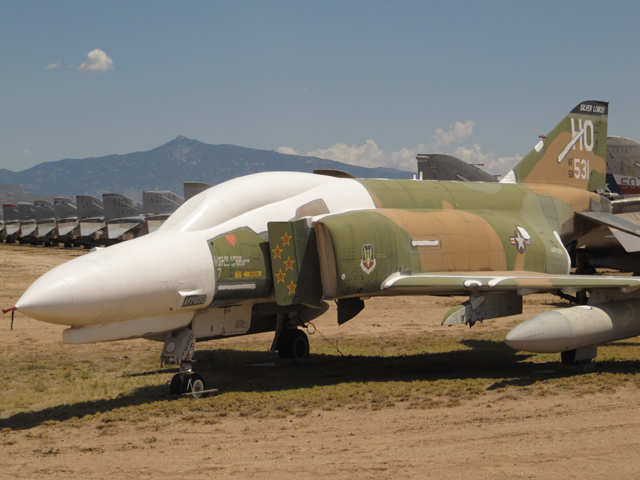 But the most impressive part of this impressive facility was the "boneyard" itself, where the aircraft go to die. When they cross the bridge they enter their final stages of life, are stripped of all useful parts and then cut into pieces and the bits sent for scrap. Here were row upon row of aircraft of all shapes and sizes in various stages of dismantling, including these helicopters...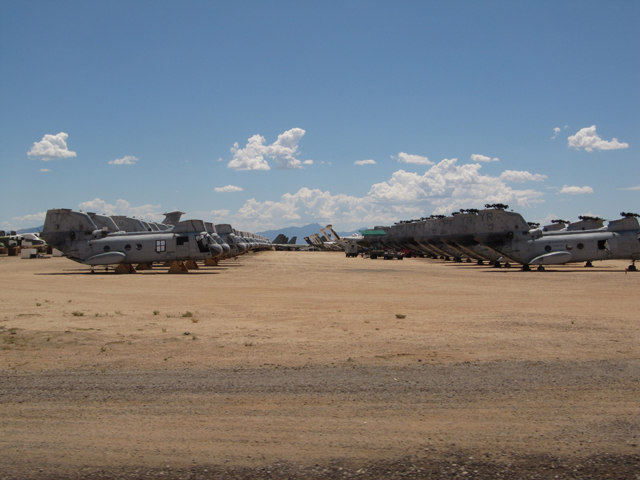 When the tour finished we went and had a quick look round the museum. There was enough here to take up a full day, but we only had an hour or so, and so focused our attention on the WWII hangers, marvelling at the nose-art from the big bombers, which were displayed as a series of photos round one of the big hangers. Alongside each was when the aircraft was brought into service, how many missions it flew, and what happened to it. Very sobering, as most were lost in battle, many crashed somewhere, and only 1 made it back to the US at the end of the war... Also in the hanger was this fine example of a B-29 from the 330th Bomb group, which flew 26 missions between April and August 1945...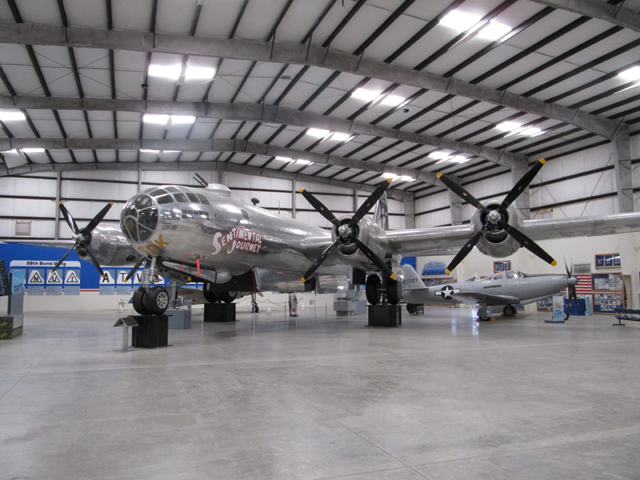 There was one final thing in the museum to help create an appropriately reflective mood... this flag, the first US flag to land on Utah beach on D-Day...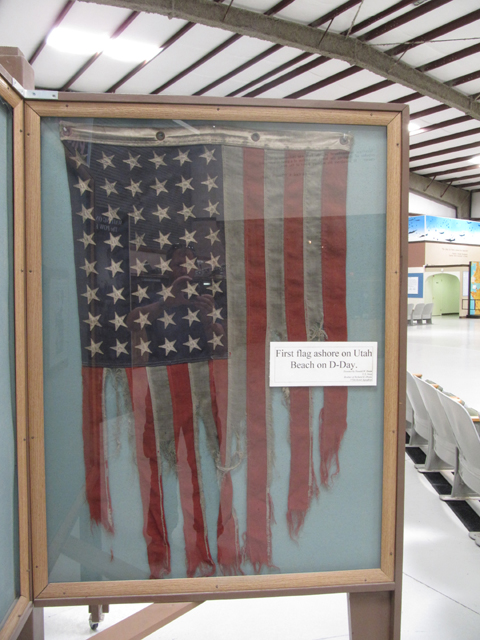 Suitably reflective, we headed back to the hotel. In the blistering heat of the day I completed the last of my chores, sending a box of stuff I don't need back home in order to lighten my load, and then headed into the pool to cool off for an hour or so before dinner. For our last meal in the US (breakfast at 5am tomorrow doesn't count), we went to the "Outback Steakhouse" just a block away and enjoyed a strange deep-fried onion (that looked like a Terry's Chocolate Orange when unwrapped and tapped), and a plate of BBQ ribs and chicken...
Then back for an early night ready for the early start tomorrow...
Thursday, 27 August 2009
Buena suerte y hasta luego Kenny...
Today was an emotional day for 3 main reasons.
First, I got my bike back. It was ready to collect first thing in the morning, so I went in the van with Jim and Al and was re-united with it in the car park, resplendent with new tires (yes, I know how we're supposed to spell it, but we're in America) and having had a full service. Cost the best part of $900 so it should be good... Al was less fortunate, his bike (an R1150 GS Adventure like mine but immaculate and black) has suffered severe scoring of the rear brake disc and the pads were down to the metal. He's going to have to keep an eye on the rear pads from now on, as they were unable to replace the disc (no spare available). But at least he's also back on the road again...
Second, and more emotionally, we had to say "goodbye" to Uncle Kenny. He'd ridden from Florida to Anchorage with Aaron (his nephew, hence the "uncle") before the start of the trip, and been with us all the way to Tucson, but needed to get back home for business reasons. All through the trip he's been a font of great knowledge, especially about the wildlife (and how to hunt it) and the flora and forna. We're all going to miss his happy smiling face, his dry humour and most of all his sheer presence (I think secretly the women are also going to miss his "builder's bum" too...)... Thanks for the happy memories, Kenny, hope to catch you on the road again someday...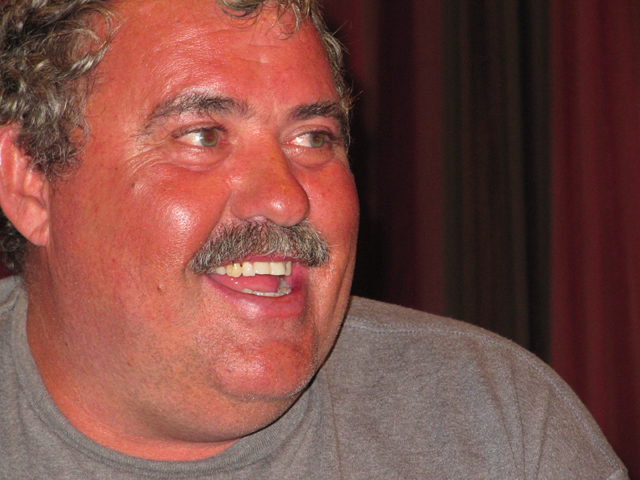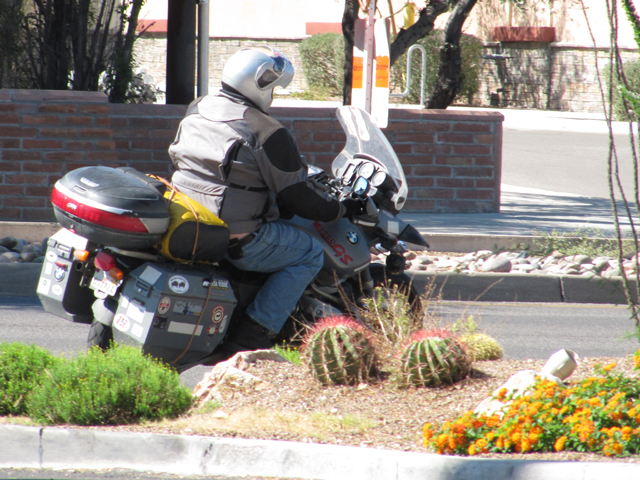 Thirdly, Andy ("Ozzy Andy" to distinguish him from Andrew) has managed to sort things out so now he can do the complete Trans-Am as opposed to his original plan to leave us in Panama. This is great news, as it means the full team that started so long ago in Anchorage (with the exception of Kenny, who we knew would have to leave in Tucson) will now be heading all the way down. Andy's wife, Sandra, is here in Tucson having flown in to see him, and she'll be taking care of their business whilst he's enjoying himself with us, so big "thanks" to her from the rest of us...
And so to the rest of the day. Well, it wasn't quite as hectic as expected. I had intended to go to the Air & Space Museum (more of that tomorrow, perhaps), but still had a lot to organise, so decided to spend the day getting myself sorted and then chilling out by the pool. First job (having got my bike back) was to sort out my finances, as I'd been locked out of my Internet banking service and needed to get that resolved quickly. Luckily, my access had been restored, so I was able to check my credit card balance (been using it for fuel all the way through the US as the pumps are "pay at pump before filling up" types), and setup the payment. Then I wanted to ensure Tracy has sufficient money to treat herself, so sorted that, then it was off to the bank to get some more cash out (dollars, in good-quality notes) and to change the $50 notes I have for smaller denominations...
The bank, Wells Fargo, was "interesting". On entering, I was greeted by someone saying "Welcome to Wells Fargo and how may I help you". I though it terribly polite, and was quite chuffed, until I realised they said it automatically whenever anyone walked through the door, or drove up to the drive-in window (I kid you not, this bank branch had a "drive-in" counter for those too lazy or fat to get out of their SUVs and waddle inside). The next bit that I found odd was the staff uniform. In the UK, all bank staff tend to wear a sedate, professional uniform. The young girl serving me had a top on that emphasized her infeasibly large cleavage. After 6 weeks on the road, this was quite a problem, especially when she came to count out my currency and had to lean over the counter a bit more whilst doing the "That's 20-40-60-80-1, 20-40-60-80-2..." thing. But this was my money, so I wrenched my gaze away from her chest and watched the cash being counted with the intensity of stare Medusa would have been proud of. Then it was back to the hotel for a cold shower and to stash the cash in my secret hiding place...
With the great financial challenges resolved, the next task was to update the blog (didn't take long as naff-all happened yesterday), and then get changed and go sit by the pool for the rest of the day. I did try to sort through my photos and start the process of creating the Trans-Am galleries, but it was hot and sunny and there was a cool pool to mess about in, so that's what I did instead.
I did manage another chore, washing my bike jacket & trousers in the hotel's guest laundry machine, but it came out looking as dirty as it went in, so I don't think that was a great success. Oh, and I also finished my book ("Uneasy Rider" by Mike Carter that Tracy bought me as a going-away present – it's very good).
Before long the day had gone and it was time to have the first beer and eat something, so we congregated in the hotel's bar/restaurant and ordered an appetizer and entree, only for them to arrive all at once (again!) and so the food was rushed (though it was very good). Aaron's bar-hopping trip coincided with the meals arriving, so only Jeff and Aaron went out, the rest of us sitting and chatting for a while, until it was just Nick, Andrew and me left at the bar, chatting to the barmaid as she closed up (her mother is from Gloucester) before heading off to bed, the promised last-night-in-the-US debauchery having completely failed to materialize...
Wednesday, 26 August 2009
No bike, so not much to report...
A full day off, without my bike as it's at the dealer's being serviced and fitted with new tires.

Despite which, I still woke early and managed a quick chat with Tracy before heading down for breakfast. The rest of the day was spent seeing to a few chores (haircut, getting a box to send stuff I don't need back home, trying to sort my online bank out and getting locked out of the account), and then relaxing by the pool, chatting to a few of the others and generally chilling out. I also arranged a curry night for any that were interested, researching the best Indian restaurants in Tucson on the Internet before selecting the New Delhi Palace, then arranging taxis to take us there. The food was good, considering Tucson does not benefit from a large Asian community in the way Royton does... but it was a proper curry at least...

Then it was back to the hotel for a nightcap before hitting the sack. So, nothing much to report, perhaps tomorrow will be a little more exciting from a blog perspective, as it's our last "free" night in Tucson (Friday doesn't count as we need to be ready to roll at 6am on Saturday morning...).

Tuesday, 25 August 2009
Resting in Tuscon, and thinking of Mexico...
First, an apology. I've been having problems transferring images to the website, another problem with the Internet in the hotel, solved by going to Buck 'n' Lil's Grill next door, where they have free wi-fi that doesn't cause the same problem...
When I arrived at the Sheraton last night and checked in, Jim was already here as his Suzuki wasn't going to be dropped off at the BMW dealer for servicing (he's made his own arrangements), and had accepted the upgrade of our room to a suite for a small payment.. so when I woke this morning, he was in the ante-room working on his laptop and I had the whole bedroom to myself, which was very nice. We have this little desk in the ante-room where we can plug our laptops in and work, and before breakfast I set to trying to resolve the Internet problems. A quick diagnosis and it was obvious the problem was with the ISP, so I called their technical support people and after a lot of to-ing and fro-ing, with me having to use technical language to convince them it wasn't user-error, I managed to get them to accept it was their problem and they needed to fix it...
With that being dealt with, I went and ate breakfast, and then we rode our bikes over to Iron Horse BMW (which is on the same street as the hotel, just 2 blocks down, but Tucson is a really spread-out city, so those 2 blocks means 2.5 miles!). With my bike checked in, we wandered round the shop (I didn't see anything I wanted to buy), and then Jeff brought us back to the hotel in the back of the van... seems odd, not having my bike with me...
Back in my room I tried the Internet again, and lo and behold, it was now working. And not just for me, but for everyone. That meant I could chat to Tracy on Skype, which is always a great way to make my day. We then enquired about the nearest shopping mall, and were directed to La Encantada, so Nick and I jumped in a cab whilst Andy (whose wife Sandra has come to visit) took Max & Christine in the hire car they've got and followed us. $25 later, we were dropped off at the mall, which only had about 30 shops, all designer affairs (Louis Vitton, Victoria's Secrets that sort of thing). I managed to find a rather posh supermarket to get some deodorant and toothpaste, and then we were done. With an agreed meeting time an hour away still, and Andy & Sandra nowhere to be seen, Max, Christine, Nick and I did the only thing we could, and had a cold beer. When we finally found Andy & Sandra again, we all squeezed into their car and went back to the hotel, in time to surf the web for a bit (trying to sort out a curry-house for tomorrow night) before the big meeting...
At 4pm we assembled in the conference room and listened to Kevin give us the run-down on the border procedures and things to watch out for when we enter Mexico. Richard had already entered the Mexican spirit, by shaving his goatee...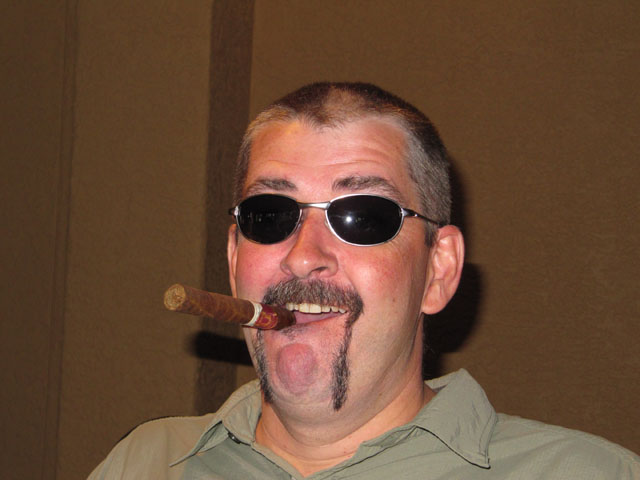 Kevin's main point was that the "holiday is over, the adventure begins now", and that Mexico has a lot of hazards and we had better be concentrating. No more "racers and chasers", bigger gaps between riders, dogs (a big hazard), trucks, people, etc. In other words, it's all about to change, and we'd better be ready... We're all very excited at the prospect, and raring to get going...
At the end of the meeting, Nigel announced he'd had an idea. We have the "Prat Hat" award, which is done roughly once a week for the person who's done something daft, but he thought it would be a good idea to also have a "Gold Star" award for the person who has done the most for the group, awarded on an "as needs" basis, with the person who gets the award the most throughout the trip getting a momento at the end. This got a warm reception, and the first recipient, selected by Nigel (in future it will be by a committee of Kevin, Julia and the current gold-star holder) was Christine, for maintaining the group's morale and generally always being cheerful and smiley. We'll see how the award works going forwards, but it adds another dimension to the group dynamic...
Then it was time for the weekly "Prat Hat" award, delayed from last Friday so that we could ensure the new recipient gets to wear it during the border crossing on Saturday... The nominations this week were a little thin on the ground, the shortlist being: Nick (for missing a junction on the Interstate then claiming he did it deliberately, and for complaining that his steak was too small compared to mine at the Jacob's Lake Inn), Gerald (for getting stopped for speeding in the Mesa Verde National Park, the incident being recorded by Richard for all to see) and Kenny (for leaving the group to head home and for his spectacular crash in the sand at Monument Valley). After pretty poor defence cases all round, the votes were cast and Gerald got the award... I give you Gerald, in the Prat Hat: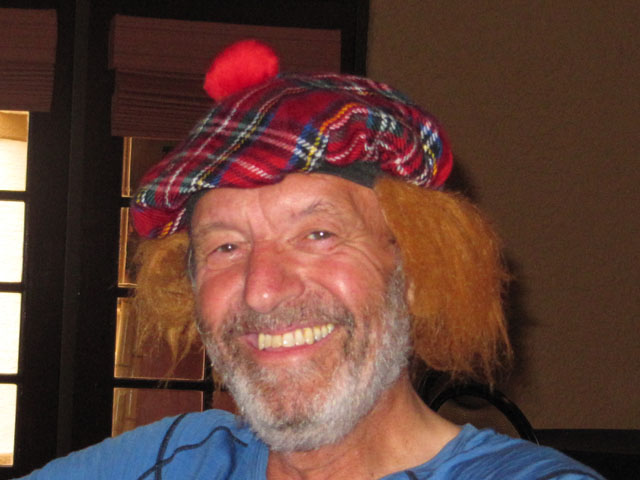 With the award ceremony over, it was time to eat, and we had a large table laid out for us next to the pool, where we could see the live Jazz band that was playing to a small but appreciative audience. Live music is always welcome, and these guys were very good, especially the youngsters (one was only 14). They even had an old black lady sing with them on some songs, including one they dedicated to us, "Get your kicks on Route 66"...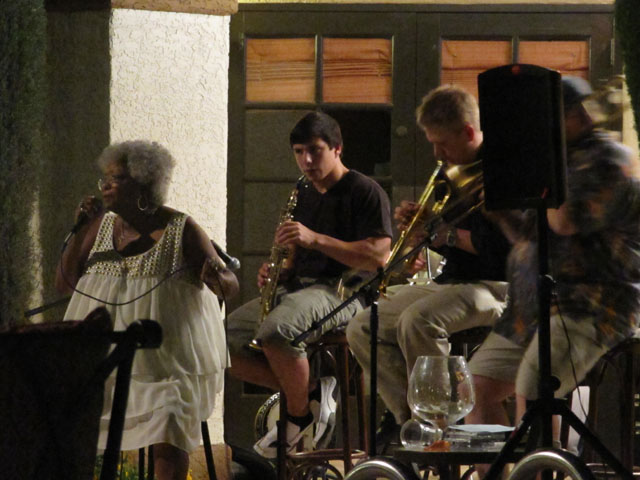 The final entertainment of the evening came when Jeff remembered that he'd left Candy (his "girlfriend", see earlier post...) in the conference room. She'd been deflated and strategically placed half out of a pannier in Andy's room when Andy went to pick his wife up from the airport, and had been returned just prior to the meeting. Re-inflated at the dining table, Jeff was dancing with her by the pool when Rich pushed them both in. Jeff then proceeded to "rescue" Candy (although I'm not too sure about his rescue technique)...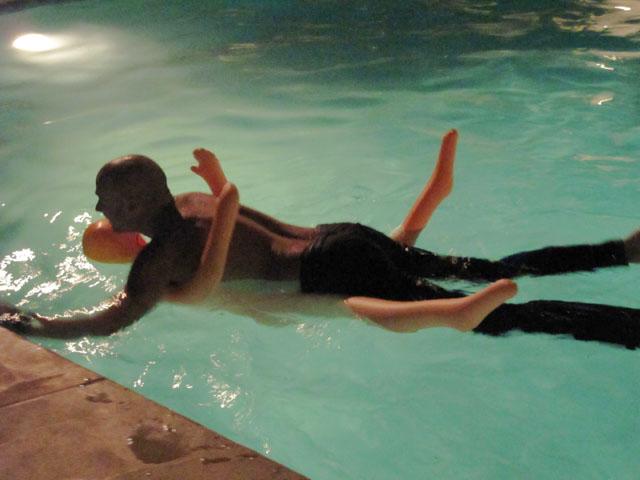 Monday, 24 August 2009
Long, hot, riding day... then 5 days off...
Today's blog entry will be short, as it really only needs to reflect the long ride (500 miles according to my odometer, which is actually over-reading and was more like 480 miles) from Jacob's Lake to Tuscon....

First, I was woken around 4am, as Jim got up in the room next door, once again wanting to get an early start rather than wait for the group to depart around 6am. I managed to snooze on until around 5am, when I got up, and then went to help Jim pick his bike up (it had fallen over when he got on it, probably because it's still very heavily loaded) and then fix a minor electrical fault caused when it fell. Once Jim had gone, I loaded my own bike and rode round to the front of the hotel to join the main group. When all assembled, we rode off in convoy for the first time since leaving Anchorage, a total of 14 bikes all riding in formation back across the Mable Platform and on towards Fairbanks. We stopped for breakfast after around 110 miles (2 hours) in an old trading post, and were served an excellent breakfast of eggs (2 x over-easy) and links (you should know what they are by now...) with hash-browns and toast very quickly, then filled up with fuel and on our way again, riding in a slightly smaller group of 7 or 8 across flat plains over desert-like scrubland in increasing heat, gulping cold water from my camelbak every few miles (cold because I'd filled it with ice before setting off). We crossed a mountain range, the road twisting up one side and down the other, the group once again demonstrating the perfect "biker's ballet", breaking the staggered formation on entry to the turns, each rider following the "wide out, late in" sweep, then reforming the stagger on the straights, before repeating the change at the next turn. A stop in Strawberry for lunch (small salad and 2 very large glasses of sprite filled with ice), and onward, the heat now getting more intense as we crossed the Roosevelt dam and rode down onto the plain, with a final stop for fuel, to use the loo (2 hours in the saddle following 2 large glasses of Sprite and several gulps of cold water make for a very uncomfortable last few miles, as I got increasingly desperate to stop...) and an ice-cream (to try and cool off a little). The we rode through the desert plain, passed the prison (what crimes must a man have committed to warrant being incarcerated in a hell-hole in the middle of the desert?) and the "cactus forest", the heat now reaching 39.5degrees C and with a wind making it like riding through a fan-assisted oven...

Just before Tuscon we could see the sky was very dark, and occasional bursts of fork lightning flashed across the sky. We stopped at a little mexican restaurant to use their car-park and re-group for the ride to the dealership where we'd be dropping the bikes off, and to remove any valuables from our pockets ready for the inevitable downpour (the idea of putting waterproofs on was quickly ignored, the prospect of a cooling shower more inviting). Within minutes of setting off again we were in a tropical storm, with water drops the size of ping-pong balls hammering at our arms, as we got soaked within seconds. Then riding through a river on the road, with water inches deep, on worn tyres, and with zero visibility, into a strange town with traffic and traffic lights (neither of which we'd seen for some time). Soon we were the other side of the storm, and drying out again in the heat, winding our way around the outskirts of Tuscon and to Iron Horse BMW. Scheduled to arrive at 6pm, we duly pulled into the car park on the dot, only to find the place deserted. After a quick discussion, we rode on to the Sheraton and checked in, a quick shower and then unloaded the bikes, removing the panniers to make the servicing easier (we'll drop the bikes off in the morning), then discover the Internet is not working, so head to the bar for a cold beer or two and something to eat...

It's been a long day, with some 12 hours riding (including breakfast and lunch stops) and brings the total trip mileage to date so far to 6,777 miles. Time to get the bikes serviced and ourselves prepared for the trip to start proper as we enter Mexico on Saturday, and then the fun will really begin..

Sunday, 23 August 2009
Happy Birthday from the Grand Canyon...
Happy Birthday, Tracy...
I woke early, at 6.15am, by body-clock not used to having lost an hour and also I think because I wanted to call Tracy early and wish her a Happy Birthday... So I showered and dressed and went to the payphone and called home... but no answer... so I went to where there is a weak Internet signal and powered up the laptop, then tried Skype-calling her mobile... no answer... oh, joy... So I left her a voicemail and sent her an email and updated the blog and tried the pay-phone again and tried Skype again and then went to get some breakfast...
Kevin had arranged to take a group of us on a dirt-road that goes to a very narrow part of the canyon infrequently visited, the ride there being some 60 miles of moderately challenging dirt riding, and last night I'd been keen to go. This morning, having failed to get hold of Tracy, I wasn't in the right frame of mind and so ducked out, determined to get hold of Tracy. The group left at 8am after breakfast, and I returned to the payphone, then Skype and finally spotted Tracy had posted a facebook note just 3 minutes ago, so must be online... desperately sending her messages I finally managed to get to exchange messages with her and then tried Skype, only to realise that the Internet connection here is so bad that it wasn't working. Back to the pay-phone and finally I was able to wish her a Happy Birthday and check she'd got the email I'd sent with a rather special picture attached, wishing her a happy birthday... Unfortunately, the cards I'd sent from Cody haven't arrived yet, but she didn't seem too bothered and was in good spirits, looking forward to the meal with the girls (Katy, Laura, Katie and Carlie, Danielle unable to make it) that she was going to have later that evening. We had a good chat and my head returned to where it should be...
I then got into my bike gear and rode the 45 miles to the start of the Grand Canyon National Park (North Rim), then the further 12 miles to the visitor's center. Normally, distances like that would be off-putting, and were the reason we stayed in Tusayan last year, so we only had 12 miles to go to get to the canyon. But now I'm here on my bike, the distances don't seem to matter so much, and the ride through the forest to the entrance to the park, and then through more forest and meadows to the visitor's center was very enjoyable, even with the reduced speed limit. I had a good look round the visitor's center, gift shop and deli, which didn't take too long (and got a sticker for the bike), then went to the viewpoint for my first proper look at the Grand Canyon from the north. Now, when Tracy and I came here last year, we were not particularly impressed, thinking "yes, it's big, but so?". Well, I can now reveal that the best views of the Grand Canyon are from the North Rim... where it not only seems big, but the lack of millions of tourists chattering away also allows it to reveal its spiritual side, providing the same sense of calm usually reserved for great cathedrals.
The hazy sunshine means that the photos once again can't do it justice, but hopefully you can get some impression of the nature of the view from the visitor's center from the picture below...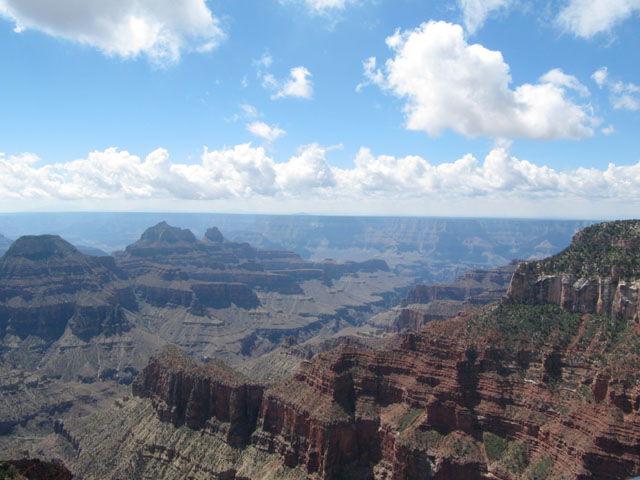 Having exhausted the visitor's center, I rode back the way I'd come and then took the side road (marked with a warning - "winding road" - though it's hardly a warning for a motorcyclist, we love winding roads!) to Cape Royal, where the view of, and from, Angels Window were quite spectacular: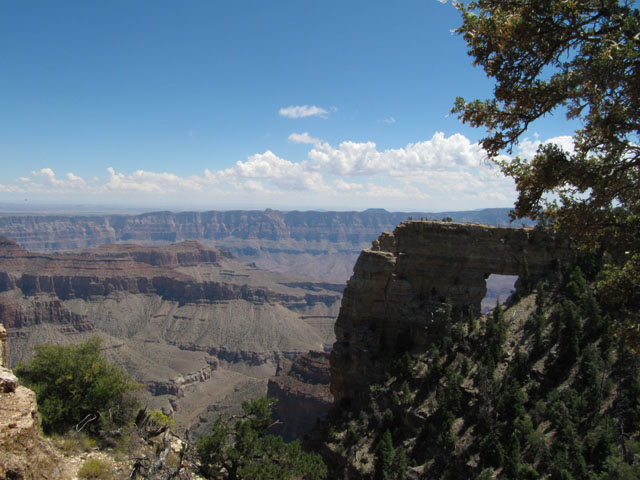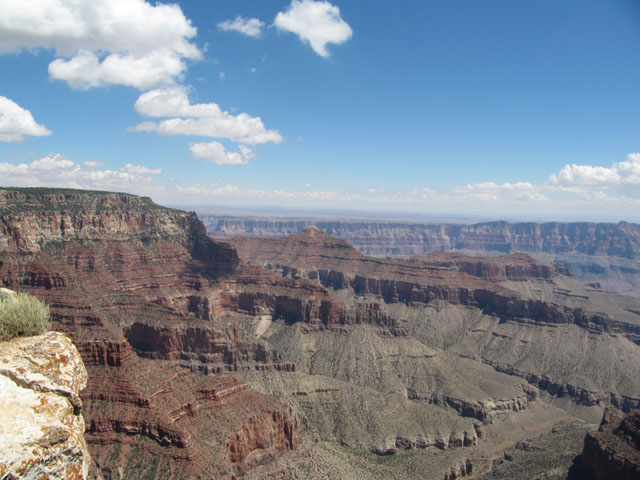 I stayed here a while, simply taking in the view and once again enjoying the peace and quiet, a complete contrast to our experiences on the South Rim. Then it was a short ride back and over to the highest point on the North Rim, Point Imperial, which is at 8,803ft. Again, the viewpoint was practically deserted, and the views spectacular... The North-East view in particular caught my eye, as over the ridge you could clearly see Marble Platform, the plateau I rode across yesterday in the sweltering heat, and which we'll be riding back across tomorrow on our way south to Tuscon.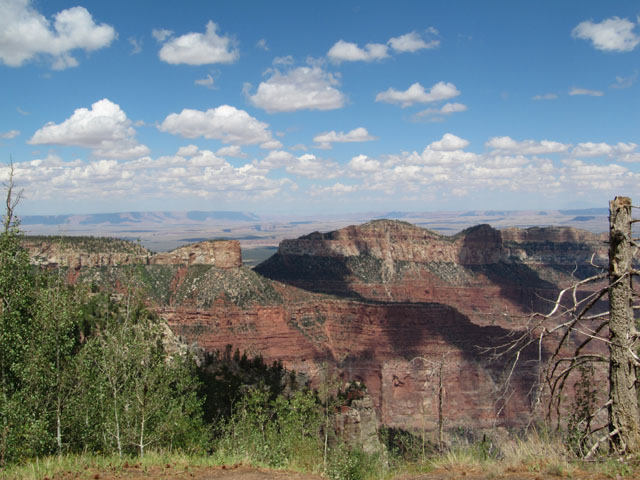 It's really hard to illustrate the scale of the views in these photos, so here's a little test... in the picture below is a helicopter, like the one Tracy and I took last year when we came to the Grand Canyon...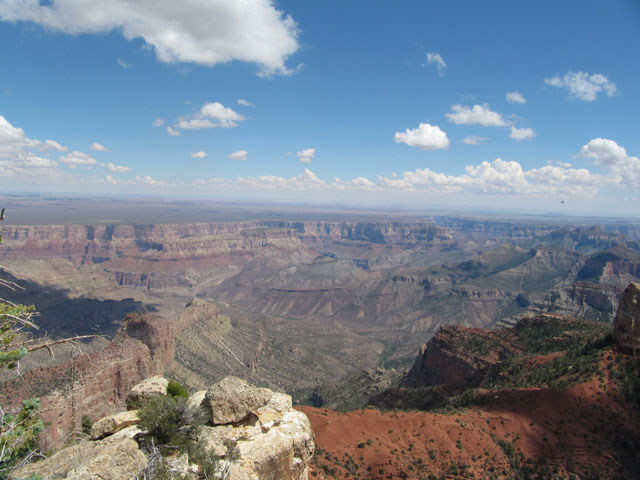 I doubt you'll find it, so here's a closer view... now try and match the rocks behind the copter to those in the first photo...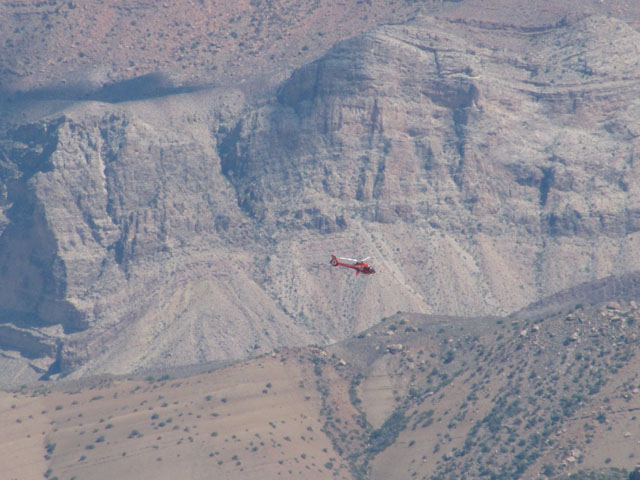 Hopefully, now you can appreciate why the views are so breathtaking...
After filling my mind with images of the canyon, it was time to ride back, once again enjoying the "winding road" back to the lodge, to get changed and make some notes for the blog, before the others returned from the trail ride... then we grabbed some beer from the shop and went and sat in a little open-sided wooden hut and chatted, and raised a toast to Tracy for her birthday. When we saw Mac on his balcony without a beer, we sent him one over, and just as we were finishing the case we'd bought, he fetched over another case for us... which set the tone for the evening, as we smuggled the case into the restaurant and drank the rest over dinner... then it was early to bed (around 9pm) in order to get a good night's sleep ahead of the long ride to Tuscon tomorrow...
Saturday, 22 August 2009
Heat and Sand in Monument Valley...
I woke around 3.20am, and managed to force myself from my pleasant slumber inside the tent into the fresh night air to look at the stars... and what stars there were... from horizon to horizon the dark night sky was full of tiny pin-pricks of light, with the occasional shooting star flashing briefly across my vision before disappearing as quickly as they'd appeared. I tried to recognise the constellations but have to confess that I've forgotten everything I've ever read about them, and apart from the plough and Cassiopeia couldn't name any of the others, although there were clearly shapes present... Contented, I crawled back into the tent and my sleeping bag and fell back into a deep sleep...
I woke again around 6am, and in the pre-dawn light packed away my sleeping bag, the thermarest and tent, and watched the sun rise over the horizon, bringing with it a dull red glow which faded to bright blue as I watched. Then it was onto the bike and the ride back out of Valley of the Gods, still without another soul anywhere to be seen. Back at the motel, Jim was already up and dressed, so I grabbed a quick shower and change of underwear and went and ordered breakfast. As the others came in, I was asked how my night's camping had been, and I think my smile may have given the game away... wilderness camping it wasn't (not with a shower before and after and a cooked breakfast), but it was certainly isolated and that had the desired effect, I felt completely recharged and ready for anything...
After breakfast we rode away from Mexican Hat and into the Navajo Indian reservation and Monument Valley...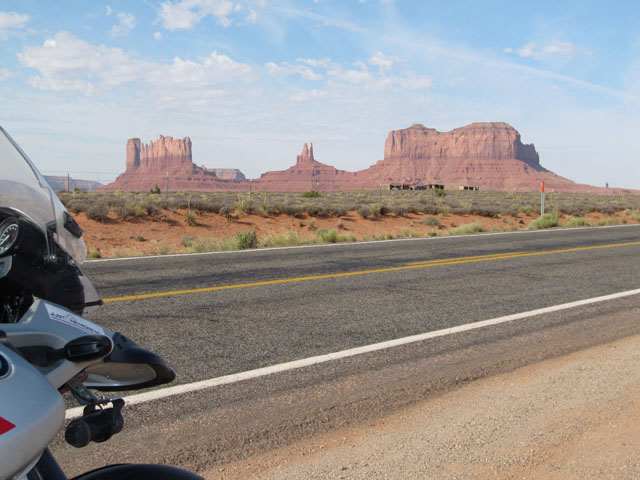 Ignoring the dead horse carcass by the roadside where I stopped to take the above picture (strangely the head was missing, just the skeletal carcass of the body and legs) I rode to the Visitor's Centre, which was different to last year as the building work has moved on a little, and the car-park was nicely tarmac'd. Much deliberation then followed as to whether to ride our bikes into the park itself, the road looking decidedly rough and with obvious sandy stretches, even when viewed from the visitor's centre balcony. But we came to ride bikes, and ride bikes we must, so a few of us set off into the park – Nick had already gone in, and Andy, Richard (with Karen as pillion), Andrew, Nigel, Kenny and I went on in. Within a half mile it became obvious this was going to be very tricky, as we had to ride through a long downhill sandy stretch, with some deep potholes full of sand. Kenny was first to go down, losing his front wheel in deep sand and ending up unceremoniously on his side – uninjured, thankfully.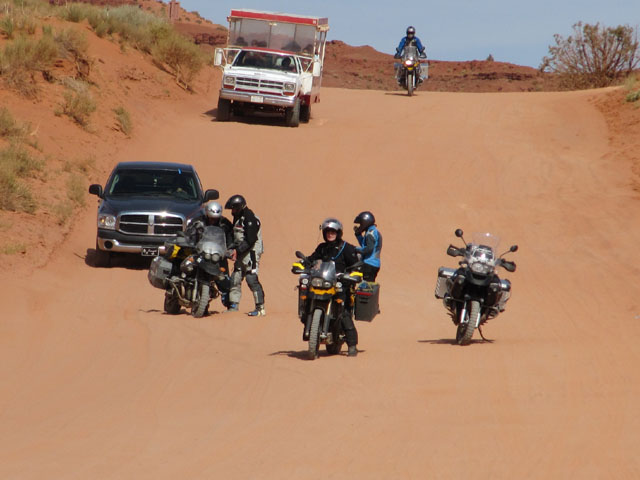 That was enough for Richard, who turned round and somehow managed to get back up the hill, albeit after getting Karen to walk. By now, Andy had disappeared, haring off at a fair old pace round the loop, and not taking the turn off to John Ford's viewpoint. I decided that would be my destination, having done the full loop in the Mustang, and besides, this point provides the best vantage point on the whole road...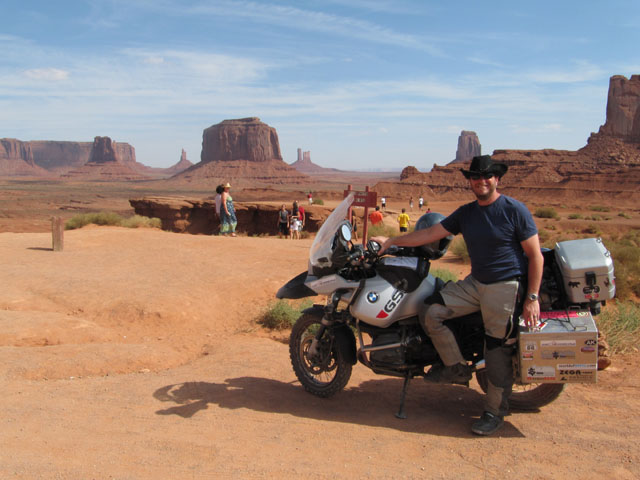 By now it was already hot, damned hot, and with us riding in full bike gear we were sweltering in the heat, guzzling water from our camelbaks like it was going out of fashion. Having made it to our chosen destination, Nigel, Kenny, Andrew and I headed back the way we'd come. I held back before the big sand hill to give myself a run-up, and watched Nigel and Kenny get to the top OK, then Andrew drop his bike in deep sand right in the middle of the road just below the top, just as I set off having chosen the centre line as the least deep... so I had to switch to the left, and immediately hit a big hole full of soft sand, the bars getting wrenched from side to side, throwing me off balance and forcing me to sit down and put my feet down. I managed to keep the bike upright, and paddled onto firmer sand before being able to get back to standing on the pegs and gassing it up the rest of the hill. At the top there was quite a crowd, Nigel, Andrew and Kenny being joined by Nick, and soon Jeff appeared in the van and we all watched and cheered as Andy arrived at the bottom of the hill and made his way, successfully to the top. From there it was a short ride, with one or two other patches of sand, back to the car park and safety. Of those that entered the park there were quite a few fallers – Kenny, Andrew, Nick, Max (with Christine jumping off the back as the bike went down), but no injuries and only minor pannier damage to Max's bike.... Well, it's supposed to be an adventure, isn't it?
Once clear of Monument Valley we followed the route to Page, stopping for a cool drink and cinnamon bun before taking a right turn on to Glen Canyon dam. Built between 1958 and 1964, this massive structure holds back some 33.3 Billion cubic metres of water, which is used for recreation (the water above the dam being Lake Powell...), generating electricity and of course, as drinking water. The most interesting fact that I uncovered when looking round the visitor's centre, was that it took 17 years for the lake to fill once the dam was completed on 13th March 1963 (until 27th June 1980), which sounded like a long time, until I was told it took so long because they had to keep the river flowing, so couldn't effectively just stop the flow downstream of the dam whilst it filled up.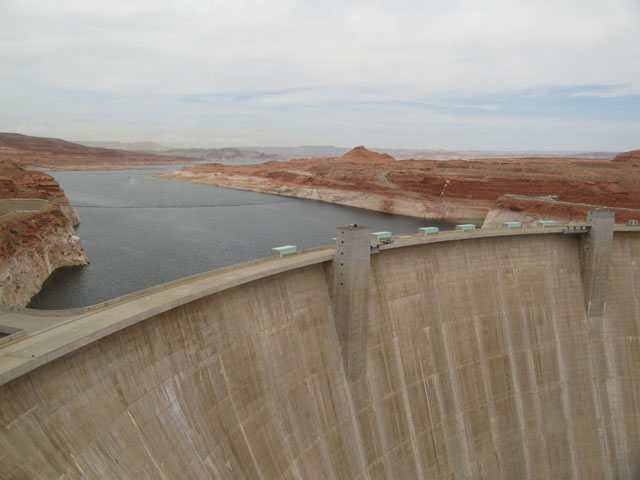 From the dam we retraced our steps to where we'd turned right, then carried straight on, following highway 89 to Bitter Springs before turning off onto highway 89 A (the "A" standing for "alternate") through Lees Ferry, Vermilion Cliffs and Marble Canyon, once again in blistering heat as we rode across the flat land before crossing the river at Marble Canyon, having to drink on the move to ensure I stayed hydrated, and trying desperately to get sufficient air-flow through the vents in my jacket to cool me down. Finally it started to cool as we regained lost height (we'd been at 6,000ft when leaving the dam, only to drop below 4,000ft on the flatlands) and we entered the forested area leading towards Jacob's Lake and the lodge we'll be staying at. Fuelled up I checked in, being given the key to lodge 14 and a map showing where it was. It turned out to be a proper wooden lodge, with little porch, but looking through the window I could only see one double bed... and I'm supposed to be sharing with Jim... with minor concern, I entered, to discover a door leading to the toilet and shower, then another door from there leading into another room with double bed, and an outside door... numbered 12... The mystery was solved when I looked at the booking-in slip I'd been given to see it had "Paul and Jim" at the top and "12 and 14" at the bottom... phew... thought I'd be getting the tent out again for a minute!
Unfortunately, though, whilst the room is nice, there's no Internet, no phone (and no TV, not that that matters). I went back to reception and was told I might get a signal at the "motel" which is a 2-storey building some of the others are in just a short walk from my lodge. So I went and sat outside it to update the blog from yesterday and check my email... and that's when the rain started... heavy rain, too, with thunder and lightning thrown in for good measure...
With my Internet chores attended to, and no sign of the rain stopping, I ran back to my lodge and dropped off the laptop, before heading in search of the bar... only to discover there isn't one. The lodge is licensed only for off-sales (drink elsewhere, in the rain...) or as a restaurant (drink only when eating). Soon Richard cracked, and we ended up outside underneath a porch, drinking a six-pack of Grand Canyon Brewery's finest pale ale, shared with the others as they arrived.
After a short meeting to discuss the next couple of days, dinner, which was the usual rushed affair (why do American waiters insist on bringing the entrée (main course) before you've finished the appetizer?) but otherwise was OK. As a result of the rush, I ended up back in my lodge by 8pm (a situation made possible because we're in Arizona and the time zone has changed again, so we're back to being 8 hours behind the UK), so wrote up this entry ready for uploading when I can next get connected, and got an early night... not quite the same surroundings as last night, nor as quiet, as I can hear the couple next door chatting and laughing...
Friday, 21 August 2009
Yeah, though I camp in the Valley of the Gods...
Even without Jim I managed to wake early, getting up around 6.15am and loading the bike with the usual gear plus the tent and sleeping mat I've borrowed from the van. Filled my Camelbak with ice from the machine in the office, grabbed some cereal and coffee and checked out, hitting the road just after 7.25am Heading south from Moab, my first detour was to Needles Overlook, which looks over (surprisingly!) another portion of canyonlands south from both Grand View Point and Dead Horse Point, where the canyon floor is littered with spires of all sizes, hence the name, Needles. The photos don't do it justice, so I'll save them for the Gallery (when I finally get time to sort through them all, probably whilst the bikes are being serviced in Tuscon). It was all very peaceful this early in the morning, as I was there all alone, and simply stood in the early morning sunshine for a long while, taking in the view, the canyons covering the entire horizon, with nothing to interrupt the view... a great start to the day...
From Needles, I rode on to rejoin the route the others would be following from Mesa Verde, joining it just south of Blanding having stopped at a supermarket and bought a cold coffee drink and some more snacks. Once I'd found the "Trail of the Ancients", highway 95 to Bridges National Monument. This is another national park, and contains 3 rock bridges (Sipapu, Kachina and Owachomo) formed by the meandering streams eroding the rocks, leaving the natural bridges in place. They might look like arches, but these are bridges, the difference being arches are formed by rain and wind eroding the rock, bridges being formed by flowing water... Some pictures, one of each bridge...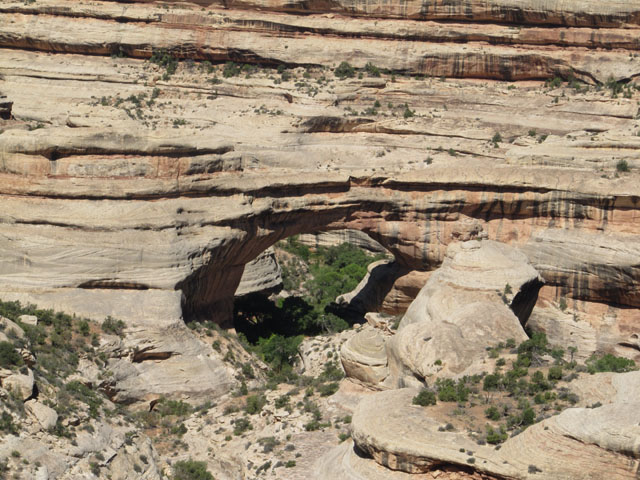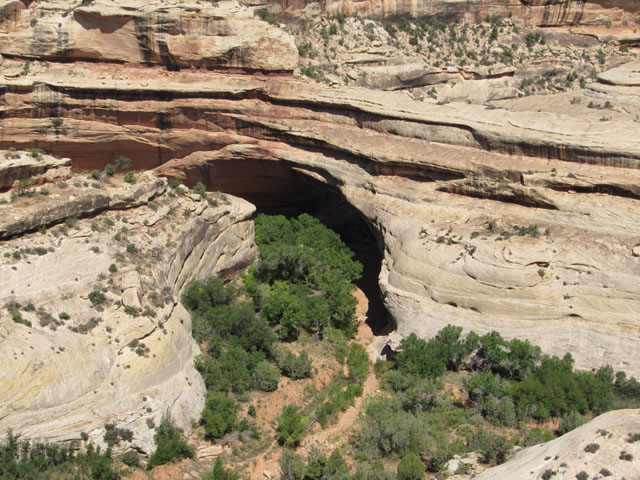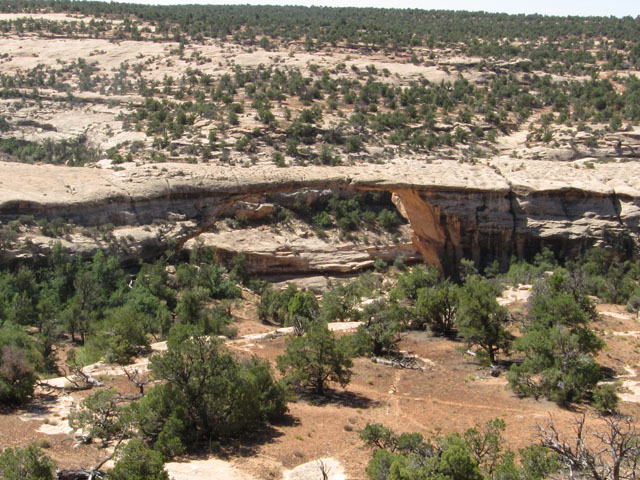 Now, I bet you're wondering what the names mean... well, Sipapu means "Place of Emergence", Kachina was named after the Hopi Kachina spirits that display lightening snakes on their skin as there are similar ancient snake images etched into the rock of the bridge and Owachomo is a Hopi Indian word for rock mound... so now you know...
From Bridges I rode back to the junction with highway 261 and then on to the start of the Moki Dugway. This stretch of road was one that Kevin had selected especially, due to it being a very steep, gravelled road descending from the Cedar mesa down 1100ft in just 3 miles, with plenty of switchbacks and great views... the warning signs leading up to it gave an indication of the seriousness of its nature...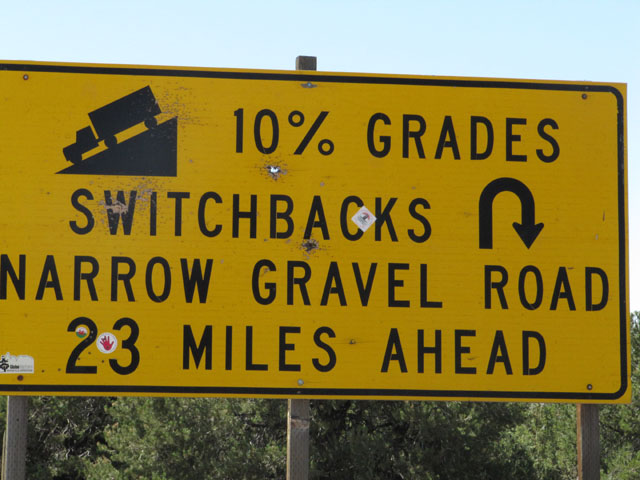 The road itself was built in 1958 specifically for Texas Zinc, a mining company, to transport uranium ore from the "Happy Jack" mine in Fry Canyon, UT. to the processing mill in Mexican Hat. Now it's used to sort the men from the boys by the sadistic Mr Sanders...
I was first to arrive, and waited at the start for the group to catch me up, which they did about half an hour later. By then I'd enjoyed a relaxing time trying to find some shade, eating a couple of oranges and gulping down lots of cold water. It was hot, damn hot...
Once we were assembled, we parked up and walked to the edge to get a view over the valley floor below. A long way below...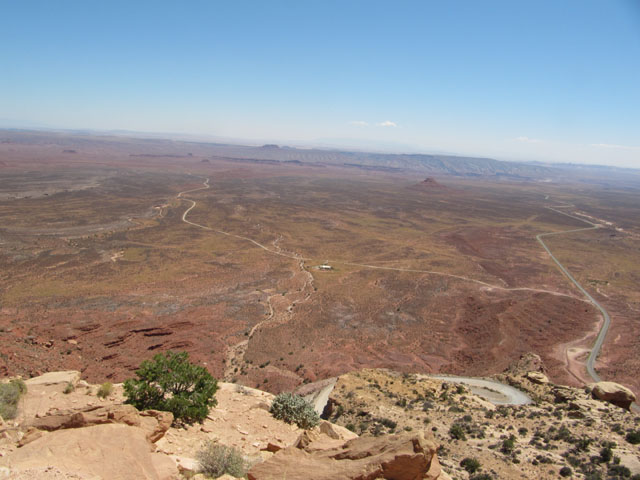 As it turned out, the road was pretty simple, with just a little bit of gravel at the edges ready to catch out the unwary (none of our group, then). At the bottom we turned left and onto the start of the Valley of the Gods road. This is the road that Tracy and I drove part way to watch the sunset last September whilst touring the area in an open-topped Ford Mustang (we entered at the opposite end, and only managed about half-way as we were stopped by a steep-sided dried river bed). It was as beautiful as I remembered it, gravelly but otherwise OK, the dried river bed not posing any problem for my trusty GS, although I think we got some better pictures last time, as this time I was concentrating more on riding it...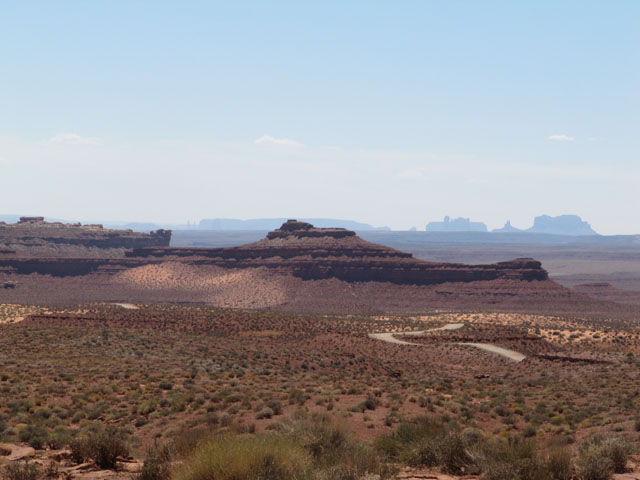 Now, I have to confess at this point, that Kevin had floated the idea of a naked ride in Valley of the Gods (naked, except for boots, gloves and helmet). And I'd been keen to join in. But, I'd got ahead of the group and stopped well before the end to wait for them to catch up so we could choose a suitable spot. Only when they hadn't turned up after about half an hour, I went back to look for them, only to find Kevin and Edwin, naked, arriving at a small plateau, obviously having performed the feat in my absence. Still, saves me having to upset Laura with more pictures of my naked backside... (oh, and they managed to get away with only been seen by one car-load of tourists, who simply waved at them...).
When they were dressed again, I rode with them out of the valley and on to Mexican Hat, and the motel. Now, I'm sure you remember me saying I wanted to camp in Valley of the Gods. Well, I did, but as it was still only around 3pm, it was simply way too early and way too hot to pitch the tent, so I went to the motel, got changed into my swimming shorts and went for a soak in the river. Which was very welcome, even if the strong current kept sweeping me downstream, meaning I had to stand up (it was only up to my knees) and wade back upstream again. Once properly cooled off, I went back to the room and showered, then went and ate dinner, a Navajo stew served with Navajo bread (which is like a sweet, deep-fried Naan bread, if you can imagine such a thing). Very filling it was, too. Then I hung around until just before 7pm, before putting my bike gear back on and riding back out to Valley of the Gods. I rode deep into the valley, to the plateau where the guys had redressed (which is also where Tracy and I saw someone camping last year), and thankfully there was no-one else around, so I pitched the tent quickly, just as the sun was beginning to set. I think you'll agree, a perfect camping spot...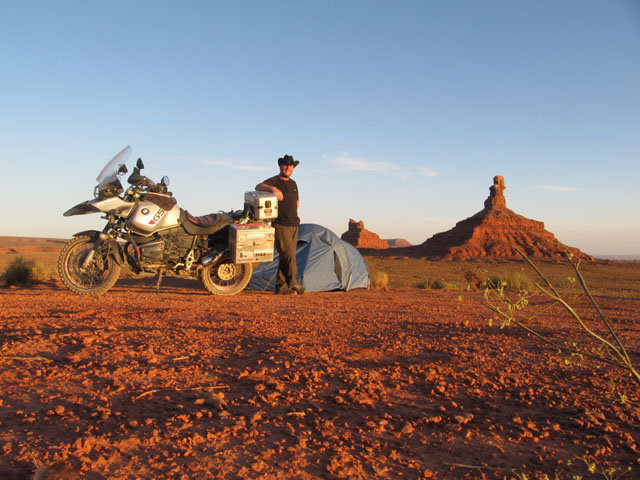 With absolutely no-one around, and in complete silence (oddly, not even the sound of crickets), I sat on a rock and watched the sunset, marvelling at a great wedge of bright red emanating from the sun's position over the horizon, and the beautiful shades of red and orange bands rising from the distant rocks. To say it was breathtaking would be an understatement. It was simply one of the most moving experiences of my life. And all the time, I was thinking about how Tracy and I had seen the camper last year, and how we'd talked about camping on this spot together. I felt her presence with me, and smiled as I watched the last of the sunlight disappear, gradually turning the tops of the rocks orange before fading completely...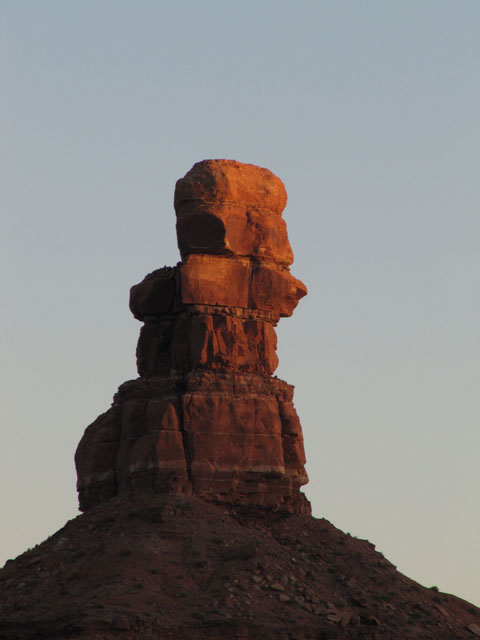 Finally it was time to crawl into the tent and fall asleep to the sound of absolute silence, knowing that there was not another soul for miles around, and that of all the billions of people on the Earth, I had the perfect spot all to myself...
Thursday, 20 August 2009
A day away from the group...
Happy Birthday, Katie...
Woke at 5am, as in a light sleep and Jim was already up and getting ready to go out in search of his early morning coffee... no problem, as I want to catch the sunrise anyway...
Showered and into my bike gear, and on the road by 5.25am, I filled up with fuel before heading up to Arches in the dark. Once in the park, I could see the lightening sky as the sun struggled to break over the horizon, the rock formations taking on a sinister and eerie quality, only just darker than the night sky. As I rode deeper into the park, keen to get to Devil's Garden before dawn broke, the subtle change in the colour of the sky, from jet black to deep blue, brought out the rock buttresses and fingers, even more, them now standing light waiting giants at the roadside... hope they don't feed on early-morning motorcyclists...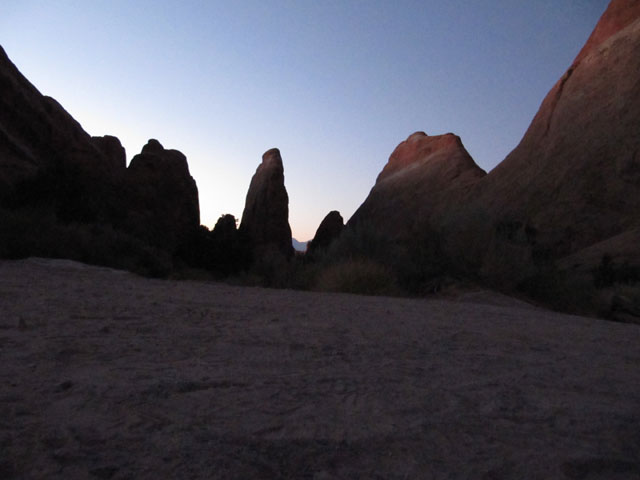 Riding through the dark rocks revealed another interesting character of this remarkable landscape. When the rocks were far from the road, the cool breeze and lack of sun meant it was quite cool, but when the road went close to the rocks, or between them, it warmed up significantly, as the rocks continued to release the heat they'd absorbed during the day, even 9 or so hours after sunset...
It had been my intention to walk to Landscape Arch to watch the sunrise, but my knee is giving me some pain after the walk yesterday, so I opted to walk into Devil's Garden and watch the sunrise from a suitable vantage point. On the walk in, I heard a rustling in the bushes and caught the slightest glimpse of a small animal, about the size of a domestic cat, but before I could adjust my eyes or get out my camera it was gone... I'll never know for sure what it was, but the glimpse I got matched the pictures I've seen of mountain lions, which are known to frequent the park... Once in Devil's Garden proper, I found a rock to sit on and watched the sun rise, in total silence and all alone. It was a very peaceful and calming experience, my mind empty, save for the inevitable thoughts of how much I'd rather be sat here with Tracy next to me...
Sadly, the photos of the sunrise don't do it any justice, the bright red band of sky filling the horizon before being washed away as the intense yellow ball of the sun appears, rising quickly up into the bright blue sky.
Feeling all melancholy, I made my way back to the bike, and rode back towards the park entrance, stopping once or twice to take pictures of the rocks, now lit bright orange in the dawn-light.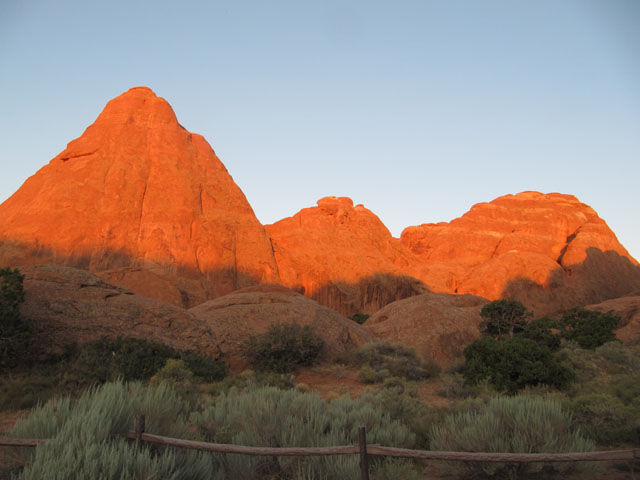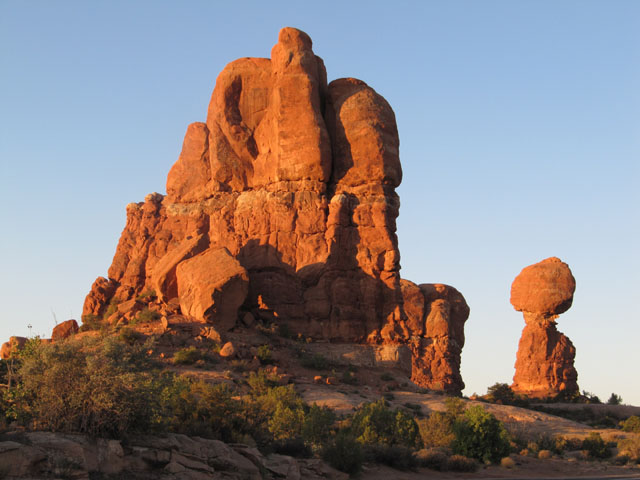 Once out of the park I headed North and then West, entering Canyonlands National Park, where I was still too early for the rangers, so didn't have to show my pass. Riding the empty twisting road through the park I caught glimpses of the canyons off to either side, the road following a flat ridge that is known as "Island in the Sky", finally arriving at the dead-end that is Grand View Point. From here the full splendour of this magnificent landscape is visible, as the entire vista, from foreground to horizon and from far left to far right is taken up by a huge, wide, and multi-layered canyon. The plateau on which I was standing is at 6,000ft, and the first layer below is a white sandstone plateau, some 1,000 ft below the point on which I was standing. Carved into this are the canyon complexes formed by the Colorado and Green rivers, deep cuts in the sandstone layer, winding their way, in a complex maze tracking the route of the rivers past and present. Here and there are huge towers of rock, left standing as the rivers eroded the surrounding rocks, and weathered by the wind, their white sandstone tops making them look like inverted matches... Quite stunning...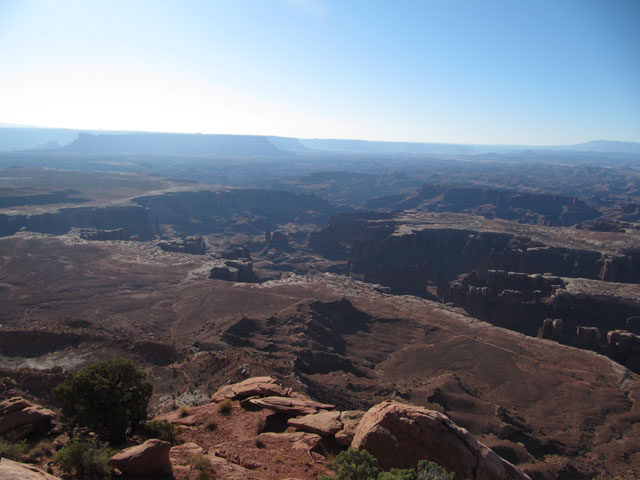 From Grand View Point, I rode back through the park, stopping off at the viewpoints on the way to look out across the canyons, marvelling at the immense forces that must have been involved in creating this landscape over the millennia, and pondering the expedition that John Wesley Powell led in 1869, down the Colorado and Green Rivers, charting this landscape – at a time before the Glen Canyon Dam created Lake Powell and tamed the rivers, changing them from the ranging torrents that created this amazing landscape, into the playground they now are. Still, the views are fantastic...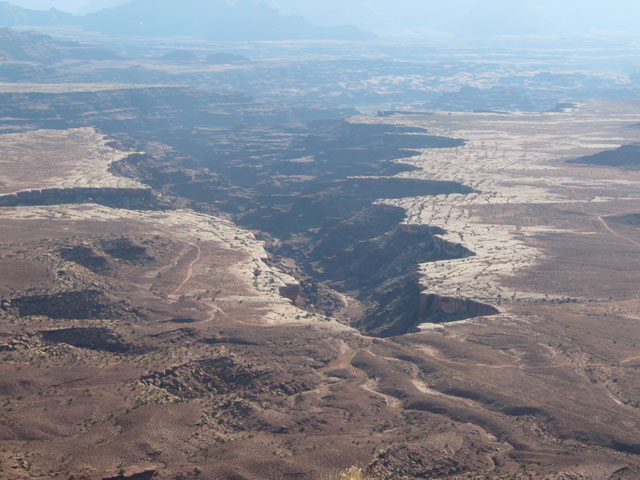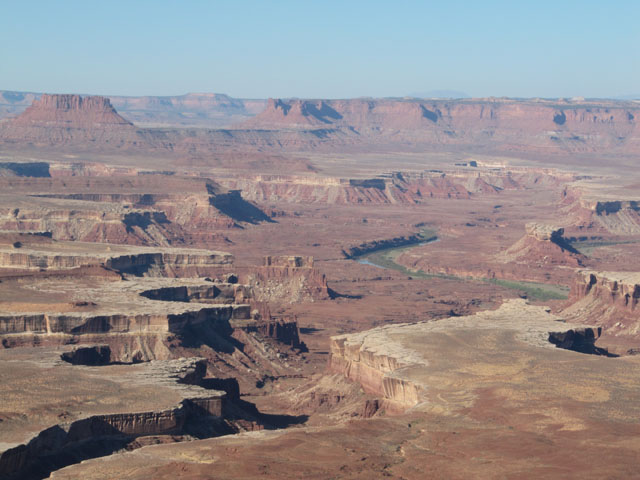 By now it was gone 9am, and I was starting to get hungry, so I headed back to Moab and had breakfast at Denny's – cereal followed by 2 eggs (over easy), 2 links (sausages), 2 bacon (strips, they don't seem to do back bacon here), 2 toast and 2 cups of coffee... Then back to the hotel to call Tracy before going back to bed for an hour to recapture the lost sleep, and then sitting down and catching up with the blog, having lost so much time yesterday fixing the spot lights that I'd let it get 2 days behind...
Which reminds me.
I've heard rumour that this diatribe is being read by people "all over the world". Now, I've no idea whether that's true or not, so I'd like your help, dear reader, to find out. It's really simple. All you have to do is click on the "Comment" hyperlink at the end of this entry and enter a comment stating where you are (you can add any other comments you think are useful, but bear in mind I have the power to delete any that I don't like...). You'll need a Google account to comment, but they're really easy to set up and once created you can comment on any other posts as you see fit. Correct my spelling, point out my mistakes, complain about my views, that sort of thing. Go-on, let's get all interactive... Oh, and finally, please, no comments on my naked body. It's not perfect by a long way, but it's the only one I got...
Right, back to the story...
When I woke around 12.30pm, I felt refreshed, and immediately set to work updating the blog, which took me all afternoon until it was time to put the bike gear on again and head out, this time in the direction of Dead Horse Point State Park, having decided to leave Needles until tomorrow, when I should be passing by it anyway. Dead Horse is a State Park, not a National Park, so this time my get-in-free pass was no use, but it only cost $5 and was well worth it. The point is called "Dead Horse" because it marks the spot where cowboys used to run wild horses, trapping them on a narrow ledge where they would fence them in until they could be dealt with. Trouble is, they forgot the horses need water and that this area is almost desert, and all the horses died. It's the 2nd Dead Horse I've been to on the trip, the other being at Prudhoe Bay, and that seems like an eternity ago...
The point looks down on a curve in the Colorado river, and provides an excellent vantage point from which to view the amazing geological masterpiece that nature has created in this area. Taking a look at the photo below, it's possible to see all the layers, which for the rock-fiends amongst you are, from Top to Bottom:
Navajo Sandstone, deposited by the wind some 175 million years ago, 300-400ft thick
Kayenta Sandstone, deposited by a stream some 180 million years ago, 150-300ft thick
Wingate Sandstone, deposited by the wind some 200 million years ago, 200-350ft thick
Chinle Formation, deposited by a stream some 210 million years ago, 200-500ft thick
Moenkopi Formation, deposited by shallow tidal flats some 230 million years ago, 200-500ft thick
Cutler Formation, deposited by coastal-marine beach and off-shore sands some 250 million years ago, the rim is white crossbedded sandstone, 0-250ft thick
Rico Formation, depostied as coastal-marine and floodplain, and wind-blown shore dunes, the deep red lower layer, dating back some 275 million years and 300-400ft thick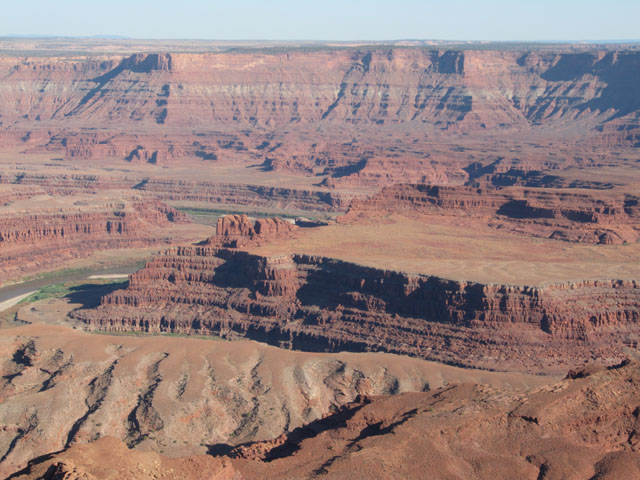 Having watched the changing light for almost an hour, it was time to start heading back into town and seeking somewhere to eat. I rode back in the searing early evening heat, and quickly changed before heading back out again on foot. I wandered up the main street and then found something I wanted that I'd not had for 5 weeks. Thai food!! Naturally I had to go in and order, selecting the Laab Kai (that's how it was spelt on the menu) and the mixed seafood red curry, which came with squid, shrimp (prawns), mussels, crispy fish and bizarrely peas and diced carrots... it was very good...
Then back to the hotel to update the blog as tomorrow I'll be camping and have no Internet access, and get an early night.
Wednesday, 19 August 2009
Arches, Lizards and Scorpions, Fog Lights and Jeff's new girlfriend...
Awoke early to try and get to Arches National Park before the madding crowds and before it gets too hot to be hanging around, as yesterday it reached over 34degrees... It's a nice, dry, heat, but still not ideal for riding motorcycles in, especially clad in heavy adventure gear and motorcross boots... As breakfast starts at 7am, I was there on the dot, grabbing a bowl of cereal and coffee and munching them down before hitting the road and the short drive to the park entrance. Arriving just after 7.30am, I once again exploited my all-parks pass from last year, and rode into the park, first stopping at the aptly-named "Balanced Rock"...
From here it was a short ride up to Windows, an unusual pair of arches, and Turret Arch, a huge lump of rock with an arch over the "entrance". These unusual rock arches are formed by erosion of the rock layers deposited on top of the Entrada Sandstone, which itself was deposited as sand some 150 million years ago, and compressed into rock by subsequent layers. A series of uplifts and collapses as the Earth's plates move causes severe cracks in the 300ft layer of Entrada sandstone, then when the overlying rock layers are eroded away, the Entrada layer is exposed and weathered, the cracks widening in places and forming fins of parallel rock. Water then enters the sandstone, dissolving the natural cement that holds it in place, causing it to flake and crumble, forming the arches. Eventually, the same processes that form the arch will destroy it, causing it to collapse.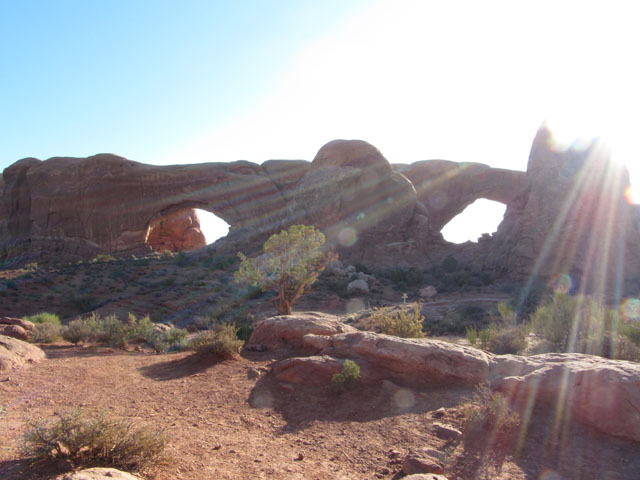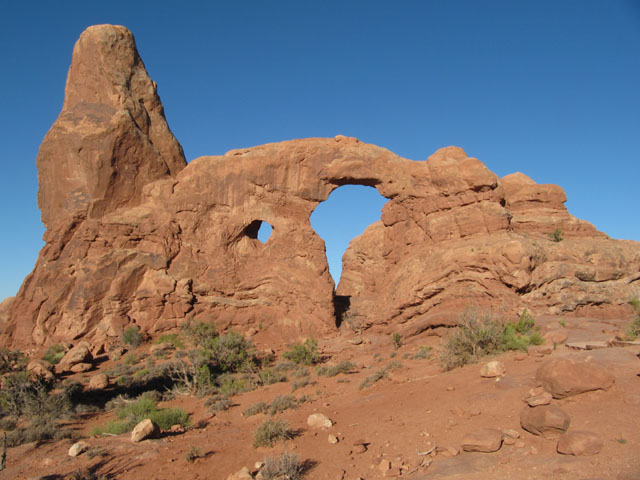 From Windows I rode deeper into the park, stopping at Fiery Furnace to look over at the weird landscape of rock slots, the different rock types clearly visible amongst the heavily eroded spires and flutes...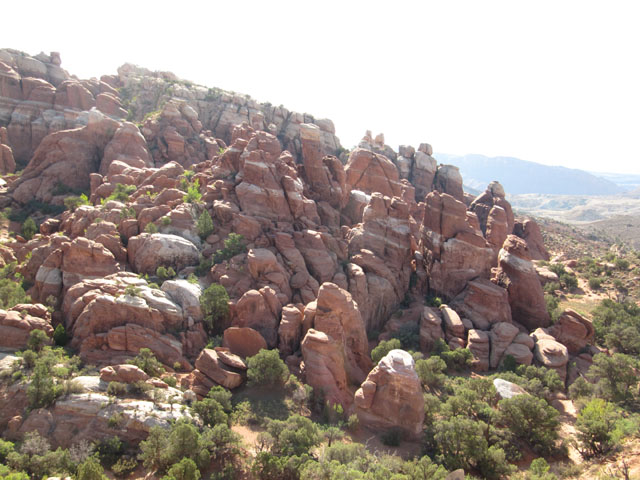 I then rode to the far end of the park, an area called Devil's Garden, where I met up with Nigel and Andy, and changed out of my bike gear and into shorts and trekking shoes, dumping my bike clothes and boots in my panniers, so that I could walk the 1.6miles to Landscape Arch. The first part of Devil's Garden is aptly-named, comprising huge and sinister-looking rock buttresses, through which the path meanders, before opening out to provide some great views over the plain (but into the sun, so no decent pictures). The ground becomes more sandy as you approach the fence that closes off the path under Landscape Arch, the original path having to be closed to tourists following a three large slabs falling from the thinnest section since 1991. It's considered to be the longest natural arch in the world, the span having been measured at 290 ft. And it's very impressive...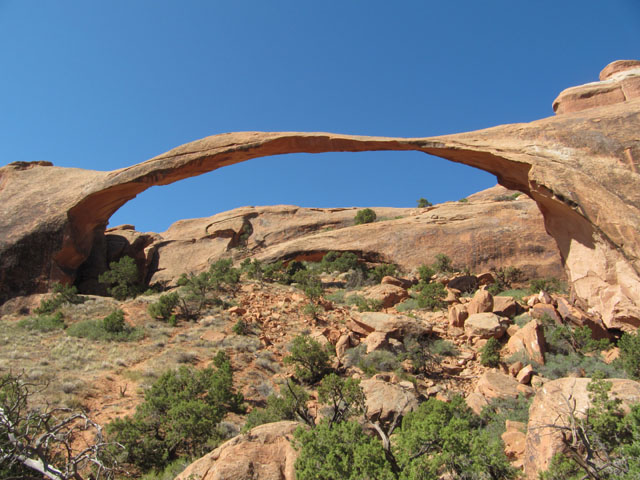 With Nigel and Andy deciding to turn back, I joined Edwin and Lorraine to climb a bit deeper into the park, clambering up the rocks and following the path over to two more arches, Navajo and Partition. The scrambling was well worth the effort, as we found some really odd looking rocks, where the erosion had worn away the rock from within, leaving a trellis-like layer of rock in front of the main rock-face... very bizarre...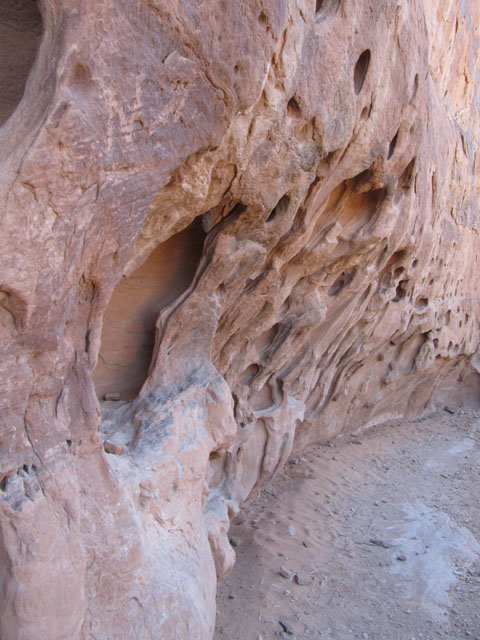 Navajo arch also had a little surprise for us, in the form of a pine tree growing at the entrance, looking for all the world like a Christmas tree at the entrance to a cave-dwelling...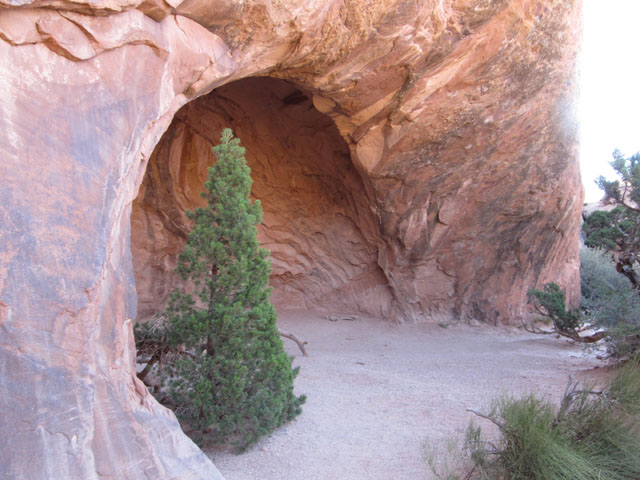 After Navajo, the trail took us up to Partition Arch, so called because there are two arches side by side, which when viewed from below look like being part of the same arch with a dividing wall between them. Viewed from up here, the main arch provided a great frame for the magnificent scenery below, the red of the rock clear despite the by now baking sun...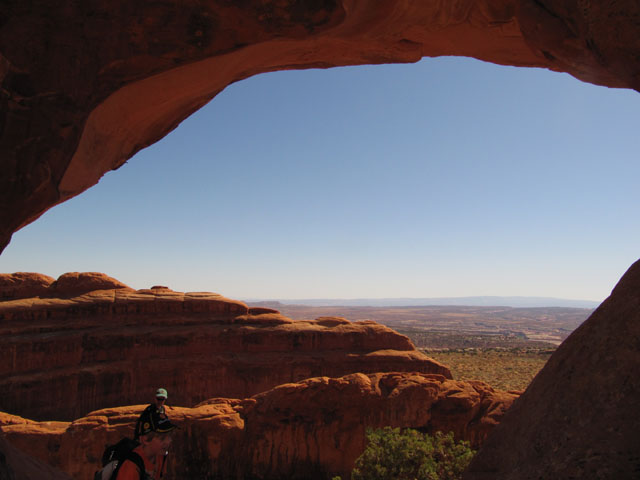 With the temperature verging on the unbearable, we walked back the way we'd come to the bikes, our progress being halted at one point by the sight of a lizard playing with, and then eating, a scorpion. Not something you see every day...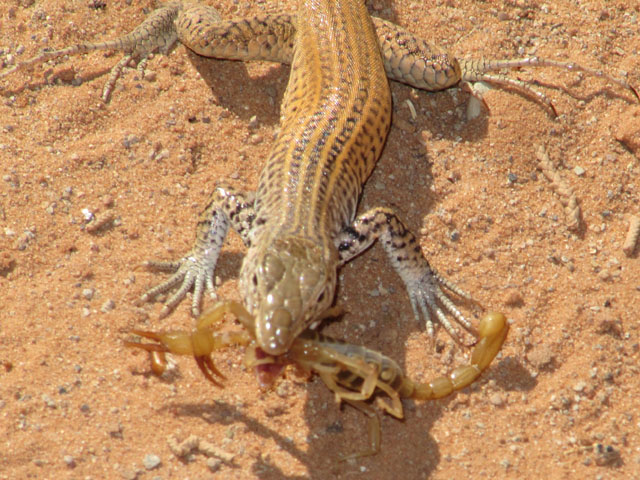 Whilst Edwin & Lorraine sat and ate their lunch, I put on my heavy bike clothes and boots and rode out of the park, stopping at the Visitor's Center where I was disappointed not to find any decent stickers (or fridge magnets). It was time to get back to the hotel and get into my shorts, so I rode back and did just that, before walking into town in search of the Post Office (to get some stamps) and lunch (a pizza, and a nice one too). Then back to the hotel to complete my other task for the day, fixing my fog lights. This turned out to be a real trial, as not only was the relay faulty, the earth wasn't making a good connection, there was a short in one of the lights, and to cut a long story short, 3 hours later, having re-wired the lights directly to my fuse-box, they were working again...
Just in time for the day's briefing with Kevin running through the plans for the next couple of days, something that doesn't really affect me, as the main group is heading to Mesa Verde, where Tracy and I went in September. I've therefore decided to stay an extra night in Moab, to allow me time to re-visit Arches at sunrise and also to see Canyonlands and Needles, perhaps even catching Deadhorse at sunset, and also allowing me time to catch up with the blog, which is a couple of days behind. I'm then going to ride with the group the day after, before camping at Valley of the Gods whilst they slum it in a motel in Mexican Hat... sounds like a much better plan, if you ask me... At the start of the briefing, though, Kevin reprimanded Jeff for carrying passengers in the van. Jeff looked confused, so went to the van to investigate, where he was formally introduced to his new "girlfriend", a present from the group...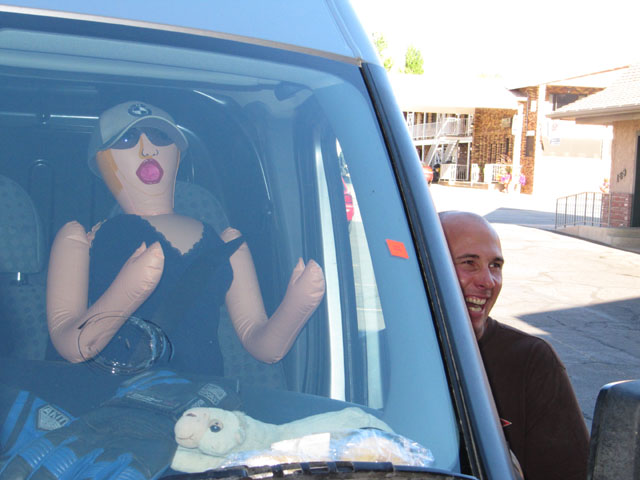 Should keep him company on those long days in the van...
After all that excitement we wandered off to Frankie D's, where we had a couple more Cutthroats and played pool, and enjoyed an excellent plate of chicken and ribs, although the ribs weren't as good as those we'd sampled the day before (but the chicken was). When the Cutthroat ran out, I decided it was an omen, and headed back to my room for an early night, ready to get up early to catch the sunrise...
Tuesday, 18 August 2009
Into John Wayne country...
Today is a relatively short day, with just over 200 miles or so to Moab, Utah, so Kevin instructed us not to leave before 9am, so that we wouldn't arrive too early and have to hang around outside the hotel in all our bike gear until the rooms were ready. Then he proceeded to set off early himself, saying something about wanting to get a good spot to take some pictures...
As instructed, Nick and I waited to the departure time, and rode out of Vernal together. Across the plains towards the town of Dinosaur (yes, really... it's the home of the Dinosaur National Monument, which is a 60-mile round-trip detour, so we skipped that), where we took highway 64 towards Rangely. This section was fairly straight, passing across scorched fields and rolling hills, before we then took highway 139 towards Grand Junction and over the Douglas Pass. That's when things got a little more interesting, as the road started to wind it's way across more hills in a series of wide-open and fast sweeping bends. Nick was clearly in the groove, and our speed increased as we started to really enjoy the roads. At the start of the Douglas Pass, as the road started the long climb up to the 8,300 ft summit, we caught up a group of the others, including Max & Christine, Gerald and Andy, who were just behind a camper-van, sandwiched between it and a pick-up. As we lined up an overtake, 4 deer broke from the woods atop a steep sandy bank to the left, and ran down and across the road, right in front of the camper-van and bikes. Good job everyone was alert, as brake lights went on and the deer were allowed to cross safely. With everyone slowed down, Nick and I managed to get passed and then saw Kevin further up the road, kneeling down with camera in hand – clearly some exciting bends were coming up... By now were were fully warmed up from the ride to the start of the pass, and the mixture of switchbacks, open and tight bends were challenging but great fun, as Nick and I both rode hard over the pass, fast but in control. Once down the other side, we pulled to the side of the road to chill and chatted like schoolboys after an exciting game of football, recounting the bends in a flurry of excitement. I'd had my MP3 player on, but only noticed when we stopped as I was concentrating so hard on the ride, I could have sworn the only thing I heard was the noise of my engine. Great fun, and we have to take advantage of these roads whilst we can, because once we cross into Mexico the riding will take on an entirely different flavour, from sheer enjoyment to sheer survival, I suspect...
After we cleared the valley and came down off the final section of the Douglas Pass, the landscape did another of those amazing switch-like changes, with the rolling hillside giving way to flat plain. So dramatic was the change, that I pulled over at the side of the road to take a couple of photos, first looking back at the hills hiding the jewel of the Douglas Pass, and then forward to the road disappearing into the distance...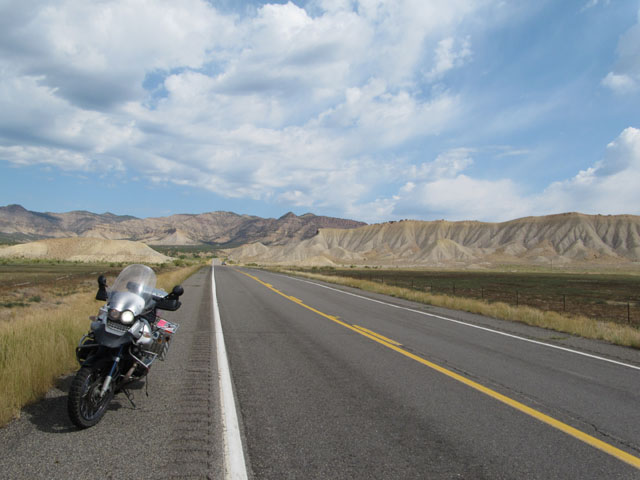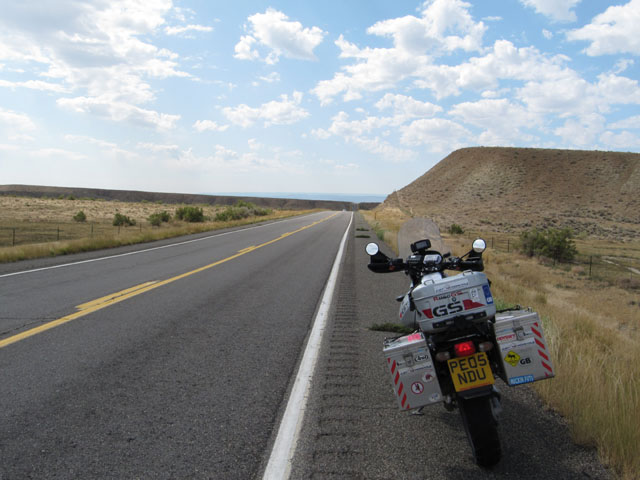 The remainder of the ride was more sedate, the straight roads lending themselves to riding chilled out, listening to the tunes on my MP3 player and enjoying the warmth of the sun, the temperature rising with every mile. Nick pulled over to take some video shots, so we got separated for a while and I rode on alone, through Loma and onto Interstate 70 (think "motorway"), where there was no choice but to relax into the ride, feet up on the engine bars to relieve my tired knees and feet. The route notes mentioned a view point and toilet, which I determined would be my next stop, and just after crossing the state line back into Utah (having crossed into Colorado around Dinosaur) there it was. The scenery was expansive, the distant mountains we'd crossed visible in the haze, but not making a great picture. I took the opportunity to eat some of the snacks I'd brought, and before long Nick, Chris and Danielle all joined me in the rest area. With appetite abated for a while, and plenty of fluids on board, we rejoined the interstate, riding in formation until we reached exit 214 for Cisco, and the jem of a road into Moab (which was signposted as being many miles further along the interstate, but Kevin had found a much better riding road for us to take). This little road was barely 2 lanes wide, and completely devoid of traffic. So much so, that I decided it was a good time to stop again for another photo, to show just how remote we were, so with the bike parked in the centre of the road on its centre stand, I did just that...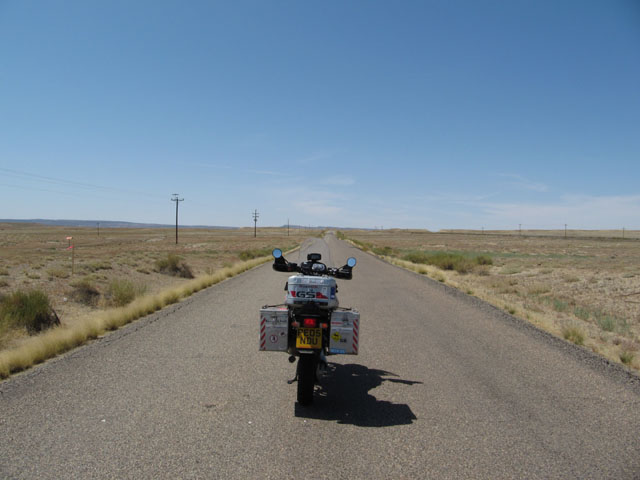 You might be thinking that doesn't look like a particularly good road for riding bikes on, and you'd be right, except that we turned off onto highway 128 a little bit further on, and that road dropped us down off the plateau, through an area used for many of the John Wayne westerns, and then through over the Colorado river, at the site of an old bridge, and then alongside the river, the rocks around us changing from the burnt sand colour of further north to the deep red of southern Utah...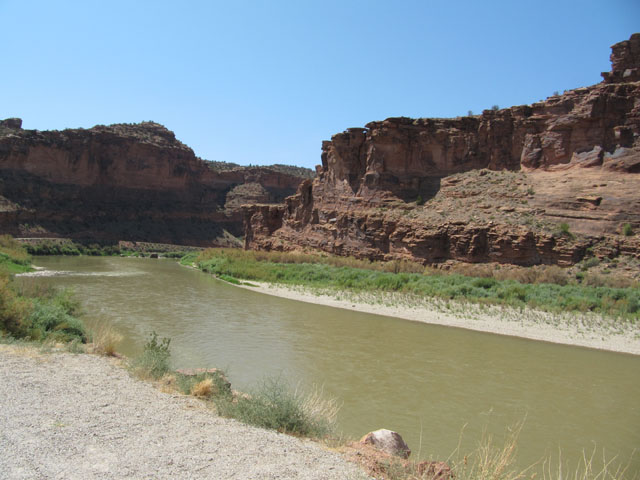 Our riding now was much slower, with frequent stops to take photos of the changing scenery with great big red rock buttresses and canyons all around, the river winding its way alongside the road. Quite beautiful...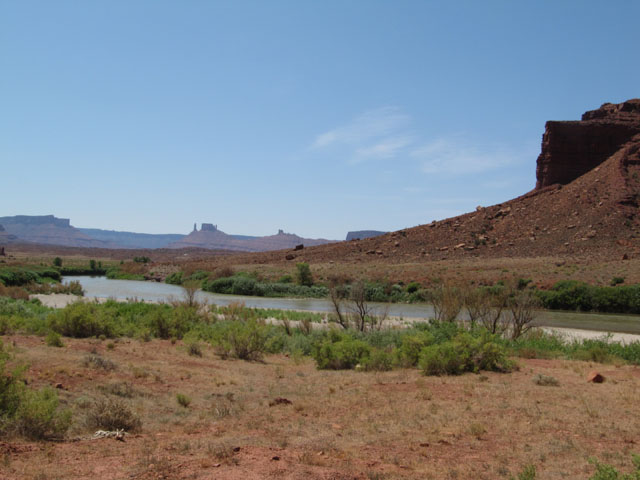 At one point, Chris and I rode a short way down a dirt track, so he could take some pictures of me riding (I've not got copies of them yet), and then I got one of him as he rode out, looking like he should be on a horse and not a BMW GS motorcycle...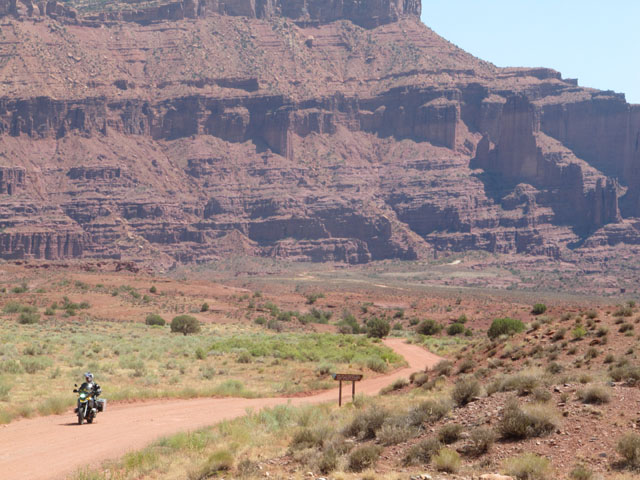 With the others then dropping back taking ever more photos and detours, I rode on into Moab and to the hotel, arriving around 1.15pm, far too early to check in. However, I was lucky as one of the rooms was ready and so I unloaded the bike and took a shower, changing into shorts and then dealing with emails and updating the blog for yesterday. When the rest of the group arrived, we were joined by another BMW GS, this time complete with side-car...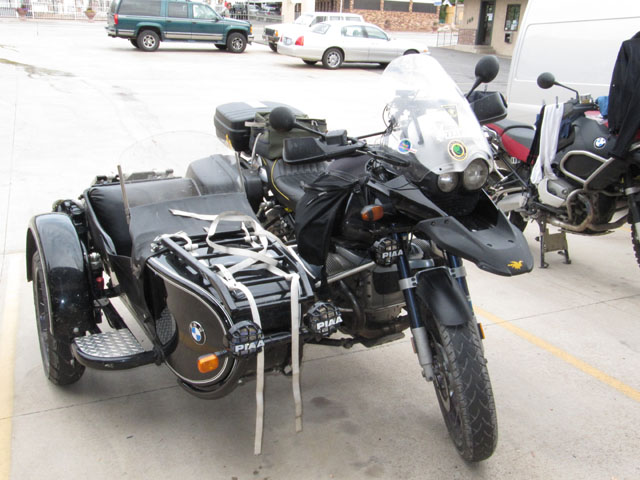 It was a father-and-son combination, the father taking his son to college on the west coast from their home on the east coast, going "the longer way round". Wonder if it's a viable option for Tracy and me?
The next excitement came when Richard and Karen arrived, their rear tyre looking decidedly worn. After 5,400 miles or so, riding 2-up and with Richard's instinct for quick riding, they'd worn out the rear tyre. With Karen unpacking, he rode off in search of a replacement. Now, Moab is a tiny little town, popular with tourists visiting nearby Arches, Canyonlands and Deadhorse National Parks, and not a buzzing metropolis full of motorcycle dealerships and tyre fitters. We were therefore very surprised when about half an hour later, he returned with a new Metzeler Tourance under his arm. Ok, he'd not found anyone to fit it, but he had found a brand new tyre, exactly the same type and size as the worn-out one. With the new tyre procured, it was time to enrol Jeff the Van Man, expert overlander and tyre-fitter. If you've never seen a tyre fitted in a hotel car park, as opposed to Kwik-Fit, the following instructional photos should help explain the process. Hover your mouse over them for a description of what they show. Hope you find this as riveting as I did (I stayed to watch and take the pictures, despite Kevin offering a cool beer in a bar he knew just down the road)...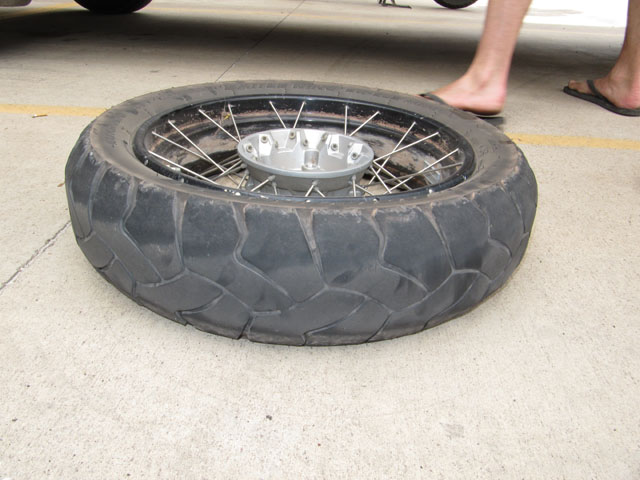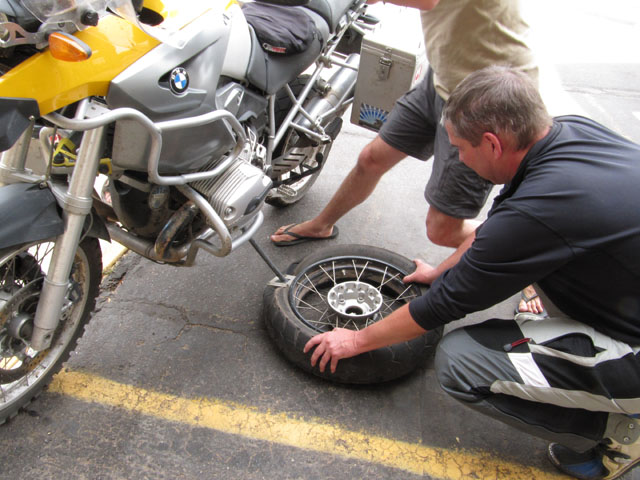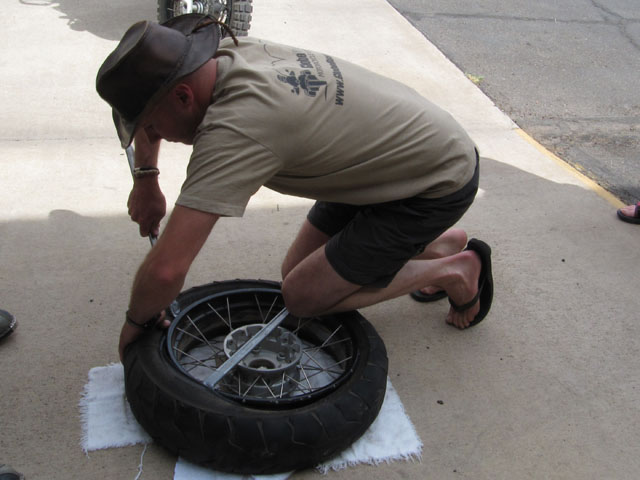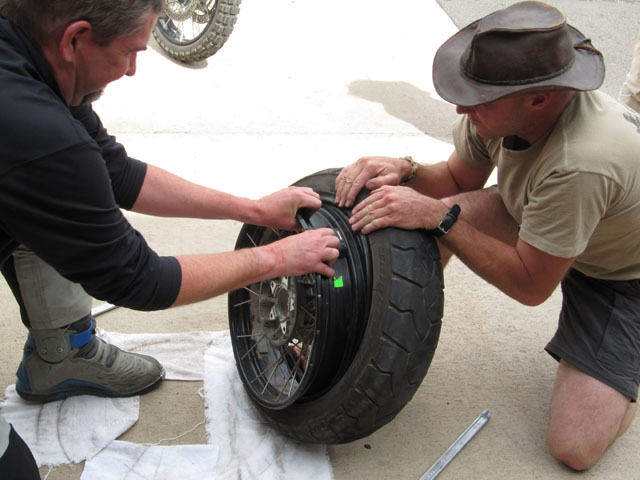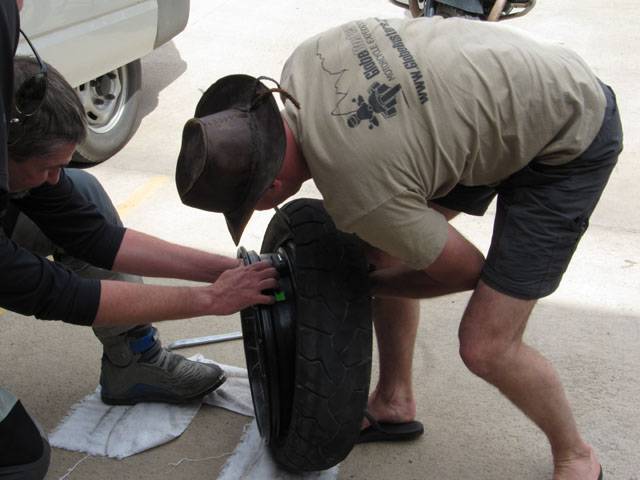 At this point, the rim is now completely devoid of a tyre, and should be cleaned, and examined for damage, the spokes checked, etc... Then, after applying a little washing up liquid to the bead of the new tyre, it's time to fit it...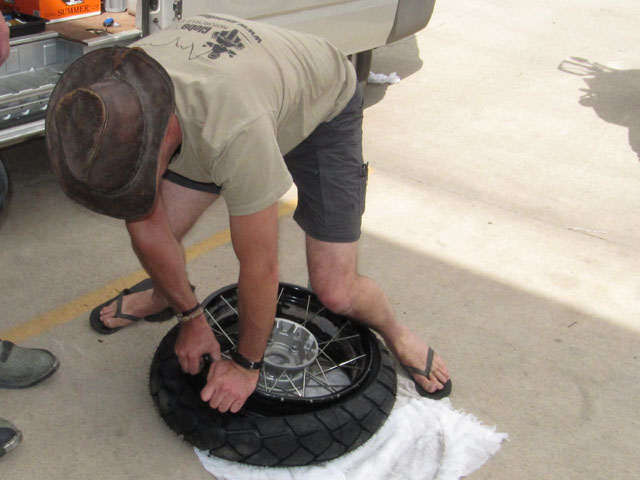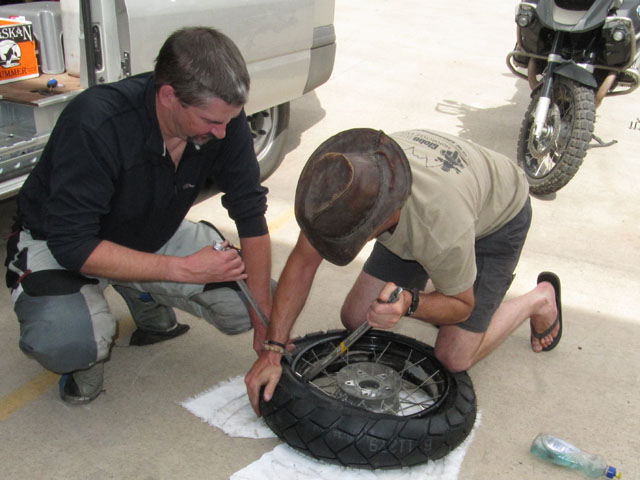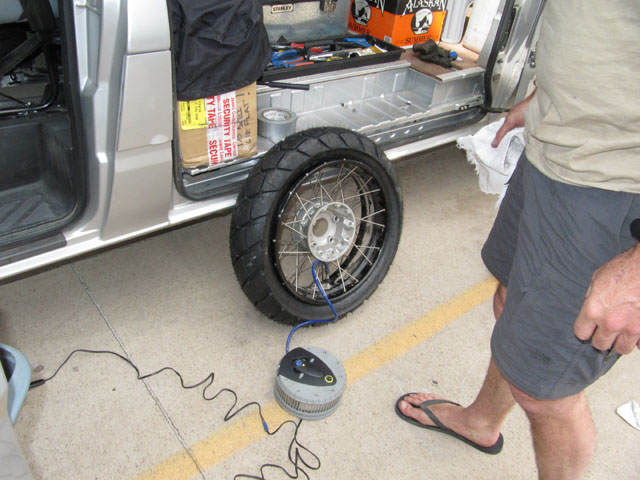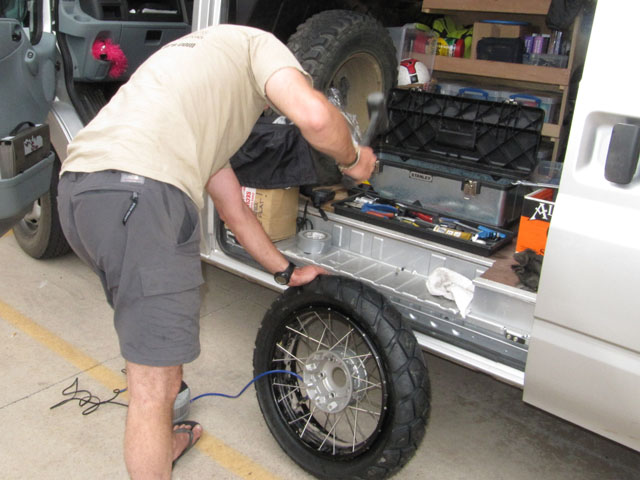 Step 10 (no photo): Take it to a garage and use their air-hose to inflate the tyre, the extra pressure available should be enough to force the bead onto the rim.
Now, imagine trying to do that in the pouring rain, in a remote village in Central America... let's hope we don't have to...
With the tyre replacement almost complete, I headed to the bar to join Kevin, Julia and Nick. On arriving at the bar I was met by a big guy who introduced himself as Frankie D, the owner of the bar, and he promised me cold beer. And then delivered it, a cool pint of "Uinta Cutthroat", brewed in Salt Lake City by a wind-powered brewery (no sniggering, please...). It was delicious. He then went on to try and convince us to stay and eat, proclaiming his ribs and chicken to be "superb". Nick went to investigate the kitchens with Frankie, and some time later sample plates of chicken and ribs were produced, and they were fantastic, the meat just dropping off the bones at the slightest touch. But tonight is a Globebuster's group meal, and a table had already been booked. So after a few beers (rather too many for a pre-dinner session) and a few games of pool, we wandered back to the hotel and met up with the rest of the group, then walked up town to Eddie McStiffs, chosen more for the comedy-value of the name than the food, although the food was pretty good. But the highlight of the evening was Jim's poem. Jim, my roomie and the most laid-back American I've ever met (and that's saying something), is the only rider not riding a BMW GS motorcycle of one flavour or another (we have 2 x 800 GS, 3 x 1150 GS and the rest are 1200 GS, there being a mixture of standard and Adventure models). He's riding a Suzuki 650 V-Strom and getting an awful lot of stick about it (I increased its value once by using it to hold up my washing line, proving it's not all bad). This is his poem, an "Ode to the GS"...
Ode to the GS
"The Beemer GS is an adventure for sure,
No young punks please, you must be mature.
Built in Bavaria by an Arian team
It's a long distance rider's very wet dream.
With an eye for detail and a mind for invention
The designers created a grand penile extension.
Big and industrial, and great for off-road
It carries two people and all of their load.
Its legend is real, its history extensive
Although it's not pretty, at least it's expensive."
Quite...
After the meal, a few of us returned to Frankie D's for more beer and pool, desperately trying to improve our game ready for the inevitable tournament in latin America...
Monday, 17 August 2009
Great roads, great riding...
Another riding day, with some 385 miles to cover to Vernal, Utah...
Jim's alarm clock dragged me from a deep sleep at 5.45am, beeping away while he merrily slept on. I tried to wake him by gently calling his name, but to no avail. Almost shouting, and flashing the main room light seemed to have the desired effect, and as he stirred I quietly mentioned that his alarm was going off, and then went back to sleep. When my alarm went off an hour later, I groggily got up, showered and packed, then as I was leaving the room for breakfast, in came Jim, looking decidedly groggy and muttering about how he'd got up early to get an early start, only to have to wait for breakfast which didn't start until 7am...
By 8.15am I was pulling out of the car park and riding out of town, taking highway 120 towards Meeteetse with my music on and dropping straight into the groove, enjoying the feeling of being on the road again. The first section was all sweeping bends and up-and-down undulations, and I rode along with my line naturally flowing, smoothly riding the curves whilst at the same time scanning this way and that, admiring the scenery as much as looking for hazards. I stopped for fuel at Shoshoni, and bought another phone card so I could ring Olivia and wish her a happy 5th birthday. But the card didn't work, and the phone volume was so bad I couldn't hear what the customer service people were saying, so I had to continue without having spoken to her.
Soon the rolling hills gave way to the entrance to the Wind River Gorge, running into the Indian Reservation of the same name following the line of the river, more great bends. I was tracking alongside a train on the railway on the opposite side of the gorge, catching glances across to see whether I was getting ahead or not. When the gorge opened out I pulled into a rest area for a short break, and naughtily ignored the signs proclaiming that using the facilities required the payment of a park fee (there was no-one around to pay anyway).
Once out of the gorge the rocks began to change colour, with bands of deep red cutting across the landscape, and sections of rock mounds not dissimilar to the moonscape we saw at the Petrified Forest. Climbing one big hill, the view behind was so spectacular that I had to pull over and take a photo, using the impromptu stop as an excuse to eat some of the "van snacks" I'd remembered to get from Jeff before setting off...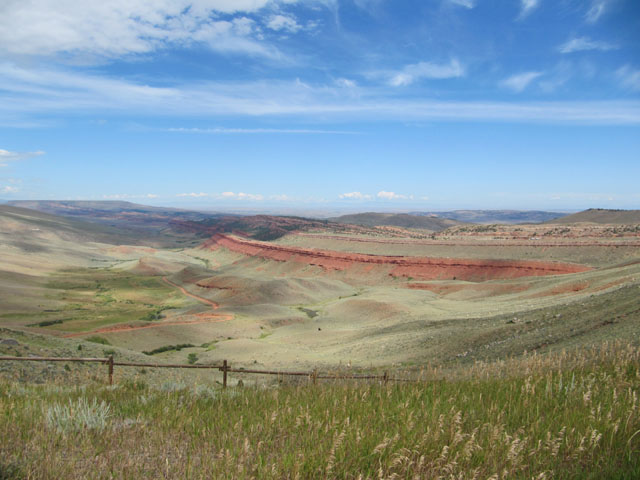 Before long the landscape changed again, from gently undulating to completely flat as we rode along the high plateau – by which time I'd caught up to Nigel, Chris and Danielle, the 4 of us riding in formation across this desolate place. Despite the sun shining it was getting chilly, with a side wind and an altitude of over 8,000 ft, and I was glad that I'd started the day with my inner jacket on and the vents on my jacket closed. We stopped after around 240 miles for a quick coffee, and I tried again with the phone card and this time managed to get the customer service people to activate the card (seems the garage that sold it to me forgot). But as I was using a pay-phone it didn't want to connect my international call, so I once again had to carry on without getting through.
The next stop was at Cruel Jack's in Rock Springs, where the others ate lunch (by now we'd been joined by Max & Christine, Richard & Karen and Al), and I tried again on the phone, this time successfully getting through to Tracy but it was well past Olivia's bedtime, so I had to relay a message to Danielle via Tracy to pass on my apologies...
Back on the US-191 the road got more interesting again, with wide sweeping bends leading alongside Flaming Gorge, and I once again dropped into the groove, riding the curves and chasing the vanishing point, all the time eyes wide open and absorbing the stunning views. Shortly after we crossed the state border and entered Utah there was a viewpoint overlooking Flaming Gorge Reservoir, so I pulled in hoping for a rest-room as well as a good picture. I got the picture, but not the much-needed restroom...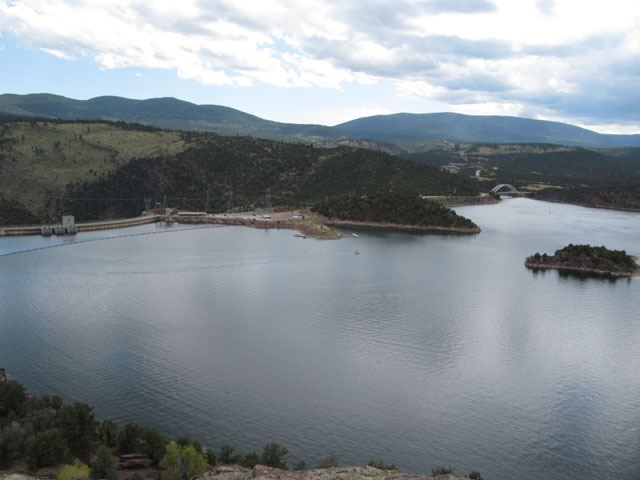 The dam was constructed between 1958 and 1964 and holds back around 4.6 Km2 of water, used both for recreation and for generating power. Having taken advantage of another viewpoint with some good trees, I followed the road down and across the dam, rising up and over the surrounding hills and then over some more undulating countryside before signs started to appear warning of a steep descent and "10 switchbacks". Whilst these are warning signs for other road users, for the motorcyclist they are manna from heaven. They provide some great opportunities to practice getting lines spot-on, as the technique required to negotiate a switchback (hairpin) is similar to any other bend, but perhaps a little more extreme, the key being to turn in as late as possible, turning the bike quickly and getting just the right amount of lean angle set for a smooth curve, holding a positive throttle round the turn to keep the bike stable and on line, then accelerating as soon as the road opens up, chasing the vanishing point. Getting entry speed and turn-in point just right is the key to a smooth corner, if either of these are wrong you end up "thruppeny bitting" the corner, having to re-apply steering input and lean angle midway through the turn, effectively making the turn look like an old three-penny bit (think 20p piece) rather than a smooth arc. Great fun...
Part way down through this brilliant road was a viewpoint, looking out towards Vernal across the lands where dinosaur remains have been found... even with such great riding to be done, I stopped, the view breathtaking...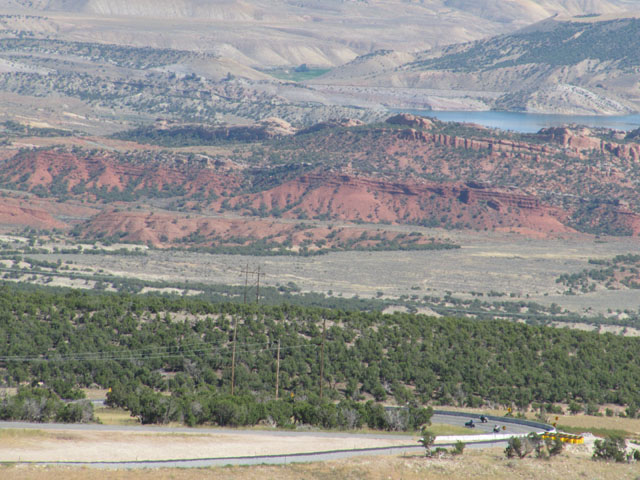 Eventually I arrived in Vernal, filled up with fuel and then rode to the hotel, the Best Western Dinosaur Inn. With my bag in the room, I stripped and put on my swimming shorts and jumped in the pool (which is in a fenced area in the car park...) to cool off. Once cooled, and with the sun disappearing behind the clouds I went back to my room, showered and updated the blog. Then it was time for dinner and beer... This being Utah, we can only get beer when in a club or eating, so we went to a bar/restaurant down the road, where we tried 3 different local beers (1st Amendment Lager, Provo Girl Pilsner and Full Suspension Pale Ale) all of which were only OK (nothing special) and ate fish and chips (also only OK). With my stomach grumbling, I returned to the hotel and went to bed...
Sunday, 16 August 2009
More guns and a rodeo...
Today is an official rest day, so decided to spend it doing some odd jobs, with a little bit of sightseeing built in for good measure... First job after breakfast was to update the blog, as yesterday I had no Internet access and so it was a couple of days behind. With that done I sorted out the onbike video footage (still can't get it to upload, so you'll have to wait until I get home before you get to see any of it) and archived all my photos. Then I managed to get hold of Tracy via a Skype call and we chatted for half an hour or so about this and that. These little chats are very important to me, as I'm so far from home and there's so much going on there as well, and I don't want to miss out on all the gossip...
With that done it was off to the Buffalo Bill Historical Center – a 5-museums in one complex on the edge of town. I skipped the Indian Art, Indian Plains and Natural History sections and focused my time and energy on the gun museum and the Buffalo Bill museum. The gun museum was interesting, in a kind-of "Wow, look at all those guns" way, as there were case upon case of shotguns, rifles, pistols and other assorted firearms, charting the history of weapons from way back in the days of the wild west through to the end of WWII (with a few modern weapons for good measure). I never knew there were so many variants of famous weapons like the Winchester rifle or the Smith & Wesson and Colt pistols. Literally thousands of them...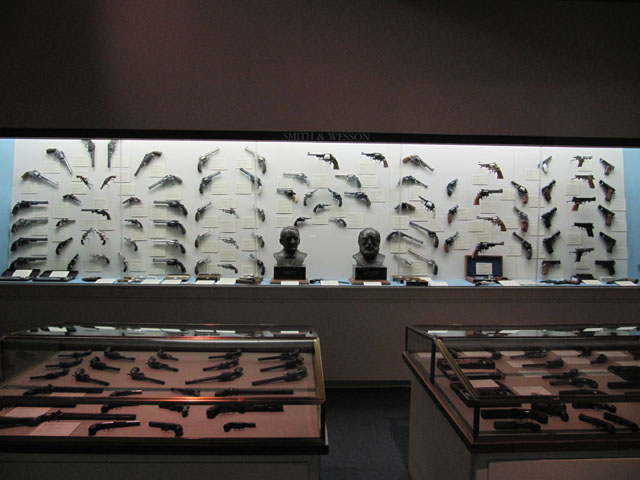 They even had a "Safe Pistol"...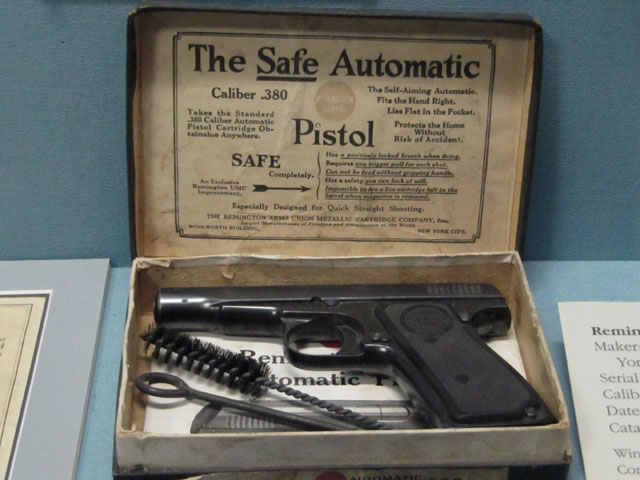 But that was only upstairs. Downstairs they had a further 1,200 firearms, including this rather impressive collection of British Lee Enfields...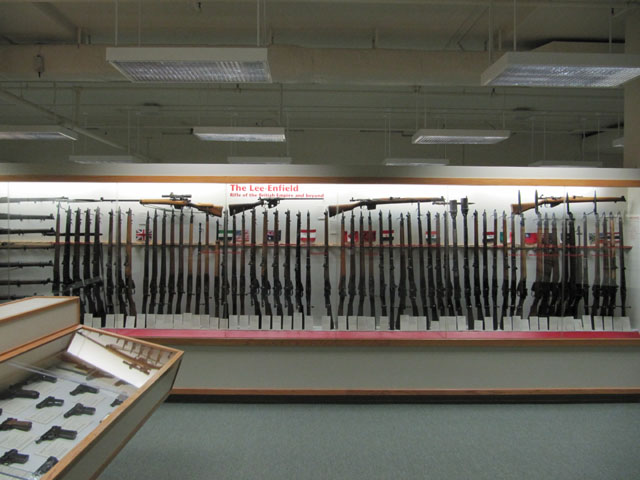 Actually, that's only half of it, because there was another cabinet the same size full of Lee Enfields and I couldn't fit it into the photo...
By now I was all gunned out, so I headed back upstairs and across to the Buffalo Bill museum. Now I didn't know anything about the great man before I arrived in Cody, except that his name was familiar from my childhood and cowboy and indian films. So here's a (very) brief summary of his life... Born in 1846 W. F. Cody had many jobs before he became a soldier in the civil war, and then chief of scouts for the 3rd cavalry during the plains wars. He earned his nickname when fulfilling a contract to supply the workers building the Kansas Pacific Railroad with Buffalo meat, when he killed 4,860 buffalo in a period of 18 months. He was also a great showman, and created a live show based on his life, called "The Wild West" which he toured Europe and America with from 1883 through to 1913, effectively creating the image of cowboys and indians we have today... in the show were other famous "cow-folk" including Wild Bill Hickock and Annie Oakley. So, he's a pretty important character in the forming of the American psyche...
The museum contained various artefacts from his life and shows, including displays of posters he had printed to advertise the shows, clothing and still photographs showing the entourage, including the many Sioux indians that performed alongside the cowboys. One interesting fact I gleaned from the museum was that Bill died at his sister's house in Denver. Why this fact should prove interesting only came to light when I got back to the hotel and Jim had returned from his ride. He asked how I liked the museum, and whether I knew where Buffalo Bill had died. So I told him, and he said he knew, because he used to live in the house he died in with a rock'n'roll band in the 60's... small world, eh!
With my first bout of chores and my cultural needs attended to, I switched my attention to the exciting task of re-arranging my packing so I could get down to only having to bring one bag from the bike to the hotel room, instead of the 2 I had been carrying. Gripping stuff, I know... Then I went to investigate the problem with my fog lights on the bike. These are 2 lights at the front that I usually have on when riding as it makes the bike more visible, but more important, the triangular light pattern makes it easier for other road users to guage my approach speed (since they'd stopped working, I'd had 2 people pull out on me, whereas before, I'd had none). They stopped working a few days ago. Investigations suggested a relay fault, so I set off in search of a replacement, riding round to Wal*Mart at the edge of town in glorious sunshine, only for it to start p*ssing down as soon as I got there. Having bought some wire and spade connectors to bypass the relay, I rode back in the rain – having left my waterproofs in the room, of course. As I arrived back, it stopped raining, so I was at least able to try and effect a repair, only to discover that it looks like I have a short in the circuit somewhere and I'll need more time to find it (I was due to meet the others for dinner 10 minutes after I got back).
Dinner was a shrimp (prawn) jambalaya which was delicious, and then we gathered to catch the bus to the rodeo... Cody, being a real cowboy town (named after Buffalo Bill Cody), there's a rodeo every night in a stadium on the edge of town. After the inevitable parading of the Stars 'n' Stripes and the singing of the national anthem (thankfully a recorded version to avoid further embarrassment), it was time for the show to begin...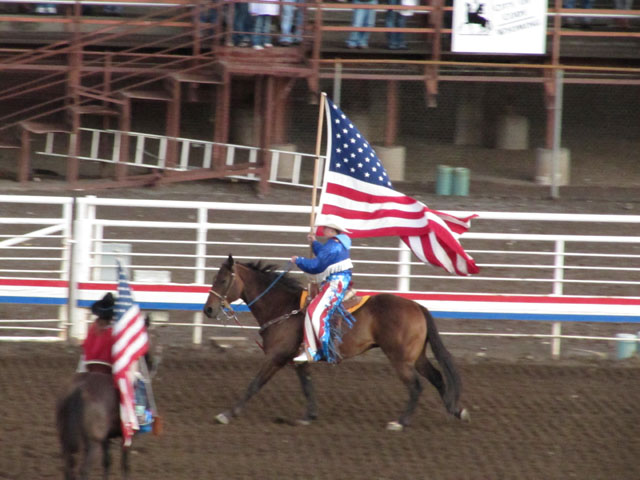 The show included all the old favourites, from bucking broncos, kids trying to ride steers (small bulls), guys lassooing calves, women racing horses round barrels, and as a final act, young men showing how incredibly tough they are by riding bucking bulls, trying desperately to hang on for 8 seconds (no mean feat, by the look of it).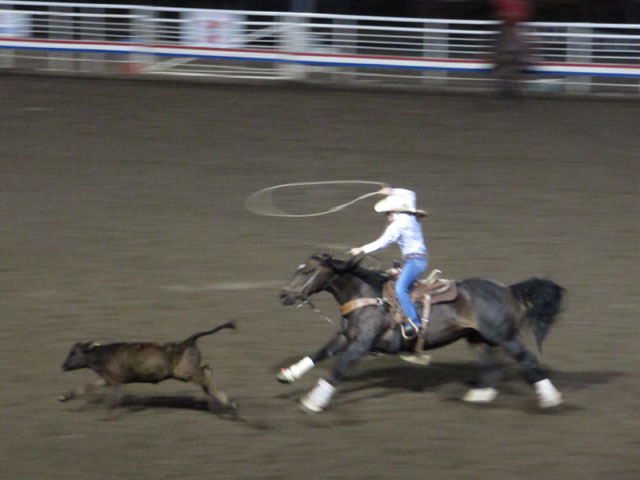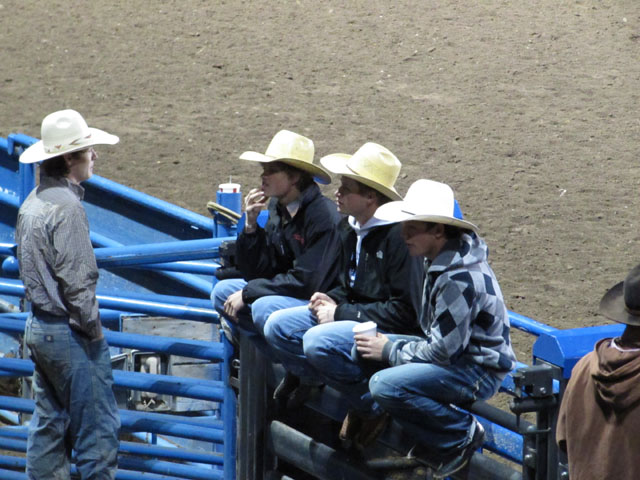 But my favourite was the bit they did for the kids in the audience... They invited the under-12s to come on down into the arena, where they got them all lined up and explained the rules. There were to be 4 prizes, one awarded for each ribbon obtained by the kids. One of the ribbons was stuck in the pants (trousers) of a teenager, the others on the tails of 3 calves. The calves were brought into the arena with the kids, and then the signal "GO" given, and all the kids chased the calves (and the teenager) round the arena until all the ribbons were grabbed. How no kids died in the stampede chaos is beyond me... Imagine what the RSPCC would have to say about that in the UK!!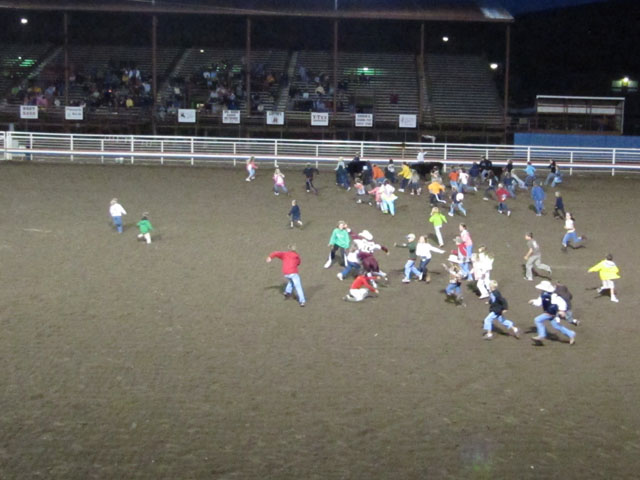 With the excitement of the rodeo still coursing through our veins, we caught the bus back to the hotel and popped in the bar for a night-cap, Kevin being keen for us to try a Tennessee whisky called "George Dickle" (which unlike a lot of American Whiskeys uses the traditional Scottish spelling as good ol' George believed his whisky to be as smooth as the best Scotch). It was very nice, with a hint of orange, but unfortunately we drained what was left of the bottle between us (there were 7 of us), so the 2nd round had to be something else, a "Maker's Mark" bourbon whisky, which wasn't as nice, but was still pretty smooth... then it was off to bed, before things got out of hand...
Saturday, 15 August 2009
Yellowstone to Cody via the Bear Tooth Pass...
Despite the minor excesses of yesterday, I still woke early, at 6.30am, and was up and showered quickly before packing and loading my stuff onto the bike. I then wandered round to take some pictures of the Old Faithful Inn, realising that I'd described it in my blog but neglected to show any pictures of it... so here it is, inside and out...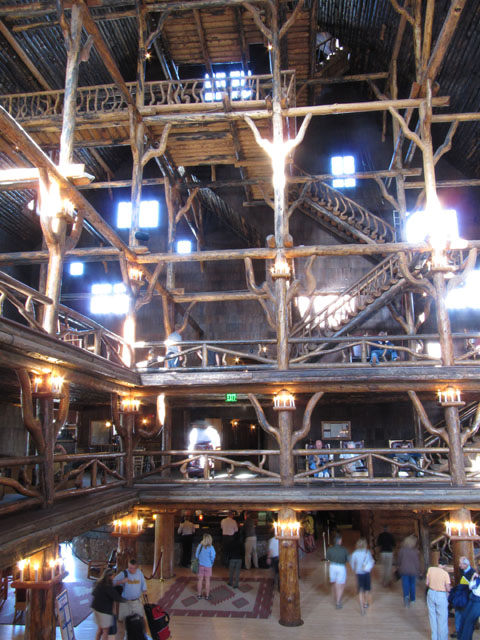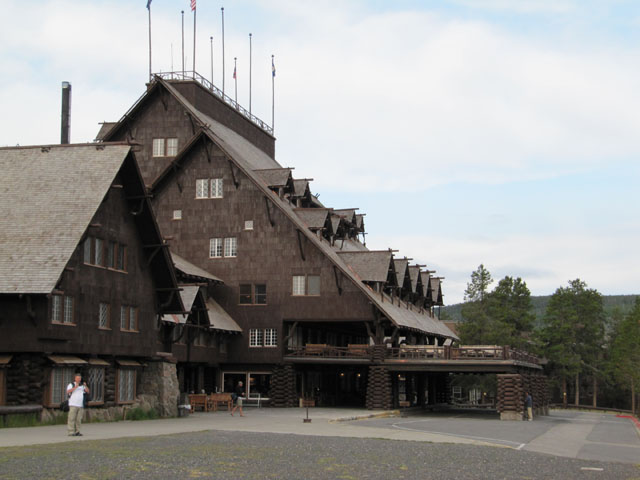 Breakfast was the usual buffet affair, and despite the hotel being over 100 years old and having hundreds of rooms, they still couldn't organise it so that the restaurant was more than 20% full, yet people were kept waiting 15 minutes to sit down. I was fortunate, in that I just joined Chris and Danielle's table, and we confused the waiting staff when they left and Richard and Karen took their place... the breakfast itself was poor too, certainly not living up to the standards of yesterday's dinner. But fed, I set off on the road, following Richard and Karen for a while, before stopping to take some photos of the crazy sulphur pools...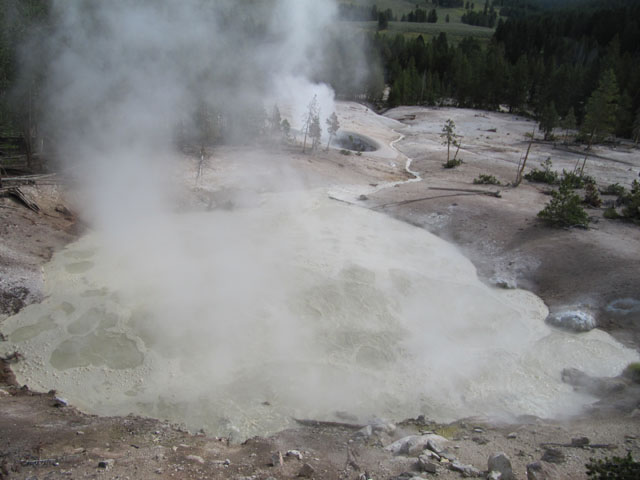 I caught them up again and we tucked in behind Jim and Mac as we rode through the lower portion of the park, before they turned off to the right, we thought heading for another sight (in fact, they'd seen a sign for Cody, and taken the short-cut there, arriving much earlier than the rest, who'd followed the notes over the scenic passes...). Shortly after we lost Jim and Mac, we came across a huge herd of Bison (or Buffalo as they'd sometime incorrectly called), mostly in the fields either side of the road, but sometimes right in the road in front of us. Huge, great big things they are too, especially one large male that seemed determined to hold up the traffic, but who hadn't reckoned on the skills of a RoSPA-trained motorcyclist, who rode past whilst tightly clenching his buttocks...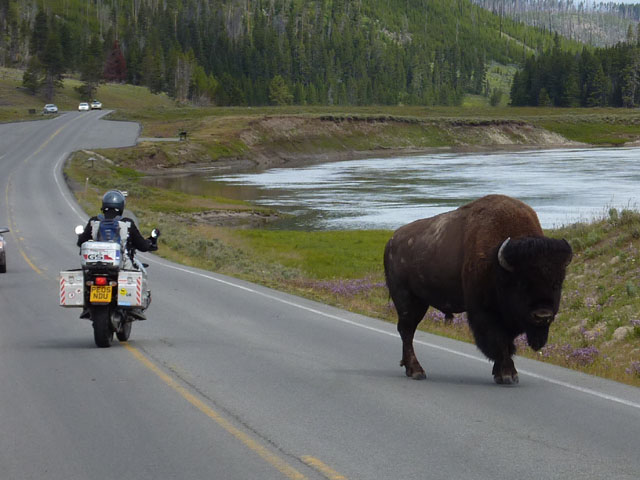 I then lost Richard and Karen again when I stopped to buy a souvenir sticker and take some photos from Artist's Point of the canyon below, which was a further contrast to the rest of the park...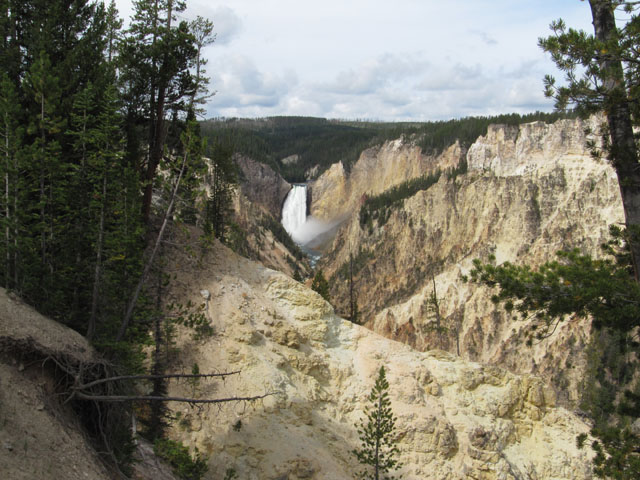 From here I rode out of the park, and met up with Richard and Karen, and Max and Christine at the Log Cabin Cafe at Silver Gate, where the notes recommended the Pumpkin Bread. As it was very cold, they'd opted for the soup and asked for the Pumpkin Bread to be served with the soup instead of ordinary bread. This had caused significant confusion for the poor waitress, as the Pumpkin Bread is more like a cake... I opted for the soup as well, but skipped the Pumpkin Bread to avoid further confusion (I tried Richard's and it was delicious).
After warming up a little, it was then time to head up Bear Tooth Pass, which has the reputation as being "the most beautiful drive in America", a claim I'd dispute bearing in mind some of the roads we've already ridden, but as it reaches a height of 10,947ft, the views from the top are quite spectacular. The road itself was marred by roadworks, with great patches of gravel preventing a smooth "in-the-groove" ride (at least for me, Richard disappearing into the distance clearly grooving). Once near the top I past Chris and Richard heading back down, them opting for the alternate route to Cody via the Chief Joseph highway, another recommended riding road. I stopped to take a photo of the view before heading up and over the top, taking the Bear Tooth Pass down towards Red Lodge...
Once I crested the top, the road deteriorated into a pure mud-and-gravel road, and it started snowing. Great. With my riding already suffering today for some mysterious reason, I rode slowly and nervously down the hillside, until back on tarmac when it became a little easier, though still far from my normal fluid style. The snow had eased as soon as I left the summit, and the sun was struggling to come out and reveal some of the scenery that was no doubt all around, but hidden from view by the clouds. At the valley bottom, I rode into Red Lodge with my fuel warning light on, and took no chances, filling up at the first petrol station I found. I then rode through town looking for a phone box so I could call Tracy. The town was littered with BMWs from a nearby rally, mostly RT's but I did see a couple of other GS's as well. At the far side of town I found a phone and called home, getting the answerphone again, but the phone card did say I had 60 minutes of call time, so I decided to try her mobile. Big mistake. It also went through to voicemail, so I hung up immediately, to be told I had 4 minutes remaining on my card. I tried the house phone again, only to be told I had insufficient credit left... damn...
From Red Lodge I rode on to Cody, first taking highway 308 and then highway 72, but by now my riding was even worse, my mind wandering all over the place for some reason (and I don't think it was anything to do with the phone fiasco, I'd been struggling to concentrate all day). I had to stop several times to give myself a good talking to and to wake myself up, the loss of focus not helped by the road straightening out and the scenery losing any sense of perspective. Relieved, I eventually arrived in Cody, and found the hotel, where most of the group had already arrived. I quickly unloaded the bike and got showered and changed, then went for a wander round town. It's a bizarre place, the main street full of shops selling genuine cowboy gear to genuine cowboys... and tourists... so far, I've resisted the temptation to buy some cowboy boots to go with my hat, but only because I've no room on the bike... and no money... and better taste...
At 6pm, in the side street next to our hotel (once owned by Buffalo Bill himself), there was a "gun-fight" show. Starting with about 20 minutes of advertising for sponsors and the charities it tries to raise money for, and of course the obligatory national anthem (for which everyone stood and removed their hats, the effect ruined somewhat by the lack of knowledge for the words...), it was then enacted in front of our very eyes, with Buffalo Bill, Wyatt Earp and the others shooting blanks and falling over a lot. I'm sure the kids loved it...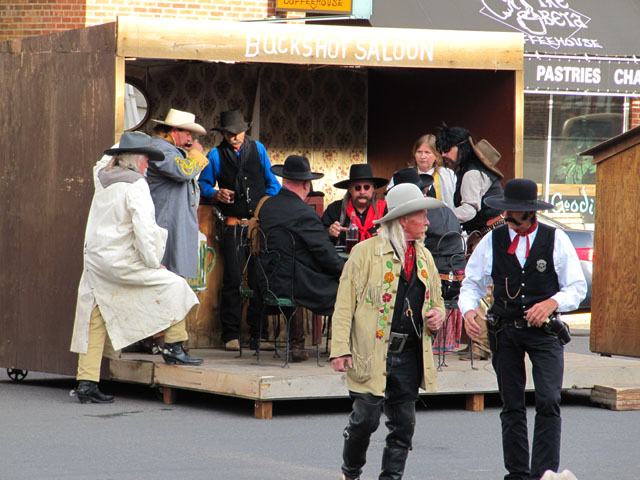 With the excitement of the gunfight over, I went for dinner at a local Mexican with Richard and Karen and Kevin and Julia (the Italian I fancied having a 40 minute wait for a table). I declared today a "dry day" and drank only sprite, the Green Chile more than making up for any lack of alcohol by being decidedly hot... While we were eating is started to rain, then thunder and lightning, but by the time we walked back to the hotel the rain had almost stopped, thought the dark clouds filling the sky promised more rain overnight....
And so off to bed, with a rest day tomorrow and time to catch up on the blog...
Friday, 14 August 2009
My birthday - ritual humiliation amongst great surroundings...
My Birthday... started with a call to Tracy so she could wish me a Happy Birthday, which was followed by a breakfast of 2 eggs over-easy and 4 links (sausages) with a cup of black tea (what I would have done for a proper brew...) at a cafe over the bridge from the hotel. Then back to the hotel to finish packing and load the bike, then drop my bike gear off in the communal "late-checkout" room before joining Richard, Karen, Kevin, Julia, Jeff, Chris and Kenny for the rafting trip.
A short walk to their headquarters and we were kitted out with lifejackets and given our oars and then the short bus-ride to the start of the run down the river. This was at the highest point that boats can be launched, and the river was flowing very quickly with white water all the way down and under the bridge by the hotel. As we were being given our pre-launch briefing, a mother deer and her fawn came to the river's edge about 60 yards upstream and started to cross. Mother made it without any problems, but baby got washed a way downstream before managing to scramble ashore. With our cameras safely in the rooms, we couldn't take any pictures, which is a pity...
We then carried the boat, a big inflatable raft, down to the shore and assumed our positions. As birthday boy I was naturally placed up front so I would get most wet, and managed to cajole Kevin into assuming the position alongside me, on the port side (left). I had originally been in this position, but as you sit on the gunwale (outer edge of the raft) and wedge your foot under the inside of the raft to prevent you falling in, I couldn't do that as it twisted my right knee too much. When launched, we hit the white water, the raft bouncing up and down and a large mass of water completely drenched both Kevin and me. That set the tone for most of the way down the river, with both Kevin and I trying to ensure at least some of the water made its way back to the others.
The guide was really informative, pointing our local landmarks and explaining their interesting history, but as I didn't have my notebook with me, I can only remember sketchy details... The team were itching to get me off the raft and into the water, but with the number of rocks creating the white water, I was safe for a while at least, just enjoying getting soaked as we hit deep waves. Then the guide announced the next set of rapids were known as "Swimmer's Rapids" and was where local swimmers "surfed" the rapids. That was the cue they'd been waiting for, but before they got their chance I rugby-tackled Kevin and we both went over the side into the water... struggling to regain the surface I must have swallowed half the Yellowstone River, but it was worth it to ensure I wasn't in there alone (Kevin knew he'd also be going in at some point, but I still think I caught him by surprise!). Chris and Kenny then joined us, as we lay on our backs, feet forwards in the Yellowstone Swimming position, and floated through the rough water of the rapids, getting swamped by water and grabbing breaths as soon as we surfaced again. After a while of drifting, the guide started getting a little concerned that we were approaching the next rapids and need to get back into the boat, so those left in the boat did a great job of getting to us – any attempt by us to swim back to the boat were useless as the current was so strong (even though it was possible to touch the bottom with our feet, the current immediately pushed us over). They then hauled us back into the boat by our lifejackets, and once we were safely back, we continued downstream, feeling the cold wind bite through our soaked bodies. Just as we'd dry out a bit, we'd hit another patch of rapids and get soaked again...
As we arrived at another area of relatively calm water, Kevin leapt off the side, grabbing Jeff's lifejacket as he went. Jeff, who really hates the cold, struggled to stay in the boat, grabbing Richard's arm and clinging on for dear life. So the rest of us had to join in and ensure Jeff went in. When he got back in the boat, he looked freezing and we were concerned he'd end up with hypothermia he looked so cold... he changed into some dry clothes and eventually stopped shivering. Finally, just before we got to the bus to take us back, we gave Richard, Julia and Karen the choice – as they hadn't yet been in the river, they could go in willingly or otherwise... wisely, they all decided to jump in...
Safely back on shore, we dried off as best we could, then the bus took us back to town. It had been a great way to spend the morning of my birthday, if a little cold and wet...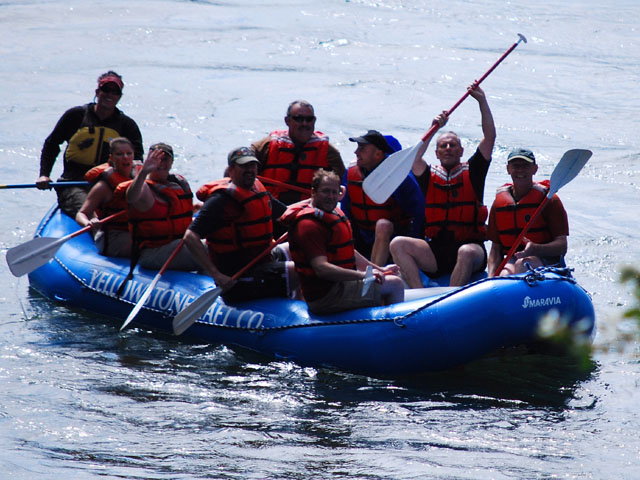 Back at the hotel, we all got changed out of our wet clothes and into our bike gear, and then rode into Yellowstone National Park. We stopped at Mammoth Hot Springs for a coffee and hot-dog, and whilst parking the bikes up next to a couple of Harley's including a rather nice purple-and-chrome chopper we noticed a couple of bikers walking a little chihuahua. As we were wondering how they took the dog on the bike, the guy picked her up and put her in a bag on his chest and then put a pair of big yellow goggles on her...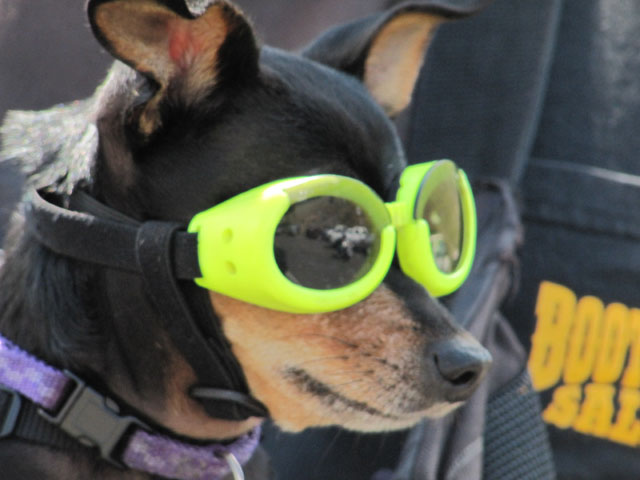 The dog's name was Apple, and when Richard asked her owner how old she was, he replied "about 60,000 miles"... They certainly made quite a sight...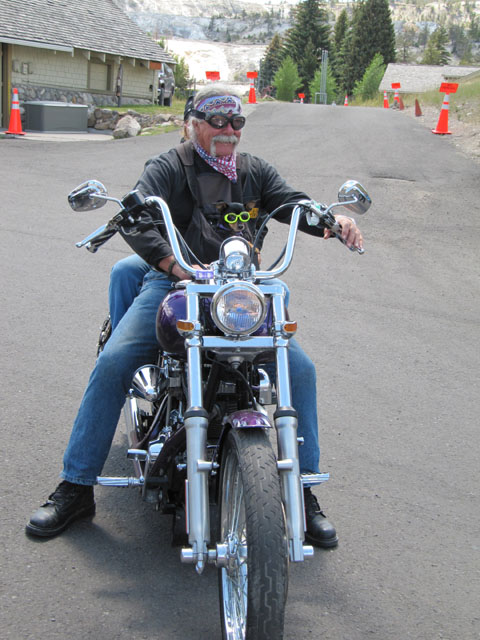 After lunch we rode into the park proper, stopping off at Mammoth Hot Springs to marvel at the weird landscape created by the hot spring water rising to the surface, bringing with it an intense smell of sulphur and leaving behind great pools of white and yellow deposits, in strange patterns, some terraced and some more like miniature "hoodoos" like those at Bryce Canyon. Very strange...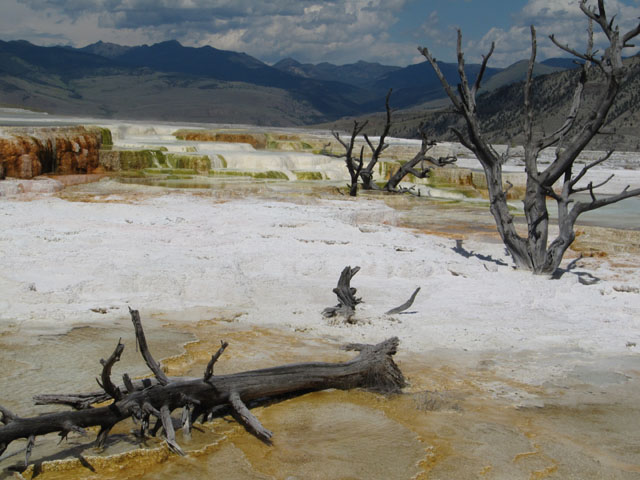 From Mammoth, we rode further into the park, passing beautiful lakes surrounded by green forests, and past hillsides where the forest still showed evidence of the devastating fires of 1988, when some 793,000 acres of the park's 2.2m acres were burned, despite the efforts of 25,000 firefighters. Even now, the evidence of this devastation (1.2m acres were scorched, the fire affecting over half the park), with new growth vying for space amongst the deadwood. But Yellowstone is more famous for its hot-springs and geysers and these are everywhere and take on many forms, from steaming hillsides to spouting geysers, to bubbling pools of sulphur to boiling rivers... and all set in a beautiful forest. Quite a place...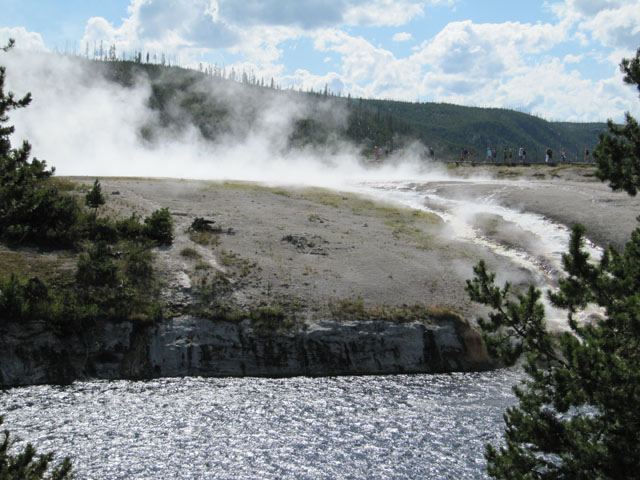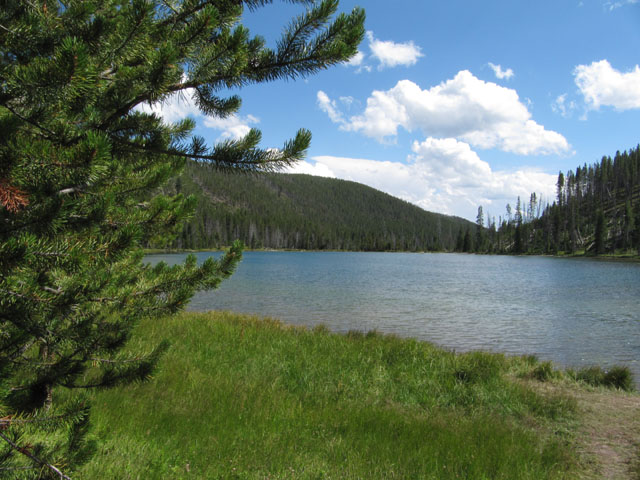 With so much beauty around, it took a little while to get to our hotel, the historic "Old Faithful Inn" right next to the famous geyser of the same name. This inn, built originally in 1903 and opened the following year, has survived intact through numerous severe winters, a 7.5 magnitude earthquake and many fires, including the devastating fire of 1988. It is built of local materials, mostly pine, and whilst it has been extended many times, continues to blend in well with the landscape. Once checked in and showered (no en-suite as we're staying in some of the original 140 rooms right in the centre of the main building) it was time to go and watch Old Faithul from the balcony.
This geyser gets its name from the fact that it "erupts" every 90 minutes or so, almost like clockwork, attracting huge crowds to watch the display. We joined the throng on the balcony of the Inn, and waited. And waited. And waited. It teased us with spurts of steam, sometimes accompanied by small outburts of hot water, before finally erupting proper, sending a massive plume of water high into the sky... how high is evident in the picture below, the crowed in front of the geyser are only a few yards from it...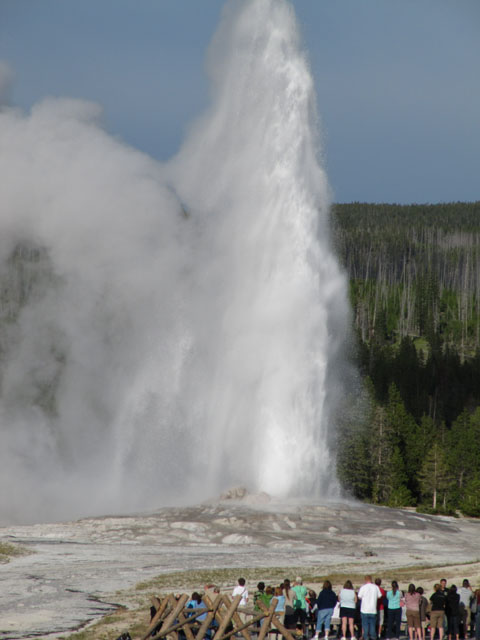 With that display over, we retired to the bar, to await the ritual humiliation that is bestowed upon anyone on the Trans-Am unfortunate enough to have their birthday on the trip... my turn...
And so it began, with the group forming a circle with me at the centre, and master-of-ceremonies, Kevin, explaining that the "gifts" had been chosen to match the surroundings and local customs of the area we'd just been travelling through. First, was the card, signed by all the group and containing more than one reference to my liking of a beer or two, and more than one to my enjoyment of fast riding... and several references to me being a "Grand-pa" (seems I've made an impression, one way or another...). Then came the presents. First off, a "Life is Crap" tee-shirt (if you've ever seen the "Life is Good" range, this is similar...). It has a big sign saying "Out of Beer... Life is Crap" - appropriate... Then there was the hat. All birthday folk get headgear they have to wear that evening, and mine was a crushable cowboy hat (which I really like!). Then a sherrif's badge (affixed to the hat for the evening), a "bear bell" to warn away any bears and attached strategically to my belt (see photo), a shot-glass complete with miniature bear handle, a bottle of beer in a cooling sleeve with the words "Instant Arsehole – Just add beer" (where do they find this stuff?) and finally a pair of spoons, pinched from the girls we met back in Bigfork...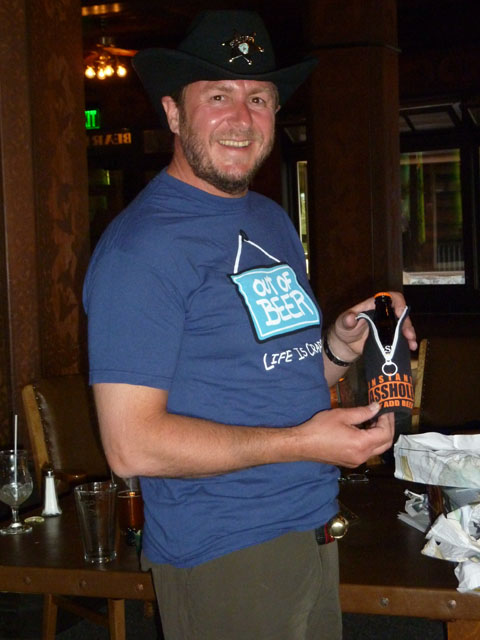 I think I got away quite lightly, considering...
Before dinner we also had the minor task of awarding this week's "Prat Hat" for the daftest thing done all week by a TransAmer. The nominations this week were whittled down to 3 pretty easily, as only 3 people were nominated. Nigel for a minor indiscretion in the golf-club (which got practically no votes); Jeff, for 2 offenses – first, getting stopped for speeding (he talked his way out of the ticket) but trying to avoid anyone finding out, 2nd for behaving like a girl when being thrown in the river; and Jim, for leading Mac and Andrew astray and into riding without helmets in the park (to be fair, Mac instigated it, but Jim somehow managed to talk himself into prime position). With the defences heard, Jeff's reminder that we may all need his help at some point, and Jim's comment about his Suzuki being somehow better than all the BMWs, the final voting was almost unanymous and Jim got the hat... I think it suits him...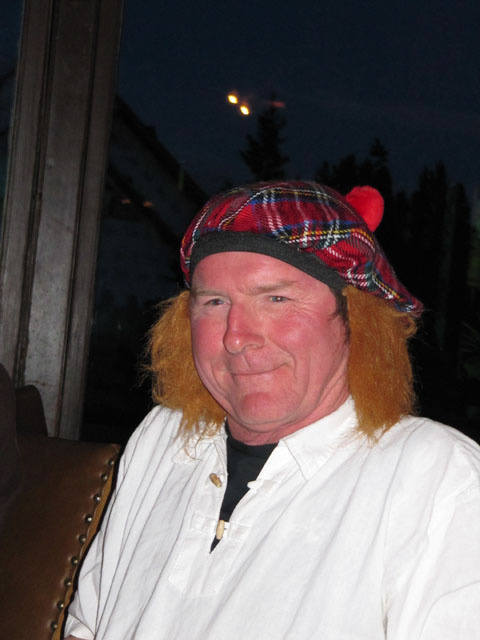 Dinner was a big buffet in the main restaurant, and I managed to avoid drinking too much red wine or eating too much, although that's a relative term, as I had a bowl of soup, a large fresh-shrimp salad, a plate of bison steak, mash and green beans and a portion of bread-and-butter pudding. Stuffed, I sat back to watch Kevin finish off his 3rd plate of Bison (following 2 plates of shrimp salad) and was then accosted by the entire waiting staff who wanted to sing me a special birthday song. When they started with the words "Show me a home where the buffalo roam", I was expecting the comedy version (next line "and I'll show you a house with a very messy carpet"), but, no, this was the real Yellowstone version. They then presented me a with a birthday cake, which I cut into very small pieces and shared with the group, before we retired to the bar for a nightcap. As my final act on my birthday, I bought a round of 4 double Balvenies and a beer, and wished I hadn't as it cost $66!
I then went to bed, having had a great day...
Thursday, 13 August 2009
A Riding Day...
Early start for the big riding day, with 365 miles ahead of us to Gardiner, Montana, just next to the entrance to Yellowstone National Park. Glad to see Jim's feeling better, although he's been told to start the day in the van (but I suspect that's because it's raining and if his Suzuki gets wet, it's likely to rust away...). But the time I'd updated the blog, well before the scheduled 8am departure, most of the group had already left. So I rode out alone into the p*ssing rain, but as the road followed the course of the river, twisting this way and that in open sweeping bends, I didn't mind. I was quickly in the groove, hammering along at a steady 70 ish, enjoying the riding if not the rain, which was like needles being stuck in my arms as it continued to pour down.
Before long I was also getting a bit cold, as I'd only a thin tee-shirt on under my jacket and over-jacket, so I stopped and put on my thermal layer before resuming the race, sorry, ride. I caught and passed several of the group, including Chris and Danielle who had stopped to remove rain gear as soon as the rain let up. I didn't, though, as it wasn't clear whether we were heading for the band of blue sky in one direction, or the band of dark grey in the other...
Soon it became clear it would be the former, as I turned on to Highway 279 from Lincoln, marked on the route-notes as "a good riding road". Not bloody half it wasn't! It wound its way up and across a mountain, in a series of challenging bends, some open and very fast, others full-on first-gear hairpins. I'd set my on-bike video going at the start and left it running the whole time, but unfortunately I can't seem to upload it to the website for you to see. Suffice to say, if you get sea-sick, you'd be better off not watching, as the horizon switched from level to steeply-inclined one way, then the other. It's a great way to critique my riding too, as it's easy to spot the one or two bends I turned in slightly early, missing the perfect line (and the one or two I got it just right). Roads like this, devoid of traffic, are perfect reasons to ride a motorcycle, and I was certainly in the groove. But not without caution, as I proved when I came out of one bend to be confronted by 3 deer crossing the road. Well, one was to the right, one slap in the middle and the 3rd about to cross. I stopped in plenty of time ("in control and on my side of the road" as RoSPA would have it), and got some lovely footage of the deer running off. By the time I got down into the valley the other side, and back on straighter roads, I was laughing like a madman. Nick was parked up by the roadside, contemplating removing his panniers and riding the road again, but things like that lead to disaster, so we hooked up and rode together the rest of the way.
After stopping to remove waterproofs and layers of clothing, we rode some more fantastic roads before I had to knock the pace right off for fear of running out of fuel (again). This time I was lucky, and as my bike clocked up 300 miles on the tank, we found a station and I filled up (and looking at how much I put in, I was almost empty, with just the 2l bottle to go). The rest of the journey was slightly more sedate, as Montana started to live up to its name as "big sky country" the rolling hills flattening out into scorched bushland and the roads straightening out as they led off into the horizon. We stopped briefly half an hour from Gardiner, to look at the river and guzzle fluids. As it was a "riding day", I also took my first photo of the day at that spot, having not stopped earlier as the riding was too good to interrupt...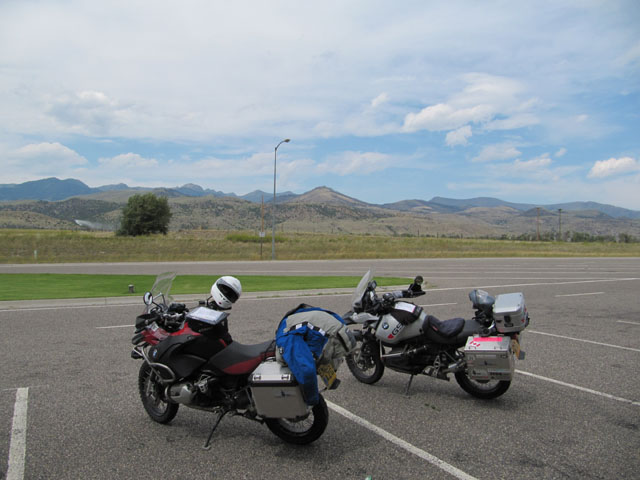 By 2.30pm we were checked in to the hotel and showered and enjoying the sun from the balcony. I bought a phone card so I could call Tracy from a normal phone in case there was no Internet, but there was, and this time I managed to get through to her on Skype (but without video, as her PC is bust). It was great to finally get chance to talk, and clear up those little misunderstandings that arise when email is the only form of communication. I hope hearing me made her day as much as hearing her made mine.
With my blogging chores also done, we headed across the bridge to the "Two Bit Saloon" for a beer before the team briefing at 6.30pm. The bar was a really old, Western-style wooden bar, so naturally I had to try and capture it as part of a "Beer Shot" - despite what it says on the glass, we were drinking "Fat Tire", a local brew and very nice too... (and served in pitchers, of course...)
After a couple of pitchers we headed back to hear Kevin run through the plans for tomorrow (including the ritual humiliation of the birthday boy... me...) and the day after, and then we wandered back to the Two Bit Saloon for dinner, a 12oz Ribeye steak cooked on charcoal and served with ranch-style beans, corn on the cob and garlic bread (and for some strange reason, a strawberry). My steak wasn't brilliant, but it was ok, the others had much better luck., their steaks being almost fat-free (compared to mine, which was almost half fat). After dinner we went into the bar proper, where Richard played the jukebox and we all played pool (badly, in most cases, although Nigel and Jim have clearly played before...).
Then it was time to stroll back across the bridge and into bed, to get a good night's sleep ahead of my birthday tomorrow...
Wednesday, 12 August 2009
Back in the US of A...
Today is border-crossing day, so that means a late-ish start, getting up at 8am and heading across the road for breakfast. When I returned to the room, Jim was in the bathroom hurling his guts up – seems the Salmon he had for dinner last night has disagreed with him in a big way – so much so, that he'll be travelling in the van with Jeff, as he's too weak to even pack his bags. Hope he feels better soon...
The day itself started with rain and continued that way almost all day. We left the hotel in groups, leaving around 10.30am and riding the soggy 20 miles or so to the border in our usual formation. At the border, Al, this week's Prat Hat winner, duly fulfilled his punishment by donning the prat-hat at the border crossing (having first made sure he wouldn't get arrested). Pity he didn't warn any of us sat on our bikes waiting to cross, as no-one had a camera ready...
Once across the border the group fragmented, as those through first set off into the rain. Before long, though, I'd caught them up, and with Nick tucking in behind me we picked them off one-by one, as they seemed content to stick at a steady 60mph admiring the scenery, which was all-but invisible behind a wall of rain. At the entrance to Glacier National Park I was able to use my park-pass that I bought when in the US with Tracy last year, saving the $12 which Kevin assures me he'll return in beer tokens... The park itself looked beautiful, at least the bits we could see, it being a real pity that the rain was pouring down... I managed to get a couple of photos in gaps in the rain, but then it become torrential, so there was nothing to do but put the camera away and ride...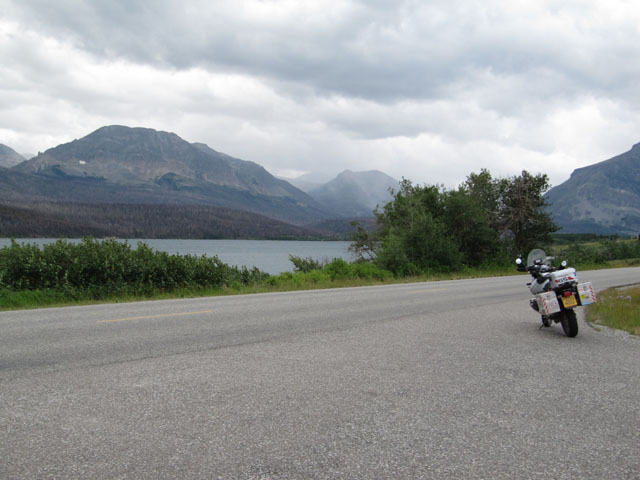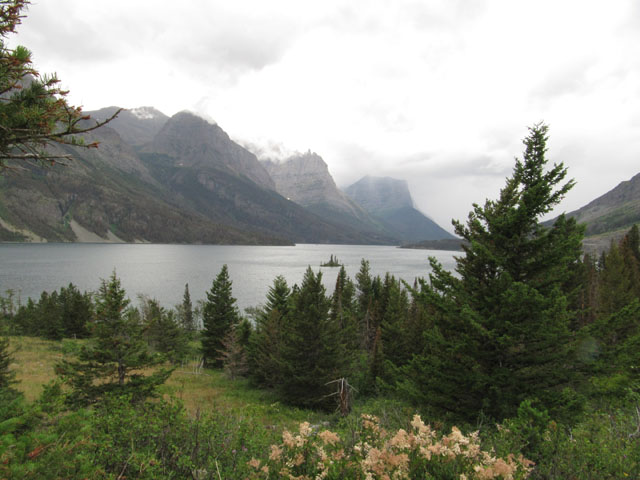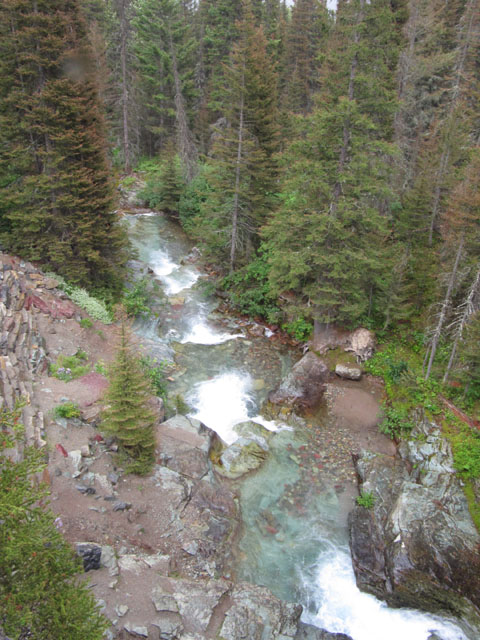 Deep into the park as we climbed over the top of the mountain, we were met with a lot of standing traffic, caused by the roadworks that ran almost down the entire length of the mountain. With several sections restricted to one-way traffic, we were forced to join the queue and make our way very slowly round the edge of the mountain, getting ever more drenched. Unlike the UK, motorcycles are not permitted to "filter" (or lane-split as the Americans call it), so we couldn't even pick off the queues and get down any quicker. Several sections of the road were very rough, muddy and coated in gravel, a great combination when pouring with rain, but we didn't have any real problems and eventually emerged into the forested valley below, where we pulled off the road to get a coffee and use the facilities. The road over the mountain is called the "Going to the Sun Road", which I thought rather ironic, so bought a sticker for my bike to remind me...
After the coffee and a quick chat to Nick's wife (hello!) we rode back into the downpour and made our way to the motel in Bigfork. Almost as soon as we arrived, the rain eased and then stopped. Typical...
Showered and ready for the evening's "welcome to the USA" drinks, I was quietly updating the blog and looking at the maps when Richard asked if I wanted to join the early scouting party going in search of beer. Naturally, I thought about this long and hard, and so a few seconds later we were walking down the road and across the bridge into Bigfork. After walking round town and soaking up the sunshine (yes, it was now sunny...), we found a likely-looking bar and went inside, then outside in the back-yard, where we ordered several pitchers of beer and set to work. The rest of the group arrived soon after, and more pitchers were ordered and a toast to our arrival in the US made. Just as we were settling down to a few quiet drinks, the peace was interrupted by a group of 30 or so women, all dressed up in pink with pink lips stuck of and making a lot of noise.. At first, we thought it was a hen party, but it turns out it was an annual celebration of summer, coinciding with one of the lady's birthdays. Every year they hire a bus and driver and set off round the lake, drinking a lot, and then hit various bars in and around Bigfork and the surrounding towns. It should come as no surprise that they picked on Nick (or was it the other way round?), and dressed him up like them...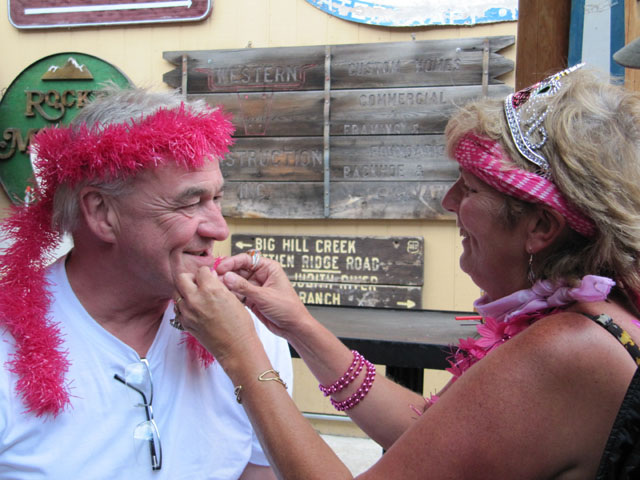 But the best bit was the spoons. Yes, this group of nutters also had in their midst a genuine spoon-playing genius. She got on the tables and started playing, then bashed the spoons against anything and anyone, all the time making "music" (all things are relative...). She even had a go at teaching Nick how to play...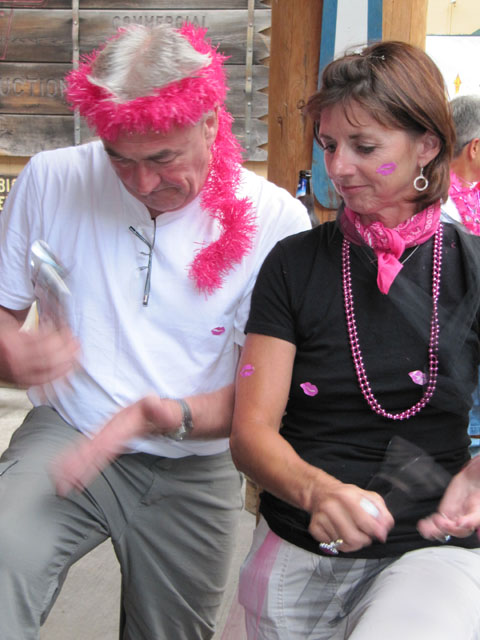 Then there was a call from one of them, and in a flash they were all gone, back to the bus and on to another hostelry...
After a few more beers Richard, Karen, Max, Christine, Chris, Andrew and I headed off to a restaurant Christine had found that looked good, determined to avoid another night of burgers. And what a restaurant it turned out to be. Called "Showthyme" it was excellent, the food was simply the best we've had on the trip so far. I had shrimp, lobster and scallop quesadillas followed by Patagonian toothfish served with a crispy topping and Thai red curry sauce, then a chocolate cheesecake for dessert... Have I said it was delicious? It's making me salivate just thinking about it...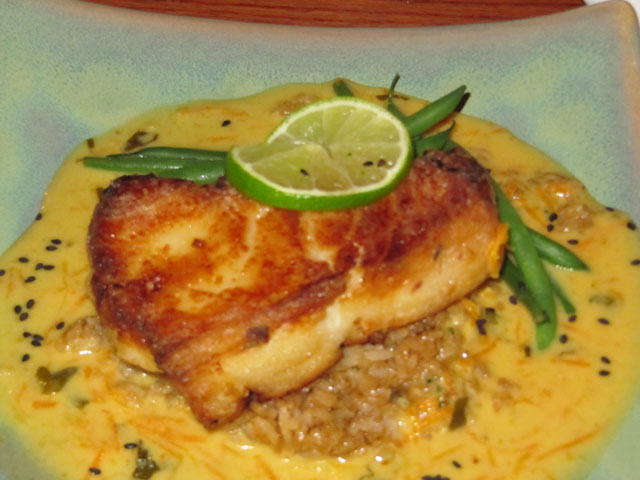 Contented, and with our bellies full, we waddled back out of town and up the hill (much steeper on the way back than we remembered) to the hotel, and our beds.
Tuesday, 11 August 2009
Big Trucks, Wind and Head Smashed In...
First things first, Andrew turned up around 11pm, having had a few problems during the day, including losing his camelbak rucksack containing a number of personal items and riding an extra 100 miles trying to find it (unsuccessfully). But at least he's here, back with the group again.
Apart from that sunny news, the day dawned dark and raining again, but my mood was a bit lighter for a good night's sleep. Breakfast was arranged at the local golf course, so we all rode to it in convoy, then enjoyed the buffet whilst dripping on the carpet. Nick and I decided to ride together again, and we were ready quickly so I led out of the car park and back onto the highway for once ahead of the main group. With Chris and Danielle also joining us we rode briskly through the rain towards the sunshine we could see in the distance. The rain cleared just as we found the first coffee stop, and as it was also warming up things were definitely on the up. We grabbed some water to fill our camelbaks and resumed the ride. With the rain now over all we had to contend with was the wind, which was getting stronger the further into Alberta we travelled. It didn't stop us from making good progress, though, the roads lending themselves to a steady 75 mph. The traffic was also light, with only the occasional vehicle requiring an overtake, the job made so much easier by the long straights connecting the curves.
As we got further from Jasper the landscape changed again, the mountains dropping away and leaving wide expanses of fields covering the entire horizon. That just meant that the wind could pick up pace, and it did, necessitating us riding with the bikes on a constant lean. After 160 miles we stopped at a small town called Sparwood, the site of the World's Biggest Truck (actually, Sparwood is in British Columbia, so we must have crossed the territory border several times during the day). This huge beast was designed in London in 1968 and built in 1974 when it was put to work in the Eagle Mountain Mine in southern California, before being used at Sparwood to move earth from the open cast coal mine. It is simply huge. Powered by a 16 cylinder 169 litre 2-stroke engine, which in turn powers and electric drive system, it weighs 236 tonnes unladen and 553 tonnes when loaded, and stands 22'7" tall with the load-bed in the down position... It makes Nick's 1200 adventure look positively tiny...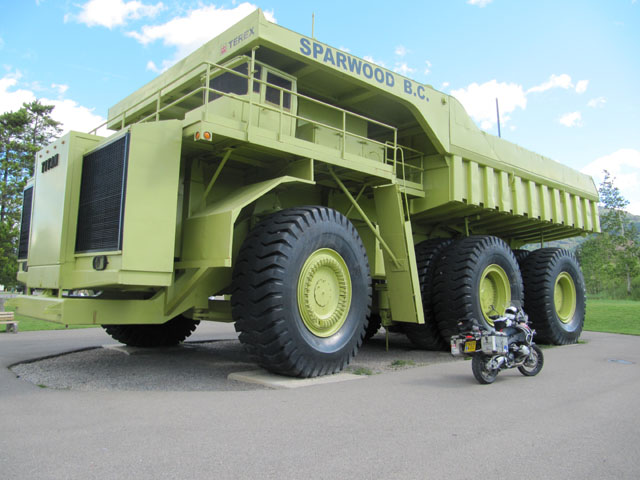 Riding on again with the constant wind, we rode over Crow's Nest Pass and past Frank's Slide, a massive jumble of rocks either side of the road marking the spot where on April 29th 1903 a massive landslide buried the mining town of Frank under 74 million tonnes of rock from the nearby Turtle Mountain. From there we battled the wind to Head Smashed In Buffalo Jump, an old Indian buffalo hunting ground that now features a very informative "interactive center". Here we watched a short film explaining the history of the area, which is where the Blackfoot Indians used to herd the buffalo down special "lanes" marked with cairns and twigs, and then cause them to stampede off the cliff edge, where they could subsequently be butchered. The name "Head Smashed In" was given to the area when a young Indian, keen to get a good view of the hunt, hid in a ledge underneath the cliff edge, so he could watch the buffalo falling as if from behind a waterfall. Only the hunt that year was very successful, so much so that the animals piled up below and buried him. When he was found he was dead, his head smashed in...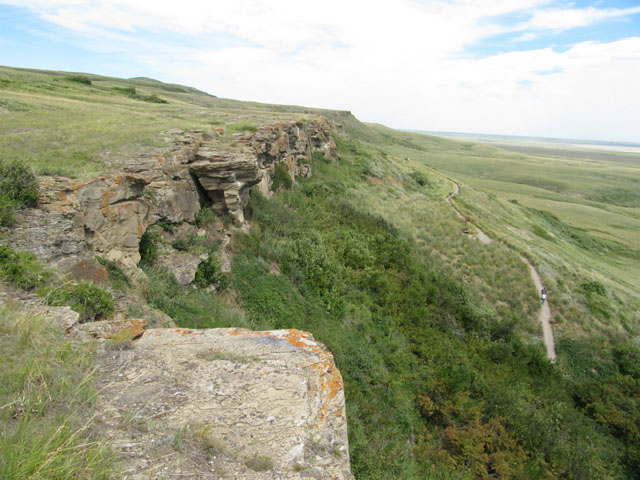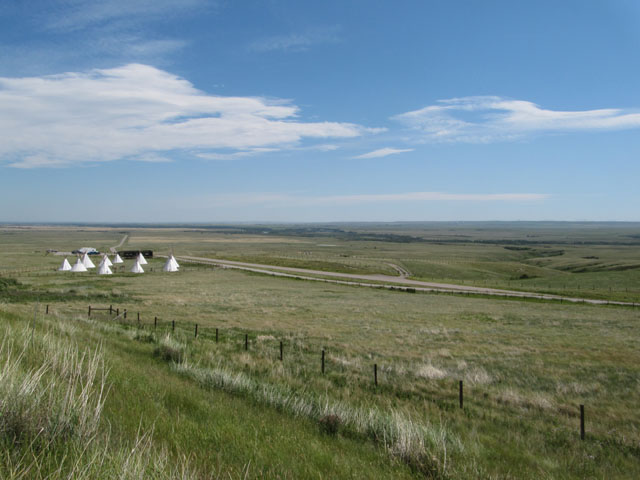 Before leaving Head Smashed In, I put my reserve fuel from the 2l bottle I carry in my tank, as the fuel warning light had come on. Now we had to try and get to the nearest gas station before I ran out completely. With the wind so strong, my fuel consumption had risen dramatically, and as luck would have it, I ran out before we got to the gas station. Nick took the bottle and rode away, returning just a few minutes later having filled it up at the gas station 500 yards down the road...
When I got to the gas station, I asked the attendant if it was always this windy - "Only 8 days a week" was his reply... With fuel onboard, we continued to battle the wind on the final run to Waterton National Park, dealing with very strong gusts blowing us across the road and making cornering "interesting". The views, though, were simply stunning, rolling green fields leading to distant mountains under a bright blue sky...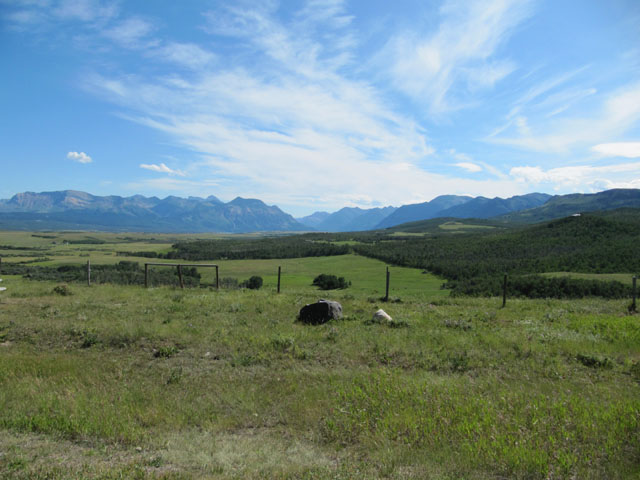 By the time we arrived at the hotel, we were ready for a beer, having battled with the wind for most of the day. But first we had to attend the team meeting, to hear about the process for crossing the US border tomorrow, and plans for tomorrow evening. I grabbed the chance to update the blog before the meeting, and then as soon as it was over we hit the bar, moving to a 2nd bar to eat (Bison Burger and very good) before ending up in a 3rd bar to play pool (and get humiliated by the locals) and bar football (and get humiliated by the locals – where's Ian when you need him?).
Today had been a much better day, my mood lifted by the ride as it so often is. The truck made me laugh, thinking about how much our Mike would have loved it (I've plenty more pictures, Mike, will put them on a Gallery at some stage!). The buffalo jump was interesting, the wind made the ride entertaining, and the evening's fun and games topping the day off nicely. With a late departure in the morning, I should even be able to get a good night's sleep again...
Monday, 10 August 2009
Dark skies and dark moods...
The hour we lost when we entered British Columbia and "Mountain Time" seems to have had an adverse effect on my sleeping patterns, as this morning I woke at 7.25am, once again not having heard Jim get up and go. With breakfast starting at 7.30am, I quickly showered and then went to the breakfast room, where they have, of all things, a kettle. And tea bags. And real milk. And sugar... So I could start the day with a proper brew...
The group then pulled out of Jasper at 9am, heading out the way I'd gone yesterday when hoping to see Mt Edith Cavell. We took the option of heading up the road that leads to the start of the trail, but due to the low cloud it wasn't possible to see the mountain without trekking half-way up the trail (and "up" is the operative word in that sentence) so I made do with the view from the car park, before heading back down and rejoining H93. Next stop was the Athabasca Falls, a waterfall taking freshwater from the Columbia Icefield (not the one I streaked on, another one) to the Arctic Ocean. It was a very impressive sight, the power of the water evident by the sheer volume of noise it made as it cascaded down from the river into the canyon below...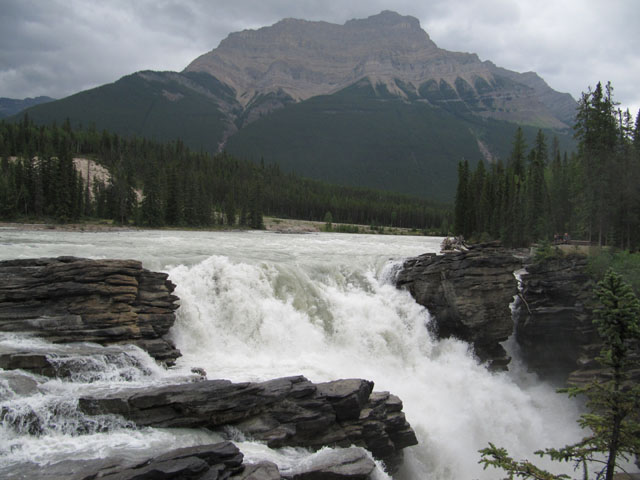 Naturally, I spent some time just wandering round the waterfall, taking endless pictures whilst messing about with the camera settings. But I won't post them here, or you'll get seriously bored. Instead, I'll bore you with more tales from the road...
By now it was starting to rain, and the big dark clouds gathering in the sky matched those that were gathering in my mind. Ever since exchanging emails with Tracy's mum and the conversation with Tracy yesterday, I'd been feeling gloomy, a strong sense of guilt getting hold of me. Guilt at leaving Tracy to face the trials and tribulations of life without me for 5 months (and life has a habit of throwing a lot of those in her way). Guilt at enjoying myself doing something that Tracy and I had both dreamed of doing together, knowing that she can't do it (at least, not by motorcycle, and that's a big factor in the enjoyment). Guilt at leaving everyone back home and doing this selfish thing. My mood continued to darken as the heavens opened, and I donned my rain gear...
Even riding through stunning scenery, only partially obscured by clouds, couldn't lift my mood. I still stopped to take photos of the views from time to time, but less frequently and with less enthusiasm than normal. And what views. It was easy to understand why these mountains are called "The Rockies", as they are just that – huge great hulks of rock, with only their lower slopes tinged with the green of vegetation. As the skies cleared, I managed to get one or two half decent photos...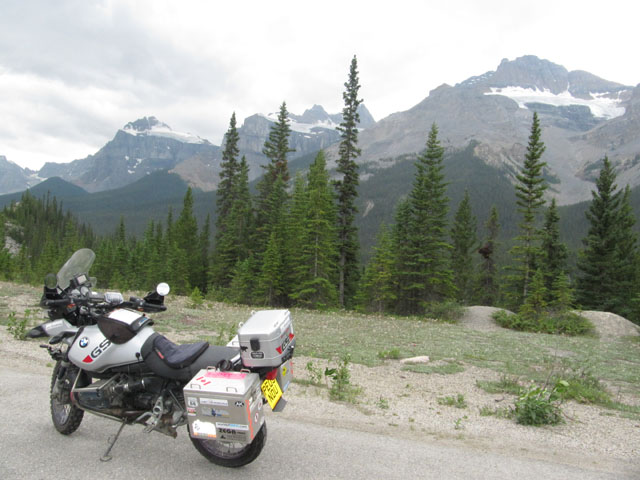 I stopped at Lake Louise for fuel, riding up to the car park that was rammed full of RV's and big 4x4s, then took a short walk to the lake itself, managing to find just enough space on the boardwalk at the lakeside to take a single photo before being crowded out...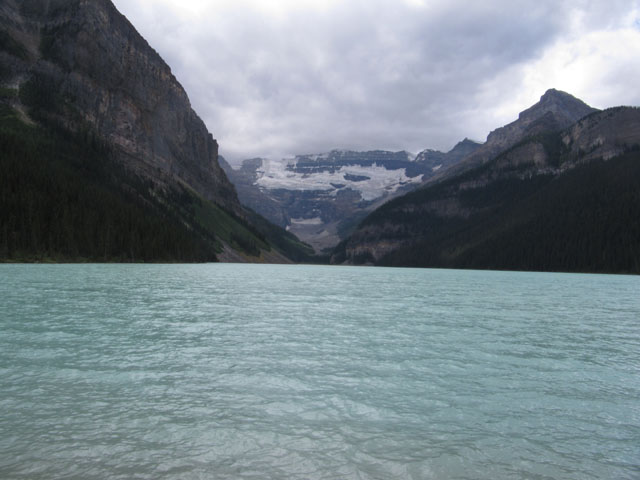 I then met up with Gerald and Andy at the bottom of the lake road, where we had a lovely lunch of cream of vegetable soup and garlic bread. With Andy having some things to attend to, Gerald latched on to me and we rode together on the final leg to Radium Hot Springs. The road was the same as before, long sweeping bends joined with long straights and undulating through the countryside, with forest on either side and very little traffic. Coupled with the heat of the day and the thrum of the bike at a steady 65-70mph, I soon found myself struggling to stay focused, almost dozing and yawning constantly. With just 30 minutes to the hotel, I pulled into a lay-by and explained to Gerald that I was in need of 5 minutes to recharge or I'd be asleep... He was relieved, as he was suffering the same way too, so we got off the bikes and walked around for a bit, before rejoining the road. The last section into Radium Hot Springs dropped downhill in a series of very rapid, well-surfaced bends with great visibility, so recharged we hurtled along, rolling the bikes over into the turns and enjoying the sensation of leaning "reet over"... At a couple of points on the descent were "escape lanes" for lorries that have lost their brakes, but unlike in the UK, when such lanes lead to a "gravel trap" affair designed to slow the lorries down, these simply became tracks leading steeply back up the hillside... I wonder what would happen when the lorry, having run up due to lack of brakes finally comes to a stop up the steep incline... surely, it would simply roll back down to the road again?
Eventually we arrived at the hotel, which looked fantastic with a great flower display along the balcony. It looked even better when most of the bikes had turned up and were parked outside, their riders unpacking panniers and chatting about the day...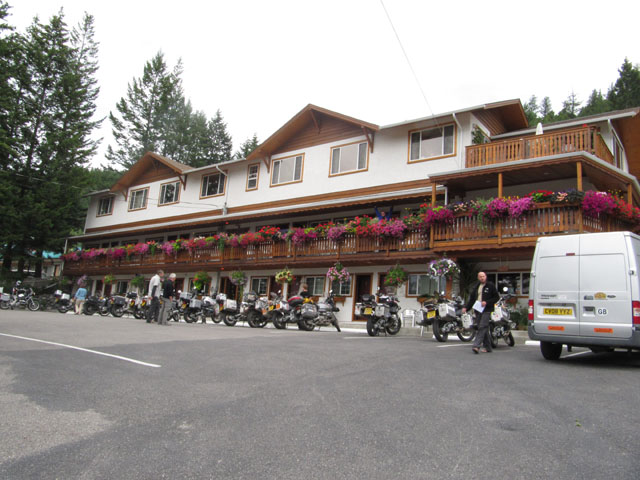 When I was unloaded and showered, a group of us headed off towards "town" to find somewhere to eat. We stopped at the pub initially, but were none-too-impressed so after a couple of beers we walked back to the Italian restaurant we'd seen on the walk in. The food was really good, I had garlic mushrooms followed by Penne Arrabiata, washed down with a bottle of Peroni and a glass of red wine. Nice...
Back at the hotel around 10pm, we discovered that one of our riders, Andrew, was missing. He'd set off from Jasper later than the group, having wanted to go to the Post Office, and still hadn't arrived. Kevin, Julia and Jeff were naturally concerned, but as he'd opted to leave after the group, he was effectively riding behind the support vehicle, and so would have to deal with any problems himself. But they'd not had a phone call or any contact to let them know what was happening, and he should have been back by now...
There was nothing we could do but wait and see if he turned up...
With that also playing on my mind I went to bed, still not feeling in the best of spirits...
Sunday, 9 August 2009
Resting in Jasper...
Today is an official rest day, with nothing planned, so I dug out the maps of Jasper National Park and put together a brief plan of action, including a ride out to Maligne Lake and the canyon of the same name, then a trip up to Mt Edith Cavell before returning to base and heading to the Jasper Brewing Company to sample their wares, before the BBQ (using up the leftovers from yesterday).
With a number of others liking my plan, we set off at just after 9am and rode out of Jasper and up the winding road to Maligne Lake, a road that would have been perfect had it not been for the restrictive 60kph (37mph) speed limit and the fear of getting busted. With me leading a group of 6 other bikes, the responsibility for setting the group's speed was mine, so we crawled along barely touching 45mph, a speed in keeping with the spirit behind the law, which was to prevent speeding traffic mowing down the wildlife, which has a habit of running out of the forest and across the road (apparently, we didn't see anything). At the lake we parked the bikes – once again a lovely sight, only slightly ruined by Jim's Suzuki in the middle of the pack...
The lake itself was beautiful, even on an overcast day like today...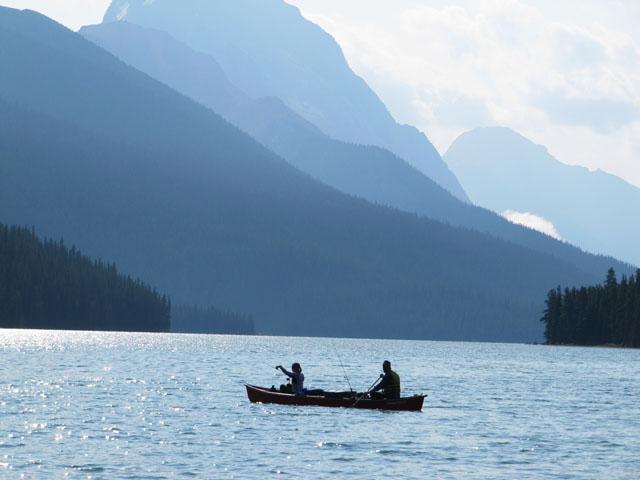 Leaving the lake behind, we rode "every man for himself" on the way to the canyon, so that guys could stop whenever they wanted and take pictures. Inevitably, we all stopped at some of the same spots, the views grabbing our attention as we rode...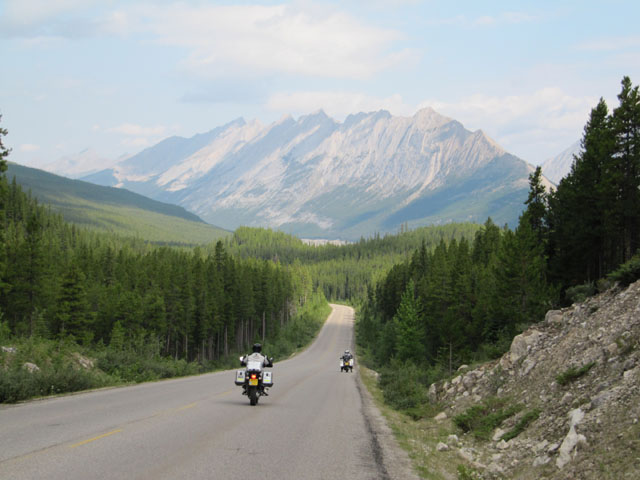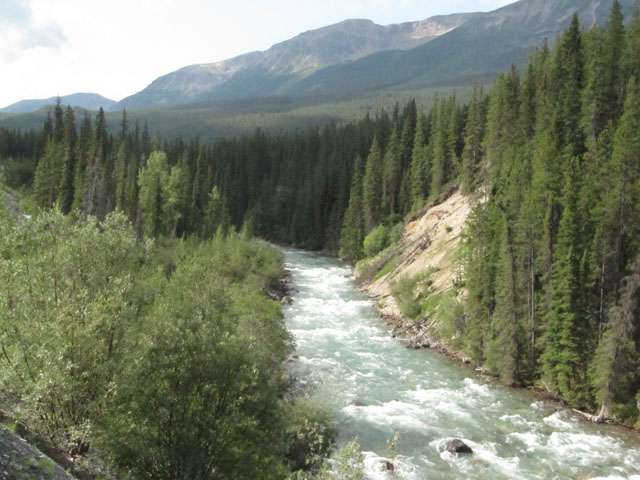 Then, all of a sudden, the bikes stopped, and there were camper-vans and cars all blocking the road. I stopped too, and then quickly realised that everyone was pointing their cameras into the bushes at the roadside, where a small black bear cub was trying to enjoy a peaceful meal. There were people everywhere, young kids and adults, all trying to get closer to this bear, despite all the warnings posted around about bears being dangerous... Still, there was no sign of mummy-bear... perhaps she was busy eating her porridge...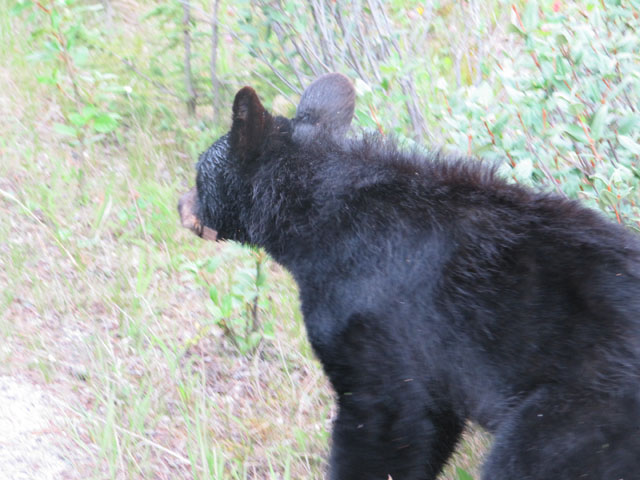 Once we'd managed to get past the bear-instigated traffic-jam, we continued back down the road to the canyon. This is a classic "slot canyon" caused by the Maligne river carving it's way into the rock....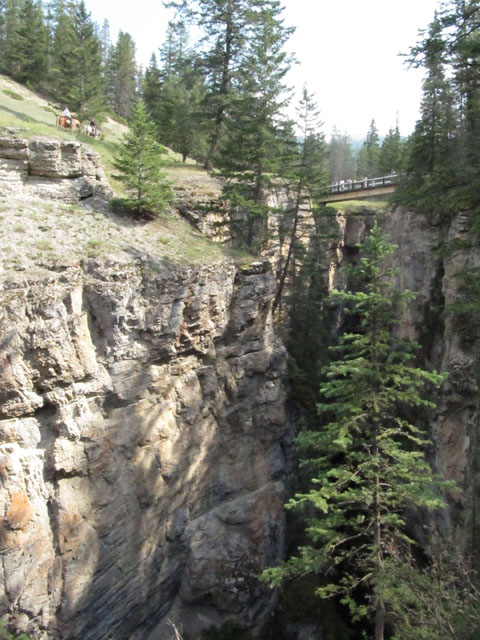 After a coffee in the canyon restaurant we headed back to the hotel, the plan changing as I wanted to try and catch Tracy online and thought that the best time to do so would be before I headed off to Mt Edith Cavell. When I got back I switched on my laptop and connected to the Internet, and there she... wasn't... so I tried skyping (is that a verb?) her mobile and the house phone but no joy. I waited a while and tried again... and again... and eventually she answered her phone, only to explain her PC is broken and so she couldn't get back on Skype. So we spoke over the phone instead...
When we'd finished chatting, I headed back out to have a look at Mt Edith Cavell, a mountain with glacier just outside Jasper. The mountain was named after a British nurse in the First World War, who helped 200 Allied soldiers escape from German-occupied Belgium and was executed for her "crimes". Just on the way out of town, though, I was once again stopped in my tracks by some interesting wildlife at the roadside, this time an Elk (Not "Ann Elk" who has a theory about Brontosauruses in the Monty Python sketch)...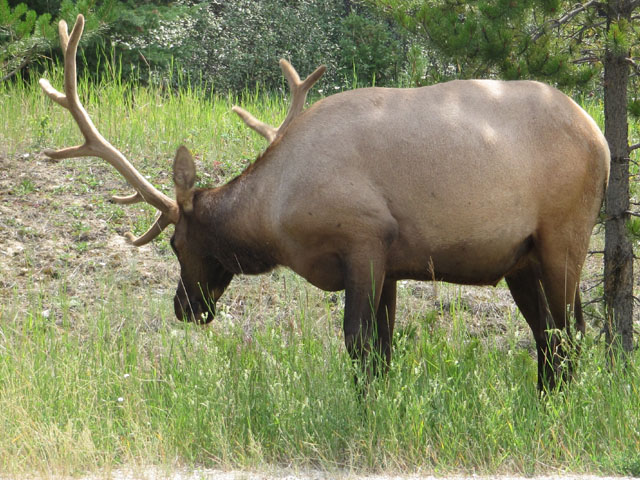 Then when I got out of Jasper town I realised that I'd need to pass the park gate and show the park pass I don't have (Nigel got one covering 3 of us yesterday). So I turned round and went back to the hotel, got changed and went to the Jasper Brewing Company instead. I walked there with Chris, and met Nick and Al on the way, so the 4 of us enjoyed a few beers before staggering back in time for the BBQ. The BBQ itself was more sedate than the previous evening, probably due to a reduce alcohol availability, but featured some really fresh fish – trout caught by Kenny and Mac and expertly cooked by Jeff – delicious...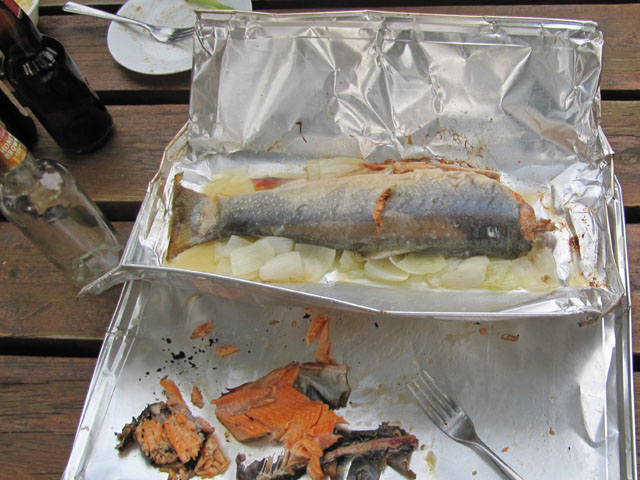 The wildlife excitement hadn't finished for the day, either, as there, in the wooded area at the back of our room, was a deer... friendly enough to get round the back and get a photo showing our room in the background...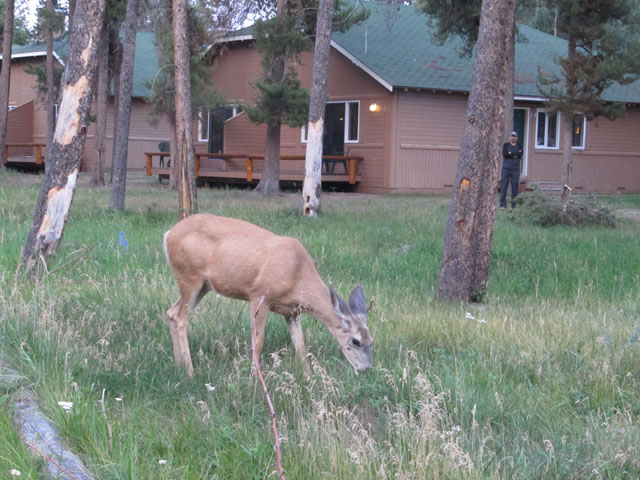 And after all that excitement, it was time for bed...
Saturday, 8 August 2009
Introducing the Prat Hat...
Woke up late-ish and had breakfast at Denny's next door, which was fine, apart from having to send the water for my tea back as it was cold enough for me to dangle my finger in rather than hot enough to brew tea... I agreed with Nick that we'd leave later than the van, at 10am (van leaving at 9am) so that I could catch Tracy online, so I could find out how she got on with the consultant, Mr Ross. Nick fancied a relaxing start, and as we only have 230miles to do, it would be no hardship. So I returned to the room and my laptop and updated the blog whilst constantly switching into Skype and MSN to see if Tracy was online, but she wasn't. I knew she'd have to drive down to Haverhill to take the boys home, and surmised that she was probably travelling. So I called her mobile via skype and left a message on her voicemail, then packed the bike and off we went.
Riding out of Prince George was a different experience, as we'd not been in a town since leaving Anchorage. At first we got stuck at the traffic lights, which seemed to ignore the presence of motorcycles, and refused to go to green, whilst all the other lanes had their turn. Twice. So we gave up and went straight on and then u-turned to come back again. Finally out of Prince George and onto the highway we could pick up the pace a little and get into the groove. Only I couldn't. My mind was elsewhere, distracted by thoughts of Tracy and her discussions with Mr Ross, and my lines through the corners were not as smooth as usual. Hope Nick, following, didn't mind too much. The sky was as overcast as my mood, with a few very dark grey clouds threatening rain. It started shortly after we left joined the highway and so I pulled over to don my rain jacket, and then it stopped and the sun came out. Looks like it was going to be one of those days...
After a hundred miles or so, we stopped and removed the rain gear, once again being accosted by complete strangers eager to discuss our travel plans. Extracting ourselves from the paparazzi and rejoining the highway the sun shining and the scenery beautiful, my mood started to lift a little, and my riding improved. Eventually we arrived at the Mt Robson view point, where a few of the others were waiting to form groups of 7 in order to reduce the cost of entering the Jasper National Park. Now we were there, the rest could leave and we'd form a 3 with Nigel, so they got ready to go. Then Julia started asking who had stolen her bike keys. She'd put them in the ignition and then gone to get her gear on, only to return to the bike to find the keys gone. Now there is a rule on a Globebusters trip that if you leave your gloves or anything removable on your bike, it will be taken (to teach you not to, as things will go missing in Latin America) so this was a reasonable assumption. Only none of our group had taken them. With panic setting in, I noticed that Nigel's keys were in his bike (and he was away on the phone some distance from the bikes) which didn't seem normal, and also recognised the key ring as Julia's... She'd put the keys in the wrong bike!
When they'd gone, and Jeff had made us a cup of tea in the van (much better than the cup I had for breakfast), I borrowed Nick's phone card and rang Tracy, first on her mobile and then on her mum's landline. Whilst the news from her visit to Mr Ross was not good (a whole other story, and one she should tell herself), it was lovely to hear her voice, and she sounded upbeat. Hope she wasn't just putting it on for my benefit...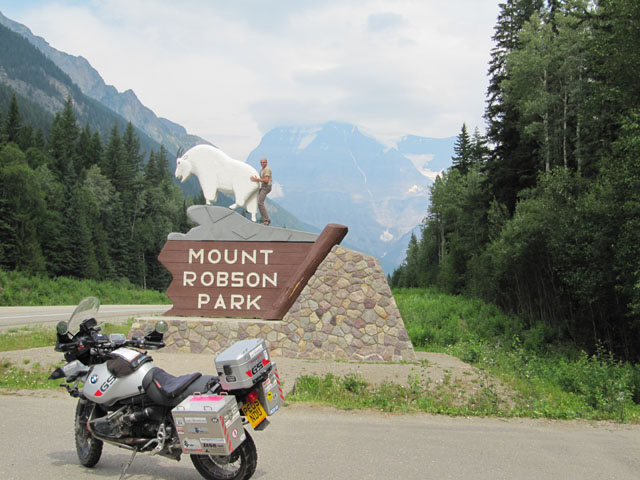 Then with Nigel leading we left and rode past Mt Robson, the highest mountain in the Canadian Rockies (3954m) and into Jasper National Park. We rode through Jasper town, filling up with fuel, and then on to the Bear Hill Lodges, where we're staying, Jim and I sharing a large lodge with its own kitchen and living area... very nice...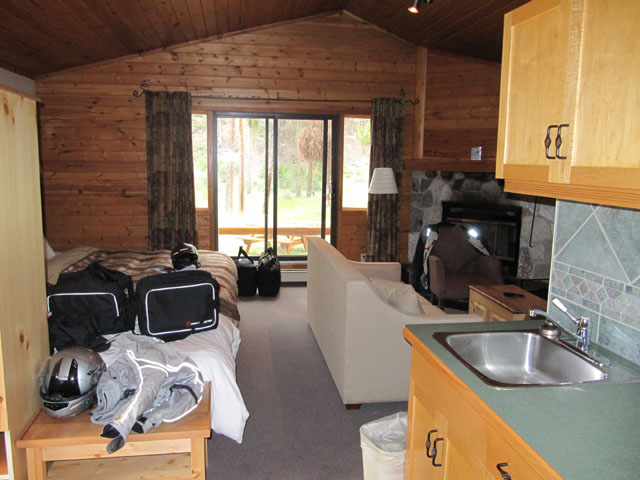 I got changed and went for a wander round town, before returning for the weekly Globebusters meal, this time a BBQ, cooked by Kevin and Jeff and with more meat, salad, cheese and nibbles than a group our size could possibly eat...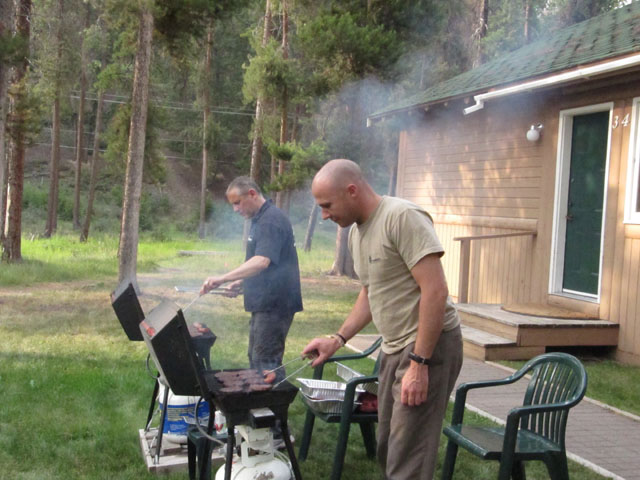 With the BBQ underway, it was time for the first "Prat Hat" nominations...
Let me explain... "Prat Hat" is a Globebusters tradition from previous trips and works like this. Once a week, each member of the team is asked to nominate their "prat of the week" for the daftest thing, and then there is a short-list compiled of the best nominations, which are then asked to defend themselves, before a "vote" in the form of a "clapometer" decides the "winner". They are then required to wear the "Prat Hat" for any full team gatherings (including meals out, border crossings, etc). Chris had supplied and excellent "Prat Hat" for the occasion, a genuine Scottish "See you Jimmy" hat...
The nominations included Chris himself for washing his passport, Julia for the afore-mentioned keys incident, and Al, who last night had offered Karen the advice that she should cut down on the mayonnaise in order to avoid "MORE cellulite" and Julia the advice that she should consider having her long hair cut shorter because "older women look better with shorter hair"...
It was a close call until the nominees started defending themselves, and Al continued in much the same vein, the women in the group throwing nuts at him... perhaps he should have quit whilst just behind... the vote was almost unanimous, and Al got to wear a silly hat for the 2nd day running... I think he likes it, really...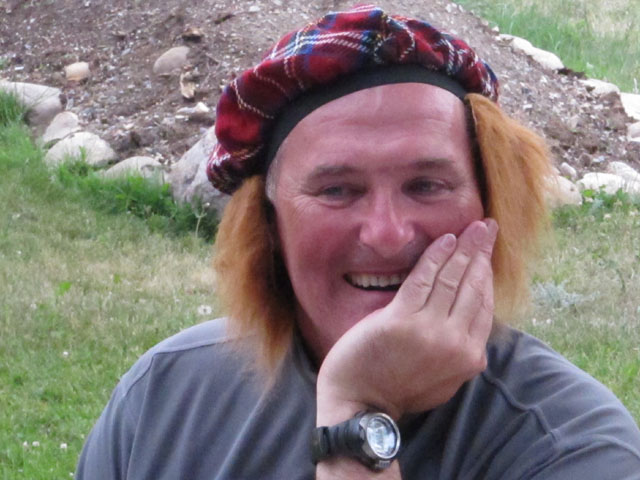 Now we'll all be watching each other very carefully, looking for excuses to nominate each other, and trying desperately to avoid getting the "Prat Hat"...
Friday, 7 August 2009
Long riding day... Long drinking evening...
Slept like a log and woke from a deep dream involving some sort of birthday party, a pile of cakes in boxes and a broken cat bowl (make of that what you will, Dr Freud!), in a blind panic at 6.25am when we have to be assembled for breakfast with bikes loaded at 6.50... So quickly showered and packed (I'd left everything out last night as I intended getting up early and sorting the blog), and was on time for the roll round the corner to the Prince Edward Hotel where we were due to have breakfast. This was rather than try and get everyone fed quickly in the toaster museum, where there was only one poor young chap trying to take all the orders, cook the food and serve it. It turned out to be the best breakfast of the trip by far, the "Campfire Special" with fresh eggs (over easy), sausages and baked beans. I also asked for a jug of ice cold water, and while the waitress was not looking filled up my camelbak – then to her surprise, asked for another ("I'm really thirsty").
By the time I'd eaten most of the group had already left, the table I shared with Nigel, Andrew and Jeff being the last to get served. Nigel pulled out whilst I was still getting ready, so I set off in hot pursuit, with 430 miles in which to catch him. The roads here lend themselves to cruising at 80-85mph, with sweeping curves and constant undulations to keep the boredom at bay. With the MP3 player on again (first time since Fairbanks) and set to random (one minute Black Sabbath, the next Thea Gilmore...), I settled in for a long day in the saddle.
Just before Meziadin Junction, where we would turn onto Highway 37, I saw a wolf wandering down the road. At first I thought it was a dog, but as I got closer I could tell it wasn't, it's long snout and staring eyes, coupled with the fact that it was in the middle of nowhere, giving the game away. Cool. Then, within 10 miles of turning onto Highway 37 I had to hit the brakes fairly hard, as a mother bear and her 2 cubs emerged from the bushes on the left and sauntered across the road in front of me. I hit the "record" button on my bike-cam as quickly as I could, but not only was I too late to catch the bears, the lens was filthy from yesterday's ride on the gravel road to fish creek...
Even after 130 miles of fairly progressive riding, there was no sight of Nigel or the others. I reasoned that with such a long ride, they were all pressing on, and so I dropped my pace a little to conserve fuel (the warning light had come on some time ago, and the first gas station was at 137 miles). At Kitwanga, I pulled into the village to take a look at the Totem Poles, and caught up with a few of the others who were there taking pictures (no sign of Nigel, though, he was really pressing on).
From Kitwanga, we refuelled then turned off the Stewart-Cassiar Highway (H37, a road that easily makes it into my top-10 all-time best biking roads) and onto Highway 16 towards Prince George. It was around now that I noticed a change in both the traffic density (now there were other vehicles on the road, I'd hardly seen any on H37) and scenery. The landscape changed from forest to woods, with fields interspersed here and there, small settlements of wooden houses surrounded by the inevitable graveyards of rusting cars (they seem to be everywhere, as though when the cars break down, they're just left where they stop to rot). The fields were full of large rolls of hay, drying in the sunshine. Gradually the landscape changed again, as the houses became more cared-for, the rusting cars disappeared and made way for shiny new ones, and the area started to look significantly more affluent. I caught a glimpse of a group of riders parked up and stopped to see what was going on – they were watching some guys down by the fast-moving river fishing with huge nets, hauling great big fish out seemingly at will.
With time pressing on, I hit the road again, riding for another hour or so before stopping to eat lunch (an apple and fruit bar collected from the van that morning). No sooner had I stopped than the "minor celebrity status" thing kicked in... Whenever we've stopped, anywhere, from Anchorage to here, someone has come up and started to talk to us about where we're from, where we're heading and then looked aghast when we've told them. It seems it's impossible to travel by motorcycle without making contact (I noticed it was just the bikers that got this treatment, a young woman obviously travelling and alone was parked in a van next to me, got out and took her lunch to the picnic table, and no-one spoke to her at all). The guy that engaged me in conversation had a son that rides a bike and that was reason enough for him to speak to me, and we chatted for a while whilst I ate my lunch, and then we parted company and carried on with our journeys. I'm going to miss this "minor celebrity status" thing when we get to Mexico and from them on can't speak the language so will be unable to chat with complete strangers...
With the traffic now getting denser (think one car or lorry every mile or so...) I got plenty of over-taking practice, especially as I was stopping fairly frequently to chill out, the back of the journey broken by lunchtime. At one rest stop, I managed to get a photo of the "rich man's RV" (by the way, RV stands for Recreational Vehicle, in case you didn't know).... this one is not the biggest I've seen, but like so many is towing the 4x4 behind it... and yes, that's a large Toyota Landcruiser...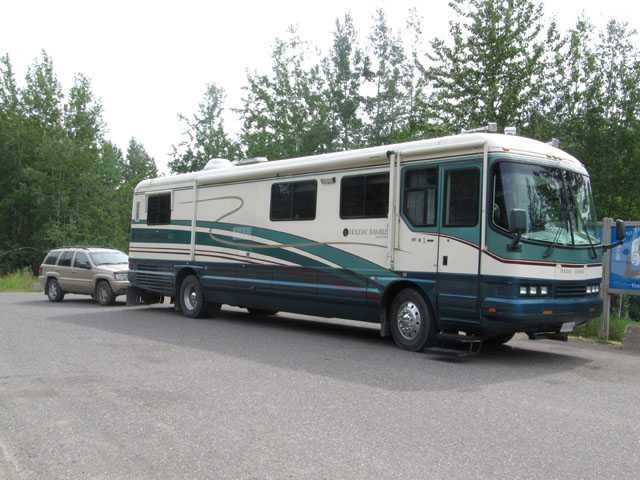 One such rest stop was by a river and there was a plaque on a cairn commemorating the anniversary of the naming of the place in 1913. It was called "Tinagel" after the town of the same name in Cornwall (England), and the centre stone of the cairn was once part of the Norman walls of Tintagel, Cornwall, the alleged birthplace of King Arthur. Strange how this was placed in a small lay-by by the side of the highway...
Finally I arrived at the outskirts of Prince George, where I spied a Wal*Mart – and so went on the hunt for a beard trimmer. And found one, so now I have no excuse for looking like grizzly adams. Then I found the Sandman Hotel and checked in, choosing the best bed as I'd arrived before Jim, showered and went in search of beer. Which I found at Moxie's, a bar just a block away, where all the waitresses were models in little black dresses which highlighted their long legs. Sat around a high table with most of the group, it was like watching tennis as heads turned this was and that, soaking up the "eye candy". It was strange being back in a city again... As it was Al's birthday, we naturally had to celebrate, and so we did. We also ate, I opted for the spicy prawn noodles which were delicious, but mostly we drank beer. Rather a lot of it. We also bought Al a special birthday drink, called a "Mexican Bulldog" although none of us have ever seen a bulldog in Mexico. Al seemed to enjoy it, though (not he was still wearing his birthday hat)...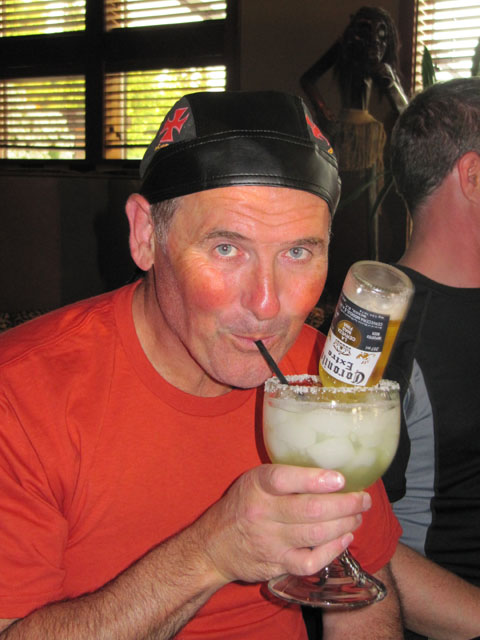 Eventually we left the bar and staggered back to the hotel and our beds, the end of the first long riding day over with...
Thursday, 6 August 2009
Bare necessities...
Today is a rest day, so I had a lie in and got up at 7.30, then showered and ate breakfast in the hotel's "toaster museum cum café" (yes, it really was a museum to toasters, but at that time in the morning, I couldn't be bothered to take pictures). I then went back to my room and wrote the blog, before going back out the front of the hotel to connect to the one working Internet connection and upload it. I planned to stay online all morning, to give me the best chance of catching Tracy online. Whilst I did so, I also took the opportunity of some down-time to spend time cleaning the bike, checking it over carefully and generally showing it some TLC. If you've ever read "Zen and the Art of Motorcycle Maintenance" then this will make complete sense. If not, then just put it down to signs of oncoming senility. It was really therapeutic, seeing the gleaming silver reappear from under layers of dead bugs and grime. She also needed a little oil too, having covered 3,000 miles or so since arriving in Anchorage. With me checking the internet every few minutes to see if Tracy had come online, the cleaning took longer than it would at home, and the end result was nowhere near as impressive, as removing all the dirt with just a bucket of luke warm water and a sponge was impossible.
With the bike done, and still no sign of Tracy coming online, I broke out my book and sat in the sun reading a page, then checking the internet again, then repeating the process. This went on for several hours, until my stomach was rumbling and the other guys were asking if I was contemplating eating. Tracy did appear to be online at one point, and finally responded to my MSN Messenger posts only to explain that the Internet at home was not working and she was having to use her phone. So no Skype, and no happy smiling face; just a few short text-like message exchanges. Still, it was better than nothing.
One thing we should have been doing today was riding up to see the Salmon Glacier, but unfortunately the road got washed away 2 weeks ago, and wouldn't be open again for another few weeks. There was a tourist bus that was taking people up to see the glacier for $45, but it involved spending 3 hours in a bus, and I just didn't fancy that. Over breakfast a few of us had arranged with Jeff to try and sort out a helicopter flight to the glacier, and as a result there were 16 of us going in 4 lots of 4 up to the Cambrian Icefield for $100 each. Much better value. At 3.45 we wandered down to the far end of town to meet up with the helicopter pilot, who took our money and made us sign a waiver form, then gave us a safety briefing. As there were so many of us, we arranged for him to fly the groups up in relays – taking the first group up and leaving them on the icefield before fetching the 2nd group up, then bringing the 1st group down and so on. Normally, passengers get to walk on the ice, but with the helicopter waiting to take them down again, which wouldn't have been half as much fun...
I was lucky enough to go in the 1st group, with Aaron, Nick and Nigel, and we clambered into the tiny helicopter and strapped ourselves in. Then we were off, flying up the valley before climbing and rising steeply up the cascading river, the forest dropping away below us in spectacular fashion, as we followed the path of the river right up to the glacier head, past an old mining settlement perched precariously on one of the high ridges. The views from the bubble windows were beautiful (so much so that the pictures didn't turn out very good, dammit!), and then all of a sudden we were flying over the cascading ice of the glacier, with great big dark blue crevasses slashed into the ice.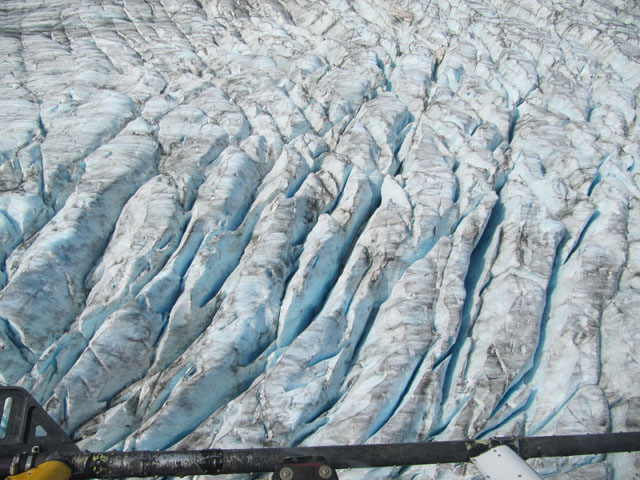 Soon we were flying over pristine snow, blown into ridges like sand on beach by the winds and completely devoid of any human (or animal) marks. Gently the helicopter touched down and we clambered out onto the fresh snow, our feet sinking in slightly as we moved to a safe distance, and then the helicopter took off, leaving us stranded in eerie silence in this most beautiful of settings. It seemed only appropriate to celebrate this remarkable place by stripping off and dancing round like a loon, whooping with sheer exhilaration. So I did...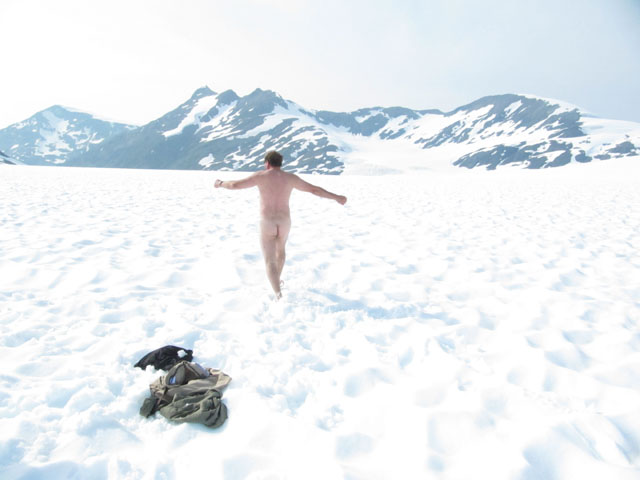 I promise I won't keep posting pictures of me naked on the blog, but this was one of those moments when my inner child just screamed at me to go for it, to dance naked on a glacier in the sunshine. Aaron, Nick and Nigel had the good grace to simply laugh at me. Feel free to do the same...
Dressed again (and with life returning to my frozen feet), we stood around in amazement taking photo after photo. It was a stunningly beautiful place to be.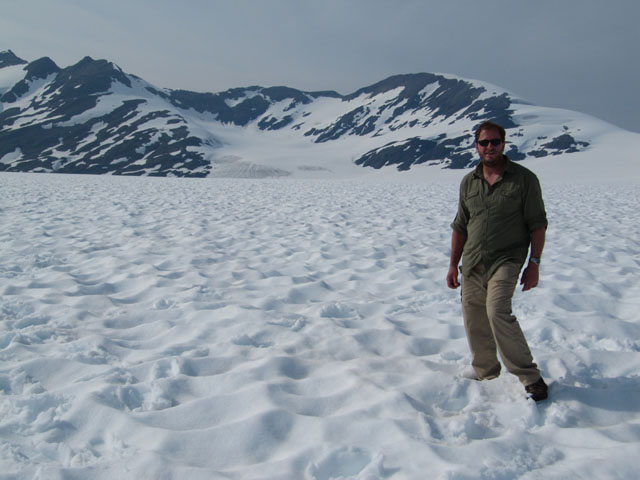 Sadly it had to end sometime, and after we'd been there for about 15 minutes, the helicopter returned and deposited another group on the ice, and we clambered aboard for the journey back down.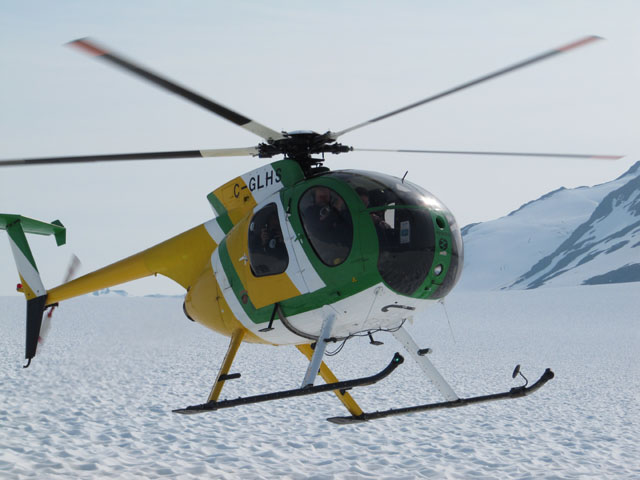 The journey down was much more spectacular than the journey up, as the pilot took us skimming over the icefield and then right out over the mountain plateau, the sight of another small abandoned mining settlement, and then right over the final ridge with a huge drop-off down to the glacier below. At that point I remembered I was scared of heights, and think I may have said an expletive of two... Being sat in the front and by the window, I had a great view right down as the world dropped away from us, and I was left seemingly dangling my feet a few hundred feet above a glacier below...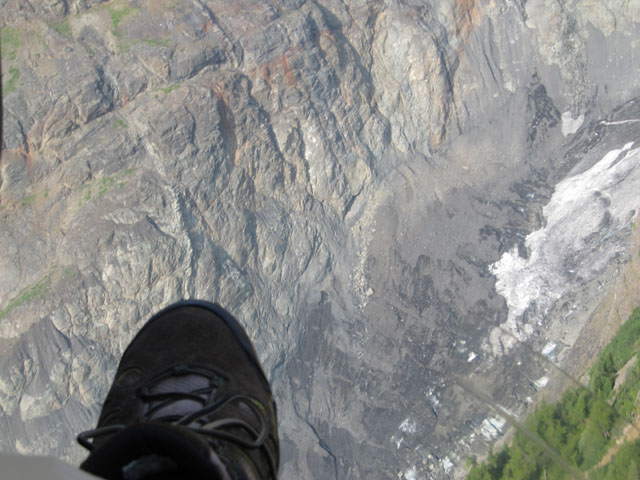 The rest of the flight was just as wonderful, as we skimmed the tree-tops and dropped the 4,000ft or so in seconds, causing our ears to hurt. We touched down safely and climbed out of the helicopter beaming like kids with money in a tuck shop, and handed over to the next group for their turn. What a brilliant experience...
Back at the hotel it was time for our "team briefing" as tomorrow is long riding day (over 400 miles) and we also needed to celebrate Edwin's birthday (today) and Al's for tomorrow. A tradition on Globebusters trips is that those with birthdays are bought something to wear in keeping with the country we're in, and in Ed & Al's case, this was a natty little "Harley skull cap" made from vinyl with flame logo (Ed) and maltese cross (Al). They now have to wear these for a full day, including the evening meal...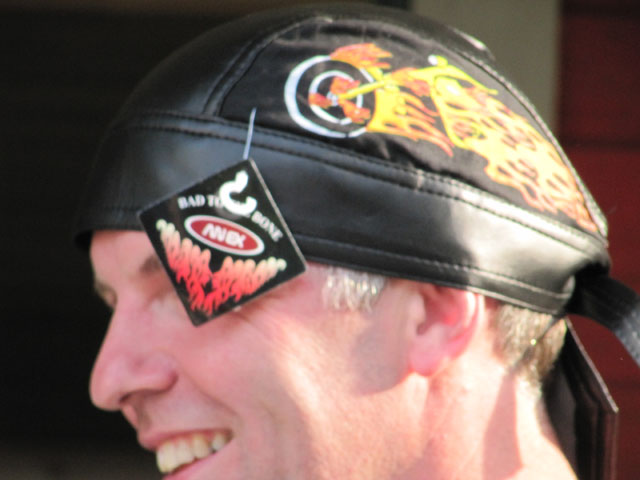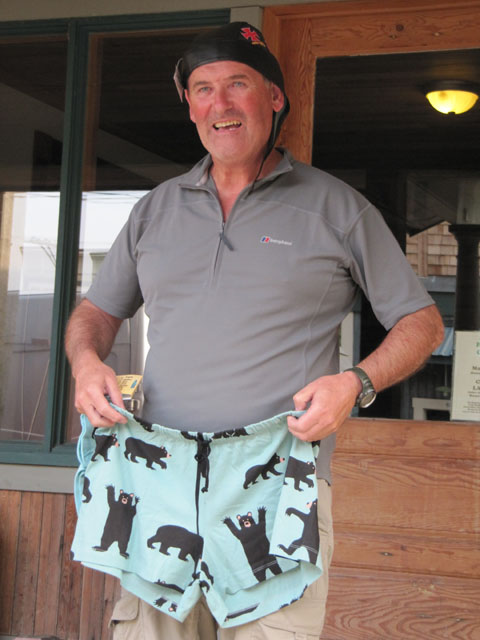 They also got some sensible presents, including a baseball cap and tee-shirt, and some lovely matching boxer shorts and socks with bears on...
Which reminded Nigel, Andy and I that we wanted to head back up to fish creek to try and see some bears eating salmon. So we rode back across the border into Alaska once more and took up camp on the walkway, watching the salmon spawn and chatting. After about an hour, Aaron turned up, followed by Kenny, who started to talk to us and then said "And here he is now" and a bear emerged from the bushes to our left, walked down and across the stream, grabbed a salmon and disappeared again in the bushes further down to enjoy his meal. Cool...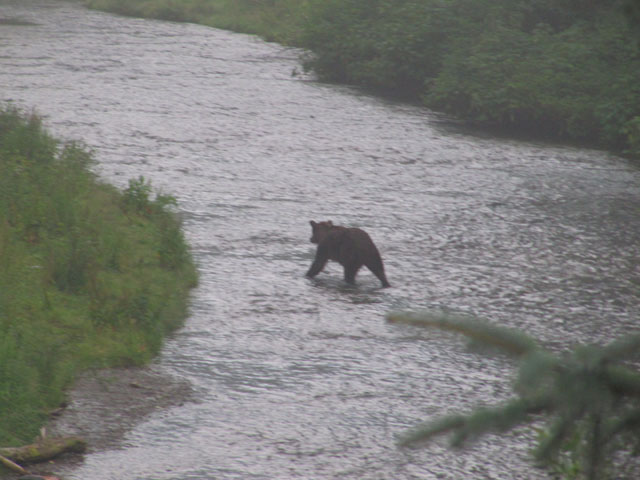 We wandered a bit further down the walkway to see if he would come back out, and after a few minutes, he did. He then walked towards us, scaring the salmon who frantically splashed about like a shoal of piranha trying to get out of his way. But this was a hungry bear, and he was going to have fresh salmon for tea. So he jumped up and with an enormous splash caught on, pulled it out and bit right through it. He was so close we could hear the crushing of bones as he sank his teeth in...
With the fish in his jaws he sauntered over to the far bank, turned his back on us and ate. It must have taken him a good ten minutes to finish the fish, and every now and then he'd turn round to look up to the huge crowd on the walkway across the stream, watching him and taking pictures (I have plenty more, but don't want to clog the blog up with them). Then, as a final encore, he answered that question that always seems to crop up when bears are mentioned...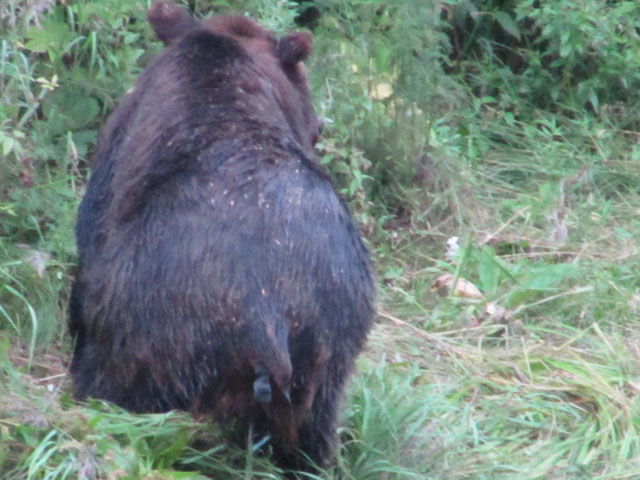 And so with our "bear necessities" taken care of, we headed back to the hotel and our beds...
Wednesday, 5 August 2009
More bear hunting...
With today being a short day (only 100 miles to Stewart), there was no rush to get up, and I slept soundly until around 7.30am, then showered and ate breakfast. With a departure time of "around 10", I also had time to start work on yesterday's blog, despite the lack of Internet connection. As a result, I was last to leave just after 10, but with the sun shining and the road offering a few more curves I was quickly into the groove and passing riders who'd left earlier and were taking their time. My reasoning being that as long as I didn't get ahead of Kevin and the lead group, I wouldn't arrive too early anyway, so I might as well enjoy the ride.
The scenery continued to be as beautiful as yesterday, and coupled with clear skies, once again resulted in a number of stops to take photographs, although I'm now trying to ration myself to only the most picturesque of views, for fear that when I finally get home I'll have so many pictures to share that I'll be giving slide-shows for months...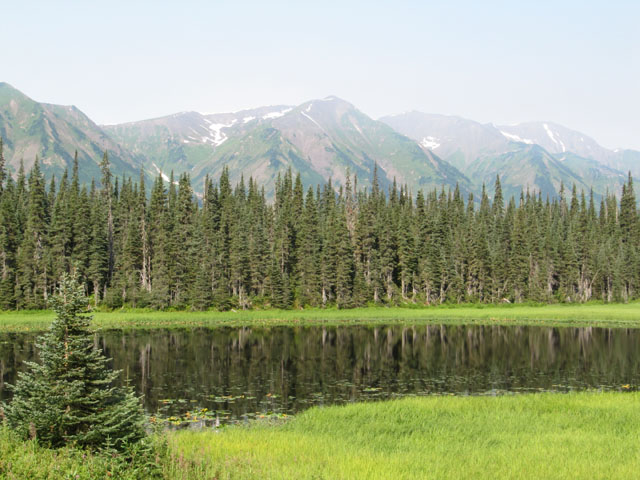 As the road wound its way towards the mountains, signs appeared warning drivers of the need for snow chains. There was even a little lay-by set aside for drivers to use to fit them, complete with a sign offering advice on which axles/tyres they should be fitted to. I stopped, but as motorcycles were not covered on the sign, continued without fitting them (which would have been difficult anyway, as Touratech don't sell them, so I don't have any with me...).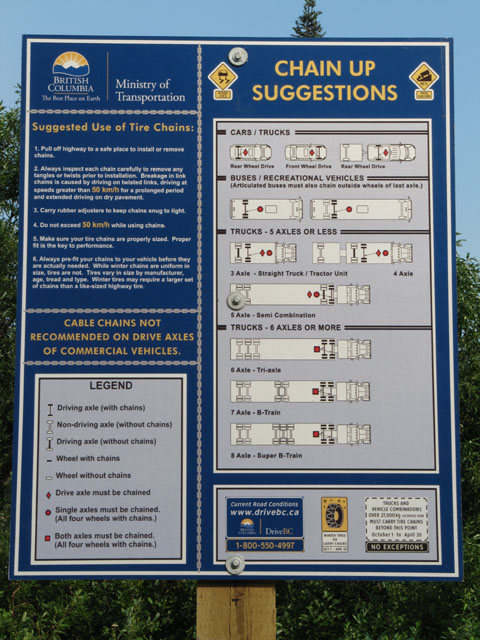 With the chains not fitted, I continued on my way, following the road as it hugged the hillside, with spectacular views of the mountains on the other side of the valley, great folds of green and grey interspersed with the bright white of permafrost and hanging glaciers, the sun glaring down over the tops giving them a halo of bright light. Quite beautiful, but hellishly difficult to get a decent picture of...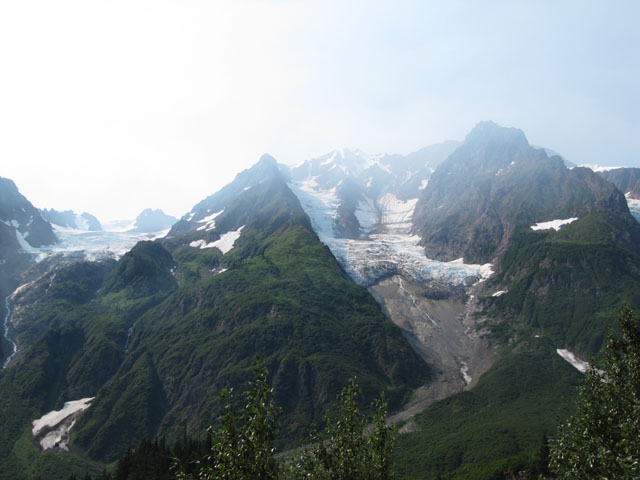 Just when I thought the scenery had reached its peak of beauty, I rounded a corner and was confronted by the majestic sight of Bear Glacier, cascading down the mountain into the river, the bright blue of the ice in the crevasses giving it a strange, other-worldly appearance. The pictures simply don't do it justice...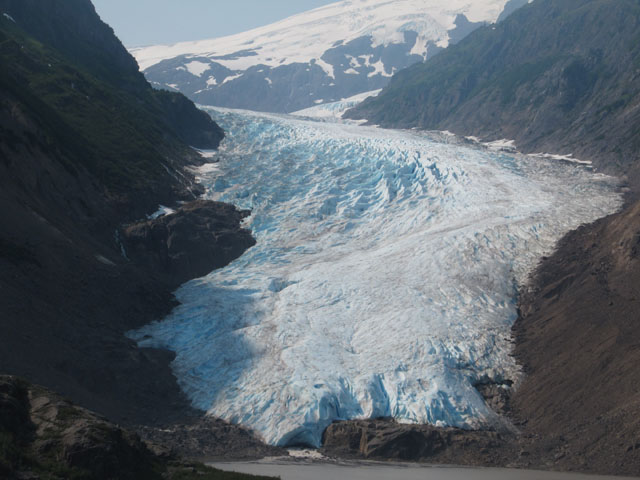 One thing that was clear, though, was just how much the glacier had retreated in recent times. Looking at the area to the sides of the glacier, where it had carved away the moutain-side, you can see the height it once was, and as this hasn't yet started to grow vegetation, it must have been covered in glacial ice just a few years ago... In a few more years, this beautiful glacier will have retreated even further, and will have lost a lot of its beauty.
Riding on towards Stewart, the road dropped back into green forest, with the mountains closer and huge waterfalls cascading from the tops into the river below. With the road narrower there was nowhere to stop to take pictures, which is probably just as well or I'd have arrived in Stewart too late to join the others for lunch... As it was, I arrived just behind Kevin, Julia, Richard & Karen and Chris and Danielle, and no sooner had we all parked outside the hotel, than Kevin suggested we went to Alaska for lunch. I should point out at this point, that Stewart sits on the border between Canada's Yukon Territory and Alaska, with the small town of Hyder just across the border. Here, Kevin knew, was a rather special place to have some great halibut and chips, but that would only be suitable for a small group like ours. So, we put our gear back on and rode away from the hotel before the rest arrived, and headed across the border back into Alaska. No sooner had we crossed the border and entered Hyder than the road disappeared and became a dirt track, the town of Hyder no more than a few dilapidated wooden buildings, most of which looked like "gift shops cum general stores" with a couple of spit-and-sawdust bars. But the "Alaskan Seafood Restaurant" was anything but. It was a bus...
Yes, a real bus.
Outside of which were tables and chairs. So we placed our order at the bus door, and sat and waited. Danielle ordered the fresh Dungeness Crab, for which she was given her own bib, which immediately sent her into hysterics... wonder why?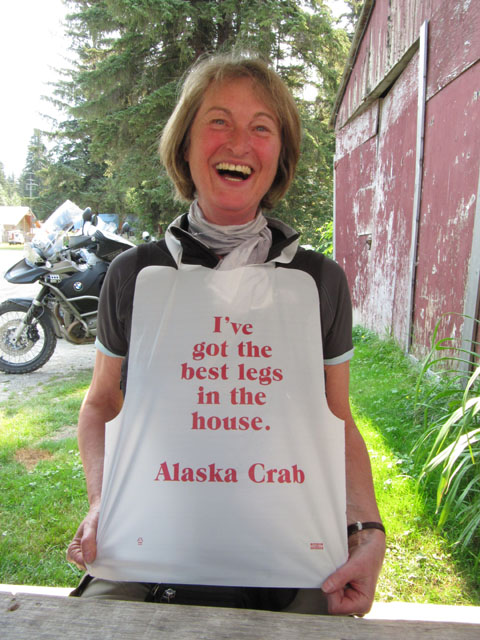 But the food was excellent, really fresh halibut so tender and succulent it just melted in your mouth, the batter crisp, and the fries really well cooked. Hard to believe it had been cooked in a bus in a dusty back-street of a run-down town in Alaska...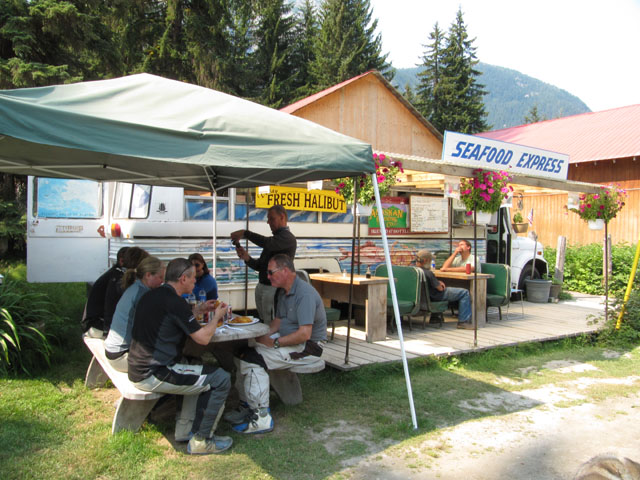 With our stomachs attended to, we rode back to the hotel, checked in (another superb room with a couple of large beds and an outside porch where I could put out my washing line to dry my washing) and then went for a walk around town. Stewart is an old mining town, established just over 100 years ago. It's also very small. I walked round it in about 5 minutes, and that included going in the general store looking for a beard trimmer (no success, so the Grizzly Adams look is here for a while longer) and buying something to try and shift this damn cold, and also going in the "supermarket" (no beard trimmer there either) and the "souvenir shop" (no stickers, unfortunately). Then it was back to the hotel to try and get the Internet working, which I did eventually, but it's pretty intermittent, so getting hold of Tracy is going to be a challenge...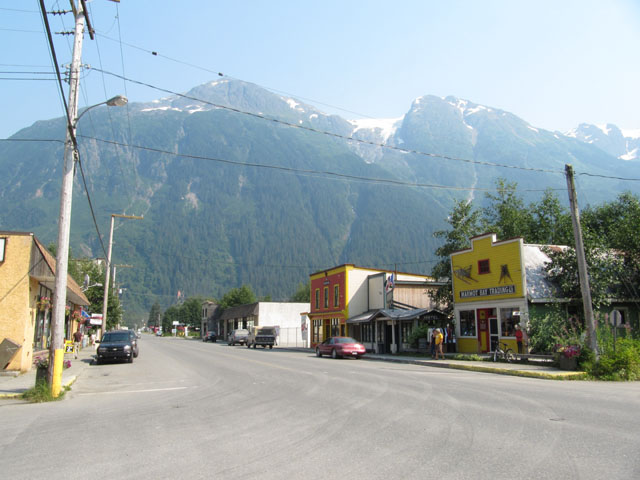 We then chilled out for the rest of the afternoon, before meeting up again at 6.15pm for the ride back across the border into Alaska to visit Fish Creek. This is an area of the river where the salmon come to spawn, and where bears come to feed on them. It's been turned into a bit of a tourist trap, with a wooden walkway built alongside the creek for the tourists to stand and wait for the bears to come, but we couldn't pass up the chance to see them ourselves. So we rode in convoy across the border and through the dusty town of Hyder and out towards the creek, on a very dusty dirt road. Once there, we had to park about half a mile away from the walkway as the car park was full of cars, pick-up trucks and RV's. It did give me a chance to get a photo of the "fifth wheel" that sits in the back of the pick-up truck and is used to attach the RV trailer in the "poor man's RV" as in yesterday's blog. So, just for Mike, here's a picture: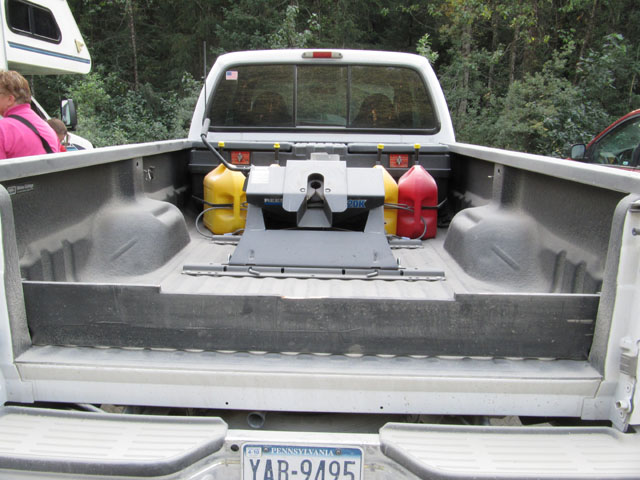 Then we joined the masses on the walkway and watched the salmon spawn in the river. Just below us we could see them gather where the river-bed had formed natural bowls, then they would swish their tails to clear an area of gravel, the female depositing her eggs and the males, having fought to get as close to the female as possible would lay down their sperm on top of the eggs, before they would swish the gravel some more. Several of the fish had already started the final stage of their lives which follows the mating process, losing their colour and dying. We saw one fish go "belly up" after the mating ritual and float back along the stream on its back, its life spent. It was very relaxing watching all this fishy porn, listening to the sound of the river, and waiting patiently for the bears to arrive...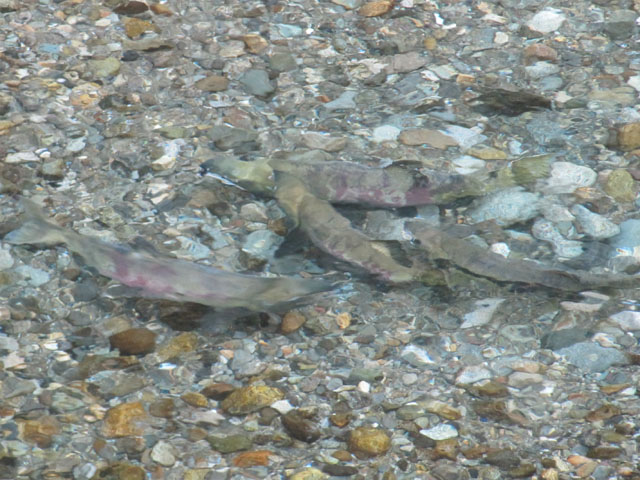 And wait we did. Patiently, standing in small groups holding hushed conversations and watching the fish, or looking at the lagoon on the other side of the walkway glancing occasional glimpses of a beaver in the water (and some ducks, too). After 3 hours or so, a bald eagle appeared and started picking at a washed-up salmon. Often eagles appear when the bears are near, as they scavenge on the freshly-killed fish the bears catch but don't finish eating. Excitement grew. And we took pictures of the eagle (which was some distance away, so my new camera was severely tested)...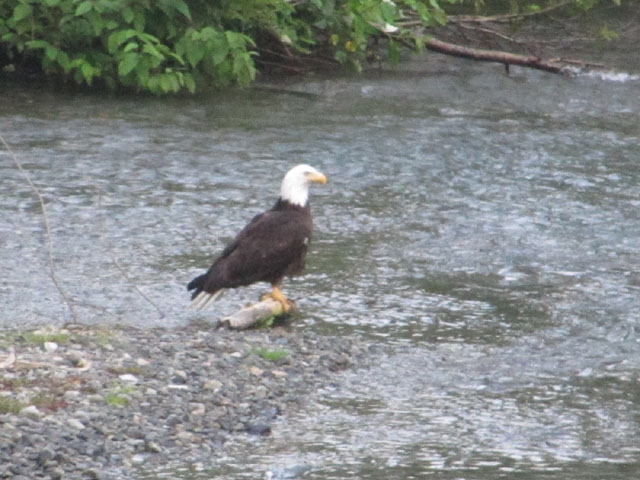 And then we waited... with the light fading fast... and still we waited... and then, downstream about 300 yards away, was a black bear... it crossed the river and disappeared into the bushes again. I spotted it first and was so excited, pointing it out to the others, that I forgot to try and get a picture (as it was about twice as far away as the eagle and the light was now worse, I doubt I'd have got a decent one anyway). But we'd seen a bear. Only for it to immediately disappear, and not wander up the river to feast on the salmon in front of us as expected.
So we waited some more.
And then, after it was almost dark, we called it a day and headed back to the bikes. Mounted up and riding back to Stewart, as we drew level with the walkway I noticed a guy waving his arms frantically at us. But we couldn't stop. Damn. A couple of our group, who were dawdling at the back when walking to the bikes had been lucky and heard the ranger's radio crackle with news there was a grizzly in the area and waited a few more minutes. The story goes that the grizzly appeared just 10 minutes after we left, wandered up the river and was met by a black bear coming down the river from the opposite direction. A lot of splashing and growling ensued, then the grizzly left, walking right under the walkway and through the car park, past where the bikes had been parked just a few minutes earlier. All we could do was ride past, unable to see anything because of the trees. Damn...
Back at the hotel my stomach was rumbling, so we headed off in search of food. I fancied a pizza, but the pizza place was shut, as was everything else except the town's one bar. So we went in and ordered some "fried food" which was all they had on offer – chicken nuggets (referred to on the menu as "buffalo flings") and fries, which were cooked in a deep-fat frying machine at one end of the bar... they stopped my stomach rumbling at least. We also had a couple of beers and a game or two of pool, whilst "enjoying" the American Rock-Pop playing and people-watching. The locals seemed to be people-watching too, as I suspect a group of foreigners drinking in their bar is not a particularly frequent occurrence on a Wednesday night...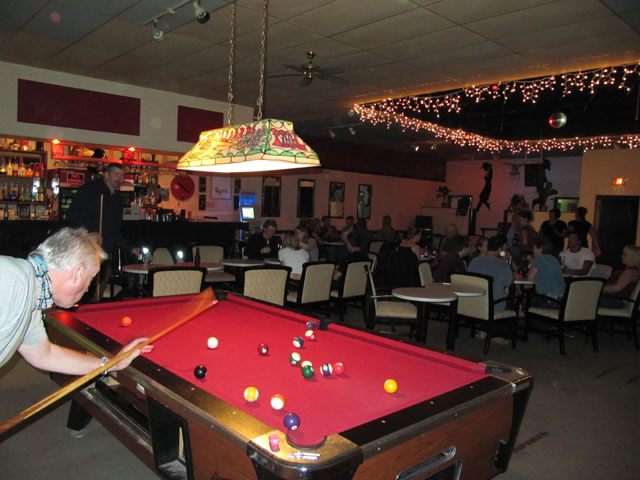 "I've been in worse bars, but I really can't remember when..."...
Tuesday, 4 August 2009
Bear hunting...
With Jim once again getting up very early, I had the room to myself from around 6.15am and so had plenty of time to try again with the jacuzzi bath (there was no shower, so it was either that, or try and fit myself into the sink, something I doubt I'd have succeeded with). This time there was plenty of hot water and so I had a good soak and even used the jacuzzi pump to blast away a few minor muscle aches here and there. Refreshed, I went online before heading down to breakfast, and Tracy was also online so we chatted on Skype for a while until I was late for breakfast and had to drag myself away. After a couple of eggs (over-easy), sausages (links), toast (white) and coffee (normal) I returned to the room to complete my packing, but went online to chat to Tracy some more...
All of which meant that it was 8.15am before I rolled out of Nugget City heading South on the Alaska Highway before turning right onto the Stewart Cassiar Highway. The sun was already up and it was relatively warm, and within a mile the scenery suddenly exploded into view – high snow-capped mountains, crystal clear lakes, dark green forests all under a bright blue and white sky. Every few hundred yards there was a motorcycle from our group parked at the roadside, rider with camera pointed this way or that. I stopped by one of the lakes for the first of a number of "bike by lake photos" (another Gallery, perhaps?).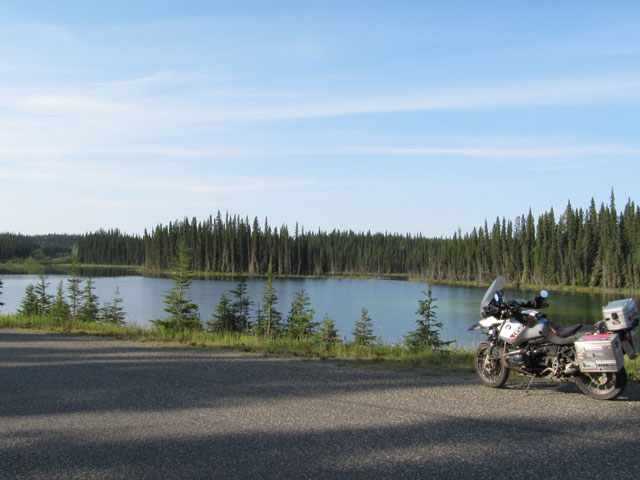 Last night, over dinner, Kevin had explained that this road should be ridden slowly, as there was an "almost certain" chance of seeing bears along the route. So, riding along at a steady 45mph, scanning the woods on either side of the road (made easier by the complete lack of traffic), I found myself singing "Bear Necessities" and "If you go down to the woods today"... just as well no-one else was around to hear me... That changed when I passed an area where some wood had been freshly felled and cut, the smell of fresh wood sparking off "I'm a lumberjack and I'm okay"... now that would have been embarrassing to be caught singing...
The road continued to meander gently along through this stunning landscape, and I just had to stop again and take another photo of a lake, this time without my bike to spoil the view...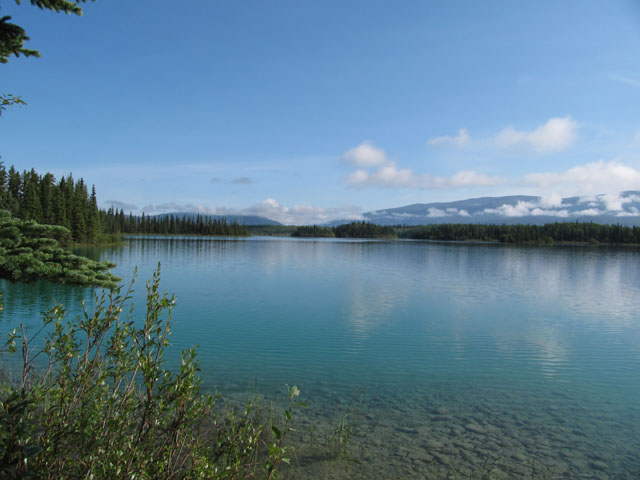 Then as I passed through a small settlement with wooden houses and endless piles of scrap cars everywhere, I looked up and saw 2 enormous people atop one of the great mountains, and quickly stopped to take a picture...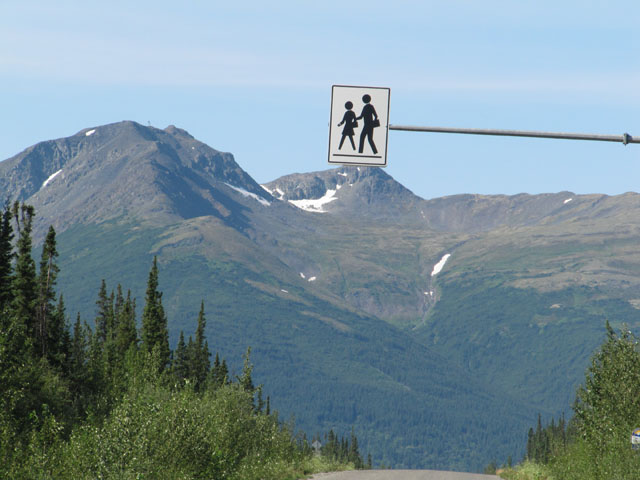 Still no sign of bears, though...
A few more miles along this most enjoyable road we encountered our first section of roadworks. Like most of the roads we've ridden so far, these consist largely of patches of loose gravel and dirt, where the road surface has not been laid with "tarmac", and which have to be treated with caution on a motorcycle, as it's all to easy to slip and go down. This section was no different, but with the added challenge of loaded gravel lorries hurtling though at break-neck speed, kicking up massive clouds of choking dust which completely obscures vision for a good 10-15 seconds after they pass. Coupled with the inevitable bout of coughing that results from breathing in the dust, those seconds are tense, and a relief when both the dust and the coughing subsides and I can see where I'm going once more. That said, my riding on dirt has come on in leaps and bounds so far, and I'm nowhere near as terrified of it as I was to start with, my confidence growing with every mile successfully negotiated.
Shortly after the first section of roadworks I came across a sign for "free coffee" at a Jade mine, and so had to stop. Several other riders were there, wandering round, cups in hand and looking at the piles of raw jade rocks brought up from the mine. I went inside the shop, and got a coffee and then went and bought my first real souvenir – a lovely little jade Inuksuk – a rock likeness of man (story). Outside the shop were a number of RV's, so I decided to answer my brother's request for more "truck" photos with the first of several RV photos. This one is typical of what I like to think of as the "working man's RV" style, a pick-up with a ruddy great big RV trailer attached. I'll try and get a photo of the "rich man's RV" style in the near future (a bloody great big RV towing a 4x4)...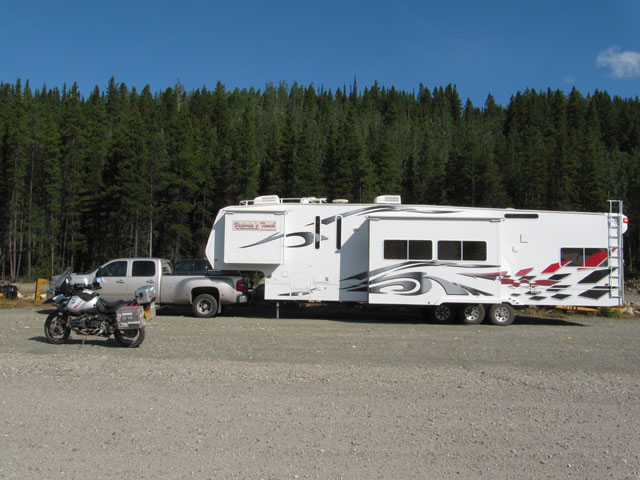 Once clear of the roadworks, the road again continued to flow through this unbelievably beautiful scenery. It was time to stop once more and enjoy the peace and quiet, and spotting Julia and Kenny down by another lake I rode off the road and down a track to join them in admiring the view (well, Julia was, Kenny had his rod out and was trying to catch something – and no, that's not a euphemism, he was fishing...). Inevitably, this lakeside also lent itself to a "bike by the lake" photo...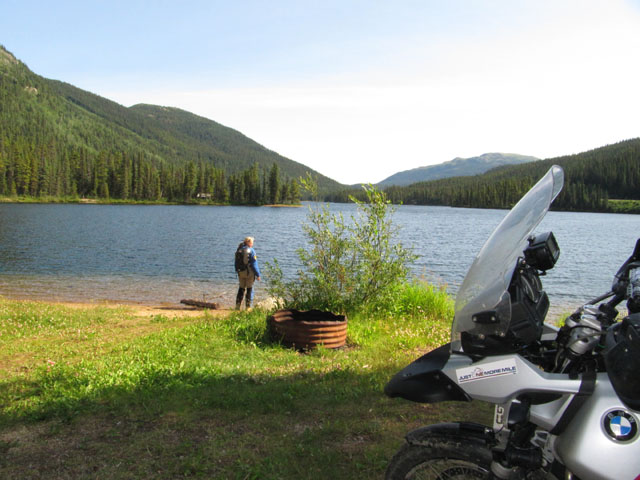 This stunning scenery continued for mile after glorious mile, before eventually I stopped for fuel and to eat the lunch I'd got from Jeff earlier. I don't think I've mentioned this before, but at the start of the trip most of us chipped in $50 for the "van-kitty" which pays for a variety of healthy snacks (fruit, energy bars, fruit drinks, bottled water, that sort of thing). The idea being that first thing in the morning before setting off, you get a small supply from Jeff to consume during the day. So far, I'd managed to remember to do this once (actually, I remembered a lot, but usually when I was an hour down the road and about an hour and a half ahead of the van). This morning was no exception, despite me having a long conversation with Jeff the night before about how I must remember to pick up some snacks (I'm a bit sick of eating a hearty lunch). However, due to my slow pace (bear spotting, remember) and frequent early stops to take pictures, at one point the van had caught me up and I'd picked up some grub. So at the lunch stop, whilst Julia and a couple of others went inside for a full-on meal, Nigel and I sat outside in the sun, eating our fruit and snack bars. Much better...
With lunch over it was back on the road again, stopping fairly soon after by a fast-flowing river to see if there were any bears about (there weren't) and to take another piccy.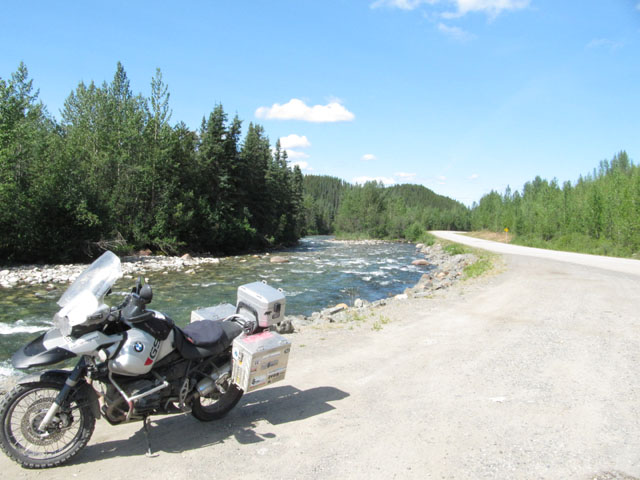 Suffice to say, I have several more photos that were taken that day, but I won't post them here for fear of making you even more jealous...
With the day getting on and the sun beating down, I stopped at a lake mentioned in the notes as "a swimming opportunity". I'd been riding alone for some time, so pulled in to the parking area, where there were picnic benches by the lakeside expecting to see the lead group, only to find no sign of them, just families in RV's cooking or playing (and staring at the weirdy-beardy motorcyclist riding slowly past, helmet open to let the air get to his hairy chin). So I rode round to the boat-launch point and went and took a photo of the lake...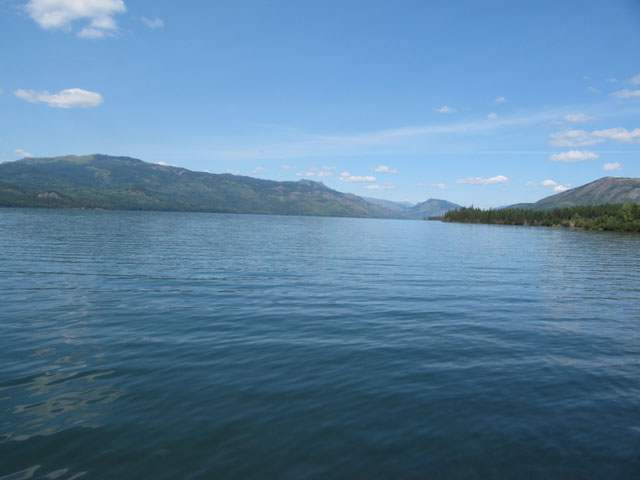 Doesn't that look inviting?
I thought so. So I waited for some of the others to arrive, and Julia and Nick rode in and past the entrance to the boat-launch and on into the main area. So I waited for them to re-appear and after 10 minutes went to look for them. Nick was just putting his socks on, having been for a paddle, but I managed to convince them to come and check out the boat-launch area, where there was a small jetty. With little further convincing, Nick and I stripped to our underwear (I put on my swimming shorts and got out my big towel, Nick just left his boxers on) and in we went. In front of a family of Norwegians (mum and dad and teenage son & daughter) who thought the whole affair most amusing (watching 2 middle-aged bikers shriek when jumping in freezing cold water probably counts as high entertainment in Norway). Julia managed to get some photos, but I've not been able to steal them off her camera yet. But take my word for it, the water was COLD!
Dried and dressed again, we rode the remaining 70 miles to Bell II in a much more alert state than we'd have been in had it not been for the cold water wake-up. Finally arriving after a full day's ride (300 miles) whilst constantly scanning for bears, the final score was : Squirrels 3, Bears 0.
Bell II consisted of a fuel station with attached cafe-cum-restaurant and a beautiful set of 2-storey cabins, each of which had 4 large bedroom apartments. Jim and I shared one called "Bobcat", which had 2 huge wooden beds, and a nice bathroom (although the shower was rubbish, the water turning to a trickle as soon as I'd got covered in soap and shampoo). In the middle of the cabins was an outdoor hot-tub, which had it not been for the resort's other memorable feature (a zillion flies) would have been investigated with great haste.
Dinner that evening was a buffet, which included a magnificent salad, so I stocked up on my greens having several bowls of it (I also got more of my 5-a-day by having a couple of large pieces of carrot cake, the joys of being on the road...). After dinner I was encouraged to get "Pass the Pigs" by Julia, which then resulted in a long explanation of the rules (whilst Julia tried to recall how it was a drinking came when she was at University – fortunately this time we didn't reach for the alcohol, but I know it's only a matter of time...), and then a game with most of the group playing. This naturally took a long time, but in the end I won, a remarkable achievement as in all the years I've been playing Pass the Pigs, I've never won. Not against Tracy, nor Colin, nor anyone else. Content with my new-found success, I retired to bed and read my book before falling into a deep sleep...
Monday, 3 August 2009
There's some beautiful scenery out there, somewhere...
Jim seems to be getting up earlier and earlier, wonder if my snoring is disturbing him (though he did say he found it "like a lullaby" which will amuse anyone whose ever had the misfortune to hear me sleep after a skinfull...)... This morning he was up at 5am and out at 6.15, but I managed to snooze for a while longer before getting up and showered, then catching Tracy on MSN... In the early days of our relationship, MSN messenger was how we communicated, often for hours on end, when she still lived in Cambridge. In fact, we spoke on MSN many times before we even met. Now it seems a hollow way to communicate, and I missed seeing her face on my screen...
After a quick chat I had to go and get some breakfast, a rather weak continental affair (when I had high hopes of some eggs and bacon, what with the hotel having a gourmet chef on the books), then it was time to load the bike up and the first shock of the day, when I discovered frost on my seat. It was cold, and with a significant smoke haze still in the air didn't look like it was going to get warm any time soon...But there's a bike to be ridden and some roads to travel, so I switched on my MP3 player, picking up with Frank Sinatra and headed off South on the Alaska Highway towards Whitehorse, leaving the mountains barely visible in the distance...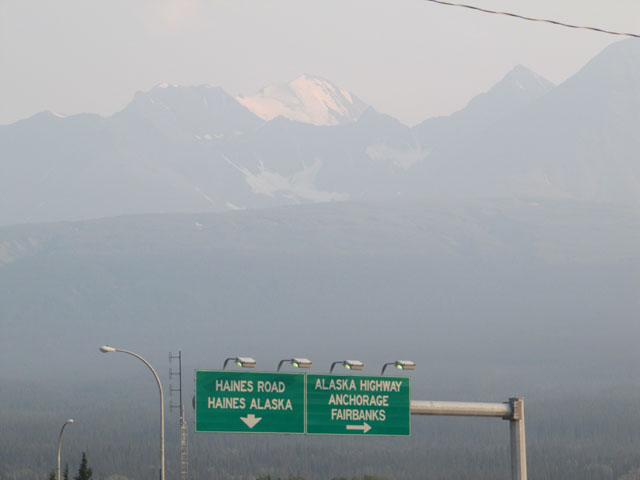 It was bitterly cold, made worse by the wind-chill from riding along at a steady 65mph. I'd put my under-jacket on, but hadn't got any liners in my trousers, which are designed for hot climates with plenty of venting. My legs were freezing, but I put on my heated grips so at least my hands were warm and sang along to Frank to generate further heat... After an hour and a half's riding the first coffee stop appeared and I pulled into the car park just behind Nick, Nigel, Chris, Danielle, Aaron and Kenny, and went inside to warm up. Nick and I both went for some eggs on toast to accompany our coffee, and before they had arrived several others had turned up, transforming the peaceful cafe into a Trans-Am rider's convention. Sat quietly by the window was a group of 3 middle-aged women, one of whom engaged Chris in conversation (asking about where he was from due to his thick Scottish accent). She sounded for all the world like my mother-in-law (yes, you, Margaret!). I didn't catch where she was from, but I have to say it had me freaked at first!
Once back on the road again, I rode with Nick and Richard and Karen, although I didn't see much of them as no sooner had we left the cafe than we entered an area of denser smoke haze, which reduced visibility down to about 500 yards. Not to mention made my cough start again in anger. Now I could barely make out the trees at the roadside, never mind see any wildlife or mountains. We stopped for another coffee and a cinnamon bun (recommended by Globebusters – and it was good!), and then headed out into the smoke some more. Photo opportunities were therefore few and far between...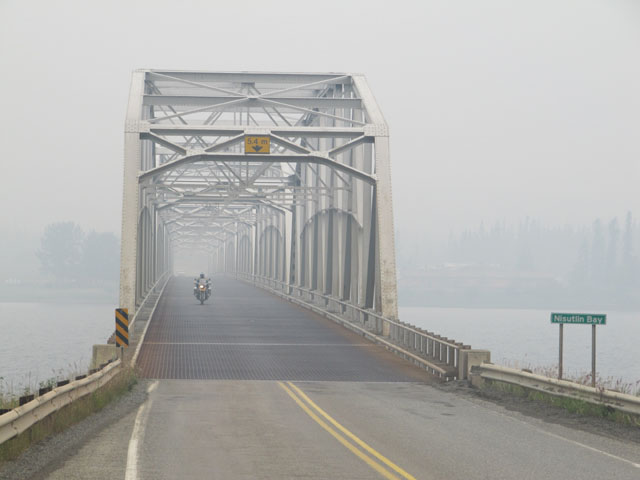 At one point we rode along the side of a huge lake, but we could only see about 10 feet from the shoreline. I bet it was really beautiful, too... At long last, though, we crossed into British Columbia and the smoke haze started to clear. I remained clear even when we returned to Yukon a few miles up the road (seems the Alaska Highway crossed the border and back again several times as it winds it's way along the side of the Peace River). Now the views opened up, revealing miles of forests and distant hills, with small lakes and rivers on either side of the road (and sometimes under it, as we crossed several bridges).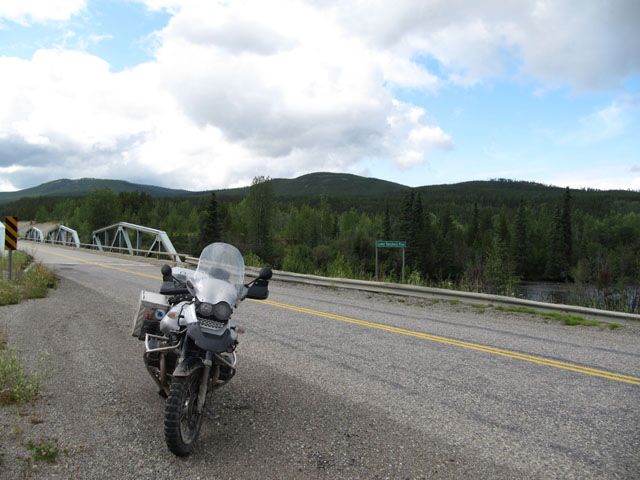 With James Blunt and Dido now giving way to AC/DC (well, I needed waking up after several hours of 'relaxing' music), I rode along alone again, having lost the others in the smoke. With the vast expanse of the Yukon starting to make its presence felt at last, leaving me feel like the wilderness-traveller of my dreams, time and the miles passed quickly, and I passed the Nugget City RV park and lodges that we're staying in tonight. This wasn't an oversight, though, as I wanted to take in the "Signpost Forest" at Watson Lake some 15 miles further up the road (which we won't be passing in the morning as we'll have turned off before then).
This is a bizarre place. A bit of history... The Alaska Highway was constructed during WWII shortly after the bombing of Pearl Harbour when there was a real threat to the West coast of mainland US, and the US government struck a deal with the Canadians that the road would be built and paid for by the US but any Canadian sections would be turned over to Canada after the war. During construction, the US Army Corps of Engineers erected mileposts along the route, listing places and distances to other cities in Canada, the US and around the world. One of these was erected at Wye, the corner of the Alaska Highway and Watson Lake Airport. Carl Lindley, a homesick soldier, added a sign pointing to his hometown of Danville, Illinois, when he was repairing the sign during a period of rehabilitation from a foot injury sustained when building the road. That started the tradition that has resulted in the mass of signs that make up "Signpost Forest"...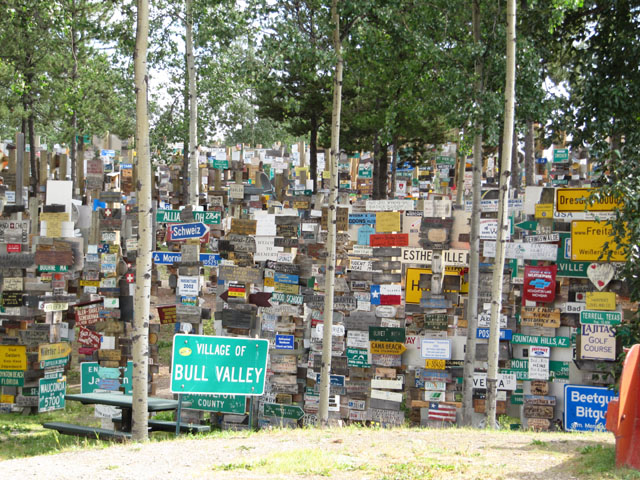 Wandering round the "forest" was a surreal experience, reading the inscriptions left by previous visitors. It was akin to walking round an old graveyard, reading the epitaphs. Each of these signs has been left by someone for whom it has a special meaning. Coupled with an almost reverential silence (a result of the enclosed nature) it was quite moving. Unfortunately I didn't have the necessary equipment to make a sign of my own, but I did find 2 that I think I can adopt. There in the following pictures – can you spot them?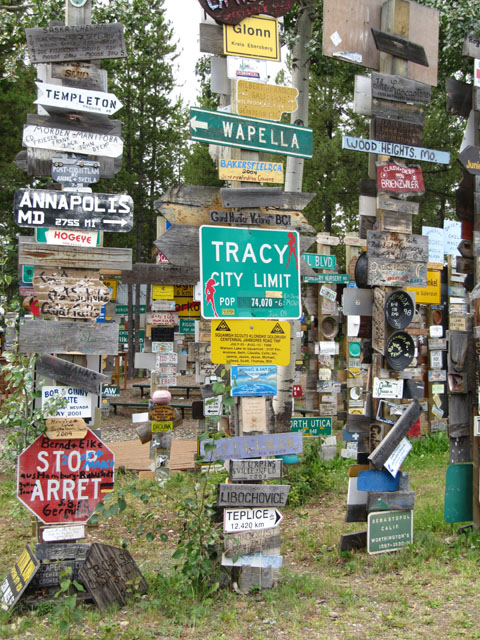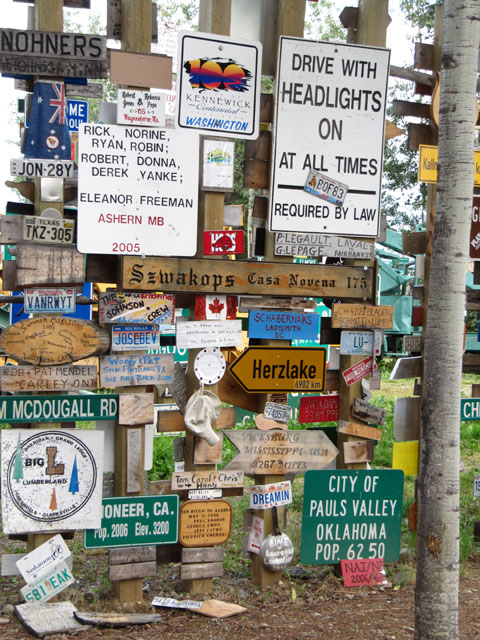 A clue – it would have been perfect if they'd shared the same post...
With the mosquitoes once again out in force (my face is starting to resemble the surface of an angry moon), I curtailed my sign spotting and headed back up the road to the Nugget City, where I joined Jim in our "Honeymoon Cabin", complete with 1 double bed and large jacuzzi bath... luckily there is also a fold-out sofa bed, and as Jim was there first, that's where I'll be sleeping (the rule of first in, best bed applying). I folded it out and sat on it to check my email, only to end up with my bum on the floor and my knees by my ears. Seems the springs holding the base to the frame are missing in the corners. Should be fun if I need to get up quickly in the night... Jim's daughter, Lilly, turned 11 today, so whilst he called her on Skype I went to take a bath, taking my book with me and planning a long soak. Only to discover there was a limited supply of hot water. Limited to covering the bottom 3 inches of the bath. So when I put the jacuzzi jets on, all I managed to do was send foam flying round the bathroom (foam party, anyone?). A quick splash later and I gave it up as a bad job and went in search of beer (well, I had ridden 402 miles today according to my over-optimistic speedo – more like 370).
At the lodge restaurant there was a fridge with 8 different Yukon-made beers in bottles. Yummy. I chose one and paid for it... $C 7.30 – about 4 pounds. For a small bottle containing around half a pint. So, won't be trying the others, then. Still, it made for a nice photo...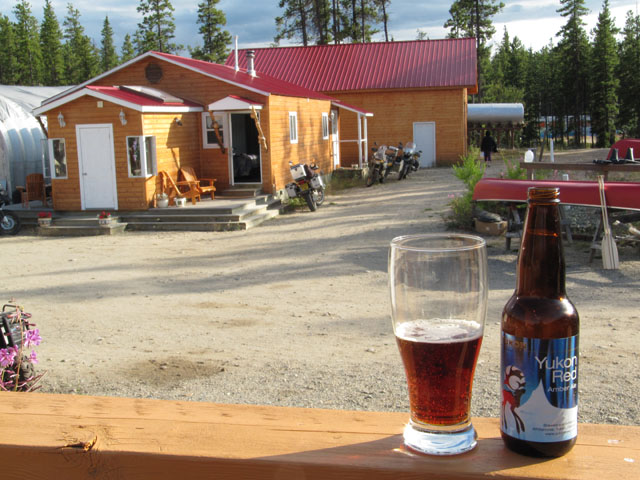 Dinner tonight is the weekly Globebuster's meal., so the entire team gathered in the restaurant for their pre-chosen selection (salmon or beef, with rib-eye steak an $8-extra option, or vegetarian for Max). I opted for the beef, because we had some smoked salmon yesterday that Aaron bought from the Santa shop at the North Pole (a small town just outside Fairbanks, complete with Santa RV park), which was simply the best salmon I've ever tasted (and got the same resounding thumbs-up from everyone else). Suspecting that the salmon here would not be a patch on that, the beef seemed the sensible option. It was OK, and served with very creamy mash and veg. Dessert was a choice of strawberry or vanilla ice-cream. Jim's attempt to get chocolate resulted in him having pink chocolate ice-cream that he said tasted vaguely of strawberrys.
The co-owner then gave us a short discourse on the history of the Yukon and her family's part in it. Apparently her parents were the first to discover Jade in the area, and had a gold mine further north before moving into British Columbia. She explained that in this area they only have 90 frost-free days, and that the snow here is so dry that it's impossible to make snowballs or snowmen with it, unless you add water (which only 15 years ago would have been difficult as this place didn't have any running water). There are only 33,000 people living in the Yukon, some 22,000 of which live in Whitehorse itself, the rest in small hamlets like this one. As the Yukon covers some 183,163 sq miles, that's an awful lot of uninhabited space. When her husband interrupted her for something, she retaliated with "ask him how many shots it took for him to get his moose", before then regaling us with the story of how she shot an 1800lb bull moose through the heart from 400 yds. And I don't think she was exaggerating too much, either. But the phrase that I remember most was "There's no divorce in the Yukon..... we only have hunting accidents...". Her husband doesn't go hunting with her, can't think why!
Then they brought out their mechanic, Roger, who is also responsible for all their carving on the door to the gift shop – and who lives here all year round, spending his winters carving things, including a beautiful musical jewellery box they proudly showed us. Despite ongoing arthritis (which he is having expensive medication for) he is planning some more carvings including some elaborate door surrounds for the restaurant. Worth coming back for...
When Roger was explaining his problems with arthritis, Gerald mentioned his double-hip replacement operation (as a way of showing how perseverance can result in you continuing to get most out of life), and then, when we were all done, Roger and Gerald were deep in conversation, though quite how either of them could understand the other (Roger with a thick Yukon-local accent, Gerald is from Devon...) is anyone's guess...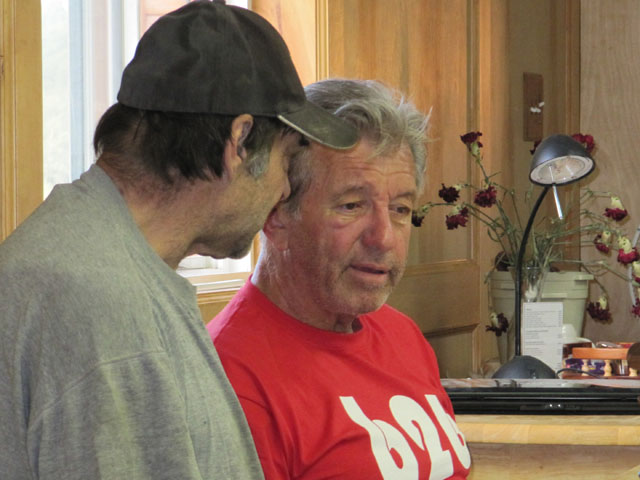 And with my dinner rattling around in my stomach (who said American portions are always too big?), it was off to the cabin to write up the blog before trying to get into bed without ending up on the floor...
Sunday, 2 August 2009
Trails and Bears...
Not surprisingly after last night's excesses, this morning I slept late... until 8.30am, meaning that by the time I'd showered, dressed, grabbed a bite to eat and loaded the bike, the main group had already left. Kevin was going to be leading a trail-ride up to the river, where bears have been seen in the past, and I'd wanted to go too, but my tardy start meant I'd have to find my own way. Leaving the hotel around 9.15, I went in search of the trail, which I'd been told was not signposted but was about 25Km (all distances in Canada are in Km rather than miles) South. I went up a few gravelled roads before I finally found the right one, which led through the woods for 17 miles to the river. The trail was great fun to ride, rough and muddy in places, but generally in good condition. Riding alone through the woods was a superb way to blow away the remnants of last night's beer, and once again re-affirmed how remarkable a motorcycle the GS is – what other bike could do this stuff?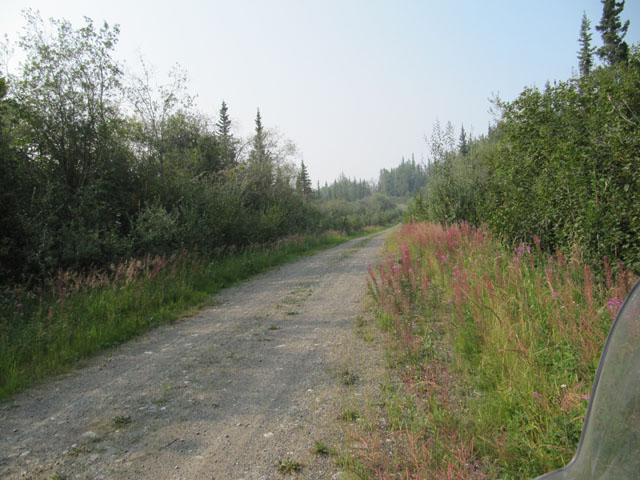 At the trailhead by the river were the rest of the group that had opted for this "extra", all beaming smiles – after all, here we were in the middle of nowhere, by a fast-flowing river, having ridden 17 miles on a completely empty road, not seeing another soul.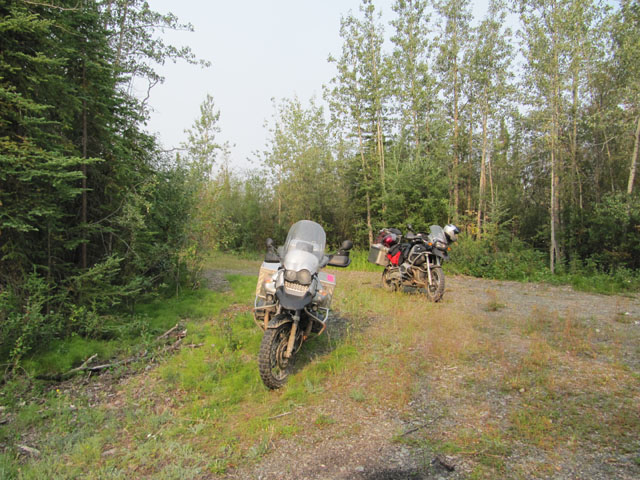 After standing around chatting and admiring the scenery whilst once again getting eaten alive by mosquitoes, it was time to head back up the trail the 17 miles to the road. Once again I managed to get a clear road ahead of me, and rode up the trail at a fair old pace, keeping my eyes peeled for hazards such as muddy sections, loose gravel, huge potholes and at the same time scanning the surrounding forest for signs of wildlife. Sadly all I saw was a single squirrel. Still, the ride had most definitely been worth it, and once again I found myself feeling completely relaxed and with that warm feeling inside...
Back on the road I kept a steady pace, again scanning the surrounding vegetation for signs of life. A few miles up the road I caught up with Chris and we rode together for a while, stopping at a roadside "rock shop" to buy some water and chocolate to help ward off dehydration and raise my falling blood sugar levels. The shop was run by an eccentric old couple and was full of "rocks" - bits of rock on display plinths for sale – over every flat surface, and covered with the dust of decades... it was a surreal experience, but the water and chocolate were in date, so no harm done. After the stop Chris and I got separated as we were both running our own pace (something that happens often, as I tend to ride most of the day on my own, hooking up with other riders for short sections when circumstances dictate). A few more miles up the road I noticed something in the bushes on the opposite side of the road, so spun a quick u-turn and went back for a closer look. There, lying about 10 feet away and munching on a roadside bush was a bear...
So I turned off the engine and took out my camera, only to discover this bear could put Carlie to shame when it comes to avoiding having his photo taken. Every time I tried, he'd drop his head back into the bush and start munching. Meanwhile, I was getting eaten alive by a thousand mosquitoes that had arrived to join the feast. Despite pipping my horn to try and attract his attention, he was having none of it, so the picture above is the best one I got... maybe next time...
After the excitement of the bear sighting, I continued on my way, stopping at Destruction Bay for fuel, where I met Nick, still looking worse for wear despite the coffee... I joined him for a cup and bought a sticker before once again setting off. The road became more curvy, as it followed the shoreline of the Kluane Lake, a huge mass of water some 70Km long and 400 Sq Km in area. With the distant mountains just visible despite the ever-present smoke haze (which reduces visibility to about 2-3miles) and Creedence Clear Water Revival playing in my ears, I was in my element, riding and singing and smiling along for mile after mile...
Finally I arrived in Haines Junction, our stop for the night and pulled into the Gas station to fill up with Dean Martin explaining "that's amore".. Quite... A few minutes later I'd checked in to the Raven Hotel, a nice large room with 2 big beds and a warm shower, and was sat using the Internet to update the blog with tales of yesterday... Dinner was a subdued affair, half the group opting for a gourmet meal in the hotel, whilst the rest of us, Richard, Karen, Nick, Al, Andy, Gerald and me headed across the road for a chinese and a solitary beer... the excesses of last night meaning conversation was muted and we left for our beds with the clock showing 9pm...
Saturday, 1 August 2009
Yukon Ho!
Up early, blogged and on to the Rika Roadhouse for a hearty breakfast. Rika's is a restored 2-storey log cabin, that was originally built to offer travellers crossing the Tanana River refuge on their way from Valdez to Fairbanks. Built in 1909 by John Hajdukovich, a Yukoslavian entrepreneur, it was operated by Rika Wallen, a Swedish immigrant, who used to raise silver foxes and also kept many animals, including cows, sheep, chicken, goats, duck, geese, rabbits etc – and had to construct log barns with innovative (for the time) heating in order to do so in the harsh Alaskan climate. But enough education, onto the hearty breakfast. Only it wasn't, because they no longer cook one, so we had to make do with a cinnamon pastry (delicious) and a decaf coffee (I'm not drinking the normal stuff because it gives me a bad head).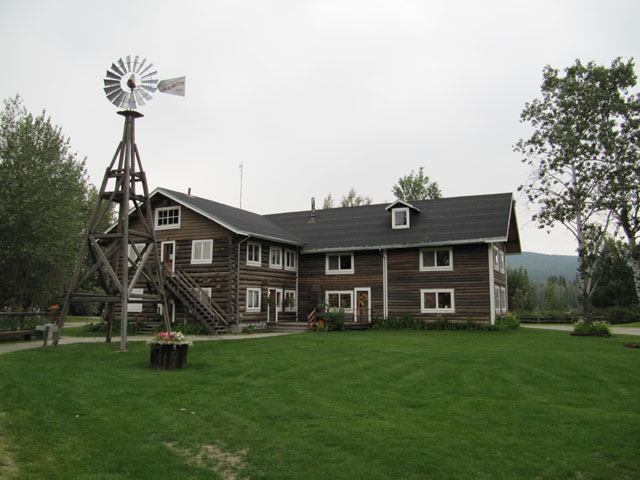 After taking a few photos it was time to hit the Alaska Highway (the Alcan as it's known), taking it really easy, running a nice relaxed pace, just enjoying the ride. We stopped at Tok (pronounced "toke" but there was no sign of anyone passing a joint round...) where I had shrimp in a basket for lunch (which was basically 4 deep-fried breaded prawns and chips). Then it was on to the US border, where I passed out of the US without seeing a soul. I pulled up to park and was joined by Kevin, Julia and Aaron. With the sun shining and little sound, it was a perfect spot to stop and enjoy the moment. Officially, we were neither in the US nor Canada (the Canadian customs is 20miles inside the border). We were now entering the Yukon, a mythical land that features in one of my favourite Calvin and Hobbes stories, Yukon Ho!, in which they set off on a big adventure, the Yukon being their destination (despite them not knowing where it is). When Tracy and I were in Thailand in 2004, I bought a tee-shirt that I had intended on wearing on our RTW trip when we got to this point. At last I got to put it to use!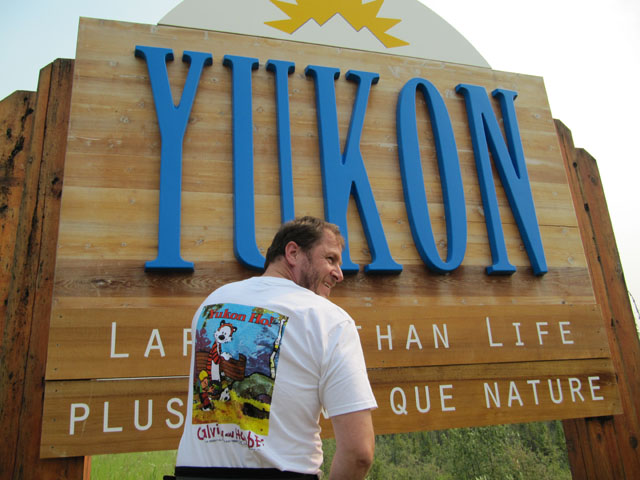 It was then time to enter Canada properly...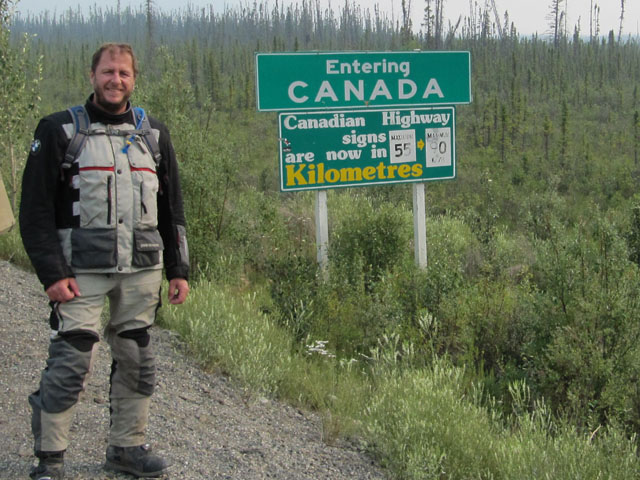 The border crossing was simple, all I had to do was hand over my passport, and as Kevin and Julia had already been across confirm that I was travelling with them, and answer the question "When are you flying home?" (answer: 9th December from Buenos Aires...). Beaver Creek and out motel was just down the road, but as we'd lost an hour due to crossing a time-zone, it was now around 4.30pm. There was a laundry on site, so I grabbed my now full bag of dirty socks and underwear and washed them, then shared a tumble-drier with Nick. I went to try and sort the Internet out whilst my smalls were drying, returning about 40 minutes later to discover the drier wasn't working... we'd not pressed the "push to start button"... doh!
By the time we'd got them dried it was time to meet the rest of the group in the lounge bar for a drink and to go over the plans for the next couple of days. One beer turned into another, as is so often the case, and then the pitchers started appearing. I ordered a plate of Hot Wings, which proved to be aptly described, the sauce very hot indeed. They were delicious, but obviously had to be washed down with a few more beers. I'll summarise the rest of the evening, or this will be a very long post... It went something like this: Beer, Pool, Beer, Kevin doing his "preacher act" (which involves a sermon about riding, including a chorus of "twist that throttle" - think Gospel preaching and you'd be close), then American Pie came on the sound system so there was a lot of singing, more beer, then some locals came in and started doing tequila shots (they had 6 each and then left), so we had one just to be sociable, then more beer and singing, then the bar closed so we went up the road with the bar staff (well, Richard, Karen, Nick, Kevin, Julia and I did, the rest had been sensible and bailed out), where we had some more beer and played table football. Finally the bar closed and we staggered up the road back to the motel and our beds. I have no idea what time it was, but it was dark (which makes a change from Alaska).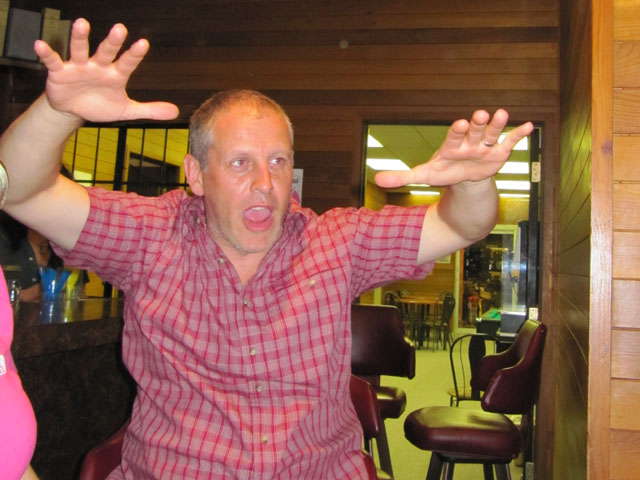 Archives
Subscribe to Posts [Atom]