<
Trans Americas 2009 - The Blog
The Just One More Mile story of Paul's Trans Americas 2009 motorcycle expedition.
Friday, 11 December 2009
The last post... home at last...
Once again the day dawned dark courtesy of the black-out curtains which Jim had finally realised was the secret to not waking up too early. As it was, we both woke around 7am anyway, and with some of the group going off to customs at 8am and potentially not returning before we left for the airport, we got up to have breakfast and say the first of many goodbyes. Once they'd gone I returned to my room to start work on the blog and to copy some pictures for Simon before returning to the lobby just before 10am to say goodbye to the first of the group to leave – Nick and Simon. As always it's emotional saying goodbye to people who have become good friends and this was no exception. Having enjoyed all 19 weeks of Nick's company and 11 of Simon's (since he joined us in Bogotá) seeing them ride off in a taxi left a lump in my throat. That was probably made worse by the knowledge that I would be next to leave the group just 4 hours later...
How to while away those hours, though? Well, first was to settle my hotel bill and then spend as much time chatting online to Tracy as I could, before finishing my packing and heading downstairs to look for a likely suspect with whom to eat lunch. Aaron was just checking out, and as usual he proved to be the perfect companion for such a task, as he suggested we eat in the Thai place we'd eaten in on Monday night. A 20-minute cab ride took us there, where we sat outside in the sunshine and enjoyed some really fresh calamari followed by, in my case, chicken with chillies and almonds with basil. It was turly delicious and a great way to pass the time. Once back at the hotel I only had a few minutes to grab my bag, then re-pack the stuff that was in the end compartment when it split as I tried to drag it along the corridor before being back in the lobby surrounded by my travelling friends and saying lots of goodbyes. I really am going to miss these people...
I shared a cab to the airport with Pieter, the German guide from the Patagonia trip, and once there had my bag security-wrapped to prevent it splitting more, then checked in and passed through security for one last stamp in my passport and went through to the departure lounge. All very easy. And so to while away the next 2.5 hours until my flight to Paris boards and I finally start the 18 hour journey home...
Long haul flights can be a real pain, but this one wasn't so bad. For a start, there was an empty seat next to me and I had an aisle seat with reasonable legroom and plenty of room in the overhead bin for both my helmet bag and my small rucksack/Camelbak. Then the inflight entertainment was "on demand" which meant I got to see Terminator Salvation and The Hangover, 2 films I'd probably not watch otherwise but which helped while away 3 of the 12 hours of the flight to Paris. If it hadn't been for the turbulence and the couple next to the window opening the blind at dawn (4am) then I might actually have got some sleep too... but I arrived in Paris in plenty of time and with a couple of hours to kill before my flight to Manchester where hopefully Tracy would be waiting for me... how strange it's going to be to see her again after all this time... can't wait!
I fell soundly asleep on the flight from Paris which helped the time pass quickly and no sooner had I landed and cleared my final passport control than I was in the baggage hall watching my bag with its bright green plastic security wrapping go round on the carousel. I double-checked my watch, not wanting to go into the arrivals lounge earlier than I knew Tracy would be there, and then cleared customs without even a 2nd glance from the bored-looking customs agent. And there in the hall was my gorgeous wife, looking very slim having lost 2 stone whilst I was away and with a wide grin on her face. A long hug and then we were off to the car, almost walking into the barriers as we feasted our eyes on each other... 5 months is a very long time to be away from someone you are still in love with...
Once in the car we chatted excitedly about things that had happened at home or on the trip, agreeing that there were some things we needed to spend some quality time discussing as we seek our next adventure... and so home, to a real fire, 2 lovely new cats (Titch and Marmy) and a take-away curry (I had been craving an Indian since my last one in Tuscon).
The adventure was finally over and I was home, safe and sound, the familiarity of being back as comforting as putting on an old pair of slippers. It was almost as if I hadn't been away... except... I now had a full bank of new memories and stories to share. Oh, and about 3,000 pictures to sift through...
Friday was spent visiting my girls and grandchildren, including being introduced to "The Beans" at long last – Isobel and Rebecca – and aren't they just gorgeous?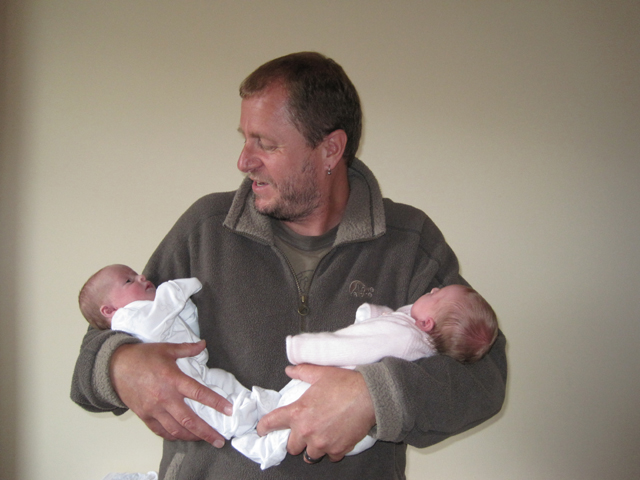 And so I'm home, this adventure is over and so I'm closing the blog. I've had the most amazing time as those of you who have read the blog will know. At this point I'm not sure what adventure lies ahead, as that's something Tracy and I need to discuss, but rest assured there will be one... after all, if life isn't one big adventure, what is it?
If you have enjoyed reading this blog, or even if you haven't, please use the "Comment" feature to leave a comment. All you need is a Google account and they're dead easy to get if you don't already have one.
If you're inspired by the story to undertake an adventure of your own, drop me an email (paul@justonemoremile.com) and tell me about it, I'd love to hear from you.
Finally, if you'd like to make a donation to a good cause related to this adventure, please donate to Gerald's Devon Air Ambulance fund. You can do so
here
Tuesday, 8 December 2009
A day off in Buenos Aires...
The blackout curtain trick worked and I woke up at 9am to the sound of Jim still snoring. I quietly showered and went down to breakfast without disturbing him, and when he came down to breakfast about half an hour later looking refreshed he said what a good idea closing the curtains was...
With a full day in Buenos Aires and nothing much to do I arranged to go out sightseeing with Nick, Simon and Late Guy around lunchtime, giving me the remainder of the morning to chat to Tracy and to sort out my packing. Our focus for the sightseeing trip was La Recoleta cemetery, which sounds awfully morbid but wasn't really as the cemetery is more like a bizarre city of the dead than the usual mass of gravestones. Buried within the walled "city" are the most influential and important Argentinians from the late 1800s onwards, including several presidents, scientists, poets, celebrities and, its most famous internee, Maria Eva Duarte de Peron, otherwise known as Evita. And it really is a bizarre place, with individual mausoleums decorated with statues of angels mourning the dead, or pointing the way to heaven...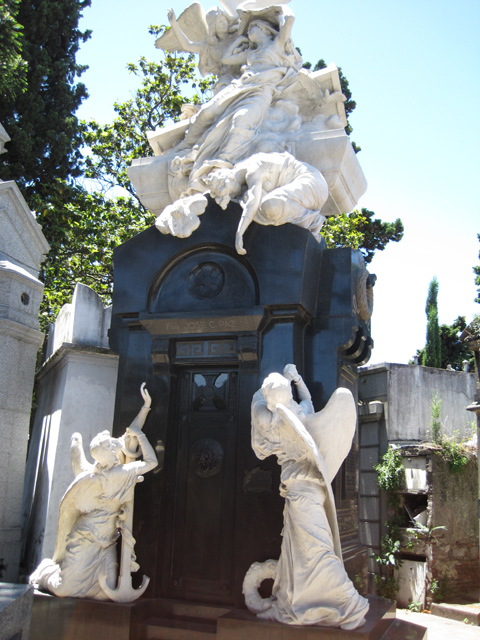 Outside one was an angel giving a "Gerald wave" which made us giggle...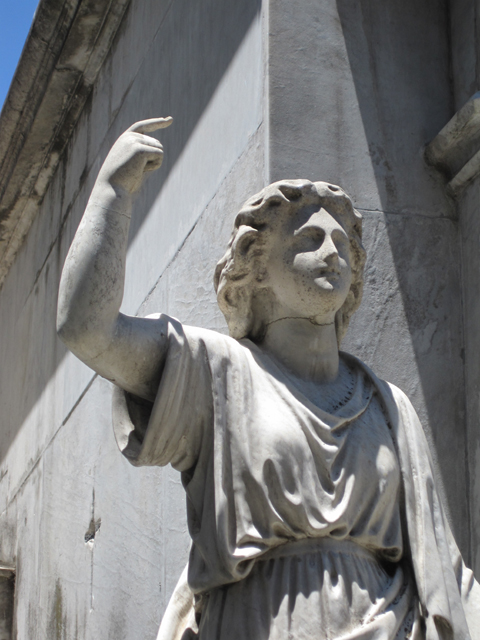 We wandered round this strange place for a good hour or so, marvelling at the money some families must have spent on places to store their dead folk, here in this most exclusive part of Buenos Aires. Evita's mausoleum was not very elaborate, but attracted by far the most attention and was one of the very few with fresh flowers...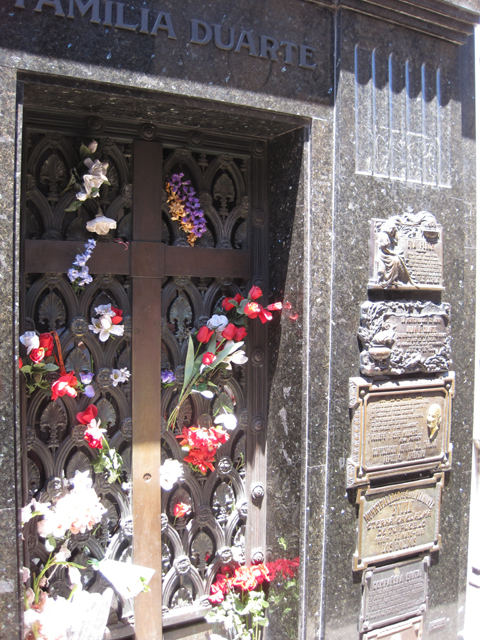 After her death in 1952 her body disappeared as the military dictatorship tried to suppress the people and made it illegal for anyone to possess images of her or her husband (Juan Peron, the former president). In 1971 it was finally revealed that her body had been buried under another name in Milan and she was exhumed and kept in Juan Peron's home in Spain before he finally returned to Argentina in 1973, and Evita's body was then returned to Argentina and finally laid to rest in La Recoleta. It is little wonder therefore that this is the mausoleum that attracts by far the most attention...
After touring the cemetery we went and ate a delicious lunch in a pavement café under a blisteringly hot sun. A cool tuna salad and some very cold beer was most welcome, as was the opportunity for some more people-watching. With today being a national holiday in Argentina, there were plenty of people out in their finery, from "ladies who do lunch" to lovers wandering hand-in-hand (making me homesick again) to families out for a stroll in the sun.
Once suitably recovered from the walking Nick and I wandered back to the hotel, a further hour-long walk through the city that first involved crossing the Avenida de 9 Julio, the world's widest road, which fortunately has plenty of pedestrian crossings...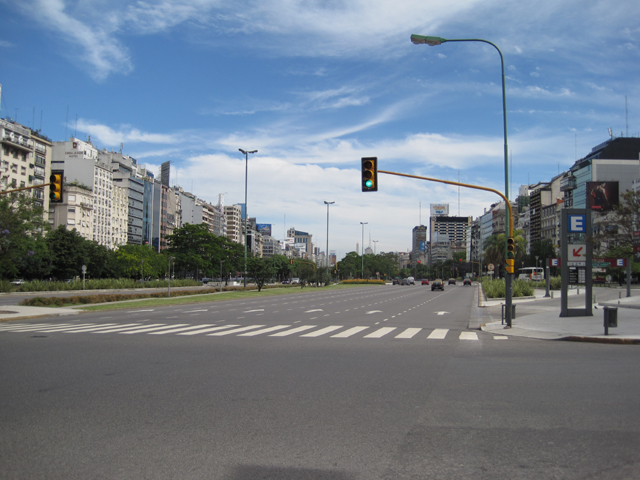 Once back at the hotel I spent some more time online chatting to Tracy before it was time to re-assemble downstairs to meet Pertti's girlfriend who had flown in from Finland and then head out to dinner with a large portion of the group. Yet another Argentinian "all you can eat and a bottle of wine each" meat restaurant, this time with the largest grill I've ever seen. There were 2 serving grills, each of which must have been 8ft long, and then a huge grill that extended the full length of the restaurant where they were cooking up whole herds of cows, flocks of lamb and broods of chickens...
They also had a very large salad bar, so at least Max got to eat something too...
Once full to bursting point we settled the bill (about £13 each) and caught taxis back to the hotel with the intention of going to the nearby Irish Bar. Only that was closed due to the public holiday so we had to settle for a final beer in another bar before calling it a night around midnight.
And so that's almost it. Tomorrow I leave for my flight home, and should be back Thursday afternoon... the journey is almost over...
Monday, 7 December 2009
Saying Goodbye to El Monstro...
Yet another early morning as the sun streamed through the window waking Jim up then I woke to the sound of him in the bathroom. Today is the final "real" day of the trip before I fly home on Wednesday, as we complete the process of getting the bikes into the hands of the freight agents and say goodbye to them for 6-7 weeks. First step in this process is to complete a "power of attorney" form with a local solicitor handing over legal control of the bikes so the local agents can deal with customs etc. This involves listing any personal effects being sent back with the bike (such as motorcycle boots, although I'm bringing mine home in case I need them), then signing an official form, and putting our signatures and thumb-prints in an official book. With that done the next step is to ride the bikes round to the docks and put them into the bonded warehouse. This naturally involves riding as a group through downtown Buenos Aires, and the chaotic traffic. The first stage of this journey is to line up all the bikes outside the hotel ready for the off, and so I fired up my incredibly loud bike (which effectively has no exhaust as it's split) in the underground car park and riding it up the very steep ramp onto the street. Naturally I revved the engine lots making a deafening racket and scaring the passers-by as they waited for the Messerscmitt to emerge from under the hotel... Once lined up we created the usual stir as people stared when wandering past, or stopped to chat... I'm really going to miss our "minor celebrity status"...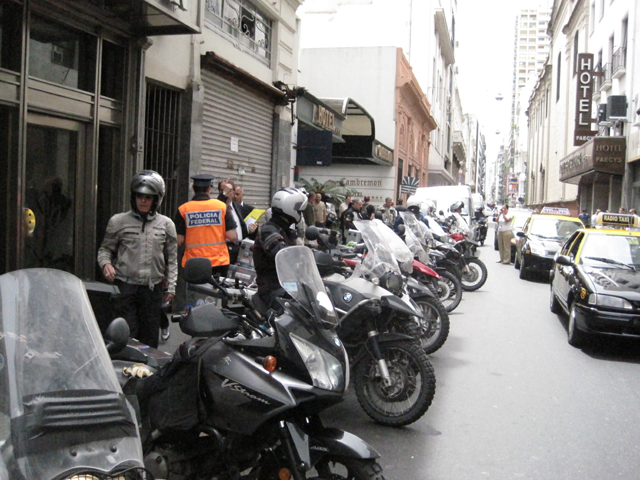 When ready for the off we pulled out into the chaotic Buenos Aires traffic and riding in a very tight convoy managed to lose 14 bikes at the first set of traffic lights. They caught us up a little bit further up the road, and we stuck together closely until we arrived at the docks. The sound of my bike made this a little easier, as even the buses moved over when I blipped the throttle, the deafening racket causing the driver to think there was something much bigger than El Monstro coming through. Once at the docks we parked up whilst Kevin went to check with the warehousemen, who told us it would be 30mins to an hour before they had cleared a space in the warehouse for the bikes. With nothing to do we hung around chatting, well aware that the ride was now almost over and soon we'd be going our separate ways...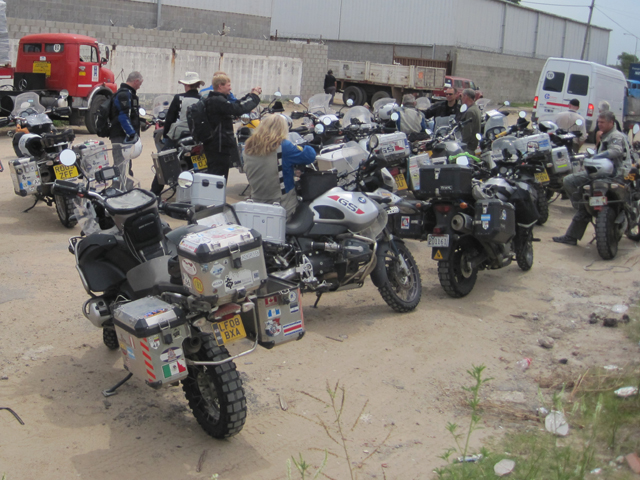 Finally we were given the all clear and rode the bikes the final few hundred yards into the warehouse. The local warehousemen gathered and took pictures on their phones as we arrived, many encouraging me to rev El Monstro so they could laugh at the noise. With the bikes all parked up we waited whilst Jeff unloaded Ozzy Andy's bike from the van (the parts swapped back with Chris's bike for the return journey, his bike being pushed into the warehouse) and put on a pallet. Then it was time to say farewell to El Monstro... an emotional moment for sure, as this battered bike starts its return journey to the UK having successfully carried me so very, very, far...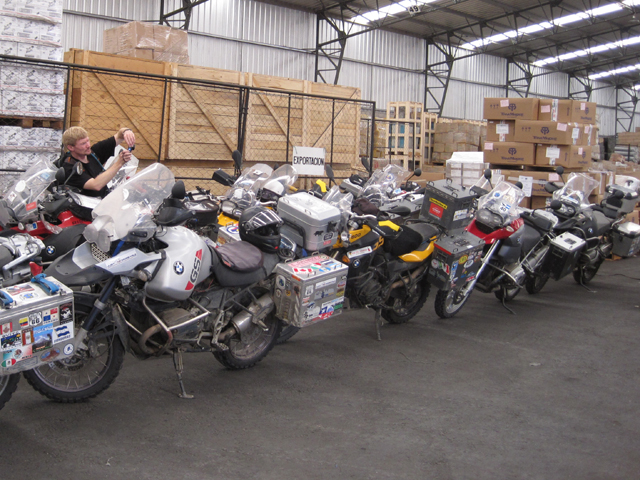 Leaving the bikes and catching a taxi back to the hotel really did feel like the trip was over. Just as it had felt that it was about to start when I dropped it off at James Cargo's depot in Manchester all those weeks ago. Back at the hotel I whiled away some time doing nothing before meeting up with Aaron, Nick, Pertti and Late Guy to go out for dinner. I'd found a Thai restaurant and vodka bar in town that looked good and when I told Richard & Karen and Max & Christine they decided to join us, first we went to a local café where we'd had lunch and where they served draught beer for a couple before getting taxis across town to the restaurant. Once there, Richard started selecting some very nice vodkas for us to try, Aaron discovered some of the best mojitos ever, Pertti selected some very nice white wine and we all ate some fantastic Thai food (and for once it was proper spicy!). Eating and drinking with these wonderful people has been great fun over the past 19 weeks, and I'm really going to miss them...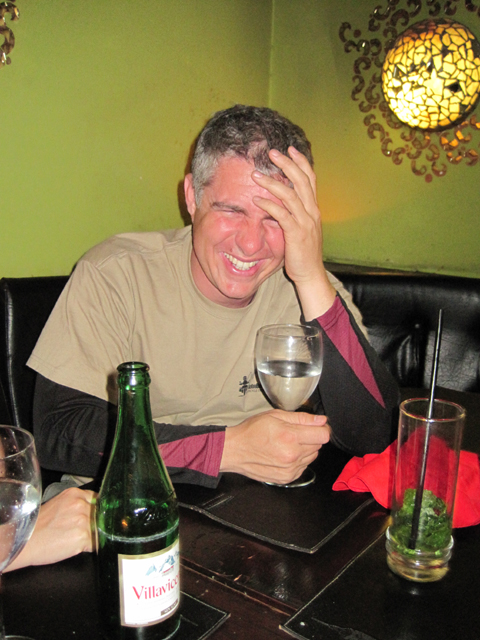 After a great meal and with some of our party having perhaps had a little too much alcohol (I was still taking it easy) we wandered round the corner to the Orleans café for a coffee and to people watch. This is one of those cafés where the working girls hang out to pick up clients, which made for an entertaining few minutes before we left for the hotel. Nick, Late Guy and I walked whilst the rest fell into taxis, the night still warm. On the way back Nick started chatting with the guys sifting through the rubbish at the roadsides, bundling the cardboard into bales they could then recycle for cash... guess you just can't stop him thinking about the best ways to make money from scrap!
And so to bed, but first I snuck past a snoring Jim and closed the blackout-curtains... perhaps now I'll get a full night's sleep!
Sunday, 6 December 2009
The Last Supper (or Group Meal)...
With the sun streaming through the open curtains from the wee small hours it was no surprise to hear Jim getting up and banging around as he got himself ready for the day ahead. When he'd gone to breakfast I got myself up and showered, unable to lie in any longer. After breakfast I went back to the room to sort out the blog for yesterday, whilst Jim went back to bed and slept. Around 11am I went downstairs and met up with Aaron, Nick, Pertti and Simon for our planned shopping trip, determined to at least try and find something suitable to take home. I failed, though, as it seems wrong to buy others souvenirs of places they've not been to, and I have sufficient memories (and stickers!) to not require additional tacky ornaments or ghastly t-shirts. After a cup of good coffee and a bottle of water in a café we wandered round town to Plaza San Martin where we planned to get a tour bus round the city to see the sights. Only the bus' audio system was broken and rather than take a trip round to see sights and not know what we were looking at, we gave up. Simon and Nick wandered off on a long walk, Pertti went shopping, Aaron had already returned to the hotel and I decided to do the same, my back starting to hurt from walking. I manage to find a large bag to pack my stuff in for the return journey and fully intended to practice packing when I got back to the room, but then decided to snooze instead. Which I did for most of the afternoon. Lazy or what!
At 6pm we had another meeting, to run through the process for freight (again) and then the group took over the meeting with Richard and Max presenting gifts on behalf of the group to a suitably embarrassed Kevin & Julia (a picture of them peering through the rusting hull of a boat signed by the entire group) and Jeff (a picture of him with the turtle in Nazca and a large wad of cash donated by the group)...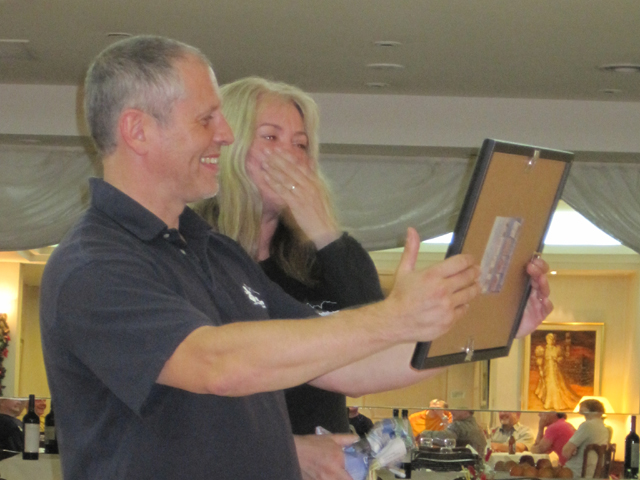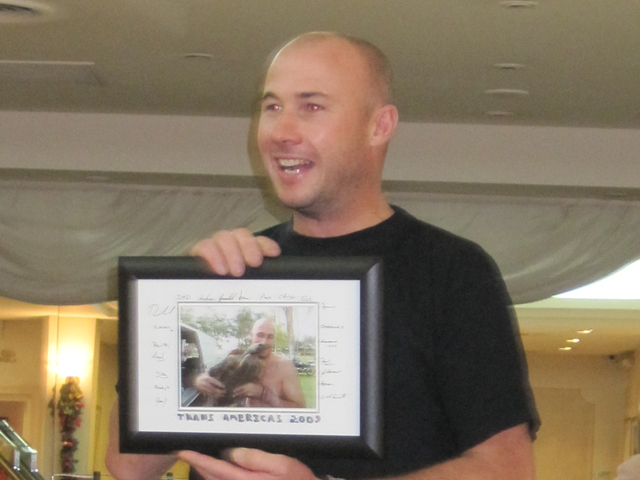 After a few more speeches, including a very moving one from Gerald we started to drift off, and I went to get showered and changed ready for the group meal. Coming down in my best shirt I was confronted by some of the group, all wearing their "Globebusters Trans Americas 2009" t-shirts. It seemed that as Kevin had failed to buy a new shirt and jeans he'd declared it a team t-shirt evening. With my oversized (xxl) t-shirt in the wash I was given another one, and this time it fitted me. So with just Al not wearing his t-shirt (his reasons: he doesn't wear t-shirts and thinks that old men shouldn't and besides, crew necks don't suit him) the entire group hung around waiting for our coach to turn up. Eventually it did and we were whisked away to the Carlos Gardel theatre for our meal and entertainment. The place was packed with tourists and we had a long table leading back from the stage in the middle of the room. No sooner were we seated than the water and wine was poured and we were asked to make our selection from the menu. Ordering empenadas to start, chicken for main and chocolate mousse for dessert I wasn't expecting much, as with somewhere in the region of 600 people to feed before the show started the kitchen was going to be very busy. But they surprised us all, the food of a very good standard and served with military efficiency. Whilst we ate they showed a film (with no sound) of the history of tango, which seemed to be more a musical style than just a dance as I'd assumed.
No sooner had we finished the meal than the show started. With a small band consisting of a pianist, a chello, 2 violins and 3 accordions playing from a raised bandstand above the stage, we were treated to the most amazing display of dancing I've ever seen. The speed with which the dancers moved their legs, kicking them in between each other's was staggering. One couple performed a routine that would not have been out of place in a circus or gymnastics display, the guy spinning the girl round his back and over his shoulders, whilst she adopted poses with legs and arms our straight creating elegant lines. And all the time they looked deeply into each other's eyes, the dance very sensual and almost erotic. Sometimes I wish I hadn't got two left feet and no sense of rhythm... With flash photography banned, I couldn't get any great pictures, but can't let the evening pass without posting a couple to try and capture a little of the mood...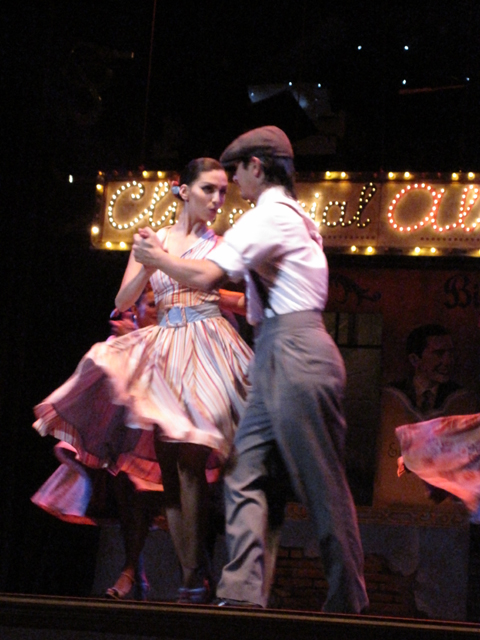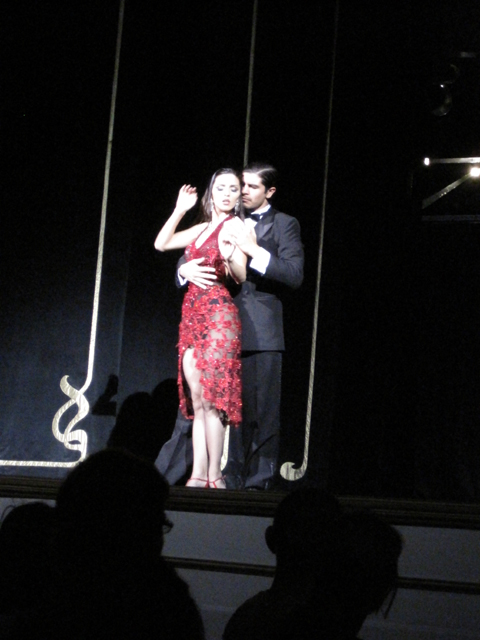 The only downside to the show were the singers, who seemed to think they were the stars of the show but were really filling in whilst the dancers changed costumes. Singing what sounded like Spanish opera I thought they were terrible, but even they could not ruin what was a great evening's entertainment. As our last official group meal it had been excellent, and despite the red wine being on "free vend" I managed to prevent the waiter from constantly topping up my glass... another almost dry night? Well, I am preparing to come home!
Saturday, 5 December 2009
The Ride, Ridden...
I was woken up by the sound of Nick talking loudly in the corridor about the "bus that hit me last night" a reference to the whisky no doubt... at first I cursed him for waking me up, but then I caught sight of my watch and the time... 7.15am... just 15 minutes to departure time! I was up and showered and outside packing the bike in record time, but still feeling the after-effects of the night before. One of these days I'll learn, but not on this trip... as today is the last riding day....
With waterproofs on as it had started to rain, a constant heavy drizzle, I got on my bike and left, not quite last as Pertti was still getting ready whilst all the others had gone. The first section of the ride was on quick but damp roads, gently winding over the hills before they were left behind and the road straightened out. Riding at a fast but comfortable pace I caught up the main group after just 65 miles, then stopped for a drink of water and some peanuts in lieu of the breakfast I'd missed. I then continued on my way, catching the group again after a further 30 miles or so, as they were riding at a conservative 60 mph. We arrived at the fuel stop with Julia's bike showing -4 miles on her range, which explained why they were riding so slowly. Filled up with fuel and coffee and with some snacks in my system I set off again, this time ahead of the group so I could set my own pace. With the open road ahead and my head clear, I settled into the ride, relishing this last opportunity to enjoy the delights of riding in this continent for the last time, even if it was raining and cold. The route-notes referred to a restaurant where we should stop for lunch and to re-group to allow is all to ride into Buenos Aires together, but said it was just after the town of Las Flores at 297 miles – only Las Flores was at less than 200 miles and the restaurant was nowhere to be seen. After riding around for a little while I saw Aaron heading back out of town and after a quick chat we decided to continue riding until we hit the mileage and see if we could locate the restaurant. It seemed the notes had confused the town's name, as on 297 miles we found the restaurant and pulled up outside. Just as we did so I noticed that the noisy bike I had heard which I assumed was Aaron's was actually mine, the exhaust having split just ahead of the silencer. Good job we only had 70 more miles to ride...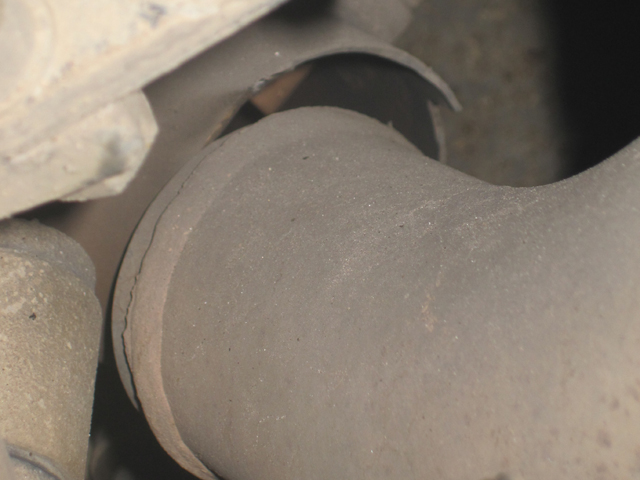 We went inside the restaurant and organised the staff, who were all well into their old-age, to lay tables for all 25 of us, and no sooner had they done so than the group started rolling in. Lunch took an eternity to arrive, my ravioli being the last despite me arriving first, and it wasn't worth the wait. When we'd all eaten and settled the bill we went back out into the rain and started the final leg of this incredible journey. Riding in one large group for the last time we rode the remaining 70 miles to Buenos Aires, the sound of my exhaust almost drowning out the tunes in my helmet. Riding near the back I had a great view of the group, riding in perfect staggered formation. The roads into Buenos Aires got wider and the traffic heavier as we passed through a number of toll booths and headed for the city centre. Soon we were riding along Avenida 9 De Julio, the world's widest road. This is an entire city-block wide and took us deep into the heart of the city, before we turned off and a couple of turns later were pulling into the underground car park of the hotel. Down the slippery ramp and into a parking space and then finally switching off the bike. The ride, all the way from Anchorage to Buenos Aires via the top and bottom of the world, finally over.
There was one last sting in the tail, though, as Aaron dropped his bike at the top of the ramp. Both he and the bike were undamaged, but there was a certain irony in his misfortune. We'd had Ed drop his just before the start and now we'd had a similar drop at the very end.
The car park was then filled with noisy congratulations, more man-hugs and handshakes, but this time no tears, just signs of relief on the faces of the group. We were also greeted by some of the Patagonia group, including Santa Phil (who'd brought my starter motor to Santiago) and Van Al (who we'd last seen in Chile before my off). A quick celebratory beer and then to the room for a warm shower and a rest before dinner. We'd arranged to go to a meat restaurant a few blocks from the hotel and the food was very good, although I couldn't eat my steak as I think I've had too much red meat lately. The evening was a little subdued, none of the noisy excesses of the night before, the group in a contemplative mood, reflecting on the fact that the ride was now over. With just the process of getting the bikes through customs and onto the boat home to sort before we all depart for our homes and return to our previous lives...
Which is probably a good time for me to reflect on this amazing journey...
Over the past 19 weeks I have covered a total of 22,304 miles (21,304 on my bike allowing for the speedo error and 1,000 on Nick's following my off) through 13 countries (USA – 7 states: Alaska, Montana, Wyoming, Utah, Colorado, Arizona and New Mexico, Canada – 3 provinces: Yukon, British Columbia and Alberta, Mexico, Guatamala, Honduras, Nicaragua, Costa Rica, Panama, Columbia, Equador, Peru, Chile and Argentina) and 5 time zones. As part of the longest Trans_Am expedition to date, I have been part of a group that has seen everyone who started reach the end - a first, as previous Trans Ams have had to send at least one person home due to injury. Despite a number of fairly serious "offs" (mine, Nigel's, Gerald's, Simon's, Nick's) and a large number of other falls (only Kevin didn't drop his bike the entire trip) we only had one broken bone – and that wasn't really broken, just cracked (my rib). We've had bikes broken and repaired, and ended the trip with just one bike sent home (Danielle's after she hurt her wrist in Mexico, the bike sent back in Panama) and one ended in the van (Chris' after his crash – but it was cannibalised to get Andy's back on the road). I was lucky enough to be able to ride every single mile despite a number of problems with the bike (the fuel pipe disconnecting in Honduras and the starting problem) and my off (which meant I rode Nick's bike for 3 days until mine could be repaired).
I have seen how varied the landscape of a single continent can change, from vast snow-capped mountain ranges, bright blue and green lakes, forests both tropical or temperate, huge cultivated lands, isolated and deserted plains, deserts, and the beautiful oceans (Arctic, Pacific, Atlantic and Southern). I have seen all sorts of wildlife, including alpaca, bears, condors, dolphins, eagles, foxes, guanacos, hares, iguanas, jackrabbits, king salmon, llamas, moose, ospreys, penguins, rheas, scorpions, turtles, vicunas and whales. I have seen the people of the Americas change as we travelled the length of their continent – from the stocky hardy folk of Alaska through the tiny delicate people of Central America and Peru to the tall elegant people of Columbia and Argentina. I have seen the stark difference in the way people who share this land-mass live, from the extravagant consumerism of North America to the desperate poverty of the Peruvian desert. I have ridden all sorts of roads, from smooth tarmac, hard-packed dirt, gravel, sand (oops!) and rocks, into canyons and over mountains, through valleys and by the ocean. I have enjoyed and endured all types of weather, from hot sunshine through tropical humidity, high winds, torrential rain and freezing snow.
And all this whilst enjoying the company of my fellow travellers, who once were strangers and are now friends.
And the best bit of all is I did this whole journey on a motorcycle. A remarkable motorcycle. My 2005 BMW R1150 GS Adventure, affectionately known since La Esperanza, Honduras, when it was named by a passer-by, as "El Monstro". It looks a lot worse for wear following the off, but has got me here to Buenos Aires. When I finally get it home I'll spend some time restoring it to its pre-accident condition and perhaps one day we'll set off again on another adventure... but for now, I think it deserves a rest even more than I do...
So what was it all about? Well, one way to describe it is that it was simply a long bike ride so I could put these 2 stickers on my panniers...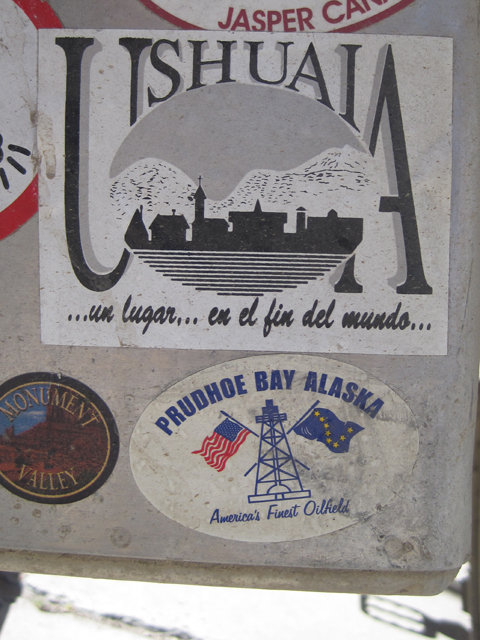 Friday, 4 December 2009
Lazy starts and late nights...
With a very short day of just 240 miles on straight roads I was determined to have a lie in and a relaxing start. Unfortunately Jim had arranged for an early morning wake-up call for 6am, so that put paid to that idea, although I did snooze until 7am before finally getting up. I did pack very leisurely, though, ditching some of my older t-shirts as I lighten the load ready for the flight home. I then ate a very leisurely breakfast, which was quite hard as there was very little on offer from the buffet, just the usual ham and cheese or toast. By the time I was ready to go it was getting on for 10am, and most of the group had gone. Nigel was having trouble getting his bike to start, as it's developed a fault whereby the onboard computer thinks the engine is already running when it isn't. Jeff soon sorted it out by waggling the wires on the gearbox sensor, though. Just as I was getting ready to leave a cameraman and young woman holding a microphone appeared and spoke to Ozzy Andy, who doesn't speak a word of Spanish and passed them off to Chris, who was sat waiting for the van to leave (Danielle and he are back riding in the van after Julia lent him her bike to get to Ushuaia). Whilst he was being interviewed I left, revving the engine a little more than usual just for the camera....
Riding alone again I easily found my way out of town and back onto Ruta 3, the road still very straight as it cut through yet more mamba country. With a perfectly clear blue sky stretching from horizon to horizon all around, and some good tunes playing in my helmet, I was as happy as Larry (whoever he is!). With an empty road ahead I rode quickly, enjoying the freedom from the oppressive speed-camera obsessed traffic-congested UK. So quickly in fact that after just 160 miles I had to stop for fuel, having used up 23 litres in such a short distance. I put the poor fuel economy down to a strong wind as well as my heavy right wrist... When filled up I popped into the café where Gerald, Tony and Phil were busy tucking into double-egg and chips. Without further ado I ordered a plate and a bottle of water and within minutes was stuffing my face with culinary delight. It's amazing how such a simple meal can be so pleasurable when you've been eating in restaurants for 19 weeks...
Back on the road I continued my rapid pace and before long was heading towards the hills and the final hotel before Buenos Aires. I arrived much earlier than planned, around 1.30pm, having covered the full 240 miles in under 3.5 hours, including a stop for lunch. My room was ready so I unpacked and showered, then did the usual blogging before going outside for a wander when I heard the sound of other bikes arriving.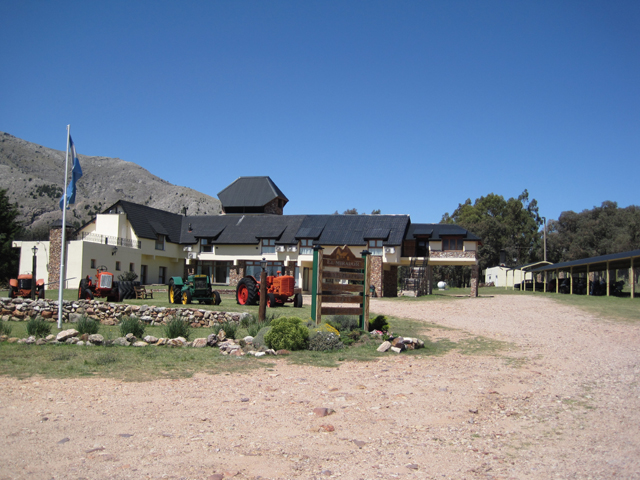 I joined Ed in the restaurant where he was enjoying a salad and a beer, and we chatted about his collection of classic motorcycles whilst enjoying a beer or two. I did manage to drag myself away to the room briefly to drop my laptop off before returning ready for the final "Gold Star" award ceremony which was to be held before dinner. If you recall, this was introduced by Nigel as a counter to the Prat Hat (which died a death in Futaleufu when it got burnt) and is awarded to any group member who does something "above and beyond". Nigel as the instigator of the award was master of ceremonies, and having collected in the nominations in a secret ballot proceeded to read them out...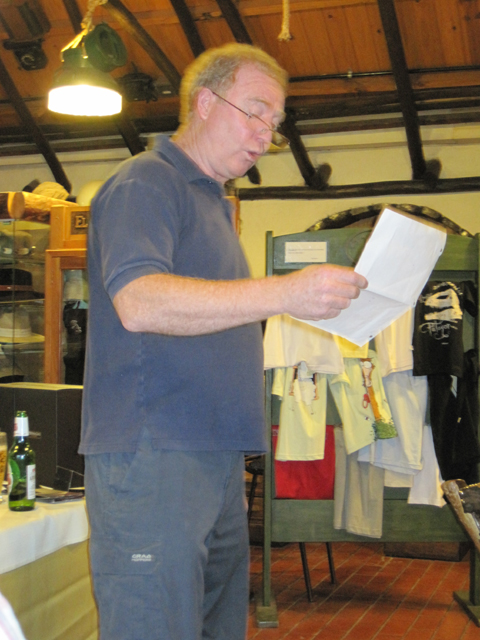 My favourite was the nomination that said the whole group deserved the award for all the little things we've all done for each other that has meant we are the first Trans AM trip to get everyone who started to Ushuaia (albeit with Danielle no longer riding). But as they say there can be only one winner, and (drum roll, please) the winner of the Trans Am 2009 Gold Star Award is....
… Chris – for without a second's consideration offering his bike up to be cannibalised so that Ozzy Andy could once again ride (he used Chris' rear swingarm and front wheel), Pertti could replace his knackered rear shock and Nigel could benefit from a fresh tyre when his was damaged. Whilst I think Chris would much rather his bike had been repaired following his crash, there is no doubt that his generosity helped other riders get to Ushuaia, and so he was a worthy winner.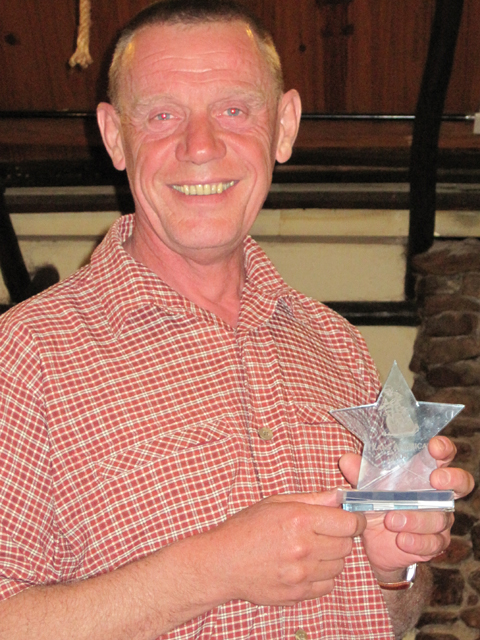 With the ceremony complete we assembled for dinner, ordering a second bottle of wine to follow the one we'd drunk during the ceremony. The food was excellent, even if I did swap the steak I ordered for Aaron's stir-fried beef as he wasn't keen on it and I love stir-fry. There was also another bottle of wine at some stage, perhaps even 2 more, as I proceeded to continue the tradition that has developed on the trip of drinking way too much the night before a long ride. And with 370 miles into Buenos Aires and an early departure (7.30am) it didn't occur to me to break the tradition. After all, this was the last night before a ride as tomorrow is the last riding day... even the two very large whiskies we had as a nightcap couldn't take away the sense of occasion....
Thursday, 3 December 2009
A beautiful day for a ride...
Back on the road again, with a relatively short 275 mile ride up Ruta 3 to Viedma. After the usual pre-departure routine of showering, packing, breakfasting and blogging were done I set off with Nick, him leading for a change. Unfortunately he missed the turning leading to the road out of town having misread the route notes and so I found myself on Ruta 3 alone. I pulled over and waited until Nick arrived, then tagged on behind and we rode together out into the barren and flat countryside once more. Under a very bright blue sky, dotted with fluffy white clouds (a sky that I always think of as a "Simpsons' sky" as it reminds me of the start of The Simpson) we rode at a steady, relaxed 70-75 mph. I'd recharged my MP3 player and set it to shuffle mode, so had a very eclectic mix of tunes to sing along to as we continued on our merry way. Initially the wind was strong and blustery – the tunes in my ears sometimes very apt, such as "The Wind Cried Mary" and "Blowin' in the Wind" - but then it settled down as we got further north. After 90-odd miles we stopped to refuel and grab a coffee, the pair of us in very relaxed and happy moods, just glad to be riding bikes on such a beautiful day, even if the road itself was uninspiring. After another couple of hours of cruising I noticed that the roadside markers, which count down the distance to Buenos Aires (the start of Ruta 3) in kilometres, were getting close to the 1,000Km to go point. That gave me an excuse to stop and get off the bike, quietly reflecting once again on just how far we've come and how little we have left to do...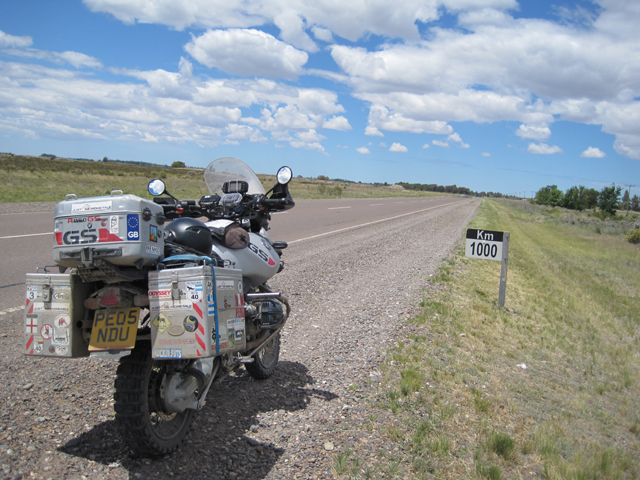 I soon caught Nick up again, as he'd also stopped by the roadside for a quiet moment having noticed I was no longer in his mirrors. He asked me to lead the remaining 40 miles or so to the hotel, which I was happy to do. When we set off I noticed another headlight in my mirrors, Simon having caught us up and tagged on behind. Entering Viedma we stopped for fuel and then found the hotel by the river very easily, the route being pretty simple. Once unloaded we put the bikes in the garage round the back and then arranged to meet up again in half an hour or so to go and get some lunch, as it was now getting on for 2pm. We were joined by Aaron (who had arrived first despite setting off almost last as he was on a mission) and Pertti (also exercising the throttle a little) and decided to cross the river to the town of Carmen de Patagones which is often referred to as the "old town" despite both being founded by Francisco de Viedma y Narváez in 1779 (originally both were called Carmen de Patagones, Viedma being named as a separate town in 1879. Crossing the river was not as simple as walking across a bridge (which would have taken a while as the river is about 300m wide). It involves getting a little ferry that continually goes from the jetty opposite out hotel to one on the other side. Now this ferry is more like a canal boat than a ferry – as you can see in the picture below – the ferry is the boat coming in to dock...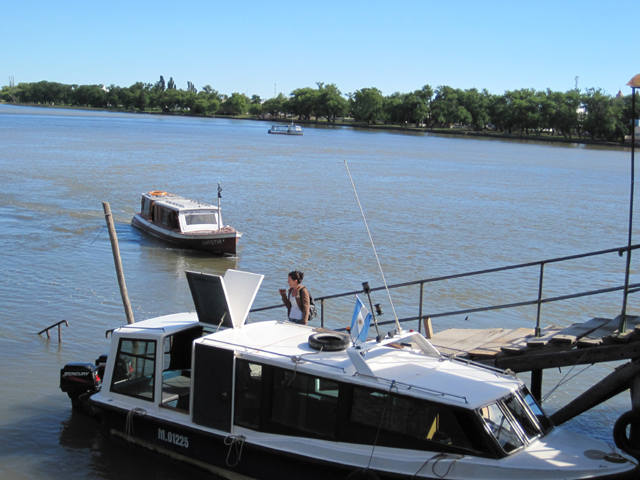 Despite its small size the ferry is pretty efficient and got us across without incident. Once on the other side we went into the Tourist Information office to get a map and enquire about restaurants, only to be told the town was having a siesta. They weren't kidding either, as all the shops were closed and apart from some schoolchildren and a few teenagers there was hardly anyone about. We did find a hotel restaurant open eventually, and I had a pretty decent hamburger followed by a very good chocolate mousse (I was intending to eat only once and skip dinner later). When done we wandered back in the hot sunshine (it's getting warm again as we head North) to the ferry and our return trip across the Rio Negro (black river) to the hotel...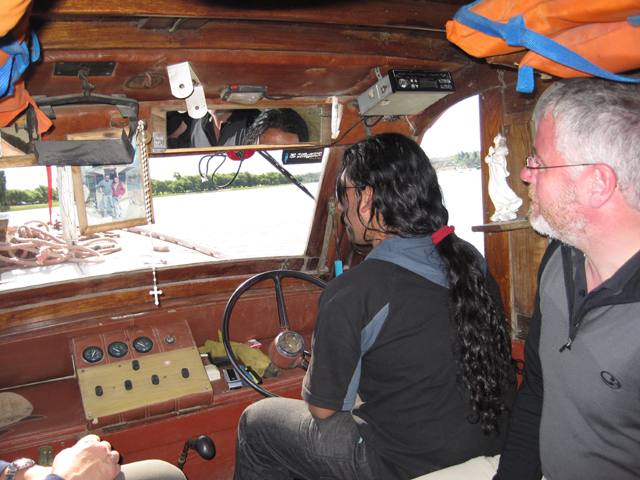 Back at the hotel I retired to the room for a mid-afternoon snooze, and slept soundly for a good hour before waking up and remembering the meeting we had scheduled for 7pm. Downstairs in the hotel bar the group assembled to hear Kevin explain the next few days as we arrive in Buenos Aires and start the process of getting the bikes cleared through customs and into the freight container that will then be shipped back to the UK, arriving some time late January or early February. With Kevin and the Globebusters team taking care of most things it all sounds relatively straightforward, and with any luck we'll actually get a day or so to explore Buenos Aires and to relax in the sun before returning to cold, wet, miserable England...
Once the meeting was over we set off for a walk round the town, grabbing a beer in a pavement bar and people-watching (the one thing that did strike me was the number of Cirtroen 2CVs with wide wheels, we must have seen at least 3). A short walk later found us in a pizza/pasta restaurant where several others from the group were finishing off their meals, Ozzy Andy raving about the "Lomo in Whisky and Langoustine Salsa" he'd just had. So I ordered that and it was truly delicious. So much for my one-meal a day plan. But at least my alcohol intake was low again, not quite a dry day (2 glasses of wine with dinner for those that are counting!). I'm trying to detox a little before the inevitable excesses of the first 2 nights in Buenos Aires...
Archives
July 2009 August 2009 September 2009 October 2009 November 2009 December 2009
Subscribe to Posts [Atom]