<
Trans Americas 2009 - The Blog
The Just One More Mile story of Paul's Trans Americas 2009 motorcycle expedition.
Saturday, 31 October 2009
Halloween and a really frightening sight!
Halloween... how appropriate, given I felt like the living dead when I came to around 5am, the codeine I'd taken before lying down having worn off. I took the remaining tablet and tried to sleep some more, finally giving up around 6am, but lying unable to move for a good 10 minutes before I finally worked out how to get out of bed without the pain in my ribs causing me to give up. I hobbled to the shower and stood under the hot water for a good few minutes, hoping it would soothe the pain away and allow my shoulder to move. It did help, but it still took me a full hour to get dressed, the hardest part working out how to put my socks on as I couldn't reach my feet even when sitting on the bed. Finally I was ready to face the world again, dressed in my bike gear and ready to ride Nick's bike once more. In the dining-room for breakfast I fielded the endless questions about my condition "fine, just a little sore" and "good, considering", my attempts to conceal the reality feeble and unconvincing, especially as I whinced every time I tried to move...
Aaron kindly offered to bring my bags and stuff down from the room, and I loaded some into Nick's battered panniers (another job for Jeff!) and put the rest in the van, then asked if there was anyone I could ride with as I'd not got any route notes (mine were in my magnetic map pocket, which won't attach to Nick's bike). Pertti and Simon quickly volunteered, and so we left the hotel to get some water and cash from town before hitting the road. The town road was made of large square concrete sections, each around 12ft square and the joins between them were the work of Satan himself, each one jarring my back and having me cursing like grandpa from the Simpsons (try cursing whilst you've no breath and you'll sound the same). In town we got some cash and water and then set off again, using Pertti's GPS to help find the way. Thankfully once clear of town the sadistic road turned to smoother tarmac but about 12 miles down the road we encountered Ed & Lorraine and several others coming the other way. A short roadside conference determined that we were on the wrong road, as this one turned to dirt just a couple of miles further on (though it would still get us to where we were going). Not wanting any dirt roads as they were way too painful, I gladly turned round with Pertti and Simon and headed back to town, where we filled up with petrol before finding the right road.
The riding was uninspiring and pretty dull, once again on fairly straight roads through desert with little to keep my attention. Cruising at a steady 75mph at first seemed ok, but then I started to ache badly, the wind-blast not helping my condition. I was following Pertti, with Simon behind, and slowed to 65mph to reduce the pain. Immediately Pertti slowed too, ensuring he maintained a constant distance in front and demonstrating the great care he and Simon were taking over me. We stopped at one point when I needed to get off and stretch, no complaints from either of them, Simon rushing to me as soon as I'd pulled over with water.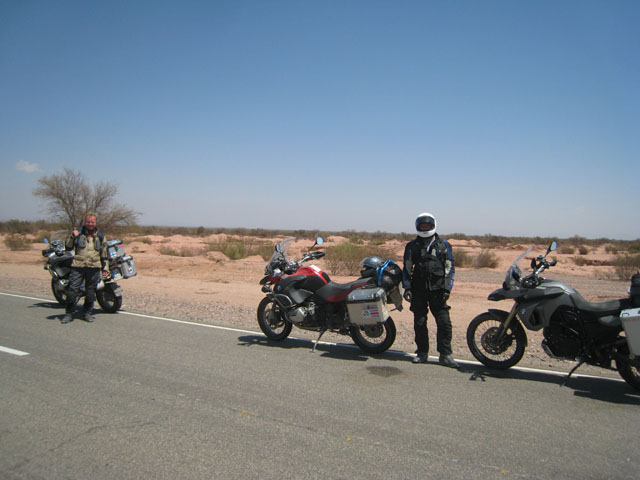 With such great people looking after me the day's riding was going just great until about 20 miles from our destination when the road started to climb a mountain and turned to dirt. It was good dirt, solid mud with a light coating of loose gravel, but the odd rock embedded in the road caught my front wheel and pushed the bars back sending waves of pain up my arms and across my chest. I tried to relax as much as possible (the secret to riding on the dirt is to be very loose on the bike), but it was still painful and I was very short of breath. I had to stop several times to regain my composure, gratefully drinking the by-now hot water from the back of Simon's bike, but with the encouragement of my carers I carried on. Finally we reached tarmac once again, the beeping horns from Simon and Pertti signalling they too were glad I'd made it. As I was now in front (Pertti having turned back to come find me after my last stop to get my breath), and the road was smooth and twisty, I wound the throttle on, glad that I could at last ride the bike without too much pain. I let Pertti past just as we arrived at the outskirts of town, and he guided us to the hotel where I crawled off the bike, exhausted but ecstatic at having ridden every mile. Pertti parked the bike and I went into reception where the group was hanging around drinking, Aaron first to offer me a drink (2 bottles of Aqua sin Gas). I drank one bottle and hobbled off to my room to get changed, Nigel grabbing my bag from the van for me.
Before dinner we discovered that today was Pertti's birthday, it being missed by the Globebusters people as he was originally booked on the Patagonia trip. We arranged the formal ceremony for a couple of days time in Santiago, but sang him Happy Birthday anyway. It being Halloween, Jeff decided to dress up in a frightening costume, borrowing Candy's clothes (she's the inflatable doll that we gave him in Moab and that's caused great amusement at every border crossing since)... Scary or what!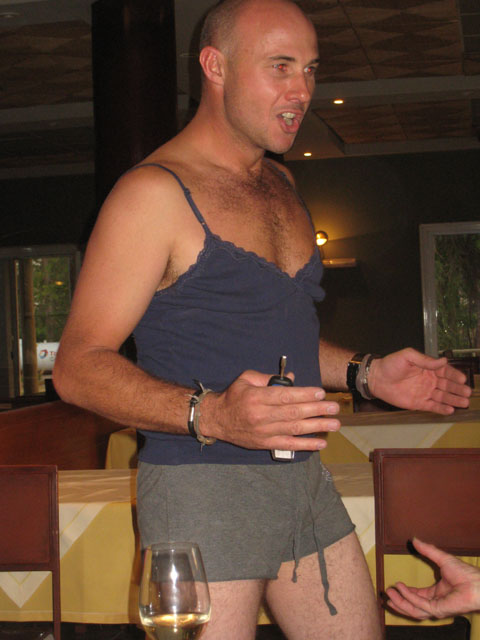 Then we had a Prat Hat ceremony, which this week had all the markings of a stitch-up. First to get nominated was Jeff, for his antics in a bar that resulted in a young lady who'd joined those of the group present and playing Jenga to leave suddenly (I can't reveal the details for fear of a lawsuit). Then Andrew, for repeatedly dropping his bike (like in the hotel grounds on arriving today) and for convincing Max that he was going the wrong way when he wasn't. And that was it. The vote was almost unanimous, Jeff being the lucky recipient of the hat ready for the border crossing back into Chile...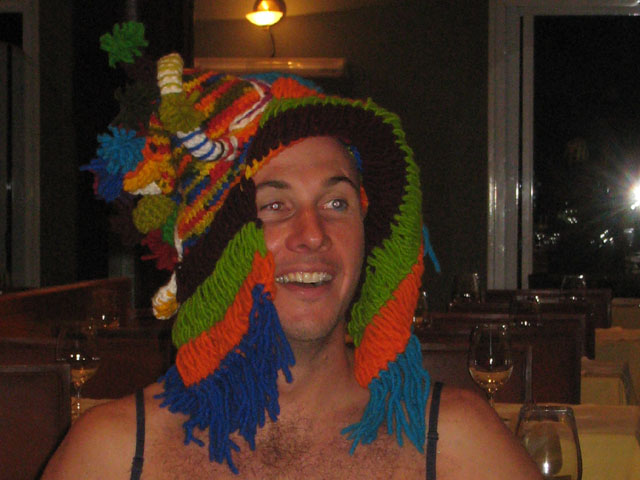 I ate dinner with Nick and Chris & Danielle, Nick and I both looking like cripples as we struggled to cut our meat and tried desperately not to laugh or cough, both of which caused us to whince in pain. Comparing our relative states, Nick initially thought I was worse off, but then his own pain relief wore off and he hobbled back to his room for some more painkillers. He handed me his bike keys again saying that he wouldn't be riding – I think part of which is knowing how much riding all the way means to me, and with my bike still in the van, this is the only way I can. I gladly accepted, Julia's words that "if anyone rides on dirt tomorrow, you've gone the wrong way" reassuring me greatly, especially as it's a 350-mile day...
Friday, 30 October 2009
Following the Dakar route from Chile to Argentina... and the perils of deep sand...
Border-crossing day, as we continue to follow the Dakar Rally's liaison route up and over the high mountain Paso de San Francisco and cross into Argentina for the first time (we'll be heading back into Chile in 3 days or so). As usual with long days like these, we're up early, packed and breakfasted and then out on the road in the early morning light. The road initially takes us out of El Salvador and up and over the mountains, dropping back down into the valley we rode up yesterday, then heading up a dirt road up and onto the Paso proper. The dirt road is in really excellent condition, being solid mud with little loose gravel and no muddy sections, making it more like smooth tarmac than the bone-shaking bowel-loosening dirt we're used to. As a result the group gets spread out, those that like a bit of speed and don't feel intimidated by the dirt blasting along stood up full of the joys of riding in such remote places... like Ozzy Andy, pictured below catching me up after I'd stopped to get some pictures...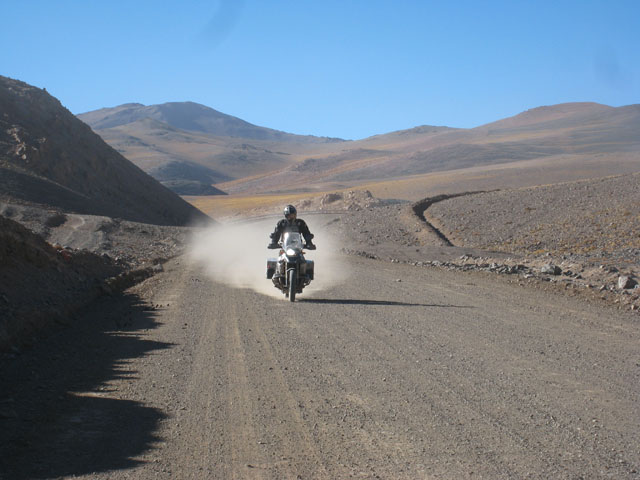 The road twisted up the mountain and then went across the plateau, the surface just perfect for high-speed standing up riding, the cool early morning air refreshing as it flowed through my jacket, all my senses heightened by the sense of freedom and isolation. Riding alone for a while I realised there was nothing in front of me, and nothing behind, so I stopped for one of those perfect "lone rider" photo-pairs...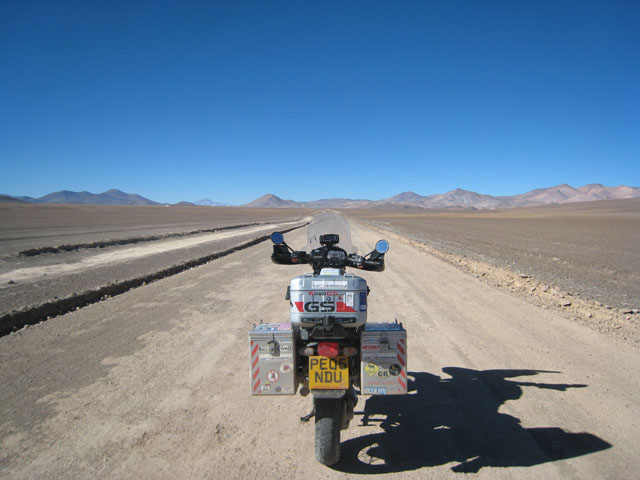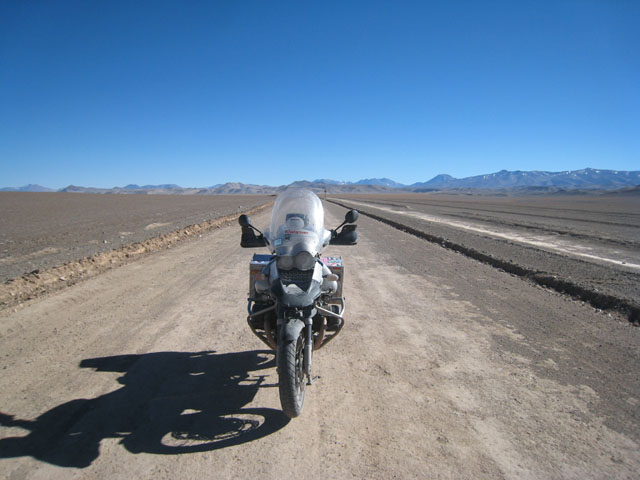 And so it continued all the way to the Chilean border post, where there were 3 large trucks being processed. No sooner had I arrived than I was joined by others (who must also have been motoring on the high-quality dirt), and we began the process of clearing ourselves and our bikes out of Chile. What's odd about this particular border post, though, is that it's not near the border. That's still some 70 miles away, marked by an inconspicuous police checkpoint where they check that you've got the necessary form from this post. One mistake and you'll be riding back 70 miles to correct it. With that in mind, we were double-checking everything before heading off once again. Once clear of the border post the road changed slightly, becoming more gravelly and therefore slower, and rising up and around more mountains as it gained height – reaching almost 4,800 metres at the highest point. Once again the scenery was stunning, with distant snow-capped mountains under a clear blue sky.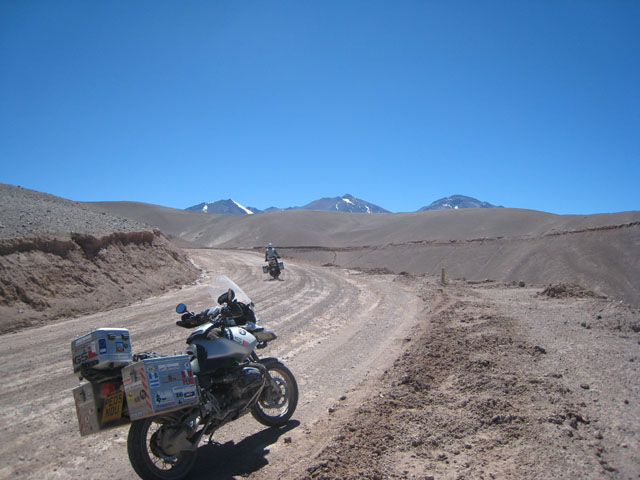 But the road had a couple of nasty surprises in store. First to encounter them was Nick, who caught a deep sandy patch on a small uphill section and lost control, going down hard on his ribs and wrenching his left wrist. When I came on the scene there were plenty of others stopped, all waving and telling me to keep left up the hill, where the sand wasn't so deep (but still deep enough to have the bike weaving this way and that). I stopped and walked back to see how things were, and Nick looked ok, just a little winded. I helped put up a marker to warn others of the deep sand, and then as there were so many people with Nick, carried on my way. A couple of the big trucks had passed whilst we were dealing with Nick, and so I had to negotiate my way round them to get clear air, the dust cloud they kicked up making reading the road impossible. Once in front, I carried on, my pace slowed a fair bit as a result of the unexpected sand patch that Nick had fallen victim to. Cresting one rise I saw the road in front looked good, but just as I started my descent I went into a deep sand-pit, my front wheel bucking one way and then the other, the bars going from lock to lock. Remembering my training, the only way to deal with sand is to keep the power on to lighten the front wheel and hopefully stop it tucking completely, so I accelerated, increasing my speed from the 35mph-ish I'd been doing. But the bars went lock-to-lock twice more and I knew I was in deep trouble as the sand was too deep and too long for me to ride through it. I went down hard, banging my head and knocking myself out. I don't remember anything else about the crash, until I was sat at the roadside asking what had happened, the actual crash seeming like a dream. I was pretty dazed for a little while until I pieced together what had happened, whilst Pertti and Nigel (who had been first on the scene and described seeing my bike cartwheel down the road in a cloud of dust) went looking for bits of my bike way back up the road where my troubles had started...
Looking at the photo it's hard to see the deep sand patch I rode into, on the left just below the brow of the hill and extending all the way down to where my panniers were placed. It must have been a good 6-8 inches deep and there's simply no way I could have ridden through it without coming off. My mistake was keeping to the right coming over the hill in case of oncoming traffic, putting me in the position most likely to be where the sand was, untouched by the wheels of other traffic. As well as knocking me senseless for a while, I'd also hurt my shoulder and ribs down my left side and my right thumb in the crash, but remarkably didn't have anything broken. That's more than can be said for the bike, though, as the screen and instrument panel was all damaged, the rear light cluster smashed, the pannier rails deformed and the top-box mount shattered. The panniers themselves had taken a beating too. Fortunately whilst I was still coming round, Nigel, Simon and Pertti had appeared and cleared all the debris, collecting together the bits from my bike and making sure I was safe and well.
When the van appeared, I was fully expecting to be loaded on board, bearing in mind the long day we still had to do, but Nick was inside looking decidedly unwell. He'd succumbed to shock and was pale and shaking, sat in the front with Karen and was being rushed to hospital the other side of the border. Jeff took one look at me and asked how I was "battered but ok" I replied, and he checked my bike over, to discover that the crash had loosened the brake banjo and I'd lost all my brake fluid and therefore my brakes. "Right", said Jeff, "You're riding Nick's bike, this is going in the van" and with that he unloaded Nick's bike, loaded mine and sped off to get Nick the attention he needed.
For the next hour or so I crawled along the rest of the dirt road, with Richard (who'd stayed behind looking after Nick following his accident having been first on scene) and Pertti following me ready to pick me up if I fell again. Every unintentional movement of the bars caused by the rocks and ruts on the road were agony, sending sharp pain down my ribs and robbing me of breath. At 4,400m it was hard enough to breathe, without the added complication of painful ribs. At one stage I nearly lost it in a sandy pothole when following Gerald, who also went completely sideways, but we both stayed upright, the difference being he carried on whilst I had to stop for 5 minutes to regain my breathing. Finally I arrived at the Argentine border, where there was a pile of van-stuff and my bike stacked up by a pylon. Jeff, Karen and Nick had gone on to the hospital with one of the customs guys, but clearly couldn't take the goods into the country uncleared, so had been forced to unload them at the border. The rest of the group cleared their bikes and set off, whilst I cleared my bike despite it not being in a fit state to go anywhere unaided. The stories of carnage on the road kept coming – Al had been down and banged his foot, Jim had been down 4 times and badly sprained his ankle, and at least half a dozen others had been down at some stage, though thankfully without injury. Julia was questioning the wisdom of using the road, but Kevin said that when they'd come the same way in January there had been no sand, a sure sign of just how quickly these dirt roads can change their character. I sat whincing in the customs office wondering just how the hell I could have avoided the sand in the first place...
When everyone else had gone, Kevin and I waited for Jeff to return. Richard had kindly offered to take me pillion, so they could load Nick's and my bike in the van, but I felt able to ride and didn't want to miss any miles – getting all the way from Alaska to Argentina on a bike still the goal and I wasn't done with it yet. Whilst we sat outside in the cold, one of the customs guys came out and invited us into their common room. They get posted here for 30-day stretches, living in a little wooden house with a dorm-room and a common room attached to the customs post. It's a really desolate, isolated spot, but when they threw a large log into the fireplace and got the fire going, and handed us hot coffee it didn't seem so bad. Two of them were playing football on the Playstation, initially Argentina vs Brazil but when they realised we were English they switched to Argentina vs England whilst the captain asked Kevin (in Spanish) about where to visit with his family if he was to come to London. England won 2-0, so that was good.
Finally, Jeff appeared and we cleared Nick's bikes with his passport and they re-loaded mine into the van, together with the rest of the stuff, and we handed out DVDs and stickers and shook hands before leaving the customs guys to their lonely isolated existence.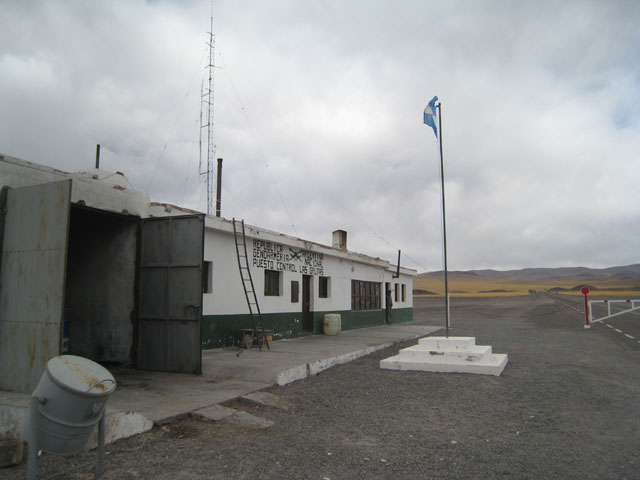 Thankfully the road from the border was smooth tarmac, as it wound its way down the mountains back to where the air had some oxygen in it and I could breathe a little more easily. My aching body seemed to be more comfortable when on the bike, and it wasn't affecting my riding too much, except when I moved too quickly and whinced with pain, but I soon learnt to whince without it affecting my steering. It had been cold and going dark when we left the border, and as we dropped down from the mountains it went properly dark, but the temperature rose quickly and we had to stop to remove our warmer layers. The ride to Tinogasta seemed to take ages (it was 150 miles from the border), and I was very relieved when we finally pulled into the hotel car park and I could peel myself from Nick's bike. I was greeted by several others enquiring about my health, and I returned their questions asking about Nick. The news was good – he had recovered significantly on the way down the mountain, had been x-rayed in hospital and had nothing broken, but was still badly winded and suffering from bruised ribs. Once someone had helped me carry my bag to the room, once again devoid of Jim who'd been given a room to himself by a kindly woman running the hotel on account of his ankle, I changed as quickly as I could (not very quickly at all) and joined Kevin, Julia and Jeff for dinner. We walked (I hobbled) to a restaurant in the square a couple of blocks from the hotel and ordered steak (this being Argentina after all) and a beer. The beer came and went, but the steak took over an hour, by which time I was going downhill and feeling crap, a combination of the hard day's ride, the pain and the heat sapping me of energy. Finally the steak came and I managed to eat some of it, then we paid up and left, getting back to the hotel and my much-needed bed at 12.30am... I'd got a couple of strong painkillers from Kevin to help me sleep, so took one and laid flat on my back, the only position I could bear, and fell asleep...
Thursday, 29 October 2009
Hands and shrines in the Atacama desert...
What a difference having a room to yourself makes. It's not that Jim's noisy or a bad room-mate, but the quality of sleep that comes from being alone cannot be equalled.... I slept like a bear in winter, waking to the sound of my alarm dragging me from yet another blissful dream...
With a couple of hundred miles to cover across the Atacama desert to a remote mining town used as part of this year's Dakar rally (which came to South America due to political troubles in Africa), I hooked up with Nick and Al and we left together heading away from the hotel and back towards the Pan Am. We stopped for fuel before riding back into the desert, with nothing but sand either side of the road leading to rocky brown mountains. After around 40 miles or so we arrived at one of the iconic images of the trip – the strange hand statue in the middle of the Chilean desert – and a great photo opportunity...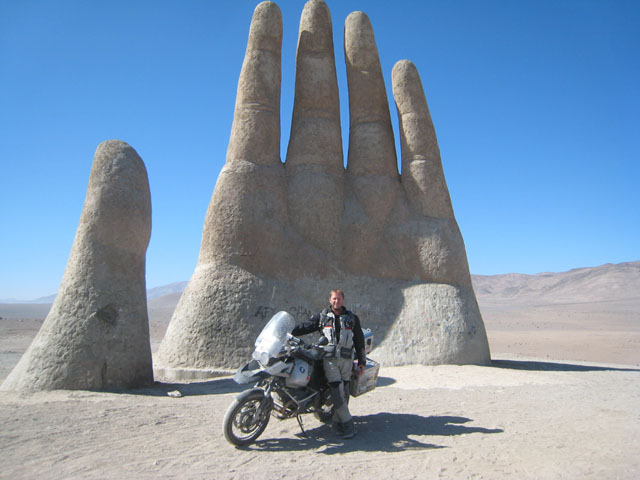 After the usual round of photos we rejoined the road and continued on our way through the desert. It's not the most exciting riding, rolling back the miles with the scenery changing only slightly, but there are always things that grab your attention. This time it was the shrines. On this endless, perfectly straight road, with no perceivable hazard except intense boredom, were a large number of roadside shrines. They varied from simple dog-kennel like wooden structures with a cross on top to more elaborate miniature cathedrals, some with flags flying, most with flowers carefully placed outside, some marked with rows of half-buried truck tyres to create a sort of aisle leading to the shrine. And there were lots and lots of them, spread along the length of the road. Puzzled, at a rest stop I asked Kevin about them, and apparently they mark someone's final resting place, as a result of them being killed on the road. Now this seems very odd, as the road is really simple, just a straight line in the desert. No loose gravel, sharp bends, potholes, complex junctions, towns or villages, or even errant animals wandering across the road (the desert being almost completely uninhabited). Seems even when there are no external hazards, some drivers are intent on having accidents...
Sadly, looking back at my photos I didn't stop to take a picture of one of the shrines, the intense concentration needed to negotiate the road preventing me from thinking...
Finally, though, we did leave the desert road and head up towards the mountains again, passing through a little village where we stopped for fuel for bikes and van-snacks for the rider (and the local dogs, who appeared with their begging eyes at the slightest rattle of snack-wrapper). From there it was a short trip up a large hillside to the town of El Salvador and our hotel for the night. A complete contrast to the luxury of the Raddison, this place was essentially a maze of metal portacabins in the desert heat (no air-con) with basic rooms and basic facilities. I loved it immediately, and set about doing some washing, which I hung out on the "patio" outside our room, confident it would dry quickly in the heat. After a short meeting to discuss the following day's long dirt ride to the Chile/Argentina border and the formalities, Nick, Simon and I went in search of an ATM and to suss out the local restaurant situation for dinner. Only we found the ATM in a supermarket, which led to us wandering round and me suggesting that as they had all the necessary ingredients we should have a picnic instead. This seemed to be well accepted, so we loaded up with bread, cheese, ham, pickles and wine and went back to the portacabin hotel where we took the furniture onto Simon's patio and laid out our feast...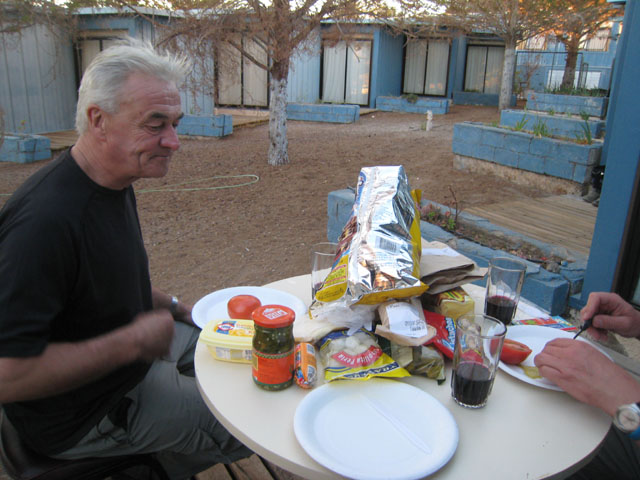 After such a long time on the road, and endless meals in restaurants, it was a really welcome change to be able to eat something so simple. It was also dead cheap, costing around $17 for the 3 of us, including 2 litres of rather good merlot... and a sensible way to prepare for the following day, as we were all done and off to bed at a very reasonable hour...
Wednesday, 28 October 2009
Deserts, Ghost Towns and the Coast...
As a result of the clocks going forward 2 hours, I overslept, waking up with a start at 6.30am, when I was turning over in my sleep. It was still a little dark outside, the dawn still breaking, and it was unusual to be up before the sun for a change. After a hurried shower and a quick packing session, I loaded the bike and went to grab some breakfast, just cereal and toast and jam. By the time I was ready to leave, most of the group including my usual riding buddies had gone, so I tagged on the back of Richard & Karen and headed back towards town to try and find the road leading back to the Pan Am. This proved a bit challenging, as we missed the turn, then when Richard stopped to refuel I carried on, riding round the one-way streets of Arica trying to find the elusive Ave 18th September, wondering if it was only there on that particular date. I found it eventually and was soon on the Pan-Am heading south once more, with my MP3 player cranked up loud as it's a long day's riding today...
The road went up into barren desert-like hills before dropping into a wide, flat desert. Riding along alone through this deserted landscape, singing to myself with not a care in the world was wonderfully relaxing. There was not much to break up the monotony of the ride and whole day I only stopped three times, once for fuel and twice to wee...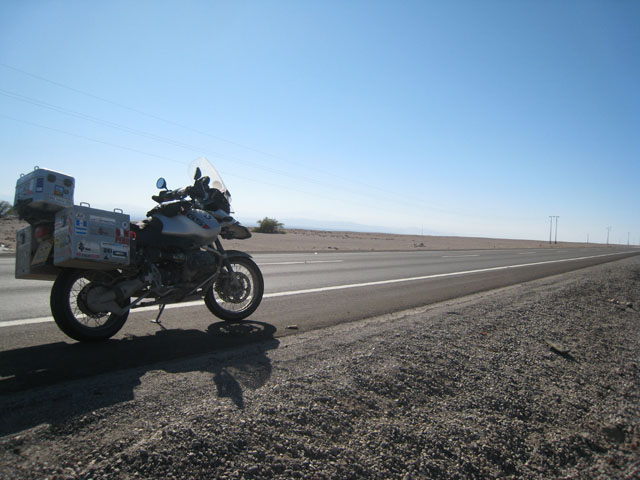 At one stage I was a little bored so took my camera out of my pocket whilst riding along, so that you can see what my days look like... welcome to my office...
The only point of real interest on the journey was the deserted mining town of Humberstone, now a ghost-town museum. I stopped to have a look round, and was soon joined by others from the group, as the town had been marked on the route notes as worthy of a stop. It was a bit odd, the buildings no worse than many we'd seen in Peru, but obviously having had much better days. It was an ideal spot for some photography, though, as ruins and relics were everywhere...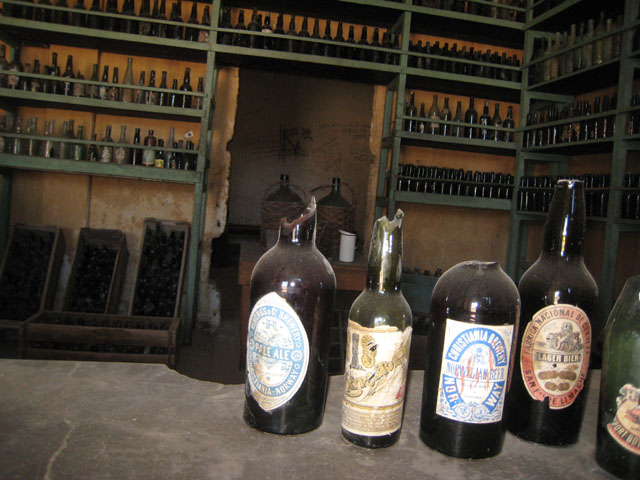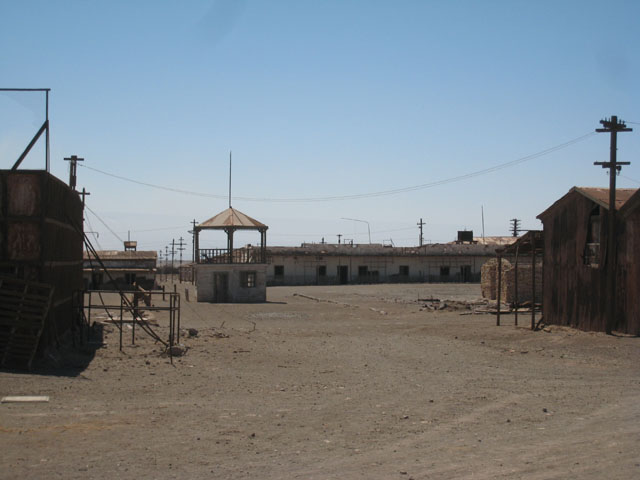 From Humberstone the road headed towards the coast once more, dropping down to the coastal town of Iquique. Above the cliffs there were around 50 paracenters, circling high in the air picking up the thermals and uplift from the cliffs and the huge sand-dune that was just behind the town. I found my way through the town to the coast road, riding out of town with the ocean smells filling my nostrils and the bright blue and green of the ocean drawing my eyes from the road. Once clear of the town there was still over 200 miles to go, along the road that hugged the coast. It was a pretty desolate landscape, with the hills to the left little more than rocky sand dunes and to the right the ocean crashing against the rocks...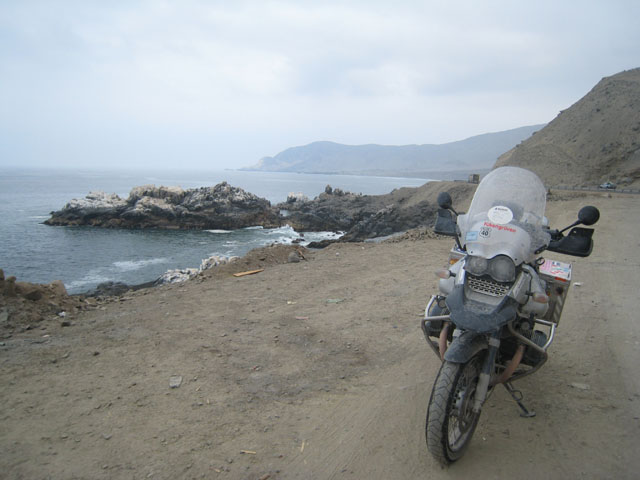 I finally arrived at the town of Arica late afternoon and rode by the coast, watching people enjoying the beach whilst at the same time keeping a watchful eye on the traffic and trying to spot the hotel. It was at the south side of town, a fair distance from the centre, but it looked great. A Radisson, non-the-less, and very nice too. With the bike parked in the underground car park I went up to the room they'd given me, only to discover it only had a single king-size bed. So I went back to reception to change rooms, as Jim and I are not that close, and was told he was also in a "single" room. So I went back and quickly made the room my own, showering and washing some clothes and spreading my stuff around to make it hard for anyone to move me out should they realise their mistake. After chatting to Tracy I went to the bar to claim my welcome drink and was told by Julia that there hadn't been a mistake, the hotel had run out of twin rooms, so I had a room to myself for the night... bliss!
As a result of having some real peace (not that Jim's noisy, but just being alone was so pleasant), I broke my cardinal rule and ate in the hotel. The food I had was OK, although I swapped my crab pie for Aaron's vegetable lasagne as mine had crab shell in and he didn't like his (I thought it was delicious, just some veg layered with cheese). At least the bottle of Chilean Cabernet Sauvignon kept up my reputation for choosing a good wine...
With dinner over, I went back to my peaceful room and tried to find something to watch on TV (failed, all in Spanish) before deciding to just get a good night's sleep...
Tuesday, 27 October 2009
Entering country number 12...
With today being a relatively long riding day of some 290 miles and also the border crossing into Chile, it was another early start... Kevin set off at 6am in order to stop in Tacna for the forms needed for the temporary importation of vehicles – apparently these are not available in bulk at the border and have to be obtained from the taxi office in the bus station (taxis frequently crossing the border, hence they have a stash of forms). The rest of us ate breakfast and started to roll out of the hotel's underground garage just after 7am. I rode out with Aaron, Nick and Al, once again making use of the maps Aaron had bought in Columbia for his GPS (they'd not been able to load them into mine in time). Once clear of the town and back on the Pan-American, the pace was too slow for me, so I passed the others and set off at a slightly higher pace (75mph as opposed to 65mph), determined to make good time in getting to the border, some 250 miles away. Riding up into desert-like mountains rising through the early morning mist and into the sunshine above, then dropping back into the mist again was great fun, the scenery more like the surface of some long-abandoned planet than mother earth. Once we'd dropped from the mountains onto the plateau, the desert extended as far as the eye could see either side of the narrow strip of black tarmac, the sand bright beige in the sunshine, but the temperature quite cool. I stopped to put on my outer jacket and Nick did the same, Aaron and Al continuing ahead. Once on the move the desert started showing signs of some bizarre human practices... in the absolute middle of nowhere, with no signs of habitation or life for miles, the desert had been marked out with straight lines of stones creating huge squares of earth, each of which was dotted with lots of piles of stones, sometimes just clumped together, other times neatly piled up to make what looked like little statues... very odd indeed... but it did break up the monotony of the ride...
Just before the border we caught up with Aaron, who had stopped to fill up with fuel, and Al had caught us back up as we'd passed him when he stopped for photos. So the 4 of us arrived at the border more-or-less together, and met up with Kevin who gave us the run-down on the process we needed to follow... As always, the first step was to get ourselves and our bikes stamped out of Peru. In this instance this also gave us the 4-part form that needed to be stamped 4 times before we'd be allowed to leave the customs complex on the Chilean side. With that done we left Kevin to wait for the others and rode through no-man's land into the Chilean customs area, and I managed to sneak a quick picture whilst riding...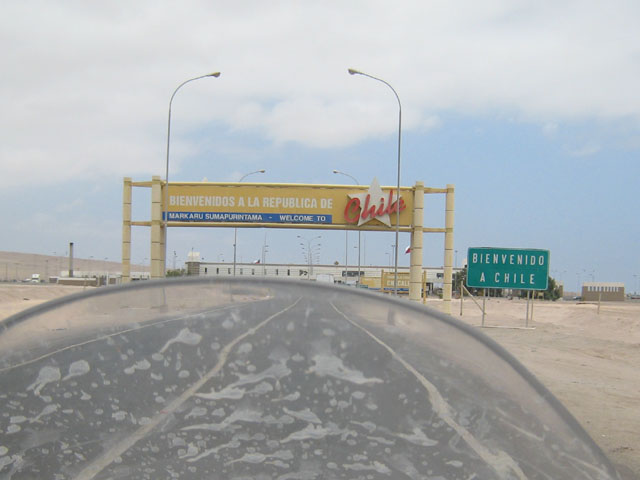 Once there we parked up and went and got our passports stamped (our entry to Chile) which got us the 1st stamp on the 4-part form, then had the bikes inspected by the agricultural inspection team (who were looking for smuggled fruit, veg or other foodstuffs), then to the vehicle importation office to get the bike permit form. Before riding to the exit checkpoint we checked our stamps and I realised the agricultural inspection people hadn't stamped the 4-part form, so went and got it stamped, then to the exit. Where I was told I only had 3 stamps, not the requisite 4. Seems the vehicle importation chap had stamped the permit, but not the 4-part form, so I rode back and got that stamped too, and was then allowed into Chile proper...
Wow... I've now ridden my bike all the way from Alaska to Chile... some 16,000+ miles... how cool is that?
Sadly we only have 1 more country to enter – Argentina, and we'll be doing that in a couple of days – but at least we hop between Chile and Argentina about 7 times, so plenty more border crossings to negotiate before the trip is done!
Once into Chile it was only about 20 miles or so to Arica, and our hotel on the beach. On arriving we discovered we'd passed through yet another time-zone and had lost 2 hours... instead of being 12.30pm it was now 2.30pm... We're staying at a great little resort hotel, although my room was at the back and had twin beds that were only inches apart. Not wanting to feel Jim's hot breath on my neck, I managed to get them separated by a couple of feet before he arrived, and then went to claim my "welcome drink". I declined the picso sour (memories of Chiclayo still strong) and had a beer...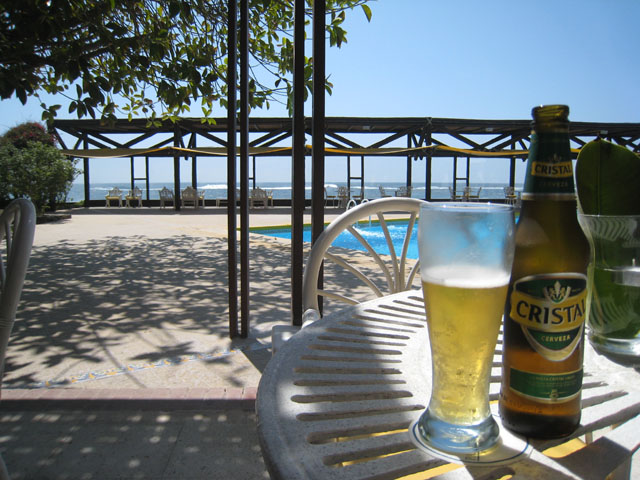 After a bite to eat I went back to the room and managed to catch Tracy online, so had a lovely chat, then returned to the bar to try the other local beer, just as the sun was starting to set...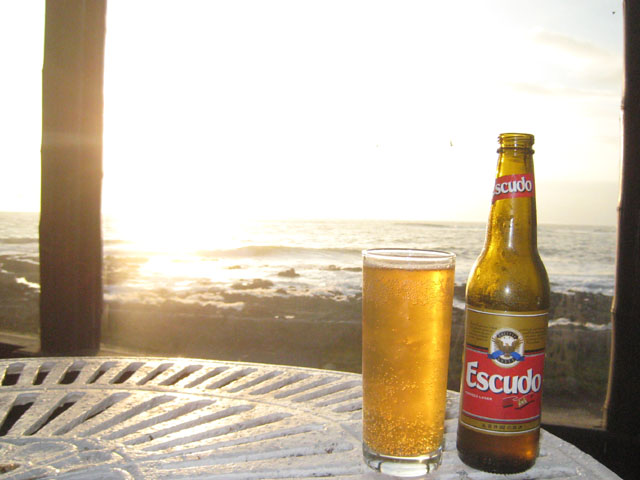 Beer... hmmm...
Whilst enjoying the 2nd beer, Jeff handed me a copy of the route-notes for the next section. It was very depressing to discover these actually covered the entire rest of the trip, the last page including the line "today is our last riding day". I nearly cried... but there's still 6 weeks left, so it's not like it's over yet...
When it was close to 8pm, Nick, Van Al, Aaron and I set off to the restaurant we'd spotted just along the beach from the hotel. It opened at 8.30pm, so we had a little time to kill, but just next door were some interesting old guns, lined up pointing towards our resort hotel, the photo opportunities too good to resist...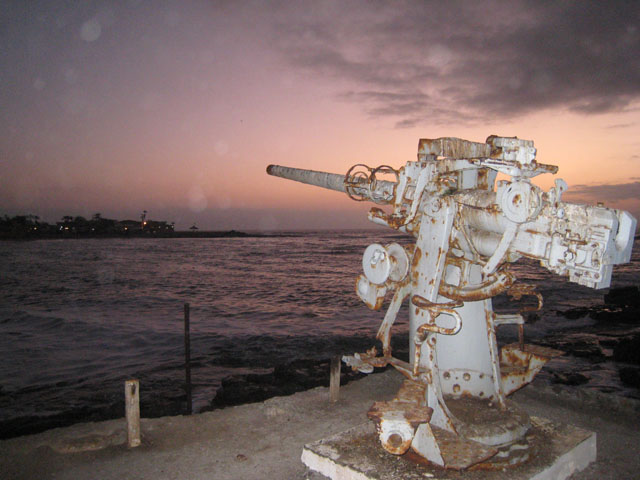 When the restaurant finally opened (they had trouble finding the keys!) we went inside and ordered some seafood – in my case corvina with edam cheese and shrimps (it's a kind of sea bass) – and a decent bottle of Chilean Chardonnay. The food was excellent, once again justifying not eating in the hotel. By the time we'd finished gorging ourselves (the ice cream and chocolate sauce to finish was equally good!) and walked back to the hotel it was 10.30pm and so I declined the offer of a nightcap and went to bed (despite it still only being 8.30pm in Peru...). After all, we've a long, 490-mile day tomorrow...
Monday, 26 October 2009
A bit of culture in Arequipa...
After a really good night's sleep, I woke as usual shortly after 6am, and showered and went to get some breakfast before updating the blog. Then before heading off on a cultural tour of Arequipa, I had some minor bike maintenance to attend to. The garage was a hive of activity, with Jeff fixing a puncture on Nigel's bike and several of the riders performing checks and fixes to their own bikes. Mac had just changed the rear brake pads on his R1150GS Adventure, and I noticed mine were a bit worn so he changed mine too, whilst I topped up the oil, replaced a bolt that had dropped out from my screen and then started checking all the other bolts for tightness and checked my tyre pressures. When done, I noticed that my right hand pannier had split around the top mounting point and was bent out of shape...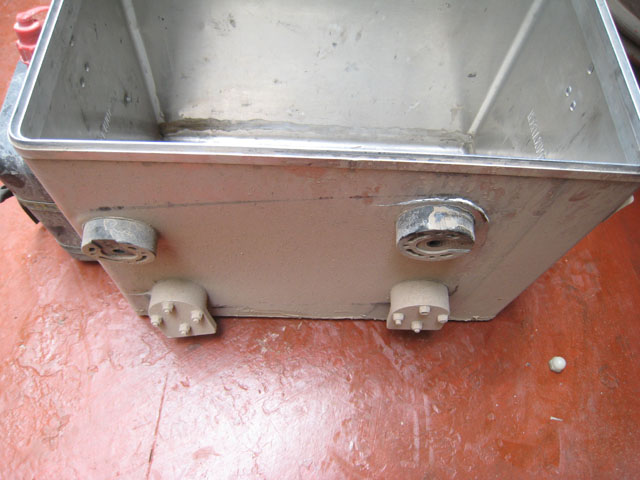 Jeff worked his usual magic on it, bending it back into shape, then with Jim's help (he speaks very good Spanish) we engaged the hotel's maintenance man to make a plywood washer to fit between the mounting wheel and the split aluminium, spreading the load and making the pannier more stable. Doesn't look pretty but should hopefully stop the split getting any worse, which would render the fitting useless. With the bike back in tip-top shape again, I joined up with Nick and Van Al for a visit to the Monasterio d Santa Catalina, just a block or so from the hotel. The monastery, which is really a nunnery, dates back to 1579, just 40 years after the Spanish colonised Peru, and is quite a remarkable place. Covering some 5 acres, it is a city within a city, with its own streets, church, library, art gallery and lodgings. It's still a working monastery as well, currently home to some 20 nuns, but they are now housed in a new monastery built within the grounds. We paid our entrance fee and hired a guide to show us round, which turned out to be a great idea as she imparted a wealth of knowledge, a little of which I remember, as regretfully I'd left my little notebook back at the hotel.
The entire monastery is built from local volcanic sillar rock, which is naturally a brilliant white (as is most of Arequipa). Some portions are painted in vibrant oranges or ocean blue or deep ochre, the colours creating the sense of being in a Mediterranean resort rather than in a monastery in Peru. The architecture is pure colonial Spanish, with heavy arches to withstand the earthquakes, which still managed to destroy much of the old servant's quarters on the upper levels. The nuns for this monastery came from rich Peruvian families but followed the same tradition as for nuns in other monasteries across the region. As they had very large families (with up to 10 children), the tradition was for the eldest daughter to get married and have children, the 2nd daughter to go into the monastery at 12, whilst the 3rd daughter would be tasked with looking after the parents in old age. That means that Katy should be getting married (as opposed to just having 3 kids!), Laura should have become a nun (now THAT's funny!), whilst Danielle should be preparing to look after me as I approach old age... somehow I think they'll all be glad they weren't born in Peru 430 years ago... The novice nuns entered the monastery at 12 and were mostly illiterate, learning their prayer from paintings in the novice's cloister where they would live for 4 years. In theory they could choose to leave the convent, but none did as this would bring great shame on them and their families. Once "qualified" they would remain in the monastery for the rest of their lives. Their families would have to pay for the girls to be admitted to the monastery, some 2,500 special silver coins, the more they paid, the better the accommodation the nun was given. They lived in small "cells" with a bedroom, living area and kitchen, and were looked after by servants. At any one time the monastery would be home to 500 women, but only 175 of them would be nuns, the rest servants. They would be completely isolated from the outside world, with no visitors being permitted into the grounds, and only a priest and doctor allowed to meet the nuns. They would be allowed visitors with whom they could talk, but only through a "talking room" which looked like those in prisons where there is glass separating the visitor from the inmates, but in this case the glass was a wooden lattice with a separation distance of a couple of feet to prevent any physical contact. However, rather than feeling sorry for the nuns, the monastery gave the impression of being a very peaceful and well-ordered way of life, with the nuns being self-sufficient and living in a sort of female-only commune. And it was absolutely beautiful, as these pictures show (as always, hover over them for a caption)...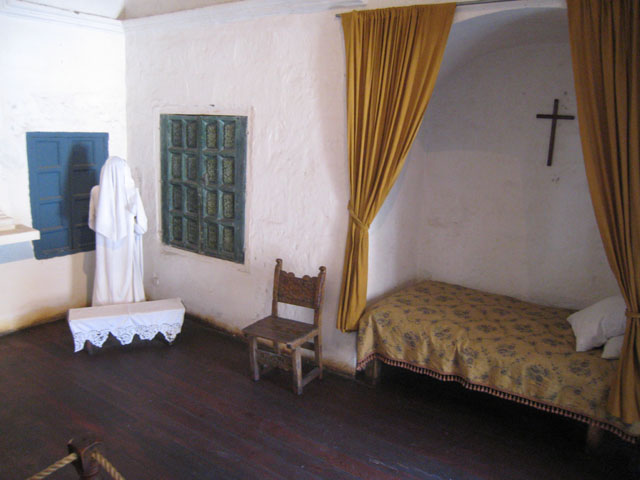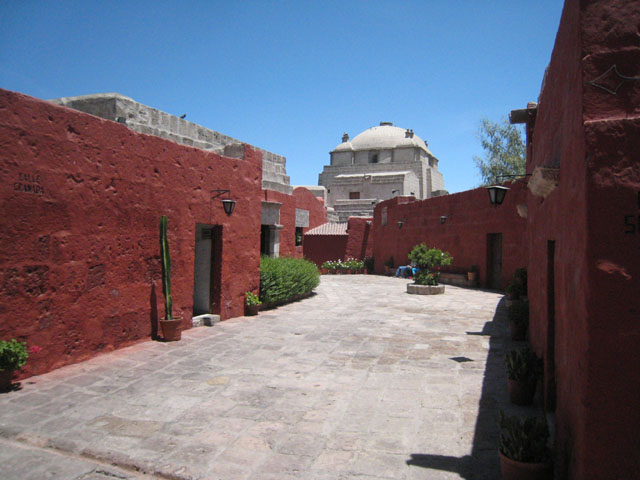 Another remarkable thing about this monastery is that it was home to Sister Ana de Los Angeles Monteagudo who was a nun in the convent from the age of 3 until her death, aged 80, in 1686. She was taken from the monastery when she was 10 or 11 with her parents intending her to marry, but she had a vision of Santa Catalina of Siena showing her the habit of the Dominican nuns, and so returned to the monastery, her brother, a priest, paying the dowry. She went blind in 1676 and was beautified (the first real step to becoming a Saint, by which the Pope recognises that the person was responsible for a miracle during their life) by Pope John Paul II on 2nd February 1985. So far she has not been canonised, the final stage in becoming a Saint. Her "miracles" extended to visions and predicting the future, right up to her death. Her rooms and personal effects, including the cilice (a sort of barbed-wire blanket) on which she slept to feel the pain and suffering of others, are on display in the monastery, in the room she lived in until her death. She now has a cult following, who visit these rooms and pray in the presence of her spirit.
There were also some surprises in store, as to how the nun's lived. In the kitchen was a "water purification unit" comprising a conical bowl made of volcanic rock, with is slightly porous into which impure water would be put, which then dripped out into a bowl below as pure, drinking water...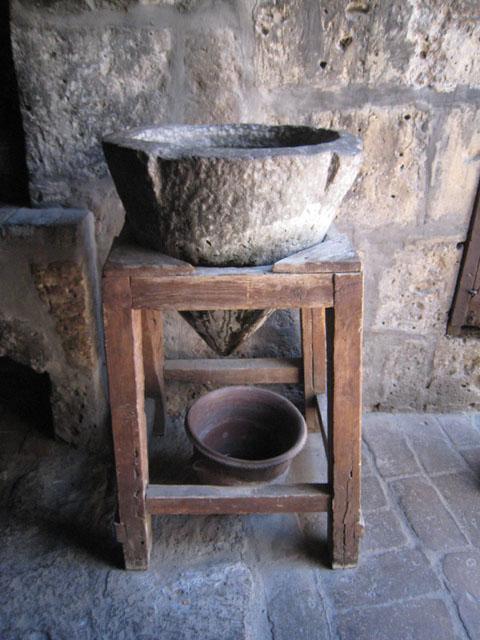 At the far corner of the monastery was the "launderette", a novel channel and bowl system that the servants and nuns would use to do their washing, filling the hole in the bottom of the pots with a carrot and diverting the water from the drainage channel using small rocks...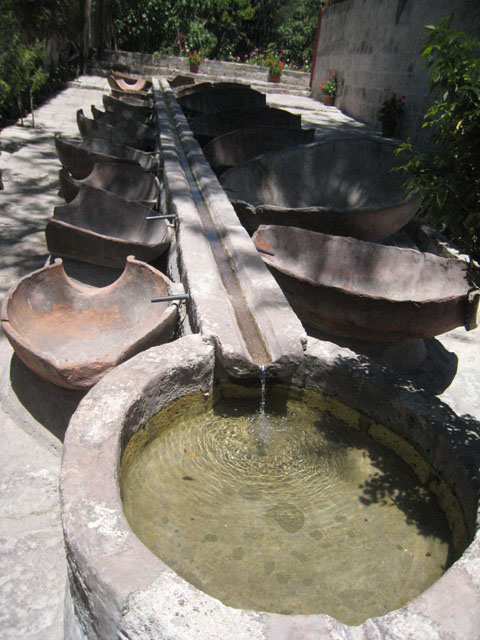 But if you think this was an entirely cultural experience, you'd be mistaken. Remember, I was here with Nick and Van Al, two of life's great comedians. Nick was busy chatting to our pregnant Peruvian guide, and then asked her if she could have been a nun (completely missing the fact that clearly she couldn't as she was visibly pregnant). Val Al and I tried unsuccessfully to stop laughing, but fortunately the guide understood what we were laughing about.
After the guided tour of the monastery (well worth the £6 each entrance fee and the £4 for the guide between us), we went towards our next stop at the museum, but were side-tracked by a nice quiet street with an outside café. We stopped and Van Al and I ordered a jar of lemonade each, whilst Nick had a beer, and a toasted sandwich. The lemonade was delicious and we both drank our entire jug's worth, probably around 1.5 litres, as it was already very hot and we were getting dehydrated. Just as we were enjoying the peace and quiet, and settled in to the usual bout of people-watching, 5 guys turned up carrying instrument cases, which was ok, until they donned ponchos and broke out the pan-pipes...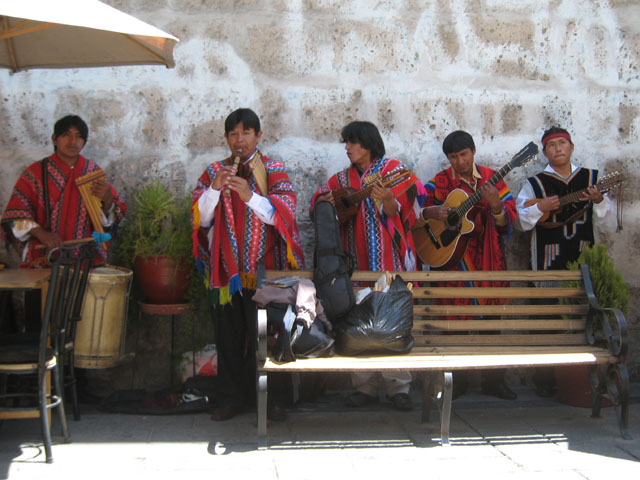 Now I'm all in favour of traditional music and dancing, but here we were on a quiet back street in the very picturesque city of Arequipa, trying to enjoy a peaceful glass of lemonade, when these guys started making a racket. Ok, it wasn't bad music (if pan-pipe music can be anything other than bad), but it destroyed the peace and made any conversation impossible. When we'd finished our drinks and toasties, and paid the bill we started to get up to leave, just as the band put away their instruments. Clearly they'd only turned up to piss us off, and it had worked... well, almost, as we were in too good a mood to be bothered by such trivia...
Van Al had to return to the hotel for a meeting, so Nick and I wandered off to the museum on our own. Just behind the main square is the Museo Santuarios Andinos, which is the only museum in the world displaying Inca offerings recovered from the high mountains of the Andes. It is also home to the frozen mummified remains of "Juanita", a 12-14 year old girl who was sacrificed by the Incas on the summit of Mount Ampato and discovered as recently as 1995. Unfortunately we were not permitted to take cameras into the museum, but if you google search her name you will see images of her on the web. The tour started with a half-hour National Geographic video explaining her story, and then we were shown round by an English-speaking guide. He explained that the girls that were sacrificed by the Inca (and there were more than just Juanita discovered in the mountains) were probably specially selected when very young due to their unblemished good looks and schooled in Cusco specifically so that they were ready to be sacrificed when the gods needed appeasing or the king was sick. She would have been taken from Cusco and walked the 120 miles or so to the mountains, and then with the attendant priests would have climbed to the summit of Mt Ampato, which is 20,700ft above sea level (an incredible feat in itself). Here she would have been part of a ceremony which would have seen her sedated before being struck on the temple and killed. She was then buried with various artefacts including silver statues and pottery. The archaeologists also discovered 2 other sacrificed children below the summit of the mountain, in similar positions and with similar artefacts. Many of the artefacts were on display in the museum, their intricate workmanship testament to the effort put into these sacrifices by the Inca. But the most important exhibit is the frozen body of Juanita herself. Still wrapped in her dress and cloak, she lies in a refrigerated glass case, kept at a constant -20degrees, her knees bent as though she was kneeling when killed and had simply fallen backwards onto her back. Her eyeless sockets stare upwards, whilst her hair and teeth are almost as they would have been in life. Standing staring into this glass coffin, looking at the remains of a butchered 12 year old girl was quite the most disturbing feeling. Just 500 years ago this poor child was indoctrinated to believe that her destiny was to be with the high gods of the mountains, and so walked willingly all the way from Cusco, climbing a mountain that is higher than I climbed when I went to see Everest, only to be struck on the head and left in a shallow grave on the mountain...
Her remains are of great scientific importance, as the high snows that buried her for centuries until the nearby volcano erupted, sending clouds of ash which caused the snow to melt, have preserved her internal organs. So even in death she is the subject to interference by other people. Sure, she'll reveal a great deal about a long-dead culture, but here in this glass case lies what was once a poor child, prevented from living a normal life and killed before she reached her prime... quite, quite, sad... This time, there were no silly quips from either Nick or me, the experience moving us both to silence for once...
After the museum, we made our way back to the hotel to rest up (and for me to write this part of the blog whilst it was still very fresh) before the meeting at 5pm and the evening's group meal...
The group meal was in the same restaurant that we ate at last night, and the food was just as delicious. I stuck to the same starter and dessert, but tried the Shrimp in Tender Garlic for main course, and I've never had more tender prawns, they were simply delicious. When the meal was done, around 10.30pm, I retired to my bed, surprised to find Jim once again absent from the room...
Sunday, 25 October 2009
Colca Canyon, Condors and more dirt-riding...
At last had a reasonable night's sleep, despite the noise from the wedding in town going on until sometime around 4am. Woke just before 5am and showered, packed and dressed ready for the early ride out to the canyon then went and ate some breakfast. It then transpired that we would not be leaving for the canyon until 6.30am, so I had some time to kill. Several others had ditched their luggage and panniers to lighten their bikes for the canyon, but I decided to ride it as I had been doing all along, fully laden, so I wouldn't have to return to the hotel once back out of the canyon. When the main group was ready to leave, Nick turned up still in his civvies and confused as to why everyone was all togged up and sat on their bikes... he'd missed the whole "ride into the canyon early to see the condors" thing. He said he'd be 5 minutes, so I waited whilst the rest set off. Five minutes later he re-appeared, still in his civvies and said to get off as he'd be another 15 minutes...
So I left alone and found the right road out of town and towards Colca Canyon. The road was initially good tarmac twisting up the valley but this didn't last as it then became a dirt road, solid, well-packed dirt with some sections of light gravel and ideal for brisk off-road riding. I was soon enjoying myself, stood up and tramping along at around 35mph when I came across Richard & Karen stopped with Simon. I stopped to discover Simon had suffered his 2nd puncture of the trip and Richard & Karen had stopped with him to try and contact Jeff. With the situation fully under control, I left them to it and continued on my merry way. All the way up the valley I had to catch and overtake a seemingly endless stream of minibuses and coaches ferrying tourists up to the viewpoint at the head of the canyon. The dust clouds they created made this an exciting prospect, as the closer I got to them the less I could see, but they were well disciplined and moved over to let me fly past. Some of them were stopped at viewpoints overlooking the canyon and had disgorged their contents so they could stand near the edge and take pictures, but as soon as I roared into sight trailing a cloud of dust, their cameras turned on me! Who'd have thought that the sight of me riding off-road would warrant complete strangers to take my photo...
About half-way up the canyon road was a long tunnel, which was particularly hazardous as the surface inside was soft and sandy, and the dust from the last vehicle to pass through it hung in the still air, reducing visibility to a few feet. With lights on full and horn constantly blaring I crawled through the tunnel in a state of heightened awareness (read: "fear"). Relieved to emerge the other side without being squashed, I continued to make my way to the end of the road and pulled into the parking area with just Kevin, Ozzy Andy and Nigel already there... and so we made our way to the overlooks, and sat on the wall admiring the view and waiting for the condors...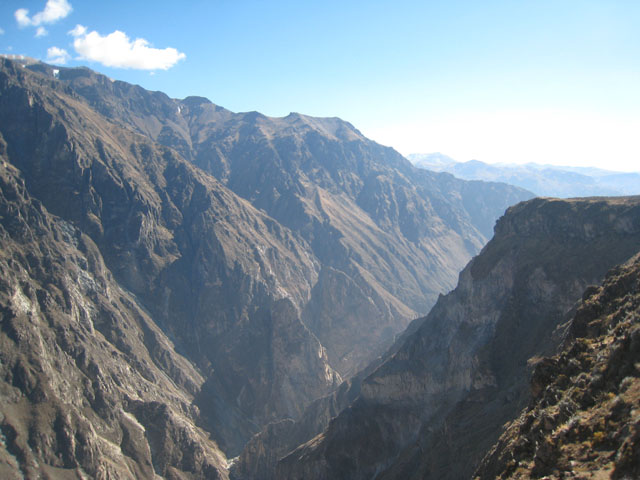 When the rest of the group had arrived and we'd sat chatting for around 45 minutes, Max & Christine decided that the condor-watching was like the bears in Stewart (remember them? Seems like a lifetime ago...) in that the more we waited the less likely they were to appear, and left. Within 5 minutes of them leaving, we spotted a condor, deep in the valley below, circling and gaining height on the thermals. Even from the distance we were from it, perhaps just over half a mile, it looked impressively large. Gradually it worked its way upwards, circling between the ridges of the canyon and rising on the hot thermals, using the rising hot air to provide lift, never flapping its wings. The subtle movements of its wings allowed it to twist and turn, gaining valuable height without putting in any effort. Sometimes it was only possible to see the bird by its shadow, as it blended perfectly into the brown hillside. After about 15 minutes it had risen from the depths of the canyon to right above the ridge on which the various viewpoints were situated, hundreds of tourist's eyes raised to sky watching this majestic bird soar above out heads. Boy, do I wish I'd still got my new camera as I'm sure I'd have got a half-decent photograph, but all I got was this – cut and pasted and enlarged as much as possible, but still as blurry as hell...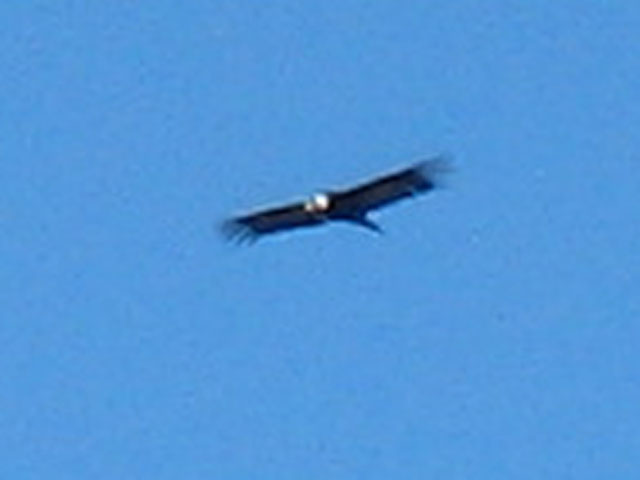 Good job the human eye is better than my camera, as the images in my memory are much clearer... We didn't just see one condor, either, as we saw 4, all starting at the bottom of the canyon and riding the thermals up to the ridge and then high into the sky above before disappearing off into the distance. What a wonderful way to start the day, a great dirt ride and then sat in the relative peace and quiet (it was a lot quieter when the coach party of noisy kids had gone) looking over a fantastic deep canyon and watching the condors fly... days just don't start much better than this...
I also had the joy of riding back out of the canyon, when I'd got my breath back from the short walk back up to the car park, the altitude (about 3,700m) still affecting me. Riding with much greater confidence having successfully ridden in, and upping my pace so the bike floated over the horrible corrugations (small ridges in the dirt making it like riding over a corrugated roof), I was soon racing down the canyon. The bike was much harder to turn on the worn road tyres than previously when we had a knobbly front tyre, necessitating a slight change of technique, pushing the bike over into the turns and pushing hard on the inside footpeg. It was great fun, if a little exhausting, and I was glad when I turned one corner and had my breath taken away by the view, so pulled over to admire it more closely (and to get my breath back).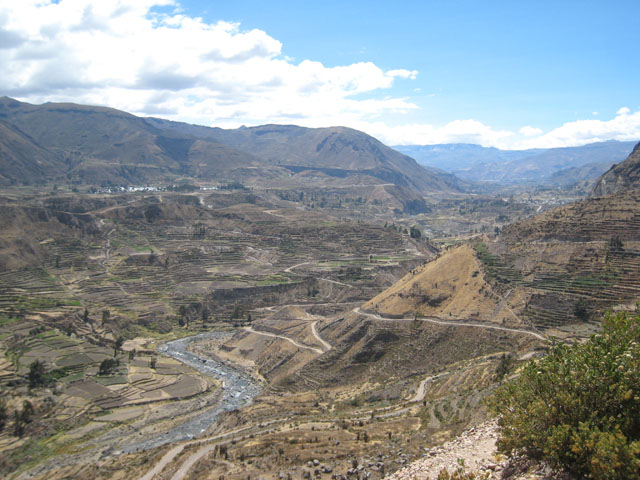 I made it out of the canyon in one piece, though my handlebars had worked their way loose and dropped, which meant that when I sat back down again once on the tarmac, they were way too low. Halfway up the mountain working my way back the way we'd ridden in the day before I stopped to adjust them and met up with Kevin, Aaron and Nick. Kevin quickly departed, blasting off in a cloud of dust, and when I'd finished my adjustments, Aaron, Nick and I set off together. On the way in we'd encountered snow on the high mountain pass (over 4,800m) but today was sunny, but cold and windy. We managed once more to avoid the herds of alpaca and llama that decided to cross the road in front of us, and soon were on the long descent back to the main road, the tarmac giving way to the pot-holed mess that had resulted in my fuel pipe becoming dislodged on the way up yesterday. Today we attacked it with more vigour, using the increased speed to allow the bike to float over the worst of the potholes, letting the suspension do its job. These bikes are just incredible at this, for all their weight they just soak up this punishment without complaint. Well, almost without complaint, as my handlebars again dropped with the punishment of me leaning on them to turn the bike, so at one stage they were resting on the tank and I was unable to steer... forced to stop and adjust them once more, I lost sight of Aaron and Nick, but when moving again at least I wasn't in their dust and could up the pace a little more...
At the end of the dirt road was a café, and with Kevin, Aaron and Nick parked up, I stopped and joined them for a coffee and fried-egg sandwich (proper biker breakfast!). Then we rode together as a group across the rest of the altiplano and down the mountain towards Arequipa. The last stretch of mountain road was well surfaced and twisty, with a lot of slow-moving trucks providing some overtaking entertainment, and we made quick progress to the city. Following Kevin meant we didn't have to worry about making sense of the route notes, and with a quick stop to refuel we arrived at the hotel around 2pm. After a quick shower and change, and a nice chat with Tracy on Skype, I wandered round town with Nick and Al, admiring the beautiful white cathedral in the main square, with its backdrop of snow-capped mountains...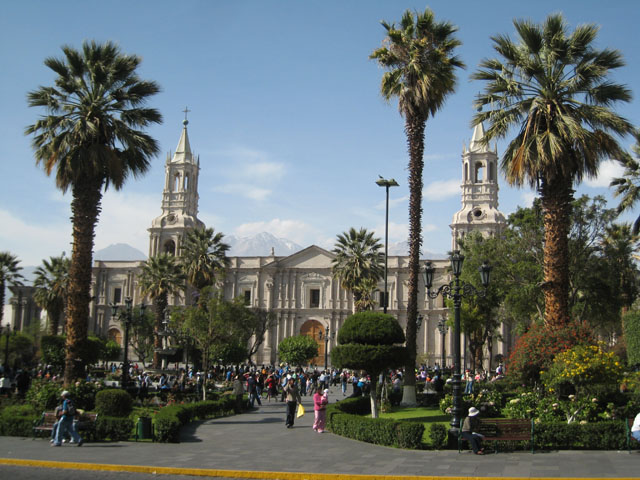 As we walked round the square, we were approached by a women in traditional dress promoting a roof-top bar/restaurant and as the beer was only 5-soles (a pound) we went and sat high in the sky overlooking the square and enjoyed a couple of cold ones, which will at least give me another picture for the beer gallery...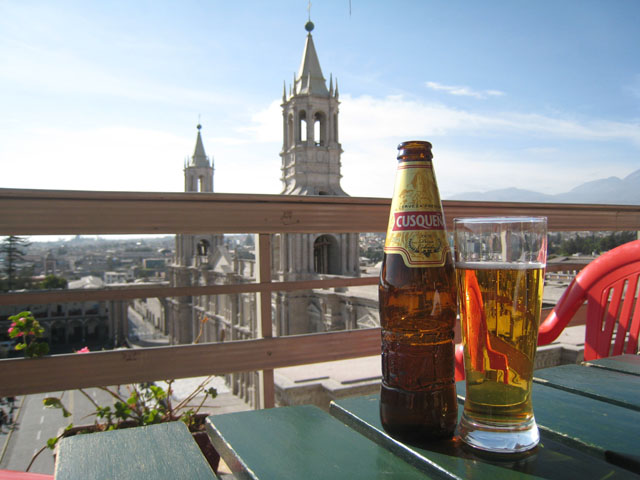 After a further meandering round town, and checking out the restaurants for that evening, we returned to the hotel. I chatted some more to Tracy before falling asleep, waking at 6.30pm with a start wondering why I was fully dressed. Jim was also asleep, and just as I went into the bathroom the phone rang, Nick wondering why I wasn't in reception as arranged. I asked for 5 minutes and tried to wake myself up before joining the group to head out into town. With Aaron, Simon, Nick, Van Al and Jeff in our little group we walked round to the Zingaro, which had good reviews on the Internet. And it proved an inspired choice, as the food was truly excellent, from the shrimp-stuffed chilli pepper starter through the chicken wrapped in cheese and bacon main course through to the crepe suzette (how 70's!) dessert and the excellent bottle(s) of Argentinian Malbec. Van-Al (50-something, single, looking for someone) has been pestering me to post a picture of him on the website in case it improves his love-life, so here's an appropriate one of him about to stuff his geordie face with crepe suzette...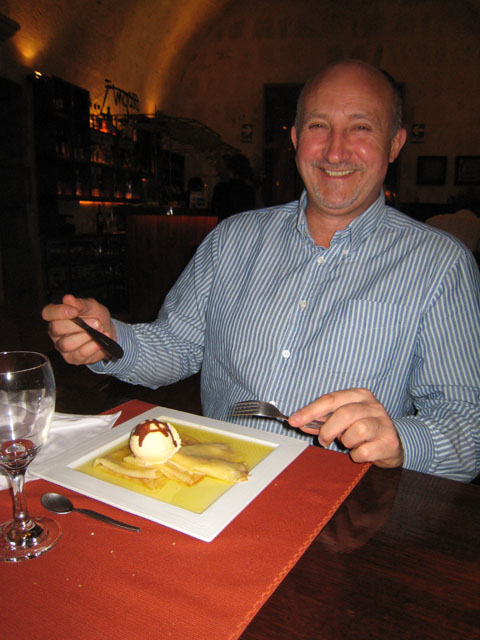 If you'd like to meet him, please post a comment to this post, and I'll arrange for the men in white coats to bring you one of those fashionable "fasten round the back" jackets and move you to secure accommodation...
After dinner, whilst the bulk of the group went off in search of nightlife, Van Al and I returned to the hotel, and our respective rooms. For once I was in bed before Jim had even got back to the room, and was fast asleep within seconds, so didn't even hear him come in later that evening. With a rest-day tomorrow, and our last day in Peru, I think a good night's sleep is in order...
Saturday, 24 October 2009
High altitude, great scenery, rough roads and another breakdown...
Despite last night's hail and rain storm, this morning dawned bright and sunny, but was still cold out of the sun. But the bright sky contrasted sharply with my mood, as I'd had another night of interrupted sleep, waking every hour or so, the thin air clearly affecting me. I've never had a problem sleeping and managed to get off quite quickly despite turning in at 9pm, but woke around 12.30am and then continually through the night. I also woke with a headache, the first real one of the trip, the bright sky causing me to squint badly and making matters worse. There was only one possible cure, and that was to get on the bike and ride...
Which is exactly what I did. First I had to bring it round from the car park to the hotel so I could load it up, and it almost fell over on the steep camber outside as I went to put things in the top-box, which would have been really embarrassing. Once loaded, I followed Aaron out of town, confident that his GPS would help us find the right road, and happy not to have to think too much for myself. We filled up with fuel on the outskirts of town, in the middle of some roadworks which meant the entrance and exit of the petrol station was a mass of deep wet mud, not ideal when on worn road tyres, but we didn't have any drama. We even managed to negotiate the chaos of Juliaca without too much difficulty, emerging at the far end of town before heading back round town to pick up the road towards Arequipa. At this point my headache and the cold were getting to me, so I pulled over to take some paracetamol and to put on my over-jacket. Nick stopped too, so we let Aaron disappear and then rode on alone with me leading and Nick content to follow. The rode rose up into the high mountains once more, the scenery as barren yet stunning as ever. Crossing over one set of mountains and down a valley we crossed a bridge dividing two parts of a lake and had to stop as there were flamingos... I just wish my new camera hadn't broken as the pictures would have been so much better...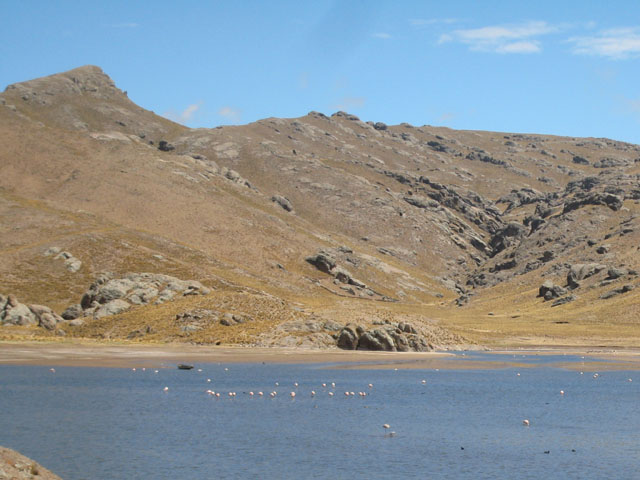 Riding up the mountains on the other side of the valley brought us high above the lake and the views became even more stunning, reminiscent of the best of the Lake District but on a much, much grander scale... by now my headache had long been forgotten, my mood once again as bright as the sky... it's hard to be anything but positive when the world looks like this...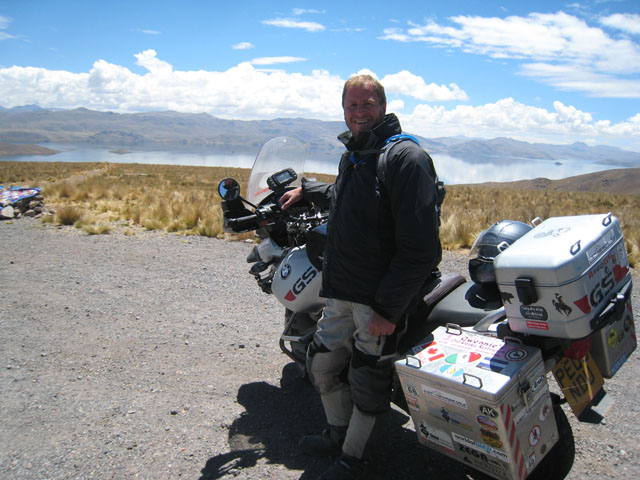 It wasn't just the scenery that took my breath away, though, as that photo was taken at 4,426m (over 14,500 ft). And we still had further up to climb, the top of our route being over 4,800m as we rode over to the night's stop at Chivay. Continuing on our way we stopped for a coffee in a little roadside shack, Nick and I arriving before everyone else and so once again experiencing the sensation of being like aliens landing on earth. The local café was little more than a shack with a window through which they sold bottles and other consumables, whilst inside was a single table and bench seat. We sat down and ordered a coffee (for me) and a coca tea (for Nick, it's supposed to help with altitude but I'm not keen). Despite the place smelling of urine, the drinks were good and before long several other bikes pulled up and their riders and pillions entered, filling the café but replacing the feeling of being adventurous with that of just being in a strange place with lots of other english people. So we paid up and left, riding into the wilderness alone. The road immediately changed from tarmac to dirt, rutted and stony with occasional patches of deeper loose dirt. A couple of miles in we came across another café with outside facilities, and as my insides had been shaken about by the rough terrain, I went inside whilst Nick stayed outside and admired the view...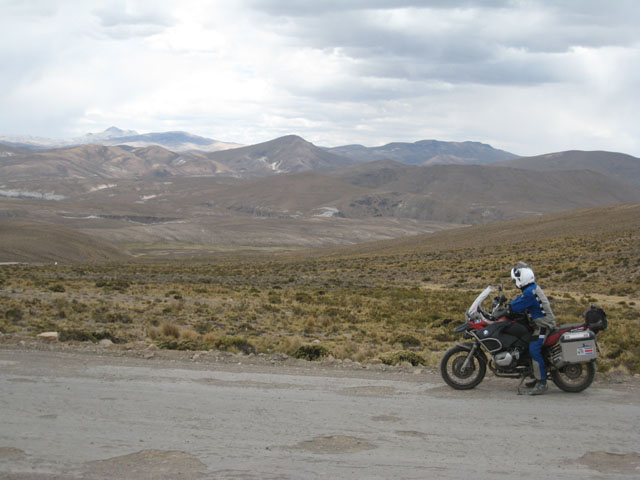 It was quite a view, but we couldn't admire it too much when on the move as the road required a lot of attention. It went from dirt, which was fairly easy, to severely pot-holed and rutted tarmac, which
proved more challenging, it being impossible to navigate a line through the pot-holes as there were simply too many of them. The pounding was intense, and it wasn't too long before my bike packed in, just stopping dead exactly as it had done in Honduras. I tried to restart it, but no joy, it being obvious that there was once again no fuel getting to the engine. Nick stopped and we pushed the bike to the side of the road, then waved the other riders past, explaining to each one that we though we knew what the problem was, and that when Jeff caught us up we'd get it sorted. I removed all the tank fixings ready for Jeff and then sat and waited... there being many worse places to break down than here, and at least it wasn't raining... Pretty soon Jeff arrived and I told him what was wrong, so we removed the tank and drained the fuel and then he set to work removing the tank fittings again...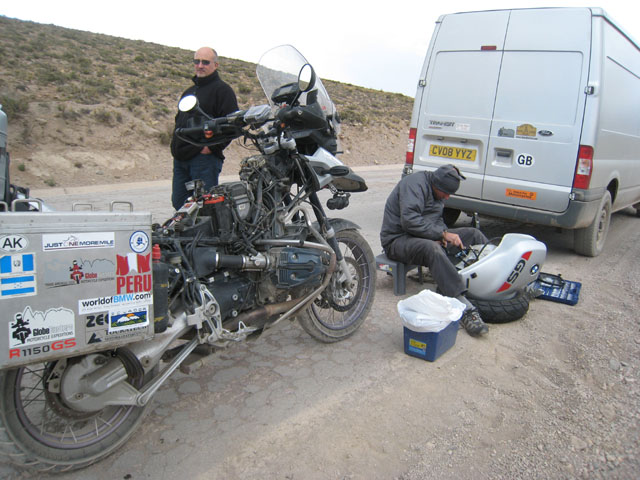 No sooner had he got the fittings out than it was obvious what the problem was, one of the fuel hoses between the filter and the pump was disconnected, meaning no fuel would get through to the engine. It must have been shaken loose by the terrain, just as it had in Honduras. Jeff reattached it and crimped the hose clamp to try and stop it recurring, then re-assembled the tank. We then filled it with fuel and checked for leaks before putting it back on the bike and reconnecting it up again. Hitting the starter the bike fired first time, and less than half an hour after Jeff had arrived I was back on my way across the pot-holed road up the mountain, with Nick closely behind.
Eventually the road became good tarmac again, and I was able to sit back in the saddle and up the pace a little. It was only a little, mind, as at this altitude the bike feels decidedly asthmatic, unable to get the usual quantity of air in to make good power. Rising higher towards the summit it got noticeably colder, and then started snowing. Yes, snowing. It wasn't too heavy, but heavy enough for us to slow down and have to keep wiping our visors every few seconds. With one eye on my sat nav's altitude reading, we finally crossed the high point at 4,870 meters (nearly 16,000ft) and began the descent towards Chivay. As we dropped the snow turned to light rain and then cleared, the road much better for being dry as it twisted and turned down the mountainside. Entering Chivay we stopped and paid the tourist tax (17.50 soles each, about £3.50) and made our way through town, via the petrol station to the hotel. Despite all the hold-ups we still arrived around 3pm, and gratefully accepted a cold beer from Pertti who was celebrating feeling better after a few days with a dicky tummy. With the beer sunk I showered and changed and went in search of an ATM to get some cash. Chivay is a small town with a nice little square, a stopping-off point for tourists entering Colca Canyon in hope of seeing wild condors. In the square is a nice white church, whilst on the hillside behind someone has created a large cross...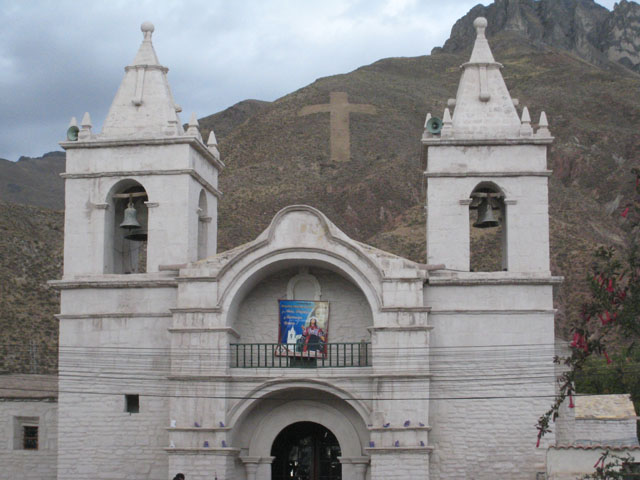 Wandering round the streets also meant I could play voyeur again, peering into other people's daily lives and snatching photos when they weren't looking. Down one of the better streets (this one had pavement and the road was concrete, not dirt) an old lady was busy sorting through a large number of what looked like beans, completely oblivious to my passing and staring...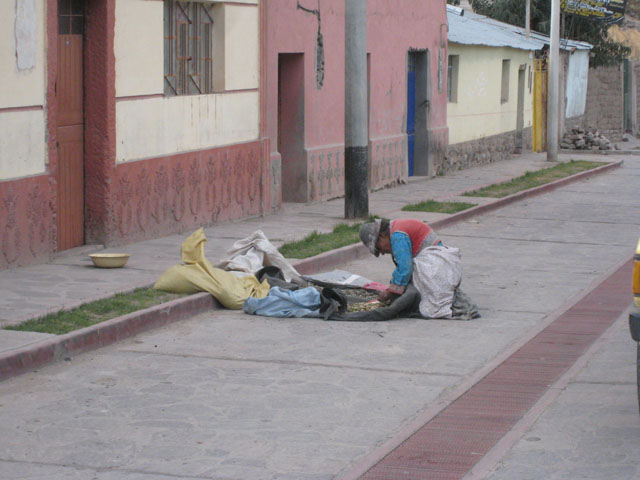 Back at the hotel I updated the blog whilst chatting to Tracy, surprised to find her online as by now it was 4pm (11pm in the UK). When done it was time to go back out in search of food, but first a beer in one of the 2 Irish bars in town. We tried the first one, where Tony, Phil, Richard and Max were finishing a game of pool, but it smelt of wee, so we went to the second. This was empty and when we asked about the pool table we were shown into a dark back room, where a young girl was busy watching "Finding Nemo" on the TV (in Spanish, of course). The barmaid then switched on the lights and served us a couple of bottles of Cusquena whilst we racked up the pool balls. Now there's something a little odd about the pool tables in Peru, and that is that the pockets appear to be smaller than the balls. Seriously, I've never played pool on a table with such small pockets before, and it made for a long game. The little girl seemed to be unconcerned by the gringos drinking and playing rubbish pool, as she flicked the channels between Nemo, the Mummy and some kids' cartoon. Where else in the world would you drink beer and play pool whilst watching cartoons with a kid in a pub?
When we'd drained our beers we left to go find some food, only to walk out of the pool room back into the main bar to find a table of fellow riders, so we sat down and ordered a couple of pizzas and a bottle of water (for me) and a glass of wine (for Nick). The pizzas were good, but fatigue had set in by the time we finished them, so we strolled back to the hotel and I went to my room to update the blog and try and get a good night's sleep, knowing I have to be up very early tomorrow to go and see the condors (and ride the 40 miles of dirt road to the canyon and back!).
Friday, 23 October 2009
Lake Titicaca...
I woke for the 5th time that night and decided that I'd get up, even though it was still early and we're not due to be picked up for our trip onto Lake Titicaca until 9am. The effects of the altitude, combined with a severe storm, robbing me of much-needed sleep. Opposite the hotel is the national bank and this morning is the local equivalent of "giro day" where the local women come to the bank to get state aid for their small businesses. There a no men, because the government believes that if they gave the money to the men, they'd simply go down the pub and drink it away. So lined up all along the street are small Peruvian women in bright red (or sometimes green) skirts, traditional blouses and their strange little hats, carrying their belongings or offspring on their backs in brightly coloured shawls... quite a sight...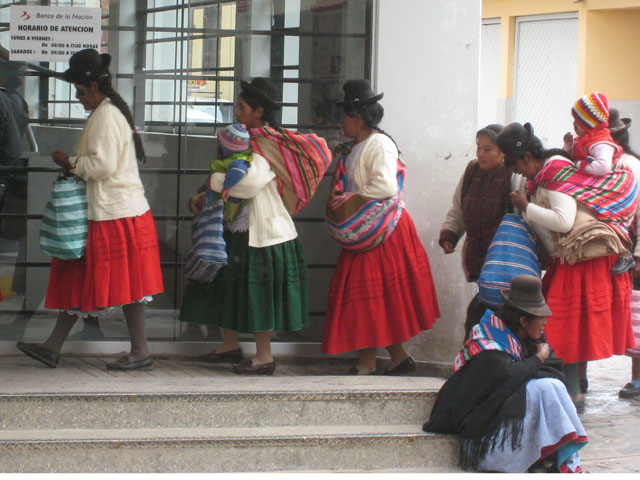 Without the benefit of a decent zoom lens to hide behind, I was forced to emerge from the shadows and into the full glare of their stares. This left me feeling decidedly voyeuristic trying to get a photograph without them noticing, as though I was intruding into their world, which was so different from my own I could but stand and stare. Taking photos of people going about their normal daily lives often leaves me with that feeling, and seeing them lining up outside a bank for a handout, hundreds of them all up the road, just made it feel worse. But that's they way they live, and witnessing it (and writing about it) is part of the reason I travel, so I can't allow myself to feel too downbeat...
After breakfast it was time for us to play tourists again, as we boarded a coach outside the hotel, which took us the short journey down to the lake shore (about 15 minutes walk away). Here we boarded a boat that would take us out onto the lake to visit the floating islands of Uros. Lake Titicaca is the highest navigable lake in the world, at an altitude of 3,810m, and is 118 miles long and 51 miles wide. It also borders Bolivia, a country I'd love to have visited on this trip, but it's not on the itinerary... maybe some other time... The boat took just half an hour to reach the floating islands, which are made entirely of reeds, as are the houses that the residents of the islands live in. As we were arriving at the checkpoint where the captain had to hand in a ticket for the boat, several young lads on the bank started lobbing chunks of mud at us... hardly a warm welcome!
Approaching the islands it became obvious that this was a honey-trap for tourists, as each island had a tourist boat moored up alongside, or a group of brightly clad islanders waving to us to come and visit their island...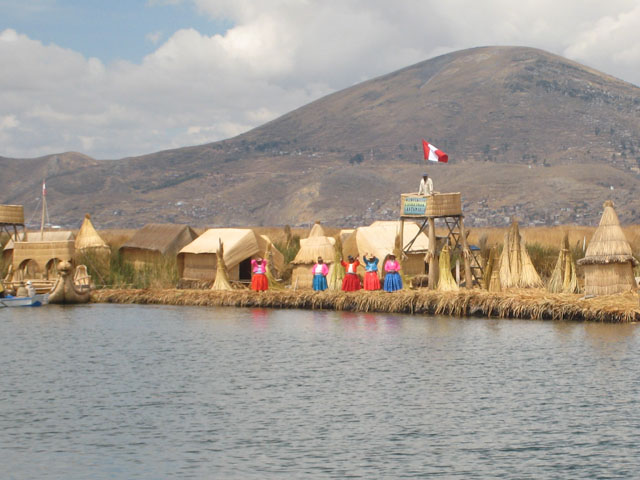 Once on our chosen island we were invited to sit in a semi-circle and listen as Sylvia, our guide, explained how the islands are constructed. They start with a large block of reed-roots in mud, carefully selected so it's light and will float, then they drive large stakes into them and tie them together to create the base of the island. On top they place layers of reeds in a hatched pattern, building up the 1m base by a further 2m. Then they build their houses, also out of reeds, and these sit on the top. The whole island is anchored using a large stake driven into the reed beds and rope with rocks suspended from it, which are then attached to the island to stop it being blown around.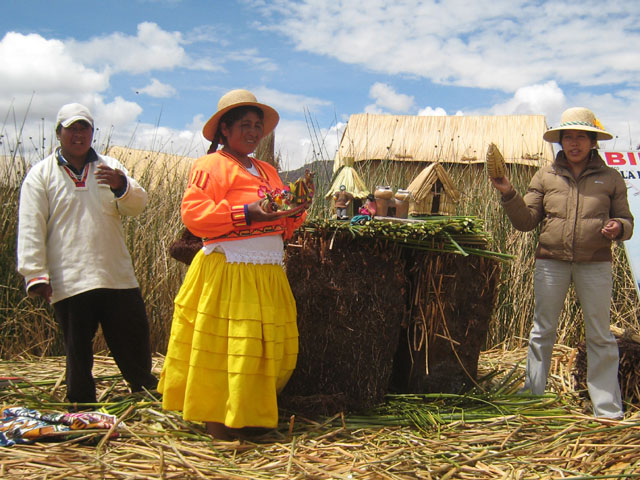 We also heard how not only are the islands, houses and boats made of reeds, but they also eat them. Whether this is true or just another ploy to get the tourists to do something silly, like trying to eat reeds, is anyone's guess.. and tasty they're not...
The islanders were very friendly and through our guide explained how they lived. Originally they moved to the lake to escape the Spanish conquistadors, making a living from fishing. Nowadays they make most of their money from tourism, as there is a fairly steady stream of visitors to the islands year round. They buy material in town and make things to sell the tourists, from miniature reed boats through to large beautiful decorated blankets. Needless to say that as I'm travelling by bike I have no room for any souvenirs, so will spare Tracy the llama-patterned rug... They also went on to explain how they still visit local markets where they barter their goods and fish for things they don't have on the islands, like potatoes and corn. This explanation took the form of a little play, with the 4 women each representing a different community, as evidenced by their hats. It was highly entertaining, as they gabbled to each other and exchanged goods...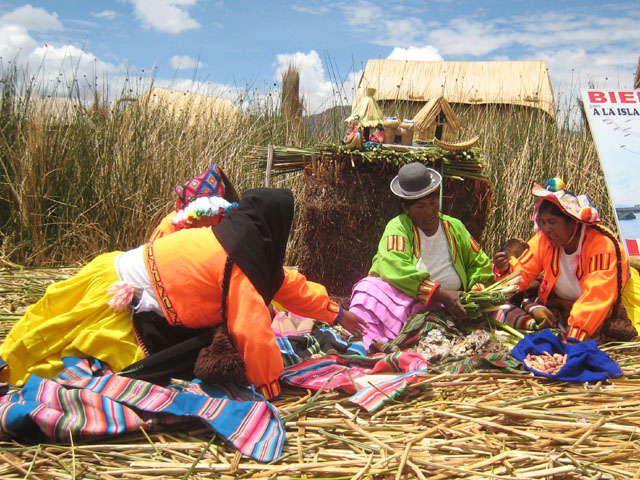 Suitably educated, we wandered round the island looking in the houses and were then serenaded off as we took a raft boat trip to another island, where there were more women selling their goods to another group of tourists. There was also a small flock of flamingos, a fish farm and a small group of ducks on the island, and a small child placed strategically on a reed rug so he could have his photo taken... cynical I may be, but I recognise a photo op when I see one...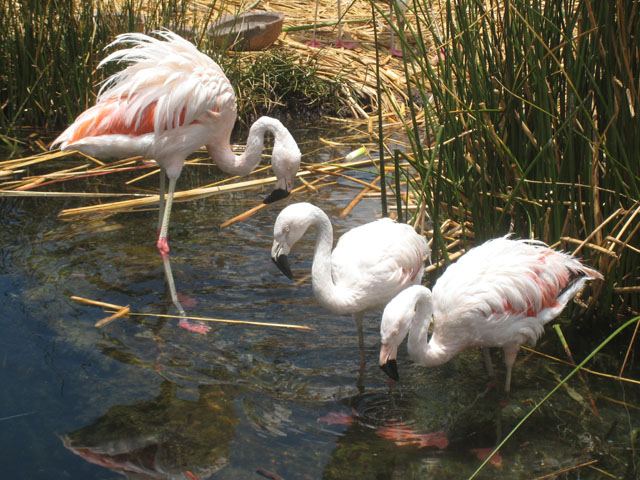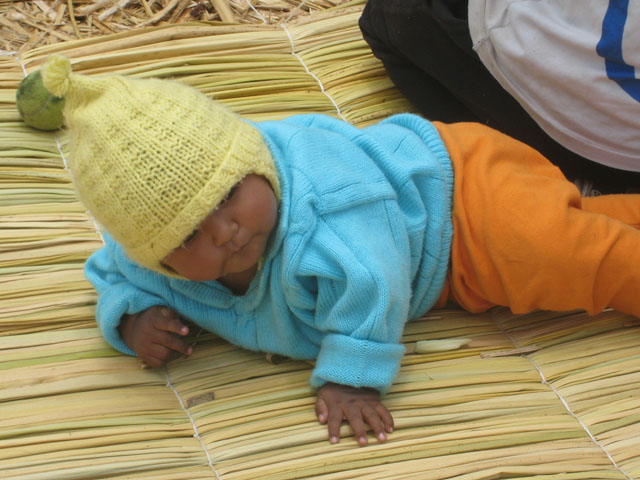 The whole trip had a feel of visiting a circus, rather than seeing how people live in a traditional way, but I guess that was inevitable when tourist dollars start to enter a community whose unique selling point is how they live. In contrast to squalor people are living in on the land, especially in the town of Juliaca just up the road, the islanders have something special. So what if it needs to be polished and presented to foreign tourists in order for them to be able to continue to live this way. When we'd all gone home, they could continue with their quiet existence, relaxing in their reed houses on their reed islands, eating reeds and watching their solar-powered TVs...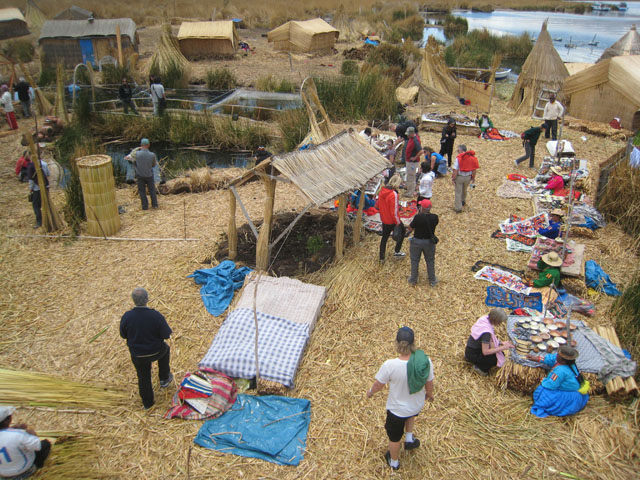 Back on dry land I returned to the hotel and had snooze, trying to catch up on my lost sleep, but soon woke again and wandered downstairs to see if anyone else was about. Just then another storm arrived, with thunder and lightning and then heavy hail sending people running for shelter. Within minutes the road outside the hotel was white with hailstones, and a small river was running downhill. Quite spectacular...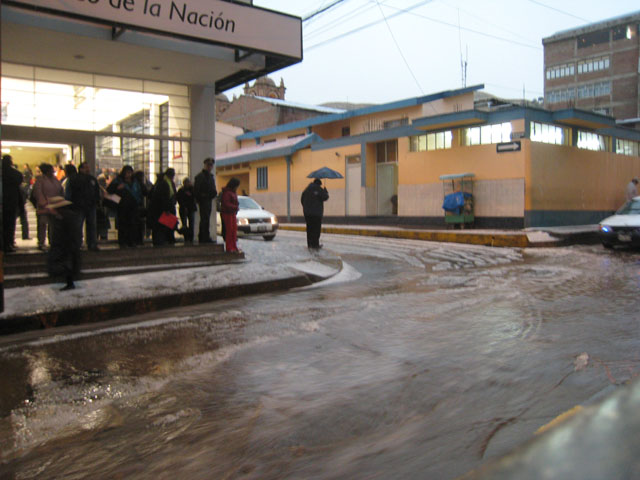 We then held the week's Prat Hat ceremony, which had been delayed due to all the other activities we'd had on. The nominations this week were particularly poor I thought, especially mine, which was for my pannier falling off again (and for remarking that I'd rather be on another boat which had some pretty girls on), Nick (again) for his Dad-dancing episode in Chiclaya which resulted in Julia being hurled to the floor and bruising her backside, Richard for some innocuous remark which I won't repeat here, and Julia for 2 things... first was the 6.15 – 6.50 cock-up that robbed us all of sleep before the visit to Machu Picchu, the second was for demonstrating how stable the rocks were in Canyon del Pato by almost pulling the mountain down.... and of course, Julia's nominations won the day... and the hat does suit her don't you think?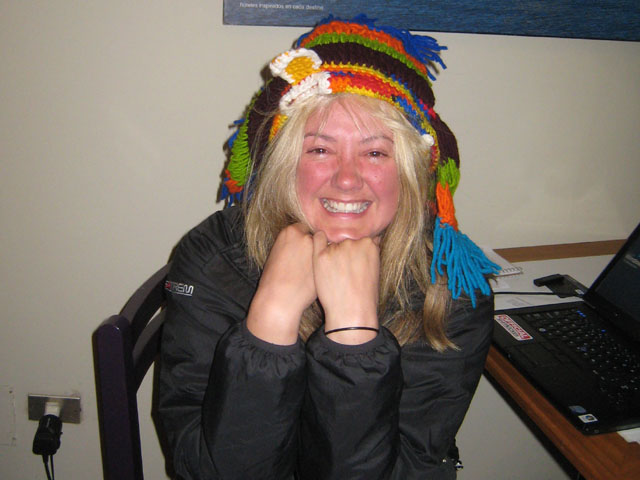 After the ceremony was over we went back to the Rock and Reggae bar, but were bitterly disappointed to find the music wasn't as good and sat at the bar were 4 chain-smoking backpackers, making the bar not a nice place to be... it's funny how offensive a smoky bar is these days... so we left after just one beer and went in search of food. We found an excellent restaurant where I had some lovely ravioli with bolognese sauce and shared a couple of glasses of decent Argentinian red wine... lovely...
Thursday, 22 October 2009
Crossing the Altiplano...
Once again I was woken by the Cusco bells chiming at 5am, but snoozed for a while before finally getting up and updating the blog. Whilst the video clip of "Gay Dad Dancing" was uploading, I walked the couple of blocks to the parking area and brought the bike round to the hotel, parking it with the others out front. Then went to breakfast, taking my laptop with me so I could show a few of the others the video. Nick wasn't there, so I'm still alive...
With the bike loaded we set off, Nick and I riding together despite my blogging, finding our way out of the one-way system without any issues. The road from town started very busy, with lots of traffic and smog, but soon cleared as we left the outskirts and headed into the countryside. Here were lots of fields of crops, being worked on by people bent double or stood knee-deep in soil and mud, sometimes with oxen to help them plough the land. We only saw 2 tractors the whole day, the rest of the farming being done by hand and by beasts of burden. As the road climbed higher towards the altiplano, the scenery became more barren and the crops were replaced with herds of alpaca, llama and sheep. Some of the alpaca had been recently shorn so their wool could be turned into the beautiful jumpers and blankets that fill the market stalls, leaving the poor animals shivering in the cold and looking very forlorn...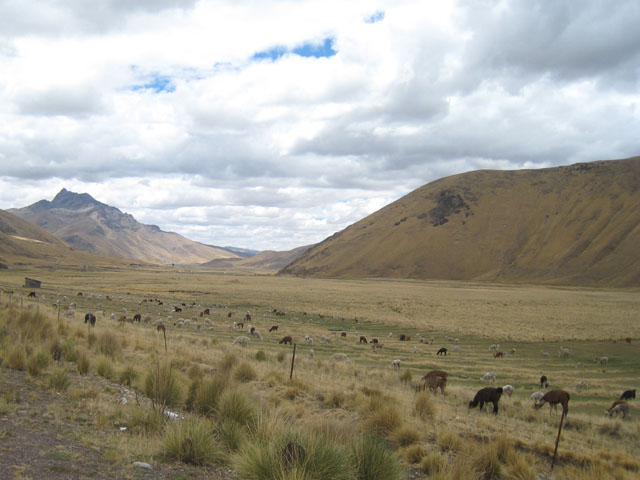 We rode up and onto the altiplano, the temperature dropping sufficiently for us to stop and put on some warmer layers. Just before the most barren section of the altiplano we stopped on the outskirts of a small town for a coffee and a cheese and tomato sandwich, made with local cheese. We decided to avoid the pork, having seen how it was transported to the café...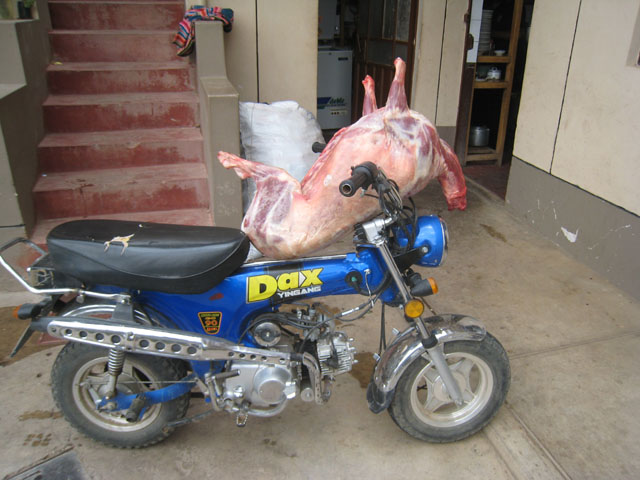 Back on the road we entered pure Mamba country (Mile And Miles of Bugger All), the road cutting across a flat, desolate area of scrubland with mountains on the horizon. We were at over 3,900m for most of the day, the high plateau the highest on earth outside that in Tibet. I'd had to resort to playing music in order to alleviate the tedium from riding on seemingly endless straights through scenery so barren and unchanging. Sometimes the tunes coincided well with the ride (particularly the Pink Floyd tracks) and other times they were at odds with it (Black Sabbath and AC/DC) but they helped pass the time and keep me awake. Eventually we reached the town of Juliaca and once again entered the chaos or Peruvian town-life. From the isolated emptyness of the altiplano we were instantly surrounded by vehicles of all shapes and sizes, from pedal-powered tuk-tuks through to large dumper trucks, all intent on having the piece of road we were inhabiting. The road itself also took on the characteristics of many of these towns, being pot-holed and rutted and sometimes just plain old dirt. The dust and fumes had me coughing, in between the bouts of laughing at the antics of some of the other road-users, including the guy pushing a hand-cart right out across Richard's path, seemingly oblivious to the damage a large motorcycle could do to him and his wares. We managed to negotiate the chaos successfully, no longer phased by it, and found our way out to the main road to Puno. This was much better, a wider, well-surfaced highway along which we could progress without constantly looking round for the next hazard.
We turned off the road to visit the pre-Inca burial ground and funeral towers at Sullistani on the banks of Lake Umayo. Perched high on the hill above the lake are a large number of round stone towers, once again built without the aid of mortar and with stones that fitted perfectly together. These chulpas are the tombs of the Colla peoples, who were conquered by the Inca in the 1400s. Most have been dynamited by grave-robbers, but some remain remarkably intact.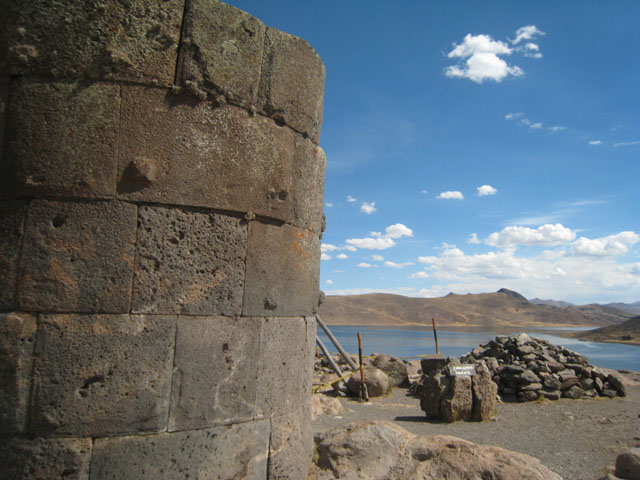 Glad to be off the altiplano and back under a warm sun, we sat for a while looking out over the lake before heading back down the hill for an ice-cream. Retracing our steps back towards the road to Pnuo we stopped outside one of the many llama-farmers dwellings for a picture, the proprietor more than happy to wave for the camera, as she had waved when we passed on the way up.... if you look closely, you can see the little stone pigs on the tops of the roofs...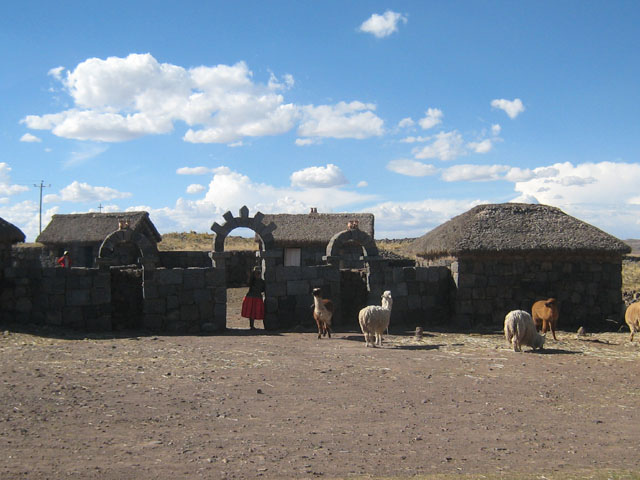 Riding back to the main road we had a close encounter with a cow and a sheep, both of whom decided that as soon as one of the three motorcycles was passed that it would be safe to cross the road, ignoring the other two... just one of the many hazards that you have to deal with when riding a bike in South America... another was the road into Puno itself, which went from being pristine tarmac to wet dirt just as it descended down into town. With that safely negotiated, we got lost in the maze of one-way systems and new pedestrianised areas in the centre of town whilst trying to find the hotel. We asked 3 different people for directions and got 3 different answers before we eventually spotted it tucked away down a one-way dead-end street, the end of which had been recently pedestrianised rendering the route-notes useless. Checked in and with the bags dropped off we rode the 3 blocks (1st right, 2nd left, 3rd left, 1st left and it's on your right) to the car park and walked back to the hotel. A shower and online chat with Tracy (always the highlight of my day!) and then out to wander round town. I forgot my camera, so there are no pictures, which is probably just as well as we walked round the streets which seem to be organised around a particular type of shop/business. For example, there was a street full of shops where you could get copies made or print off documents, another full of dentists, one full of shoe shops and finally the pedestrianised area full of pizza places and a bar... The "rock and reggae" bar to be precise, which served cold beer and great music – Pink Floyd, The Who, etc. After a couple of beers we went and grabbed a chinese (not fancying pizza again) before walking back to the hotel, stopping at another "rock and reggae" bar for a nightcap and some more great tunes... after all, don't they say "tunes help you sleep more easily"... (I'm sorry, couldn't resist!)
Wednesday, 21 October 2009
Relaxing in Cusco...
What does an Adventure Motorcyclist do on his day off? Answer: not a lot...
Today is a rest-day and another day in Cusco. So I decided to do very little, apart from sorting out my laundry (again), updating the blog (again), ringing Tracy (and having a nice long chat for a change), getting some shopping (deodorant, toothpaste and shampoo, and a replacement head-torch as mine broke). Such exciting stuff, but it's good to just get things sorted out and to spend the day relaxing. I did also wander around Cusco city centre, well, at least the main square and the streets off it, just wandering round admiring the architecture and trying to avoid getting a massage... actually, that's fairly tricky as every 5 steps I seem to be approached by a young Peruvian woman (and on one occasion, a young Peruvian man) offering me a leaflet for a massage. Now in other places I've been that would qualify as "soliciting" but here they seem to be genuine massage parlors, complete with pictures of people being massaged. But. Despite my shoulders aching from all the riding and carrying my camelbak full of water, I can't bring myself to be massaged by a stranger in a strange land... guess I'm not that adventurous after all (and besides, I'll just wait to get my massage from my personal masseuse when I get home).
I did have a quick look at the tourist's city guide to Cusco before my ramblings, and so had one particular sight that I just had to see. It's a 12-sided stone in an old Inca wall that exemplifies their abilities in wall building. It is part of the old wall of a temple destroyed during the Spanish conquest on which was built a new building... just look at how the surrounding stones have been shaped to fit perfectly, and remember, there's no mortar here and this wall has survived many an earthquake...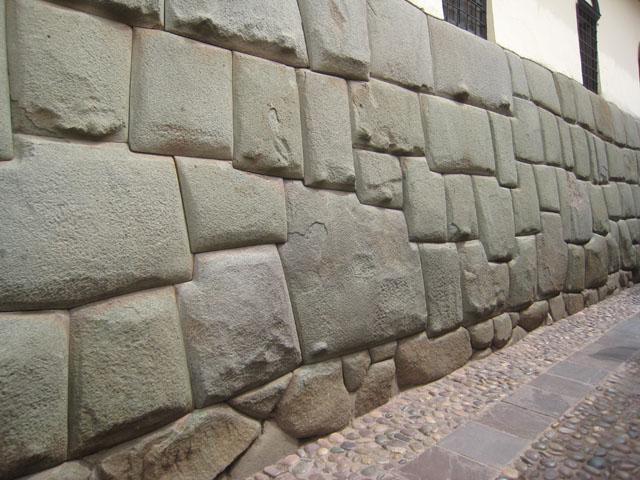 After more wandering and admiring the architecture, and people-watching, and avoiding the picture-sellers and massage touts, I met up with Max and Christine, who had also been approached by a tout with a leaflet. This one was different, though, as it was for a place called "The Real McCoy" and which offered "a taste of home"... in the form of pie and chips or mash with real Heinz beans... as it was lunchtime, we simply had to explore. And so it was that I ended up eating a chicken and bacon (no chicken and mushroom, sadly) pie and mash with Heinz baked beans whilst watching the football (Manchester United winning in the Champions League) on telly and drinking a pint of the house brew (which wasn't actually very good)...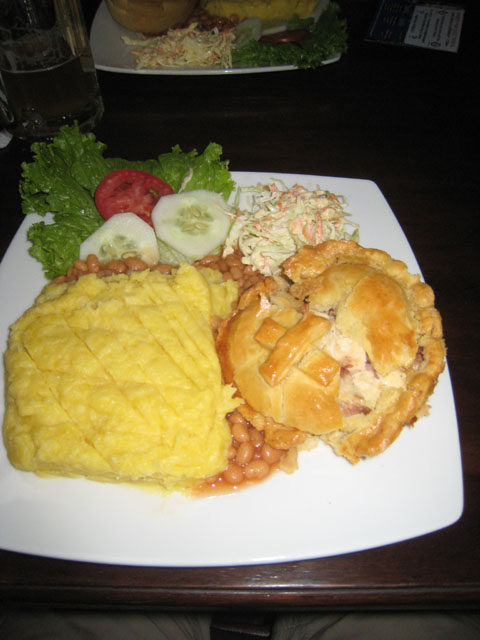 I think getting excited about this stuff is perhaps an indication of just how long I've been away for...
The rest of the afternoon was spent relaxing and trying to catch up on some lost sleep, before heading out for a drink prior to the weekly group meal. This week it was a rather good buffet in a local restaurant with some traditional Peruvian music (pan pipe band) and some dancers in traditional costumes...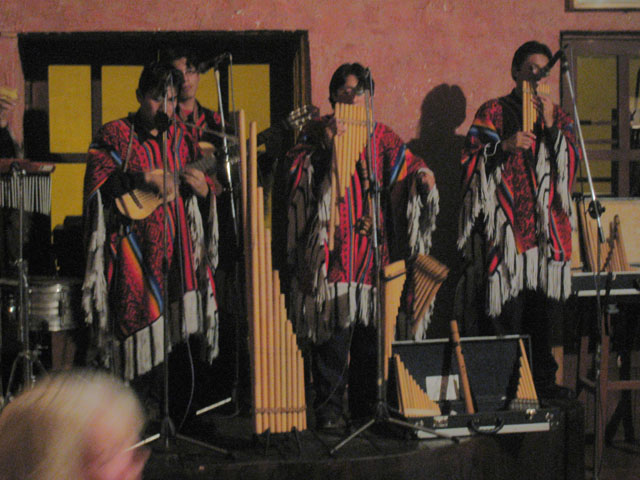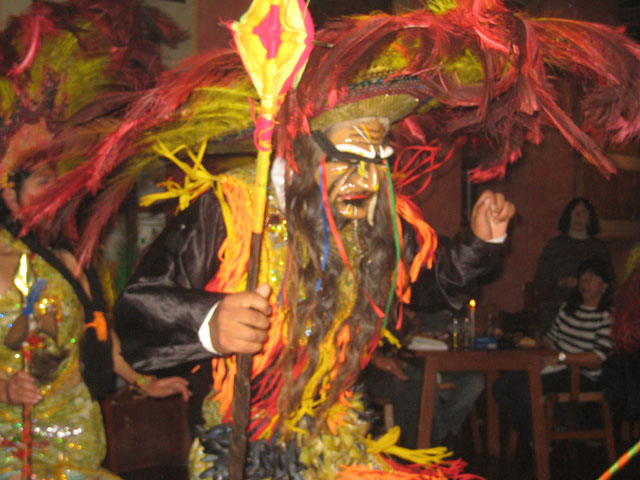 Needless to say most of the group were thoroughly enjoying the show, helped by copious quantities of Peruvian red wine or beer. The dancing girls in particular caught one of the group's eye, so much that their video recording exploits extended to trying to capture them in all their glory, which clearly required a lot of attention...
As the evening wore on, the band played some classics, including "Hey Jude" which allowed the group to once again exercise their singing voices, before dancing with some other tourists. This was another excellent opportunity for "Gay Dad" to demonstrate his now infamous "Dad Dancing" as last seen in the square in Antigua Guatemala and captured here on video for your delectation...
After the excitement of the show was over we retired to the Norton Rats Pub for another beer or mojito-like substance, and whilst their signed the Adventure Motorcyclists Guest Book. This rather special book dates back to 2004 and is signed by a great many of the motorcyclists and groups that have travelled through Cusco and frequented this particular watering hole. There are entries from both the previous Trans-Am groups and the High Andes trips, and now there are some drunken scrawls from our group, including my very own... quite an honour...
A final nightcap in the Kamikase bar before finally retiring to bed around 12.30am ready for getting back on our bikes again tomorrow for the ride to Puno...
Tuesday, 20 October 2009
Visiting Machu Picchu... and being a tour guide for the day...
Happy Birthday, Mum... 80... wow!
Was woken just before 5am by the sound of the town hall bells ringing. As usual when hearing bells, the natural instinct is to count them so you can tell the time, especially as it was still pitch black outside... when I got to 50, I gave up... As we're due to be picked up at 6.15am (at least, according to Julia...) I got up anyway and showered and went in search of breakfast. The hotel is used to catering for tours heading off to Machu Picchu and so lays on breakfast from 5am, so I was able to start the day with cereal and a cup of coffee, my guts churning from last night's beer (not used to English Ale any more, hope it's only temporary!). Then the group assembled in the foyer around 6am, and I started the first of many of the day's headcounts, whilst they tried their hardest to wind me up, changing places and asking daft questions like "are we nearly there yet". How amusing...
When 6.15am came and went, the group started to get agitated, so I reminded them that the original pick-up time had been 6.45am and perhaps that was when the minibus would arrive. When it wasn't there by then I went to phone to find out, only Nigel had already beaten me to it and been told that our actual pick-up time was 6.50, not 6.15... Julia's likely to be nominated for the hat for that one... At 6.50, the local tour coordinator turned up and handed me an envelope with lots of tickets, train out, train back, bus and entry for everyone in, and then we waited for the minibus to arrive. Once it did, we boarded and enjoyed an entertaining ride up the mountain to Poroy where we'd board the train up the valley. Once on the train we settled in for the expected 4 hour journey (it was only 3 hours in the end) and chatted, snoozed and generally passed the time any way we could. The scenery from the train window was beautiful, as it would its way along the side of the river, past what must be the Peruvian equivalent of smallholdings (giving me plenty to daydream about), the houses topped with little pottery pigs on their roofs to signify that they were pig-farmers (wonder if we can get some little pottery chickens for the roof of our house when we move?).
The train eventually arrived at the town of Machu Picchu (now called Aguas Calientes, or hot water after the springs nearby), at the head of the valley, and we met up with our tour guide for the day, who was also called Paul. He guided us to the waiting bus to take us up to the historical site itself, whilst I herded the group, trying to keep them all together. Chris was a particular concern, as he wasn't well, feeling all flu-like and shivering violently when sat at the train station before we headed off for the bus. Once all 19 had been counted on we started the climb up the hills on a dirt road, the bus passing several others coming down the hill, as they ferried tourists up to Machu Picchu. Some 400,000 people visit the site every year, and most arrive by bus up the dirt highway (the Hiram Bingham highway after the man responsible for re-discovering the city in 1911). This brings you out into a bus depot high on the mountain, from where you pass through a security turnstile to hand in your ticket and then a short walk brings you to a vantage point on the terraces overlooking the city itself. And what a view it is. The mountains here are high and steep, dropping dramatically down into the valley below, but they are also relatively narrow, almost pointed. Machu Picchu city sits atop one of these mountains, the city surrounded by a wall and the nearby mountainside covered in terraces. The terraced area, where we were now stood, was used for crops, whilst the city was used for dwelling and keeping animals, clearly separating the working life of the Incas in the fields from their other activities in the city.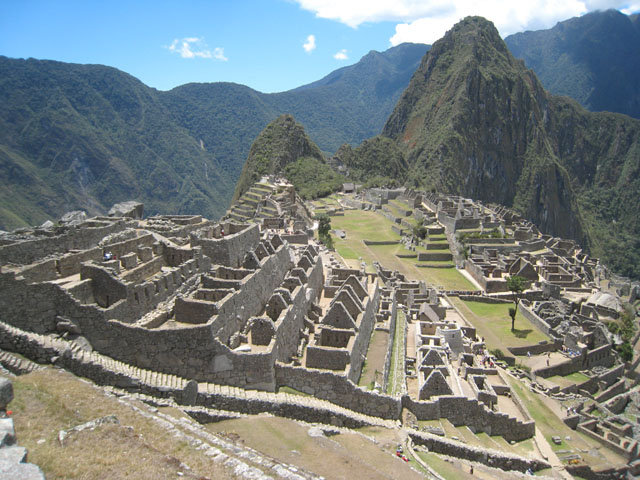 The city's history was explained by our guide thus... it was founded around 1450AD as a governed city, the Inca king living in Cusco and the city under the control of one of his officials. It was home to somewhere between 700 and 800 people, although it would have taken many more to build it. When the Spanish conquests began, they sacked Cusco, replacing many of the Inca temples and buildings with their own colonial ones (usually built on the Inca foundations as the Inca stone-work was of very high quality). The Spanish came up the valley below around 100 years later, the Incas abandoned the city in fear, heading off into the jungle – the Spanish though never found the city, as from the valley it is completely hidden from view by the forest and the line of the mountainside. There are other theories about why the city was abandoned, but the fact that it was, just 100 years after being founded, is universally accepted and quite astonishing. The city was then reclaimed by the jungle, until it was re-discovered by an American historian, Hiram Bingham in 1911, when looking for the lost Inca city of Vilcapampa. He was led to the site by an 11-year old local boy Pablito Alvarez, and named his first book about the city the "Lost City of the Incas". Over the next 4 or 5 years the city was gradually cleared of forest to reveal an almost intact city, by far the best preserved Inca city in Peru. Of the current site, some 70% is totally original. And it is very impressive, too, the stone-work clearly demonstrating how good the Incas were in getting the stones to fit together perfectly, shaping them using hematite stone, which is very heavy and high in iron content, and ideal for working the natural granite of the mountains, out of which the city is built. Some pictures, to help bring this to life. Hover over them with you mouse for a brief description...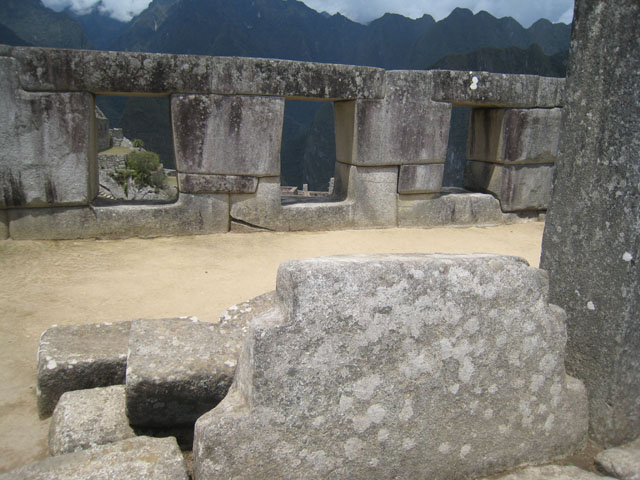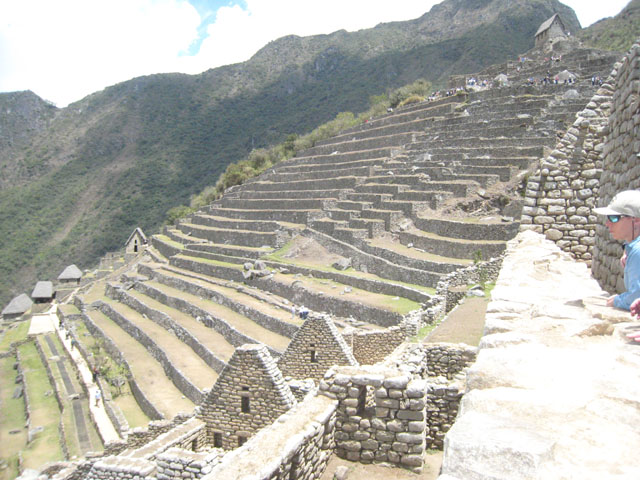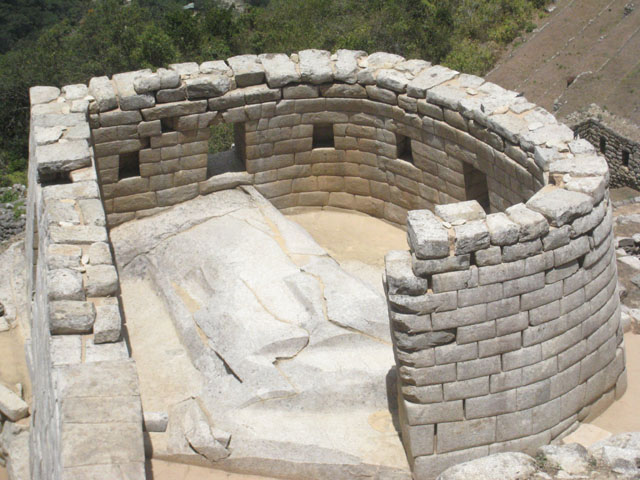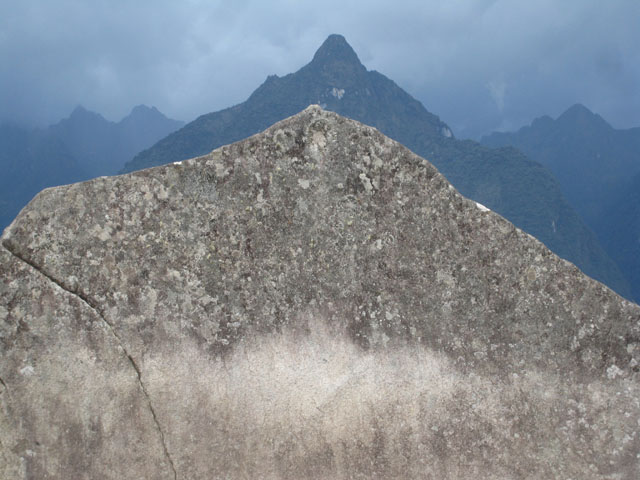 We then wandered round the city, following our guide, trying to avoid the other tour groups being herded like sheep from location to location learning about the city and the various buildings and stones and their meaning. In the centre of the city, grazing on the grass in the main plaza, were a small group of llamas, quite oblivious to (or unconcerned about) the groups wandering past taking their photos. One decided it wanted to investigate me, and sidled up gave me a toothy grin and then started eating the grass at my feet. Cute or what...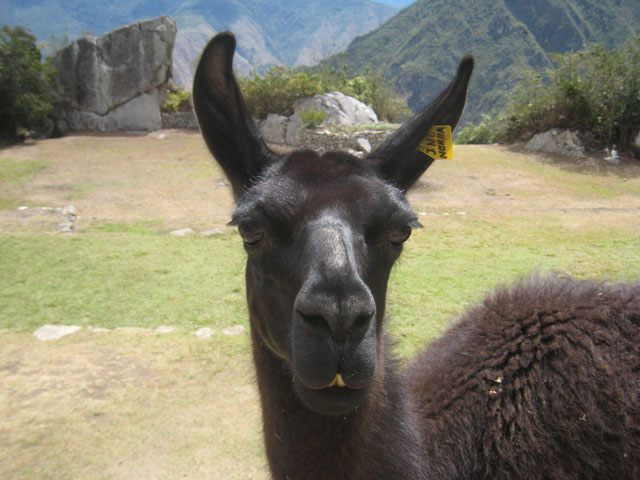 Whilst we were still wandering round the site, the thunderstorm that had been raging on the mountains in the distance reached us, the rain thundering down in great big drops and drenching the ground in seconds. Unlike several in the group, I'd brought my waterproof jacket and so stayed relatively dry, whilst they got soaked. We sheltered by one of the walls waiting for the storm to abate a little, and within minutes muddy water was pouring through the drainage channels in the walls and running in a small river down the terraces below. Not only did the Incas understand how to build stone buildings to survive earthquakes (the area around Cusco is prone to them), but they also understood the need for good drainage...
With our guided tour over it was time to be shepherded back to the bus station for the ride down back the valley to lunch before catching the train back to Poroy and then the bus back to the hotel. Saying goodbye to Paul, who had been excellent and very enthusiastic in his explanations of the site, I counted the group back onto the bus, then herded them to the restaurant where our buffet lunch was waiting. And it was excellent, with a great salad bar (see, I do eat healthily occasionally) and a selection of meat dishes including alpaca (similar to beef but lighter in texture). Desserts were excellent too, undoing all my good work with the salad... After lunch we explored the market, which is much like any other in this part of the world, all the stalls seemingly selling the same range of locally made goods, including some beautiful alpaca wool jumpers I'd loved to have been able to buy Tracy, but can't as I've no way to transport them (I'll just have to bring her here and buy her one then). Finally, I herded the cats, sorry, group, onto the train and we headed back up the valley into the night...
Which gave me plenty of time to reflect on the difference between today's visit to Machu Picchu and the other visits we've made, when we've arrived by motorcycle as independent travellers, and not like sheep herded around by a tour leader (either Paul or me). Looking at the other groups being herded around the site, many of them overweight tourists who didn't seem really interested in what their guide was saying, just wanting their photo taken with Machu Picchu in the background so they can tick that box, it reminded me how privileged I am to be able to travel to most places on my own, advised where to go by the experts, but able to experience arriving their independently, to experience contact with the environment and the locals without it being staged for me as part of an organised tour... I appreciate that not everyone is able to travel this way, and I've taken my fair share of guided trips before (and thoroughly enjoyed them), but there is a much deeper sense of involvement when arriving somewhere under your own steam, and being able to enjoy the reaction of those we meet when off the beaten track...
The train journey took longer than it should thanks to a prolonged stop at Ollantaytambo, but we all got back to the hotel safely around 9pm. A small group ventured out as far as the restaurant next door for a bite of supper (tagliatelle bolognese and sprite for me, this being a "dry day"), before calling it a night, the end of another long and enjoyable day...
Monday, 19 October 2009
Via Sacred Valley to Cusco and English Ale...
With all the bikes crammed in to the courtyard and only a relatively short ride ahead (200 miles) there was no rush this morning, so I went about my usual chores in a very leisurely way. When done there was only Simon and Late Guy apart from me left to depart – and Jim, who's bike was being worked on as it had cut out several times during the ride to Abancay yesterday. They both needed fuel, so I decided to ride alone for a while and see who I met en-route. The first challenge was getting out of town as the route notes said to go up the hill then turn left, when in fact they should have said right, but I soon realised and found the right road (checking with some road-workers to ensure I was right). I saw Max & Christine and Ozzy Andy and Nigel ahead, so they must have found it too, but I was in no hurry so hung back so I had some road-space to myself. The road itself wound its way high up into the mountains again, but the surface was slippery and at first I thought I'd a puncture in my front tyre, as it kept slipping in the corners. When I stopped to take a picture of the fantastic view over to the snow-capped mountains in the distance, the others all stopped too (I'd passed them as they stopped to take pictures further down) and confirmed they too were finding the surface slippery. But it wasn't a problem and the views were stunning...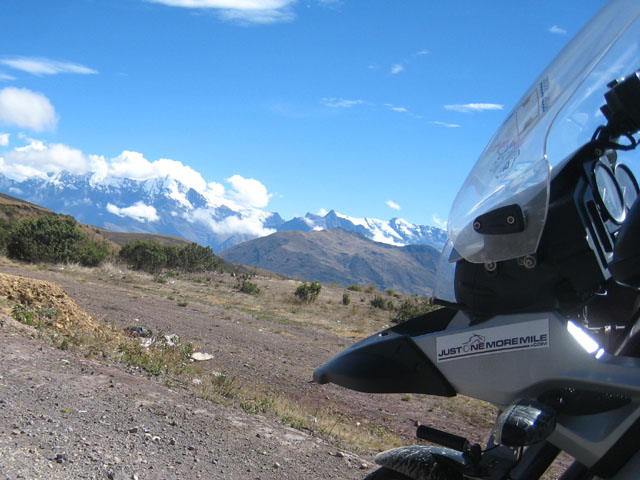 I rode on alone for quite a while, as the road wound its way high up and over the mountains, regularly over 3,000 metres, passed small villages and fields of crops, waving to smiling children and past old ladies bent double under the weight of large bags they were carrying up the mountain. Past what looked like wooden storage sheds in small allotments of crops but turned out to be home to a family of happy but poor looking indigenous people, surviving with nothing but a one-roomed "home" and a small patch of land. Images of lives so different to my own flickered by my eyes as I struggled to take it all in whilst at the same time concentrating on the road ahead. I simply love travelling this way, but the downside is the images so often remain in my head rather than in my camera, as stopping to capture them would be impossible, the very act of trying would destroy the moment...
After a couple of hours riding I reached the junction in the road that leads up to Urubamba and the Sacred Valley, a deviation from the original route recommended as it only adds 80 miles and provides a good spot for lunch. Kevin, Julia, Nick and Al were in the petrol station, so I pulled over for a chat and to see if Nick was feeling any better, as he'd been ill again the previous day. He was still suffering, so Julia and he were taking the direct route to Cusco. I hooked up with Kevin and Al and we rode as a threesome up another mountain where we got a spectacular view over the town of Urubamba, before heading into the town and onto the valley road up to Ollantaytambo (or Olly as its affectionately known).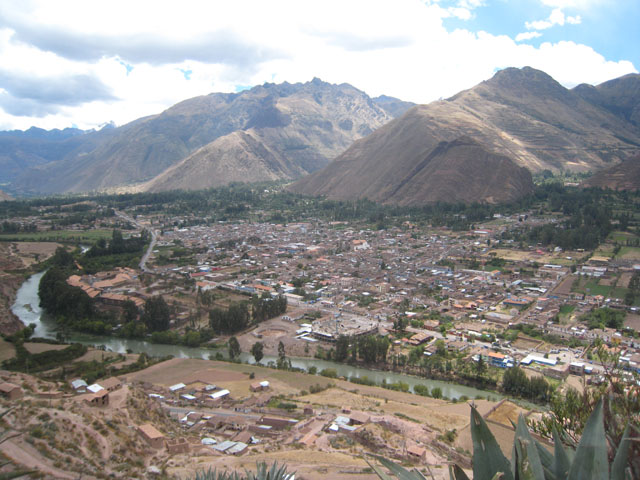 Ollantaytambo had been recommended for a lunch stop as it has a beautiful square and a large Manco Inca fortress, it being a stronghold in the resistance against the Spanish conquistadors. But on arriving, we found the square was a building site, with rubble everywhere as they were obviously in the process of rebuilding it. We had to ride over the rubble to get to where we could park, and then went and sat outside a café for a bite of lunch whilst watching the fun and games going on in the square. These involved a large truck, laden with pallets and large wooden boxes, which was trying to negotiate its way into a narrow street at the side of the square, but had got stuck as there was a large trench, some 3ft wide and 6ft deep right where its driving wheels needed to go. After much standing around, the large group of builders eventually put some large logs in the trench and the truck driver managed to manoeuvre his vehicle into the small alley, a process that took as long as it took us to order and eat our coffee, soup and chocolate cake... We did get sight of the fortress on the outskirts of town, but dressed in full motorcycle gear I was in no mood to go hiking up to take a closer look...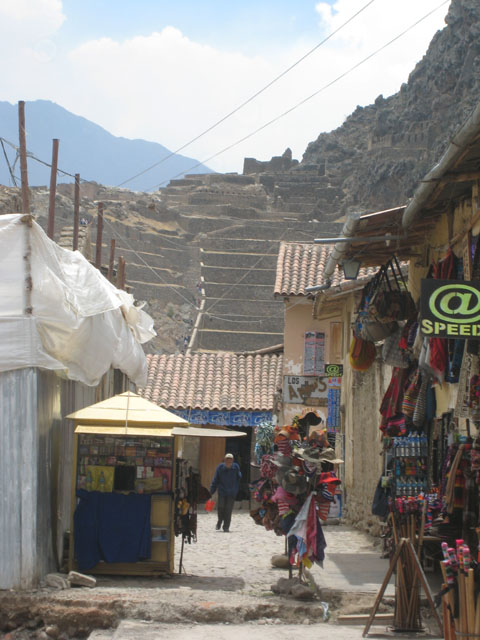 After lunch we rode out of town, our little group joined by Pertti, Tony and Phil, and we rode all the way up the Sacred Valley to Pisac. The valley was named Sacred Valley by the Inca, who lived all along the valley right up to Machu Picchu at the head of the valley, where we're going tomorrow. Pisac itself is also the site of Inca ruins, as here was the entrance to the valley and the citadel stood on the top of the hill overlooking the town – just visible in this photo as a line of terraces on the mountainside...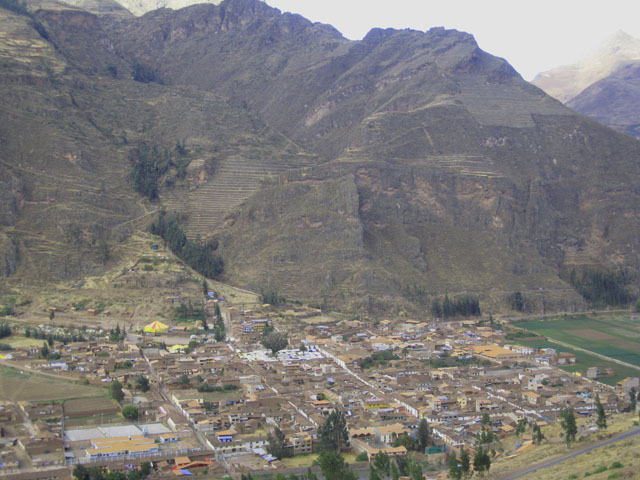 From here we road over another mountain and past the Inca fortress of Sacsayhuaman, or "Sexy Woman" as its known, riding down the hill into Cusco. We rode directly into the main square and parked up right in front of the main building, where Karen to take some photos (we'd lost Tony and Phil en-route as they dropped off the back of the group). This caused quite a stir, the square full of tourists and backpackers here for the trip to Machu Picchu and locals trying to sell them stuff...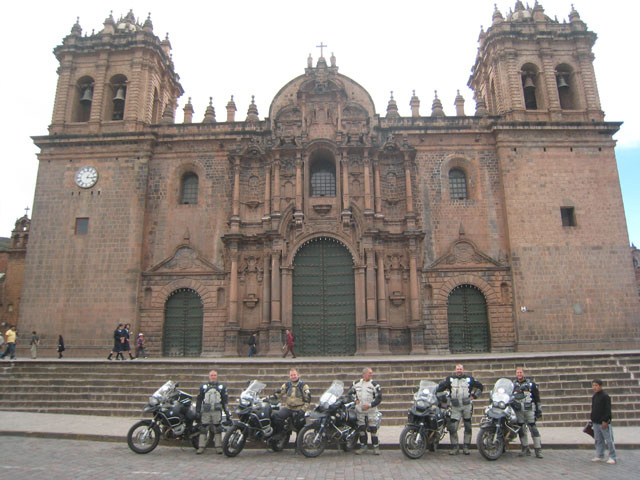 Then it was off to the hotel just off the main square to drop off our bags before taking the bikes to the secure parking area a couple of blocks away. Returning to the hotel I showered and changed, then sat downstairs on the Internet trying to find a likely cause for Jim's bike problems. His Suzuki V-Strom (the only none-BMW on the trip) had cut out again on the run over from Abancay and this time wouldn't restart, so was in the van (the first bike to go in the van as a result of a breakdown). Jeff, Peiter and Alan were all trying to find a solution, and with a couple of days off in Cusco, hopefully they'll succeed.
Later that evening I went out and walked round the square, before going to the "Norton Rats Pub", run by an American called Jeff and a place frequented by all adventure motorcyclists travelling through Peru. It's a strange place, just off the square, with flags of many nations on the ceiling, dartboards, pool table and … English ale on draught!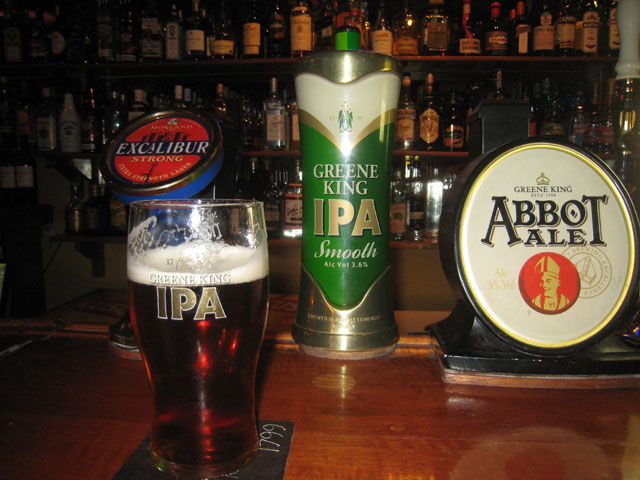 Suffice to say that the Globebusters Trans Am pub crawl continued well that night, with a pint of Green King IPA being followed by a couple of Old Speckled Hens (on draught), a cheeseburger (very tasty) with fries and then off to the Kamikase bar near the hotel for a couple of Pisco Sours. The beer was cold and not exactly as good as it is in the UK, but a little taste of home was most welcome. The Pisco Sours were strong and not as good as the silly night in Chiclayo, and when the live band started it was time to retire to the hotel and my bed, especially as I need to be up at 5am in the morning to go to Machu Picchu, and have been nominated by Julia as the "responsible person" to look after the group for the day... (no sniggering at the back, please...).
Sunday, 18 October 2009
Across the Andes by Bike...
As usual I woke early, but this morning in very good spirits as I was looking forward to my bike starting without trouble for the first time in ages. Breakfast was quickly dispensed with and just after 7.20am I was ready to hit the starter and see what happened... and the bike fired first time, just like a new one. Boy, was I in a good mood!
My mood just got better too as soon as Aaron, Nick, Al and I rode out of the hotel grounds and onto the road before everyone else was even ready. There's something pretty cool about being out in the early morning, first to experience what the road has to offer. We rode out of town with me leading (Aaron having missed the first turn) and before long were heading up into the mountains again on perfectly smooth tarmac... bliss...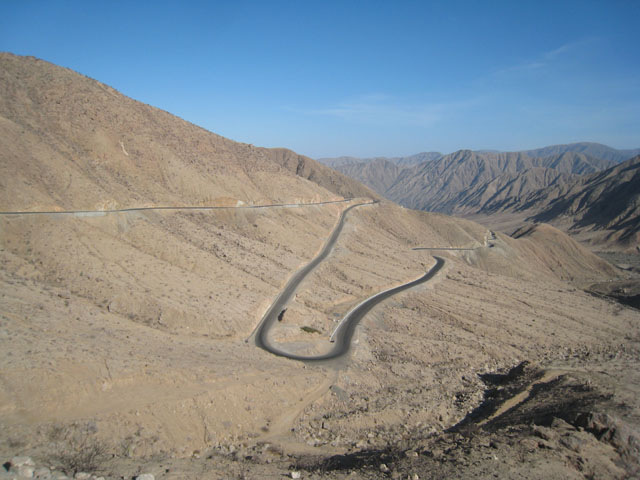 The road didn't stay perfect for long, though, as no sooner had we re-started having stopped to admire the view than it turned into another pot-holed mess, with sand swept to the inside corners of the bends adding a new challenge. Turning the bike in the tight hairpins was hard work as the wheels skitted over the potholes and slid on the sand. But nothing was going to dampen my mood, not even the huge truck that came down one hairpin and almost completely filled the entire road, just as I was entering the bend – I had to take serious evasive action to avoid getting crushed, but it wasn't a drama, just another of the challenges we face regularly when riding these roads...
The road climbed quickly high into the Andes, eventually reaching a fairly flat plateau where the roadsigns warned of animal crossings. Having heard the horror stories from previous trips, including Tony Mac who joined us in Bogotá and was brought down by a vicuna (a camelid similar to an alpaca only smaller) during the High Andes trip and had to be repatriated as a result, we took it steady, stopping regularly to photograph the wildlife and scenery...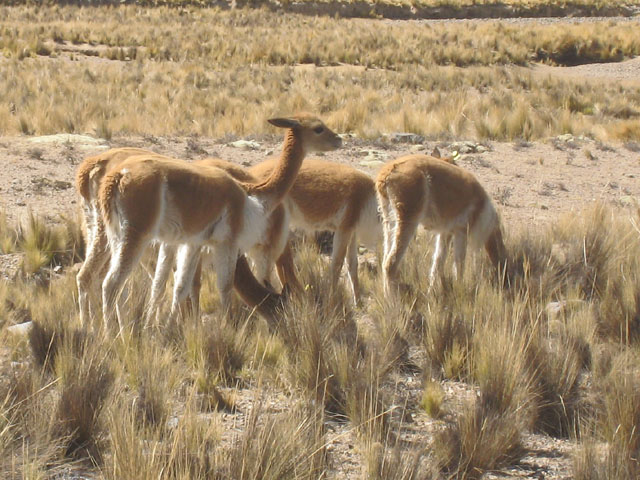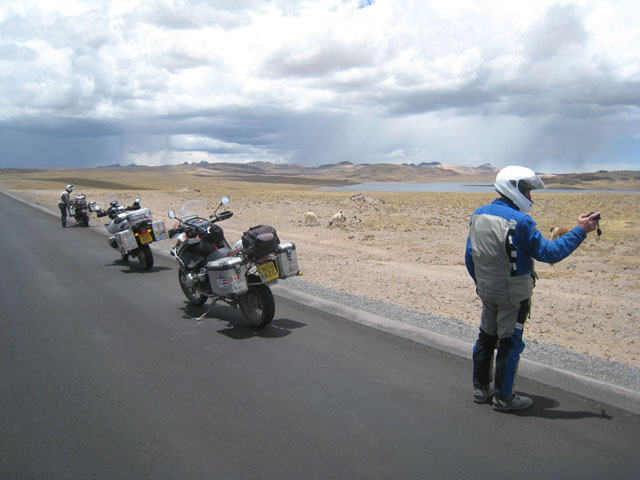 The plateau seemed to go on for ages, and we noticed we were breathless whenever we stopped. That's not surprising, though, as most of it was over 4,000 metres, and the high point I saw on my GPS was 4,574m (just over 15,000 ft). The bike behaved perfectly, albeit a little down on power. But that didn't stop us pressing on, really enjoying the mountain roads as we crossed the Andes and started descending into the valley below. Some of the roads bore a passing resemblance to some of the Alpine passes, one section in particular very similar to the Grimsel Pass, winding down the hill in a series of hairpins connected by short straights, then opening out into wide sweeping bends. After a good 5 hours riding we arrived in the small village of Chalhuanca and spotted a restaurant where we could have some lunch. By now Aaron and I were quite some way ahead of the others, a result of them slowing down and taking photos, rather than us speeding up. We went inside and ordered some chicken, and whilst we waited chatted to a couple of young lads who had come to see the bikes...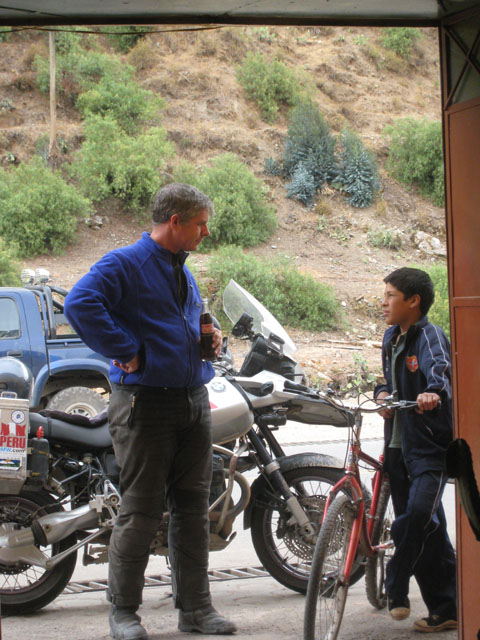 Since we'd left the desert of the coast, the people have become noticeably more friendly, waving and chatting to us as soon as we stop (not that we can understand much of what they're saying!). Whilst we ate our delicious lunch of fried chicken in spicy sauce and rice and chips, one old gent came up to us and doffed his cap, saying "salut a' Peru" or something like that, welcoming us to Peru. Sat in this little wooden restaurant, just the two of us, knowing that none of the rest of the group had already been through to break the newness spell, was quite special. Soon Nick, Al and Simon joined us, Nick not looking too well, his stomach once again giving him some problems. He left just after ordering his lunch, feeling like he might be sick if he didn't. After we'd finished eating, Aaron and I paid our bill and left Al and Simon still scoffing their lunch, just as Max & Christine and Chris & Danielle arrived... by now the locals had seen enough strangers on bikes and paid them little attention, leaving Aaron and I to savour our memories and continue on our way, waving to the locals as we left the village. I really like this aspect of travelling, catching fleeting glimpses into complete stranger's lives and sharing a single moment of connection, an exchanged smile, an exchanged wave...
The road then followed the river through the valley to our destination of Abancay, the tarmac once again smooth and flowing, our pace brisk and enjoyable. With the sun still shining all was very well with the world indeed, the stresses of the past few days worrying about whether my bike would ever work again all gone, and my love affair with this lump of metal restored. Just before arriving in Abancay we came upon a big truck carrying huge logs, atop which sat a group of young women, who proceeded to wave frantically at us, then started blowing us kisses... I could get a hero complex if this carries on much longer ;-)
When we finally reached town, we filled up with fuel and then rode down the main street towards the hotel, only to find the road blocked by some youngsters who were busy creating artwork that span almost from kerb to kerb, beautiful patterns of yellow and red petals (I think that's what they were). We had to ride just to the side of them in order to avoid disturbing their work, squeezing between the artwork and the kerb. Then we arrived and rode into the hotel car park, Nick's bike already parked up but no sign of him (he'd gone to his room, understandably!). We checked in and I showered and changed before typing up some of the day's events, still buzzing from the ride and the encounters with strangers...
When all the bikes had arrived and been parked in the little courtyard at the hotel they made quite a sight, but it does look like I won't be getting away first in the morning, as I seem to be blocked-in!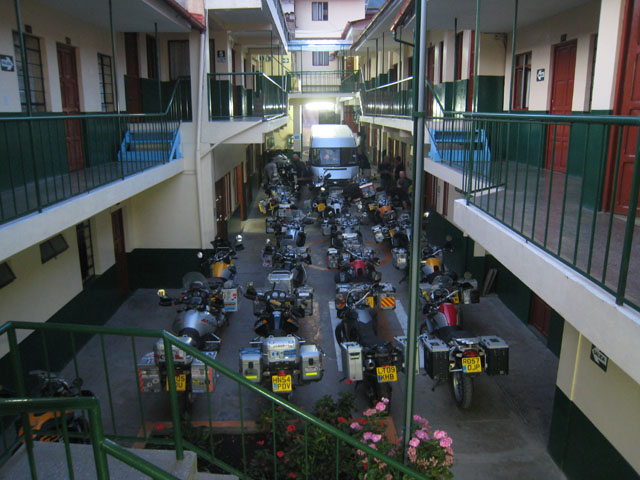 Whilst I was hanging around waiting to go for dinner, a small parade made its way slowly and noisily along the street outside the hotel, carrying a strange stage-like thing with a picture of Jesus on and letting off fire-crackers. I've absolutely no idea what it was all about, and my pictures are rubbish, so suffice to say it was.... odd...
Dinner was a pizza in a local restaurant, which was "interesting" as they use local Peruvian cheese which tastes nothing like mozzarella, washed down with a bottle of the best Peruvian red wine we could find, which tasted nothing like red wine... and so to bed, the end of a very good day indeed....
Saturday, 17 October 2009
The Nazca Lines and the bike in intensive care...
For the 2nd day in a row I was woken before 5am by Jim's damned computer which has developed a life of its own and insists on beeping like crazy in the wee small hours... once again I was unable to go back to sleep, so got up and showered before dropping my laundry off at reception (I'd tried yesterday and been told to bring it in the morning before 7am). With breakfast due at 7am and then a pick-up to take us across the road to the airport for the flight over the Nazca lines at 7.30am, I didn't have much time to kill. Breakfast eventually started around 7.15, and consisted of a couple of bread rolls with butter and strawberry jam and a cup of what passes for coffee here in Peru (a cup of warm water into which you put a spoonful of powdered Nescafe and some evaporated milk). But the bread and jam was a good idea, given the plane ride we were due to take in an hour or so's time...
I left my bike keys with Jeff so he could start the investigations into the starting problem and boarded the minibus with the rest of the group to the airport. Where we checked in and waited for an hour or so until it was time to board. The group got put into several different planes, the first group including Chris and Gerald landed as we arrived, and they didn't look at all well. Gerald had been sick in the plane and Chris was decidedly white. Fortunately I was in the larger plane, the 12-seater Cessna C208 and managed to get a seat near the front so at least I could see the horizon. Which was just as well as no sooner had we taken off than we were banking incredibly steeply so that those on the left side of the plane could see the first of the lines – markings made by removing the top surface of red rock to reveal the white rock underneath. The first one was the whale, and once those on the left side had seen it, the pilot banked the plane into a really sharp turn so those on the right, including me, could see it... and here it is, the photo has been adjusted to enhance the contrast so the image appears more clearly (it was clear to the naked eye)...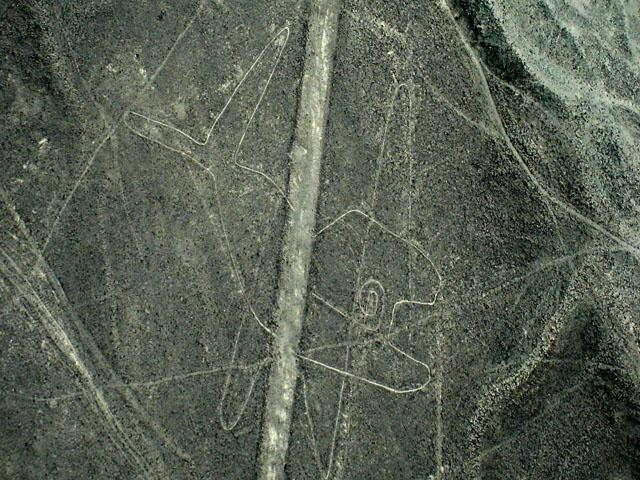 The flight continued for around half an hour, the plane banking steeply this way and that so that first the left, then the right, side of the plane could see the lines etched on the ground below. The lines date from around 200-700BC, their precise meaning uncertain but one theory is that they were made by a civilisation that lived on the plain to try and appease the gods who were turning their land into desert. There are a number of drawings including an astronaut (think its name may be a bit modern), a dog, a monkey (my favourite), a condor, a tree, some hands, a hummingbird, a spider and a parrot. I took loads of pictures, but none of them are good enough to allow you to make out the images without tweaking, and even then, they're still not very good. This is the "astronaut"...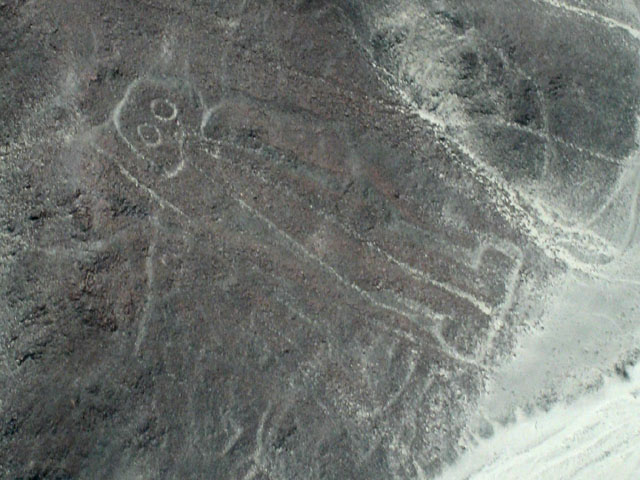 After the flight was over we were waiting for the minibus when I found the answer to my motorcycle problems...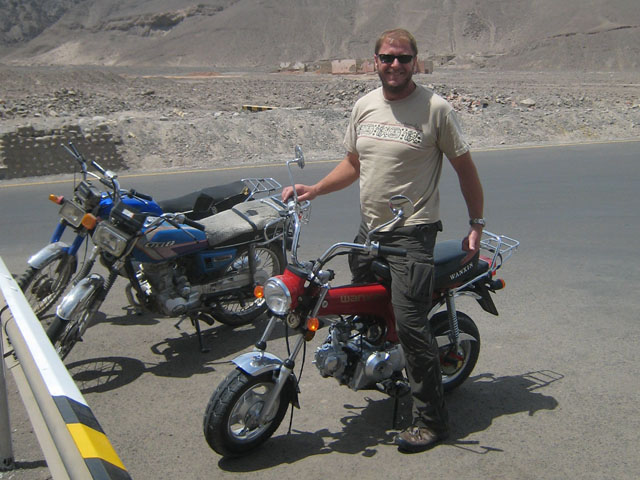 Finally we caught the minibus back to the hotel, where my bike was waiting for me, the problem diagnosed as a loss of voltage causing the electronic brain to fail to send the right signal to the injectors to get them to fire properly. The question remained as to what was causing the loss of voltage, suspicion pointing to my fog lights, which I'd had to hard-wire into my auxiliary fuse box meaning they were on all the time, including when trying to start the bike. Removing the fuse failed to solve the problem, so further investigations were needed, which eventually concluded with the starter motor being suspect, despite it turning the engine over pretty well. Jeff removed the starter and stripped it, revealing a very gunky inside and a worn washer that would have meant the starter would have needed a lot of power to turn it over. Jeff cleaned the starter and re-assembled it, then refitted it to the bike, assisted by Peiter and Alan, whilst I cleaned up the fuel tank electrical connectors and reconnected the battery...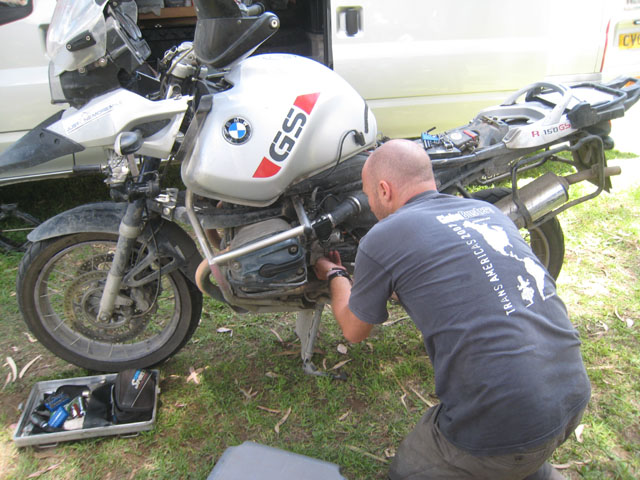 Then we thumbed the starter and...
it fired up first time...
With the bike seemingly working properly again (tomorrow morning will be the real acid test), I spent a happy couple of hours cleaning and refitting the light bar (a bolt had been shaken loose on canyon del pato). Restoring my baby to her former glory, ready to complete the Trans Am... although I will be ordering a new starter and trying to get it brought out to Santiago as the existing one is pretty much shot.
After he'd finished fixing my bike (and bashing lots of other people's panniers back into shape), Jeff sat an enjoyed his lunch, with a new friend on his lap...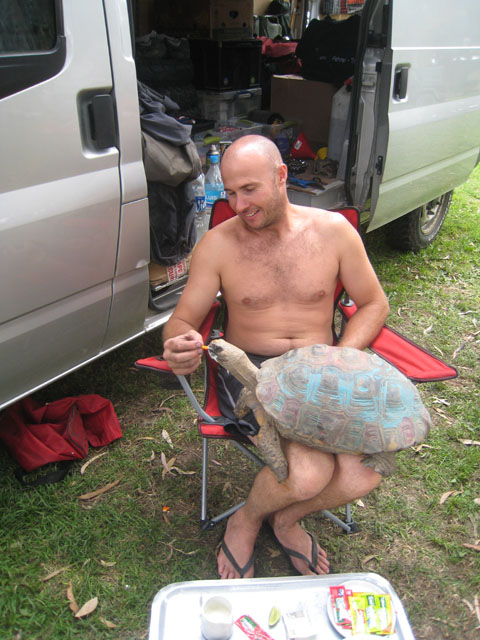 With the bike cleaned and working again, it was time to update Tracy on events before a meeting to discuss the next few days, which will see us ride higher into the Andes towards Cuzco... centre of the Inca Empire... but first, it was dinner time, so we caught a taxi to town. By which I mean that Nick and I crammed in a car smaller than a bubble car which was already occupied by one of the hotel workers for the 10 minute journey to town, which cost all of 3 soles (1 dollar), and which nearly killed us several times as the driver dodged other erratic road users. We then went in search of an ATM before concluding that the restaurant recommended by Kevin was little more than a fast-food fried chicken place and so we chose a nicer looking one on the main street. Which turned out to be a great idea, as we got a free Pisco Sour on entry (as they competed with the restaurant next door that had offered us one), and then had some great food (mixed salad starter with hot spicy salsa dressing, followed by a pizza and then the most delicious crepe with chocolate sauce and a piece of chocolate cake with ice-cream) and some good wine (a 148 sole bottle of Argentinian Malbec) and the best Mojitos this side of the US (according to Aaron... I had to try one as they were so good). But it was a mild celebration really, considering the intense relief I felt as a result of having the problems with my bike diagnosed and (hopefully) rectified....
and so on to tomorrow, and the prospect of a 300-mile ride into the mountains... I just can't wait...
Friday, 16 October 2009
I just can't seem to get started (the bike, that is...)
Was awakened at 4.50am by an alarm sounding in the room, and at first thought it was the wake-up call Jim had arranged, but it wasn't, the source completely indeterminate. I tried to go back to sleep, but failed and so got up at 5.30am, in order to get packed and to try and get my bike started. Using the same technique Jeff had tried successfully the day before (pouring some fuel directly into the cylinder via the spark plug hole then replacing the plug and trying to start it failed, just making a very loud bang. Jeff then tried with no joy, and it looked as though we might have to put the bike in the van. As a last resort, he squirted some WD40 into both cylinders and tried again and luckily it fired up OK. As I'd almost ¾ of a tank I'd at least be able to get some of the way to Nazca before switching it off again, and it usually starts ok when warm...
So I rode off with Aaron and Simon and when Aaron stopped for fuel at the end of town Simon and I continued on our way. Yet more desert roads and long boring straights followed on the way to Lima, but for once I'd connected up my MP3 player and so rode along to the usual eclectic mix of hard rock and folky songs that result from selecting shuffle mode... At the outskirts of Lima we met up with Nick and Al, and the four of us rode into the chaos of the Lima ring road at rush hour. And chaos it was, with 3 or 4 lanes of traffic all jostling for position and largely getting nowhere. Several times we were completely stationary in the traffic for a good 10 minutes, chatting to each other and being asked the inevitable questions by the car drivers on either side (like, "where are you from?" and "where are you going?").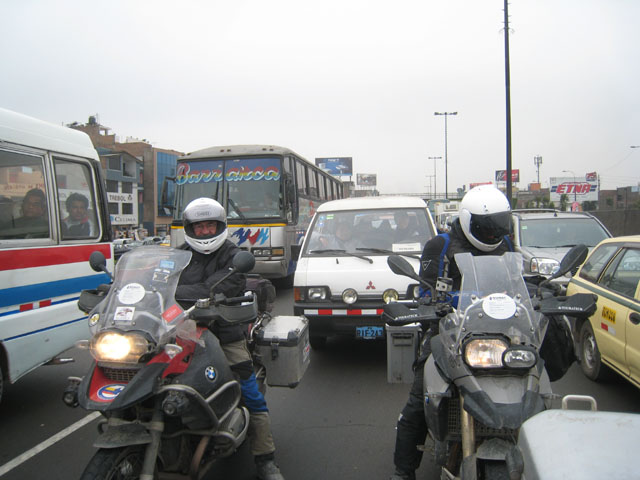 Finally we escaped the smog and traffic of Lima and back onto the Pan Am proper, the road smooth dual carriageway with little traffic once clear of the city. We stopped for breakfast having covered around 130 miles... in 3 hours... Hungry, I ate a hearty meal of chicken noodles accompanied by a drink of hot chocolate, then bought some fuel injector cleaner to stick in my tank in a vain attempt to improve the starting situation. Only my problem had returned with a vengeance, the bike turning over as usual but failing to fire up. Just as I was starting to get concerned, Jeff turned up in the van and parked right in front of me, then started removing bags from the back ready to load my bike in. But this must have scared El Monstro, because she fired up immediately to much cheering and a one-fingered salute for Jeff... (and then I thanked him for scaring it back into life). Once back on the open road, I realised I needed to get cracking and make up some distance as we were now near the back of the pack, so I increased my speed to a steady 80-ish. That left Nick, Al and Simon some way back, and before long I'd overtaken most of the group, then passed Kevin's lead group whilst they were in a restaurant, meaning I was now out front (and would have time to try and start the bike if I had any more trouble). And so passed the next few hours, riding constantly and quickly down the Pan Am, slowing for the villages and overtaking the trucks and other traffic at the first opportunity. I did stop once for a pee-break, leaving the engine running whilst I dashed behind a tree, not wanting to turn the engine off for fear of it not starting again...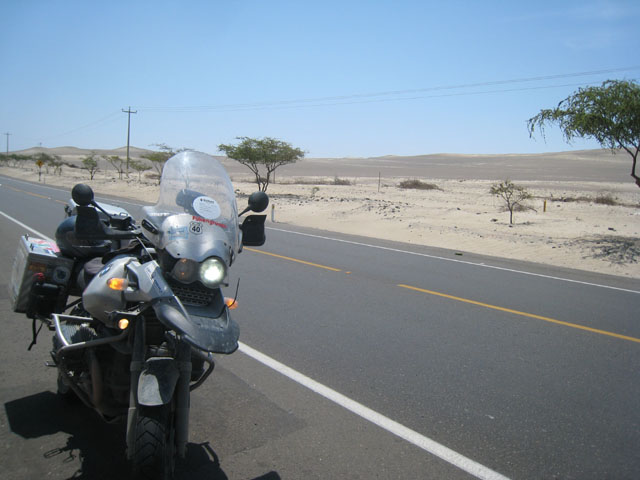 As the road got closer to Nazca, I realised my fuel situation would not allow me to complete the journey without stopping, so I reluctantly pulled into a petrol station, where I was forced to turn the engine off. I I put in just enough fuel to get me there, knowing the tank would have to come off tomorrow during the attempts to try and fix the problem and also trying to reduce the time I was stopped for. Then I thumbed the starter and... it took an age to fire up, but thankfully it did and I was on my way again. Crossing the desert mountains that surround the plain on which Nazca (and the famous Nazca lines) sit, the view was stunning, the mountains scorched brown rock with the black tarmac road winding its way downhill in a series of lovely bends...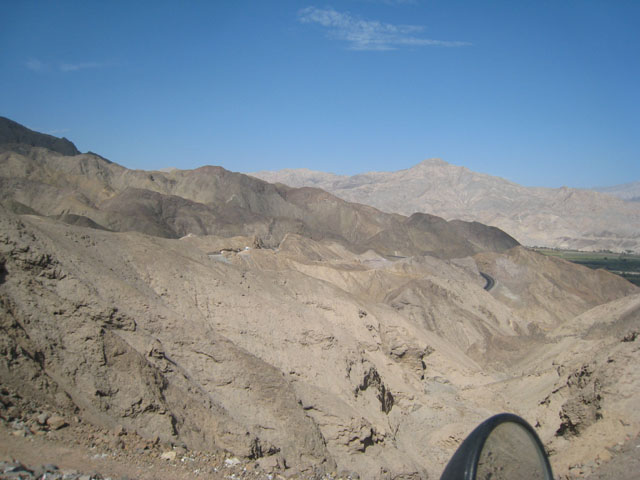 Finally I made it to the hotel and parked up, relieved to have got here even if it meant I'd not been able to stop at the tower that overlooks a couple of the Nazca lines. I met Alan, the support driver for the Patagonia trip who's joining us here for the trip to Santiago and we chatted for a while about the trip and my bike problem. Then I showered and changed and sat outside my room surfing the web for a while (looking for answers to the bike's problem) before the rest of the group started arriving. That evening we were also joined by Peiter, the German guide running the Patagonia trip (who speaks excellent English and Spanish as well as being an off-road instructor for BMW in Germany). Dinner was relatively subdued, as after the long day's ride (428 miles according to my speedo, so more like 400), but was good enough, even if the 2nd bottle of wine was Peruvian and bottled this year (and tasted like paint stripper).
So it was a relatively early night, as I hope to go fly over the Nazca lines in the morning before getting my bike sorted out so I can continue the journey south and not have to ride in that damn van...
Thursday, 15 October 2009
From high in the Andes back to the coast....
Another morning that I woke up probably before I should, as an extra half an hours kip would not have gone amiss... but at least getting up at 5.45am when we have a 9am departure gives me time to catch up writing the blog (with no Internet it will have to wait until later to upload it). Breakfast was good, some nice bread and jam to follow the small omelette, which should keep me going for the rest of the day. With just a relatively short 170-odd miles to do there's no rush to leave, which is just as well as my bike won't start again. Rather than keep trying, I enlisted Jeff's help and we systematically check the plugs again and conclude that it is almost certainly a fuel supply problem. In order to get it running we pour some fuel directly into one of the cylinders and crank the engine again, and it finally kicks into life, settling into a steady tickover as though nothing was wrong at all...
When we're finally ready to leave I hook up with Aaron, who was kind enough to volunteer to wait with me until my bike was running. At least riding with him has the advantage that his GPS has good maps of Peru, but it still doesn't stop us riding the wrong way down several one-way streets as we head out of town. A few miles down the road we stop at Yungay, the site of Peru's worst earthquake disaster when in 1970 the Ancash earthquake caused a massive landslide that buried the village and most of its 20,000 inhabitants. Underneath clear blue skies and with the distant snow-covered mountain Alpamayo in the background it's hard to imagine such devastation affecting the area. All that remains now is a mound with a statue on, the ground consecrated as the mass grave of those that perished...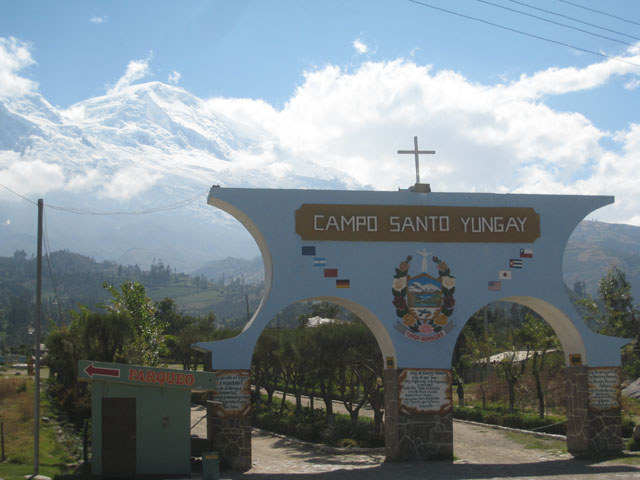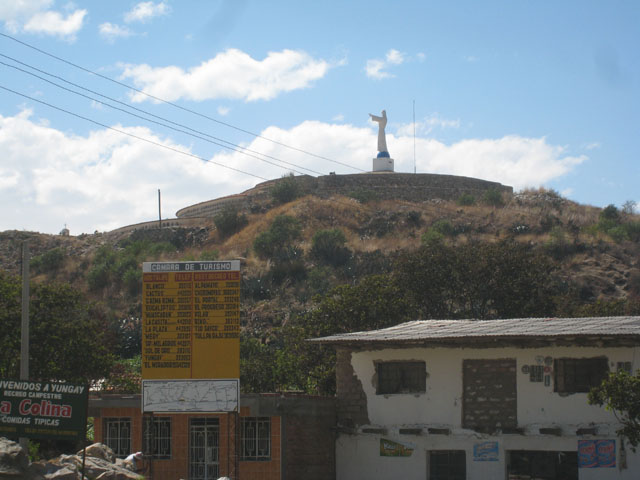 Leaving the rest of the group still taking pictures, Aaron and I forged ahead, the road leading past a few small villages where the local women wore splendid tall hats, like overgrown stetsons, and where the children, in their smart school uniforms giggled and waved as we passed. In the fields there were people working the land, bent double planting crops, and we saw at least a couple working oxen in muddy fields... Passing through this land that time forgot we rose higher into the mountains, climbing steadily on a pot-hole ridden road, joined by Simon who we passed in one town as he was trying to fathom out the way the road went, the town transformed by roadworks making the route notes useless. We climbed higher and higher, topping out at over 4,100m (13,500ft) where we stopped at a small wooden shack for a coffee. Walking down the street was a little old lady selling hot corn on the cob, for 1 sole a piece (about 20p) so we had to try some. It was odd tasting, not sweet like normal corn on the cob, but tasting more like potato with a hint of corn. Good, though...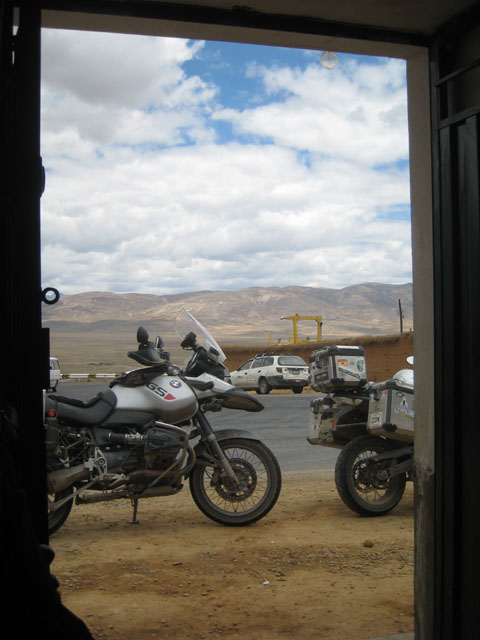 As we were preparing to leave, several others pulled up so we encouraged them to buy some corn, the little old lady doing her best day's business in years...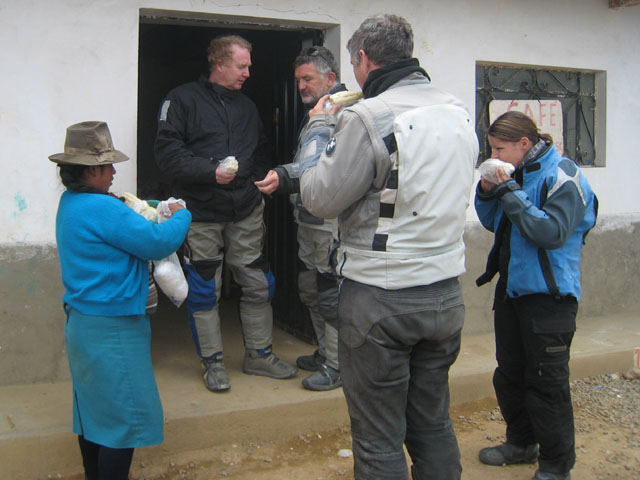 We then left the others eating their corn and continued on our way, glad to be descending from the high altitude and cold air, the road winding its way quickly down the mountains in a series of well-surfaced bends, the riding much better than on the pot-hole ridden ascent. The views were simply stunning, the scorched brown mountains closing in on either side as the road followed the contours down to the coast, where it intersected the Pan Am.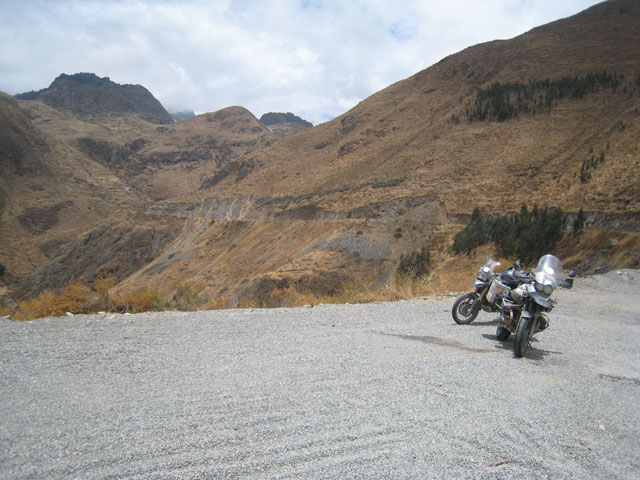 Once we reached the Pan Am we headed north for a couple of miles to see the adobe brick fortress at Paramonga. This impressive structure covered a large area to the side of the Pan Am highway, overlooking the coast and spread over a number of nearby hills. The main fortress was built on several layers and occupied around 1200-1400AD. Aaron and I climbed to the top for some good views towards the town of Barranca where we're staying and back up to the mountains we'd ridden through this morning. When we were done and on our way down, we passed Simon and Richard & Karen who were on their way up, and when they reached the top they waved so I could take their photo... which gives you some idea of how big the fortress is...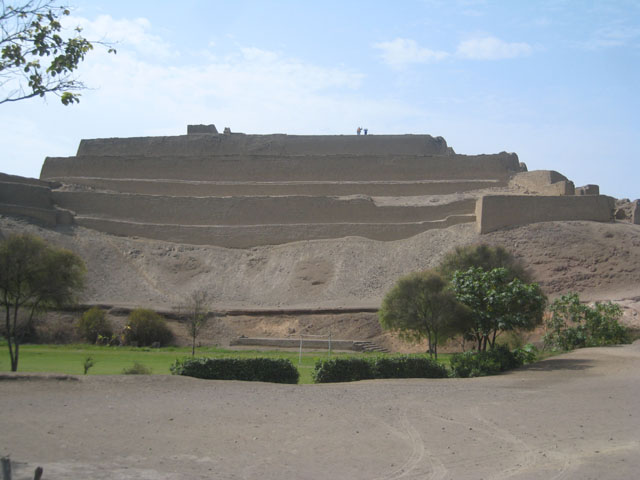 Aaron and I then rode on to the town of Barranca, and when his sat-nav appeared to lose its way, I took over leading using mine as a guide, the compass feature pointing the way to the waypoint that marked the location of the hotel. What it didn't do was let me know the road I'd turned into was one-way, but I guessed as much by the tuk-tuks that careered towards us on both sides of the road. We played chicken for a while before turning off and working our way round the one-way system to the hotel, thankful that as driving standards are so poor, no-one seems overly upset when a couple of strangers on big bikes ride the wrong way through town... At the hotel we performed the usual routine of showering, phoning Tracy, emailing, and getting some local currency from the ATM, then I went for a wander round the local market before the others arrived. Dinner was in the chinese opposite the hotel, the food pretty good despite the rest of the town being pretty basic...
And so, off for an early night. With over 450 miles tomorrow to Nazca, I'll need plenty of sleep...
Wednesday, 14 October 2009
Canyon del Pato and a day in the dirt...
At least this morning I woke feeling my usual sprightly self, the excesses of Chichlayo now a distant memory. So I was up early and out to go to the beach to watch the fishermen going about their business. Only they weren't. Whether it was because they were hungover or because of the ocean swell and fog I don't know, but it was quite a disappointment. Then back to the hotel for breakfast, before grabbing Kevin to have a look at my bike as I was expecting it to play up again. The starting problem is odd, because it seems to be dependant on how long the bike has been stood for, as later in the day, when I stop for fuel or to take pictures, it starts pretty well, but first thing in the morning it's a real problem. We discussed possibilities and changed one of the coils and then the main spark plugs, but still it was reluctant to fire up. Our conclusion is that it's most likely to be some sort of fuel supply problem, perhaps an air lock in the fuel system or a blocked injector, but further work on it will have to wait until our next rest day on Saturday. At least we managed to get it running and I was able to follow Kevin and Julia out of town and back onto the Pan Am. We rode south for around 90 miles, through more desert and past yet more villages that looked like landfill sites, before stopping for fuel and a drink, and to stock up on snacks for later in the day.
We then left the Pan-Am and headed inland, the scenery at first becoming more green before we reached the village of Chuquicara which seemed to comprise one general store/cafe/restaurant and one military checkpoint with a couple of ramshackle houses. We grabbed a banana and some drink in the cafe, and made use of the bano (toilet) which was little more than a stinking shed out back with a hole in the floor. Outside the landscape had started to change significantly, gone the greens of the plain, replaced by stark rock mountains and rubble-strewn hillsides.
Riding out of the village at the head of a small group I was stopped at the checkpoint, the soldier coming towards me brandishing a book with lots of official looking stamps in. I took a leaf from Kevin's book and smiled and shook his hand, and he then asked me to write my name in the book, which I did, and then the names of my "amigos". I turned round and realised I now had almost half the group behind me, so duly wrote their names down too, next to mine. Then he wanted to know our nationalities, so I said English for everyone but Pertti, the "Finlander" seeming to confuse the guard for a while, but then he smiled and lifted the barrier and waved us on our way.
The road then immediately became the dirt and gravel road leading to the Canyon del Pato, all rough with lots of large rocks embedded in the surface, giving the bike and rider a real pounding (how the pillions cope with this terrain I'll never know). Stood up and riding with confidence, I started to enjoy myself, the bike bouncing around underneath me and clattering off the larger rocks. Picking my lines carefully to try and avoid the worst rocks or the loose gravelly sections, I was once again as happy as Larry, doing what I love doing, riding my bike in the middle of nowhere. And nowhere is a good way to describe where we were, the road winding its way up into the mountains along the river valley, whilst on either side towered great lumps of rock, stark and with no signs of vegetation or other life forms, like riding on another planet. At one stage we encountered a large puddle, and I was following Kevin and Pertti, the 3 of us taking the puddle at reasonable speed, only to discover it was deeper than we expected and we all got a face full of muddy water, which set me off laughing again.
Deeper into the valley I passed Ozzy Andy and Nigel, who were taking it steady as Nigel is still suffering from his crash. How he was able to ride at all on this road, being bounced around all the time is a mystery, but he was there, riding with good style and a smile (or was it a grimmace?) on his face... top job!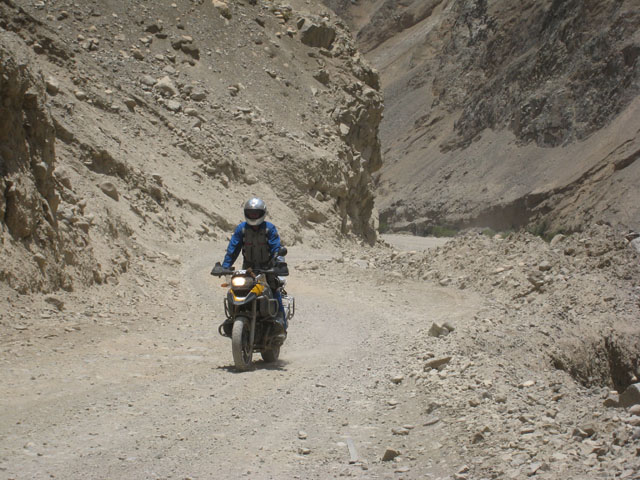 A little further up the road, I got stuck behind a dumper truck when I heard a loud bang, which I thought was a rock inside the truck. As I went to overtake it, I noticed my bike pulling to the right, but I got safely past, thinking perhaps I'd got a puncture. When I checked my mirrors I noticed my left hand pannier was missing... it had bounced off in the road, which was the bang I'd heard. I pulled to the side of the road and Pertti pulled up alongside me, saying the pannier was about 400 m back on the road. He then turned round to go back, and when I went to do the same, the lop-sided weight of the bike caught me out and down it went. I just stepped off as it fell, and took a picture (of course) before attempting to right it.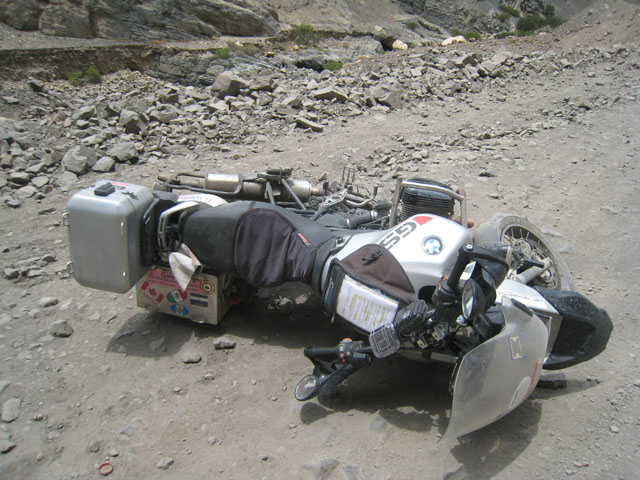 I couldn't as it was too heavy and leaning downhill, so I had to wait for Pertti and Tony to come and give me a hand. Once upright I was able to refit the pannier, which was undamaged and still with all the fastenings intact. Then back on my way, bouncing along and constantly checking my mirrors in case anything else fell off. At one stage I was unsure of the way, so stopped and joined up with Nick, Al and Simon to ride the remaining section. This part of the road was not as rough, though it did have some deep sandy sections, which we all got through safely and then a large number of tunnels through the rock. The road was originally intended to be a railway, so the tunnels are narrow and one-way, so it's necessary to go in with lights on full and horn blaring. As I have the loudest horn, I got to go first into the darkness, riding tentatively and hoping nothing was coming the other way. We were lucky, only encountering one truck as he was about the enter the tunnel we were in, but I think my horn echoing inside the tunnel must have made him think we were bigger than him because he stopped and we escaped without confrontation...
Finally we emerged from the dirt road onto tarmac and found our way to the village of Caraz and the hostel we're staying in. Only Aaron, Pertti and Tony were already there, drinking cold beer and eating hot cheese toasties, so we joined them, the toasties in particular were delicious. When the rest of the group arrived, the tales of carnage were everywhere. Jim had had a few falls, on one occasion when his brakes failed (a banjo bolt working loose and draining all his front brake fluid) and he rode into Phil, taking him down too. Phil also had a couple of offs in the sand and gravel, Richard dropped his bike at a standstill (the first time it's been down), and a couple of others also fell whilst going slowly or stationary. But no-one was hurt, and we now have Jeff with us to knock the bent panniers back into shape...
When everyone was assembled we went down to a local restaurant to celebrate Kevin's birthday, with Jim and Gerald both staying in the hostel to sleep, the day unsruprisingly having exhausted them. Before we ordered we presented Kevin with his gifts.... when he was younger, he hung around with the "Tottenham Massive", listening to reggae, and so his hat was a fantastic rasta hat, complete with dreadlocks. We also got him a pink tie-die shirt, a posing pouch (thankfully he didn't model them for us), some Viagra, a bottle of scotch and a litre of wine (both of which were drunk that night), a rude pottery cup, and a shot glass. He seemed quite happy with his lot...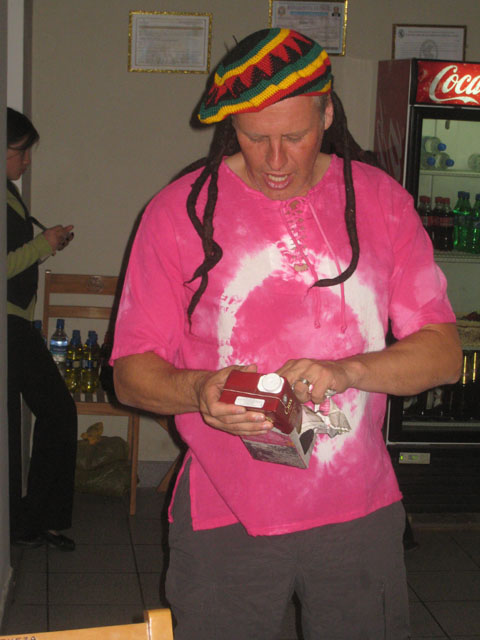 The food took an absolute age to arrive, but when it finally did it was very good, as was the red wine we washed it down with. At one stage the owner brought out a bottle of Pisco as a present for Kevin, so shots were passed around, and it tastes foul. Which is just as well, as I didn't want to drink too much again, so stuck to the wine. The bill came to the grand total of 50 soles each, about 10 quid... bargain..
Postscript... the picture below was taken by Aaron and is one of the few that actually shows me doing what I've been waffling on about for the past 12 weeks... riding my bike...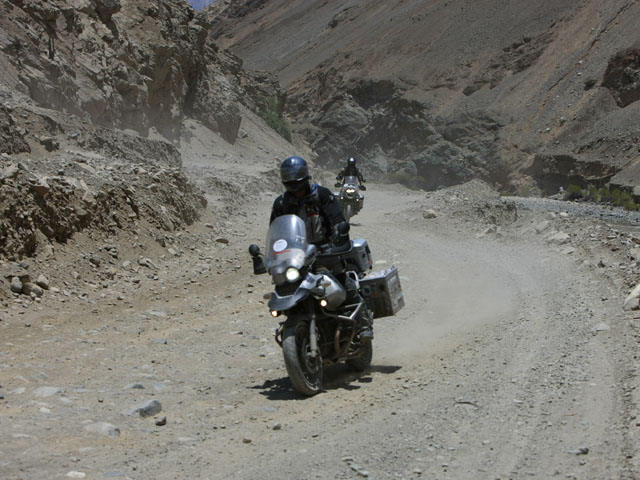 Tuesday, 13 October 2009
Suffering the consequences...
Not unsurprisingly, I think I may have been a little drunk still when I woke the following morning, and was glad to go to the Lord of Sipan museum in a taxi... I think Aaron, Nick, Andrew and Simon were also equally relieved, as none of them looked any better than I felt. The taxi ride to the museum involved the predictable wacky race as we crammed ourselves into 2 of the strange little cars they use as taxis in Peru, a sort of smaller and less well built version of the Fiat Panda. Once at the museum we had to check-in our cameras so couldn't take any pictures of any of the beautiful artefacts inside. Not only that, but all the exhibits had explanations only in Spanish, which means that I've little idea of what we were looking at. Sipan is an archaeological site just a few miles down the road, and whilst most of the tombs were raided a long time ago, one was found relatively intact and had the body of a king (or lord) buried with some rather beautiful metalwork of gold and blue, with intricate carvings of faces on the bracelets and necklaces. There was also a display showing how the archaeological site was when found, with the body of the king laid out in the centre surrounded by 4 other bodies and lots of pottery, which were then covered by a sort of wooden ceiling on which lay another body, perhaps of a guard, and a further body in a sitting position in an alcove in the wall. Quite fascinating, but it would have been more so had we had some English explanations and had the hangover from the night before not kicked in big style whilst we were wandering around...
So we quit the museum, got out cameras back and jumped back in the taxis which were waiting for us and survived the journey back to the hotel where we met up with Jeff, who'd driven the van through the night to catch us up. Then back to bed for an hour to shift the hangover before getting on the bikes. My starting problem has re-emerged, the bike reluctant to start despite it turning over, but thankfully it did fire up and I was able to head out with Aaron and Nick. We rode out of town and back into the desert, following the Pan Am down the coast to the seaside town of Huanchaco. The ride was pretty uneventful, and we arrived around 3pm. Just outside Huanchaco is the mud adobe village of Chan-Chan, which was recommended as a spot to visit, but we were hungry and knew it closed around 4pm, so we pulled up outside the hostal and ordered some lunch (hamburgers and chips). At least by now I was feeling better...
After lunch we went in search of some 'presents' for Kevin's birthday tomorrow, and found some suitable tat. We also had time to wander down the pier and to look at the traditional reed fishing boats that they use here, the promise being that if we get up early in the morning we'll see them heading out. I managed to get a few photos before the fog came in and turned everything dull...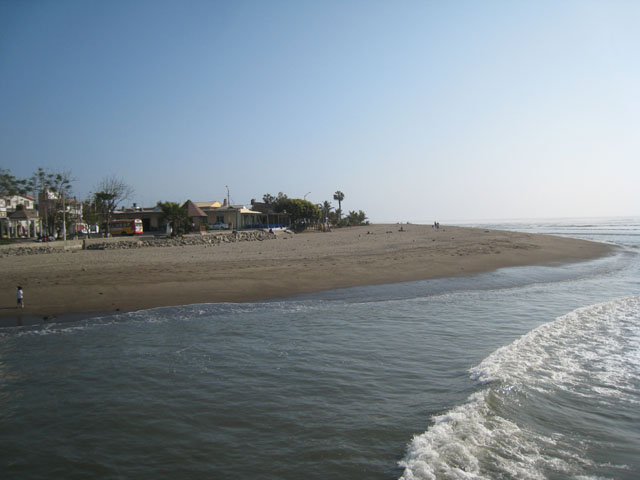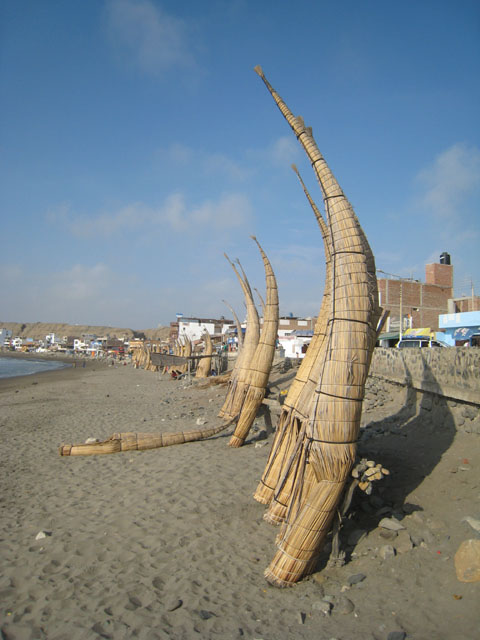 After exhausting the town of its sights (not many), we wandered back to the hotel and had a beer in the bar before heading across the road to a small restaurant where I had some very nice Taglielle Bolognese washed down with... well, water, actually... and then off to bed for an early night, as tomorrow we tackle Canyon del Pato, over 60 miles of gravel road up into the mountains...
Monday, 12 October 2009
Peru... desert and Pisco Sours...
Today is not only a border crossing day, but also Kevin and Julia's 8th Wedding Anniversary... so they get to spend it trying to get us all out of Ecuador and into Peru with the correct stamps in the correct places...
Jim and Mac set off early as they didn't want to be last across the border, leaving the rest of the group eating a hearty breakfast and then going in search of a petrol station that will let motorcycles fill up (the first one refused). With full tanks we then rode the 2Km to the border, a small bridge separating Ecuador from Peru. The usual exit formalities were quickly dealt with, getting an exit stamp in my passport and handing back the temporary import permit for the bike, then we rode the bikes out of Ecuador and onto the bridge, where we parked them up whilst we dealt with getting ourselves and the bikes legally into Peru. Oh, and my new camera packed up with a lens error, so I've had to revert back to my trusty Ixus 850IS, so if the images are not quite as good, then please accept my apologies... with any luck I'll be able to get the new one looked at in Santiago.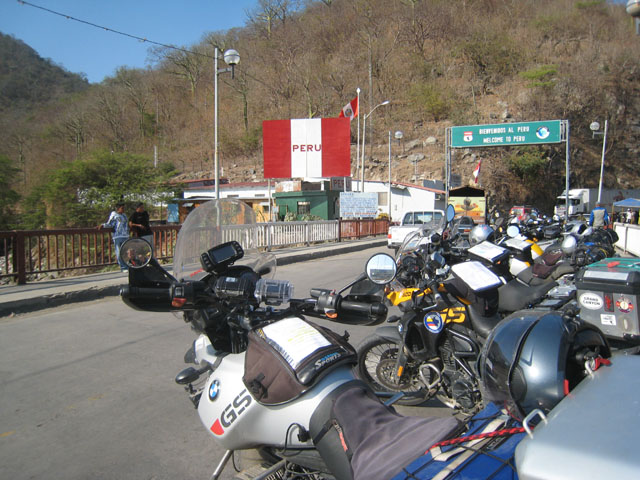 The customs guys at this border were very efficient, giving us the forms to fill in before they issued the permits, and the process only took around 2½ hours. As I'd been first through the last border, I held back and waited to go last through this one, but everyone also waited to leave so we could have a group photo, which, like all the group photos so far, has a couple of people missing, in this case Jim and Mac – who had gone through the border on their own before we arrived, and Late Guy (Andrew) who... well, was late and missed the photo call...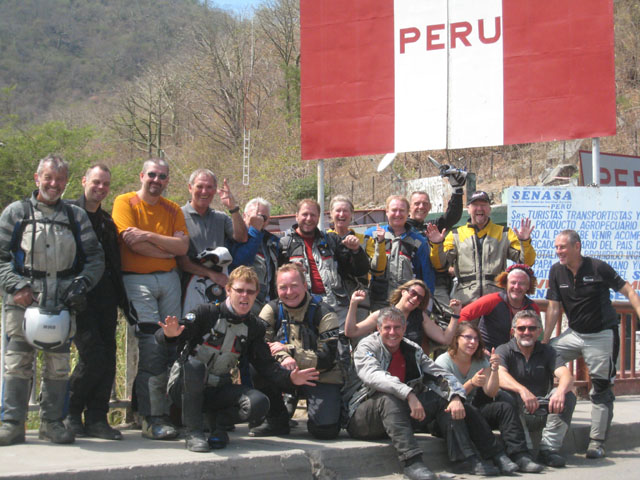 Once we'd finished posing for pictures we rode as a large group across the border and into Peru. Almost immediately the landscape changed in a very dramatic way, from the lush green of Ecuador to the arid desert of northern Peru. Where there had been cows and pigs grazing in the fields in Ecuador, now there were skinny goats grazing in the scrub and dust at the roadside. As we descended from the mountains onto the plain, the desert opened out even more, the small towns looking more like landfill sites than places people could live, the ramshackle buildings built of either yellow mud bricks or woven wood, more like a cardboard box than a permanent place of residence.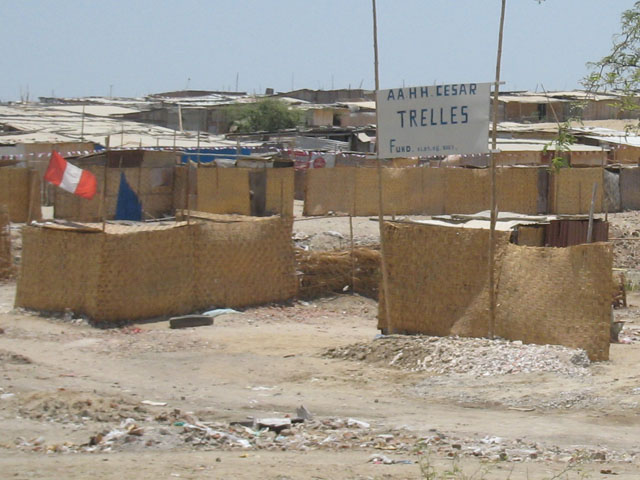 When we stopped for a drink and for those with smaller tanks to fill up again, we were completely surrounded by tuk-tuk drivers eager to look at the bikes and chat to us in Spanish. They blocked most of the group in, so after a drink of Inca Cola (a bright yellow pop drink that tastes a little like bubble gum), Nick and I made a bid for freedom, glad to get away from the group riding for a change. The ride then took us into a real desert, as the towns disappeared and the landscape became flat and barren, nothing but sand as far as the eye could see, with a ribbon of straight black tarmac cutting through the middle. We simply had to stop to take some photos, as this really wasn't what I was expecting Peru to be like...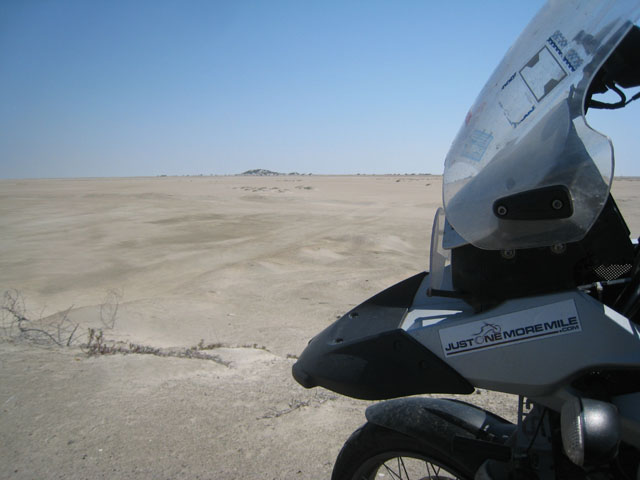 The wind was really strong as we continued on to Chiclayo, causing us to ride along the straight road at a steady lean, which will at least mean we don't wear out the centre of our tyres... On the outskirts of town we caught up the main group, who had passed us when we were stopped in the desert. Following Kevin at least meant we didn't have to find our way to the hotel, but when he did a sharp u-turn and then rode up the pavement, we were wondering what the hell was going on. It seemed they'd dug up the road that leads to the gates into the car park and he wanted to ask at the front desk of the hotel how we were supposed to get in. But there was no problem as there was a new gate, and soon we were all parked up and checked in. A quick shower and then off to find a bank to get some local currency and then into the hotel bar for a complimentary drink. The local drink is Pisco Sour, which is alcohol made with the grape that's also used for making brandy and egg white, and tastes really quite nice. It's also very alcoholic. And very nice too. After a couple of pisco sours, Aaron showed the bartender how to make a Mohito (a rum drink with mint and lime) and bought a round of them for everyone. Kevin and Julia then arrived and bought us all a Pisco Sour as our "welcome to Peru" drink, and that set the tone for the rest of the evening. We had the weekly Prat Hat ceremony which looked for all the world like it was going to go to Simon again, for "dissing the hat" by not wearing it at the border into Ecuador, and then actually losing the hat (we've had to replace it with Chris' woolly gimp mask), but in the end Al won it again for his drunken actions 2 nights ago (full details are being withheld as part of an ongoing blackmail deal...).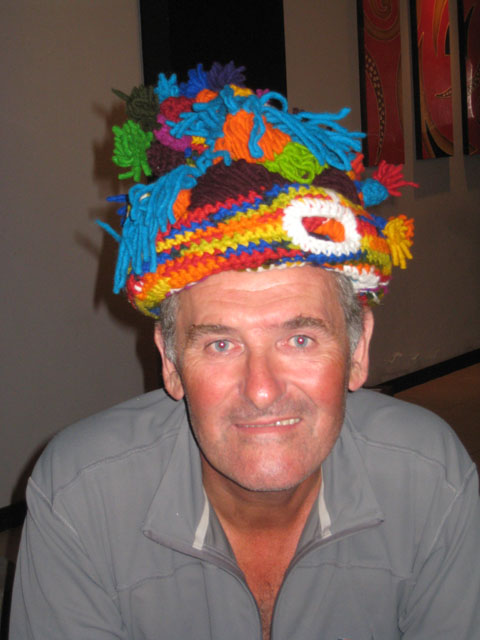 We ate in the chinese restaurant across the road, which was excellent, and had some more drinks before returning to the hotel bar, where we had yet more Mohitos, and took advantage of the karaoke to clear the bar of anyone else... it all got a little loud and raucous and it was gone 1am when I finally gave up and went to bed...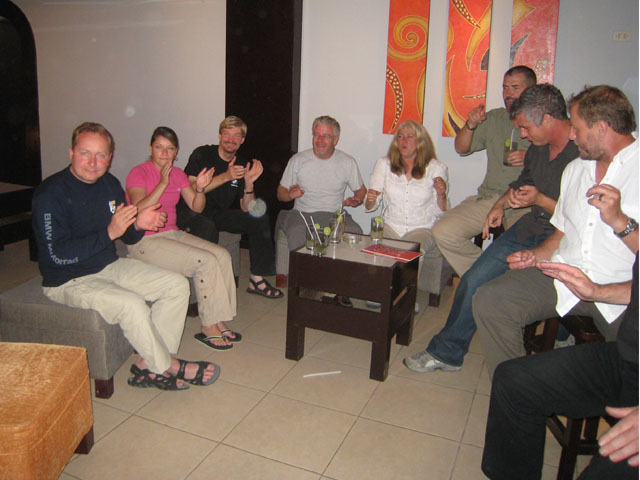 Sunday, 11 October 2009
Last day in Ecuador and an eventul day for some...
As we're spending the night in the border town of Macara, which is a bit of a one-horse town, we get to lie in this morning, so we don't arrive too early. So I updated the blog and sorted my things out, then checked the oil on the bike... it had been replaced in Bogotá but had already burnt a fair bit, so when we stopped at the garage for fuel I bought some more to top it up. It's not unusual for R1150GS' to burn oil, but they usually stop as the mileage rises, and now mine has 38,000 miles I'd have expected it to stop burning as much... will just have to keep an eye on it going forwards...
Riding as a small group with Kevin and Julia and a couple of others we headed out of town and back into the mountains. The road was as it was yesterday, mostly great tarmac and sweeping bends, but with the occasional stretch of dirt and potholes, typically just round a bend, requiring maximum concentration even when riding behind others. After almost two and a half hours of constant riding we stopped at a little roadside café for some lunch and a drink – no guinea pig today, just chicken and chips for $2...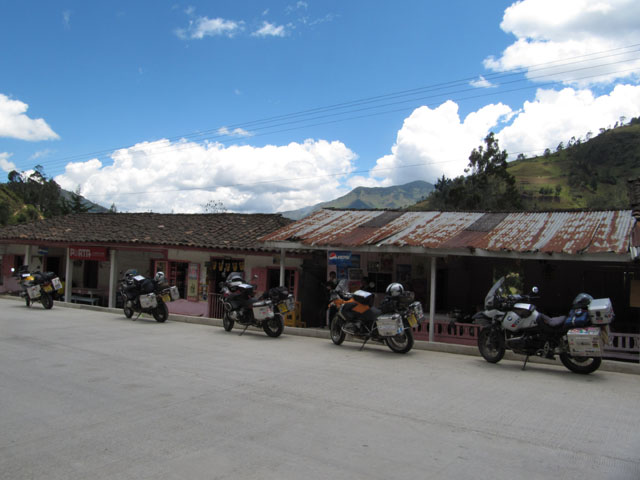 Whilst we were eating, several families walked down the hill past where we were sat, all dressed int their Sunday best. The traditional clothing of the indigenous people of Ecuador on full display, complete with hats. They were also tiny people, and looked even smaller as they walked past the huge motorcycles we are riding...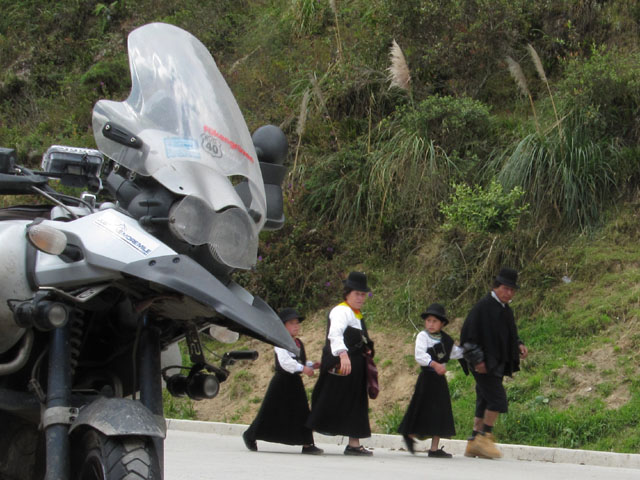 After lunch we continued on our way, the road still challenging for its varied surfaces, sometimes good, sometimes dreadful. After a while, Kevin pulled to the side of the road and we stopped behind him. He'd heard his mobile phone buzzing in his pocket and stopped to check the messages. It was bad news, Simon had had a crash before La Paz, which was back up the mountain about 2 hours behind us. A few hurried exchanges of messages and we got the news he was alright, completely unhurt, but the bike had suffered a puncture and they (Aaron was with him) didn't have a repair kit. As the F800GS he's riding has tubed tyres (unlike our tubeless ones) we also didn't have a repair kit so there was no point in heading back to meet them. They were getting the bike in the back of a truck and taken to Saragua, a slightly larger town where they eventually managed to get the puncture fixed and the clutch lever housing repaired. Relieved they were all OK and able to sort the problem out, we continued on our way and arrived at the hotels we were staying in (2 next door to each other) around 5.30pm. Gradually the others arrived and we lined the bikes up on the road outside the hotels, trying to ensure we'd got enough room for all 20. Then a small group arrived including Nigel, who had also had a crash. Only his was worse, as he'd gone down hard as a result of (in his own words) entering a corner too fast and finding a car on the wrong side of the road, the natural reaction of grabbing the brake enough to have him fall. He was visibly shaken and had a sore shoulder, but no broken bones, which was very lucky. His bike was worse for the crash, but once again the crash bars had done their job and saved the engine. The front subframe, on which mounts the screen and instruments, had bent and broken and the screen was badly scratched. His nearside pannier was also badly bent out of shape, but nothing Jeff won't be able to knock back into shape when we finally meet up with him again. The bike was rideable, which is also lucky as we currently have no support van, it being still in customs in Ecuador, waiting for Jeff to clear it, hopefully tomorrow, and then catch us up again. So whilst Nigel took some painkillers we did our best to make his bike a little more solid, removing the screen, swapping his right mirror for his broken left one (so he can see what's behind him as we're riding on the right), and generally cable-tying up the loose bits. It's a warning to us all to ensure we're taking it steady and riding with maximum concentration, especially late in the day (his crash was just 30 miles or so from the hotel).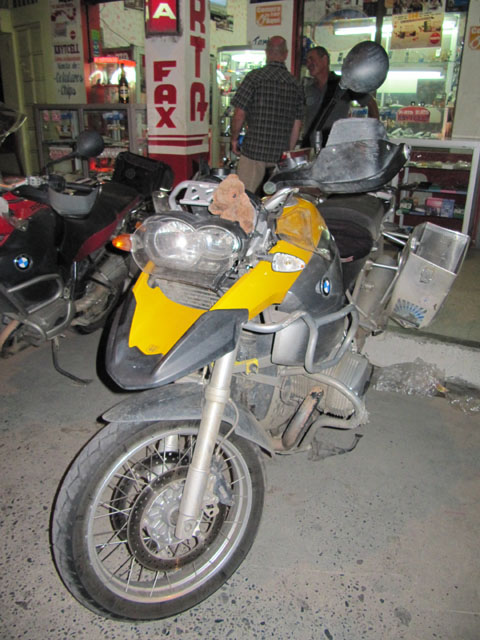 After we'd sorted his bike and Simon had arrived, his bike showing no real signs of the crash (but his new trousers, that he'd bought at a premium in Bogotá, were trashed), we went to the little café round the corner for dinner (Macara doesn't have any real restaurants). The chicken soup and carne with mushrooms were excellent, as was the beer, which helped quench what was now a raging thirst...
Tomorrow is another border day... and then we're into Peru!
Saturday, 10 October 2009
Hangovers, Guinea Pigs and long riding days don't mix...
Unsurprisingly, I woke with a slightly thick head, the consumption of vast quantities of red wine combined with just 5 hours sleep not a good idea. Especially considering today is a long riding day, with over 350 miles to cover to the town of Cuenca. Tagging on to the main bulk of the group led by Kevin, at least I would only have to concentrate on my riding and not on route-planning and direction finding...
The ride took us out of Quito and onto the Pan American highway, through countryside poorer and drier than in Columbia, and up into the Andes proper. The mountains are unusual in that almost every one seems to have been turned into a patchwork quilt of cultivated fields, all different shades of greens and brown. The houses scattered about vary from simple wooden shacks to nice-looking, almost Alpine-style houses with neatly tended gardens. The towns and villages differ in that the houses, like those on the outskirts of Quito, are simple and austere concrete blocks, flat-roofed, some left in drab grey whilst others are painted in pastel shades of pink and yellow. As we ride up into the mountains, we notice several roadside stalls with "Cuy" being grilled on large spits. Cuy is guinea pig... but these are much larger than the small furry animals that we see in petshops in the UK. Naturally, we had to stop and try them, so we pulled into a restaurant that looked a little cleaner than the more basic roadside shacks, and ordered a couple between the group. They came chopped into 5 pieces – one of which was the head, complete with little teeth...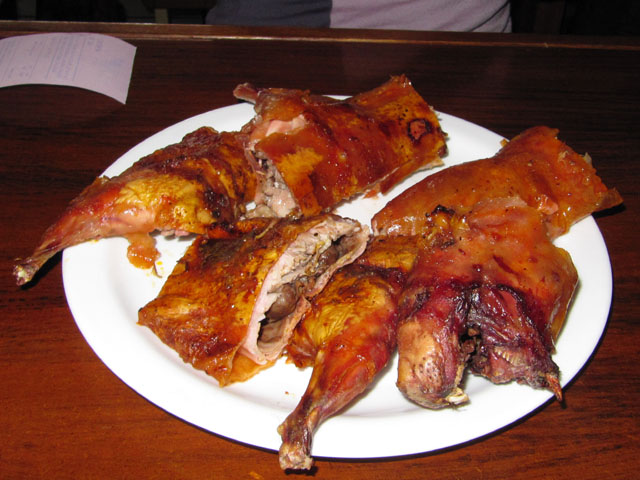 It tasted far worse than it looked, a rich, sickly flavour with a lot of salt and an almost fishy after-taste. I couldn't eat it, but Nick and Christine seemed to like it, polishing it off and enthusing about how lovely the skin was... I don't think my delicate state helped, but at least I tried it. I won't be eating it again, that's for sure...
Back on the road we headed further up into the mountains, climbing over 3,500m up, the air noticeably thinner but the bike still running perfectly. At one stage we encountered some roadworks, where they had stripped the top layer of tarmac and replaced it with mud some 4 inches thick, onto which they were putting cement dust and then applying water. We had to ride through the mud, which as we're now on road tyres front and back was "interesting". Even Kevin had a moment when his tyres slipped sideways as we tried to negotiate our way round an oncoming truck that wasn't prepared to give us any room. Only Phil actually dropped his bike, though, the rest of us having built up our experience over the past 12 weeks. A while later we encountered a new hazard, this time dense fog which reduced visibility to a few feet, and whilst in the fog the road again deteriorated, with several large potholes and complete sections where it was nothing but gravel and dirt. Challenging, but the increased level of concentration required meant I couldn't think about how bad my head felt...
We stopped for a drink at a roadside cafe overlooking the small town of Alausi, with its huge statue high on the hillside overlooking the town. The town is typical of those we've seen scattered about the Andes in Ecuador, with some very large statues dotted about on the roundabouts and on major junctions.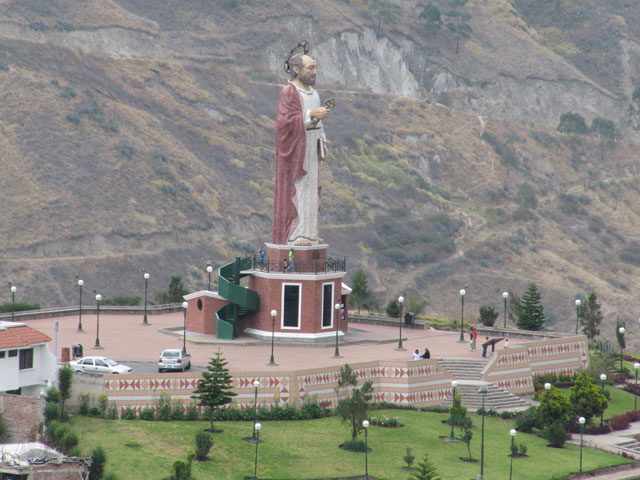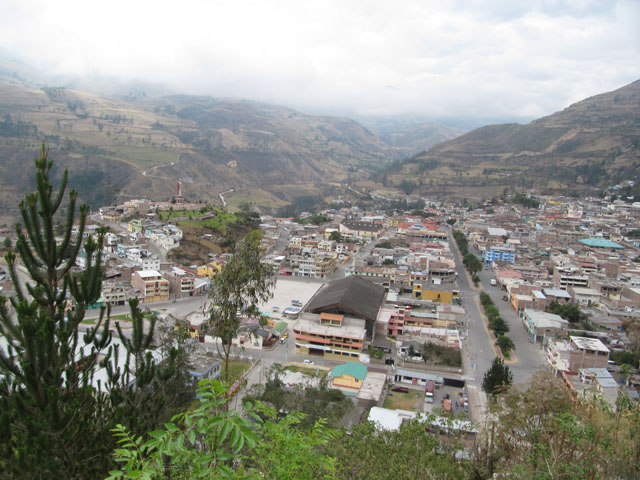 From here the road deteriorated yet again, in a seemingly endless set of roadworks, the fog returning to further slow our pace. It was quite a relief when we finally emerged onto good tarmac again, and were able to start making progress. We had a short stop for fuel and snacks some 30 miles from Cuenca before completing the last leg of the journey on the dual carriageway around town, then picked up a sign for "Al Centro" which dropped us firmly in the middle of suburbia, and we completely lost all sense of direction. Kevin asked a taxi to show us the way to the hotel, so we tucked in behind and wound our way through various streets before reaching the cobbled streets of the town centre and our hotel. Once checked, showered (the best shower of the trip by far, with lots of hot water and good pressure) we wandered into town in search of an Indian restaurant the woman on reception had told Aaron about. Only we walked and walked and walked and couldn't find it (eventually realising she was referring to a fast-food joint that didn't serve Indian food as we know it). So we settled for a nice looking restaurant overlooking the main square and church, where there was a night-time wedding gathering. The food was excellent, a delicious prawn and cheese dish to start, then a medley of steak, prawn and shrimp in 3 different sauces for main course and a chocolate dessert. Needless to say I didn't have any alcohol to drink, still feeling pretty crap from yesterday's excess...
When we were just about finished, the wedding party emerged from the church to a firework display, set up in the square. This turned out to be hilarious, as the fireworks shot skywards but failed to reach their target height before exploding in a mass of sparks and falling, still burning, right into the crowd, who then ran away trying to put their hair out...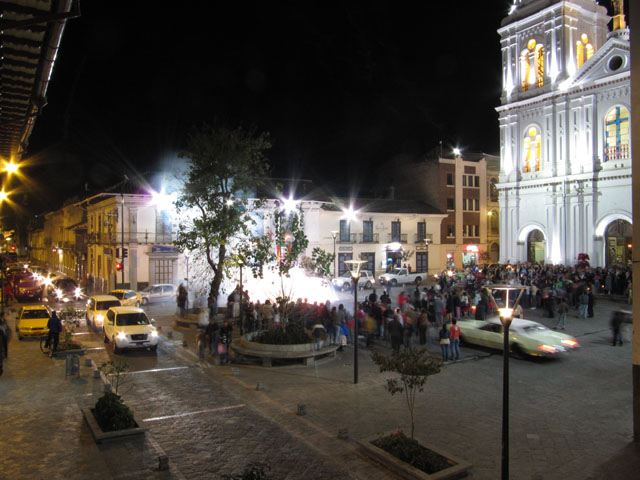 I think we all laughed all the way back to the hotel, where I gratefully went to bed early...
Friday, 9 October 2009
Crossing the Equator...
As we covered so much distance yesterday, today we have a short ride to Quito so have the benefit of a slightly later start time of 10am. That gives me chance to update the blog and call Tracy before I have breakfast and load up the bike. In the early morning light the hotel we've been staying in looks much better than in the dark when we arrived, yet another example of the great accommodation we've had for most of the trip...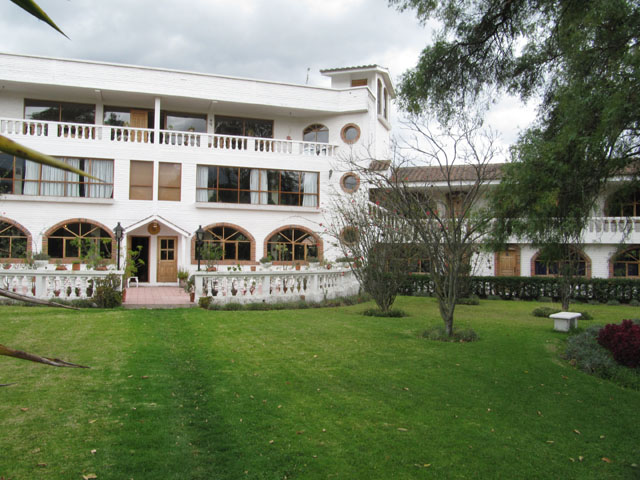 Riding out of town as one large group (minus the kippers, who once again have set off to do their own thing) we headed for the equator, which was just 30 miles up the road. I chose to ride at the back, which gave me a great view of the group, stretched far out ahead of me as we rode up and down the hills in formation. Once again we caused quite a stir amongst the locals, many of them standing open-mouthed at the roadside, counting the bikes as we went past. I guess it's not every day they see 18 large motorcycles ride by... Then we arrived at the small town of Cayambe and the centre of the Earth... my GPS doesn't lie, and there was no doubt we were there, as there was also a large monument and a big line drawn on the ground. We arranged to park our bikes on the cobbled circle surrounding the monument, which meant riding through a small opening (vehicles are not usually allowed onto the monument), and they made quite a sight lined up straddling the equator, front wheels in the Southern Hemisphere, back wheels in the Northern Hemisphere...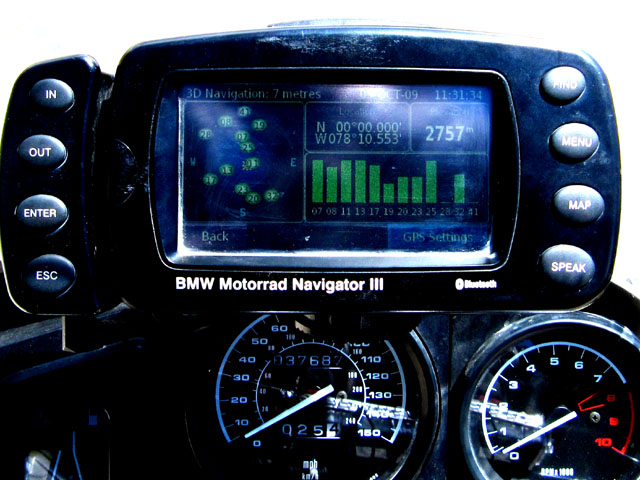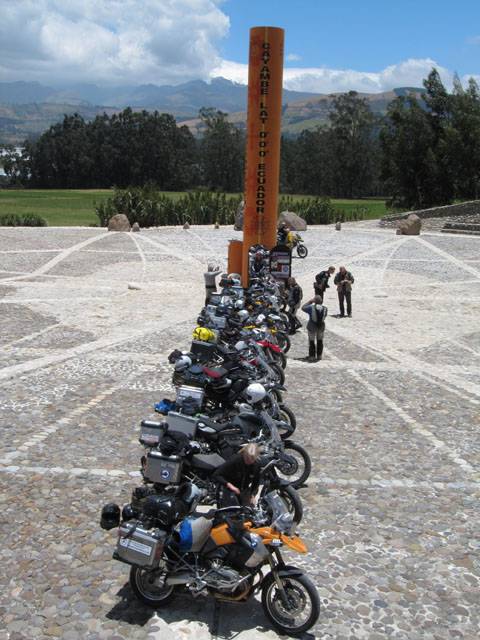 As we were there at mid-day, the sun was almost directly overhead (it would have been at the equinox), and it was really odd, having our shadows completely underneath us. But we couldn't spend all day hanging around, half in the north and half in the south, so we rode the bikes out of the monument and back on the open road to Quito, again riding mostly as one large group, only getting separated for short periods as a result of overtakes. When we arrived in Quito we discovered that the town had reversed a number of the one-way systems (the old markings still visible on the roads) and removed some roundabouts that were landmarks on the notes. But as we were still riding in a group, we simply followed Kevin and Julia's lead and soon arrived at the hostel. This was split into 2 buildings across the street from each other, each with a small parking area, which we filled completely with bikes. Checked in and changed, I went for a wander round the town with Nick and Chris & Danielle, stopping for a salad lunch in the Magic Bean (a popular tourist hangout). We then went on a sticker-hunt, whilst Chris & Danielle were shopping for a tee-shirt. By now I was starting to feel tired, the after effects of the last few days hard riding catching up on me. But with a meeting at 5.30, I didn't get much chance to snooze. The meeting was to run through the next few days, as Kevin and Julia were struggling to find a printers open to print the route notes – a lot of businesses closed due to Independence Day. It was also another birthday... Chris turning the ripe old age of... well, just a year older than he was yesterday...
The usual present-giving celebration was held, the first present he opened being particularly amusing... (and no, Tracy, I haven't bought one for myself)...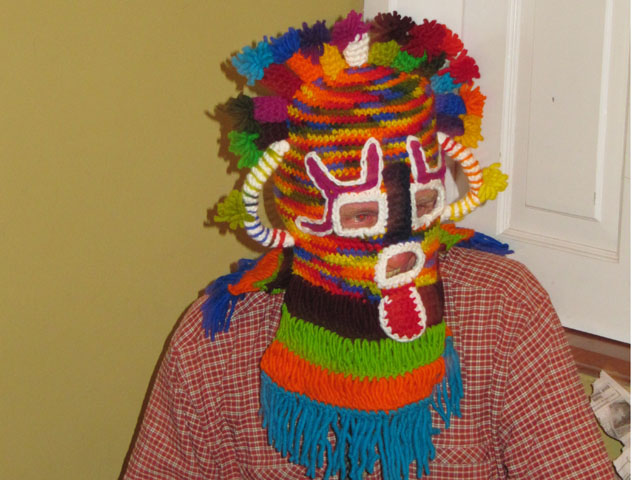 We also got him a number of presents appropriate to the local area, including a rather nice embroidered shirt, a bright green woollen hat, a shot glass and some pan-pipes... but the presents that got the largest laugh were the last two. But first, I need to tell you the story behind them. Back in Panama, when Danielle's bike was due to be shipped home, Chris swapped the wheels and tyres over with his own bike as the tyres were virtually new. In doing so, something must have been disturbed, as his speedo (and ABS) stopped working. Chris then proceeded to tell everyone about his speedo problem, and I think he must have forgotten who he told, because he told a few of us several times. Then he started to get really concerned that without his speedo he wouldn't be able to follow the route-notes, which are marked out based on mileage counters. Which he also told us about. It became something of a standing-joke amongst the group that whenever we saw Chris, he'd mention his broken speedo... and so, his last 2 presents... which were, a pair of Speedos and a rather appropriate tee-shirt!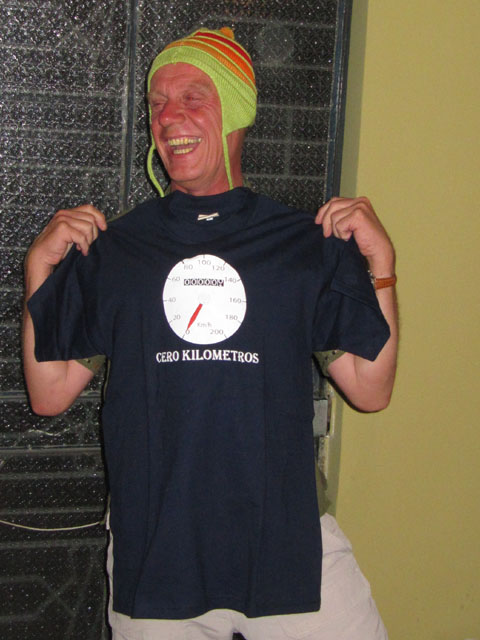 Chris is a good sport, and took it all in his stride, laughing along with the rest of us, before volunteering to buy us dinner at the local tapas and wine bar. This place certainly wouldn't survive in the UK, as the way it works is there are several set menus, each with different prices. They don't relate to the food, which is an "as much as you can eat" arrangement of lots of different tapas which are constantly brought to the table. They relate to the different ranges of wines that you can select from, again which are served on an "as much as you can drink" basis. Almost the whole group turned up and we had a long table facing the square, and selected the $23 option from the menu, which gave us an excellent Argentinian Merlot (the same one we'd had in Popayan). And so we sat and chatted and ate and drank. In the square in front of us a crowd gathered to watch 3 local lads break-dancing on a wooden board they laid down. One of them was really, really good, spinning on his back, shoulders and head, then stopping dead in a head-stand before spinning and jumping about some more. Whilst the entertainment continued, we continued to eat and drink. And even when it was over, we continued to eat and drink. Some of the group left whilst a few of us remained, to continue drinking. I think that an "as much as you can drink" bar that serves a great red wine is a dangerous place. When the last 5 finally left (Pertti, Nick, Simon, Andrew and me) around midnight, we'd certainly got Chris' money's worth... which should please him, as he's Scottish after all...
Thursday, 8 October 2009
Adios, Columbia...
Another early-ish start as we've a long day ahead, including the border crossing into Ecuador, so I was up at 6 and packed ready to have breakfast at the allocated time of "six-firty" and ready, sat on the bike with the engine running by "seven-firty" (Kevin's accent the subject of much piss-taking by the group!). Riding again in 2 groups we headed out from the hotel and through town, joining the main road back up into the mountains and heading south. Yet more twisties to get us groovin'. I could hear Aaron laughing behind me over my engine noise, and when we stopped I asked him what was so funny... his reply was that he was laughing because I was scraping my panniers on the bends, I was leaning over that far... I recall hearing them scrape on one turn, so I must have been pretty far over...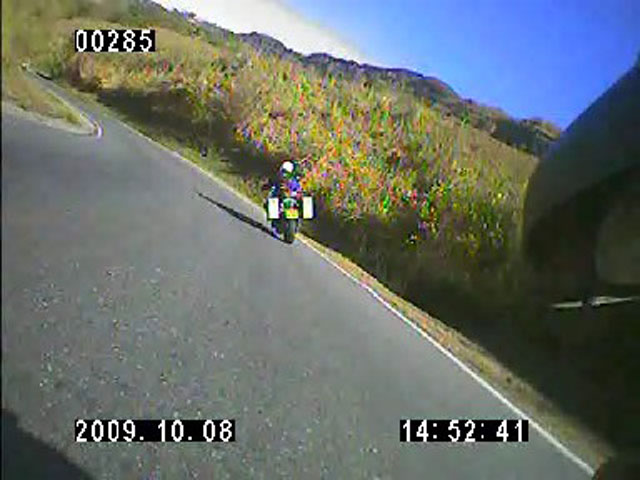 The morning ride was just as fantastic as the ride 2 days ago, the scenery the only difference as the mountains changed from the lush green of the north to drier more barren browns of the south. Columbia seems to consist of endless mountains through which the roads must pass, winding up one side and down the other before climbing up and over the next mountain. The Alpine passes have nothing on this place, which must rank as the greatest undiscovered motorcycling country in the world... if you ride a bike, Columbia should definitely be on your "to-do" list...
But all good things have to end, and after a solid 6 hour ride we rolled up at the border just before 1.30pm. We bade our farewells to our hosts, Mauricio and Carlos, who have been absolutely fantastic with us, their constant attention, smiles and great riding making our journey through their country even more special. If you do come here, visit Ruta 40 in Medellin and say "Hi" from me... I'll certainly miss Mauricio's beautiful and immaculate R1150GS Adventure Special Edition (which puts my bike to shame and has almost double the mileage).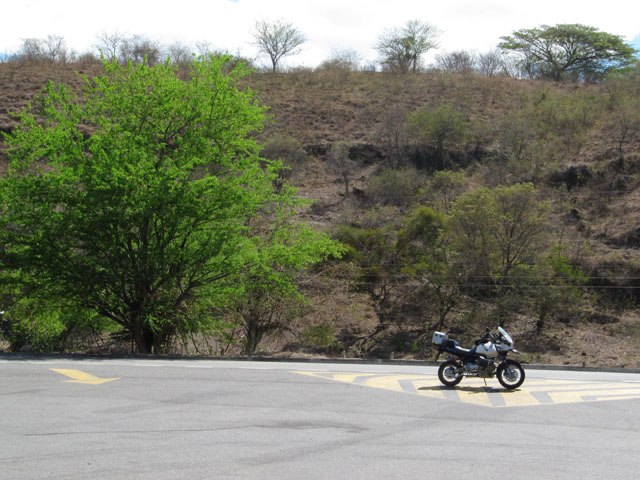 After they'd departed we got on with the serious business of trying to clear the border. Getting checked out of Columbia was relatively straightforward, a simple stamp in our passports to get us out, but the customs woman wasn't too happy with our bike import permits we'd been given at the airport in Bogotá, as it didn't match the ones issued at the land borders, but after a quick conversation she relented and we had the bikes checked out. We rode the bikes to the Ecuadorian side of the border where we then went to get ourselves stamped in to the country, a process that took quite a while as there was a long queue, then to the vehicle customs to get permits for the bikes. And that's where it all started to go badly, as the customs guy's computer was dreadfully slow, the process of issuing permits taking well over 20 minutes per bike. With 20 bikes to clear, and the time already 3pm, and with an estimated 50 miles still to go, it was going to be a very long day for some... Fortunately, I was near the front of the queue and so was cleared by 4.30pm, when Kevin decided we needed to get a group to the hotel to secure the rooms. So Kevin, Richard & Karen, Tony, Pertti and I left the others queuing and headed into Ecuador.
As we were now at altitude (reaching 3,300m at one stage) it was colder and with rain threatening we'd donned waterproofs before leaving. Riding once again into the mountains the scenery changed as it so often does as soon as you cross a border, the hills more rounded and the houses more ramshackle once more. The vehicles on the road has also degenerated, from the nearly-new cars and SUVs of Columbia and back to ancient Opel Cadets and battered Chevrolet-branded Corsas. Many had been jacked up at the rear and festooned with spoilers and go-faster stickers and were driven enthusiastically by boy-racers. But as it went dark they didn't seem to want to turn on their lights in order to save power, making overtaking a risky business. And dark it got, as the estimated 50 miles to Otavalo turning out to be closer to 100 miles, a journey that took us almost 3 hours. When we found the hotel (having flagged down a taxi in the centre of town) we were met by an enthusiastic English-speaking host (half Irish, half Italian) from Pennsylvania, who has lived in Ecuador for the past 30 years. Within minutes we were checked in, hard the bikes parked in the secure car park and were enjoying a large cold beer in front of a real fire...
The others rolled in just as we were eating dinner (an excellent liver pate followed by a lamb curry), turning up in 3 groups, with Julia, Andrew and the kippers last to arrive just after 10.30pm, tired after a very long day on the road. But with an abiding memory of Columbia, without doubt our favourite country so far...
Wednesday, 7 October 2009
Grooving across Columbia...
Yesterday I washed my bike trousers in the shower in an attempt to stop them sticking to me, and this morning they're just about dry. It was a good job I brought them into the room as there was an almighty thunderstorm and torrential rain in the night. But the day dawned only slightly overcast and cooler than we're used to, but that's no bad thing as it's nice to be away from the humidity and not soaking with sweat all the time. After breakfast we were instructed to ride our motorcycles onto the football pitch, a patch of perfect green lawn, for another photo shoot, so a few of us duly did that, taking extra care on the slippery wet grass...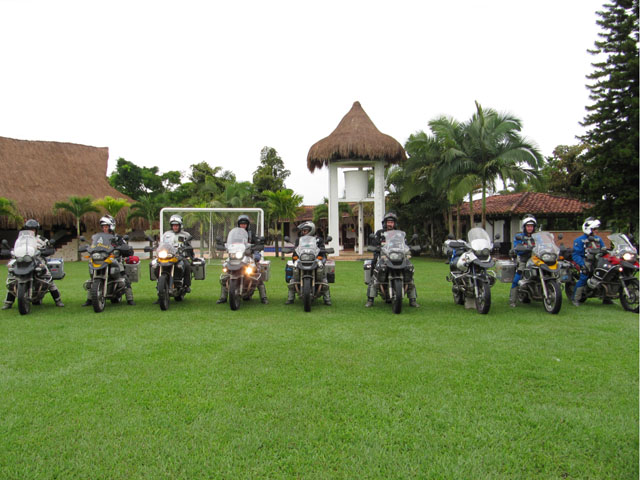 When we finally got going we split into 2 groups, one led by Mauricio the other by Kevin, with Carlos as ever playing sweeper and staying at the back. The kippers had gone off to do their own thing, preferring the straight road into Cali so they could claim to have visited all three of the cocaine triangle cities (Bogotá, Medellin and Cali). The rest of us much prefer riding in the mountains, which is exactly what we did. But first we stopped for fuel and to top up on water, and pulling into the petrol station Julia realised she had a puncture (her 2nd of the trip). Her brand new rear tyre had been victim to a very tough thorn, which caused a slow leak. Kevin leapt into action, first removing the offending thorn before making the hole rougher with a file-like tool, then inserting a rubber plug tightly into the hole and then re-inflating the tyre. In all it must have taken little more than 5 minutes...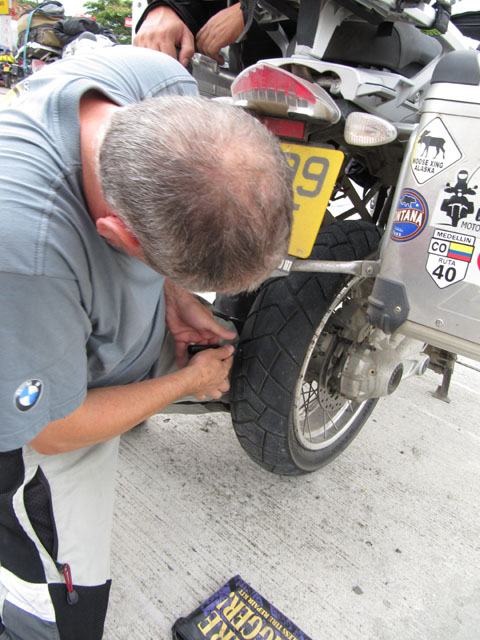 When done, we set off again in the same groups as before, the faster guys riding with Mauricio as the road wound its way up into the mountains, another set of twisty bends to get us grooving... and grooving we were, for hour after hour, once again riding on fantastic roads surrounded by stunning scenery. All good things must come to an end, though, and this was no exception, as the road dropped down from the mountain and onto a flat plain, arrow straight for around 90 miles. After the excitement of the mountains it was a bit of a disappointment, but the road surface was good and there was little traffic, so we made good progress and I just sat back and enjoyed the ride, my mind wandering occasionally as my concentration wavered.
A couple of rest stops broke the day up, before we finally arrived on the outskirts of Popayan, and made our way into town and to the hotel. Another old monastery, the hotel was just a block away from the main plaza and had a large car park where we could line up the bikes, a swimming pool, an excellent restaurant and large rooms with balconies. They also had cold beer, which was most welcome.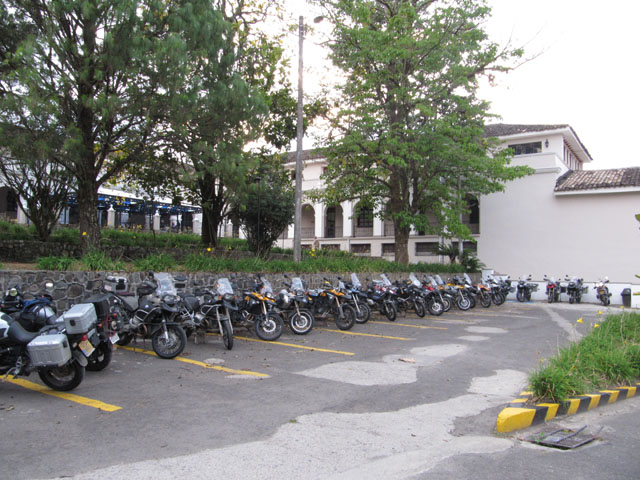 By the time we'd got checked in and showered and had the first beer it was almost 6pm, and getting dark, so we strolled into town to look around. Popayan is known as the white city, a name it justly deserves as all the buildings in and around the main square are white, mostly old colonial buildings from when the Spanish were here.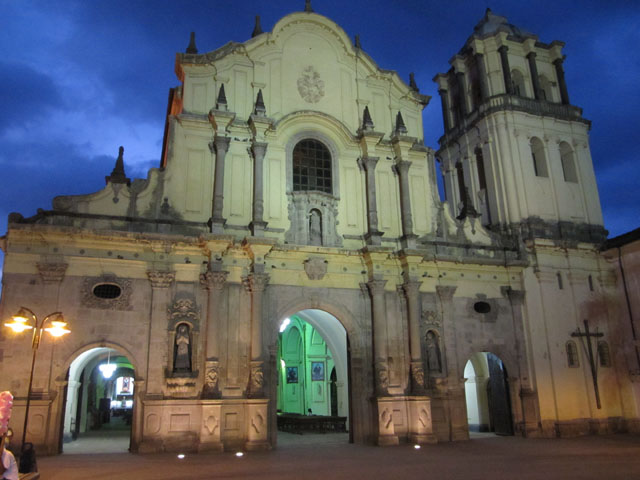 After our stroll we went back to the hotel to eat in the restaurant, Carlos recommending it by saying that there were no other good restaurants in the town. The food was good, I had a weird corn soup that was a local recipe, followed by another local recipe for Franciscan Haddock which was delicious. We also had a couple of bottles of a rather good Argentinian Merlot to wash it down with.
On reflection, Carlos had been wrong, the roads today were not better than yesterday, but they were still pretty damn good. The sticker on my windscreen summing it up perfectly...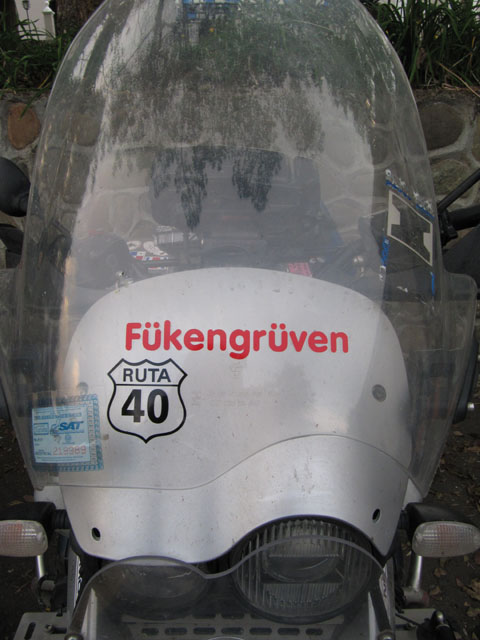 Tuesday, 6 October 2009
Falling in love with Columbia...
As with our stay in Bogotá, here in Medellin we're due to start the day with a short ride round to the dealer, Ruta 40, where we will meet up with Mauricio (now I know how to spell his name) and Carlos for a photo-call and then we'll all head out together on the ride South. For some reason, despite being up at 6am, by the time I'd written the blog and got my packing done, and put the armour back in my jacket and trousers once again, I was running late, being the last to leave the hotel garage, all in a fluster. But I soon calmed down once on the bike and moving, even if it was only a short ride round the corner. We caused an even bigger stir than in Bogotá, with even the local TV crew turning up to film our little gathering (they were there at the presentation last night, but I forgot to mention it). I wandered off to get some bottled water, so missed most of the pictures, but the bikes certainly looked good, lined up outside what has to be my favourite BMW dealer...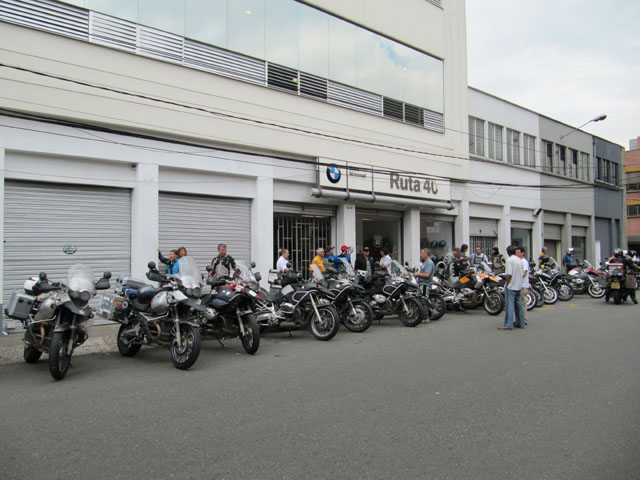 Once we'd had our photos taken and posed for the TV cameras, it was time to head out of Medellin, riding in a huge group headed by Mauricio and with Carlos sweeping up the rear, and with a number of other local riders that we met last night interspersed amongst our group of 20 bikes... we made quite a spectacle, as we weaved in amongst the rush-hour traffic on the two-lane dual carriageway out of the city, then trying to get past endless lines of trucks labouring up the hills on the outskirts of town. It seemed to take an eternity to get clear of the traffic and out onto the open road, but eventually we did, the group spreading out a little as the roads cleared, the twisting road winding its way high into the mountains.
Columbia is full of surprises, not least the absolutely stunning scenery. I don't think I've ever been to a country that has more beautiful countryside, all hills and valleys, everywhere coated with bright green vegetation (and no, it's not cocaine plants!). There are banana plantations, coffee plantations, bamboo fields, sugar cane fields, fields of various food crops (ok, so I'm not a botanist!), and interspersed amongst them are the homes – not the ramshackle wooden homes of Central America (although there are still a few of them), but beautiful houses with neatly trimmed gardens. The walls are not rotten wood, but pastel-shaded concrete or orange brick; in the gardens are swimming pools and children's play things, and the children themselves are better dressed. Whether this is simply a factor of the route we're taking and not representative of Columbia at large I don't know, but it doesn't feel as poor as some of the countries we've been through recently.
Whilst the scenery was fantastic, the roads were even better, at least for those on motorcycles, that is. They were a never-ending stream of bends, winding up and down one hill and then the next, left, then right, then left again, all requiring maximum attention and a significant degree of lean. So much so, that Richard was grinding bits of his bike away on every corner, and then decked his panniers in front of me, a little puff of plastic smoke coming from the corners. That's a long way over... Me, well, my bike rides higher and my panniers are narrower, so I didn't scrape anything except my pegs and my boots...
We stopped for a small lunch at a beautiful roadside cafe, set in fantastic tropical gardens with a swimming pool and views all down the valley. Lunch consisted of the highly recommended fruit sundae topped with ice-cream, the fruit unbelievably fresh, most likely because it had been picked right out of the garden.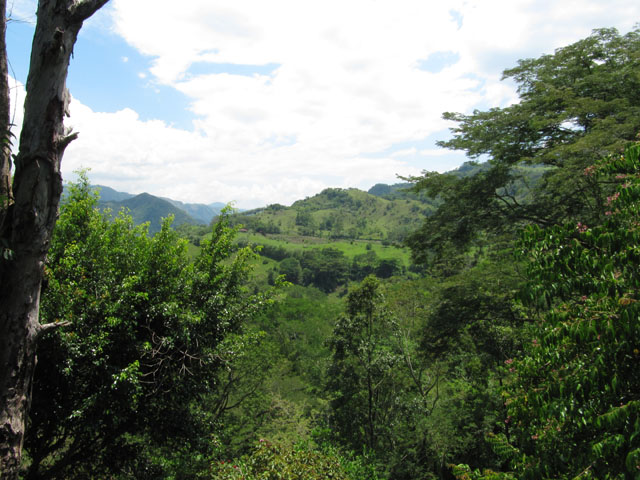 In the afternoon we climbed higher into the mountains, the sharp-edges and pyramid shapes of the peaks around us quite stunning. If you like hills and countryside, you simply must come to Columbia...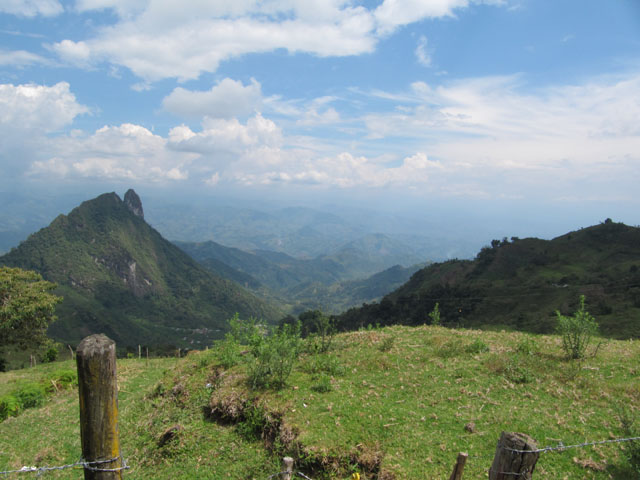 With a final stop just short of the hotel for a glass of the freshest mandarin juice I've ever tasted, the day simply couldn't have got much better. If you've ever ridden a motorcycle, then imagine the best ride you've ever had, then extend it so it lasts a full day, then add in the most beautiful scenery and glorious weather and you still won't have come close to how good today's ride was. If you've never ridden a motorcycle, then I pity you...
But the day wasn't yet done with things that exercise my poor vocabulary when it comes to superlatives... The hotel we're staying at is not a hotel, it's a villa. The sort that Columbian drug dealers would build to entertain their friends. Only this one is owned by Mauricio's cousin and has 12 rooms, just enough for our group. And a swimming pool and outdoor jacquzzi. So we take over the place, parking our bikes on the tiled floor that leads to the reception area.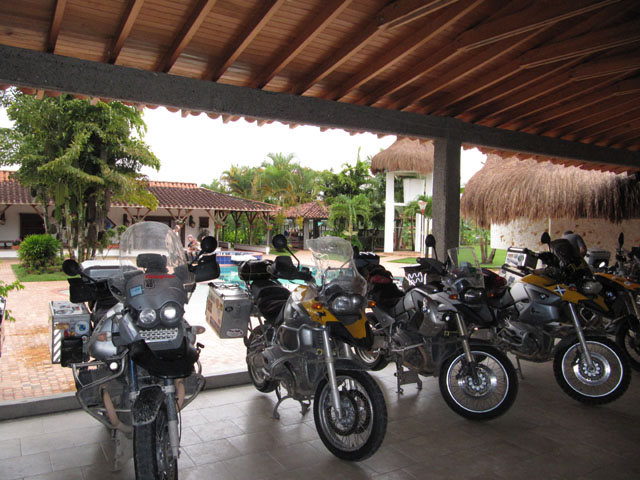 Having tagged on to Mauricio and Kevin, simply because I like to ride at the same pace they do (quite briskly), I arrived with the lead group. Mauricio went to the end of the road to ensure that the others found the hotel, as it was down a long narrow country lane that was easy to miss. Soon the 2nd group arrived, and Mauricio said he'd asked the local police to look out for the others and help them find us. Which they did, escorting most of the others to the hotel just a couple of hours after we'd arrived. I say "most" because the Bogotá Boys were missing. Last seen earlier in the day at a restaurant, they were nowhere to be seen over 2 hours after we'd arrived. When it went dark, Julia called their mobile phones and eventually got hold of them and they said they were 20 minutes away. After another hour, they were still missing, so further calls were made, and they were given the GPS coordinates for the hotel. We were supposed to be having our first big group meal, but as they were still not here and it was getting late, we ate anyway. We had some nice steak and chicken served on a hot plate, and they also heated up the special treat that had been brought out with the Bogotá Boys' bikes. Earlier in the trip we'd been discussing national dishes, including the English Fish, Chips and Mushy Peas, and Aaron (one of our Americans) said he'd never heard of Mushy :Peas... so, we had 4 tins brought out. They go much better with Fish and Chips than steak and chicken, and I don't think Aaron will be rushing to import them to the US...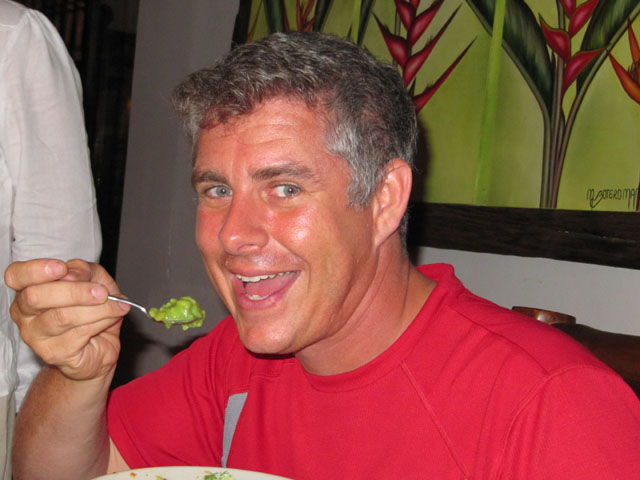 The photo was taken before he'd tried them, as he wasn't smiling after...
Finally the Bogotá Boys arrived, to big cheers and lots of piss-taking from the rest of us. They were in surprisingly good humour, considering they'd done 70 miles more than the rest of us, and had been riding round Columbia for several hours in the dark (and we all know how dangerous that is, don't we?). When they were fed and watered, it was time for one last nightcap before turning in. Carlos says the roads today are better... we don't believe they could be...
Monday, 5 October 2009
A day in Medellin...
I slept very well for the first time in ages, the ride yesterday seemingly having cleared my head of the cold that has been bunging me up. It was with slight trepidation that I went upstairs to breakfast, wondering if the complaints from last night had left them wanting blood, but I needn't have been concerned, as breakfast was good, and the service fine. After breakfast I tried to get my bike suit washed, phoning the hotel laundry service and then handing it over stressing that it as "muy important" that it got back today. Whilst I was busy updating the blog I got a phone call, a woman gabbling on in Spanish at 100 mph, but I managed to catch a couple of words and worked out it was the laundry and that they couldn't get my suit back today, it being impossible... As we're leaving first thing in the morning, I protested but got nowhere, so asked them to return the suit, which they did, 2 more women coming to the door and gabbling on in Spanish about how they could only do it for tomorrow. They insisted on calling someone to explain, as they didn't speak English (but found it hilarious that I didn't speak Spanish). The woman on the phone then went on to explain that they couldn't do my suit today and it would be tomorrow afternoon before it was ready. At which point I just said ok, no problem and grabbed my suit before they could take it away again. Looks like I'll have a few more days of riding in a dirty, sweaty jacket and trousers...
After that saga was over, I called Tracy and we had a lovely chat, catching up on things since we last spoke a few days ago. It was nice to hear that my daughter, Laura, had been round to see her, and that she's now enormous. Not in a bad way, as she's expecting twins... When we'd finished chatting I wandered back to Ruta 40 to see how they were getting on changing the tyres on the bikes and hopefully fitting my final-drive seal. That turned into another saga, as the seals I'd had shipped from the UK were still in Bogotá and not due to arrive until tomorrow (see a theme developing?) but they had some in stock and I was repeatedly told not to worry. Whilst I was there I decided to have a look at some of the minor niggles I've been having with the bike, starting with the fog lights. When I first had problems with them it was due to one of the earth contacts breaking and the lights shorting out, and our running repair had been a little rushed, so I took the offending light off the bike and made sure things were done properly, the lights now working again. Then I turned my attention to my brake light, which had also been playing up, the bulb seemingly moving in the holder slightly and breaking contact. Closer and more thorough investigations revealed that the bulb had in fact blown, and the only reason the brake light worked at all was because the tail light filament was performing both duties when the bulb was in a certain position. With a new bulb installed everything worked as it should. With the mechanics working on other bikes to try and clear them out of the workshop, Nick, Al, Gerald and I left them to it and headed into town to get some money and lunch.
Having robbed the ATM of several thousand pesos (about $100 each) we asked a young girl sitting outside if she knew where there was a barbers, as by now I'm starting to resemble a shaggy dog, and she pointed up the road. So off we wandered, and quickly found a likely looking place underneath some shops, and in we went. With Al abstaining the 3 of us took our seats and were attended to well, my Spanish phrase-book helping out with the Spanish for "just a trim please". Gerald went the whole hog and had his bead trimmed, which also seemed to trim about 20 years off him. Feeling fresh and tidy again we wandered round downtown Medellin for a little while, the city absolutely buzzing with people, like Manchester at Christmas, and this was a Monday lunchtime... We ate a light lunch, knowing that later we'd be eating in one of the best meat restaurants in the area, then bundled Gerald in a taxi so he wouldn't have to walk with the rest of us. Then we made our way via a small park with some statues by the Columbian artist Botero, famous for his paintings and statues of people looking as thought they've been inflated... the "reclining nude" a good example of his work...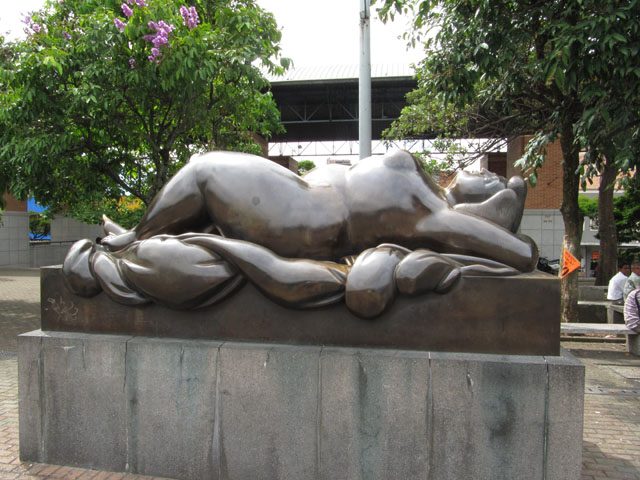 Our wanderings took us all the way across town back towards Ruta 40, through the craftman's area where there were countless workshops turning out wooden cabinets and chairs, and the metalworker's area, where there were the same workshops with guys hammering bits of metal into various complex shapes, and the mechanic's area, where the same workshops were full of guys working on cars and small motorcycles, and finally to Ruta 40, where the mechanics were still busy changing tyres. Soon they were almost done and started working on my drive-shaft, initially having real problems getting the bolt that holds it all together undone, it having seized in the housing. The judicious application of heat from a heat-gun and with the help of 3 guys including me, they finally got it undone and split the drive-shaft to reveal the offending seal (still behind it's retaining collar), the oil clearly visible where it shouldn't be, on the outside of the housing...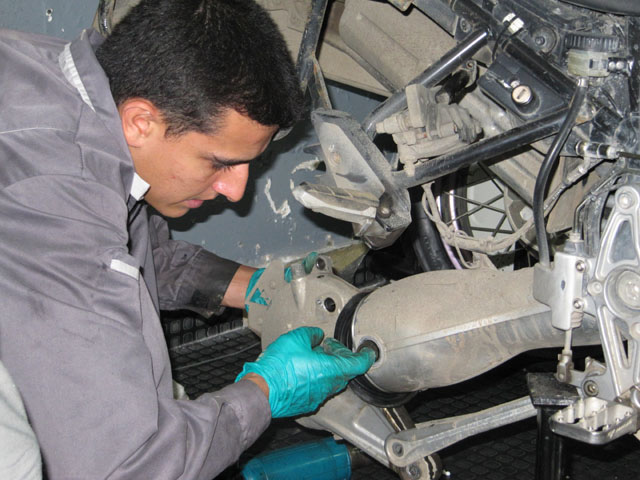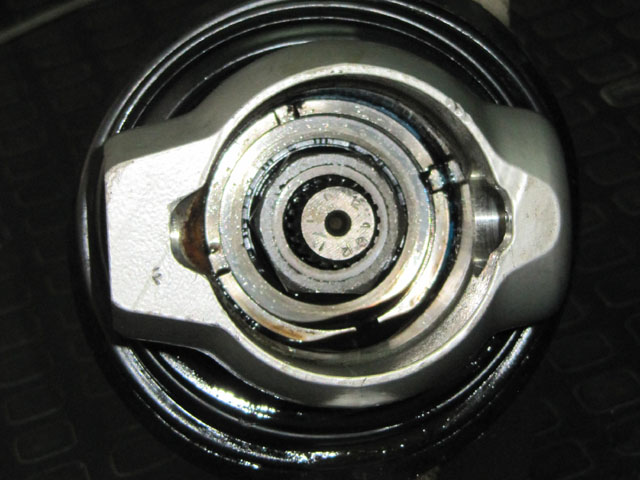 With the seal replaced and my bike back together, I paid the bill (which they very kindly took the labour costs for replacing the seal off as a discount) and rode back to the hotel via the petrol station. With my bike now fully fixed and loaded with fuel, I was a very happy bunny indeed...
Before dinner we had a quick meeting to run through the route for the next couple of days, Kevin and Moriceau working out a plan for us, so now we can ride in smaller groups which should be much better. Then it was time for the Prat Hat ceremony, the first involving the Bogotá Boys... Nominations were few but very good, first, Chris being nominated by almost everyone for missing the 2nd Banana Bridge and taking the new one as a result of his haste at the border; then Simon for his tardy start, still being in his underwear and not packed when he should have been on his bike riding out of the hotel. There were a couple of others, but these 2 were the shortlist and voting concluded quickly with Chris winning the hat...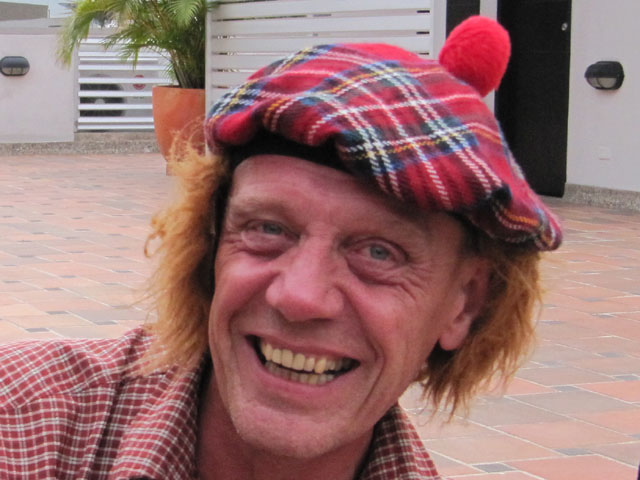 Only after he had been photographed did we come clean and reveal that there was no 2nd banana bridge... and so, this week's Prat Hat recipient is... Simon...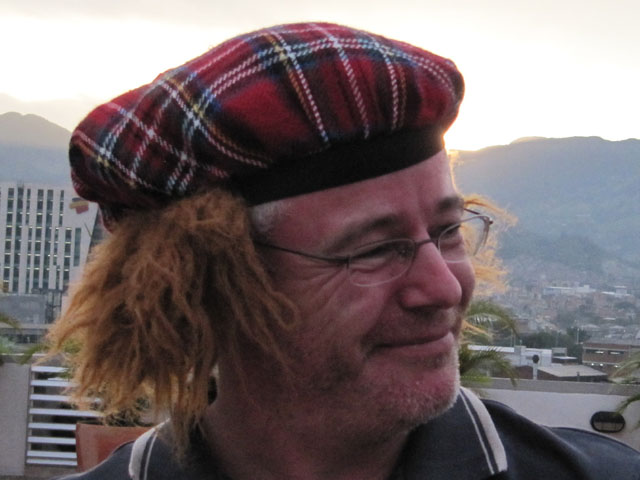 After that, we jumped in a couple of minibuses and drove up the hill out of Medellin to the restaurant where Kevin and Julia were due to give their presentation to some bikers that the guys here had managed to get together at just 24 hours notice. On the way up the very steep hill, one of the minibuses burnt out its clutch, so we all climbed into the remaining one for the rest of the journey. The restaurant was fairly empty when we arrived, and we discovered we had almost the whole of the 2nd floor to ourselves, so we grabbed a table and ordered some steak. The restaurant had been chosen by Moriceau as it is the best meat restaurant around, serving meat from its own farms in the area, and it was damned good too. While we were eating the place filled up, over 100 bikers arriving and filling the place with an excited buzz. Kevin then gave his presentation, one of the young girls that had been with us in the minibus acting as translator as he rattled off stories of their Guinness World Records before talking about the Trans-Am and showing pictures of us riding and standing beside downed bikes. It seemed to go down well and no sooner was it over than we were accosted for photos, the local bikers all wanting their pictures taken with these travelling gringos...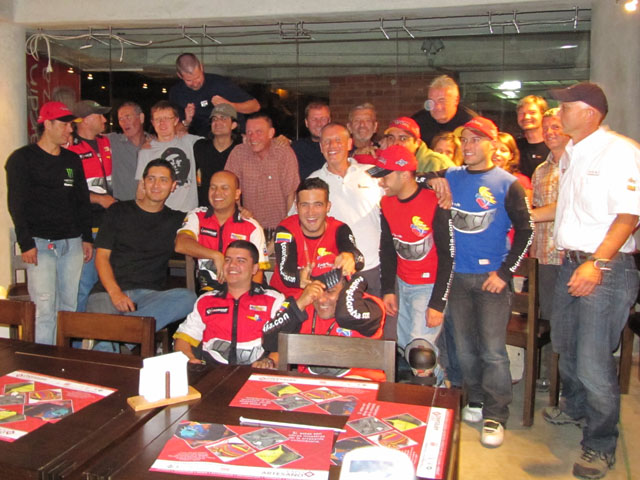 To say they were friendly would be an understatement, they were simply brilliant, chatting in broken English or 50mph Spanish, shaking our hands and smiling for the cameras. We were even dragged outside for photos by their bikes, as eclectic a mix as you'd see in the UK, with an R1, several GS's, some v-stroms (like Jim's only looking much newer and less laden), a TDM and other smaller bikes. Great people, and a great evening... and one of the guys looked like Richard's long-lost twin brother too!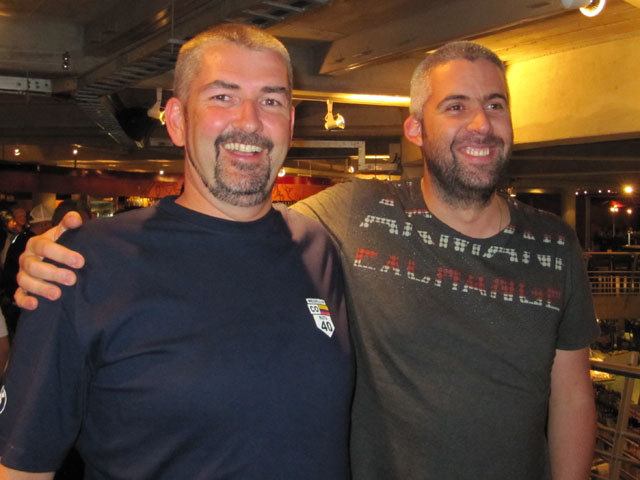 Sunday, 4 October 2009
On the Road Again... Bogota to Medellin in a very large group...
At last, we're getting back on the road again... an early-ish start with the bikes rolling out of the hotel garage at 7.30am, then heading over to the dealership to meet up with Bernie and have a big group photo, before riding over to Medellin as one (very) big group... At the dealers, we lined the bikes up outside, at least, those that were there, and took the pictures...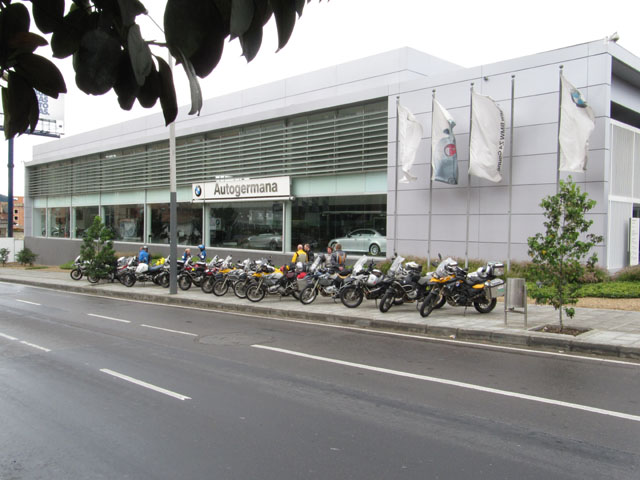 I say those that were there because Kevin, Andrew and Simon were all missing... it seems that despite us all checking out last night (as we've been advised to do before, in order to get away early), we also need to formally check out in the morning, or the hotel has a tizzy fit... oh, and Simon wasn't ready. He'd been to the gym early, then for some inexplicable reason was still in his room at the allotted departure time... When they finally arrived we set off, riding in convoy out of Bogotá, using a "buddy system" to ensure we stayed together. This works as follows... each rider keeps an eye on the guy behind, and should he drop back for any reason (traffic lights, other traffic, etc) then he also drops back, to allow the lost rider to see where he's going. This will then ripple through to the guys at the front, and so we'll all stay together. Only Nick forgot this, and so when we got clear of town we'd lost half the group... and had to wait a while for them to find us... fortunately, we're riding with a number of local riders, including Moriceau (not sure how to spell his name, but he runs Ruta 40, the dealer in Medellin), Carlos (Moriseau's friend who speaks excellent English) and Bernie, so they found us reasonably easily... then we had our 3rd delay before getting clear of Bogotá, when passing through the toll booth... now here in Columbia they have this sussed, realising that motorcycles should be free and not wanting to hold up the other traffic, they have a special "bike lane" at the side of the booths, with a small channel with low walls down which the bikes can ride (but not wide enough for cars). Only the first one had a slightly higher wall on one side than the other, which caused Jim's panniers to drag on the top (his Suzuki having the lowest clearance of all the bikes). So he moved to the left and promptly smashed into a pole, breaking it clean off. The guard at the toll was not happy about this and came storming out, whilst the rest of us were waved through the barrier. Then the police came. Then Bernie sprung into action, not-so-gently pointing out that they were now threatening to extort money from the 1st group of western bikers ever to visit Columbia... at which point things seemed to calm down and we were all on our way again...
Getting 20 bikes, plus our 3 or 4 local riders, to ride together is quite some feat, and it's not surprising that we had to stop to regroup fairly frequently. The 15 miles out of Bogotá had already taken us nearly 2 hours, so it was a big relief when we stopped in a small town for a drink and pee-break. Parking up at the side of the road, on a large camber, Al lost his footing and dropped his bike... big cheer and the inevitable posing for photos... they do crash quite well, these big BMWs...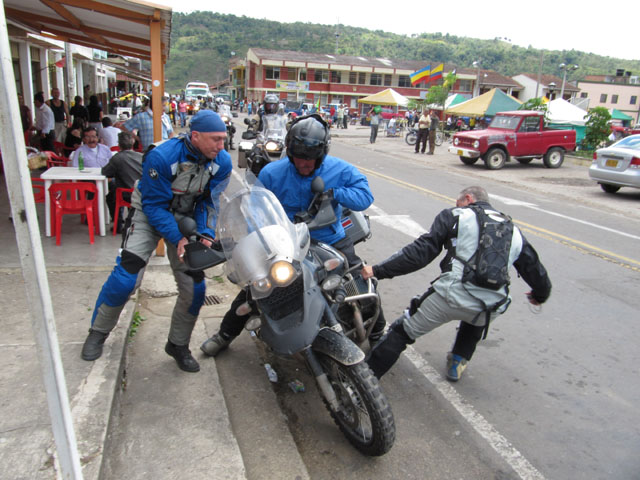 The town was just like many we've seen in Latin America, with a small plaza with church and lots of cafés, and people milling about. The main difference here, though, was the small group of heavily-armed soldiers in the square, something we'd see all over the countryside, as the army seems to be everywhere, guarding every bridge or settlement in an attempt to make the country safe... certainly felt safe to me...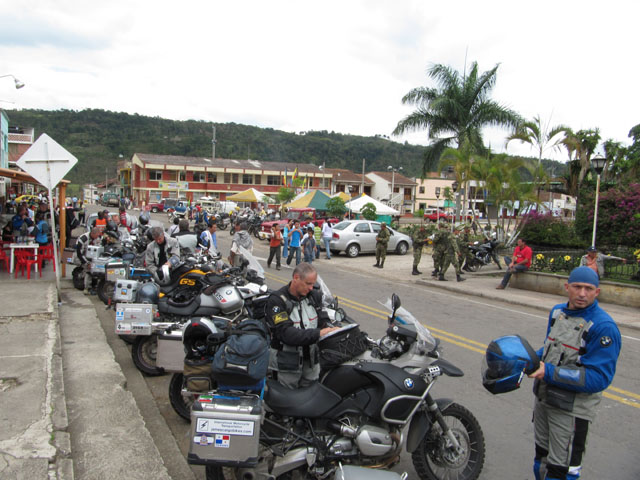 After a drink and wee, we headed back off again, up into the mountains, on a gloriously twisty road. Riding near the front the pace was brisk, the road excellent and the views stunning. The mountains are bright green, covered with trees and grass, but unlike any other we've seen so far. Here, they resemble the sort of mountains we made as kids from papier-mache, all weird angles and sharp edges. They looked vaguely like green napkins folded badly by trainee waitresses in a cheap 70's restaurant...
Before long we pulled over again to re-group, and to say goodbye to Bernie who was heading back to Bogotá before catching a flight to Medellin later, business demanding his attention once more. A nicer host it's hard to imagine, he promised to sort out my missing seals for me (they were supposed to be in my panniers so I could take them to Medellin and get them fitted) and bade us farewell, before heading off in the opposite direction. Lined up at the side of the mountain road, our bikes made a fair old sight, Moriceau's immaculate 2005 R1150GS Adventure Special Edition making mine look decidedly second hand...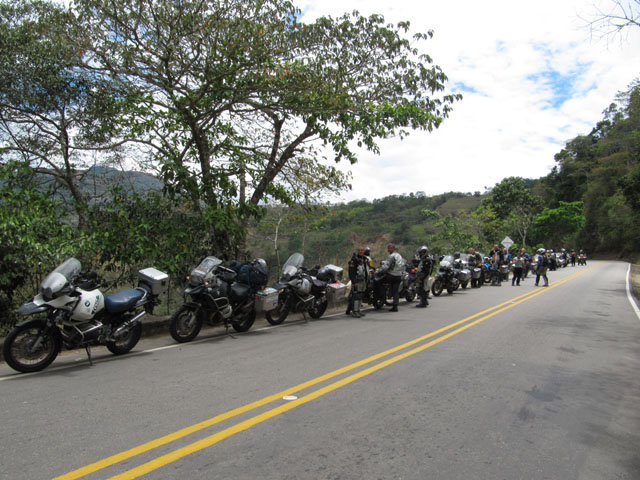 On we went, down through the mountains and along the river-valley, stopping at another town for lunch, which took quite a while there being so many of us to feed all at once. Riding in such a big group has many disadvantages, and this is one, lunch taking about 4 times as long as it would had we been in smaller groups, but with no route-notes to go by, we had to stick together. After lunch we got ready to depart, only for Ozzy Andy to drop his bike in the car park when trying to get on it – with 20 bikes it seems we're going to have more than our fair share of car-park incidents... Once on the move, we upped the pace a little, the locals now getting worried it would be dark before we got to Medellin. The ride took us back up into the mountains, on yet another brilliant piece of tarmac, twisting so much that at one stage Kevin, who I was following, scraped his panniers on the deck...
We passed many more military checkpoints, the guards simply waving at us as we rode by, the others, camouflaged and almost invisible stood at the edge of the forest by the roadside smiling and waving too. Riding quickly on twisting roads means holding onto a low gear (2nd) and the short blast between corners and then the closed throttle on entry means the bike sometimes back-fires, a loud bang emerging from the exhaust... I just prayed that the soldiers could differentiate a fast-ridden motorcycle from gunfire...
With just one more quick stop for a drink, and several to re-group, it wasn't too surprising when it started to go dark... we were still high in the mountains when the sun went down, not only making seeing the soldiers impossible, but also reducing our pace (a little...) and making spotting potholes and other road imperfections more challenging. When we eventually rounded the last corner and caught sight of Medellin in the valley below, it nearly took my breath away. Spread out below us was a carpet of lights, as far as the eye could see, the city a massive sprawl of little yellow dots, way down in the valley below. The road took ages to get us there, down a steep drop with lots of bends, and very little traffic. Finally we arrived outside the hotel, and pulled up onto the marble entrance apron, cramming bikes everywhere so we could unload our luggage directly into the lobby. With the bikes unloaded, we rode them the 2 blocks to the dealer, where we dropped them off and then sank a cold beer from their fridge... it was now nearly 8pm and the end of a long riding day..
Hungry and tired, we decided to eat in the hotel restaurant, which turned out to be a huge mistake... First, the French Onion soup Christine and Richard ordered tasted like dishwater with a damp stale bread slice and rubber cheese, then they gave Max (a vegetarian) a spaghetti dish with ham in it, not the napolitana he ordered. When Christine's tuna sandwich turned up looking like it had been thrown together by a 2-year old mid tantrum, she through a wobbly and sent it all back, saying she'd not pay for any of it... and then my Spaghetti Bolognese arrived, with the spaghetti still raw... so it was my turn to see red, and I grabbed my plate and stormed into he kitchen, confronting the young pasty-faced chef and telling him exactly what I thought of his cooking... not exactly shouting, but still slightly angry...
By now it was gone 10pm (the food had taken an age to arrive), so I went back to my room in a huff and ate a packet of nuts from the mini-bar before turning in, glad that for once I'd eaten a decent lunch..
Saturday, 3 October 2009
15 seconds of fame...
With another enforced rest-day ahead, as our bikes were in the garage being attended to, I took the opportunity to spend the morning resting before heading back to the dealership early in the afternoon to prepare for our fifteen seconds of fame...
When we got there, Nick's bike had replaced the brand-new R1200GS that stood proudly on display outside, and the showroom was in the process of being transformed. Several of the posh cars had been moved outside, and our dirty tatty-looking bikes had been given pride of place, lined up along the window and in front of the offices. There were people putting row upon row of chairs in lines in front of a big projector and screen, and a guy testing the microphone and sound system... they weren't going to do this by halves...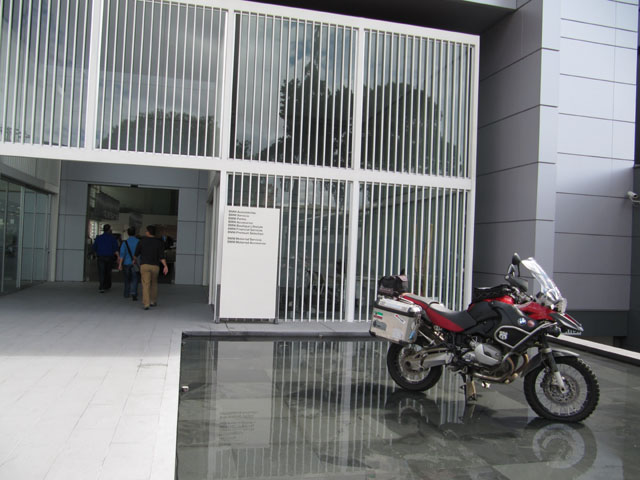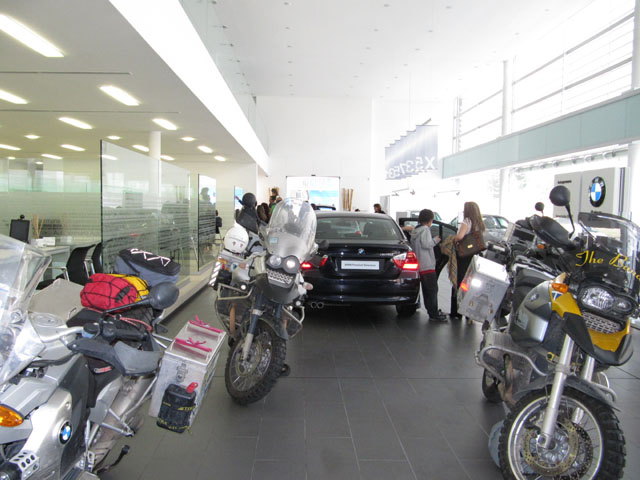 Whilst we were waiting for the show to begin, I went and collected the new gloves they'd found for me, then paid my bill. It was then I discovered that they'd not managed to change the drive shaft oil seal, as they needed a special tool that had been at another dealers. But they were shipping the tool to the dealer in Medellin where we were to have our tyres changed, and would do it there. With the bill settled we hung around, whilst the showroom went about the business of trying to sell cars to some very sophisticated looking Columbians, some of whom seemed more interested in looking at these muck-splattered motorcycles... then it was show-time...
Bernardo, the head-honcho of the dealership started proceedings by introducing Kevin and Julia, who then went on in part-Spanish, part-English, to explain their history and how they came to be running GlobeBusters. The presentation then moved on to the Trans-Am 2009 trip, and Kevin invited Max to talk a little about his experiences, which he did, in Spanish, the sod. Then it was Aaron's turn, our only American riding a BMW talking about how he chose the F800GS and how Columbia was special to him as he lives in Florida where he knows many Columbians who have been raving about their country. After a bit more chat from Kevin, during which he introduced Gerald explaining that he's the oldest guy on the trip (he's 65) and he was raising money for charity. He also warned the audience that they wouldn't understand him because none of us could, his Devon accent being quite thick... Then I got up to say a few words about how we'd got time to do this sort of trip, as most Columbians can't grasp how we can take time away from family and work to just swan about on bikes for 6 months. Finally, Kevin got Richard to say a few words before he showed a preview video for the forthcoming London-Bejing trip, which is adventure motorcycling at its most extreme, going all the way to Everest base camp in Tibet... The audience seemed to enjoy the talk, and afterwards a few of them came and asked us some questions, chatting quite happily to us in perfect English, so perhaps they had understood a little of what we were waffling on about...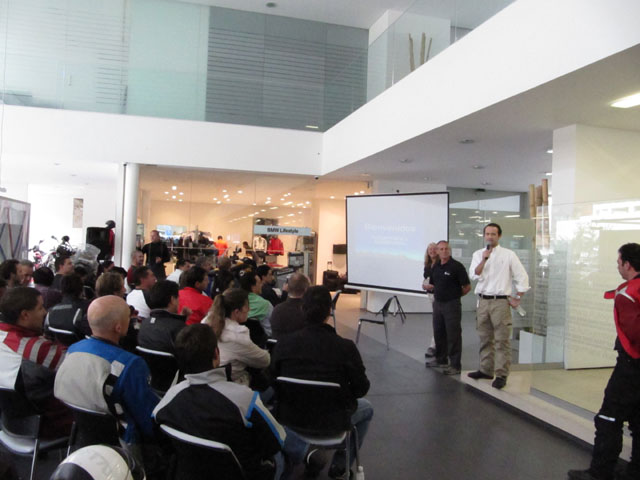 With the show over, we rode our bikes out of the dealership and back to the hotel, finding our way in the dark night, the traffic thankfully much lighter than it had been when we rode there. With them safely parked in the underground car-park of the hotel, we headed off out to a local Brazilian restaurant for some food. This being a Brazilian barbecue place, the food consisted of 16 different cuts of meat – beef, pork, lamb, chicken, buffalo, chorizo sausage – all cooked over hot coals and brought to the table on big skewers, one lump after another until we were completely stuffed. We did have some healthy salad from the salad bar too, so it wasn't all a meat-fest... it was rather good, though...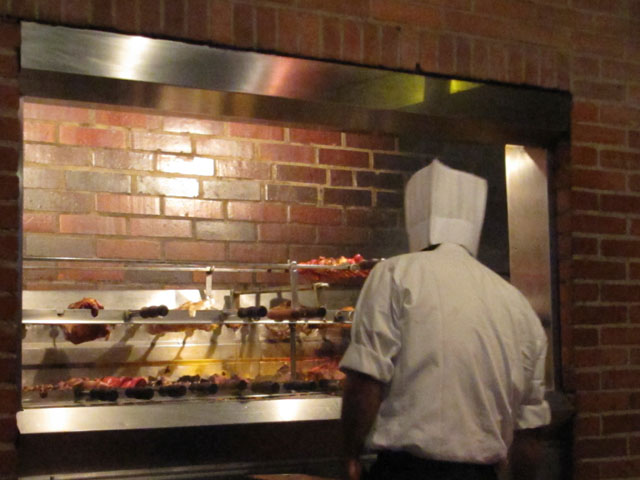 Friday, 2 October 2009
Surprising Bogota...
Yet another night of restless sleep, this damned cold has me so bunged up that I wake barely able to breathe, then struggle to get back to sleep. Once up and about, I do the usual jobs before heading down to the garage to take the bike to the BMW dealership where it will have the drive-shaft oil seal replaced and the oil and filter changed. Once again riding through the early-morning rush-hour traffic of Bogotá is like being in a video game, cars and scooters weaving this way and that, the little yellow taxis that outnumber the cars 5 to 1 like pinballs bouncing from lane to lane, but miraculously avoiding contact with anything else. They even managed to avoid contact with the group of 10 BMWs and 1 Suzuki that were making their way through the madness...
But the biggest surprise was waiting for us when we arrived at the dealership. I had been expecting a small-scale operation, with a few cars and bikes, and perhaps a small workshop with some grubby mechanics making use of some old hand-me-down tools. But no, this place was a palace. A huge building, modelled in the style of showcase BMW dealerships in Berlin or Mayfair, with a huge glass-front inside which were an M3, 7-series, X5 and several other high-end models. The car park where we put the bikes was underground, filled with Mini Cooper S works specials, more 3, 5 and 7-series and several X3 and X5s, all gleaming and new, the car park cleaner than most people's kitchens. At the back was the motorcycle workshop, a large clean room with a huge wall-mounted tool rack full of the specialist tools required to service BMW's full bike range, and 4 mechanics in BMW uniforms looking less like grease-monkeys than I do (although that's not much less, having been on the road for so long!).
We were shown round by Bernie, who runs the entire dealership and is just 32... he also speaks impeccable English and is a thoroughly nice chap, and clearly (and rightfully) proud of what he has created. The motorcycle workshop is a training centre for most of South America, so the bikes will be in very good hands, so after we'd told them what we wanted done, we went on a tour round the rest of the building. There's a very impressive motorcycle clothing department, which is trying to source a replacement pair of gloves as mine split in the torrential rain at David, and a small bike showroom (the R1200 GS Adventure selling for 61 million pesos – around $30,000 or £20,000!) and then the cars – the BMW M3 in the window an eye-watering 299,900,000 pesos... yes, that's nearly 300 million... which works out around £150,000... at those prices, no wonder the place was so impressive!
After the tour we ordered some taxis to take us back to the hotel, 4 of us cramming in one of the little yellow cabs to experience what it would be like to be inside a pinball during a particularly hectic game... The taxi drivers here could easily pass as London motorcycle couriers, even in their cars, they seem to have an ability to make them fit through gaps that are way too small, without at any stage hitting anything, and whilst travelling at speeds that in the UK would see them locked up without hope of parole for a long time... But we got back safely, and then Richard had the challenge of trying to get back out of the front of the cab he'd squeezed himself into...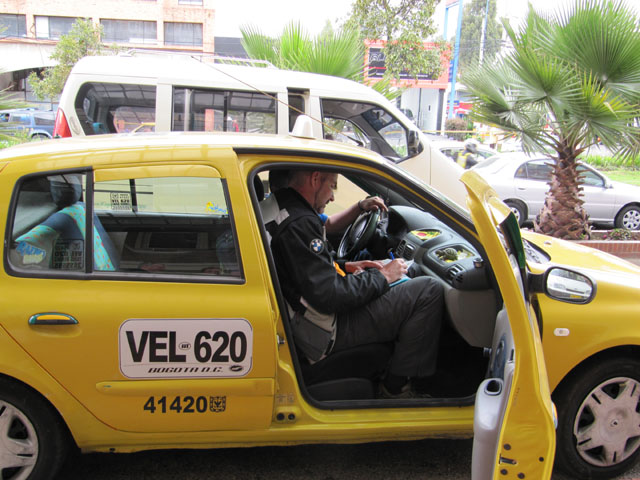 I then spent the rest of the day doing very little, apart from trying (unsuccessfully) to find a cleaners that could get my bike suit cleaned and back to me in time, and searching for some cold & flu tablets that might help get rid of this damn bug I've caught. At one stage I did venture out with Ed & Lorriane, for a very nice cheesecake, but generally I just hung around in my room catching up on various jobs that needed doing.
At 5pm we gathered for yet another meeting, this time to run through what's happening tomorrow with the press-conference at the dealership where we're the star turn, and what we need to do to sort out our local insurance. Then we caught a cab down to Zona Rosa for dinner. And had another shock. This part of Bogotá is a complete surprise, being more like Covent Garden with posh restaurants and beautiful people thronging the streets than I'd expect to find anywhere in South America, let alone Columbia. It seems our preconceptions are once again wide of the mark... Here were literally thousands of young adults, both the men and women straight from the pages of Vogue or GQ (the proportion of stunningly beautiful women way higher than anywhere I've ever been), all out to have a good time, the restaurants and bars bursting with life. We went to the same restaurant that some of the group had been to the night before, and ate a genuinely excellent steak with 3-mushroom sauce, washed down with a superb bottle of Chilean red... very civilised indeed, even if the taxi ride there had not been...
Thursday, 1 October 2009
Meet the Bogota Boys...
Into October and the day starts early again, as we leave for the airport at 6.45am, having had a quick breakfast and thrown the rest of my belongings into the large bag I used to bring them out to Anchorage and which has been sat in the van since then. Crammed into 2 minibuses, the group, minus Aaron, Chris and Danielle who are catching a later flight (Aaron as he needs to go to the US embassy to get more pages inserted into his passport, Chris & Danielle as they're arranging for her bike to be sent home), Jeff (who's getting the van to Ecuador and flying directly there to get it out of the docks, as it's too big to fly) and Kevin (who left yesterday), are all excited at the prospect of going to Columbia...
It's odd, checking in at an airport after so long travelling and crossing borders by road. Personally, I don't like the disconnection that happens when you hop from one country to another via plane, as the transition from one airport to another is lame (they all look pretty much the same) and the sudden shock of being somewhere else, as opposed to seeing it change as you cross the border, always knocks me off balance. But here we are, sat in another airport, as I've done on many occasions with work over the years, idly surfing the web or reading and waiting, waiting, waiting... only this time, we're not heading to some boring conference or tedious meetings, we're heading into the country that strikes fear into the hearts of many – Columbia – home of drug lords, kidnappers, and surely a country we should be very afraid of...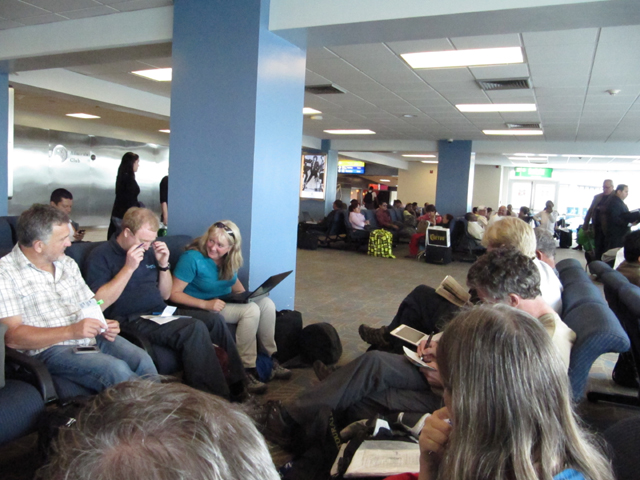 Eventually our flight was called and we boarded, stuffing helmets in the overhead bins before sitting down to attempt the sudoku in the in-flight magazine (which I couldn't read as it was all in Spanish) to while away the hour or so the flight took. The landing in Bogotá, was just like any other landing anywhere in the world, passengers getting up and blocking the aisles before the pilot had turned off the fasten-seatbelts sign, then the long queue at immigration to get our passports stamped (some guys got the 3rd degree about what they were doing, I was asked nothing), and then the wait at the carousel for our baggage. All of which went smoothly, with no signs of drug-lords or kidnappers, just a few soldiers in camouflage suits (they were still easy to see, as it was jungle camouflage not airport camouflage). Kevin then arrived with a mini-bus and the local agent who spoke excellent English and we started ferrying riders to customs to start clearing the bikes, whilst the pillions went with the luggage to the hotel. At customs, there were more local fixers who queued up getting the right forms, which we then signed and we sat around waiting whilst the wheels of the big customs machine ground slowly on.... and on... and then we were evacuated from the building as a test, joining all the local workers on the grass whilst we were counted before going back inside and waiting some more...
Finally we got to sign the permits and then it was time to go over to the warehouse to get another form completed and signed before being re-united with our bikes. The warehouse was designed to handle normal freight, that is taken from the aircraft through the warehouse and loaded directly into the back of trucks, so the warehouse floor is at the height of the truck's cargo floor, meaning that we had to ride the bikes down a corridor, round a 90-degree turn and then down some stairs outside into the car park... once again I found myself laughing at the absurdity of things we have to do with our bikes...
We all managed to get our bikes down the stairs without incident, Jim's Suzuki's ground clearance the only minor issue, but when Nigel went to park up he clipped Julia's bike with his panniers and toppled over in the car park (having done the same at the golf club, and in the underground car park at Zacatecas he's now known as "car park Nigel")....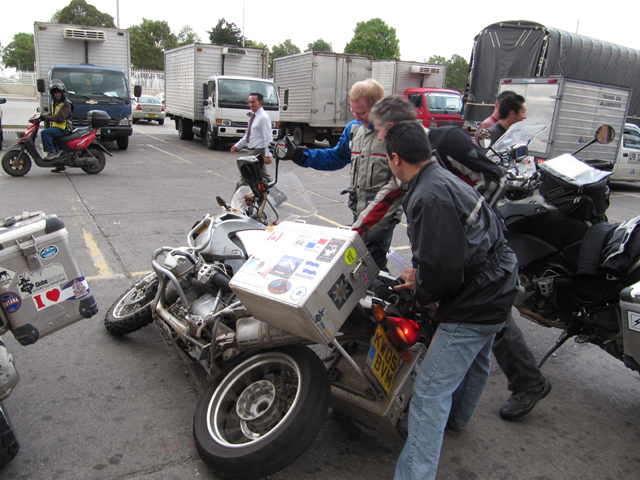 We then rode our bikes through the rush-hour traffic of downtown Bogotá, the streets full of little yellow taxis all changing lanes like they were scooters, and scooters playing chicken weaving in and out of the traffic, whilst we rode like London couriers, trying to keep Kevin in sight (he was the only one who knew how to get to the hotel). We all arrived safely and parked the bikes in the underground car park before checking in and hitting the bar for a much needed beer (or two).
We were expecting to meet the Bogotá Boys – Tony Mac, Non-Santa Phil, Simon and Pertti Pigg (yes, that's his real name, he's Finnish) – who are joining our group here for the ride to Ushuaia and on to Buenos Aires. They had flown in yesterday and gone to customs at 8am this morning to get their bikes, which had been flown direct from the UK. Seems they got the one awkward Columbian customs guy, as it took them until gone 5pm to get their bikes cleared, then they all got lost trying to find the hotel, with Simon last to arrive at 7.45pm... So whilst most of our group had gone into town to eat, Nick, Gerald and I stayed with the new arrivals and caught a couple of taxis to a steak restaurant nearby, where we had an excellent meal and a good chin-wag, before returning to the hotel for one last beer (from Simon's mini-bar as the hotel bar had inexplicably closed) and off to bed...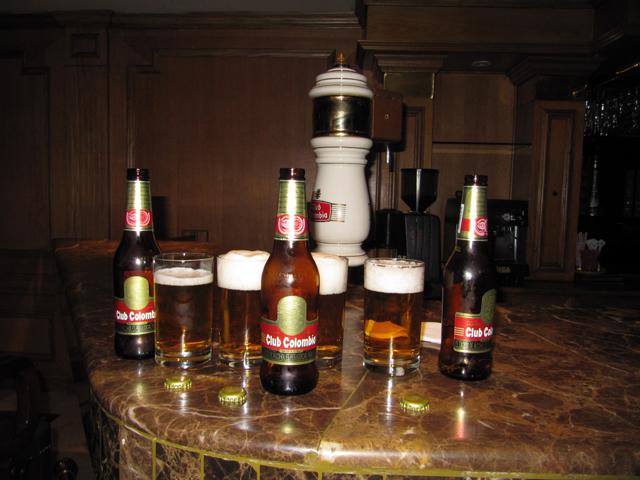 And we still hadn't been kidnapped or seen any drug barons...
Archives
July 2009 August 2009 September 2009 October 2009 November 2009
Subscribe to Posts [Atom]