A diary blog, covering details of the initial planning for our Round The World motorcycle trip in 2008...
...since I last posted an entry on our Blog?
Guess it must be!
Well, apologies for that, but things have been a tad hectic recently. First, we had the excitement of getting Tracy back on her bike, then we had to collect my RTW bike (which is now safely tucked away at my sister's house), and finally we've been busy with... well, nothing of any great interest!
Taking each of the above developments in turn...
Tracy got back on her bike the weekend after the all clear from the consultant. Lydia (her bike) started first time and I rode it to somewhere quiet so Tracy could get back into the saddle without the distraction of prying eyes. In no time at all she was doing tight U-turns in the car park and smiling broadly...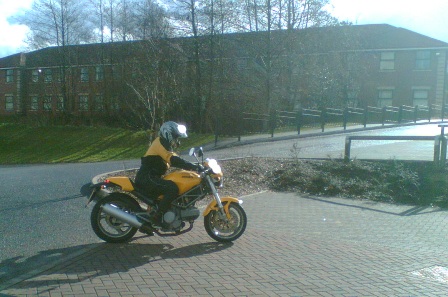 Then we had the trip over to Preston for me to collect my RTW bike... the story of how this came about is in an earlier blog entry, so I won't repeat it... suffice to say that the day we picked it up was horrendous, with gale force winds and "interesting" riding conditions. Just the sort of introduction I wanted, especially as it's even taller than my standard R1150GS so I can only just touch the ground with tip-toes... now I know what Tracy means when she says not being able to stand firmly on both feet when stopping on a bike is difficult!!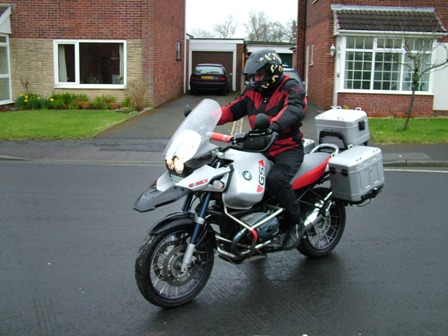 Anyway, having picked it up we went over to my mum's in Cleveleys to show her the bike. Since she had a stroke a few years ago her vocabulary is somewhat smaller than it used to be, but the word "wonderful" came out more than a few times! From there we went round to Nikki's (my younger sister) and put the bike into her large garage where it is going to stay until we're ready to prepare it for the trip (or until I can think of a good enough excuse to ride it!).
As for other news, well I've been busy messing about with our bikes. I fitted heated grips to Tracy's Ducati and also sorted out the annoying side-stand cutout switch - this is a 'feature' that stops the engine running if the side-stand is down. It's a safety feature to prevent you from riding off with it down, but it stops you getting the bike warmed up unless you sit on it... A simple mod found on the Internet involving a diode connected in between the side-stand cutout wire and the neutral light switch and now she can warm the bike up with the side-stand down as long as the bike is not in gear... much better...
I've also fitted a BMW Navigator III satellite navigation system to my bike - bought off ebay for £600 (retail price is £900) - and it's pretty cool. I've been downloading all sorts of points of interest (like Halfords...) and testing it, and it seems to be much better than the system in my company car... Then I fixed the fog-lights on my bike last weekend, so now car drivers have even less of an excuse for saying "sorry, didn't see you"...
Finally, you will have noticed (if you've visited the site before), that I've updated it with a flash new banner logo... this is curtesy of a colleague at work (I won't embarass him by naming him yet!)... and this is just the early draft version... looks damned cool if you ask me! He's shamed me into sorting out some other pages on the site too, particularly the Sponsor page, so why not check it out by clicking the button above...
OK, that's enough for now - hopefully I'll stick to my promise of updating the blog weekly over the next few weeks, although with Easter coming up, who knows! As always, please post a comment or drop me an email, I'll love to hear from you...