<
Paul and Tracy's Main Blog
Welcome to Paul and Tracy's main blog. Here you can keep track of what we've been up to, and join us on our adventures.
If you'd like to get in touch, you can either email us - see the links on the "About Us" page, or alternatively post a comment following any of the Blog entries.
Tuesday, December 30, 2008
Merry Christmas!!
Ok, so it's a bit late for us to be wishing you a Merry Christmas, but we've been a tad busy over the festive period, making up for the disappointment of last year, when Christmas was postponed until Easter...
No such drama this year, as we launched ourselves headlong into a series of family-themed gatherings. I reported last week on the trip to see my relatives at Nikki's house, so this week I'll start with Christmas Eve...
"twas the night before Christmas..."
Ok, it was really the day before Christmas and not a bit like the traditional Christmas tale. Firstly, Tracy got busy in the kitchen making sausage rolls and mince pies ready for Boxing Day. To see her rolling out pastry in the kitchen, looking for all the world like a younger, more attractive, Delia Smith, was quite a sight. She doesn't like this photo, but I think she looks great...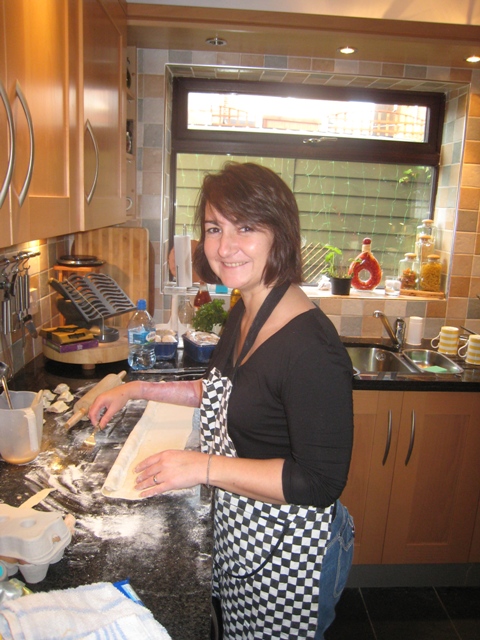 As soon as she'd finished in the kitchen it was my turn, as I needed to make some Thai Spicy Sausage to take to Tracy's folks' house at the weekend, and some spring rolls and "gold bags" for Boxing Day. These are traditional Thai snacks and always go down well whenever we have people round. That kept me out of mischeif for a good few hours, and by the time we'd finished we were both knackered and in need of a relaxing evening. Only with it being Christmas Eve, we had to cook the now traditional "steak and chips" dinner - and with Katie and Brian joining us there was a fair amount of potato peeling to be done. Tracy and I have got the cooking of this particular meal down to a fine art now, as I cook the chips and Tracy does the steak, and with the meat coming from our local butcher - the same one that kept our turkey in his freezer for 3 months last year - it was a real treat. Suitably satiated we finally collapsed onto the couches in the front room and watched mindless drivel on the telly until it was time to play Santa. As we no longer have any children (by the literal definition, not as in "child-like", obviously) at home, this was a more muted affair than in the past, but we laid out the sacks and filled them with the "stocking filler" presents, leaving the main presents under the tree for after Christmas Dinner, and then retired to bed.
Christmas Day started with a very non-traditional lie-in. Up until Laura left home, Christmas Day always started about 3 hours earlier than it should. Now she's gone, we finally get up around 8am. Didn't stop Laura phoning me at about 8.15 to wish us Merry Christmas, though! Before breakfast we opened our stocking presents and then it was on with the chores of preparing Christmas Dinner. This is one meal that I insist on cooking, not because I think I can do it best, but because I enjoy cooking a big meal. I'm sure Tracy would like to have cooked it too, but I got my bid in first and so I was responsible for getting the turkey in the oven and peeling and cooking all the veg - roast and mashed potatoes, carrots and brussel sprouts served with panceta and roast chestnuts. Tracy still did the stuffing and the gravy, though, as she wouldn't let me loose on them (quite rightly, her versions are delicious!). With Christmas Dinner prepared and ready for the final cooking, Katie and Brian came round again so we could give them their presents. Now Tracy has been working on making scrapbooks for Katie and Carlie in secret for the past few months - not the scrapbooks I used to make as a kid, but beautiful artistic scrapbooks that will serve as long-term reminders of their childhood. Each page painstakingly designed and constructed into real works of art. She had been fretting greatly about how these would be received - she'd put so much effort into them - and whilst they had been great therapy (both physically and mentally) if they were not fully appreciated she'd be very upset... Needless to say that both Katie and Carlie were chuffed to bits when they opened them...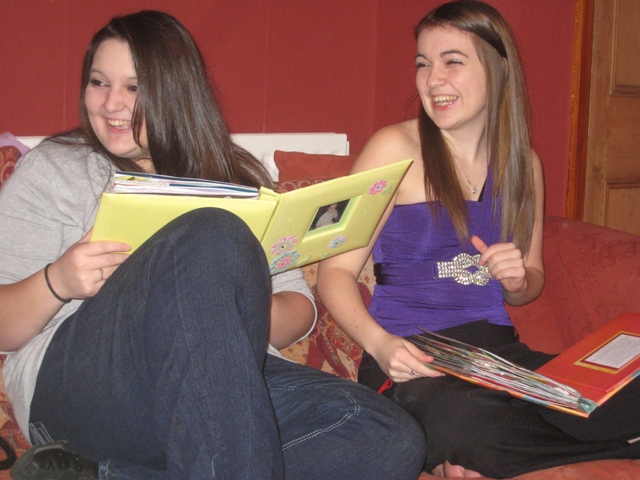 After Katie and Brian left to go to his family's for Christmas Dinner, we got on with cooking and eating ours. Naturally the first thing was to open a bottle of Champagne to celebrate - and we had the last of the good stuff we'd bought for our wedding. One of the things I've mentioned before was that Tracy had the goal of toasting Christmas with a glass of champagne held in her right hand, and here's the photo to prove she's achieved that goal - not just holding the champers, but drinking it!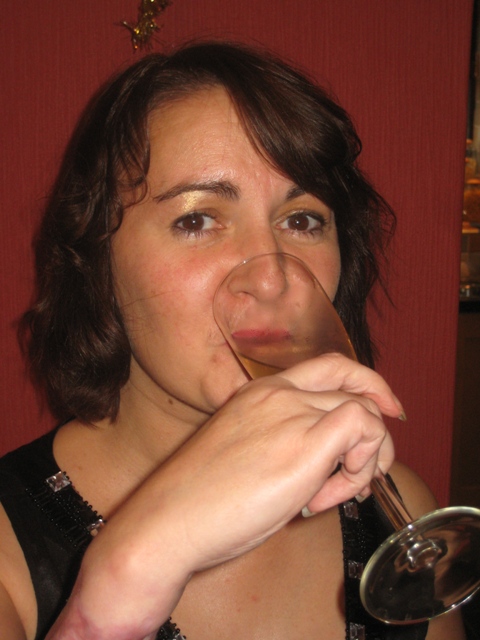 The rest of Christmas Day was spent giving and receiving presents - and I think we all got some excellent things (I got some great stuff for my trip, and Tracy got a new camera ready for hers!).
Boxing Day is traditionally the day when the Beattie children go to visit their grandparents. I used to go visit my Nana & Grandad when I was little, then my kids went to see my Mum and Dad, and now my grandchildren come and see me. This year we also wanted to make it extra special, so we not only had made some food treats, but we'd also planned a bit of extra fun. When everyone had arrived we had a house full. There was Katy with her 3 offspring - Harry, George & Elizabeth, Laura and Chris, Danielle and Phil and their 2 offspring (the 3rd won't be here until May...) - Olivia and Alfie, Katie and Brian (with their dog, Bella) and Carlie. Oh, and Tracy and me, of course! Once we'd got past the chaos of giving out the presents, and cleared up the mass of wrapping paper, we prepared and served the buffet lunch. After lunch had settled we got out the 2 surprise "Gingerbread Kits" that we'd bought and engaged the 2 eldest - Olivia and Harry - in helping us make up a Gingerbread house and a Gingerbread Christmas Tree. The remaining grandchildren didn't seem interested in this, preferring to run about and play with their toys. It wasn't long before Laura, Katy, Tracy and I were also up to our elbows in icing, trying to get bits of Gingerbread to resemble the artistic pictures on the boxes (but failing miserably). One problem was that the tree had a piece of gingerbread that was broken into two - and Harry thought that the others should look the same, so he broke them too. This gave the tree a rather "interesting" lean, that eventually became its downfall... But the children loved it and particularly enjoyed the bit where they got to stick the sweets onto the gingerbread - or into their mouths, whichever they preferred! The end results were quite impressive, I'm sure you'll agree...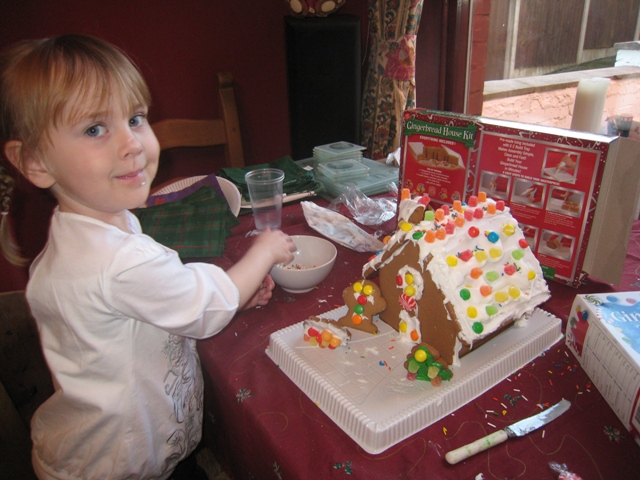 Just before the children left we played the game that had become something of a tradition when my kids were little. This involves the adults hiding a large quantity of chocolate coins around the house and a rather frantic "Treasure Hunt". Now when this was played at my mum's, my brother used to place the coins in the most ridiculous places (a particular favourite being inside light fittings... the coins would be 'discovered' some months later when the light stopped working due to melted chocolate...). As my grandchildren are still quite young, Tracy ensured the coins were placed within easy reach, but that didn't stop their enthusiastic parents, remembering how the game used to be played when they were little, from running about the house ahead of their offspring trying desperately to outdo each other...
When they'd all gone home the house seemed eerily quiet... and I have to say that it was one of the best Boxing Days I've every had...
But that wasn't the end of the festivities, as on Saturday we headed South to stay at Tracy's mum & dad's for the weekend. Saturday was similar to Boxing Day, in that the house was full of people - Tracy's sister Kerry and daughther Stephanie (her husband Mark arrived later when he'd finished work), her brother Craig, wife Caz and their 2 kids Shannon and Aidan (and their dog Harvey), Katie & Brian (and Bella), Carlie, Tracy and me and of course Tracy's mum & dad (and their dog Bracken). But this time we weren't the hosts, which meant we got to relax, enjoy the great spread laid on and drink large quantities of beer (well, I had to be sociable, and Craig seemed to be in the mood too!). The entertainment this time was provided by the resident singer... Aidan on his new karaoke microphone!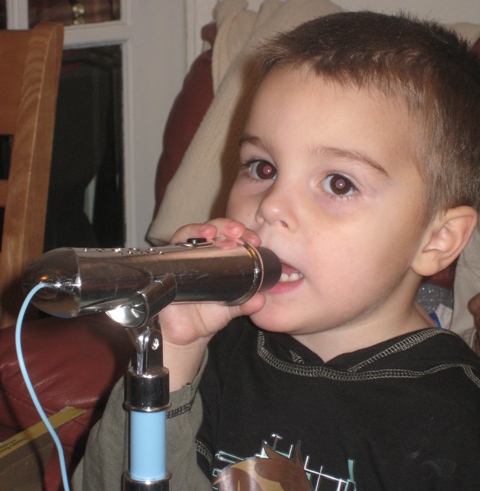 After another excellent day we finally turned in exhausted around 11pm, before heading back home the following day...
What a superb Christmas!
And now we're preparing for New Years Eve, when we have a little something different planned...
Monday, December 22, 2008
Christmas is coming...
It's getting ever closer to Christmas, and whilst we're very excited (being the big kids we are!), we're also reflecting on what was happening just a year ago...
It seems like a lifetime ago now, but just last week was the anniversary of the worst day of the whole "Slovakian incident". On 17th December 2007, Tracy woke unable to move her right leg and in excrutiating pain. We both feared that her broken spine had moved and she'd be in a wheelchair for the rest of her life. The whole incident is captured in my blog entry of the time (you can find it under Past Trips - Our Old Blog) so I won't recount it here, suffice to say that the date didn't pass without reflection (a pity, as it's also my brother's birthday...). It's simply amazing to look at how Tracy is now and remember that just such a relatively short time ago she was being carried downstairs on a spine board, screaming in agony and on the way to the hospital where she would remain for 3 long months...
Now she's fully mobile and taking good care of me!
And today she's been back to see Mr Muir and has active movement in her arm from 58-124 degrees which is just incredible (if you recall, before the latest operation, she had just 70-102). She's now trying to remember to use her right arm instead of her left - at least for those things she can now do. Every now and then she catches herself doing something she didn't think she could, like putting her right hand on her left shoulder!
This last week has also seen Carlie return home from Uni, and us getting ready for Christmas. We've completed our shopping now (Tracy has been very busy!) and wrapped everything up, and on Sunday we went over to see my family and exchange gifts. As I don't like being late for anything, we set off early and picked Carlie up from her sister's where she'd been helping out with the decorating(!) and headed off to Nikki's, arriving around noon. Only to discover they weren't expecting anyone until 2pm!! Suitably embarassed, when Nikki went to my mum's to pick her up and help wrap some presents, we went for a drive round, visiting the house I was born in (I was born at home) and the schools I went to as a child. When we returned to Nikki's the rest of the family weren't too far behind and we had a lovely afternoon chatting and eating the delicious Cumbrian Hot Pot Nikki & John had laid on (using my recipe, it has to be said!). As it's not quite Christmas, our rules prevent us from opening our presents, but we made an exception for my mum so she could open the present Nikki and John had bought her - a digital photo frame loaded with photographs from our childhood... I won't show any of the pictures here, but the expression on my mum's face says it all...
With the weekend over, we've only 3 more days to go until Christmas... and I can't wait! We've a hectic schedule as normal, although Christmas Day will be relatively quiet with just the 3 of us at home (Tracy, Carlie and me) - Boxing Day is the busy one with all my kids and grandkids coming, and then we're off to Tracy's mum & dad's for the weekend... If I survive, I'll post an update before the New Year!
Merry Christmas!
Sunday, December 14, 2008
Another week, another operation...
A couple of weeks ago I reported on Tracy's progress since she had the operation to increase the movement in her right arm. At that point she had regained movement of approx 50 - 100 degrees (measured from a straight arm being 0 degrees). That was a big improvment on the relatively fixed 70 degree position she had before, but despite her best efforts she was finding it increasingly hard to get any more movement back. Then on Wednesday, whilst I was at work, she got a call from the consultant, Mr Muir. He'd had another patient who'd had a similar operation and struggled post-op due to scarring, so he'd performed a procedure involving manipulating the joint under general anaesthetic and had good results. He wanted to know if Tracy would like the same - with a slot available on Friday 19th...

So she rang me to discuss, and naturally I was encouraging her to go ahead - "Anything that improves the movement has to be worth the effort", I said. But it's easy for me to say, I'm not the one who has to go through it, and with Tracy's history of sickness following general anaesthetics, she wasn't keen. But she decided she would give it a try.

And then on Thursday, she got another call. Would she like(!) to have the operation "tomorrow". With less time to worry about it, and with the prospect of an extra week to recover before Christmas, it seemed like a much better option. And so we got up on Friday and headed off early to the hospital. On arrival we met Mr Muir (the consultant) again, and he measured the movement in her arm as 70 degrees to 102 degrees - she'd already lost some of the straightening movement, but gained a little on flexion. Within a couple of hours of arriving she was in theatre, and I was once again pacing an empty hospital room waiting for her return (and reading my Motorcycle News, so it wasn't all bad!). She was back with me a couple of hours later, looking really well and being much more alert than she was the last time. It took a little while before she was ready to have something to eat, though, and with the hospital not prepared to discharge her until she had "eaten, drank and passed water", we had to wait a while longer before we could escape. Mr Muir popped by with encouraging news of what he'd managed to do whilst she was under the anaesthetic - without cutting her open, he'd got from 50 degrees to 130 degrees - which was a significant step forward. Now it was up to her to try and keep as much of that movement as possible, through hard work with the splints and physio...

Encouraged, we headed for home, with a sick-bowl nicked from the hospital just in case (and it was needed, she really doesn't do anaesthetics very well!). The rest of Friday was spent with Tracy feeling a bit groggy, but Saturday and Sunday have seen her moving her arm more, and asking me to help put the splints on to ensure they are really pushing the joints as much as possible. Now she's even feeding herself with her right hand - something that just last week seemed a long way off...

So, it's been another week and another operation... here's hoping it's the last for a very, very long time!

Monday, December 8, 2008
Severe Weather Warnings, and an early appearance by Santa...
What a week...
First, the ride up to Edinburgh last Sunday... I set off shortly after posting the last blog entry and made my way up the motorways North. It was a beautiful sunny day, crisp and cold, but otherwise simply perfect. Until I got to Lancaster, when the fog decended. Freezing fog, naturally. But with my heated jacket on, and the heated grips keeping most of my hands warm, I was quite happy. I'd have been even happier had it not been for discovering my MP3 player had a flat battery just before I left. Still, I packed the charger so I'll have it for the way back! Riding through freezing fog is no worse on a bike than being in a car, with the slight exception of the concern that comes from knowing I've no rear fog light to warn dopey motorists of my presence. And there were plenty of the dopey kind of motorist between Lancaster and the border - including several who didn't seem to think that putting their lights on was necessary despite practically zero visibility. Still, I was content with straining to see and was just enjoying being out on the bike. I stopped at Gretna (no, I'm already married, this was hunger calling!) for a bite to eat and to let Tracy know how I was progressing, and then it was back on the Motorway until Moffat.
When I first discussed riding up with my colleague Neil, who is also attending the course, we had an exchange that went like this:
"Take the Moffat road"
"The Moffat road?"
"yes, the Moffat road"
Now, the first thing that sprung into my mind at that point, was an image of a one-legged gingerbread man (the one from "Shrek"). Read it again in a high-pitched voice and you'll see what I mean...
So, naturally, I had to take the Moffat road (the Moffat road?, yes, the Moffat road - sorry, I couldn't resist!). By now the fog had cleared, and I was once again dashing across the landscape under clear blue skies and surrounded by the most beautiful scenery. There was white everywhere (except on the roads, thank goodness). The trees and fields with the backdrop of the rolling hills looked like the picture from the front of a traditional Christmas card (with sheep in the fields and the odd stable dotted about). I'd have loved to have stopped to take a picture, but by now I was concerned about the dropping temperatures and the idea of getting into Edinburgh in the pitch dark - that, and the desire to press on, and the need to concentrate hard on reading the road and avoiding the slush and ice patches...
Before too long, just as it was starting to get dark, I arrived in Edinburgh. With the sat-nav already programmed with the hotel, negotiating the traffic was no problem, and I soon found myself pulling up outside. I don't think they were expecting many bikers, at least not judging by the expression of distate on the concierge's face as I walked in all dressed in my bike gear... but once I'd asked about my reservation, things improved no end, and I was told to ride my bike round the back and into the undergound car park. Normally, the concierge or another member of staff would park the guest's car, but as they're not insured to ride bikes (and I don't think the old fella liked the idea of trying to ride mine all loaded up!), I got to do it myself.
And so with the bike safely in the car park, I checked in and had a long warm shower before heading out in search of food. The rest of the week consisted of grabbing a lift to the office with Neil, and attending the course, the details of which I'll spare you, which you should be grateful for, given how tedious I found it. The main entertainment during the week was watching the weather forecasts. They started on Monday with the "it's going to get worse by Thursday" before becoming more and more like the prophecy of doom. When they started with the "Met Office Extreme Weather Warning" I started getting a bit concerned. I was due to ride home on Thursday when the course finished. By the look of the weather maps, I'd be lucky to get out of the hotel car park. Still, whilst I was in Edinburgh I took the opportunity to meet up with my sister's better half, John, and we went out for a couple of beers and an absolutely fantastic curry. All the while wondering about the weather and whether I'd be able to get home (John offered to find a garage for me to leave my bike in, but I was determined to at least try and get home!).
So finally Thursday came. And I woke up early and gingerly opened the hotel curtains to discover... nothing. No whiteout, no drifting snow, no ice-covered roads. Just a normal, cool and slightly damp morning. Perhaps it was the "Edinburgh effect" the taxi driver had told me about when going back to the hotel after the night out with John, when it was sleeting quite hard... he'd said that Edinburgh was in a micro-climate area that was always much milder than the surroundings and "oot a toon twill be whit all o'er" or something like that. Anyway, I got to the office and attended the final portion of the course before we finished early for the day just before 1pm. Dressed in all my gear I set off to see what the "extreme weather" looked like. Heading out of Edinburgh along the A702 (avoiding the Moffat road, the Moffat road?, yes, the Moffat road - which was more likely to be snow-bound) I quickly discovered that everyone else had been frightened off the roads except for the snow-ploughs and gritters who had done such a good job there was no sign of snow anywhere except in the fields and on the hills. So I made "progress" and before long got to the M74 and turned southward, stopping at Gretna (no, I'm still married) for a quick re-fuel before hitting another bank of sleet and rain around Penrith. This lasted for a good few miles before I emerged once again into clear air, arriving home around 5pm, having covered 240 miles in just 4 hours - so much for the "extreme weather"...
Saturday offered a further chance to put my winter riding skills to the test, as I headed off for the Bike show at the NEC. Tracy and I had arranged to meet up with some of the Globebusters' trans AM 2009 team for a Christmas get-together in Birmingham that night, so she would be travelling down by car later. At the show I met up with Andy, who'd also ridden down on his F800GS and then promptly lost him as soon as we entered the NEC (think he might have been avoiding me!). Richard and Karen were not so lucky, and it took them quite a while to get rid of me, during which time we'd spent some money and had moulds taken of our ears for custom-made ear plugs. Whilst they were having their moulds taken I went and got my helmet modified with a special visor insert designed to stop it fogging up (a problem I'd had on the trip to Edinburgh), and promptly lost contact with them. With time running by I went and had a chat to Kevin & Julia on the Globebusters' stand and met up with Phil. He was even less able to get rid of me, and when we left the show we rode back to the hotel together - which was just as well as my sat-nav started playing up as I was trying to find my way round Birmingham city centre...
But we found the hotel without further problem and I joined Tracy, who had arrived a couple of hours earlier and checked in. Or at least, tried to, only to discover that I'd booked a single room (I hadn't, honest!). Using her natural skills of persuasion, she convinced them to give us a double room (despite them first claiming to be full), and so when I arrived all was sorted. A quick shower later and we were in the hotel bar drinking Guinness with Phil and Richard, with the others arriving sometime later. After a few more drops of the black stuff we made our way to La Tasca and met up with the rest of the party - some 13 of us in total. With beer and red wine flowing freely, and various tapas covering the entire table, a good night was had by all.
Now, it wouldn't be a Christmas Party without Santa, would it. So here he is: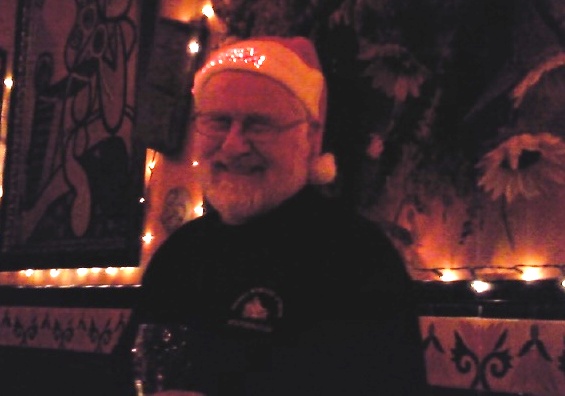 Sorry, Phil, just couldn't resist!
Archives
November 2008 December 2008 January 2009 February 2009 March 2009 April 2009
Subscribe to Posts [Atom]