<
Paul and Tracy's Main Blog
Welcome to Paul and Tracy's main blog. Here you can keep track of what we've been up to, and join us on our adventures.
If you'd like to get in touch, you can either email us - see the links on the "About Us" page, or alternatively post a comment following any of the Blog entries.
Sunday, November 30, 2008
A Winter's Tale...
It's cold outside. Very cold. And in a few minutes, I'm setting off to Edinburgh, where I'm attending a course with work until Thursday. Now I could take the soft, easy option of flying. Only that would mean dealing with the airports, which lost its attraction many years ago - when you fly anywhere with work there's not the wide-eyed excitement you get when travelling somewhere exotic on a trip to help maintain your mood as the airport staff do their level best to suck the life out of you... So, no thanks. Then there's the option of taking the car. Nice and warm, radio on, comfy seats and the drudgery of endless motorway miles with no sense of being outdoors. No thanks. I'll take the bike... which basically means 5 hours of freezing to death, the same endless drudgery of the motorway, my MP3 player instead of the radio, but the sense of being outside on such a beautiful and crisp Winters day.

Just hope my electric jacket still works...

Whilst I'm heading North for the week, Tracy's still working her arm hard. She's now got a range of movement in her arm from approx 50degrees to 100degrees (measured from a staight arm). Which is a damned sight more than she had before, and whilst she's still not quite able to drink from a cup held in her right hand, she is able to touch the back of her head (handy for washing her hair) and even suck her thumb (sometimes I think she's as much a big kid as I am!). She's due to see the consultant next week, and then she'll know for certain what she can expect in the long run - which is probably what she has now.

As for other news, well, Mr Mini Man still hasn't been in touch to say he's managed to raise the funds to allow our "Good Life" to start, so we're going to take the house off the market at the end of the week. Which means that dream will be on hold for a little while longer - probably until after I get back from the Trans Am.

But that's enough doom and gloom for now. I'm off to get wrapped up and set off to Edinburgh whilst the sun is still shining. The ride up should be fun, but the ride back on Thursday evening might be a different story... let's hope it doesn't snow!

Sunday, November 16, 2008
Modern-day Medieval Torture
Since coming home last weekend, Tracy has been very focused on trying to maintain the movement in her arm that the operation has given her. This is not an easy task, made worse by the swelling in her arm, and the layers of bandages covering the wound caused by the operation. As with much phsyiotherapy, she has also been supported by the "occupational therapists" who have made her a couple of splints to help. Now, I should point out that all the occupational therapists we have encountered throughout Tracy's recovery have been relatively young and female. Which is odd, considering their work, which had it been done in Germany between 1939 and 1945, would have qualified them immediately for long leather trenchcoats, small round glasses, a limp and a high rank within the SS. And I thought it was the physiotherapists that were the sadists of the health service...
Let me elucidate. Tracy has 2 splints which have been made by the occupational therapists. She has to wear one of them constantly - it was initially the more comfortable 'straight' splint, but that was obviously too easy, so now it's the much more painful 'bent' one. Every hour she has to remove the splint and either peform her physiotherapy exercises (think going through the motions of a serious binge-drinking session and you'll get the idea) or switch to the other splint for 10-15 minutes or so. Then revert back to the main 'bent' splint.
Now, the word "splint" is probably conjuring up images of a simple strap-on contraption like this: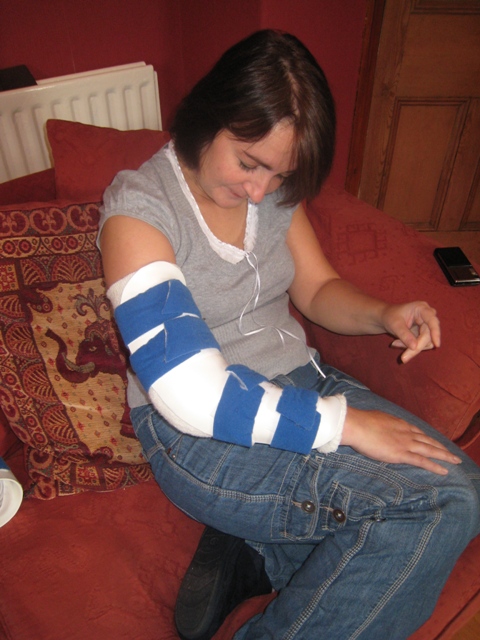 Which is fine, because that's what it looks like. The straight one. Only it's actually still slightly bent as Tracy's arm doesn't quite go straight. Or even as straight as the splint. The straps are there to force her arm to straighten as much as the splint is. Which is a bit like trying to bend your arm backwards. And then hold it in place against a plastic mould.
And that's the easier of the two.
The "bent" splint is actually in 2 parts. An upper part, which cups round her upper arm, and a lower part that cups round her forearm. These are then joined, when her arm is bent, by a strap that attaches to velcro on each part of the splint. The strap is slightly elastic, so the technique, demonstrated by the gestapo (sorry, occupational therapists), is to bend her arm as much as it will go, then some more, and a bit more still, before pulling on the strap (stretching the elastic) and attaching it to the splints (causing her arm to bend a bit more still). She manages to put this on herself, by pushing her arm against a wall cupboard until she's in a lot of pain, before attaching the straps. Or she'll ask me to do it, knowing that as I can't feel her pain, all she has to do is try not to scream too loudly...
Here's a picture of her wearing this fetching piece of modern-day medieval torture equipment: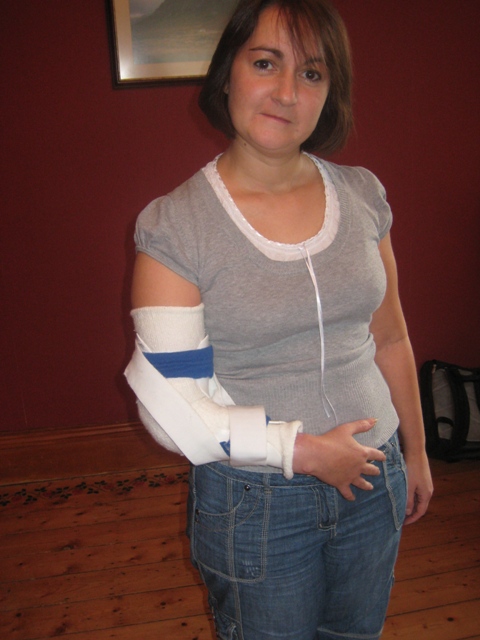 Oh, and she's expected to sleep with the above splint on as well. Which is clearly impossible. She does manage a couple of hours of wearing it, whilst I sleep, though. Last week when she went for the 1st post-operative checkup she had movement from 50-100 degrees. We're hoping she can retain that, and possibly even gain a bit more. She's certainly trying...
Other news...
Apart from the above, we've not much else in the way of news. Mr Yellow-Mini Man, who came to see the house and was so keen, has still not put an offer in (yet). Time is running out, as we're fed-up with waiting and have decided to take the house off the market if we don't get an offer by the end of the month.
Saturday, November 8, 2008
Another night in hospital...
As if Tracy hasn't had enough of hospital, yesterday she went to the Oaklands hospital for the operation on her elbow. We had chosen to exploit the private medical insurance policy I have through work in order to get the operation sooner rather than wait for the NHS. As she'd have been waiting until next June for the consultation with Mr Muir, and then having to wait for x-rays and finally for the operation, getting it done in early November was a much better option...

So yesterday morning we got up early and drove to the Oaklands to arrive at 7am. Tracy had been "nil by mouth" since 9pm the night before, but I managed to grab some breakfast and a cup of tea, which turned out to be just as well... On arrival she was admitted and given her own room, and before long the anaesthetist came and explained what he was going to do (and Tracy warned him of the challenge he would be faced with when trying to find a suitable vein in her arm, after all the use they were put to over the past 15 months!). Then it was Mr Muir's turn to arrive and explain what he was going to do and what he was hoping to achieve. With the consent form signed, we sat and chatted whilst waiting for Tracy's turn in theatre. At 10.20am she was taken down, fetchingly dressed in the classic backless gown and with a pair of anti-thrombisis 'pop socks'... pity I didn't have my camera with me, as this blog is seriously lacking photos!

So I sat in the room and waited, reading my MCN and watching rubbish on daytime TV. After just over 3 hours she was back with me, looking very pale and very drowsy. She has always reacted badly to general anaestethics, and this time was no different, as she was feeling very sick. Mr Muir popped by to see how she was and he was very pleased with the way the operation went, saying that whilst she was out he'd managed to get her hand onto her face! He did say that the movement in the operating theatre was likely to reduce post-op, but it was important that she worked hard on her physio to give herself the best chance.

Shortly after Mr Muir had left, another doctor arrived to give her something for the sickness. And then some pain killers. And then something else for the sickness as it wasn't passing. Then she was sick. So she had some more painkillers and something else for the sickness. And she was sick again. Then the physio came and showed her what she needed to do, which involves bending her arm as much as possible, then some more until it hurts a lot and makes her feel sick. (ok, it was to move it until it won't move any more, but by then it hurts and she feels sick). So she started moving her arm, and I think that took her mind off the sickness. One thing had become clear during all this, though, and that was that she would need to stay in overnight so they could ensure her pain was under control. We had been expecting this, but had also been hoping she would be able to come home, but it wasn't to be. And so at 7pm, I kissed her goodbye and made my way home alone again, calling in at the Chinese just as I had so many times when she was in hope (by now I was starving, having not eaten since breakfast!).

This morning I was back at the hospital at 9am, and Tracy was much more alert, had her colour back and was dressed and keen to come home. She had eaten some breakfast and had a session with the physio, and whilst her upper arm is a bit swollen and sore, she is still working hard to keep bending it, despite the discomfort. We had to wait a little while for her to be discharged, but we soon on our way home again.

And now we're sat at home together, and every few minutes Tracy is bending her arm... the next few days will be critical in determining how successful the operation has been. She has a physio appointment on Monday to get some "day and night" splints made to help, but it's really down to her now. Knowing how hard she worked to get movement back in her right hand, I'm confident it won't be too long before we're able to toast her success, and with her right hand, of course!

Sunday, November 2, 2008
Welcome to our new Blog
As you may have noticed, I've been busy updating our website. I've given it a bit of a restructure as it was starting to look a bit odd, organised around a round-the-world trip that now is not going to happen.
So you can now read all about the TransAm trip I'm undertaking next year, catch up on our past trips, see some updated photos in the Galleries, and read all about what we plan to do to ensure we have "The Good Life"...
If you want to read the old blogs, you can find a link to them on the Past Trips page.
But as the last entry on the previous blog was way back on 28th September, it's about time I brought you up to date on what's been happening in the exciting life we lead...
Globebusters TransAM 2009 Trip Meeting
In my last entry I mentioned that we were about to spend the weekend in Wales with the folk that I'm due to join for the TransAm trip next year. Well, the plan was for me to ride down to Wales on my bike, whilst Tracy followed in her car. Only I came down with a rather painful infection which meant a trip to the doctor on the Friday morning and a dose of anti-biotics. As a result of the discomfort, I opted not to ride and to join Tracy in the car, but at least the anti-biotics didn't say "avoid alcohol" as they so often do. We arrived at the spectacular
Manor Hotel
, Crickhowell in the early evening and soon met up with some familiar faces from the advanced riding day in June. That first evening we had dinner and I introduced Tracy to my fellow travellers, and we enjoyed a few drinks and a good natter.
The Saturday was the meeting proper, when we got to hear all about what we need to do in preparation for the trip itself. This included lots of information on rider preparation - such great tips as "get out and ride" and "learn Spanish" - bike preparation, equipment (including tips on clothing required or the wide variety of conditions we're likely to experience), accident prevention (a scary section, that one, especially when mention was made of the south American truck drivers, who appear to be able to learn from the Slovakians...), freighting the bikes out and back, route and how the trip itself will pan out. Suffice to say there was a lot to take in, but we were given a useful folder full of information, which is just as well as I've probably forgotten most of it by now anyway!
Saturday evening was another opportunity to socialise with our fellow travellers, so we wasted no time in getting to know one another over a glass or two of wine and a few beers. With the next meeting not until next March, when we get to do the BMW Off Road School (the one Tracy and I did last year, so I'm very excited about doing it again!!), we thought we should try and arrange a Christmas meeting. So if you happen to be in Birmingham on Saturday 6th December, and come across a rowdy party all attempting to order Tapas in Spanish, or if you're at the bike show on the same day, then come and say "Hola!"...
The Sunday was a day set aside for any lingering questions we might have, but apart from "got a cure for a hangover?" there didn't seem to be any, so we said our goodbyes and headed for home.
One thing is for sure, though, and that is I'm now more convinced than ever that this trip is going to be fantastic. The people are great, the route looks fantastic, and I simply can't wait...
Other news...Tracy's Arm
As for other news, well, as I mentioned last time, Tracy went to see the orthopaedic consultant, Mr Muir, about her elbow and he said he could operate to try and give her a bit more movement. Since then she's been waiting for the redness to go down, which it now has, and on Friday she went for a pre-operation consultation and all is set for her to have the op this Friday, 7th.
The operation itself is a bit unusual, in that he will go in the back of her elbow and try and free up the tendons that are all tightly packed together to give them a bit more freedom to move. If all goes well, she'll be able to get more bend in her arm, and might then be able to touch her head. The current restriction in movement is such that she can't put her hand on her head, or do things like drink, eat or brush her hair with her right hand. If the op is a success, she'll be able to toast it with a glass of champagne...
One thing that we know won't improve, though, is the lack of rotation in her forearm. That's a fairly major restriction, as it's a movement we all use quite often - just notice how many times you turn your hand from facing down to facing up in a day and you'll see what I mean. It appears that the tendons and muscles that permit that movement are too badly damaged, so she will always be restricted in that regard.
But any chance of improved movement has to be worth trying for, so now all we can do is wait... oh, and hope that she gets rid of the cold she seems to have picked up somehow!
House for Sale
As you may remember, we have also put our house up for sale (for details see
here
). So far we've had a number of people come round to look, but things were not looking too good. Then a fortnight ago we have a chap come round who seemed to really like the house. It fits his requirements perfectly, and we spent a fair bit of time chatting. There's no doubt he's keen, but he needs to sort out some personal issues and ensure he has the finance in place before he's in a position to place an offer.
Best thing we can do now is keep our fingers crossed... you can help too, by crossing yours!
Another Grandchild
Final piece of news is that Danielle is expecting again. Despite reassurances given following the birth of Olivia, and then again after the birth of Alfie, she's decided to have a 3rd child. Whether that's to keep up with her elder sister, Katy (who has Harrison, George and Elizabeth) is anybody's guess. All I know is that both Phil (her partner) and Danielle seem genuinely chuffed, and I'm going to be a grandpa again... 6 grandkids and I'm still only 40-something...
The new one is due in May, so hopefully I'll get to see him or her before I set off on my travels...
...and finally...
I think that just about brings things up to date. Life is as hectic as ever, with work taking up a fair proportion of my time as I try to clear the decks before HBOS is taken over (when I expect there's going to be far too much work for those of us in IT as we try to fathom out how to make 2 disperate sets of systems work together). In addition to work I've enrolled for Spanish lessons - 6 weeks of introductory Spanish to start with - and am struggling to remember any of what I've learnt in the first 2 weeks. Apart from "Dos cerveza, por favor" which I already knew anyway (I never could order just one beer, in any language!).
So, that's it. You're back up to date with events. Have a look round the new site, and let me know what you think. And don't forget to keep popping back, as I'll try to ensure the blog is updated a bit more frequently than it has been of late, especially if things start to move with the house sale... because then things will get
really
interesting!
Archives
November 2008 December 2008 January 2009 February 2009 March 2009 April 2009
Subscribe to Posts [Atom]