Welcome to Paul and Tracy's main blog. Here you can keep track of what we've been up to, and join us on our adventures.
If you'd like to get in touch, you can either email us - see the links on the "About Us" page, or alternatively post a comment following any of the Blog entries.
... not until I go on my trip, but until we reveal some really exciting news! Due to the number of times we've posted on the blog about something that was about to happen, only for us to then have to post that something has got in the way, and now it won't, we've decided to wait until it
has
happened, before we post about it...
So you'll have to wait another week or so to find out what I'm rambling on about!
In the meantime, this week has seen some things happen. First, I went to the US Embassy in London on Wednesday to try and get my visa sorted. Unlike when we normally travel to the US, for the Trans Am I'm unable to use the "visa waiver" programnme - the special arrangement for UK Passport holders that allows them to enter the US without first requiring a visa. This is reliant on having an entry and exit ticket, and then completing the green immigration form on the plane before arriving at US border control. However, with the Trans Am, I'm flying into the US (to San Francisco on 16th July), but not flying out again (as I'll be riding from Alaska into Canada, then back into the US, and finally into Mexico). So I'd need to either by a flight ticket out of the US in order to use the visa waiver programme (which is a bit like cheating, and knowing my luck wouldn't work), or get a visa. Unlike most countries I've visited - and the others on the Trans Am - it's not possible to get a US Visa at the border. It has to be applied for - in person - beforehand, at the US embassy, and requires an interview... So a while ago I booked my appointment and paid the extortionate asking price of $131. They gave me a date of 22nd April, which I thought would be fine, as I'd probably be able to combine it with some work meetings in London and therefore get my travel paid for... and that looked like a good plan, as I had a number of meetings in London the following day... but... I also had a ticket to go and see the Australian Pink Floyd Show in Manchester on the evening of 22nd... So much for that idea, I'd have to pay my own way, and travel down to London and back 2 days in a row...
So on Tuesday (21st), I filled in my visa forms online and printed them off, then put together a folder of evidence to support my application - containing details of the TransAm, invoice for the trip, last 3 months payslips, mortgage details (to prove I have a job and home to return to). On Wednesday, I caught the train to London, and arrived in plenty of time for my 12.30pm appointment. On arriving at Euston I had to check my bags into left luggage, so I could leave my mobile phone and iPod behind (they're not allowed anywhere near the embassy grounds), and then made my way to the Embassy. Fortunately it was a bright sunny day as the queue forms outside the embassy, where they perform a number of checks and provide a clear plastic bag for all your coins, watch and belt before checking your documents and sending you on to security. Only with me, they didn't. It turnerd out my visa application form had printed badly and the bar-code was not of sufficient quality. I was aware of this when I printed it off, but as it had been generated that way, I assumed there was nothing I could do. I was told to go to the pharmacist, where they had a cybercafe and printer - they also do lost luggage and by the number of people that were redirected there probably make more money from embassy rejects that from selling anything - and paid £5 for the privelege of filling in the form again and printing it off (this time it generated OK, so the barcode was good). Back at the queue outside the embassy I took my place again, and this time passed the document check. I then queued up outside the security lodge, and was finally admitted and put through an airport-style scanner. The guy in front of me had a USB key in his posssession and was sent to the chemist. Once past that hurdle I entered the embassy and was given a number and directed to the waiting room, which was a very large room full of people looking very bored. On the TV screens were lists of numbers being seen and the size of the queue - 38 - which didn't seem too bad. However, it quickly started to rise (hitting 92!), and it became evident there were 2 different queues - the first to get to the initial window, from which people were then directed elsewhere, only to then join the second queue which was still handling numbers well below mine... It was going to be a long wait... After about 45 minutes I was called to the first window, where I handed over my application forms, passport and supporting documents, and had my fingerprints taken. I was then given another form (for the courier service should my visa application be approved) and directed round the corner to another window. Here I had my fingerprints checked again (to verify that they had been taken properly) and then told to wait again... which I did, for about 2 hours, before being called to yet another window. This was the application interview proper, and I was asked a few questions - starting with "Mr Beattie, I note you have a British passport, why do you need a visa?" to which I explained I'd be flying in, but leaving by land and so couldn't use the visa waiver programme (which was recorded on the application form anyway). The other questions related to work and home/family (checking that I had a compelling reason to leave the US), and very soon I was given my documents back and then told to give the courier form to the courier counter, as my application had been approved. I was rather pleased about that, and so now I'm just waiting to get my passport back (it's due to be delivered tomorrow), complete with US Visa... Another step closer!!
And with that, it was back to Euston to catch the train back to Manchester ready for the Floyd concert. I tried to get an earlier train (I was booked on the 17.20 which meant I'd only just get back in time to get to the MEN Arena before the concert started), but it would have cost another £56, so didn't bother! The concert itself was very good - I'm not normally a fan of "tribute bands" as I can't help thinking that it's not the "real thing", but they were excellent - they played the entire "The Wall" show, almost note-perfect, and then for an encore played some of our favourite tracks from Wish you Were Here and Dark Side of the Moon. Whilst "The Wall" is not our favourite album, I think Tracy and Helen and Ian enjoyed it. Thanks, Neil for sorting the tickets!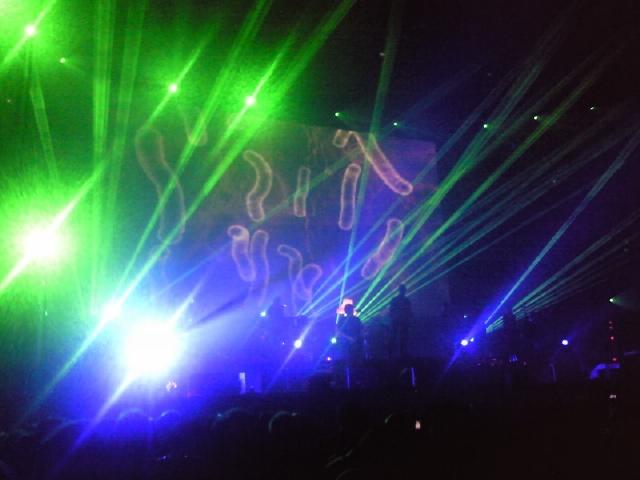 Getting up on Thursday early to catch the train back to London again, with ringing ears, was not exactly enjoyable... and by the time I got home again I was completely shattered. Friday was hard work, although I did make it to the gym before coming home to blow away the cobwebs!
On Saturday I took the Fireblade for its MOT, which it passed with flying colours. However, riding it to the garage was a bit of a shock - having got used to the upright riding position of the GS, the blade's riding position felt like I was holding the front wheel axle rather than the handlebars! And to think I used to ride sportsbikes all the time!
I've been trying to post the story of my recent escape to Europe over Easter, but without any success, so I've added it to the "Past Trips" section
here
. I've also taken the opportunity to capture the blogs from our Far Eastern trip in March and put them on the Past Trips page as well, so if you haven't previously read all about that little adventure, grab a long drink (or several, it does go on a bit!) and enjoy!
There's also a fair bit of other news since the last blog entry, so I'll try and bring you back up to date...
First, the house. As you will recall, we put the house on the market in August last year, just as the market crashed. My timing always was very suspect. But we'd decided we wanted to buy a Smallholding (see "The Good Life"), and it took us until then to get the house into a fit state for sale. Anyway, we only had until Easter to sell, as unless we'd sold by then, Tracy would be faced with the prospect of finding a smallholding and moving whilst I was away on the Trans Am, and I didn't like the prospect of not being able to find her when I got back. So the week before Easter I went into the estate agents to take the house off the market. "You need to give us 14days written notice" I was told. No problem, I'll send an email just as soon as I get home. "Oh, and we've someone who wants to come and see the house". Ah. "And they've just sold with us, so are in a position to buy". Ah. As Tracy and I were going away for the weekend, I arranged for the estate agent to show them round and went home to break the news. And once again, despite our best efforts, we got all excited about the prospect of moving, and all worried about how the hell we would find time to move with everything else that was going on. As it turned out, we needn't have worried. There was an "incident" at the estate agent/bank on Friday and they couldn't get into the office to get the key on Saturday, and so cancelled the visit. And never bothered to re-arrange it. And now the house is officially off the market and not for sale. Until I get back from the Trans Am, by which time we hope the market will pick up, we'll have the compensation money through, and we can move on to the next adventure...
It's also been an eventful time for Tracy. She's been back to see the arm consultant (Mr Muir) and had some electro-conductivity tests performed on her arm. Apparently, it didn't glow, so all's well. Actually, he did say that there was now nothing else he could usefully do to help, and that the movement she now has is as good as it's going to be. She seems happy with that, as it means no more operations (touch-wood), and she's got used to the movement she has and seems to be able to cope very well. Still no news from Mr Ross about her neck, though, and she is still getting some discomfort from time to time (I think that's what she means when she refers to the "pain in her neck").
We've also had some contact from the solicitor, mainly to say that she's still not received the report from the insurance-appointed consultant we went to see before heading off to the Far East at the beginning of March. She has received his report on me, which basically says I'm fine, so she's now progressing with my claim. Hopefully I'll then get back all the money I've had to fork out as a result of the bike being written off. But it's Tracy's report that matters most, and she's still waiting for that...
Finally, Tracy's also had an appointment with the occupational health folk about returning to work, and the great news is they've said she can, albeit on a phased basis over 8 weeks, with no more than 12 hours/week in the first 2 weeks. She's delighted, and all we need now is for her bosses to work the rota out and she'll be back to being a nurse again. And even better, she's had confirmation from the university that she can rejoin the course in September and complete the 2nd year, so that's great news - not least because it'll give her something to think about whilst I'm away ;-)
And so that's it, really. We've just had Tracy's sister and her daughter, Stephanie, over to stay for a couple of nights, which was great (although I think Tracy's a little tired, as Stephanie is a very lively little thing!). They even went to Cadbury World near Birmingham, which must have been quite something - Stephanie certainly seemed to have enjoyed it!