<
Paul and Tracy's Main Blog
Welcome to Paul and Tracy's main blog. Here you can keep track of what we've been up to, and join us on our adventures.
If you'd like to get in touch, you can either email us - see the links on the "About Us" page, or alternatively post a comment following any of the Blog entries.
Monday, May 25, 2009
The Trans-Highlands...
Whoever invented Bank Holidays was clearly a biker, and probably Scottish, as they are just perfect for a short getaway to the Highlands. Last year, I went on a camping trip round Skye (see Past Trips for details). This time, I had an invitation to stay with Chris and Danielle, a couple of fellow Tran-Am riders who live just outside Fort William. And with Nick, another Trans-Am rider also heading up for the weekend, it promised to be well worth the slog up the M6...
So, on Friday I managed to get out of my conference call early and quickly stuffed my overnight gear into my panniers, jumped into my bike gear and kissed Tracy goodbye before heading off to meet Nick at Lancaster services. From there we headed up into Scotland, taking the directions Chris had given us to avoid the Loch Lomond road and go via Stirling and up to Tyndrum where Chris was waiting to escort us to his home. After a quick drink the 3 of us then rode on, via the stunning Rannoch Moor and into Glencoe. Pressing on, we hurtled into Fort William and on to Chris' house, where Danielle was waiting and the wonderful aroma of a venison stew hung in the early evening air... I was going to enjoy this!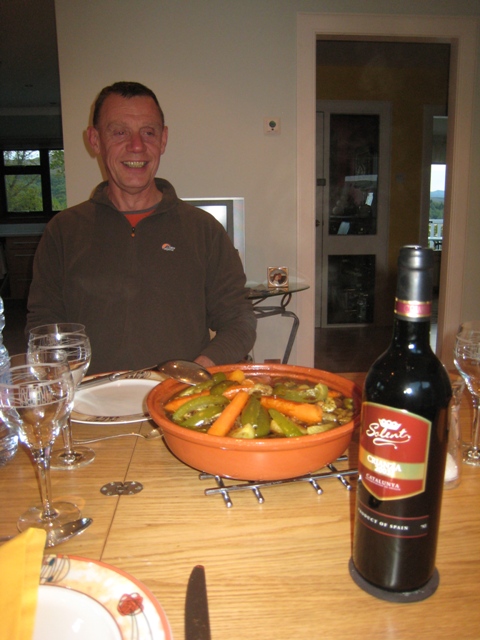 Needless to say the evening was spent chatting about bikes, biking, the Trans Am, and the weather for tomorrow... It's probably a good thing Tracy stayed at home!
Saturday and Sunday were then spent riding all over Scotland, enjoying some fantastic roads and beautiful sights, as the 4 of us got down to the serious business of piling on the miles. Without sitting down with a map, I'd find it very difficult to say where we've been, but suffice to say we did around 600 miles over the 2 days, in all weathers.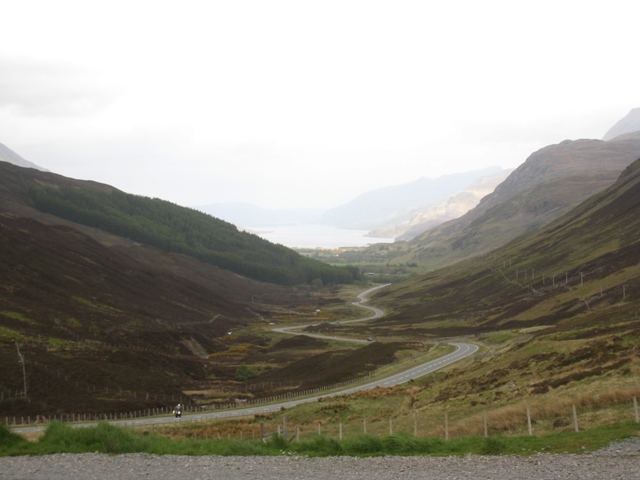 On Sunday evening we were joined by Nigel, yet another Trans Am rider, who had not been able to get away for the full weekend, but was going out riding with Chris & Danielle on Monday, as Nick and I headed home. With 5 of the Trans Am team in one place, it wouldn't take a rocket scientist long to work out the topic of conversation, although we did take a break so Chris & Danielle could give us a guided tour of the superb self-catering holiday park (see
here
). Very impressive it is, situated right on the side of the Loch, and with such superb riding nearby, not to mention the mountains to go walking in, I can see us returning in the not too distant future!
Monday started with rain to accompany our trip South. Saying our goodbyes to our fantastic hosts (great food, great riding, great company) was hard, and wishing Nigel the best for his day's riding in the Highlands made us jealous, but we had to get on home, and so Nick and I headed off into the rain. We got as far as Fort William before we hit a very long convoy of people riding all sorts of bikes, trikes and weird contraptions - all wearing pink waistcoats and with pink mohicans stuck to their helmets. It took us until Glencoe to get past them all!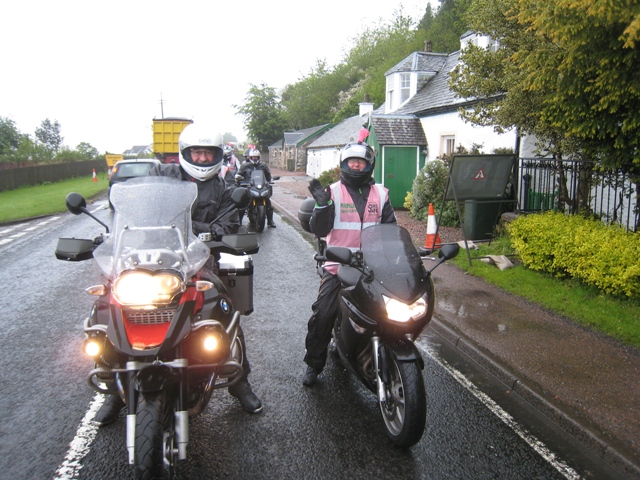 They were all part of a massive charity ride in aid of Breast Cancer and MacMillan Cancer Research - see
www.breastwayround.com
. They certainly made quite a sight,and brightened up what would otherwise have been a very wet ride!
Eventually we passed out of the rain and onto the motorways, and I bid farewell to Nick as I joined the M61 and he continued on the M6. Just an hour later I was home and boring Tracy with tales from the weekend. And now I'm sat here, typing this, and trying to stay awake!
Why can't all weekends be like this?
Monday, May 18, 2009
The Sixth Grandchild!
Wow!
We've just got back from the hospital where Danielle and Phil, the proud parents, showed off Riley Matthew Beattie Clarke, brother to Olivia and Alfie, and our 6th grandchild!
Hopefully that's it for a little while, Grandpa might start getting broody!!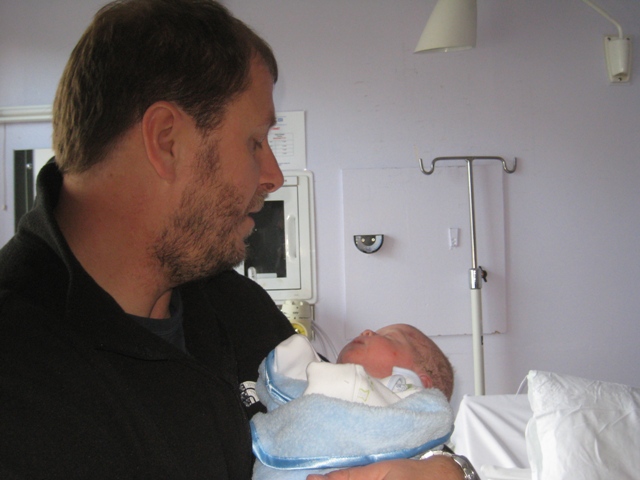 Saturday, May 16, 2009
Grand Prix in a Car Park...
Every now and then we get chance to do something extraordinary, and last weekend was one of those occasions...
First, on Friday, we went to the pictures to see the new Star Trek film. This is part of our ongoing quest to get the most out of the time we have together before the Trans Am, and as we went to see Wolverine the week before with Carlie, we thought we'd become cinema regulars and go again. I used to love the original series of Star Trek, but would hardly call myself a Trekkie (I don't speak Klingon!), and neither would Tracy, but the new film looked good in the trailer. And it's well worth going, as it's really good - and had us laughing out loud on more than one occasion. Simon Pegg as Scotty is a particularly inspired bit of casting, as is Karl Urban who plays Bones (and looks just like a young DeForest Kelley, the original Bones). But enough of the movie buff stuff, on to the weekend...
Saturday we headed to Northwich for the first day of the Thundersprint weekend. Once a year this simple Northern market town is transformed into a "mini Isle of Man TT", but with a much more family oriented flavour. The entire town is taken over by all that's best with the biking world - classic bikes, classic bike races (more of that later), modern bikes, funfairs, face-painting stalls, trade stalls, famous old bike racers, famous modern bike racers and a real carnival atmosphere. The Saturday is much like any other Saturday in the town, except with a classic bike show in the square outside one of the council buildings and a lot more people. We went over in the car and spent a happy couple of hours milling about taking photos and looking at the bikes... here's a selection to whet you appetite...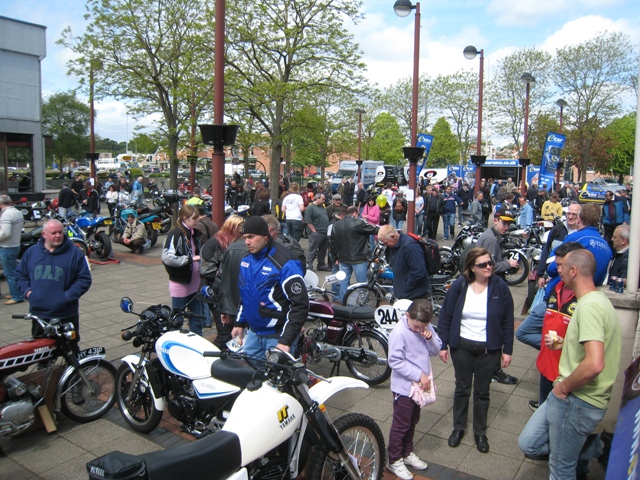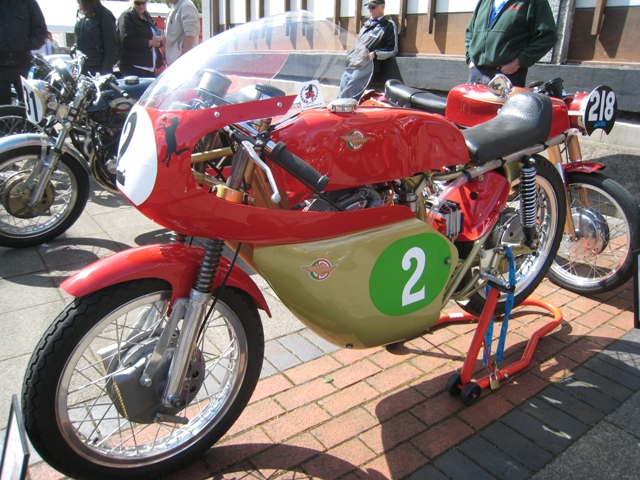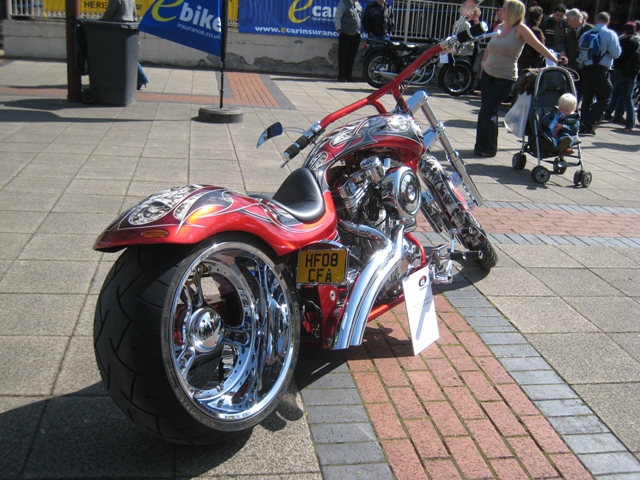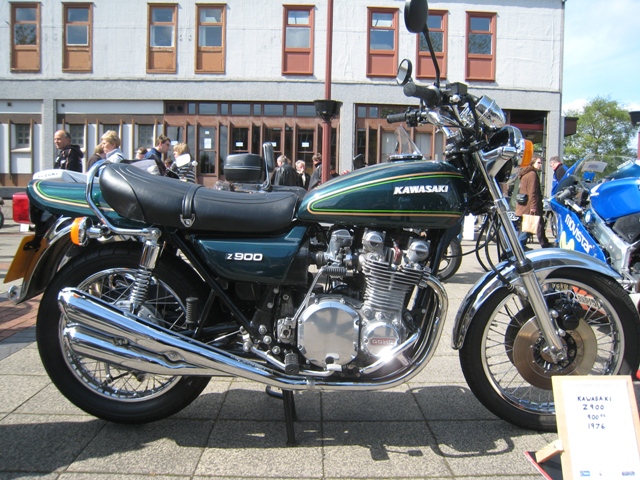 Having ruined all that chrome by drooling all over it, we went for a wander round the town to try and find the "race circuit" that will be used for the main event on Sunday. Now, for those that don't know, the Thundersprint is a sprint race for motorcycles, mostly old classics from pre and post-war. A sprint race is held over a short course, in the case of the Thundersprint some 440m, with riders setting off one at a time, with fastest time winning. Only Northwich doesn't have a race circuit. And draconian UK legislation prevents the closure of public roads for racing (the Isle of Man TT is held under IOM legislation). So they use a car park at the back of Marks and Spencers instead. And on the Saturday, the car park is a car park, full of cars, parked... and it's bumpy with potholes everywhere, except on the "racing line", which starts at one end, heads along one side, through a 90-degree right and down another side before a long sweeping right-hand bend round the top end of the car park, then down the 3rd side straight, into another 90-degree left and back to the start/finish line. They'll have to move the cars first, though...
Having wandered round the town some more and eaten a large fish-and-chips lunch, we headed back home. The following morning I set off on my bike back to Northwich to catch the cavalcade and racing. The cavalcade is held just before the racing starts and is a parade of race and classic bikes down the dual-carriageway that rings the town, with the road being closed for the 15 minutes it takes (and this isn't a race, of course, it's a parade). The sight and sound of around 100 bikes burbling past is quite something and the route is lined on both sides about 5 deep - the town is literally packed full of people, with estimates of 100,000 flooding in for the day. James Toseland, britain's double world superbike champion and current MotoGP rider, lead the convoy, which contained some of the bikes from yesterday, as well as others including 2 bikes from the British Superbike championship and one rather special bike...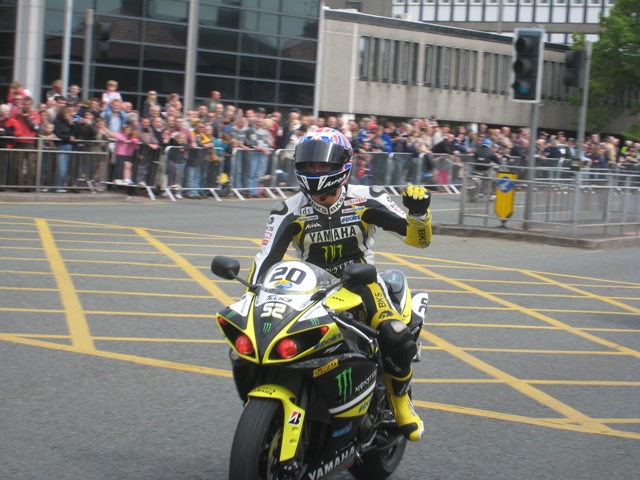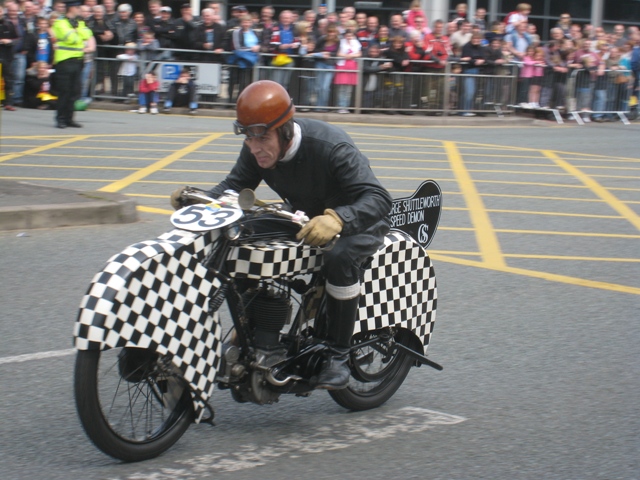 With the convoy over with I wandered over to the "circuit" and was amazed at how the area had been transformed. Where there were rows and rows of cars yesterday, now there was an empty car park, surrounded by wire fencing, with 2 large grandstands, a PA system and commentator's cabin, and the surrounding area had become a fun-fair. I had a wander through the paddock, where the racers and their steeds were relaxing in the sunshine (yes, even the weather was good), checking out the bikes and trying to recognise the riders. I saw a couple of old boys in their leathers and then realised who they were - Jim Redman the multiple world champion and TT winner from the early 60s who's now 78; and Sammy Miller, now 75 - both of whom would be racing round the car park later that afternoon...
Just before the racing started, there was a fly-past by a Spitfire from the Battle of Britain memorial flight, a sight that still stirs the soul of all those present, despite very few being old enough to remember them being used for the purpose for which they were designed.
And then the racing started. I managed to find a place near the front and the sight and sound of an old race bike giving it maximum round this tiny car park was just stunning - check out the video of an old Honda below (but turn the sound up as high as it will go for maximum effect!)...
The second batch of bikes were "personalities and guests" and included James Toseland, some bloke from Coronation Street (who got a bike cheer from the women in the crowd, although I've never heard of him), a journo from Motorcycle News (who did a rolling burnout - spinning the back wheel generating a massive cloud of tyre smoke - all the way round the course). The real star of the event was Toseland, who played to the crowd and finished last with a time of well over a minute, whilst the quickest bike completed the course in just 20 seconds!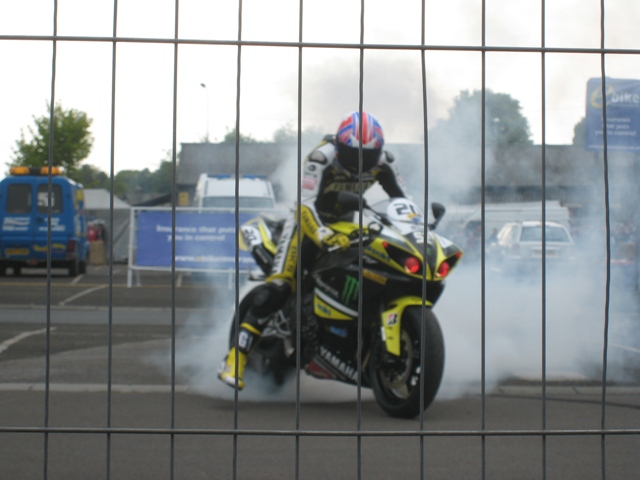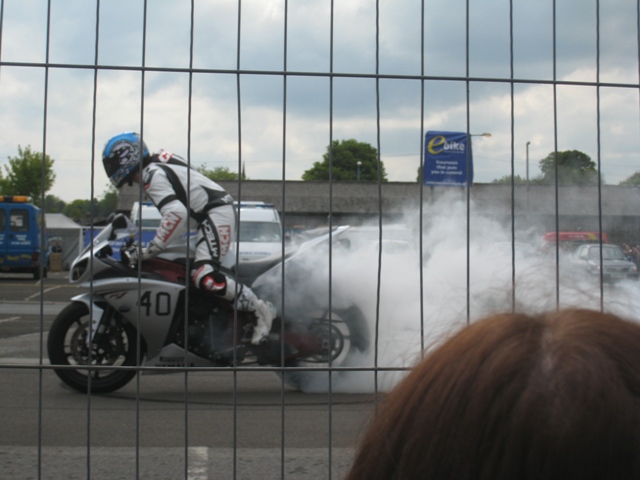 Well worth attending, and it's all completely free!
On Monday evening we continued the excitement, heading to the MEN Arena for the 2nd time in recent weeks, this time to see the Counting Crows. We were a bit concerned that this wouldn't be as good as the last 2 times we'd seen them, as their new album is a bit weird, but we needn't have worried. When they started by saying they wanted to put on a special show, we should have guessed it was going to be just that. Unlike most bands, who try to replicate the sound of their album on stage, the Counting Crows are genuine musicians and improvise (they have to, as Adam Duritz, the lead singer, goes off on tangents all the time!), and the show they put on for us was nothing short of spectacular. They played completely different versions of our favourite songs, with a much more acoustic sound, and left us open-mouthed at their musicianship. If you ever get chance to see them, take it. They're simply spectacular.
The rest of the week didn't quite live up to that excitement, though, with work and a couple of days in London making it seem like a very long week indeed. Yesterday we made it a hat-trick of Fridays at the cinema, as we went to see "Angels and Demons", which was very enjoyable even if, having read the book, we already knew the ending so it had no surprises for us...
A pretty good end to a very enjoyable week!
Monday, May 4, 2009
Worth the wait?
So, you're eagerly checking out the blog to find out the secret news I'd not posted last week for fear of jeopardising it?
Ok, here goes...
Well, Tracy was due to return to work tomorrow (Tuesday). I say "was" because shortly after my post last week, she discovered that she couldn't return to work as planned, because she needed an "ergonomic assessment" and the elfin-safety folk in the NHS take 6 weeks to perform one. And they hadn't even arranged it yet! So much for me jinxing things by
not
posting anything!
She did go into work on Friday, though, and now has a firm return-to-work date of 1st June. And as she's already posted it on Facebook, there should be no problem with me posting it here too. After all the trials and tribulations of her recovery from the accident, at long (very long) last, she's going to return to work, back to being a district nurse, and in September will be returning to complete the degree course she was doing before the accident. Whilst there will be quite a few aspects of the district nurse job she won't be able to do (no heavy lifting, for example), this is a significant sign that life is finally returning to normal for her...
To say she's excited wouldn't be telling the full truth, as she's also a bit scared, having been away from work for such a long time. She'll be returning part-time initially - just 12 hours a week for the first 3 weeks - so that should help, as will all her friends at work, who've been very supporting throughout.
Me? I'm just looking forward to seeing her in her uniform again ;-)
That, and her first pay packet in 2 years!!
As for other news, well, it's been a quiet week, at least outside of work. We took Carlie back to Keele Uni on Saturday, and are still trying to clear her room (she didn't start packing until Saturday morning and left the room in a tip... kids!). I got some new tyres for the Fireblade and took it out for a bit of a run on Sunday, and it's simply fantastic - hard to believe it's 17 years old! Then we went visiting today (Bank Holiday Monday) popping in to see my sister and mum, and then having lunch out for a change.
All in all, a quiet week. At the moment, we'll settle for that, knowing it's going to get a lot more hectic in the coming weeks...
Archives
November 2008 December 2008 January 2009 February 2009 March 2009 April 2009 May 2009
Subscribe to Posts [Atom]