<
Heffy & Marmite's Blog
When Richard and Karen left me with Tracy whilst they went off on the Trans Americas Expedition with Tracy's husband, Paul, they asked me to keep a record of my experiences. So this is it. My Blog. Hope you like it. Heffy xx (Marmite takes over end of July)
Thursday, 30 July 2009
A day with the Dinosaurs
Having read Paul's Blog today and seeing the array of pictures I'm beginning to think that my best efforts are falling way behind.
Only just having joined the Beattie clan, most days seem to melt into another and sadly I don't have tales of fantastic adventures, wonderful sights and stories of antics of others, but I'm doing my best to give you an insight into my world.
With another day dawning and the rain continuing in earnest, it's beginning to feel like Groundhog Day. We've passed the four day threshold and are now in the process of exploring the rest of the house. Both Titch and I sat at the bottom of the stairs today wondering whether or not to venture further, after an awful lot of deliberation we did and was left traumatised beyond belief.
Do you remember that song "half way up the stairs is a stair where I sit"? So we did and watched the comings and goings until we heard a click and a bang and suddenly from nowhere it appeared.... tall and fat and bright purple... you guessed it, it was the Dyson. Titch ran for cover and I followed in hot pursuit only to be confronted with the floor from hell.
The bathroom, (and I'm still trying to fathom out the likes of some humans) has white tiled flooring, freezing to the touch, for us anyway and as slippery as a wet fish. There is no braking, so we both arrived in the bathroom, flew under the bath, out the other side and landed in a heap in the corner, although we did discover that Titch weighs 4lb as she landed on the scales!! Tracy did rescue us, made us sit with her whilst the dyson did its business and Titch sat on the stairs doing her imitation of a shaky spin dryer....
Exhaustion took over and before long we were sound asleep, snuggled up together sleeping on the chair. Tracy had taken the boys to see walking with Dinosaurs at the Manchester Arena, so there was a hive of activity as she and the boys arrived home. We have learnt quickly that this generation never actually stop their constant chatter and noise and yet they are so tiny. Sean was telling Carlie all about it, how the different dinosaurs had come into the Arena, the Raptors hunting for meat, the brachiosaurus looking for vegetation all whilst Huxley, the Palaeontologist gave a fantastic commentary on the life of dinosaurs and how they ruled the land and how they came to be extinct.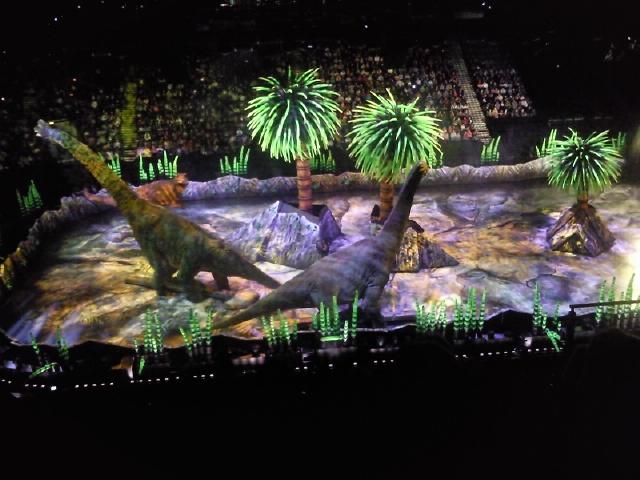 The finale was the T Rex, enormous in size walking around with its young, the mother roaring with power and the baby emitting a tiny squeak, it made the audience laugh. It was a fantastic show, the dinosaurs looked so real and at times it was hard to believe they were not. There is talk of another show too, this time with King Kong. Sean and Konnor said Paul would have loved it, but we all agreed he'd rather being doing his hardened motorcycling trip than watching dinosaurs rule the earth.
Tomorrow, Tracy, Carlie, Sean and Konnor are going to Centre Parcs for the weekend, the boys are going to do all sorts of crazy stuff! Their words. Titch and I are off to spend the weekend with Katie, Brian and Bella. It's going to be very strange returning there again, but Bella is always up for a giggle and we are a little bit older and a lot wiser now, so this weekend could be a whole lot of fun for us.......
Tuesday, 28 July 2009
Wooden floors and Chocolate
For those of you who are behind and have not been reading the Blog, my name is Marmite.
I was a good friend to Heffy, who sadly passed away last week. Tracy took it rather badly and with the encouragement of Katie,Carlie and Paul, (surprisingly) and of course my alluring eyes I moved into the Beattie household on Sunday bring with me my baggage and my sister Titch.
For me the last few days have been about exploring, although we have been confined to the dining room, something to do with making sure we use the litter tray. Ok, so I understand the concept of it all, but hey I'm little, I'm learning and the mistake yesterday... was just that... I was BURSTING and just couldn't get there in time and it was only a little puddle and I tried to tell Tracy before she stood in it, honest I did... I have discovered that due to her mobility problems she is unable to get down near the cooker, so I grabbed Titch and we shot across the floor and sat under there until the coast was clear and the muttering ended... she still loves us though, after all we are so sweet......
So that's how it's been, a bit of sleeping, a mad half an hour here and there, although why these humans have wooden floors is beyond me, do they not realise that as a kitten I am in no way able to stop, instead I spend much of my time flat against the skirting board where I have come to rest after flying across the floor. Tracy or one of the boys will come along pick us up tell us we are silly and we go do it again, ahh, what a life.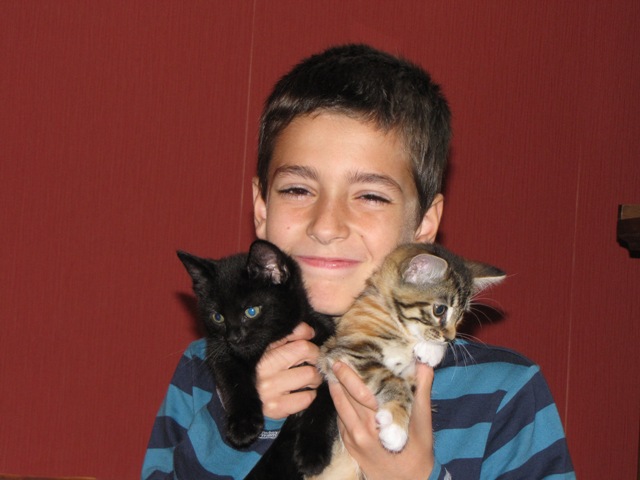 Yesterday was somewhat quieter. Tracy had decided to take Sean and Konnor to Cadbury World in Birmingham, chocolate and young boys is an excellent combination and so bidding us farewell and leaving us in the capable hands of Carlie they left for the day. We behaved ourselves of course, being entertained by Carlie and learning very quickly that you do not jump on the bin in the kitchen... it has a pop up lid and when kitten, Titch! not me this time jumped on it, the lid flew open and she was catapulted over the back and almost wedged down the back of the fridge. Carlie then having the hysterics for the next hour did rescue her and she's now very cautious of it and thankfully no worse for wear.
Tracy returned around 6, looking quite dishevelled, having missed the opportunity to chat with Paul she was not her happiest and I could tell she is really missing having any contact with him. Distance has never been an issue before, but now without the daily text messages and the opportunity to ring it's much harder. The boys chatted about their day, the tour of the factory, a train ride, eating chocolate, a film, eating more chocolate and buying loads of it. Poor Tracy is not a great lover of chocolate but it would seem that given the inside of the fridge they brought back most of it with them.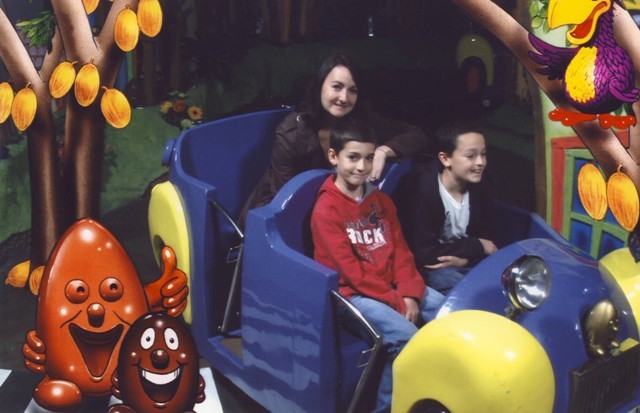 We cuddled up with her on the couch and gave her a hug, I did my bestest Purr to make her happy and I'm really hoping that later in the week we can go explore the house more, there is so much to see and having been good today and used the litter tray I do think she trusts us a little more. The house is a bustle of energy at the moment, With Carlie, the two boys and us all here, come September when it's just us and Tracy then we both think she will really be glad we came to stay, besides, you only have to read the blog to know I have hidden talents and I'm not just a bundle of black fluff........
Sunday, 26 July 2009
Arriving in Brobdingnag
With another wet day thrust upon us, both Titch and I were up early, scaling the heights of the couch way before Katie emerged bleary eyed.. Today we were off to our new home. To begin with, it was to be just me going to live with Tracy, but Titch is my little sister and I help her do lots of things; I take care of her and protect her, so I was doubled over with glee when I heard Katie ask Tracy if she could come too. The decision of yes was not quite as quick as I hoped but after a day she gave in, besides two kittens are no worse than one are they? I knew it would be strange with Heffy not being there, but I was prepared for that and made sure I was incredibly brave.
For those of you who have read Gulliver's Travels you will be aware of the island of Brobdingnag, the land of the giants, and god was I so right in my description..... As Titch and I entered the house there standing in the dining room were two of them, enormous and loud, shrieking this terrible noise and just when we had recovered from this shock another two arrived in the form of Tracy and Carlie bigger than ever. I should point out at this point, as I am hoping to be fed at some point that they were enormous in height compared to me and Titch not in overall size.......
I ran over to Katie, jumped on her leg and called for Titch to join me as these giants all clambered to give us a squeeze and a stroke; humans are so weird at times...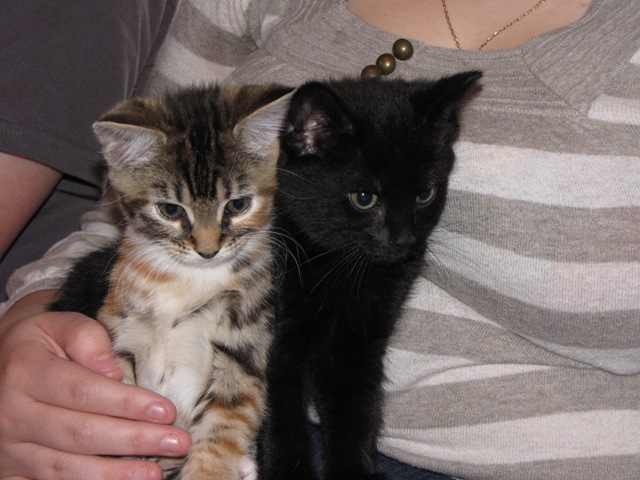 We watched in amazement as the two smaller giants called Sean and Konnor ran around the room with sticks with bells and feathers attached to them, some sort of medieval dance I think, although it did appear that we were meant to chase these objects as a way of entertainment, right!! Katie had already begun to unpack our array of baggage, bowls, food, poop trays, toys, toys, a few more toys and a whole lot more toys until the dining room floor resembled the Krypton factor.
Titch is far more outgoing than me, I'm sure I'll get there but for now I do like to watch her skirting around the room and chasing this bright pink feather on the end of the stick, aren't humans funny creatures, do they chase these too I wonder? Me, I prefer to investigate all the corners of the room, sniffing everything and every now and again, I forget myself and charge after the pink feather...oops!
It's exhausting being a kitten, you're on the go constantly and then you crash into a heap and sleep and dream and sleep some more. I'm so pleased Titch is here with me, she can continue to give me my cuddles and I can continue to be her big sister, protecting her from whatever may be just outside the dining room door........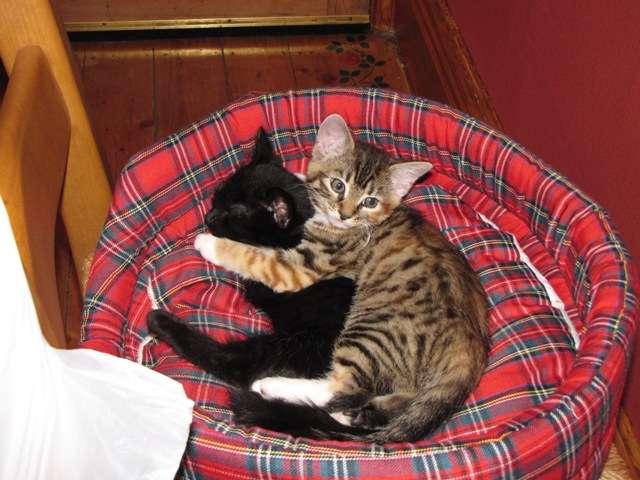 Thursday, 23 July 2009
Sleep well my wonderful friend
Hello People,
My name is Marmite, and I'm the bestest buddy of Heffy. You might be wondering why I am writing and not Heffy? It is with such great sadness that I pass on this news, and even now I feel like crying. After a very short illness Heffy passed away on Monday.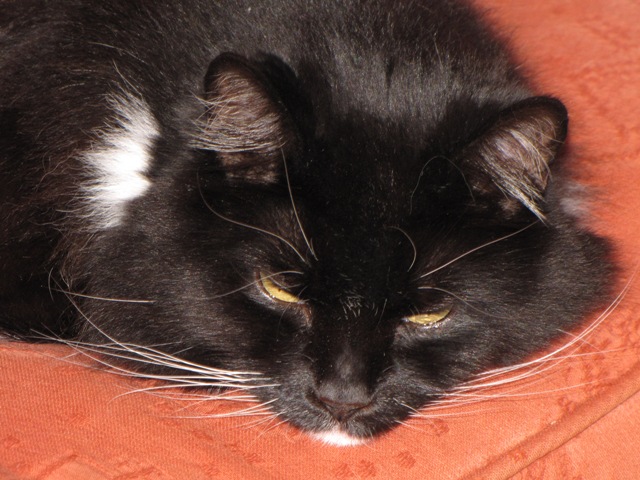 Let me explain.
I first met Heffy a few weeks back when she came to stay with me and my brother and sisters; I was only 5 weeks old at the time, a big ball of fluff and scared of everything. We'd been told that Heffy was coming to stay the night, apparently Tracy and Paul were having party and it was to be a cat free zone, some people are just so rude!!! Anyway, as a tiddler myself I imagined this big monster charging in with scary eyes and big fangs, so I prepared myself with the scariest face possible and then hid 
Heffy emerged from her carrier and she kept on emerging she was huge, well she wasn't really but I was only 8" long so most things are huge to me. She wasn't scary although she did give us all a once over, a quick hiss just so we knew who was boss, then we jumped all over her and she loved it, I knew then she was going to be a brill friend..
With her mum and dad jetting off with Paul she settled into Tracy's house, but Tracy had noticed that she just didn't want to eat, she was eating bits and pieces, sleeping more and as the days went on, she stopped coming to see people and wanted to be by herself. Tracy tried so many things to get her eat, chicken, fish, all the stuff I would love but Heffy just didn't want it, so last Thursday she took her to the vet for a check up. If you have read her recent entry you'll know how she got on. Sunday came and Heffy really wasn't very good, Tracy described it to me in her words:
Last night, (Sunday) Heffy continued to go downhill , she was dragging her right back leg behind her, then her left one too. It was so utterly distressing to watch her trying to move, Carlie would carry her to the litter tray but she would just lay down in it, and trying to get her to eat was no easier.
I continued to do this all day, ringing Katie for advice and just kept willing her to get better. She spent the evening with us in the front room, but just lay under the fire, unable to move, and as the night moved on; I became more and more upset. I just kept asking myself if I had missed something, had she hurt herself and I'd not noticed, it was just awful.
I let her sleep with me last night, I had to have her close to me, so she knew I was trying my best, I got up to try and get her to drink and eat, but she just wasn't bothered. She was not in any pain, never made a sound so it was all so unreal. This morning, (Monday) it was clear she was no better and after a chat with Katie we got an appointment to take her to the vet at. Same vet who had seen her last week and who had treated Spunky too, so that felt reassuring...
They checked her all over, did a pinch test on her paw and she never even flinched, she couldn't stand and I think then I knew I was going to lose her.... Dermot, the vet said he wanted to scan her to see what was going on, as he couldn't feel a pulse in her leg, which of course was worrying. So I waited outside while they did all these tests, shaved her poor tummy and scanned her...
Diagnosis, was that they had found a heart murmur and the main artery was thickened, she had developed a condition called Disseminated intravascular coagulation. This is where there is an abnormality of clotting. The blood having clotted moved along her leg and had formed a kind of dvt in her leg, cutting off the supply. The underlying cause was Pancreatitis and Hepatitis. There was nothing the vet could do, the leg was already very cold and to expect her to carry on like this would have been so selfish...
It was, one of the hardest things I have ever had to do, to make that decision to put her to sleep, was overwhelmingly heartbreaking. Both Katie and I held her, I told her she would be seeing Spunky really soon and he would be looking after her, and as we held her, she took a final look into my eyes and fell asleep. Returning home, without her, and now not seeing her wander about is so hard, I feel lost, guilty and so incredibly sad.
So you can see from this Tracy is now incredibly sad, so I've invited myself to stay with her for a while see how things go, I know I can never replace Spunky or Heffy as they were both courageous and so incredibly brave, and I still pee myself when the Hoover goes on, so I've got a long way to go, but... I can at least let you know how Tracy and I get on Whilst Paul is away and who knows maybe she'll fall in love with me just like she did with Spunky and my best buddy Heffy..... watch this space......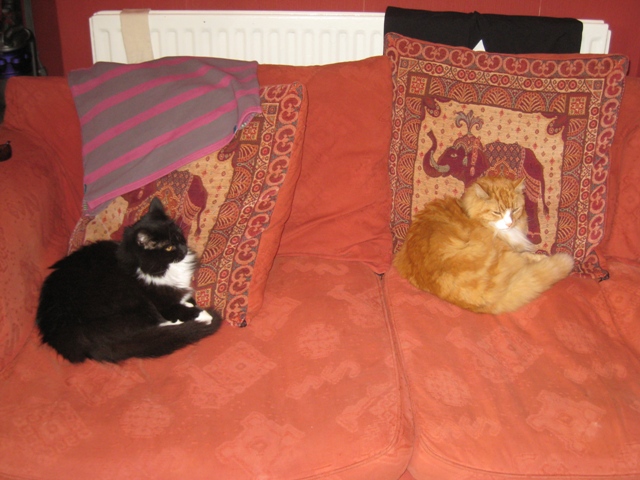 Monday, 20 July 2009
That Darn leg
Nestled on the couch, with Tracy and Carlie tending to my every need and the sun shining down on my fur and warming me gently as I dreamed a thousand dreams Life was at its best.
With Tracy away for the Saturday while she collected her two boys Sean and Konnor, Katie, Brian and Bella came to look after me. I think they just wanted to make sure I was eating, and doing my business in the litter tray and behaving myself really, like I would get up to mischief. They chatted about the new additions to their family, Titch, the Twins and Marmite, seven week old kittens and I have to say they are a great bunch, especially Marmite and Titch, who are my best buddies after I visited a few weeks ago, I'm not usually into other creatures of any shape or form, but she was delightful and I think after 13 years my maternal instincts suddenly kicked in and I just couldn't help but love her...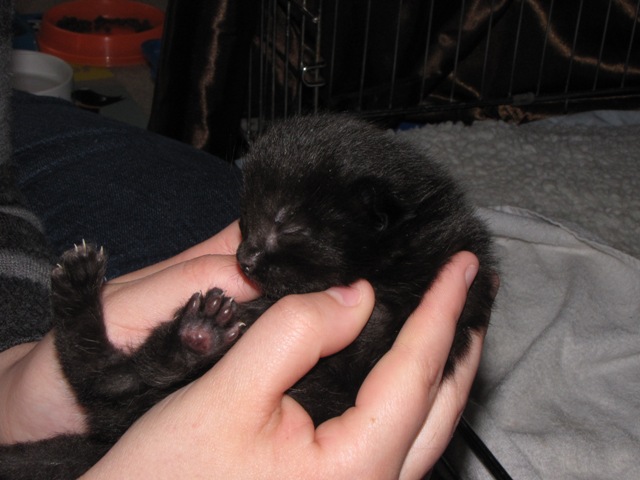 Katie, bless her spent much of Saturday making sure I was eating every two hours, but I'd noticed I had a limp, Tracy was clearly concerned the night before, and Katie now too, but given I never really went anywhere far, it wasn't of great bother to me, I just slept, as you do..... I think I deserved a gold star too as I was I believe exceptionally good at taking my medicine and I know Tracy hates giving it to me, so I dutifully just opened my mouth and swallowed it, how good am I ?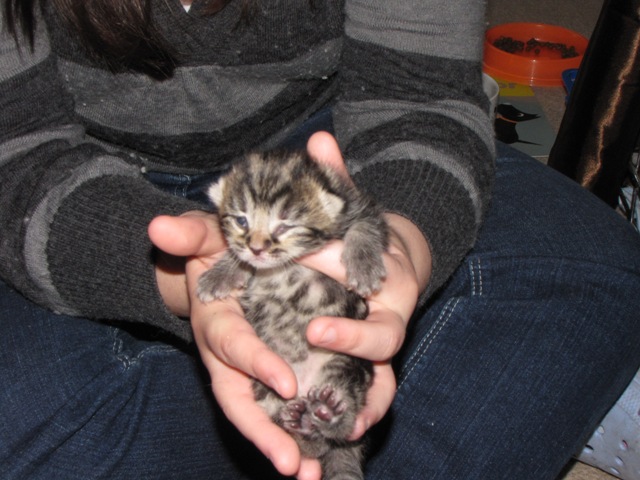 Sunday dawned and chaos descended.... Tracy arrived home with her two boys, now whilst I like people, god are these two noisy, and with no volume control that could switch them off I took to underneath the table quick sharp and just gave them one of those looks, you know how it is, gotta be done at times. My leg was still not good and Tracy bless her really is like an old mother hen, picking me up and cuddling me, telling me how much she loved me and telling me to get better. She warmed my special food from the vet and sat with me on the floor, willing me to eat it, but I just wasn't hungry. I wasn't in any pain at all, just this leg that seemed to have a life of its own or rather a non life and as they day continued into the evening, it became harder for me to walk and I just wanted to sit and watch them all.
Tracy must have rung Katie three times for advise, whilst I listened on happily, ignoring all the requests to eat and with Carlie picking me up and plonking me in the litter tray, I decided to play hard and lie down, I do believe I made them laugh. With night time falling, and Tracy reading Pauls blog to me, their concerned faces looking so sad made me sad too, so I spent the evening in the front room with them all and tried not to get annoyed by all the loud voices emanating from the boys, but boys will be boys.
I think I really worried Tracy, although not intentionally, she took me up to her room and let me sleep on the end of the bed, she lay beside me, telling me about her life, about the accident and how sometimes you need to fight, not just for others but for yourself to have a focus and to walk towards it. As I drifted off to sleep, I heard the words "I love you Heffy, please get better" and then I was back dreaming of mice and birds and sunlight.
Friday, 17 July 2009
The Blue legged Kitty Cat
What a night and day I have had, that only a fellow kitty could appreciate. After arriving at the vets early afternoon yesterday, I was subjected to various tests, the worst being the thermometer!!!
I was hooked up to a drip, which I have to say did make me feel better and then I was put through a rigorous cat MOT. I've had to have two patches of fur shaved off so I now resemble Spunky, with a bald patch under my chin and another on my leg, so my appearance is now under considerable threat.. I had a few blood tests and they discovered I had an infection somewhere, your guess is as good as mine, so I'm now on anti-biotics, something that almost had Tracy falling over on hearing the news, a special diet of biscuits and soft meat and my favourite bit of all, chicken and fish, yummy, yum, yum.....
I had overnight accommodation at the surgery, where I was as good as gold, the other in mates were less than desirable, with their constant howling and meowing, but at least the place was free from swine flu, so not bad for the price..
Tracy has spent all day at work, but she rang in about four times to check up on me, real excited the first couple of times, after that it was just a case of , "what again? How many times does this woman need to ring in" I guess she cares!!!! She came to collect me at six o'clock, I've had my drip removed and I am now wearing a blue bandage on my leg so I don't scratch the site, do they think I am daft? Guess so.. I really don't like it though and it feels completely alien so I have to do a bit of a hop skip walk, Tracy thinks it's funny so it's nice to be able to entertain her...... Simple minds ey?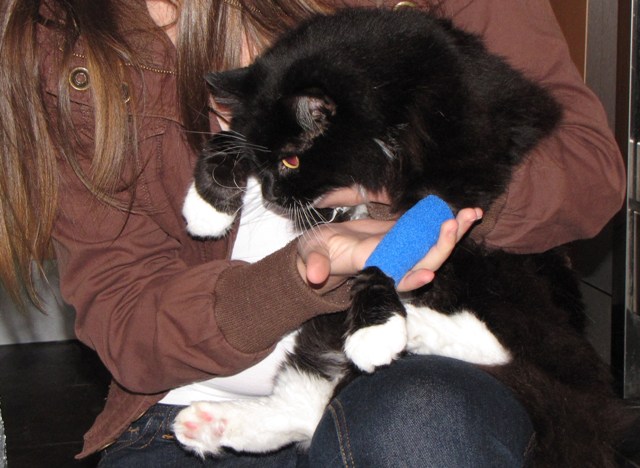 We've had rubbish weather all day, rain, rain and whole lot more rain, so much for the summer.... The printer broke, oh no, change that, printers broke and then the house phone, so Tracy is already busily trying to replace these. You'd think buying a printer would be easy, but I think looking at her concentrating by the computer this may well be a complicated task; I wait with baited breath......
The house is very quiet though, and I sense Tracy misses Paul a lot, but I'm now keeping her busy as she has the added task of trying to get me to take my tablets, and god are my jaws strong, so I'm doing my best to entertain her and see how long it takes before I swallow it, oh the joys of being a kitty.........
Thursday, 16 July 2009
Holding back the tears
While I snoozed and dreamt of mice Tracy and Paul got up at 2:30am in preparation for the journey to the airport.
With Bags packed, there was one last gulp of tea before they left the house and into the night. Driving at night is a wonderful way to relax, with hardly any traffic, the clear black sky with the stars twinkling in the distance it's very hard to get stressed. With a clear road, they arrived at Terminal 2 at Manchester airport just after 3am.
No fuss.... a hug... a kiss... and then he was off, waving as he entered the building with the biggest grin you can imagine and disappearing from view. Tracy, desperately trying to hold back the tears and be strong, she clambered back into the car and drove back home along the same quiet still road in silence..
The front door clicked just after 4am and before long she was back in bed, willing herself to sleep and still trying to absorb the fact that Paul was now away until December... OMG!
I spent a lazy day, as always, sleeping and every now and again trotting downstairs for a bit of food only today, I just didn't feel good.... Tracy arrived home shortly after 2pm looking very tired. A knock on the door sent her shuffling off to answer it, only to be greeted with an enormous bouquet of flowers from my Mum and Dad (Richard and Karen)to cheer her up how cool are they? It made Tracy cry, but I know they were happy tears...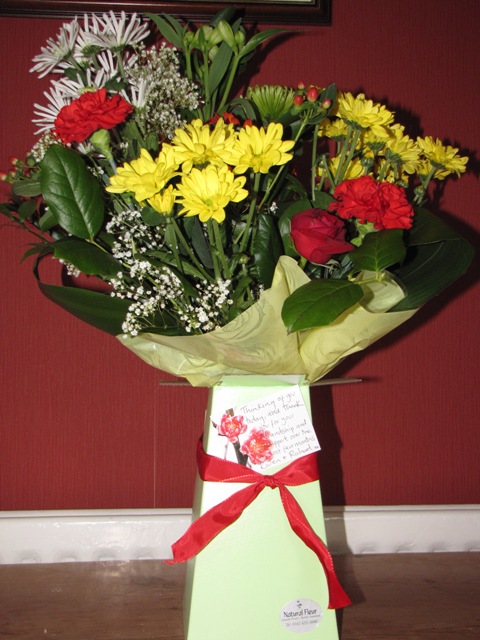 I continued to feel a bit yuk, so Katie came to collect me and she took me off to the vets, what is it with these thermometers? Do they really need to shove them up???
Anyway, they have decided to put me on a drip because I'm being lazy and haven't drunk enough and I've got overnight accommodation so they can keep a beady eye on me, I don't know, can a cat not have any peace?
I'll fill you in tomorrow how I'm doing and what both Tracy and I have got up to....
Purrrrrrrrrrrrrrr
Wednesday, 15 July 2009
There is an element of anxiety today at Rigi Mount, last minute packing being done, trips to the shops and bits and bobs covering just about every table or worktop. With less than 16 hours to go before Paul departs for his Trans Am trip these last few days seem to have flown by.
I think Tracy has finally got used to the idea of Paul being away, but having never been apart for such a long time before it's hard to imagine at the moment just what it's going to be like. Time will tell..
As for me, well I'm just keeping out of the way, they bought me some news biscuits to try, some de hair balling things, quite revolting, and I threw them up on more than one occasion, so I think they have finally got the message, as a new bag arrived this morning, so I'm looking forward to my tea.
This is my first attempt at the blog, I do hope you keep popping in to follow me over the next few months, I'm aiming to be extremely good and of course I'll be keeping my eyes on Tracy and giving all her secrets away too... Her plans are changing yet again as you'll see........ In the meantime, I'll be relaxing in the sun trying to look cool....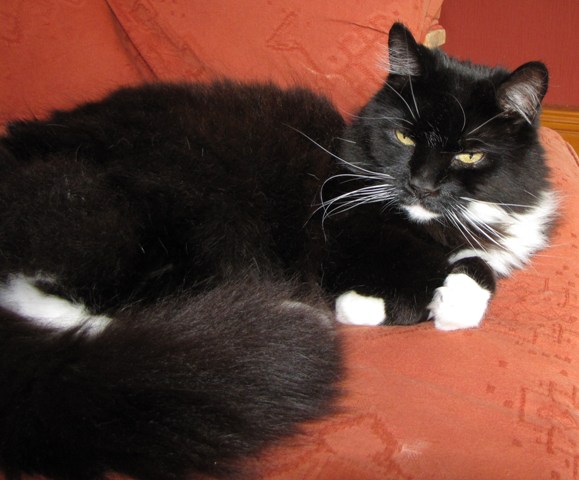 Archives
Subscribe to Posts [Atom]