<
Paul and Tracy's Main Blog
Welcome to Paul and Tracy's main blog. Here you can keep track of what we've been up to, and join us on our adventures.
If you'd like to get in touch, you can either email us - see the links on the "About Us" page, or alternatively post a comment following any of the Blog entries.
Tuesday, June 30, 2009
R.I.P. Spunky
Today is a sad day. Spunky, Richard and Karen's beautiful cat, who over the past few weeks has become an integral member of our family, has had to be put to sleep.
Over the last couple of days his condition had deteriorated significantly, to the point where it was obvious that he was starting to suffer from the liver disease. Richard and Karen made the long journey up north from the Hayling Island near Southampton, and Tracy took them to the vets where Katie works, and where they were able to say goodbye.
Spunky was born in April 1995 and has undoubtedly lived a full and happy life, from when he was rescued from a cat shelter in Eastbourne, by their first foster parents before Richard and Karen volunteered to adopt him and his sister in 1997. They both moved house several times over the last 12 years, before coming to live with us on 6th June in preparation for Richard and Karen doing the Trams Am with Paul. He is survived by his sister, Heffy, who is still living with us.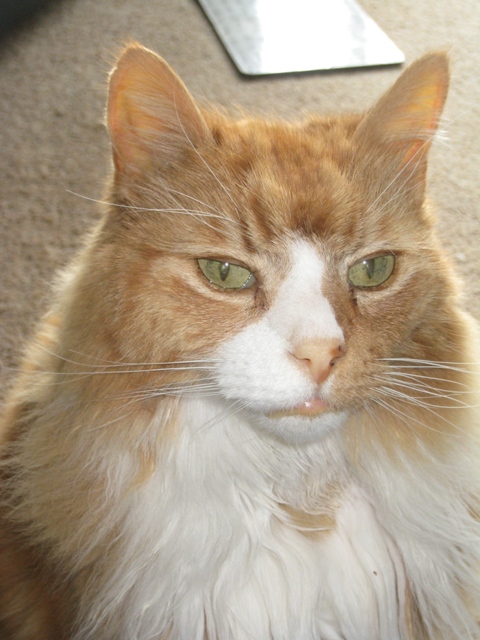 Monday, June 29, 2009
Returning to the scene of the crime...
Two years ago today, Tracy and I went to Blackpool and got married, in the company of 2 old friends. And without telling another living soul (apart from the registrar and her assistant). It was a perfectly executed plan, that avoided all the hassle of trying to organise a wedding and the associated complicated seating plan, whilst achieving the main objective of sealing our commitment to one another. The plan was first hatched back in the February of that year, when Tracy and I were away in the Yorkshire Dales. So to celebrate our 2nd anniversary, we went back, and stayed at the same pub we'd stayed at that fateful weekend, the Tennant Arms at Kilnsey.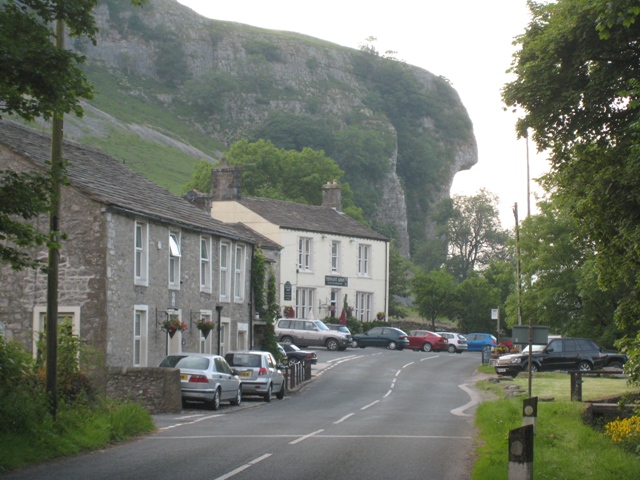 However, it was a case of "you can never go back", as the pub had changed significantly in the 2 years since our last visit. The bar had been opened up, the rooms completely refurbished, the staff changed, etc. Only the location was the same, and the beer, of course. Black sheep on draught, always a good sign. Unfortunately the food had failed to maintain the high standards from our last visit, although it did remain edible...
On Saturday we went out to re-walk the walk we'd taken back in February 2007, only to discover we'd both forgotten which of the walks in our guidebook it was. We remembered a walk that started in Grassington and thought it was the right one, only to realise as we headed into the woods about the village that it wasn't. Still, it was a lovely day, and if it hadn't been for the midges, it would have been a lovely walk. It seems that the Yorkshire Dales are starting to suffer from the same plague that affects Scotland so badly, with the little bastards feasting on both of us with a vengeance. Disappointed that the walk wasn't the one we were seeking, we looked again at the book and found the original walk - it wasn't difficult as there was a picture of the church in the book that we both remembered from the walk. The church is in Arncliffe, just north of Kilnsey. So when we'd finished our walk we headed up to Arncliffe and went in search of a special place... the "kissing gate" where I'd asked Tracy to marry me... and there it was, so naturally we went through it again for old time's sake...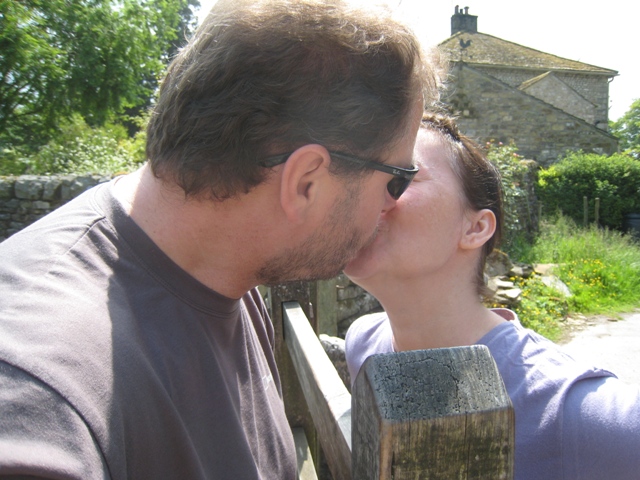 With the trip down memory lane over, we drove around the Dales for a while before heading back to the pub for a well earned beer, and to study the books again to choose a walk for the Sunday...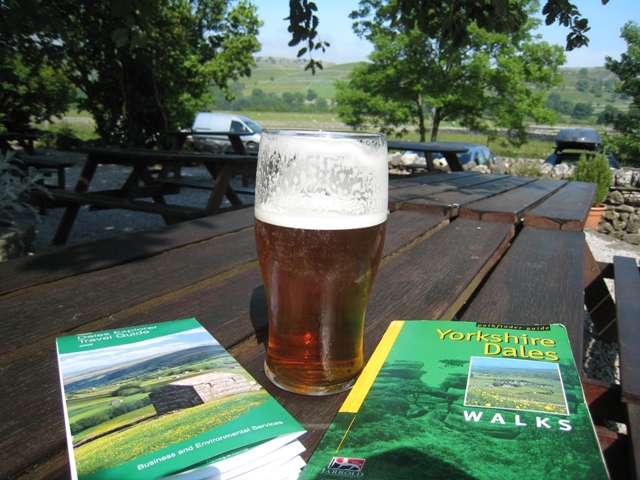 Sunday dawned slightly overcast, cool and perfect for walking. We drove up to Kettlewell and set off on the walk to "Cam Head". Initially this also felt like a walk we'd done before, but soon we realised it was different, as we recalled the walk we did from Kettlewell in February 2007, which took in the hills opposite before dropping down to the church in... Arncliffe!
This new walk started with a fairly steep ascent with spectacular views back to Kettlewell, before topping out and then winding down into the village of Starbotton (and no, that's not a spelling mistake!). Here we popped into the local pub for a quick pint before continuing up the valley and back to the car. It had been a much harder walk than the previous day, but much more rewarding, and with far fewer midges. And the sun had come out at the right moment too, just as we arrived at the pub. Perfect.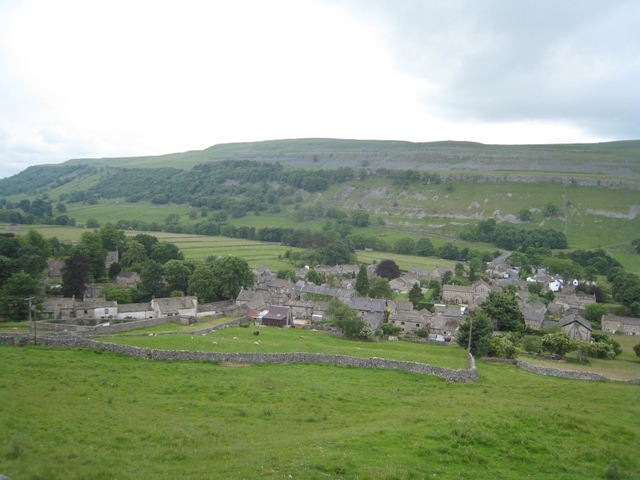 After a much better evening meal (the steak Tracy had on Saturday had more salt on it than the dead sea), we went for a quick stroll before turning in. Monday morning we had breakfast before checking out and heading over to the Black Sheep Brewery's depot to collect the cask of best bitter we've bought for the party at the weekend. before heading home. It had been a great weekend, and so nice to spend some time together before I set off in just over 2 weeks...
Tuesday, June 23, 2009
Spunky by name, spunky by nature...
After all the worrying of last week, Spunky has lived up to his name this week, at least, in relation to his age and health... Like most cats (including his healthy sister, Heffy) he sleeps a lot. But when he's not sleeping he's just as adventurous as ever, and follows us into the kitchen on the off-chance he might get some snacks, meouwing (more mile meuuwing) and rubbing himself up against our legs as he tries (mostly successfully) to get our attention. It was a relief that he maintained this state of alertness through Richard and Karen's visit yesterday, and as a result he's going to be with us for a while longer yet...

Before Richard and Karen came, we escaped for the weekend to visit Tracy's family in Haverhill. I managed to keep myself occupied by attempting to fix Konnor's bicycle, which I eventually did on Sunday morning, in order to avoid lots of goodbyes. I was a little too successful, though, and missed saying goodbye to Kerry, Mark and Stephanie altogether, as I'd popped to the cycle shop when they had to go... So, just for them:

"Goodbye, and see you in December"...

When I finally managed to drag myself away from the bike, it started to dawn on me just how long I am going away for. When you start saying that you'll next see people at Christmas, and it's only June, you know you're about to go away on a very long trip...

Richard and Karen coming yesterday hasn't helped my rising sense of excitement, either, as naturally our conversation centres on the trip itself, even to the extent of checking out some of the route on the maps. It's starting to feel real now!

My preparations are also kicking up a gear - the bike had its final pre-trip service on Friday (a big service as it's now done 24k miles), and Richard brought 2 new shocks for me to fit, as the standard service life for them is 30k miles so they'll need replacing during the trip if I don't change them before we go. With the bike due to be shipped a week on Saturday (4th July) I've still got a few jobs to sort out, and it has to go back to the dealers again as they discovered a slight oil misting from the pillion seal (on the shaft drive) which they replaced last December, but obviously need to do again (and they will, at their cost). I managed to get home from work early-ish today and fitted the shocks, in just 4 hours, so that's one less job to do.

Time really is ticking now, though, and this weekend will be our last weekend of peace before the trip, as the last 2 weekends are set aside for parties!. It's also our 2nd wedding anniversary on Monday, so we're heading off to the Yorkshire Dales to spend some quality time together...

Sunday, June 14, 2009
A tale of two kitties...
This week really has been a tale of two kitties... Spunky and Heffy have been keeping us busy, but for two very different reasons.
First, we think that Heffy's been struggling to adapt to the change of environment, as she's been very shy, hiding under the bed for most of the week, only appearing at meal times. She's also had one or two little accidents, which is very out of character. Guess she's missing Richard and Karen...
Second, though, is Spunky. He's an adorable cat (and that's from a confirmed dog person, me!), comes when shouted and has a very expressive little face, and a lovely little "meow" when he wants feeding. Only he's also not been very well. We knew before he arrived that he was ill, as Richard and Karen had taken him to the vets a couple of weeks ago when he was listless, and he's got a stack of medication to take. Which means that twice a day we have to feed him some tablets and squirt a liquid down his throat. But yesterday (Saturday) he was sick in the morning and off his food. Tracy took him to the vets where Katie works and the prognosis is not good. He was diagnosed in Jersey with a mottled liver, and it seems as though it's beginning to fail. He was given an injection of vitamins and some food to help build him up - that we had to use a syringe to feed him. He perked up a little in the evening, and today has been tired, but seems a lot more like his usual self. Richard and Karen are due to come over again next Monday as they're picking up a classic bike engine Richard's bought from Yorkshire and are dropping off some new shocks for my bike, so we're all hoping he stays well enough to greet them.
In the meantime, we're going to take very good care of them both...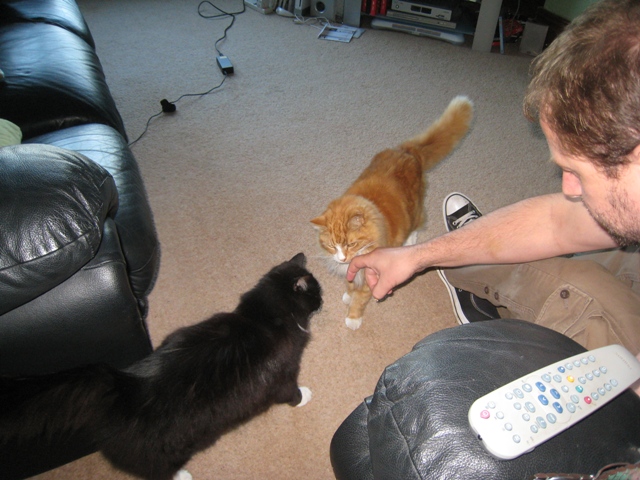 Monday, June 8, 2009
Spunky and Heffy come to town!
Let's get this over with straight away. Spunky and Heffy are not some distant cousins who make their money filming each other in dimly-lit hotel rooms. They're cats. Long-haired domestic cats. Their carers (cats are not like dogs, which have "owners", they are free-spirits, straight from the jungle, ready to turn back into vicious hunters just as soon as they've finished sleeping, relaxing in the sun and generally being chilled), Richard and Karen are riding the Trans Am with me later this year (next month, actually). They currently live in Jersey and have jacked everything in for this "trip of a lifetime". When we met them back in October last year, they said they'd got everything sorted, packing their jobs in, selling their furniture, leaving their rented apartment... but they hadn't found anyone to look after their cats. "I'll look after them" said a slightly inebriated Tracy. And so on Saturday, Spunky and Heffy came to town...
To get them from Jersey to Manchester, Richard and Karen avoided the ferry and long drive and opted for a private plane. Sounded grand. And it would be flying into "Manchester City airport". I volunteered to pick them up, and so headed off to the airport. Which is also known as Barton Aerodrome and is a very small place indeed, where local private pilots offer sightseeing flights in small planes and helicopters. Which take off from one of the grassy runways. All overseen by a control tower that only needed a few good old boys lounging around in flying jackets smoking pipes whilst waiting for the instruction to "SCRAMBLE!" to complete the picture. Oh, and the rain to stop, as it was hissing it down. When I arrived, I went to the control tower to check on their flight. The air traffic controller knew little about it, above having a vague recollection of a possible inbound from Jersey. The rest of the staff knew even less (but I did have a good chat with the young guy who last year went back-packing to Ushuaia, our destination on the Trans Am). But they did tell me it was likely they'd have to close the runway as the grassy field, sorry "runway", tended to get water-logged if it rained (and this is MANCHESTER, remember!!). Then the radio crackled and the air traffic contoller (or some bloke on the 2nd floor of the tower at least) said "they're overhead". Which was a downright lie, as I could see them skimming the tree-tops on the other side of the airfield. There was a quick exchange of jargon about which of the many runways to use, and then the guy in the tower told me I shouldn't watch as the approach was "most unusual". But the pilot knew what he was doing and touched down perfectly. The plane that had brought Richard and Karen and 2 cats and their luggage (Richard and Karen also had a carry-on bag, the cats having used up the entire luggage space on the plane!) all the way from Jersey was no bigger than my car...
A quick half hour later and we were home and trying to entice the cats out of their carry-cases. They quickly settled in, stealing the best spots on the couch as only cats can do...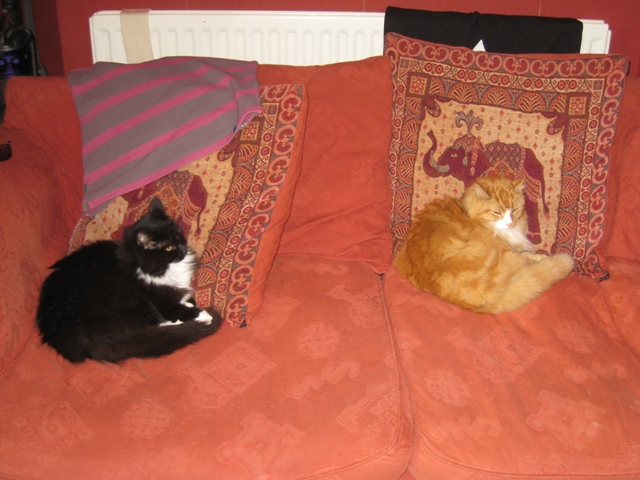 The rest of the weekend was spent relaxing, chatting about cats and motorcycles, and drinking and eating. I even got the chance to subject Richard and Karen to my culinary "expertise", rustling up Thai food on the Saturday and Indian on Sunday. Spunky seemed to settle in much quicker than Heffy, who found her place under Katie's old bed and only made an appearance at feeding time. Spunky, meanwhile, showed off his tiger-like colouring is no fluke, by using Richard's legs as though they were tree-branches and falling asleep in classic tiger pose...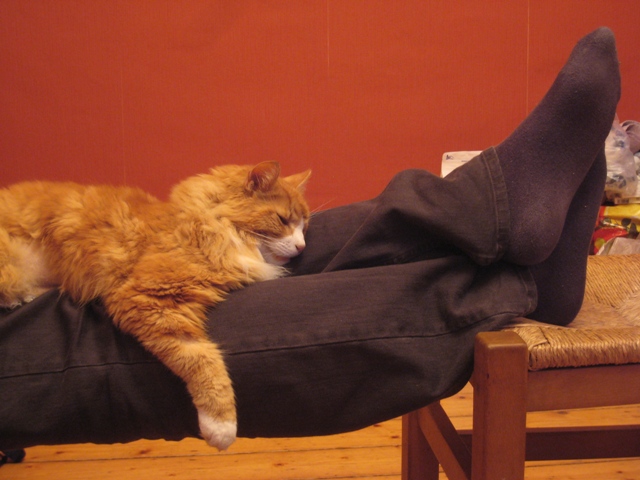 Come Monday and it was time to bid Richard and Karen farewell for a while, and I dropped them off at the real Manchester Airport for their scheduled flight home. Then off to collect Carlie from Uni. So now we have a full house again. And it's actually hard to tell Carlie from the cats. All 3 make an appearance when it's time to be fed and then disappear to relax somewhere. Well, all except Spunky, who's currently sat next to be purring and helping me write the blog...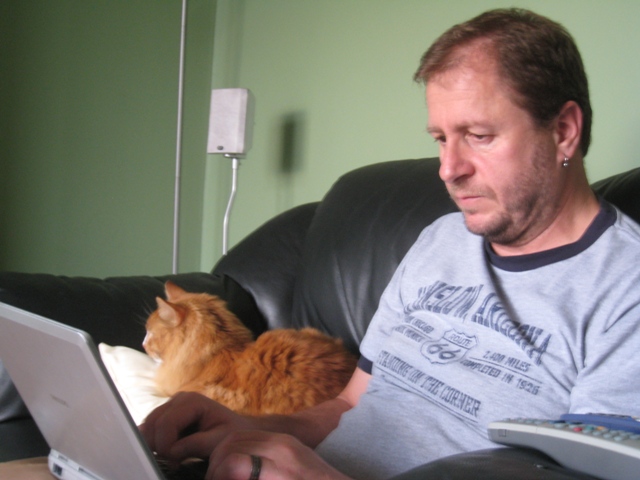 I think we're going to enjoy having Spunky and Heffy stay with us...
Monday, June 1, 2009
Back to Work!!
Normally going to work is hardly a reason to break out the champagne and celebrate, but today is different. Today, Tracy returned to work for the first time in almost 2 years! The last time she was in work she was saying "Goodbye" before we set off on our proposed 4-week motorcycle holiday to Eastern Europe, a trip that ended after just 2 weeks with Tracy spending the next 22 months recovering sufficiently to return to work. And today, she did.

In her own words:

"With the 1st of June being agreed as my return date a month ago, I had, what I thought was plenty of time to get use to the idea of 'going back'. These last four weeks have flown by, the last week spent, finding my uniform and dusty shoes, emptying my bag of all the out of date dressings and medical equipment and really psyching myself up for the impending day...

I had already worked with this team when I first started district nursing way back In May 2006, so I was lucky in that respect - we all knew each other. Having been away from work for so long, as today approached ever nearer my nerves began to kick in and my mind was stuffed full of all the things I might not be able to do, rather than all the things I could do… me being a pessimist again!! Over the past two years, apart from recovering physically, I have had to try to recover emotionally as well and I'm not ashamed to say that it's been the hardest and longest of all things to try and recover from. And I'm still on that path.

As Sunday the day before my return arrived, I spent it constantly thinking how the other members of staff would behave with me, whilst most knew about the accident and my road to recovery few knew of the injuries I had sustained and the disabilities I now had and none had seen me since the accident, when I was a fully paid member of the team. It's quite bizarre really, I wanted them to treat me the same as they had done two years ago, yet I didn't want them to just expect I could do everything...

Monday morning, and with the clock showing 3:05, then 4:17 it was a long night, and a relief when Paul got up just after 6:00 to go to work, though today I had to get up too. I had a routine before, get up just after Paul, shower, dress and then take my breakfast to work and leave about 7:00. This morning, was a bit of a shambles, as Paul now leaves early to go to the gym, I'd lost the routine completely and couldn't remember whether I had time for a cup of tea, how long it took to get to work, and so on. After the fourth trip to the toilet, it was very apparent that I was in fact quite scared, but not actually sure of what… the work, the environment, the people or the patients?

Having taken an hour and twenty minutes to make the journey and with my stomach still flipping about like a tiddly wink, I arrived at the secure car park only to find I couldn't get in as my pass wouldn't work and the security guard didn't know me! Great. I had to wait until another member of staff arrived, smile sweetly and plead to be let in. I could have actually returned home at this point, but didn't, damn!

My old team were all very welcoming, pleased to have me back, patting my back with "oh you're so brave"? … Actually I'm not. I'm shitting myself. That's not brave.

Having been away for so long I'm now being supervised and shadowing others, quite a change to how it was when I was showing them how to do things. I'm happy with that, as I need to build on my skills again and there will be things that I can't do and this is the best way to find out. As the morning progressed the nerves abated and it began to feel better, at times as though I had never been away.

Helpful reminders of challenging patients, who lived in smoke filled flats and bedrooms that reduced you to tears with the pungent aroma of ammonia, soon had me back in the good old days and once again praying for fresh air and a smile. Some things never change....

So now, I'm sat here writing this and thinking "I did it!". I fought to return, nagged them constantly and won, and proved all those doctors who said I would never return to district nursing wrong. Just how bloody stubborn am I!"

I think that just about says it all!

Archives
November 2008 December 2008 January 2009 February 2009 March 2009 April 2009 May 2009 June 2009
Subscribe to Posts [Atom]