<
Just One More Mile - Initial Planning
A diary blog, covering details of the initial planning for our Round The World motorcycle trip in 2008...
05 August 2007
Flyin' High...
What a weekend!
Yesterday we went up to Blackpool to stay with our friends, Pete & Helen, who were also our secret witnesses at our wedding last month. Great to catch up with them, especially as we haven't really seen them much over the past few years (Pete and I were at school together, did our HNCs together and went rallying together in the early 80's). Helen cooked us a superb meal and we sat up until midnight chatting, but the real excitement was saved for today. Pete's passed his private pilot's licence, and as a wedding present had hired a 4-seater plane to take us up in!
Despite the weather forecast which promised weather unsuitable for flying, we woke to clear blue skies and very little wind. Perfect. A quick drive to Blackpool airport and "Pilot Pete" did the pre-flight checks whilst we stood round chatting nervoulsy. The plane was really small, with just enough room for 4 small adults inside. Pity we're not 4 small adults (well, Pete and I aren't anyway!). Once in the plane, with Tracy & Helen in the back, we taxied out onto the runway, with me sat in the front - with strict instructions not to touch anything - and off we went.
Within seconds of lifting off, Tracy had a big grin on her face, as Blackpool dropped gently away behind us...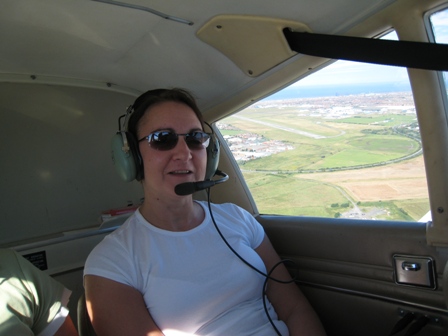 ... and then we headed off towards the Lake District. Unfortunately the weather over the Lakes was overcast and dull, with low-lying cloud so we skirted across Windermere with a fantastic view down the length of the lake, across Morecambe Bay and back towards Blackpool.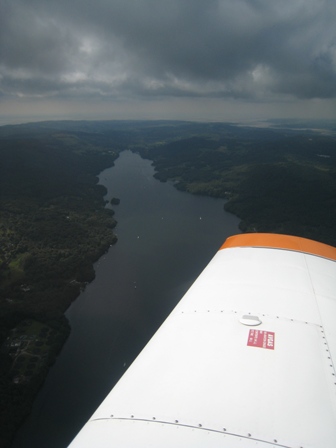 Passing down the coast we got a fantastic view of my mum's house - where I'd been brought up - and the Golden Mile, the 3 piers, tower and the Pleasure Beach, before heading back to the airport and landing safely. Quite an experience, and a truly brilliant wedding present - thanks Pete & Helen!!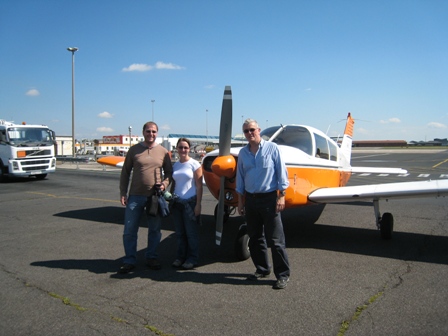 Following that excitement we came home and I did some small jobs on the bike, before we had a barbeque and sat down to watch James Toseland do the double (his first!) at Brands Hatch...
... can't beat a weekend like that!
31 July 2007
My Dirty Weekend...
… married for just a month and I've already had a dirty weekend!
Not the kind that springs to mind first, but the kind that involves big motorcycles, a Welsh forest playground, the wettest summer on record and instruction from a Dakar rally expert… yes, I've just done the
BMW Off-Road Skills
level 1 course… the same one that Tracy did 3 weeks ago, only this one wasn't a "Ladies Only" course (obviously!).
Following Tracy's unfortunate accident when she did the course, we opted to travel down by car – at least that way if I had a similar misfortune we'd be able to get home! Leaving work just after 4pm on Thursday we drove down to South Wales and rocked up at our hotel – the excellent
Castle Coaching Inn
at Trecastle – just after 8pm. Whilst the butterflies in my stomach were starting to make themselves known they didn't prevent us from enjoying a delicious meal in the Inn's restaurant before retiring relatively early to try and get some sleep. Up early and stuffed with an excellent cooked breakfast we set off for the Unit where we met up with the instructors. Tracy dropped me off and left to entertain herself for the day (read about what she got up to on her blog…) and I went and introduced myself. After completing the formalities of filling in the forms, showing my driving licence and getting changed into my off-road gear (complete with KTM-branded trousers…) I was given the key to my steed for the 2 days – a rather large R1200GS in black… it looked like it had already seen a fair amount of action, but started first time and we were off to the playground…
Once there the 4 instructors – Nick, Rob, Chris and Zippy – split the 19 of us into 3 groups… to do this, they asked who had any off-road experience and were met by awkward fumbling as my fellow "non-virgins" and I reluctantly admitted that we'd at least ridden on dirt before… worrying about what we'd let ourselves in for was unfounded, as our instructor for the 2 days, Zippy, quickly put us at ease. In my group were 4 others – Martin (doing the course for the 2nd time with his wife, Jackie, who was in another group), Gaz (also doing the course for the 2nd time) and Don & Dennis (2 mates who take frequent trips abroad). Martin, Gaz and I were on the R1200s with Don & Dennis on identical F650GS.
The first few exercises were all concerned with getting us confident with the bikes – learning to pick them up (I dropped mine as soon as I'd picked it up!), learning about the balance point (which involved walking round the bike whilst holding it up with just 1 finger!), walking the bike, getting on and off, etc… after a short ride round in a big oval to demonstrate our (lack of) clutch control we moved from the muddy area where we started down to a separate area of the park for some braking exercises and more practice at getting the balance and clutch control right. The braking practice was great fun – first locking the back wheel at ~40mph to get used to how useless it is, and how the bike feels when it locks. Then locking the front. Anyone who has ever ridden a motorcycle will know that this is something you never want to do, as it's usually followed by the sound of scraping and searing pain… The exercise involved locking the front whilst pushing the bike by keeping the power on – leading to a sort of muddy "rolling burnout"… I loved it, and despite the smell from my clutch, managed to leave a very long rut across the land we were playing on… cool!
After a few more exercises it was time for a trail ride and then lunch. After lunch we progressed on to riding up and down steep banks including stopping part way, learning how to control the bike and get up and down safely. Some more trails later and then we rode through some deep water – where Llewellyn (Simon Pavey's son) was taking photos – I'll post them as soon as I get a copy. Finally, we learnt about hill recovery (what to do if the bike stalls on a steep incline) and did some more trails before heading back to meet the other groups and return to the unit.
It had been a superb day, and I'd learnt absolutely loads. My confidence in handling the big bike was pretty high, and I'd only dropped the bike twice – once when picking it up (see above) and once during the "hill recovery" exercise, where I went down with it, uninjured, fortunately!
That evening we had the customary meal in the Abercrave, and Tracy joined us as well, so a lot of the meal-time conversation was about travelling by motorbike. We were even joined by Simon Pavey towards the end of the meal, and Tracy got her own back on him for when he phoned her to find out how she was - and accused her of not knowing who he was!
After calling it a night early (well, we did have an extra half-hour's journey to our hotel!) we woke to improving weather for the 2nd day's fun. At the end of the previous day, Zippy told us that we'd done "all the stuff we needed to cover" and so the day would be free for "hooning about", so I knew we had some fun in store!
Once back on the bike and in the playground we wasted no time in heading off on a 'gentle' trail ride, down very muddy and rutted lanes (eh, Gaz!), in glorious sunshine. Simply perfect. The day included some very challenging sections as Zippy continued to build our confidence and stretch us – but never by too much. I've never felt so good for so long when doing something like this. Normally there's a point where my confidence drops and I start to question whether or not I'm capable, before things pick up. Zippy must have got the balance exactly right, as my confidence remained high throughout, even when faced with very steep climbs, slippery descents (having stalled the bike at the top!), very narrow paths, and big, deep puddles.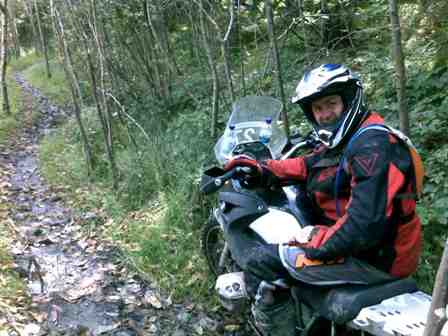 It was a shame when it all came to the end, which was precipitated when Martin's bike gave up the ghost after a particularly slippery downhill section (so much for the reliability of the 1200…). That only cut our course short by about 15 minutes, and it didn't detract from the enjoyment. The lucky sod got to ride Zippy's R1200GS Adventure back to the unit, though – hardly fair when he's the one that broke his bike!!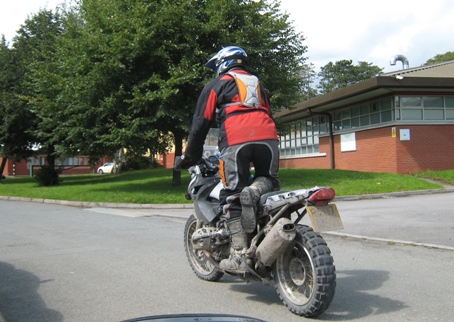 Back at the unit we were all presented with our certificates before saying our goodbyes. The end of 2 days of simply fantastic motorcycling, in superb countryside, with great company and excellent tuition. Well worth the money – give it a go and you won't be disappointed!
Our final night at the Castle Coaching Inn proved the excellent food from the 1st night was no fluke, and we left on Sunday morning having had a great stay.
Now I'm considering getting some knobbly tyres for one of my GSs and finding some green lanes to play on!
24 July 2007
A honeymoon would have been nice...
Boy, do I need a holiday... work has been fairly manic over the past couple of weeks since I returned after the 2 days off following our wedding. Whilst I was in work for 3 days after the last blog entry (returning on the Wednesday after we'd done the rounds, telling our families we'd got hitched...), the following weekend we were off to Wales for Tracy's trip to the BMW off-road school (for details, see her diary). That kept me away from work for the Monday and Tuesday, so that was another 3-day week... so last week was the first 5-day week for a while and it's kept me busy... and then my work laptop crashes today (Tuesday) just as I was working from home and getting somewhere... all work will be lost as they rebuild it tomorrow... not a happy bunny!!
Anyway, enough about that. There have been a couple of developments that might be of interest. First, I've been spending money. All in a good cause, as I found a pair of Touratech Zega panniers for my bike on ebay... just the ones I wanted and I got them for a couple of hundred pounds less than new, so I'm pleased with that. Then I splashed out on a new MP3 player - a solid state one with capacity for additional memory cards as my iPod keeps crashing due to vibrations on the bike. Am now loading as much of my music onto it as possible (it's got 8Gb of space so I should get a reasonable amount on there). I've also bought a power lead so I can wire up the bike-to-bike radio on my bike, allowing us to try them when we head off round Eastern Europe in a couple of week's time. These radios are supposed to be much better than the cheap ones we've used previously, but as always, I'll reserve judgement until we've seen how we get on... and at the weekend I bought some new tyres for my bike, ready for the trip...Finally, we bought a set of adjustable levers (brake & clutch) for Tracy's bike, as her delicate hands (!) are too small to reach the standard ones comfortably - just need to find time to get in the garage and start fitting all this stuff now!
So now we'd better curb the spending again as we need to get focused on our savings!
On Saturday my family had arranged a bit of a party at my sister's house, so we popped over - forced to take the car as Tracy's foot is still too swollen and painful for shoes, never mind bike boots. At least that made it easier to transport the remains of our wedding cake over to share with them! When we arrived the house was festooned with "Just Married" banners and balloons, apparently for us (Nikki and John are resisting the urge...) - and the house was full of kids - mostly my grandchildren, I think! The bouncy-castle in the front garden was a neat touch, even in the rain, as wet children filled the air with shrieks of laughter, whilst inside the adults made polite conversation and began trying to make a dent in all the booze Nikki and John had laid on (including several bottles of champers that deserved a better toast than I gave!). All of this was of no interest to my 2 youngest grandchildren, George and Alf(ie) (Danielle insists I should call him Alfie, but I prefer 'Alf') - who were engrossed in playing with the toys brought from my elder sister Kim's house (she's a full-time childminder and part-time saint)...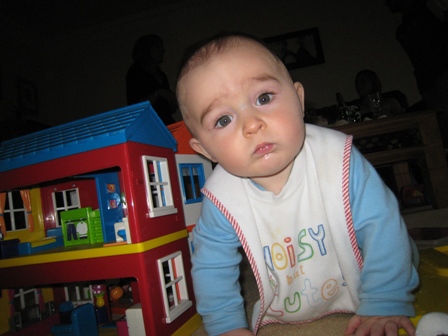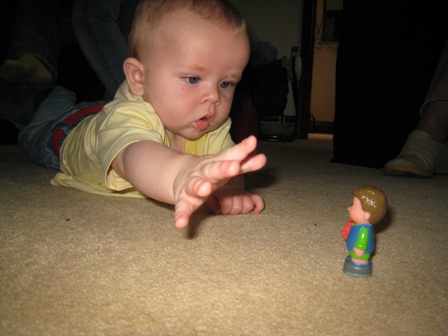 It was really nice to see all my family together in one place, and to watch my mum's face as she presided over 4 generations of the Beattie clan (me and my 3 siblings; our 7 children and my 4 grand-children [yes, I'm the only grand-parent so far!]).
It had been our intention to camp in Nikki's garden to give the tent an airing, but as her daughters and their friends we camping out, in a tent the size of my house, we took the opportunity to grab a spare bed inside... the heavy rain having nothing to do with our decision, of course!
And so after that hectic weekend, we look forward to another one. This Thursday we head down to Wales again, as I'm booked on the BMW Off-Road School course on Friday and Saturday... just hope I have better luck than Tracy, especially as we're off on our holidays just a week and a half later!!
03 July 2007
Wedding Daze!!
Well, after almost 6 years together, Tracy and I tied the knot on Friday… without telling hardly a soul…
It's come as quite a shock to both our families as we've both said in the past that we would never remarry (we've both been married before), and that we saw no reason for marriage as we have both had children and don't want any more… However, like so many of our plans, things change. Over the past few years we've been through a lot together, and wanted to make a firm commitment to our future, so we formed a new plan… desperate to avoid the usual problems that a wedding causes (not least the expense) and recognising that I would probably miss David too much if we did go for the big wedding, we quickly decided to do it quietly… so quietly that Tracy didn't tell anyone even after I formally asked her whilst we were passing through a "kissing gate" during a walk in the Yorkshire Dales way back in February (a fact that didn't even make our blogs…).
Our plan was simple, and for once we managed to carry it off perfectly. We'd already arranged to host a Thai Banquet for our friends on Saturday 30th June – to mark the "one year until we set off on our Round the World Trip point" , and so getting married on the Friday – the actual date of our departure – seemed ideal. The banquet invitations were sent out with the deliberate mistake of inviting our friends to attend the "Zero Anniversary Banquet" but no-one spotted the connection… then we had to choose some witnesses, and pick where we wanted to get married. As I'm from the Blackpool area, we decided upon the registry office there, and picked my old mate Pete and his wife as our witnesses – ideal as they don't know my friends from home – and it gave us a great excuse to get back in touch as I'd not seen them for a couple of years. With them signed up and sworn to secrecy, and the registry office booked, our focus turned to domestic arrangements. Clearly we needed to get Katie and Carlie (and the dog, Jake) away from the house so we could get ready and hitched without them being suspicious… so, using the excuse of the banquet, we packed them off to Tracy's mum & dad's for the week, and put the dog in the kennels. How nice to have the house all to ourselves again!
Come the big day we got up and I set off for Blackpool on my bike, with Tracy driving up and we all met up at the registry office. The ceremony was a bit odd – just Pete, Helen, Tracy and me together with the registrar and her assistant. The registrar even started the ceremony without any warning, and it all passed very quickly, even with us having written our own vows. We took some pictures of us faking signing the register (having already signed it and being pronounced husband and wife), and then we rode/drove to the De Vere Hotel to take some photos against a more picturesque backdrop than the registry office car park – lounging on the bike, naturally!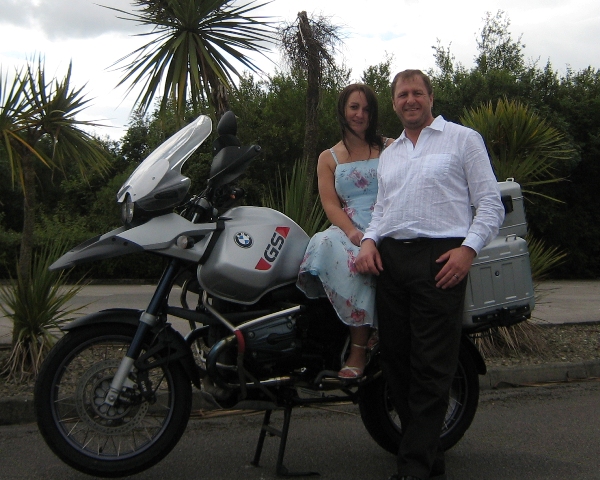 Having had a drink with Pete & Helen we then returned home – a really odd feeling with me riding my bike and Tracy driving her car – and once back in our empty home we were able to relax with a bottle of champagne, followed by a really good steak washed down with a bottle of good wine from the cellar (despite having to throw away the first choice which was sadly corked).
Saturday was an early start as we had to prepare the food for the evening's banquet. We'd already made the spicy sausage on Monday evening, and the curry paste for the duck dish on Tuesday, but it still took us over 7 hours to prepare the remaining ingredients - with a menu comprising 5 starters (spicy sausage, son-in-law eggs, pork & noodle parcels, spicy ground chicken and steamed scallops with garlic), a soup dish (crab and asparagus) and 4 main courses (red duck curry with pickled ginger, jungle curry with deep-fried shallots, wok-fried beef with long beans and chilli, and chicken noodles with basil leaves) – it was a marathon session! We still managed to get an hour's break to watch Rossi win the Assen Moto GP race, though!
Our guests started arriving just before the allotted time, with Colin and Helen turning up 25 mins early, which served us right for making the point of asking everyone to turn up promptly! As they (like everyone else) didn't know about the wedding we had to keep them occupied until everyone else arrived… no easy task as our wedding rings were on display, and we had "Just Married" written in big fridge-magnet letters on the fridge! Soon our other guests arrived, Helen, Ian, Wendy, Andy and Sam and I got the champagne from the fridge before setting them the challenge of spotting what was different… it took a while before Helen spotted the wedding rings, then someone asked if I'd got married (I replied "Yes", naturally) and then someone else asked Tracy if she'd got married too!! (She replied "Yes, to him…").
The rest of the evening ran smoothly, and the food was appreciated, which was nice (although I personally thought I'd made the jungle curry too hot and the duck was too rich). We even had a "cutting the cake" ceremony in our front room!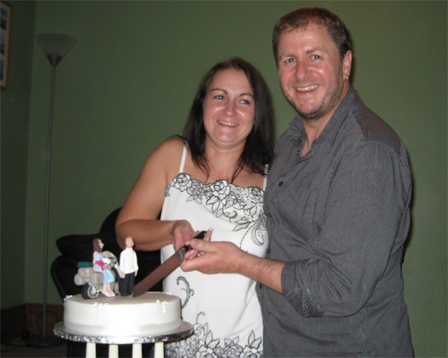 When they finally all left around 3am, we were left in no doubt that they all wished us well with our marriage!
Sunday was to be the day we told my family, but as Laura had been called in to work from 10am – 4pm, we decided to head over to Blackpool to tell my mum and sisters before going to see my kids… first I took the pannier rails off the bike so I could swap over to the standard GS ready for our forthcoming weekends away, then contacted Nikki to arrange the swap – only to be told they were planning on going out for the day… with no time to loose we rushed off on the bike in the rain and arrived at Nikki's just in time to catch them… and then kept them talking for a good 15 minutes before revealing our news! Suitably surprised, we left them to go out and rode over to my mum's – now on the GS having left the Adventure tucked away safely in Nikki's garage. Mum was naturally surprised to see us, but we didn't keep her waiting and told her about the wedding – she was absolutely thrilled, which helped calm our nerves a bit. After a short stay we headed to my other sister Kim's house and told her the news, before heading all the way back towards home and then over to Halifax to call in to see Laura and Chris… only they were not in!! So much for surprising them…
Somewhat unhappy that our plans had been thwarted we headed over to Danielle's house on the other side of town, and saw Chris' car outside… 2 birds with one stone… and so we told them our news – at first they could not believe that we'd got married without telling them first, but when we explained our reasons to them, they understood. And so, leaving them still in shock we popped over to Katy's and gave her and Stewart a surprise – their reaction was instantaneous and congratulations flowed straight away (Katy said she wasn't surprised that I'd get married without telling anyone as that's "just the sort of thing" I'd do… guess she knows me pretty well!!).
We finally got home quite late and I rustled up a chicken fried rice to help quell our hunger before we collapsed in front of the TV before retiring for the night, worn out… but with still more to do the following day…
On Monday, Tracy had arranged to go down to her mum and dad's to pick up the girls, not telling them that I'd also be accompanying her. The drive down to Haverhill was not only long but also not very enjoyable as it was still raining very hard and there were sections of the A1 and M11 that had long stretches of deep standing water making the car aquaplane – but at least we'd not decided to go by bike!
For the story of how we told Tracy's family, see her diary…
And so now we're back home again, things are settling back to normal, but I've a ring on my finger and my wife is sat typing on her laptop not far away…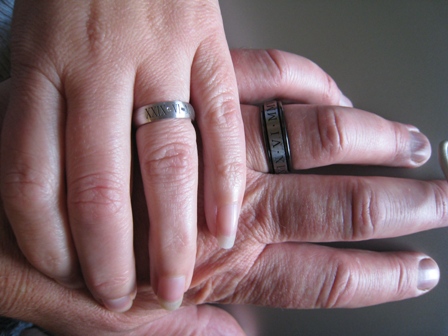 28 June 2007
Palmersport race day...
Today has been a really superb day!!
Courtesy of Hewlett-Packard's Financial Services section, I was invited to attend a day at Jonathan Palmer's PalmerSport corporate event (www.palmersport.com). At Bedford Aerodrome, home of Palmersport, we got to drive a variety of cars at ridiculous speeds on 4 different racetracks. Starting with Renault Clio Cup racer, then a Porsche 911 JP3, Jaguar XKR, Caterham 7 Superlight, Formula Palmer Audi single seater, Land Rover Defender, Kart and finally the Palmer Jaguar JP1 Le Mans style racecar, it was quite a stunning day – and fortunately it stayed dry!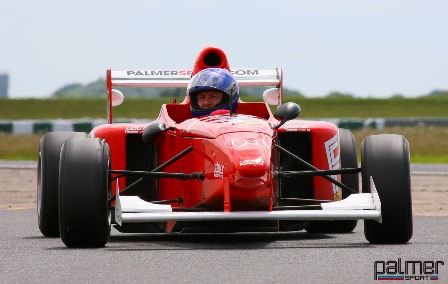 The organisation was superb, and with great instructors on hand to ensure we drove quicker and braked later than we ever thought possible I drove better and better as the day went on, finally winning a trophy for my time in the JP1 at the end of the day – a car that was simply stunning in the high-speed corners and amazing through the tight chicanes…
The only down-side from the whole day was the rather tedious and very long journey home, which was made much worse due to a long tailback just south of Sandbach services – meaning it took me over 5 hrs to get home…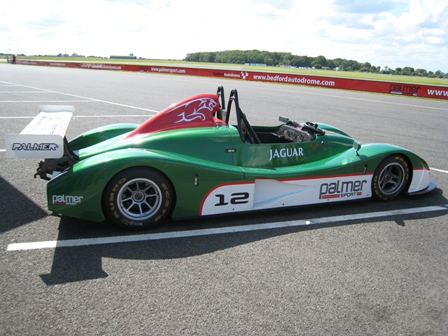 25 June 2007
British Motorcycle Grand Prix...
Once again we have changed our well-made plans at the last minute. This weekend we were supposed to be attending the HorizonsUnlimited meeting near Derby, but due to work pressures I was not able to get the Friday off work, and so we would not have arrived in time for the bits of the weekend we were really looking forward to. As this weekend was also the British Motorcycle GP – an event I've been to for every year since 1992 – we made a last-minute decision to switch plans and head for Donington instead. Once again we camped at Shardlow Marina, which is a couple of miles from the circuit, arriving around 9pm on Friday evening and pitching the new tent before heading off to the local Indian restaurant for a curry… and damn good it was too, so good we asked for a "doggy-bag" to take the remains of the curries back with us for lunch on Saturday!

Saturday was dry but overcast, and we headed for the circuit having settled our camping bills, watching the practice and qualifying sessions and wandering round the stalls. My search for a new helmet was fruitless so we returned to the campsite having not spent too much money (for a change!). After a few beers sat outside the pub next to the campsite we wandered down the road to the Clock Warehouse for a bottle of wine and some food.

Sunday dawned damp as we woke early and headed directly to the circuit arriving just as they were opening the gates around 6.30am. We headed directly for our traditional viewing spot on the infield close to Starkey's Bridge and pitched the little "fisherman's tent" just in time before the rain came. Tucked up inside we were out of the rain and could sleep until the action started – whilst the circuit filled up with 85,000 other spectators… The day's racing was as spectacular as ever, despite the rain, and the disappointment at nor seeing another Rossi victory…

As soon as the 125cc race was over (the last of the day) we headed back to the marina and packed up the tent before heading home under heavy skies and with rain starting to fall…

17 June 2007
Father's Day...
The past couple of weeks have not been very exciting, as we've been sorting out various jobs around the house. First was the bathroom ceiling, which had shed most of the paint on it due to condensation problems, so I fitted a fan above the shower and we applied numerous coats of new paint. Then we had arranged for our roof to be replaced as it has leaked for the last few winters. No sooner had the scaffolders erected the scaffolding and the roofer removed the tiles than the heavens opened and it's not really stopped raining since… needless to say we now have water damage in 2 bedrooms and still don't have our roof back…
But Sunday 17th June will go down in my personal history as a really special day. My daughters – all 3 of them – got together and arranged for a meal for me at Katy's house. So we spent a very happy day with them, their partners and of course, my grand-children – Olivia, Harrison, George and Alfie (with No.5 showing as a large bump in front of Katy!). With a small inflatable bouncy castle in Harrison's bedroom making for happy toddlers and great food making for happy adults, it was a brilliant day – as the photo below shows!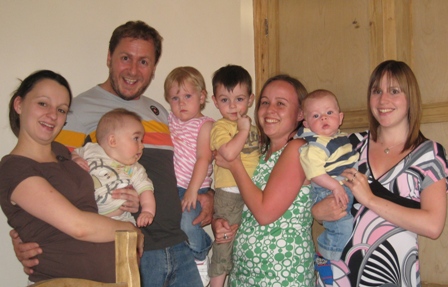 28 May 2007
A week in Orlando...
… but unfortunately not on holiday!

This week I've been mostly sitting in large conference rooms at the Orlando World Center Marriott hotel resort, whilst attending IBM's Impact 2007 conference. I won't bore you with any details of the sessions, although it was, for a change, an interesting conference and one that has been quite intellectually challenging. We (I was attending with a colleague from work) have been eating exceptionally well, and joined our fellow conference attendees on a trip to Universal Studio's theme pack on the Wednesday evening, which was great fun as the park was closed to the public at 8pm and we had a couple of hours to sample the various rides… and without queues we made the most of it all…

But the best bit of the trip for me was arranging for a new tent – a Hilleberg Nallo 3 GT – to be delivered to the hotel, saving me well over £100 on the UK price… so now Tracy and I have our future "home" all sorted!!

14 May 2007
Back home again...
After a difficult ride back last night in the pouring rain and howling gale, I arrived home from the Irish trip at 3.30am, and have only just managed to catch up with myself to the point where I think I'm capable of recounting events in a somewhat coherent manner... time to update the blog...
After my last post, which was from the cyberpub in Westport, we went out on the town, supping Guinness and enjoying the sunshine. We took the landlady's recommendation and headed to The Helm for dinner, which more than made up for the poor quality of the food in Cong. We enjoyed an excellent meal, washed down with some good red wine before heading back into town again for some more drinks - firsly in a bar with only one other patron (so much for lively Irish nightlife!) and then on to Matt Malloy's bar which was a bit busier and served the only pint of the rare "Brewhouse Series" special Guiness called "North Star". When we asked the barman for a pint, we were shocked to hear they actually had some - everywhere else had the pumps but no beer - and remarked how difficult it had been to get hold of a pint, and how much we were looking forward to it... "Shouldn't have bothered, tastes just like Guinness" was his cheery reply!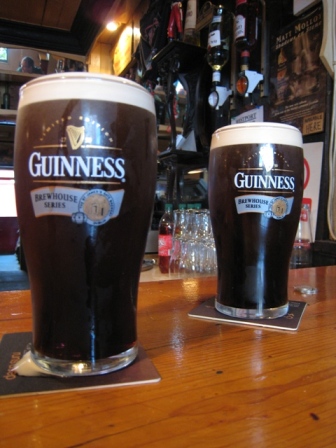 After a fairly hectic night on the lash, we grabbed a taxi back to the B&B and crashed out. The following morning's breakfast was superb and our every cheerful landlady then enquired about where we were heading before recommending a trip to Achill Island, where there is a little road (the Atlantic Route) that winds its way round the headlands and provides spectacular views of the Atlantic. Based on the quality of her recommendation about where to eat, we didn't hesitate to take her advice and headed off in search of this road, and she was right, it was spectacular!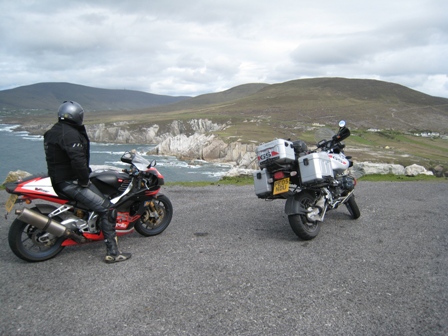 From here we rode round the coast via Bangor Ellis and Ballina and up to Sligo before taking the excellent N16 to Enniskillen - a road that finally gave Colin's Aprilia a proper workout. All the time the weather held and remained dry, although when we arrived in Enniskillen it turned colder and the wind picked up some more. It didn't look easy to find a B&B so we popped into the Tourist information office and grabbed a booklet, and then made use of my sat-nav to locate our 1st choice B&B. On arrival we found no-one at home and no-one to answer the phone, so off to our 2nd choice... only to discover they've stopped doing B&B now... and on to our 3rd choice, phoning first to check they had vacancies. Which is where the sat-nav let us down, as the postcode could have been in any number of places. We rode for a while trying in vain to find it, finally resorting to phoning the landlady again for directions. Even with these it took us a while to find it, and by now the rain had started... damp we turned up on the doorstep of a large house overlooking the lake and checked in. A quick shower later and it was time to walk the 10 mins into town to find some food - Colin suggesting we take a taxi as it was still raining a little. I said as it was only 10 mins, we'd be alright. I was wrong. Within a few minutes of setting off the rain came down with a vengence and then a car drove straight through a large puddle, completely soaking Colin... he was not amused (I was, but managed to hide my mirth pretty well!!). Stopping at the first pub for a pint and to wait for the rain to slow at least gave us chance to see the funny side... A quick walk round town and we discussed options for eating, opting for a curry. And here we again fell on our feet with the Kamal Mahal which provided an excellent curry (and some of the hottest onion relish accompanying the popadums I've ever tried!). Suitably refreshed, and by now a little drier, we grabbed a couple of bottles of wine from the off licence and headed back to the B&B for a game of snooker in the games room (I did say it was a large house...).
The following morning's breakfast didn't quite match that in Westport but was still good - and by now I'm getting a taste for bacon, eggs, sausage, etc every morning, which will have to stop when I get home or I'll need an even bigger bike!
Still in the drizzle we loaded up the bikes and set off in the direction of the North, heading towards Colin's parent's house in Limavady... As we neared their house we took a detour to ride round the NW200 circuit, which was the first time I'd seen it... How crazy are the racers to ride on these public roads, with all the hazards that entails - drain covers, white lines, street lamps, roadsigns, overbanding, etc - at the speeds they do in all weathers! Simply barking... We stopped off on the seafront at Portrush and wandered down the pit straight before heading back to Metropole corner to watch the practice session. Seeing the bikes come hurtling down the straight before slamming on the brakes and throwing them round the turn, just inches away from the kerb is quite a sight. We watched the superbikes from here before jumping on our bikes and riding throught the back roads to University corner where we saw all the classes take this 90degree left hander and head up over the bridge and into the distance. Again the speeds they were travelling at simply beggars belief, and when a couple of riders missed their braking points and headed up the slip road at great speed it re-enforced how committed (and crazy!) they were.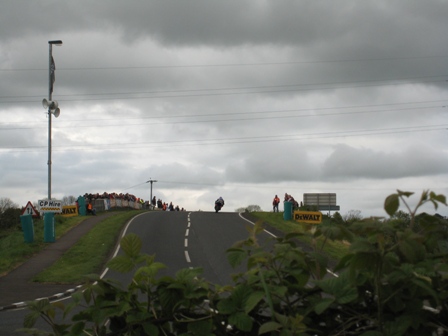 We braved the drizzle to watch for a while (it was the least we could do, given the rider's commitment!) before heading off to Colin's parents. Here we were made to feel really welcome, his mum having cooked us a lovely pork caserole and his dad plying us with beer!
The following day we took it easy, having a liesurely start before riding off to see some of the local area, visiting the Legends of Road Racing exhibition at the museum in Ballymoney, Joey's Bar and the Joey Dunlop Memorial Garden, and generally giving Colin an excuse to show me some of the local roads, up and over the hills - roads that my BMW was much more at home on than his sports-bike! Then we returned via his sister's house (where we discovered the delights of Mexicana cheese and gave her little dog chance to sample my fingers (ouch!)) and went out to a pub / restaurant for dinner. Then it was back to their house where we played "Pass the Pigs" and had a few glasses of wine before turning in.
Race day dawned bright and sunny and Colin's dad gave us a lift in to Portrush - and supplied us with Paddock passes! That gave us a great opportunity to get up close to the race bikes - the Relentless TAS Suzukis in particular looking stunning. We watched the teams as they prepared the bikes, took them through scrutineering and generally got themselves ready for the day's action.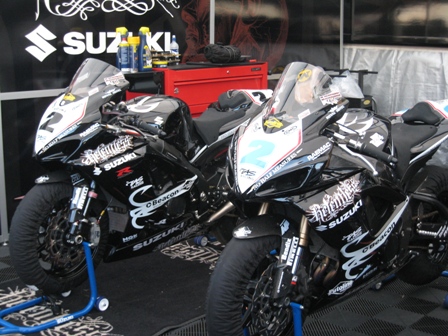 From the paddock we walked down to York corner, where we grabbed 2 seats in the grandstand that provided great views right up Primrose Hill and settled in to watch the action. The first race started and a gaggle of superbikes came hurtling over the brow of the hill, front wheels well off the ground and then all somehow managed to squeeze themselves round the tight corner... but then the race was red-flagged due to an incident as the 2nd group were leaving the grid, apparently someone stalled and the bikes from the back of the grid collided with them, causing carnage. In the restarted race, the action was really hot with the top superbike riders really quick round the corner in front of us until one of the top men, Bruce Anstey, highsided on the exit, causing a big shout from the crowd which seemed to take ages to spur the marshalls into action. Fortunately he was not too badly hurt, although the race was red-flagged.
The rest of the day's action was just as exciting, with the slightly crocked Bruce Anstey going on to win no less than 3 of the days races - all those he entered with the exception of the first in which he crashed... these boys are really hard, no doubt about that!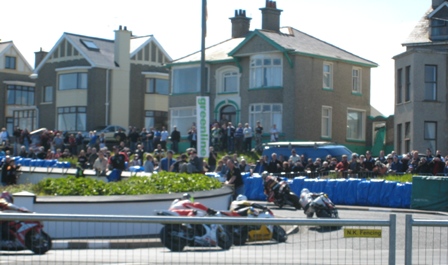 Having enjoyed a really sunny day we walked up the road where Colin's dad picked us up and took us back to his house, where he plied us with more beer and cooked us a wonderful steak on the BBQ, before we started the evenings "Pass the Pigs" tournament - and at least this time his dad won a game!
Sunday was the day for coming home, so we cleaned the bikes and packed up before having Sunday lunch and setting off round the coast road to Carrickfergus and then on round the main roads via Belfast and on to Dublin, where we arrived some 5 hrs later. Shortly after we boarded, the ferry captain announced that the boat would be running on 3 engines only, so would not arrive until nearly 1am, so we were not best pleased! At least they had a cinema on board and were showing Wild Hogs, which seemed apt... and was hilarious! I need to take Tracy to see this at the pictures! A quick kip later and we arrived and remounted our bikes, desperate to get on the road and get home. True to form the weather was miserable, pouring with rain and blowing a gale, but we made quick progress out of the port and got our heads down for the long slog home. With a quick fuel stop (why don't Aprilia fit a decent tank to the Mille?) we got back to Colin's early in the morning and I emptied the pannier of his stuff before the final leg home, pulling up outside home at 3.30am, having made excellent time back from Holyhead despite the weather. A quick hot shower and I was finally back in my own bed, cuddling up to Tracy after 2 long weeks apart... and off to sleep, dreaming of Irish sunshine and spectacular seascapes...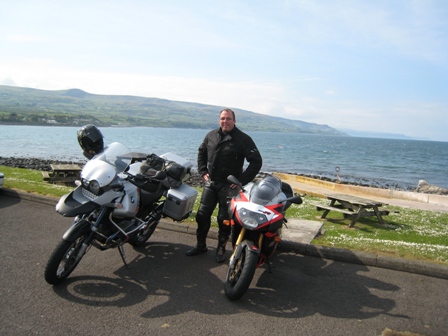 08 May 2007
Interim Irish Trip Report
Am currently in Westport in Ireland, and have grabbed the opportunity to update my blog with the story so far...
Colin and I set off last Saturday and rode down through Wales, stopping briefly in Betsw-y-Coed for a coffee before a quick blast to Holyhead and the ferry to Dublin. As we arrived at the port a bit early, we were put on the 2.30pm ferry which actually arrived later than the 3.30pm fast boat we were supposed to be on! It didn't take us too long to find a B&B in Dublin, though, a short journey from the city centre and only 40euro each. With the bikes chained up outside and having had a quick shower we walked towards town before hitching a cab to the Temple Bar area... the cab driver turned out to be the only Irish person we spoke to all night as Dublin was full of tourists like ourselves, and the bar staff were all Eastern European (seems the Australians are being done out of work!). Avoiding the hen parties and sampling Guiness that was average at best we at least enjoyed the street life - especially the "Moo on the Loo"...and the drunk with his blow-up doll dancing to the tunes of a couple of limbo-dancing guys!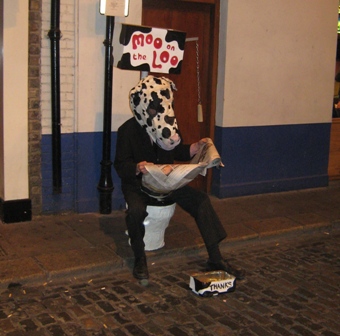 After a restful night's sleep and a good cooked breakfast we left Dublin and headed to Tipperary... which was not such a long way after all... and then on to Cork, with the weather changing from bright sunshine to showers and back again, setting the tone for the whole week so far. We found a reasonable B&B in Cork where we could at least walk into town, and as we were leaving to head into town a large group of bikers rode past, horns blaring - not sure what the occasion was, but they were quite a sight! Cork served up better Guinness and then we found a lovely little Italian restaurant where the waitress was Eastern European but very amusing, especially with the wine being called "Fat Bastard" (you can make up your own jokes about that!!). Suitably refreshed we hit a late bar before heading back the B&B.
From Cork we rode through some beautiful scenery to Blarney where we visited the castle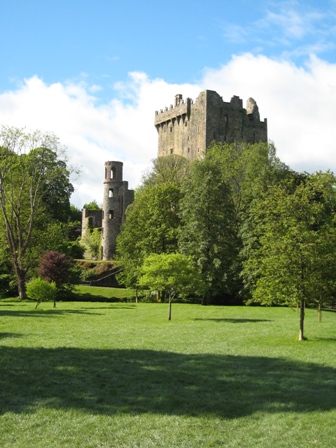 and climbed to the top to kiss the Blarney stone - which is supposed to help us with our eloquence, although so far it doesn't seem to have worked!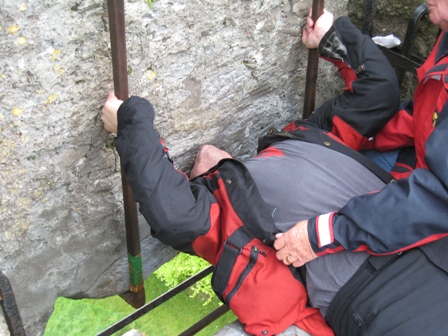 After a liesurely wander round the castle grounds we set off again, riding past deep green fields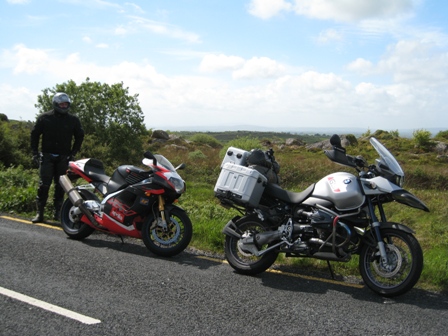 and rolling hills towards Cong, which is between two lakes. Here we found a campsite and pitched up, planning to stay 2 nights. The site was a short walk into town, where we found the bar recommended by the campsite owner, and where they served some rally good Guinness. After a couple of pints we wandered round town looking for a decent restaurant and failed miserably as everywhere was shut, but at least we discovered the ruined monastry. Failing to find somewhere better we returned to the pub for a bite to eat. This proved to be a poor idea, as the food was not great, even the crab claws in garlic, which sounded lovely, were poor, and the t-bone steak was barely edible... But we did have some entertainment, as a French couple arrived and took the table next to us - when they asked if the waitress (resplendent in a "I'm Grumpy" tee-shirt that was the understatement of the century) had any wine, we had to contain our histerics:
French woman : "do you 'ave any wine?"
Waitress : "yes, Red or White?"
French woman : "white, please"
Waitress : "big or small?"
French woman : "pardon?"
Seems they serve 2 types of wine - in 2 bottle sizes and that's all the choice you get! Our French couple were not amused...
Anyway, after a less than enjoyable meal, and with the pub's atmosphere being akin to that of the ruined monastery, we left and walked back to the campsite, calling it a night. Only to be woken about half an hour after turning in by the sound of torrential rain... and then a single explosion that sounded like a mortar-bomb but which Colin thinks was a hand-gun being discharged... great!
When we woke in the morning the rain had stopped and the sun was shining, but we made a quick decision to check out and head on, so Colin went to get a refund whilst I took the tent down, and then we set off on the road again, through some of the most beautiful scenery I've seen for a long time. The ride round the 12 bens from Cong via Maum and round the coast was spectacular which huge great hills reminiscent of the Scottish Highlands all around and glimpses of the Atlantic as the road wound its way round the coast. A stop for breakfast in a cafe by the roadside quickly restored our better mood and we settled down to some enjoyable riding all the way to Westport...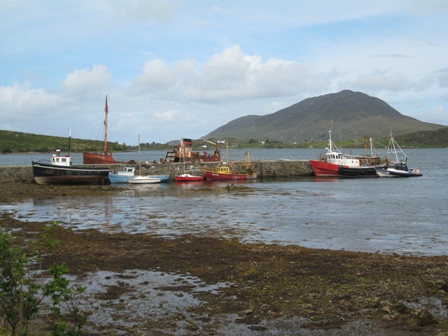 And now we've checked out the campsite (closed) and booked into a lovely B&B where the landlady is very cheerful and made us a cup of tea whilst we parked the bikes round the side of the house. A shower and a short walk into town and here I am, sat in "cyberpub" drinking a pint of Bud (refreshing, the Guinness is to follow!) and catching up with my blog... (the real reason for using the cyber facilities is I needed to check my bank balance as the ATMs I keep robbing won't let me!!)...
and now I've finished my pint, so it's back to the bar for a drop of the dark stuff...
Archives
January 2007 February 2007 March 2007 April 2007 May 2007 June 2007 July 2007 August 2007
Subscribe to Posts [Atom]