Welcome to Paul and Tracy's main blog. Here you can keep track of what we've been up to, and join us on our adventures.
If you'd like to get in touch, you can either email us - see the links on the "About Us" page, or alternatively post a comment following any of the Blog entries.
This week has been very odd. Following on from last weekend, when I dropped my bike off and had a great party to say goodbye to all my friends, it was very strange to go back into work mode on Monday. It got even stranger, as I was in London on Tuesday for a team meeting and an evening meal, with an overnight stop and more meetings on Wednesday. I'm still to get confirmation of exactly what the future holds in terms of the re-organisation and any jobs that I can apply for, so I've been making arrangements for work to be able to email me details whilst I'm away - I'll need to re-apply for a job, and then wait and see what happens.
Back in work on Thursday and Friday, finally saying goodbye to all by colleagues before going for my final gym assessment. Only to find the gym instructors had brought someone else in to look after things, and she knew nothing about the assessment and wasn't in a position to do it. So I'll just have to guess - I've lost lots of weight, gained great fitness and increased strength. Or perhaps none of those, but with time now running out, I'm as physically ready as I'll ever be!
I also received and email this week from Chris, who saw my bike in its crate when he dropped his and Danielle's bikes off at James Cargo. It's all ready for its flight to Anchorage now...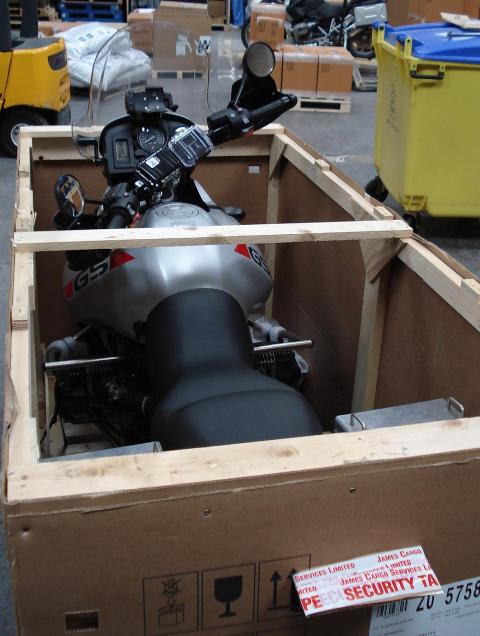 Having bid farewell to work on Friday, we spent Saturday with all my daughters and grandchildren... a house full of laughter and happy children, just a perfect way to spend a Saturday. The peace and quiet when they'd all gone home (as Carlie was away in London for the night) was also welcome, as it gave us some much-needed quality time to sit and chat. But the highlight of the weekend was getting all my offspring together again...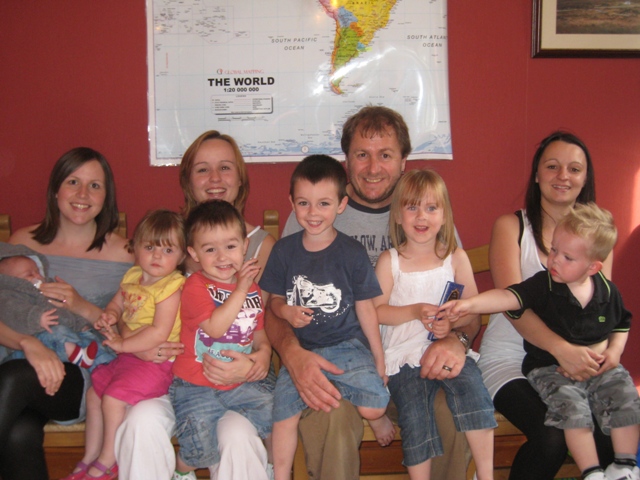 Yesterday was 4th July, American Independence Day, and also the day when I dropped my bike off at James Cargo, the freight company that is trusted with getting it to Anchorage and the start of the Trans Am expedition... Seemed like a good day to celebrate!
Firstly, Richard and Karen came up to stay with us on Friday, so they could see Heffy and also so that Richard could accompany me as I dropped my bike off. Saturday morning dawned bright and sunny, and there was one last job to do on the bike before riding it to James Cargo's warehouse in Wythenshawe, Manchester. I'd been deliberately delaying applying the expedition stickers to my panniers as I'm a little superstitious and didn't want to jinx the whole thing by applying them too early. So with the bike all ready to go, I went and got the stickers, and carefully applied them in pride of place in the centre of the panniers...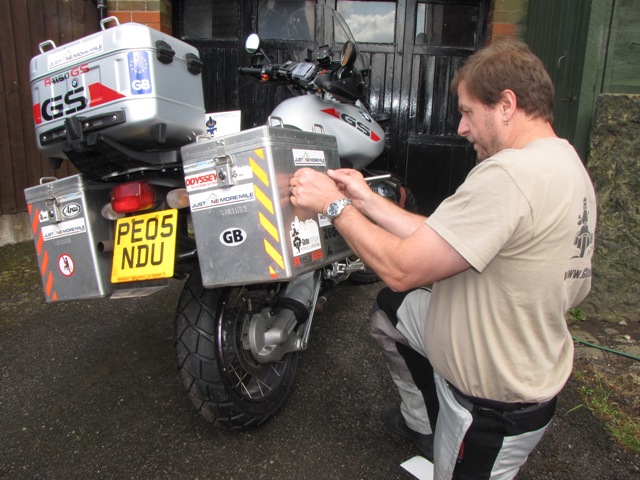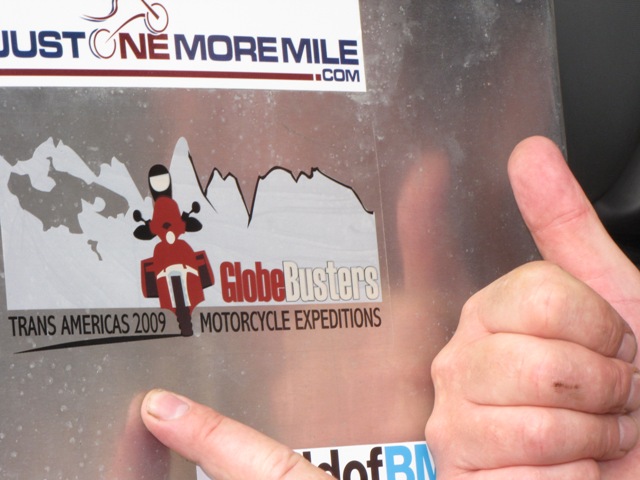 With the stickers on, it was time to set off, and so Richard and I rode to the depot, having to do battle with traffic around Manchester City Centre as the motorway was closed. Upon arrival, we checked in and pushed the bike into the warehouse where it will be crated up and then transported by road on Wednesday night to Heathrow, where it will join all the others on the flight out to Anchorage.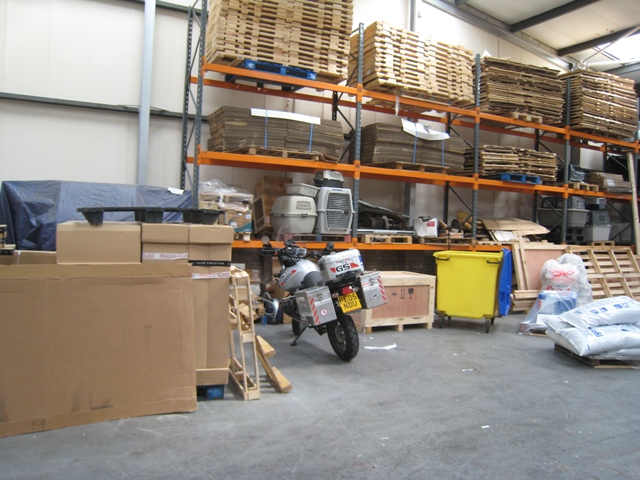 With the bike safe I climbed on the back of Richard's ZX12R and for the first time in years rode pillion. With my knees up by my ears, it was quite an experience, but there was no drama and we popped into the local supermarket for the final party supplies before getting home around noon. With the party not due to start until 3pm, we had plenty of time to do our chores, Richard helping me erect the gazebo to protect us from the elements, and then doing the vacuuming whilst we sorted out the food. We even had time to relax with a beer before the party guests arrived.
Now many of you will know that I have quite a thirst when it comes to beer, and a love of real ale. Which is why we bought a cask of Black Sheep Best Bitter from the brewery last weekend. With Katy's partner Stuart sorting us out with a hand pump neatly fastened to the dining-room table, we were all set. And it was delicious. And with 72 pints we were unlikely to run out...Tracy had also bought a lot of American themed decorations for the house, so we had lots of bunting, a big Uncle Sam on the door, American themed tablecloth and with the big map of the Americas showing the Trans Am route on the wall, we were all set.
The first of the guests arrived dead on 3pm, Colin and Helen joining Ian and Helen, arriving ready for Colin to do his chores and take control of the barbeque - a task which he is very qualified to do! Soon the rest of the guests arrived - Andy & Wendy, Mick & Sue, Nikki and John, Debbie and Chris and Sam. With the beer flowing, the music blaring and the delicious food from the barbie, all was very well with the world. Even a short heavy downpour couldn't spoil things.
And then we had the icing on the cake. Literally. Tracy had once again surpassed herself and arranged a very special cake to commemorate my imminent departure...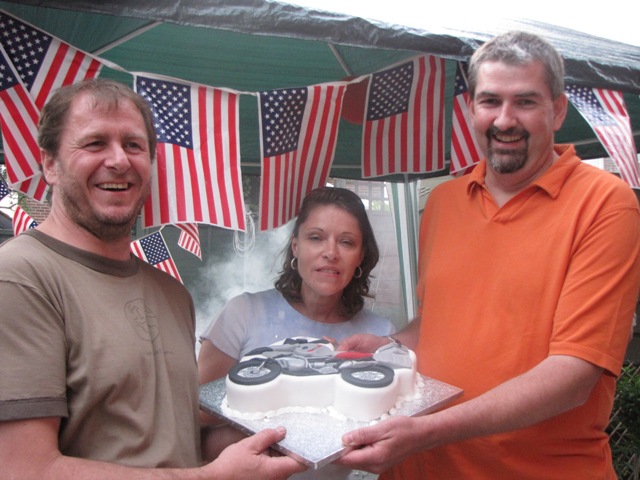 And what a cake it was. An almost perfect replica of my bike, resplendent with panniers and top-box, marked with "Just One More Mile"...